OMG, what an awesome hotel! We really enjoyed our stay at the SCP Hilo Hotel on the Big Island, so buckle in. And no, they didn't invite us or sponsor this at all, so know that everything we're sharing is because we really enjoyed it here. This was our home base for exploring Hawaii Volcanoes National Park and it was wonderfully convenient.
Before staying at the SCP Hilo Hotel I actually hadn't heard of the SCP Hotel brand at all. They are an eco-conscious hotel chain with properties in California, Oregon and Colorado as well. They are very low key and all about making sure you have a sense of casual community during your stay. I love it.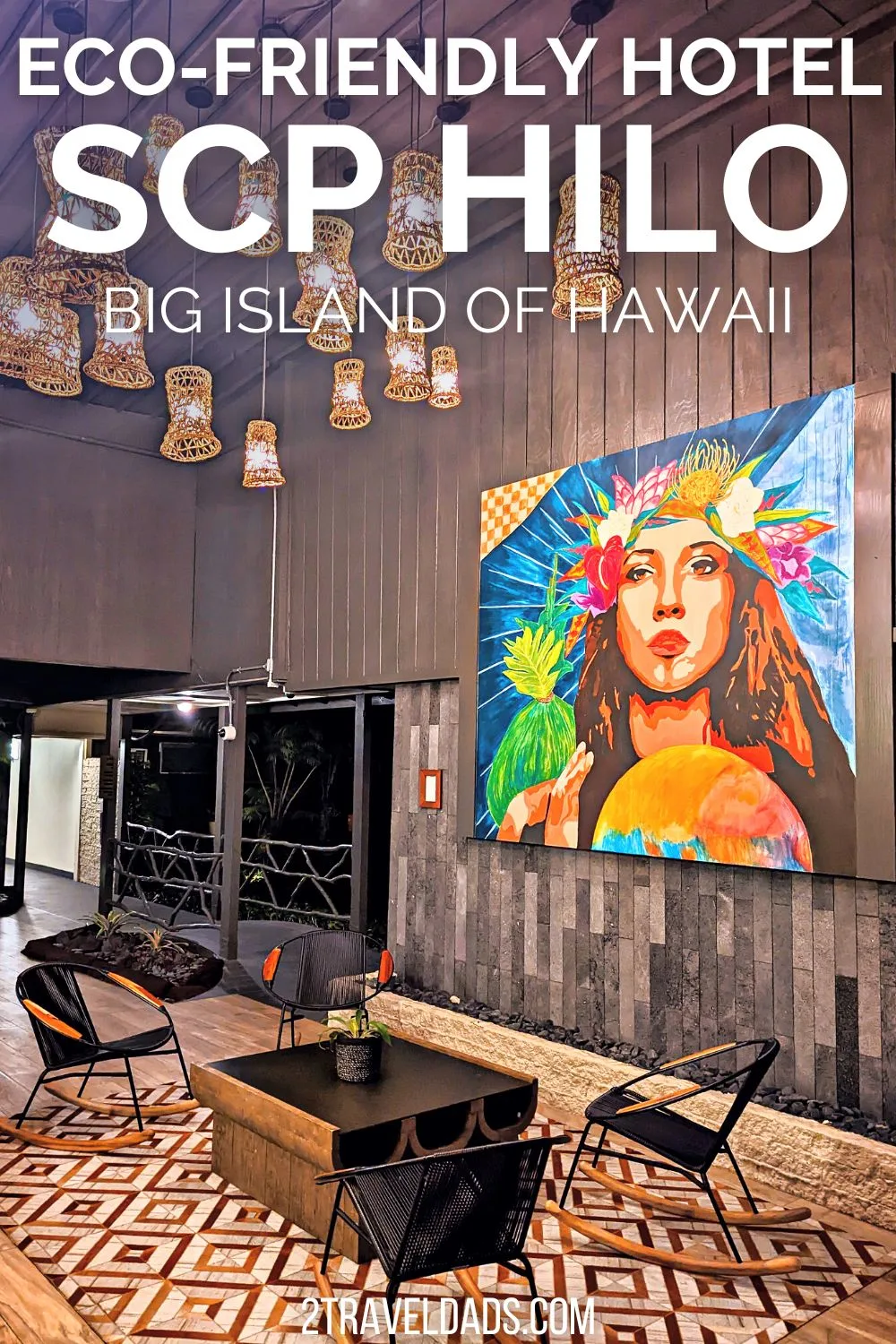 Staying at SCP Hilo Hotel, Big Island of Hawaii
The SCP Hilo Hotel is located just off Reeds Bay in Hilo, on the east side of the Big Island of Hawaii. It's a very quiet hotel with lots of public space and multiple loungy places throughout the property. It's nicely landscaped and is a great place to both stay AND just hang out.
Already know you want to book the SCP Hilo? Book this hotel here!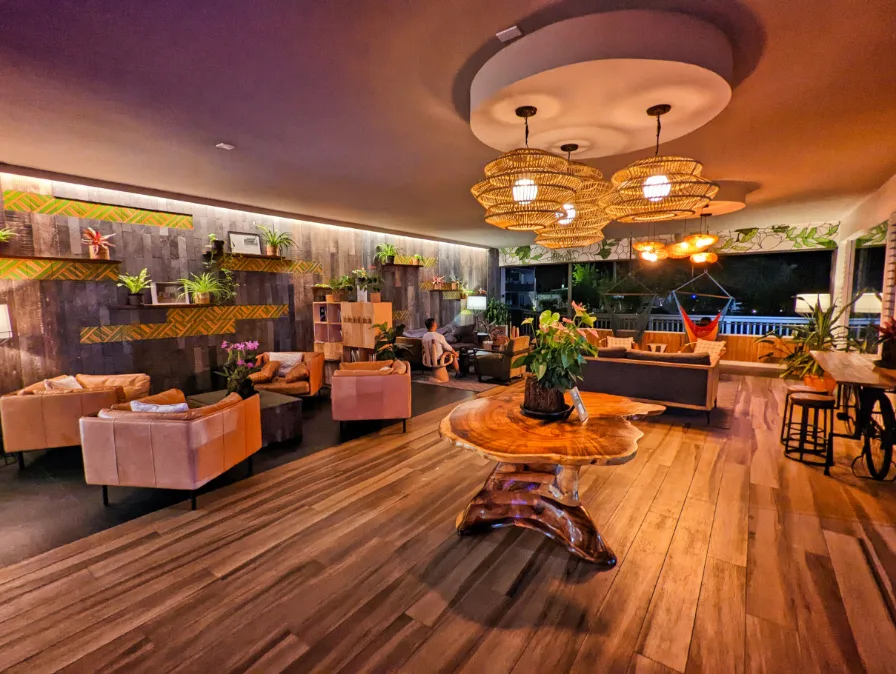 What Are the Accommodation Options at the SCP Hilo Hotel?
There are four types of rooms at the SCP Hilo Hotel on the Big Island. You'll find Standard, Deluxe, Premium and Peaceful rooms. Each of them is beautiful and calm, with eco-friendly finishing touches. You'll find some unique guest room layouts at the SCP Hilo Hotel:
Standard King or Double
Standard Triple – has two double beds and a twin
Peaceful Two Double – no technology in room, wellness gear instead
Peaceful King – no technology in room, wellness gear instead
Deluxe King or Double – the deluxe rooms are poolside
Premium King or Double – has a view of the koi pond / bay and has a private balcony
All the rooms are decorated with local art and furnished minimally, but effectively so that you can either have a relaxing space or a working space. I really like how they've done everything here at the SCP Hilo Hotel.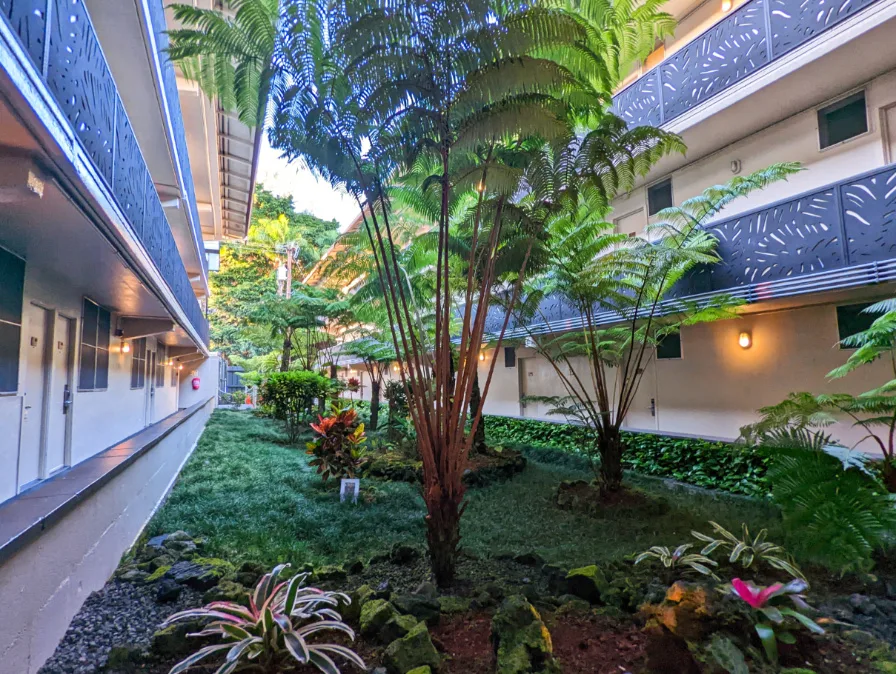 "What's the scoop with the 'peaceful' rooms?"
Simple and genius. It felt just like our King Deluxe room, but without the electronics and with some small added touches to make it more calming.
From the SCP Hilo Hotel website describing the Peaceful room type:
Instead of digital distractions such as a TV or clock, find wellness amenities to enhance relaxation including yoga mat, air purifier, sound machine, Himalayan rock salt lamp, and an essential oil diffuser. Peaceful Rooms also feature minimalist décor including a workspace. Bathrooms are equipped with LED-backlit mirrors, walk-in showers, all-natural Further bath products, and a hair dryer. Please note: Peaceful Rooms create a stress-free sleep environment minimizing exposure to blue light and do not include a TV.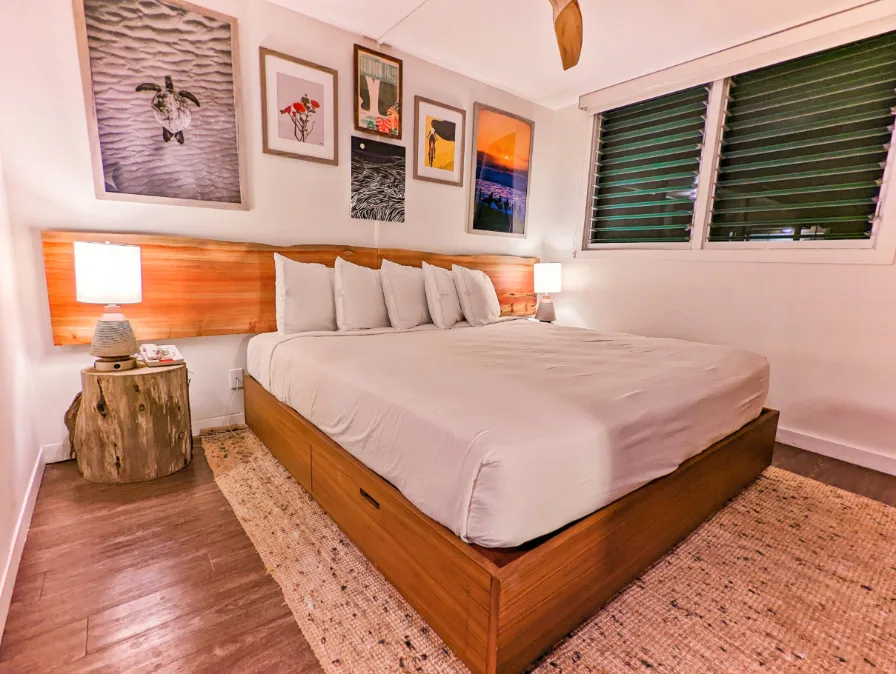 Top Pick: King Deluxe Room
We spent three days in a King Deluxe room at the SCP Hilo, just above the koi pond looking out at Reeds Bay. We had a lovely balcony with morning sun, a sitting space inside, a full desk, dresser and king bed. We also had a closet and mini-fridge, with a very nice updated bathroom.
My favorite feature of our room was the dresser/desk combo made from koa wood. This beautiful, rough-hewn slab piece of furniture is perfectly Hawaiian, utilitarian and looks super fresh. I would love this at our own home.
Our room, as well as most others, was an external entry from within the hotel, so there is controlled access through the lobby or back gate despite it being an outside door. That's how many hotels are in Hawaii, with many properties being as open-air as possible.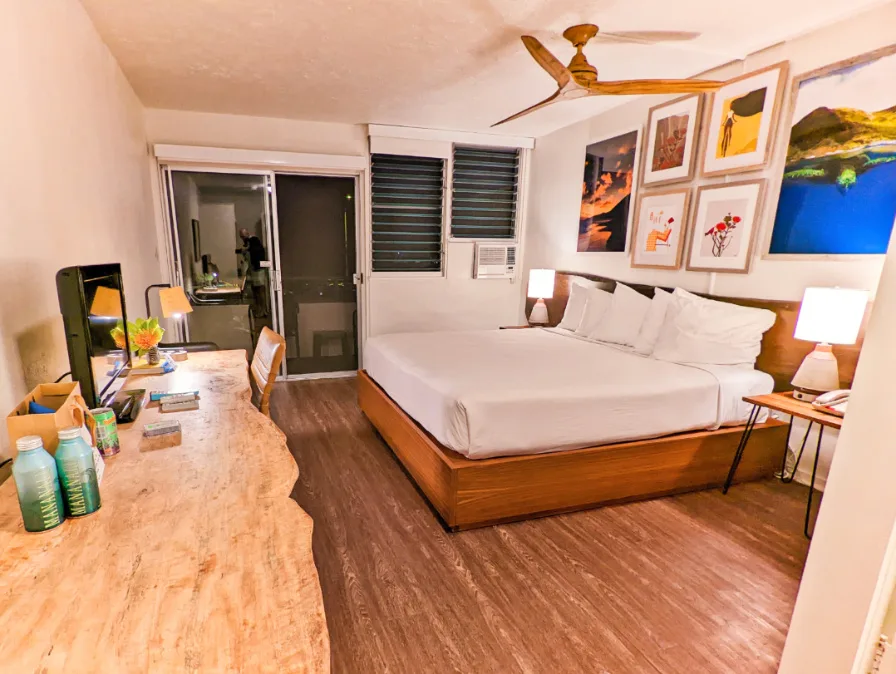 What Makes SCP Hilo Hotel Eco-Friendly?
In addition to the earth-conscious choices guests are encouraged to make as they explore the Big Island of Hawaii and beyond, SCP Hilo is the first property in Hawaii to achieve Bronze Benchmarked recognition by EarthCheck. The hotel operates with minimal impact in every area possible, from recycling to energy consumption.
With each guest stay, a portion of profits also go back into earth and community programs. Funding from guest stays goes towards planting trees, trash cleanup, mental health programs and more. SCP Hilo Hotel is both a lovely place to stay and they actively work to have a positive impact.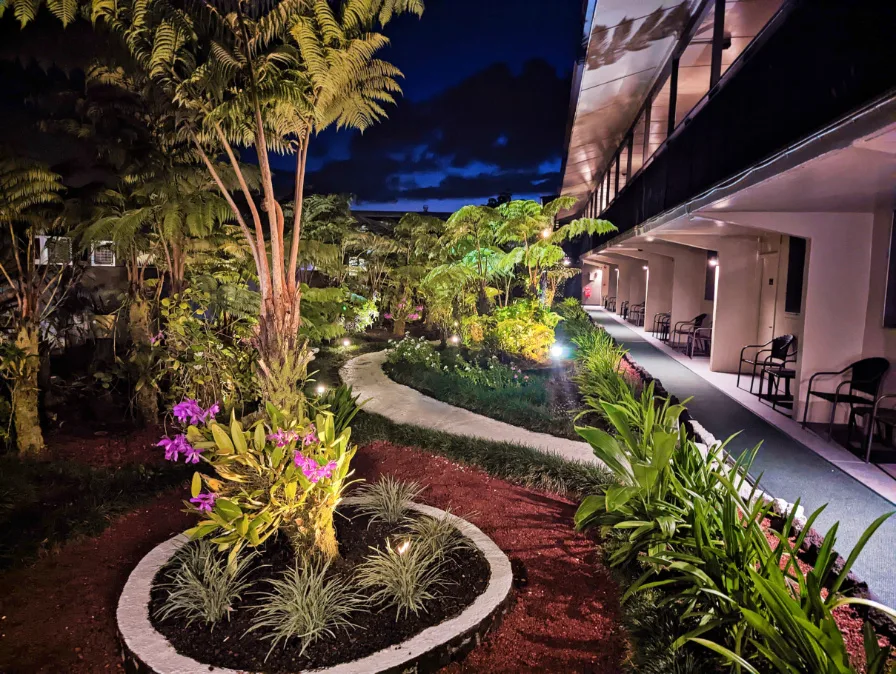 Check in / Check Out at SCP Hilo
Arrival at the SCP Hilo Hotel is so easy. Pull up into the porte-cochère, pop inside to the open-air lobby, get your keys and then park where directed. There are multiple entrances to the hotel, so if you're parking in the back, you don't have to walk back around the hotel.
During check-in be sure to ask about SCP's community and environmental involvement. They are more than happy to talk about their operations and what's important to both the staff and the brand.
SCP Hilo Hotel Amenities
There are different levels of hotels as you travel around Hawaii. You may be in a 5 star resort like the Fairmont on the Kona Coast, or a condo hotel like we stayed in at the Club Wyndham Kona Hawaiian. You could also select a bed and breakfast, or the SCP Hilo Hotel and each would offer very different amenities. Since the SCP is focused on soul and community, its amenities support peaceful and thoughtful stays versus pure luxury. I love it.
The Pool at SCP Hilo
There is one large, beautiful pool at the SCP Hilo Hotel. While it's reserved for quiet exercise from 6:00 am to 9:00 am, the rest of the day it's open for fun and relaxation. It's actually pretty deep and there is lots of space to relax around it. Lounge chairs, shades and a whole undercover patio with couches make it a great place to chill between Big Island activities.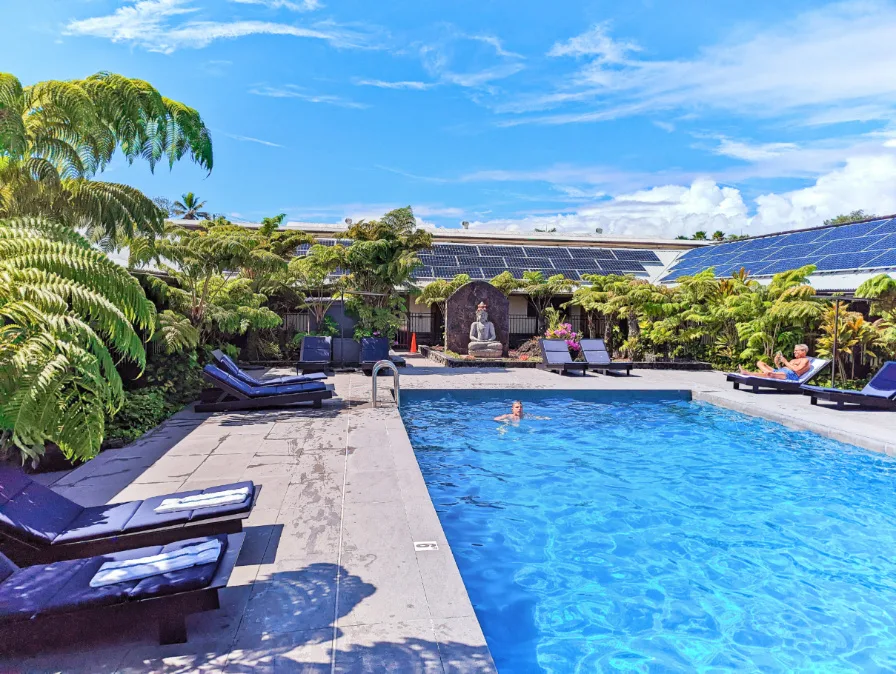 Fitness Center Onsite
There is a fitness center on property that includes cardio equipment, weights, TRX gear and even Peloton bikes. You can use the space for yoga as well, or they also encourage guests to incorporate the outdoors into their fitness. The SCP Hilo Hotel has stand up paddleboards (SUPs) and bikes available for guest use, and being just off the bay, why wouldn't you take advantage of them?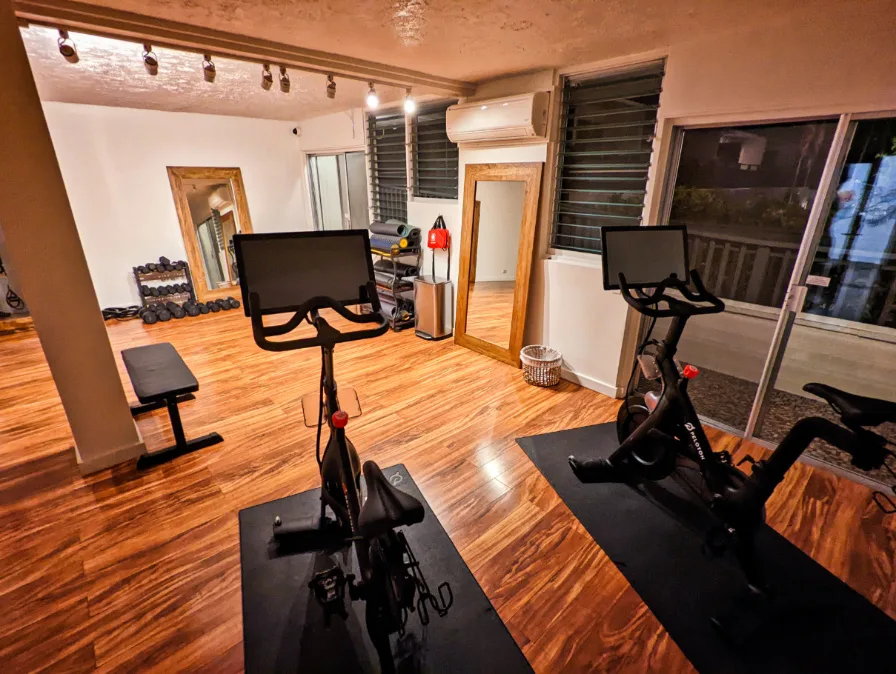 Bikes and SUPs for Guest Use
Adding to the Soul element ("S") of SCP, the hotel is set up to help guests have a wonderful, active time outdoors. Bikes and standup paddleboards (SUPs) are available free of charge for guest use. Just check out your gear from the front desk and go explore. If you're biking, it's an easy ride over to the Hilo Farmers Market and downtown. If you want to use a SUP, take it across the street and put in at Reeds Bay Beach Park. You'll feed your soul and have a great time enjoying low impact Big Island recreation.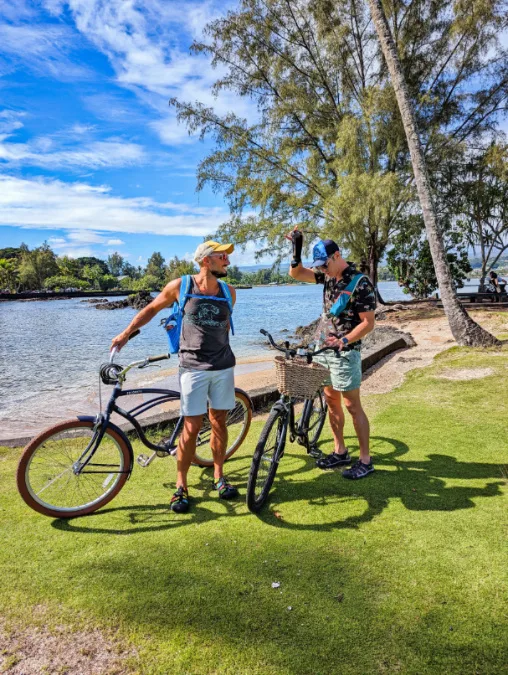 Community Spaces at SCP Hilo
The "C" in SCP stands for community. There are lots of community spaces at the SCP Hilo Hotel. From the lounge-like lobby to the interior, artsy community living area, from the pool patio with couches and tables, to the co-working space for taking meetings, there are lots of community spaces. There is also a space for quiet time away from everyone, but still close to other community function areas. There are changing rooms if you don't want to go back to your room between hotel activities. And there is a community laundry room (very nice!).
Staying at the SCP Hilo Hotel means that you have everything you need and an atmosphere perfect for enjoying the company of others if you so choose.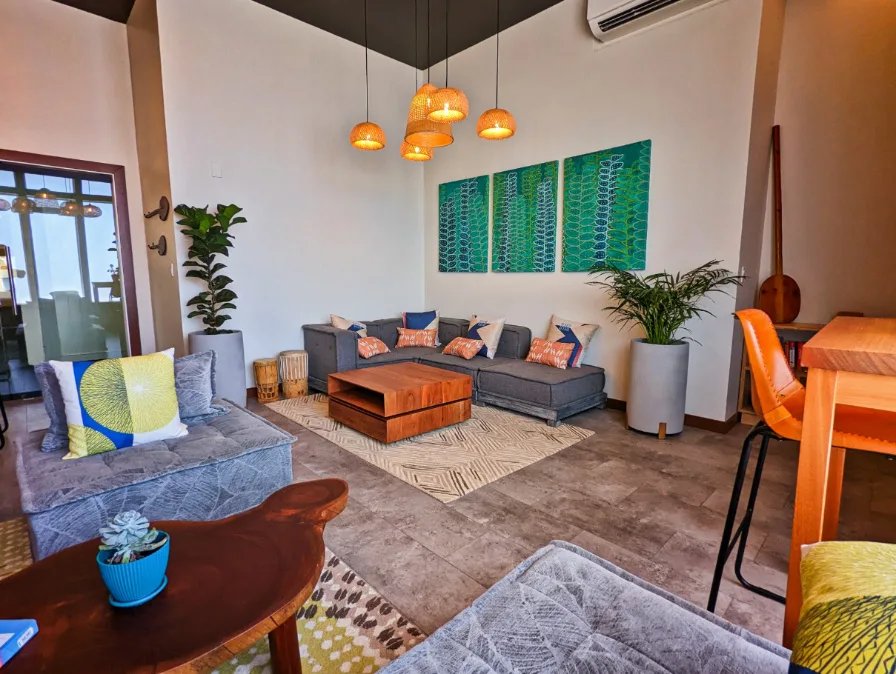 Provision Market on Site at SCP Hilo
Whether you're looking for random needs you left at home or if you want a locally sourced tea, the Provision Market in the SCP Hilo has it all. Because the hotel focuses on sustainability and making a local impact, you'll find genuinely thoughtful goods and snacks here.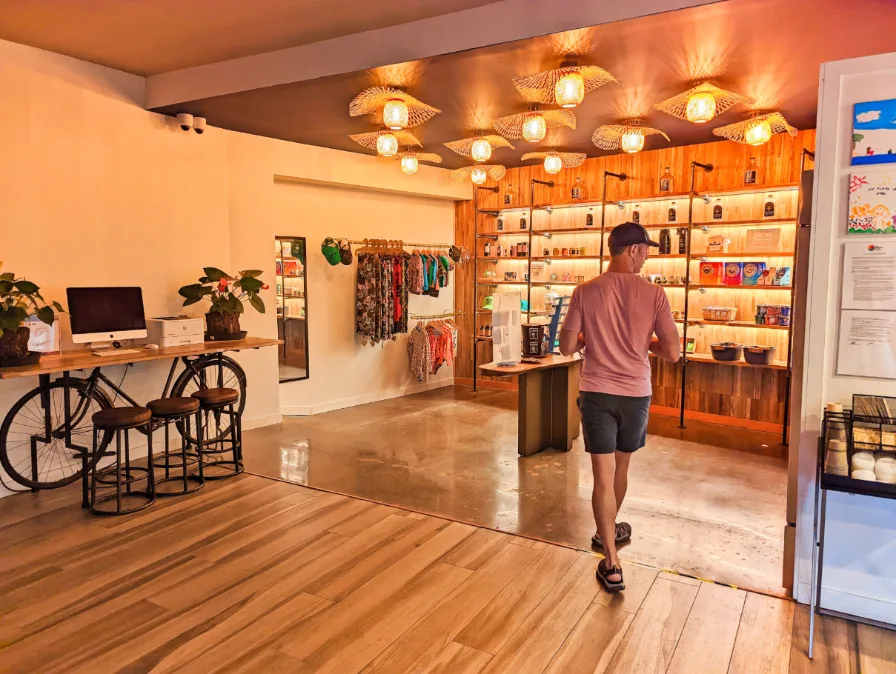 Dining Near the SCP Hilo Hotel
While the SCP Hilo Hotel doesn't have its own restaurant, it's connected to the Coconut Grill and is very close to lots of other great options. We ate nearby and went into downtown Hilo for meals, as it's very easy to get there from the SCP.
Coconut Grill: Top Pick at Near the SCP Hilo
We loved the Coconut Grill and ate here several times actually, including just for drinks. They offer some awesome breakfast options, including a delicious breakfast flatbread. Their house Mai Tai and Blue Hawaiian were our favorite cocktails and the service with each visit was wonderful.
Heads up, they don't open early, but open at 8:00 am, so if you're looking for an early breakfast you'll have to go elsewhere.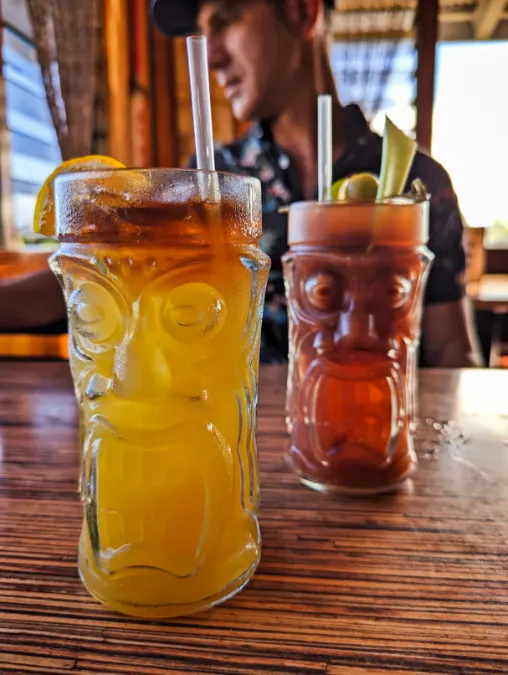 Easy Meals and Coffee at Hawaiian Style
We saw a Hawaiian Style Cafe in Waimea on the west side of the Big Island and there was a line out the door, so when we were in Hilo we made sure to eat there. It was worth the wait. Loco Moco with Portuguese sausage and Spam, and haupia pancakes were top notch and perfectly Hawaiian.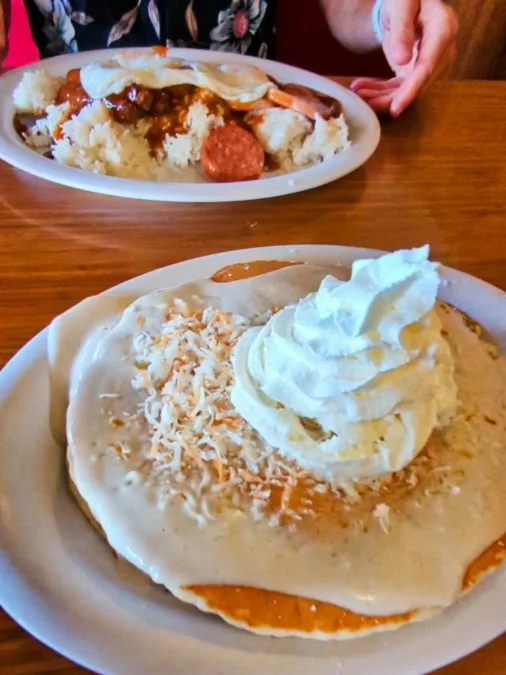 Cocktails at Temple Bar
Popping over to the historic downtown area, the Temple Bar is easy to miss, but DON'T MISS IT! We didn't have any food at Temple, but everyone else was and it looked delicious. We did enjoy several wonderful cocktails though, including house made margaritas, infusing all our favorite Hawaiian flavors: pineapple, coconut, banana and lilikoi. So wonderful.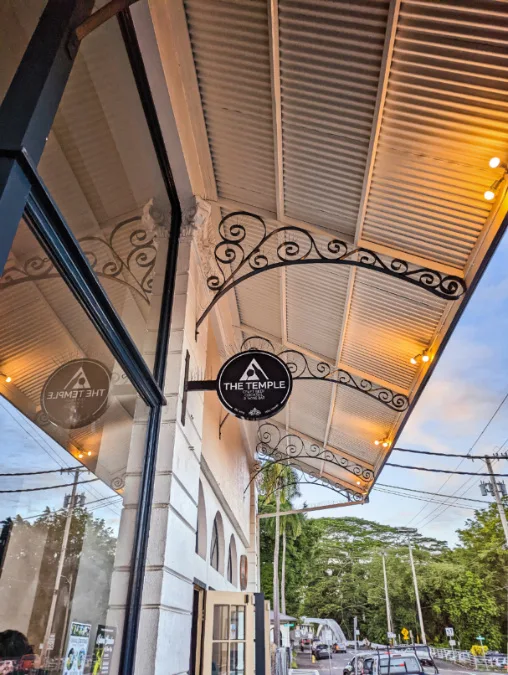 Dinner at Jackie Rey's Ohana Grill
Jackie Rey's Ohana Grill may have been our favorite meal on the Big Island. Located in the Hilo historic district, Jackie Rey's is in an old bank building and is oozing of vintage atmosphere. The menu is very fresh and local. The highlight of dinner was either the house made ravioli or the coconut panko crusted catch of the day. Tough to pick.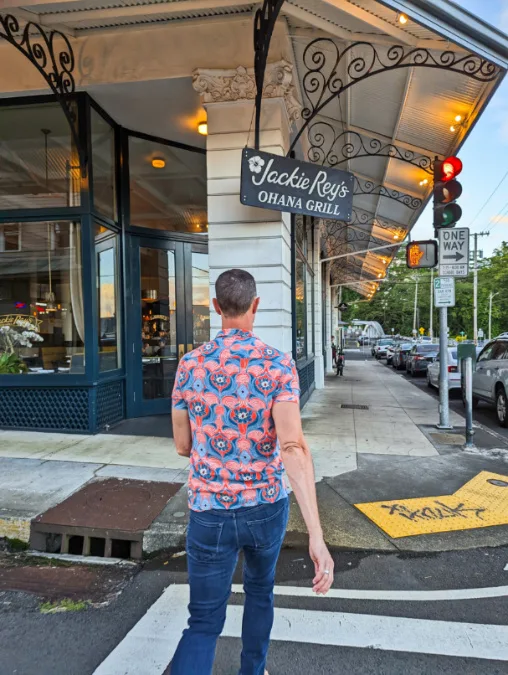 Where is SCP Hilo Hotel?
You cannot beat the location for a hotel in Hilo. The SCP Hilo is conveniently located just five minutes from the historic area, ten minutes from the airport, and across the street from Reeds Bay Beach. This is a great location in Hilo if you've been island hopping in Hawaii and want a smooth arrival and departure from your hotel. If you're looking to get out of town to Hawaii Volcanoes National Park, it's forty minutes from the park entrance. Staying here made it very easy to head up the mountain after dark experience the lava glow and Hawaii Volcanoes National Park at night.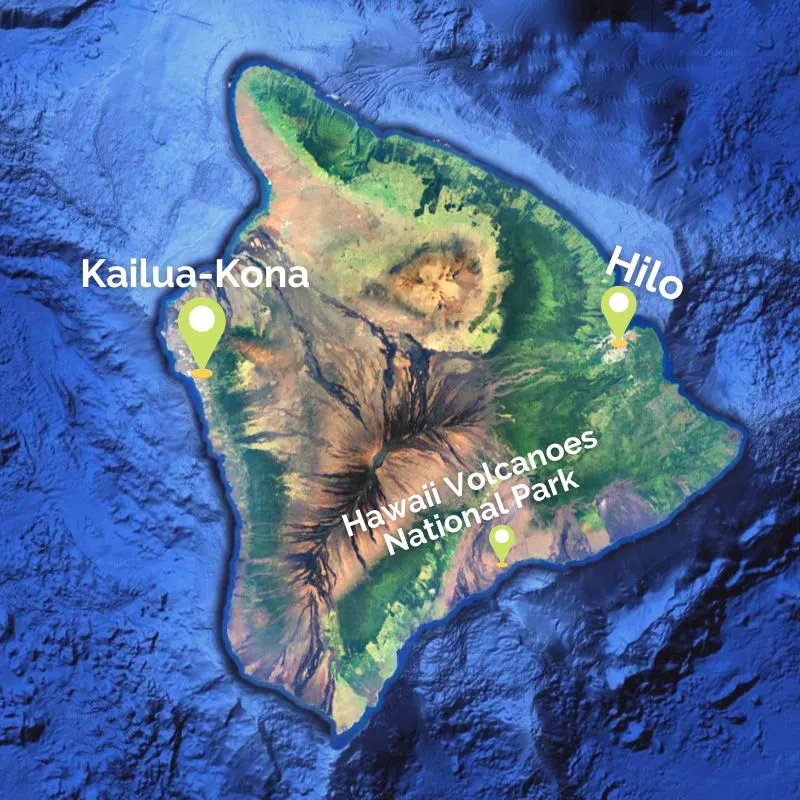 Transportation To and From Hilo Airport to SCP Hilo
You can, of course, rent a car at the Hilo Airport (ITO) or you can take a cab to your hotel. We do recommend getting a rental car when you visit the Big Island as there is A LOT to explore on all sides. Hilo is a great homebase for visiting the National Park and all along the east coast of the Big Island, but you will need a car.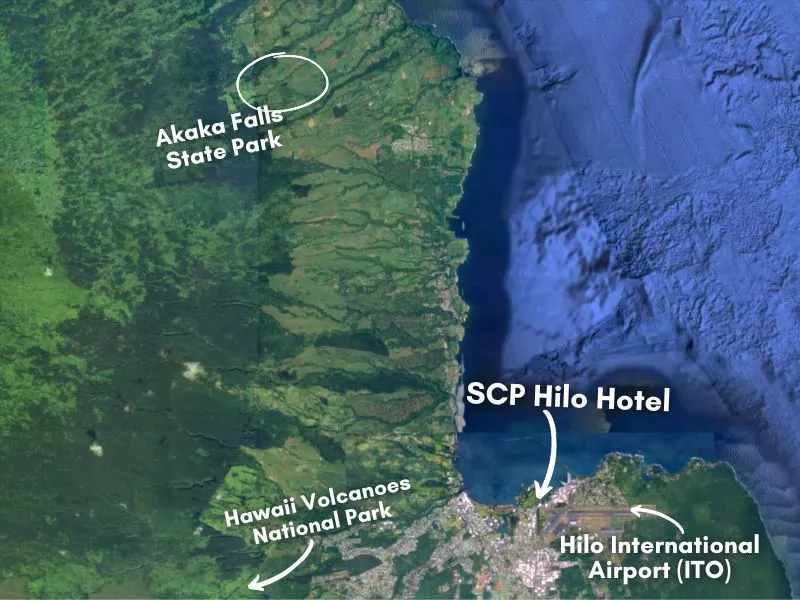 Can I Walk from from the SCP Hilo to the Liliuokalani Gardens?
One of the most popular attractions in Hilo is the Liliuokalani Gardens. The gardens were a gift from Queen Liliuokalani, the last monarch of the Kingdom of Hawaii. A combination of Japanese style gardens, banyan trees and waterfront paths, the Gardens begin about a five minute walk from the SCP Hilo Hotel.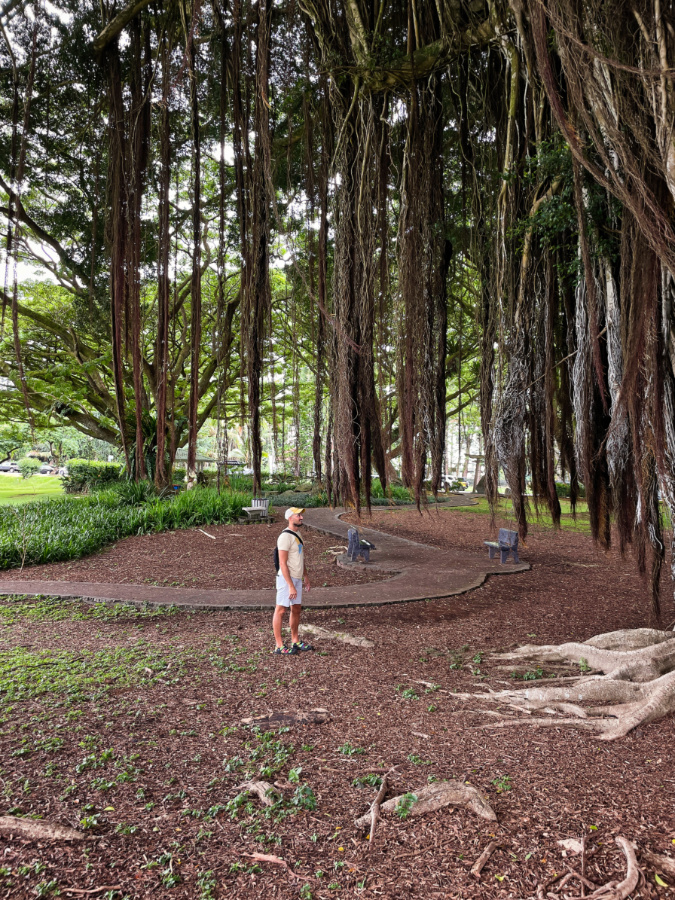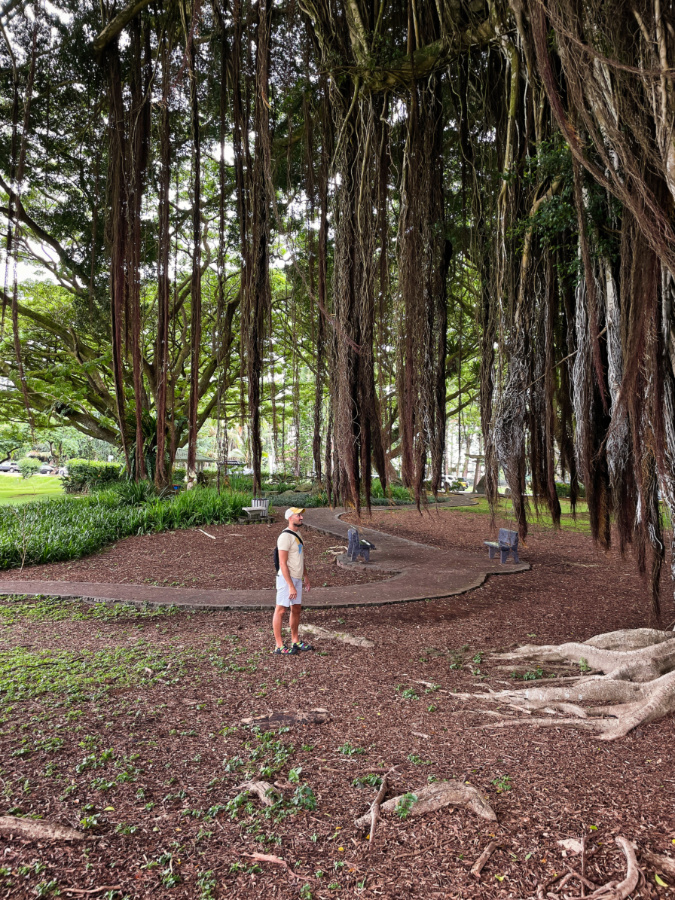 Parking Details at the SCP Hilo
Parking at the SCP Hilo Hotel is complementary and is all self-park. You'll park off the street in the hotel's lot where you'll find direct access into the hotel from the back. The parking isn't secured, but it's well lit and, I feel, very safe.
Ten Fun Things to do at/near Hilo
Hilo itself is a fun, pretty city. It's a large town, it feels, and it has plenty to do both within the city limits and within a half hour of the town. While there are tons of wonderful things to do on the Big Island, here are our top picks for things to do when you stay at the SCP Hilo:
Enjoy a beach day or SUP at Reeds Bay Beach Park
Bike to Downtown Hilo or a local beach
Experience the freshwater spring lagoon at Leleiwi Beach Park (next to Richardson's Ocean Park, awesome snorkeling spot!)
Waterfall tour day: Akaka Falls State Park, Waiale Fall, Rainbow Falls
Go on a Chocolate and Macadamia Nut tour of the eastern shore, self guided visiting Mauna Loa Macadamia Nuts and more…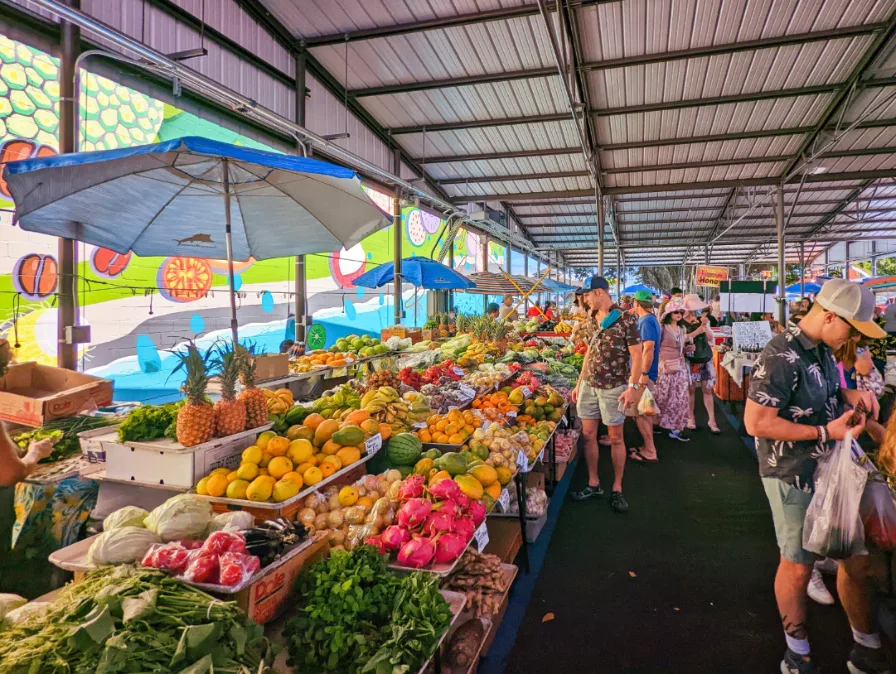 You'll love Hilo and staying at the SCP Hilo Hotel. We really enjoyed the city and our experience here. It was refreshing to stay someplace that was lowkey and where we felt so at home. The sense of community was real and we felt so welcome.
If you have any questions about staying at the SCP or anything about Hilo and touring the Big Island of Hawaii, please let us know. Leave a comment or send us a note; we're happy to help!