One of the highlights of visiting Hawaii Volcanoes National Park is experiencing the lava glow at night. But how does a normal person without fancy equipment photograph it? Well, we've got the answers for how to capture the lava glow and how to have the best experience at Hawaii Volcanoes National Park at night!
Be sure to check out our guide to Hawaii Volcanoes NP as well, because we have ideas for hiking, viewpoints and enjoying the scenic drives in the National Park too. This park is great for every age and interest, so be sure to enjoy it to the fullest!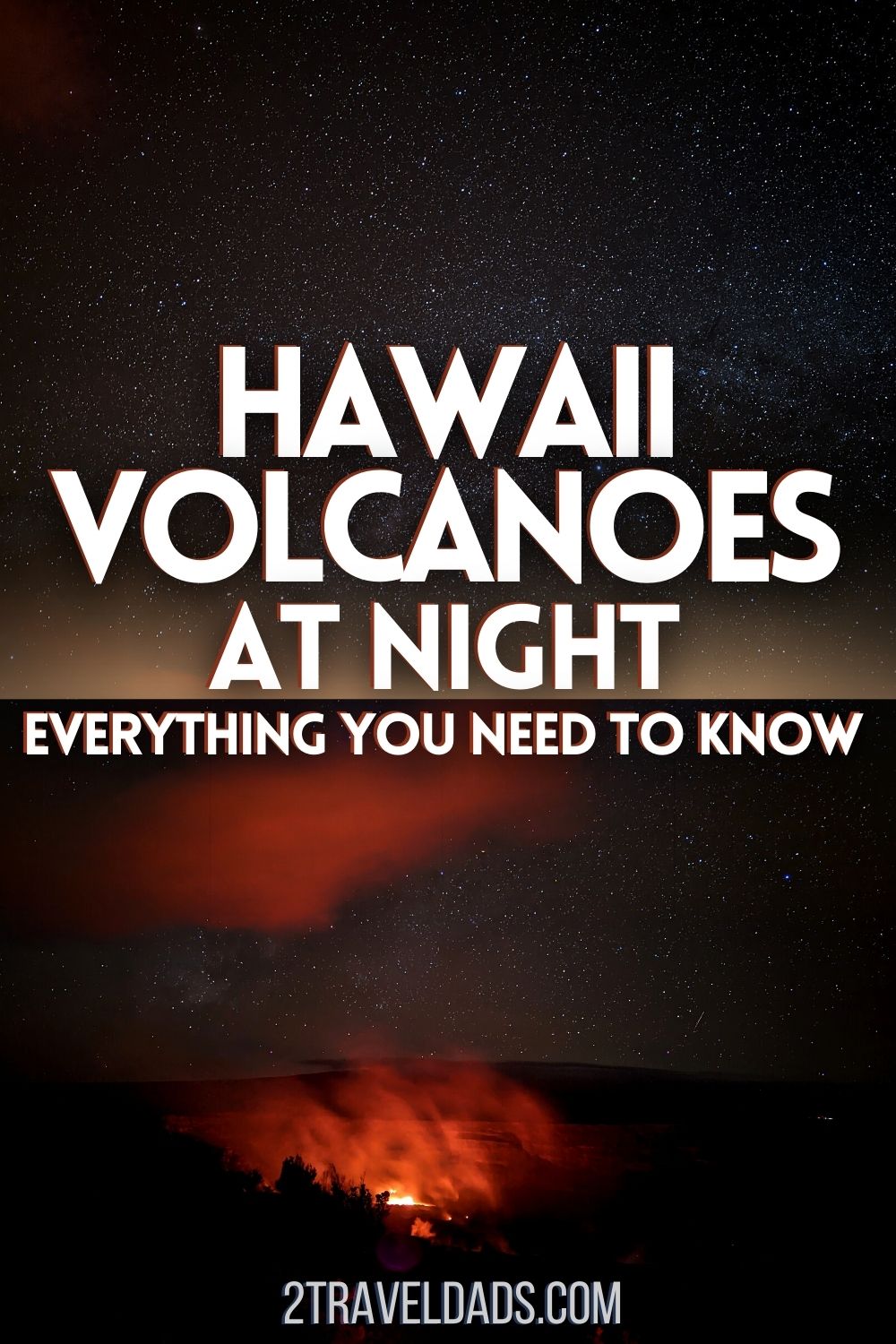 Why Visit Hawaii Volcanoes National Park at Night?
Most of the beauty of the Big Island of Hawaii is thought of to be along the beaches and hiking at waterfalls, but Hawaii Volcanoes National Park at night is remarkable. It's truly a unique experience, both as a Hawaiian activity and a National Park sight to see. Lava flowing and glowing under a perfect night sky: it's a one of a kind experience.
Don't' want to plan it all yourself? Book a guided HVNP nighttime tour!
Where to Go in Hawaii Volcanoes NP in the Dark
Of course it goes without saying that not every site you might visit in the daytime is going to be optimal at night. The lava flowing from Kilauea (and rarely Mauna Loa) is not visible everywhere, and not even every viewpoint you'd visit during the day for geothermal activity is good at night. Here are our picks for where to go in Hawaii Volcanoes National Park to see lava glow, ordered by how WE have approached it and would approach seeing lava at night again.
Start at the Kilauea Visitors Center to check in with Park Rangers and get any fresh reports of extra lava activity or closures (it's a very seismically active area)
Visit Volcano House / The Rim Restaurant for a meal or drink and to get the vibe of what the lava glow is doing during your visit. This is also YOUR FIRST view of the lava glow and the best way to start you visit to Hawaii Volcanoes National Park at night
Head north on Crater Rim Drive to the end of the road at Uēkahuna Overlook. This is the furthest point from civilization lights on Crater Rim Drive.
Park at Kīlauea Overlook (visitors center is closed, 2022) and walk the dimly lit Rim Trail to the various viewpoints, getting slightly different looks into the Kilauea crater.
Continue onto the big lava glow and flow finale: Keanakako'i Overlook. Park at the Devastation Trail parking area. This is a one mile walk in the dark… More information below.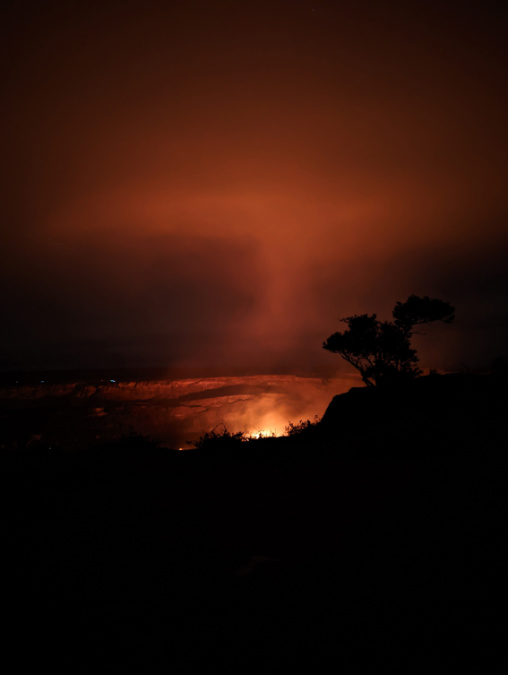 Where is the Best Lava Glow at the Kīlauea Crater?
Undoubtedly, the best place to see nighttime lava glow in Hawaii Volcanoes National Park is at the Keanakako'i Overlook. This area is at the end of the now closed portion of Crater Rim Drive. Seismic activity closed the road and now it's been turned into a pedestrian walkway to the overlook. This is the closest that non-geologists, non-rangers can go to see the lava.
You can visit Keanakako'i Overlook during the daytime as well as at night, but in the day the glow will now be as strong. It is still a very direct view of the currently most active part of the Kilauea crater lava lake, but sunlight hides the amazing red glow.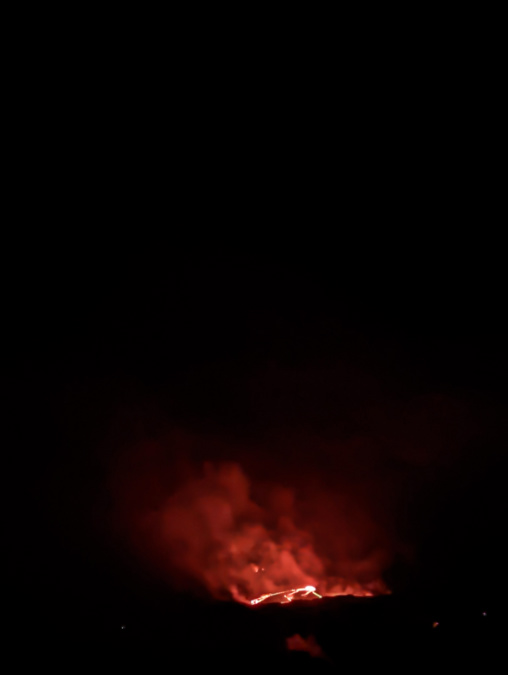 Should I Hike to the Kamokuna Flow to Sea?
If you have the time and energy, hiking the Kamokuna Flow to Sea trail is an unusual adventure. This is NOT an accessible thing to do in Hawaii Volcanoes National Park, but it's a bucket list activity for sure. This trail starts at the Holei Sea Arch parking area at the end of the Chain of Craters Road and it leads to where the lava flow meets the sea.
But here's the scoop: molten lava is not perpetually flowing here. While historically this is THE place to watch the red hot lava flow into the ocean, ever expanding the Big Island of Hawaii, it is not always active. There needs to be a major volcanic event happening to generate enough flowing lava to make it to the Kamokuna Flow to Sea area.
Here's a great article about the hike, what to expect and some how to plan for the hike.
Photographing Lava Glow
So how do you actually photograph the lava glow as it flows at night in Hawaii Volcanoes National Park? Great question.
The biggest thing to remember as you visit at night and try to capture photos is that your eyes are collecting the memory and full experience of what you're doing. There is much more to being in the National Park at night than the photos you'll walk away with, but I totally get it that getting good pics is a goal. With that, here's how you can do it (and hopefully meet your glowing lava goals!).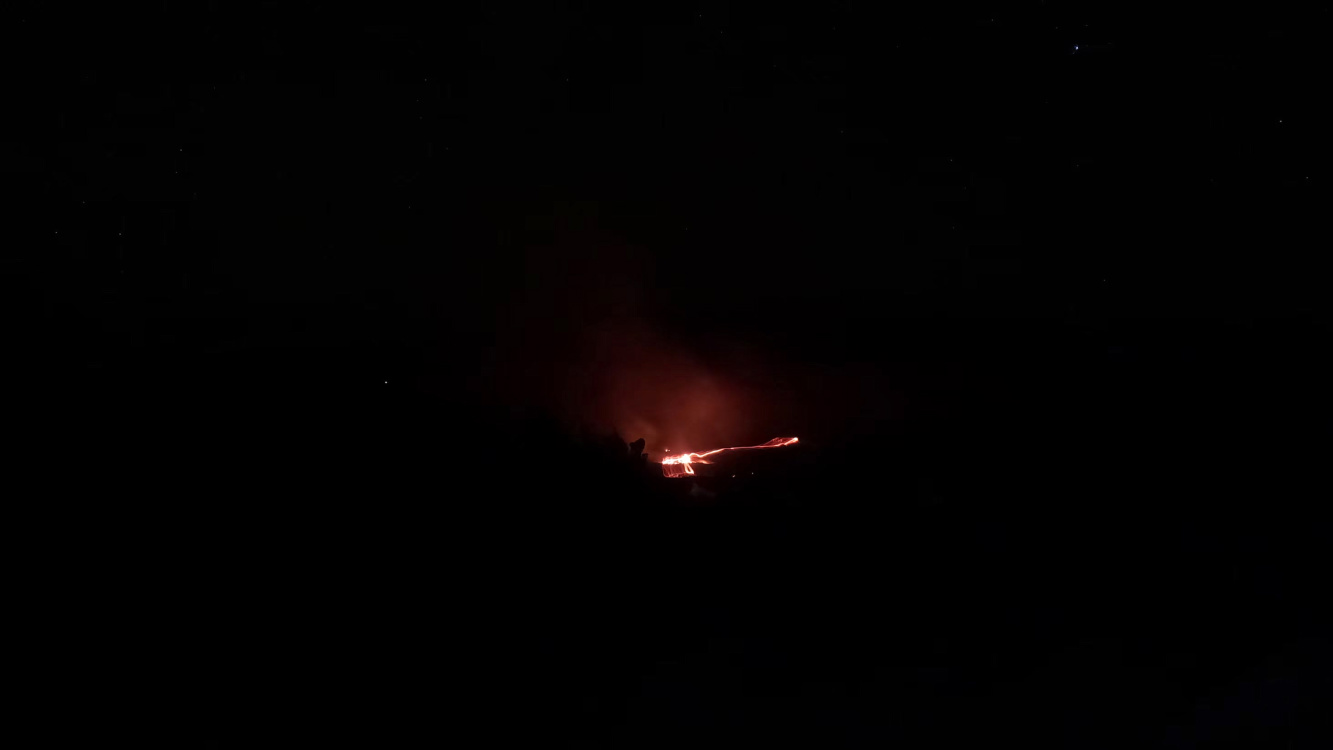 Tips for the Best Lava Pictures
I love taking pictures at night. We live in St Augustine, Florida and have a beautiful historic downtown and the Castillo de San Marcos, both which are awesome to photograph at night. With such great, readily available subjects, I get to practice nighttime photography often. Visiting Hawaii Volcanoes National Park at night allowed me the opportunity to test all of the nigthtime photography skills I've been working on.
To start, be sure that you have a tripod to set up your camera. No matter how still you think you hold yourself, a tripod with 99 out of 100 times prove to be more stable and provide the best photography situation. If you are using a phone, either a tripod or a stable phone case with a built in stand should be sufficient.
Once you're set up, try a few different settings on your camera. For the glow and how it illuminates the area around the crater, a really long exposure, such as an astrophotography setting, is good. This will capture the details of the many layers of cliffs around the Kilauea crater as well as the glow on the rising steam. Depending on your camera (or phone) you will most likely also capture starlight adding an extra beautiful element to your photos.
For the lava itself, a shorter exposure that can capture a lot of light quickly is better. Try a few things! I found that when at the Keanakako'i Overlook where the flowing lava itself is the most visible, the shorter exposures gave MUCH BETTER definition of the lava streams, while the very long astrophotography created images capturing the flow area more. Find what you like!
Tip: after you've taken a few nighttime lava glow photographs, REVIEW THEM. Look and see which techniques are creating the better images and see what happens when you change your zoom or exposure settings.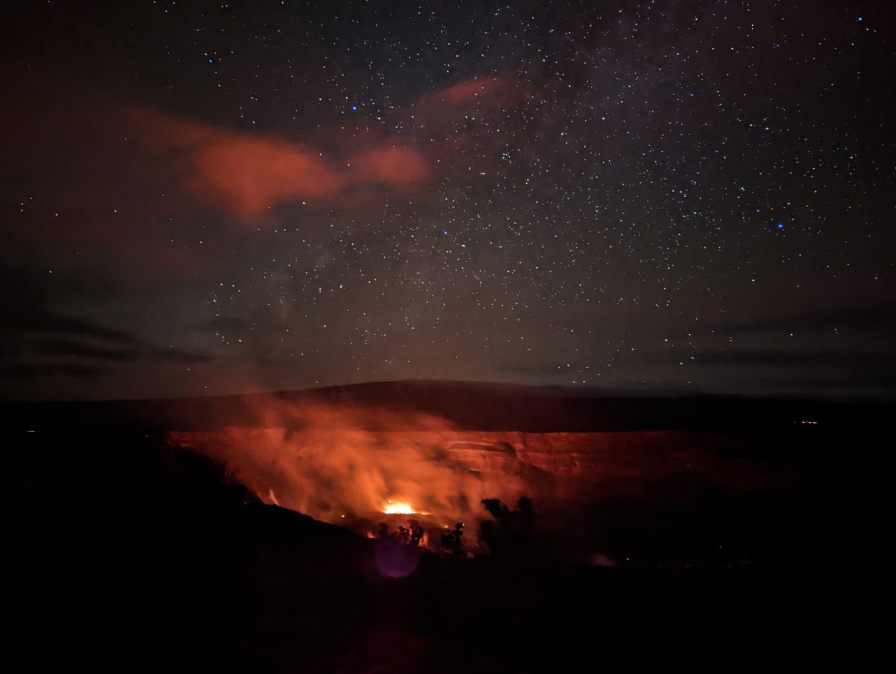 Night Sky Photography in Hawaii Volcanoes NP
The other wonderful bonus is the night sky over Hawaii Volcanoes National Park. With hardly any light pollution and very little humidity in the air, the stars over the Big Island of Hawaii are really clear and vibrant. Between catching a bit of lava glow at the bottom of your images or including the silhouettes of the volcanic forest, you can photograph very unusual night sky images.
Again, a tripod is your best friend for photography at night in Hawaii Volcanoes NP. If you would like to specifically get the stars but NOT the lava glow, there are two ideal places to do so:
The tree-lined road you walk on to the Keanakako'i Overlook
Any one of the pull-outs along the Chain of Craters Road, all the way down to the Holei Sea Arch.
There are no street lights or structures anywhere in these two areas and there is plenty of space to set up a tripod and photograph the night away.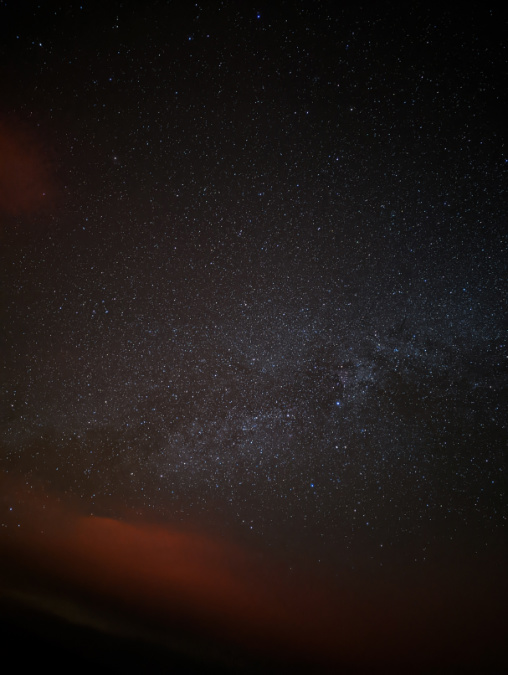 What to Bring into Hawaii Volcanoes NP at Night
I think the most important thing to bring into Hawaii Volcanoes National Park at night is warm clothing. It gets so very cold up on the volcano and the wind picks up quite a bit at night. Even though it's Hawaii, you're pretty high up and you're out in the middle of the Pacific Ocean, so yeah, it gets cold. We wore sweatshirts, coats, hoods and hats for visiting Hawaii Volcanoes NP at night and were still cold.
Other things to bring, I feel like we already addressed, are a tripod and your camera or phone. You do not need to bring flashlights and headlamps into the park, as they are simply disruptive to other visitors, create light pollution and ruin other people's experience. If you are concerned about walking in the dark, a very dim light is all that you'll need and it ONLY needs to be shown directly on the path you're walking.
What is the Best Non-Photographer Gear for Nighttime at Hawaii Volcanoes?
If you are trying to decide on the best way to get good pictures of lava glow at night in Hawaii Volcanoes NP, but you don't want to invest in a crazy professional mirrorless camera, I have a sassy and very much justified and accurate suggestion: the Google Pixel, and specifically the Google Pixel 6 Pro. This is the best camera phone camera on the market (yes, it's better than the iPhone 12) both for standard daytime photos and for sure nighttime photography.
We brought several cameras into Hawaii Volcanoes National Park and the only ones that rendered usable pictures were the Pixel 6 Pro and the GoPro Hero 11 Black. Of these two, the Pixel still outperformed the GoPro Hero 11. The Night Sight setting on the Pixel was PERFECT for capturing lava streams, and the Astrophotography setting (part of Night Sight) did a phenomenal job capturing the lava glow with starlight.
The GoPro Hero 11 Black did fine, but off all the images and video we took, very few were usable in comparison to what we got from the Pixel. The GoPro starry night setting was the most effective option with the Hero and it just didn't do the lava glow / flow justice. (pictured below)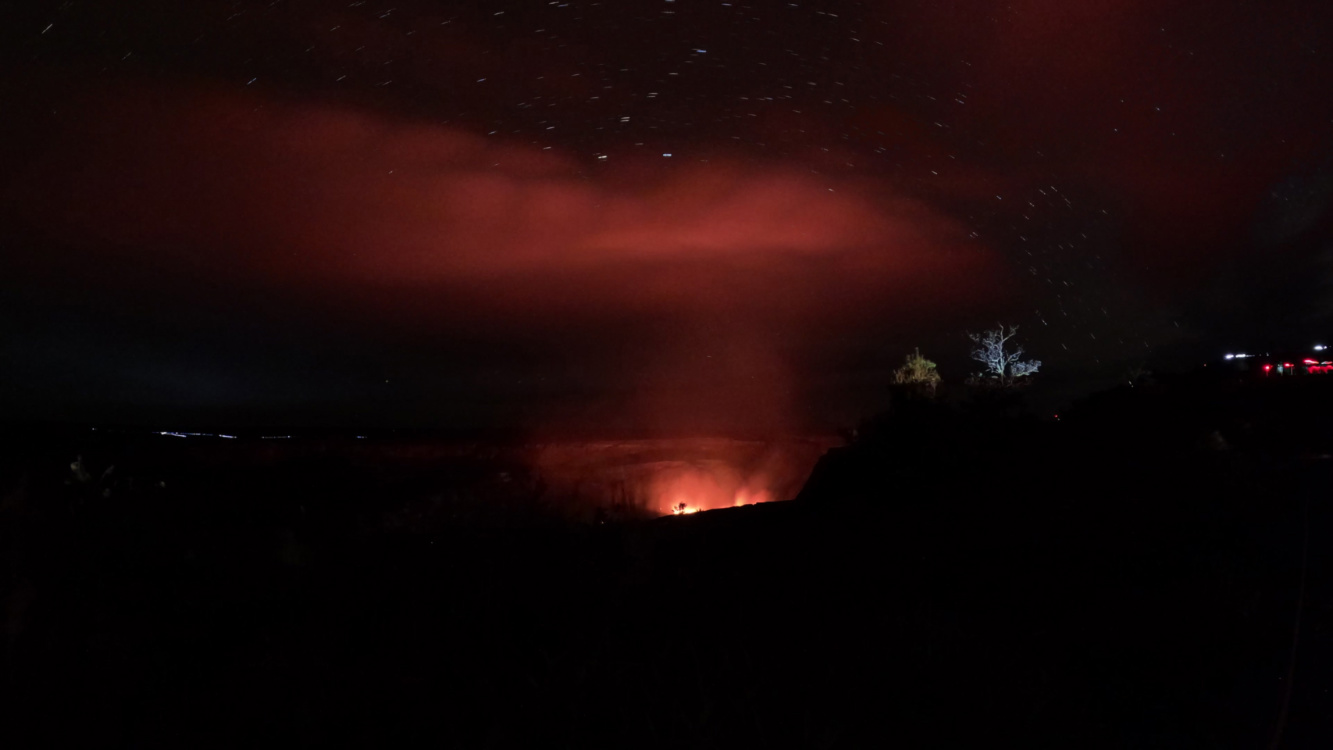 Best Way to Make a Video of Lava Glow
It's very difficult to get good video footage of the glowing, flowing lava, but there are a few ways to do it. If you are using a mirrorless or standard DSLR camera, set it up on a VERY stable tripod that will not shake in the wind, focus on your subject (the lava flow) and then start recording. Do not try to take panning shots unless you're using a professional video camera with the right capabilities, otherwise you'll just be wasting your time for a low quality video.
For regular people like you and I, what I found works best for creating a lava video is to take the individual images and collate them into a slideshow in sequence of the steam progress or changing flow. With my Google Pixel, it actually creates a short 1 second video of each Astrophotography capture, which when put together make a wonderful video. See below!
[adthrive-in-post-video-player video-id="3d2pHLUG" upload-date="2022-11-20T17:25:28.000Z" name="Hawaii Volcanoes Lava Glow at Night.mp4″ description="Flowing lava, lava glow and starry nightsky at Hawaii Volcanoes National Park on the Big Island of Hawaii." player-type="default" override-embed="default"]
Where to Stay for Visiting Hawaii Volcanoes at Night
It's easiest to plan a trip into the National Park if you're staying in Hilo, but you can add it to your trip if you're staying on the Kona Coast also. Keep in mind that the drive out of the park and back to your home base will be in the dark on winding roads, so plan appropriately. The beautiful sights of the Kona Coast and south shore aren't visible at night and it's a long two hour drive back to Kailua-Kona, so staying in Hilo is highly recommended.
We did our first visit to the National Park on our way from the Club Wyndham Kona Hawaiian in Kailua-Kona (west coast) to Hilo (east coast). When we visited the park at night, it was an easy drive (40 minutes) from our Hilo hotel, the SCP Hilo, to our first stop.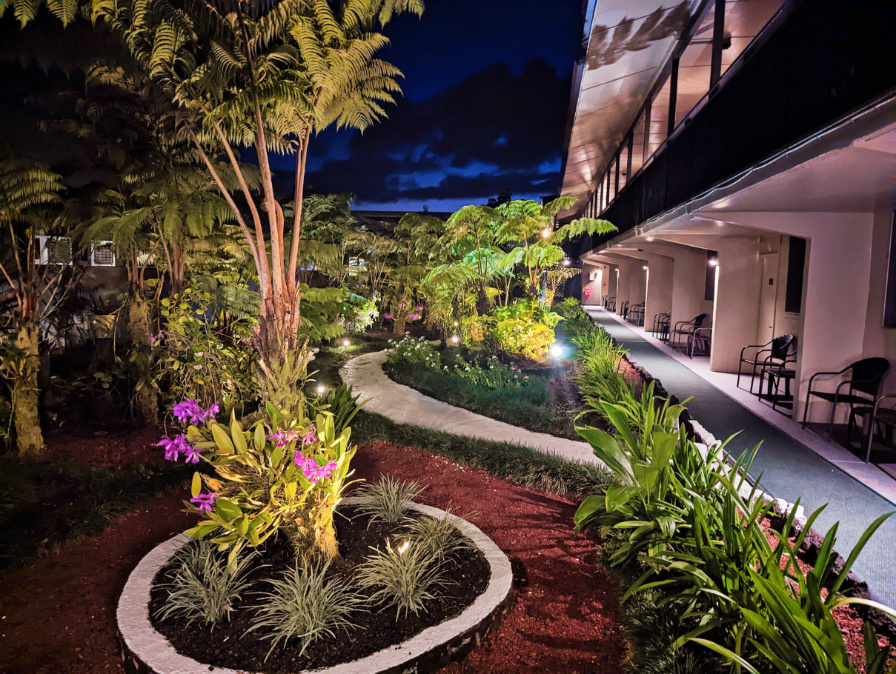 Staying at Volcano House National Park Lodge
If you can swing it and score a reservation, staying at Volcano House within the park is the most ideal option for enjoying Hawaii Volcanoes National Park at night. The lodge itself is located on the rim of the Kilauea crater, so stepping outside and taking in the lava glow from the property is so easy and such a unique stay.
When considering a stay at Volcano House, know that there are either Standard or Crater View rooms. Just as their description sounds, one faces the crate with the lava and one doesn't. If you want to be able to see it from your room, book accordingly.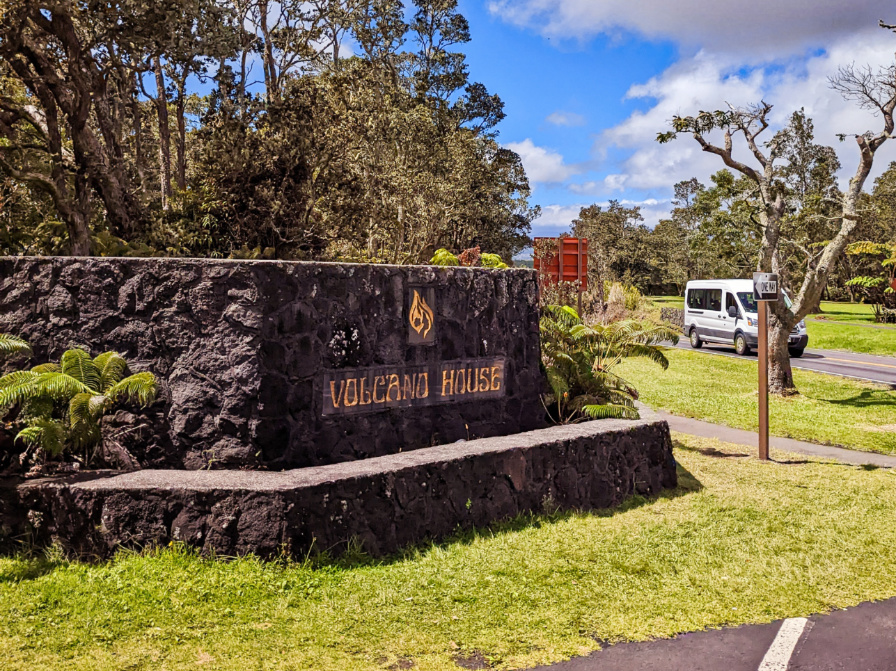 Clearly visiting Hawaii Volcanoes National Park at night is awesome and totally worth braving the cold during a trip to the Big Island. While it's not always a perfectly clear night around the Kilauea crater, if you visit and there are clouds or too much steam, just be patient and let it pass. You'll be so glad you persevered and experienced the magic of the lava glow.
If you have any questions or additional thoughts on visiting Hawaii Volcanoes National Park at night, please leave a comment or send us a note. Happy traveling!