With each visit, we fall in love with the Hawaiian Islands a little more. There are only few places on Earth as beautiful as Hawaii, and kayaking in Hawaii is an experience like no other. Oahu is home to some of the most popular kayaking spots in the islands, and paddlers of all skill levels can enjoy stunning views and incredible wildlife encounters. We really enjoy visiting friends and exploring Oahu, so adding kayaking to an Oahu itinerary just combines the best of all worlds.
Whether you're a seasoned kayaker or a first-time paddler, kayaking on or around Oahu is an unforgettable experience. The mountains spilling down into the sea make for epic views from the water, and the wildlife is incredible. It can be dangerous too though, so always approach kayaking on Oahu or any other Hawaiian island with a "Safety First" mindset and go with a guide when possible. Since the eastern side of Oahu is more mellow, most of the kayaking options are on this side.
If you have any questions about kayaking on Oahu, our favorite snorkeling spots or anything else related to the other islands in Hawaii, feel free to leave a comment or send us a note. And if you have your own recommendations, please share them! We love seeing people plan exciting, unforgettable adventures!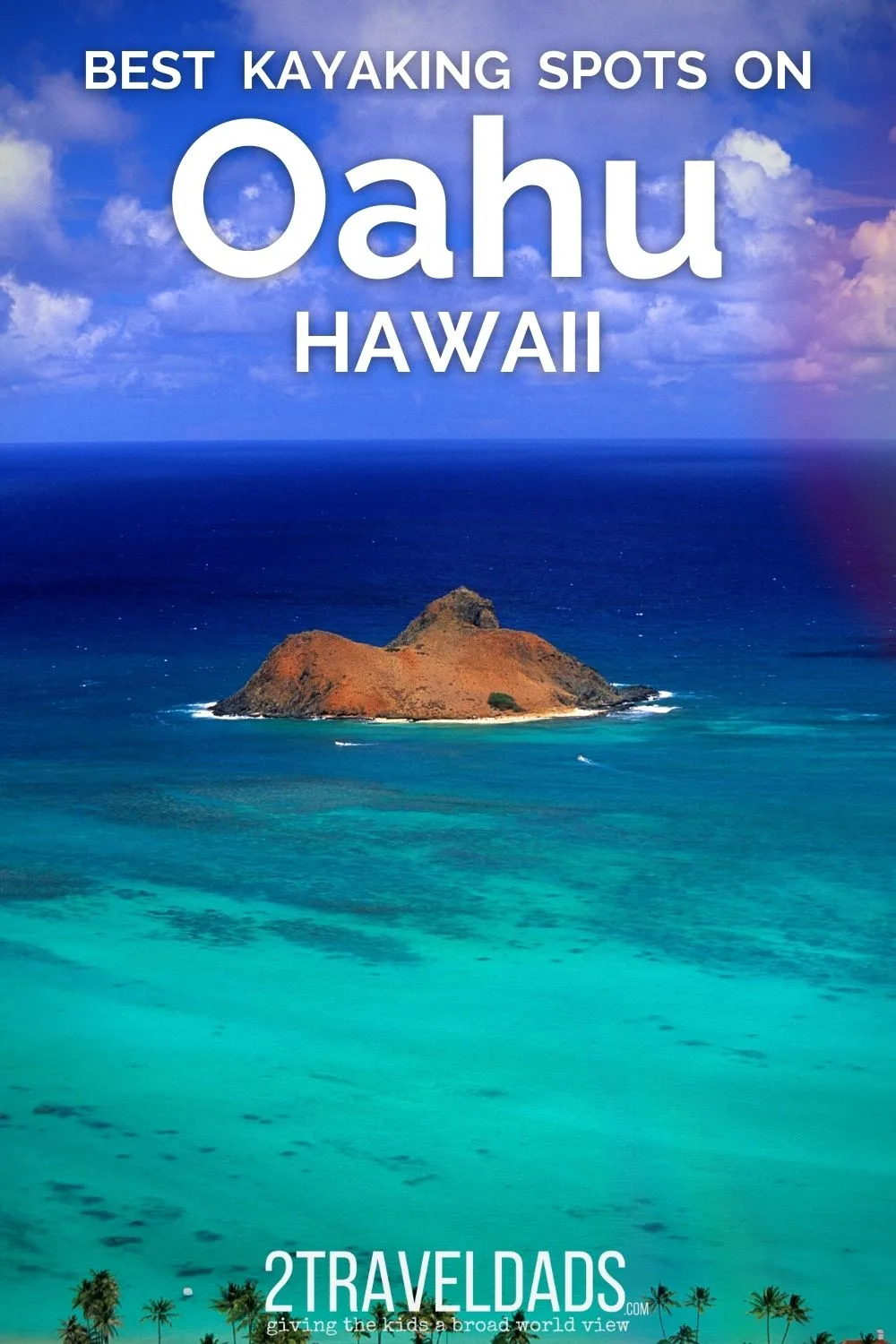 Easy Kayaking Spots on Oahu
Whenever we talk about kayaking in Hawaii we approach it with caution. While there are easy, mellow spots on Oahu for kayaking if you're not a professional, you still need to be familiar with currents, how to watch the changing weather, and where your skill and energy level can take you. Also, be sure you're using the right type of gear for the conditions you're kayaking. Sea kayaks are often the most appropriate option, and if you're near one of the best spots for kayaking on Oahu, you'll no doubt see local vendors with rentals or guide services.
Kailua Beach and Bay – East Side Near Honolulu
Kailua Beach is one of best beaches on the eastern side of Oahu that is easy to get to from Honolulu. The soft powdery sand with great shade from the trees that line the beach up means you could spend the entire day with a book in hand and the breeze in your hair. If you're wanting to go for a nice little kayaking adventure, Kailua Bay provides calm waters and connects to an even calmer waterway, the Ka'elepulu Stream which takes you to the Ka'elepulu Pond.
You can also do a guided tour of Kailua Bay if you like, or just paddle on your own. Kayaking from Oahu to the islands in the bay, Popoia Island (Flat Island) or the Mokulua Islands can be difficult and should run you from 3-5 hours for the whole kayaking experience (see below). To keep it an easier paddle, stay close to shore and explore the stream and pond, and if you have time and it's a calm day, kayak to Popoia Island.
Where to launch: Kailua Beach Kailua, HI 96734
Book a guided kayaking tour of Kailua Bay here!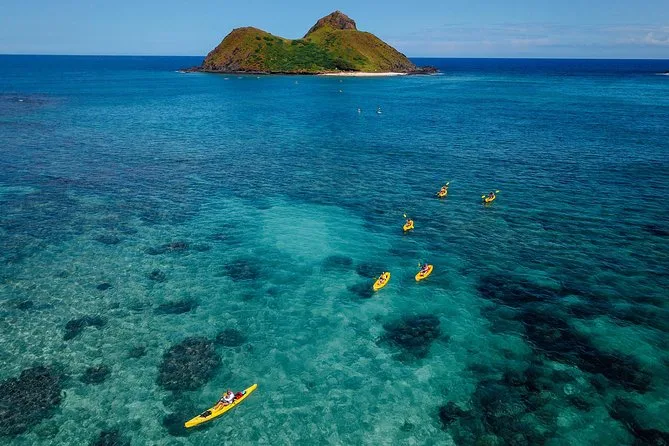 Kaneohe Bay – East Side
Kaneohe Bay is a great area to spend the day discovering the beautiful marine life and paddling above the coral reef that surrounds the bay. The bay is protected making the waters perfect for paddlers of all skill levels. A paddle here gives visitors the opportunity to visit the massive Kaneohe sandbar.
Rentals are available here! Kama'aina Kayak and Snorkel does kayak rentals and snorkel gear, so either plan for a half or whole day kayaking my favorite waters on Oahu. You can rent either a single kayak or tandem kayak.
Where to launch: He'eia Pier – General Store and Deli 46-499 Kamehameha Hwy, Kaneohe, HI 96744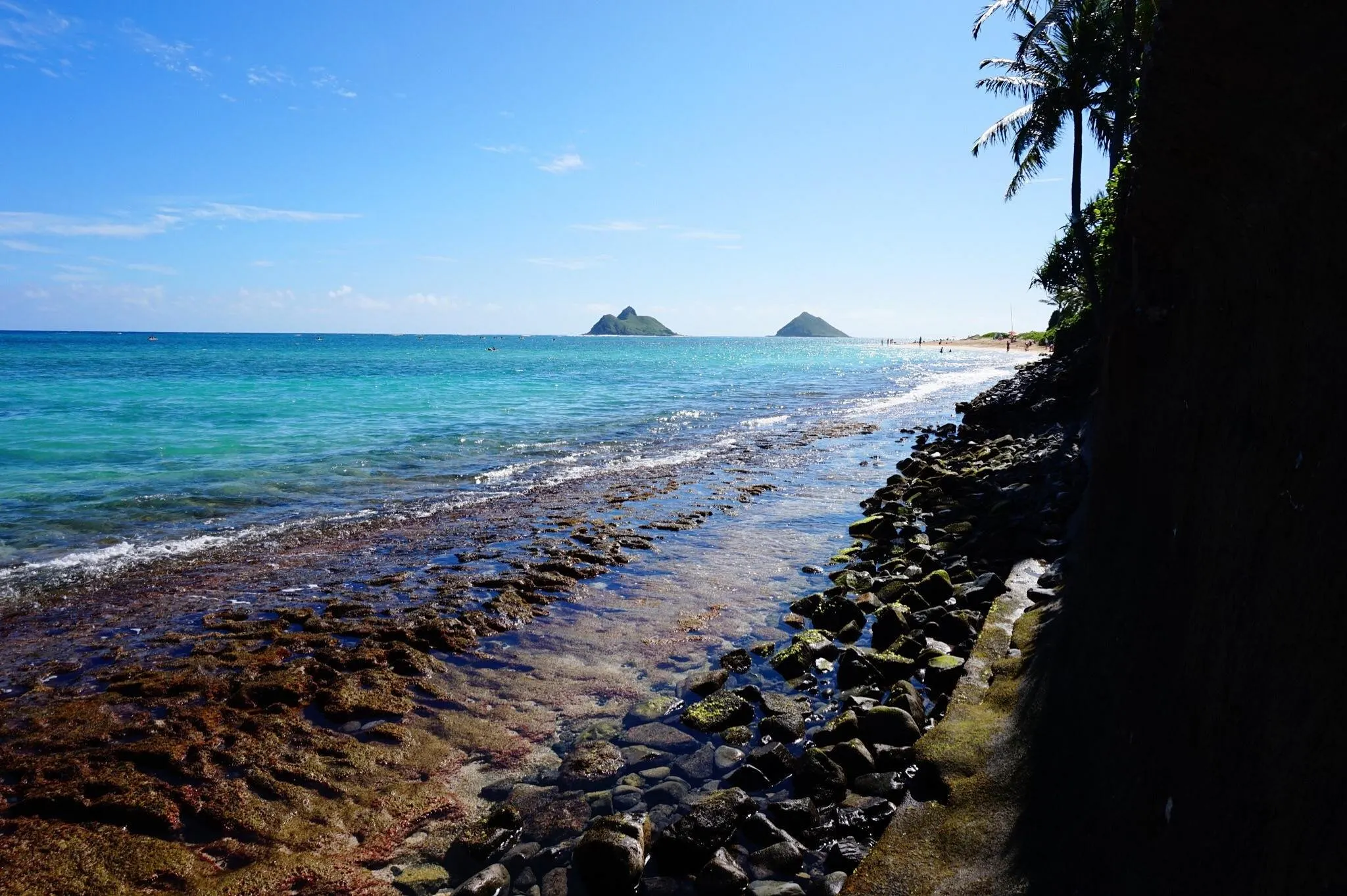 Haliewa – North Shore
Kayaking Haliewa is a great way to experience North Shore. This is a very special part of the island and people are very protective of its waves, coves and waters in general. Summer months are best for a calm paddle, and it'll be some of the more beautiful kayaking on Oahu. In the winter months, the swells are large and the surfing is intense, both with people and forceful wave, so the alternative to kayaking on the open water is to kayak Anahulu Stream to the Rainbow Bridge and beyond. This is a popular spot to go SUPing too.
Where to launch: Haleiwa Beach Park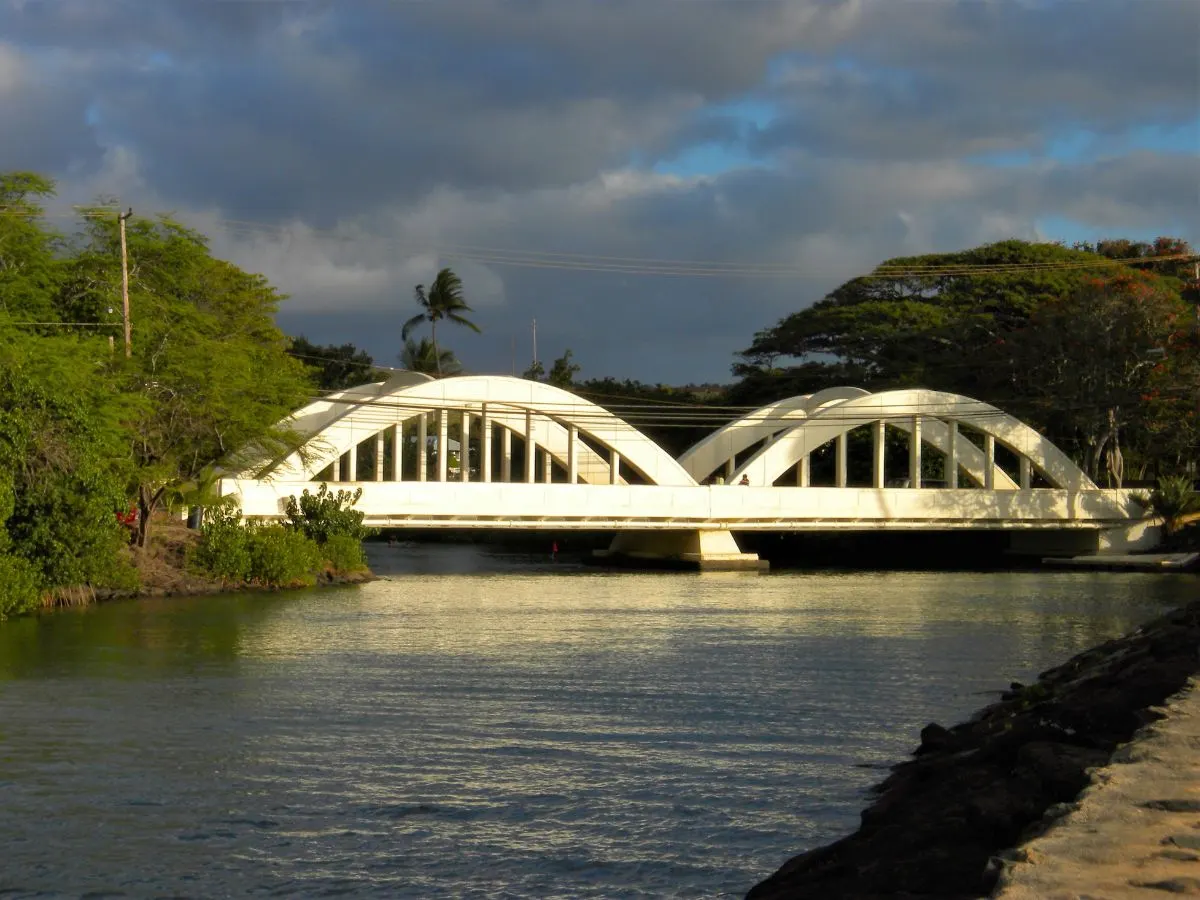 Moku o Lo'e Island – Super Easy Oahu Kayaking
Moku o Lo'e Island, also known as Coconut Island is located off Kaneohe Bay. As the site of the marine research facility of the Hawaii Institute of Marine Biology of the University of Hawaii, the waters are loaded with beautiful reef fish and tons of sea turtles. Kama'aina Kayak and Snorkel Eco-Ventures are one of the most recommended agencies for this paddle. This is one of the easiest places on Oahu for kayaking.
Where to launch: Kaneohe Beach Park or He'eia Beach Park
Experienced Kayak Launches in Oahu
Located in the middle of the Pacific Ocean, kayaking Oahu means tons of opportunities for those looking for a moderate or intense paddle experience to be in the open sea. Sea kayaking gives you the chance to see whales, tropical fish, and sea turtles. This is all in the method of SAFETY FIRST kayaking though. Don't trick yourself into doing a paddle that's outside of your skill level. Paddling the open water can be intense.
Lanikai Beach
Kayaking is a popular activity on Lanikai Beach. A moderate paddle is from Lanikai Beach to the Mokes and back, totaling about 5 miles. If you want to have a view from the land, check out the Lanikai Pillbox Hike, or pair the two together for a whole day of hardcore Hawaii fun.
When you're kayaking from Oaho out to the two Moke islands, keep in mind that there is a protected bird sanctuary on the north island, so pay close attention to posted signs about both where you AS A HUMAN can actually be on the island and about wildlife precautions.
Where to launch: Kailua beach boat ramp 2-104 Alala Rd, Kailua, HI 96734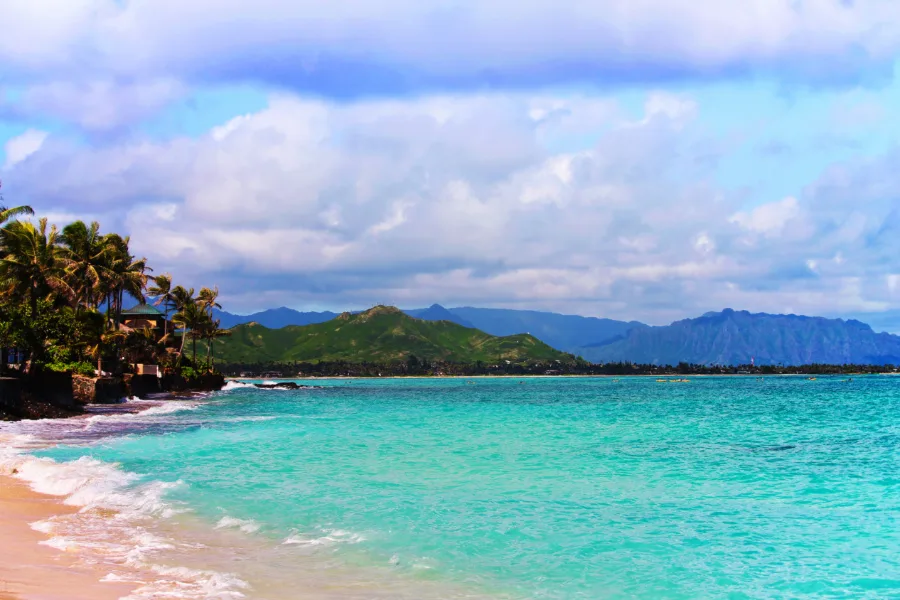 Popoia Island – Undeveloped and Beautiful Kayaking Spot
I mentioned kayaking to Popoia Island earlier when talking about Kailua Beach, which is very nearby. Being just a quarter of a mile away, getting to Popoia Island by kayak may seem straightforward but check the weather and surf conditions before going out. Once you get to the island be mindful of the wildlife as this area is a bird sanctuary. Most kayakers combine a trip to Popoia Island and Mokulua Islands.
*SUP friendly- when weather conditions are ideal, but then ROUGH if the wind picks up just a bit
Where to launch: Kailua beach boat ramp 2-104 Alala Rd, Kailua, HI 96734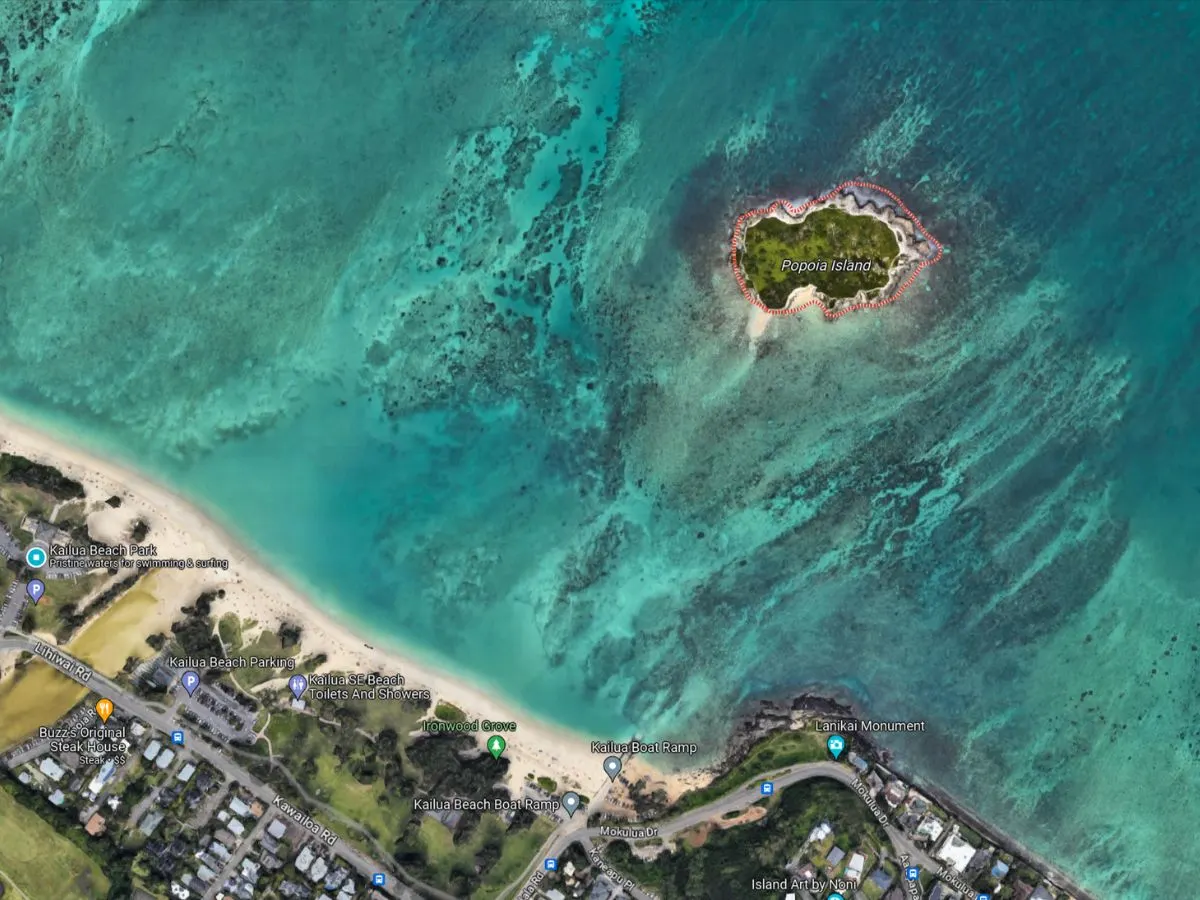 Mokoliʻi Island – off the Jurassic Park Filming Site
Mokoliʻi Island is one of the most iconic landmarks on the Windward Coast. Also, known as the Chinaman's Hat (not a good name at all), based on its look as a hat worn in rural China. The island is popular for sunrise photos and morning kayaking. Even though it doesn't look too far away and like maybe the island is walkable from Kualoa Park, be mindful of tides and check conditions before going out for a paddle.
Once on Mokoli'i Island you can do a little hiking, explore the tidepools and even get a little beach time on the little beach nooks. Remember, and I've said the ten times now, SAFETY FIRST.
Where to launch: Kualoa Regional Park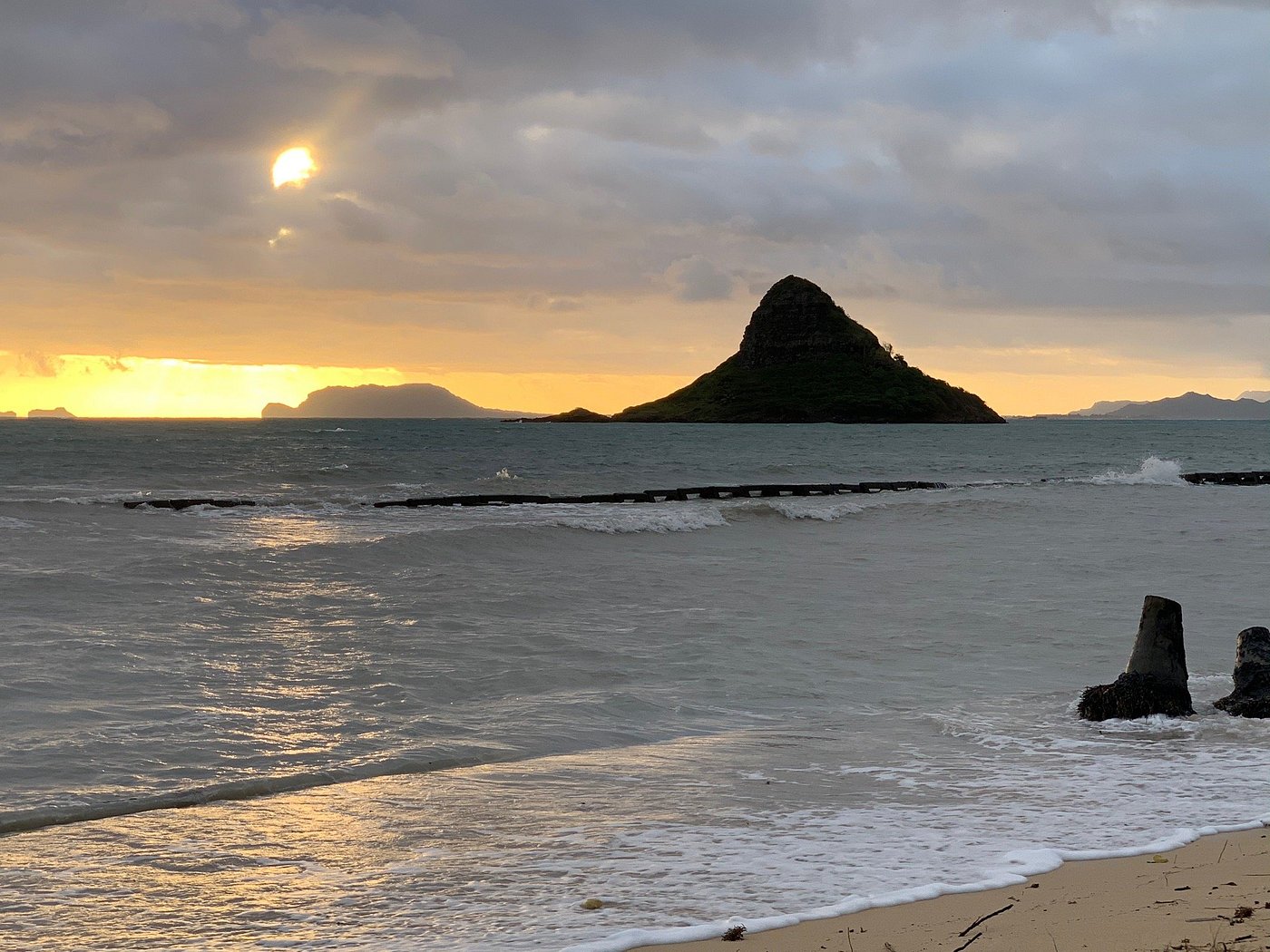 State Park Kayaking Spots on Oahu
Tourists flock to Oahu for Waikiki Beach and the convenience of the Honolulu airport as a gateway into the many state parks that dot the Hawaiian Island. Finding a state park with rugged volcanic coastlines and lush greenery isn't difficult and within a half hour of leaving the airport you can be on the beach or in a kayak.
He'eia State Park and He'eia Fishpond
He'eia State Park is a great place to explore on a self-guided walking tour. There are stunning views of the coast and an abundance of plant life. Located in the same vicinity is the He'eia Fishpond, a privately-owned fishpond used to trap large fish to breed for food. As home to the only barrier reef on the island, the protected bay means calm waters. Be mindful of where you're kayaking, as there are restrictions and areas not meant for recreation. This is where you can go paddling to check out Coconut Island.
Where to launch: He'eia Kea Boat Harbor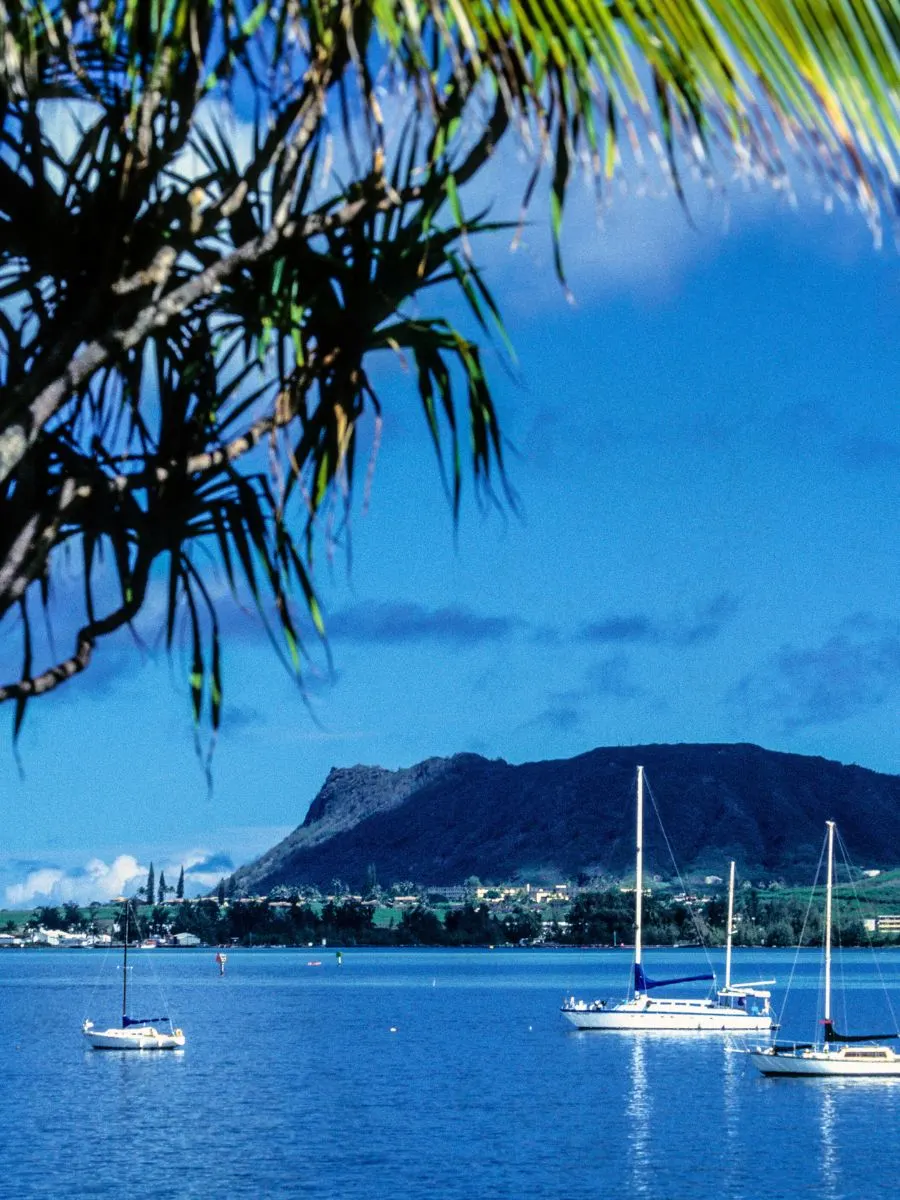 Pokai Bay Beach Park
Located on the Waianae Coast on the west side of Oahu the clear, calm waters of Pokai Bay Beach Park are great for anyone wanting to stand-up paddle or kayak. The 15-acre beach park is perfect for families with young children as the swimming conditions are ideal. A wide reef in the bay gives great protection from currents, surf, and rough waters. There aren't a lot of calm bays for kayaking on the west side of Oahu, so enjoy the sheltered coves when you can.
Where to launch: Pōkaʻī Bay Beach Park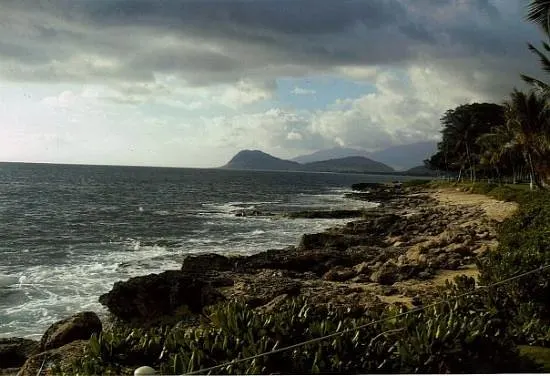 Ahupuaʻa ʻO Kahana State Park
Ahupuaʻa ʻO Kahana State Park, is located on the windward side of Hawaii's most visited island. The area is filled with rainforest hikes, a typical coconut grove, great swimming conditions, and campsites on the beach. On the water, kayaking here is great for those with beginner skills or those looking for a leisure paddle. This spot is also referred to as Kahana Bay or Kahana Beach Park.
Where to launch: Ahupuaʻa ʻO Kahana State Park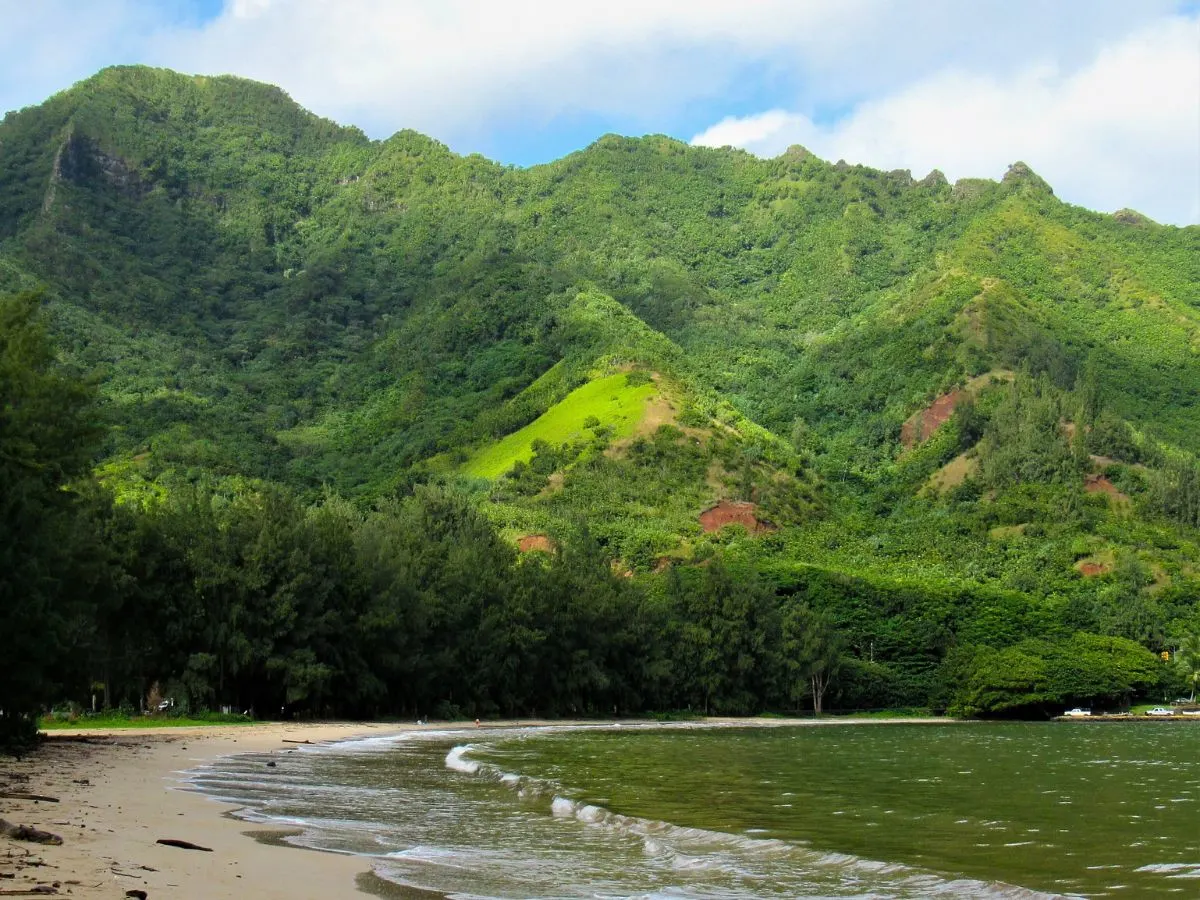 Mālaekahana State Recreation Area on the North Shore
Mālaekahana State Recreation Area has a great space for active visitors- kayaking, stand-up paddling, swimming, and surfing are just some of what you can do in this beautiful space of the North Shore. Water conditions are great for swimming and paddling any season outside of winter. Onshore you're surrounded by shady tropical woodland. While in the area visit the Mokuauia Islet Seabird Sanctuary.
Where to launch: Mālaekahana State Recreation Area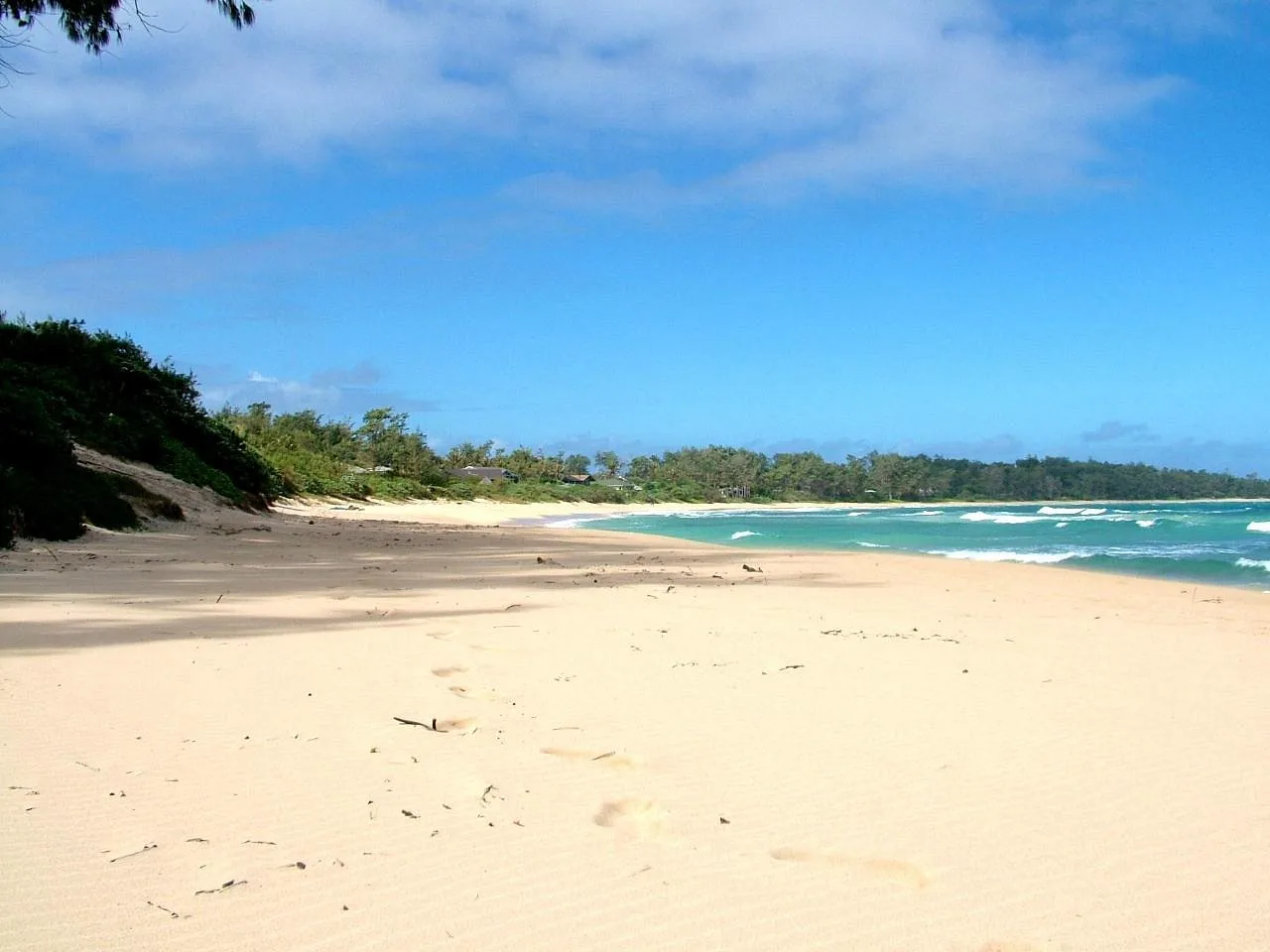 Recommended Kayaking Tours in Oahu
Explore the islands that dot Kailua Bay on this guided (or self-guided tour). Snorkels are provided and once you get to your island destination have a swim with the sea turtles. Book it here!
We really enjoy getting to see underwater and we have done clear kayaking here in Florida. There is also a really cool clear kayaking tour on the North Shore out of Haleiwa. Turtles, fish and ancient lava beds underwater make it a really unique kayaking tour on Oahu. Book it here!
Take the morning time to explore the beaches of Kailua and Lanikai. Then paddle to the Mokulua Islands, a bird sanctuary, and view the wildlife while having your picnic lunch. Book it here!
For something very different, the Polynesian Cultural Center does glow SUP at night. Paddle after dark with glowing, lit paddle boards. It's great for kids and is a unique sort of Oahu paddling experience. Book it here!
You'll notice we haven't talked a lot about Honolulu or Waikiki. Well here you go. If you're just having a chill trip and decide you want to paddle at Waikiki, you can rent a single outrigger canoe and go for a mellow lagoon paddle. There you go: Waikiki covered! Book it here!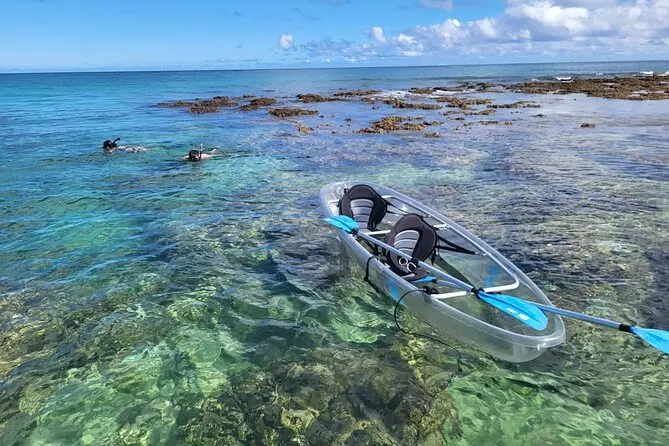 Need to Know for Oahu
To get to Oahu, you'll fly from the mainland USA into Honolulu (HNL). It's a really big airport with all the major car rental companies represented. From here, you'll head to your home base for your visit. We like staying in either Ko Olina or Pupukea, but you can find lots of great hotels and resorts on Oahu. Waikiki is for sure the strongest concentration of hotels and accessible beaches, but the North Shore of Oahu and eastern side are wonderful too.
Wherever you choose to stay on Oahu for kayaking, snorkeling and beaches, two rules always needs to be followed: be respectful and travel with a minimal impact. The Hawaiian Islands are delicate and they have a rough history of colonization, so if you are going to visit, do it with care and intentionally spending your money with locals. The same goes if you're doing a road trip around Kauai, enjoying a week on the Big Island or exploring Maui.
Oahu Wildlife to Watch for When Kayaking
Some of the best places to kayak in Oahu include Kaneohe Bay, Kailua Beach Park, and Ala Moana Beach Park. These locations have more gentle waters perfect for exploring by kayak, and they are all loaded with marine life. Kayakers can expect to see turtles, dolphins, and even whales while paddling around these gorgeous sites.
One of my favorite wildlife experiences on Oahu was being on the water in Kaneohe Bay and having two honu (green see turtles) swim right up to me and look me in the eye, then swim off. Also, Hawaiian spinner dolphins are a common sight (a lot on the west side!) and if you're lucky, you may even get to see humpback whales from your kayak.
Like with any sort of wildlife safety, it starts with the simple guideline of DO NOT APPROACH WILDLIFE. Keep the wildlife wild, especially as marine life can be even more delicate than land mammals.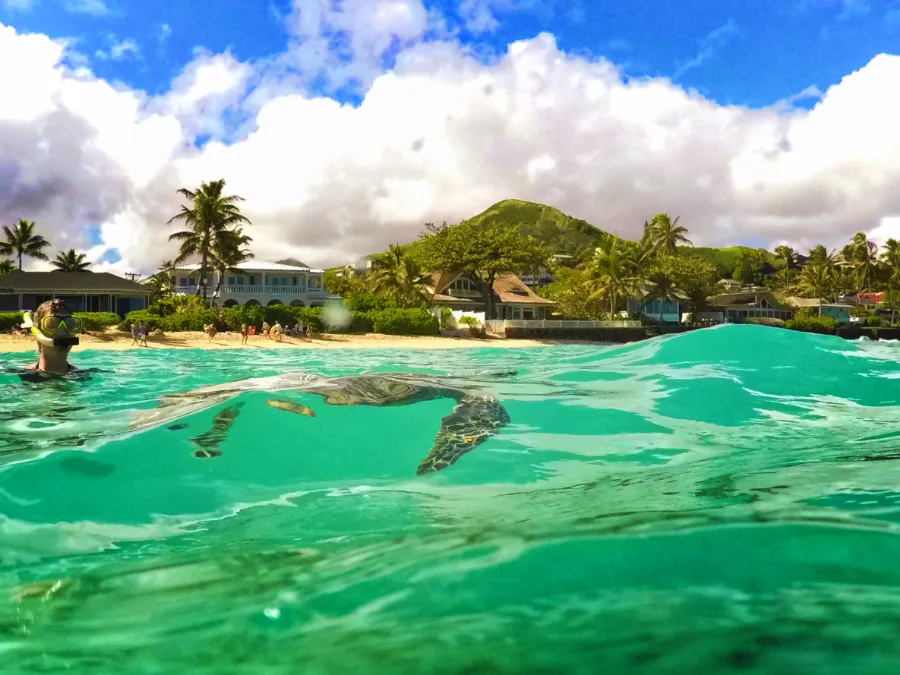 Weather in Oahu
The best time to visit Oahu is during the months of April, May, September, and October. These months offer the perfect combination of mild temperatures and low humidity. However, if you're looking to avoid the crowds, plan your trip for November through March. Keep in mind that the weather is cooler during these months, so pack accordingly.
Despite being located in the tropics, Oahu's weather is surprisingly diverse. The island experiences two different climate zones – the wet and dry zones. The wet zone is located on the north and east shores of the island, where it receives the most rainfall. The dry zone is located on the south and west shores and experiences significantly less rainfall. This results in a wide range of microclimates, which is why the east side of the island is lush and green, while the west side is arid and desert-like.
Of course, the weather isn't always perfect on Oahu. The island does experience occasional showers, particularly during the months of November through March. However, these showers are usually short-lived and don't last long. If you do encounter a shower, simply head to one of the many rainforests or waterfalls on the island. You're sure to find plenty of beauty – even in the rain.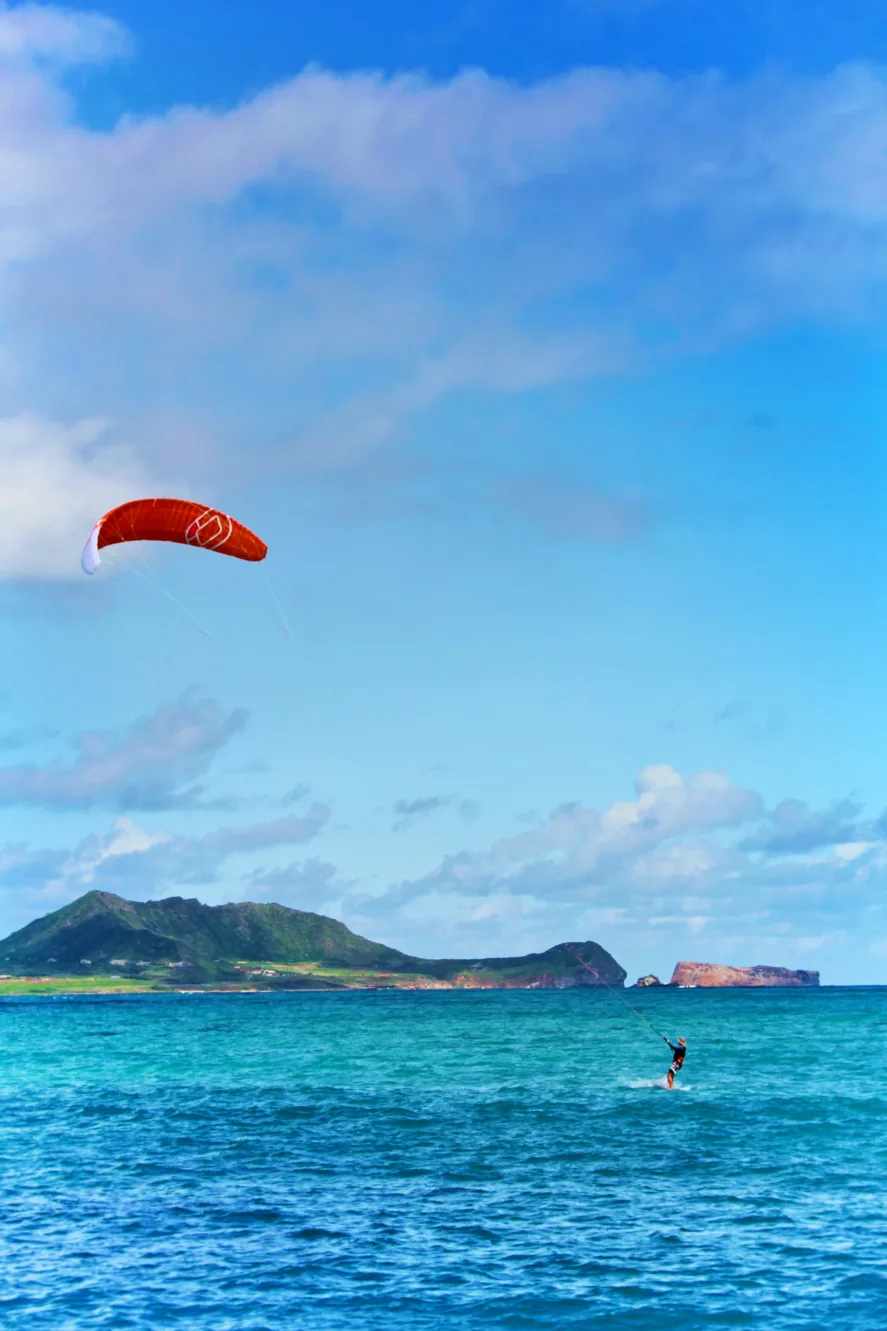 When to Visit Oahu
Oahu is a beautiful island located in Hawaii. The island is known for its stunning beaches, clear blue waters, and lush vegetation. Oahu is also home to many interesting cultural attractions, including the Waikiki Beach area, the Pearl Harbor National Memorial, and the Bishop Museum. Visitors to Oahu can enjoy all of these attractions year-round. However, the best time to visit Oahu is during the months of April through November. During this time period, the weather is typically sunny and warm, with temperatures averaging in the low 80s Fahrenheit.
Additionally, many major events take place on the island during this time of year, including the Honolulu Marathon and the Ironman World Championship. If you're looking for a truly unforgettable vacation experience, make sure to plan your trip to Oahu during the months of April through November.
Regardless when you choose to come, Oahu is a great place to explore. Wherever you put-in your kayak or SUP board you will have an incredibly memorable experience. Whether you want a self-guided paddle or a multi-day guided tour, each island of Hawaii has something awesome for kayaking enthusiasts!!
If we didn't include your favorite spot for kayaking on Oahu, please leave a comment or send us a note with your recommendation. We're always happy to share more about planning unforgettable trips to explore Hawaii!