I've never been anywhere else on earth quite like the Big Island of Hawaii. After several visits we've got a great Big Island itinerary that includes lots of snorkeling, Kona coffee, Hawaii Volcanoes National Park, waterfalls and more. Our plan for a Big Island of Hawaii road trip is best with six or 7 days, but you can trim it for however long you need.
Are you ready for an amazing trip experiencing a totally different side of Hawaii? The Big Island has some of the most unusual landscapes in the Hawaiian Islands. Also, we've been able to visit more Hawaiian cultural sites on the Big Island than Oahu or Kauai, which I think is so important to both understanding and respecting the Islands and their people. As you plan your Big Island itinerary, it's important to leave no trace in your activities, and as you bring your tourism dollars to Hawaii, that you make thoughtful decisions that go back into the communities you visit.
Check out our Hawaii podcast episodes!
If you have suggestions to make this Big Island itinerary easier or to get in additional sights and activities to incorporate into the road trip around Hawaii Island, please leave a comment or send us a note. We're always happy to share more!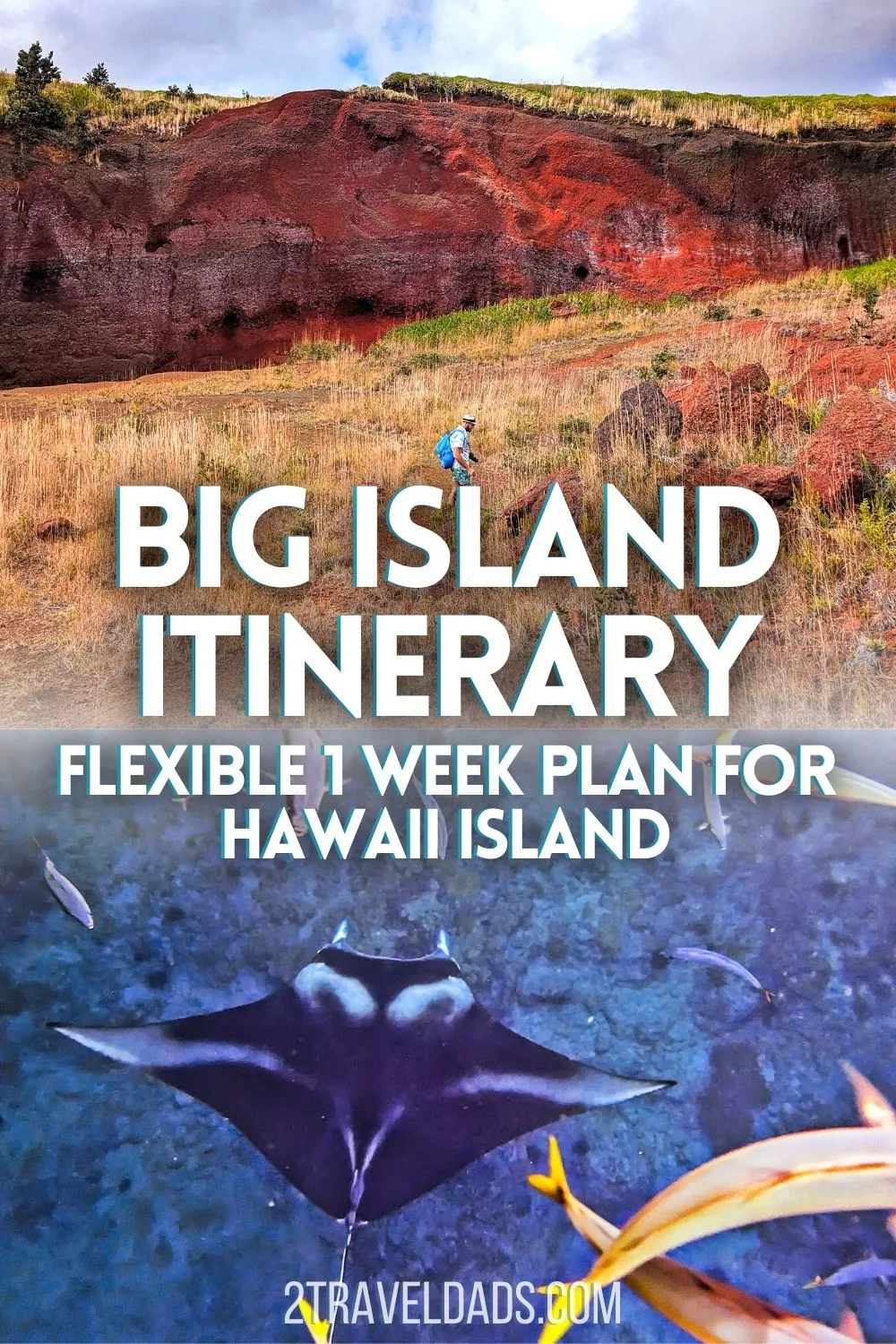 Planning a Visit to the Big Island of Hawaii
Planning a trip to Hawaii is a big feat to begin with, so once you've decided which island or islands you're visiting, that's when the fun of creating your travel plan starts. Our Big Island itinerary is ideal for somebody who's either never been to Hawaii or has just never done the Big Island. There are so many things to do on the Big Island that the road trip to explore it can take any shape.
As you plan your visit to the Island of Hawaii, you'll see that it's much larger than Kauai, Maui or Oahu. A vacation here can cover a lot of ground, including several distinctly different regions: the Kona Coast, the Hilo / Hawaii Volcanoes area, and the north shore. Where you spend most of your time depends on what you're most interested in.
The Kona Coast is where you'll find the bulk of Hawaiian cultural sites on the Big Island, and also where you'll have the most snorkeling opportunities. This is also where Kona Coffee culture is the most prevalent.
On the Eastern Shore, around Hilo and down into Hawaii Volcanoes National Park you'll find tons of hiking, waterfalls and the more city-like part of the Big Island.
Heading to the North Shore, you get into the lush, green valleys and away from the massive lava flows. Agriculture, waterfalls and surfing are the way on the North Shore, making it much less visited than much of the Big Island.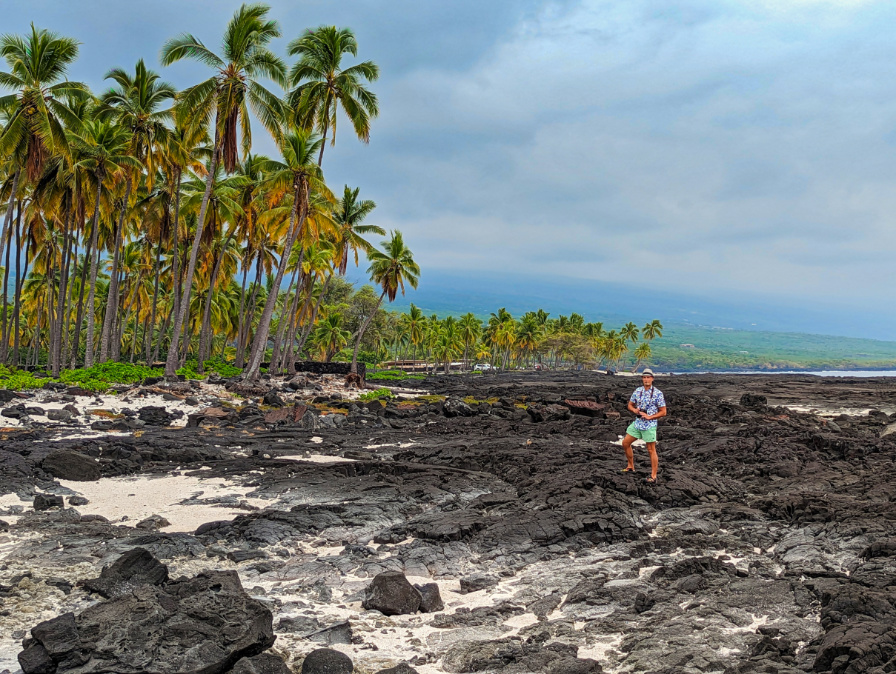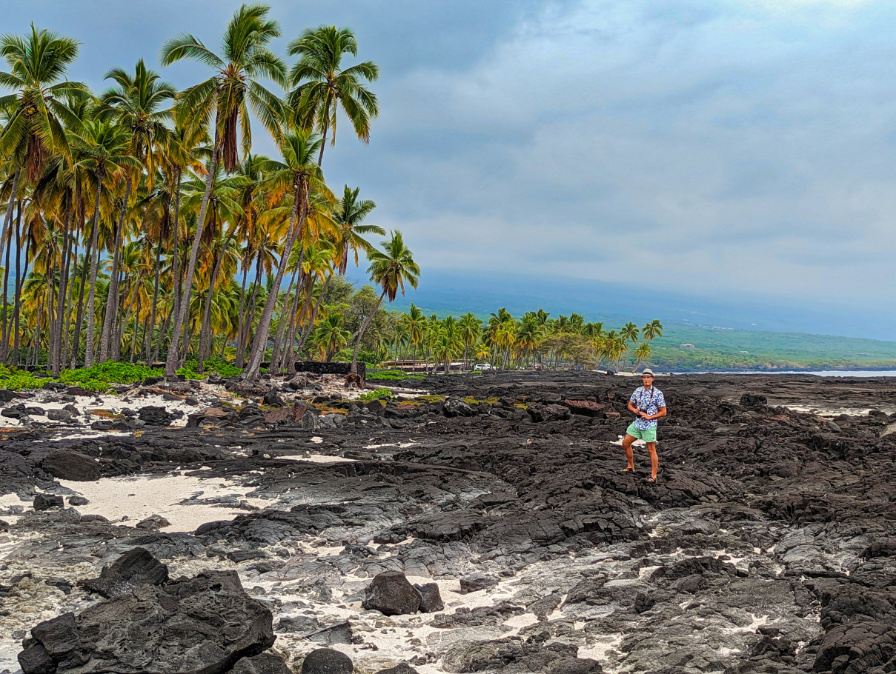 Getting to the Big Island
When it comes to actually getting to the Big Island of Hawaii, you have two airports you can fly into: Kailua-Kona (KOA) and Hilo (ITO). From West Coast cities, either is an option, but there are many more direct flights into Kona than Hilo.
Flying into Kona (KOA)
If you choose to start your Big Island itinerary by flying into Kona, you'll really have a treat as you approach the destination. I was stunned the first time I landed in Kailua-Kona as the whole area is just pure lava. The runway is surrounded by lava beds and the beaches match it. Flying into Kona is a great taste of the volcano-filled adventures that await you.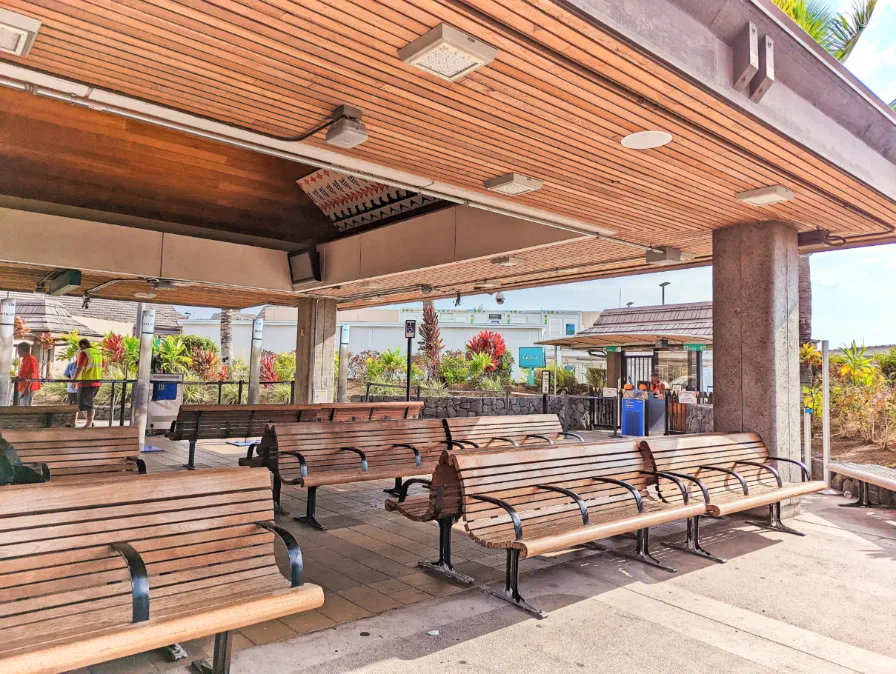 Flying into Hilo (ITO)
Hilo is a much less busy airport than Kona and if you're coming from the mainland, your views will be nothing but ocean until you are on the ground. If the wind is right, you may get a view of Kilauea or Mauna Loa, but for the most part it's a steady and un-thrilling approach.
The Hilo airport is where you'll find a majority of the scenic flights and helicopter tours on the Big Island though, so don't let me sell the scenery of the eastern side of Hawaii as lame, because it is far from it!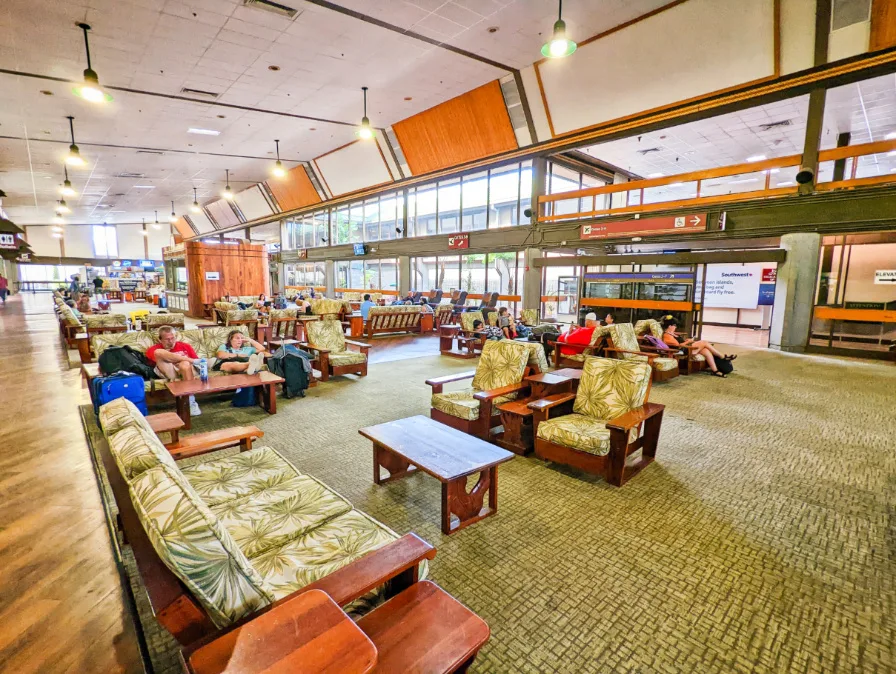 Where to Stay on the Big Island
If you're following our Big Island itinerary, you'll get to stay on both the Kona Coast and the Hilo side. I really like having the time split between the two sides as it allows you more time to relax or explore since you're not having to drive great distances every day. Our advice for where to stay on the Big Island is tried and true after multiple trips, but you do you. And if you want to do a circle, a Big Island road trip, you can mix up our plan a bit to stay in three or four different areas, depending on your time.
Staying on the Kona Coast
The easiest place to find a hotel on the Kona Coast is in the town of Kailua-Kona. Here you'll find a few national travel brand properties, like the Courtyard Marriott or Holiday Inn Express, but most other properties are either independently owned or Hawaiian owned. For example, the Kona Royal Hawaiian also owns the Kauai Shores Hotel on Kauai. And then there are properties like the Club Wyndham Kona Hawaiian Resort (where we've stayed before) that are a timeshare property.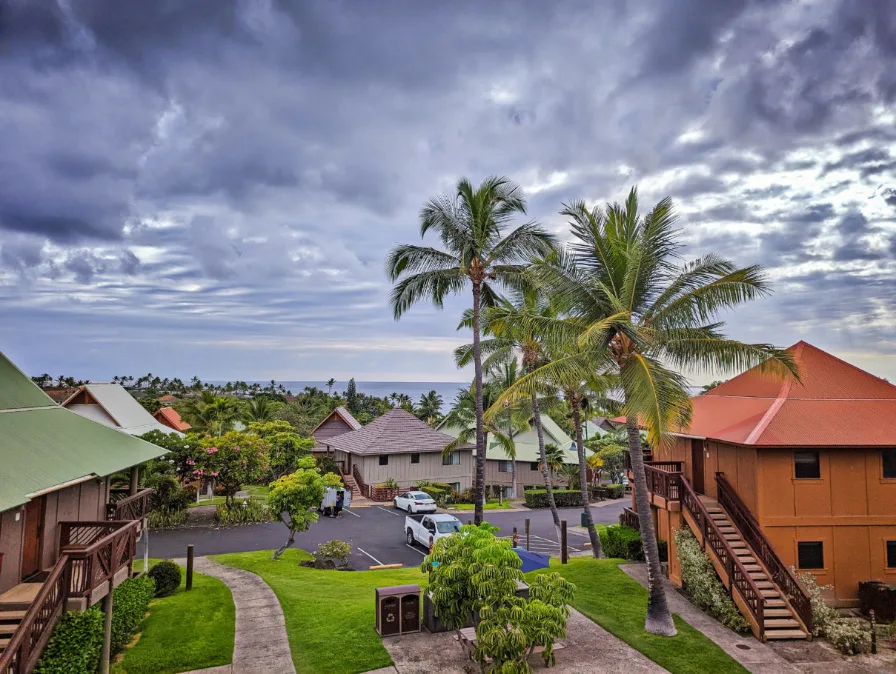 Other accommodations on the Kona Coast include bed and breakfasts (lots of those!) and short term rentals, aka AirBNBs. You'll find more small inns and B&Bs in the Captain Cook area of the Kona Coast than directly in Kailua-Kona.
We've also stayed at the Ka'awa Loa Plantation just south of Kailua-Kona. This bed and breakfast was wonderful, far from the busy waterfront of town and close to historic sites like Pu'uhonua O Honaunau National Historical Park and the Kona Coffee Living History Farm. I loved the setting and the hosts were wonderfully welcoming. And the breakfast was OMG.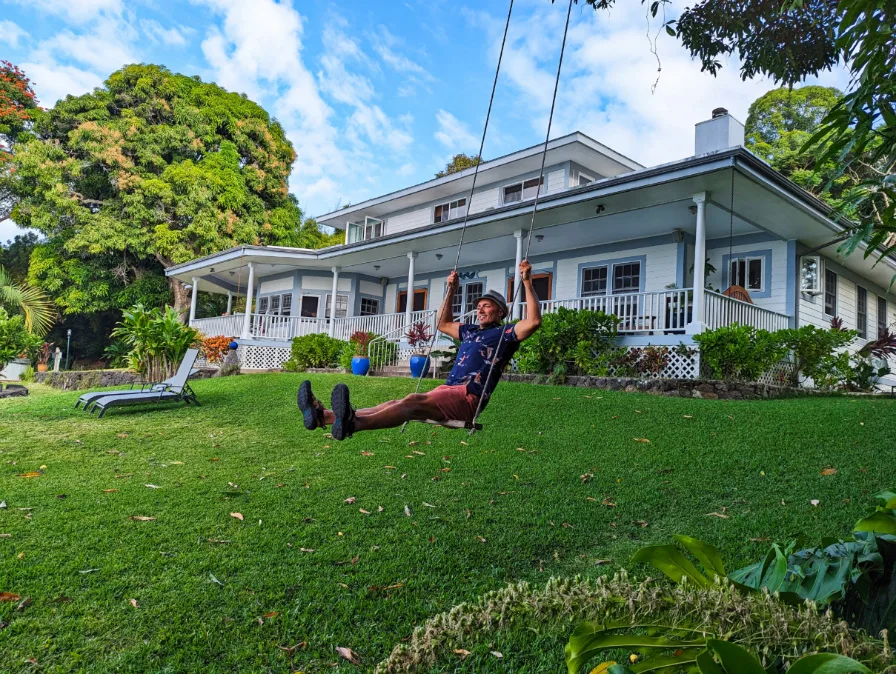 Staying on the East Shore of the Big Island
Since the Hilo side of the Big Island is much less touristy than the Kona Coast, hotel and accommodation options are much more limited. There are very few hotels in Hilo, and what you're more likely to book with ease are vacation rentals up and down the east shore, which can be conducive to planning a road trip instead of having home bases.
We've stayed at the SCP Hilo Hotel twice and really love it. This wonderful hotel is eco-conscious, is all about beautiful community spaces, and the staff is the perfect example of Aloha. We've taken advantage of borrowing both their bikes and stand up paddle boards, and each time it really does just put the icing on the cake of a visit to Hilo. Can you tell it's our favorite?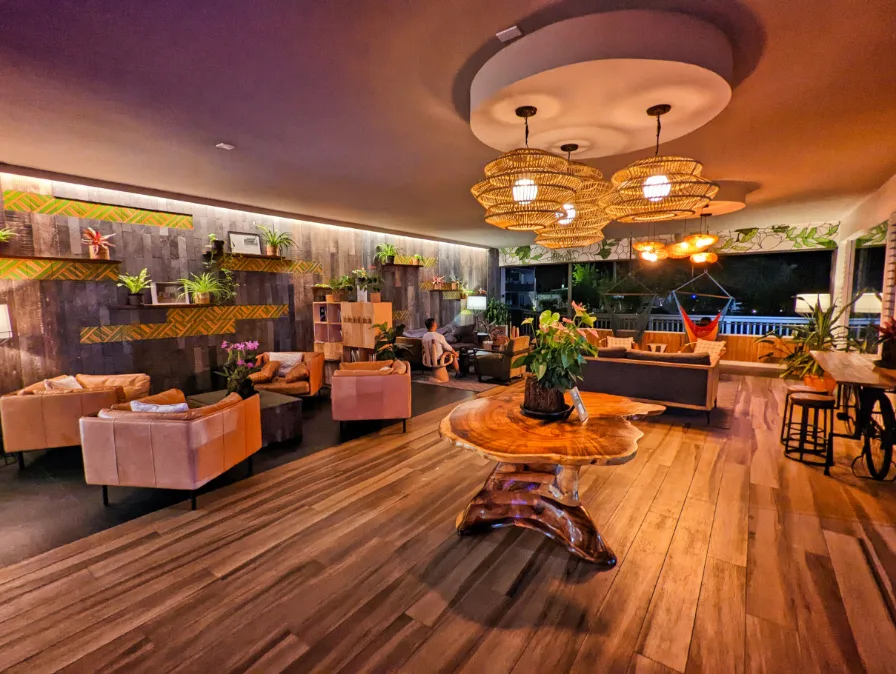 If you're looking for something quite different, we actually have a friend that works at the Inn at Kulaniapia Falls and we got to visit her. Wow. What an astounding property. This large bed and breakfast is located on a beautiful, lush stream and has direct access to the privately owned Kulaniapia Falls. Garden paths lead you through bamboo groves and tropical flowers, and then finally along the stream and series of smaller falls until you get to Kulaniapia Falls. More on how to visit below, but if you want to book it for your stay on the Hilo side, DO IT!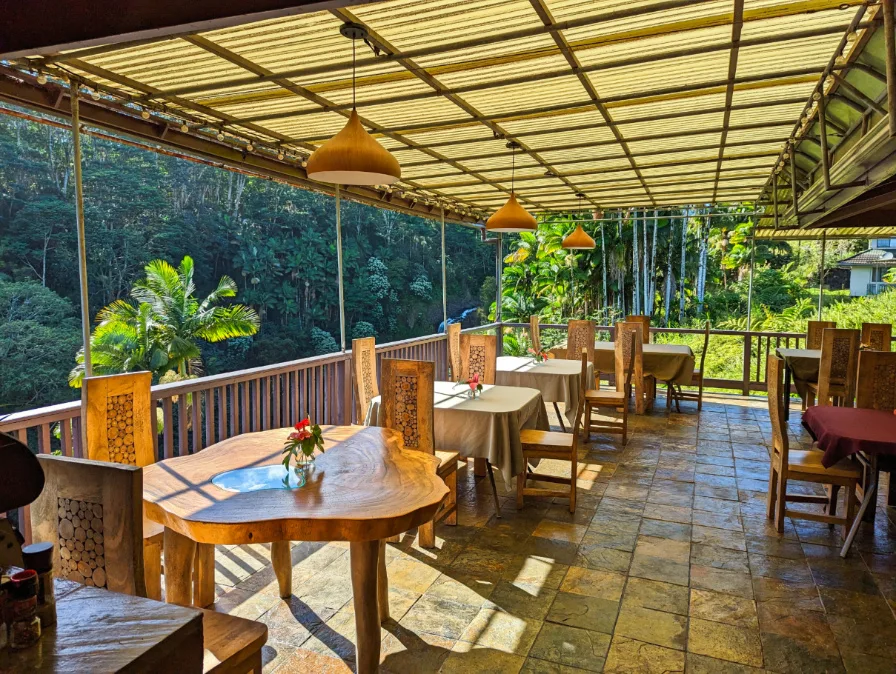 How Many Days Do You Need on the Big Island of Hawaii?
When you're planning your Big Island itinerary, committing to a certain number of days will be your guide. If you're island hopping and visiting Kauai or Oahu, you may only want to have four days on the Big Island, but if you're only doing this one island (my top recommendation), 6 or 7 days is perfect, and then add two more if you're doing a road trip around the whole island. The Big Island of Hawaii is my favorite, so heck, spend 10 days and you still won't see everything that this magical place has to offer.
When it comes to budgeting though, that's where you'll find a longer trip to be limited. Accommodations on the Big Island tend to be more expensive than you might expect. There are some exceptional deals you can find if you are staying in a small inn or bed and breakfast for several nights, but in general you should expect to pay no less than $220 USD per night. Besides airfare, lodging is the biggest cost for a Hawaii trip.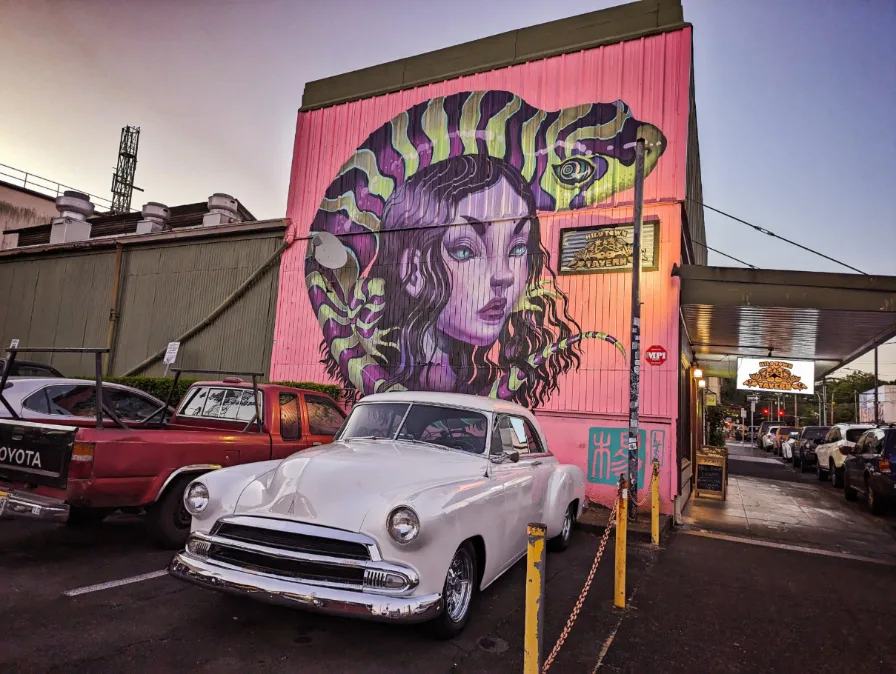 Big Island Itinerary: 6 Days of Coffee, Nature and History
Yay! Time to actually go through our Big Island itinerary. We've set this up as a 6 day plan because you'll most likely need a day to chill and rest, or if you have late or early flights, you may need to take that into consideration. This trip schedule can easily be stretched to 9 days or trimmed to 5 day if needed, but I think 6 days is great. If you have any questions or need help figuring out logistics, please leave a comment or send us a note!
Tip: we have several options for activities noted for each day of the itinerary. You DO NOT need to do each one, because you'll be stressed trying to fit it all in each day, but choose three or four of the activities and then gauge how the day flows if you need to cut one off or add another.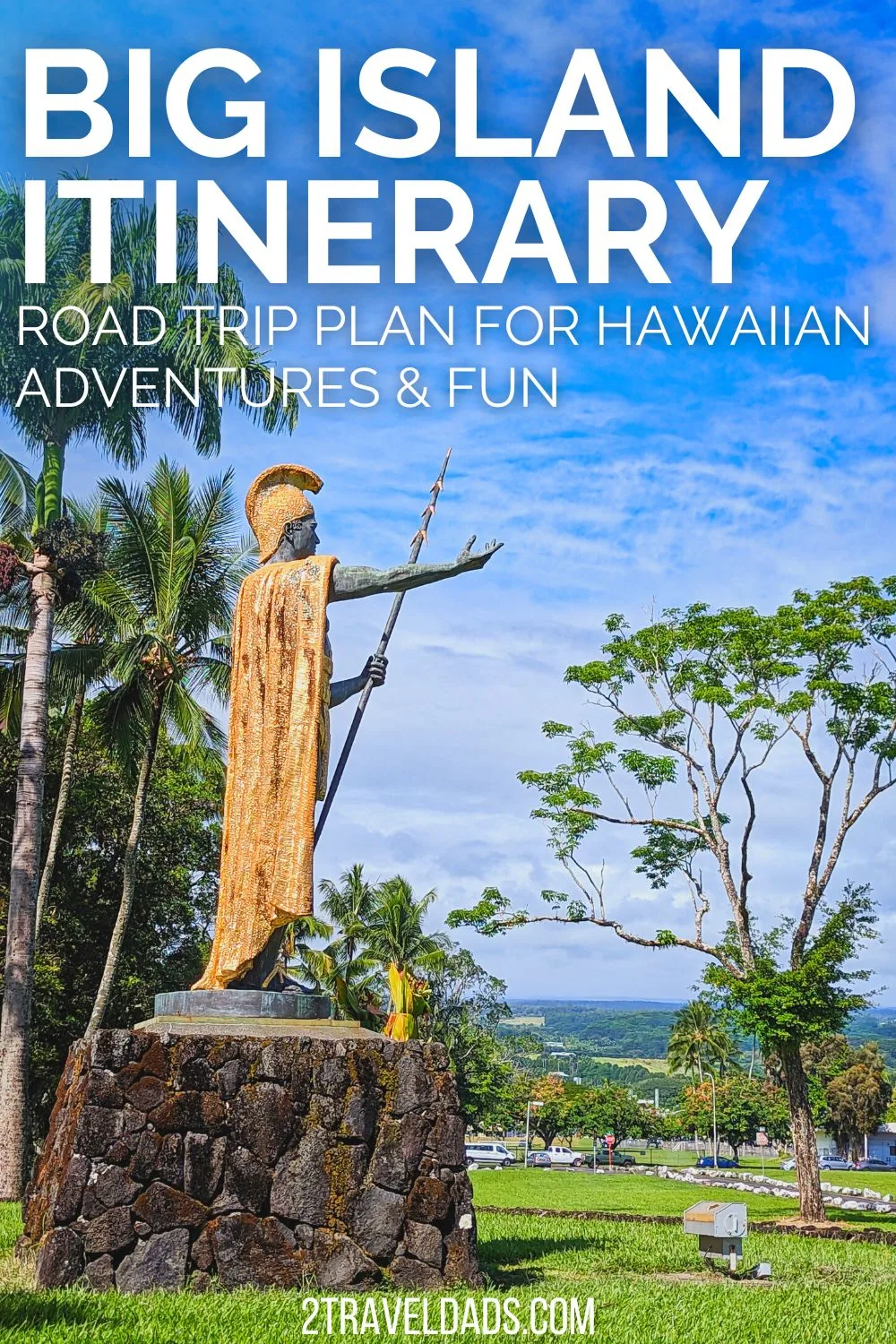 Day 1: Kona Coast Snorkeling and Hawaiian History
There is no shortage of beaches on the Kona Coast of the Big Island of Hawaii. The west side of the island is absolutely loaded with coves and lava shorelines that are absolutely teeming with life. From the Maui Strait at the northern end of the coast to the Captain Cook area, you'll have lots of snorkeling opportunities.
For our first day of our Big Island itinerary, the plan is simply to go for a drive up the coast stopping wherever you like along the way back down to Kailua-Kona. Between gorgeously clear water for snorkeling and historic sites to learn about Hawaiian culture and history, you've got an amazing day ahead of you.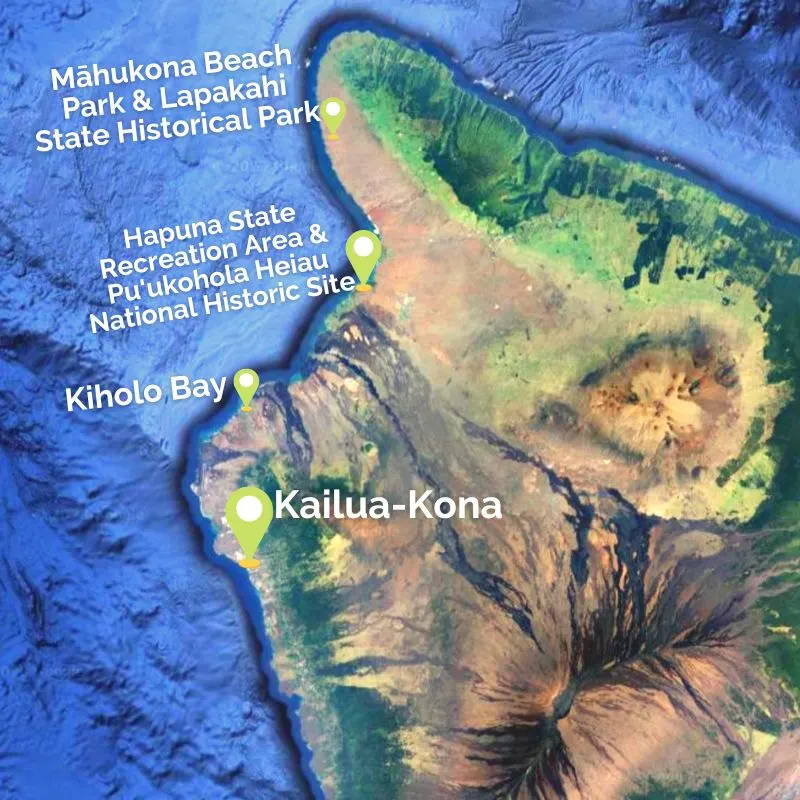 Kapa'a or Mahukona Beach Park
Heading to the northwest corner of the Big Island, start your day with a beautiful snorkel at either Kapa'a Beach Park or Mahukona Beach Park. Both are open to the public and each has some amazing wildlife and clear water. If the tide is rough, because Mahukona is a tight bay, the waves can fill the water with air bubbles, lessening visibility for snorkeling, but if it's calm, it's amazing. There is even a ladder into the water here.
The water at Kapa'a Beach Park is so beautiful. Entry into the cove is from the rocks, so again, if it's a crazy swell or windy day, the experience will be impacted. If nothing else, this spot is gorgeous of a morning picnic or to just get your bearings and commune with the island.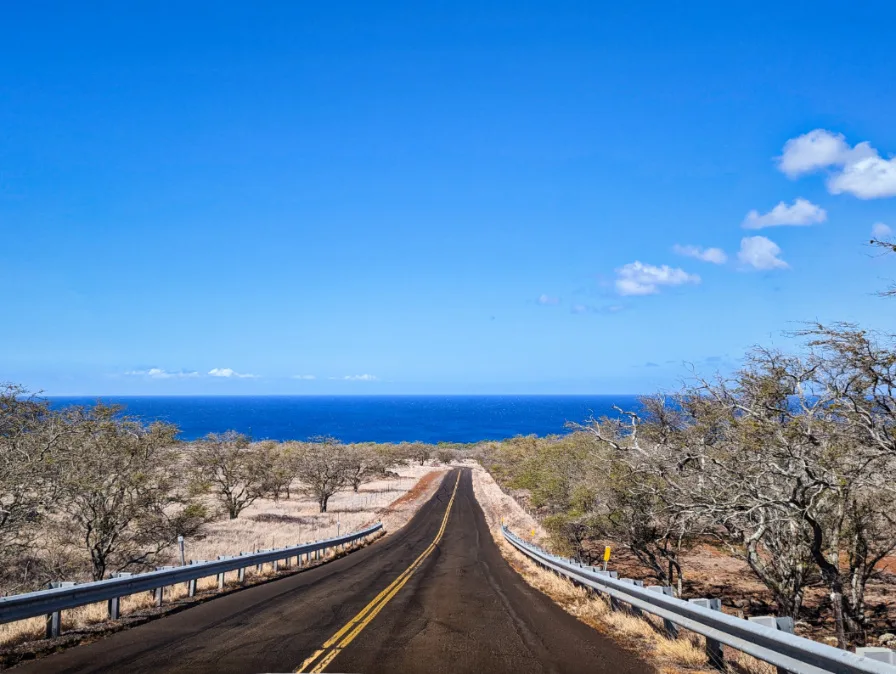 Lapakahi State Historic Park or Pu'ukohola Heiau National Historic Site
Something I really appreciate about the Big Island of Hawaii is how accessible historic and culture sites are. From points of interest explaining cultural significance to preserved or reconstructed communities, there is a wide range to visit. My two favorite places to learn about Hawaiian culture on the northern Kona Coast are Lapakahi State Historic Park or Pu'ukohola Heiau National Historic Site. Both are free to visit and both offer insights into the unique practices of the Hawaiian people before colonization.
Tip: Spencer Beach Park is right next to Pu'ukohola Heiau NHS. There are picnic tables and one of the largest sandy beaches on the western side of the Big Island.
At Lapakahi State Historic Park you can follow the path through the historic structures and down to the cove where you can snorkel. The waves can be strong, but following the path to the water entrance point and only swimming when it's calm enough makes for a great experience.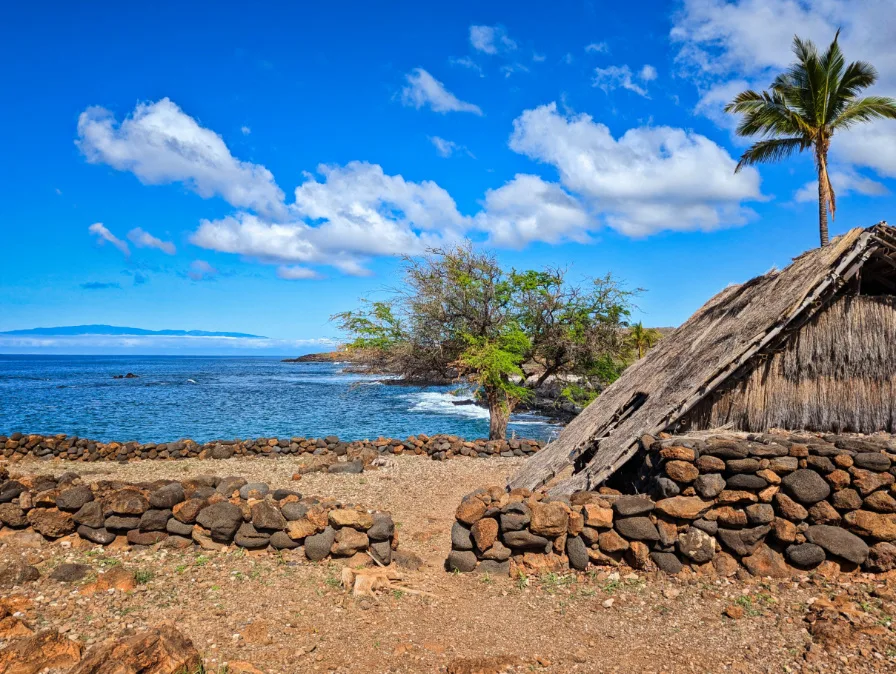 Plan to stop at Pu'ukohola Heiau National Historic Site to see one of the largest reconstructed historic sites on the Big Island. Here you can see where Kamehameha I ruled and the Hawaiian people built some incredible structures. There's even an underwater temple site if you go all the way down into the cove.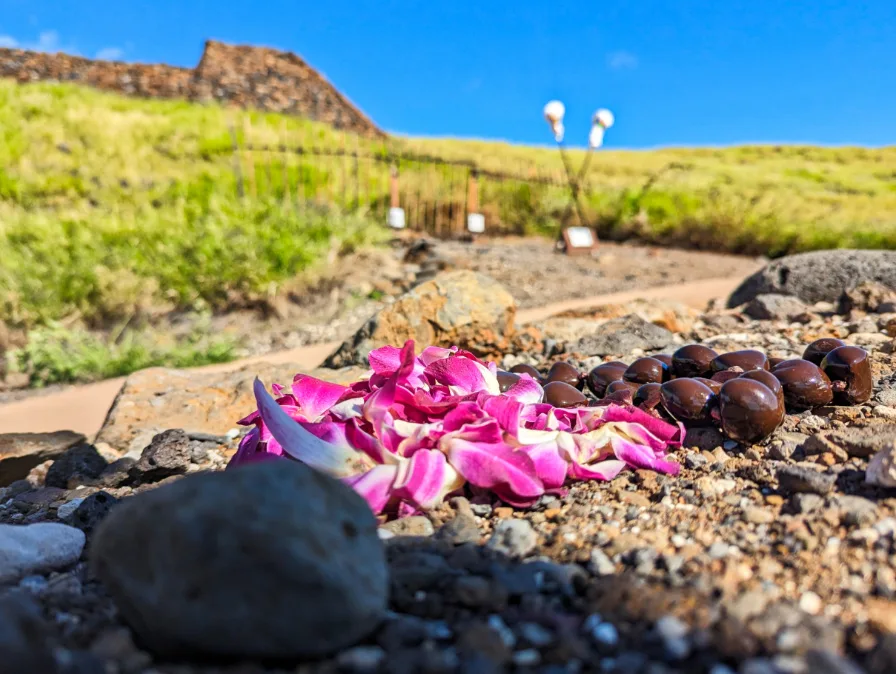 Hapuna State Recreation Area
Before your next stop, be sure to grab lunch, either dine-in or take away at the Kawaihae Marketplace. Both Kohala Burger & Taco and the fish counter within the Marketplace are awesome. Kohala Burger has the best fish tacos we've had on the Big Island and the Kawaihae Marketplace has some of the best poke options. So good!
Now for the beach. OMG, this is such a beautiful area. With several different beach access points and parking areas, Hapuna State Recreation Area is an easy and perfect spot to stop for snorkeling and even some hiking. Pick a beach for your snorkeling and enjoy, then pack up your gear and head to another beach without driving. Beaches 67 and 69 are two of the best, on Waialea Bay.
You'll find that the snorkeling is really exceptional at Beach 69, as the lava flow extends into the water and the clarity is just remarkable. There is also a heavy concentration of tropic fish all through these waters, so you don't even have to swim far out for a great experience. PS, there is also actual sand here.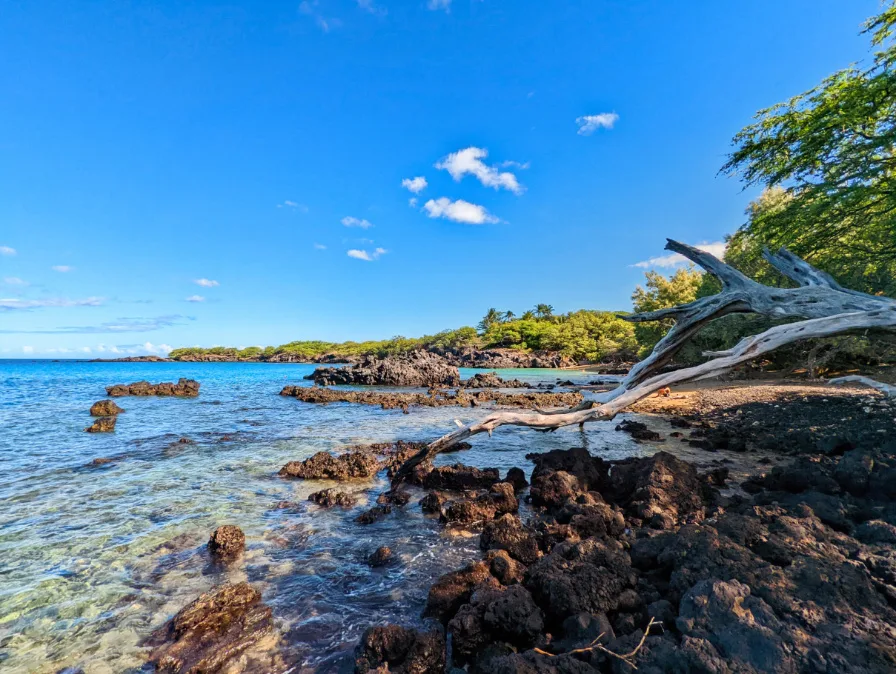 Kiholo Bay – Jeep or Truck Required
Kiholo Bay is ALWAYS good, but it's quite the adventure to get to from the highway. It's not paved the whole way and the potholes and gullies in the road are NOT passable without a Jeep or high suspension vehicle. Amazing spot, but crazy road.
Once at the parking area, you'll come to the beach which is such a wonder. A combination of chunky coral and lava rocks, this polka dot beach is very unique and offers some of the best snorkeling we've done on the Big Island. Kiholo State Park Reserve is great if you have time in your Big Island itinerary.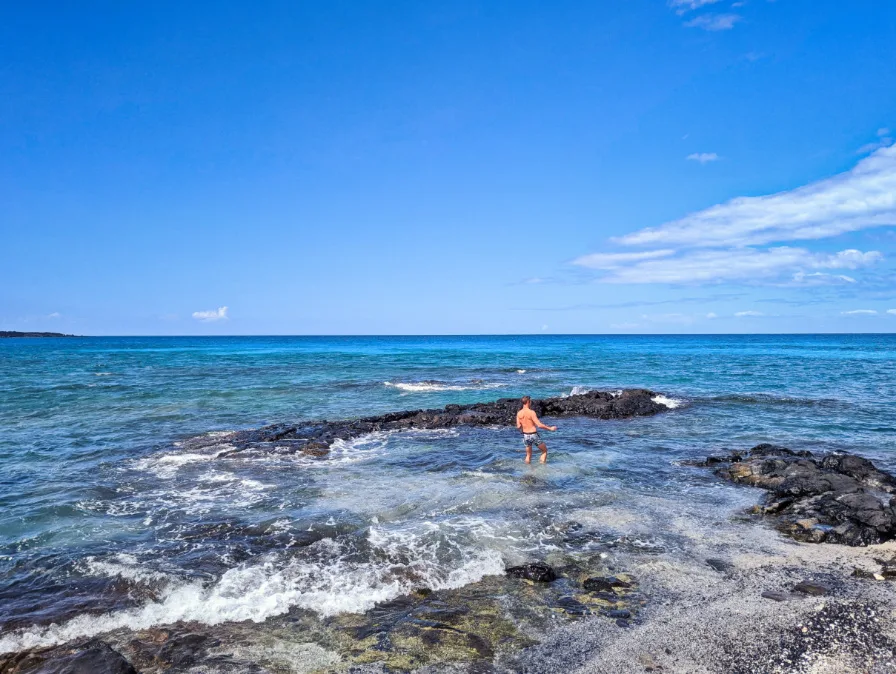 Sunset Snorkeling with Manta Rays
There aren't a ton of tours that we've done multiple times when traveling, but we've done a sunset snorkel with manta rays twice, and it's a must for your Big Island itinerary. When you see pictures of the manta rays, if you're not familiar you might think that it's just too adventurous of an activity for you or your kids, but I assure you, it's one of the most amazing and peaceful experiences you can have.
Please check out our complete article on snorkeling with manta rays, as it's such a phenomenal time and something to be on any wildlife lover's bucket list! Book the exact tour we've done twice here!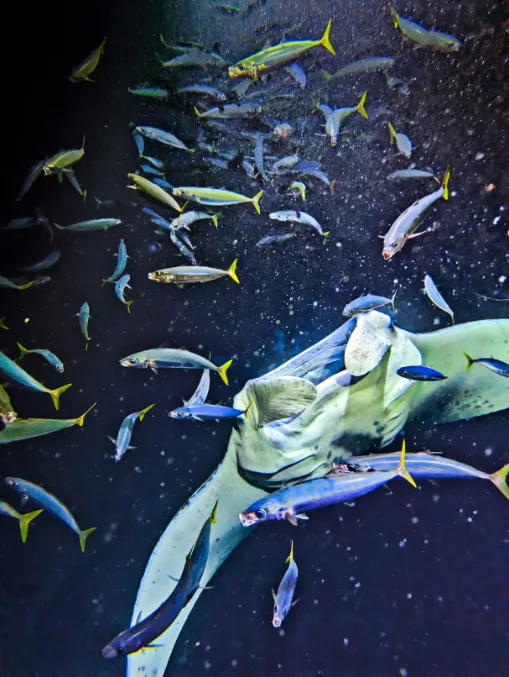 Day 2: Kona Coffee and Historic Sites
I think it's important to have a mix of time on the water and time on land when you're planning your Big Island itinerary. For you second day on the Kona Coast, spend equal part in and out of the sun to make sure you don't get burned at the start of your trip. And one great way to do that is to dig into Kona Coffee Culture. Add to that some more historic sites and you've got an awesome day ahead.
Kealakekua Bay Snorkeling
Start your day with a morning snorkeling trip to Kealakekua Bay and the Captain Cook Monument. There are a few ways to do this: cliff hiking to the bay or guided tour. If you want to hike to the Captain Cook Monument and then snorkel is these amazing water, it's a 4 mile round trip hike and will take half the day. It's a tough hike but worth it if your knees can handle it.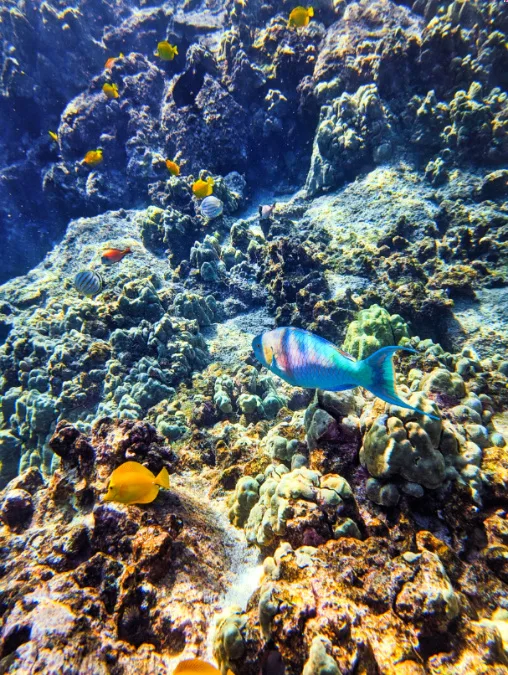 The other option is to do a guided tour via boat to Kealakekua Bay. There are lots of options for this going out of Kailua-Kona, but our top pick is the zodiac tour with Kona Coastline Tours. They are such great guides and the experience of skimming across the water on a zodiac is so fun. This specific tour is a small group vs a giant catamaran so it's much more mellow and more personal. Such a fun and beautiful experience.
Book this tour here! (or the two stop tour here with Kona Coastline Tours)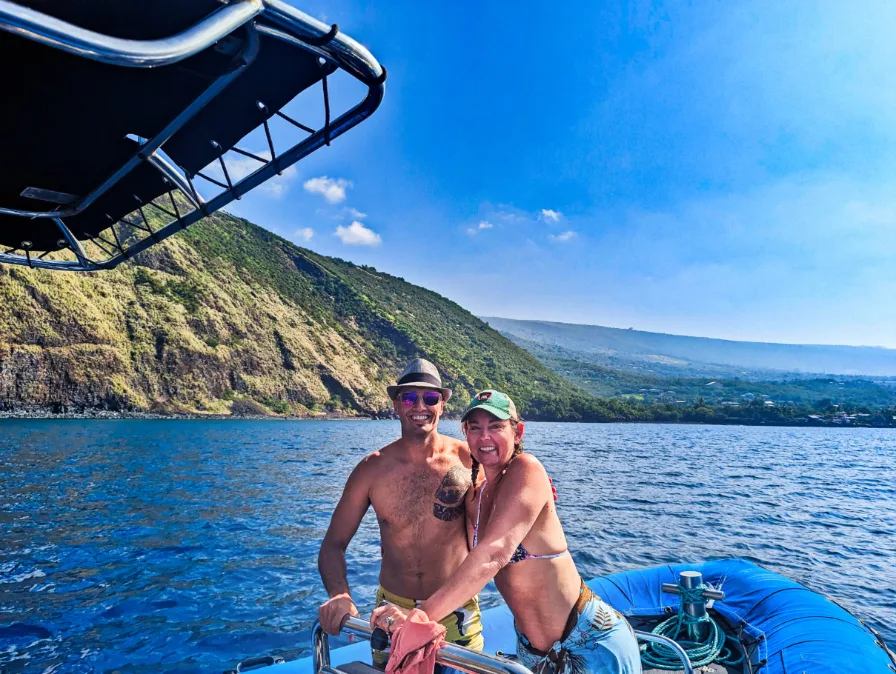 Kona Coffee Culture
It's kind of wild how many coffee farms and shops you'll find up and down the Kona Coast. Some of them are open to the public both to wander through and to purchase coffee, and some are only available to visit with a scheduled tour. As you head south on the Mamalahoa Highway you'll pass lots of coffee stops, but you don't need to hit each one.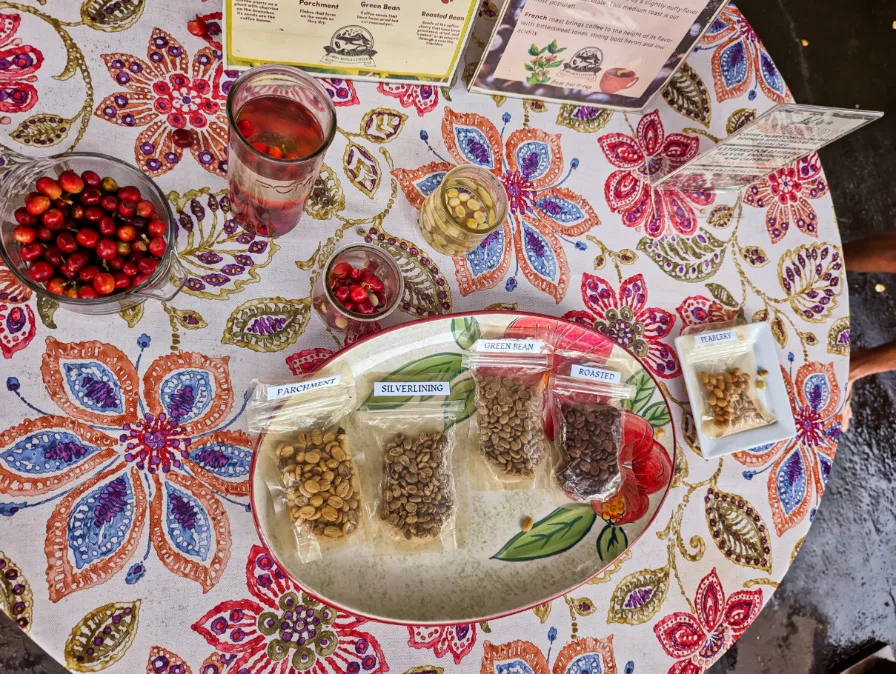 Top Picks for experiencing the many facets of Kona Coffee culture directly around Kailua-Kona include: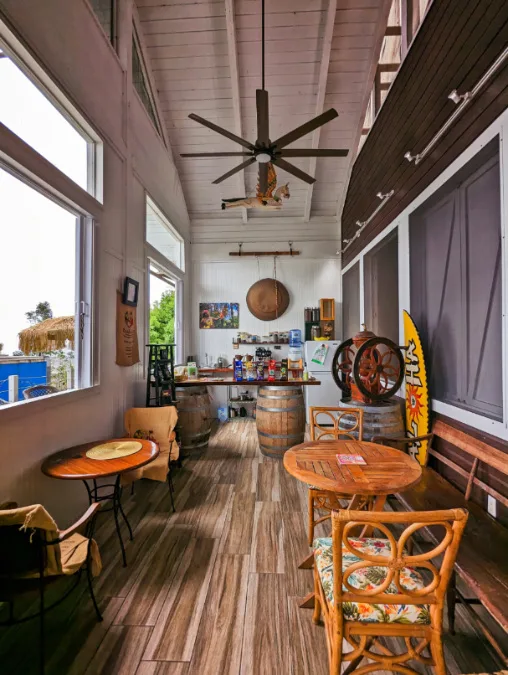 Pu'uhonua O Honaunau National Historical Park
There are very few places where you can see Hawaiian ki'i, or tiki carvings, and Pu'uhonua O Honaunau is one of them. This National Park site is incredible, both because of the collection of carvings and the remarkable setting. Huts and palm trees give way to the Place of Refuge structures, similar to what you saw up at Pu'ukohola Heiau NHS.
In addition to the historic elements of Pu'uhonua O Honaunau there is also an incredible expanse of tide pools full of tropical fish. While you cannot swim here out of respect to the historical and religious significance of the site, you can still explore the rocks and pools. It's beautiful, and when you put the whole place together it's one of my favorite places to visit on the Big Island.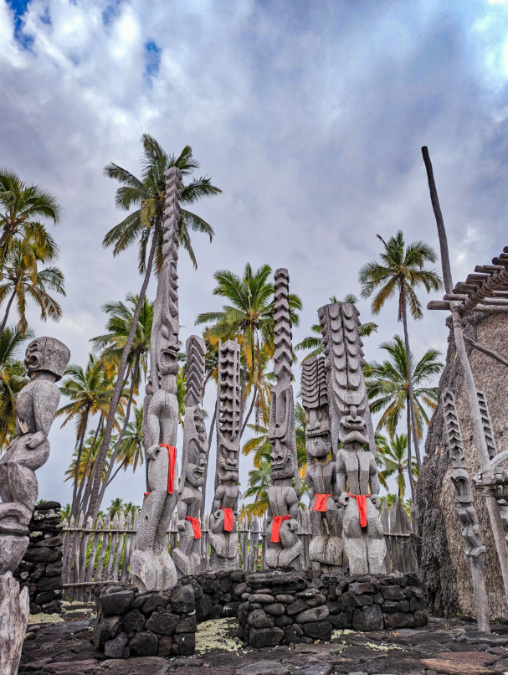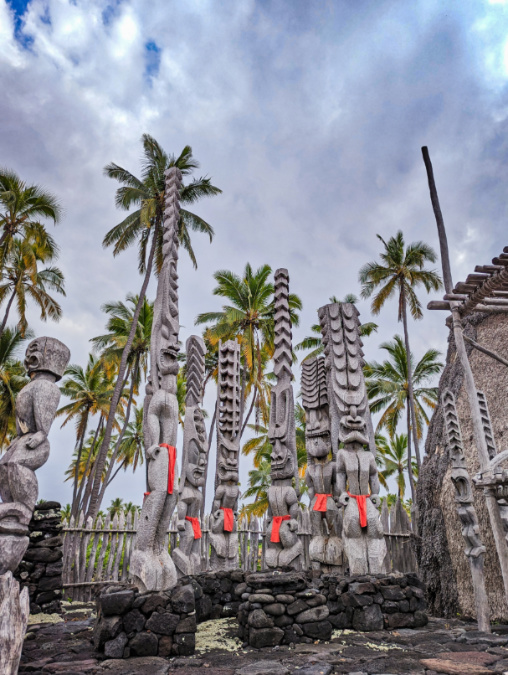 Kaloko-Honokōhau NPS for Hawaiian Green Sea Turtles
You last stop of the day (or you can start here) is Kaloko-Honokohau National Historic Site. This beach area is just north of the main town are of Kailua-Kona and is easy to get to and get the whole experience. Park your vehicle at the Honokohau Small Boat Harbor and walk through the gate to the beach where you'll find countless honu (Hawaiian green sea turtles) in the tidepools and on the beach.
Spend time watching the turtles or you can even swim here, as long as you keep your distance. 20 feet is how far you need to stay from the honu. If you're watching a turtle for too long or get too close, they'll get anxious, which is dangerous for them. Enjoy your visit, but remember that safety for yourself and the animals is paramount.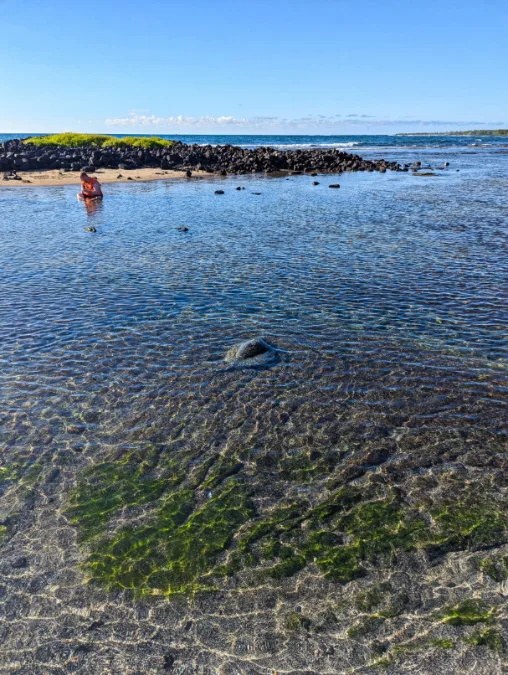 Day 3: Big Island South Shore
This is the day of the Big Island itinerary that you can trim up as needed depending on what you really feel is important to do. As I said before, Hawaii Island is worth 10 days of a trip, so know that you will need to pick and choose what you fill your time with. For this day as you transition from the Kona Coast to the Hilo side of the island, make the stops that you really are into and save the rest for another trip.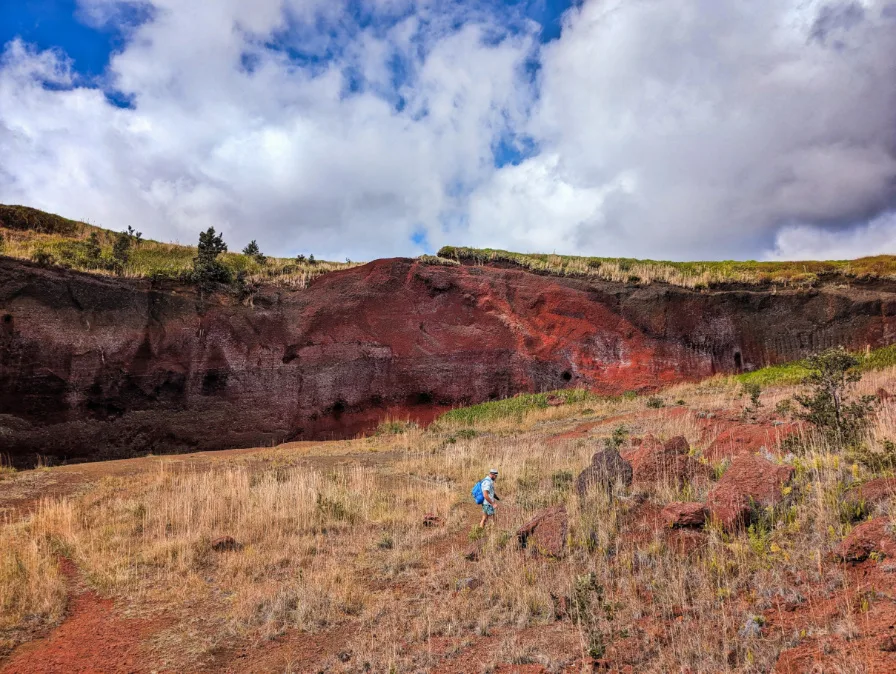 Start at Kamakahonu National Historic Landmark
If you're staying directly in Kailua-Kona and haven't been to the cove at Kamakahonu National Historic Landmark yet, start your day here. This is directly in the heart of the main waterfront area and is beautiful. You'll find a perfect beach and cove for a morning swim, and then a reconstructed cultural site. Here, you'll see the Ahu'ena Heiau, the restored personal temple of Kamehameha I. It's surrounded by ki'i (tiki carvings) and is a beautiful setting. You cannot approach the heiau on land, but can swim up to it and observe from the water. The perfect start to a Big Island day!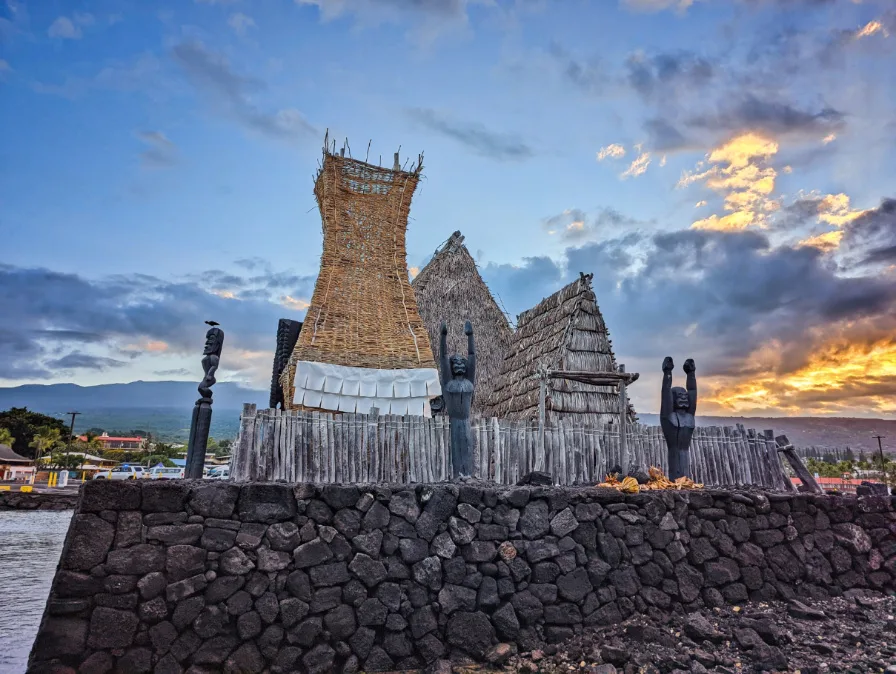 Hiking at Kahuku Unit of Hawaii Volcanoes NP
When most people plan their time in Hawaii Volcanoes National Park they just intend on visiting Kilauea, especially if there's an active volcanic eruption and lava flow. On your drive from the Kona Coast to the Hilo side, your road trip will take you past the entrance to the Kahuku Unit of the park. Only open Thursday through Sunday, if you're driving past on one of those days, stop in for a short and jawdroppingly beautiful hike.
Hiking to the red cinder cone crater in the Kahuku unit isn't only about an hour's stop, so it's easy to add to your Big Island itinerary. The hills have the most lush, juicy green grass I've ever seen and the contrast with the brilliant red crater you can hike into is amazing. It's absolutely worth stopping into!
Tip: lay in the grass. I've never felt grass like this and I'm pretty sure this is what heaven feels like.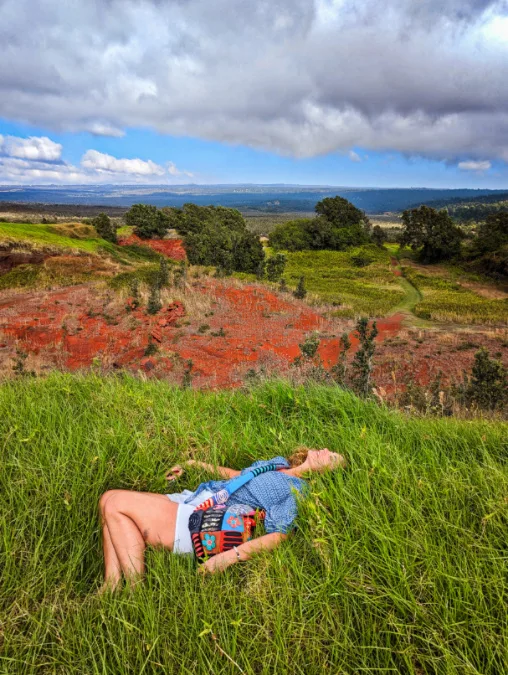 Papakōlea Green Sand Beach
What if I told you that one of the most fun experiences you can have on the Big Island is riding in the back of an old truck through five foot deep ruts in the bluffs of the South Shore. It's true, and it's an awesome thing to do. Add a visit to the Green Sand Beach to your Big Island road trip, but let somebody else do the driving. The 2.5 miles from the parking area to the beach is the roughest road I've ever been on, so it was totally worth paying the $20/person for a local to taxi us to the Papakolea cliffs.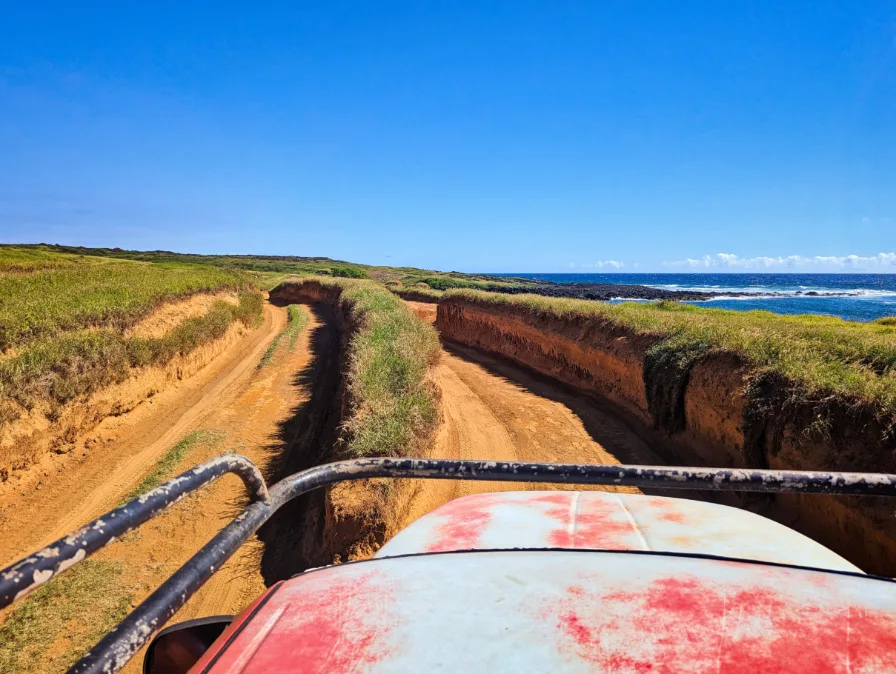 Note: you can also hike to the Green Sand Beach, but if you're pressed for time, do the local 4×4 shuttle. If you do hike, you'll be amazing at the views, and you will probably see humpback whales or spinner dolphins off-shore.
Once at the Green Sand Beach, you'll need to traverse the cliff path down to the sand. Made up of olivine crystals, the green sand beach is really beautiful and unique. The dark sandstone all around is very unusual and the rock formations are just the coolest. The cove is perfect for swimming and relaxing. Plan two hours at least if you're doing the shuttle to the beach, and four hours if you're hiking to Papakolea Beach.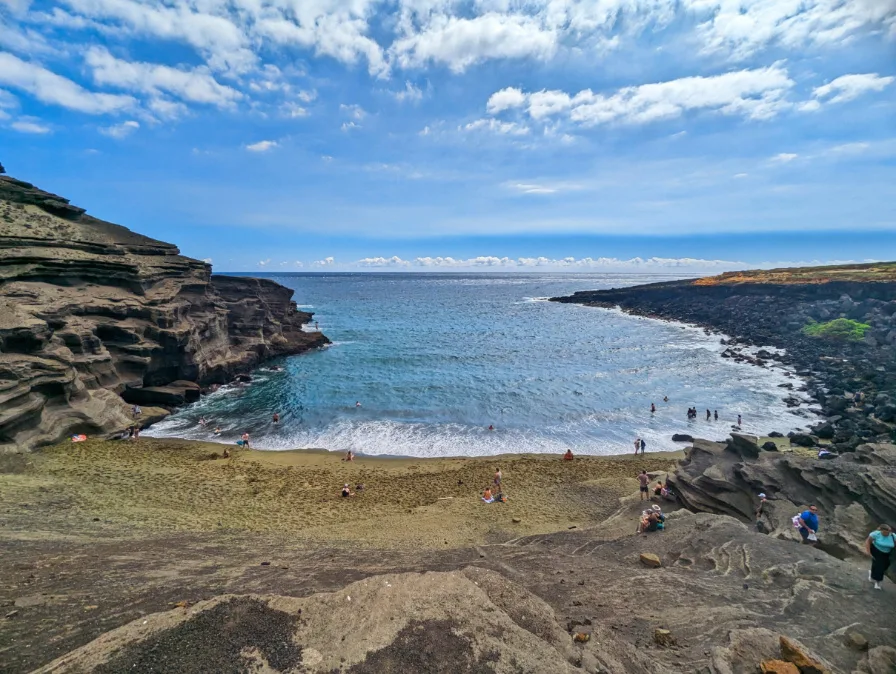 Punalu'u Bakery for Malasadas
Whether you stop here at the Punalu'u Bake Shop or you stop at a roadside stand, no Big Island road trip is complete without Hawaiian malasadas. They're basically fluffy donut balls, either rolled in sugar or glazed or stuffed. Punalu'u Bake Shop makes the BEST lilikoi malasada with the most delicious frosting on earth. They also may a mean taro and guava malasada. Grab a few for the road or even a loaf of fluffy pink or purple bread for snacking. You'll be glad you did.
Tip for Kauai: if you're also planning a trip to Kauai, the Passion Bakery in Kapa'a makes an even better lilikoi malasada that you MUST try.
Punalu'u Black Sand Beach
Wow. I didn't know what to expect of the famous Punalu'u Black Sand Beach, but I can say it was better than I imagined. I've been several times and each time it's a different experience. The black sand is HOT on your feet if you visit in the heat of the day, but then when the waves wash over is, the sand becomes strangely cold. It's the magic of Hawaii.
Besides the beautiful black sand and extraordinary lava rock tidepools, the big attraction to visiting Punalu'u Beach is the number of honu (green sea turtles) that haul out here. Whether you're observing then sleeping on the black sand or if you're watching them struggle to get into the protected tidepool area, watching the sea turtles here is one of the most peaceful experiences you'll have on your Big Island itinerary. And don't forget to keep 20 feet back!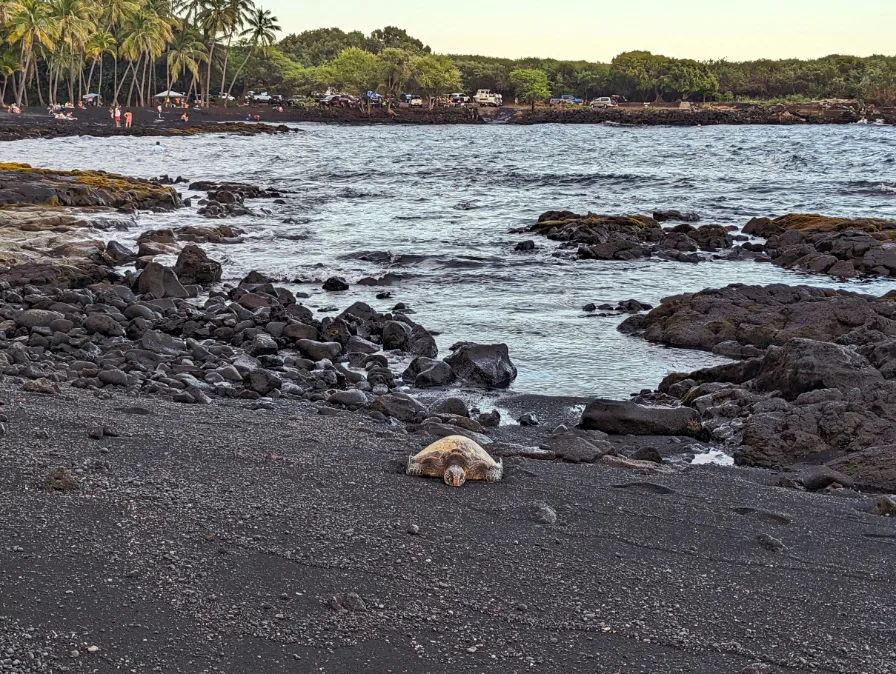 Agritourism on the South Shore
I know there's already been a lot on today's part of the Big Island road trip, but if you have the time and energy, there are quite a few agritourism stops you can make on your drive to Hilo. Our top picks for farm stops between Punalu'u Black Sand Beach and Hilo are:
Ka'u Coffee Mill – I love their tasting room and the surrounding coffee tree orchard/grove.
Volcano Winery – yes, it's very unique to grow wine grapes in Hawaii, but they do. The flavor profiles may not be what you're used to, but give it a try!
Mauna Loa Macadamia Nut Farm – stop into the visitor center to learn about the macadamia nut industry, to samples all sorts of products and then to purchase nearly any flavor of nut. There is also a nice mixed fruit orchard that you're welcome to explore and pick from.
There are lots of agritourism opportunities when you do your Big Island road trip, so add as many stops as you can to your itinerary. Supporting the smaller, local farmers is always something we aim to do when we travel anywhere, and getting to do so in Hawaii is special.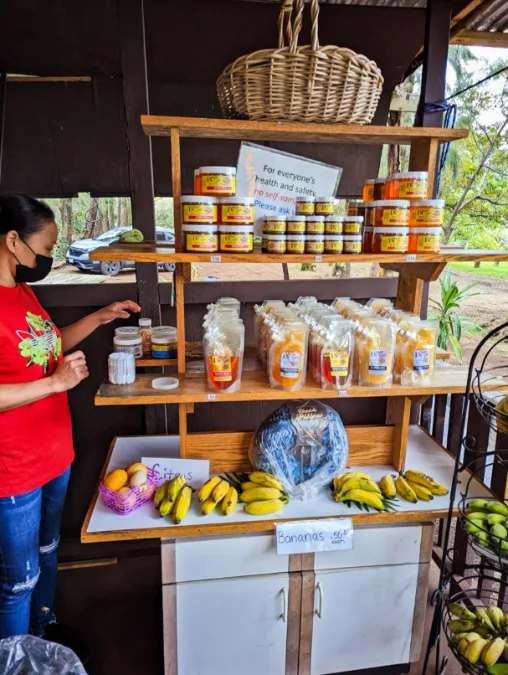 Day 4: Hawaii Volcanoes National Park
I love talking about and writing about Hawaii Volcanoes National Park. It's one of my favorite places on earth and getting to explore it in depth has been such a privilege. Whether you're hardcore into geology or just love to see nature at work, Hawaii Volcanoes is wonderfully unique and a good portion of your Big Island road trip itinerary needs to include time in the park. We've dedicated an entire day to hiking and sightseeing in the park, ending with lava glow (when there's an active eruption). This just may be your favorite day in the Big Island itinerary.
Get my E-Book for Kindle: Guide to Hawaii Volcanoes National Park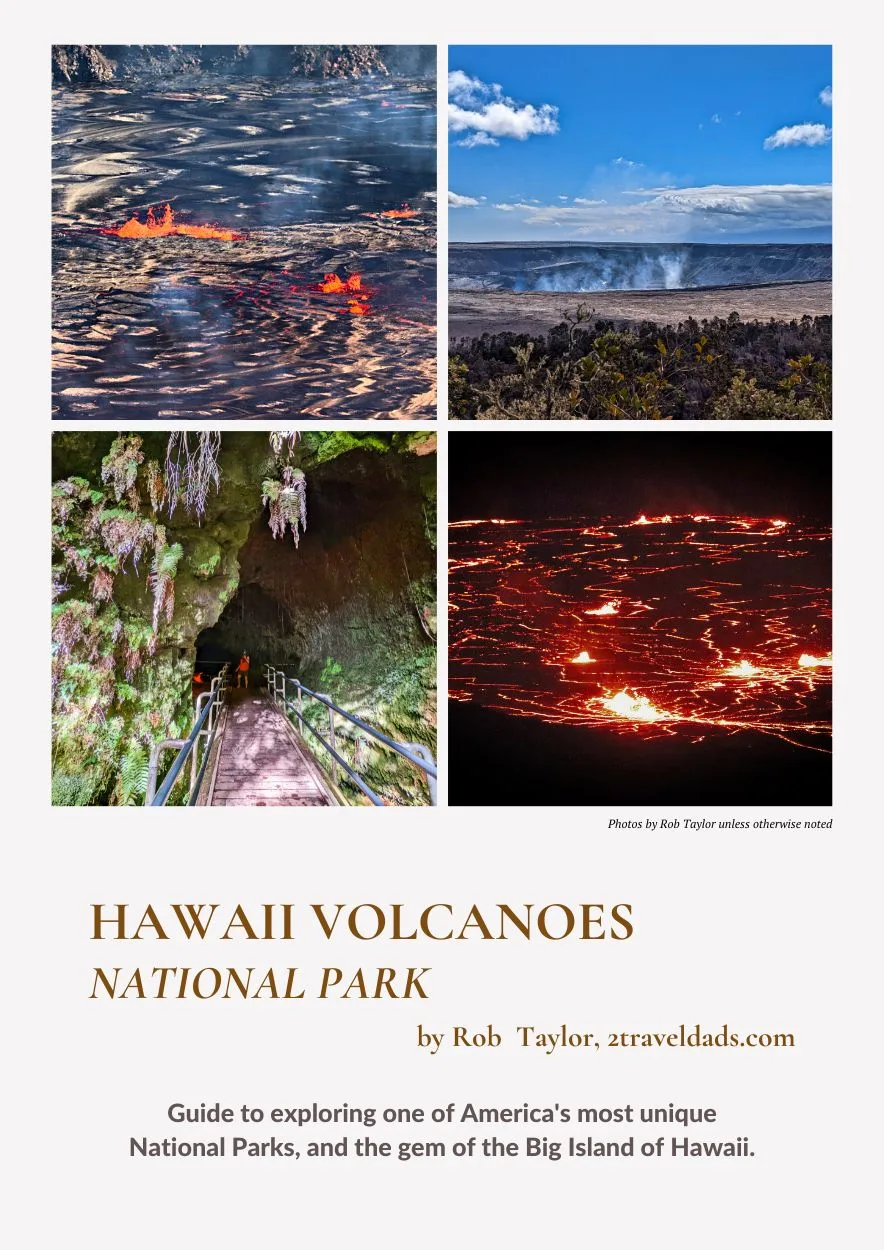 The Kilauea Crater Rim Road
Head into the park early to start your day by getting a feel for the Halemaumau Crater within Kilauea (the actual volcano). You'll be able to see just how active it is, see lava fountains if they're going and get a bit picture of what's in store within Hawaii Volcanoes National Park. Go to the very end of Crater Rim Drive and stop at each viewpoint, or split up your Big Island road trip crew and have some of you hike the whole Rim Trail while the others drive the cars back to the start by the Visitor Center.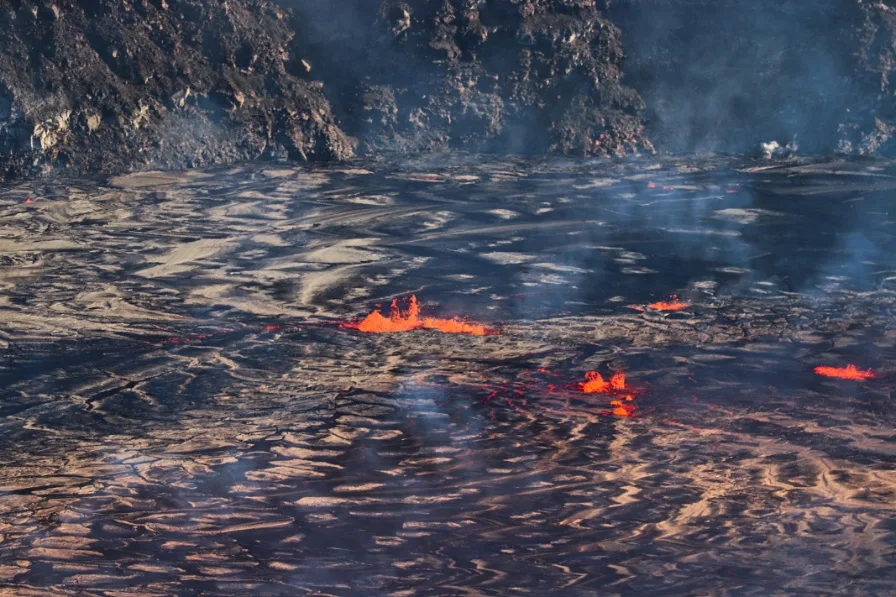 Besides the viewpoints, on Crater Rim Drive you'll also find the Steaming Bluffs, steam vents and the Sulfur Banks trail. Stop at them all, because they don't take much time and each is unique. I love the flowers and other vegetation that grows in this part of the park. So pretty!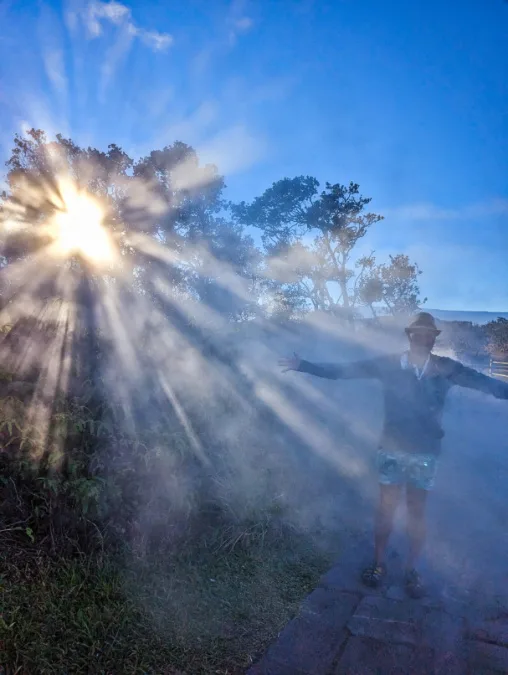 Hiking at the Thurston Lava Tube
Visiting the Thurston Lava Tube is a very easy and beautiful stop to make. Located about ten minutes from the Visitor Center, this trail is paved and leads through one of the most lush, Jurassic Park type areas of the Big Island. Giant ferns and dripping rock walls lead the way to the 700 foot long lava tube. It is dimly lit in the tube, so you can see enough to make it to the staircase at the other end. While it's not as thrilling as rappelling into one of the lava fissures, it's pretty cool.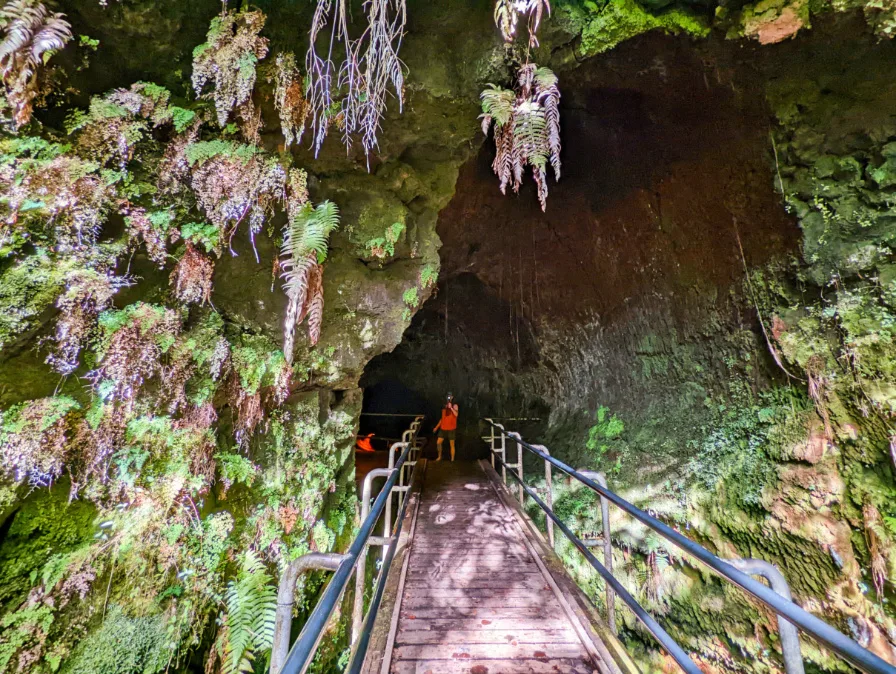 Holei Sea Arch
At the end of Chain of Craters Road is the Holei Sea Arch hike. Here is where the lava flows meet the Pacific Ocean. Park your car and walk down the old road, exploring the many lava mounds and side trails. The Holei Sea Arch comes into view a few minutes down the trail, and if you catch it in the afternoon light, the sun streams through it with waves crashing all around… Gorgeous.
As you hike at the Holei Sea Arch, pay attention to the colorful pahoehoe lava. This is the swirly lava that looks like burned marshmallow fluff. From shiny black billows to rainbow shaped multicolor flows, you'll see it all here. The collection of lava flows really showcases the volcanic activity over the years.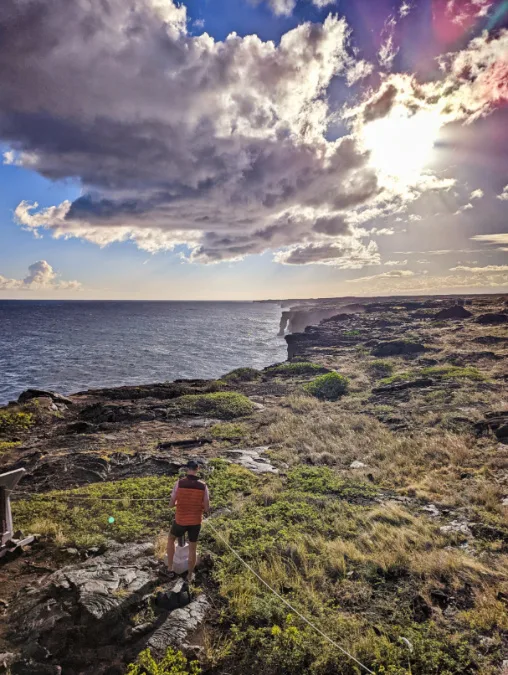 Notable Stops on Chain of Craters Road
As if the views as you drive along Chain of Craters Road weren't enough, there are some great stops to make along the way as well. There are lots of hikes to do in Hawaii Volcanoes National Park but since our Big Island itinerary only has one full day dedicated to the park, we're taking the approach of sightseeing. So, on Chain of Craters Road, make all the awesome viewpoint stops you want, and if you've brought lunch supplies, have a picnic at Kealakomo Lookout.
Notable stops to make besides all the viewpoints include:
Alanui Kahiko – where the lava flowed across the road, cool photo spot
Pu'u Loa Petroglyphs – 1.5 mile walk across the lava to carvings in the lava
Pu'u Huluhulu Trail – can be as long of a walk as you like, going be craters and cones
Devil's Throat Crater – deep and cool to see from above
Puhimau Crater – easy pull off from the road and pretty cool for an extinct crater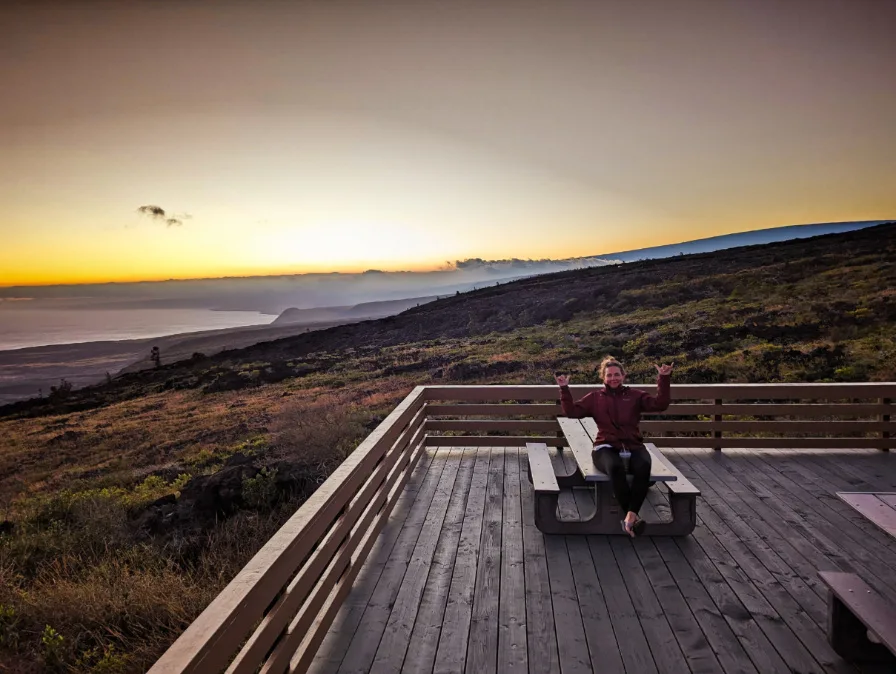 Mauna Loa Hiking
Driving up Mauna Loa is kind of a bonus if you have the time. Currently (2023) the trail to the lookout and down into the most recently active areas is closed, but there are still some beautiful views on the drive up Mauna Loa Lookout Road. The big highlight of this part of Hawaii Volcanoes National Park is the wildlife. If you're into bird THIS is the spot to go. Pheasants, francolins and colorful songbirds are everywhere. For the best birding experience, do the "Bird Trail" near the start of Mauna Loa Lookout Road, called Kipuka Puaulu Trail.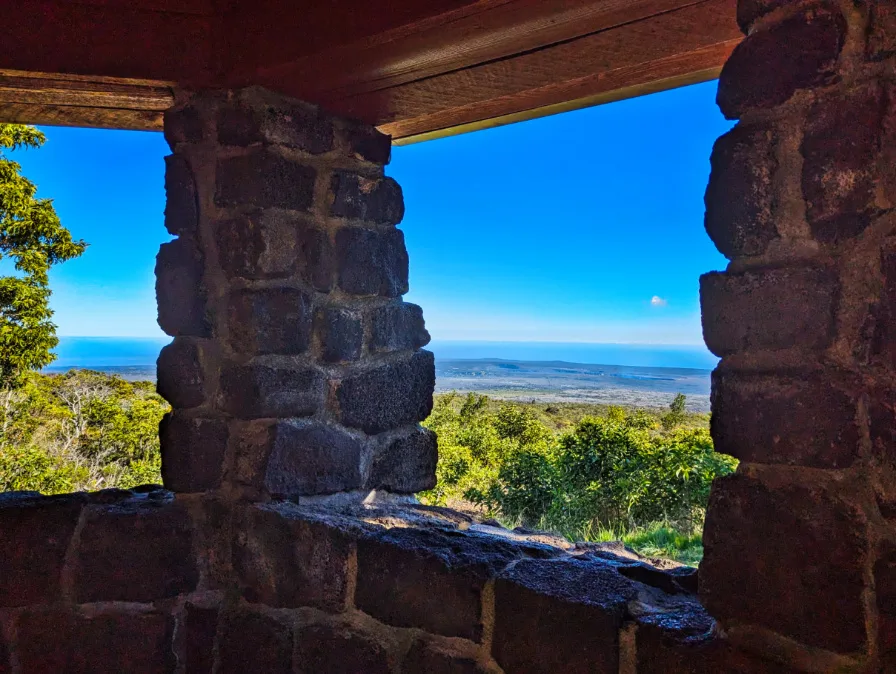 ERUPTION TIME: Lava Glow and Night in HVNP
OMG, my favorite part! I love Hawaii Volcanoes at night, and since this is something that happens after most of the tourist activities everywhere shut down, it's easy to make sure this is a part of your Big Island itinerary. What I prefer to do is to have dinner at the Rim Restaurant at Volcano House (the National Park lodge) and then visit the various viewpoints around the Halemaumau Create of Kilauea.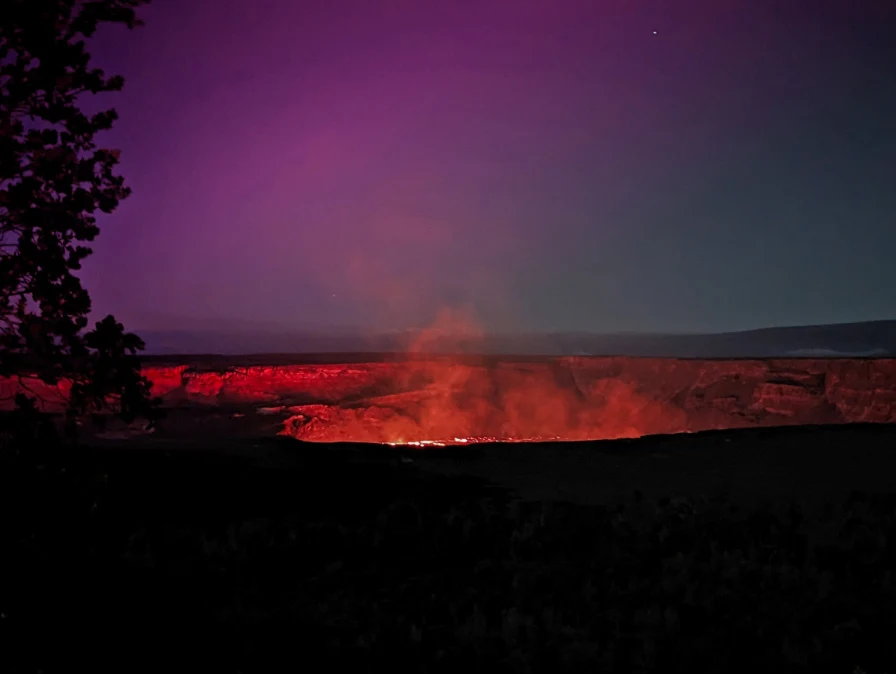 The best view of the lava lake and its fountains is from the Byron's Ledge Trail or the Keanakako'i Overlook. The overlook is actually just off the closed portion of Crater Rim Drive, so you park at the Devastation Trail and then walk on the old road. It's incredible! The lava glow lights up the steamy clouds and the flowing lava below is breathtaking.
If there isn't an active lava flow during your visit, this is still an amazing hike in the dark for seeing the stars. Dark sky photography here at Kilauea is epic!
Check out our complete guide to Lava Glow and Photography in Hawaii Volcanoes!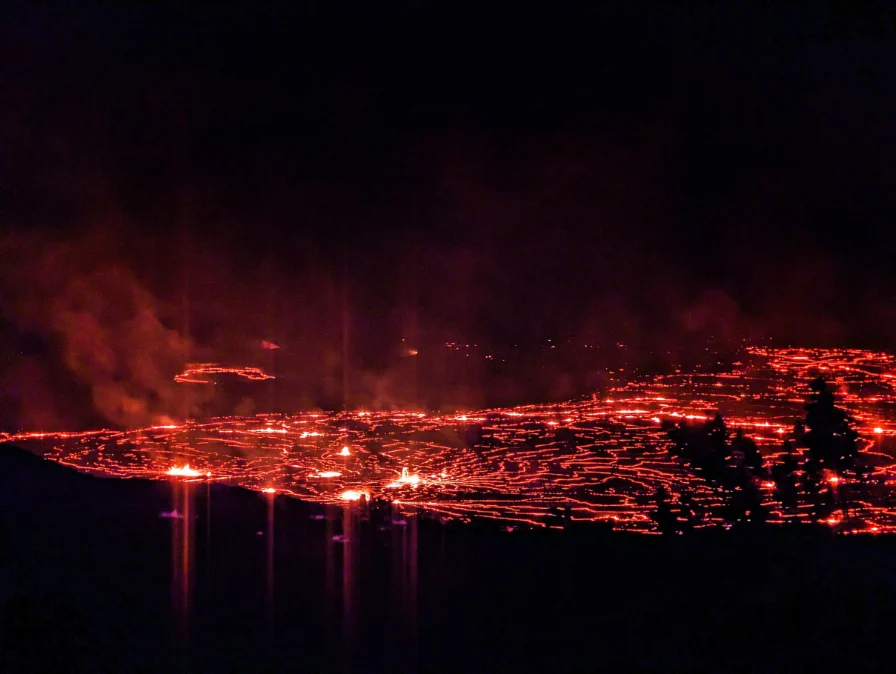 Day 5: Exploring Hilo
After spending so much time in nature over the last few days, it might be nice to have some time in the small city of Hilo. I love Hilo. It doesn't feel like a tourist destination, but an actual live-in city. It's full of restaurants and parks, regular city things and it's so mellow. There are some wonderful things to do Hilo and it'll be a nice mix-up to the rest of your Big Island itinerary.
Liliuokalani Gardens
Located on Hilo Bay, the Liliuokalani Gardens make for a great morning walk. With the Japanese garden area, incredible banyan trees and a path along the waterfront, it's a great view of Hilo life. Also just off of the Liliuokalani Gardens is Coconut Island. Here you'll find beach access, a reconstructed cultural site and picnic areas.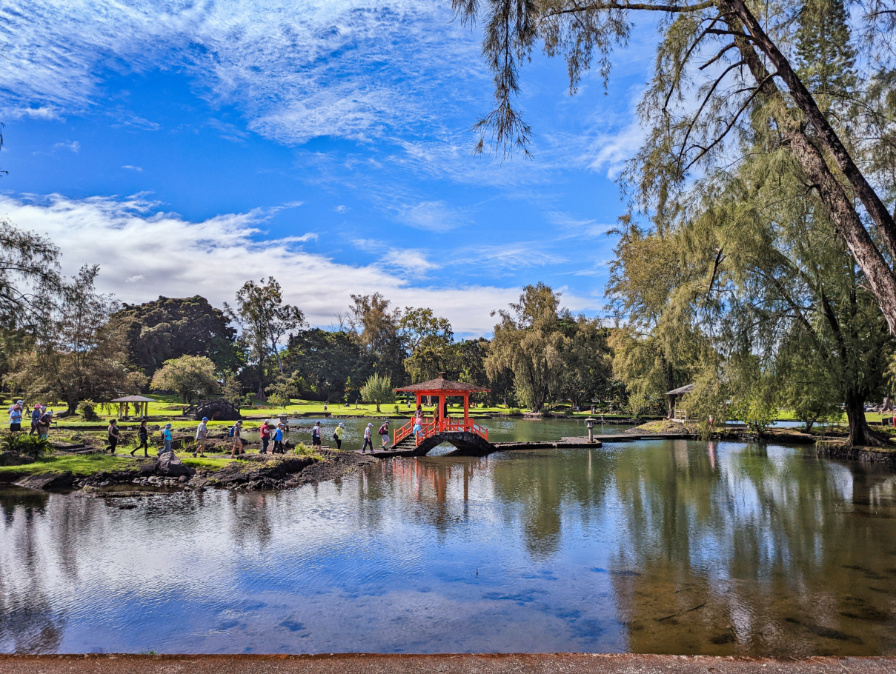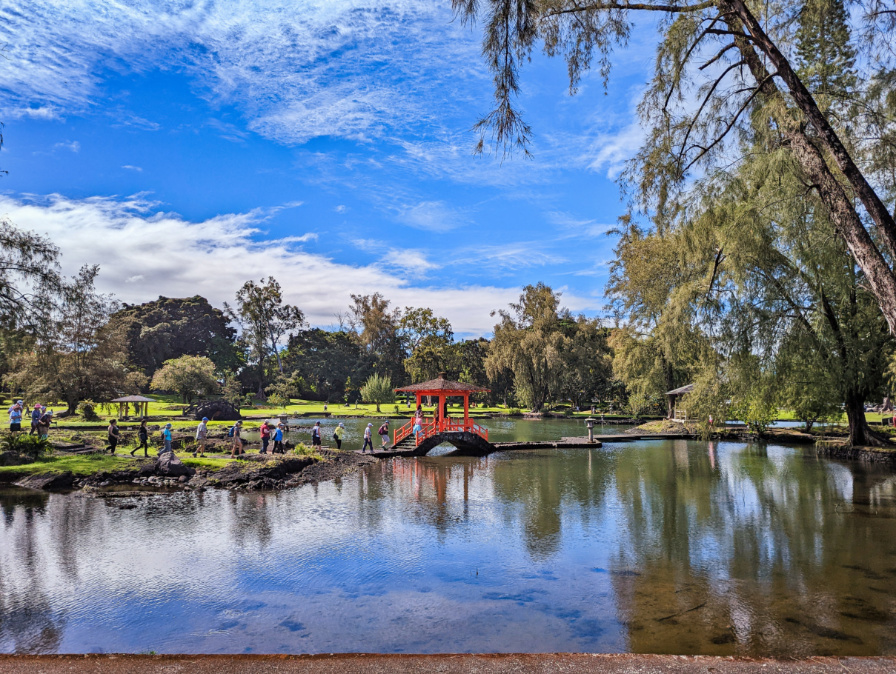 Hilo Farmers Market
I love love love the Hilo Farmers Market. Even if you miss stopping into the market on this day of the Big Island itinerary, you can stop here before you depart Hilo for some of the best road trip snack you'll find in Hawaii. What makes the Hilo Farmers Market so great is the amount of beautiful, fresh produce. It's loud and fun and delicious. Right next to the main market area are more shops and stalls, as well as the best Hawaiian shave ice in Hilo, from Kula Shave Ice.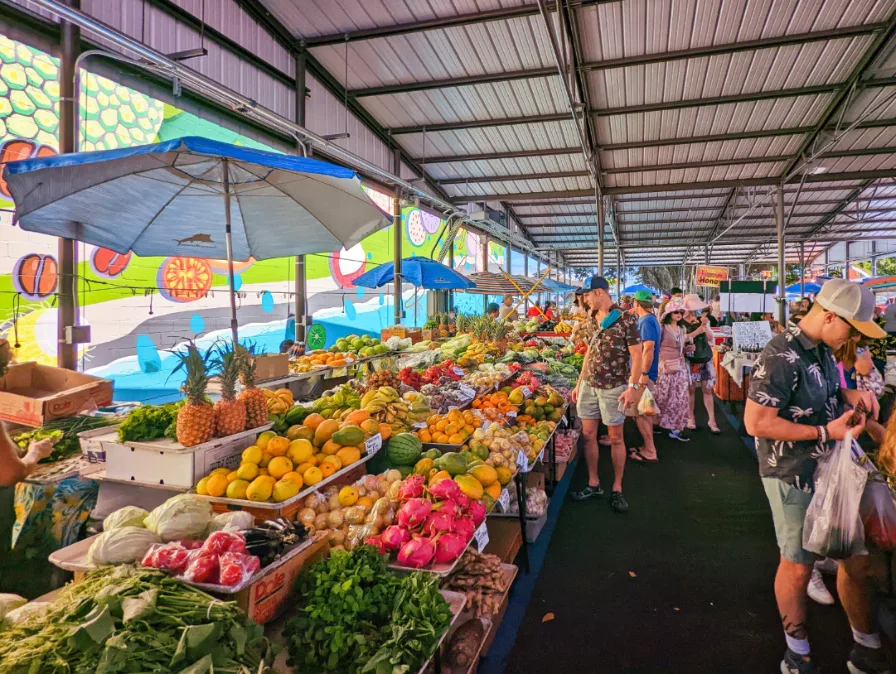 Visiting Mauna Kea, the Tallest Mountain on Earth
Yes, I know, you're thinking that Mt Everest is the tallest mountain on earth, and you're right if you're measuring what's above sea level, but Mauna Kea goes to the seafloor. Anyways, Mauna Kea is tall enough that sometimes it even has snow on it. If you want to visit Mauna Kea, it's totally doable and shows you a very different side of Hawaii.
To visit Mauna Kea, you'll need to drive up a 17% grade to the visitor center. Here you can learn about the many observatories on the mountain, as well as see the silversword plants up on the mountainside. If you want to go to the summit trail or any of the observatory trails you'll need 4 wheel drive. The rangers don't let you past on the road if your car can't handle it.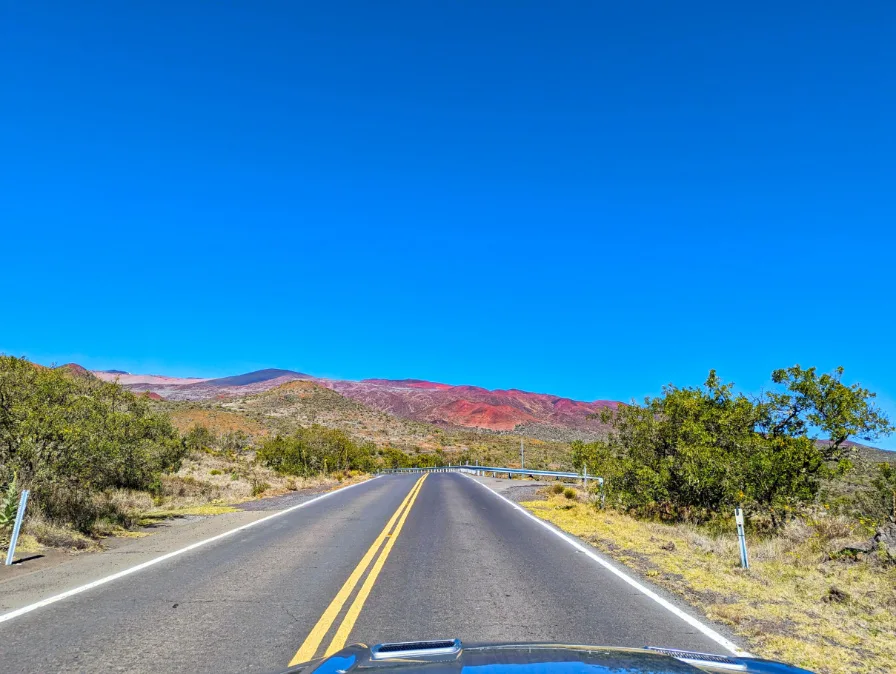 If you are planning on driving the Saddle Road back to Kailua-Kona from Hilo, you can add your visit to Mauna Kea to that part of the Big Island road trip. If you're flying out of Hilo at the end of your trip though, day 5 is the perfect spot in the itinerary to add Mauna Kea.
Tour: because this is such an unusual place, we do recommend a guided tour, especially if you're interested in stargazing atop Mauna Kea.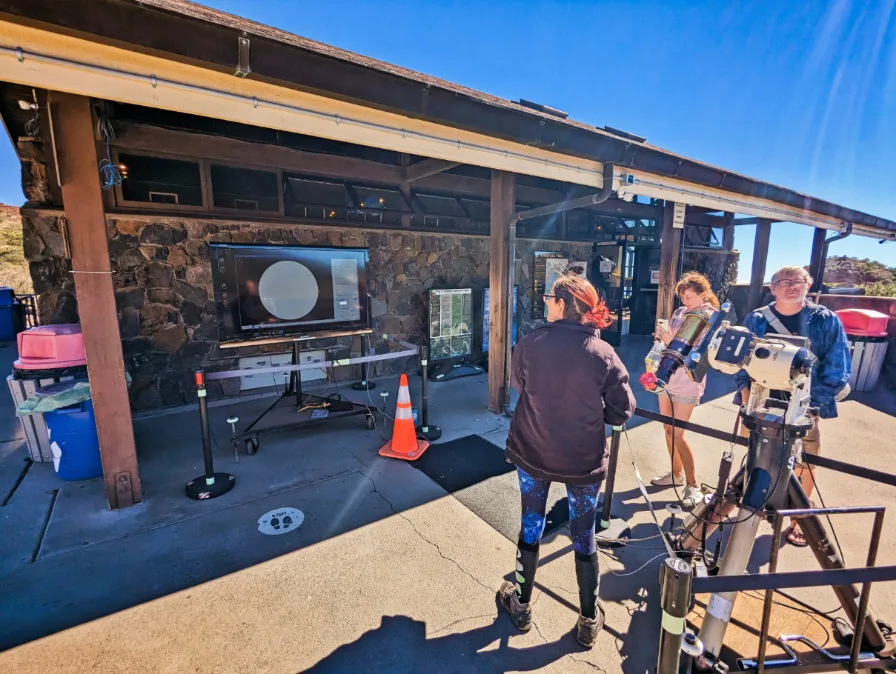 SUP on Reeds Bay
We've paddled on Reeds Bay in Hilo a few times and it's always beautiful. Rent boards from Hilo Ocean Adventures or if you've picked the SCP Hilo Hotel for your stay, you can just borrow them from the hotel. Because there is a big jetty in the bay the waves come into the area as soft rollers which is so easy to paddle with. There are small coves and even a brackish pond full of tropical fish and honus. It's delightful.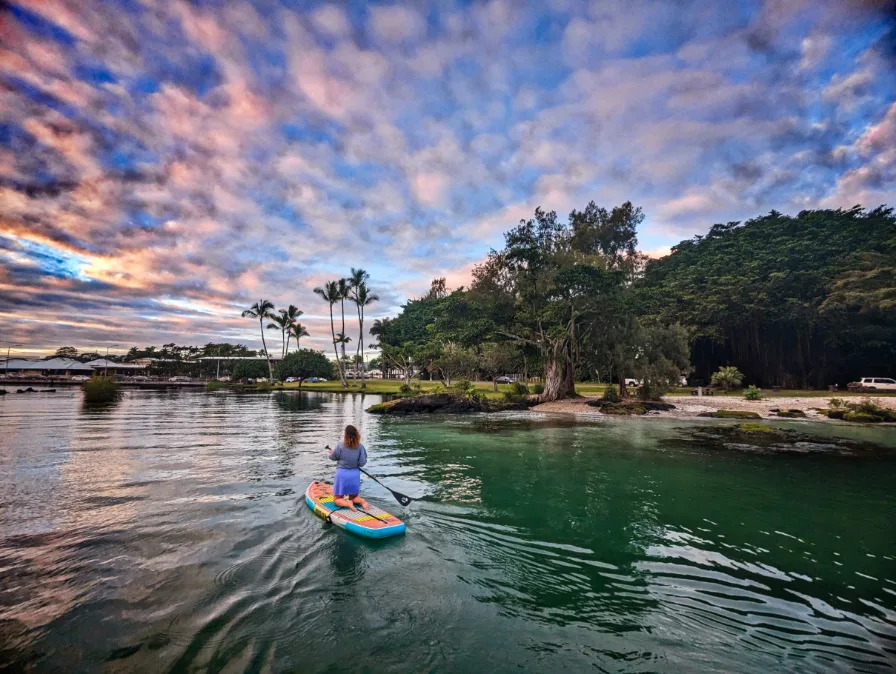 Tip: bring your waterproof phone case or GoPro, or bring your snorkel for exploring below the surface of Reeds Bay. There is some amazing wildlife and the snorkeling is great. If you're snorkeling in the fresh water ponds, be prepared for some heavy distortion in the water though, as the salt water and fresh water don't mix well and you can outright see the salt swirling before your eyes.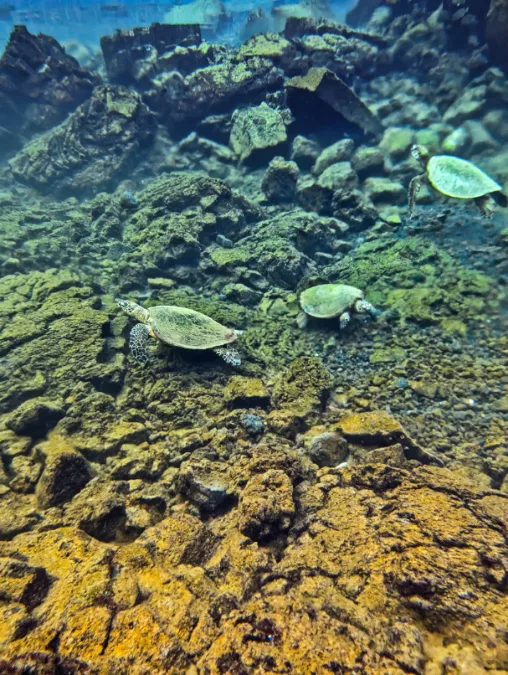 Biking Around Hilo
Hilo is a very bikeable city. There are bike lanes, bike paths and lots of wonderful things to see. From the rainbow bridge over the Wailuku River to the spring fed lagoon beach at Leleiwi Beach Park, you'll have lots to see. You can ride down Banyan Way and through downtown. You can make stops wherever you want, and even just ride to a wonderful beach afternoon at Hilo Bayfront Beach Park.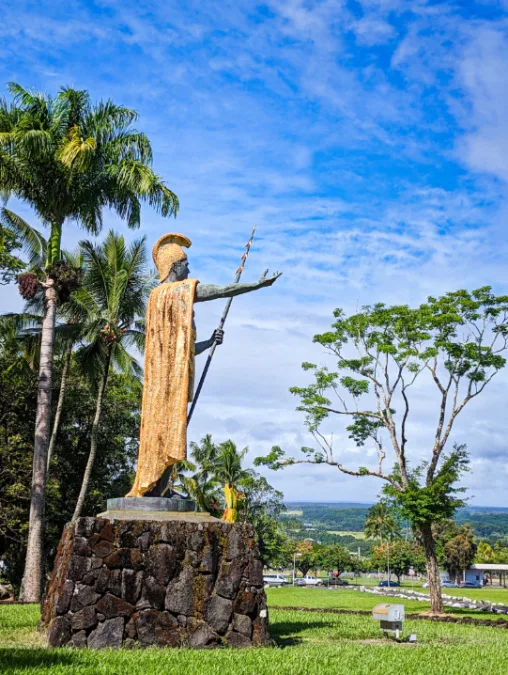 Day 6: Eastern Shore of the Big Island
Today is the last day of fully scheduled fun. As with any day in our Big Island itinerary you can add beach time or lounging around your accommodations whenever you need, but this last big day has some wonderful things to do that really are the icing on the Big Island road trip cake. The eastern shore of Hawaii is where you'll find cacao and waterfalls!
Our activities for this day stretch from Hilo to the North Shore. Lavaloha Farms and Kulaniapia Falls are right next to each other, then Akaka Falls a bit furth north, and the Waipio Valley is the furtest away, so keep location in mind as you schedule your activities.
As you're planning your time, consider the farthest reaches of the east and north shores of the Big Island as a bonus. If you have extra days, add the adventures noted for this day across two days, as the drive to Waipio Valley and hiking and beaches there could easily be their own day.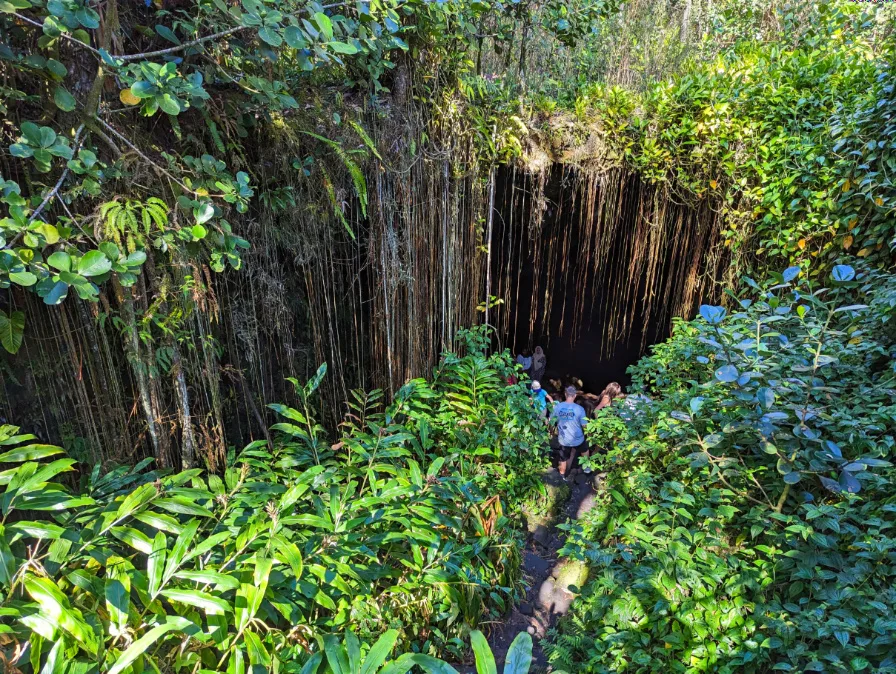 Cacao Farms and Agritourism
The Big Island of Hawaii is such a diverse place when you consider what is grown here. From wine grapes to coffee and cacao, there are so many opportunities for agritourism. Oh the Hilo side you'll find quite a few "chocolate farms" that you can visit. Because education is something we strive to include with every trip we take, plan a tour at a cacao farm to gain a new appreciation for the work and love that goes into growing the source of the chocolate you love.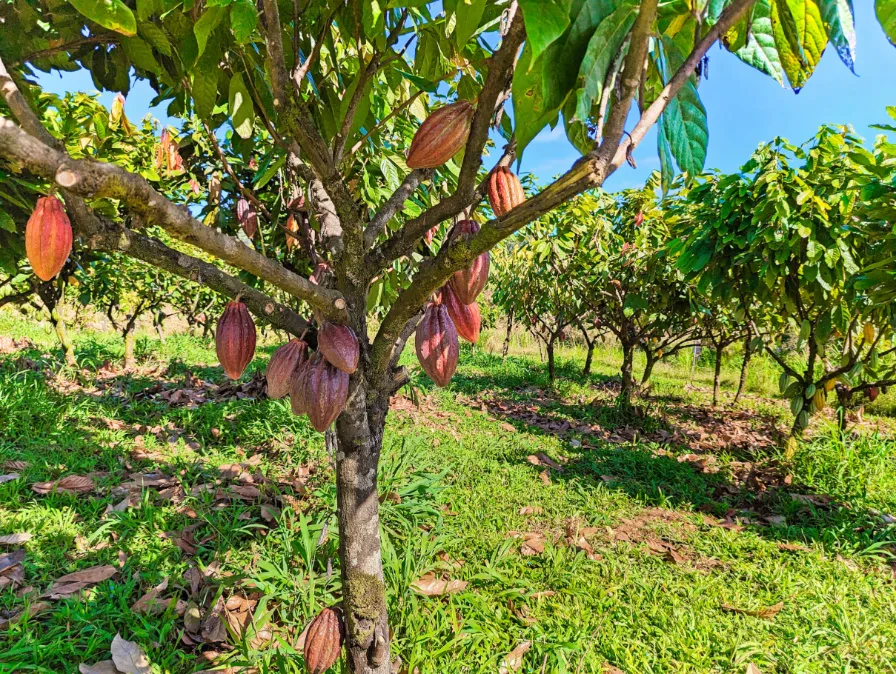 We really enjoyed our visit to Lavaloaha Farm. Here they have thousands of cacao trees, coffee trees, other fruits and some of the best views in Hilo. Book the Tree-to-Chocolate tour to get an in-depth experience around the farm. You get to pick cacao from the tree, eat the raw cacao flesh and beans, see the drying process, sample chocolate throughout the process and try lost of samples in the Chocolate Lounge. It's actually way more fun and fascinating than I expected.
There are more chocolate farms on the Big Island, especially as you continue your road trip up the coast, bute Lavaloha was really incredible. More cacao farm options include: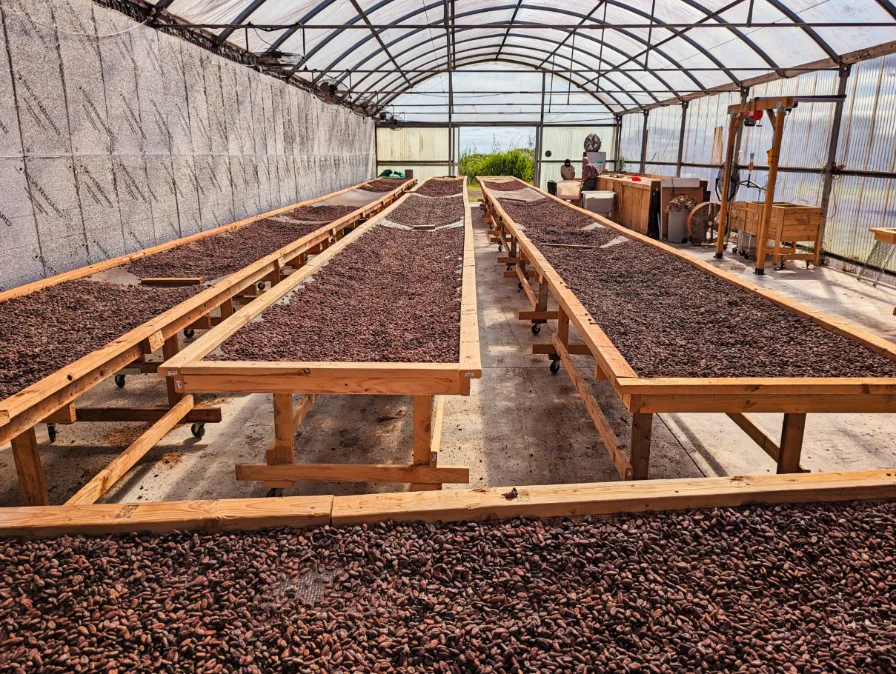 Akaka Falls State Park
You cannot visit Hawaii without having some sort of waterfall experience. While the waterfalls on Kauai's Na Pali Coast are famous for their epic drops and mystical setting, the Big Island of Hawaii has some gorgeous falls too. At the top of that list is Akaka Falls, located just north of Hilo. For our Big Island road trip plan, Akaka Falls fits perfectly into the morning, whether you plan to continue all the way to the Waipio Valley or not.
The hike at Akaka Falls is pretty easy, being a half mile loop through some of the most beautiful Hawaiian jungle you've ever seen. The tropical flowers and wild growing fruits spill onto the path as you approach the waterfall. At 442 feet tall, it's impressive and absolutely dreamy. This is the perfect start to your day of exploring.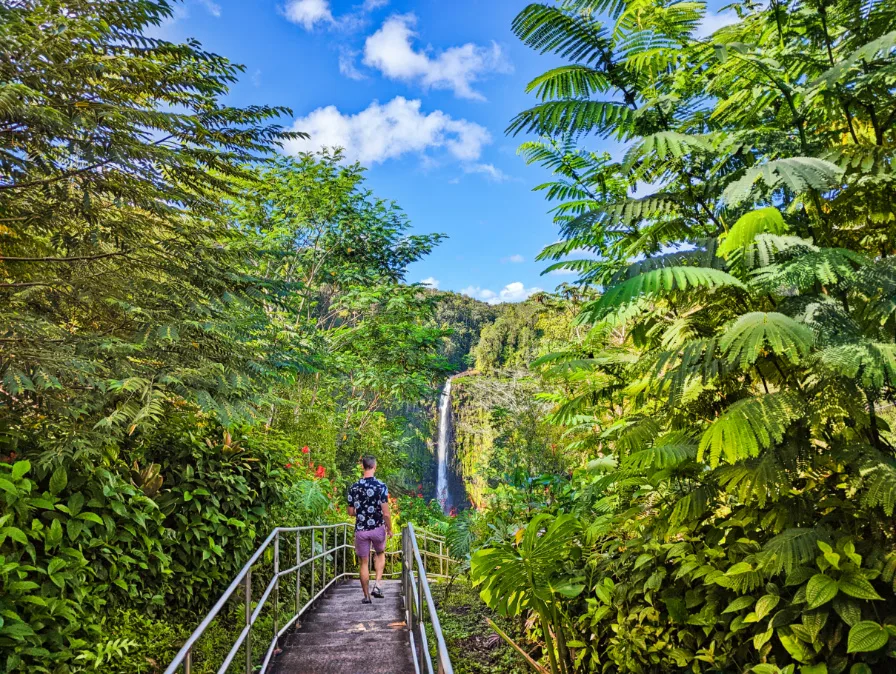 Swimming at Kulaniapia Falls
One of my favorite things to do in Hawaii, no matter what island I'm on, is to swim in the splash pool of a waterfall. It's not an easy thing to plan in every Hawaiian destination, but if you're on the east shore of the Big Island, you can make a whole day of it. Kulaniapia Falls is located on private property just outside of downtown Hilo.
You either need to be staying at the Inn at Kulaniapia Falls as a guest (it's beautiful!) or you can book a day pass (go to their website and choose DAY PASS). If you do the day pass option, plan to bring a picnic and spend a half day there. The gardens leading down to the stream and splash pool are dreamy, and the area all around the falls is perfect for relaxing. You can swim to the base of the waterfall, you can SUP in the pond, or you can bring a yoga mat and just zen out. It's a wonderful way to chill out and have the perfect Hawaii moment.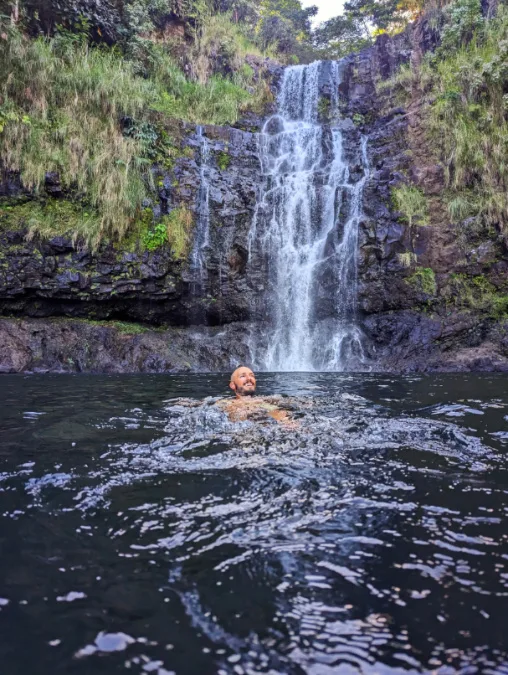 BONUS DAY: Exploring the Lesser Visited North Shore
While it's not terribly far from Hilo, getting to the North Shore of the Big Island isn't something many visitors make time for. It takes a little over an hour to get from Hilo to the Waipio Valley (the farthest you'll be traveling). The
Waipio Valley
And now, if you have additional days or find that you have a half day extra in your Big Island travel plan, add a visit to the North Shore and the Waipio Valley to your itinerary. This is one of those places that is gorgeous and rarely visited. If you're planning a trip here, BE RESPECTFUL of private property and do not go making your own trails. There are designated hiking areas, public beach access points, and several guided tours that will help you experience the Waipio Valley and its beauty.
North Shore Sightseeing
Another stop to add to your North Shore day is Kalopa State Recreation Area. Here you can hike through dense rainforest and breathe deeply to take in the tropical wildflowers. Make stops at the vanilla farm, Hawaiian Vanilla Co, more cacao farms, the Hamakua Farmers Market (Sundays), and beaches. A highlight if you're into all the agritourism on the Big Island will be stopping into Big Island Farms. A farm tour here includes coffee, tea, tropical fruits, spices and more.
As you drive back towards Hilo, watch for the Scenic Drive sign on the highway. This will bring you back into town via the Old Mamalahoa Highways. This winding road will take you past fruit stands, over one lane bridges and to the trail for Onomea Bay, which is rugged and so pretty. You'll love this drive!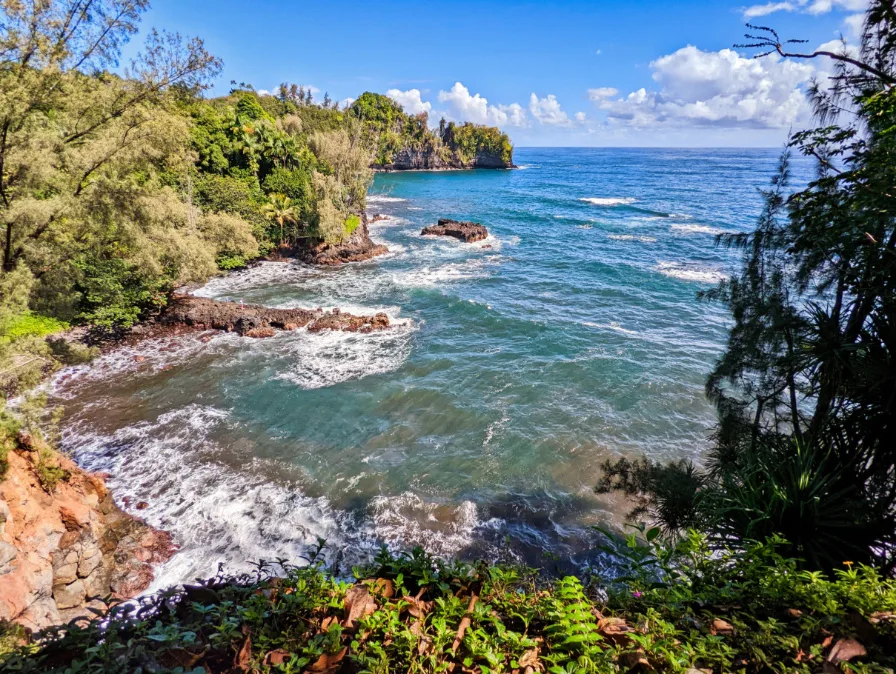 Wow! So that's an amazing Big Island itinerary to experience the best of Hawaii Island. You'll love doing this road trip so much, and once you've seen this side of Hawaii, the Big Island will, no doubt, become your favorite.
If you have any questions about planning a trip to the Big Island or need help finding the right accommodations, please let us know. Leave a comment or send us a note. We're happy to help others create unforgettable experiences!