Seriously, I could write about China all day every day.  Thinking about what areas of China to visit, people will probably research what spots are going to have the best tourist sites or most famous Chinese landmarks.  If that's the approach you're taking, then no doubt you're going to be pointed towards the Terracotta Warriors of Emperor Qin.  Or maybe you'll find the deadliest hike on earth and plan on climbing Huashan (so cool!).  Either of these are going to put you in Shaanxi province and you'll have countless options for amazing experiences in China!  That's why we thought it would be good to have a Xi'an city guide.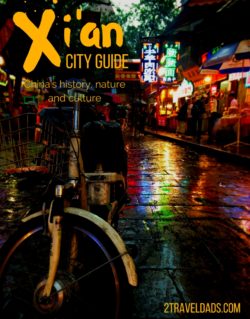 Firstly, know that there are two different states in China called "Shaanxi".  We are talking about the southern of the two which is where you'll find Xi'an.  They border each other, so who knows, you may even find yourself in both when you're visiting China.  Shaanxi is a large province, but it's still less than half the size of California.  Having said that, that's kind of how to approach planning a trip through Shaanxi:  think of the amount of time you'd need for a Northern California or SoCal roadtrip and boom; you'll need the same amount of time for a trip around Shaanxi province.  If you base your travels off our little Xi'an city guide you'll be set!
Note:  making the trip to China is a big deal. Our friends at Just Go Places have created a really well laid out China itinerary for planning a more expansive experience.
Arrival in Shaanxi Province
Depending on where you are coming from you probably cannot get a direct flight into Xi'an, China. Flying through Beijing is a great option and is surprisingly affordable. For example:   a round-trip flight from Seattle to Xi'an via Beijing is about $550 USD.   If you ever book international travel, you know that a $500 range round trip ticket is a pretty good deal.
Tip:  I flew Hainan Airlines with a layover in Beijing and had more room in my coach seat than any other international flight ever.  Also, I received Mileage Plan miles with Alaska Airlines for the flight, so win!
Another way you might arrive in Shaanxi province is if you are already on a road trip through Central China.  Getting to Xi'an may take you a few hours from once you're in Shaanxi province though, so plan for traffic and lot's of potty breaks.
As you look at our suggestions know that an itinerary needs to work for travelers and for their starting point, don't just build a trip using this one idea. Adjust the suggestions in our Xi'an city guide based on your time, your starting point, your strongest interests and advice from others.
Touring Xi'an, the largest city in Shaanxi
Xi'an is such a cool City. The first thing that caught my eye was how big it was. The airport was as big as SeaTac here in Seattle but it turns out that Xi'an is nearly eight times the size of Seattle. Within the city you'll find many interesting sites. You may be directed to any number of attractions, but not all are authentic or worth visiting.  That's why our Xi'an city guide isn't crazy full of stuff. 🙂
Cultural History Museum in Xi'an
One of the sites we visited that was directly in Xi'an was the historical and cultural museum. If you don't go to many museums you may be captivated and fascinated by most of what you'll see there as it's very different from what you'll find in the museums in France or the United States. If you compare the quality of the exhibits, the cleanliness, and the number of people within small spaces in the museum you won't be very impressed. Choose wisely as to if you want to spend time going through museum exhibits versus exploring the city.  
Tip:  a great phrase to have handy to let the Chinese folks around you know that you're engaged and trying to immerse yourself in culture is "hěn yǒuyìsi," which means "That's interesting."  It's fun to say and applies to almost everything you'll encounter.  Our buddy Richelle over at Adventures Around Asia shared this one!
Parks and Pagodas in Xi'an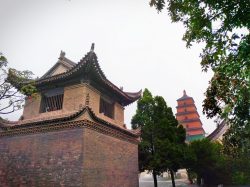 Another way you can experience history is by going directly to the source. The Giant Wild Goose Pagoda was my favorite site within Xi'an (which is why it's the MUST of our Xi'an city guide). Being more than a thousand years old and centered within a Buddhist complex, the Giant Wild Goose Pagoda was absolutely amazing. With smaller temples throughout, this site is worth an entire day. True, you can do it in 2 or 3 hours, but if you just want to relax and people watch as well as explore the many buildings, including a small museum on site, you could allot an entire day.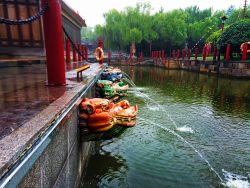 Directly next door to the giant Wild Goose Pagoda is the Tang Paradise Park. While some of the structures are much older, the colonnades, dragon fountains, and art installations are fairly recent. This is the site that emperors of ancient China would wander around following a visit to the Giant Wild Goose Pagoda; they would enjoy their time there before returning to the Summer or Winter Palace, but most of those original structures are no longer found within the imperial gardens of the Tang Paradise. The site is amazing though. We were there for about two-and-a-half hours and could have easily spent five hours. It's a half-day activity.
Note:  certain sites in China require you to present a passport to be able to enter or even purchase an entry ticket.  China is one country where traveling with your passport at all times is recommended, at least for this reason (and checking into hotels).
The Terracotta Warriors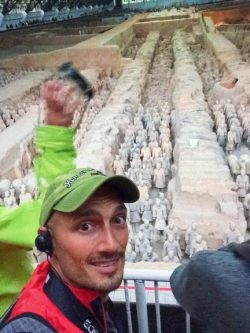 I think it's a safe bet to say that besides the Great Wall of China the Terracotta Warriors  is the most famous site or tourist attraction within all of China. It's totally understandable because they're pretty darn cool. That was my first time ever visiting an active archaeological excavation and being able to watch people working with line tools uncovering pieces of the army as well as others reassembling… It was just so cool to see. The museum portions of the Terracotta Army Park were of a much higher quality than what we experience at the cultural and history museum. One of the things that really made the day fun when we went to the terracotta warriors with making a stop ahead of time in his Artisan shop where they make souvenirs relating to the Terracotta Army. We got to make our own Warriors as well as watch the process that was used nearly two thousand years ago.
Note:  the actual National Park site is quite clearly the actual site.  Don't go to a knock off site or extra special tomb site or something.  The Terracotta Warriors site is the only real one.

Also:  this is a part of our Xi'an city guide because, although it feels like it's far from the city, it's truly a part of it.  Xi'an is huge.
Since we are talking about all things epic and ancient, north of Xi'an, beyond the Terracotta Warriors, there are portions of the Great Wall of China that are in ruins. You can visit them with some planning, but to see the best sections in other parts of China, check out this comprehensive Great Wall planning guide.
Biking the City Wall of Xi'an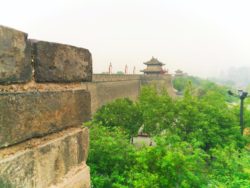 The city wall of Xian is another fun sites to explore. And it's more than just walking up to the wall and saying "There's a wall…"  we actually rented bikes and rode around the entire city wall except for a small portion where they were doing some re-construction. The city wall of Xian is the largest fully intact city wall in the world. It's really really amazing. At night the bell towers and ramparts are lit up with colorful lights and spot lights. Even if you don't have time to bike the entire wall you should be sure to be close to it at night for some really cool night time photo ops.
Tip:  unless you have stellar balance, it might not be best to snap pics while riding a biking on a cobblestone elevated street.  Pull over for actual photo ops and selfies.  Or wear a GoPro for your ride and look at pics later.
Getting a dose of Chinese Culture
Something else that you want to be sure to do when you are in the city is to get your fill of culture and there are several ways to do it.
Actual Chinese Food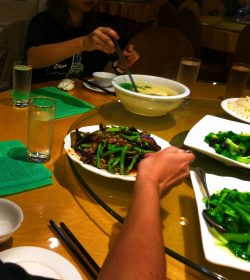 The easiest way to jump into culture is of course going and finding amazing food. FYI, the Chinese food you get in China is actually Chinese food. If you're expecting something that you would get at a Chinese restaurant in America you are going to be shocked because American Chinese food is some sort of pretend concoction that people made up to try to make it so that Americans would eat some form of Chinese food.
Chinese food in China is beyond amazing and that's all I can say about it. Things to look for in great Chinese food would be lotus root, dragon fruit, dumplings that have some sort of black sauce in them, anything with Sichuan peppercorns that make your tongue tingle, aubergine, aubergine, aubergine, eggplant…  Can you tell that the food was bomb digity?
Tip:  BUY STREET FOOD.  OMG, how can you not?  It's everywhere and it's so awesome.  Whether you're getting cotton candy or something that looks like an onion pancake but has a layer of meat, it'll be good.

Note:  I have a whole string of tummy issues and a bizarre medical history and eating in China was a piece of cake.  In fact, eleven days of Chinese food was the best I've felt in years and I had ZERO moments where I thought I was going to die from the food. (I'm not a doctor though, so don't think of me as a medical expert of any sort.)
Muslim Quarter Street Market
I'll be the first to say that crowds aren't my favorite thing, particularly when I'm in a really unfamiliar place, but OMG, the Muslim Quarter has be to included in our Xi'an city guide.  Just look:
Every corner within the Muslim Quarter had something different to distract us.  We spent so much time wandering and trying foods we've never seen before that we almost didn't make it home that night.  We visited the Muslim Quarter of Xi'an twice and I can confidently say that day or night, it's an amazing place to wander through.
Tip:  this is your chance to try everything you've seen on travel or food shows that you've never had at your fingertips.  When are you going to find barbecued cuttlefish again?
Chinese Ballet
Another form of culture that you should seek out is theater. We went to an amazing Chinese ballet in a beautiful theater covered in silk tapestries with gold end crystal chandeliers and it was mind-numbingly colorful. The show we went to featured many different styles of Chinese dance comma a full-sized Chinese dragon, and really incredible traditional music. After a long day it was a bit of a sensory overload but it was absolutely incredible and the perfect way-2 get a feel of traditional Chinese culture.
Tip:  if you're planning on doing any photography, be ready to adjust your camera settings quickly.  You're expecting to shoot low-light photography, and you will, but then the stage is bright beyond bright, so be quick about it!
Modern and Ancient Art in China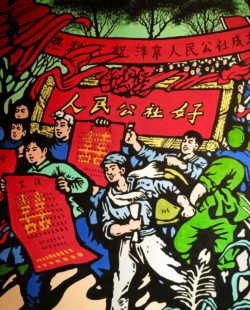 Well, I wouldn't have thought to seek out a contemporary art gallery on a trip to China. That was one of the final activities we did while in Xi'an. We had an English-speaking guide within the gallery who explained the different pieces and the artists creating them. From Modern political art making statements about the one child policy to mid-century art making honorary references to Mao Zedong there was quite the gambit.  The Tangbo Museum Gallery was an awesome surprise.
We got to see a collection of historical art ranging over a thousand years which included some rare portrayals of women in power as well as really elaborate battle tapestries unlike any I'd seen anywhere ever. In the same museum we also got to sit down with an instructor and learn how to create Chinese characters using traditional walnut ink and a lot of patience. I really enjoyed that and would love to actually study Mandarin to understand the characters, the history of the language, and so much more. Chinese culture is fascinating.
Tip:  if you see art that you'd like to bring home, either in a gallery or in a marketplace, get it. Art from your travels is an incredible, one-of-a-kind souvenir.
Day Trips out of Xi'an
Does anybody travel with the intent of staying just within city limits?  No, except for maybe NYC.  Xi'an is centrally located within Shaanxi province, so you'll have lots of options.  If you're not touring the entire province, there are a few sights that can be done as day trips out of the city.
The Death Planks of Huashan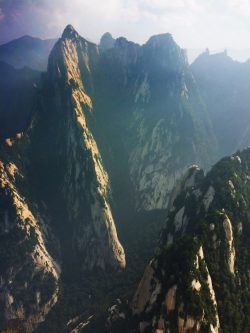 Before I actually got to the death planks I really didn't know what to expect or if I would actually be able to walk across these fabled pieces of wood above some sort of Canyon. Well, the experience was amazing. About 2 hours outside of Xi'an is Huashan National Park.  When you arrive you get to start your day with a bus ride along what seems like a never-ending  zig-zah road. We were fortunate enough to get to sit in a group of retired Korean tourists who had brought their own DJ box along with them and we're pumping K-pop all the way up the winding mountain. It was hilarious.
When we got to the end of the road we boarded our cable car and headed up up up up up until we were staring across valley after valley of granite cliffsides. We headed up countless stairs passing thousands of locks on the railings and hundreds upon hundreds of prayer tassels while we made our ascent to the South Peak of Huashan.  We passed by so many temples and religious sites on the way to the top, each being so different and having a different purpose. At the very top prior to doing it the death planks there was a huge bell where you could pay the bellman, say a prayer, and then bang the largest bronze bell I've ever seen.  It was an awesome experience.
Crossing the death planks wasn't that scary. Well, coming back across them was scary because we had to circumnavigate around a pack of tourists who were terrified and barely able to move. I think that's why this is the most dangerous hike on Earth: because of the tourists who have panic attacks more than a mile above the valley floor. You should still do it though.
Tip:  bring water and cash (RMB).  You'll get thirsty and if you want to have a harness on your for crossing the death planks, you have to pay the piper.
Ancient and Modern Buddhism at the Famen Temple
Gosh, even though I loved the Tang Paradise and the Giant Wild Goose Pagoda for their history and beauty the Famen Temple was jaw-dropping. When we first approached we thought we were going to some sort of bizarre Lego structure. It wasn't. The Famen Temple complex is the perfect combination of modern Chinese architecture juxtaposed against one of the most ancient temples in China.  Take a look at this place!

The purpose of this Buddhist complex is to house the finger bone of the original Buddha, as well as be a center of learning and tourism for those interested in Buddhism and its devout followers. The contrast between the two parts of the Famen Temple complex really helped me understand Buddhism, its history, and it's modern practice. I really loved it and appreciated being brought to this site.
Tip:  plan on eating at the Famen Temple, as there are street vendors in the area between the Heshi Dagoba and the ancient pagoda, as well as a Buddhist restaurant that it fully vegetarian.
Taibai Mountain and Baoji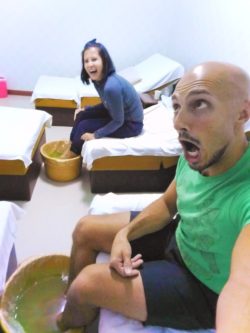 How to write about this without chuckling.  
So, the city of Baoji is hilarious. Picture a Las Vegas that is only neon and LED lights but also completely abandoned and yet still very well kept. And then add some really cool structures like dragons and small pagodas and waterfalls and bridges and… And then cover them all in lights. That's what this town is like. The tourist area of Baoji exists for the purpose of people visiting from Xi'an who want to experience the hot springs which flow through a really incredible Hot Springs Resort.  But there is also amazing, genuine Chinese massage and treatments too… um, which were awesome (as you can see).
The Hot Springs Resort  at Baoji was really fun to explore and try every single type of hot springs Treatment available. I'm not sure if my favorite was the propulsion jet that shot your body with scalding hot water at rocket speeds or getting buried by 200 pounds of smooth muddy rocks. Or maybe it was sitting in a pool of semi-rotten floating apples. No, it was being fully immersed in a pool filled with fish that were eating all the little skin cells off of every part of my body. The Taibai Hot Spring Resort was bizarre and amazing and I want to go back. We have nothing like it in the United States; if we do, somebody's got to tell me immediately.
Beyond the hot springs is Taibai Mountain National Park. We approached Taibai Mountain with the best intentions and highest hopes. Pandas. Taibai National Park is one of the areas where pandas roam freely and we were so hoping to get to spot one. As luck would have it, a freezing fog rolled in and we were stuck on the mountain at the top of the cable car line in -5 degrees celsius weather wearing shorts and ponchos. Poor planning on our part, but surprise, it's China!
The drive along the way up the mountain was really truly beautiful though. Countless waterfalls and amazing temples along the river that we're all accessible as we drove. There's a bus that will take you all the way up the mountain and drop you at any of the points of interest, which we took full advantage of. And after a long freezing day up in the National Park what's better than going back to the Hot Springs Resort? Nothing. It's an amazing day trip or even a two-day trip: perfect addition to the Xi'an city guide.
Note:  if you do Baoji and Taibai Shan National Park you'll be experiencing an off-the-beaten-path area of China.  True, it's not far from Xi'an which does get many international visitors, but during our three days there, we were the only non-Chinese visitors we met.
There is much more to do in Shaanxi province, but for now, this will take care of planning if you want to stay based out of Xi'an.  You'll be able to get a great taste of culture, history and nature while you're in Xi'an and will be completely primed for another trip to China soon after.
And save this for later when it's time to make your plan!