Hawaii is that dream destination we've all heard about since we were kids, and now as adults we have the chance to experience it and share it. Oahu with kids is perfect for an all-encompassing vacation with striking landscapes and endless fun on its beaches and in its jungles.
When you're looking for things to do on Oahu with kids, you'll no doubt find the common tips of Waikiki, Pearl Harbor, hiking to Diamond Head and more, and these are all great ideas, but what if you headed away from the crowds? Oahu with kids levels up when you hit the North Shore or the east side. Your Hawaiian dream becomes your Hawaiian reality as soon as you break away from Honolulu.
Be sure to check out our itineraries for the other Hawaiian Islands too. We really love the Big Island of Hawaii and Kauai, both much more so than Oahu, so we have lots of ideas for planning those trips. And if you have any questions, please leave a comment or send us a note. We're always happy to help with travel planning!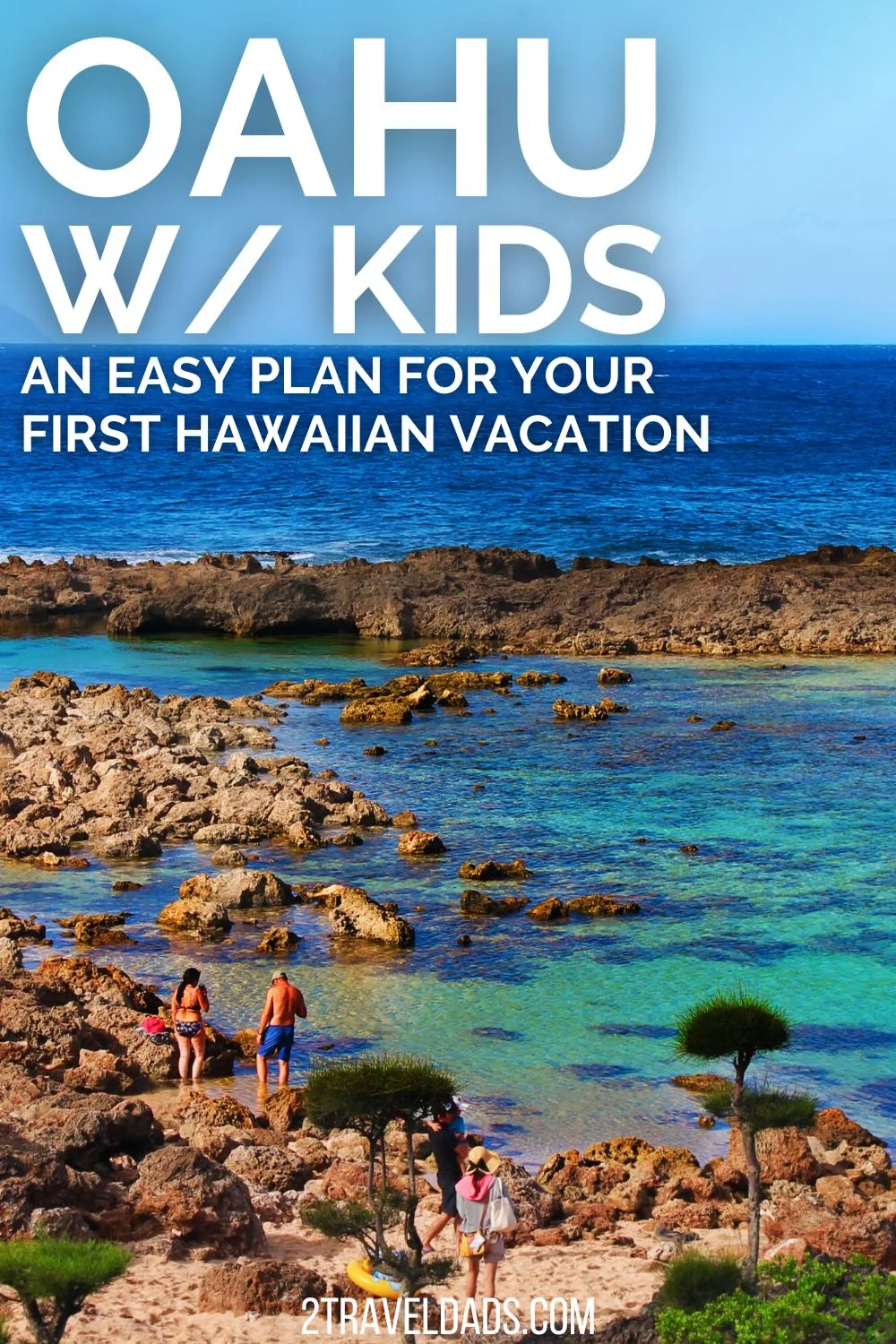 Oahu with Kids: an Unforgettable Hawaiian Adventure
An island full of beach is such to have lots of great spots to relax, right? Well, yes and no. We've made our recommendations for some of Oahu's kid friendly beaches and what to plan for. Our kids LOVED the beaches of Oahu! Just because there's a beach that doesn't mean that the snorkeling is going to be amazing. What makes Oahu so great for snorkeling in certain spots are the ancient lava rocks and coral reefs that make for calm, clear waters. We have AWESOME recommendations. And food and jungle adventures too.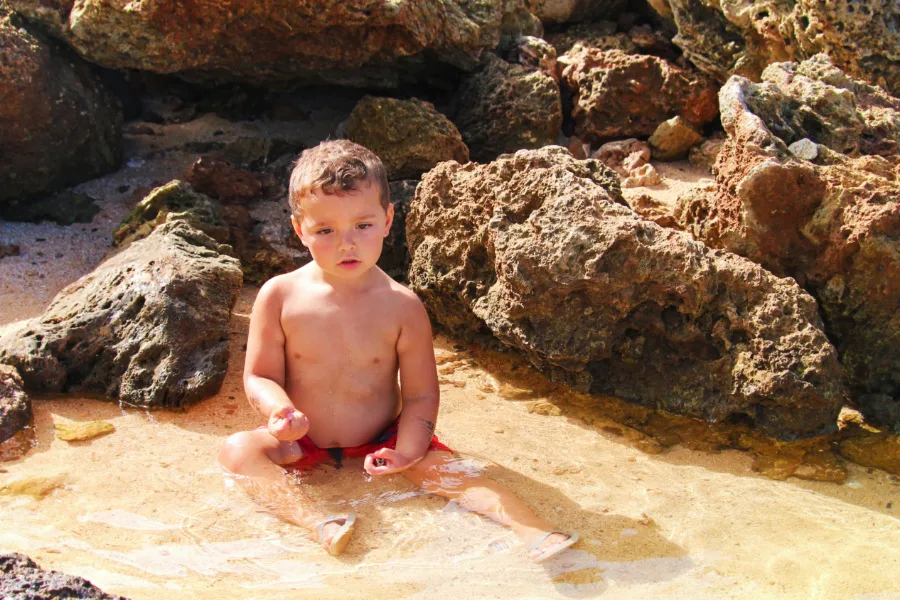 Kid-Friendly Beaches Around Oahu
Honolulu is where an Oahu trip is going to begin, so it's pretty easy to grab your rental car (we had a Jeep) and head to Waikiki… but what if you headed a little to the Northeast and went to Lanikai instead? The beaches of Lanikai are perfect when you're doing Oahu with kids because they're sheltered from the vast Pacific Ocean by reefs and breakers. With lots of access points both through the surrounding neighborhoods and public parks, the beaches of Lanikai need to be on your list of Oahu activities.
If the North Shore is more your pace (meaning chill and totally surfer-tastic), hit up Sunset Beach spring through fall. Sunset Beach has ample access points as well with plenty of parking, a mellow slope down the shore, and loads of surfers to watch, even when it's not high surfing season.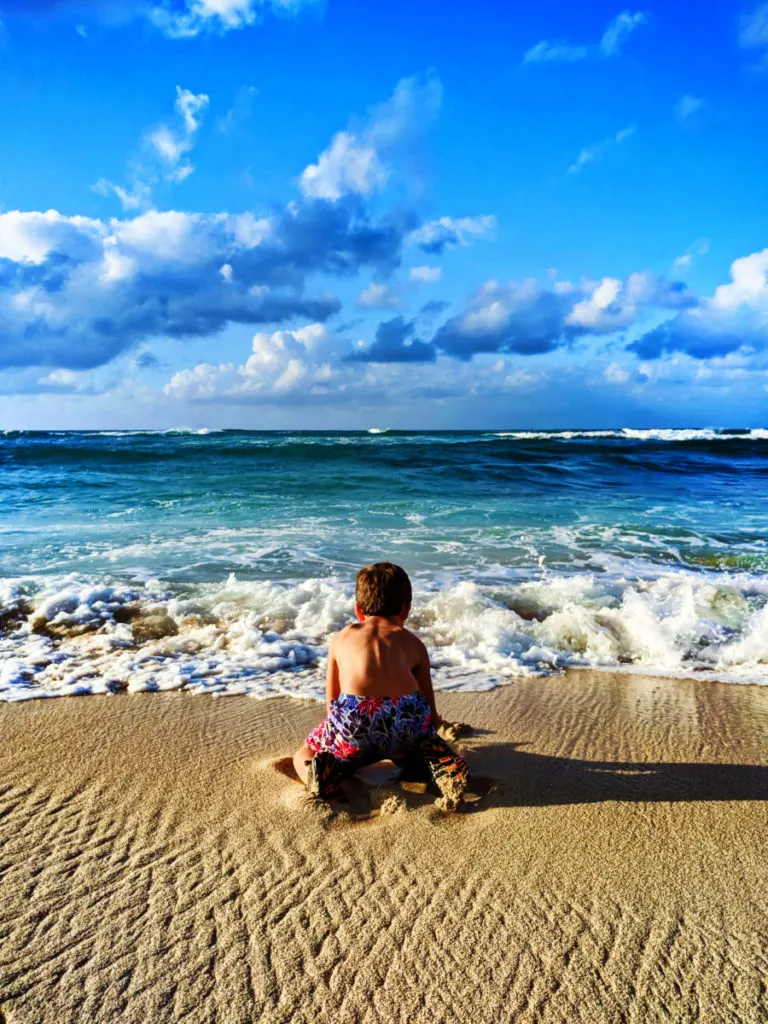 Snorkeling on Oahu with Kids
Oahu has its volcanic past really working in its favor. Because of the volcanic rock that lies just under the surface, the waters just off the shores of Oahu are teeming with life. While you'll no doubt come across the humuhumunukunukuapuaa and maybe even some puffer fish just in the waters at Lanikai, if you head to the North Shore and spend a morning at Sharks Cove you'll be ready to drop anchor and never leave. Sharks cove isn't a great beach for swimming in the surf or lounging in the sun, but it's an unforgettable snorkeling experience.
Another great way to snorkel Oahu with kids is via boat. While you're driving around the island you'll see plenty of marinas or tour ports. Booking a catamaran or small snorkeling adventure with a guide is a great use of time and money, particularly on the Western Shore of Oahu. Going out of Waienai you can head up the west cape watching for Hawaiian spinner dolphins, Hawaiian green sea turtles (honu) and more. The snorkeling on the west side is amazing with ample wildlife and crystal clear waters. Unforgettable.
Find an Oahu snorkeling tour here!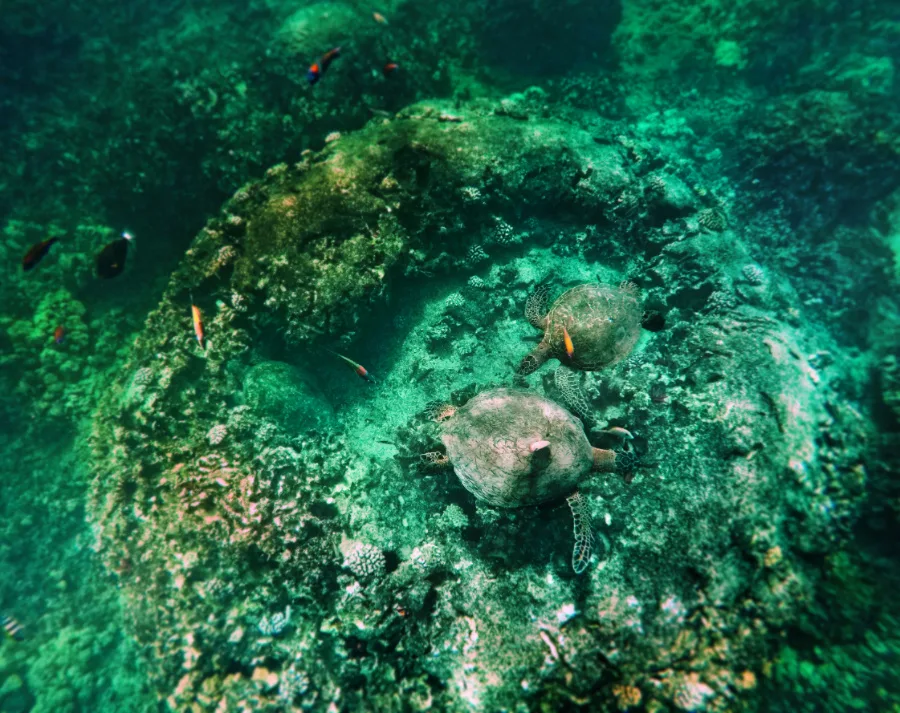 Best Hawaiian Foods to Enjoy
Half of travel is eating new and delicious foods. Hawaii is a part of the USA but its got its own take on all kinds of eats, from sushi to barbeque. If you scour the internet you'll find endless lists of peoples' favorite spots to eat, but how about discovering your own favs? Here's how you find amazing Hawaiian food experiences while you explore Oahu with kids:
Although it may sound strange, ask a local for a music recommendation or where their ohana (family) might meet up with the grandparents. Chances are you'll find a place with a humble reputation, endless aloha spirit to share and an amazing PuPu platter. A local's hole-in-the-wall is a great spot to taste real Hawaii and to support a small business.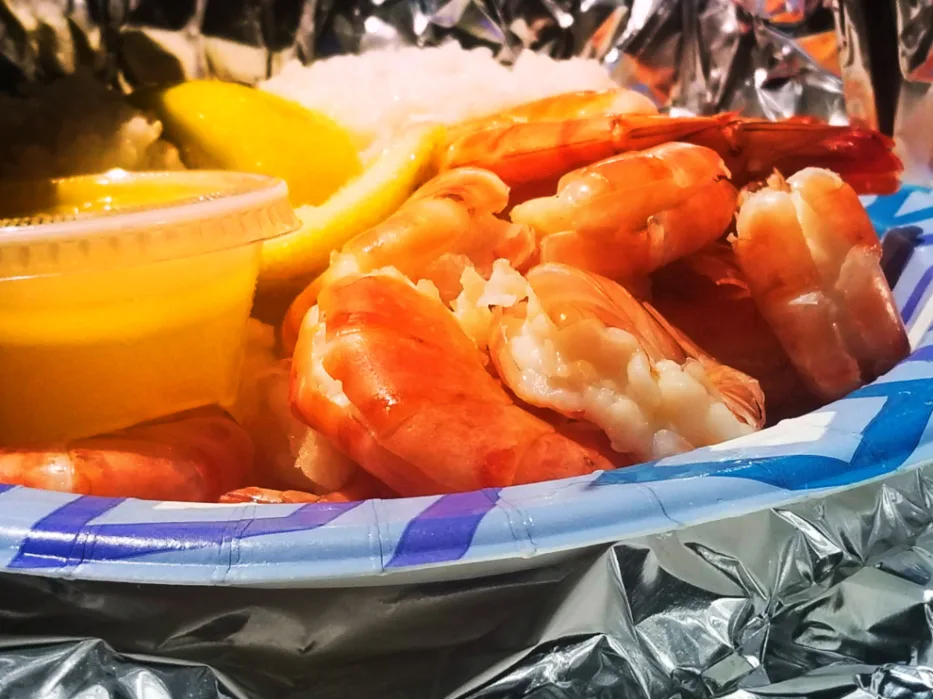 Another great approach to finding good, authentic Hawaiian cuisine it to look for poke or kalua pork on a menu. True, poke is becoming a food trend on the mainland, but its place is in the food trucks of Hawaii. To order the best poke bowl, look for one that includes ahi tuna (seared or not), sea weed, sesame and whatever else sounds good.
You can get a poke bowl with any number of ingredients, but for the best North Shore grub just order a Hawaiian poke bowl (where available). And when it comes to kalua pork, know that you're going to get something slow cooked, fall-apart-delicious, and smothered in some sort of Hawaiian style bbq sauce. It may come with some pineapple, or maybe not. It may be on a flatbread or maybe in a bomber (Hawaiian burrito). All are amazing and authentic Hawaii.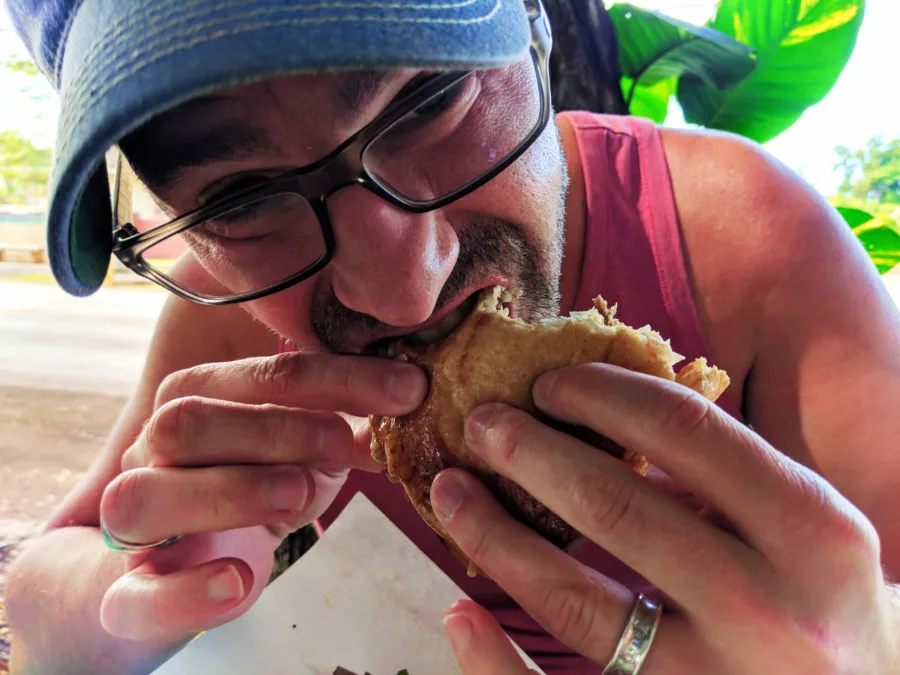 Oahu's Jungle with Kids
There are so many activities on Oahu with kids, but getting into the jungle is a must. Hiking is always a fun way to experience nature, but the steep mountains of Oahu might provide more of a challenge than you're ready for. There are some easy hikes with kids though if you know where to look.
Of course, Diamond Head State Park is at the top of the list with an easy trail and convenient location to Waikiki, but head out to the Manoa Falls Trail on the outskirts of Honolulu for fewer people and dense jungle. Yes, being close to the city will bring more crowds than you might want, so to keep things a bit more quite and just as beautiful, drive to the Pali Lookout trails (easy) or around the Eastern Shore to Maunawili Falls trail (difficult) to really feel immersed in nature.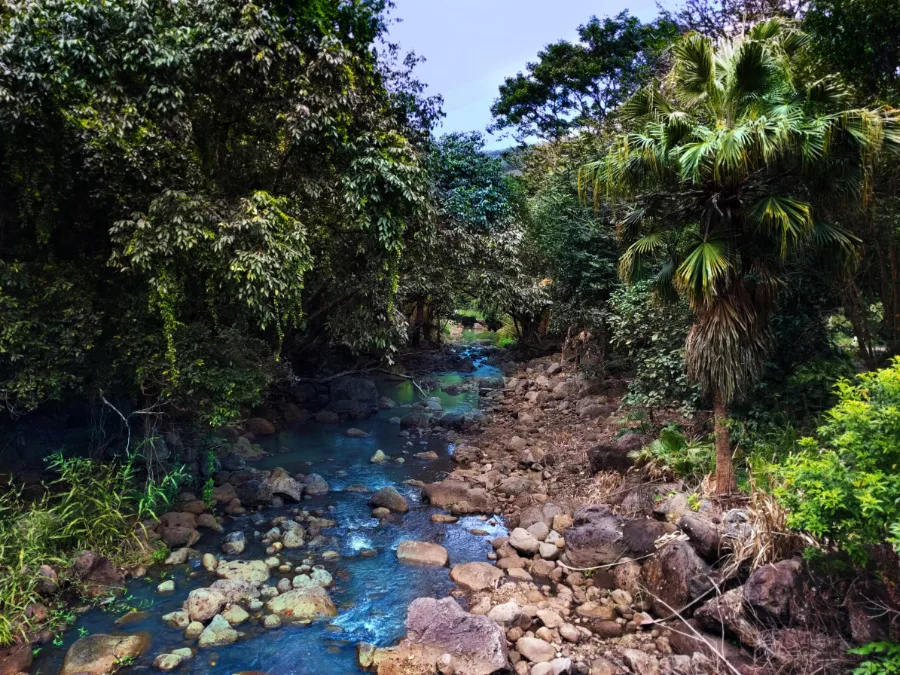 On the North Shore, the Waimea Valley is perfect for jungle hiking on Oahu with kids. The Waimea Valley is actually managed as a Botanical Garden and park. There is an entrance fee, but meandering through coffee trees, spotting bananas hanging above the trail, and being serenaded by countless tropical birds the whole way makes it worth the small cost. The cliffs surrounding the Waimea Valley are unlike any you'll find on the mainland United States. Oh, and at the end of the trail there's a waterfall you can swim to and around. Perfect Hawaii, right?
Note: you'll here the word "Waimea" a lot all through the Hawaiian Islands. On the Big Island, it's a town at the north end of the Kona Coast. On Kauai there is the Waimea Canyon and the town of Waimea. "Waimea" means reddish water, which really makes sense when you visit Kauai or that part of the Big Island.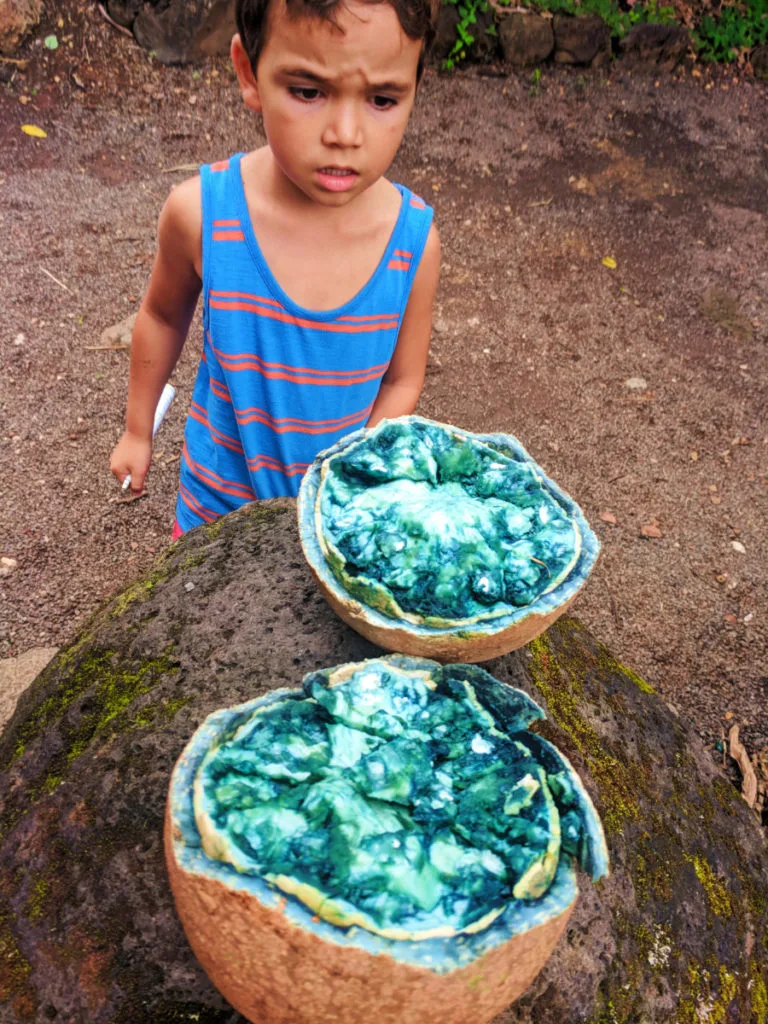 Where to Stay on Oahu with Kids
Really, the way you plan your Oahu trip will depend on where you choose to stay. Also, the cost of your accommodations may have an impact on what other fun you can afford if you're trying to stick to a budget. Here are our top picks for Honolulu, the South Shore and the North Shore of Oahu.
Find a hotel or rental here:
Honolulu Hotels with Kids
The benefit of staying in Honolulu is that there are lots of lodging options, including national travel brand hotels. With that being said, Hawaii is never cheap and you'll not usually go looking for a hotel and be wowed by an amazing deal. If you do see something that seems like a great find though, read the fine print and then book it.
In Honolulu directly, one of the best kid-friendly and most budget friendly hotels is the Hilton Hawaiian Village Waikiki. Whenever we're looking at hotels this is always the least expensive and with the best availability.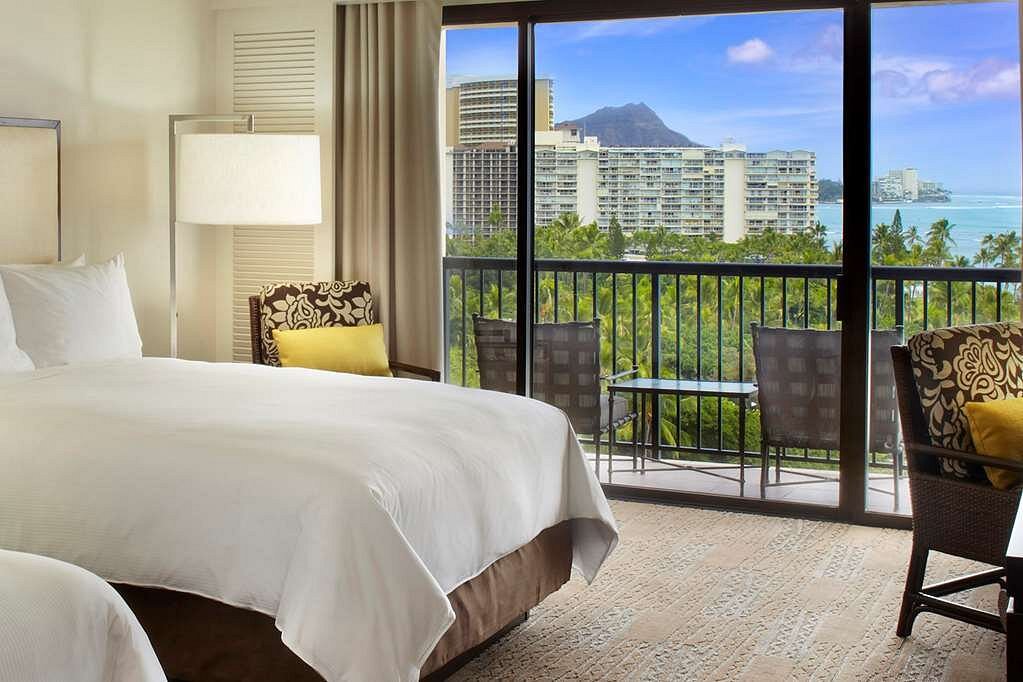 Another hotel that's frequently a good deal (we haven't stayed here yet) is the Surfjack in Honolulu. It's always well rated and we've had friends stay there and they recommend it, so it's on our list for our next Oahu trip with the kids.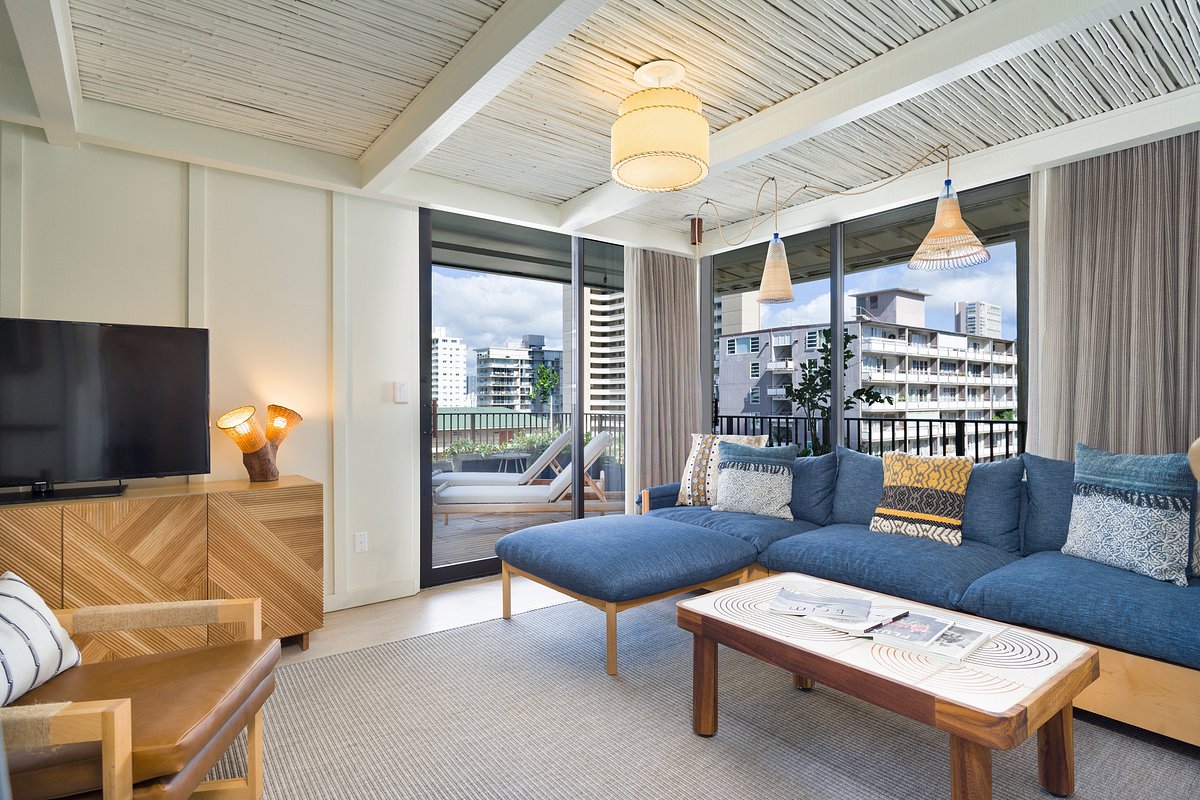 South Shore Stays on Oahu with Kids
Of course staying at Disney's Aulani Resort is a top pick and it's so very special, but it's also the most premium of prices, so may not be the most affordable option for most families. There are lots of other great options, from HNL and Pearl Harbor to Ko'olina. You'll actually find that some of the best deals on the South Shore are very near the airport, which isn't really a bad thing if you're planning on being out exploring.
If you're open to staying in this area, you'll actually find the most affordable options, including the Hampton Inn (very nice here!), Residence Inn and more. This is where most of the national travel brand hotels can be found. Search for "Kapolei" for the best deals.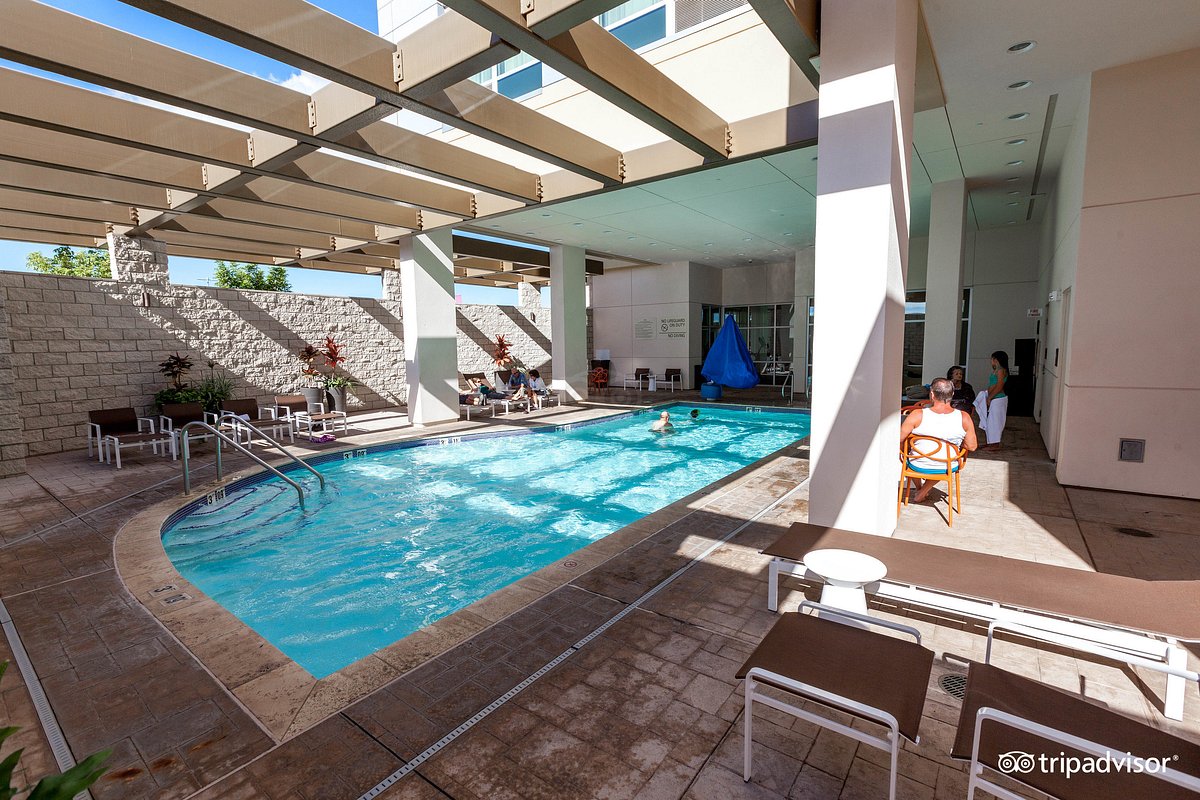 Staying on the North Shore of Oahu
In the past we've stayed on the North Shore of Oahu in an AirBNB, but now we're more cautious about that. AirBNB can be a good thing for local families who have additional space to rent out, but then also a bad thing for locals who can't live where they grew up or actively work, so be thoughtful if you're booking a short term vacation rental of any sort.
There are some great resorts on the North Shore though, and they can be perfect for doing Oahu with kids. Our top pick for a fancy stay is the Turtle Bay Resort. It's family friendly, CAN be a good deal (depending on what you consider a deal and what you need out of a resort), and the property is beautiful. It's in a great location for snorkeling and sightseeing on both the north and eastern shores of Oahu. There really aren't too many other options on the North Shore specifically, so visiting for the day is a better option, particularly if you're on a budget.
Planning a trip to Oahu with kids shouldn't be too difficult. There is so much to do on the island and with so many beautiful sights and unique stays, you'll have a wonderful time. If you have any questions about planning a visit to any of the Hawaiian Islands, please let us know. Leave a comment or send us a note and we'll be happy to help to the best of our travel-loving ability.