Kauai is so astonishingly beautiful and diverse. Whether you are island hopping or planning just to visit the Garden Island, this Kauai itinerary is ideal for having an unforgettable visit. We've picked some beautiful hikes, great beaches, unique food and wonderful sights to make your Kauai trip awesome.
As you go through this Kauai itinerary, remember that you can pick and choose from it to make your trip just what you want it to be. If you only have three days on the island, you can easily cut out the longer hikes so that you can cover more ground, or, dare I say it, just do what makes you happy and get in plenty of relaxation.
If you have suggestions to make this Kauai itinerary easier or to get in additional sights and activities, please leave a comment or send us a note. We're always happy to share more!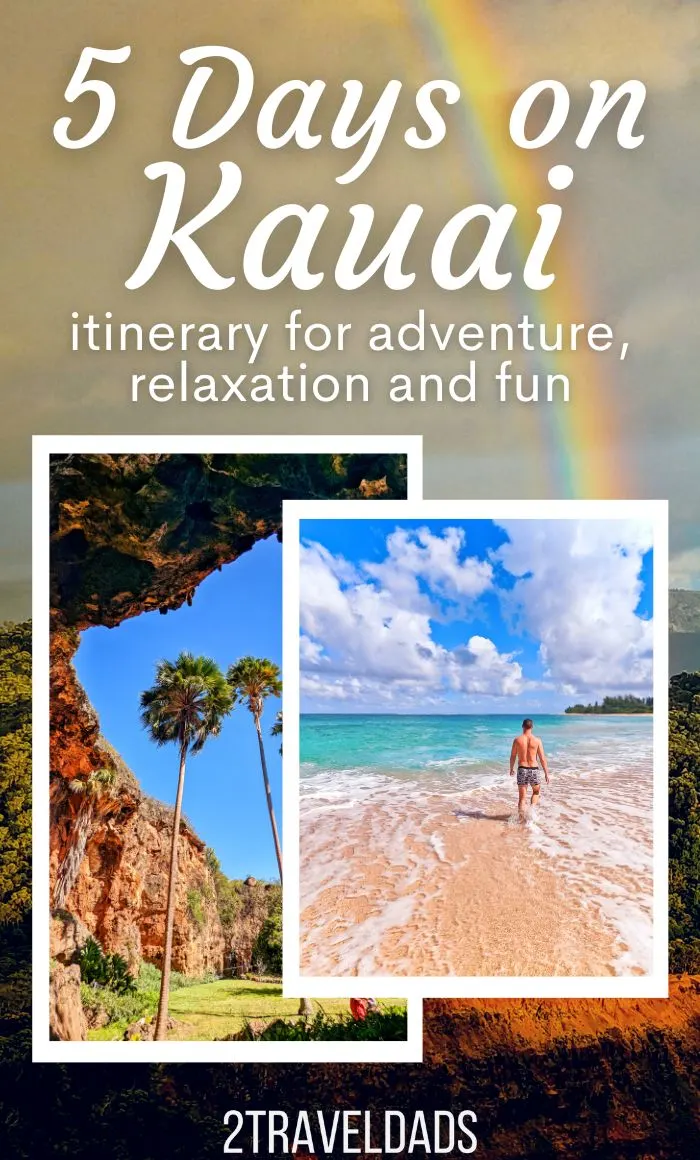 Planning a Visit to Kauai
For those who haven't been to Hawaii before, planning a trip is complicated and rather expensive. One of the things that, I think, prevents a lot of people from visiting Kauai initially is because it's not the most popular of the Hawaiian Islands. Yes, it's the most lush with the most astounding scenery, but it's not as well known for American vacationers as Oahu or Maui.
Our goal with sharing our Kauai itinerary is to make the planning seamless and simple. Part of that is setting realistic expectations and giving tips to make things easy once you're there.
Top Tips for Visiting Kauai
Since Kauai is a very different island than what you'll experience on Oahu or the Big Island of Hawaii, planning your Kauai itinerary and stay details is a bit different. Here are our top tips to keep in mind when planning to visit Kauai.
First of all, yes, you do need a rental car while visiting Kauai unless your whole plan is only to relax at your hotel or resort and then maybe do a guided tour of the island. A car is necessary.
Fine dining or nicer sit-down dining DOES require reservations for many places in Koloa, Kapa'a or Hanalei.
Visiting the Na Pali Coast of Kauai takes ADVANCED planning. If you want to do the famous hike in Haena State Park, you'll need reservations (more on that below).
When exploring Kauai, keep in mind that you CANNOT drive the complete circle of the island. You can drive all the way around the Big Island and through Hawaii Volcanoes National Park, and on Oahu you can drive the Kamehameha Highway and North Shore to do a circle, but Kauai dead-ends on the north shore and on the east side of the mountains.
As long as you keep these tips in mind, your Kauai itinerary will be awesome and you should have a magical visit to the Garden Island!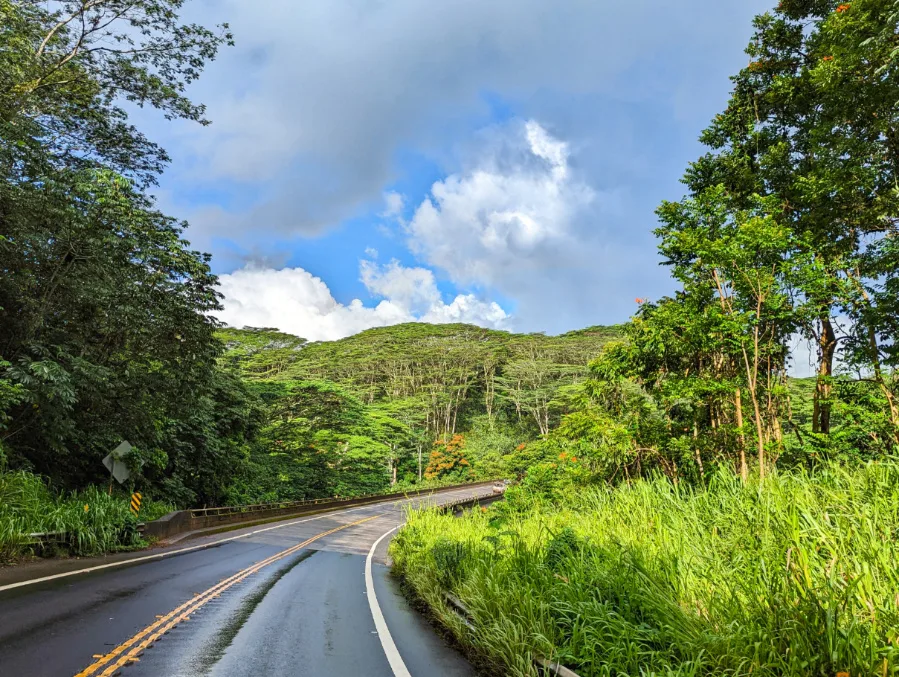 Getting to Kauai
Most people flying to Kauai will be arriving after a layover in Honolulu (HNL). There are very few direct flights to Lihue (LIH) from the mainland USA or Canada. That's not to say that you can't get to Kauai easily, but you need to know that you will most likely have at least one layover, most likely two.
The direct flights to Kauai from the mainland include (as of 2023):
Los Angeles, CA – LAX
Seattle, WA – SEA
Oakland, CA – OAK
San Jose, CA – SJC
Phoenix, AZ – PHX
San Francisco, CA – SFO
Denver, CO – DEN
Las Vegas, NV – LAS
San Diego, CA – SAN
Portland, OR (very few) – PDX
Vancouver, BC – YVR
If you're already in Hawaii and visiting Kauai as part of an island hopping trip, you can fly into Lihue, Kauai from Honolulu, Oahu – HNL; Kahului, Maui – OGG; or from Kailua-Kona, Big Island – KOA. There isn't currently a direct flight from Hilo, Big Island (ITO) to Lihue.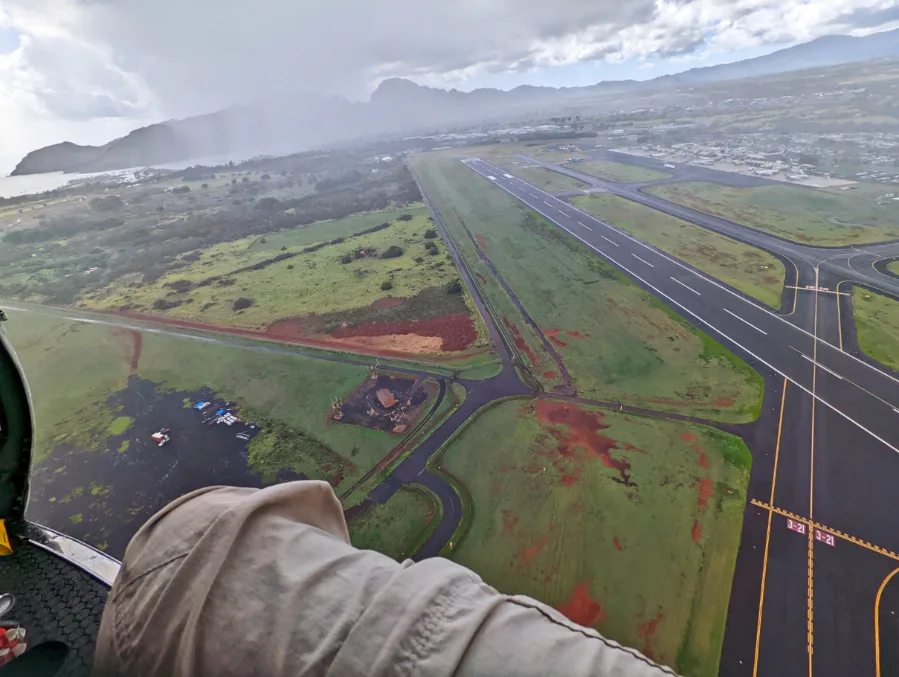 Where to Stay on Kauai
For our Kauai itinerary, we recommend staying on the eastern shore of the island, but you could also split your time between hotels. Staying on the eastern shore in Kapa'a allows you one home base that you can easily return to each day no matter what your activities have been. If you stay in Koloa or on the south shore, you'll have up to a two hour drive to return home at the end of a day on the north shore, and visa versa.
Best plan for where to stay on Kauai is one of these, and it's dependent on what YOU value most for your trip:
Stay in Kapa'a or Lihue for the whole stay on Kauai – max 1 hr +/- drive from either end of the highway
Split your time between south shore (Koloa, Waimea or Eleele) and north shore (Hanalei, Princeville, or Kilauea) – up to 2.5 hours between ends of the highway
We stayed at the Kauai Shores Hotel and loved the location, both for being between our activities on our Kauai itinerary AND for its convenient location with beaches and dining within a few steps of the hotel.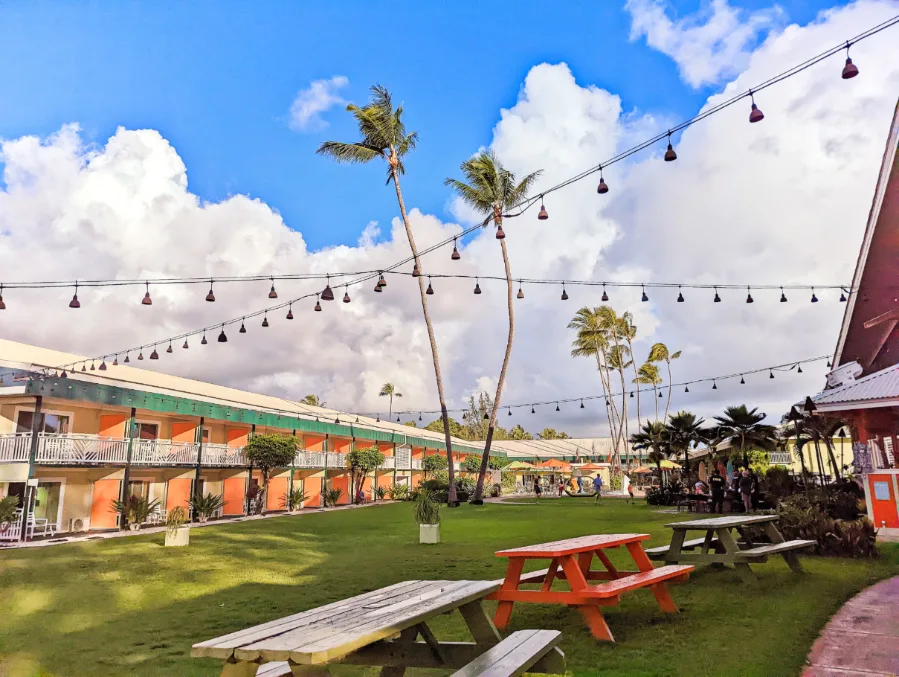 Another solid recommendation for where to stay on Kauai, if you choose to stay on the south shore, is the Waimea Plantation Cottages. We've had several friends stay there and they all have loved it, both for the resort itself and its great location near south shore beaches and the Waimea Canyon.
Find a Kauai stay here:
How Many Days Do You Need on Kauai?
So, how many days do you need on Kauai? While you could have a nice visit and see some beautiful sights in just three days, five days is ideal. This Kauai itinerary covers five days of activities, but doesn't leave a lot of time for general relaxation. We don't typically travel across the ocean to just lay by the pool or take naps on the beach, but for some people that is their absolute dream vacation.
5-7 days is perfect for any pace of trip to Kauai. At five days you can cover most of the island at a relaxed pace, have great hikes AND get plenty of beach time. At seven days you can do all that, take time to relax on lots of different beaches, and not feel rushed through exploring.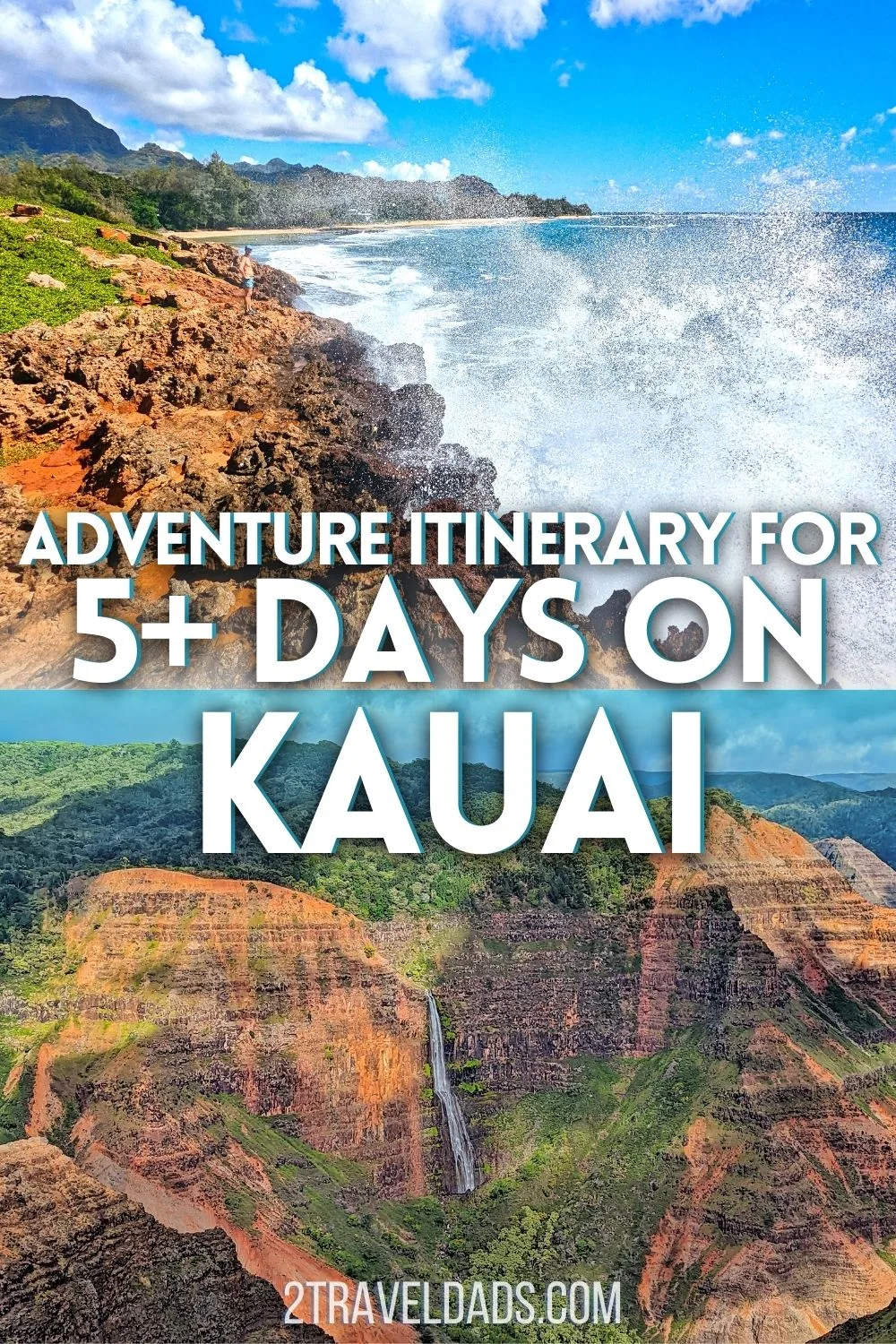 Kauai Itinerary: 5 Days of Fun and the Best Sights
Alright, time to get into the actual plan: five awesome days of beautiful sights and amazing adventures exploring Kauai. This itinerary can be easily flipped to start on the south shore instead of the north, or you can mix up the days. As you turn this into your own Kauai itinerary, move the days around to account for any tours or events you have planned, or if you have booked multiple hotels. Have fun!
Download our 5 Day Kauai Itinerary here!
Day 1: Arrival on Kauai and Exploring Kauai's North Shore
Your first day on Kauai is a great time to get your bearings and get excited about the rest of your time here. When you land on Kauai in Lihue, get your rental car and either head to your hotel or hit the Kuhio Highway for some North Shore sightseeing and adventure. Day one in our Kauai itinerary is more mellow, just in case you flew in from the mainland the day before and are feeling the jet lag. Take care of yourself today and just enjoy the island. There are epic adventures to come…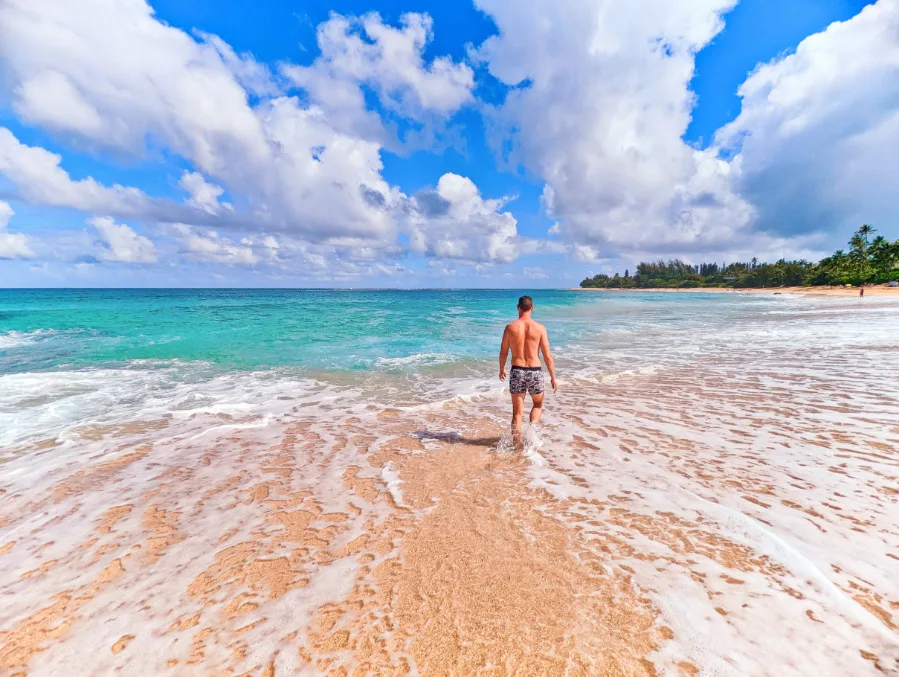 Kilauea Lighthouse and Beaches
As you head to the North Shore of Kauai, the first stop for you is the Kilauea Point National Wildlife Refuge. Here you'll find beautiful trails, wildlife on the beaches and cliffs, and the Kilauea Lighthouse. This area is actually managed by the National Park Service in conjunction with US Fish and Wildlife Service. Because of that, if you would like to explore more than the general viewpoint, you do need to reserve your entry to the park space.
Tip: while you may be able to make a same-day reservation to visit the Kilauea Lighthouse and the wildlife refuge, don't risk it. Make your advanced reservation here.
After you've done the Kilauea National Wildlife Refuge and lighthouse, head to nearby Anini Beach for some snorkeling or relaxing on the sand. If you want to do a hike instead, try the Wai Koa Loop trail in Kilauea for tropical vegetation and a waterfall.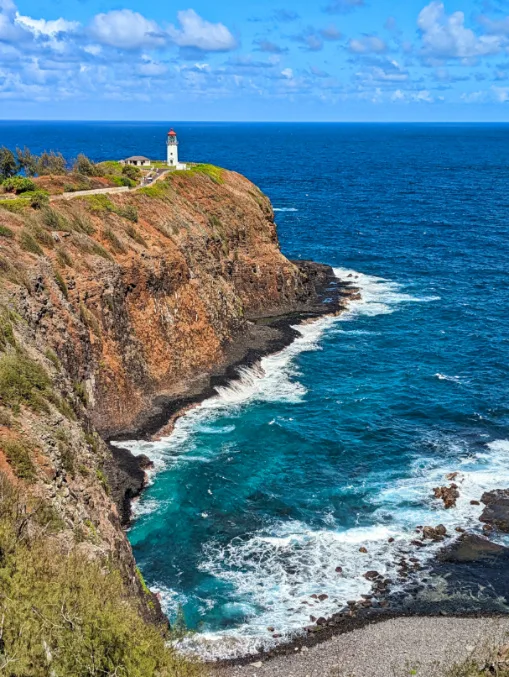 Hanalei for North Shore Eats and Art
The town of Hanalei is a great place to wander around, grab a bite and some shave ice, and enjoy the arts and beauty of the island. This Kauai itinerary will have you coming through Hanalei one more time, so if you don't have a lot of time now or just want to explore the town on another day, that's fine.
Highlights of the town of Hanalei include the easily walked shopping and restaurant area (we LOVED Hanalei Poke!), Havaiki Oceanic and Tribal Art, and the Hanalei Beach Park. We found that the town is a great place to chill out and enjoy the island vibes of the North Shore.
Tip: if you're planning on visiting the beach in Hanalei, drive to the Beach Park as parking in town is well monitored and if you end up enjoying your beach time too much and lose track of the day, you don't want to be towed or ticketed.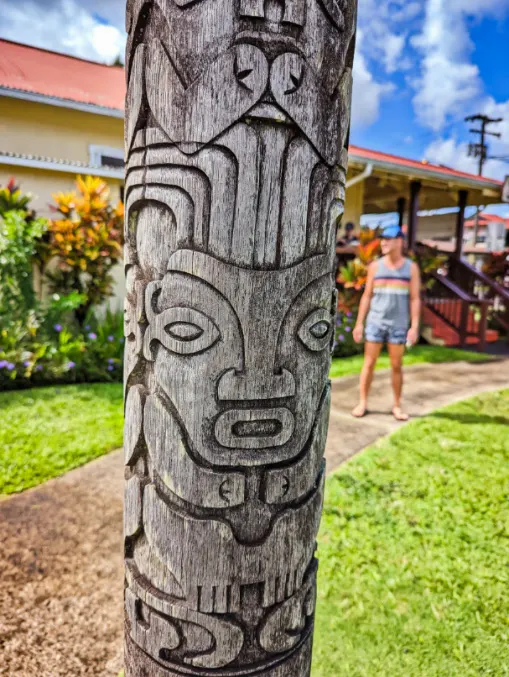 Limahuli Gardens and Preserve
Initially we didn't included the Limahuli Gardens and Preserve in our Kauai itinerary, but I'm so glad we added. Besides the gardens being set against the towering, lush jagged mountains of the Na Pali Coast, the Limahuli Gardens are also an archaeological site. Something we loved about touring the Big Island of Hawaii was how many preserved and restored Hawaiian cultural sites there are, and on Kauai there aren't many. The Limahuli terraced garden are one.
Dating back more than 700 years, the terraces at Limahuli were a structured agricultural area for the Hawaiian people. Today, they are well protected and the land surrounding the ancient gardens serves as a preserve for endangered Hawaiian plants, including some that now can only be found here.
Tip: due to extremely limited parking, online reservations are HIGHLY recommended, as you cannot park on the highway. Visit the Limahuli Gardens site and scroll far down for the bookable reservation link.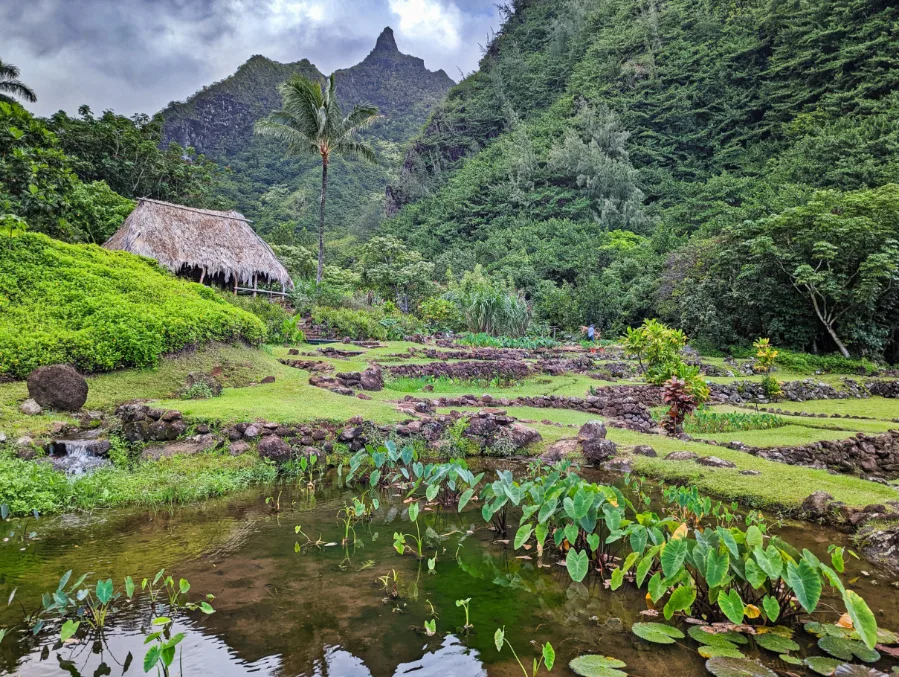 Day 2: Enjoying Kapa'a and Lihue
Today is all about the Eastern Shore of Kauai. This part of the itinerary is a great time to incorporate relaxation and beach time. Remember, we are approaching this trip by having a home base on the Eastern Shore, so there is very little driving involved with this day.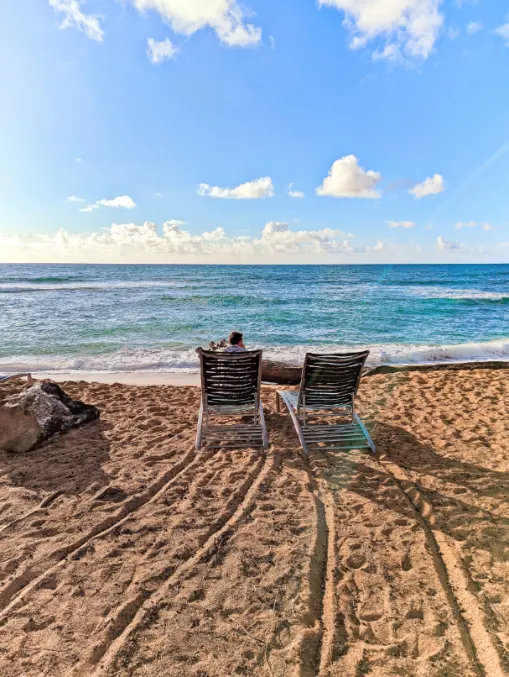 Scenic Helicopter Flight Over Kauai
Starting with, what I would call, the most epic sightseeing I've ever done, head to the Lihue airport helicopter row for a scenic flight around Kauai. We LOVED the doors-off Kauai helicopter experience and if you can book it, we highly recommend it! Book our exact tour here!
If you don't feel comfortable doing a doors-off tour, there are several other options for helicopter tours on Kauai. The reasons we recommend this so highly are 1.) the scenery is mind-blowing, 2.) you get to circle the entire island of Kauai during a flight, and 3.) although a big-ticket tour helicopter flights on Kauai are the much more affordable than on the Big Island or Oahu.
Check out Kauai helicopter tours here!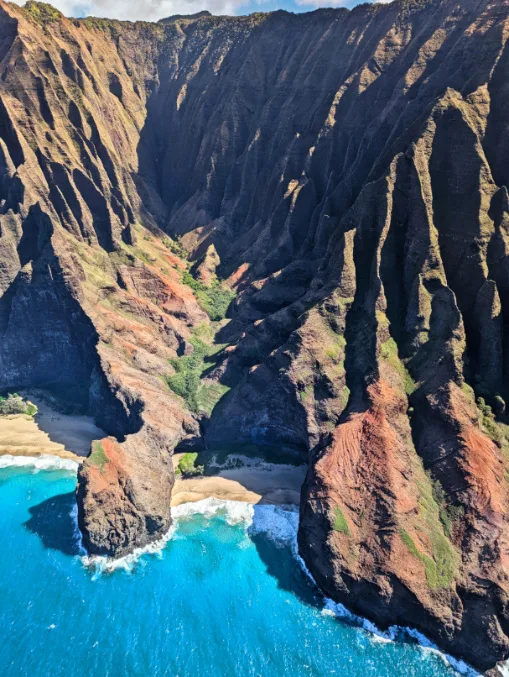 Kapa'a and Lihue Relaxing
The town of Kapa'a is really cute and has lots of wonderful restaurants and cafes. It's easy to walk around and parking isn't a pain. Lihue isn't as cute as Kapa'a, but it also has lots of dining choices. Between the two towns you'll actually find some of the best beaches on Kauai. Here you'll find a much more mellow surf than on the North Shore of the island, so it's great for swimming with kids.
Our picks for easy beaches on the East Shore of Kauai include (from north to south):
Anahola Beach (many access points)
Donkey Beach
Keālia Beach
Kapa'a Beach (very long beach)
Wailua Beach
Lydgate Beach (has protected swimming area)
Nukoli'i Beach Park
It's really easy to add beach time to your Kauai itinerary when you stay on the East Shore. There is no shortage of access points and parking here is much easier than if you're doing the beaches on Oahu.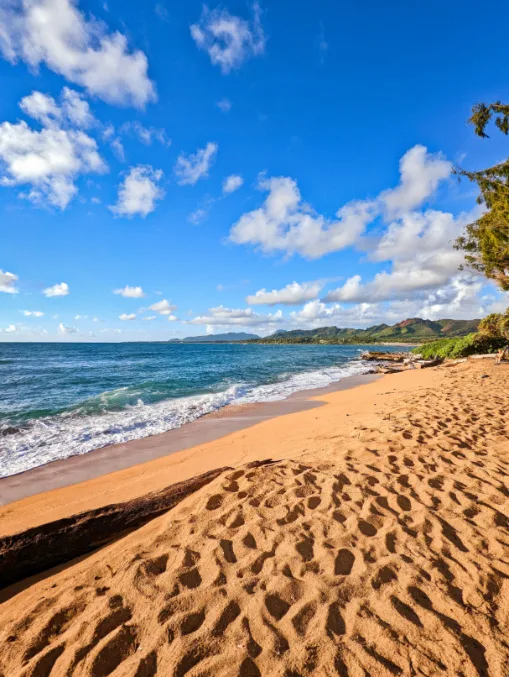 Paddling at the Wailua River
Kauai isn't a huge island and it's loaded with rivers, but there are some beautiful places to paddle on the Garden Island, including the Wailua River. Just south of Kapa'a you'll come to the mouth of the Wailua River at Wailua Beach. There are a few options for kayak and SUP rentals here, for either guided paddling or to venture out on your own. This is a very unique opportunity for a Kauai adventure, so be sure to make time for it today!
Book Wailua River Kayaking and Hiking here!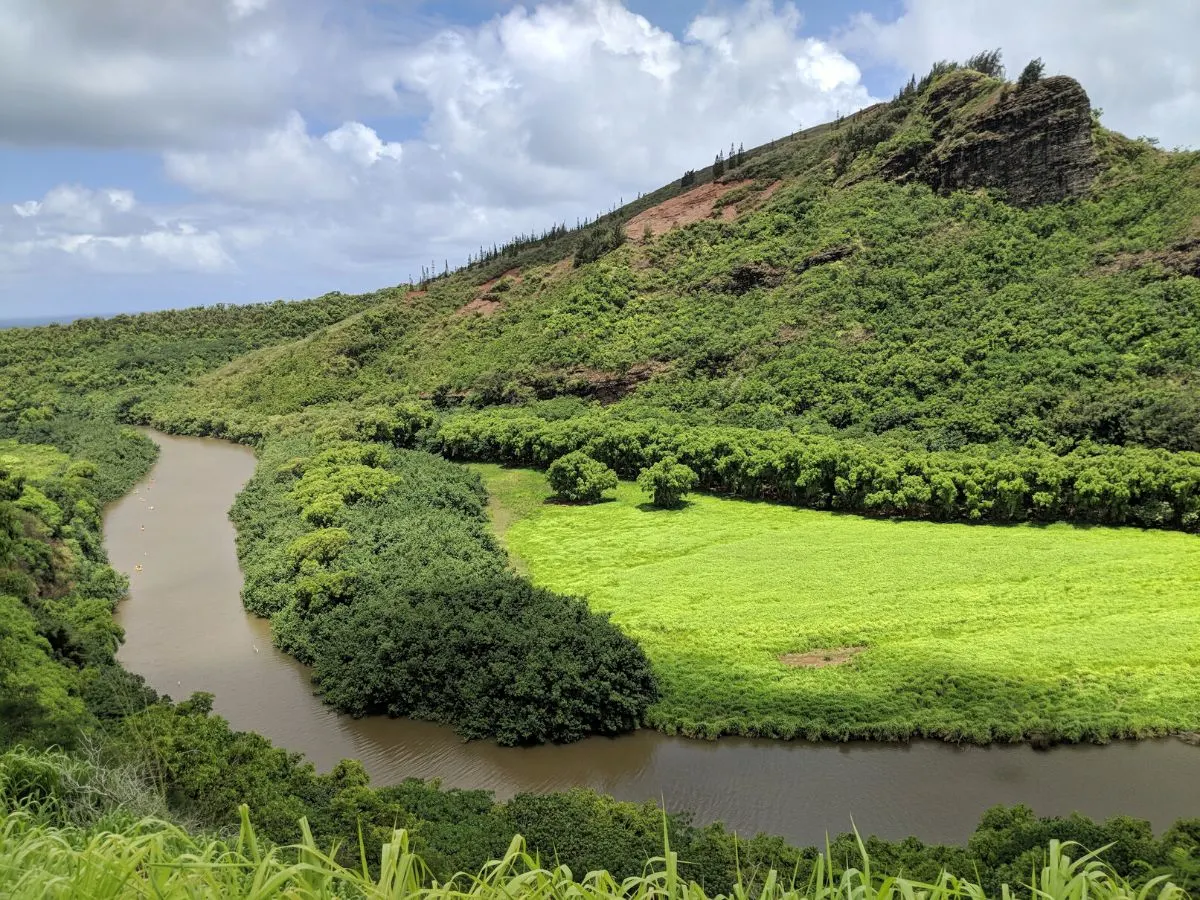 Secret Falls or Sleeping Giant Hike
There aren't a ton of hikes directly in the Kapa'a area, but if you're going to do one, might as well make it magical. Either do the paddle on the Wailua River and continue onto Secret Falls via the Komokila Hawaiian Village OR do the epic Sleeping Giant Hike out of Kapa'a. Secret Falls is the easier option and it's gorgeous, but if you want to challenge yourself today in preparation for the upcoming hikes on Kauai, the Sleeping Giant trail takes you up into the mountains for amazing views and lush (sometimes bizarre) junglescapes.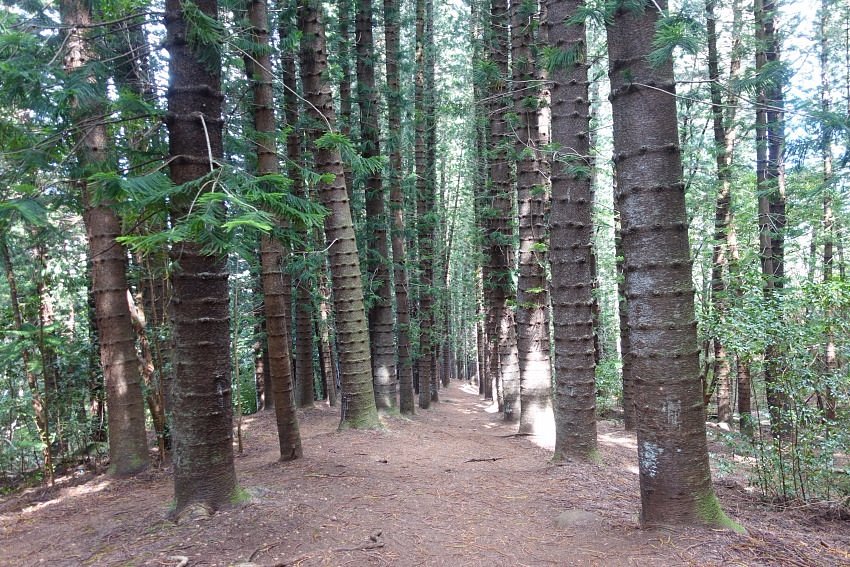 Day 3: Hiking the Na Pali Coast
Some element of hiking the Na Pali Coast needs to be on your Kauai itinerary. You don't have to do the most epic, most challenging hike available (I'll skip Crawler's Ledge, thanks) but getting to see the North Shore from the jungle cliffs within Haena State Park is absolutely amazing. And if you can't get a Haena reservation, do worry, we have back up plans!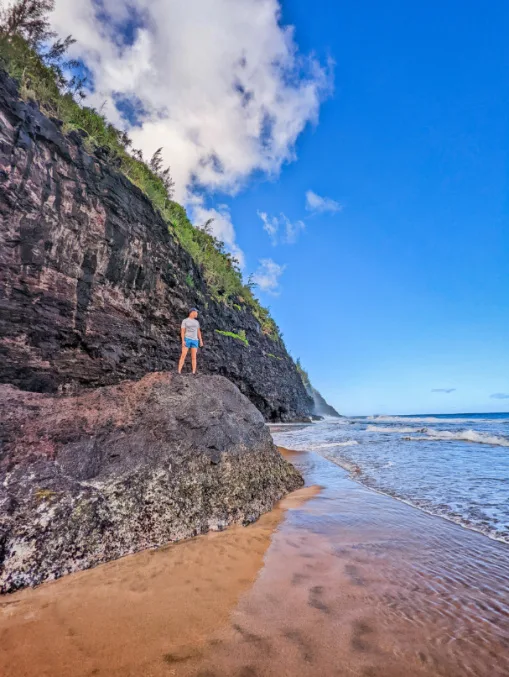 The Kalalau Trail in Haena State Park
When you see pictures of the Na Pali Coast of Kauai you see the chiseled green mountains and perfect waterfalls spraying off towering cliffs. Yes, that's all on the Na Pali Coast, but to hike to that is something most visitors aren't prepared for. The Kalalau Trail in Haena State Park at the end of the Kuhio Highways gets you to the start of this epic landscape. Once there, you have anywhere from 2 to 22 miles of hiking ahead of you.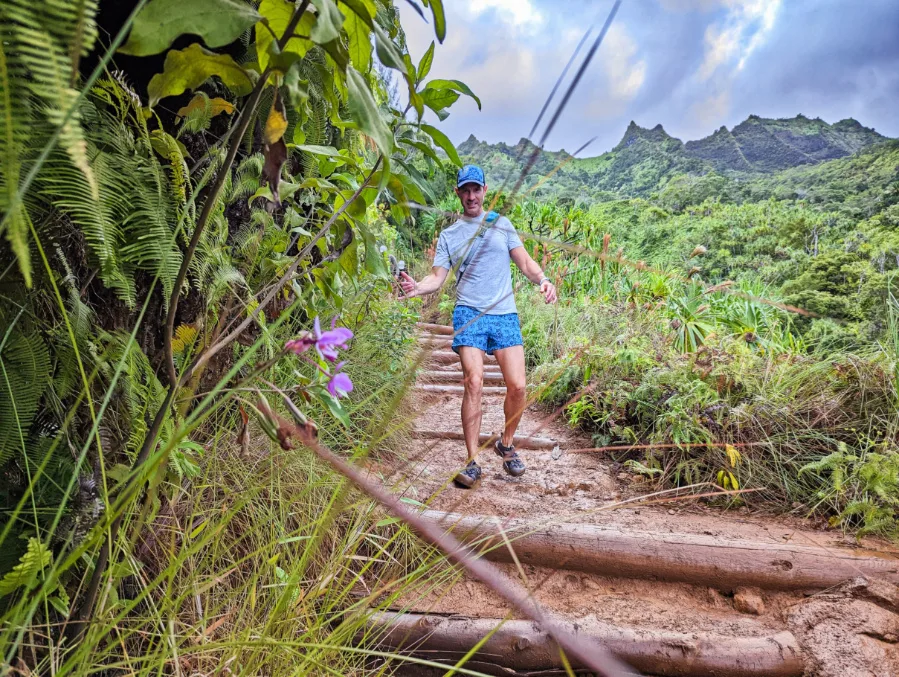 For the visitor who doesn't have a whole day in their Kauai itinerary for doing 17 miles of cliff-side hiking, you can still enjoy and be challenged with a Na Pali Coast hike by just doing the start of the Kalalau Trail. Don't worry, even just doing the first two miles to Hanakāpī'Ai Beach will be plenty of a challenge and you'll be sufficiently muddy. Even if it's not directly raining during your hike, you'll still have to cross creeks and muddy sections. It's awesome!
Ending at Hanakāpī'Ai Beach is a gorgeous reward and you won't feel like you cheated yourself. There are caves, beautiful beaches, the stream… And if you do want to do more hiking, you can continue another 2 miles upstream for Hanakāpī'Ai Falls. If you add this leg of the hike it'll make the roundtrip from the parking area of Haena State Park (not the shuttle parking area) a 7.7 mile hike. You'll love it!
Note: if you want to hike past Hanakāpī'Ai Beach towards the Napali Coast State Wilderness Park you actually need a backcountry camping permit, as it's a hike-through trail if you are going far enough. If you're wanting to go as far as Crawler's Ledge in a day, this does cross over into the zone where you need the additional permit, and I expect this is a well enforced policy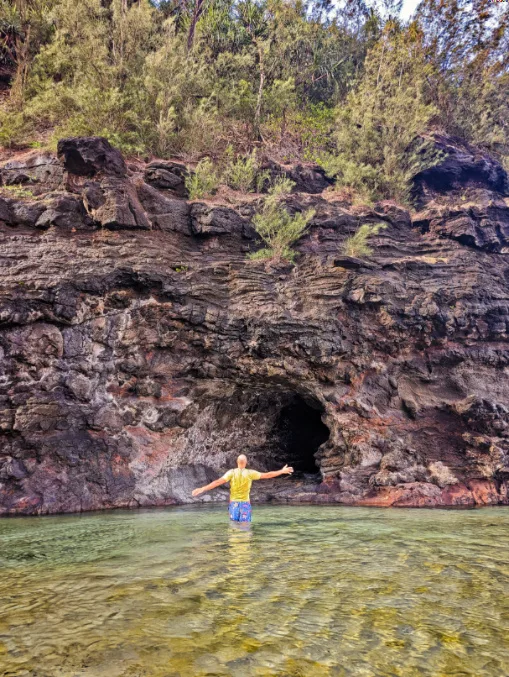 Okolehao Viewpoint Trail
The Okolehao Trail is just outside of the town of Hanalei and is a great, short option if you want to do some hiking on the North Shore but either don't have a reservation for the Kalalau Trail or if you aren't up for that intense of a hike. The Okolehao Trail is still challenging, but it's much shorter and not as cliffy. I think this is a great option for beautiful views over the verdent hills and farms towards Hanalei Bay.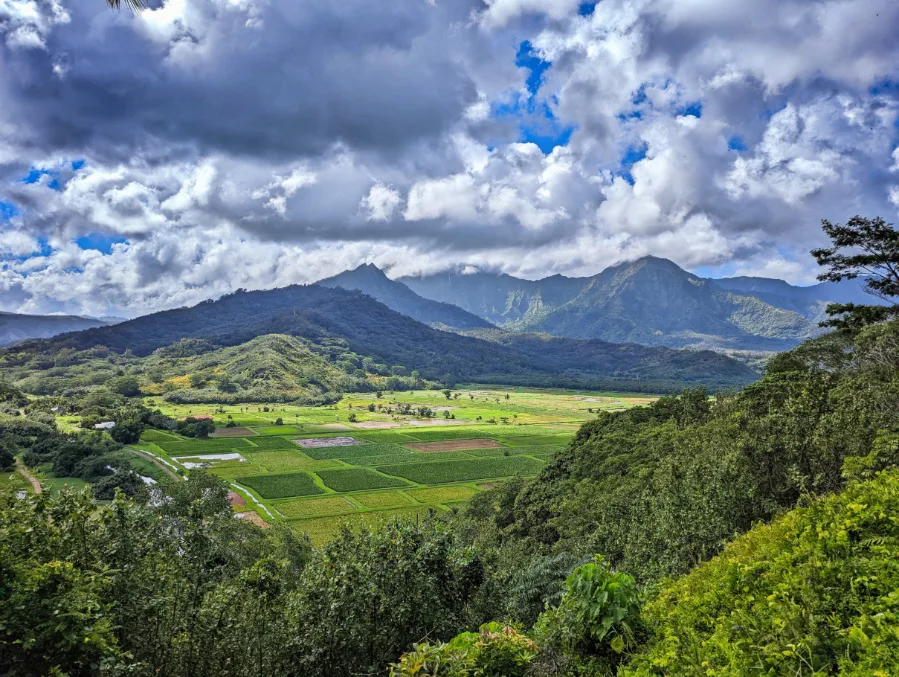 Day 4: Waimea Canyon and South Shore
While I loved each day in our Kauai itinerary, this is perhaps my favorite day. The Waimea Canyon is astonishingly beautiful and such a special place to visit and explore. This day includes hiking, viewpoints, a beach visit if you like, and ending with a relaxing meal. I think this'll be your favorite day on Kauai too…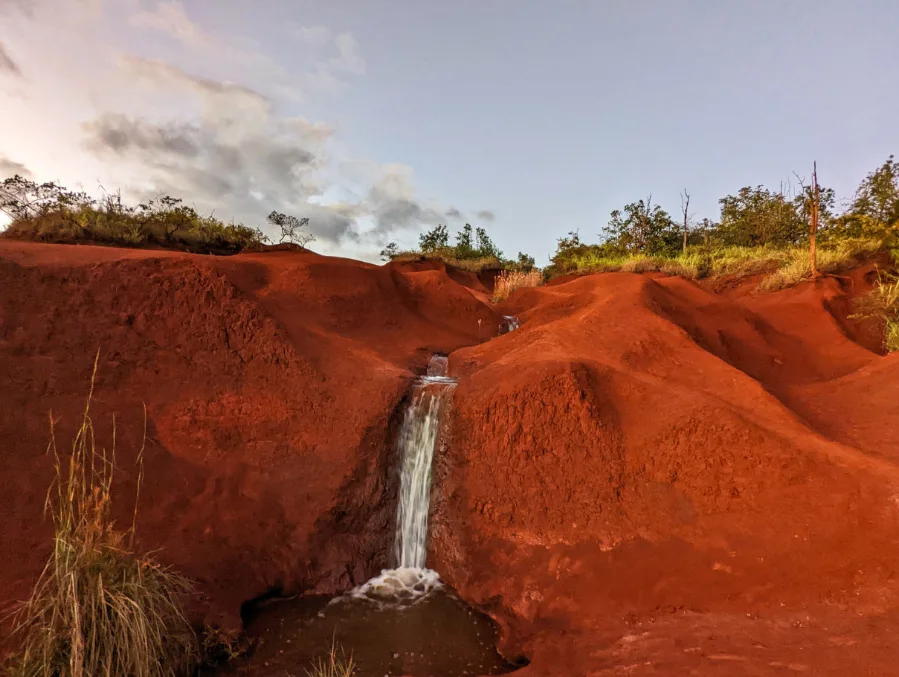 Waimea Canyon Viewpoints and Red Dirt Falls
The Waimea Canyon has been called the Grand Canyon of the Pacific, and rightfully so. Having been to Grand Canyon National Park in Arizona and Waimea Canyon, I can attest that they are both stunning. I like Waimea more though. Waimea Canyon State Park is located on the South Shore of Kauai, about an hour from Kapa'a or Lihue. As you drive up into the hills away from the beaches, you'll see the dirt turn more and more red. Eventually you'll come to Red Dirt Falls, which isn't huge, but is so cool and unusual. Stop to check it out, but don't damage the area around the falls.
Continuing on, you'll come to a variety of viewpoints overlooking the Waimea Canyon from the west. Stop at as many as you like, because the canyon looks different from different angles and in different light. I love it.
Tip: even if you visit Waimea Canyon in the morning, come back in the late afternoon to catch the rainbows. It rains a lot on Kauai, even if not consistently, and have the sun behind you as you look across the canyon will absolutely wow you.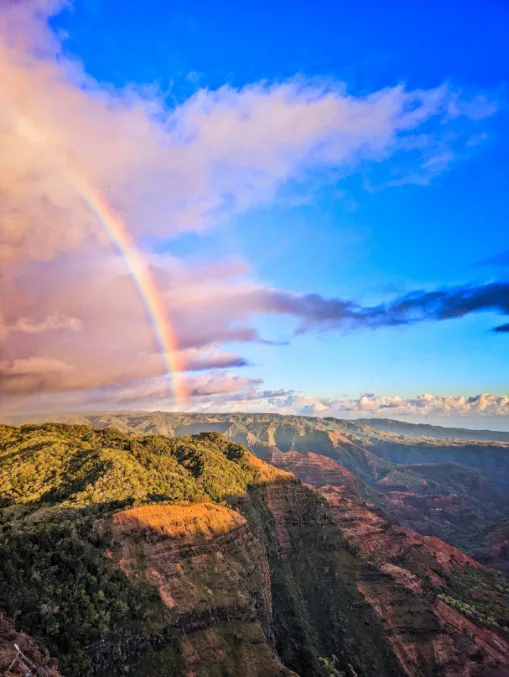 Waimea Canyon Hiking
I love a hiking challenge as much as the next guy, but I think I love hiking at the Waimea Canyon more than most people. The rugged terrain and wild steep trails, climbing through overgrown hobbit tunnels that open up to remarkable views… I love it all.
Our top recommendation for hiking in Waimea Canyon State Park is the Canyon Rim Trail to Waipoo Falls, which goes betweek Waimea and Koke'e State Parks. This trail is quite challenging, despite being only two mile in. The trail is steep and there are times that your footing is quite iffy. Also, the most incredible views along this trail leave little to no room for error, as you'll go along the top of thousand foot cliffs. It's amazing though and totally worth the adventure!
There are a variety of hiking trails at Waimea Canyon State Park, and even more if you also want to explore Kōkeʻe State Park or hike into the Napali Coast State Wilderness Park, those are just northwest of Waimea Canyon State Park. Day hiking options range from breathtaking viewpoints to valley hikes. If you want to hike through from the Napali Coast State Wilderness Park to Haena State Park on the Kalalau Trail, you'll need to get the camping permit, because it's a far and treacherous hike.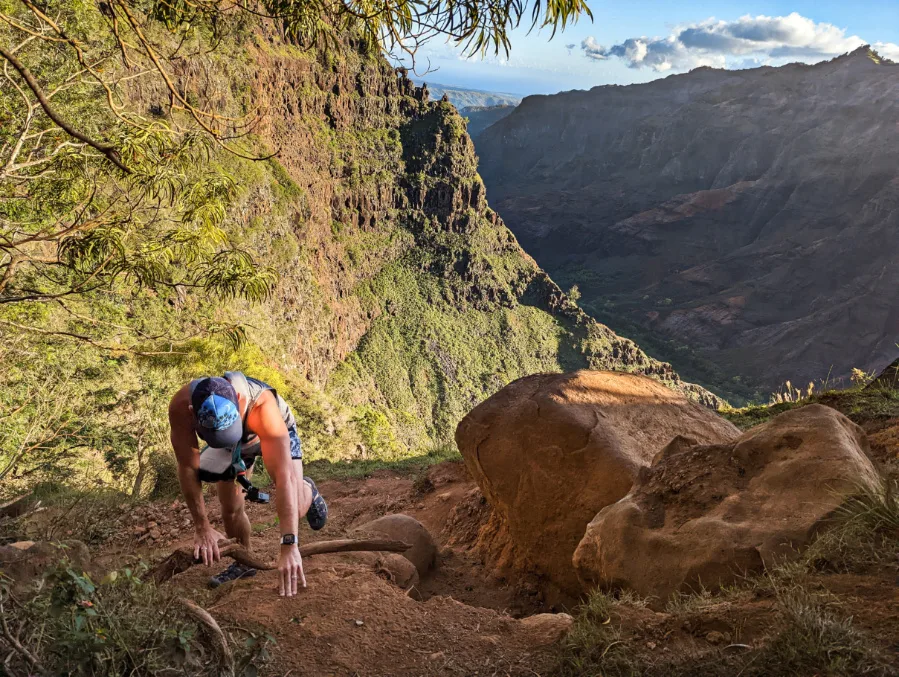 Barking Sands Beach
After spending a good portion of your day hiking and lovin' on Waimea Canyon, head to the west coast of Kauai to enjoy Barking Sands Beach. At 12 miles long, it's one of the longest stretches of beach in the Hawaiian Islands. If you don't want to make this half hour long drive to Barking Sands Beach, you can also just drive back down the mountain from Waimea Canyon and hit up Pakala Beach or head east towards Hanapep for Glass Beach. So many options.
And remember, you want to head back up to one of the Waimea Canyon viewpoints in the afternoon to see rainbows. Don't forget!
Day 5: Last Beach Day and Kauai Sightseeing
To round out this awesome Kauai itinerary, we're going to spend our last day in Koloa and just enjoying the mellow vibe of the South Shore. Drive through the gorgeous eucalyptus tree tunnel to Old Town Koloa. Here you'll find quite a few restaurants and shops, so it's a good place to grab a meal before or during a break from your beach day.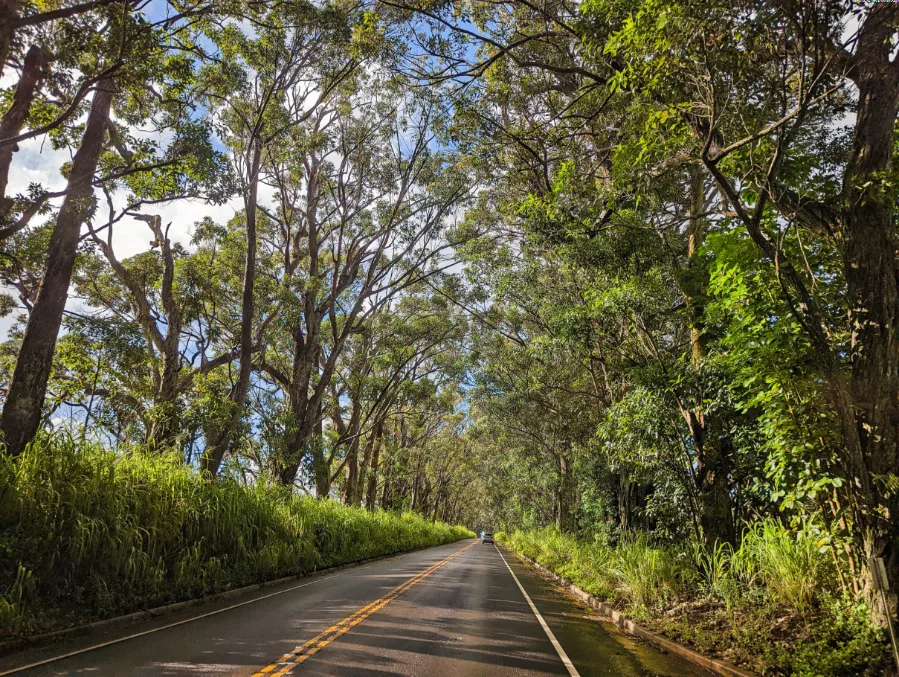 Makauwahi Cave Reserve and Ezra's Beach
OMG, this is the first dirt road we're sending you down on the island. Who knew we could make it through a whole Kauai itinerary and it take five days to end up on a dirt road. The road to the Makauwahi Cave Reserve is not too bad though. There is plenty of parking here, so lock your car and hit the trail. There are two options for getting to the cave, which is so unique, by either hiking through the low forest or along the rocky Maha'ulepu Heritage Trail.
Once at the Makauwahi Cave, you can either view it from above or enter through a very small hole in the rock wall. This cave was the setting for a variety of films, including Pirates of the Caribbean when Jack is lowered off a cliff, and this is where Indiana Jones escapes the crumbling temple in the Amazon with the gold idol.
After visiting the cave and learning about the history of the Hawaiian people who considered the cave a sacred place, continue onto the sulcata tortoise area. These huge turtles are kept within the Reserve space to help control invasive weeds. So cool! After thanking the tortoises for their hard work, relax at Ezra's Beach where the waves roll in gently and the water is perfect.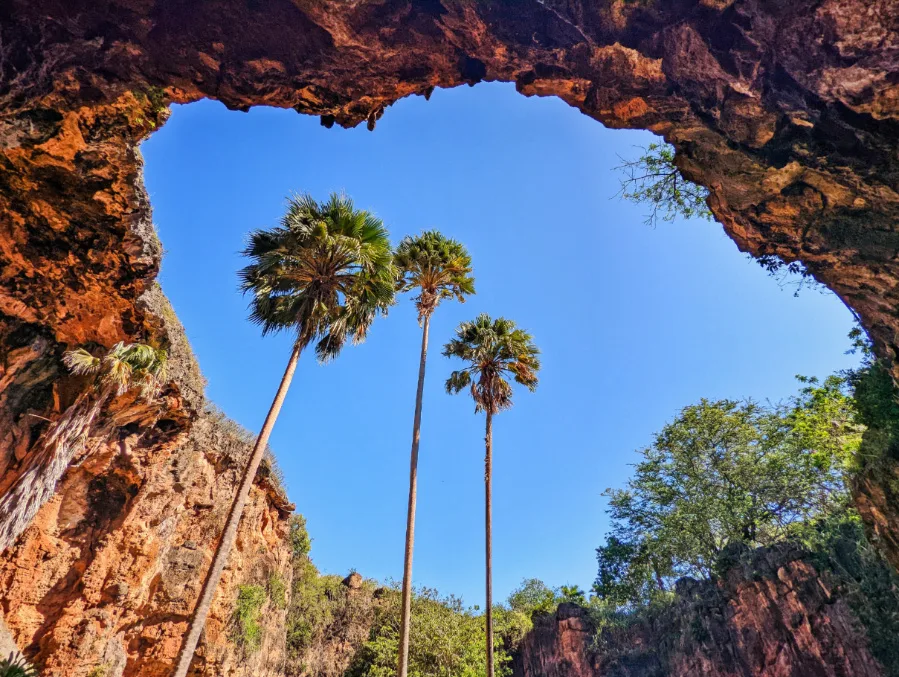 Kāneiʻolouma Heiau Historic Site
If you have time, do the easy walk around the old Hawaiian village archaeological site at Kāneiʻolouma Heiau Historic Site. Here you'll see the remnants of what's thought to be one of the most comprehensive village sites on Kauai. There are also tiki (or ki'i) carvings here to go along with exhibits all about this archaeological site and potential restoration.
Note: as of 2023 the tiki carvings have been redistributed around Kāneiʻolouma Heiau. If you look at photos online it looks like a singular installation but they are now spread out around the ruins.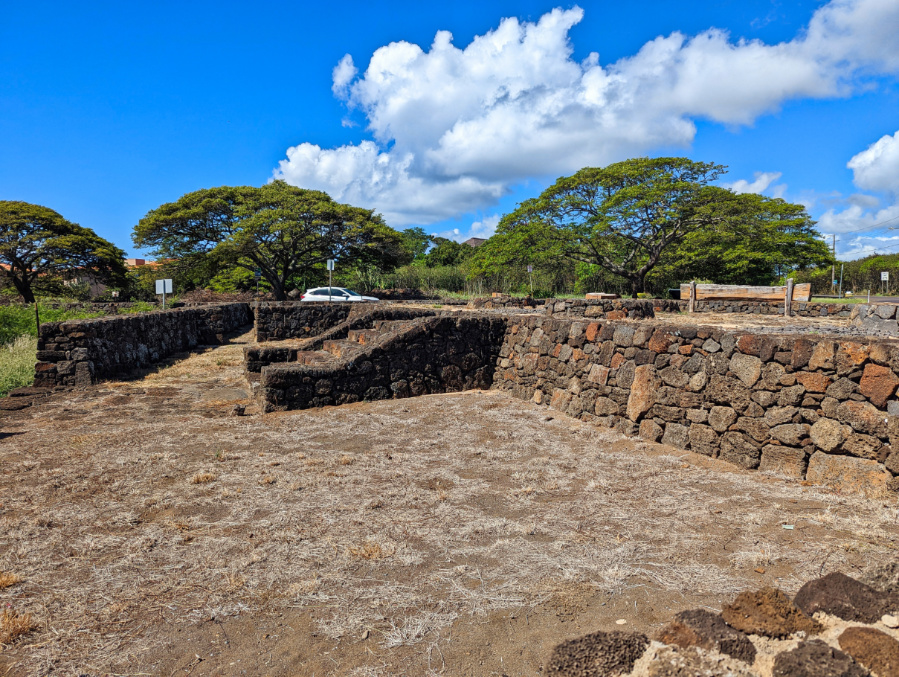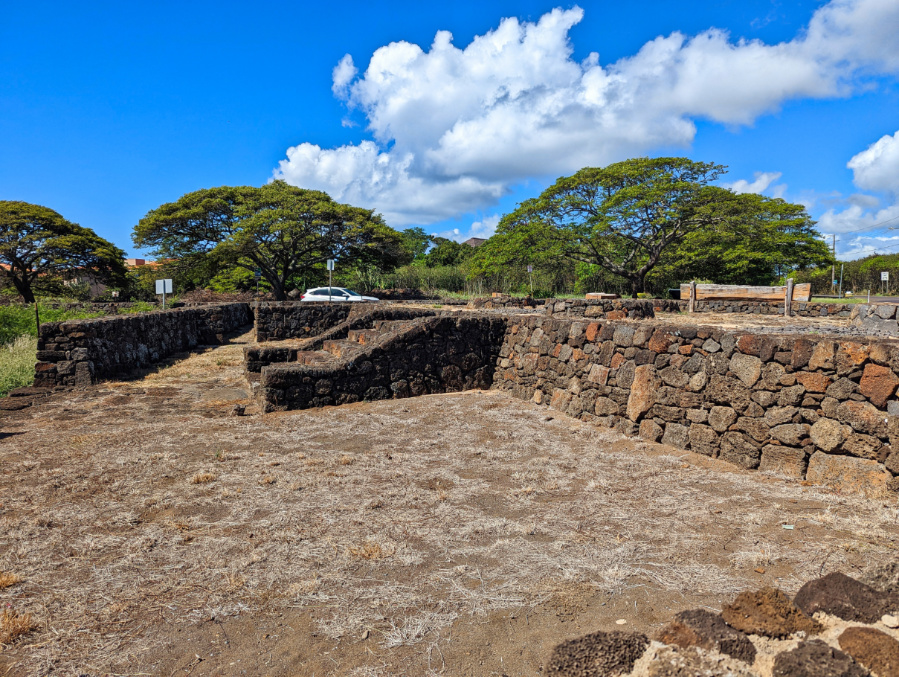 Poipu Beach
You can't have a trip to Kauai's South Shore without a visit to Poipu Beach. This beach is beautiful, has plenty of parking and is the perfect way to end your visit to Kauai. There are picnic tables, bathrooms for changing, life guards and honu. Yes! There is a small reef island just off the beach and the Hawaiian Green Sea Turtle love to make their afternoon pitstops there.
If you need any food or drinks while you're hanging out at Poipu Beach, just across the street is Puka Dog (the best filled hot dogs ever) and Brennecke's Beach Broiler, which has really good cocktails. Stay until sunset or move onto another beach, it's up to you, but why leave someplace so perfect?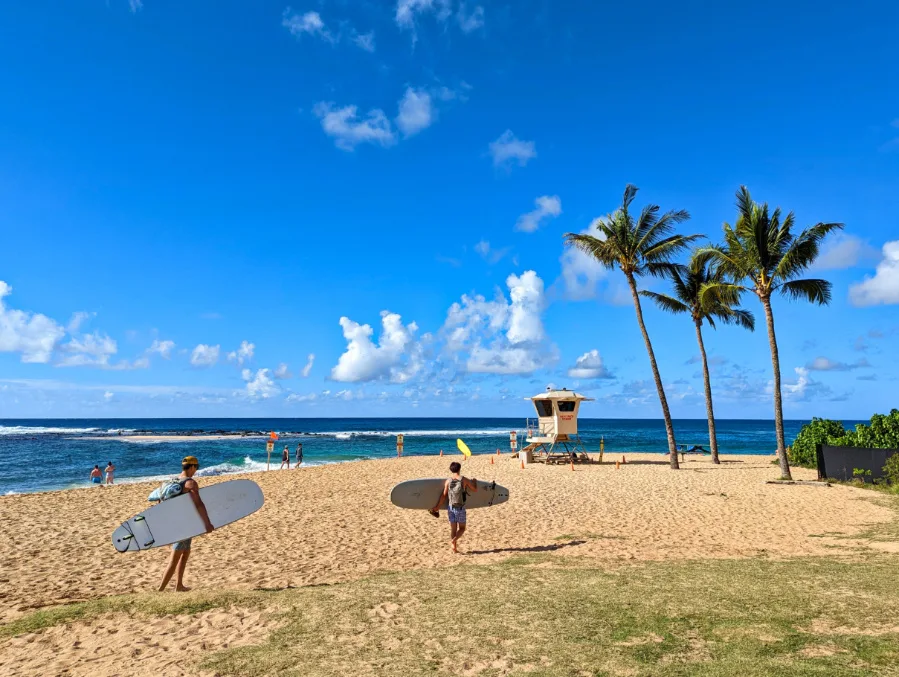 I hope you're excited to visit the Garden Island and that you enjoy our Kauai itinerary. If you have any questions about planning your visit to Kauai, just let us know. Please leave a comment or send us a note. We're happy to help!
And please take a look at our other Kauai and Hawaii articles. We really enjoy our time in the Hawaiian Islands and love to see others do the same.