If you would've asked me if I wanted to do a doors-off helicopter tour of Kauai a year ago, I would've said no. And then I would've googled it and still said no. But I'm going to give you the full scoop on it and why it is actually one of the best tours you can do in Hawaii. Kauai is beyond beautiful and the door-off helicopter view of it is astounding.
We've got lots of ideas and tips for exploring all around Kauai, so be sure to check out our other articles. In the meantime, if you have any specific questions about doing a doors-off sightseeing flight, please leave a comment or send us a note. We're happy to help you with your questions and planning!
Book our EXACT doors-off Kauai tour here!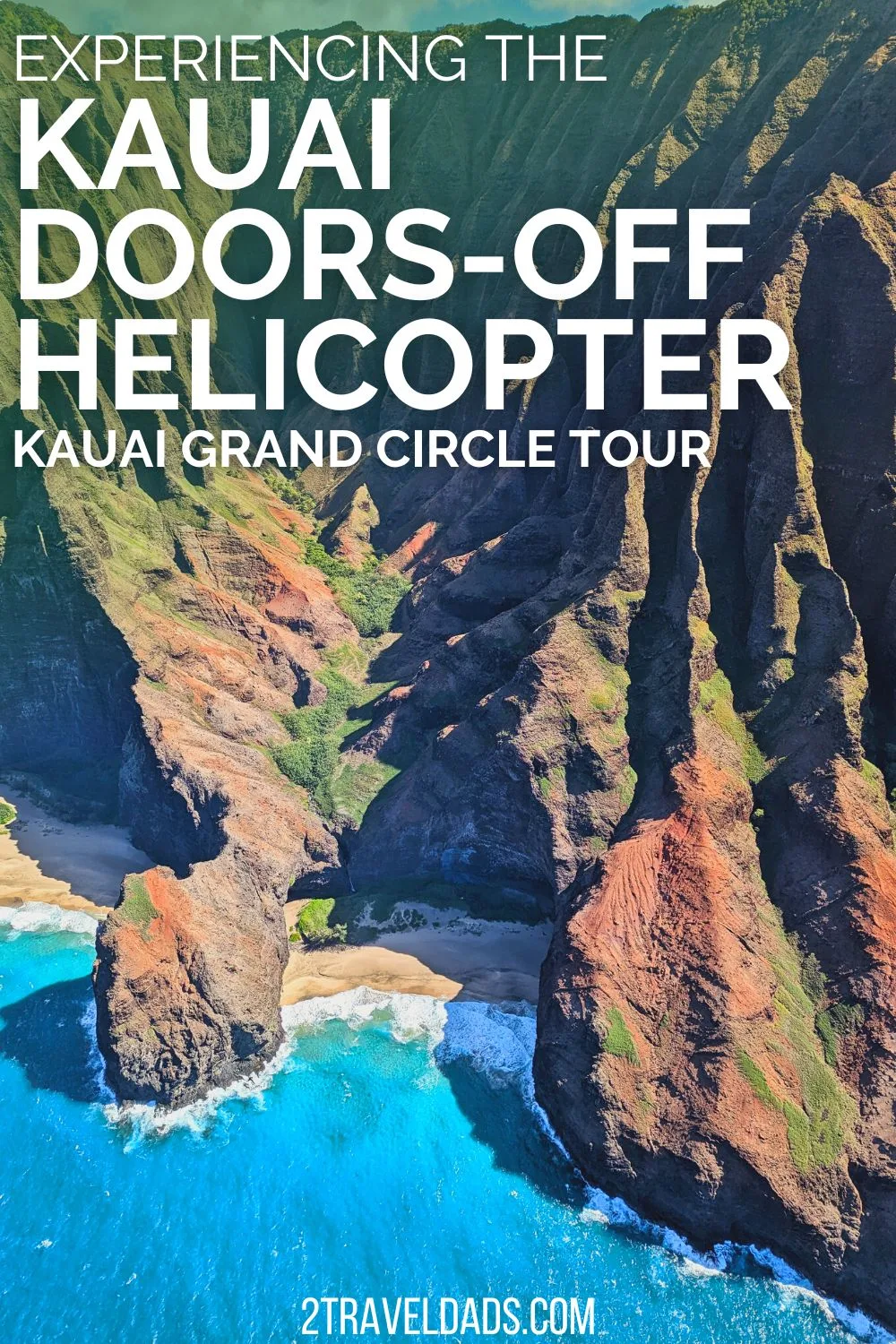 What Is It Like to do a Doors-off Helicopter Flight?
The views from a helicopter when you are flying around the island of Kauai are remarkable. When you are doing a doors-off helicopter flight, it's even better because there is nothing separating your eyeballs from the epic landscapes below. To say that it is a bird's-eye view, that doesn't even begin to remotely describe the experience of the doors off helicopter tour.
The clarity of the lush green jungle cliffsides and the rainbows directly below you is unmatched. being in a helicopter without doors and soaring along a hill to the crest and then having the Waimea Canyon open up below you will take your breath away. Another element of the doors off helicopter tour of Kauai that's cool is that you also get to enjoy the fresh air swirling through the cockpit. It smells like Kauai, which is basically the scent of flowers, dirt and salt water. My favorite.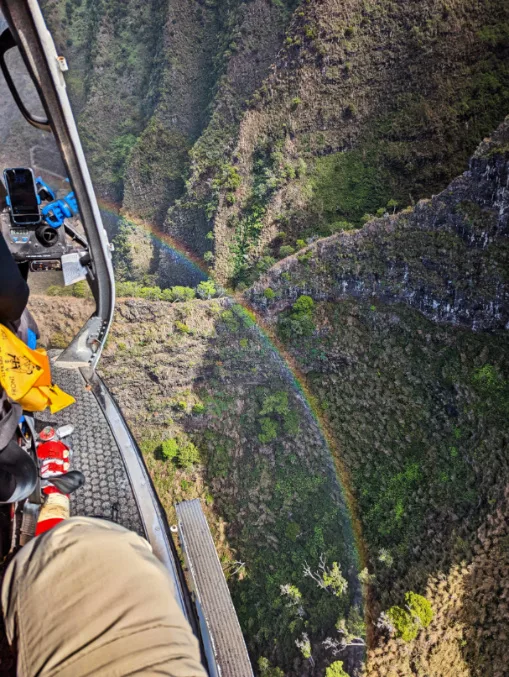 Are Helicopter Tours Terrifying?
Are helicopter tours terrifying? I think that's something that is going to depend on the passenger. Before doing the doors off Kauai helicopter tour, I had done several standard helicopter sightseeing flights. In general, helicopters do not scare me and they are remarkably smooth. They are more smooth than a lot of transcontinental airline flights. if you are okay flying in a passenger airplane, then you will probably not mind the helicopter experience and may actually love it. I equate it more to flying in a seaplane actually, as it is small and there is less turbulence than a passenger jetliner.
The "Doors-off" element of doing this Kauai helicopter tour is a bit more nerve-wracking than just flying in a helicopter. Being so fully exposed to the open air with a thousand feet of open space below you is a bit intense. If you're not afraid to fly but you are in general scared of heights, you might freak out a bit about the doors-off concept. It really is a wild experience.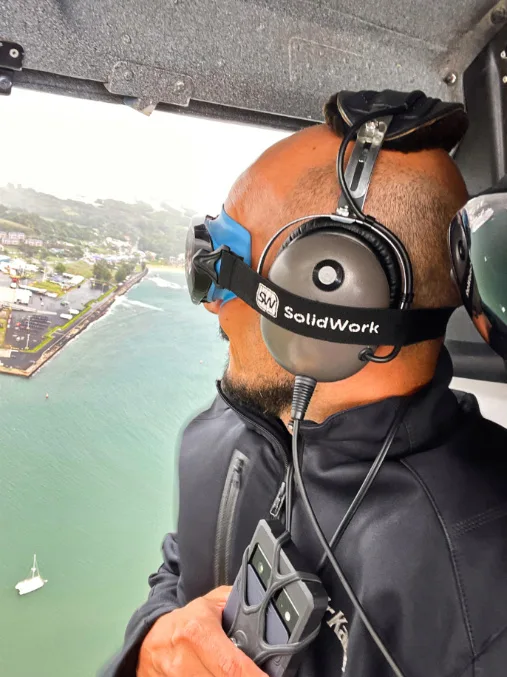 Is the Doors-off Kauai Helicopter Tour Worth It?
Short answer: YES. The doors-off Kauai helicopter tour is absolutely worth it. The thing that makes the doors-off experience more amazing and really next-level is the lack of glass between you and the views below and around. While there is an element of uncertainty you'll probably feel if you're sitting in one of the outside seats of a doors-off helicopter tour, you'll overcome it and be in awe of the clarity and uniqueness of your views. The thrill paired with the beauty makes this one-of-a-kind experience completely worth it, even if you only have a few days on Kauai.
Book our EXACT doors-off Kauai tour here!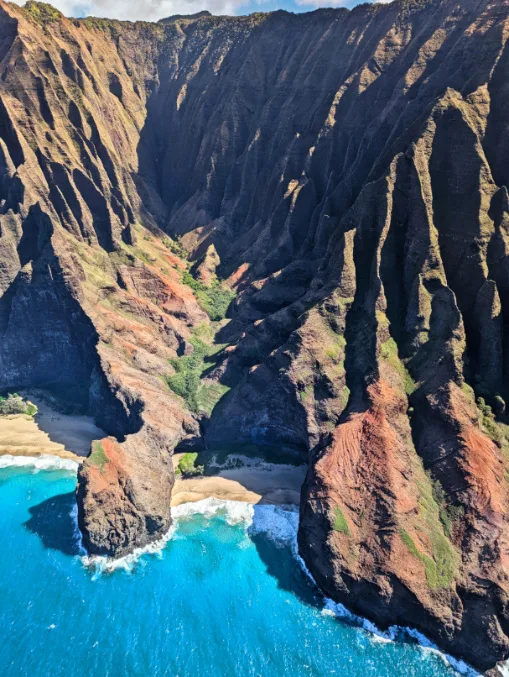 Doors-off Helicopter Experience – Step by Step
So here's how this actually goes. It's not like you just show up and walk to your chopper and are whisked away. There are safety considerations and information to get before you board. 
Arrive wearing long pants and close-toed shoes or you'll be turned away. As you get checked in you'll be provided with a neoprene jacket and a secure phone lanyard. It is very windy when you're in the air on a doors-off helicopter tour, so you need to be properly outfitted. You are allowed to bring your smart phone for photos and video, but you have to use one of their provided (really hardcore) lanyards to secure your phone.
After you've had your safety briefing and are dressed properly (and they may actually do the jackets at the tarmac) then you'll board your transportation from the office to the helicopter pad. Note: even though you're probably flying out of Lihue International Airport (LIH) the helicopter offices and landing pads are NOT in the main airport area. LIH is about 15 minutes from Kapa'a (we stayed at the Kauai Shores Hotel)
Once at the tarmac, your group will be organized by how you'll be in the helicopter. Lined up, you'll be boarded one by one, getting headphones and goggles as you are seated. Once everyone is buckled in and secure, the pilot will start chatting you up and then before you know if you're lifting off above Lihue. The elevation gain is smooth and before you know it you're covering a lot of territory quickly.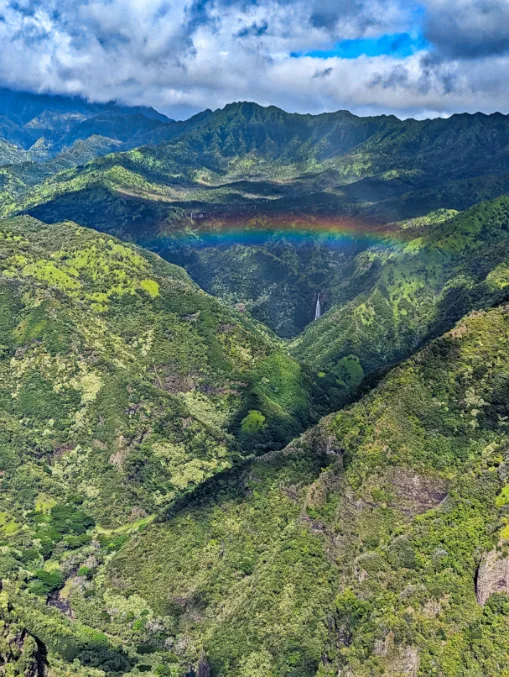 What Do You See on a Kauai Helicopter Tour?
While each tour may vary in their tour route and whether or not they make stops, the majority of doors-off Kauai tours circle the Garden Island, starting to the south and circling around the west side, then along the Na Pali Coast, and back down the east side across the jungles covering the extinct volcanoes. The sights vary from a birds eye view of the towns and some of the beautiful beachfront Kauai hotels, to the deep red rugged canyons and turquoise waters splashing on secret beaches. 
Want a hot tip? Do a helicopter tour of Kauai and then plan all of your hiking. Just kidding, you'll love whatever hiking you choose, whether it's hiking in Waimea Canyon State Park or doing the rugged trails of the Na Pali Coast. The views from the helicopter do really blow you away though when you fly over places that you have hiked or are planning to. Really amazing perspective to get.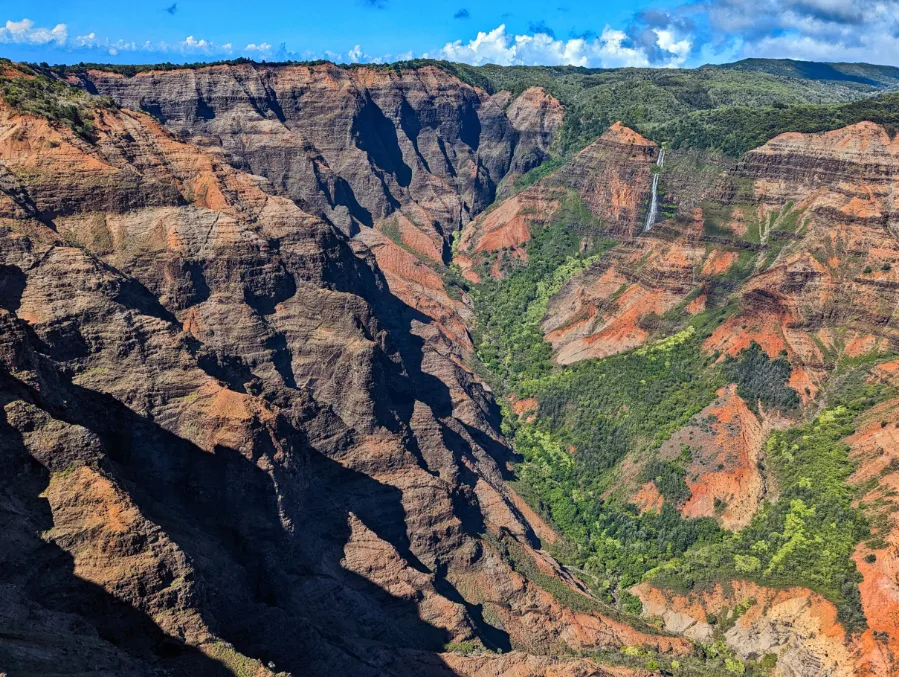 Difference Between Doors-off and Standard Kauai Helicopter Tours
Of course the main difference between a doors-off helicopter tour and a closed cockpit is going to be the doors, but what this means for the overall experience is big. Without doors, your views are unobstructed and you feel like a bird. The photos you take have no glare or distortion, and you get full-frame images. 
With a closed cockpit, even if the windows are large you're still not going to be able to take photos without parts of the helicopter in your frame. You may be able to get some remarkable shots and enjoy the views, but in comparison to the doors-off experience, the clarity and immersiveness is evident. Also, I think the windiness of the doors-off Kauai helicopter tour is really fun.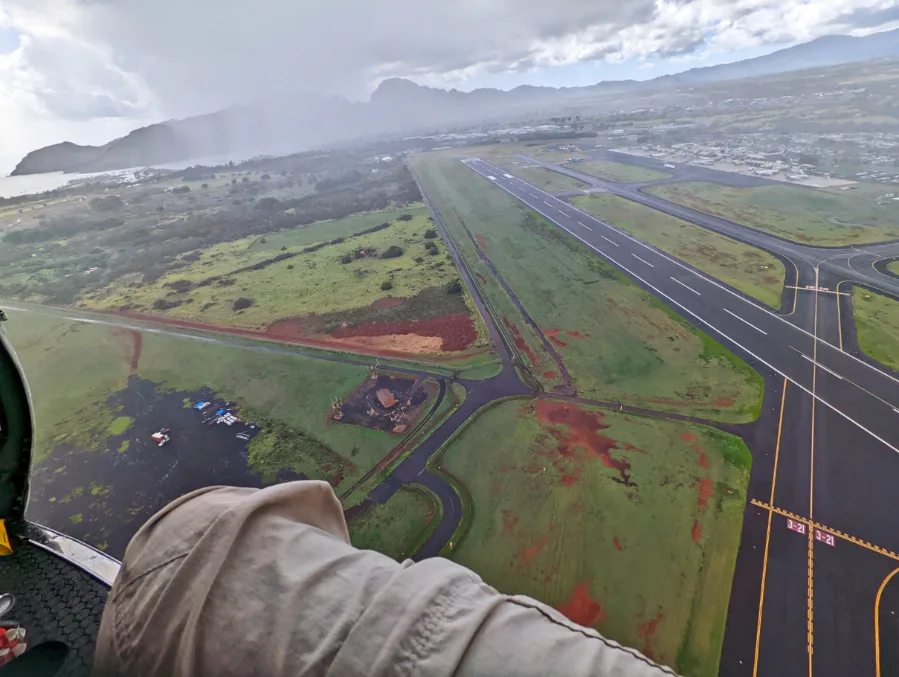 Who Can Do a Doors-off Helicopter Tour?
There are some restrictions to being able to do a doors-off helicopter tour of Kauai, from age limits to weight requirements. Generally, passengers must be over 10 years old (16+ for an edge seat) and must weigh less than 230 lbs (or 240 lbs or combination weights, depending on company). Also, most helicopter tours on Kauai aren't actually wheelchair accessible, so being able to climb aboard the chopper is a requirement for most tours.
And I feel like it goes without saying, but if you are either sensitive to motion or have an extreme fear of heights, this may not be for you. Maybe you want to conquer your fears… If you freak out or puke on a helicopter, you'll be charged for any emergency stops or cleanup. It's amazing, but choose wisely if you're unsure if you should do it.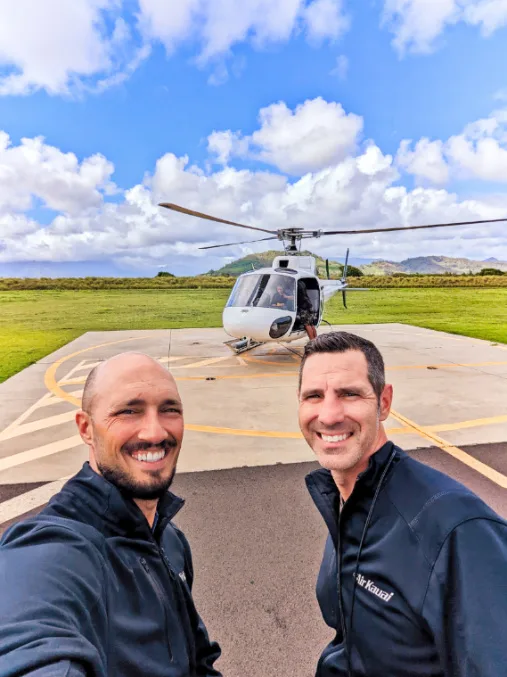 Wheelchair Accessible Kauai Helicopter Tours
For a wheelchair accessible Kauai helicopter tour, check out Sunshine Helicopters or Blue Hawaiian Helicopters. They have the equipment and the experience to create a safe and accessible helicopter experience (transfer required, they have the equipment). Currently (2022) they do not offer a doors-off accessible experience.
Rules for Doors-off Helicopter Tours on Kauai
Because a door-off helicopter tour of Kauai is different from a closed cockpit flight, there are some different rules in place for passenger safety.
No passengers under 10 years old
No passengers under 16 in an outside edge seat
You must wear long pants
You must wear close-toed shoes with a back
No sticking your hands, feet, arms or legs out of the flying helicopter
No loose items (hats, bags, gear…) allowed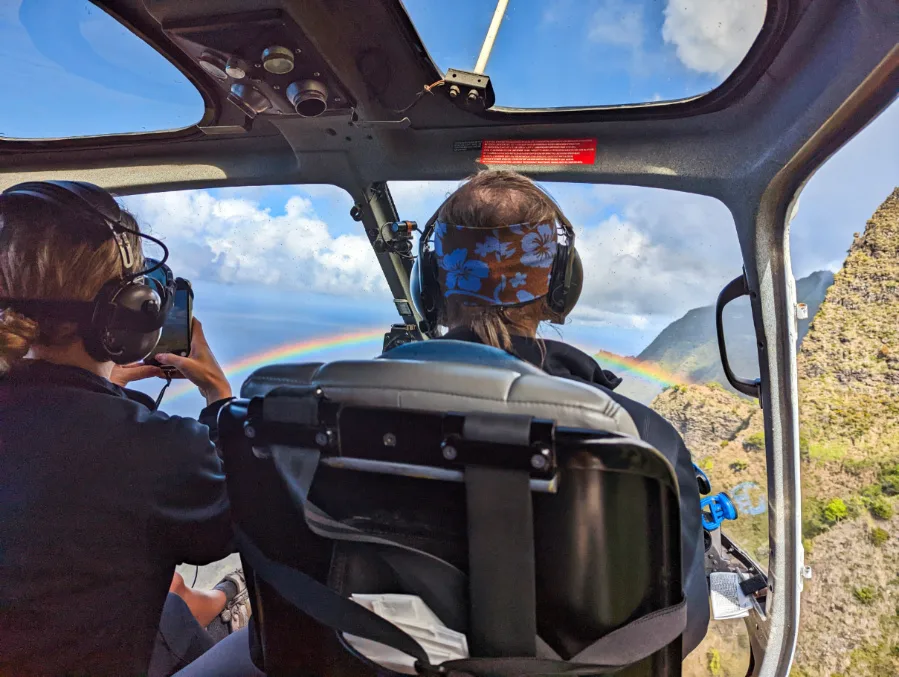 What to Bring for a Kauai Helicopter Tour
Most helicopter tours will allow you to bring a pack or purse or something, which can be stored under you seat, but NOT on a doors-off helicopter tour. For an open cockpit helicopter flight, you cannot bring anything at all except for your smart phone which will need to be in a secure lanyard and be operating in airplane mode. Nothing else is allowed, including hats, glasses, or any form of baggage.
Can I Bring a GoPro for a Doors-off Helicopter Flight?
Ooh, great question. You cannot bring a GoPro for a doors-off helicopter tour. The nature of being in a helicopter and soaring at great speeds over the hills and cliffs, you cannot stick your hands or camera out the window. There's no point to bringing a GoPro or other large camera gear for this sort of tour of Kauai.
Where To Do Doors-off Helicopter Flights in Hawaii
Kauai is the premier destination for doing a doors-off helicopter tour, but they are also offered on Oahu, Maui and the Big Island of Hawaii. What makes Kauai so amazing are the sheer cliffs and the dense tropical vegetation. Each of the Hawaiian Islands offer their own high points, but Kauai is loaded with incredible views.
If you're thinking about adding a doors-off or other helicopter tour on the Big Island, you'll have the opportunity to actually go flying over Hawaii Volcanoes National Park. Seeing active volcanoes and lava from a helicopter… incredible and for sure at the top of the Hawaii bucket list.
Book our EXACT doors-off Kauai tour here!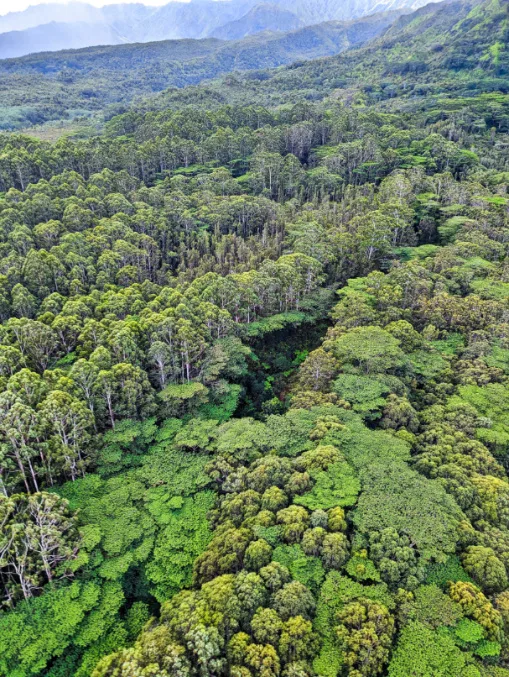 I love getting to blog about travel because I get to relive each moment and experience. I would do another doors-off helicopter here on Kauai or another island, for sure. I think the uniqueness of the sights and the overall experience is out of this world and unforgettable.
If you have questions about the doors-off helicopter tour experience or anything else about visiting Kauai, please leave a comment or send us a note. We're happy to help!
And please check out our other Kauai and Hawaii articles too:
These Scenic Drives on the Big Island of Hawaii are not to be missed. Take in the best sights of the island, including Hawaii Volcanoes National Park, the Waipio Valley and the Kona Coast. Top picks for road trip stops and views of the Big Island.

---

This Hilo Travel Guide is the go-to resource for the best things to do in Hilo, Hawaii from waterfalls to where to shop and support locally. Where to eat in Hilo, tour recommendations and what to add to your Hilo itinerary.

---

Hawaii podcast episodes are so helpful for understanding the Islands and planning an unforgettable visit. Listen to podcast episodes about the Big Island of Hawaii, exploring Kauai and more. Travel tips and easy planning ideas.

---