Who knew that Camp Margaritaville would become a thing one day? And who knew that it would be the perfect destination for exploring the lakes and nature preserves of Central Florida. Near Legoland and not too far from Disney World and Universal Orlando, Camp Margaritaville in Florida is a fun spot to camp out for a few days or a week to just relax or have all the Florida adventures.
Be sure to check out our ideas for fun Central Florida things to do at the end of this article, because this is one of the best parts of the state, and it's so often overlooked. Camp Margaritaville can serve as a homebase for so much family fun! And if you have any questions or additional ideas, please leave a comment or send us a note. We're always happy to help with travel planning!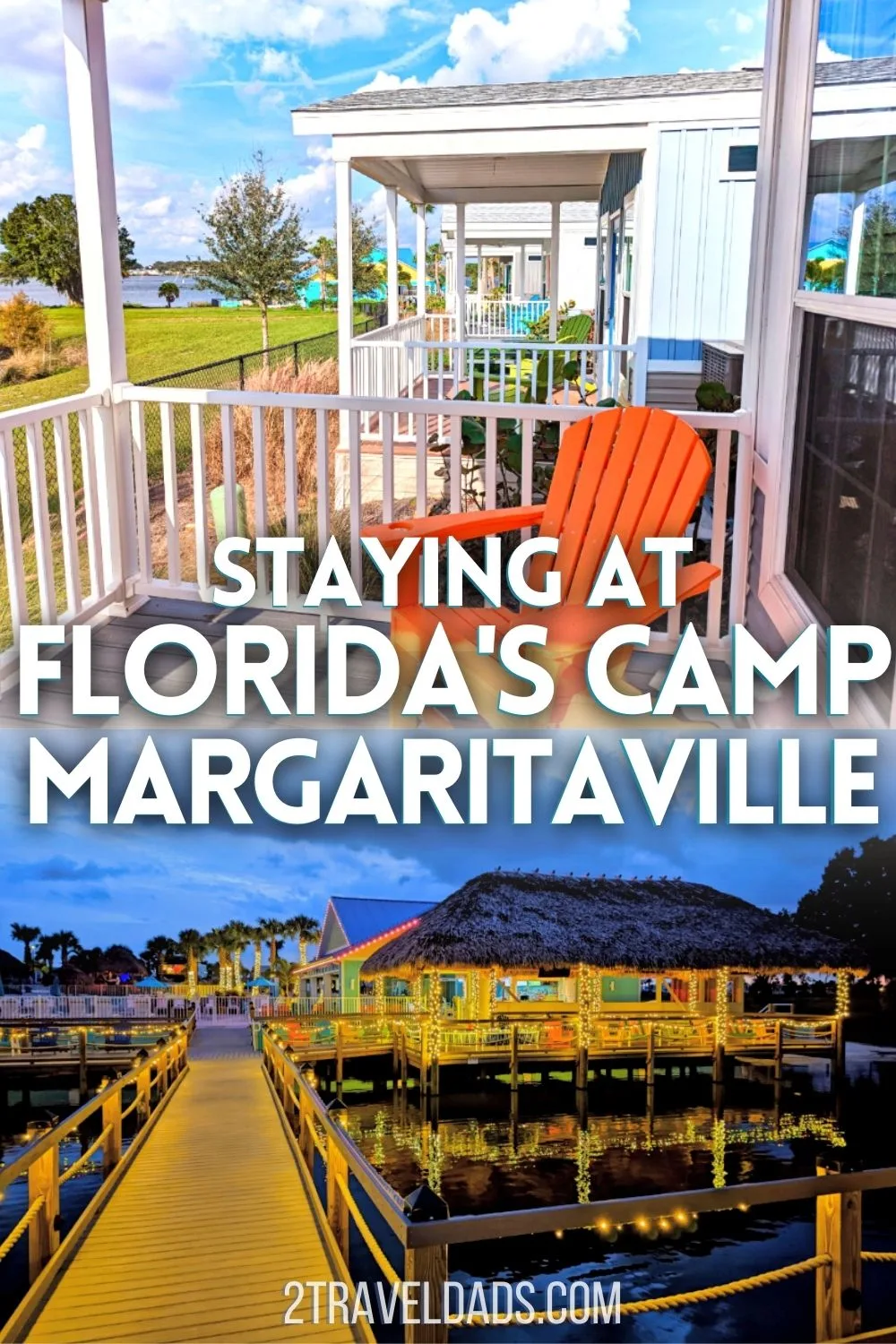 Staying at Camp Margaritaville in Auburndale, Florida
Sometimes it's so easy just to look for a hotel and book it when you're planning a vacation, and I'm guilty of it too. But there are so many unique and fun types of accommodations out there now, especially for families, and Camp Margaritaville fits perfectly into that set of places to stay. With both RV camping and tiny homes, Camp Margaritaville has a very unusual vibe.
I think what I like most about staying in the tiny homes at Camp is how it feels like a vacation neighborhood. Everyone around is so mellow, and when you go to the pools, it's a mix of families and retired folks who travel the country in their RVs. Also, it's all very well maintained and clean, which just makes it even nicer when you're strolling through the vacation neighborhoods of Camp Margaritaville in Florida.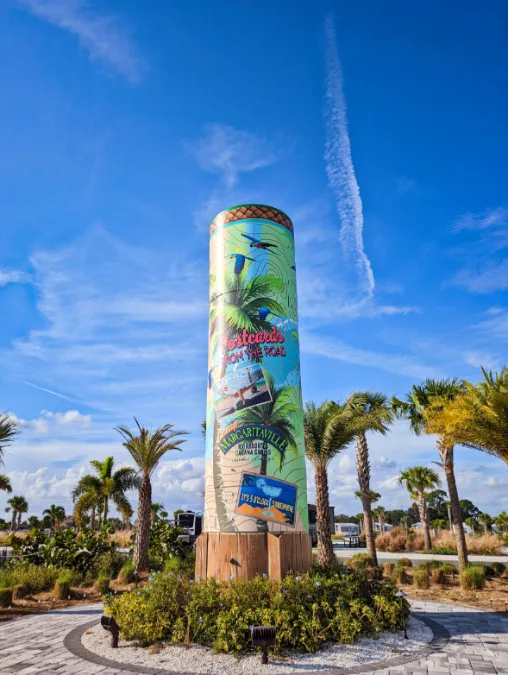 What Are the Accommodation Options at Camp Margaritaville?
If you're planning a stay at Camp Margaritaville – Auburndale, you'll have a few options for how to vacation there. You can show up with your own RV or camping trailer, you can stay in a Cabana Cabin, or you can actually rent an RV that's already onsite. Depending on budget, your overall plans and if you have your own camper, a stay at Camp Margaritaville could be just right for a more relaxed take on a trip to Orlando and Central Florida.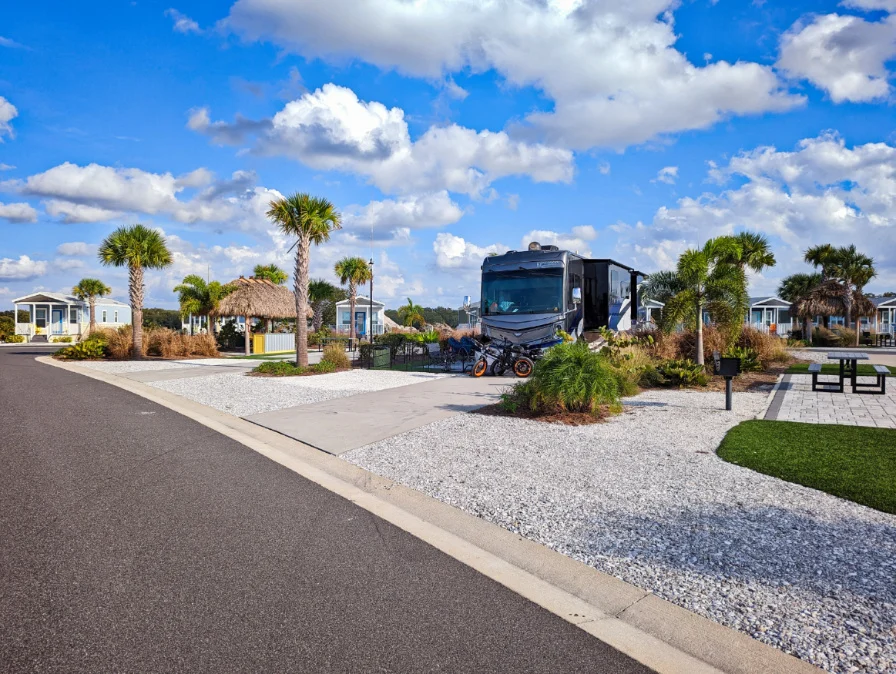 Top Pick: Cabana Cabins
Even though we have our own camper trailer, I will always prefer to have the comfort of a non-rustic cabin over camping. The Cabana Cabins at Camp Margaritaville are wonderful, tiny homes set along the outside edge of the main RV camping areas. Each with a full kitchen, bathroom, bedroom and additional sleeping space (pull out sofa and daybed) the Cabana Cabins are big enough for a family of five to be comfortable.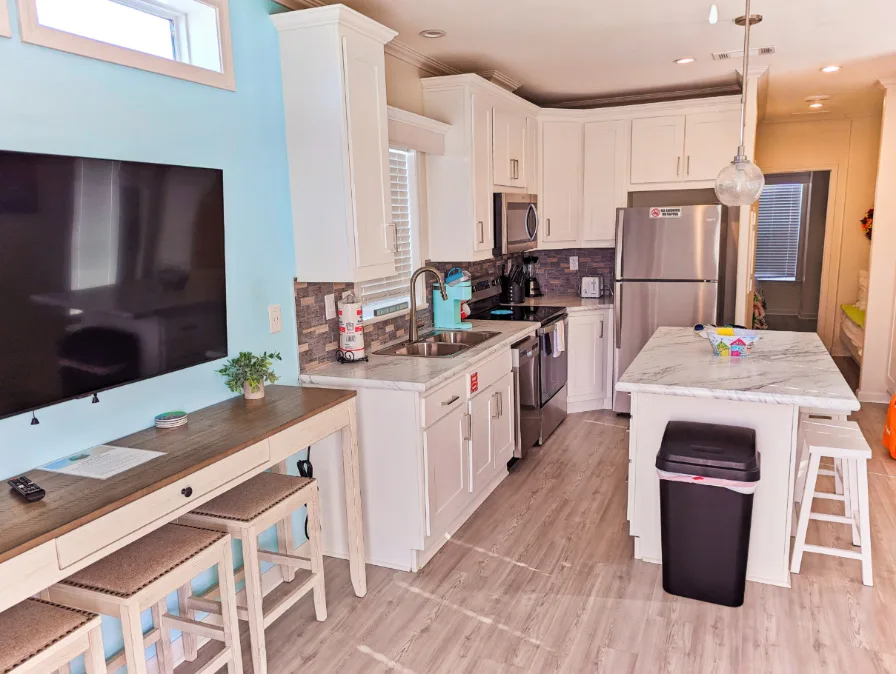 Additionally, each cabin has its own outdoor space. A tiki hut with sink and bar stools, a barbecue and a covered porch make hanging out at your Margaritaville tiny home an actually relaxing time. Go explore Central Florida or a theme park for the day, come home and chill out with plenty of space. Perfect.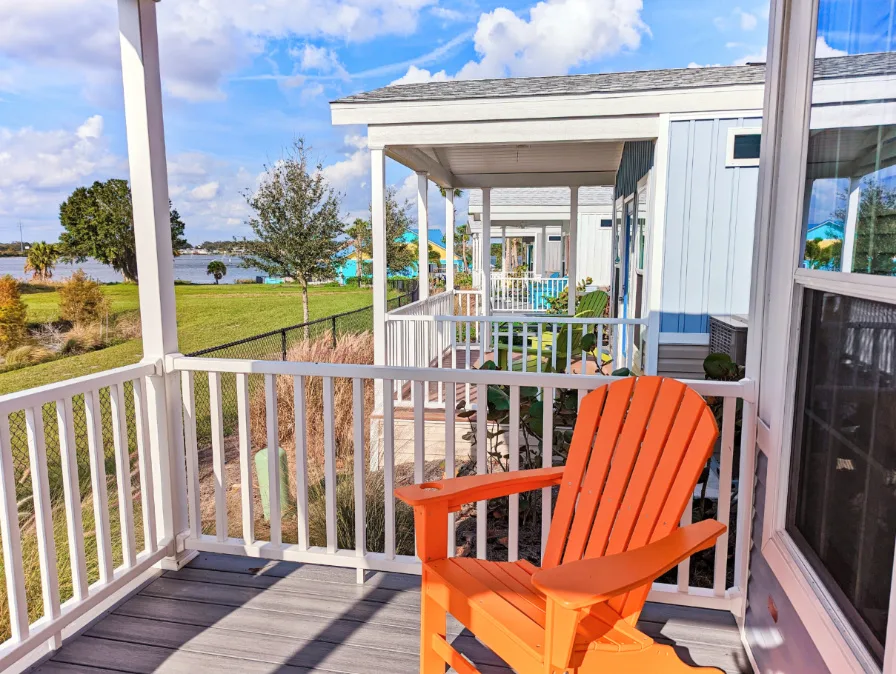 Check in / Check Out at Camp
The whole resort of Camp Margaritaville in Auburndale (Lakeland) is gated, so before you are even to the main office to check in, you're greeted and get an initial welcome/info. Once at the office and getting set up, you'll find that there are all sorts of events that happen throughout the week on property. It wouldn't be Margaritaville if there weren't events happening, like live music, so when you get a camp calendar at check in, be sure to look it over and see what you can do while you're at the resort.
Once you're set up with your site or cabin, start enjoying. If you have a cabin, you'll get a code for it, but if you prefer or even need a key instead, you can get one from the front desk. If things aren't too busy, there are staff at Camp Margaritaville to help you get to your accommodations and get happily settled.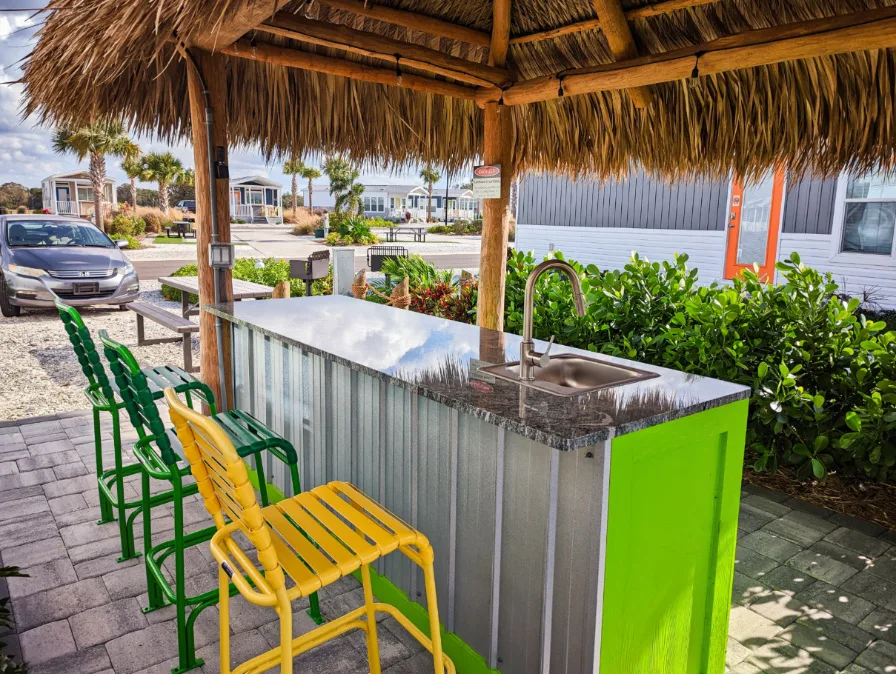 Camp Margaritaville Resort Amenities
I love the whole layout of Camp Margaritaville. As you enter you've got the main office, the camp store and the kids play area. Then there are fire pits and the main Tiki Bar, with meeting space and a gym nearby, and it keeps going.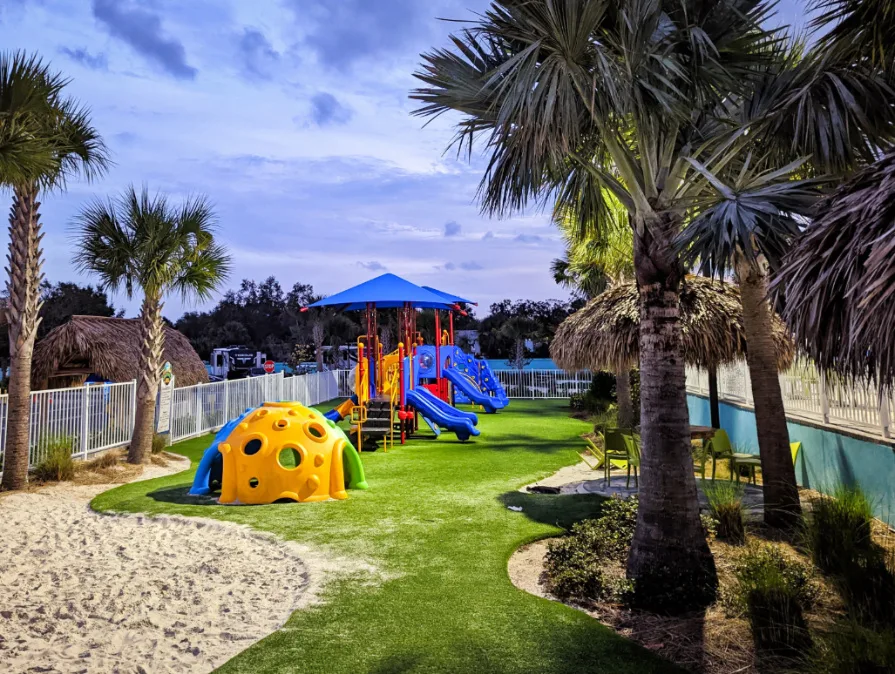 Pools at Camp Margaritaville Auburndale
There are two swimming pools at Camp Margaritaville in Auburndale. The main pool is by the front office and is pretty large, including a waterslide and big shaded area. There is also a snack bar, the Feeding Frenzy, directly next to it. This pool is BUSY.
The other pool is in the lower area of camp and is much more mellow. With lots of lounge chairs and a big, covered tiki bar (called the Chill Bar) connected to it, it's my favorite. The lower pool is located right next to the water ski park, which is really cool, as you can watch people skiing and boarding using the water cable system as you lounge by the pool. I really like it here!
As an added bonus, Camp Margaritaville in Auburndale also has a very large children's splash pad area separate of the main pool. It's a great safe space for small kids and there is plenty of lounge space all around for parents. Take advantage of Central Florida's great weather everyday!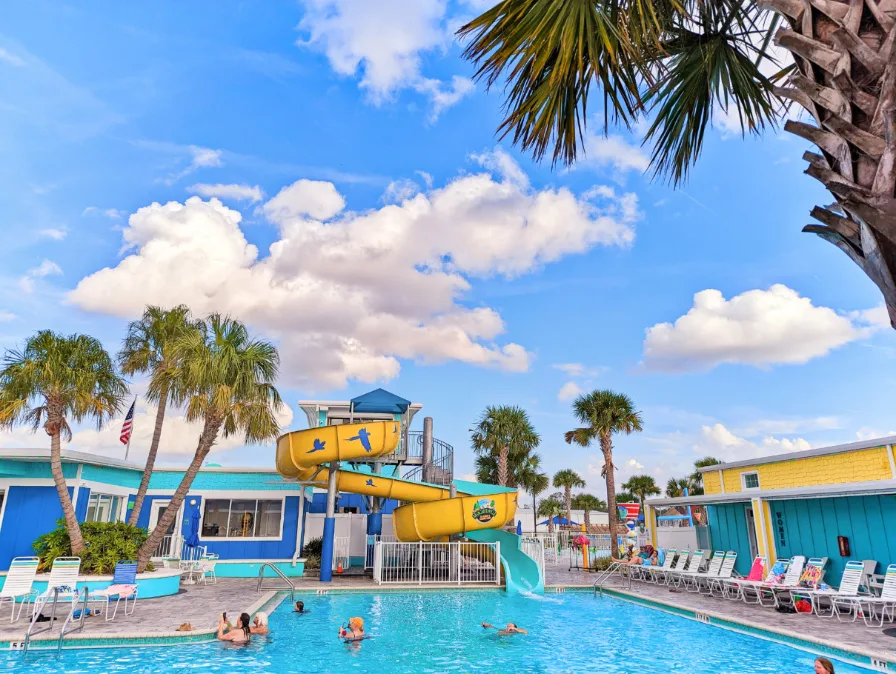 Fitness Center Onsite
I was pleasantly surprised by the fitness center at Camp Margaritaville. Not only was it comprehensive with good gym equipment, it was wonderfully clean. The fitness center is located by the main swimming pool (the one with the slide) so you can easily walk with the family to the pool and then continue onto your own gym zone peacefully.
There is cardio equipment, an adjustable universal machine, free weights up to 50 lbs, a series of kettlebells, yoga mats, fitness balls and more. I wish all hotel and resort gyms were like this.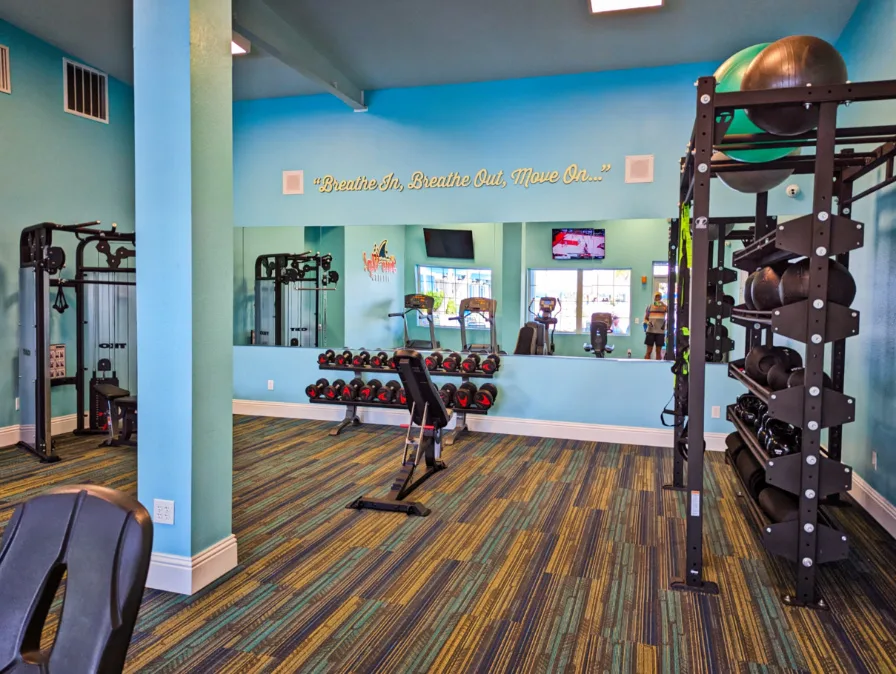 Cool Things to Do at Camp Margaritaville
Besides swimming pools, there are actually a lot of on-property activities. True, a lot a people are coming to Camp Margaritaville so they can have their RV or trailer as their homebase for visiting Orlando theme parks, like Disney World (half our away) or Universal Orlando (40 minutes away), but during the downtime or non-theme park days you'll find the following at Camp Margaritaville Auburndale:
Fire pits
Basketball courts
Parrot Island Mini Golf
Recreation areas
Kids park
Dog parks and dog spas (dog bath spots)
Golf cart rentals…
Camp Margaritaville is set up to be a full on vacation destination in itself. With lots of kayaking and outdoors activities, as well as Legoland nearby, you'll never be bored in Central Florida.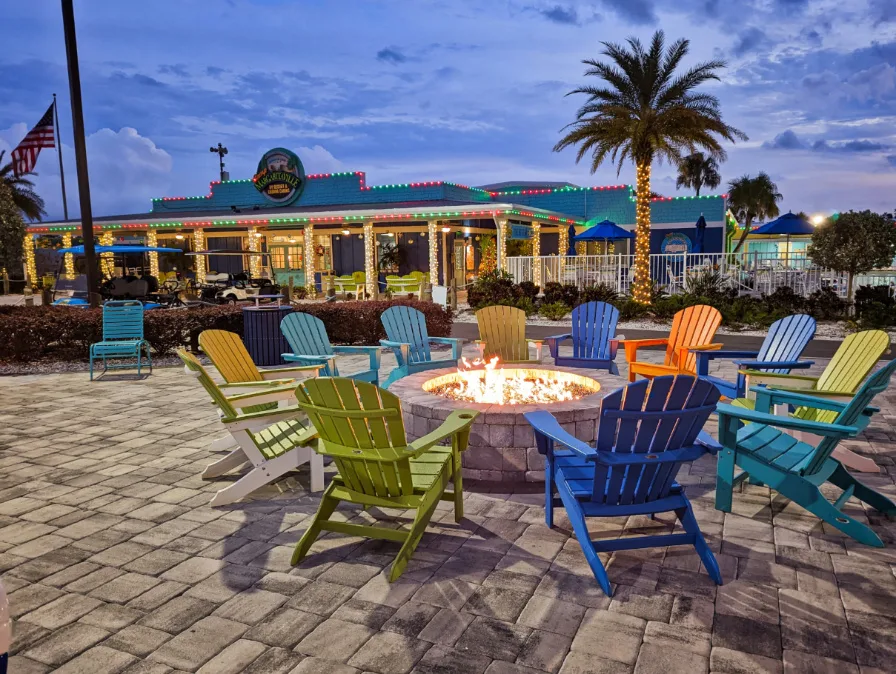 Dining at Camp Margaritaville Auburndale, Florida
Because Florida's Camp Margaritaville is setup for you to have all the comforts of home, whether your in a Cabana Cabin or you've brought your own RV, food and dining is not spectacular on property. There are options for some solid snacks and drinks, but the dining leaves something to be desired. I didn't even take photos.
The options available are Feeding Frenzy and Frank and Lola's for food, and then the Tiki Bar and Chill Bar. Unless you want simple, window service food, heading into one of the local towns for a nice sit-down meal is your best bet for dining. 
I WILL SAY though, the cocktails at both the Tiki Bar and Chill Bar are great. I like that they have the Margaritaville branded spirits and they for sure hold up the atmosphere you expect of the Margaritaville name.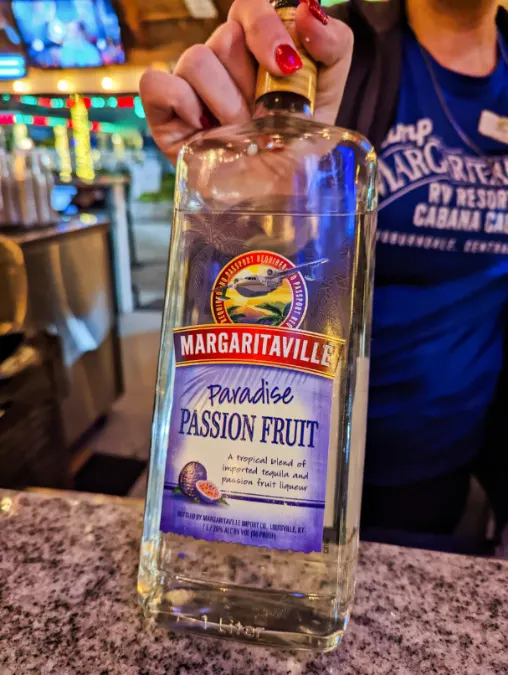 Stores on Site at Camp Margaritaville
There is a general store in the main office of Camp Margaritaville in Florida. You'll be able to get some basics for your kitchen, lots of beer, and there is a selection of Margaritaville merchandise. It's good in a pinch, but about five minutes away from camp there is a grocery store, so it's easy to pop off-property and get what you need. If you plan on taking advantage of the outdoor grills and tiki hut kitchen spaces, you'll for sure want to go to a local grocery store.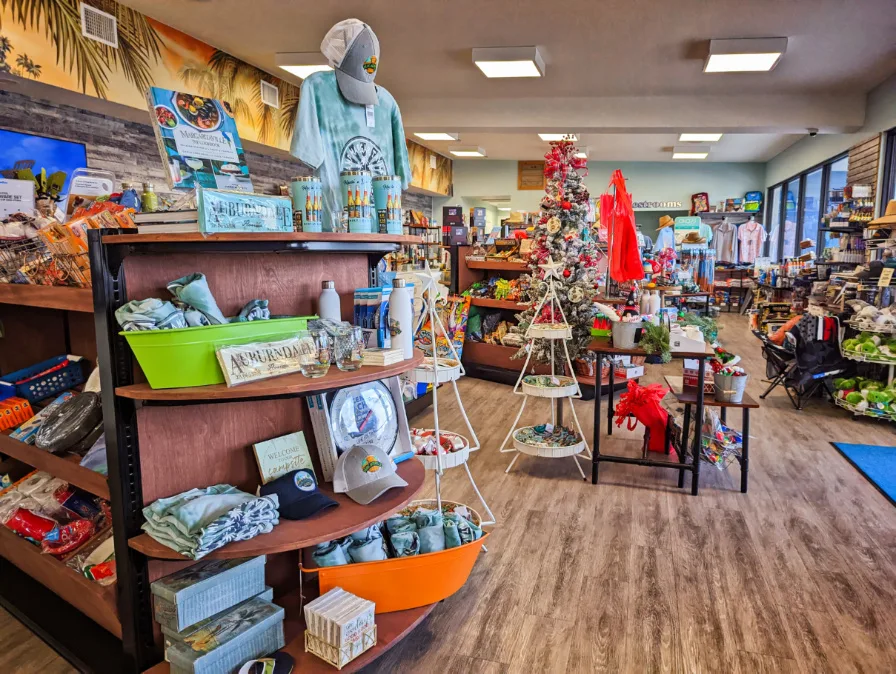 Where is Camp Margaritaville near Orlando?
Camp Margaritaville is located in the small town of Auburndale, which is west of Orlando. It's very close to the city of Lakeland, and is equidistant between the Orlando International Airport (MCO) and Tampa International Airport (TPA), at about 45 minutes away. 
The big draw of staying at Camp Margaritaville is its close proximity to lots of fun Central Florida spots. Legoland Florida is less than a half hour away, Disney World is about 35 minutes away, the Winter Haven chain of lakes is about 15 minutes away, and then there are a bunch of beautiful state parks and preserves nearby too.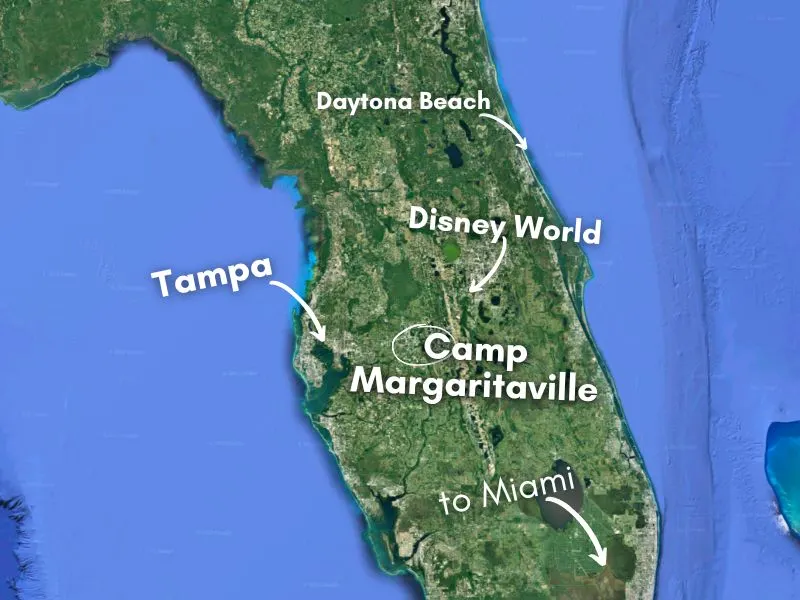 Ten Fun Things to do near Camp Margaritaville Auburndale FL
So, now you know how cool the actual Camp is, what sort of things are you going to plan for your trip to Central Florida? We've got plenty of ideas, as this is the part of the state where you can experience everything from untouched nature to Florida agritourism, theme parks to public parks. You're going to love it!
Skiing at Elite Cable Park (directly next to Margaritaville
Wildlife and bird watching at the Circle B Bar Reserve
Spend the day at Bonnet Springs Park in Lakeland
Go for an airboat ride (or go fishing with a guide)
Visit the Safari Wilderness (actually a good safari with a good animal program)
Not sure what you want to do when you stay at Florida's Camp Margaritaville? Check out the GoCity pass for Florida which includes airboats, museums, and Legoland Florida!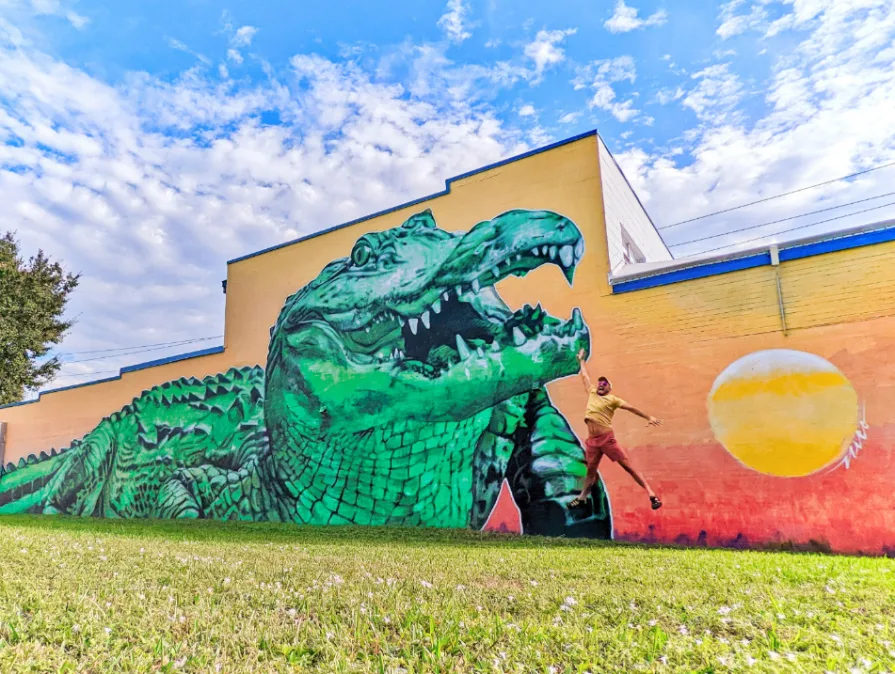 I really enjoyed staying at Camp Margaritaville in Florida. It was a great home base for exploring Central Florida and was really nice to come home to after long days out in the sun. The vibe was all vacation all the time, and the clientele was very mixed. I loved it.
If you have any questions or additional ideas, please leave a comment or send us a note. We're always happy to help with travel planning!