You know that we have a special place in our hearts for Disneyland in California, and that we'd visit in a heartbeat. But did you know that when it comes to Florida, we have two loves that tear us apart? Disney World or Universal Orlando is a common topic in our household. Which should you choose?
We've broken down the primary differences in the parks and shared what we love about each. If you need to choose between Disney or Universal, this guide will help you make the best decision for you or your family (including our best tips for fun!)
Be sure to check out our complete articles all about visiting Disney World during COVID-19 and how Universal Orlando is handling the pandemic for information about what that was like. FYI, everything is fully back to normal and there are no more pandy procedures.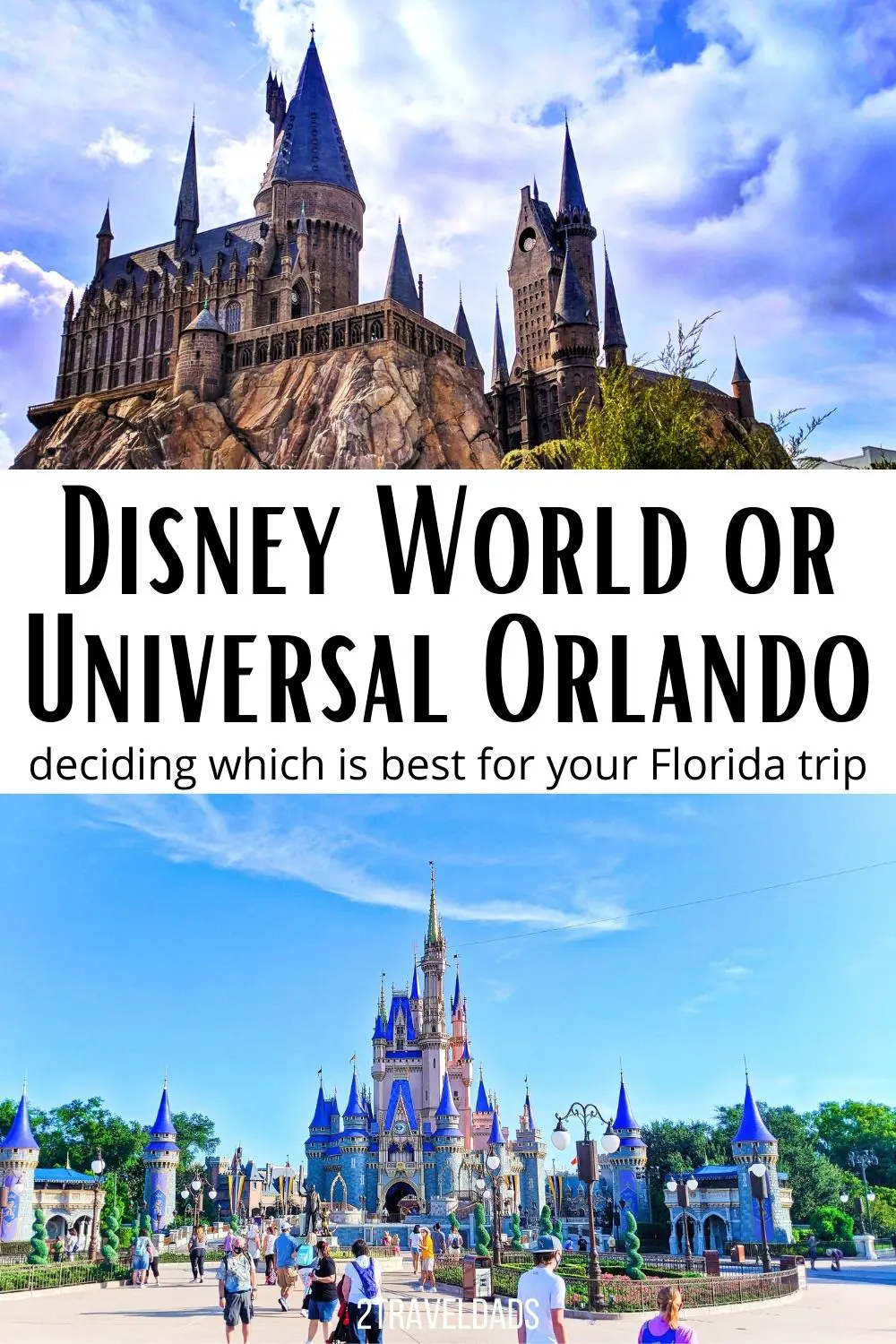 Start by checking hotel costs LIVE:
First, zoom out on the map around Universal Orlando and peek at costs.
Then check out Walt Disney World Resort and nearby hotel costs. This way you can keep all this in mind as you compare destination.
Which has better thrill rides, Disney or Universal?
Thrill rides and rollercoasters are always a big question. So, who has the better roller coasters, Disney or Universal? Does Disney World have any scary rides? Is Universal Orlando all rides for adults? We'll answer all those questions right now. If thrill rides are what are going to help you choose Disney or Universal, here you go…
Best Disney World Thrill Rides
Disney World is made up of four parks: Magic Kingdom, Animal Kingdom, Hollywood Studios, and EPCOT. Each park is very different with varying degrees of thrill. Magic Kingdom has the most tame rides, while Hollywood Studios has the most intense attractions (including Star Wars: Galaxy's Edge!).
Starting in the Magic Kingdom, the best thrill ride is Thunder Mountain Railroad… and this really isn't a thrill ride, but just a high speed train. It's fun, but doesn't have any scary elements. Magic Kingdom is very much about fun and fantasy over thrills. There is a new roller coaster being built (currently 2022) with a Tron theme, so when that opens in 2021, it will most likely be the winner.
Moving onto Animal Kingdom, there are two attractions that really pack a good thrill: Pandora's Avatar Flight of the Banshee and Expedition Everest. The Pandora ride is a complex adventure simulation that is really jaw dropping. Expedition Everest is an impressive, surprising roller coaster. Both will wow big kids and adults, but neither is truly shocking or scary. We love them both though
EPCOT is an interesting park. It's our lease favorite of the four Disney Parks. EPCOT is more about experiences than attractions, but if you do want to enjoy a bit of a thrill, Test Track is the way to go. Still, not scary or too thrilling, but fun albeit a little rough on the neck. The total winner of EPCOT though is Guardians of the Galaxy: Cosmic Rewind! What an amazing and wild ride! I've ridden it a few times and can say that I prefer it NOT riding over and over, but once and then maybe again later.
Lastly, Hollywood Studios does pack some thrills. Here you'll find the Rock 'n' Rollercoaster, Hollywood Tower of Terror, Star Wars Galaxy's Edge with Smuggler's Run and Rise of the Resistance… Hollywood Studios takes the cake for cool, thrilling and fun!
Note: the most intense ride in Hollywood Studios is for sure Rock 'n' Rollercoaster. It's in the dark, super fast, and has some surprises.
Love Star Wars? Check out our review of the Star Wars Galactic Starcruiser experience!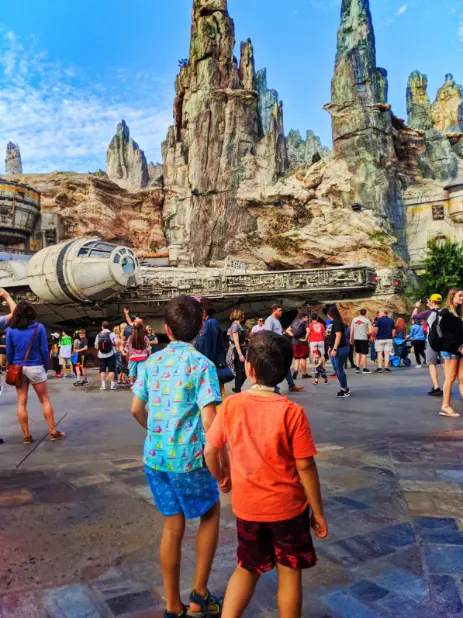 Best Roller Coasters at Universal Orlando
Universal Orlando Resort has two theme parks and a water park. We're just considering the two theme parks for the thrill rides, but Volcano Bay has some AMAZING water slides, and even a water coaster.
Starting at Universal Islands of Adventure, there's no shortage of thrill rides. The most popular is probably Harry Potter's Forbidden Journey or Hagrid's Magical Creatures Motorbike Adventure, but the best rollercoaster is, without a doubt, the Velocicoaster. Wow! So fast and with multiple launches and amazing twists, it's the total winner at Islands of Adventure.
I think the most intense attraction is the Incredible Hulk. The Hulk exudes a few Gs on its tight turns and corkscrews. It's worth the wait for a big thrill. Don't get me wrong, Hagrid's is an awesome coaster and it's one of the smoothest I've ever experienced, but the Hulk is just more physically intense.
Honorable mention for a thrilling experience in Islands of Adventure is King Kong: Skull Island. It's not a rollercoaster, but a simulated experience that will scare the crap out of little kids. It's awesome.
Note: Universal Orlando opened the Velocicoaster in the summer of 2021. This multi-launch coaster is HUGE and is an amazing thrill. Both of our kids are tall enough for it, so we've gotten to ride it several times and LOVE it.
And there are some REALLY cool roller coasters at Universal Studios too. Rip Ride Rockit is visible from all over, and even outside the park, and it packs a good punch. Revenge of the Mummy is also quite the intense ride, but the real winner for thrills is in Diagon Alley in the Wizarding World of Harry Potter: Escape from Gringotts.
Gringotts is both a rollercoaster and an experiential ride. It's fast, it has thrilling moments, the effects are astounding, and the storyline of the attraction itself is pretty good. And despite the thrill and speed aspects, if you have a brave kid who's tall enough, Gringotts is awesome with littler kids.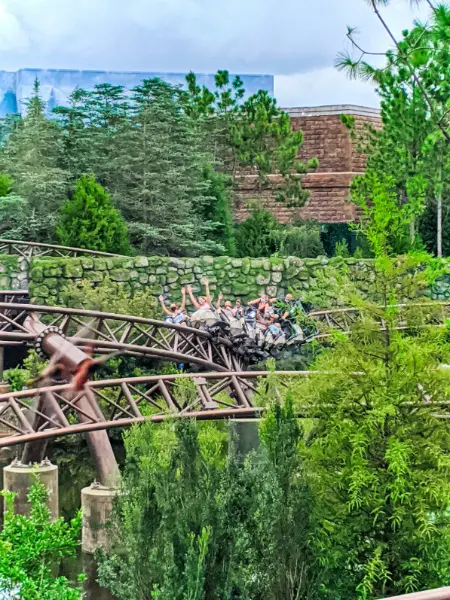 Decision: Disney World has lots of fun rides and some do pack a thrill, both with action and tech, but ultimately Universal Orlando has more and bigger thrills and coasters.
Listen to Disney vs Universal Orlando Podcast Episode
Is Universal Orlando or Disney World best for small kids?
I'll start by saying that both parks are really wonderful with kids in their own ways. If you're a hardcore Disney family, you'll love the Magic Kingdom and many of the experiences in the Disney Parks, but Universal with small kids is awesome too. Here's the breakdown…
Disney Highlights for Kids
Magic Kingdom, as I said, is awesome with little kids. The benefit of attractions at the Magic Kingdom is that even the more thrilling ones, or the faster ones, are still very tame. Thunder Mountain and Space Mountain are fast, but not so much so that kids who meet the height requirements won't love them.
The highlights of the Magic Kingdom, EPCOT and Hollywood Studios for small kids are going to be a lot of the character-focused rides, and there are a lot of those. Whether your child is into Frozen or Peter Pan or Toy Story there are rides in each park to get them excited. The two newest rides that are good for small kids in Disney World are Remy's Ratatouille Adventure in EPCOT and Mickey & Minnie's Runaway Railway in Hollywood Studios. I feel that the technology and visuals are very similar, but I think the Railway experience is WAYYYYYYY better.
A fun way to enjoy Star Wars land in Hollywood Studios is to explore it with our Star Wars: Galaxy's Edge scavenger hunt. This is a great way to still visit the area even if small kids don't want to or are too short to ride Smuggler's Run or Rise of the Resistance.
In Disney's Animal Kingdom, the Kilimanjaro Safari and Na'vi River Journey are both great with small kids, and then there are lots of shows and entertainment options for them too. Animal Kingdom has some great big kid rides too, so it's our top pick for visiting Disney World with a family of mixed ages.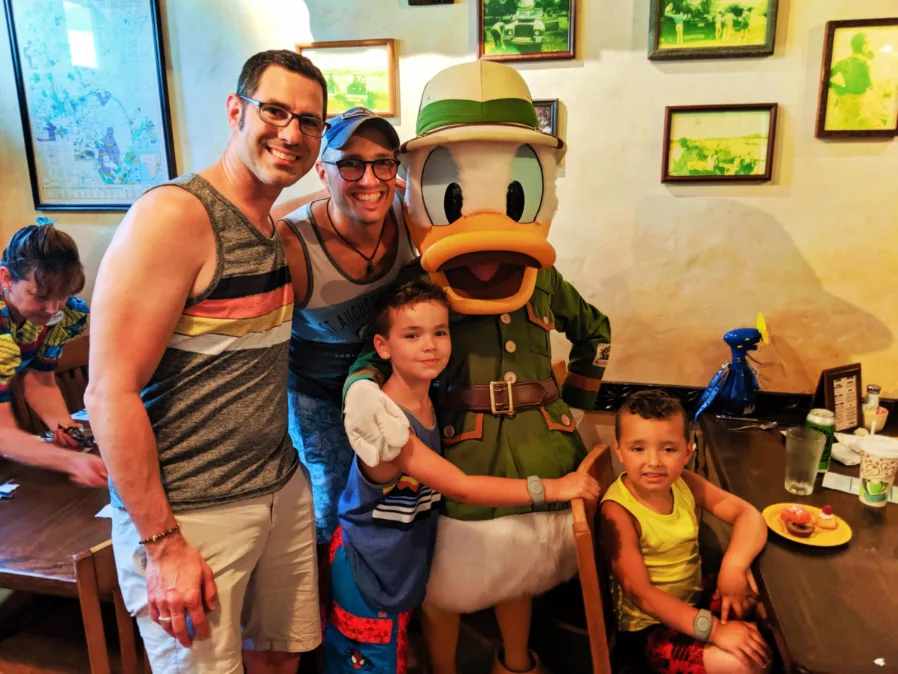 Universal Favorites for Small Kids
Yes, Universal Orlando has some great roller coasters and thrill rides (we love Transformers!) but there are some really fun attractions for small kids. Check out our complete article on Universal With Small Kids for a daily plan and tips.
In Universal Studios, you're greeted by Minion Mayhem as you enter the park. It and Shrek 4-D are the very first two attractions. Kids are set! But continuing on, other rides in Universal Studios are pretty good for kids too. Men In Black is the obvious choice, but for brave kiddos, Transformers is also really cool (and really feels like you're in the movie).
The highlight of Universal Studios with kids truly is visiting Diagon Alley. There are only two rides on the Studios side of the Wizarding World of Harry Potter, Gringotts and the Hogwarts Express, but there are magical experiences all through this area. Kids can cast spells in the Wizarding World, explore Knockturn Alley, visit Olivander's to see if a wand chooses them… So many experiences. And those contine over into Islands of Adventure.
In the Hogsmeade area, there are more spells to cast, cool shops to go through, the Flight of the Hippogriff to ride, and Hogwarts to visit.
And if your family isn't into Harry Potter, just move onto Jurassic Park for the Pteranodon Flyers and Camp Jurassic, meet a raptor or do the Jurassic Park River Adventure. Or move onto Seuss Landing or MARVEL Superhero Island.
Both Universal Orlando theme parks are great with small kids!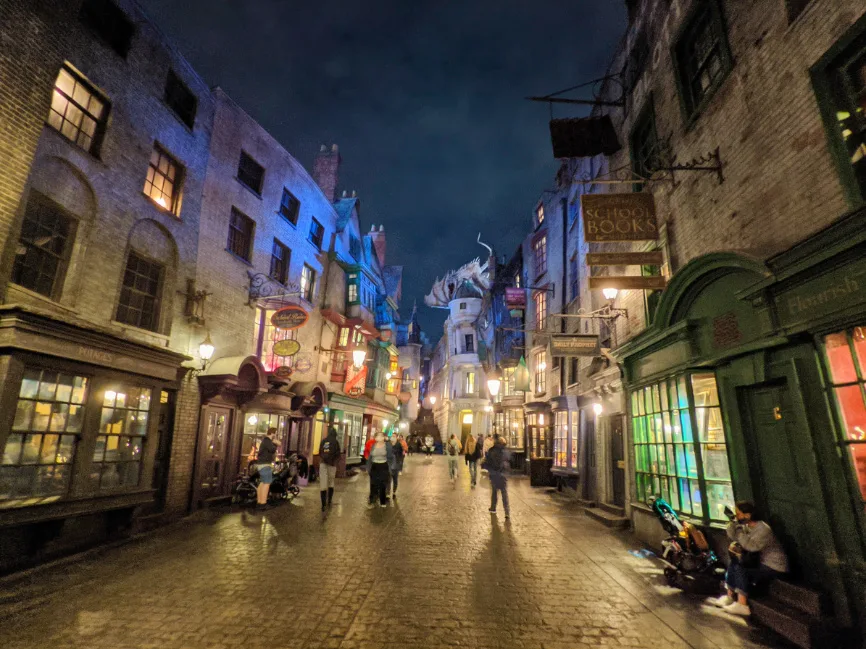 Decision: Disney World parks are better with small kids. There are much more small-kid focused attractions and activities. Universal focuses on the more grand attractions than appealing to families with small children.
Is Disney Dining better than Universal's Restaurants?
I'm going to breeze through this because by now you've probably made up your mind if you'll choose Disney World of Universal Orlando, but in case you haven't…
Theme park dining usually leaves a lot to be desired, but both Universal Orlando and Walt Disney World have really upped their game. Both parks offer Mobile Order and Pay for quick service restaurants and both also have nice sit down options.
Three Favorite Disney Dining Choices
When it comes to sit-down dining, Disney has some very good options, meaning good food and really great atmosphere. You can grab and go anywhere, but these picks are great for enjoying a nice meal.
In the Magic Kingdom our favorite restaurant is the Jungle Skipper Cantina. It's themed off the Jungle Cruise and offers a mix of cuisines. The quality of the food, including steak, is excellent and the decor and other show elements make for a fun dining experience.
Our other two picks are both in Disney's Animal Kingdom. Yak and Yeti is a fun, multi-Asian cuisine restaurant. The quality of the food and the family style dining option make it one of our favorites. And then close by is also Tusker's. Tusker's is a buffet style restaurant that is all about character dining. We rarely choose character dining because it's expensive and not that fun, but Tuskers is both fun and really delicious.
I know that EPCOT is known for its food experiences and that Hollywood Studios has quite a few nice restaurants, but they just aren't our favorites. Should you want the nicest dining in Disney World, either Disney's Contemporary Resort or Disney's Animal Kingdom Lodge both have remarkable restaurants, so outside of the parks themselves you do have some great options. There is a lot of really good food to discover, so maybe let this bit of mystery influence you if you should pick Disney over Universal.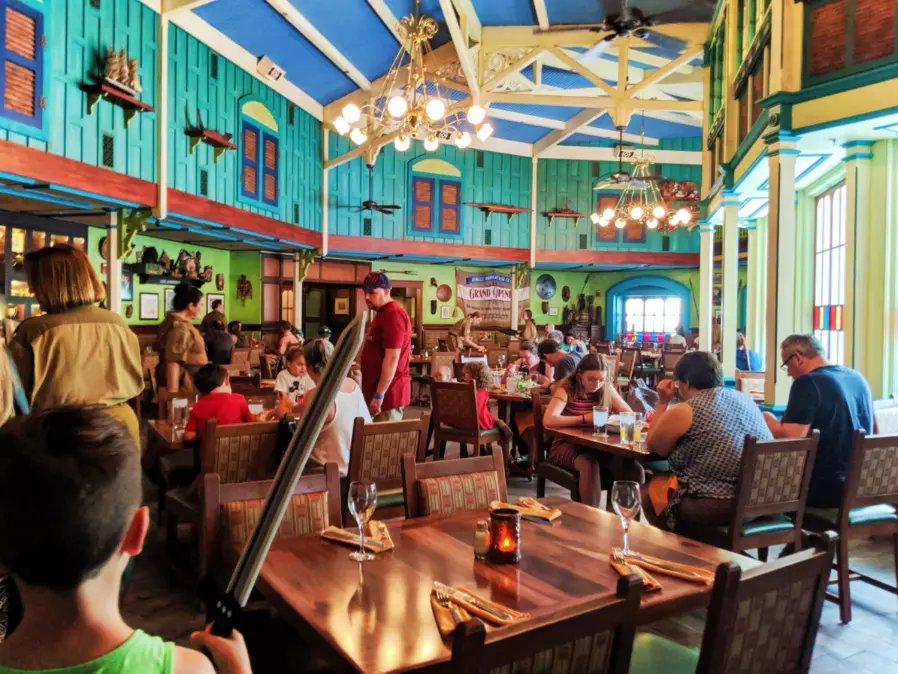 Best Restaurants at Universal Orlando
Between the more healthy options at Universal and the fun/nice sit-down restaurants, you have lots to choose from. We like dining at Universal better than the Disney World dining options because the quality of the food is the same or better and the prices are the same or better. So that means it really does come down to the dining atmosphere.
The restaurants in the Wizarding World of Harry Potter are both wonderful, and you can't beat them for theme. The Leaky Cauldron and the Three Broomsticks both feel like a completely different world. Their food is good and the kid portions are large enough that they leave satisfied (that's a big selling point for us).
In Universal Studios, Fast Food Boulevard is a Simpsons themed quick service area with such a wide variety of choices (and not all fast food) that it's an easy option for a family or group. And for a nice sit down meal with table service, Lombardi's in the San Francisco area is a good option (and they have outdoor seating!).
In Universal Islands of Adventure, there are lots of options we stand behind. Fire Eaters has several healthy choices. Mythos is delicious and for being the nicest restaurant with Universal Orlando's parks, it also holds the best value for sit-down dining.
As you go through Jurassic Park and Cartoon Lagoon, you'll find more quick service dining, but again, the quality is surprising. Overall, the food at Universal Orlando beats the food at Disney World.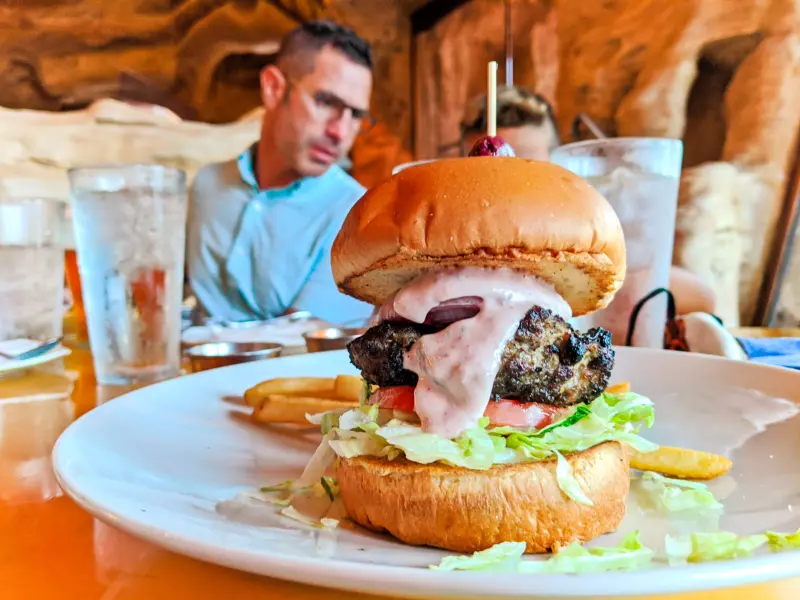 Price Difference Between Disney World and Universal Orlando
I think the easiest way to explain the price differences between Disney World and Universal Orlando is a side by side comparison. Of course there are always promotions happening for both parks, and if you book a package where your hotel costs are paired with park tickets or dining, you'll save some money. This comparison is just based on tickets and passes with 2022 pricing in USD.
| | | |
| --- | --- | --- |
| | Disney World | Universal Orlando |
| 1 Day 1 Park | 109 | 109 |
| 1 Day Multi Park (avail 2022) | 169 | 164 |
| 2 Days | 268 / 329 hopper | 273 |
| 3 Days | 376 / 446 hopper | 294 |
| 4 Days | 477 / 557 hopper | 313 |
So, is Disney World or Universal Orlando less expensive for a family of four? While it's true that the more days you spend at one set of parks the less expensive the daily ticket it, ultimately the prices are very similar for a one or two day visit.
Are Disney or Universal Hotels a less Expensive?
When it comes to resort hotels, that's where you'll see a huge difference in the cost, particularly when bundling tickets. Universal is WAY less expensive than Disney World when you consider staying on property. Universal has a bunch of really cool hotels with different themes, and their nightly rates vary from less than $100 with a good deal to up in the $400 range.
If you're shopping around for a Disney hotel, you'll find that even when bundling tickets into the vacation package, the nightly rate for a room will still be more than $120, and that's when you can find an awesome deal on a weekday.
See our Disney World hotel reviews for our picks: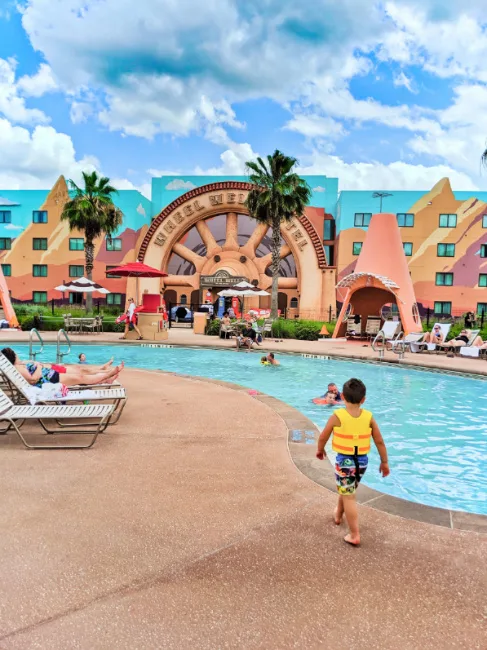 Universal offers Express (shorter lines) with their premium hotels, which adds a lot of value, but if you stay at one of the more family-budget hotels, you'll save and exceptional amount per night. BUT, if you're a family of four who wants the most out of their time, a hotel with Express included gets you onto WAY more rides and means you don't have to purchase the Express additionally, which is $90-$120 per ticket, meaning spending $400 on a room and getting express is a better value than $120 and then purchasing $360 in Express passes.
Check out our Review of Cabana Bay Beach Resort (our favorite Universal hotel)
---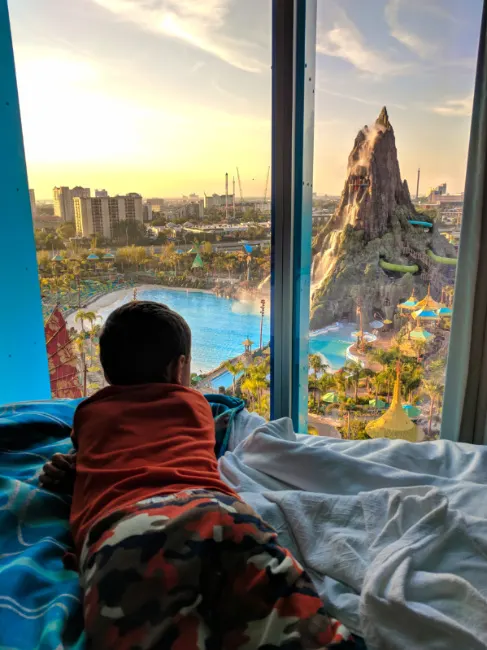 We work with Get Away Today for vacation packages (we're an affiliate) and think they provide the best value when building vacation bundles.
Check out Disney World vacation packages here — See what Universal Orlando deals are available here
---
Would we choose Disney World or Universal Orlando?
As it all boils down, we love both Disney and Universal equally. They are extremely different park experiences. During the Coronavirus pandemic, we would choose Disney World because of how they manage health and safety precautions, including crowd sizes. Outside of COVID-19 life, we would pick Universal Orlando. We enjoy the rides, the food and just relaxing in the theme park atmosphere more.
See our side-by-side comparison of Disney and Universal during Coronavirus here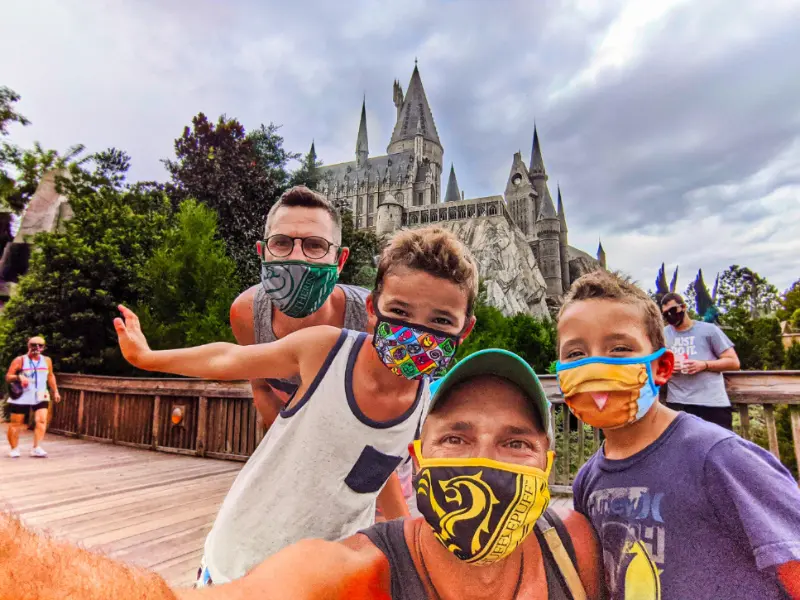 So, which would you choose? Would you choose Disney World or Universal for a family vacation? Leave a comment or send us a not to let us know your thoughts if you have any other questions about choosing Disney or Universal.