After visiting Disney World during COVID-19 and seeing how amazingly they handled things, from sanitation to social distancing, we decided to see how well Universal Orlando Resort did. Truth be told, Universal during COVID is not managed as well as Disney did, but we've got all the details so you can be well prepared if you choose to visit.
This has been updated as of July 2021. Very few COVID precautions remain in place. If you are unvaccinated, part of a fragile family, or do not feel comfortable visiting a theme park while there are still new Coronavirus cases, we recommend NOT visiting Universal, Busch Gardens or Disney Parks. We don't feel comfortable visiting while our kids are still unvaccinated as there is no more social distancing and everyone, vaccinated or not, seems to have stopped wearing masks.
This is our complete review and know-before-you-go for visiting Universal Orlando while Coronavirus mitigation is in place. If you have any specific questions about what we observed or experienced, please send us a note or leave a comment.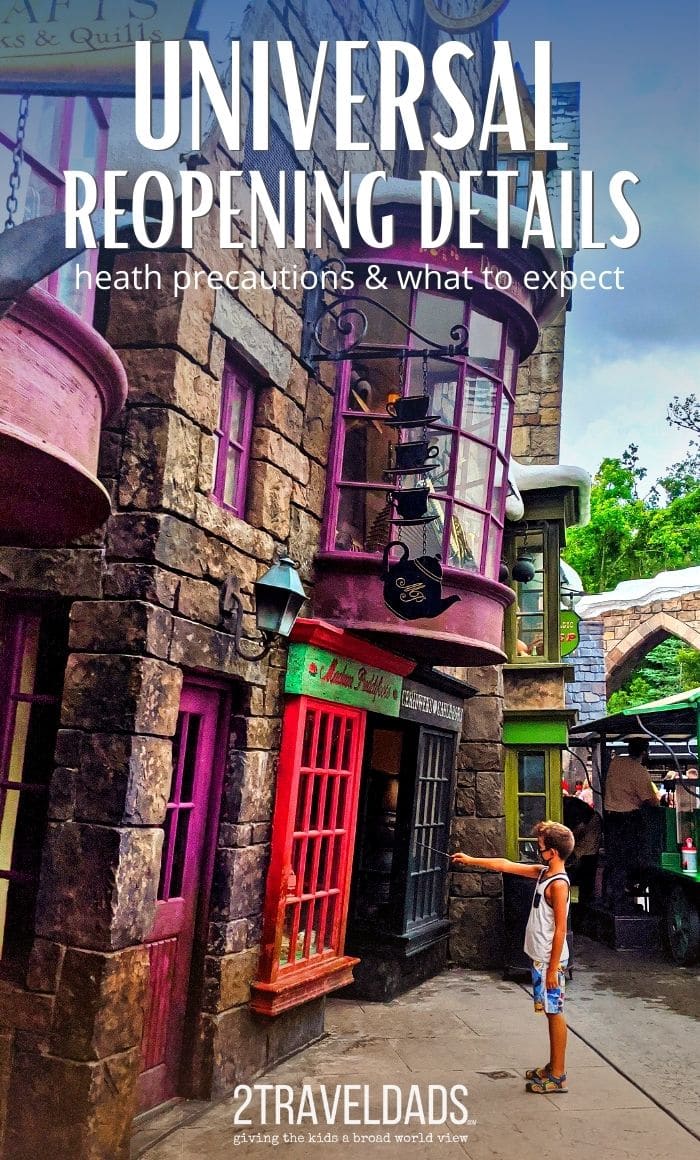 Health Precautions at Universal Orlando
You'll find that there are many health precautions in place at Universal Orlando Resort during the Coronavirus pandemic. While the theme parks are able to manage capacity and keeping the crowds small, a good deal of the responsibility for social distancing and NOT congregating falls to guests. If you're doing two days at Universal and are there on a weekend or if you've got kids at Universal, you'll see that distancing can become a tiresome process.
Entry Requirements during Coronavirus
To get into the Universal City Walk area before you even get to the parks, you must first pass a temperature screening and everyone must be wearing face coverings / masks. There are queues set up to move people through efficiently and it doesn't take long at all. 
But here's a HUGE PROBLEM: I watched our family's temperatures on the touchless thermometer and I saw temps ranging from 94.5 to 98.6 degrees. All of us were let in without question. I'm sorry, but WTF is the point of checking temperatures if it's 100% inaccurate? Is it just to keep up appearances? BIG FAIL Universal Orlando. Do better.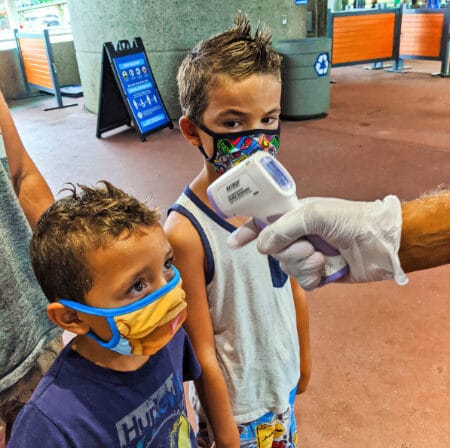 "Do you need to reserve admission to Universal Orlando?"
Unlike Walt Disney World, you do not need to reserve admission to Universal Orlando. While this is nice for being able to visit without much planning, it also means that there can be larger crowds than you might feel comfortable with. For this reason, we'd say that Disney World for a family vacation may be a better choice.
Also, with Universal Orlando Resort allowing hopping between parks during Coronavirus, there's no way to manage balancing the crowds. Again, this is nice for the visitor who wants to free-range between Islands of Adventure and Universal Studios, but in terms of managing crowds and contact, it's much more loose than Disney.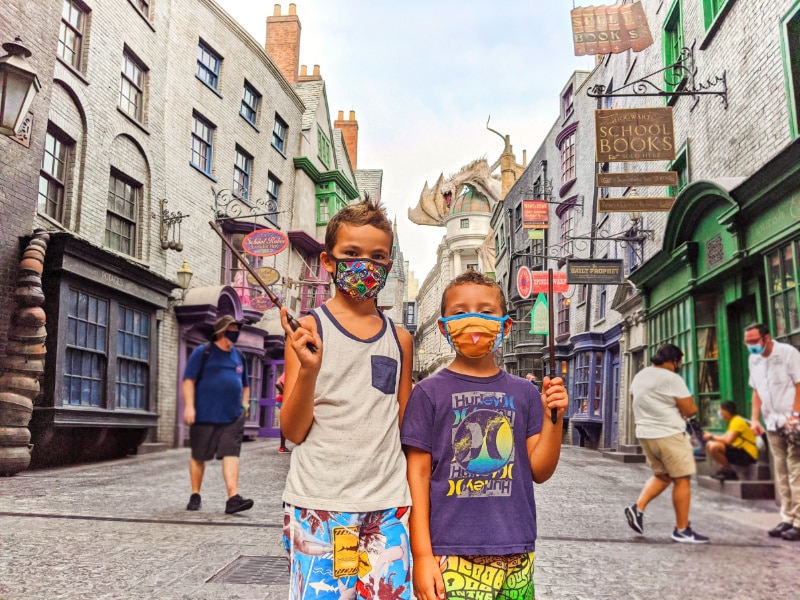 Sanitation within Universal Orlando
It's always complicated comparing Universal and Disney as they are such different beasts and run so very differently. In general, Disney is more impeccably clean and thoughtfully cared for, and that is also reflected in how they are managing cleanliness and sanitation at Universal during Coronavirus.
Yes, there are hand sanitizer dispensers at the exit of each attraction, and to get onto a ride you are personally given a squirt of hand sanitizer, but it's much less visible than I'd like. Watching people exit rides, maybe only half would use the sanitizer stations. And there weren't any additional sanitizing or hand washing stations out in the park.
I did observe Universal staff with spray bottles and paper towels wiping hand rails in many areas. From the rails in the queues to the areas where people tend to congregate, we saw sanitation efforts several times.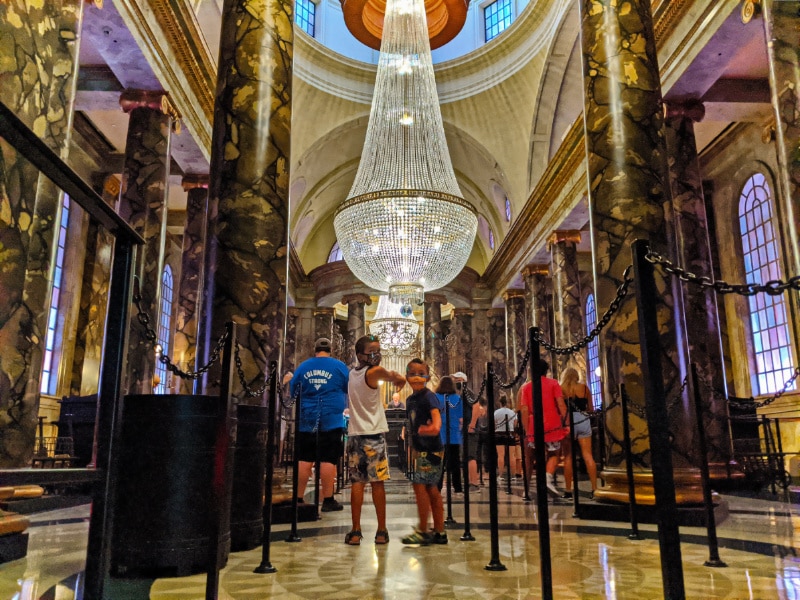 "Are they sanitizing ride vehicles at Universal during Coronavirus?"
Great question. We were keeping our eyes and ears peeled for additional attraction sanitation, but only observed one instance of it. As Disney World we had several times where there were delays due to deep cleaning ride vehicles, or we witnessed active sanitation. I expected the same at Universal during Coronavirus, but only saw one instance.
The one ride vehicle cleaning example I saw was a staff member spraying the seat of a ride car and quickly wiping it, but nothing else. I watched to see if the rest of the vehicle or even the high touch points were sanitized, but saw nothing.
Note: I really wanted to see these extra steps of care, not just because that's what we observed at Disney, but because where guests fail to show their own caution, Universal should be picking up the slack to benefit everyone's health and safety.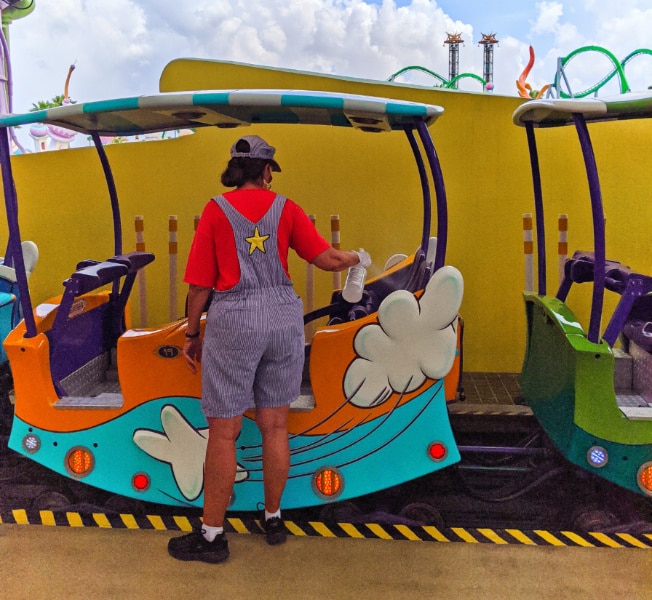 Social Distancing at Universal During Coronavirus
We all know that social distancing is a key element to stopping the spread of COVID-19, even when there are active sanitation efforts in play. Universal Orlando has spacing well marked on the ground and even hand rails in the queues for attractions… but it's fully up to guests to adhere to these guidelines. We witnessed zero enforcement of social distancing except when there was a staff member directing people at transition points in the queues.
Yes, I know that people need to accept responsibility for their actions and to follow rules, but also if Universal Orlando Resort wants to keep guests healthy and continuing their visits, they need to step up and actually enforce social distancing both in queues and in general areas that people might congregate.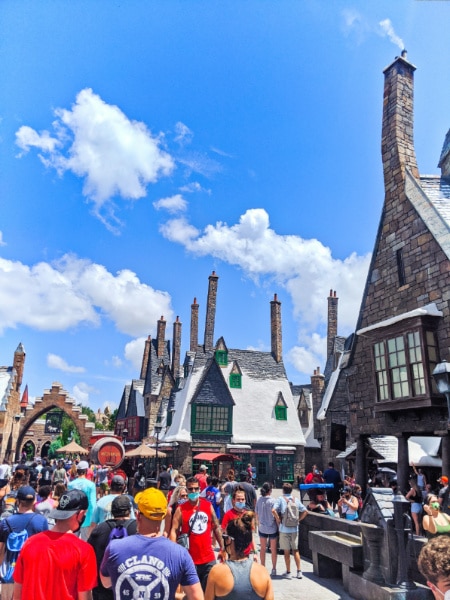 Social Distancing in Ride Vehicles
Universal during Coronavirus means longer wait times than you might suspect, both because there are bigger crowds than you'd expect, and because ride vehicles are only half full or less. This is a great way to keep people apart. Yes, it's weird to see only four people loaded into a car that can hold twelve, but it's worth it for the safety precautions.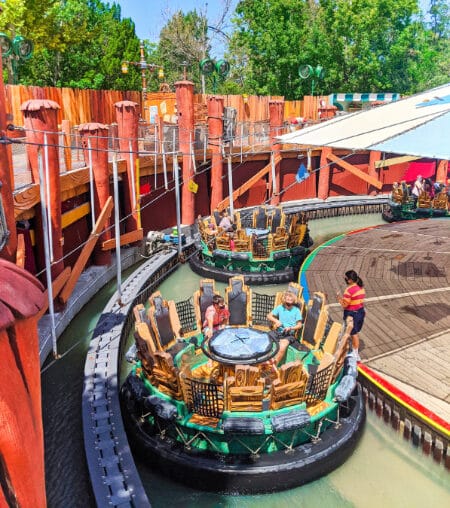 "You can remove your masks if you want…"
I'm sorry, what? Yes, that's right. At Universal Orlando, they invite you to remove your face coverings while you ride water-based attractions. Ripsaw Falls, Bluto's Barges and Jurassic Park all didn't require guests to wear face coverings while riding.
Apparently you don't exhale the virus if you're on a water ride… Is that the theory here? In a place where every precaution should be taken, it seems strange to give licence to certain attractions. But then I guess that's also like sitting down to dine inside. You don't stop spreading germs just because you're seated waiting for food.
Note: I know that there has to be a little give here and there to make things operational, but I don't know that this mask-free allowance on water-rides needs to be a part of it all.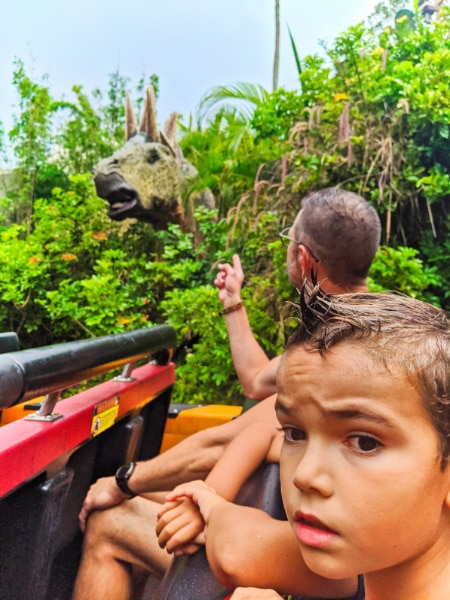 Using Universal's Virtual Lines for Rides
Within the Universal Orlando app, you'll find a tool that tells you the wait times for nearly every attraction. The wait times are fairly accurate, if not over-estimated, which is nice. When a line gets too long, to ensure guests can still ride a particular ride a Virtual Line will be turned on. This gives Universal visitors the opportunity to join the line when they're ready.
Virtual Lines ARE NOT an Express Pass or way to speed up your wait. Reserving a spot in the Virtual Line only ensures that you'll be allowed to join the queue and ride the attraction before you leave. The wait time will still be long, but at least you'll get to ride.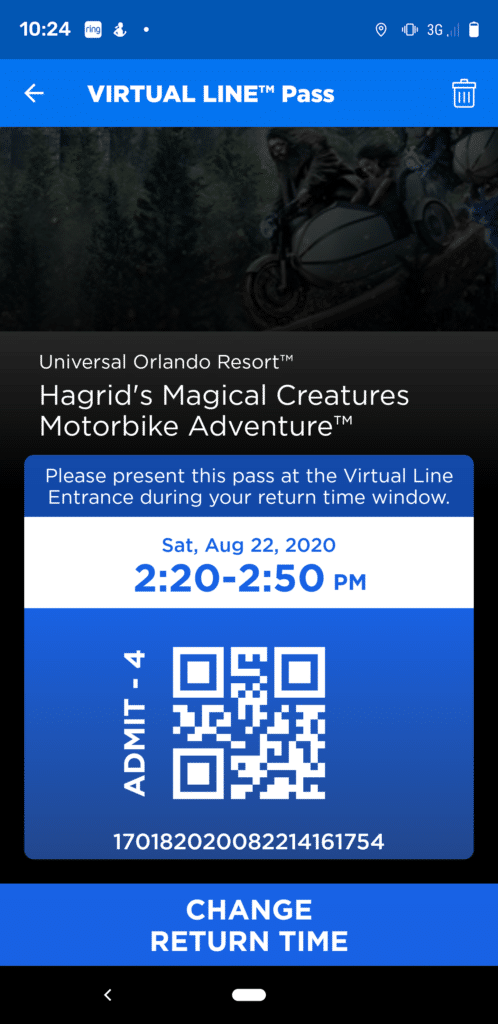 Dining Options at Universal Orlando
Mobile Order and Pay (MOP) is the standard all throughout Universal Orlando during Coronavirus. The Universal app is much more reliable than what we experienced using the My Disney Experience app. While MOP doesn't make anything faster, it does make for nearly contactless interactions.
When you choose where you want to eat, you go into the app and from the Main Menu icon you choose the Mobile Order option. Then you select the restaurant you're at or heading to, order your food and pay. Once you're seated or present you hit the Prepare My Order button. In many locations that you'd normally grab food and then find seats, you'll be seated then a server will take your order number and bring it to you when it's ready.
This system is both efficient and misleading. It's great if your timing is just right and you understand the process. If you pick a place that doesn't have much seating or if you're expecting this to be a time saver, you'll be waiting just as long or longer than your normal Universal dining experience.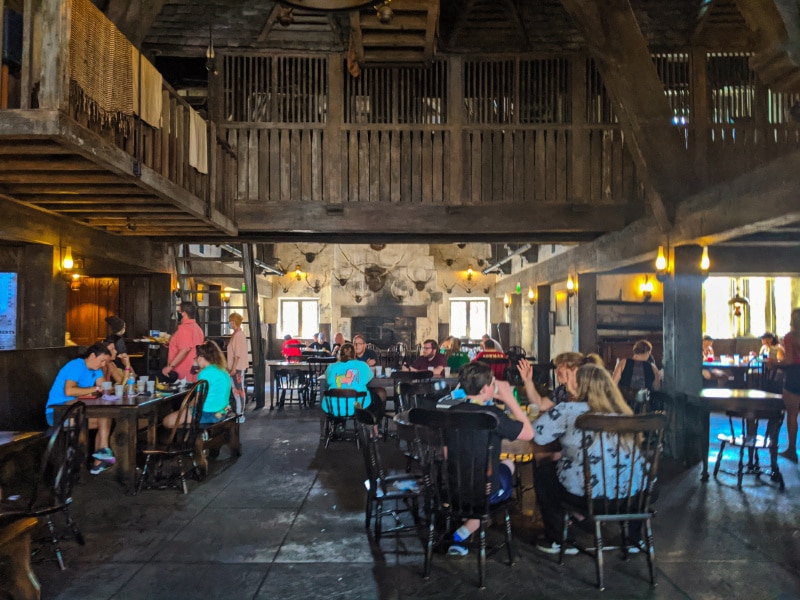 Did Universal Orlando do a good job with Coronavirus precautions?
Yes and no. There are elements of mitigating close interactions or spreading germs that Universal Orlando did a really good job with, but then also they really have room to improve if they want to be known as a safe, healthy place to visit.
Good Job with Health and Safety at Universal
Universal did a very good job managing the complimentary hotel shuttles by limiting the number of people on each shuttle. Requiring guests to reserve a spot on the shuttles from partner hotels was a good move. 
When you're visiting Universal during Coronavirus, one thing you'll see is lots of winding queues, and they begin before you even enter City Walk. There are lots of clear signs and markers to help people stay distant, even though many ignore them.
Inside the park, we really liked how each attraction required a staff member actively applying hand sanitizer to each guest before boarding ride vehicles. Also, seeing people actively cleaning public areas was nice.
Mobile Order and Pay was also well executed and worked consistently. This made things easy and limited our interactions. These are the things that were truly done well at Universal during Coronavirus.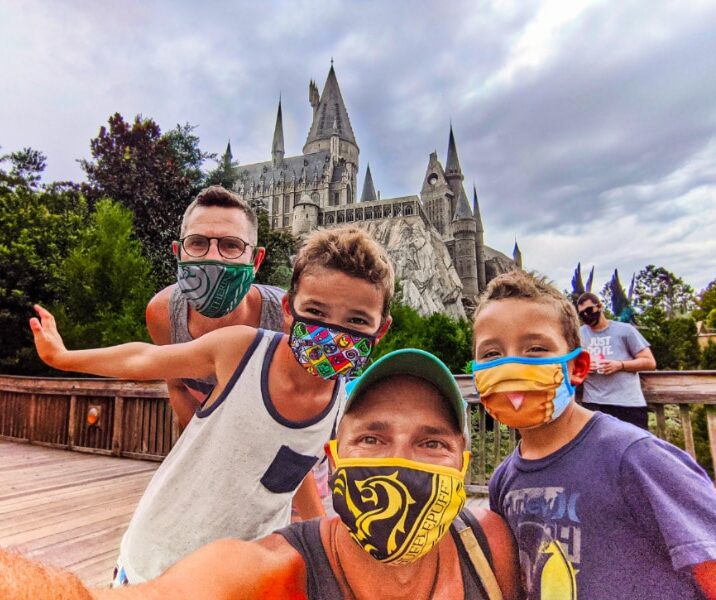 Needs Improvement at Universal Orlando Resort
Social distancing. Seriously, Universal needs to empower their staff to be vocal and actively separate guests. Too many times staff was not paying attention or completely would ignore guests crowding. It was like the Universal staff didn't know they had the power to prevent crowding.
Masks COVERING FACES. We did hear a few staff members tell guests that they needed to cover their noses and mouths, but far more guests were walking around uncovered than we would've expected. 
Note: Universal Orlando does continually make recorded announcements about the face covering rule, but without people actively following or enforcing it, the announcements are empty.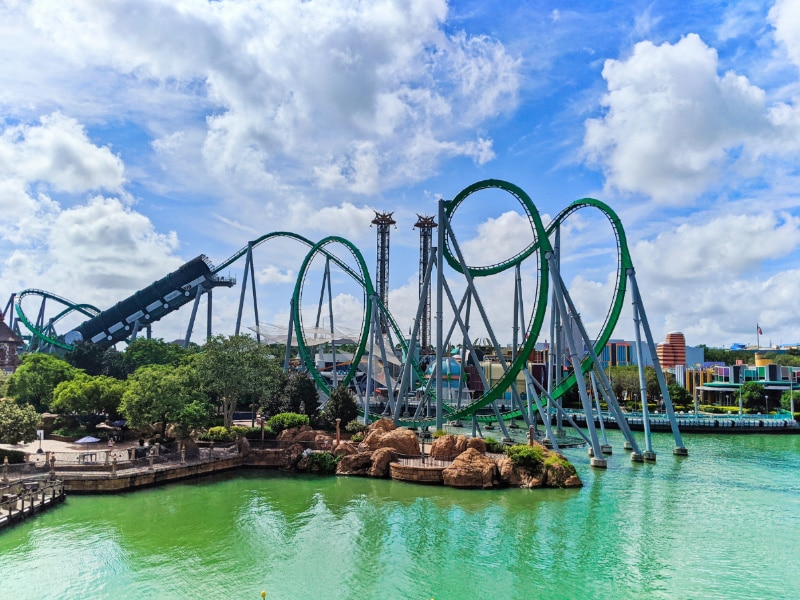 Disney vs Universal during Coronavirus
This is the big question we've gotten in recent weeks: "Would you rather go back to Disney World or Universal during COVID-19?" 
Under normal circumstances we opt for Universal Orlando over Walt Disney World, but while there is an active pandemic and traveling needs to be done thoughtfully, both by the traveler AND the hosting destination… Disney World wins.
In Disney World we observed guests doing their part without cast members having to get involved (except in a few random moments). At Universal Orlando we saw countless visitors ignoring the rules and staff not enforcing them. If either visitors or staff showed more care for each other, Universal Orlando would've gotten the same recommendation we gave Disney World.
Another factor that would draw us back to Walt Disney World during Coronavirus are the crowds. Disney is limiting access to guests with admission reservations and are managing spacing the crowds well within the parks. Universal is open to whomever feels like showing up, and those who do are happy to crowd into tight spaces or walk on each others' heels.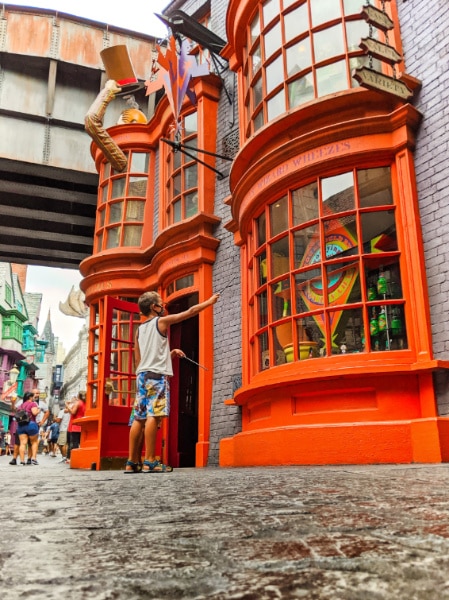 Know-Before-You-Go to Visit Universal Orlando
Because Florida's main industry is tourism, places like Universal Orlando have really felt the pinch of the pandemic's effects. There are some exceptional ticket and hotel deals during Coronavirus, including Florida resident ticket deals. 
Thoroughly check online for ticket deals and pass upgrades before you go.
Lines are just as long as ever. If you go into the park with the expectation of short wait times and mellow queues, change that expectation ASAP.
Plan your visit to Universal Orlando like any other trip to the parks. Note: we did NOT wait 85 minutes for Kong (actual wait time), but did see value in waiting the 85 minutes for Hagrid's Motorbike Adventure.
Because indoor seating in restaurants is limited to provide for social distancing, the wait to get into any dining establishment is longer than normal (by a lot!) and places that normally are grab-and-go (FastFood Boulevard, for example) are ONLY Mobile Order and Pay.
Set up your Universal FL app in advance with your credit card for easy dining.
You cannot enter without a mask…
Once inside there are lots of really cool ones for purchase!!! We bought Hogwarts house masks for all of us, and now we look cool everywhere we go.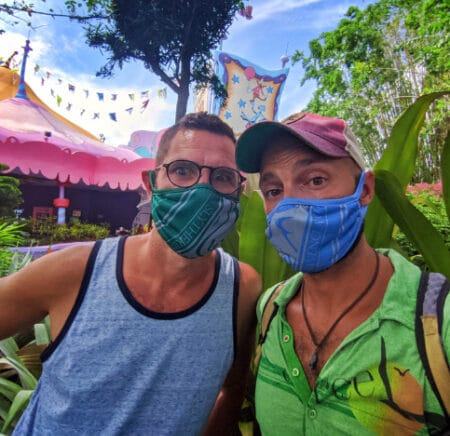 In all, we really did enjoy our time at Universal Orlando Resort during the Coronavirus pandemic. Despite all the areas of opportunity and people problems, it still is being run better and kept more sanitary than our local grocery store (IMO). We will return in the coming months, for sure, but if given the option of Disney World or Universal Orlando, we'd pick any of the Disney parks.
I hope this is all helpful, and if you have any questions about our observations or opinions, please let us know. We're here to help!