While we could easily spend a week at the Universal Orlando Resort, most families are only going to get a few days to explore and enjoy the parks. We brainstormed and polled the kids on what their favorite activities were and came up with this fool-proof plan for making the most of two days at Universal Orlando.
We'll cover some other important points too, like where to stay and why, but our goal is to equip you with a loose itinerary for enjoying Universal Studios Florida, Universal's Islands of Adventure, and Volcano Bay water theme park.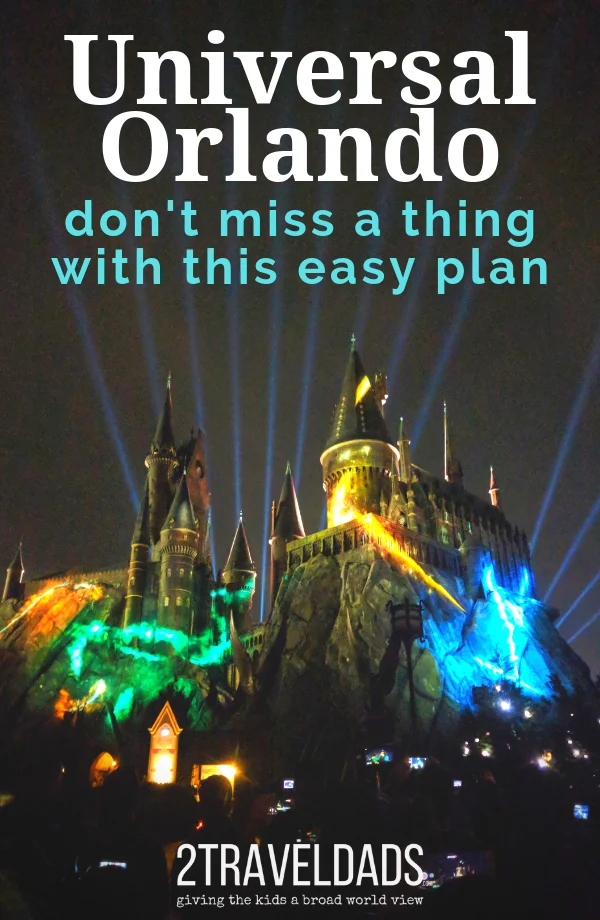 ---
Find your ideal Universal Orlando tickets or hotel with Get Away Today! (affiliate)
---
How to make the most of two days at Universal Orlando
Let's actually start with what you can skip or save for later, as the best way to make the most of two days at Universal Orlando is actually by not wasting time.  Here are our top attractions or activities to stick a pin in for next time or if you have more than two days at the parks:
Universal City Walk – yes, you'll need to walk through at least a portion of the Universal City Walk to access the parks, but don't linger or shop during park hours.
Stage or audience participation shows – even though they may be fun and funny, save the shows for the random rainy day or when you're super tired and want to just sit.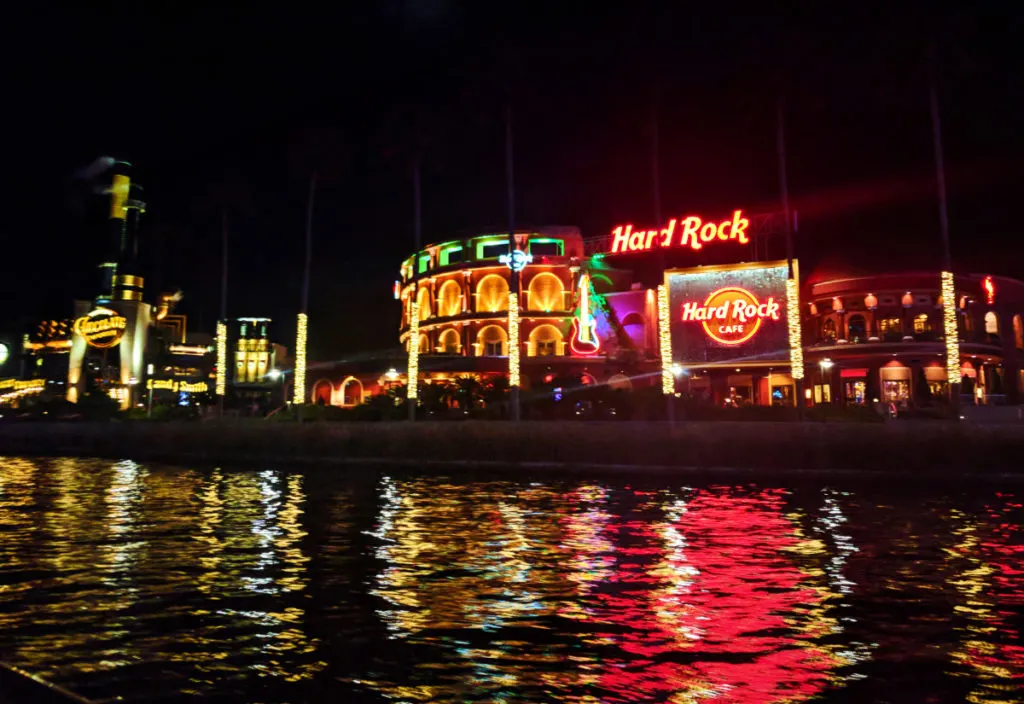 Commonplace attractions – even though the carousel in Seuss Landing is fun and full of great Dr. Seuss creatures, you can go for a spin anywhere. Same with playground areas. (unless your kids really need to let loose)
By cutting these pieces out of your plan or just not getting distracted by them, you'll save yourself hours of waiting, wading through crowds and just general sitting. Don't get me wrong, all of these things have a place and time, but not when you only have two days at Universal Orlando.
Note: for those of you visiting Universal Orlando Resort with little kids, check out our full article about doing the parks with small children. We highlight the best attractions and areas with little ones and for families with kids 6 and under, our guide is pretty much a life-saver.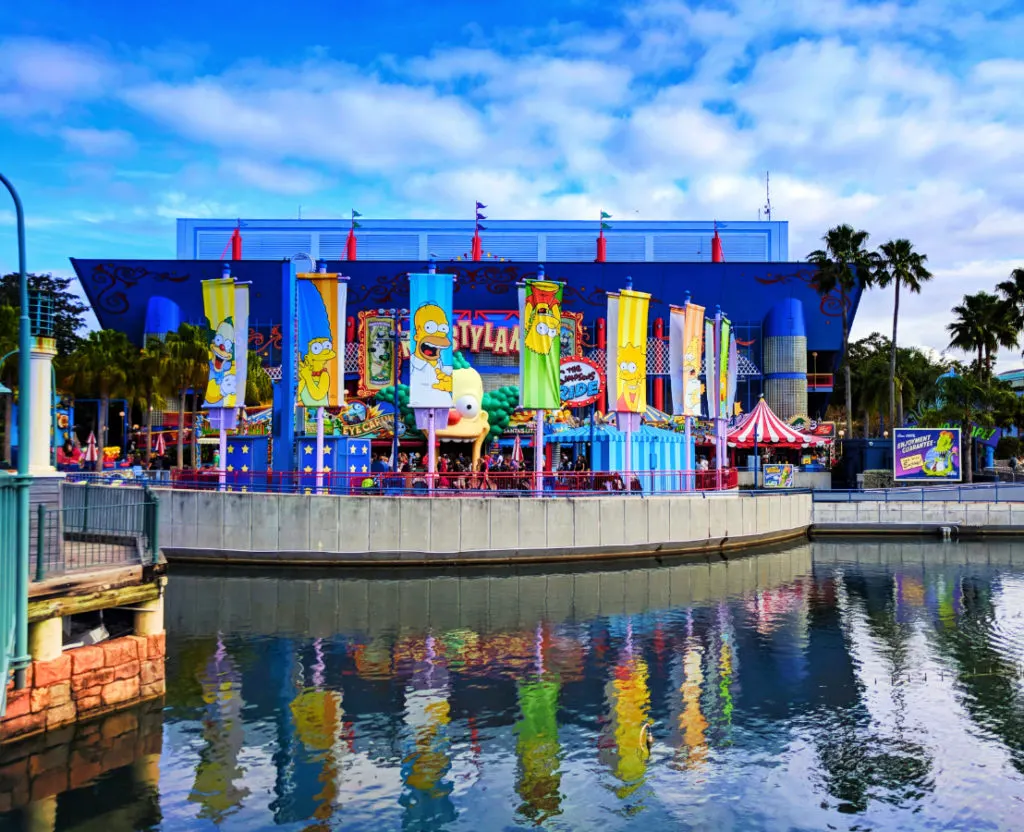 Another aspect of making the most of two days at Universal Orlando is cutting out the travel time. Booking a room at one of the Universal Orlando Hotels with the ferries is the best option to save time, but if you're staying off property, there are lots of great, budget friendly hotels around Orlando.
Tips for Skipping the Line at Universal Orlando
There are three super easy ways to not get caught up in lines during your two days at Universal Orlando. One will cost you (potentially) and the other two are just smart time management.
Take Advantage of Early Entry
Whether your goal is to be the first one to enter Diagon Alley for the Harry Potter rides or you want to start your day racing around San Francisco on Fast & Furious: Supercharged!, early entry into either Universal Studios Florida or Islands of Adventure will help you knock out a few goals on your two days at Universal Orlando list.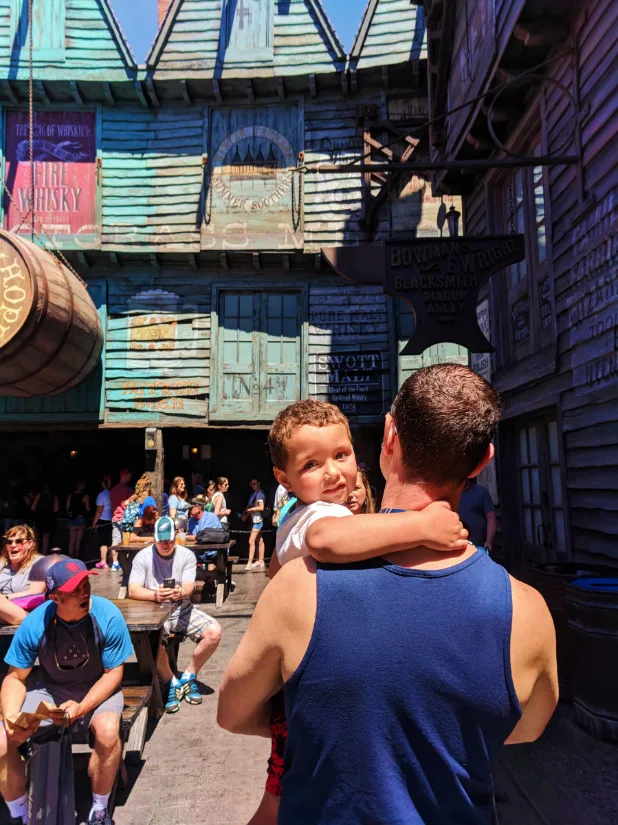 Who gets Early Entry at Universal Orlando?
Well, guests at the different Universal Orlando Resort hotels do. Some travel agency tickets may also offer early entry passes with ticket purchase, but the best way to get to the parks early and into them before everyone else is by staying on property. Example: specific early entry to the Wizarding World of Harry Potter is available to those at Sapphire Falls, Hard Rock, Portofino and Royal Pacific hotels.
Recommendation: Loews Sapphire Falls Resort, Hard Rock Hotel, Royal Pacific, and Portofino Bay all have water taxi service to the entrance of the parks, so for the fastest route AND to skip Universal City Walk in the morning, stay at one of these properties.  Universal's Cabana Bay Beach Resort is directly adjacent to Volcano Bay, so staying there will give you the most direct access for early entry into Volcano Bay.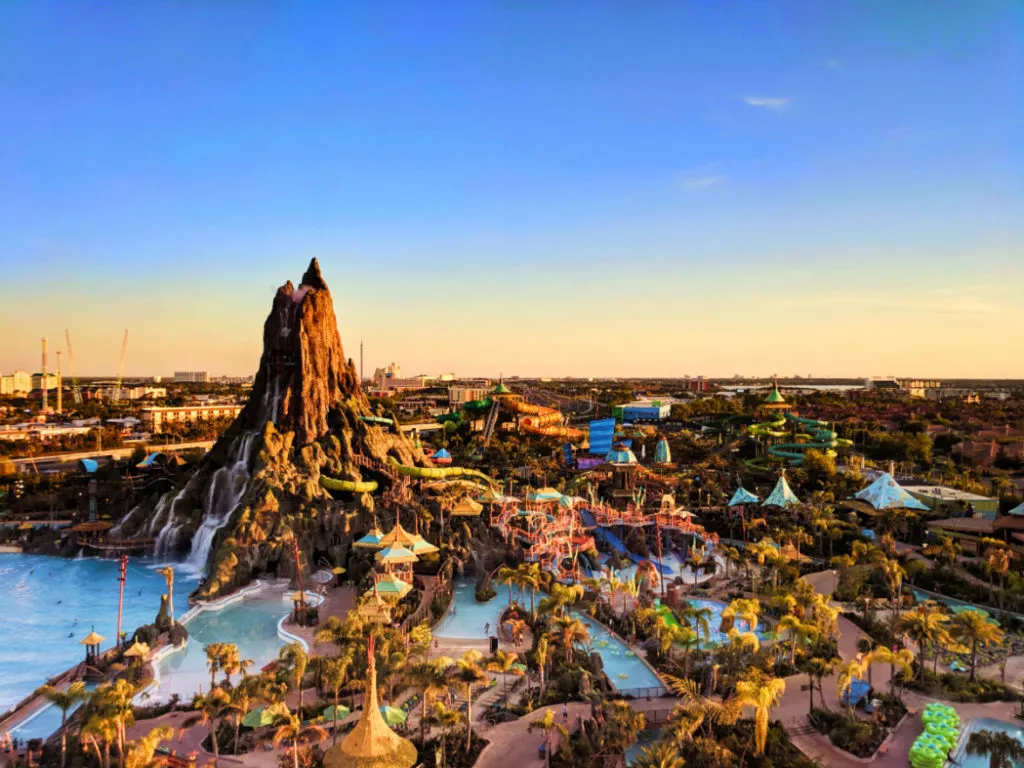 Leverage the Tapu Tapu system in Volcano Bay
I'm just assuming that you plan on spending some time in Volcano Bay while you're at the Universal Orlando Resort, because it's totally awesome and by far the most fun waterpark we've ever been to. Upon entering Universal's Volcano Bay each guest is given a Tapu Tapu wristband. This can be used to pay for things inside the park, to activate fun water features as you explore, and most importantly, to check you into the queue for some of the most popular water slides.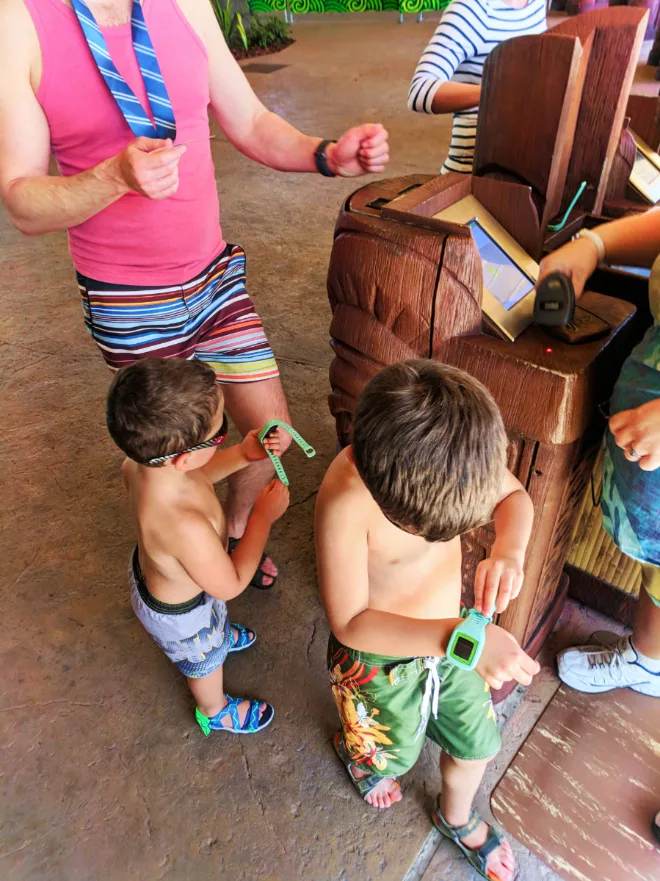 Before you enter Volcano Bay, do a little research about which slides you really want to hit so that you know where to tap into.  We recommend Krakatau (the aquacoaster), Ko'okiri Body Plunge (the biggest drop-slide) or Honu (the funnest raft slide). Tapping into any of these and then enjoying the Fearless River or a smaller slide is a great way to maximize fun in the water and is definitely key to making the most of two days at Universal Orlando.
Note: if you're tapped into one slide and then tap into another, it'll pull you out of the virtual queue for the first, so don't go tapping everything thinking that you'll beat the system, cuz no, you won't.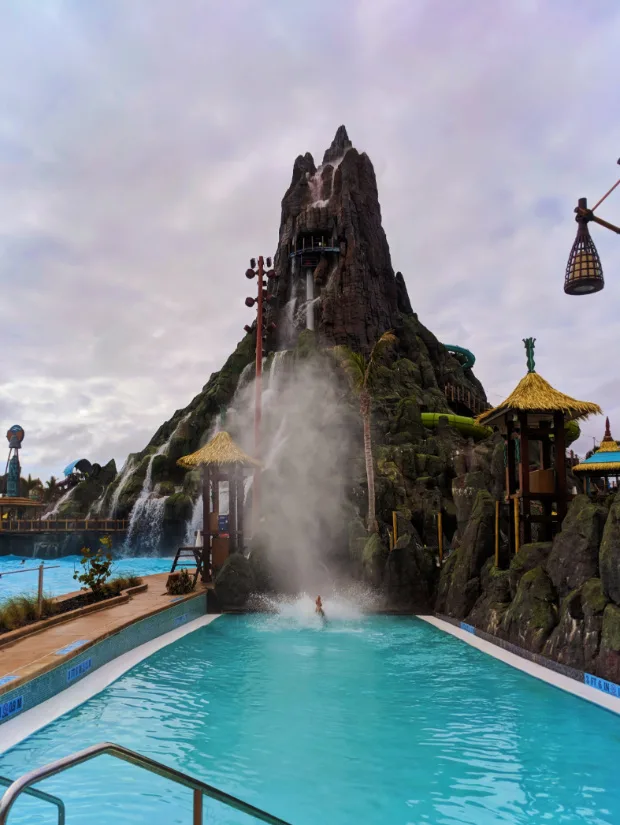 Get the Universal Express Pass
This is an additional cost to the general tickets into the Universal Orlando parks, unless you're staying at either Portofino Bay, Hard Rock Hotel, or Royal Pacific hotels.  The Express Pass might not be needed or that valuable to you and your family, but if you just have two days at Universal Orlando and the parks are busy (think Spring Break, Summer, or Christmas) the Express Pass will save you loads of time and stress.  Nearly all attractions have an Express entrance or line, and each time you going through the Express line you'll save anywhere from five minutes to an hour.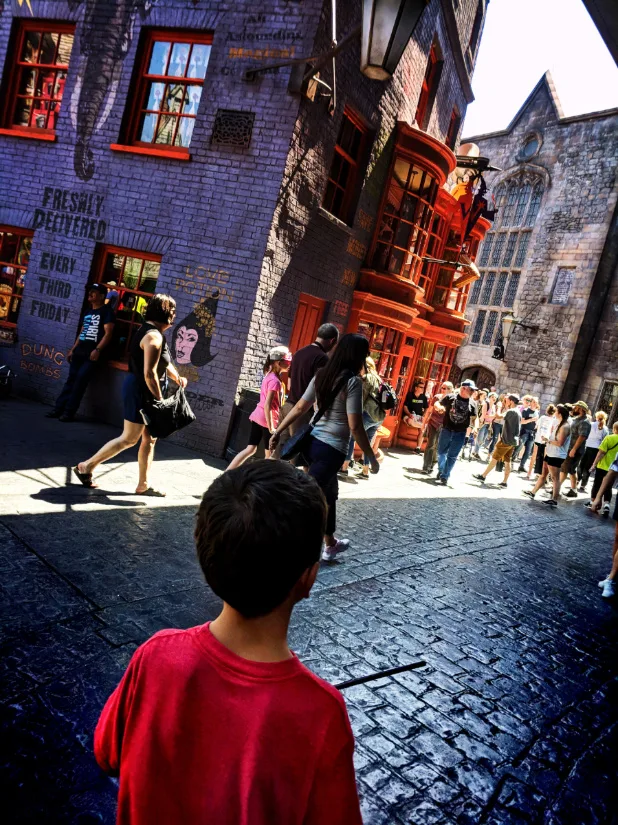 Example: you do the Express Pass line from Kings Cross Station in Universal Studios and ride the Hogwarts Express into Islands of Adventure, and not only do you save time by not having to walk out of one park and over to the other, and you don't have to go through the entry plazas and walk through several areas to get to Hogsmeade, but you get a cool attraction experience and avoid lots of crowds. It's genius and just one example of using the Express Pass.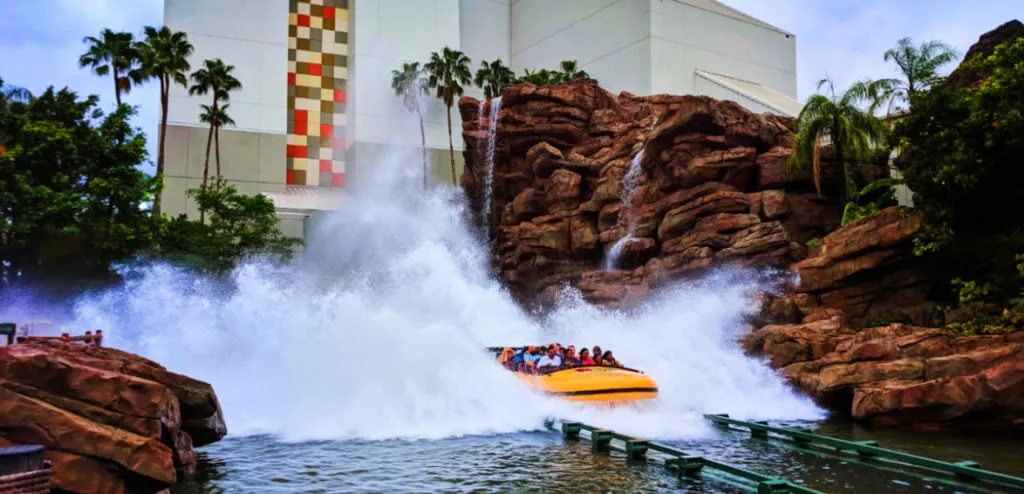 The Must-see Attractions for two days at Universal Orlando
The following are our favorite rides and what we'd hit up before anything else. If you only have two days to have the maximum fun, then trust our recommendations.
Note:  many of the attractions in both Universal Studios Florida and Islands of Adventure function off of simulated motion. If you aren't great at things whizzing by you while you wear (or don't wear) 3-D glasses, you need to consider that before you wait in line for an attraction of that sort.
Top attractions in Universal Studios Florida
We'll break this down for you by area so it's the easiest, starting with the busiest attraction and working our way down.
Inside the Wizarding World of Harry Potter: Diagon Alley
The biggest draw in Universal Studios Florida, for us and most of our friends, is Diagon Alley. While there are some shows on the stage in the Alley, there are some really cool experiences to have too. Escape from Gringotts is the primary attraction, and it's AWESOME, but the other side of the fun is casting spells all around, including within Knockturn Alley.
Tip: there are a few super secret spells that you can cast in Diagon Alley. Look for the dragon poop or the blank parchment, just to name a few. You have to find the magic in you to cast the proper spell. 😉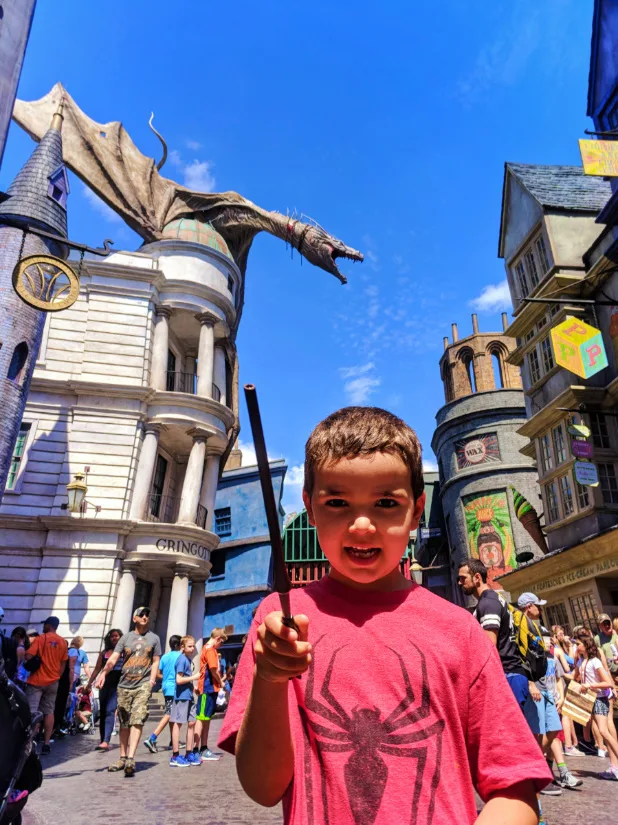 Best Action Attractions in Universal Studios
The newest attraction in Universal Studios Florida is Fast & Furious: Supercharged! While the attraction itself wasn't my favorite (not really into cars, I guess), the technology is kind of amazing and it draws a good crowd. If you can cross this one off your list early, do it!
Being a child of the 80s, Transformers: the Ride 3D, is one of my favorite rides. The effects are awesome and the queue is pretty cool, but as a heads up, the ride is INTENSE. If you're sensitive to the simulated motion I mentioned previously, this ride will get you, but it's worth it if you can stomach it. Really fun and then you can actually meet Bumble Bee or Optimus Prime (and maybe even Megatron) afterwards.
Tip: if intense motion isn't your thing, it's totally okay to settle for getting a picture with Optimus Prime. 🙂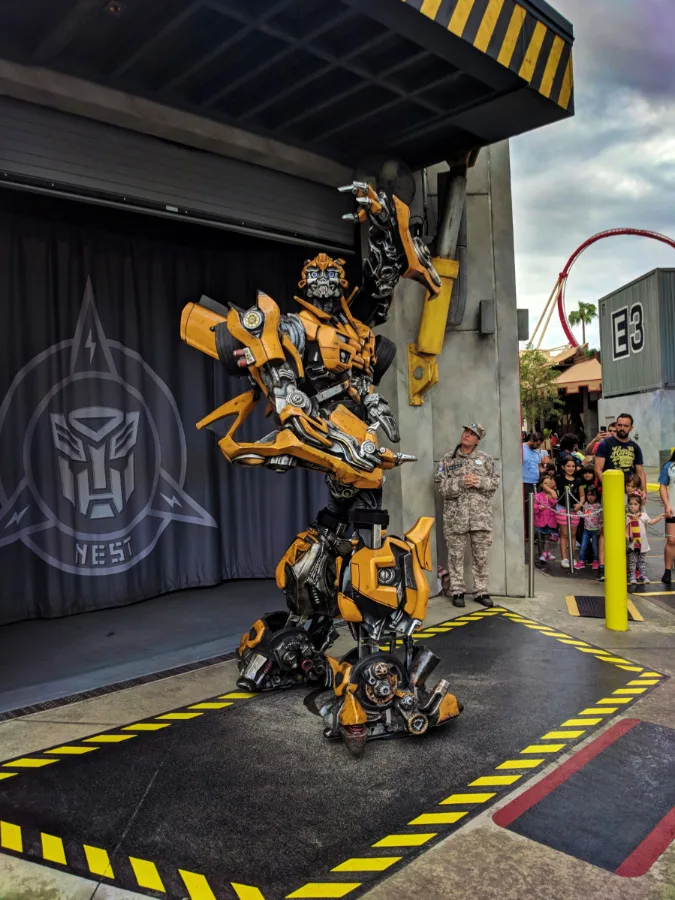 Another very popular attraction, but again, not my favorite, is Jimmy Fallon's Race Through New York. The queue is the best part, particularly the live performance of barbershop rap. Love it!  If you do have time, try to hit up Jimmy Fallon before heading to Islands of Adventure.
MUST DO:  Hollywood Rip Ride Rockit. This attraction is amazeballs. It's the ultimate roller coaster in my book, with some intense speed, G-force and awesome music. It is a roller coaster in the truest sense, so if you've been itching for the real, intense motion of an amusement park ride, this is your ticket!
Tip: do the Hollywood Rip Ride Rockit at night for an extra cool view and fun way to close out your day.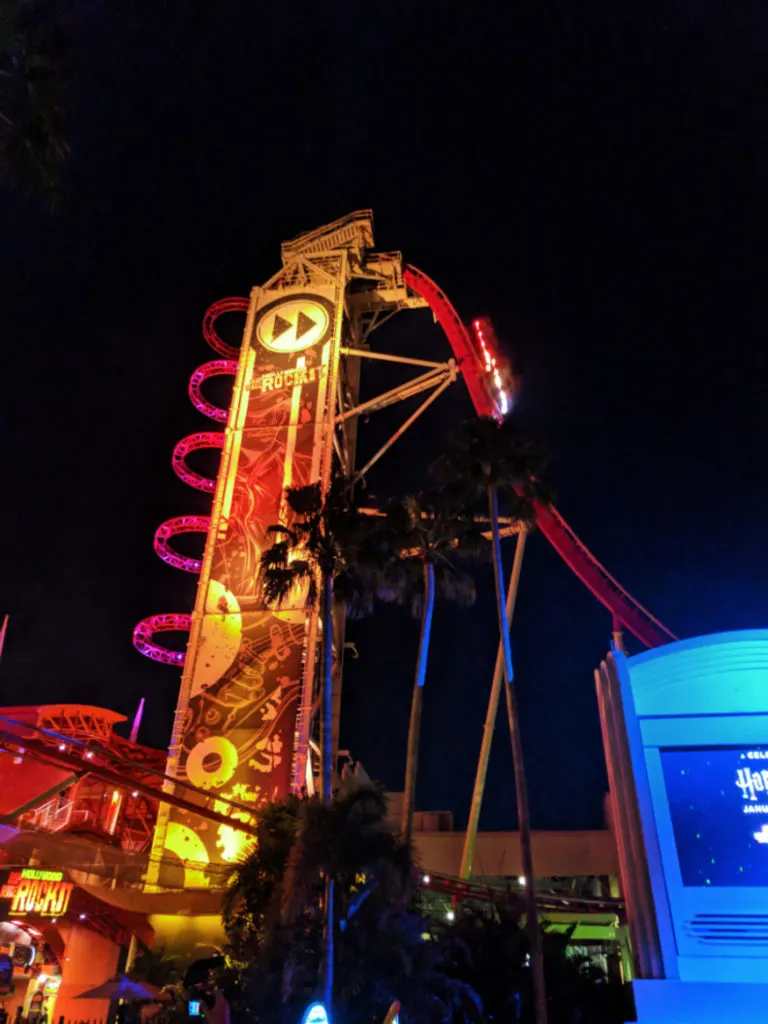 Best Universal Studios Attractions not to miss WITH KIDS
Minion Mayhem. Seriously. If ever you wanted to be a part of the Despicable Me world, this is your chance. The queue is cute and gets pretty involved, and then the actual attraction is really well done with great effects.
Note: with small kids, this may be a bit too intense. The motion, both real and simulated, can be pretty scary for little kids.
Now closed permanently, Curious George Goes to Town was always my favorite small kid attraction, but as of 2023 it's no more. Now Universal Studios is much less small-kid friendly, but with updates set to premier in 2025 we'll see…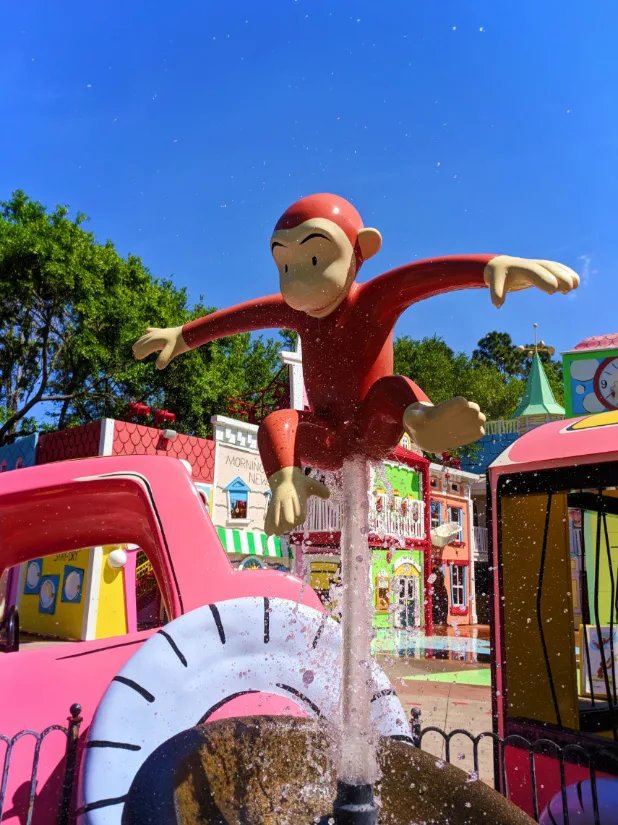 Top Attractions in Universal's Islands of Adventure
I could just say that EVERYTHING within Universal's Islands of Adventure is a must-see, as most of it is, but these are really the best of the best for your two days at Universal Orlando.
Highlights of the Wizarding World of Harry Potter: Hogsmeade
If there's one attraction not to miss in Hogsmeade it's the light show on Hogwarts Castle – Nighttime Lights at Hogwarts… or the actual ride within Hogwarts. Harry Potter and the Forbidden Journey combines all sorts of theater and animatronics to create a unique attraction experience. Totally scary for little kids, but totally awesome for any true Harry Potter fan.  And totally random but awesome idea: after visiting Hogsmeade try to work in Harry Potter sights (or look-alike spots) when you visit Europe. You'll be totally insprired after visiting Islands of Adventure.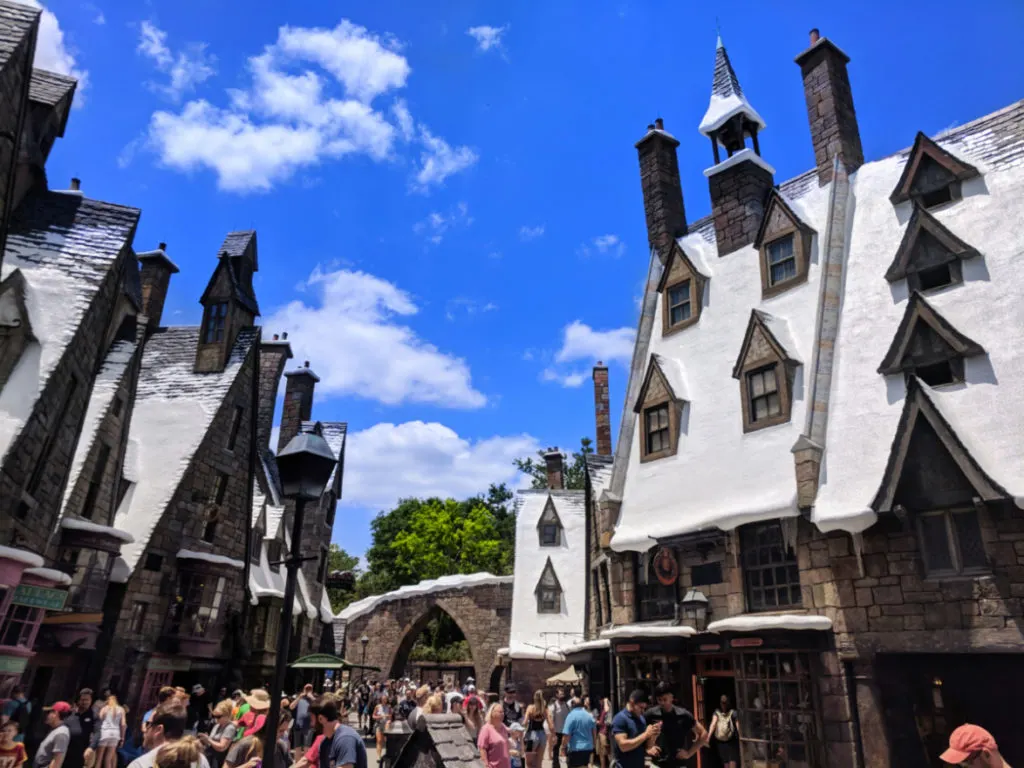 The BEST rollercoaster in Universal's Islands of Adventure is also in this part of the park: Hagrid's Magical Creatures Motorbike Adventure. If you are trying to make the most of your time at Universal, I would say that Hagrid's is a much better wait, both for how interesting it is AND the actual ride, than waiting for the Velocicoaster. Both rides are incredible, but Hagrid's is more fun.
Note: there is no shame in sitting in Hogsmeade relaxing and enjoying a Butterbeer or actual beer from the Hogs Head Tavern. This experience is also a must-do and it's the only time we'll tell you that sitting will help you make the most of your two days at Universal Orlando.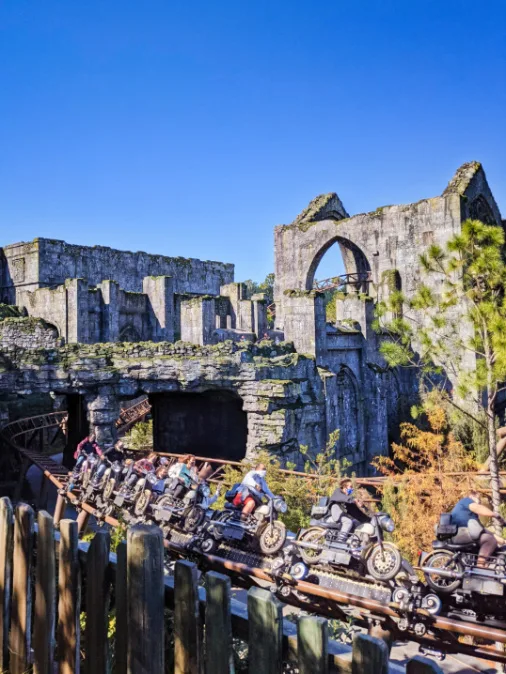 Best Water-rides in Islands of Adventure
It's funny to have done Universal Orlando with just adults and then also with just our kids. Our dudes don't like to be surprise soaked, but our adult friends do! With several attractions on or involving water, you've got options, but the two BEST water-rides are NOT Jurassic Park River Adventure.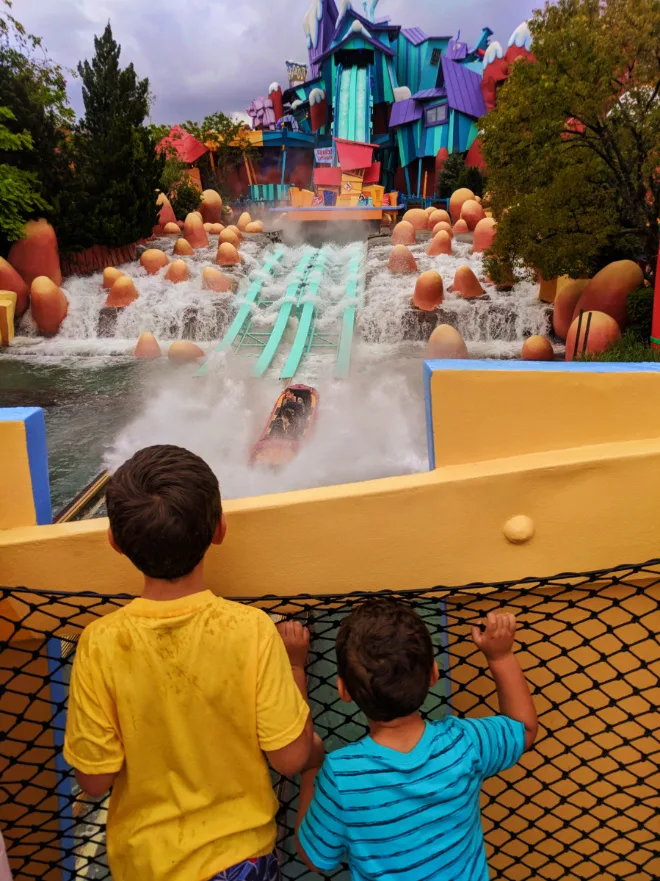 The two most awesome water-rides I've ever done in any theme or amusement park in any country are both located in Toon Lagoon: Dudley Do-Right's Ripsaw Falls and Popeye and Bluto's Bilge Rat Barges. Wow. Both of these attractions perfectly combine the element of surprise with fun theming and a truly ridiculous amount of water. Never have I ever gotten this soaked except when I was pushed into the lake as a kid. Seriously. So awesome!
Tip: only wear the most necessary clothing for either of these rides because every person will get utterly drenched. I can't imagine that the ponchos Universal sells even help.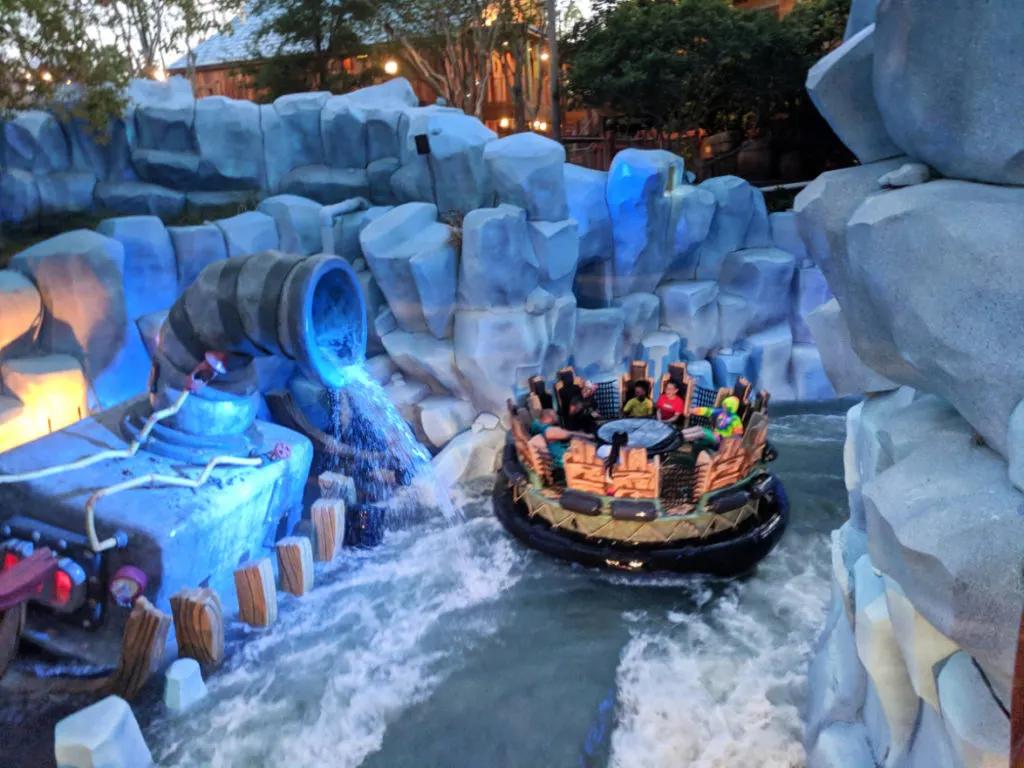 Can't-miss Action Rides in Islands of Adventure
Ask ten different people and you'll get ten different answers what their favorite attraction is in Islands of Adventure.  Chris will tell you that the Incredible Hulk is the greatest roller coaster around, hence the favorite here. If you ask me (Rob) I'm going to send you directly to Skull Island: Reign of Kong. I love the story, the production, the thrill, everything.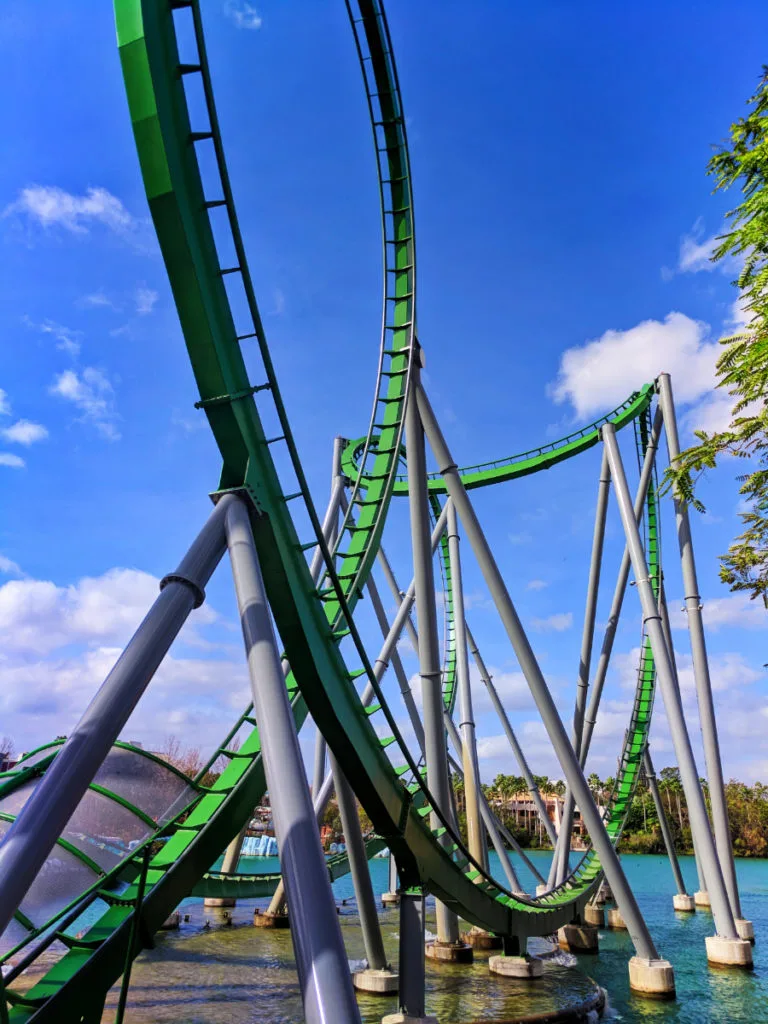 I know, we still haven't sent you to Jurassic Park River Adventure or the Velocicoaster, well now's your chance to ride. Yes, you'll get wet on the river ride (the most wet in the front row) but the coolest aspect of it is actually the dinosaurs up inside the attraction. The featured creatures and action are a bit different on this ride than at Universal Studios Hollywood, but it's similar enough that if you've done the one in California and only have two days at Universal Orlando, we'll tell you to hit up Jurassic Park if you do have the time or the line is nice and short. The Velocicoaster is much more exciting and intense, so if the wait times are similar, do that instead.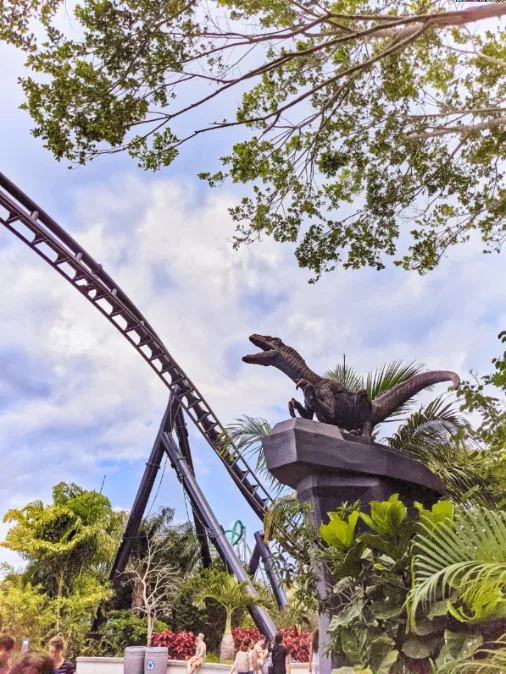 Best Rides for Kids in Islands of Adventure
Seuss Landing is a really fun area with some rides that are ideal for small kids (go read our article about Universal Orlando with Small Kids), but our favorite, hands down, was the The High in the Sky Seuss Trolley Train Ride.  It has two different tracks so if you do it a few times you'll have different experiences. The view from the train is also beautiful, especially at night when Islands of Adventure is all lit up.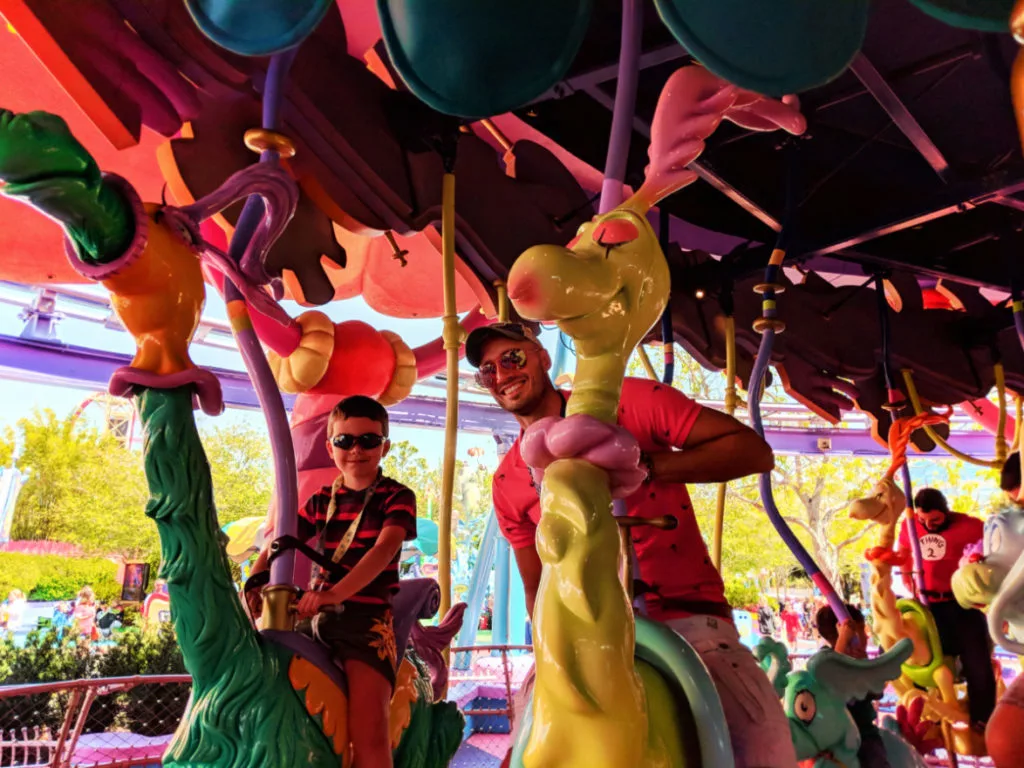 Bonus: if you've got a kid or two with you and you're going through Jurassic World, you (the adult) can ride with them on the Pteranodon Flyers. Adults can't ride this on their own, but leverage having a child with you to get to do it.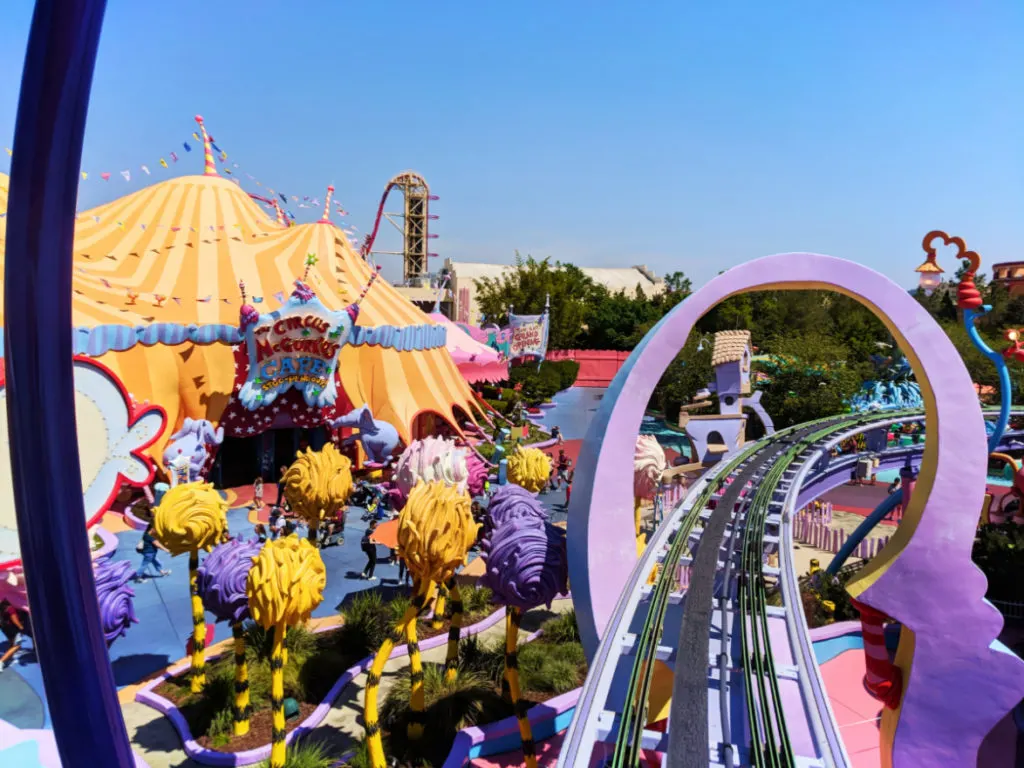 How to Add Volcano Bay to Two Days at Universal
Volcano Bay is actually worth its own full day or even its own visit if you're a Florida local. It's the best waterpark in the state and totally awesome to add to your Universal Trip. I know, there are so many things to do in Universal Studios Florida and Islands of Adventure, but if you want to throw Volcano Bay into the mix as a break from the parks you totally can. Here's how: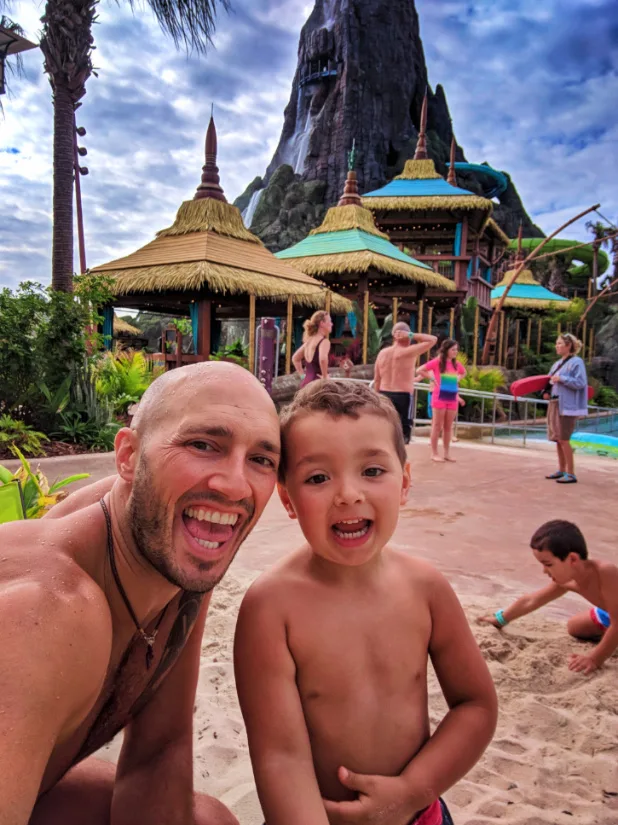 Start each of your two days at Universal Orlando in one of the theme parks

Be dressed to easily transition to Volcano Bay (have your swimwear on already)

When it's lunch time grab a bite and make the switch to Volcano Bay for about three hours

After sufficient water fun, head back to your hotel to change or just go back into the parks (you will dry off eventually)
It really is as easy as this. We did this two days straight and loved every moment of it. Mixing Volcano Bay into our time in the Universal Orlando Resort parks gave us a change of pace while still ensuring we maximized our time. It made the kids extra happy because, well, water park.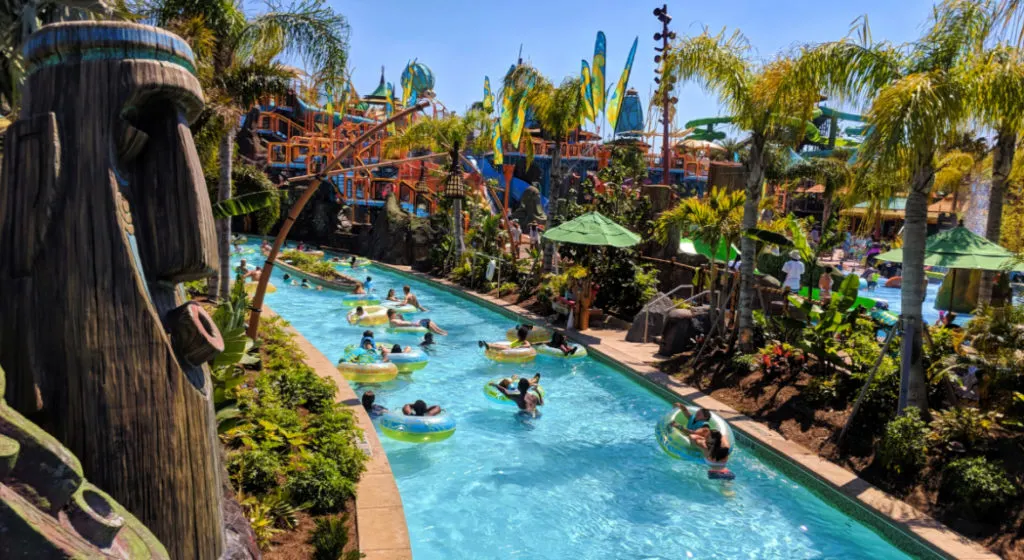 Putting a priority on fun over doing absolutely everything in your two days at Universal Orlando, you'll feel good about the memories you're creating with your family and friends; you'll keep everybody's spirits up instead of stressing to do it all; you'll know what you loved and what you want to check out next time and you'll be ready to plan your next Universal Orlando adventure!
Want to pin this for your own Florida vacation planning? Go for it!  And don't hesitate to ask us questions or send us a note if you like!