If you haven't heard of Bryson City, North Carolina before, I wouldn't be surprised, but you no doubt have heard of all the reasons it's a famous vacation destination. Located in the Smoky Mountains, and including an entrance to Great Smoky Mountains National Park, Bryson City is both an outdoorsy destination and THE Christmas town you didn't know you needed. We're going to tell you all about the holidays in Bryson City, including the Polar Express train.
We've got our favorite Christmassy activities for you and some tips for visiting Great Smoky Mountains National Park in the off-season. You'll find that Bryson City is a great destination in fall and winter for just relaxing, and it'll really put you into the holiday spirit if you're planning a visit in December. Take a peak, and if you have any questions or additional suggestions for the best things to do in Bryson City at Christmas, please leave a comment or send us a note.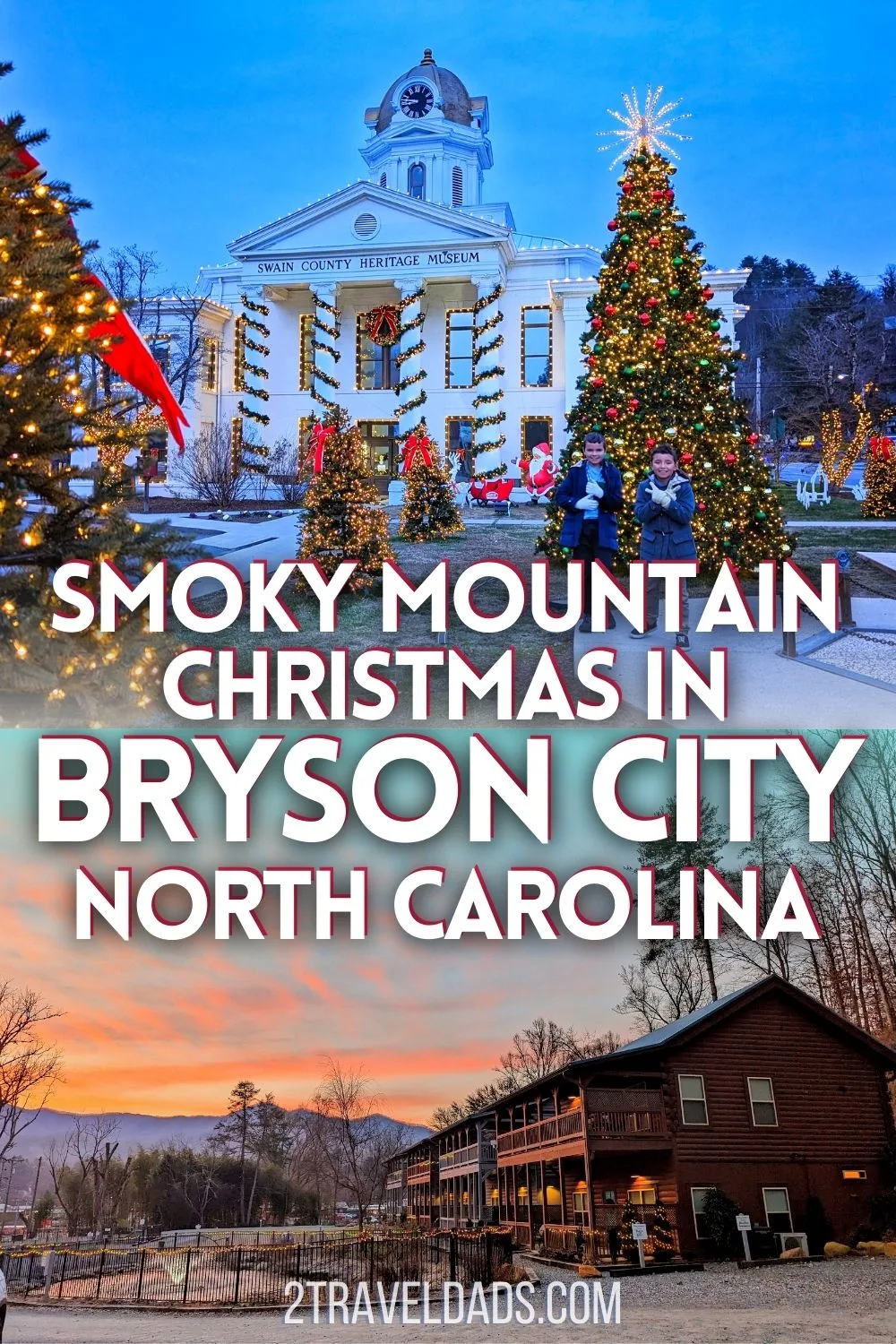 Best Things to Do in Bryson City at Christmas
We live in St Augustine, Florida, which is known for its amazing Nights of Lights displays, but we cannot compete with the overall Christmas feeling and holiday activities in Bryson City, NC. From downtown to farm country, Bryson City has more things to do to get into the festive spirit than we expected for a small town, including some wonderful accessible Christmas activities. Check it out!
Holiday Hayride at Darnell Farms
Our family always enjoys doing a corn maze and visiting farms during the fall, but did you know that some farms go full-holiday for Christmas? Christmas in Bryson City stretches from the decorated downtown to the local farms, and Darnell Farms is awesome for holiday lights and activities.
Darnell Farms is loaded with holiday photo ops, fresh wreaths for purchase, MANY campfires with chairs, and even playground spaces covered in Christmas lights. The highlight of visiting Darnell Farms at Christmas though is the Holiday Hayride. Going from the main farm store area and then down along the river, Christmas music blasts as you ride through synchronized lights. After the ride, grab your hot cocoa and pick one of the fires or indoor wood stove to sit by. This is a great nighttime activity and the perfect way to enjoy Christmas in Bryson City.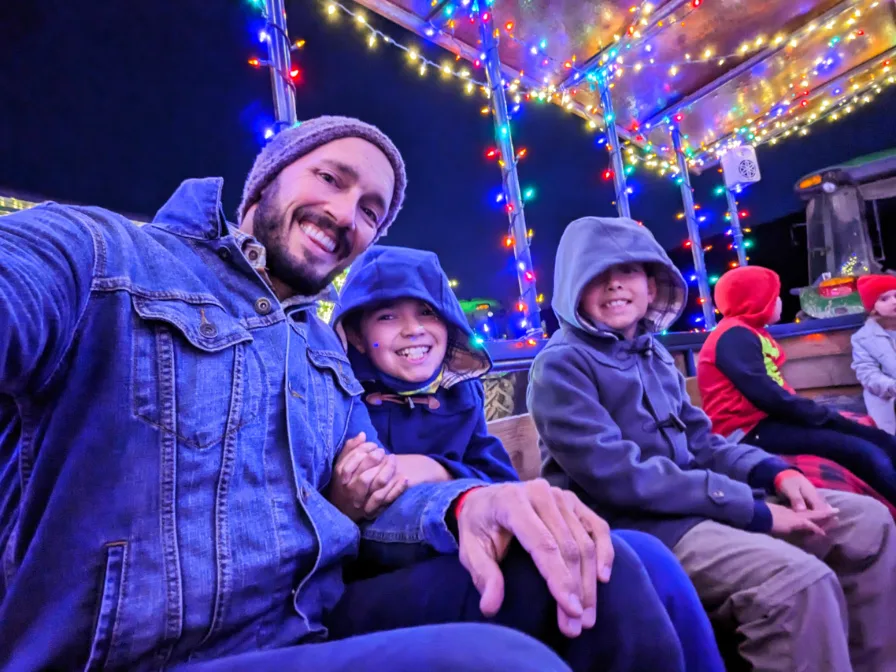 Drive Through Christmas Light Displays
We have done several drive through Christmas light displays over the years, particularly when we do Christmas in Atlanta, but I really love the theme of Bryson City's display (2022): the Twelve Days of Christmas. Located just a few minutes outside of town, the Drive-through Smoky Mountain Christmas Light Spectacular winds through the Great Smoky Mountains Event Park on the hill above the Tuckasegee River.
Thousands of light and Christmas decoration set to music (or play your own in your own car) make it the perfect family activity after dark. We did it after dinner on a super cold night, making a magical Christmassy end to a long day.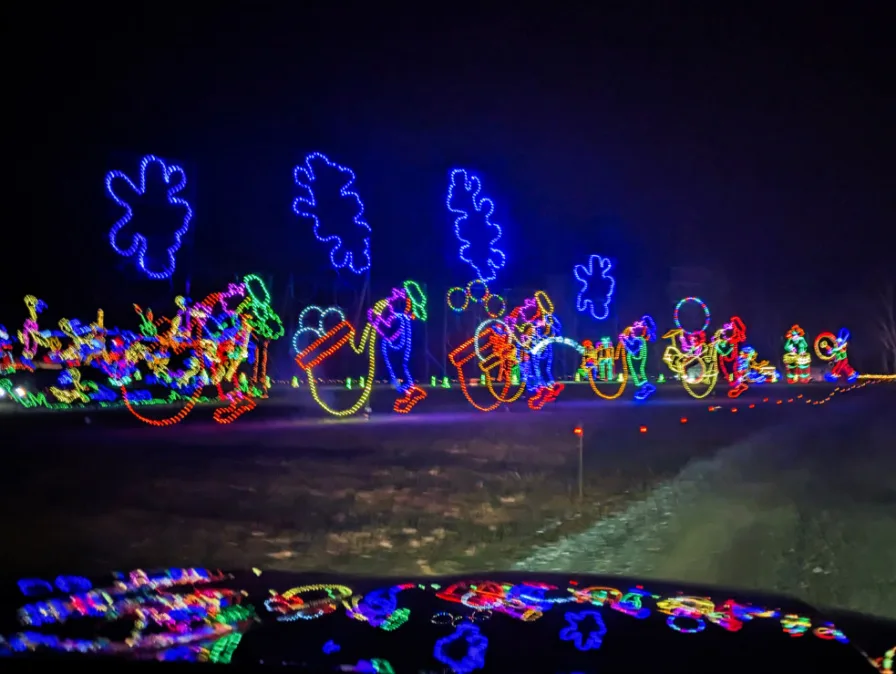 Downtown Bryson City Christmas Lights
To say that Bryson City at Christmas is a festive is an understatement. From the train station to the bridge to the side streets, there are Christmas lights and fir boughs everywhere. The crowning jewel of the holiday themed town is the Great Smoky Mountain Visitor Association at the Swain County Heritage Museum. This historic building has the most perfect lights and collection of decorated Christmas trees in front. It's beautiful and a must stop at night.
Note: during the day time, the Heritage Museum is actually really fascinating to visit as well. With historic exhibits, a log cabin, and lots of stories from the Smoky Mountains, it helps put your own visit to Bryson City into context.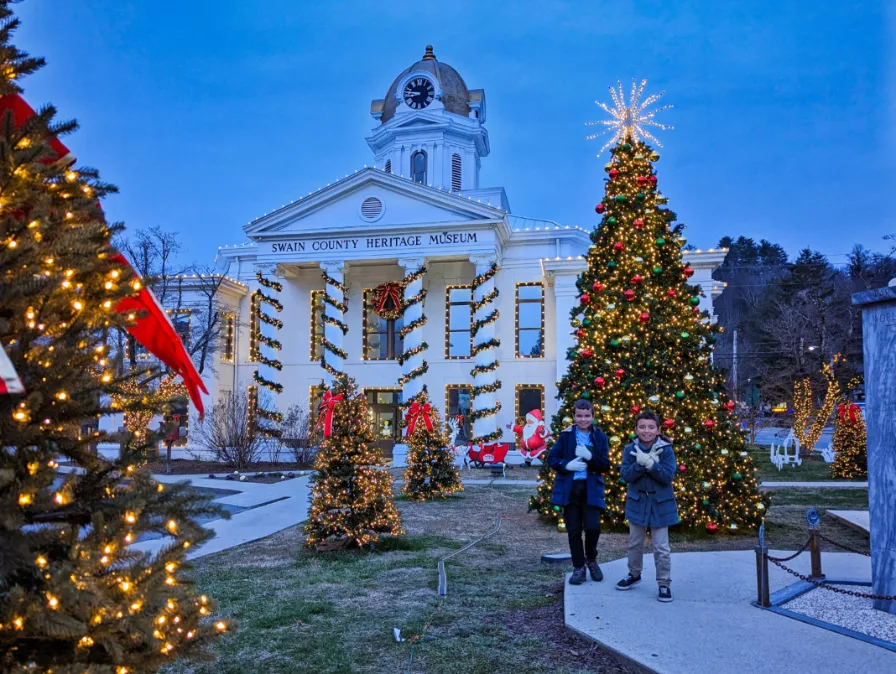 Christmas Shops and Storefronts
While Bryson City isn't necessarily Christmassy year round, you will find at least one holiday store downtown, Uncle Bunky's Christmas Cottage. Once it hits November though, the shops around town pull out the stops. Window displays and holiday merchandise take over. From locally made ornaments to blown glass, you'll find it all. There are also a few pop-up shops near the train station, which are mostly snacks and treats.
As you're going from Christmas window display to display, watch for the elves placed all around town too. Lots of Christmas elves are strategically placed on benches all around town, ready for you to sit with and take a holiday themed selfie. They're too cute!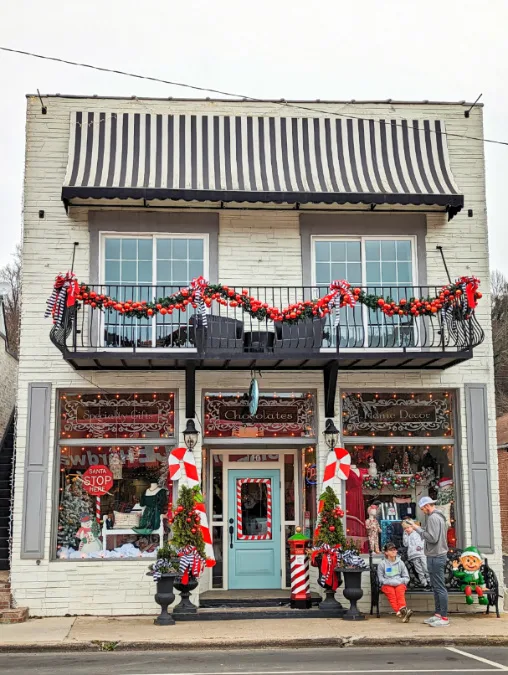 Riding the Polar Express Train
Truth be told, the reason you're probably considering Bryson City at Christmas is because of the Polar Express Train. The Great Smoky Mountain Railroad turns into the Polar Express during the holidays and it's delightful. With train rides during the day and after dark, the vintage railway cars are a great activity for all ages.
We really enjoyed the nighttime Polar Express ride, as it made the Christmas lights and magic just a bit better. Besides the lights, you'll also meet the conductor, there may be some hot hot hot, hot chocolate involved, and then there's also hearing the Polar Express story. This is one of the best Christmas activities to do, not just in Bryson City, but in the whole of the Smoky Mountains.
Tip: don't forget to wear your cozy pajamas! I would say 80%+ of the passengers on the Polar Express Train are wearing their jammies, as it is totally fitting to the story and the whole experience.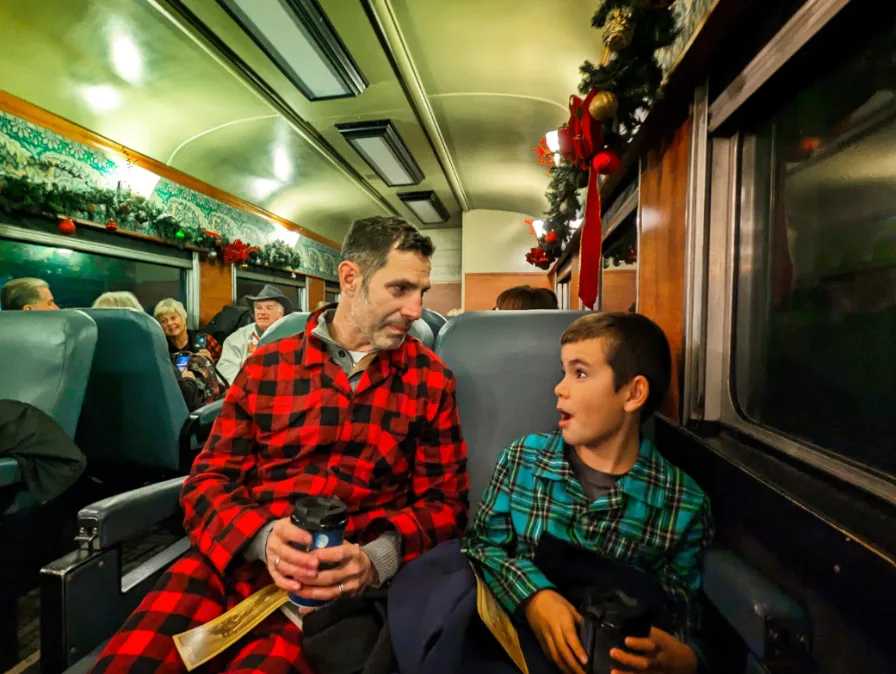 Holiday Treats and Beverages
There is no shortage of hot chocolate in Bryson City. We literally had cocoa at least three times a day while visiting. It's like it's forced on you, but in the best, most festive way. More treats around town included fresh, hot mini donuts, fudge and Christmas candy from the Chocolate Shoppe, whoopi pies, and holiday cocktails.
While Bryson City doesn't get as over-the-top for treat like you'll find in Disney World at Christmas, the town is sure to keep you full of snacks and fun. Our top picks for treats in Bryson City are: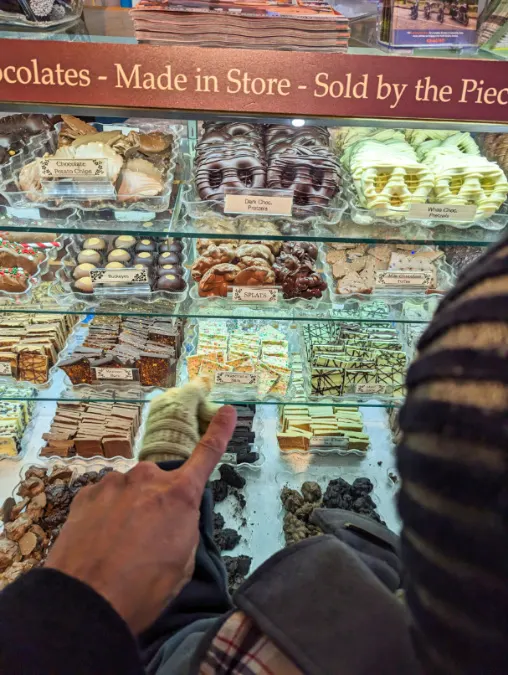 Afternoon in an Igloo at The Yard
We first experienced igloos for cold weather lounging in NYC at Christmas, and now you can find them all over, including in Bryson City. The Yard, a great outdoor hangout space, has igloos you can reserve just off their artificial ice rink. A food truck and local beverages at The Yard means you can just "chill" and enjoy the winter weather from the warmth of the igloo.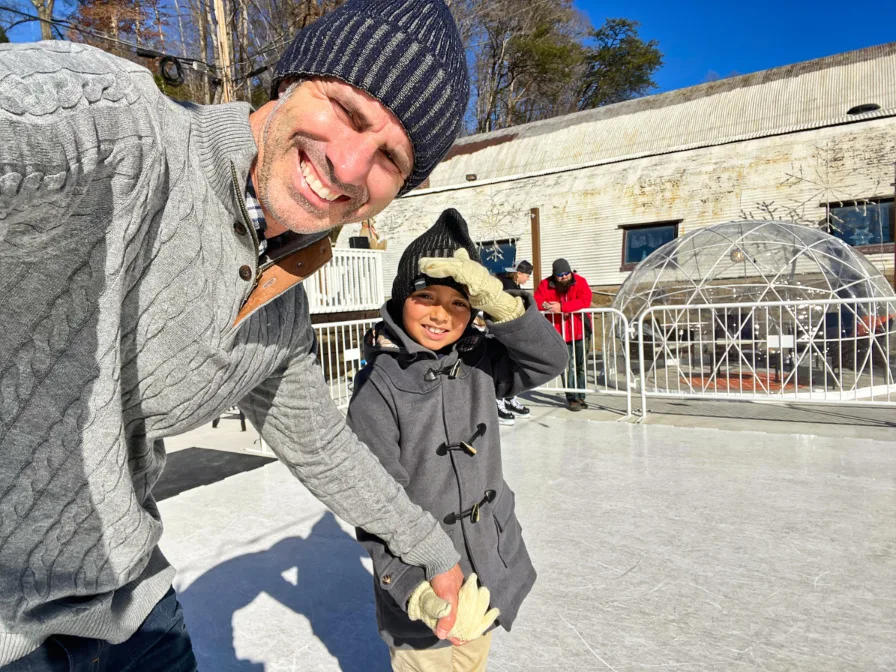 Frozen Waterfall Hikes Near Bryson City
Being the gateway to the Smoky Mountains, there are quite a few waterfalls around Bryson City. The easiest to get to are within the Deep Creek area of Great Smoky Mountains National Park, just outside of downtown. Here you can do an easy hiking loop to Juney Whank, Tom Branch and Indian Creek Falls. Hike early enough or on a cold enough day and you'll get a huge array of icicles and frozen cascades.
Bonus: if you're heading to the other entrance to the National Park, stop by Mingo Falls and climb the 160 stairs to the footbridge. This waterfalls is one of the tallest around and when it's icy, is really pretty!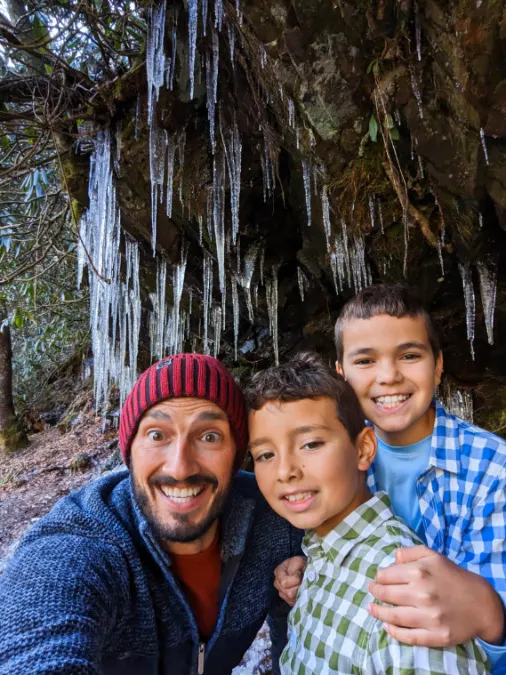 Holidays in Great Smoky Mountains National Park
Did you know that Christmas in Bryson City extends beyond the town and into Great Smoky Mountains National Park? About twenty minutes from town you'll come to the Oconaluftee Visitor Center within the park, and this is where the outdoor Mountain Farm Museum also is. Check out the farm with its subtle Christmas swag, appropriate to the time. Then, continue through the park making stops at the many overlooks and streams. When you get to the Sugarland Visitor Center, check out more Smoky Mountain Christmas history and displays.
Note: if you're visiting Great Smoky Mountains National Park during Christmastime, certain areas of the park are NOT open, including some Blue Ridge Parkway entrances and the road to Clingman's Dome (the famous skywalk area).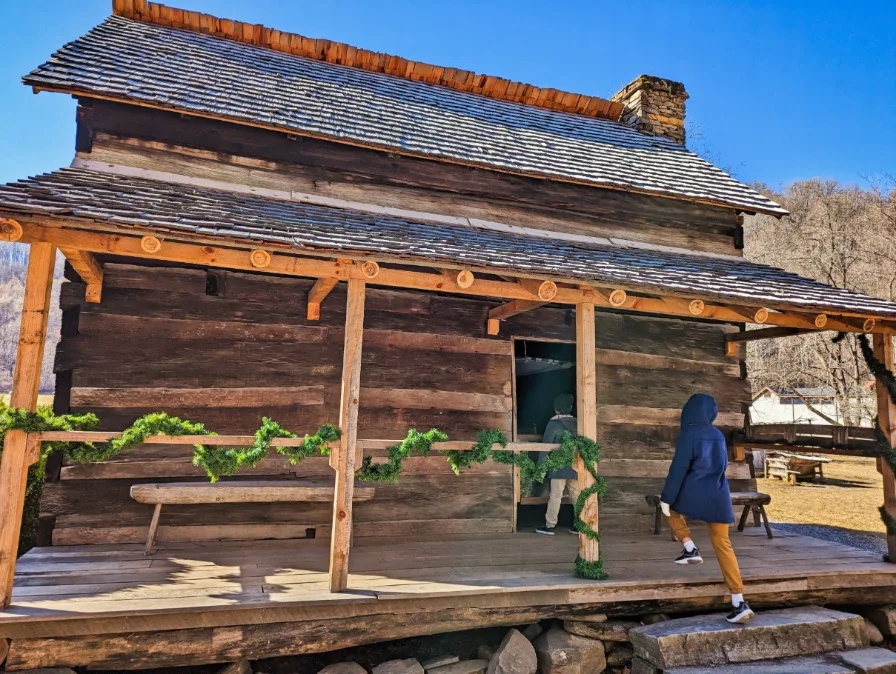 Cozy Up in a Cabin
Lastly, if you find yourself in Bryson City at Christmas, be sure you've booked some cozy accommodations. There are quite a few cabins and cabin resorts that are just perfect for warming up after a cold day exploring the Smokies. We stayed in Bryson Village and came home each day to a fireplace and a hot tub.
If you can't find a cabin that's right for you, there are some cozy flats for rent directly downtown, which are also perfect for warming up after a chilly night strolling the Christmassy streets of town.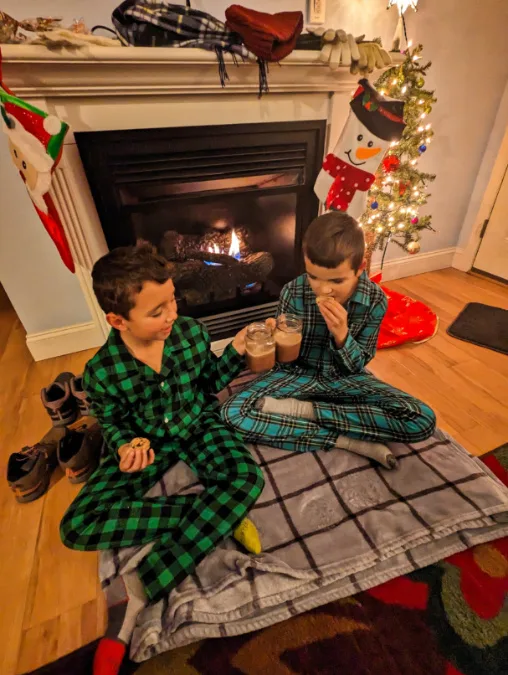 Where is Bryson City, NC?
Before we started planning our visit for the Polar Express Train, we hadn't heard of Bryson City, North Carolina. Once we told a few people we were planning a trip, everyone knew EXACTLY where we were talking about. Apparently if you have lived in the Southeast for a long time, Bryson City is your go-to destination for either Christmas activities or for a summer mountain escape. We were just late to the party (as usual).
Bryson City is located in the Southwesternmost corner of North Carolina, just above Georgia and just east of Tennessee. It's about 3 hours from Atlanta, almost 5 hours from Nashville, 1.5 hours from Gatlinburg (near the Cades Cove area in Great Smoky Mountains NP), and an hour from Asheville, NC. You can take major highways most of the way, but then they turn into country roads for the last stretch as you get closer to town.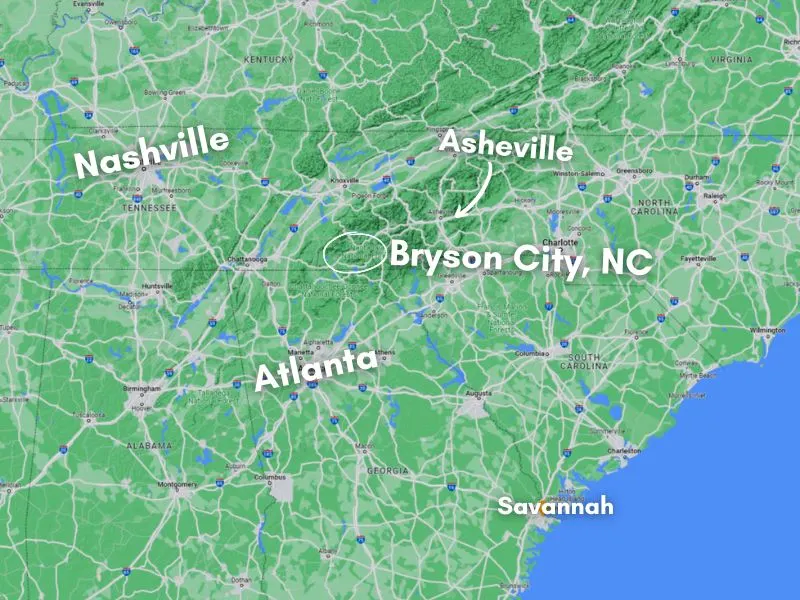 Getting to Bryson City, North Carolina
The easiest way to get to Bryson City, NC is to drive. Make it a Christmas road trip! But if you don't already live in the Southeast and you want to come experience the Smoky Mountains and Bryson City, you'll need to fly into Asheville NC (AVL). There are direct flights from Boston, Atlanta, Minneapolis, Washington DC, Newark, Miami, Chicago and more!
Where to Stay in Bryson City
One of the wonderful things about visiting Bryson City at Christmas, or any other time, is it's a great excuse to stay in a cozy cabin, which there is no shortage of in and around Bryson City. There are a few travel brand hotels close to town, but for the most party, Bryson City offers small inns and mountain retreats.
The cabins of the Smokies are the real highlight though! We loved our stay at Bryson Village, but we've been looking at upcoming trips back to Great Smoky Mountains NP and such, so we're on the lookout for the perfect cabin. We picked some of our favorite cabin and lodge listings in Bryson City for next time… Check 'em out!: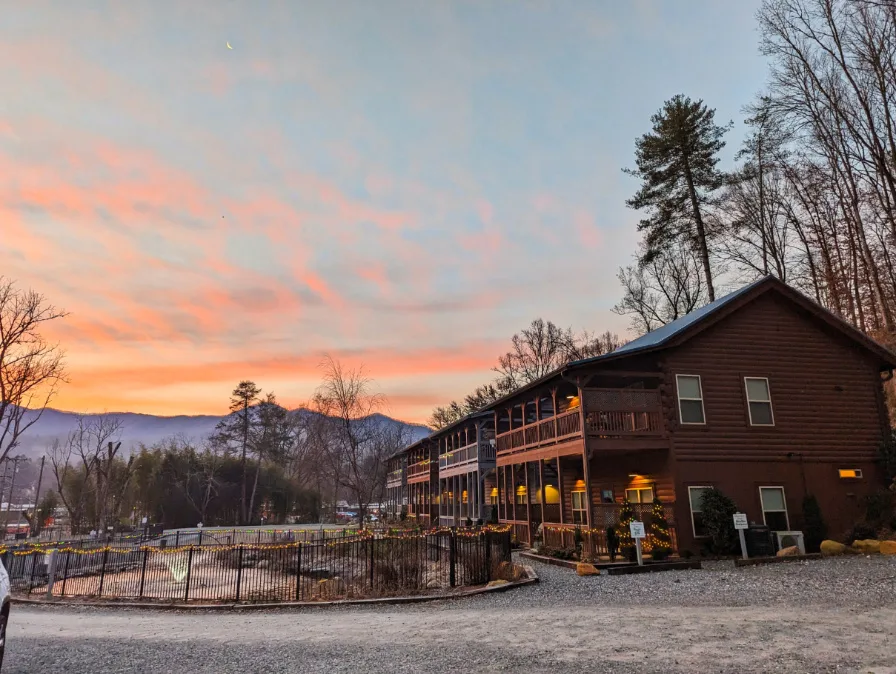 We hope you'll plan a trip to visit Bryson City, North Carolina for some Christmas / holiday cheer. Being a quaint small town with so much to do all around, it's a wonderful family destination year round.
If you have any additional ideas or have any questions, please leave a comment or send us a note. We're happy to help you plan an unforgettable trip to Bryson City!