Being from the west coast, we don't have a ton of cute, really old towns with beautiful storefronts and town squares. Doing a North Georgia road trip will take care of that for you, as it's chalked full of cute towns very near Atlanta, many dating to the early 1800s. We've found that a lot of our friends have family in North Georgia and when they visit they're not sure just where to go for day trips and such, which is why we're sharing our favorite small towns. These are great destinations for North Georgia day trips.
These cute Georgia towns are the perfect excuse to escape Atlanta for a weekend and even though they aren't very far, they're a world away. Be sure to stop into the small local farm stands and historic museums as you go, and remember, it's okay to get a little distracted to make your getaway more enjoyable.
If you've got a favorite small town in northern Georgia that we've skipped over, leave a comment or send us a note. We're always happy to share more of the awesome places to explore here in the South!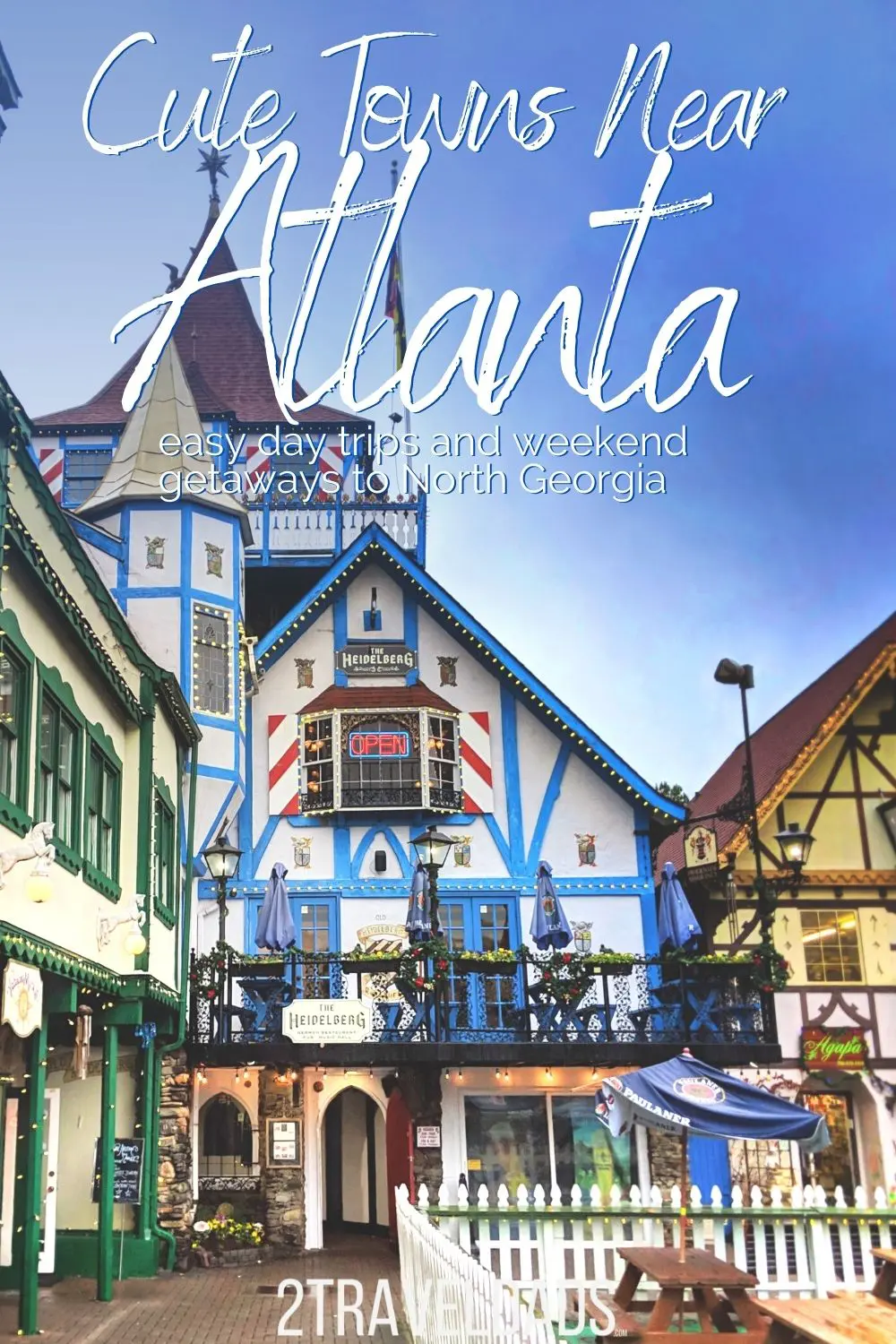 Cute Neighborhoods of Cartersville, Georgia
Cartersville is our first small town of mention because it's just what you'd expect to see in Georgia: cute brick storefronts, mellow community vibe, and incredibly well preserved historic homes. The neighborhoods directly around downtown, Main Street to be precise (I know, actual Main St) are easy to stroll through and if you're lucky enough to visit at the right time, you can even participate in different events, from markets to craft fairs..
If you're unfamiliar, a pilgrimage in Georgia is an event where historic homes open their doors to the public to visit. Many are still furnished with period appropriate pieces and art, but also many are active homes where real people live today. It's pretty cool. Also in Cartersville, Etowah Mounds historic site – we need to visit again before telling you all about it.
Dining tip: check out 4 Way Lunch and Coconuts Ice Cream for a fun, kid friendly Georgia lunch. It's our niece and nephew's favorite spot!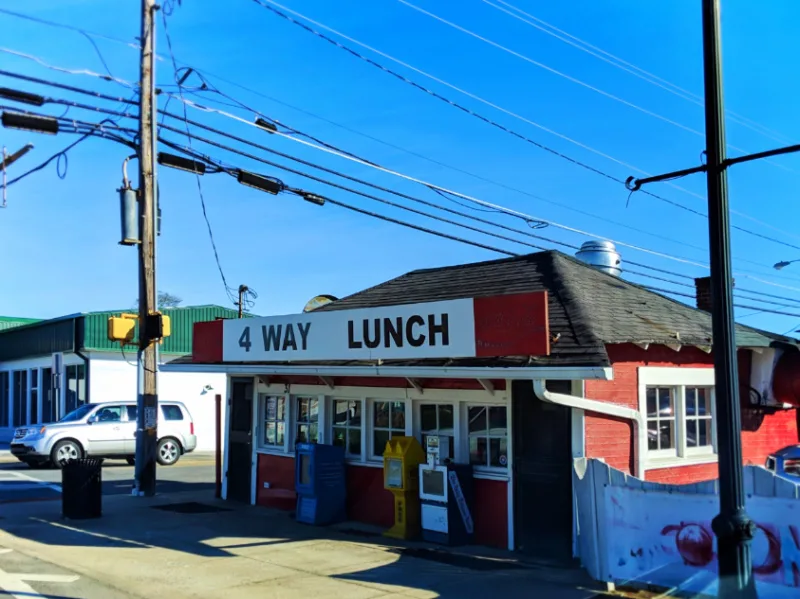 Acworth for Louisiana flavors (and other great restaurants)
For as big as the town of Acworth is, its downtown area is quite small and concentrated on two small streets. That doesn't mean it's not worth a visit! Downtown Acworth is seeing a revival with all kinds of unique restaurants and shops. From kitschy decor shops to ice cream and local Georgia cuisine, it's a great small town to visit. And they really know how to dress up the town for Christmas!
The best part of downtown Acworth though is having dinner at Henry's Louisiana Grill. Beside fried chicken and a thousand varieties of biscuits, Georgia cuisine blends into the surrounding states and borrows a lot (in my opinion). Henry's Louisiana Grill owns it and is crazy delicious. And fun. With all the dishes you might equate with New Orleans and some really creative twists, Henry's is our new favorite Georgia experience.
And what's really cool, Henry is a real guy and he's super cool. He likes to check the vibe of his restaurant and make sure his guests are enjoying themselves. He's just as unique and spicy as our dinners, only difference was that our dinners didn't stand up and throw beads around our necks like a Mardi Gras parade. Really, I cannot wait to visit our family in Georgia again so we can go back to Henry's.
Tip: hide as much of the spiced cornbread as you can in a backpack or something. They'll keep bringing you more and you can live off of just that for days!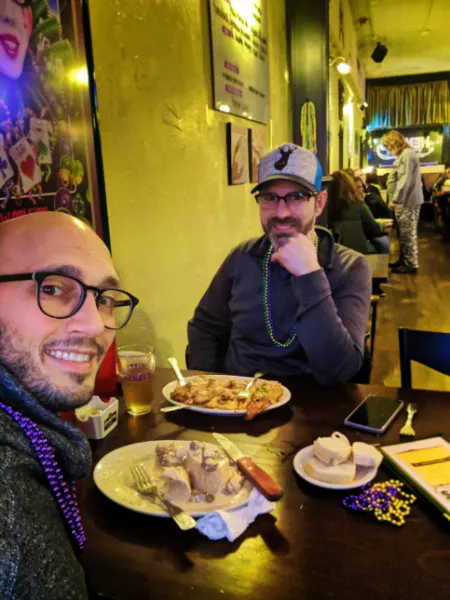 Kennesaw for Civil War History Near Atlanta
I'll start with my disclaimer: a lot of Georgia still whitewashes the Civil War and slavery as just a bumpy chapter in American history, and that includes some museums and monuments. Yes, some sites very much own it, like Kennesaw Mountain National Battlefield. With miles of hiking and running trails, it's a wonderful place to visit for getting some quality outdoor time, but it's also got a good, small museum about the Civil War. Yes, there are a good many museums about Civil War history and events, but this one is great for understanding and explaining battles and why the war in Georgia went the way it did.
Tip: if you're not into the historical aspects, the trail systems are excellent on their own, particularly in the summer when all you want is a little shade.
Note: despite the beautiful lawn and ample open space, Kennesaw Mountain National Battlefield is not a place for a sprawling picnic. There are designated picnic tables, but all across North Georgia, and everywhere else, picnicking on battlefield sites is either prohibited or discouraged.
Another Civil War site to visit in Kennesaw is the Southern Museum of Civil War and Locomotive History. It's actually pretty neat with its kid-friendly displays and exhibits. The highlight is the General, a historic locomotive engine. If you're into trains (or have a kid that is) this is a great stop to add to your North Georgia road trip. There is also a fair amount of outdoor space that's set up like an old town, so it's easy to get the kids to burn off energy before going through the museum.
Note: this is one of the places that has some whitewashing of the Civil War, so use your discretion when reading the exhibit signs with kids. Example: the statue of Nathan Bedford Forest, a founding member of the KKK…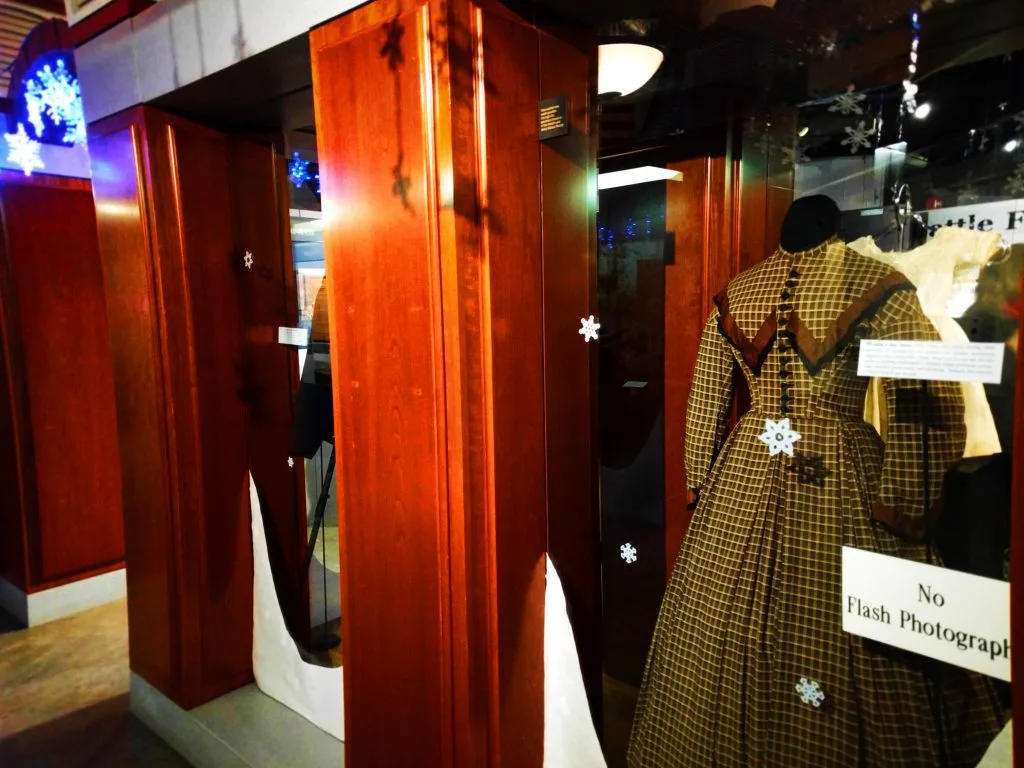 An afternoon in Artsy Marietta
We love Marietta. It's set up so perfectly around its town square and is great to explore with kids. The town is artsy and quiet, and is very near Atlanta. With several unique cafes and restaurants, you can visit any time of day for a quiet stroll and shopping. We prefer to visit in the afternoon so the kids can enjoy the play structure in the square. It is actually a miniature version of the General locomotive (see above).
Other great things about downtown Marietta are the toy and magic shops, the vintage theater and the local coffee roaster. What's not to love?
Remember how above I mentioned doing an event or checking out the historic homes in Cartersville? Marietta does a pilgrimage and it's actually a large, ticketed event to be able to visit some of the beautiful houses. This historic home tour is done in partnership with the visitors bureau in town, so if you're interested, check out their website for upcoming Marietta pilgrimage dates.
Tip: if you're making a North Georgia road trip in order of the small towns we're sharing, between Marietta and the next one, Dahlonega, you'll find Blue Ridge, GA. It's adorable and worth checking out if you have the time!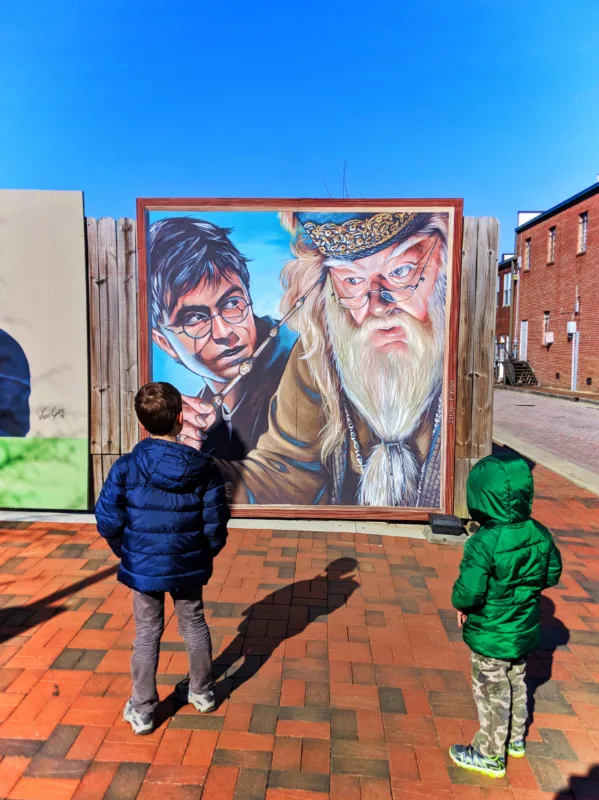 Dahlonega: the North Georgia Gold Rush town
What an adorable place! Founded in the early 1800s, Dahlonega is a must-stop spot on a North Georgia road trip. Like Marietta, it's quaint with a great town square. The buildings have really stood the test of time and are a great backdrop if you just have to spend a day playing Instagrammer.
We really enjoyed lunch at the old time saloon, the Crimson Moon, where they feature local bands each night. Following some delicious Georgia meatloaf, a walk around the town brought us to the gold rush museum in the center of the square. This isn't a great stop for kids unless they're very into history, as it's 90% reading and 10% engagement/video. Perfect for history-hungry adults though!
The highlight in Dahlonega for us was actually visiting a mine. We went to the Crisson Mine to do some gold panning and look for gems, and we totally struck it big. The mine crew was great with the kids helping them swirl and find gold, and then we all had a blast doing a scavenger hunt for gems. We left with emeralds, citrine, garnets and more. Bonus for us: outside was a whole setup showing how mining works with displays, working exhibits and tons of mining equipment.
Tip: if you have older kids or it's just brave adults, there is another mine, the Consolidated Gold Mine, that you can actually tour and go 200 feet down into the earth, kind of like we did in Breckenridge. It's pretty cool if you're cool with small dark tunnels.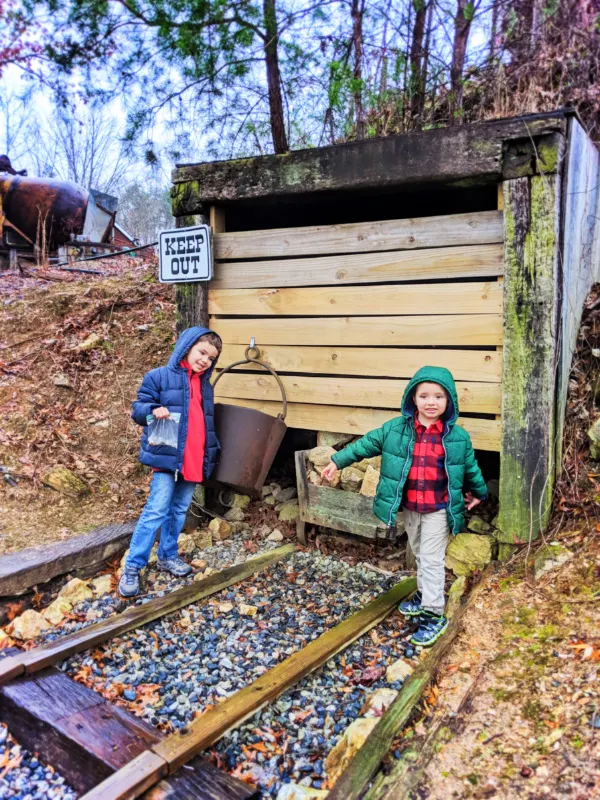 Picturesque Alpine Helen: a taste of Bavaria in Georgia
In Washington we have the adorable town of Leavenworth. In California they have Solvang (one of the cutest Christmas towns in Cali) for getting into the European spirit. In Georgia it's all about Helen. Alpine Helen is a themed town set at the edge of the Appalachian / Blue Ridge Mountains. The Chattahoochee River winds through from start to finish and it's just gorgeous. All around the town are awesome outdoor experiences, including river tubing, but the town itself is an attraction.
Polka music pumping and gingerbread house style storefronts, our kids thought Helen was a hoot. Of course the town runs on tourism, but it really owns it which makes the campiness wonderfully fun. And they keep Christmas up way past the holiday season, so it's got that going for it too.
Highlights in Helen for our family included authentic German lunch of sausages, sauerkraut and bacon/dough pinwheels; watching glass blowers hard at work; visiting Charlemagne's Kingdom aka the model train hall; and just taking in the town. If you're visiting Atlanta or doing a road trip, no matter the time of year, just go visit Helen and enjoy the spectacle of it all.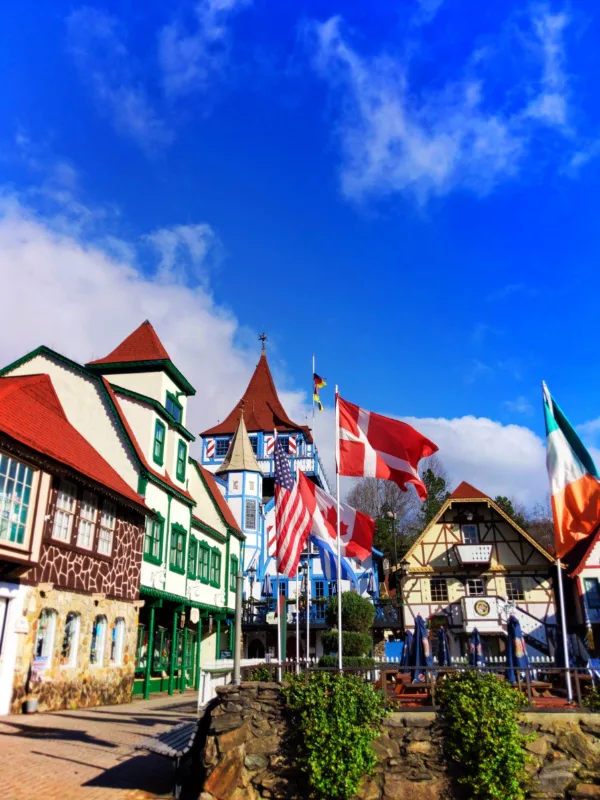 Clarksville, GA for BBQ and relaxation
We didn't take the last train to Clarksville, but we drove as part of our North Georgia road trip. Laid out similarly to Dahlonega, Clarksville is built around a square and has been able to maintain it's small town southern charm. It's actually really turned itself into a foodie destination.
Mixed into the artisan shops and cafes, Georgia cuisine has made its home around the square. Local favorites include the Copperpot, the Attic, and Harvest Habersham. Our favorite was actually not here on the square though…
Hawg Wild BBQ and Catfish House was the winner for us. Our kids fell in love with smokey pulled pork when we visited Estes Park, Colorado and since then, it's become a favorite for them. When you can sell kids on plain meat and bread without needing anything else, you know you've mastered it. I personally loved the brisket. True, I had to dissect the fat off it, but I'm so glad they cooked it the way they did because the rich flavor was incredible.
Beyond food, Clarksville is also home to golfing and a really wonderful resort. We planned a few days at the Apple Mountain Club Vacation Resort and didn't want to leave. The resort is part of Holiday Inn's timeshare brand (and you know that we love and utilize timeshares) and it's perfect for families. We took full advantage of the mini golf, recreation hall, cafe, hot tub, movie check-out and more. If it was summer, we would've been all about the pool, onsite playground, basketball, BBQs, oversized chess and more. We'll actually be returning in the summer because it's awesome.
Note: there are also horse stables for trail rides and horse experiences, but they do have age requirements for riding (8 years and up). We didn't ride this trip, but next time!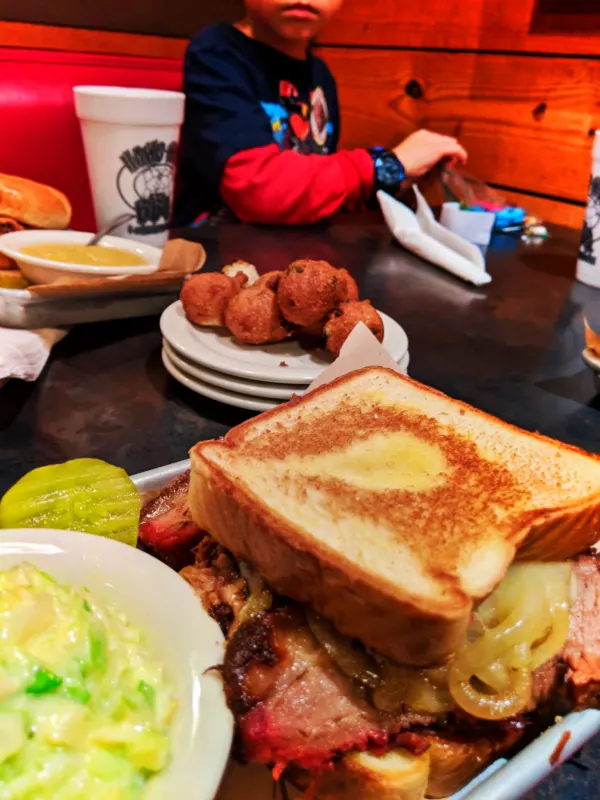 Whether the goal is to do a series of North Georgia day trips or to add on a weekend getaway from Atlanta, there are lots of great, fun choices. North Georgia is beautiful and quiet. The activities are endless, and in the summertime, it's a outdoor adventure destination.
Watch for our next article about conquering the North Georgia waterfall trail. So much to do and see!
Want to pin this for planning your own North Georgia day trips? Go for it!!!