Christmas is such a hoot. We love getting to do Christmassy, holidayish things and especially love traveling during the holidays. We just returned from Atlanta where we were visiting family and did a few fun, special holiday activities there. In addition to visiting the Tennessee Aquarium in Chattanooga, we also got to do some exploring in downtown Atlanta and its suburbs.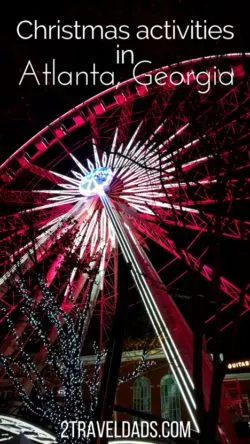 If you're ever in the Southeastern US during Christmastime, we've got some great activities to ensure you enjoy the season in the South. If there's something really fantastic that you know of from Jonesboro to the Georgia-Tennessee border, be sure to tell us so we can visit it next year. But for now, here's a great plan to get all of those holiday activity feels in the Atlanta area.
Note: a lot of activities are annual, so be sure to check out the specific location or festival website before going each year. Also, many holiday activities go through the first week of January, so if you're catching this after Christmas, don't worry!
Christmas Activities IN Atlanta
Most cities go all out with holiday cheer when November hits, and Atlanta is no exception. Christmas activities in Atlanta abound, and in the downtown core, merely walking around is a festive enough activity for us, but we did much more! And don't forget that the freezing cold night air is really intense, but that's okay because it just adds to the fun of Atlanta Christmas!
Don't forget, in the downtown core, you'll find lots of year round fun, such at the World of Coke Museum, the Georgia Aquarium and even Martin Luther King National Historic Site (walkable from Centennial Park). So much to do!
Holiday lights from Skyview Atlanta Ferris Wheel
To start, if you've ever been to Atlanta in the winter, you know that it's cold. Like, it's really cold. Baffling. If you're doing Christmas activities in Atlanta at night, know that you're going to need hats/gloves/scarves and gallons of hot chocolate or other beverages to keep warm. Luckily, Skyview Atlanta, which is the huge ferris wheel in Centennial Park, has a hot chocolate stand in the middle of the queue. Actually, it's kind of a bar, because it has alcohol too, but for our purposes we'll say it's a hot chocolate station.
The cars of the ferris wheel are heated and the view from the warmth of the cabin is perfect on a cold night. We were able to do three adults and five kids in a car and had a blast. The view from Skyview Atlanta was really awesome with the Olympic Fountain lit up below, as well as the neighboring Chinese Lantern Festival glowing besides. Truly, a ride on the wheel at night is a good start to your Christmas in Atlanta.
Cost: expect to pay $10-$15 per person for a ride on the Skyview Atlanta wheel. The time in the gondola/car/cabin varies, but we were in the air for about 15 minutes and did four full revolutions.

Note: we also saw horse drawn Cinderella carriages all decked out with lights doing tours around Skyview Atlanta, so if you have extra time, that's another fun holiday activity you might try.
Also available in Centennial Park: there is a skating rink set up in the large square area, so if you're in the mood and have the skills (or not) go skating too. Of all holiday activities in Atlanta, skating in the bitter cold would for sure be the most festive.
Festival of Trees: Christmas in downtown Atlanta
This was a special activity for us. The Festival of Trees is actually a fundraiser hosted by the Embassy Suites at Centennial Olympic Park. The humongous hotel lobby is filled with Christmas trees decorated by a collection of charities. Visitors can make a donation in any amount to vote for their favorite tree and then the winning foundation gets all of the funds raised by voting.
For us, the best tree was for sure the Pediatric Brain Tumor Foundation's as our nephew, Matthew, had a star on it. The Pediatric Brain Tumor Foundation does all kinds of things for families facing brain cancer and they've been a great support for our family. Fundraisers like this one are great for capturing the joy of the season and for giving back to the community, and that's what the holidays are all about.
Cost: viewing the trees is free and the Embassy Suites will even provide the parking to take part in the Festival of Trees. Donations to the fundraiser and the individual charities are appreciated. Google Maps link here
Christmas at Stately Oaks Plantation in Jonesboro
So, we haven't been here for Christmas yet, but we've visited in the summer. Stately Oaks Plantation in Jonesboro is an excellent example of an Antebellum house and out-buildings. It's a realistic snapshot of the type of home that was once common in Georgia and throughout the pre-Civil War South. Visiting Stately Oaks Plantation gives an historic look into lifestyles in the 19th century, but doesn't delve deeply into the area's past of slave-holding, so a visit is going to be much more of a white-washed history than you might expect, particularly as the town of Jonesboro prides itself on its Gone With the Wind affiliation.
Stately Oaks Plantation changes its decor and displays each month to reflect different activities or events of the time. We visited during a month dedicated to mourning, so learned about grieving in the South and the family practices in the 1800s when it came to death, but visiting during December is sure to be more warm and inviting, with a focus more on Christmas and the holiday season.
Cost: it's very affordable, being less than $10 per person (vague pricing since none is posted online) Google Maps link here
Tip: whenever you're visiting a Civil War site, in Georgia or anywhere in the South, take some of the stories and accounts with a grain of salt. Slavery is slavery and depending on the person telling you the history, they may lighten the severity of the practice by referring to great relationships between slaves and owners, or "very kind" owners… Be honest with yourself and your kids when you hear things like that.
Note: photography isn't allow inside the big house, FYI.
Chinese Lantern Festival in Sugarloaf Mills
I hadn't done a ton of research into the Chinese Lantern Festival before we arrived, so wasn't completely sure what to expect. It was really cool though! With tons and tons of unique hanging and ground level lanterns, everything was glowing. The kids loved it and were nothing but "Woah, look at this one" and "Ooh, come here!!!" For me, having recently been in China and seen many lanterns, there were some nice flashbacks that made me miss exploring China… but soon we'll be back.
From traditional Chinese lanterns to lit-up pandas, a towering Chinese pagoda, flowers, a Dutch windmill surrounded by tulips, a dragon… The collection at the the Chinese Lantern Festival in Centennial Park was awesome. We were genuinely freezing though so didn't get to hang around for the show that they do on stage. Next time…
For 2018 – be sure to check out the website or at the zoo for the Chinese Acrobat show they're doing with the lantern festival. It's a must if you want to start a new tradition for Christmas in Atlanta. Also note, this is located at Sugarloaf Mills for the 2018 season. Google Maps link here

Cost: plan on $15 – $19 per person for the festival with season passes available (if you live close, it's a good idea)
Christmas at Stone Mountain Park
I know, weird that we're pointing you to another awkward Southern site, but Stone Mountain really does do a beautiful change for Christmas. Holiday activities in Atlanta are plentiful, but not all are as sparkly and outdone as Stone Mountain. The old town portion of the park is fully decked out in lights and there are wreaths everywhere. They start calling the area Snow Mountain and even build a snowy hill for sledding and playing in the snow.
The train that circles Stone Mountain becomes a frigid outdoor Christmas karaoke train ride and it's more fun that I'd like to admit. There's a stop on the train tour that's normally a wild west show, but for the holidays turns into a telling of the nativity story. Again, this is one of those holiday activities that will require lots of hot chocolate because it's stone cold at Stone Mountain.
Cost: ticket prices can vary from $32 per person up to $80 per person for the All Access pass. There are options for meals and parking, you name it, included in the different levels of tickets. Google Maps link here

Lodging: There are also several hotels by Stone Mountain, so if you want to do everything and experience the Christmas lights at night, build the cost of a hotel stay into your budget.
Christmas colors at Lights of Life in Marietta
We spend most of our time in Georgia north of Atlanta because that's where our family is. A wonderful nighttime holiday activity in North Georgia is the Lights of Life. It's a drive-through Christmas lights display that covers the whole campus of Life University in Marietta. The main attraction is driving around the campus and checking out the animated light features, but there are also some fun walking activities.
If you choose to, you can park and see some of the most vintage Christmas displays I've ever laid eyes on. In portable Christmas cabins, all kinds of scenes are played out with antique animatronic characters. Picture the window displays they show in the movie A Christmas Story. There is also a tractor train ride that totes you around a portion of the campus to see a few more lights, but mostly just to be able to say you rode a little Christmas train. Oh, and more hot chocolate, because you need it. And funnel cakes.
Cost: $5 per car Monday through Thursday, $10 per car on Friday through Sunday. Google Maps link here

Tip: go on a week night, not on the weekend. We were there on a Tuesday and traffic around the Lights of Life wasn't too bad, but on the weekends it'll take you an hour to get back out onto the main road because it gets so congested.
Christmas activities at Locomotive History museum in Kennesaw
We came here for the train, the General. It was covered in Christmas lights and pretty darn cool. There were other train things too, including some cool box cars and a caboose. There was a play room for kids to do their own train stuff and an electric train track with moving characters. All pretty fun. The highlight was that in the theater area they were playing Polar Express and serving… more hot chocolate.
Other fun holiday activities at the Southern Museum of Civil War & Locomotive History included carolers, Christmas displays (inside and out) and a station with a mailbox for writing letters to Santa Claus.
Cost: $5.50 – $7.50 depending on age Google Maps link here

Note: there are lots of Civil War artifacts including clothing in the war museum section, which is in affiliation with the Smithsonian Institute… but then remember where you are: the South. There's also a statue of General Nathan Bedford Forrest who was the first Grand Wizard of the KKK (later left the group). It's just one more thing to talk to your kids about if they have questions when they see it.
Christmas in Atlanta, Georgia really is fun and there's something to do every day or night. The area has so much more holiday flare than we're used to, but we haven't gotten to experience all of it. Next year we'll be visiting the Atlanta Botanical Gardens, the town of Helen and maybe even doing a full on Christmas train ride. What other activities do we need to hit up next year when we head back to the ATL? Tell us!
Want to pin this for planning your own Christmas in Atlanta? Go for it!!!