Visiting European churches and cathedrals is very different from visiting Buddhist temples and sights in Asia. In Europe you can expect to see a certain number of recognizable saints and themes throughout depending on the age of the site. In China… it's the same thing, but much more colorful. On my recent visit to the Shaanxi province of China, I spend a lot of time visiting Buddhist temples, including the Famen Temple complex: home to the finger bone of the original Buddha.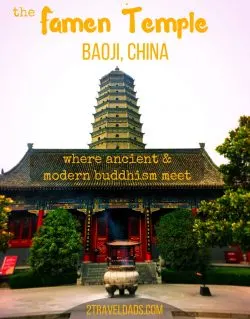 Upon arrival at the Famen Temple complex neither myself nor the rest of my small group knew what to expect. All we knew was that we were visiting yet another Buddhist temple and weren't sure what we might be doing beyond this. Well, saying that we were surprised or blown away barely explains it. Here's how our visit to this incredibly huge temple complex happened. Wow. We didn't know we'd have modern architecture, an ancient temple, art, archaeology, food, education and so much more. Just keep reading and you'll see why this site is ideal for anyone well versed, practicing or just curious about Buddhism.
Arriving at the Famen Temple
My group and I had been staying in Baoji for the few nights prior to visiting the Famen Temple. We'd experienced the hot springs and resort town (like a miniature Las Vegas) when we were at Tabai Mountain National Park and were ready to return to Xi'an, but were told that there was just the one stop to make. Our driver let us off outside of the most enormous structure of walls and modern architecture. We really had no clue what we were actually doing.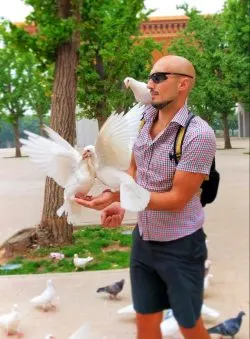 Upon walking through what felt like an over-sized Lego project, we headed towards the entrance… but not before I wandered off to watch a flock of doves pestering some visitors. For just $5 RMB (about 80 cents) a man gave me two seed packets and directed me to put some in my hand. Instantly I was covered in doves! It was so cool… and totally gross to think about after the fact. My friends all came over and joined in the fun, feeding birds and getting acquainted with the old man selling the seeds. It was more fun than any of us expected to have at a Buddhist temple.
Tip: if you're ever in a position where ANY random animal is getting all up in your business (at the Famen Temple or elsewhere) be sure to wash your hands and arms very well afterwards.

Tip 2: always carry your own soap with you when traveling in China, as not every bathroom, no matter how nice and clean, will provide hand soap or sanitizer.
Lunch in a Buddhist restaurant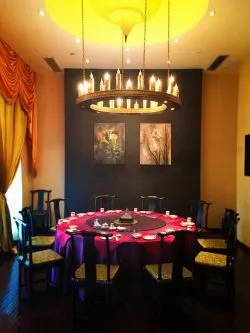 When we visited the Giant Wild Goose Pagoda in Xi'an, we ended our night with a fully vegetarian meal at a restaurant ran by Buddhist monks. Well, we did that for lunch here at the Famen Temple complex. It was wonderful!
We had a table with servers bringing us pre-selected dishes (including aubergine, because when in China…), but everybody else was taking part in a really beautiful buffet. While we were waiting for our food, it was tough not to jump into the buffet line, but we held out. The lunch was awesome and we were once again impressed with the quality of the faux-meat products the kitchen of a Buddhist restaurant could turn out. Truly, it was an impressive meal and if you've not had one of this type previously it's worth seeking out in your city or when traveling. And, um, if you like jimmies on your ice cream, you'll love them on mock-chicken.
Tip: beyond a fairly astringent barley tea, very few restaurants ever offer a beverage with your meal. You do need to purchase everything from green tea to water to beer, and you do typically have to ask for it as they won't always ask you.
Getting to the Namaste Dagoba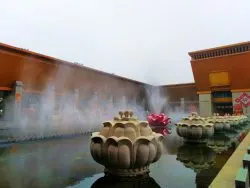 So yes, I've said that this is an enormous complex, but it's difficult to really understand the size until you actually ride on an electric car from one end to the other. Even going fast and cruising past all of the visitors on foot, from the entrance to the steps just leading to the Namaste Dagoba takes at least ten minutes.
The causeway leading to the towering golden structure in the shape of Namaste hands has six different plazas with a variety of Buddhas gracing each one. Smaller pieces of art garnish niches and courtyards. Had we crossed the whole Famen Temple complex on foot it would've taken an hour and a half at least.
The sights and statues along the Avenue of Buddha Anticorona are too many to count, and then just inside the base of the Namaste Dagoba are more. The craftsmanship and art of everything you see leaves you speechless.
Inside a different sort of Buddhist temple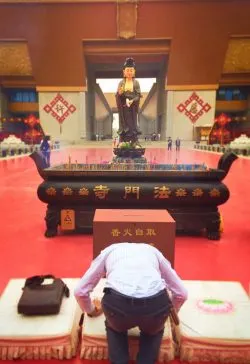 Once to the staircases, the journey was nearly over. Several fountain ponds and incense/candle stations guide the visitors up towards the Namaste (aka Heshi) Dagoba. The water, the colors, and the glowing golden building make for a very unique Buddhist temple experience; so modern that you're kind of in awe/shock of its non-traditional design.
Tip: if you walk one way, purchase an electric cab back to the start of the complex. The walk is long, on concrete and stone, and you'll be genuinely fatigued by the end of it.
Inside the highest dagoba in the world you'll find seven of the largest Buddha statues I've ever seen. Each of them depicts a different incarnation of the Buddha and it's amazing. I knew very little about Buddhism before my trip through China and reading all of the placards and having a guided tour of the Famen Temple complex really brought a deeper understanding of the religious beliefs and stories of Buddhism. I'm so glad I go to have this experience in a modern-day temple.
Tip: if you're going to be traveling and touring religious sites, it's really worth it to read up and try to understand a little history before your visit. I truly wish that I would've studied up on Buddhism before China like I did with Catholicism before Italy.
And just in case you go visit the Famen Temple and the Namaste Dagoba, know that not everybody gets to go up into the upper golden pagoda area. The interior of the Namaste structure was a special privilege that had been arranged for us. We were quite fortunate to get this extra part of the experience.
Exploring the Famen Temple pagoda and museum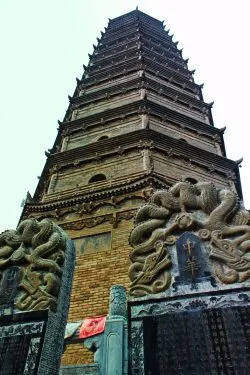 After seeing first-hand the modern expression of Buddhism in the Namaste Dagoba we headed to the original Famen Temple pagoda. This tower was completed in 220 AD and is the perfect example of an ancient Buddhist pagoda, despite it having been renovated countless times over the last 1800 years. You can climb it if you like (for a fee) or just experience it from the outside, including going underneath the pagoda. Under the Famen Temple pagoda is where they found the finger bone of the original Buddha, known as a "true relic of the Buddha."
Underground there's a chamber that's full of carved walls, embellished with gold and jade, there are monks writing prayers, and then there's the actual chamber in the very center guarded by lions. It completely has the feeling of an Indiana Jones set. I thought the archaeological dig of the terracotta warriors was cool, but seeing a functioning ancient temple including a dusty, inaccessible chamber where the most precious treasure was found, well, it was quite the sight to see.
Tip: like was suggested with visiting the terracotta warriors, brush up on your low-light photography skills prior to going, as the underground is dim despite its marble and jade.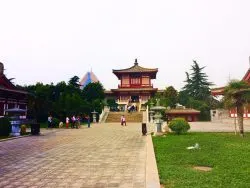 When we were done exploring under the pagoda, we went through the different museums of the Famen Temple complex. Our guide showed us a very nice and well kept collection of ancient artifacts, from 2000 year old golden bowls to the carved jade cases that the real and fake bones of the Buddha were found in. Exploring a collection like this in such a place as an ancient temple complex removes the foreign, detached feeling you might get when viewing such objects in a traveling exhibition or permanent collection. It's well worth spending the extra time going through the museums.
Tip: we had a guide with us provided by the Famen Temple complex. If you have this opportunity, you should accept it as so much of the grounds and then the artifacts in the museums do require additional information or translation.
The Famen Temple complex was so fascinating, particularly since it was so different from any other Buddhist temple I'd seen previously. I think a visit to this dagoba and the surrounding grounds really is a great way to keep in perspective how active and widespread Buddhism is today. From the antiques and ancient buildings to the modern art and architecture, the Famen Temple is one of a kind and a must for a visitor to Shaanxi province.
For more interesting Buddhist sites check out these fun travel bloggers: Six Incredible Temple of Ancient Sri Lanka or Things to do in Bagan with Kids or the largest Buddhist temple complex in the Southern Hemisphere.