Stone Mountain in Georgia is a fascinating place. It's fascinating for many of the wrong reasons. If you're from the Atlanta area, no doubt Stone Mountain Park has been a staple of your life, and true, there is some fun to be had there, but it's also not cool. This is our review of Stone Mountain Park, its wide variety of attractions including the gondola, train ride and other family friendly things to do.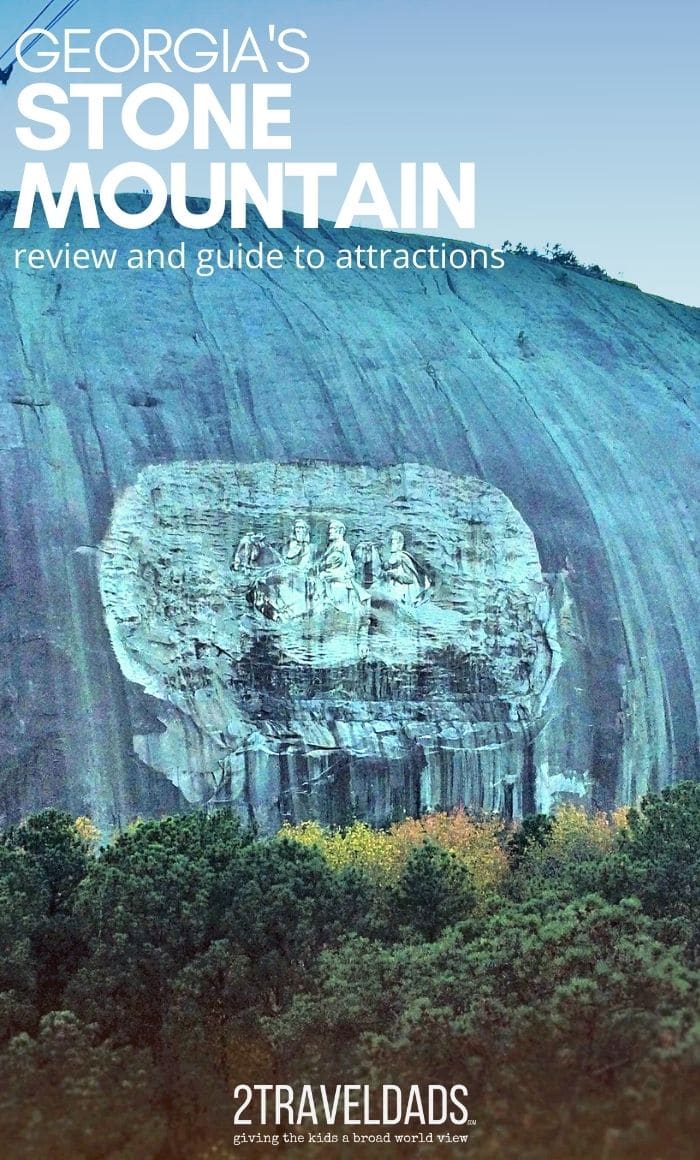 PUBLIC APOLOGY:  this post is several years old now, and initially when people would leave comments about MY commentary on how inappropriate all the Confederateness of Stone Mountain was, I would allow their comments and step back from my voice condemning the relief blasted into the face of the granite. I chalked it up to maybe not understanding history fully. But no. Now I see that the many comments this article has gotten over the years regarding preserving the history and such are coming from a place of white supremacy and ignorance.
I've since gone through the comments, removed my apologies for NOT understanding history, and restricted some comments that I now see are clearly racist statements protecting white fragility. Thank you to everyone for being respectful who was, and thank you to the people who opened my eyes about how blatantly racist Stone Mountain as a place and park is.
What is Stone Mountain
Stone Mountain Park covers 3200 acres of forests, creeks and exposed rock. Stone Mountain itself takes its name from the enormous deposit of granite in the middle of the Georgia hills. It's reminiscent of the granite hills of Yosemite. And it just so happens that on the face of the mountain is a carved relief of confederate leaders from the Civil War. Not cool.
Beyond the carved relief on the face of the mountain, Stone Mountain has tons of hiking and walking trails through acres of natural beauty, there are some historic sites, and also some family friendly attractions/rides. Heck, there's even fishing and golfing at Stone Mountain.
Protesting at Stone Mountain
Know what else we found at Stone Mountain Park? Confederate sympathizers.  If you didn't grow up in the USA or if you've not lived in the South you might not be familiar with this group of people.  They're a bunch who like to relive or want to revive the days when there was segregation, acceptable racism, and general malady towards non-white people.  If you live anywhere with half a consciousness you know this is completely unacceptable.  
And it's not something we EVER want to encounter during family travel.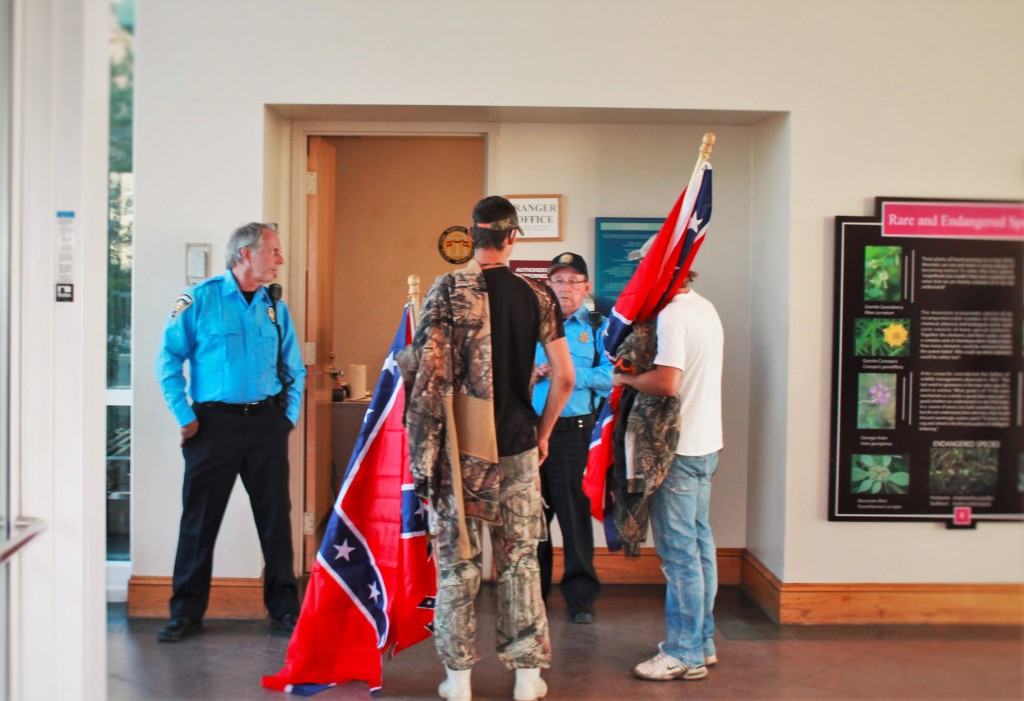 Why were they there? – the folks with the confederate flags were on top of Stone Mountain during out visit because they were protesting the installation of a Dr Martin Luther King Jr memorial carved from the mountain itself.  The monument: a copy of the liberty bell echoing the "I Have A Dream" speech.  The placement: ON Stone Mountain.  The outcome of the protest:  nothing.  For more information about the monument and the disparity of the public, see here.
Today (2020) there is more and more activity surrounding Stone Mountain. Those who understand history and the symbolism of a monument to the Confederacy know that the facade needs to be blasted and removed. Those who think "history needs to be preserved" are masking their racism by calling it history. Nope.
The Carved Relief on Stone Mountain
On the face of the huge granite stone mountain is a carved relief.  Everybody's heard of Mount Rushmore in South Dakota, and it's no doubt one of the most recognizable scenes in the United States. Stone Mountain has its own historical scene that depicts some Southern icons:  Jefferson Davis, Robert E. Lee and Stonewall Jackson.  If you haven't heard of these guys, let us fill you in.
Jefferson Davis – president of the Confederacy (the South / pro-slavery in Civil War)
Robert E Lee – leader of the Confederate army and slave holder
Stonewall Jackson – General of the Confederate army that led many campaigns
Here's the thing:  the relief on the face of Stone Mountain is on privately owned property and falls under a piece of Georgia legislation that preserves history, specifically Confederate monuments.  There's been talk of removing the carving via sandblasting, but it's protected and will remain on the face indefinitely.  That's that. It's disappointing to say the least. Shameful is a more accurate statement.
For more information about these three figures and why people are still trying to defend them and their actions, I highly recommend reading up on The Lost Cause. The Lost Cause is in reference to the system of beliefs that slavery is okay, and even a moral positive. It's very shocking to learn about, but many hold these beliefs true even today.

Moving past the Confederacy trying to make a comeback, there's more to Stone Mountain to do… but should you support this place? We won't return. 
Attractions at Stone Mountain Park
If you can get past the historic issues and want to continue to plan a trip to Stone Mountain Park, here's what you can expect. It's not all bad, but the fact the the face of the Georgia park is a Confederate monument colors everything we think about the area.
SkyRide to the top of Stone Mountain
Ever been on a gondola?  We're not talking about a romantic boat voyage for two through the canals of Venice.  We're talking a skytram-type scary can of people soaring through the air with hundreds of feet below to potentially plummet down.  Can you tell that the gondola isn't for everybody?  While the kids were excited to fly through the sky, I certainly was not thrilled to ride the Summit SkyRide.  It wasn't so bad, I guess, but I wasn't stoked for the ride back down.  I guess it's a good family travel activity.

Tip:  if you have a brave kid, try to get them to the front part of the gondola car.  The view will impress them, even if they're already a daredevil.
We waited in line for the skyride and it was chilly.  Or was that the staff manning the queues?  Both actually.  The service wasn't stellar by any means.  Anyway, we eventually got into the gondola and they jammed it full.   Thank goodness nobody freaked out, because it was the perfect setup for a group panic attack.
Note:  even contained attractions, such as a gondola, tend to have handicap accessible spots for the ride.  If the staff isn't paying attention to a guest in a wheelchair or with walking assistance, be the bigger person and make way or move out of the ADA spot.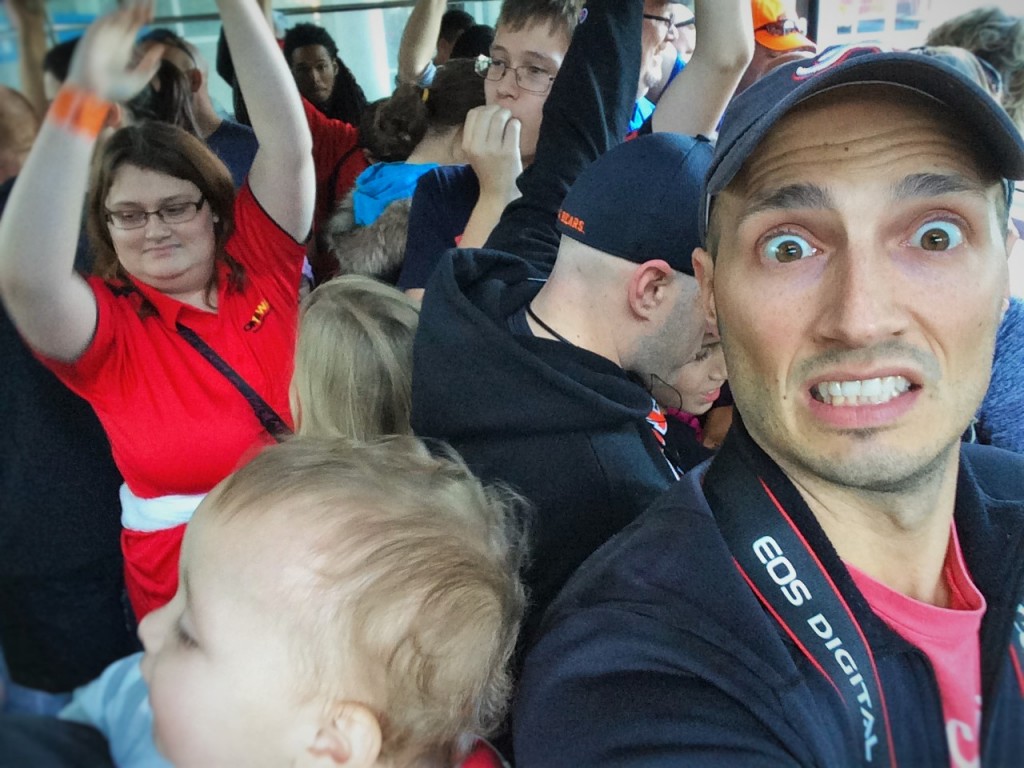 Despite the scary ride, the view is nice.  When we got to the top of Stone Mountain it was a beautiful,clear day all the way to Atlanta. Sunset viewing was a crowded experience though.
A ticket for the SkyRide is an additional cost beyond your Stone Mountain Park entrance fee.  Currently (2020) it is $5 per person additional.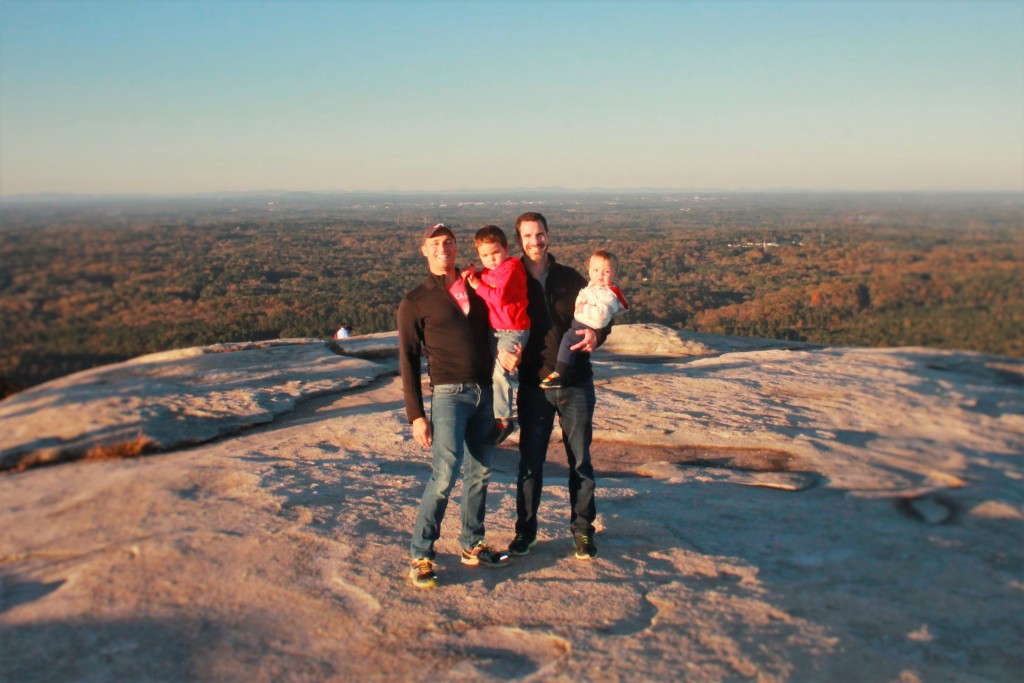 Stone Mountain's Old West Town and Village
There is this structure, the Great Barn, and it's really just an enormous indoor playground and (for kids) seems like tons of fun.  There's an obstacle course outside too, the adventure course called SkyHike, but we didn't get to do it because it was so late in the day.  The SkyHike adventure course at Stone Mountain isn't included with admission, so an additional ticket must be added for $5 per person (as of 2020).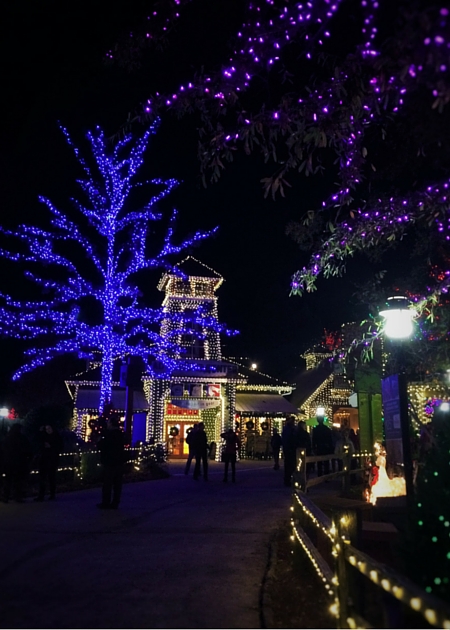 There are lots shops to go through, very much like the entry plaza to Knott's Berry Farm in Buena Park, CA. And if you're there on a cool winter evening, you'll find they have a wonderful selection of warm clothes for the ill-prepared frozen guest.  There's also a 4-D theater to see some sort of movie that is more than a 3-D experience… we didn't do it either.
Visiting Stone Mountain at Christmas
We were there while Stone Mountain was getting set up for Christmas and the lights were AMAZING.  While we don't have tons of compliments to throw out there for the Park, we will be the first to say that Stone Mountain does an incredible job decorating for the holidays.  Or should we say the do a great job for Christmas.  There was even a ridiculously festive parade.  Like, Disney-style parade, and it was very well done.  There's also a portion of the Park that is turned into Snow Mountain, which allows for sledding and other snow sports even when Georgia's not getting a winter blast.
Tip:  besides the Christmas lights to warm us, there were realllllllly good cinnamon buns.  Hands down they were the messiest bread product we've ever tried, but they were awesome.  They tasted like southern hospitality and sugar.  I think they may have been glazed with the sweat of Paula Dean.  We have no other dining tips than this, as we didn't love the other food we had.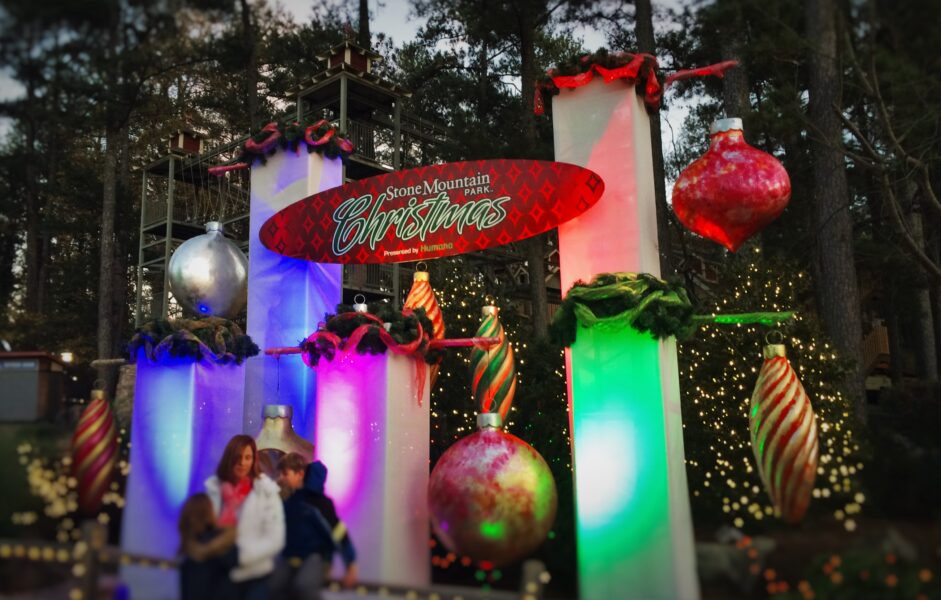 All aboard!! The one cool thing at Stone Mountain
Yep!! There is a for realz locomotive that runs around Stone Mountain and it's included with your park admission.  It's not a fast train and it's not cushy like the dreamliners of the 20s, but it's pretty cool.  We were there late in the day and during the holiday, so we were treated to a Christmas Sing-Along.  It was fun.  And awkward. It's fun though and a great way to experience a lot of the 3200 acres of Stone Mountain Park. 
The train ride would've been more cool had it been during the day…and during the rest of the year.  When it's not Christmas at Stone Mountain there is a Wild West Show that takes place on the western set along the scenic railroad.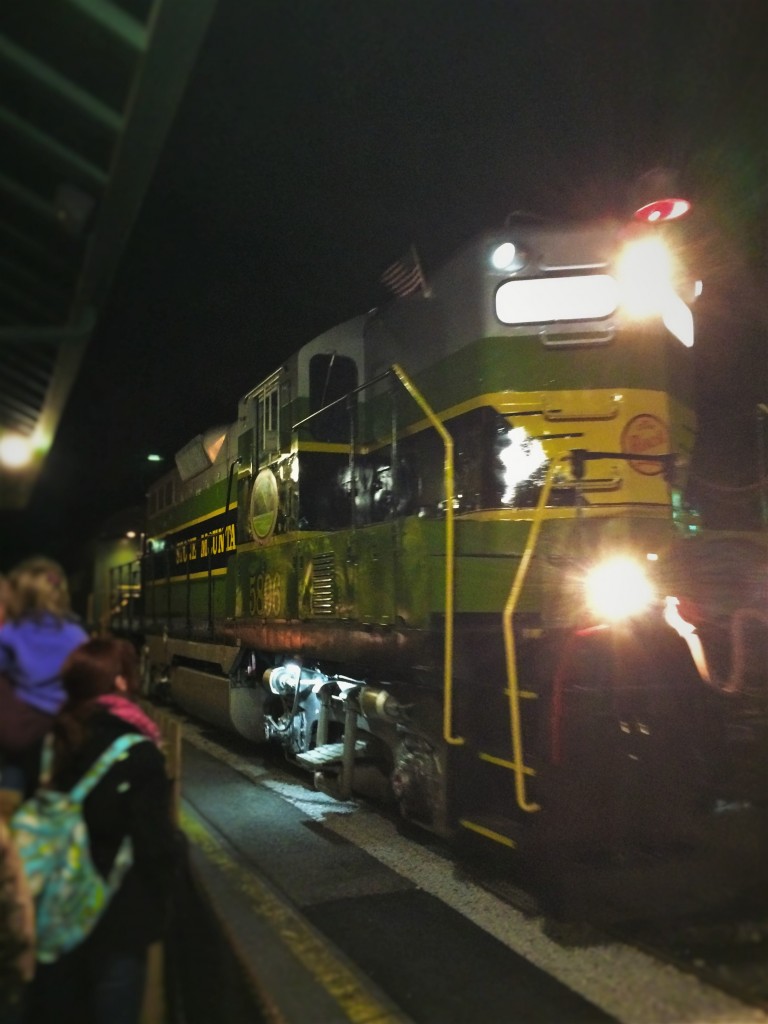 Note:  during the Coronavirus pandemic, shows and entertainment experiences like the Wild West Show or the Lasershow Spectacular are not running or are running with an adjusted schedule.
During the winter, it's set up for a telling of the nativity story.  Once that's done, you just keep going around Stone Mountain and singing songs.  I bet it's neat during daylight…
Tip:  if you're not raising your kids in a Christian household, you may want to give them a little background before visiting a religious site or a religious activity.  You don't have to do a ton of prep work, but you know that kids always have questions and sometimes a short mention of some background is a good way to help them understand what they're seeing.  Example:  being on a train in the dark and all of the sudden hearing about angels and a savior and such. Or if you're visiting a cathedral and explaining why people go there or are kneeling… or why there are life size crucifixes hanging.  Most adults have seen these things their whole lives typically, but not all kids have.  Just a thought.
For a full list of attractions at Stone Mountain (including Ride the Ducks) check out their website.
Would we go back to Stone Mountain Park?
So, besides being cold and experiencing a few aspects of the South that we hadn't talked to our kids about, what did we think of Stone Mountain?  We don't recommend it and won't be back.  True, we would love to see the Lasershow Spectacular on the face of Stone Mountain, but supporting this park isn't something we'll do again.
There are many views in the world that are as lovely or better than what you see from the top of Stone Mountain. You can easily visit the nearby Arabia Mountains National Heritage Area for majestic views and granite mountains. 
There are better ways to learn about history and respecting others than seeing people protesting and participating in racist events.  There are actual historical sites that have character and active businesses that you can patronize instead of the manufactured Stone Mountain gift shop village. There are other train rides available in other towns that offer more distance and better sights.
All in all, Stone Mountain was a way to occupy an afternoon.  We got to be there with family and the kids enjoyed just running around, so that was nice, but next time we're in Atlanta (which is often) we'll find other interesting activities that are more in line with our idea of family travel.