It's rare that we share much that really focuses on food, but there are a few cities that really do require it. Buena Park dining totally shocked us, and then we have had some hotel restaurant experiences that wowed us, but not too many. The best restaurants in St Augustine have really made lasting impressions on us and we have our favorites!
Now that we live in Saint Augustine, we've been digging in even more, finding even more great places. We have an article specifically about visiting Butler Beach / Crescent Beach (our neighborhood) and we have a whole other group of the best restaurants on Anastasia Island, so take a look there too!
Be sure to check out our complete article on all the best stuff to do in Saint Augustine as well!!!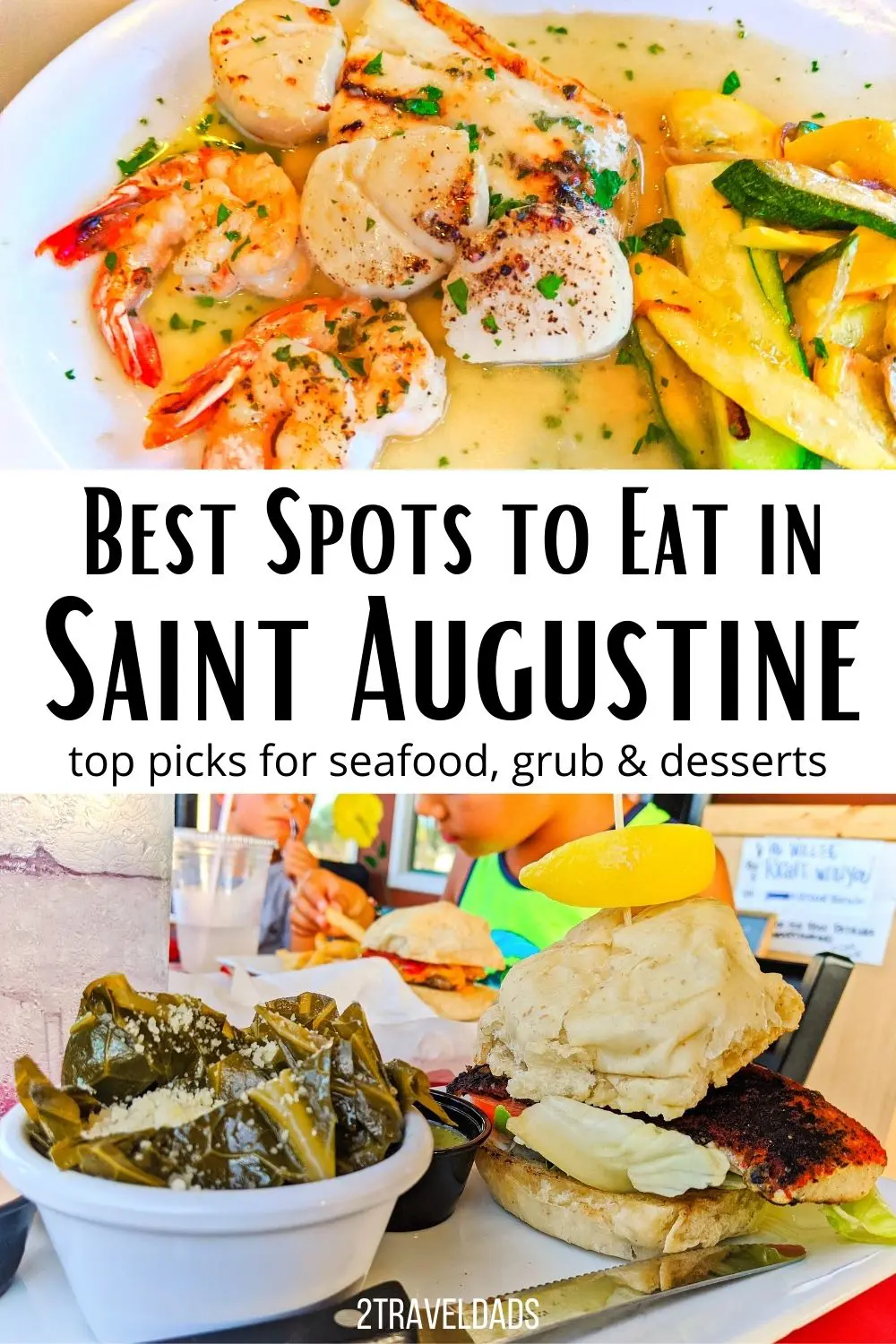 Best Restaurants in Downtown St Augustine
The main reason people visiting downtown is because there are so many things to do in St Augustine's old town. With all the activities, you'll get hungry so we have restaurant recommendations from breakfast until after dinner.
Enjoy a Spanish lunch at Taberna Del Caballo
We have had lunch here three times and loved it every meal. The Cubanos: really great pork, just the right amount of cheese and a few pickles; exactly what we hoped it would be. And the sangria is really wonderful too; a little too easy to drink…but then it's open-air dining in Florida.
Why we keep returning to Taberna Del Caballo in the Colonial Quarter is because they keep the menu both modern and strongly Spanish influenced. Some of the best vegetarian options we've found in Florida have been at this restaurant. I feel like it's a staple to our visits and needs to be included in your own list of things to do in Saint Augustine.
Cost: $13 – $17 per person. Worth it: yes, indeed.
Hours of Operation: 11:00 am – 9:00 pm Sunday thru Thursday, open until 11:00 pm Friday & Saturday – check site to confirm hours of operation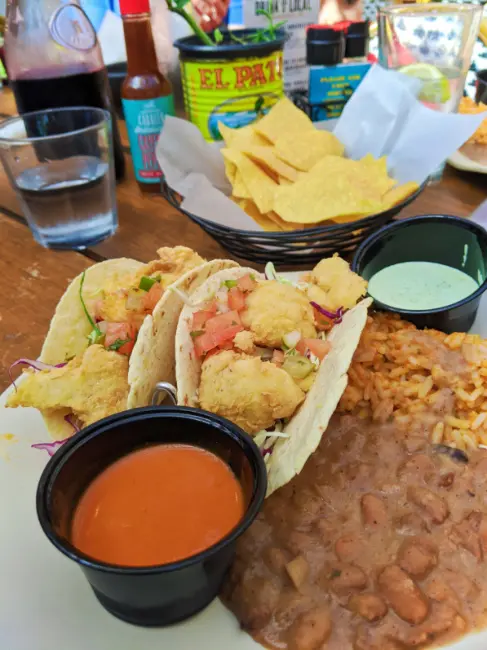 Grab empanadas from the Spanish Bakery
Just off St George Street is the Spanish Bakery. It's small, it smells like heaven, and it's got some incredible empanadas and Spanish soups. You can order sandwiches as well, but the empanadas and turnovers are just the best. There is outdoor seating in both the shade and sun, or you can walk with your food.
Tip: YOU HAVE TO TRY THE DATIL PEPPER SAUCE! yes, that requires all caps. The datil pepper is an important ingredient in the Saint Augustine food scene and its interesting flavor makes any dish twice as good. To quote our friends from the Pretty Fork , "precise spice" is THE THING and datil peppers offer flavors you can't get from other pepper varietals in the USA.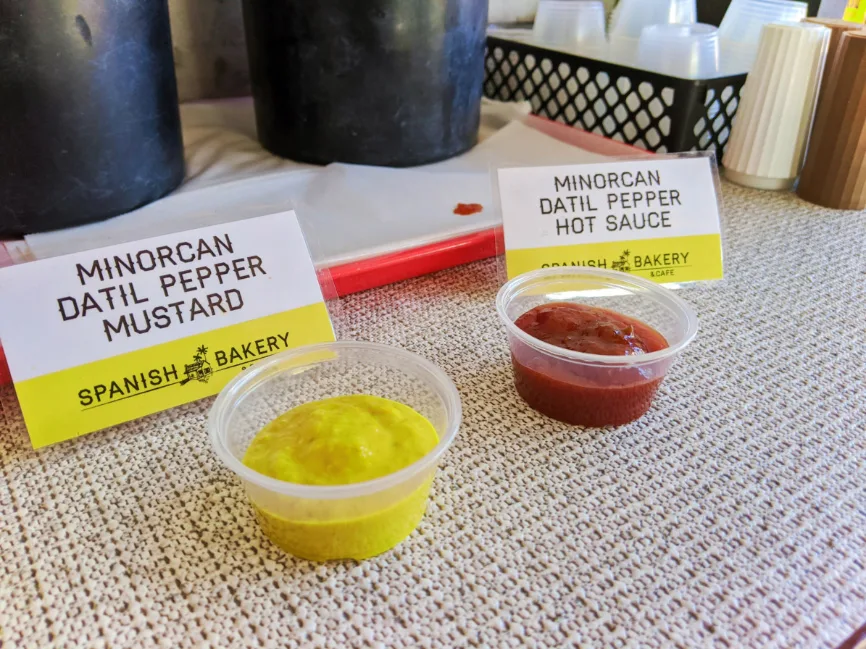 Get Hyppo Ice Pops to cool off
Did you know that you need artisan popsicles in your life? Well, you do. The Hyppo is also located on St George Street and it's the perfect spot to stop in and cool off. Hand-made popsicles of every flavor with clean, fresh ingredients are a perfect treat between meals. A visit to the Hyppo is perfect after you've been exploring the Castillo de San Marcos!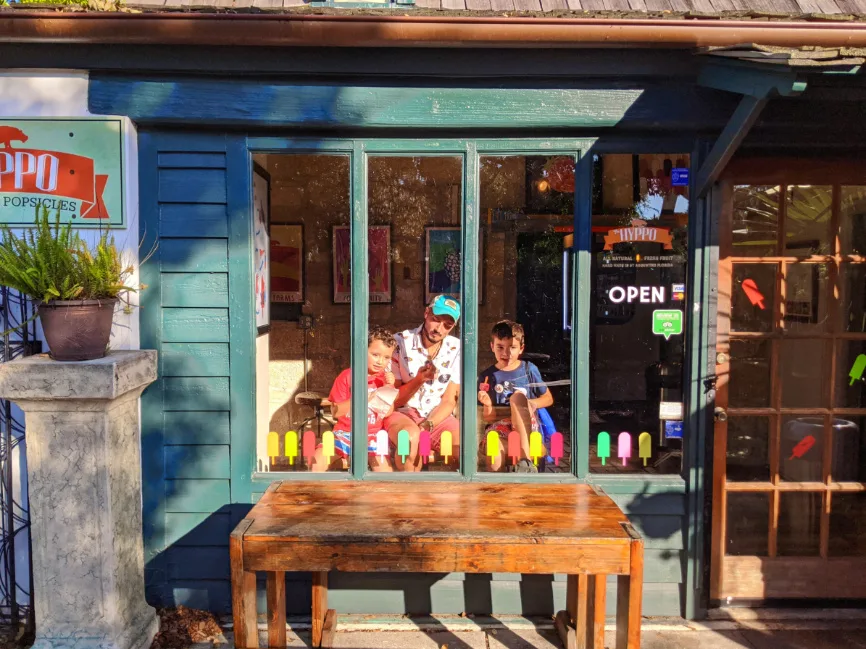 The Columbia: a St Augustine dining tradition
Like with Taberna Del Caballo, we've been back to the Columbia several times. The service is always top notch and the menu really showcases the Spanish influence on Florida seafood. And the 1905 Martini is kind of the best cocktail ever (straight up with Spanish cheese stuffed olives).
One of several locations, the Columbia is a spin-off from its sister restaurant over in the Tampa area. They've been serving Florida style Spanish cuisine since 1905, and in Saint Augustine since 1983. Love it!!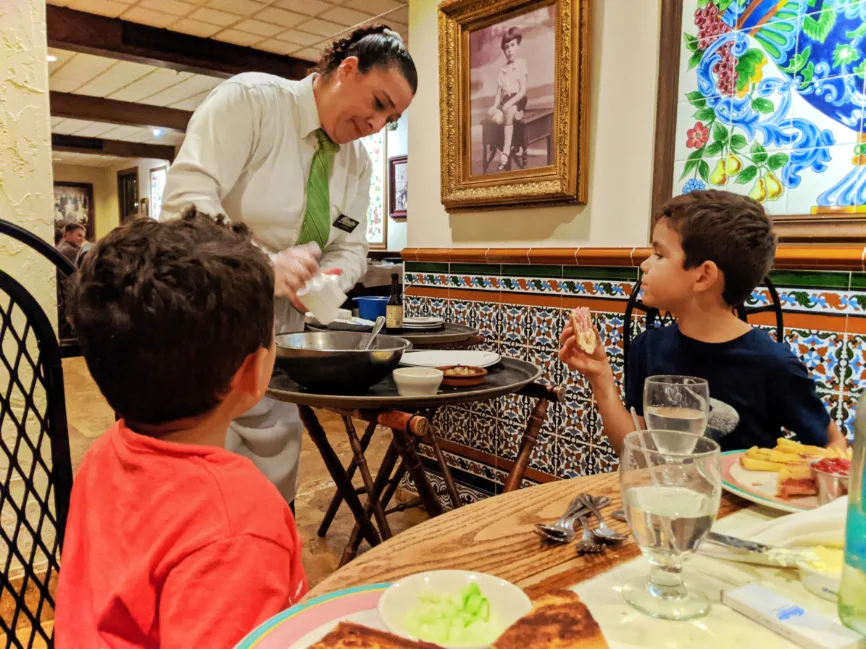 Have a drink with locals at the Chatsworth Pub
Directly across from the Saint Augustine Marina, the Chatsworth Pub and Tea Room is like a snapshot out of 18th century Florida. Dark wood and wallpaper give it that Colonial Tavern feel (much like the King's Arms in Williamsburg). During downtown events, the Chatsworth gets pretty busy, but the atmosphere is awesome.
While this is a great spot to just grab a drink, you have to also get the fresh pretzels with beer mustard. They might not be an original 18th century recipe, but they're to die for.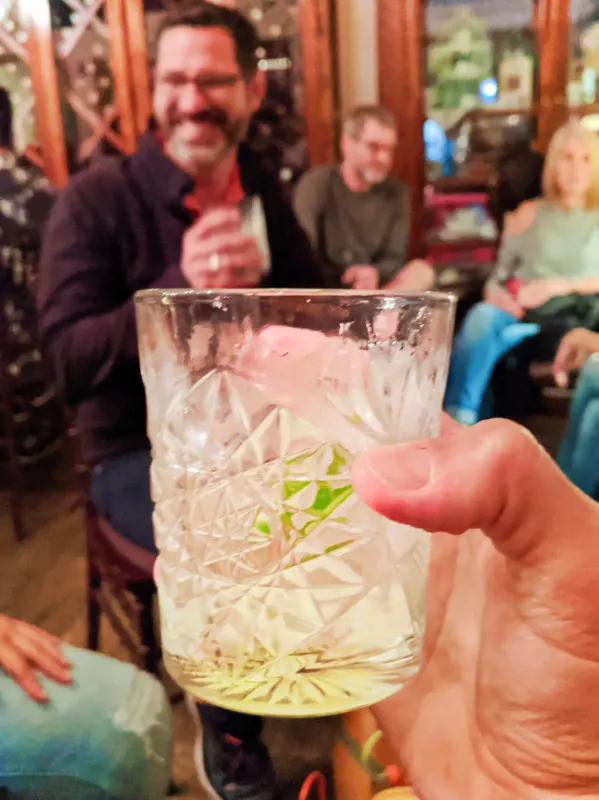 Open-air dinner at OC White's
Seafood and people watching in the warm night air? Yes please. OC White's, also across from the Saint Augustine Marina, is a fantastic Florida seafood establishment with an enormous patio. The outdoors area is dog-friendly and one of the best places to eat in Saint Augustine with kids. Being so close to the marina, this is a great spot on the waterfront for a meal after you've been out sailing or enjoying Saint Augustine Eco-tours!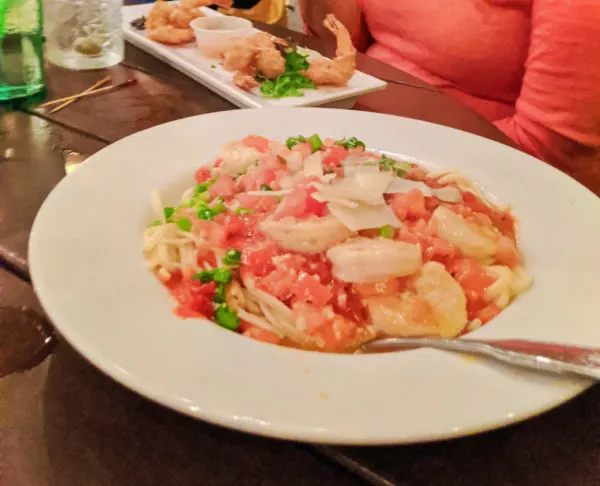 Meehan's Irish Pub and Seafood House
Located right off the waterfront, there is both indoor and outsdoor seating. Even though it's an Irish pub, it really is all about the multicultural food, including incorporating the Minorcan flavors. Irish hits like shepherd's pie are, of course, on the menu, but there's more to Meehan's Irish Pub.
The Minorcan Chowder is awesome, and very different from what you'll get at many of the other local joints. A hearty chowder with a delayed but strong spice from the datil peppers, it's delicious.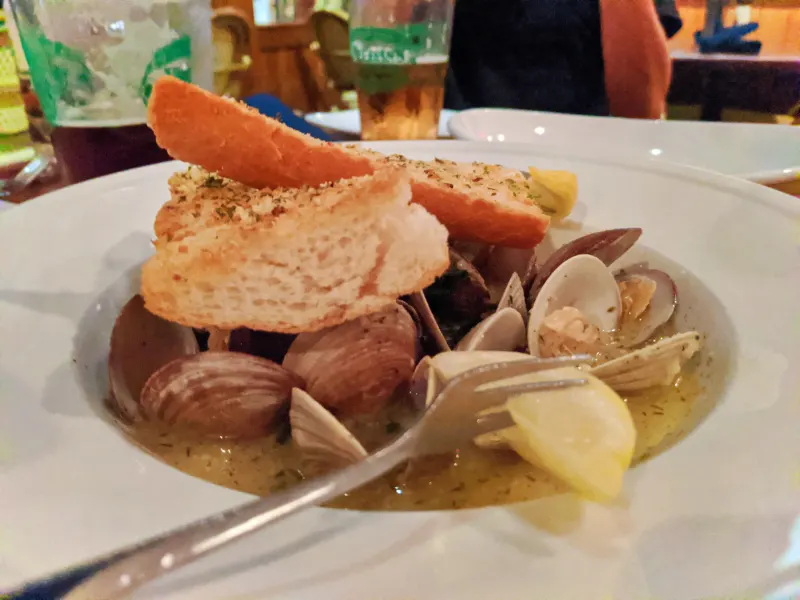 Best St Augustine Restaurants that AREN'T downtown
Downtown Saint Augustine is of course full of great places to eat, but some of the best restaurants in town are just beyond the main core. From the Lincolnville area to near the freeway, you'll find some wonderful spots for breakfast, lunch or dinner.
Saint Augustine Fish Camp
Just at the edge of downtown on the San Sebastian River is the Saint Augustine Fish Camp. Yes, the food is good and we enjoyed a nice seafood platter, crab cakes, fried shrimp and more… But what we need to tell you about are two things: fried clam strips and grits to gravy. I know, there's a whole menu full of fresh seafood options and this is where we're starting? Yep. And before I forget, such wonderful cocktails with TONS of outdoor seating!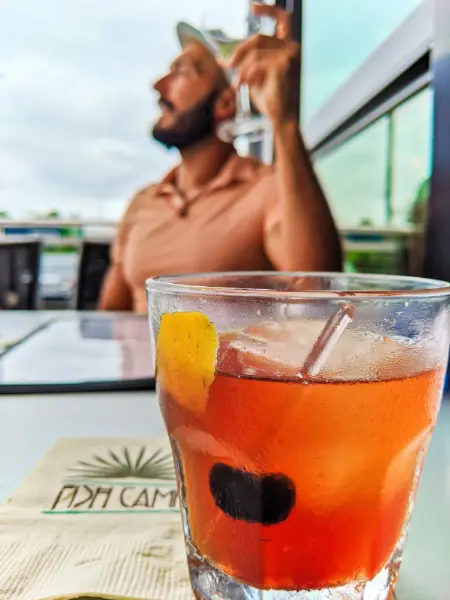 If you've ever had clam strips, they can be hit or miss. With the first bite, Chris exclaimed that these were the best he's ever had. I concurred and so did the kids. Perfectly tender and seasoned well, they weren't even slightly chewy, which is always my fear with any clam dish. I know, it's an appetizer, but it was so good we've actually returned just to get them again.
The other dish you CANNOT MISS is the grits with Tasso ham gravy. Wow. Tasso ham is a specialty in the South, particularly in Louisiana, but you don't find it many places in Florida. The grits served with this incredible gravy were my absolute favorite. Part of me wants to try to recreate the St Augustine Fish Camp grits and gravy at home, and the other part of me knows that I won't even be close to successful. Well done creating a perfectly Southern dish that compliments Florida seafood well!
PS: I tried to get good photos of the grits and gravy but it's just not a pretty dish. That's life.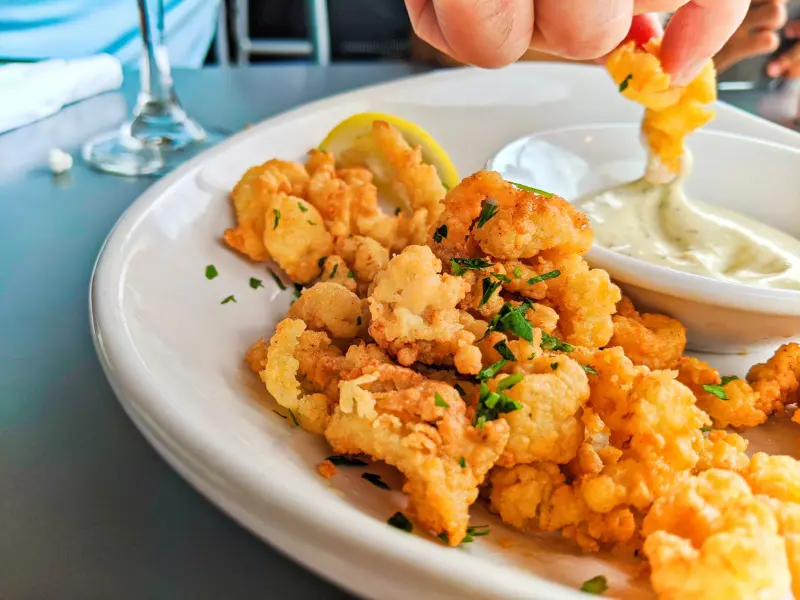 The Ice Plant at St Augustine Distillery
We've listed visiting the St Augustine Distillery as one of the best things to do in St Augustine, but eating upstairs at the Ice Plant is for sure a part of that experience! Located in the Lincolnville areas of the city, just outside of downtown, the Ice Plant is both awesome for adults and is completely kid friendly.
I know we said that the pretzels at the Chatsworth are great, but the soft pretzels at the Ice Plant are too. And the crab cakes and fried plantains and everything else. Make an afternoon of doing a distillery tour and eating here. You'll be glad you did. PS: they also have Minorcan flare in their cuisine.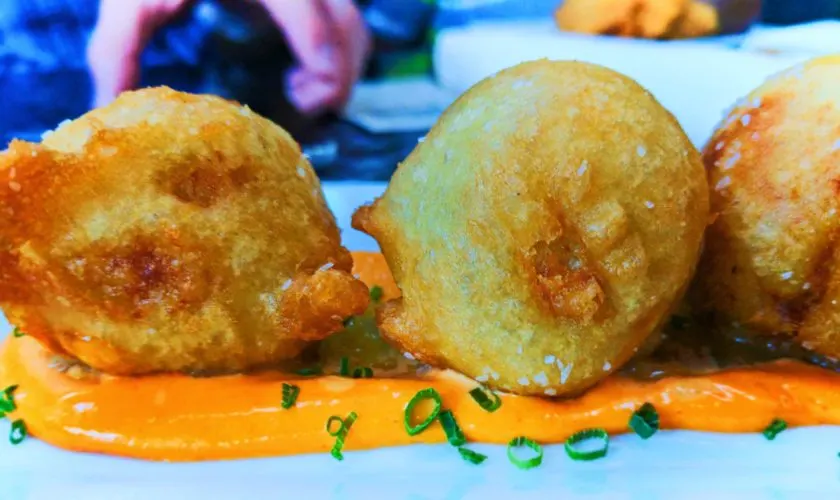 Manatee Cafe for vegetarian goodness
It can be challenging in the Southeastern USA to find great vegetarian options, as many people consider being pescatarian and vegetarian the same thing (they're not!!). But there are a few places that really get it. The Manatee Cafe is located out of the downtown core but is really worth the ten minute drive.
A wonderful selection of healthy, clean eating breakfast and lunch options, it's a favorite of ours. If you're staying on the outskirts of town it's very easy to get to and you'll love having a local favorite to return to. We heart the Manatee Cafe!
Tip: for a fun themed day, eat at the Manatee Cafe and then visit Blue Spring State Park or one of the other amazing Florida springs to see manatees in person!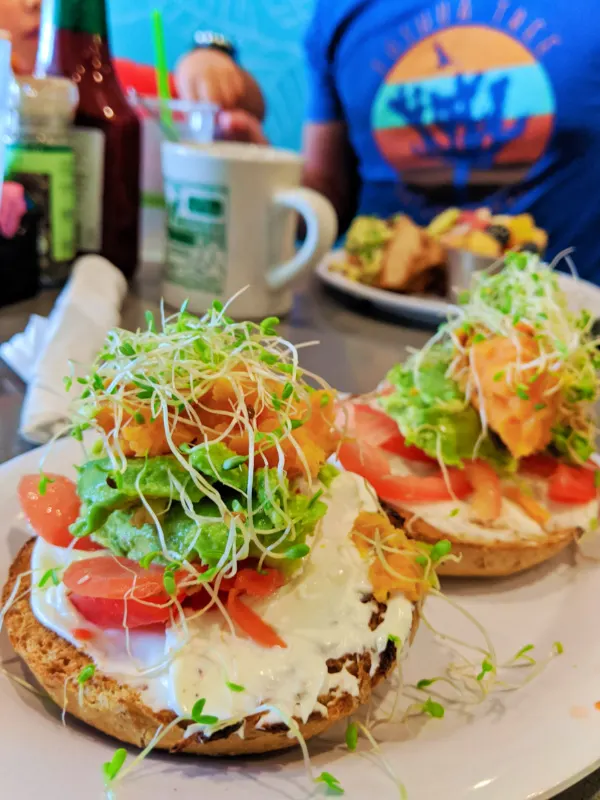 Smoked: Southern BBQ at the Fountain of Youth
You don't hear a ton about barbecue in Florida, because it's not their main focus, but there are a few good spots to get BBQ in St Augustine. Smoked: Southern BBQ is our pick for an easy, delicious walk-up barbecue spot. Located right by the Fountain of Your Archaeological Park it's an easy addition to a day of sightseeing.
Whether you want to do a full on barbecue platter or you want to keep with the Florida seafood style, they've got options of smoked goodness and not. And remember, Florida barbecue is MUCH different from western BBQ (our favorite western BBQ spot is in Big Sky, MT!) but it's still delicious.
Best Eats in Saint Augustine Beach
The beach vibe severely infects to food scene of Saint Augustine Beach… and we're here for it! Between seafood the melting pot culture of Florida, dining in St Augustine Beach is a treat. This collection of restaurants includes those in Saint Augustine Beach and the northern part of Anastasia Island.
Fried Fish Reubens at Panama Hattie's
Panama Hattie's, directly across from the St Johns County Fishing Pier, has created a remarkable sandwich. I love Reubens, but sometimes am not thrilled with the corned beef aspect. Replace it with fried fish and it's always a winner!
Also a wonderful surprise at Panama Hattie's: kale coleslaw. I love me some coleslaw and publicly critique (loudly) the bad ones. I absolutely love the kale coleslaw here. Hands down, best slaw in Saint Augustine.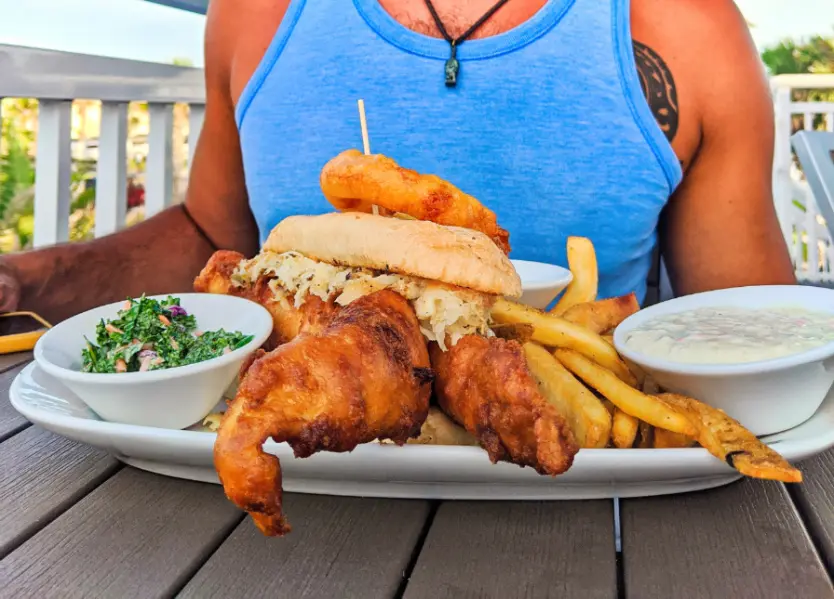 Dinner at Salt Life Food Shack
Speaking of beach vibes, dining on the rooftop deck looking out towards the Atlantic Ocean makes the good food even better. Salt Life St Augustine Beach is a great family-friendly choice. The menu varies from straight up seafood to creative sushi options.
If you're visiting on a weekend, plan to wait for rooftop seating, but it's worth the wait. And if you're visiting Salt Life St Augustine Beach without kids, you can pull up to the bar and wait. It's a really cool restaurant. This is a great evening spot, especially after climbing the St Augustine Lighthouse!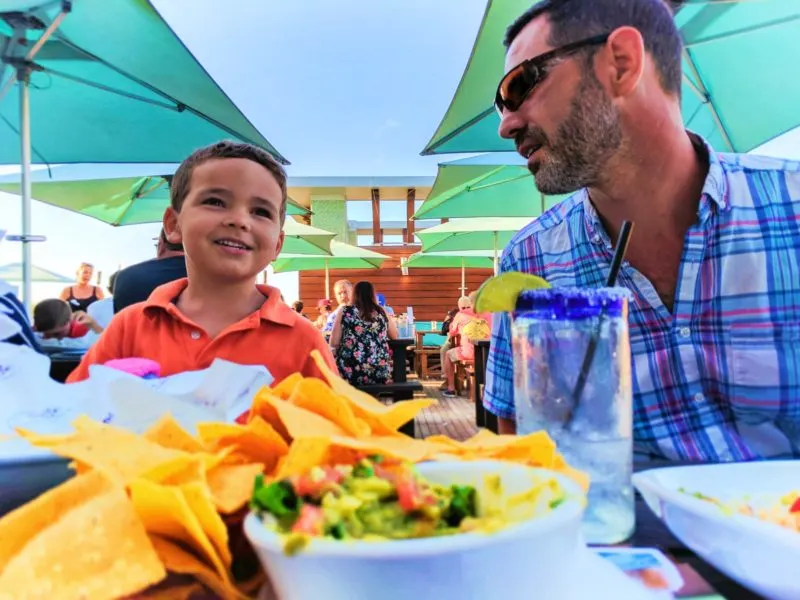 Lunch in the Village Garden Food Truck Park
I just love how food trucks have revolutionized the restaurant industry. Mobile kitchens allow for rotating offerings and the freshest food. In addition, they provide unique access to small businesses that wouldn't often get the chances they do. And that's why we love the Village Garden Food Truck Park!
For example: "4 Rivers Smokehouse is a local Florida restaurant brand with locations in the Tampa Bay Area, Daytona beach, and Orlando. They recently expanded into a food truck called 4 Rivers Cantina Barbacoa' in Disney Springs. Most restaurants at Disney Springs are results of celebrity chefs or well known brands, so the fact that a food truck has allowed a local Florida brand a voice in a high traffic area such as Disney Springs is wonderful and revolutionary!" says Victoria of Disney Trippers. And this is just what food truck culture in Saint Augustine and beyond is doing!
Here at the Village Garden Food Truck Park you'll find a changing variety including Florida BBQ, woodfire pizzas, wraps, poke bowls, burgers and more. They've got lots of tables and shelters for any weather and parking is super easy. This is the perfect lunch spot after a day at the beach or a visit to the nearby Saint Augustine Alligator Farm.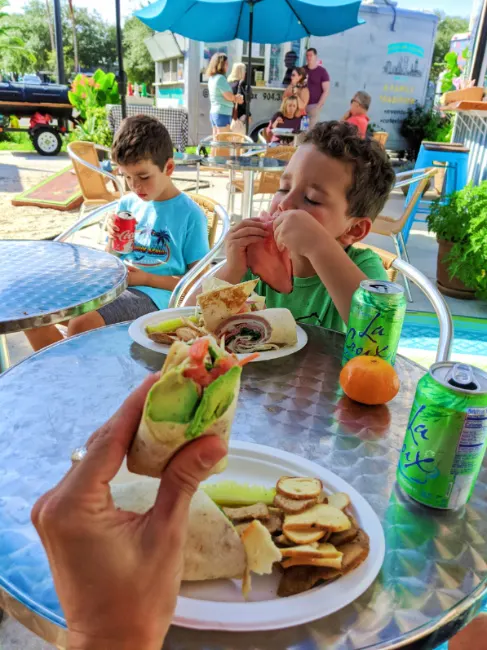 Caribbean food at Mango Mango's
We love Caribbean food and the Florida food scene blends so many awesome flavors and features. Mango Mango's is a great place to experience this. Between smoked fish and jerk seasoning, you'll find a lot of bold flavors. We even left with a bottle of their own seasoning to try to recreate their shrimp at home.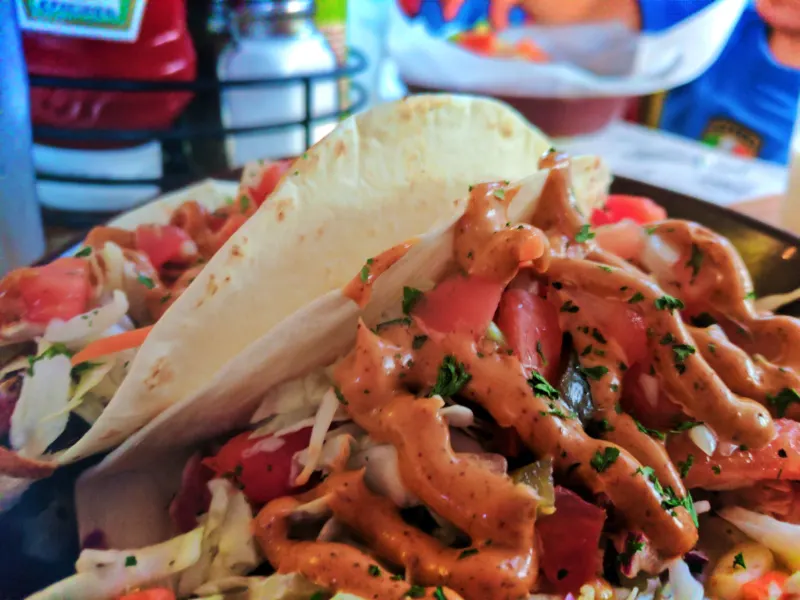 Frozen Custard at Rita's
I didn't know that there was really anything that different or remarkable about frozen custard, but we have kind of fallen in love with Rita's. Yes, it's actually a chain with a gazillion shops up in Philadelphia, but it's still an awesome addition to a day in Saint Augustine Beach. Get a gelati, which is going to be a combo of shaved ice and frozen custard, and you'll be in dessert heaven.
There are actually two Rita's Ice Custard locations in Saint Augustine, so if you're on the other side of town (inland) you can grab one there too.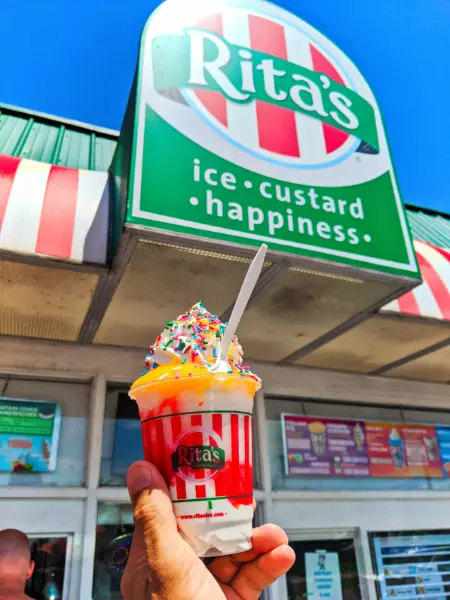 JT's Seafood Shack: best out-of-town lunch
I know, this is going a bit far outside St Augustine Beach, but it just HAS TO BE INCLUDED! JT's Seafood Shack is right on Florida A1A just south of Marineland, south of St Augustine Beach. This unassuming spot is one of the best restaurants in St Augustine (or thereabouts). Here you'll find fresh fish paired with all sorts of Southern staples (pictured below is fried flounder and cheesy grits).
There is both indoor and outdoor seating (screened in) so you can choose what suits you. We opt for outdoor seating whenever possible, except on the hottest days, and here that means having plenty of fans going. The atmosphere when you're in the breeze feels great on a hot day and the staff takes great care of you no matter what part of the restaurant you're in.
A stop at JT's Seafood Shack is great after visiting Fort Matanzas National Monument or kayaking in the Marineland area.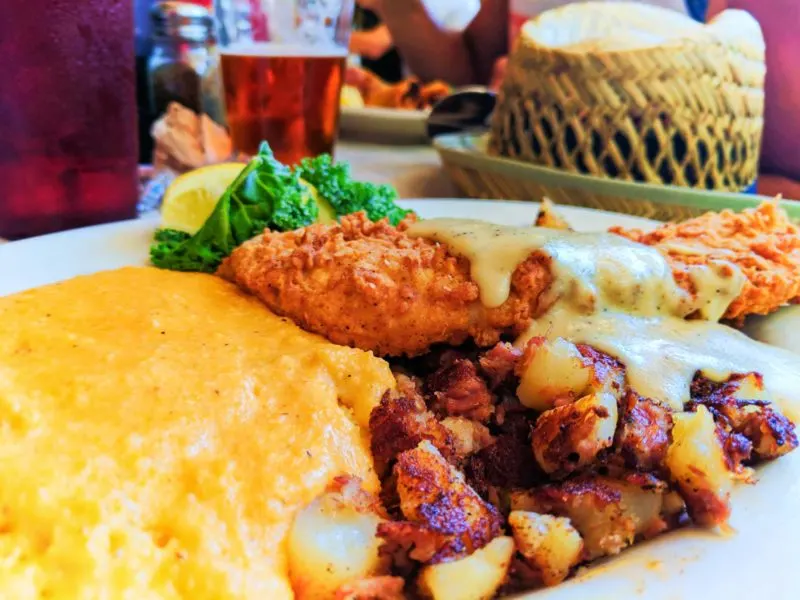 Best Eats in Ponte Vedra Beach
Much like the Saint Augustine Beach area, Ponte Vedra combines the best flavors of the ocean and the many cultures who've settled in Florida through the years. We have two solid picks for dining in the Ponte Vedra area, so if you're heading north to Jacksonville Beach, you could stop at either.
Aunt Kate's on the Tolomato River
Conch Fritters. Datil peppers. Minorcan chowder. These are the reasons to visit Aunt Kate's Restaurant. Specializing on the "low country" food culture, you'll find some of the most delicious St Augustine dishes here.
Besides the wonderful food and service, dining on the river provides a great atmosphere and view. If you're wondering where to eat at night, Aunt Kate's is perfect for then too, especially with the outdoor picnic table seating.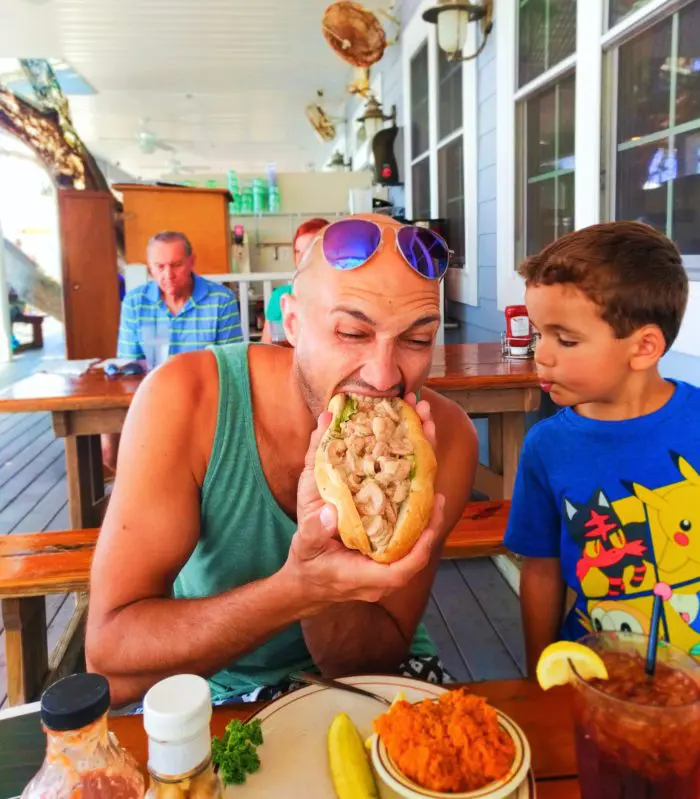 Oceanfront lunch at The Reef
We talked about the datil peppers before when we were sharing about the Spanish Bakery. Well, The Reef makes a killer datil pepper sauce too, and their cocktail sauce specifically is to die for.
You've got to get the shrimp and then we also HIGHLY recommend the fish and chips. And there's something so very vintage Florida about pineapple, so be sure to also get the individual pineapple upside down cake, because it's delicious.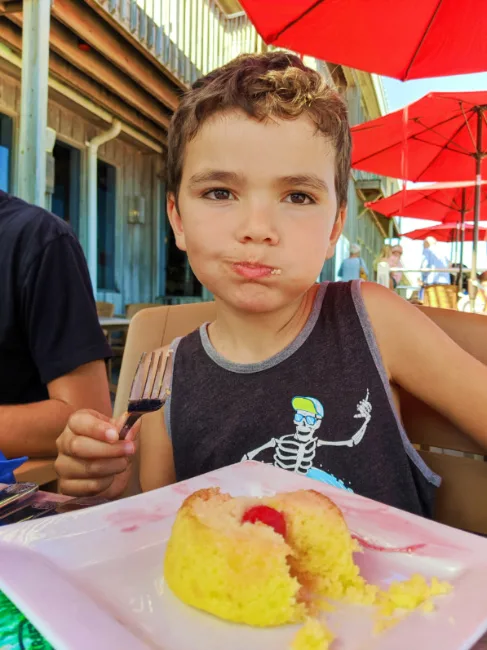 Now, between all the fun things to do and the best restaurants in St Augustine, aren't you ready to go explore and dine around America's Ancient City? Of course you are!!! Please let us know if you have any questions or need any help planning a trip around North Florida. Leave us a comment or send us a note!
And want to pin this for when you're traveling to Florida's Historic Coast? Go for it!!!