Big Sky, Montana brings to mind epic ski trips and exclusive mountain getaways in the snow, but did you know that it's much more than that and it's actually an incredible summer destination? There are remarkable, fun things to do in Big Sky, MT in summer months. Although it may be considered the off-season in Big Sky, summertime is just another cycle of fun.
While there are some great guest ranches and small hotels, the Big Sky Resort is the ideal home base for fun things to do, and visiting off-season is perfect for getting the best deals and having the most diverse experiences. Here's a complete plan for spending 4+ days here and it's all the best things to do in Big Sky, Montana.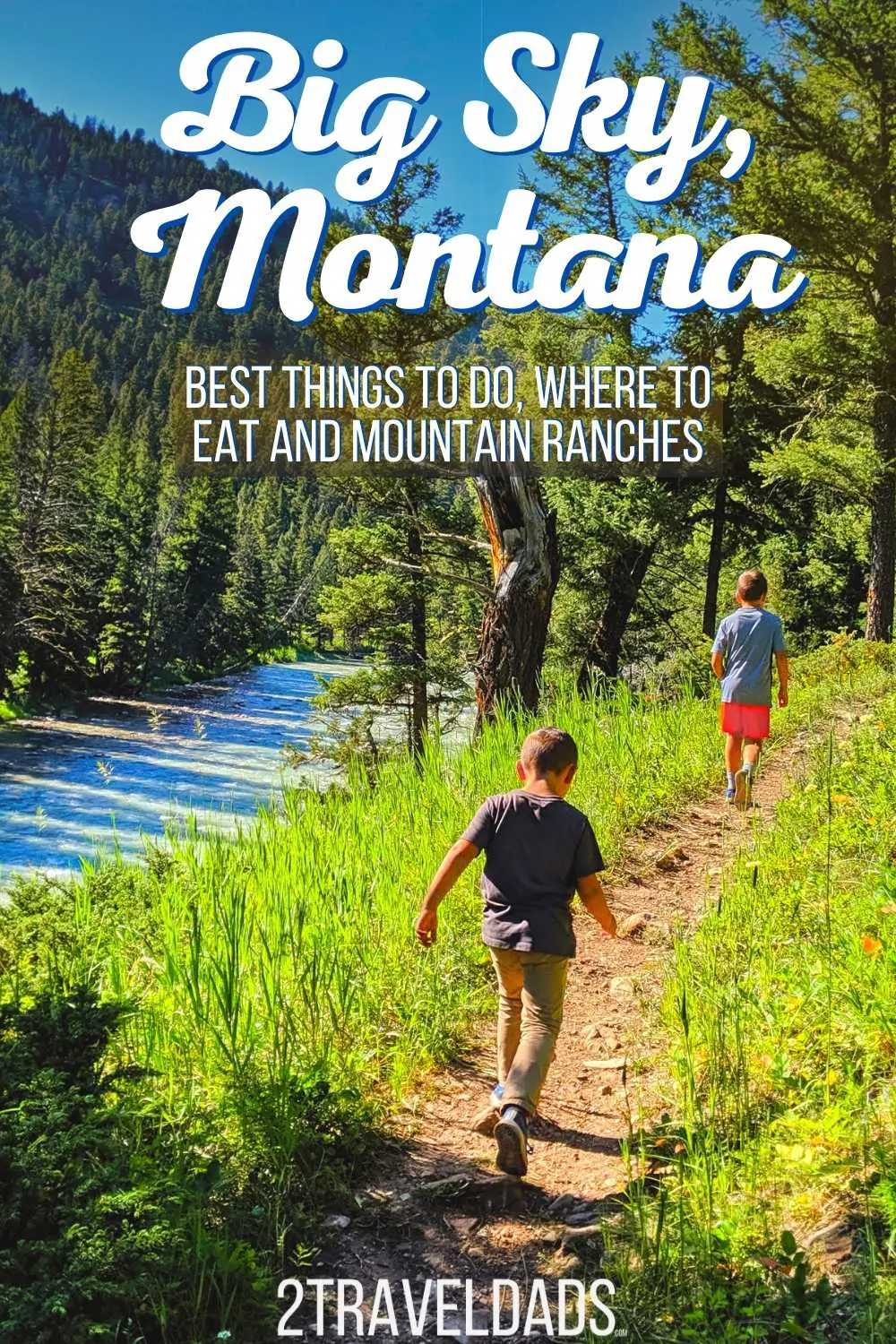 We actually went twice in one summer, so we know this town well. Whether it's a part of your Montana road trip or you're adding onto a trip to Yellowstone National Park, the Big Sky Resort is easy to work into your Montana travel plan. Check it out!
Where is Big Sky, Montana
Located just south of Bozeman, Montana, Big Sky is about an hour's drive along the Gallatin River. It's just outside of Yellowstone National Park and is about 35 minutes north of the town of West Yellowstone, and actually it's an option for where to stay outside of Yellowstone.
Flying, you can arrive via Bozeman Yellowstone International Airport (BOZ), West Yellowstone Regional Airport (WYS) via Delta, or fly into Billings and enjoy a longer, scenic drive (about three hours).
The town of Big Sky is rather spread out. The primary village area is just up from the Gallatin River. Here you'll find shops and dining, a golf course, and a grocery store. It's very much a resort town, so expect limited services, higher prices, and long wait times for the dinner rush. The other two parts of Big Sky are located along the river and high up on the mountain. Ranches, restaurants and a few hotels are at river level.
Up in the mountain village you'll find primarily Big Sky Resort affiliated properties and businesses. Lone Mountain is the backdrop of the mountain village and the high elevation of nearly 2 miles up can really be felt as you walk or hike around.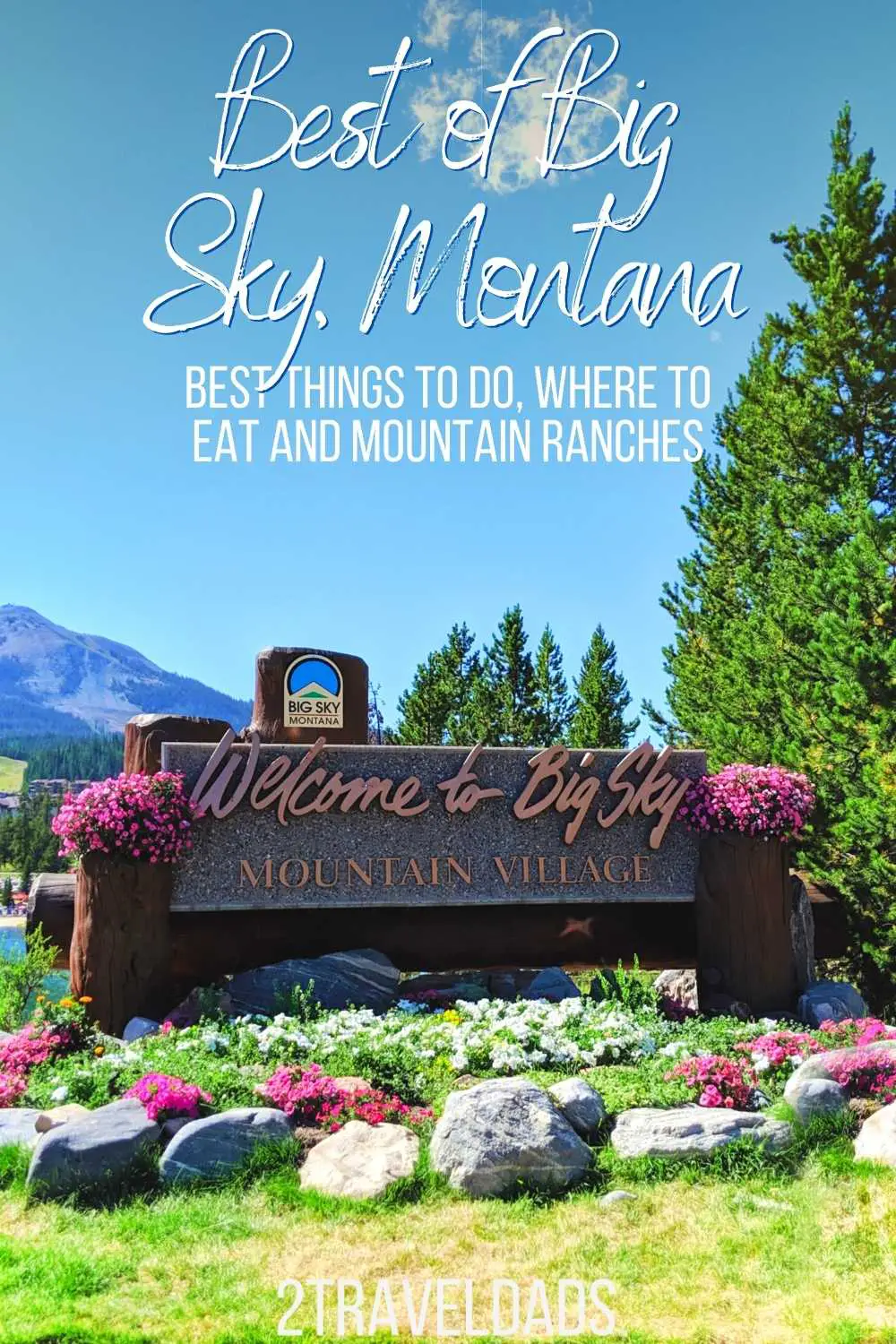 Where to stay: Big Sky Hotels and Ranches
The town is fairly limited when it comes to hotels in Big Sky, but there are a few. Near the river there are some ranches, and in town there is even a Marriott now, the Wilson Hotel. We have stayed at both the Big Sky Resort (see below) and the 320 Guest Ranch. Both of these options are good for families visiting Big Sky because of the on-site amenities and close proximity to things to do.
The 320 Guest Ranch is closer to the West Yellowstone entrance to the National Park than the Big Sky Resort, but it's not as inclusive when it comes to on-site activities. Lone Mountain Ranch (see below) also has cabins available… and then you're right there with the horses… ahhh. Search for Big Sky or Gallatin Gateway lodging here!
Our next visit to Big Sky and West Yellowstone we'll be staying here, at Under Canvas!
Staying at Big Sky Resort
There are a variety of accommodations and things to do at the Big Sky Resort. Whether you're thinking that a hotel room is what you need or if you feel like a multi-room condo is better, you've got options. At the Big Sky Resort there are many choices, including full on vacation rentals or basic lodge rooms. These are our top recommendations based on our experience in staying there and seeing them first hand:
Each property has different amenities and is close to different activities or ski options (if you're visiting Big Sky in winter). They also all come at different price points, so depending on your budget and number of guests, you'll have a few options.
Cowboy Heaven for a cabin retreat
Traveling so much for work, we are always excited when we get to have a stay that's truly unique and relaxing. Our Cowboy Heaven Cabin was perfect for our family of four. We had two bedrooms, two bathrooms, laundry in the cabin, full kitchen with dining counter, living room with a fireplace, front porch, a yard, and a private hot tub. It may be our favorite place we've stayed in Montana.
Staying at 320 Guest Ranch, Big Sky MT
While we didn't like staying at the 320 Guest Ranch as much as staying at the Big Sky Resort, it was still a great place for our family. Large cabin rooms and a well maintained property make it a solid choice for where to stay in Big Sky. What we liked about staying at the 320 Guest Ranch that the Resort didn't offer was the inclusion of horses everywhere.
Having horse activities, horses on trail rides going past our cabin windows, horse drawn cookout adventures… Staying at the 320 Guest Ranch gave us the Montana ranch experience that you can't miss.
For more options including vacation rentals and other hotels, check the map below.
Best Things to do in Big Sky, Montana
We don't ski or do snow sports much, so for us visiting Big Sky, Montana is all about the summertime recreation. The air is clear and fresh, and there's plenty of space to stretch out and enjoy the outdoors. This list of things to do in Big Sky is all about relaxing and taking in the Montana experience.
Great Hikes around Big Sky
We have to start with great hikes in Big Sky because there's no better way to get immersed into vacation than to get into the woods (or jump into the ocean, but that's not this trip!).
Hiking at Ousel Falls, Big Sky
Located just outside the Meadow Village area of Big Sky, Ousel Falls Park (Google Maps link here) is where you'll find the trail head to this great 1.6 mile round trip hike. With both moderately sloped and flat areas of the trail, it's doable for nearly any level of fitness. There are for sure moments along the trail that are more steep, but they're few and far between.
Great sights along the Ousel Falls trail include walking along the Gallatin River, sheer cliffs and rock formations towering above, deep green pools where the river calms, and a variety of cascades. The ultimate view is Ousel Falls itself. Viewpoints above and at the splash pool make it gorgeous from every angle. Super beautiful, and one of the best things to do in Big Sky, Montana.
Tip: there are picnic tables in several places along the Ousel Falls trail. I think this might be the best spot to enjoy a lunch in the woods in all of the Big Sky area.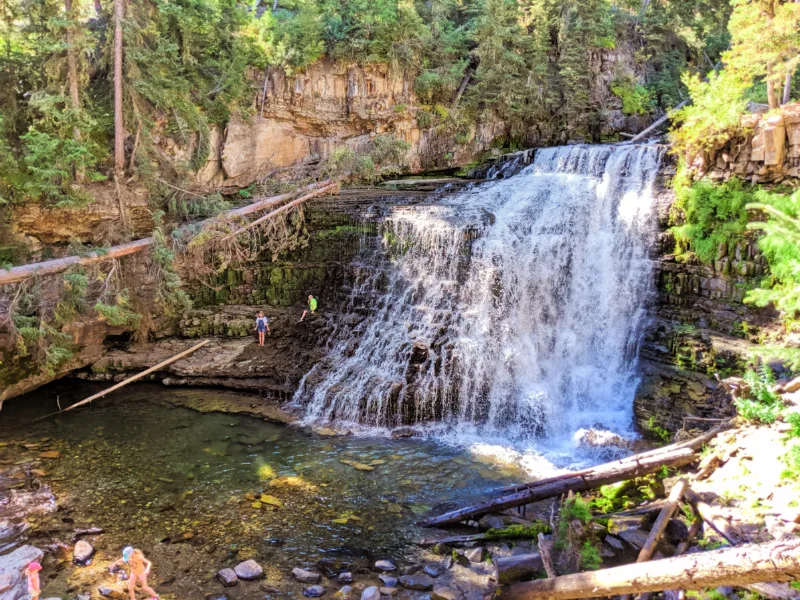 Hiking the Bacon Rind, Yellowstone National Park
Moment of honesty: I initially wanted to hike the Bacon Rind Creek trail ONLY because it's got "bacon" in the title. Turns out, it's a gorgeous trail too! A very easy walk through forest and meadows, Yellowstone National Park's Bacon Rind Creek trail is great with kids. While it is 2.1 miles from the start to the National Park boundary line, you don't have to do the whole thing. Truth be told, after the first mile it's actually very much the same scenery until you choose to turn around. Google Maps link here
We recommend doing this trail early in the day, as there's not much shade and it gets pretty warm in the Bacon Rind valley. Also, morning is nearly always the best time to spot wildlife. This part of Yellowstone is rarely visited and is still within park boundaries even though it's outside the main gate, making the trail one of the best things to do in Big Sky!
Tip: if you're hiking the Bacon Rind in the morning or at dusk, be sure you're carrying bear spray and that you know how to use it. On two occasions of visiting Big Sky other hikers reported coming across bears ON this trail. Be smart and prepared. Check out our article about Wildlife Safety in National Parks
Big Sky Hiking at Red Cliff, Gallatin National Forest
Love love love this trail! The Elkhorn Creek trail goes out of the Red Cliff camping area of Gallatin National Forest. At 10+ miles roundtrip you could be gone all day… but you can also just do a part of the trail. It's fairly easy for the first part of the hike while you follow above the Gallatin River.
The colors of the red cliffs above and the glacial blue river below are remarkable. The Elkhorn Creek trail does climb a bit as it goes away from the river, but the parts along the Gallatin are mellow and beautiful. Google Maps link here
This is another trail that you need to be very wary of wildlife, as the trail also acts as a through-way for animals heading down to the river.
Note: in mid-summer, this trail does get quite a mosquito population. We recommend using a quality citronella based bug repellent to stay bite-free.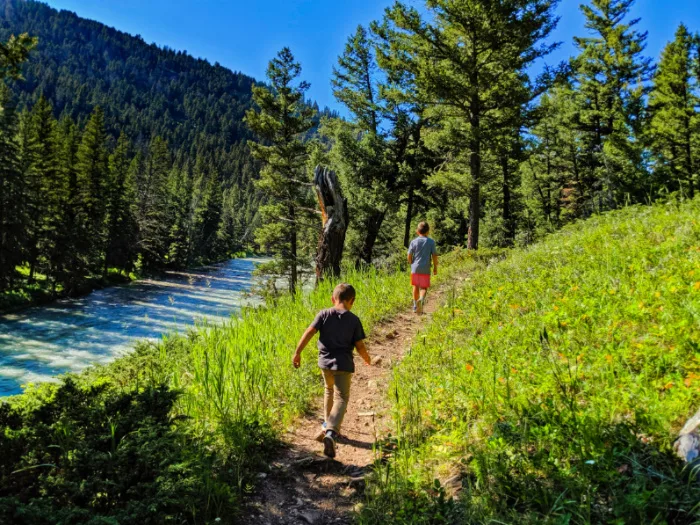 Exploring Big Sky via Horseback
We've had three different horseback experiences in Yellowstone Country, two of which were right in Big Sky! With such gorgeous scenery, getting some time at a guest ranch is one of our top picks for visiting Big Sky, Montana.
A day at Lone Mountain Ranch
I'm really excited to share about Lone Mountain Ranch, as this was the first time our oldest did a full length trail ride WITHOUT A LEAD LINE! That's right, between him getting older and the wranglers at Lone Mountain being great with kids, Oliver (our son) did a full two hour ride with stead elevation gain and loved it!
Lone Mountain Ranch is kind of a gem and riding here is one of the best things to do in Big Sky. It's set off from the main road and is an equestrian lover's dream. Horses roam the fields and hillsides, the stables and pens are well maintained, and there is plenty of staff around to make sure that visiting Big Sky is as fun and memorable as possible.
In winter, they offer Nordic skiing and sleigh ride dinners, so even though we're all about visiting Big Sky in summer, Lone Mountain Ranch is a great addition to a winter trip as well.
Note: while two of us did the full two hour ride, the other two hung back to do a cow poke ride. Smaller riders, like our youngest, get to do a very simple trail. This is great for getting used to being on a horse and developing confidence for when they're old enough for the full experience.
Horseback Riding at the 320 Guest Ranch
Located down on the Gallatin River and away from the town-site of Big Sky, 320 Guest Ranch is ideal for kid-friendly horse time. For adults or experienced riders, 320 Guest Ranch has more difficult trails and longer rides than we did with them, including multi-day ride experiences. If you want to stay at the 320 guest ranch and ride over several days, they have options that will provide a variety of day parts and terrains.
Tip: be sure that you've gotten all of the details of your rides hammered out at least a day in advance. You don't want to have your time doing other activities cut short because your ride went over or because you didn't plan time to prep for your ride.
Things to do in Big Sky on the Water
Just because you're in the mountains doesn't mean you don't have the option of getting out on the water. And yes, rafting and paddling are perfect things to do in Big Sky!
Rafting the Gallatin River
One of the prettiest rivers in Montana, the Gallatin River is perfect for doing a scenic float in the summer, and in the summer heat it's for sure one of the best things to do in Big Sky. Spending about 1.5 hours on the water, you'll catch the scenery, a few rapids (but nothing big) and maybe even spot moose or bear.
The Gallatin River Valley is unique with its towering cliffs and broad valley floors, so getting on the river is sure to please! Book a scenic float or rafting trip here!
Kayak or Standup Paddleboard at Big Sky Mountain Village
Just down from Yellowstone Basecamp is Lake Levinsky. A manmade lake, but pretty just the same, it's surrounded by trees, mountain condos, and epic views. An easy and relaxing option is to rent stand up paddleboards (SUP) or canoes and just enjoy the scenery. Paddling on such a beautiful lake is a great summertime thing to do in Big Sky. Book an all day rental here (booking is available seasonally!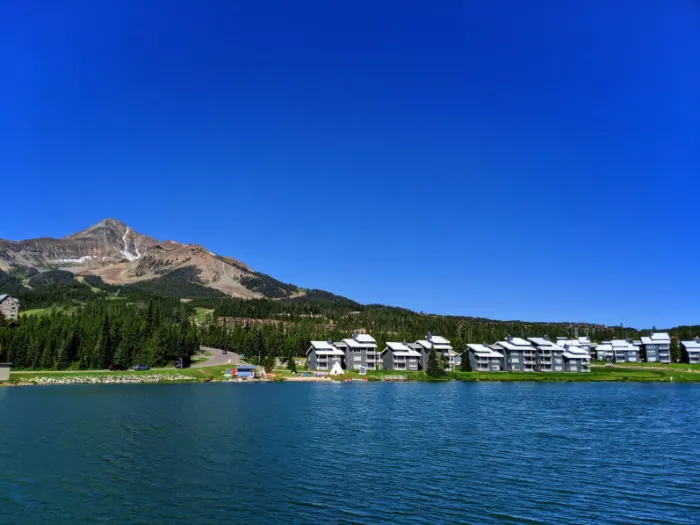 Things to do at Big Sky Resort
Being a resort is about more than providing accommodations and a pool. Big Sky Resort is really much more and is tons of fun, particularly for kids. We've visited twice in the summer now and each time our family has enjoyed non-stop relaxation (even when hiking).
Yellowstone Basecamp activities
I've got to start here because my kid told me to. Yellowstone Basecamp: it's activities and games for kids all around a central plaza. At Basecamp, visitors can purchase a bracelet to give them access to a variety of games and apparatus for fun. From mini-golf to gem mining, trampolining to high-platform swinging, it's a blast!
Note: Oliver had the goal of doing 100 flips on the bungee trampoline at Yellowstone Basecamp. He fell a bit short at 85, so we'll just have to return!
Ziplining at Big Sky Resort
This is not my jam, but Chris LOVED it! With a variety of courses and the longest zipline in Montana, Big Sky Resort is apparently also the place for people who dig flying high over the forest and stuff. Like I said, Chris loves the zipline options here.
There are two main courses: the Adventure and the Nature Ziplines. Both go out from Yellowstone Basecamp and the tour is the same duration, just different sights.
Note: you must wear close-toed shoes. THIS DOES NOT INCLUDE CLOSE TOED SANDALS. They must be shoes for a variety of reasons, but safety is one of them, so just be prepared.
Scenic Chair Lift rides at Big Sky
I love that we do a scenic chair lift ride each time we're visiting Big Sky. Going out from the Yellowstone Basecamp area, the normal ski lift operates all summer long to take guests up Lone Mountain providing sweeping views across the Gallatin River Valley. On the same primary ski lift, mountain bikers can transport their bikes up to the top and ride down on well established biking routes.
We enjoy doing the Lone Mountain scenic chair lift ride for the calm of it all. When we're in Big Sky, we want to relax and appreciate the remoteness of it all. Doing a chair lift ride is perfect for that! And you need to include relaxing activities in your things to do in Big Sky.
Note: Depending on guest size, up to four passengers can ride up on a chair lift. We LOVE doing this with the kids and they think it's a thrill (even though it's so chill).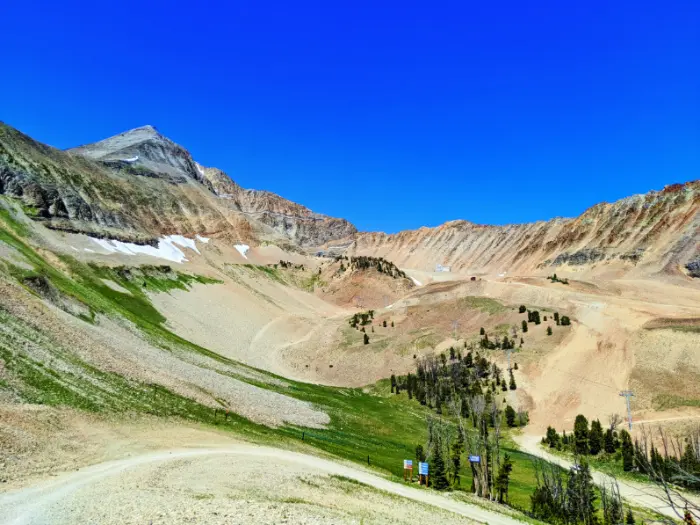 Lone Peak Expedition
For the more adventurous or just those who want the most epic view in Montana, the Lone Peak Expedition is an extension of the scenic chair lift ride. Starting at Yellowstone Basecamp, riding the standard chairlift and then continuing on, the Lone Mountain Expedition takes guests in an off-road vehicle to a second sky tram / gondola to the very top of Lone Mountain.
By the time you get to the top of the second cable car line, you're just shy of 2 miles high. Hike just a bit further and you're at the utmost peak of Lone Mountain at 11,166 feet high. The views are 360 degrees and look all across Montana and into Yellowstone National Park.
Tip: you'll want to dress warmly for the Lone Mountain Expedition any time of year. It's windy and cold at the top. Also, take your time doing the final climb from the second gondola stop. The elevation is REAL and you'll be out of breath before you know it. It's one of the wonders of visiting Big Sky.
Relaxing at the Big Sky Resort
We never won't want to relax, and nearly every place around the Big Sky Resort is built for relaxation. All around the Yellowstone Basecamp area, around the lodge common areas and in surprising places, you'll find hammocks, perfect for just chilling out and enjoying the quiet, fresh air. The swimming pools are open to guests staying on property at the Big Sky Resort, and with a view of Lone Mountain, why wouldn't you take advantage of them?
And you cannot forget picnics. Picnicking is one of the best things to do in Big Sky. All around the resort area, there are picnic tables for guests and visitors alike. Stop into the sandwich shop, the Hungry Moose Market, for a great deli lunch to go, then set up your picnic with a view.
Big Sky Spa Day at Solace Spa
Booking a spa day is something we aim to do with every vacation… and it only happens one out of fifty times. We loved our time at the Solace Spa though (and not just because we rarely get to have a spa day dedicated to us dads).
The Solace Spa is located within the Huntley Lodge at the Big Sky Resort. They offer a wide variety of treatments, from massages to wraps and fancy things that I don't understand. We opted for therapeutic and hot stone massages, and they were exactly what we needed for turning our Big Sky vacation from fun to relaxing.
The spa environment is perfect, being a world away from the adventure seekers outside. A bonus with having a spa day in Montana, because they've brought their cannabis laws into the 21st century, Solace Spa is able to offer CBD integration with their treatments. It is an additional cost, but worth it.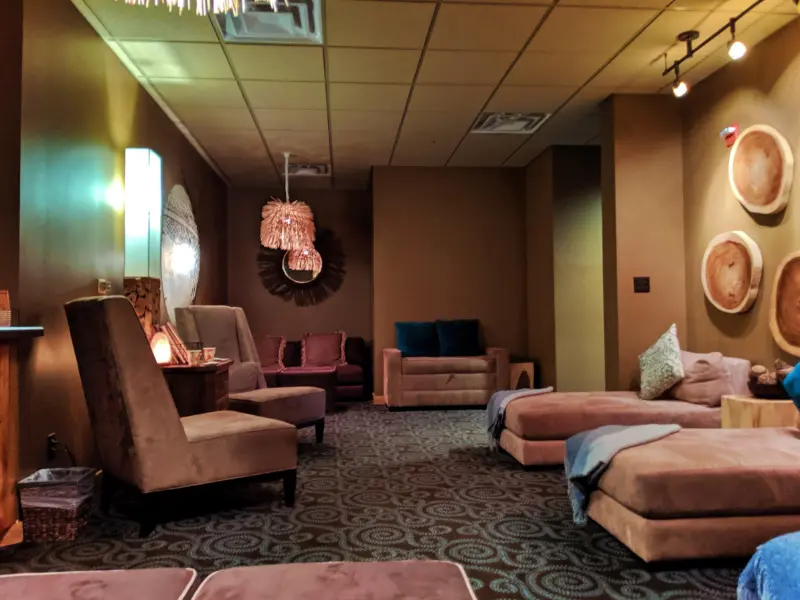 End Each Day Star Gazing in Big Sky
Until you've gone outside in Montana in the middle of the night you don't know what you're missing. Big Sky is one of the best places we've ever been for star-gazing. There is virtually no light pollution, so if you get away from any street and let your eyes adjust, you'll be blown away by how many more stars are visible in the big Montana night sky.
Tip: to take photos of the stars, you can actually use your phone, but be sure it's set up on a tripod. If you have an Android phone with Google Night Sight, set it up and click away. If you don't, you may have photo success by setting the timer once on the tripod and letting it do a long exposure.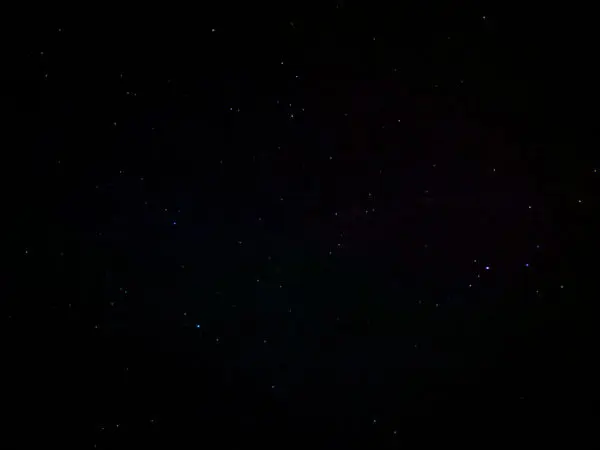 Best Places to Eat in Big Sky, Montana
Since we've spent so much time in Big Sky, Montana we actually have favorite places to eat. Here are our top three picks for the best dining in Big Sky, and each is a very different experience.
Big Sky BBQ at Gallatin Riverhouse Grill
Each time we visit, having dinner at the Gallatin Riverhouse Grill is a must. It's our first pick for the best food, and maybe our favorite of our things to do in Big Sky.
Set just off the Gallatin River, the views are epic and beautiful. There is a ton of outdoor space for enjoying local brews, there are lawn games, often there's live music, and there's even access to the river.
And then the food. I'd say that the BBQ platter for two is both the most delicious and the best value dinner in Montana, or at least in Big Sky. Chris swears that the fried chicken is the best he's ever had, and the kids love the brisket. Even though it says it's for two, it feeds a family of four.
Tip: they don't take reservations so arrive early and relax. Enjoy the atmosphere and chat with the locals (and tourists alike)!
Fine Dining at Horn & Cantle Restaurant, Lone Mountain Ranch
There's no better way to end a day at Lone Mountain Ranch than a good meal. Horn & Cantle is the dining room on site and it's remarkable. With one of the most Montana menus we've ever seen, Horn & Cantle highlights both Montana's ranching industry and local cuisine (elk, bison, trout…). Chris was in foodie heaven.
For me, I LOVED the vegetarian options, giving a nod to the diversity of travelers visiting Big Sky. Yes, the menu is still meat-heavy, but the chef has some sharp skills around preparing vegetables and grains in an interesting way. Kale and creme fraiche: who knew? Oh, and the cocktails are great also.
Cocktail recommendation: the Lone Mountain (duh). A wonderful take on an Old Fashion.
Riverside cookout at the 320 Guest Ranch
In addition to staying at the 320 Guest Ranch and riding horses there, we also were treated to a really wonderful riverside cookout. Add this to your list of things to do in Big Sky! Starting at the main 320 Guest Ranch lodge building, climb into the back of a wagon and hold on.
Enjoy the hay ride from the main ranch area to their private riverfront barbecue locale. Montana cuisine and a s'mores cookout make this an ideal family friendly activity, and a great way to end a day in Big Sky.
I know you're going to have the best time visiting Big Sky. With so many things to do, some of Montana's best views, wonderful accommodations, and planned downtime for relaxing, you may never want to leave.
Want to pin this for planning your own Big Sky vacation? Go for it!!!