Visiting Joshua Tree National Park is a great addition to a vacation to Palm Springs or Southern California in general. Joshua Tree is a very unique National Park and visiting is a different experience compared with Yellowstone or Yosemite. I'd sooner relate it to visiting the Everglades than any other Park. There are tons of things to do in Joshua Tree , but you need to know what to do and where to do it before you just show up.
You'll find that Joshua Tree National Park has both easy and difficult hiking along with unique features unseen in other parts of California. This Joshua Tree guide will help you plan, prep and have an awesome time exploring this fascinating place, including everything you need to know about visiting Joshua Tree during the super bloom.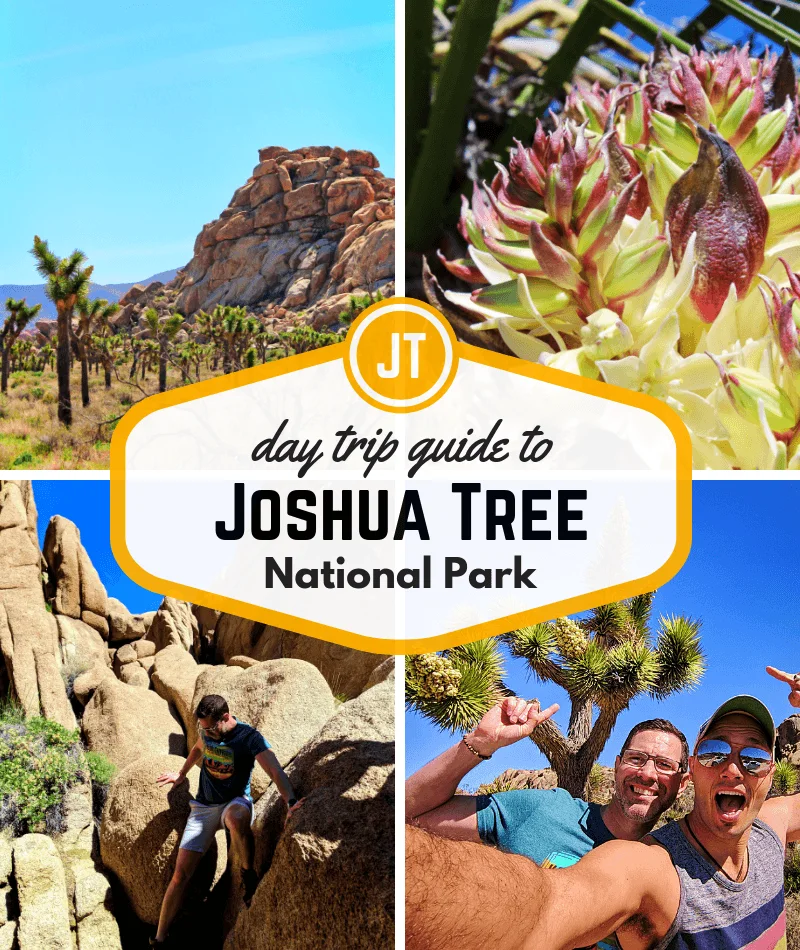 What is a Joshua Tree?
So glad you asked. A Joshua Tree is a member of the yucca or lily tree family. It's like a giant succulent that grows only in hot, arid climates. They are very rare outside of the deserts of the American Southwest (there's a small grove in Mexico), but their yucca cousins can be found in deserts all around the world. And no, it's not a yuca (only one "c") like is used to make tapioca. It's its own family.
The Joshua tree is a rough, pokey plant. It doesn't get very big, unlike the Sequoias or Redwoods, and it's rarely grows straight up. Joshua Trees are shaped like Dr. Seuss trees and look a lot like the silhouette of a person jumping out to scare you. They really are unique and cool.
When do Joshua Trees Bloom?
Joshua trees don't bloom every year, but when they do it is amazing and since it's so rare, if you get the chance to visit when they're blooming, you'll be one of the few people on Earth that experience it. Because of how rare a Joshua tree bloom or flowering event is, they all seem to bloom at once. This helps them pollinate each other and secure a bright future for the Joshua tree population.
Visiting Joshua Tree during a super bloom year, you may get to see them flower in addition to the fields of poppies and mallows. Look up at the biggest Joshua trees to find them in bloom. If you don't see any flowers, it may not be the right time or it may be an off year. If you see a lot of small birds flying around a large Joshua tree, that's an indicator that a flower bunch is developing and getting ready to open.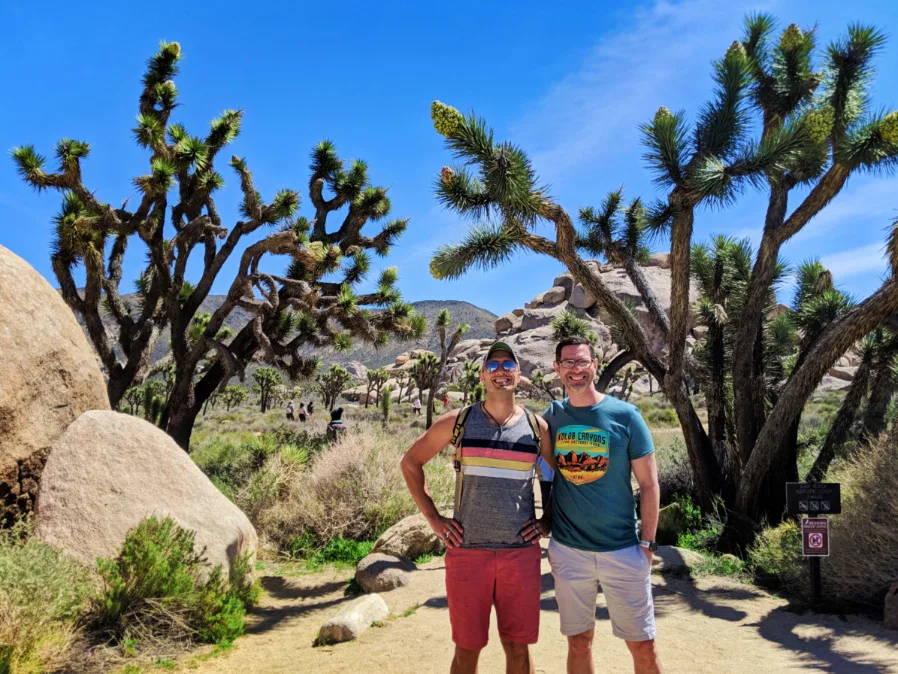 Where is Joshua Tree National Park?
Located halfway between Los Angeles and Phoenix, Joshua Tree National Park is actually extremely accessible. Its southern entrance is just off I-10 in the Coachella Valley, and its northern entrances are accessible from Highway 62 in Yucca Valley and 29 Palms. Many people add a Joshua Tree day trip to a Palm Springs getaway or when they do the Coachella music festival, usually held in April.
If you're planning to see the super bloom in Joshua Tree National Park when you go to Coachella, you'll be at the tail end of the bloom. Peak blooms in Joshua Tree and the Yucca Valley are in March, with higher elevations blooming in April and sometimes as late as May.
We love visiting Joshua Tree as a part of a National Parks road trip loop or itinerary. If you start in Joshua Tree and head north, you'll be able to hit Sequoia, Kings Canyon, Yosemite, Lassen, and more!
Drive time to Joshua tree from major Southwest destinations is as follows:
| | | |
| --- | --- | --- |
| Origin | Closest JTNPS point | Drive Time |
| Los Angeles | Joshua Tree CA Visitor Center | 2:15 |
| San Diego | Joshua Tree CA Visitor Center | 2:30 |
| Palm Springs | Cottonwood Visitor Center | 1 hour |
| Las Vegas | Oasis Visitor Center | 3 hours |
| Phoenix | Cottonwood Visitor Center | 3:30 |
The closest airport to Joshua Tree National Park is Palm Springs International (PSP).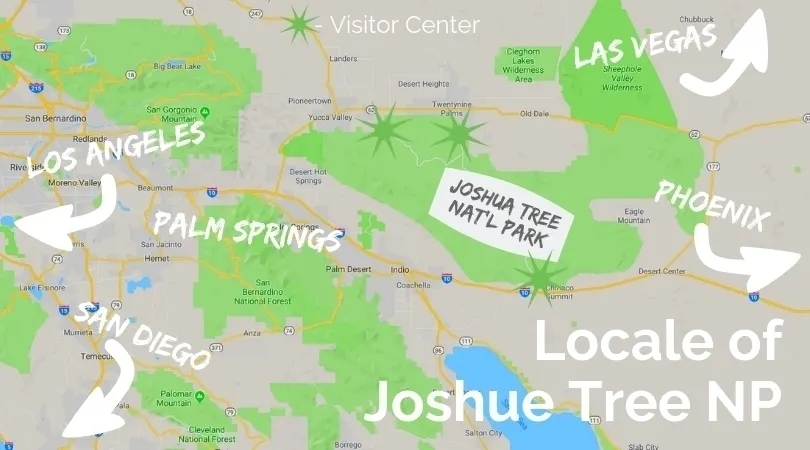 Joshua Tree National Park Visitor Centers
Even if we've been to a National Park before we always stop into the Visitor Center. We check out whatever exhibits they have, get a park map, talk to the rangers about anything special happening in the Park, and get our National Park passports stamped. And when we visit with the kids we are sure to do the Junior Ranger programs. Some parks have both a specific one for their park and a broader one, just as a National Park Geologist or Bat Scientist program.
At Joshua Tree National Park there are four Visitor Centers:  Cottonwood, 29 Palms, Joshua Tree CA and the Black Rock Nature Center. Each one focuses on a different aspect of the park, whether that be wildlife (29 Palms), the palm oases (Cottonwood) or the unique landscape and Joshua trees (Joshua Tree CA).  You don't need to visit each one, but they are great places to get information about trails, grab a souvenir t-shirt and refill your waters.
Tip:  between the heat, the wind and the activity, you'll need to be sure to bring lots of water. There are no water stations within the park outside of the Visitor Centers. Depending on your plans and how long you'll be active in Joshua Tree, you may need to bring at least a gallon of water per two people.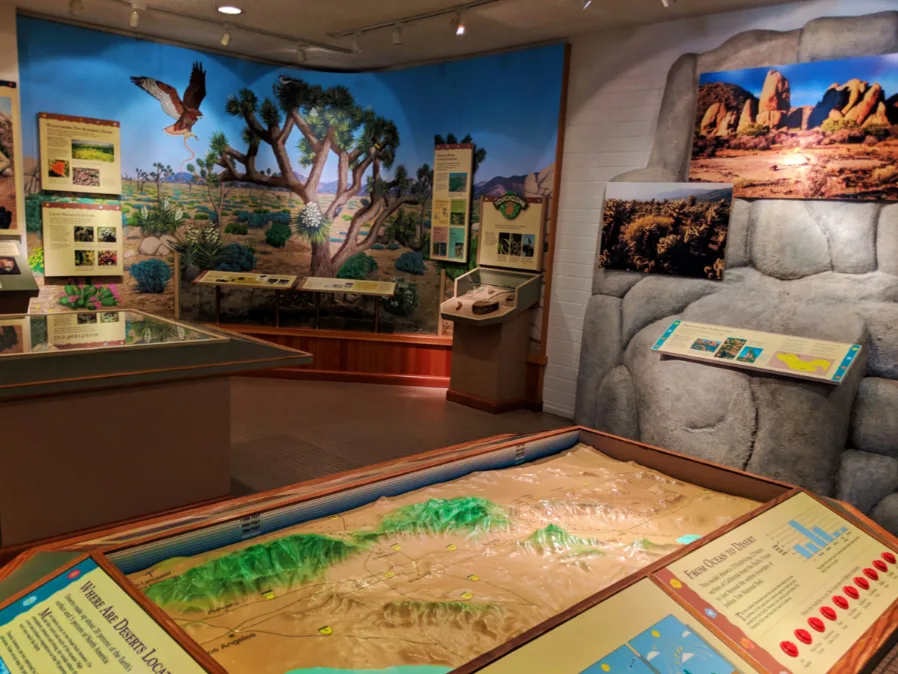 Hiking in Joshua Tree National Park
I'll be the first to tell you that hiking is the best way to experience any National Park, and Joshua Tree is no different. I'll also tell you that hiking in Joshua Tree is an intense activity that you need to be well prepared for. In addition to hiking, you can just go picnicking or do a guided tour of the Desert Queen Ranch in the park, also interesting but less intense.
How to Prepare for Hiking in Joshua Tree
Even if you're visiting Joshua Tree National Park during a cooler time, such as during the super bloom, you'll still need to be well prepared. The arid climate can be intense, especially if you're not used to the heat or wind.
Like we said above, BRING LOTS OF WATER. There are no water sources within Joshua Tree National Park and whether you think you'll need it or not, you need to bring as much water as you can. Also, there is no food in Joshua Tree (outside of the Joshua Tree CA Visitor Center), so any meals and snacks need to be packed in. The best hikes in Joshua Tree NP will leave you hungry, so be ready!
BIG RULE: whatever you bring into the park you MUST take out of the park. There are limited trash bins throughout the park and any trash that you create you have to take with you.
Here's our packing list for hiking in Joshua Tree (or any desert/arid environment):
Reusable water bottles/jugs

As much water as you can carry – minimum half gallon per person

Waste-free snacks for the trail

Toilet paper or napkins/wipes – you never know when you'll need these

Trash bag for any waste, even if it's biodegradable/food leftovers

Sun protection – hats, sunblock, parasol… be smart and protect yourself in the desert sun
Leave no trace when you're out in nature, and if you're going to have an impact, make it a positive one by doing your part to clean up after others who haven't been as conscious.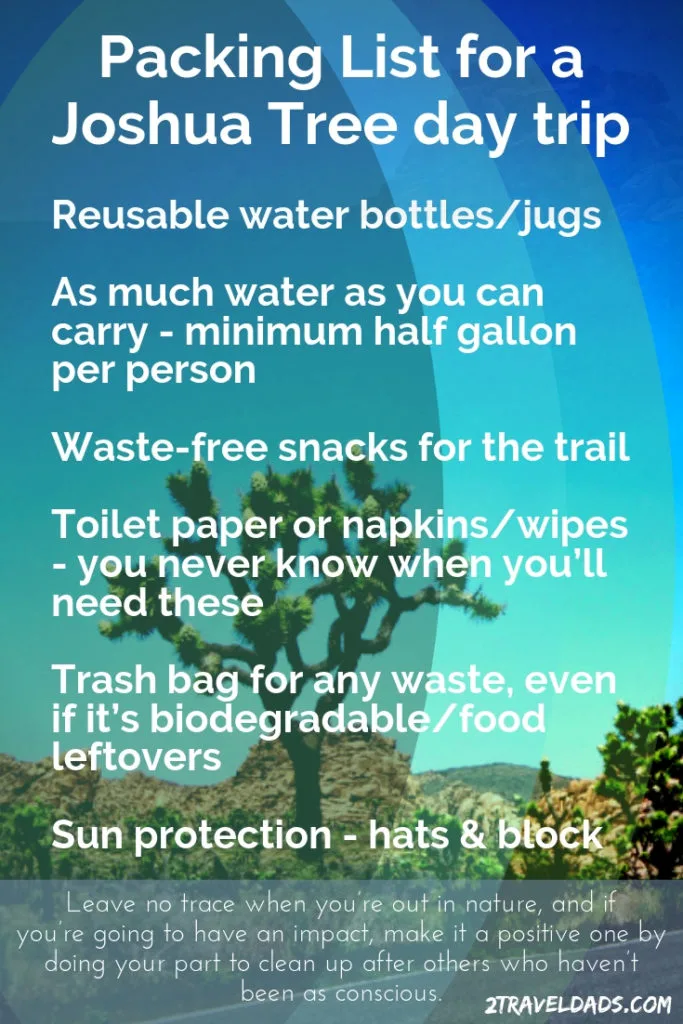 Best hikes in Joshua Tree National Park
There are some epic trails taking visitors through the desert of Joshua Tree National Park. As you hike, expect to see lots of big rocks, jagged hillsides, random cliffs, desert wildlife and of course, Joshua Trees. When you're in such an arid climate, the trails can get dusty, but they're still beautiful.
These recommendations are genuine hikes that will take more than one hour and require the previously mentioned preparation. We've selected these hikes for their unique features, length ideal for a day trip, and to showcase the best of Joshua Tree National Park. We can't stress enough, the climate is intense and you don't want a Joshua Tree day trip to turn into a dangerous disaster.
Tip: if you're visiting Joshua Tree NP with kids, check out these recommended hikes for the best family friendly options.
| | | |
| --- | --- | --- |
| Trail name | Distance | Time allotment |
| Pine City | 4 miles | 3 hours |
| Fortynine Palms Oasis | 3 miles | 3 hours |
| Split Rock loop | 2.5 miles | 2.5 hours |
| Ryan Mountain | 3 miles | 2.5 hours |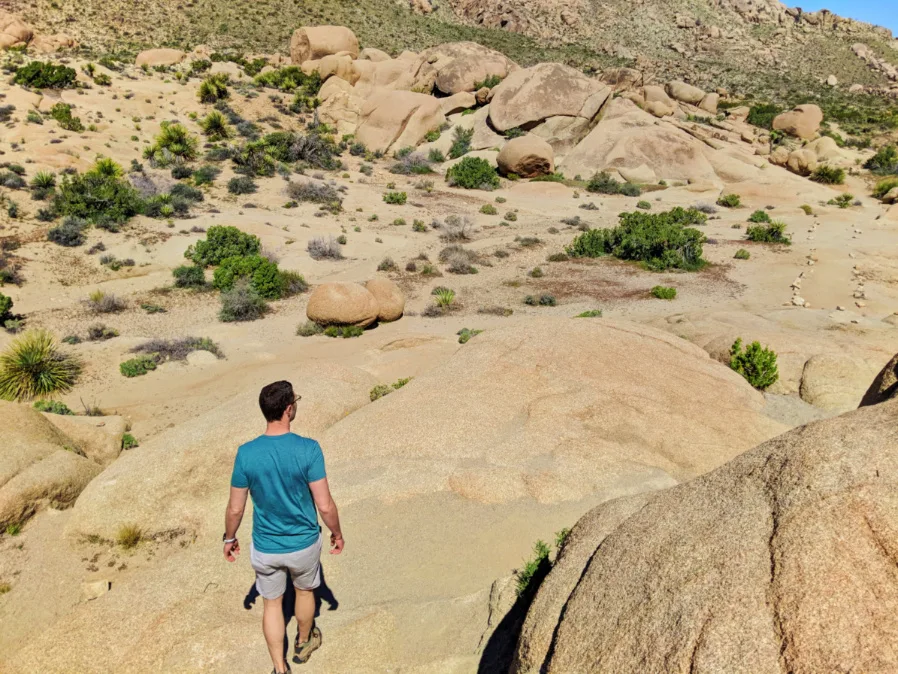 Bouldering off the beaten path
Since we're not big rock climbers we find other ways to connect with the rocky terrain of the desert, and our favorite is bouldering. If you're not familiar, bouldering is basically low level rock climbing without any equipment, just using your grippy hands and feet to explore. Bouldering takes some good upper body strength and tough hands, but as long are you're careful and aware, nearly any age can do it.
Note:  bouldering does fall into the rock climbing designation, so it should be approached with caution. If you're not experienced or feel that going with a guide is best for you, the NPS has a list of approved guide services you can use.
When you're in any of the bouldering areas of Joshua Tree National Park, despite the boulders and rock piles looking like just that, piles of rocks, you also need ot be aware of desert life. Lizards, snakes, rabbits, rodents, birds and plant life find their way into the rocks and live quite delicately. And the plant life too. Imagine how tough it is to sustain life when you don't have easy access to water. Treat the plants and animals with respect and don't damage their habitat.
Note: I wish that vandalism wasn't a problem, but it's important to call out that ANY way a person damages a natural, protected area is vandalism. This includes carving your initials in tree or rails, scraping off lichens from rocks, breaking of crystals from boulders, or picking flowers in protected areas. All are vandalism.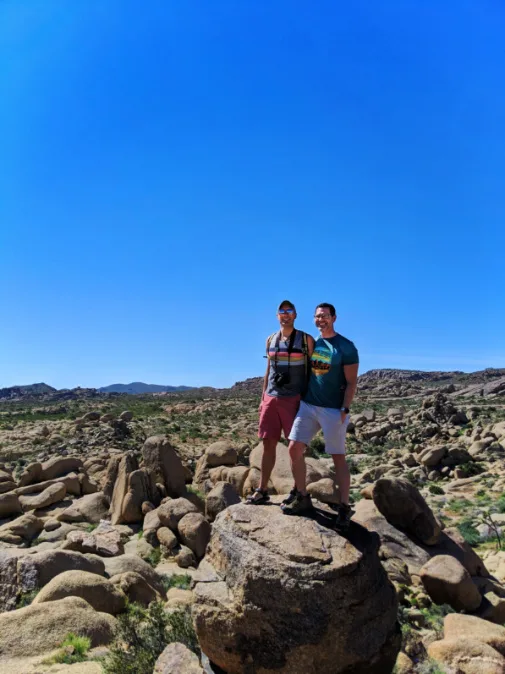 Best spots for bouldering in Joshua Tree
We have three spots that are ideal for bouldering in Joshua Tree National Park:  Split Rock, Live Oak, and Cap Rock. There are other places too, including the VERY popular Skull Rock, but these three are great for fewer people and varying sights.
Split Rock is a picnic area in the northern portion of the Park; it's also one of our hiking recommendations. Here you'll find lots of picnic tables (duh), an easy trail, and a wide variety of bouldering areas. There are some steep, tall boulders to clamber up at Split Rock, but for the most part, a novice can conquer the area fairly easily.
The next stop is just across the road at Live Oak. Another designated picnic area, Live Oak has a wide variety of trail types, bouldering routes, and viewpoints. This was actually our favorite spot due to the amount of flowers and complexity of climbing. From any number of routes, you can ascend to the top of the rocky outcroppings for some amazing views stretching far into the Coachella Valley and off to Mt San Jacinto.
Our last recommendation for bouldering in Joshua Tree is Cap Rock. This is one of the most popular areas to visit in the whole National Park as it's also the home of the botanic nature trail (see below). There are clear paths through the Cap Rock area and it's very obvious where it's acceptable to explore. Please follow the signage regarding staying on the trail, as this spot is busy and you don't want to be the one to start a trend.
Bouldering is really fun and you'll find that it's one of the easiest activities to add to a Joshua Tree National Park day trip.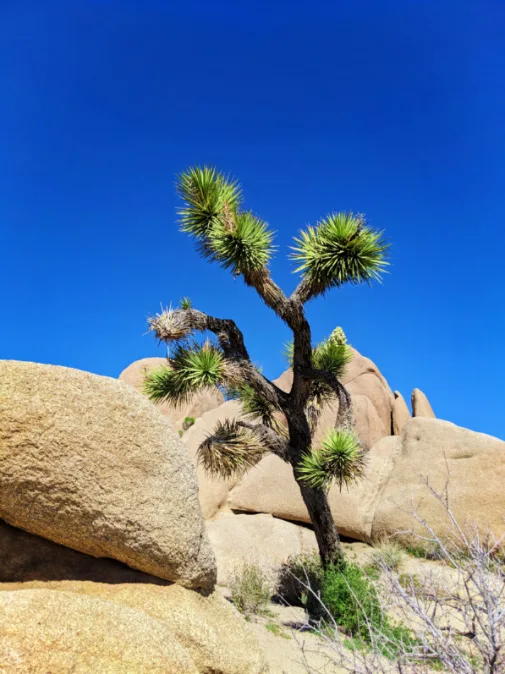 Super Bloom in Joshua Tree National Park
Every spring the desert wakes up with flowers, but not every year has the same vavoom. If you're fortunate enough to get to visit Joshua Tree during a super bloom, you'll be amazing. Entire hillsides of normally dry, brown brush come to life with oranges, red, bright yellows and pinks. The side of the road becomes and attraction in itself.
In recent years, super bloom visitors have created a lot of problems as they visit the canyons and poppy fields. A lot of people will wander the meadows and hillsides looking for the perfect spot for their Instagram shot. Bravo to them for wanting to be artistic and BOOOO to them for not respecting nature and the rules. When visiting Joshua Tree in the super bloom, or any natural area, be sure that you're aware of the damage your footsteps will cause and respect the privilege you have by getting to visit.
Tip:  check out current super bloom reports to find out what's at peak color and ideas for where to go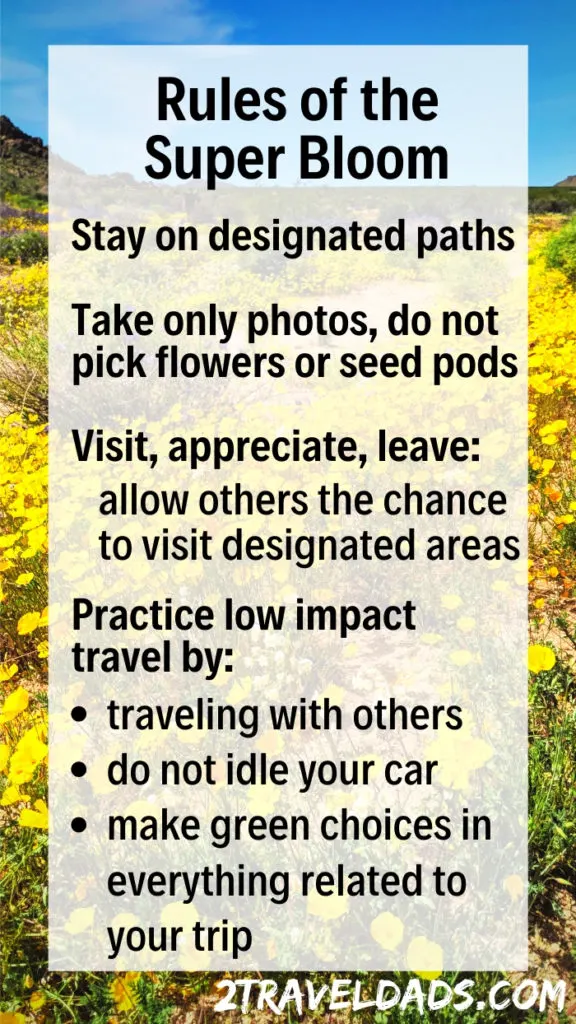 Rules of the super bloom:
Stay on designated paths

Take only photos, do not pick flowers or seed pods

Visit, appreciate, leave – allow others the chance to visit designated areas

Practice low impact travel but traveling with others and making green choices in everything related to your trip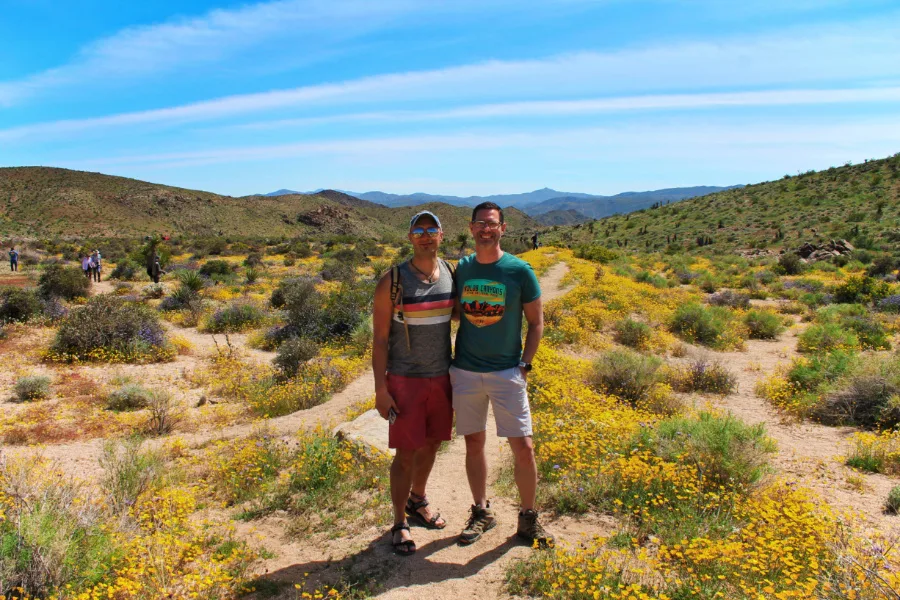 Joshua Tree's Cholla Cactus Garden
I never knew that the scent of blooming cholla cactus was my favorite smell. Wow! What an incredible smell! This was the highlight of the Joshua Tree super bloom.
The Cholla Garden (said choy-ya), on the southern side of the park, is a must-visit for a Joshua Tree National Park day trip or several days of hiking. A natural garden, the Cholla Garden is a dense concentration of cholla cactus starting in the meadow area and going back into the valley and up into the hills. Never have we seen so many cactus growing so abundantly and close together.
There are designated hiking trails at the Cholla Garden, so there's no need to wander out on your own. The trails are there, not just to protect the cactuses, but to protect visitors. Cholla cactus spines are exceptionally sharp and crashing into one will leave you in a lot of pain.
Tip:  visit the Cholla Garden in early morning for the best smells and best lighting for photos. The fuzz that grows between the spines really catches the light and makes them difficult to photograph with high sun.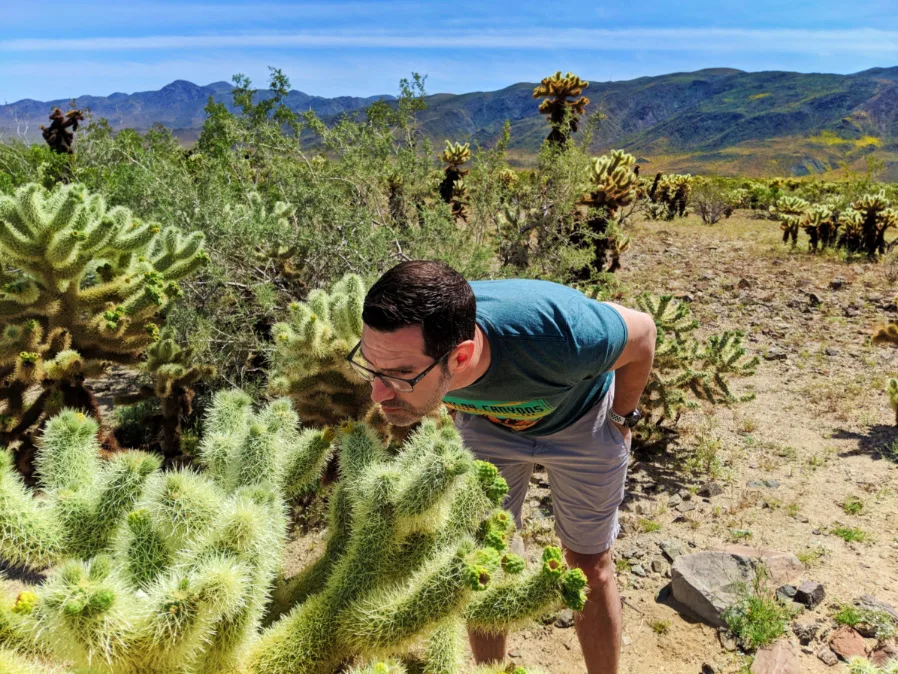 Botanic Nature Trail at Cap Rock
Mentioned above in the bouldering section, the botanic nature trail at Cap Rock is perfect for any age visitor. Wheelchair accessible, it's an ideal way to learn about the strange and amazing desert plants while still being out in nature. At less than a half mile for the loop, the nature trail is peppered with Joshua trees, cactus, brush of all sorts and lizards.
If you want to explore beyond the nature trail, there are designated paths leading to the surrounding rock hills, aka BOULDERING territory! The area is really beautiful and you'll be glad you stopped.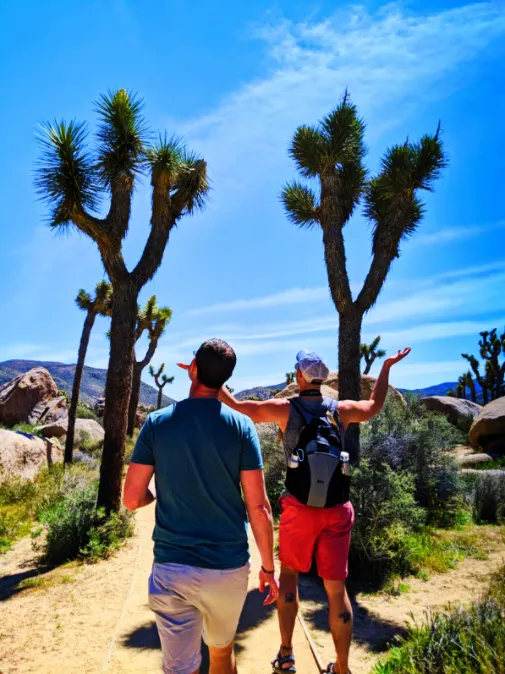 Exploring Palm Oases at Joshua Tree National Park
True story: we come to the Palm Springs/Coachella Valley area for the oases. True, there are tons of things to do in Palm Springs, but seeking out these desert gems is our favorite. Joshua Tree is our bonus… but there are palm oases within Joshua Tree National Park too! While they aren't as massive as Palm Springs' Indian Canyons or the Coachella Valley Preserve, the oases of Joshua Tree are pretty cool.
The first of the oases is located near the 29 Palms Visitor Center. There is a nature trail that leads to the Oasis of Mara here, dotted with exhibits and informational placards. Once there, it is very dense and you can barely penetrate the border, but there is a small trail that leads around it. It's not a huge oasis, but given its environment, it's amazing to consider that this stand of palms has developed so much in the harsh environment.
The other palm oasis in Joshua Tree National Park is located near the Cottonwood Visitor Center. It's much larger than the Mara oasis at 29 Palms and definitely gives you a good understanding of how cool and unique the oasis phenomena is. A short stop of no more than an hour should be plenty for checking out the Cottonwood area.
Tip: if you're staying in Palm Springs or Indio, visiting the Coachella Valley Preserve is a very easy addition to your drive to or from Joshua Tree. Located in 1000 Palms, it's really amazing and LOADED with wildlife!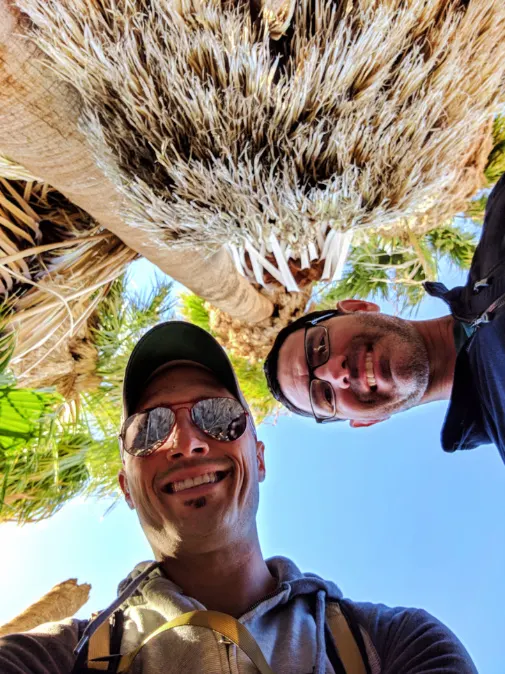 Camping at Joshua Tree National Park
Even though it's available, we haven't gone camping at Joshua Tree National Park yet. There are several campgrounds though, so it is available year round. Like we said with hiking, you'll need to pack out anything you pack in, and you'll need to be well prepared with water. Campsites in the park range from $15-$20 per night and many can be reserved through recreation.gov. 
Camping in Joshua Tree includes the following options:
Belle Campground
White Tank Campground
Jumbo Rocks Campground
Cottonwood Campground
Hidden Valley Campground
Black Rock Campground
Ryan Campground
Indian Cove Campground
For a very thorough article about camping in Joshua Tree, check out this fantastic site: JamesKaiser.com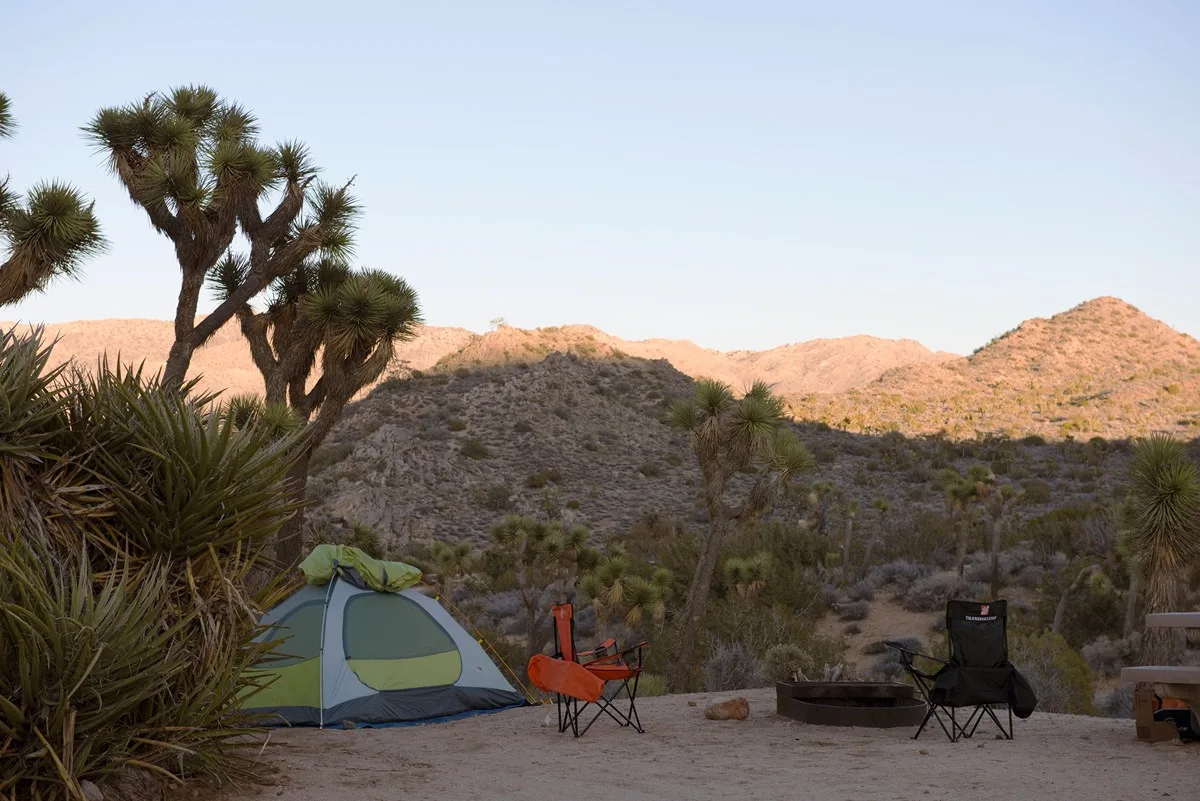 Joshua Tree National Park is an awesome place to visit and should for sure be on your bucket list. It definitely meets the criteria for being a National Park, having extremely unique features and being the best example of the uniqueness. Kids will love it, adults will love it. Just go.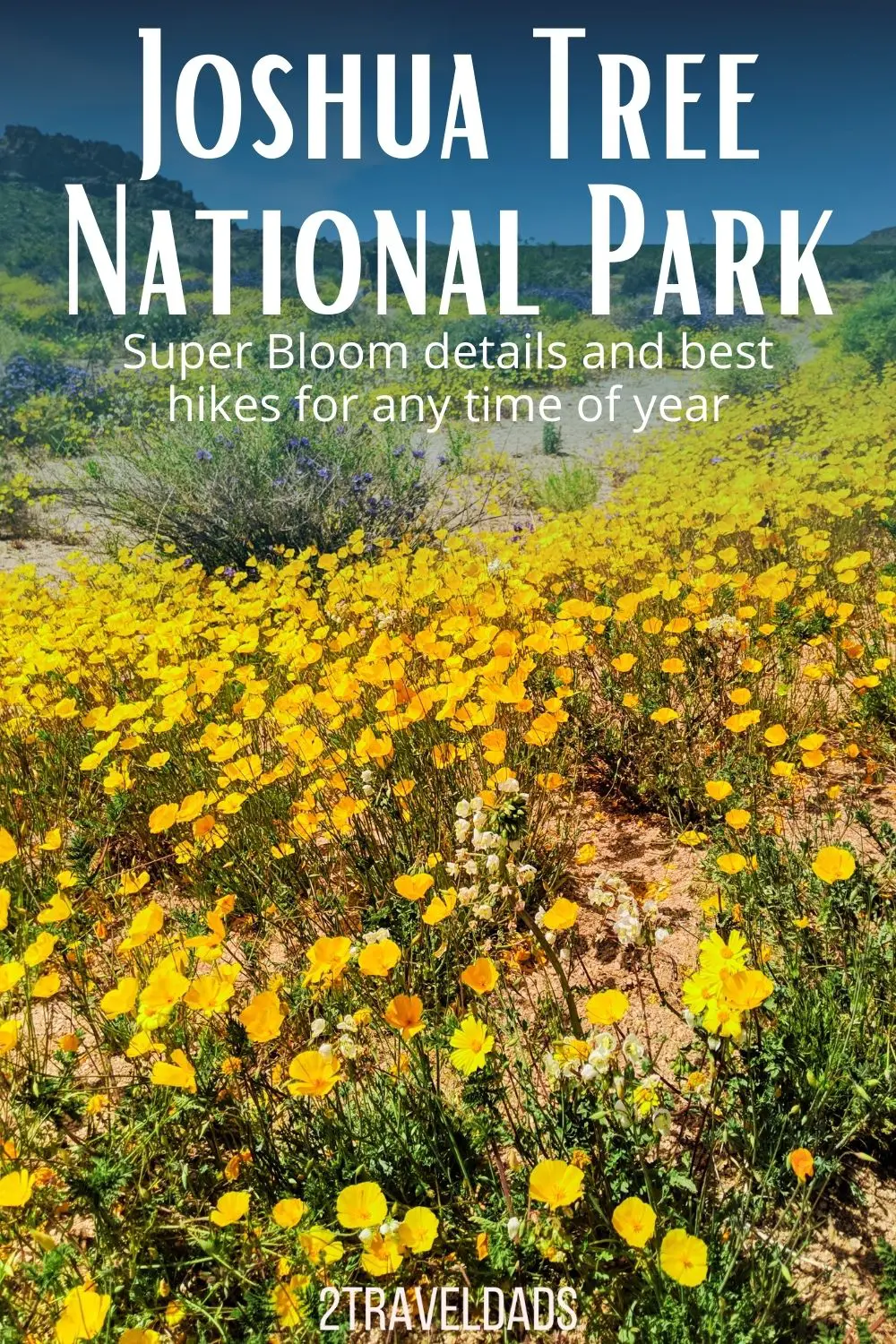 Feel free to pin this for your own travel planning to Joshua Tree National Park, and please send us a note or leave us a comment with any questions you might have.