Traveling with kids is always fun…and a challenge. We love to visit National Parks and typically do so in the summer when the hiking is good and the sun will be shining. We were invited to California to experience Sequoia National Park with kids and jumped at the chance. This was a great opportunity for us because none of us had been to Sequoia National Park so it would be a new experience for all of us. It's now a part of our plan for an epic road trip through National Parks on the West Coast.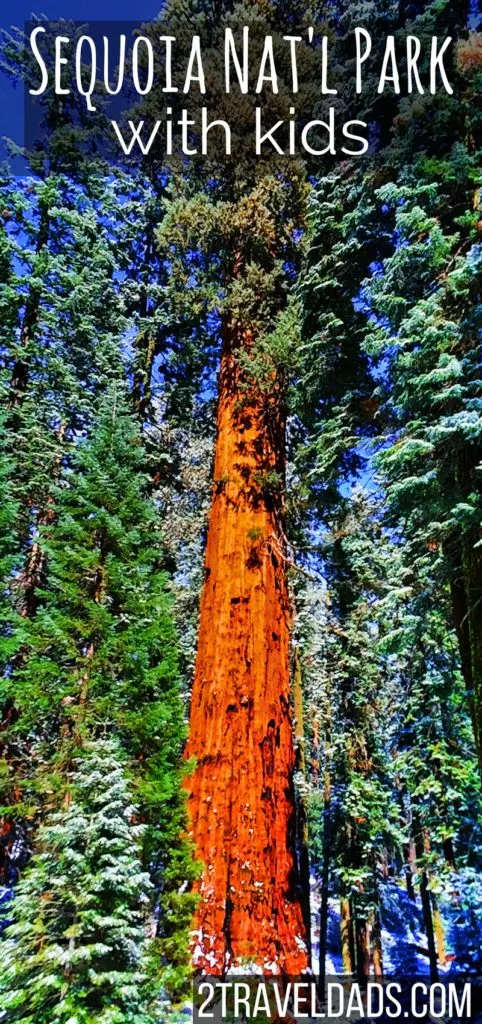 Prior to heading to California we did a little research on what there was to do in Sequoia National Park with kids and what our family would enjoy. We of course found a couple of awesome hikes, providing great views and time wandering through the giant sequoias.
Well, we got to Sequoia National Park and, um, it was snowing and freezing cold. The prior weekend had seen amazing temperatures in the 80s (F) and sunshine all around, which is what we were expecting. We drove into the Park via Kings Canyon National Park and were greeted with hail storms and dropping temps. We arrived at the Wuksachi Lodge and were immediately thankful for a cozy lodge room… and then we adjusted our grand hiking plans and found new ways to go exploring.
Tip: if you only have one day in Sequoia National Park, check out this great itinerary!
The General Sherman Tree
If you're in Sequoia National Park with kids, you're looking to wow them. It may be tricky to wow some kids with just beautiful views and historical sites. Thankfully, we have an obsession with trees and nature in our house and the mere mention of seeing giant trees was all it took to build a little excitement.
Tip: a great book to get kids interested in trees and nature is I Can Name 50 Trees. It's a Cat in the Hat book and is really cool to teach about the different families of trees and their characteristics.
Accessing the General Sherman tree is not as simple as pulling into a parking lot. There is actually a half mile hike down through the forest of giant sequoias that you must do. This was a great alternative to a more grand hike we were planning. For us, we started this when it was snowing just a tad and really, really freezing out. The path is easy with random stairs, but it's also one of the most popular sites in the Park, so it's very well maintained.
Winding down through the woods, you also come across a loop trail to take you through the Congress grove of trees. There are just so many sequoias that you walk around saying "Wow" and "Whoa!" and "Holy!!" And it's funny: as you continue through the forest you don't stop being amazed.
We had debated about having a chill day and heading down from the Park to get a little sunshine and warmer weather, but a staff member at the Wuksachi Lodge recommended that we still go hiking through the forests despite the snow because the color of the sequoias would really pop and be just beautiful.
Tip: if you're there for the snow, definitely hike in the woods. It's incredible and you'll be even more amazed by the sights you'll see.
The General Sherman tree really is a gem and a highlight for doing Sequoia National Park with kids. On the hike down, you can scope out the size of the tree from above its base and you're like "Wow, that is huge!" but then when you get to the base and realize how small you are… or how TINY your kids are in front of the largest tree in the world (by volume) you'll be in awe.
The hike back up is a breather, meaning you'll huff and puff a bit if you're carrying any little people. It's the elevation of Sequoia National Park. It'll really get you. Don't be ashamed of taking it slow and enjoying the many seating areas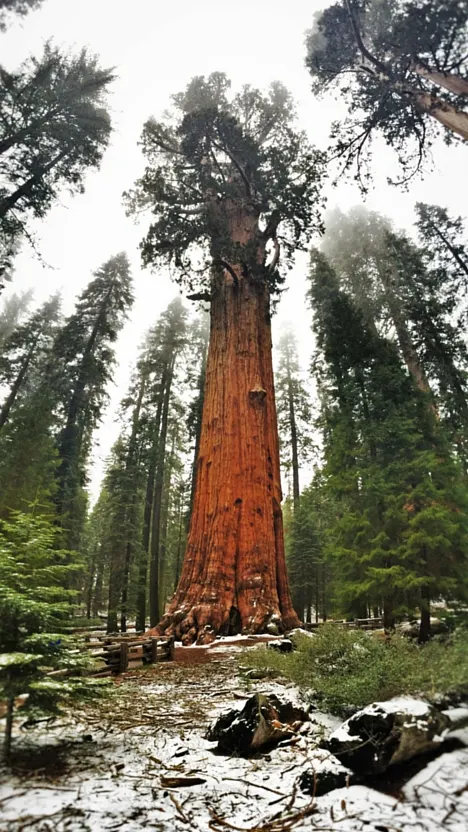 Wheelchair Accessibility at the General Sherman tree
If you need accessible pathways and parking to go visit the General Sherman tree, do not park in the main parking area. If you are coming from Kings Canyon National Park or the Wuksachi Lodge, accessible parking is just after the main turn for the General Sherman Tree. If you're coming from the Giant Forest area, it's just before the main parking area.
Note: this parking area is ONLY of handicap parking permit holders.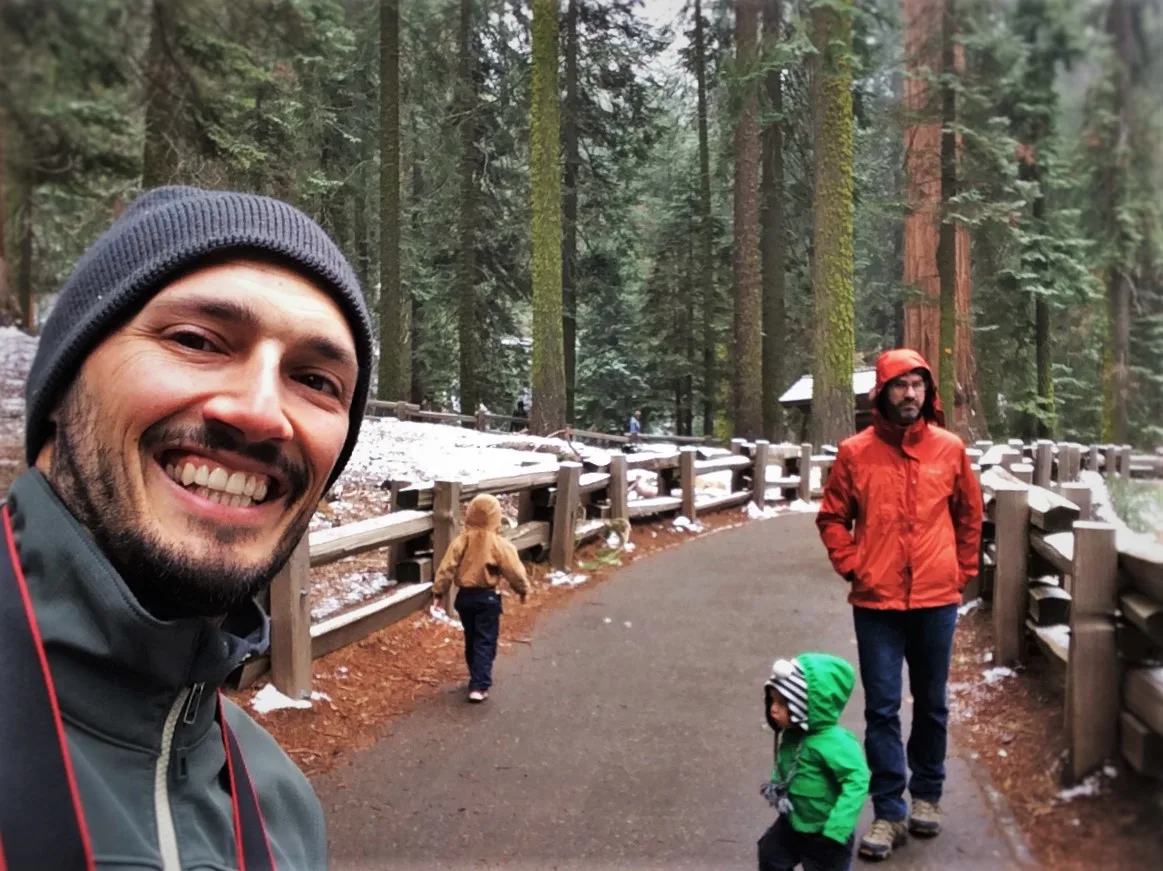 The Giant Forest of Sequoia National Park
You're like "Duh, all of Sequoia National Park is huge trees." True, but the Giant Forest of Sequoia National Park is really GIANT.
Giant Forest Museum
We love the National Park Rangers and all that they do. We really love it when they can step down to kid-level and be awesome and excited about teaching kids. That's what we found at the Giant Forest Museum/Visitors Center. The Ranger stepped aside to go over our Junior Ranger scavenger hunt with us and was very intent on hearing everything that Oliver (our oldest) had to say. It was amazing.
Fun story: To top it off, the National Park Ranger took a sequoia cone and shook out the seeds, folded them into our scavenger hunt paper and told us to plant them at home. And now we're excited to create our own sequoia grove for our great great great great great great great grandchildren to wander through.
Other nifty things at the museum to check out are the displays about the giant trees of Sequoia National Park and even go inside a replica burned out sequoia. You could spend a while in there, but why do that when you can head out into the giant sequoias themselves.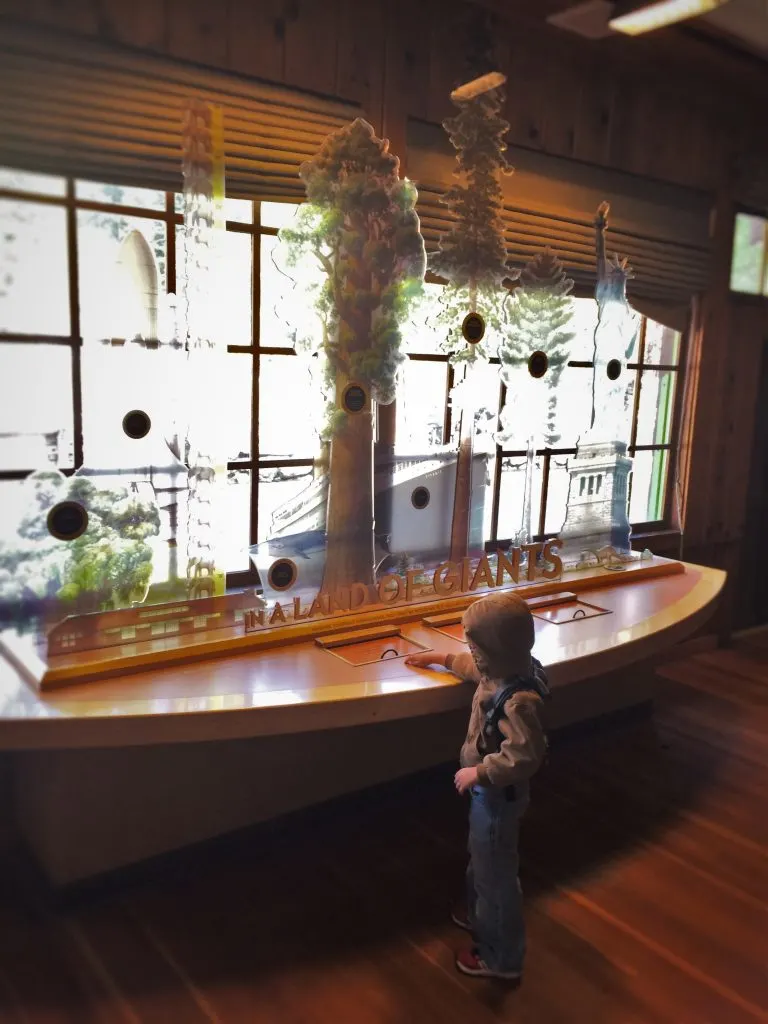 The Giant Forest Trail
There are two ways to approach the Giant Forest Trail in Sequoia National Park with kids. You can head out from the museum and let them run on the trail that's high above the road and gives a fun elevated view of the sequoia forest or you can cross the street and do the level path that's right by the road. We opted for the first choice in and second choice out.
Once you're to the Giant Forest Trail loop either way is fine to jaunt. Unlike the Lady Bird Johnson Grove up in Redwood National Park which has numbered sites and a little guide, the Giant Forest has lots of interpretive signage throughout to explain what you're seeing.
Tip: we've said it before and we'll say it again, if your kids have questions about the signs take the time to read them together and listen to how their little brains work. They'll only want to learn from you for so long, right?
The Giant Forest Trail loop will take about 45 minutes or more, so plan appropriately. It's also got some great spots to sit and just listen to the forest, so take advantage of that. The photo ops within this trail are every three feet, so taking pictures will for sure happen, and that's why it's important to have a sit here and there too.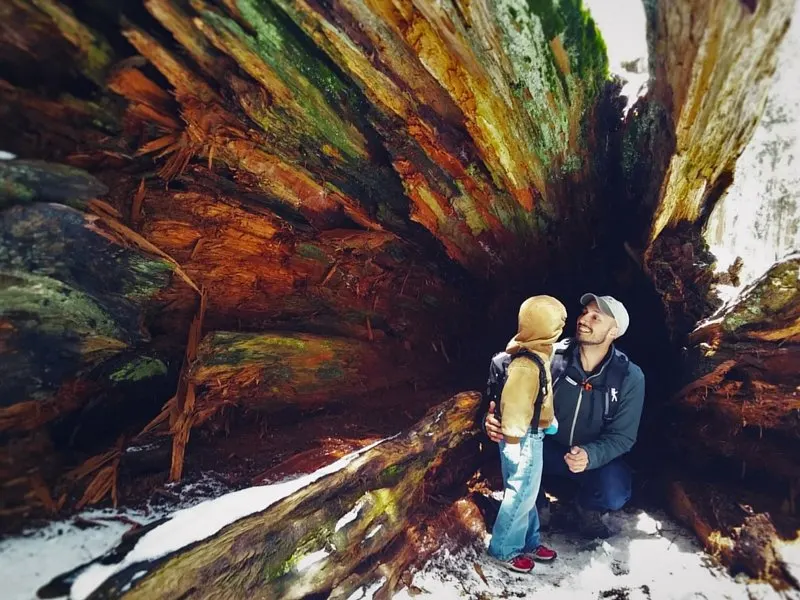 Accessibility within the Giant Forest
The Giant Forest Trail is mostly wheelchair and stroller accessible. The loop can be completed with wheels, but you may need to ask for guidance around the best approach to the meadow and start of the loop.
Note: we were in Sequoia National Park with kids in spring and faced a lot of icy trails due to random snow, so just remember that you might face that too.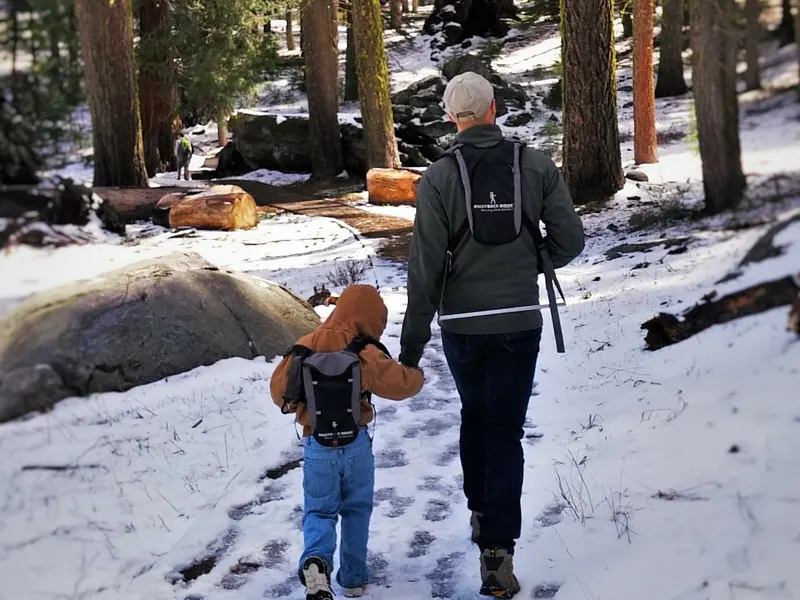 Hospital Rock
This is one of those great stops for some history. Hospital Rock is not too far into Sequoia National Park from the south entrance. This is a great spot for a picnic. It's funny, but this was the only picnic area we came across that was open because there was snow everywhere. There are lots of tables in sun and shade, there are bathroom facilities and some smaller trails going out from the parking area.
Note: following our next visit to Sequoia National Park we'll be sure to write an article specifically about picnics in the park, much like we did with our trip to Yellowstone National Park, as Sequoia is full of beautiful picnic areas.
So, why are we talking about something called Hospital Rock? It's a big rock that you walk to that has a cool history and offers a sight that's pretty unusual. Hospital Rock has petroglyphs that date back 700 years. There are cool interpretive signs to guide you through what you're seeing.
Explaining the petroglyphs to kids is an interesting feat, but if your kids are interested and ready to learn something, take time to review the info and take your remaining questions to a ranger down at the Foothills Visitors Center.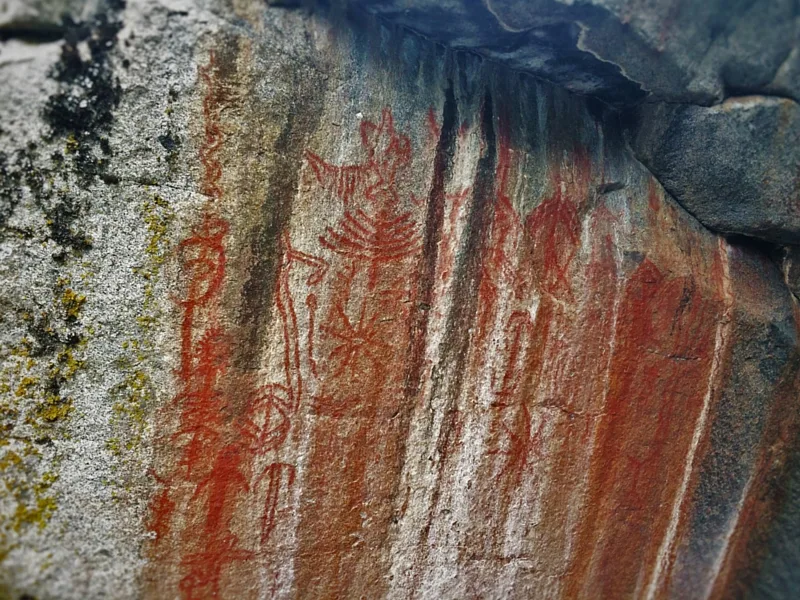 Accessibility at Hospital Rock
While the informational area and picnic spots around Hospital Rock are simple if you're using a wheelchair or stroller, access to the viewing area for the petroglyphs isn't. It's a stone staircase and no wheels of any sort are getting up there.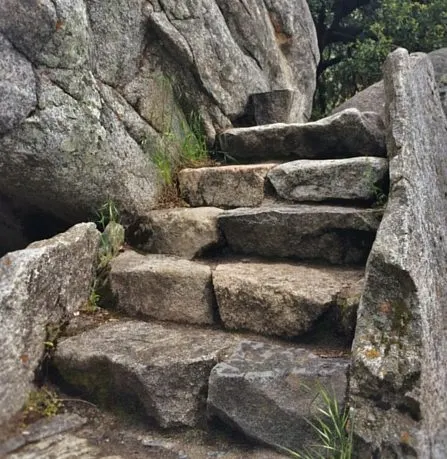 Staying at Wuksachi Lodge inside Sequoia National Park
We got to stay at the Wuksachi Lodge within the boundaries of Sequoia National Park. We loved that the lodge is rustic (like it should be) but comfortable and spacious enough for our family of four. Check out our full review of the Wuksachi Lodge for our complete thoughts and why it work so well for accommodating our family.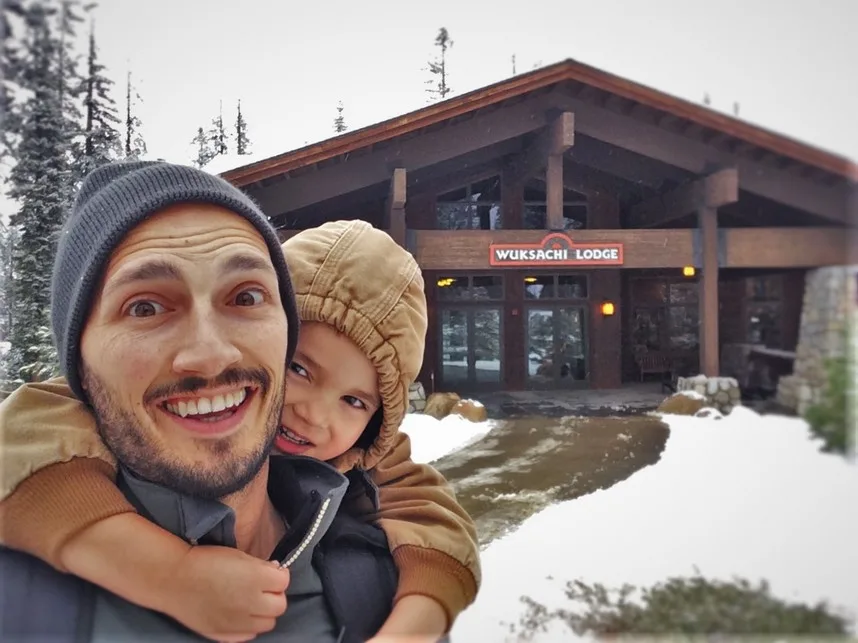 So, when you do Sequoia National Park with kids you can see that there are plenty of cool things to experience and explore. We were there in the spring and had our hiking plans and picnic jaunts foiled by snow and fog. We loved every minute of it though and can't wait to return in the warmer summer weather and maybe camp around the park next time.