Bucket list item: Everglades National Park. Done. Can't wait to go back again and again.  Must explore more. The end.
Just kidding, we have much more to say.  So, the Everglades as a whole is the coolest area and we've never been anyplace else like it.  Everglades National Park and the surrounding area will leave you saying wow and itching to return. And itching from the mosquitoes. Directly next to Big Cypress National Preserve, Everglades NP is a collection of some of Florida's most wild expanses.
With three distinctly different areas to visit and more than a few options for how to experience Everglades National Park, you can easily spend four or five days there seeing an abundance of wildlife and some of the most beautiful marshlands on earth.  Here are our ideas on getting the most bang for your time in the Everglades.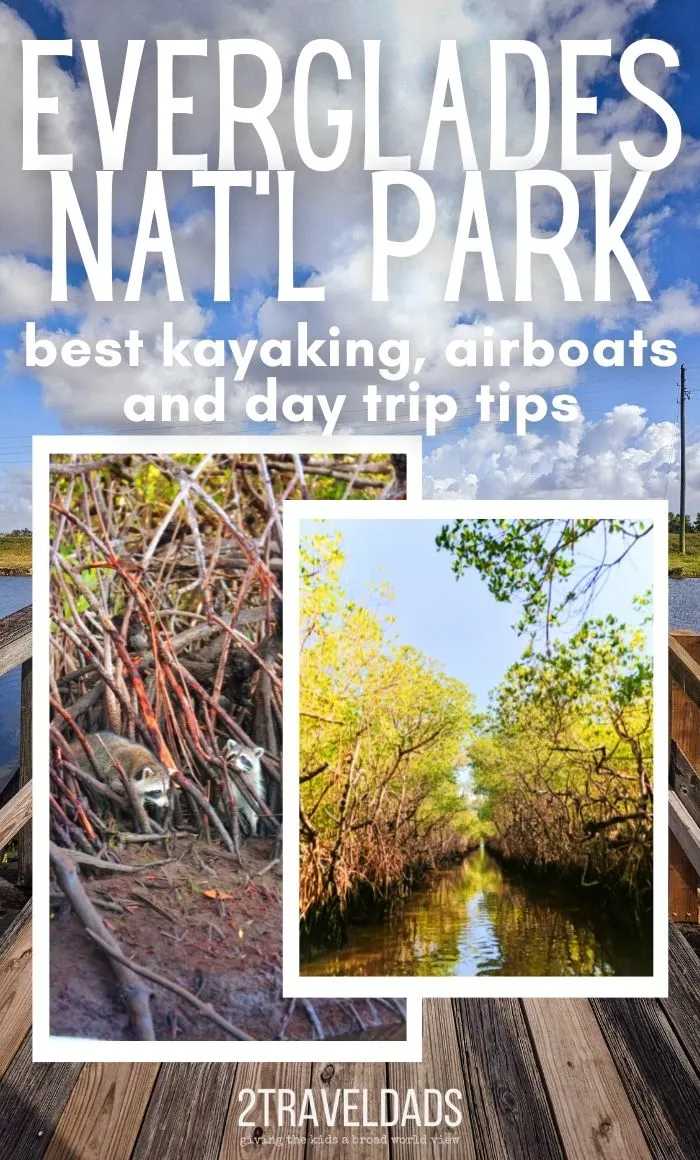 Where is Everglades National Park?
So, almost all of southern Florida is some type of swamp or marshland.  Everglades National Park is the whole southwestern tip of the state.  While we believe that Everglades National park should be the main focus of a Florida trip, it can easily be added to a vacation to Miami or Naples to be sure you get to experience a different side of Florida nature. It's also perfect for before or after a Florida Keys road trip.
Driving from Miami, it's about an hour and a half to the Flamingo or one hour to the Shark Valley Visitors Centers.  From Naples or Marco Island, it's about 40 minutes to the Gulf Coast Visitors Center and about an hour and a half to Shark Valley.  Totally doable no matter what your initial vacation plan is.
Tip:  you can also easily add a trip to Biscayne National Park to a Miami based vacation.  Just sayin'…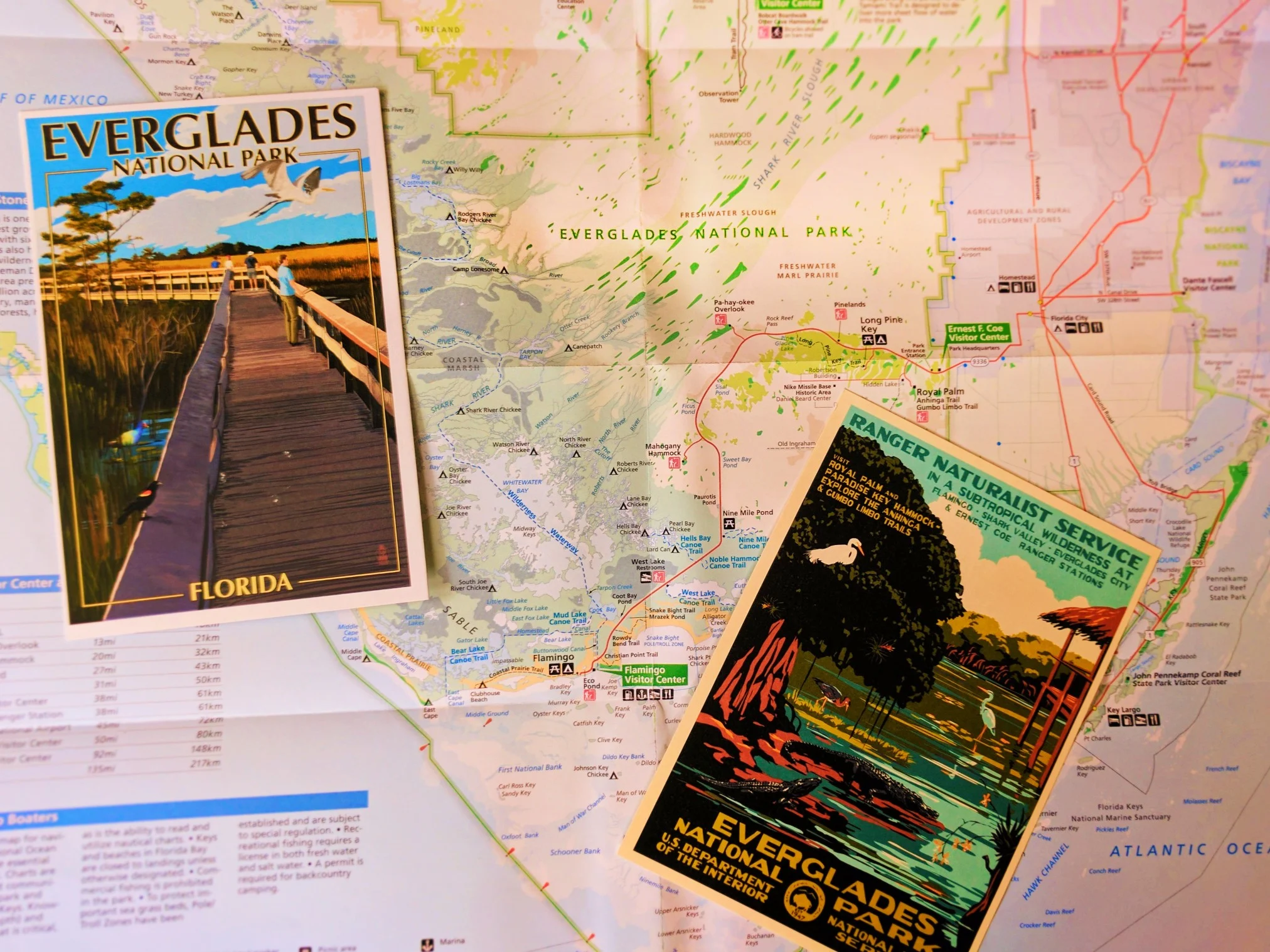 How to Visit Everglades National Park
With several very different Vistiors Centers, you can plan three totally different escapes into Everglades National Park.  Depending on how much time you want to spend and what's important to you, crossing some wildlife off your bucket list should be an easy task on your trip. Easy tip:  Add a trip to the Everglades to a stay in Fort Lauderdale of Miami!
Prepping for a day in the swamp
A swamp is similar to a marsh or maybe even a wetland.  Everglades National Park has waterways cutting across grasslands and mangroves, rising and falling with the tides even far inland.  With this fluctuating water level and the natural flow of streams from the north and east, the Everglades are a haven for mosquitoes.  While not every step you take is going to be a mosquito buffet, you need to be prepared.
Here is how we prepared and remained comfortable during a visit to Everglades National Park:
Wear pants or shorts, up to you;  Short sleeve shirts are fine

Apply a hearty amount of bug repellent to skin AND clothes  *we prefer Repel Natural or Repel Plant Based.

Wear a hat

Keep moving
There is no 100% bug-proof method, but we have great success with our clothing/bug repellant combo.  Also, applying sunblock BEFORE bug spray is preferred, that way you're protected from the sun and then the active ingredients of the bug spray can still have an impact.
Tip: if you're already exploring and hiking around Fort Lauderdale/Miami/Palm Beach County, pay attention to bugs and how bad they are. Expect more mosquitoes in the Everglades than other hiking trails.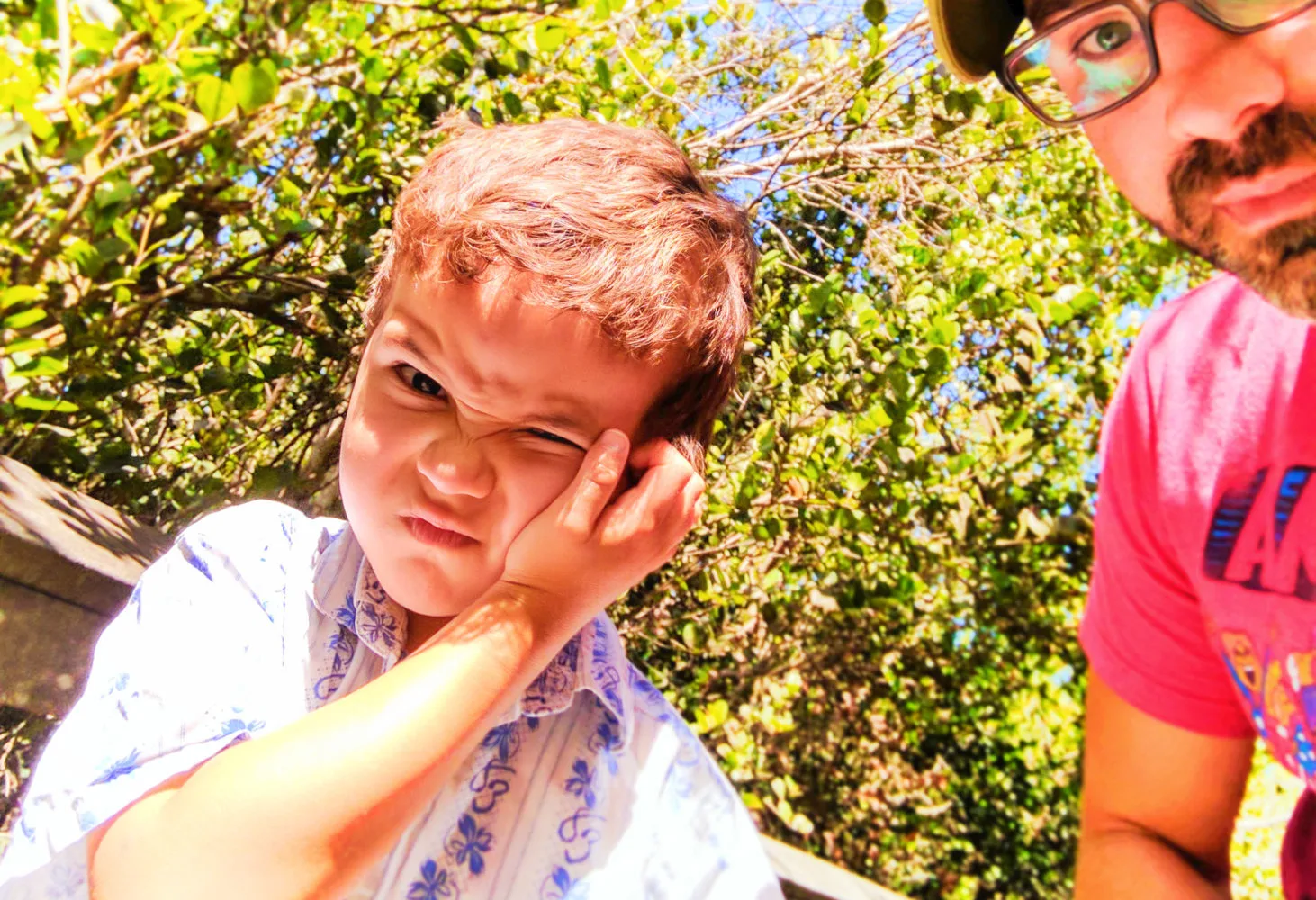 Planning your trip to Everglades National Park
So you're going to Everglades National Park finally. How exciting!!! Which sights and activities are your priorities?  Do you just want to experience the swamp or are you looking to spot alligators and flamingos? Are you just coming back from the Florida Keys and just want to see something different?
South Side: Flamingo Visitors Center
There's a reason the southeastern Visitors Center is called "Flamingo".  While it's true that Everglades National Park is one of the few places in the USA where you can see flamingos, they don't inhabit the entire park, and their presence in Everglades National Park is inconsistent / rare.  With trail heads at Snake Bight and out of the actual Visitors Center area, you stand a small chance of seeing this amazing, iconic bird in the area.  There is more to Flamingo than the birds though. I repeat though, IT'S RARE TO ACTUALLY SEE FLAMINGOS IN THE EVERGLADES.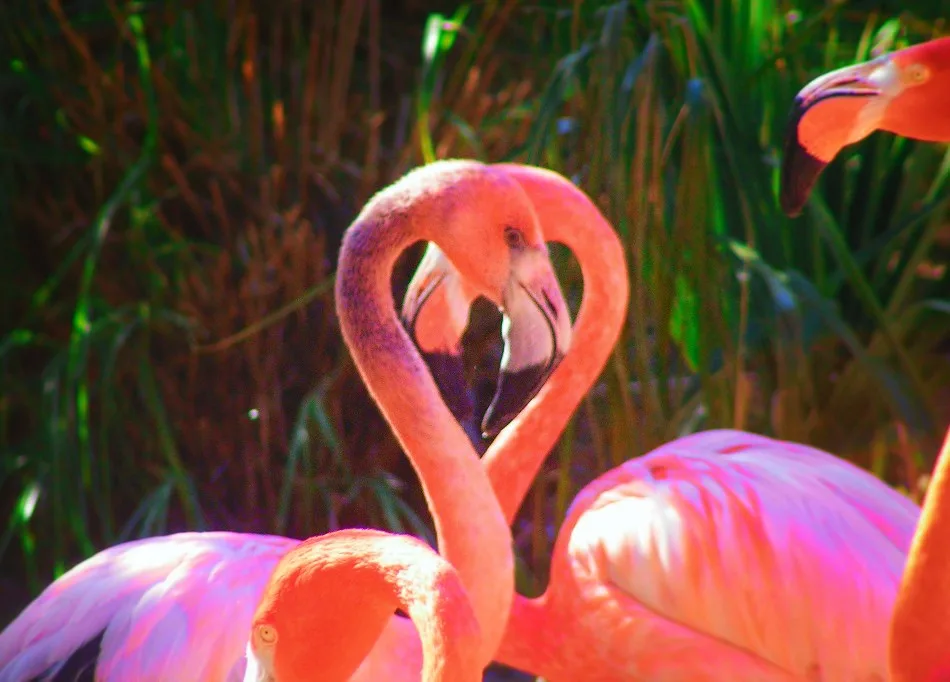 Out of the Flamingo Visitors Center you can also do some nature walks as well as head out via canoe or kayak.  You're kind of in that perfect place where civilization ends and it's just pure nature beyond. Exploring the Everglades to seek out flamingos, American crocodiles and alligators all begins at this Visitors Center.  Everglades National Park is one of the few spots on earth where both gators and crocs can be found together, so be wise and enjoy the sights of these awesome creatures… from afar.
Tip:  visiting the Flamingo area is your chance to add Biscayne National Park like we mentioned.  The two areas are reasonably close to each other. 🙂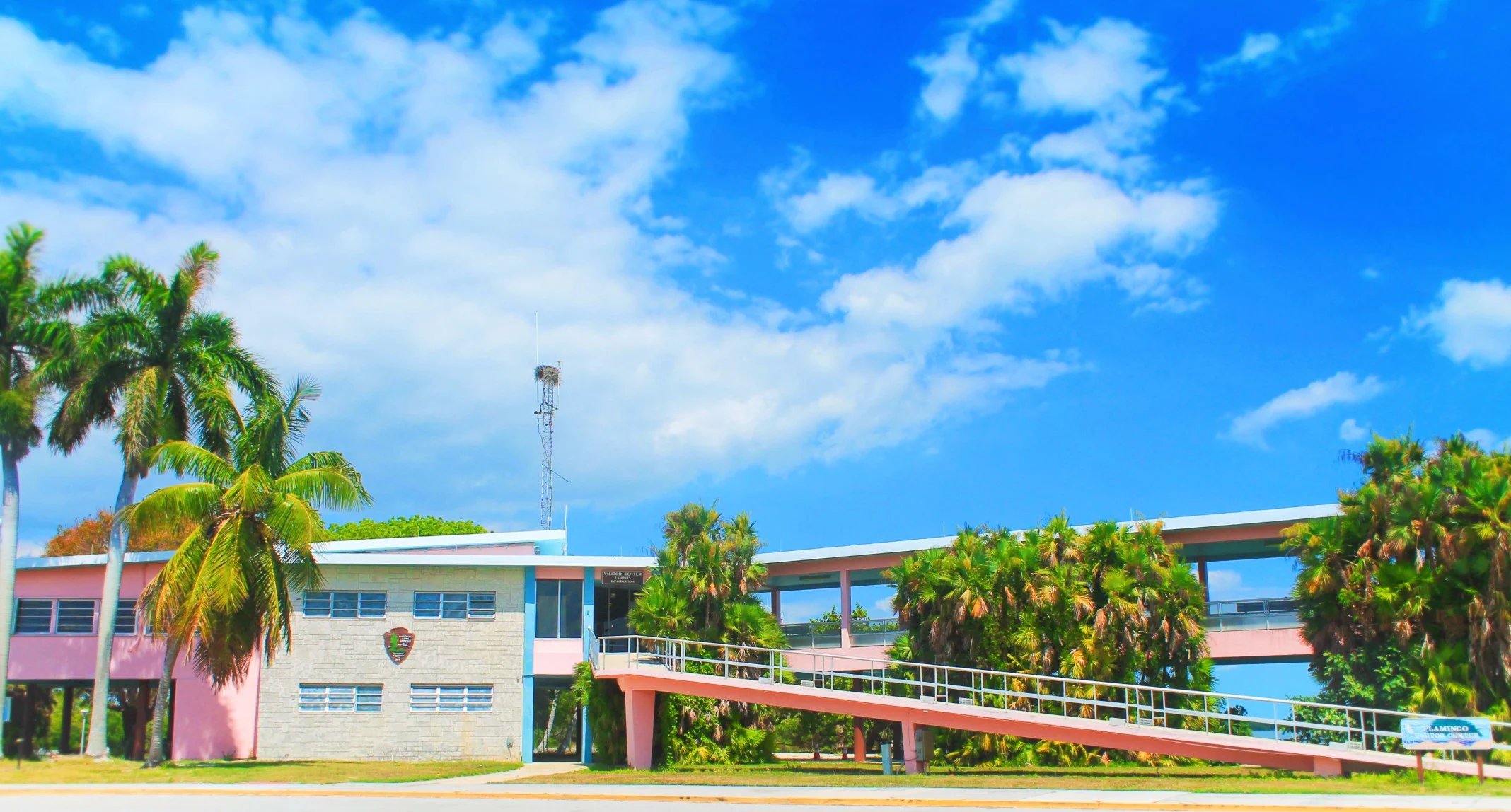 Paddling in Everglades National Park from Flamingo
A bucket list activity among all the things to do in National Parks, kayaking in Everglades National Park is very special. Rent a canoe or kayak at the marina store.  If you're heading out on your own, take a few minutes to talk to a Park Ranger or rental staff for routes and safety tips since there's such abundant wildlife in Everglades National Park.
Check out this great guide to Kayaking in Florida's State and National Parks for more ideas for paddling around the Everglades.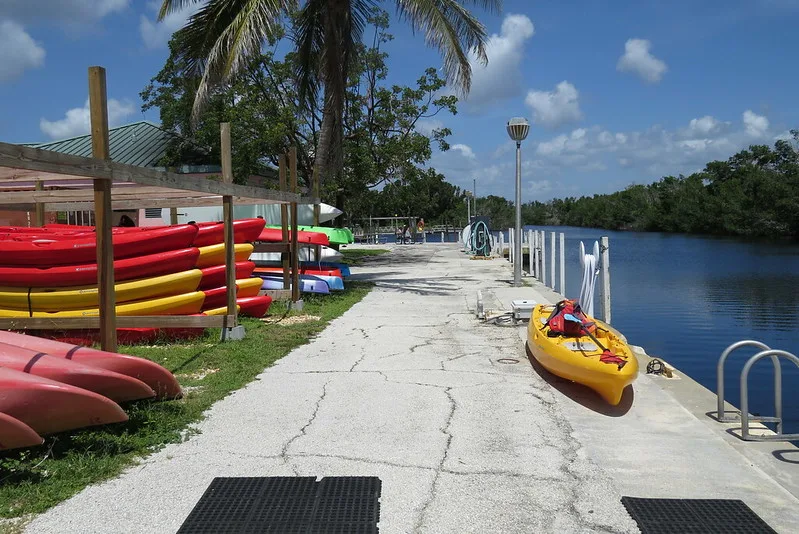 Camping at Flamingo in Everglades National Park
Did you know that you can actually camp in the Everglades? It's true! The Flamingo area has two drive-in campgrounds with limited services: the Flamingo and Lone Pine Key campground. You can also book (IN ADVANCE) one of the Flamingo Eco-tents. There are few experiences in National Parks as unique as staying in the eco-tents.
You'll need to plan for extreme weather and extreme bugs if you're camping in Everglades National Park, so that means that you need animal proof food storage, bug repellent, and plenty of sun protection. It'll be a fun experience, but when it comes to camping, it's on the more extreme side of car camping options.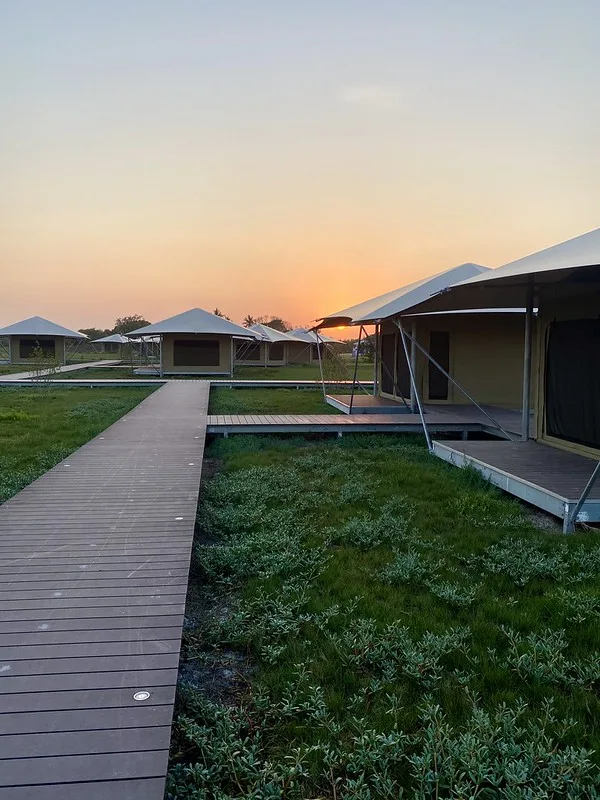 Central Everglades NP: Shark Valley Visitors Center
One of the truly amazing things about Yellowstone National Park is the wildlife.  You literally cross the border into the Park and there are bison and moose.  Same with Glacier National Park.  And it's the same with Everglades National Park.  While waiting in line to enter the Park at the Shark Valley entrance there was an alligator in the creek right next to the car.  Just beyond that gator was another as well as some fascinating birds and a turtle, all just hanging out greeting visitors.
Tip:  visit the Shark Valley Visitors Center early in the day.  Parking is EXTREMELY limited and you may have to wait in the hot sun to be allowed into the Park.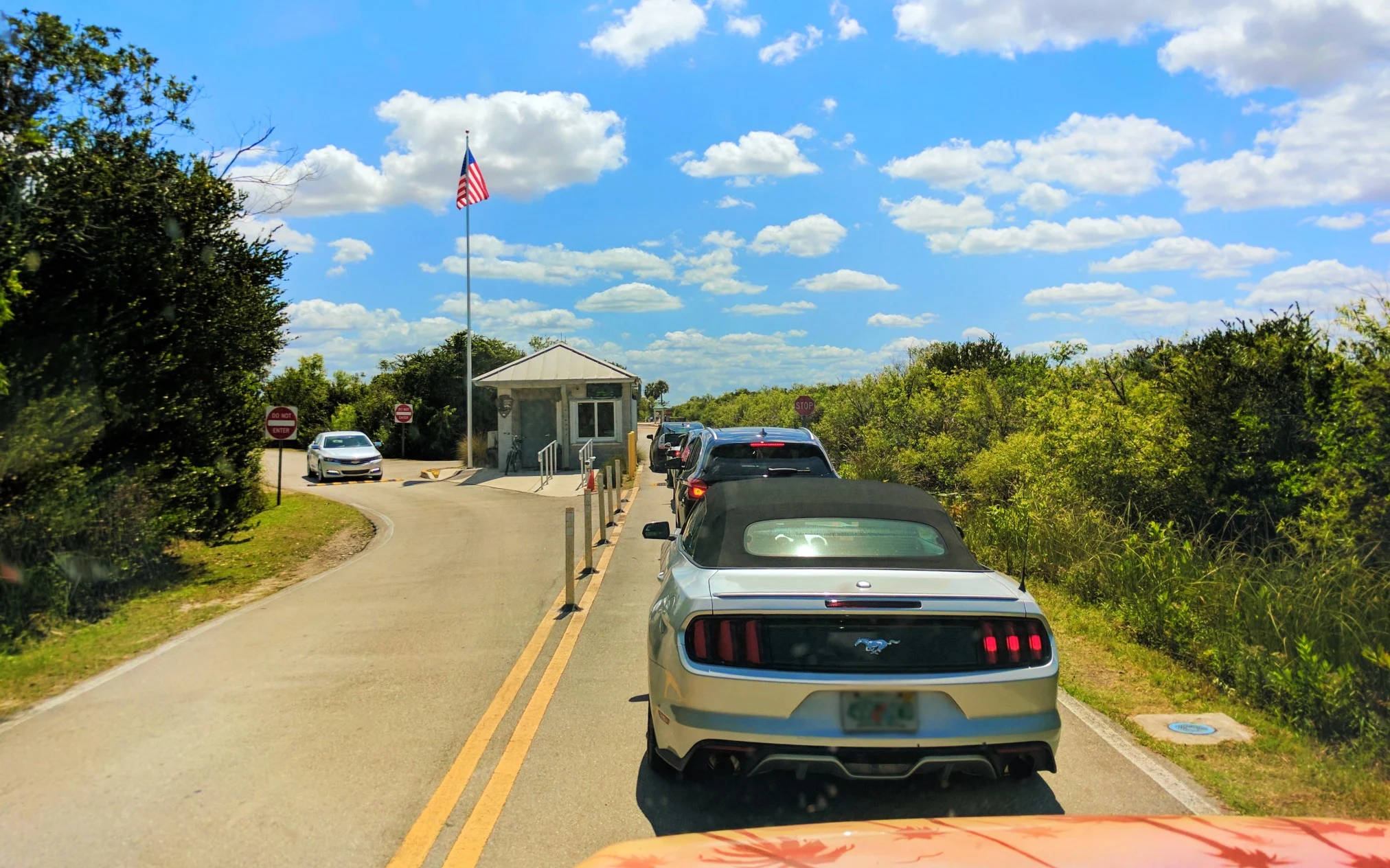 Once parked, you have several options for what to do next.  The Visitors Center has some good exhibits about the different types of wildlife in the Park as well as the ecology of the area.  And you cannot forget to get your National Park Passport stamps here!
After the exhibits, you can easily head to the nature trail just off the Visitors Center.  It is mostly boardwalk and cuts through a grassland portion of the swamp.  This area is a great example of the islands of grass that may or may not be surrounded by water depending on rain and tide levels.
If you're really up for a challenge, do the complete trail system leaving from the Visitors Center, which goes all of the way (7.5 miles) out to the Shark Valley Overlook.  This is also accessible by bike or Tram Tour.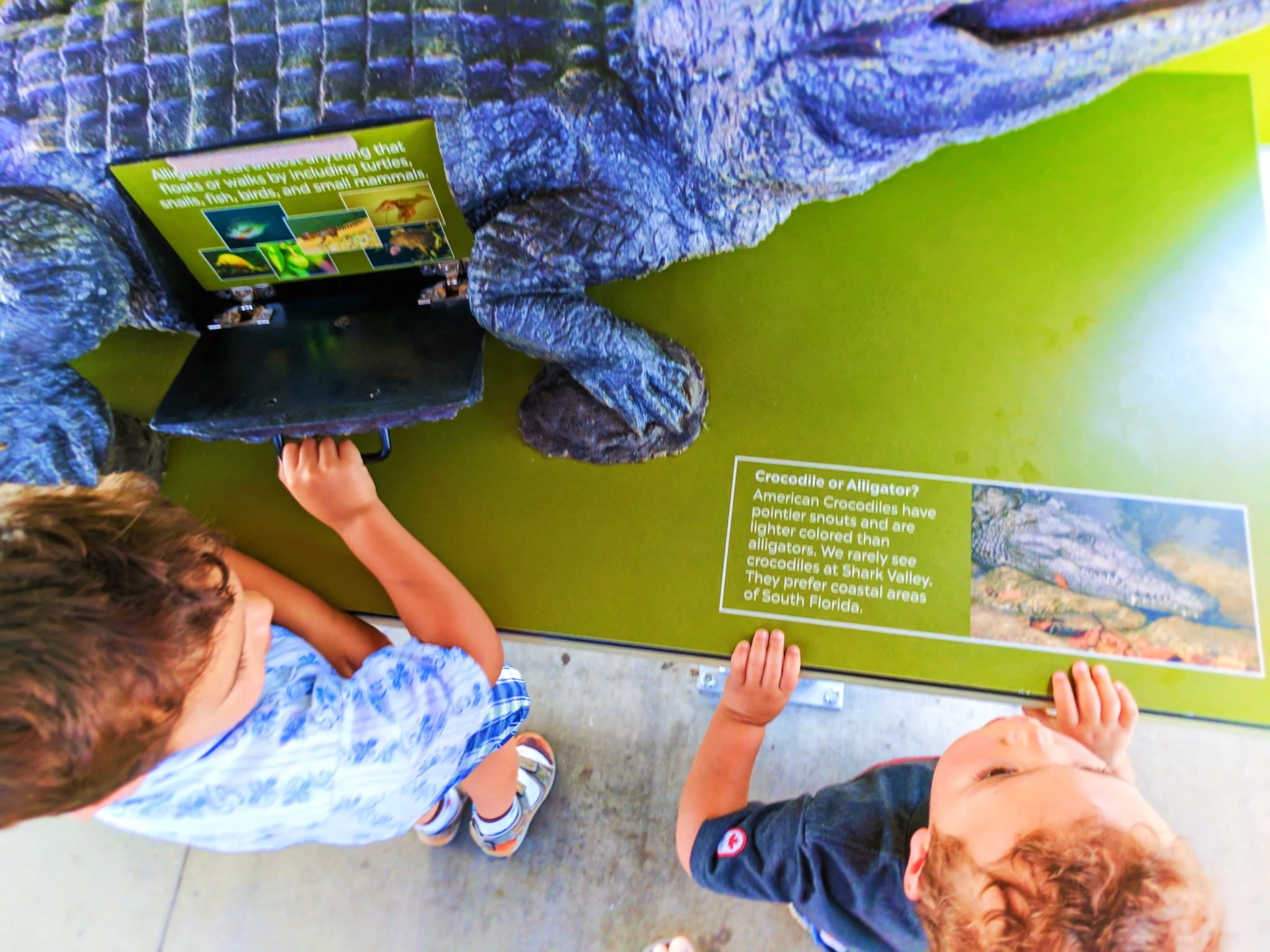 How to Get to the Famous Shark Valley Observation Tower
The Shark Valley Tram Tour is the most efficient way to experience the northern area of Everglades National Park. The tour is two hours and will take you the entire loop, including to the Shark Valley Observation tower. YOU MUST BOOK THIS IN ADVANCE. Unless you are visiting alone, it's very unlikely that you'll be able to get a spot on a tram tour without booking in advance (2+ months before arrival). When booking, earlier in the day is better. (check out the Yosemite Tram Tour for a related experience)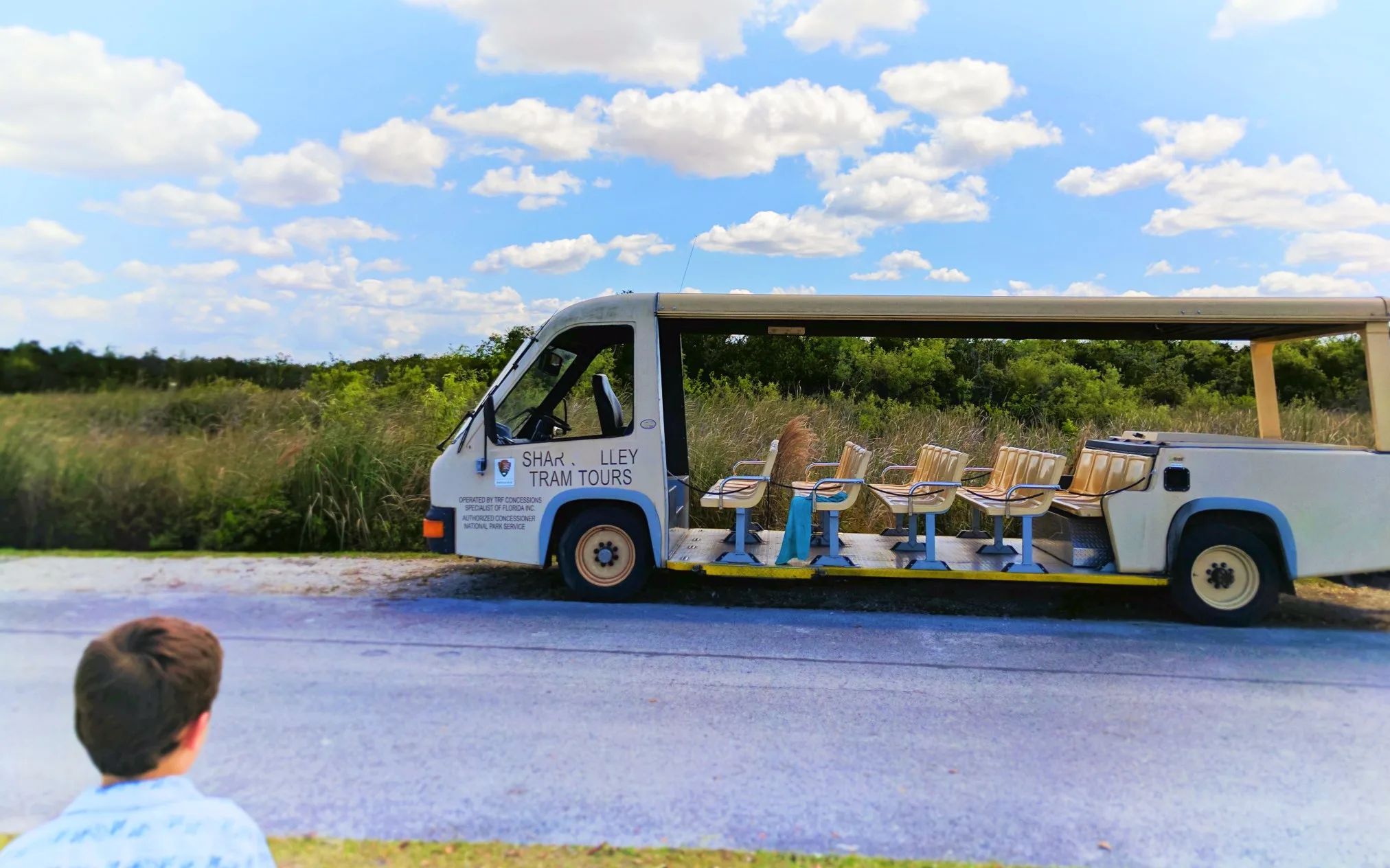 Biking at Shark Valley in Everglades National Park
If you want a more physical option in the Everglades, Shark Valley also has bike rentals which are a more personal way to explore the area. You can also bring your own bike, and in fact, this is a faster way to enter the Shark Valley area of Everglades National Park, as you can bypass the car line and check in at the gatehouse.
Note:  you can hike/walk to the observation tower and past all of the different sights of Shark Valley, but it's 14 miles round trip, which is crazy far in the heat with the mosquitoes…or with kids.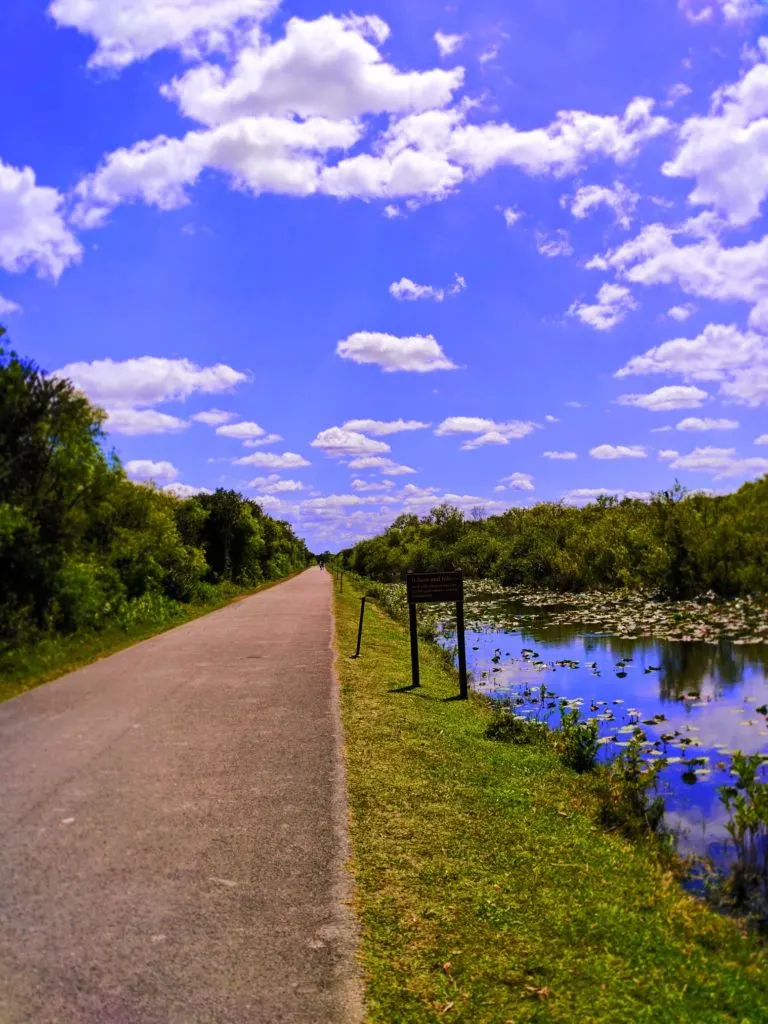 Eastern Everglades National Park: Gulf Coast Visitors Center
While we normally love all of the Park Rangers that we meet, the two manning the station at the Gulf Coast Visitors Center of Everglades National Park were the most awesome.  They were all about talking to the kids and helping them learn about and experience the environment and wildlife of the Everglades.  With lots of animal specimens and microscopes, for being a small Visitors Center, the Rangers made it a really fun, hands-on experience.  Thumbs up!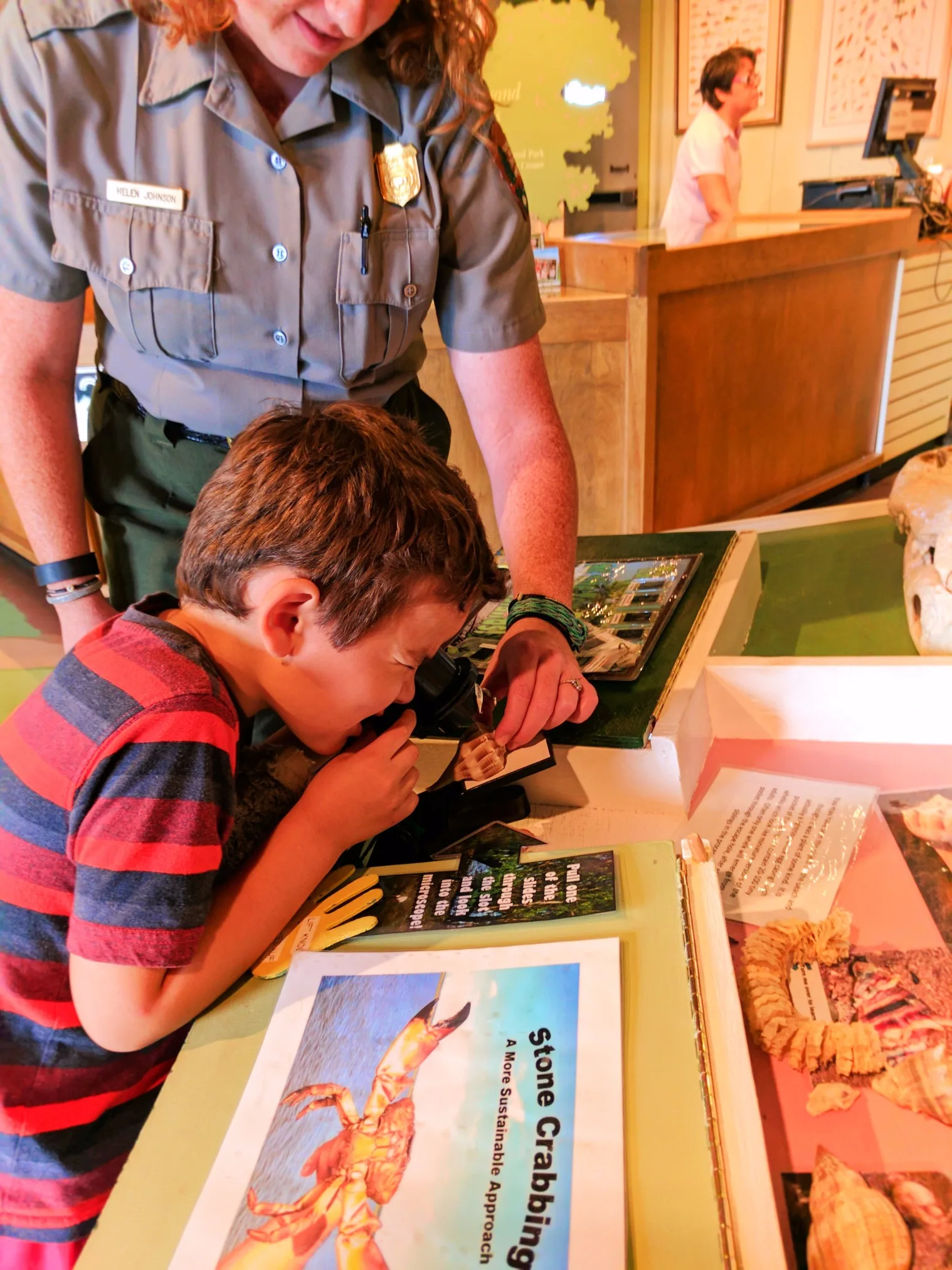 There is a short nature trail out of the Gulf Coast Visitors Center but it's not the best the National Parks System has to offer, as it seems to be under a bit of rehabilitation or development. Also, the mosquito factor in this part of Everglades National Park is really intense.  We did get to see an amazing hawk (Coopers Hawk maybe) up close as it swooped and landed near us on the trail.
Tip: for the complete Everglades National Park experience out of the Gulf Coast Visitor Center, plan to do a naturalist led boating/paddling/walking tour of the area.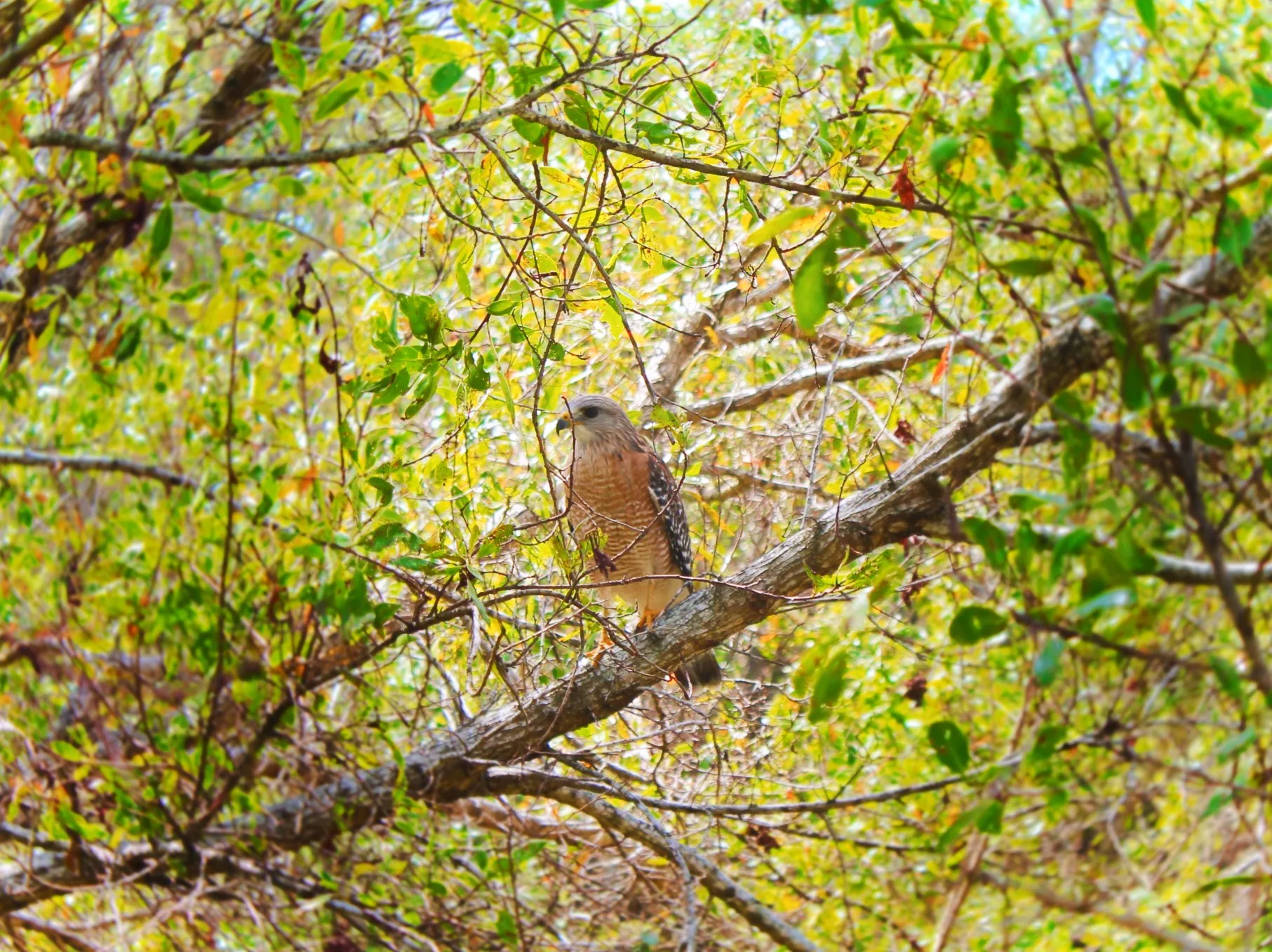 10K Islands Boat Tour on the Gulf
The boat tour leaving from the Gulf Coast Visitors Center takes guests to the 10,000 Islands area of Everglades National Park.  Here you'll see where the swamp meets the Gulf of Mexico and your chances of spotting spoonbills, manatees and more are quite good.
Like with the Tram Tour, you'll want to reserve your National Park Boat Tour in advance.  The National Park Service has a list of approved operators on its site for other types of guided experiences, but know that many are smaller companies with limited availability.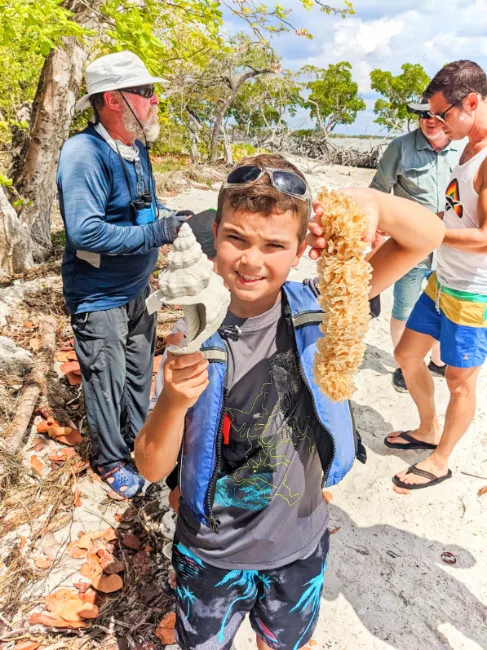 Boat Assisted Kayaking recommendation: We went out with Everglades Area Adventures from Chokoloskee to do a boat-assisted kayaking tour in the 10,000 Islands area. It was amazing as we explored the mangroves and found enormous ancient shells on one of the remote islands.
Land Launch Kayaking recommendation:  There's a really cool kayak company, Shurr Adventures, and they have a very conservation-forward approach to taking guests into Everglades National Park. Everglades Area Adventures also does a 3.5 hour kayaking tour of the 10K Islands area that will take you into some beautiful parts of the National Park.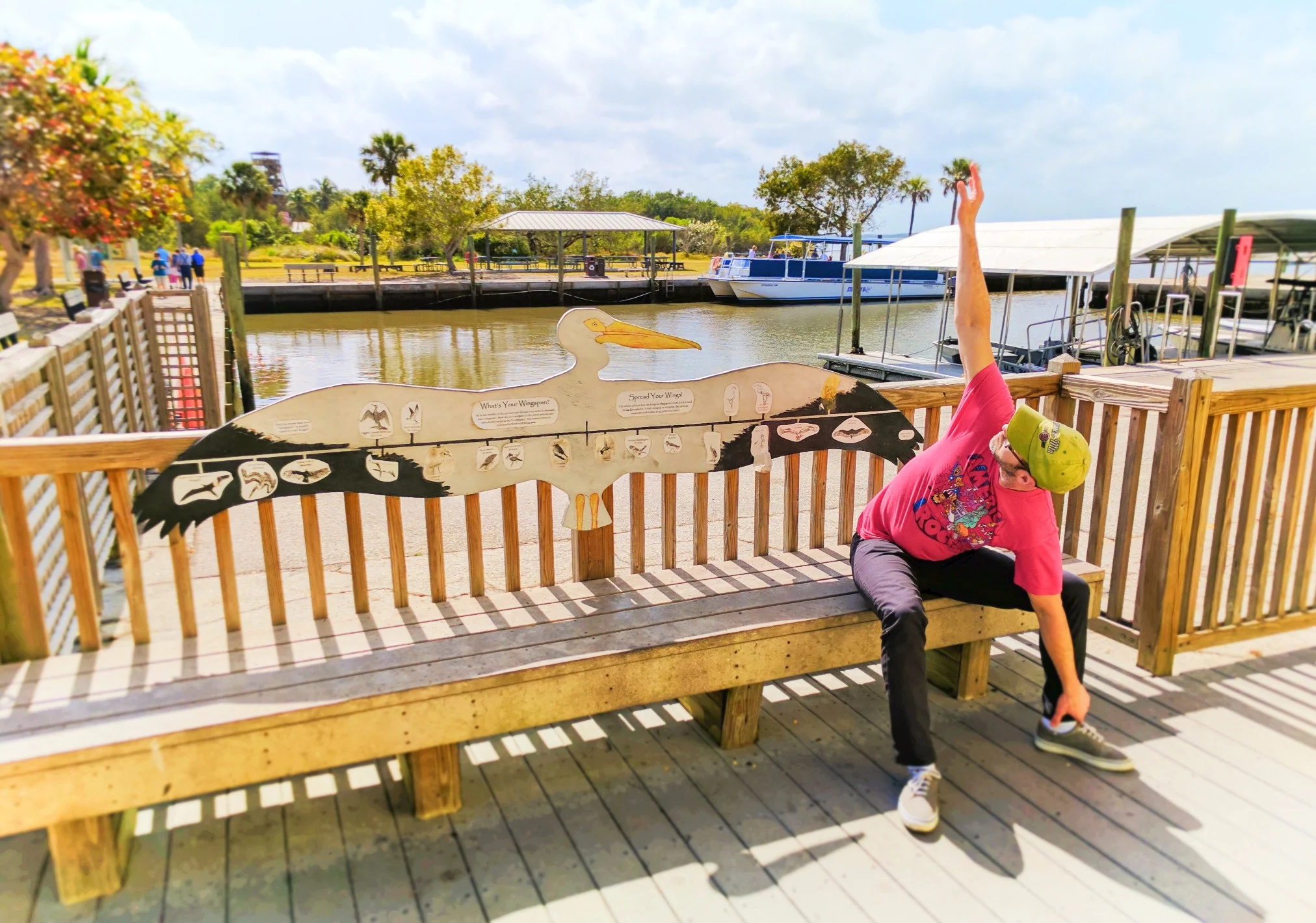 Experiencing the Everglades outside of the National Park
Everglades National Park isn't the end of the Glades themselves.  The swamp extends north of the Park boundaries and it's a totally different world/experience, including up into Big Cypress National Preserve.  If you want to have a little bit of an adventure in the Everglades you've got three different choices.
Swamp buggy – like a monster truck going through the swamp on private land

Airboat ride through grasslands – fan boats take you across the grass rivers looking for birds and gators, operating on private land

Airboat ride through mangroves – fan boat doing through the mazes of mangroves and across hidden lakes
We've done both the mangrove and the River of Grass airboat tours and they were both really fun.  They were incredible actually.
Everglades Mangrove Airboat Tour
We started in Everglades City, Florida by heading into a small bay/lake area.  We did this very quietly and slowly, as our captain took us into manatee territory.  We were fortunate to spot two manatees almost immediately, the captain keeping us a safe distance away and telling us about their behaviors and why they come to the area.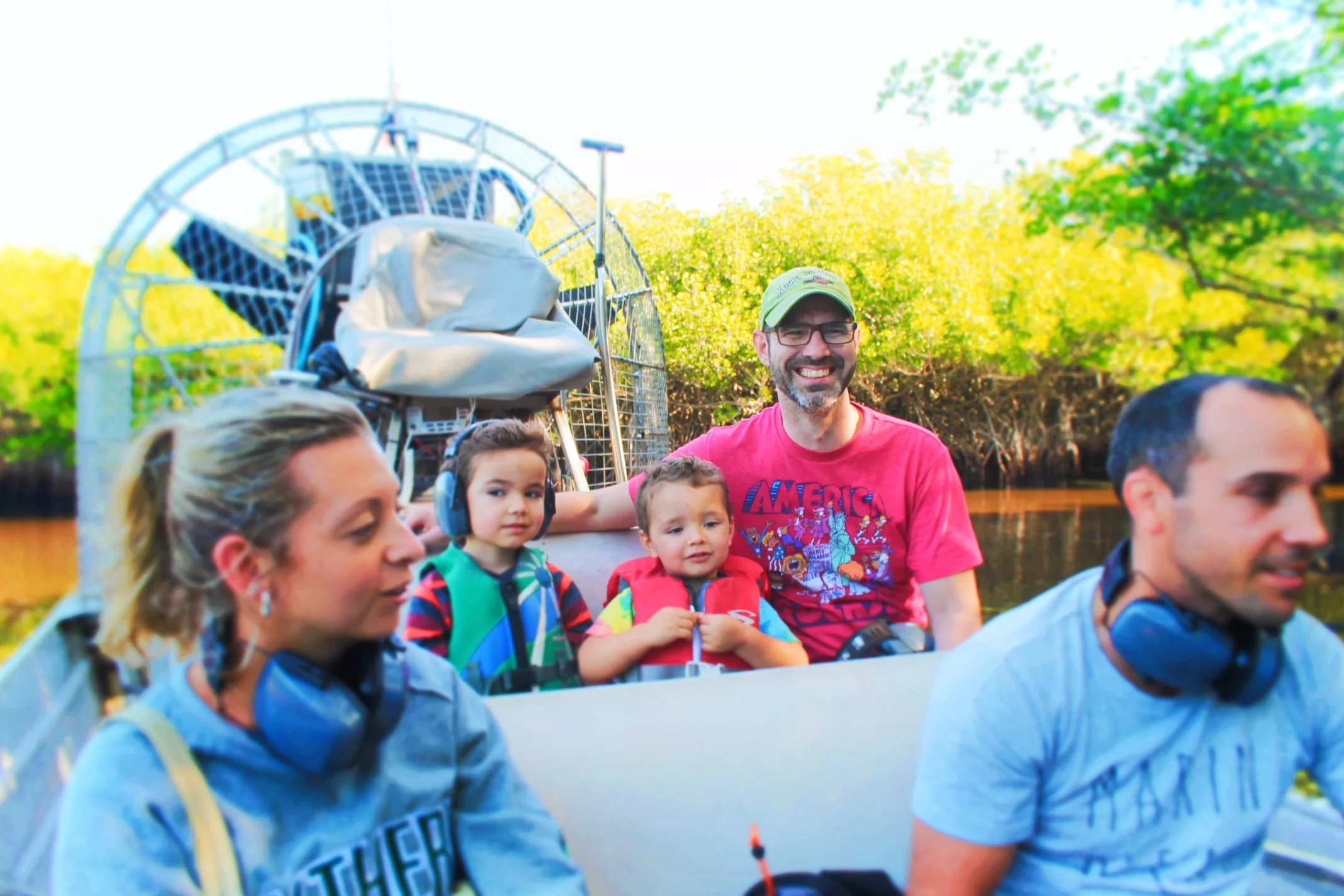 After we had our manatee time, our Everglades adventure began.  Winding through tight mangrove tunnels and then rooster-tailing us across broad, open spaces, the captain made our ride quite a bit more thrilling than we expected.  Taking breaks to show us wildlife and teach us about the mangroves, we were buzzing through the Glades for about 40 minutes.  The kids loved it!  When we ended the captain asked if we had any questions and Oliver, our oldest, said "Are we done?  Can we go again?" #winning.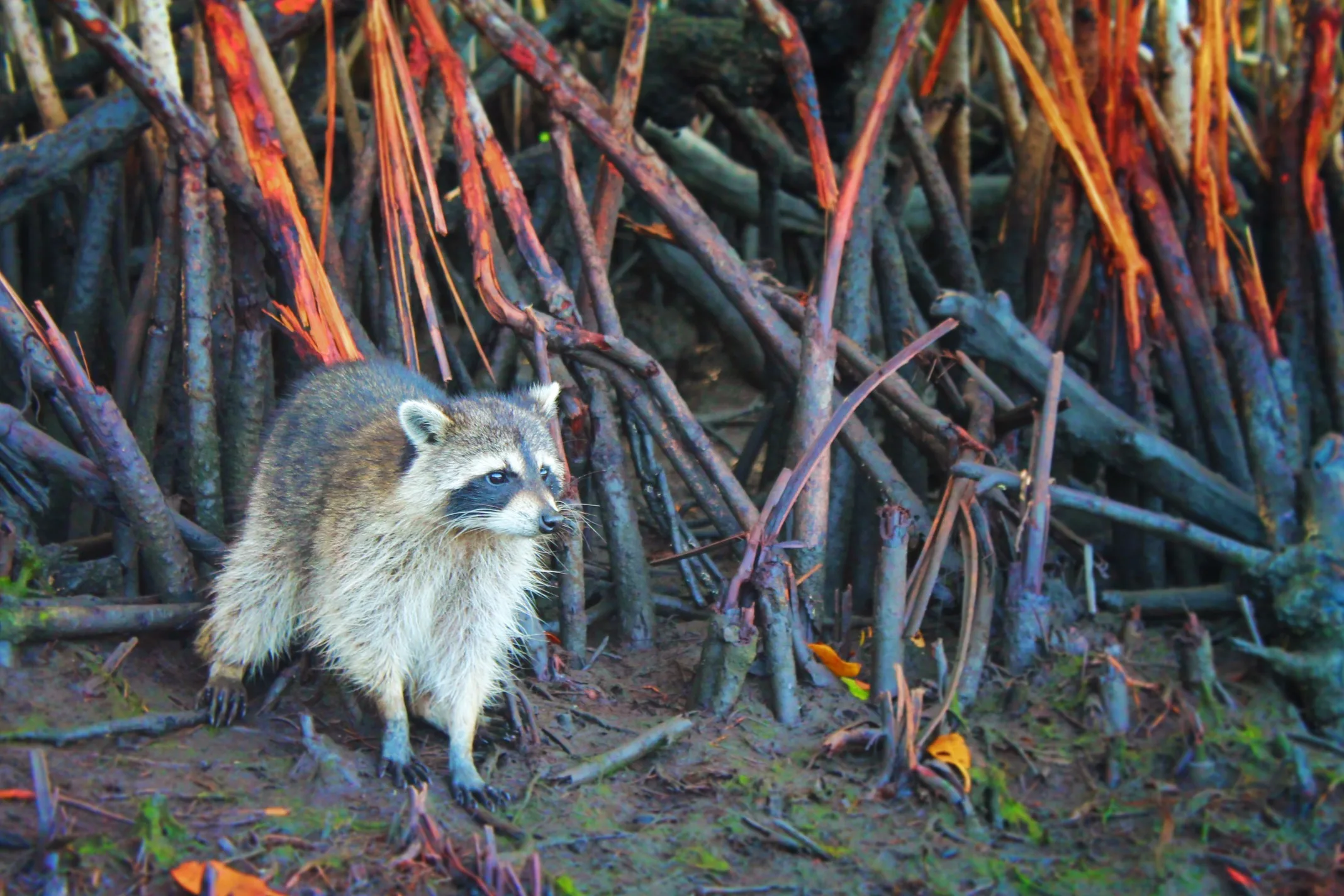 Everglades River of Grass Airboat Tours
As you drive on Highway 41 between Miami and Naples, you'll pass lots of airboat tour operators. These tours focus on the River of Grass portion of the central Everglades, and several operate within the boundaries of Everglades National Park. You'll see a "National Park Service Authorized Concessioner" badge if a tour operator is approved.
We most recently went out with Coopertown Airboats, the original airboat guide service in the Everglades, and had a great trip. Going through the designated waterways, we were taken through narrow passages and across what looked like grassy fields, but was actually part of the River of Grass. We saw alligators and amazing birds up close.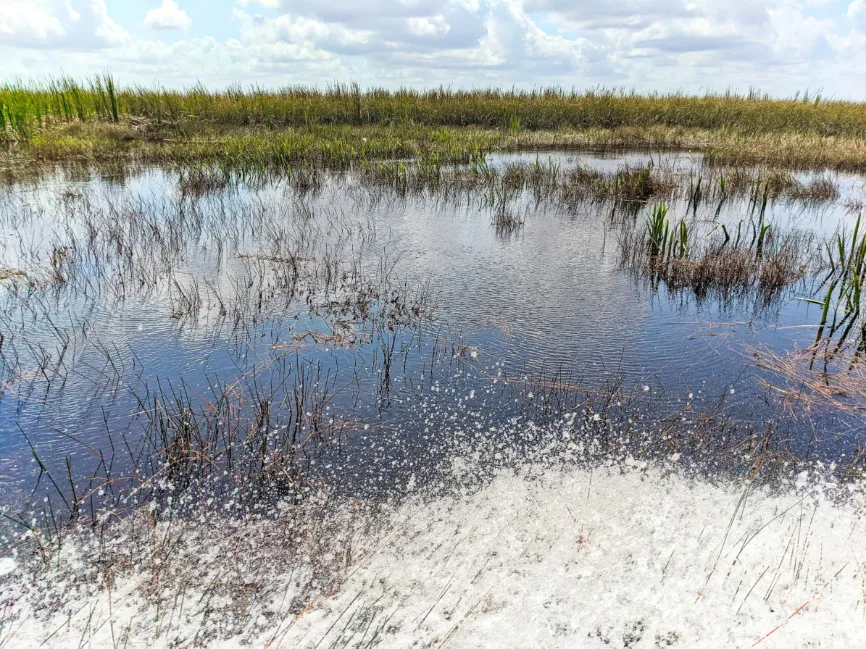 Tips for airboats with kids
Taking younger kids on airboats is fun, but it's a really weird experience for them.  Here's how we made it go smoothly:
Explain how the boat works

Ensure safety with kids on the inside

Pre-fit the noise-cancelling headsets so they're ready

Be ready to block the wind (airboats go up to 45 MPH) or have kids wear sunglasses

Put headsets on the kids before they freak out about the noise

Have fun!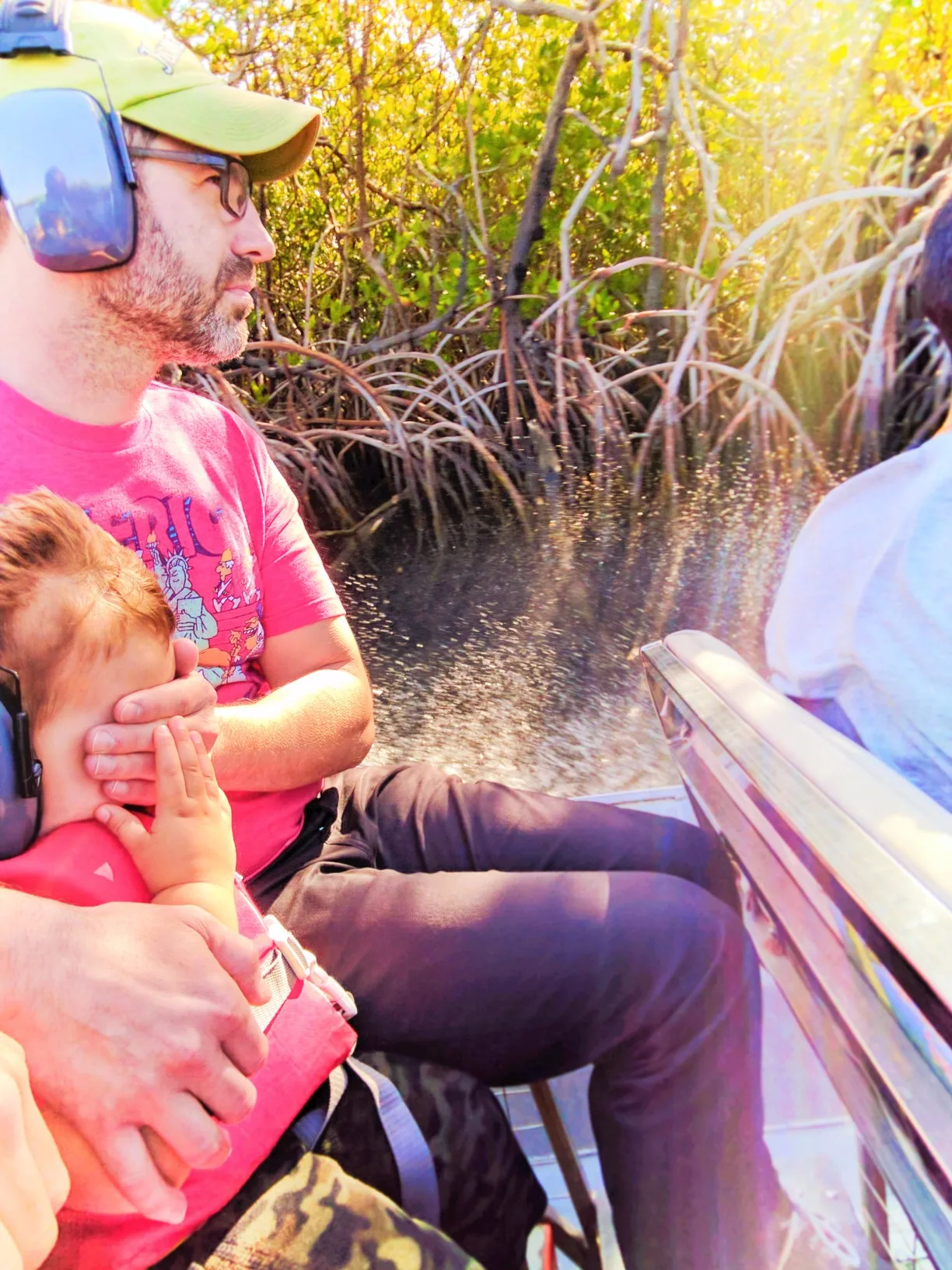 So yeah!  We loved visiting Everglades National Park and the surrounding area. Our next visit to South Florida will include a bit more time spent in the Park with a lengthy visit to the Flamingo area, for sure.  You ready to go? Want to take us with you?
Be sure to check out our other Florida National Parks picks, including the following:
Feel free to share more tips and experiences in the comment section below.  Who else LOVES Everglades National Park?! Please send us a note or leave a comment if you need help planning your trip to South Florida.