While we typically just do our own thing and plot out sights we want to see, every now and then we'll do a tour. National Parks are so easy to explore on your own, especially when you're planning on hiking a bunch, but when we were in California, we opted to do the Yosemite Valley tram tour. It was a great option for the family and worth the time.
Yosemite National Park welcomed us for our tour and told us to have fun and get a good seat to be able to listen to the ranger. We did and we learned a lot about Yosemite National Park… and about how to manage kids on a two hour tour. It was great though.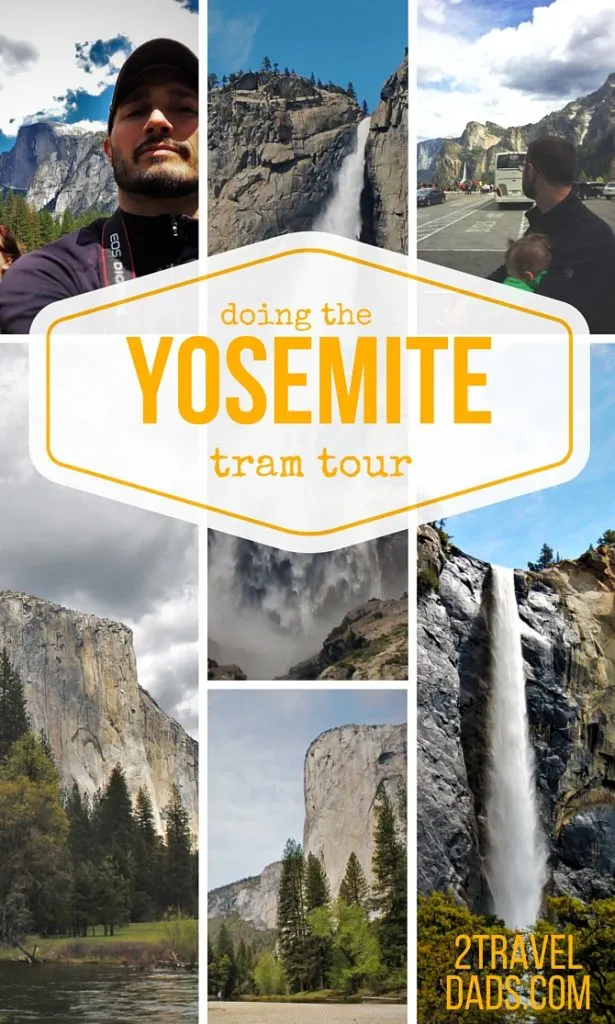 Basics of the Yosemite Valley tram tour
The Yosemite Valley tram tour needs to be booked in advance. There are only so many of the hybrid open air trams and only so many seats. And I'll tell you, Yosemite National Park is an EXTREMELY popular destination for people from all around the world… and on the west coast of the USA… and for Californians doing a weekend getaway. Basically, everybody loves Yosemite and it is always busy, so plan ahead.
The Yosemite Valley tram tour goes out from the lodge near Yosemite Falls. It does NOT leave from the Visitors Center and is not close to it. You MUST park close by or you'll be walking forever.
The Yosemite Valley tram tour is hosted by a National Park Ranger, not a third party guide. This is great for two reasons: 1.) it's somebody who's fully invested in the park and the tour and 2.) Park Rangers are knowledgeable, caring people that are genuinely passionate about their stomping grounds, Yosemite National Park. We love Park Rangers! Ranger Adam was really wonderful on our tour.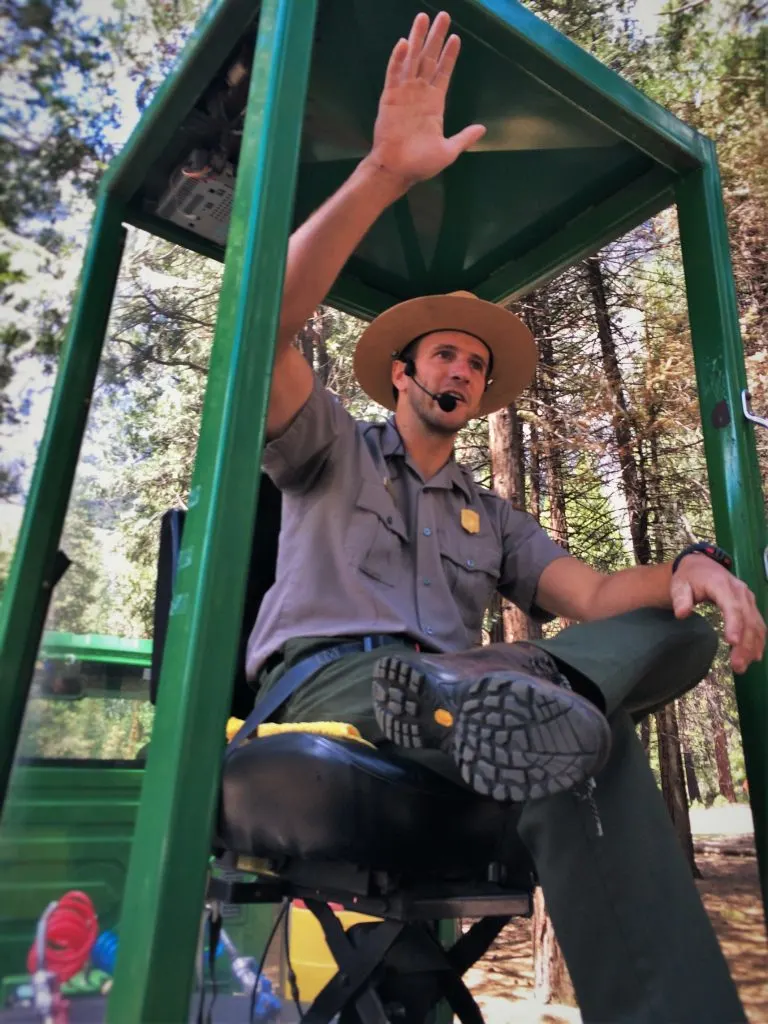 Tip: kids, or at least ours, love Rangers and totally trust them. Doing activities like completing a Junior Ranger program or going on a Ranger-led tour or hike are great ways to inspire kids to care about the environment and maybe plant some career goal seeds in them.
The tram tour really is two hours+. The time is used fully, between planned stops where you get off the tram or pull over to look for rock climbers high on the cliffs, or if you're just sitting by the Merced River listening to nature for a few moments. The sights, sounds and information the Park Ranger shares goes from start to finish.
Sights to See from the Yosemite Tram
Everything in Yosemite National Park is a sight to see. Even the low-lying plants in the woods are worth your time to appreciate. But hey, we're in Yosemite so we're talking about grand sights and stories. And for a really cool hotel IN YOSEMITE, check out this review of the Yosemite Valley Lodge!
El Capitan
Such an amazing, striking piece of rock. For sure, it's incredible. Our Yosemite Valley tram tour guide was great, especially when it came to sharing stories and info about El Capitan and the other rock formations in the Park. Ranger Adam was very passionate about rock climbing and geology and shared lots of stories about mountaineering and its history in the park. The best though were his own stories about climbing El Capitan (16 times I think he said) and helping us spot climbers up high on the face of the rock.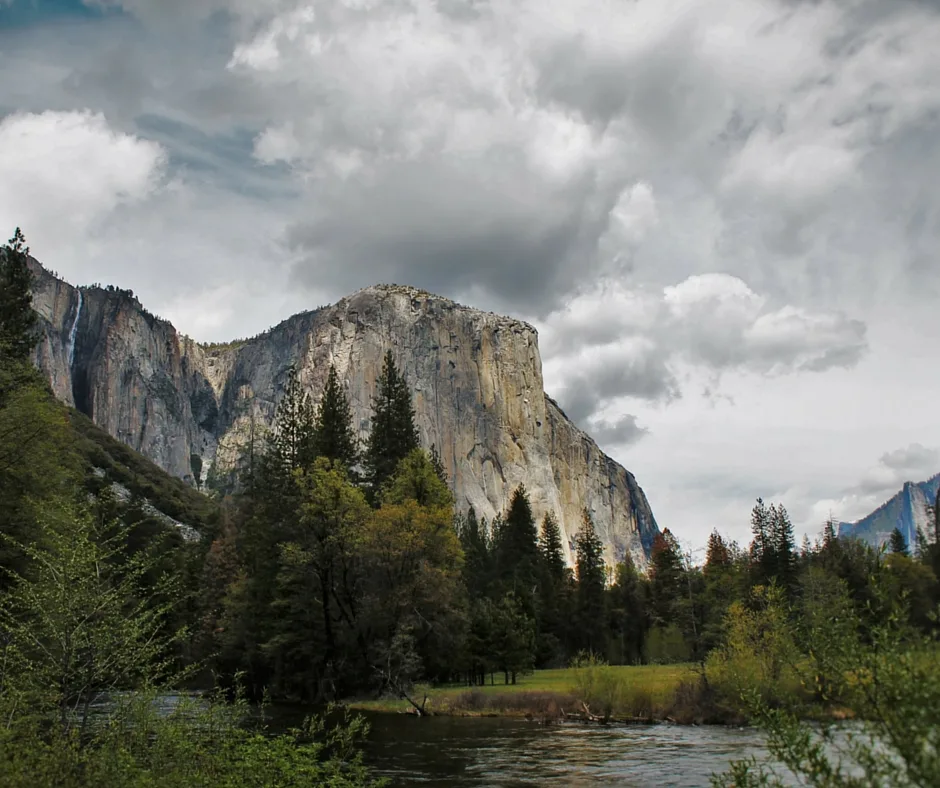 Fun moment: Ranger Adam had a friend traversing El Capitan on the day of our tram tour, so when we got to a spot with a clear view of her route up the cliff, Ranger Adam had everybody yell hello to her in unison. Oliver loved this because, well, what four year old doesn't want to yell at the top of their lungs whenever possible? But really, such a cool Ranger with great stories.

Fun fact: the Yosemite Valley tram tour takes you by Camp 4 which is seemingly just a campground, but it's on the National Registry of Historic Places due to its significance in the development and advancement of mountaineering.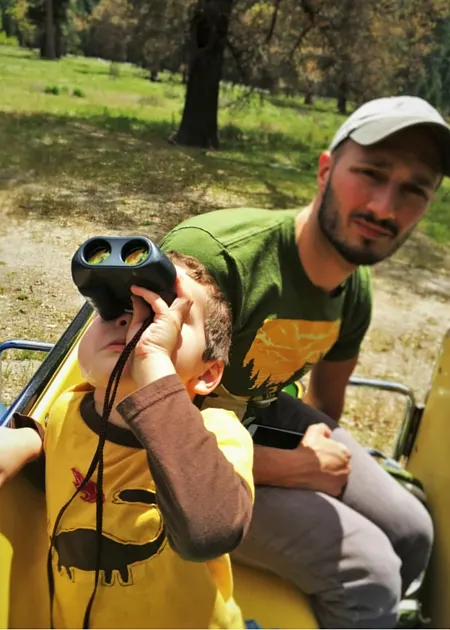 The Merced River in the Yosemite Valley
Starting up in the Sierras beyond Half Dome is the Merced River. It cascades down Nevada Falls and then meanders along the Yosemite Valley floor. We made two stops along it, once to get out and stretch and use the bathrooms/take pictures and the other just to listen to it. The Merced River isn't a raging one in this area of Yosemite National Park, but it's beautiful and mirrors the colors of the sky and trees around it.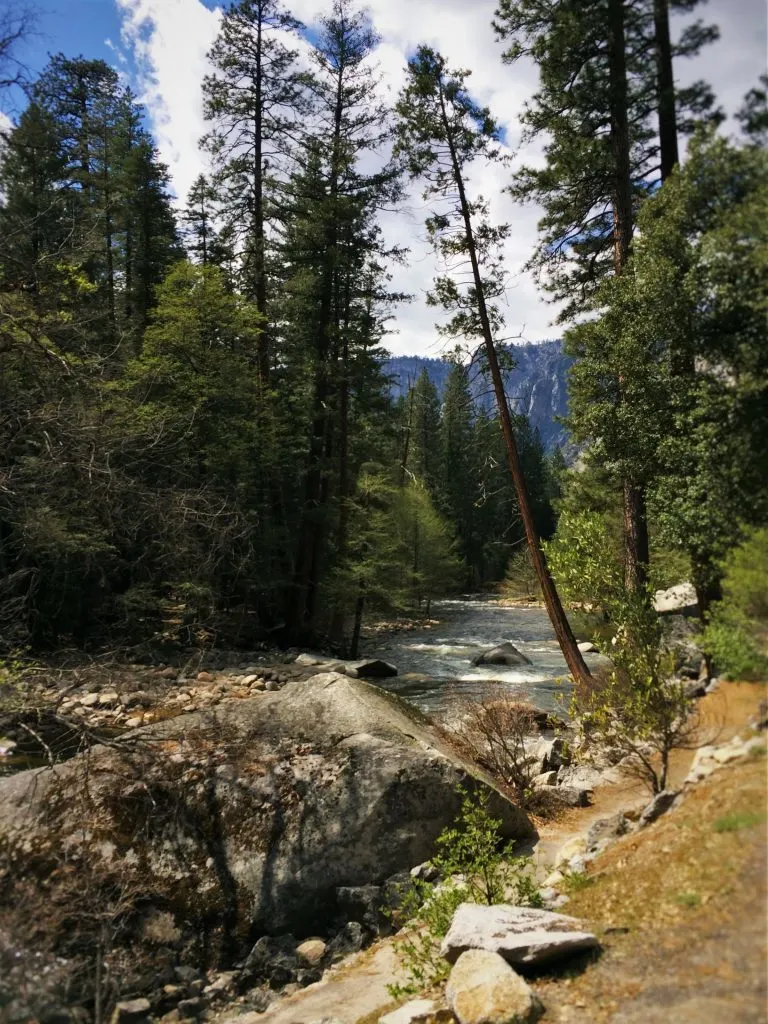 Unrelated tip: we enjoyed an afternoon picnic on the Merced River at the Cathedral picnic area. This spot is accessible from South Side Drive and has plenty of parking, picnic tables and great places to enjoy lunch down on the river. It is one of the most breathtaking picnic spots we've ever eaten at, and that includes the Steamboat picnic site in Yellowstone National Park.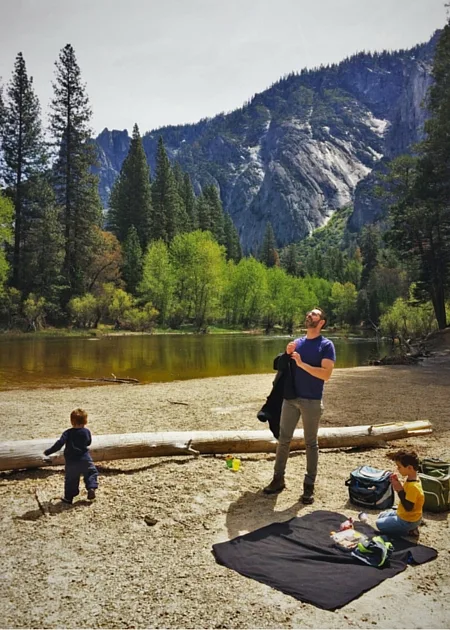 Tunnel View: Busy but Worth It
I could go on forever about the beauty of Tunnel View, but I won't. Instead, read our article about Tunnel View and see why it's worth the stop and how to leverage a visit to this amazing vista to create an awesome Yosemite experience. Basically, Tunnel View captures everything you went to Yosemite to experience, but from a distance. It's a great place to be inspired.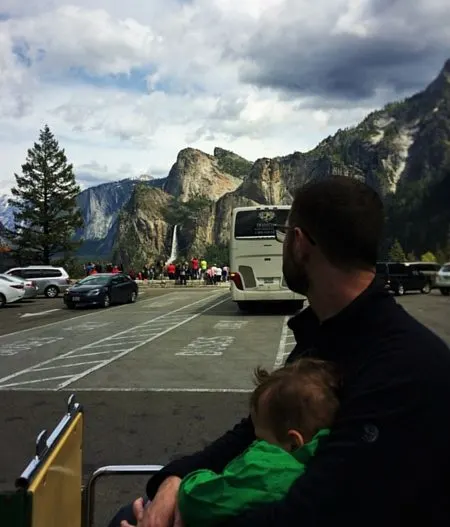 Tip: if you bring a small tripod on the Yosemite Valley tram tour, you'll have a long stop at Tunnel View and can capture the clouds rolling across the Yosemite Valley. It's a beautiful sight and a great family photo spot.
Half Dome: the Yosemite Icon
Half Dome is huge. Huge. You only get a few great views of it because it's enormous and as you approach it, it overwhelms you and you lose the ability to photograph it well. The approach and departure from the Half Dome area is really wonderful though and you'll get a pretty good idea of how immense it is… as you fail to capture Half Dome in one frame on your camera.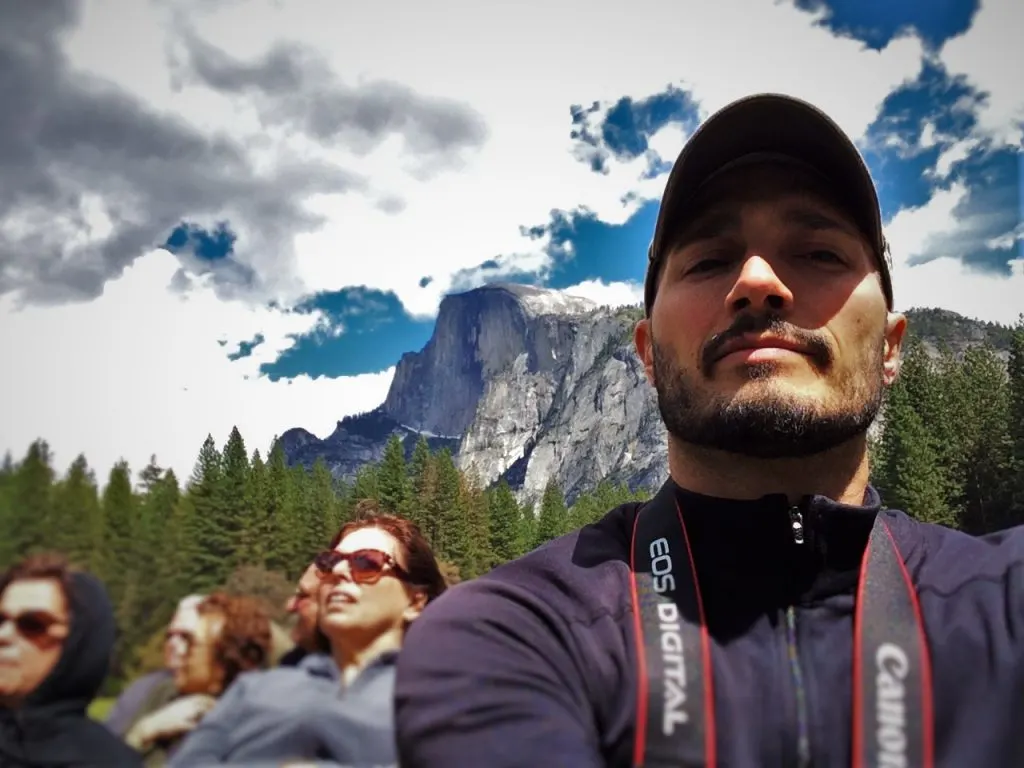 Hiking up Half Dome is a bucket list hike for a lot of people. It's its own full day activity and needs to be permitted in advance. If you didn't score your permit months out when they first opened them, seeing Half Dome from the Yosemite Valley Tram Tour is may be as good as you'll get. It's great, but it's not epic like viewing the whole valley from atop Half Dome.
PS: I've done it. Hiking Half Dome is astounding and very tiring. It's well worth the hike, but it's intense. The views and the waterfalls are awesome, and really, it's a once-in-a-lifetime hike.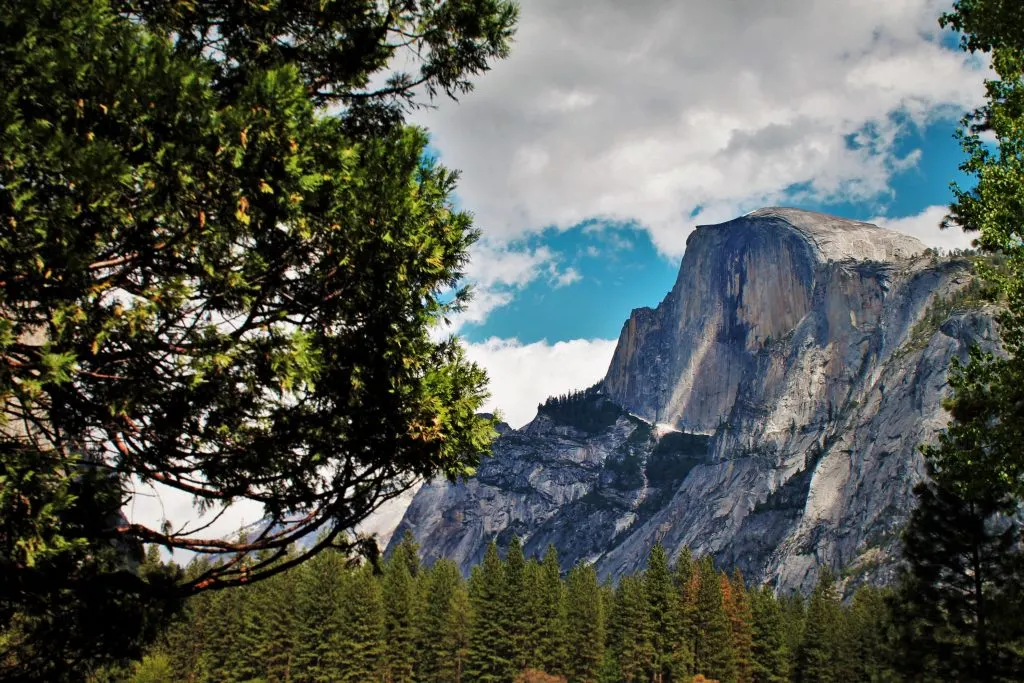 Bridal Veil and Yosemite Falls
Each of these sights needs its own visit, but you get to see both of them on the Yosemite Valley Tram tour. Bridal Veil Falls is the star of the show, being seen at the first tram tour stop along the Merced River and then again when you reach Tunnel View… and then again when you drive by it on South Side Drive. It's beautiful from every angle. And if you get out and walk up to it, you'll get a bit soaked.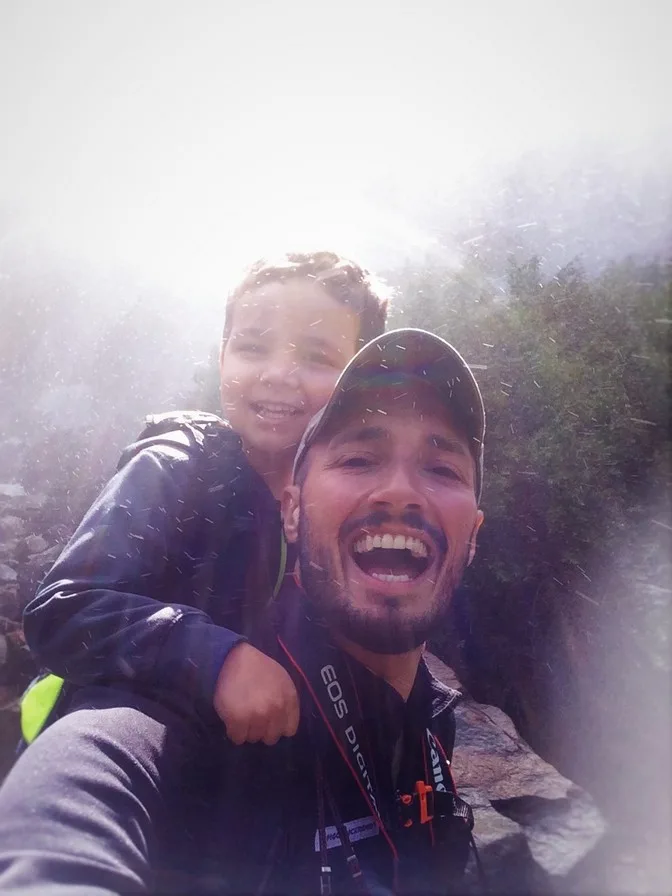 Yosemite Falls has two main splash downs. Upper Yosemite Falls is a phenomenal, picture perfect sight with its flow being stolen by the wind and spread across the face of the cliff. Lower Yosemite Falls is not as high and is more concentrated, but still pretty. Together, they are a sight to behold and if you've got a kid into waterfalls (enter Oliver, our oldest) it's the golden ticket of falls.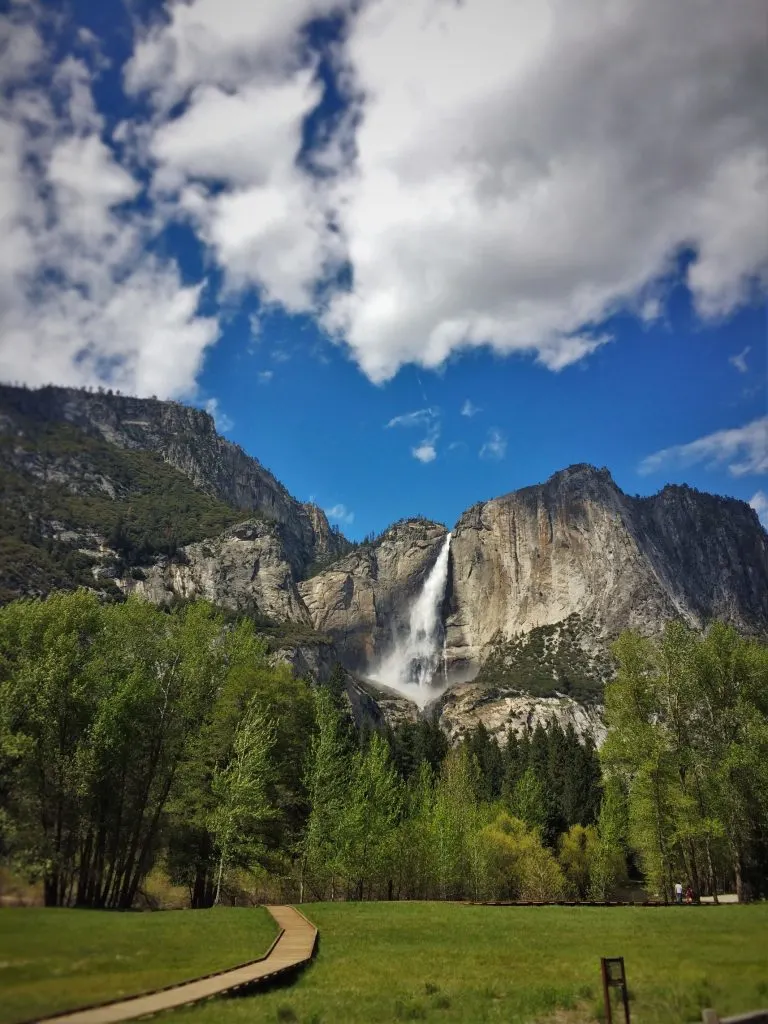 Stops on the Yosemite Valley Tram Tour
There are only two stops that are structured into the tour. The first stop is along the Merced River and lasts about ten minutes or so. This is the only stop where there is a bathroom available. This is also a great photo opportunity, from family pics in front of Bridal Veil Falls to photographing native flowering trees.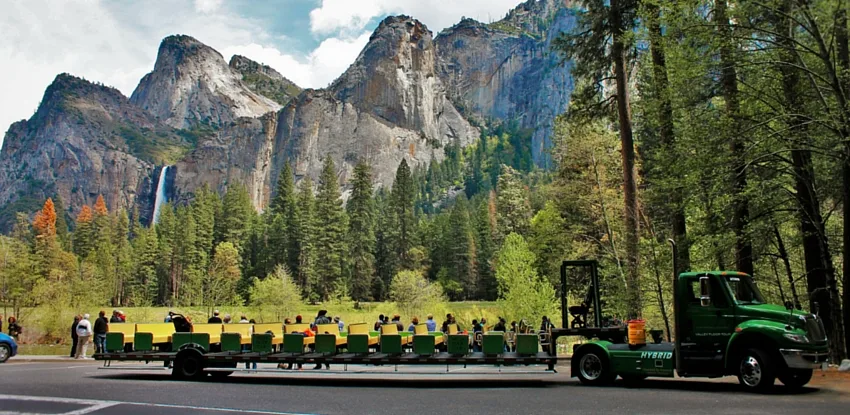 Tunnel View is the other stop. You know we love Tunnel View and think that of all of the sights in our National Parks, Tunnel View is the most iconic and represents what America's National Parks are set up to protect. Enjoy this stop and take in the Yosemite Valley for all that it's worth.
Tip: hot day or cold, being in an open air tram will dry you out. If you didn't bring your own water bottle, take advantage of the water cooler that the tour provides. We're constantly reminding our kids (and our readers) to stay hydrated for the best experiences.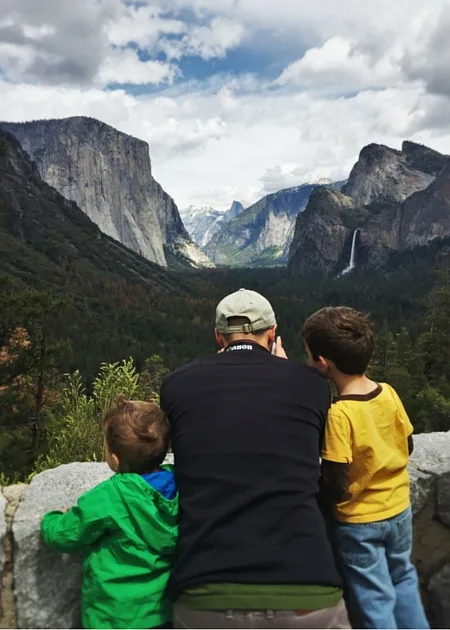 Being Prepared for the Yosemite Valley Tram Tour
Oh hey, we just reminded you to bring a water bottle, but we'll tell you again. Stay hydrated! Other important things to remember:
Go potty ahead of time

Bring a light jacket and a hat (it gets windy and there can be weird weather)

Eat first because there's no food allowed on the Yosemite Valley tram tour and you'll be hungry by the time it's over.

BRING YOUR CAMERA

Bring a small tripod if you want to capture a beautiful time lapse video when you're at the planned stops
So, was the two hour tour worth our time? Did the kids appreciate it? Yes and yes. While it may seem like two hours isn't long enough to experience the Yosemite Valley, it actually is plenty for just taking in the sights. Two hours of information from your Park Ranger guide is a lot to absorb, but it's incredible to hear from those working directly with the Park all of their stories and tips.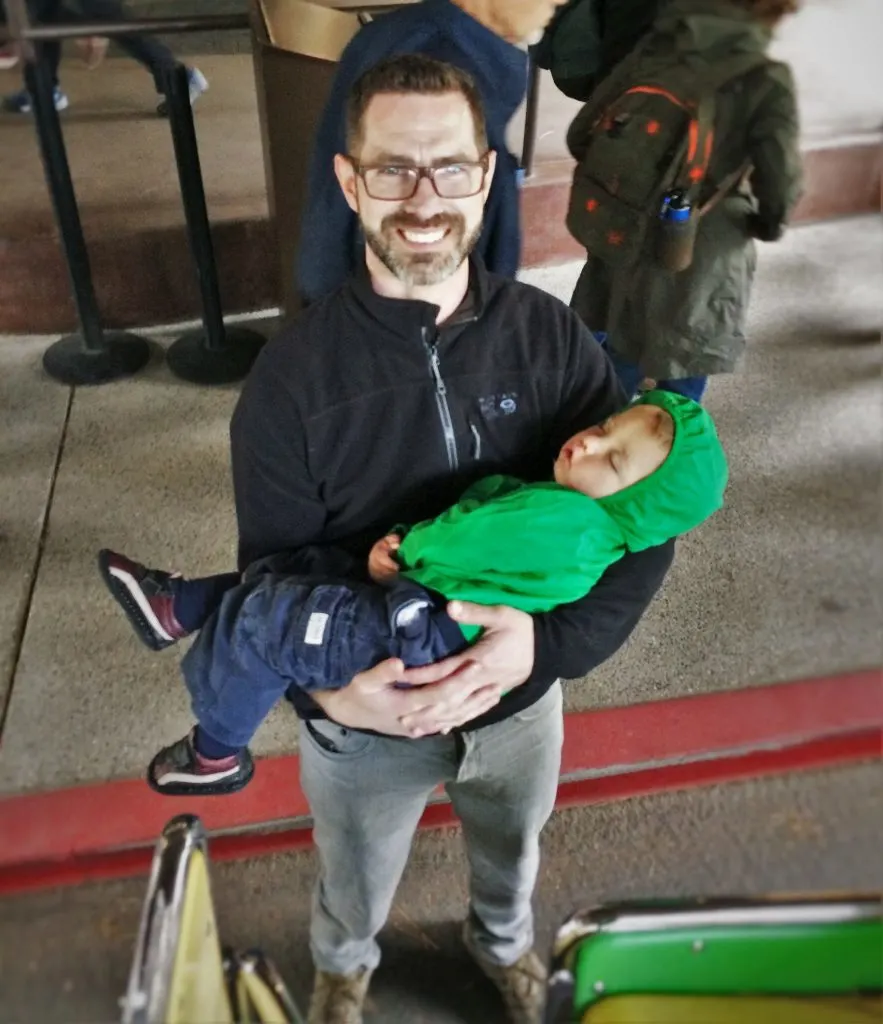 The kids were fine with the length, as there were enough stops to break it up and the open air makes it not feel like being in a car. Also, since both kids fell asleep and got small naps, well, that's always good and made the rest of our day easier. I think we all felt that it was a great idea to do the Yosemite Valley tram tour during our road trip, and it was especially good for a way to introduce the kids to Yosemite for their first visit.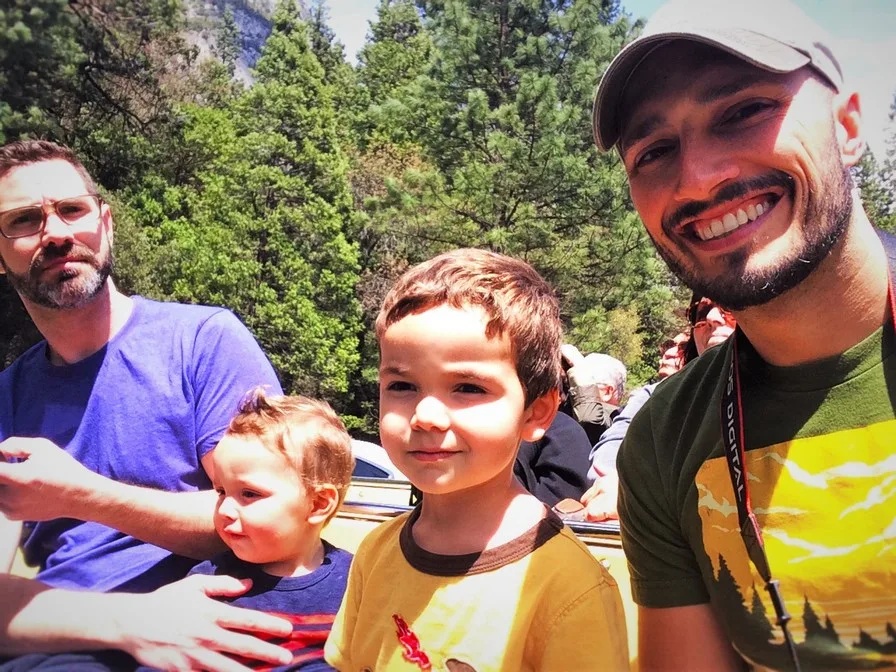 Family travel idea: we haven't done them, but many National Parks offer tours. Yellowstone and Glacier National Parks offer them on vintage buses. Kayaking tours in Everglades National Park are amazing. THe overall Dry Tortugas National Park tour experience is unforgettable! There are so many options.
Do you ever go on structured walking or ride-along tours? What tips do you have for taking kids on them? Leave a comment below to share your ideas of how to incorporate fun tours into family travel.