Have you heard of Big Cypress National Preserve? No? On the northern border of Everglades National Park there's a pretty cool Florida landmark. No, we're not talking about the Tamiami Trail, even though Highway 41 is fun to drive, but we're talking about this awesome National Park site: Big Cypress National Preserve. Big Cypress is a part of the National Parks Service and it's really cool with its swamps and trees, boardwalks and alligators.
Being a part of the larger Everglades ecological system, is it worth planning time JUST in Big Cypress National Preserve? Absolutely! It's very different from what you'll experience in river of grass in Everglades National Park and is a great day trip from Miami or Naples, Florida. You'll love it!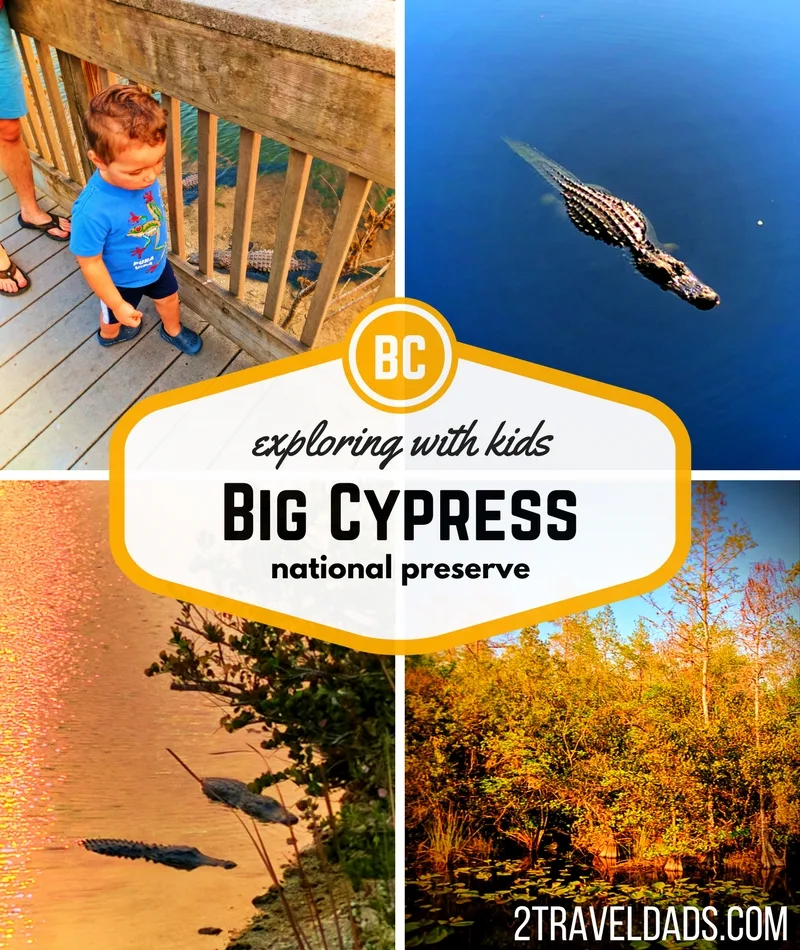 Where is Big Cypress National Preserve?
Located smack dab in the middle of the southern tip of the state, between Miami and Naples, Florida, is Big Cypress National Preserve. You'll have to drive through Big Cypress National Preserve if you're going between the two, so you might as well stop. On the north end Big Cypress NPS is bordered by I-75, aka Alligator Alley, and to the south Florida Highway 41, the Tamiami Trail.
There are several campgrounds along the 41 if that's your style (we stayed at Collier-Seminole State Park) or you can find lodging in Miami, Everglades City or Naples.
Tip: if you're camping, we recommend a campervan or some sort of structured camp setup. You're in alligator territory, and while they're pretty chill most of the time, we loved the additional safety of the Escape Campervan we rented.
Easy trips you can add a visit to Big Cypress NP to are an Everglades National Park vacation, Miami and Biscayne National Park, a Florida beach vacay, or a whole Florida Gulf Coast itinerary. So many options!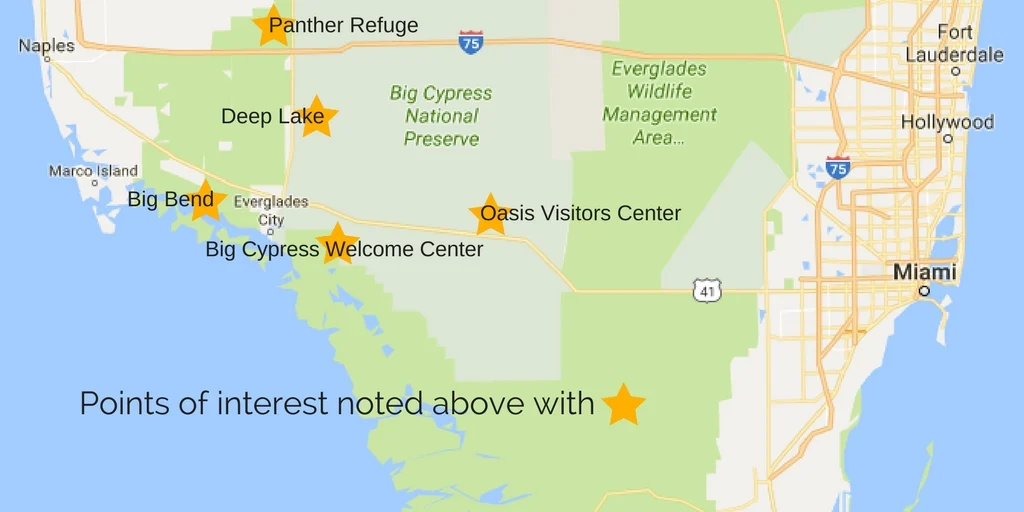 Things to do at Big Cypress National Preserve
So, how do you visit Big Cypress National Preserve? There are a few ways with a few locations offering different sights and activities.
Check out Kayaking in South Florida for paddling routes in Big Cypress!
The Highway Drive-thru Method
It's funny, you actually can experience Big Cypress National Preserve and its abundance of nature just by driving through the area. Watch for alligators and cypress swamps from your car along Highway 41 or I-75. The protected area is so sparsely populated by humans and the waterways so plentiful that the alligators and amazing birds are visible in the canals, the ditches and just on the side of the road.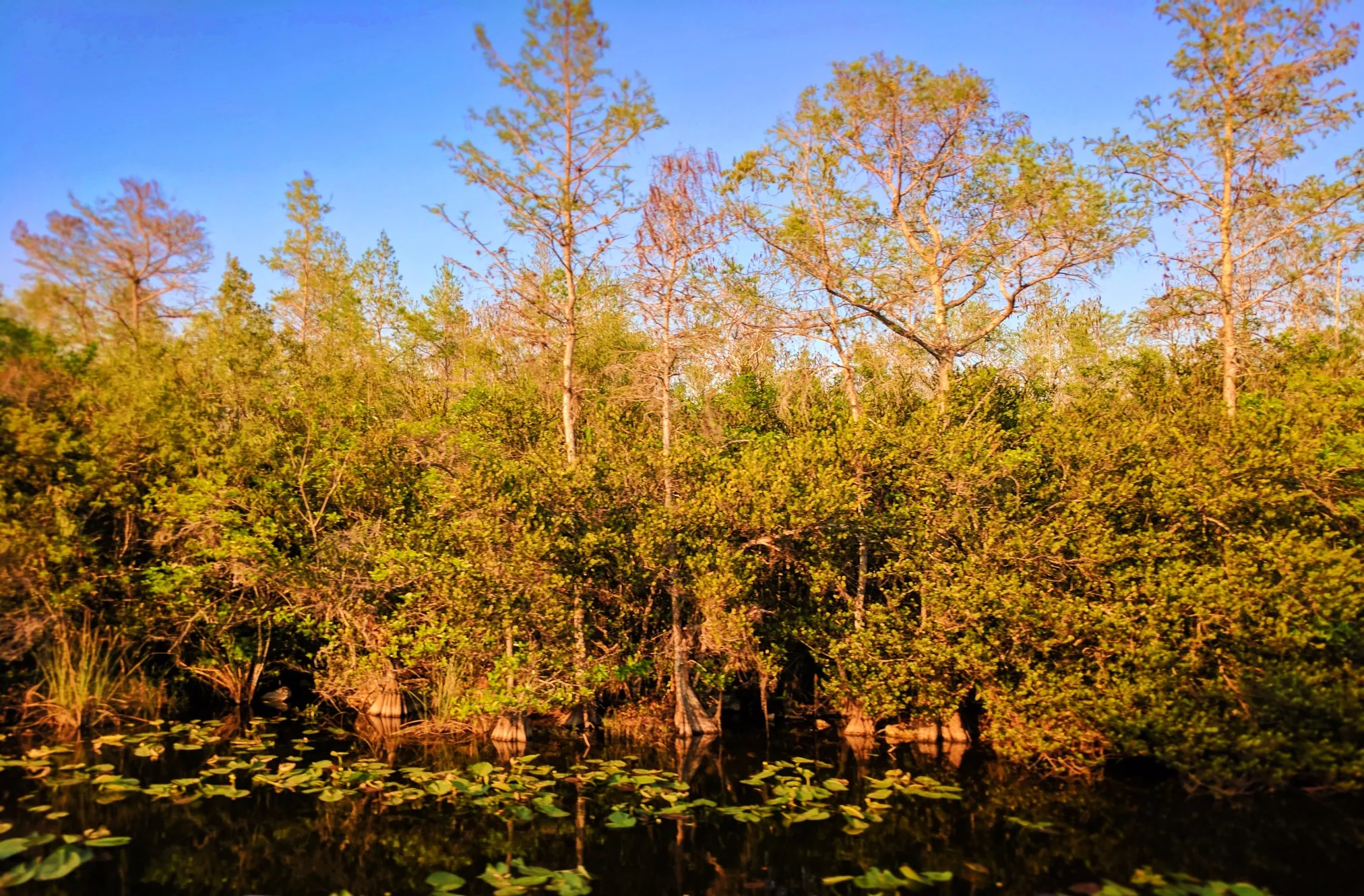 Big Cypress National Preserve Loop Road – WOW!
I love National Park roads. The Going to the Sun Road in Glacier National Park is amazing. The Grand Loop Road in Yellowstone National Park is astounding. And the Park Loop Road here in Big Cypress is really cool too. A spur off Highway 41, a map will tell you that the Big Cypress Loop Road will only take an hour to drive. Nope.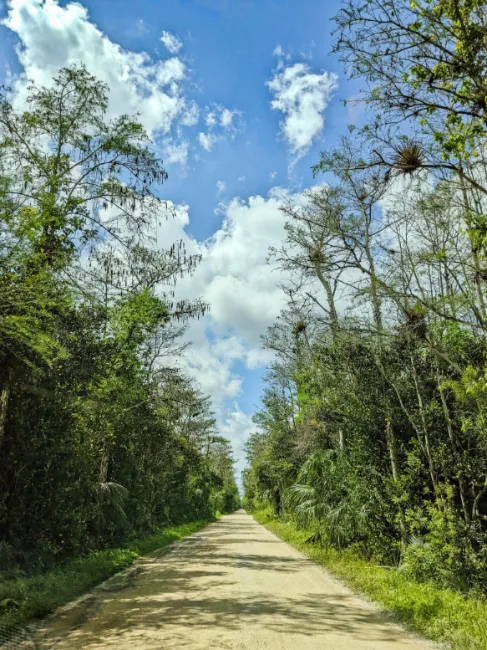 Because there are so many wonderful stops to make and SO MUCH WILDLIFE it took us more than three hours to drive the Big Cypress Loop Road. The 24 mile road is 90% unpaved, so plan on your car getting dirty for sure. There are lots of spots to pull to the side of the road as you drive, so for your own safety take advantage of them for enjoying the birdwatching and countless alligators instead of driving off into the swamp.
Note: if you're getting out of your car for a closer look, BE ALERT. The Everglades and Big Cypress are home to both gators and crocodiles. Crocs are more aggressive than gators, but both are dangerous.
If you only have a few hours and don't want to paddle or hit the trails, take your time driving the Loop Road. You'll love it!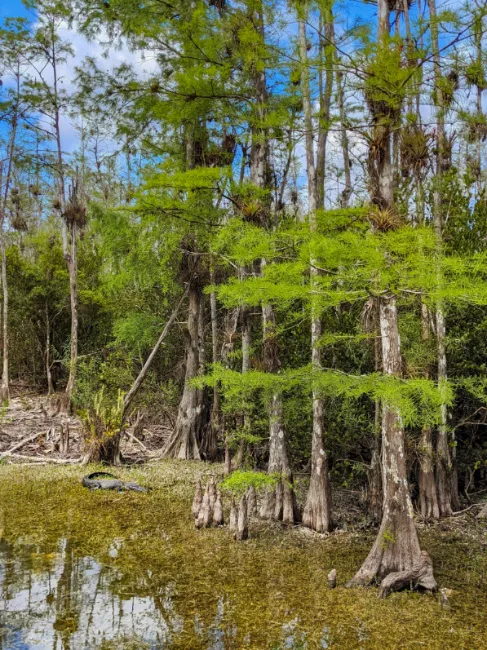 Are there really alligators just on the side of the road in Big Cypress?
Yes, there really are alligators just on the side of the road at Big Cypress National Preserve. They are literally sitting there. Yes, there are lots more in the water and off the main roads, but they are also just on the edge of the roadway, both on Highway 41 and on the Grand Loop Road. Be safe and smart, and do NOT approach them, but admire them from a distance.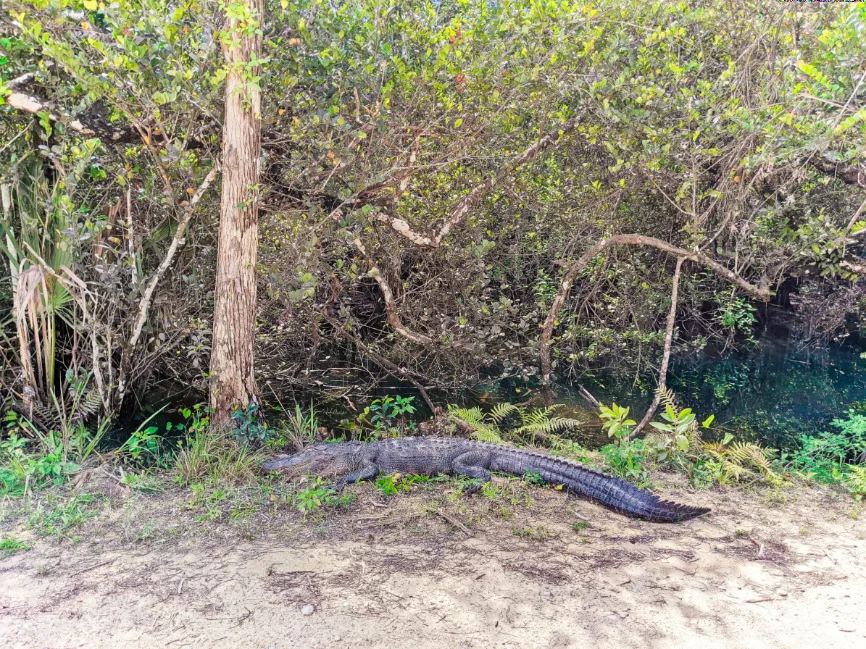 Jane's Scenic Drive in Fakahatchee State Preserve
A part of the Big Cypress National Preserve, the Fakahatchee Strand State Preserve is another area that you'll love! There are a variety of ways to explore this part of Big Cypress, but for those not terribly interested in getting up close and personal with wildlife, driving Jane's Scenic Drive is a winning idea. It's about a 35 minute drive from Naples or Marco Island on the Gulf Coast.
It'll take over an hour to tour the spur road off Highway 29, but it's worth it. Wild turkeys, owls, alligators and more are plentiful in this area and you'll be surprised with how gorgeous some of the trails are here. With fewer cars and pedestrians that the Big Cypress Loop Road, you'll have the place to yourself.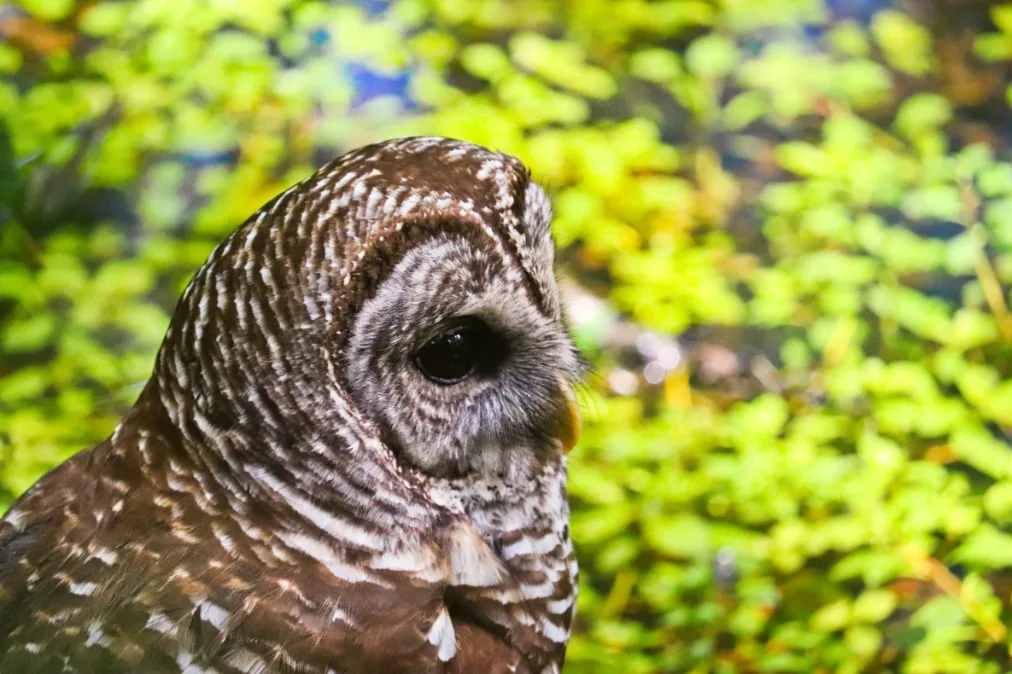 Visitor Centers at Big Cypress National Preserve
Big Cypress National Preserve has a few Visitors Centers and even an education center to get acquainted with the Park. The Oasis Visitors Center is on the north side of the Tamiami Trail not too far from the Shark Valley entrance to Everglades National Park. This Center focuses on the Florida Panther population in the Preserve, including the specially designated Florida Panther National Wildlife Refuge.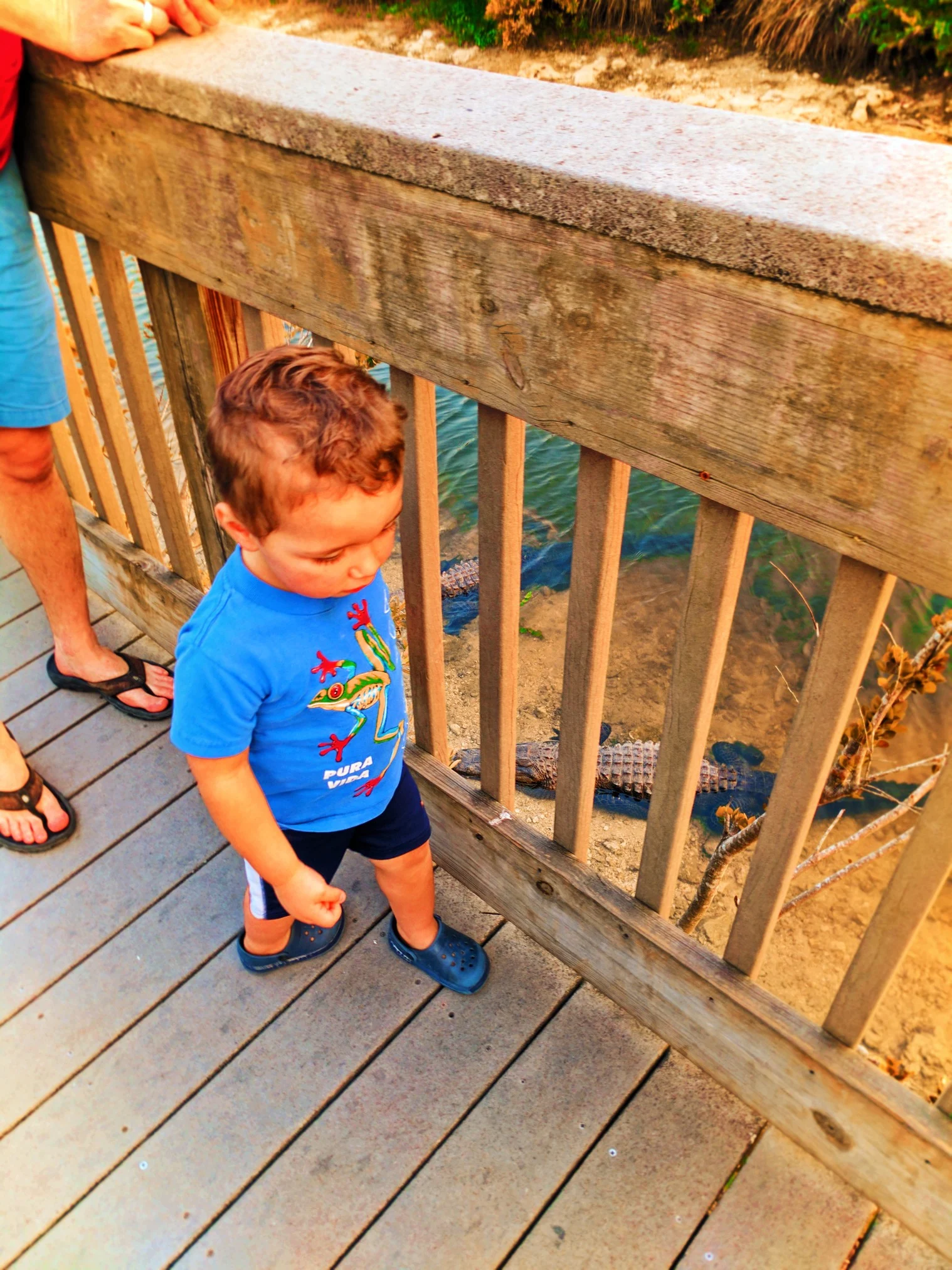 The Big Cypress Nathaniel P. Reed Visitor Center is another great stop. Located on the south side of the Tamiami Trail, it's a bit deeper into the Everglades and closer to the coast. When we visited one of the Park Rangers shared that they'd actually had a manatee in their waterway that week, which is impressive because it's so far from the coast but it's not a freshwater spring area.
Check out our guide to the best Florida Springs for Manatees!
This Visitors Center is great for helping the kids understand how the swamps work and their purpose within the greater Florida ecosystem. And there is a nice boardwalk here, which is one reason we love exploring Big Cypress National Preserve.
Note: the big highlight of each Visitors Center was the boardwalk. Being in a swamp, boardwalks are the best way to gain access to the waterways on foot. Be sure to at least stop at the Visitors Centers to see the alligators and get an impressing of Big Cypress National Preserve.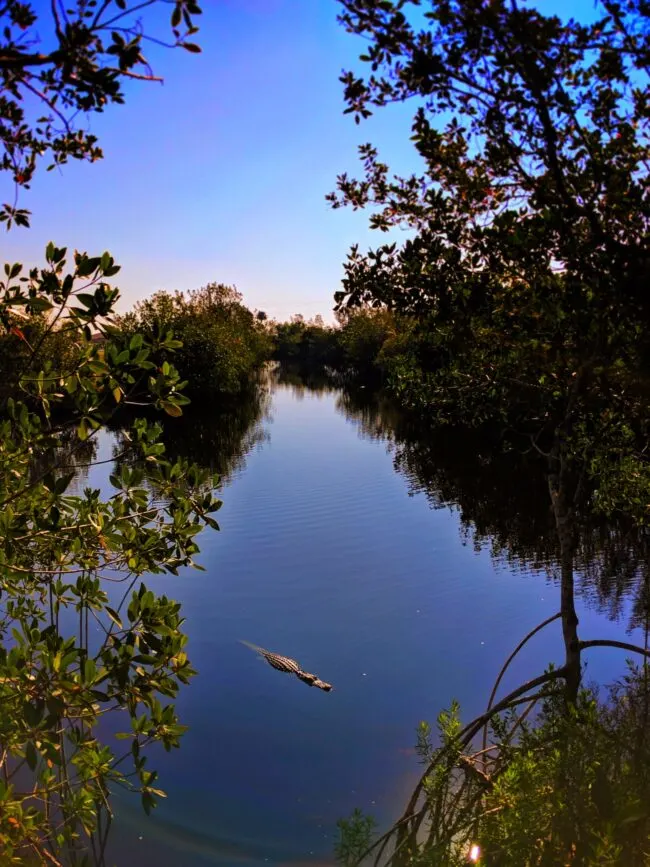 Big Cypress National Preserve Education Center
One more stop we'd like to make but it's not for us is the Big Cypress National Preserve Education Center. This is located on the Loop Road by the Tree Snail Nature Trail. The Education Center focuses on field trips for kids and they even provide lesson plans for larger groups. It's not open to the public, unfortunately, but local schools have access which is awesome.
There is also the SWAMP Education Center off of Birdon Road (near Deep Lake). Again, this is for education programs and isn't open to the public in general.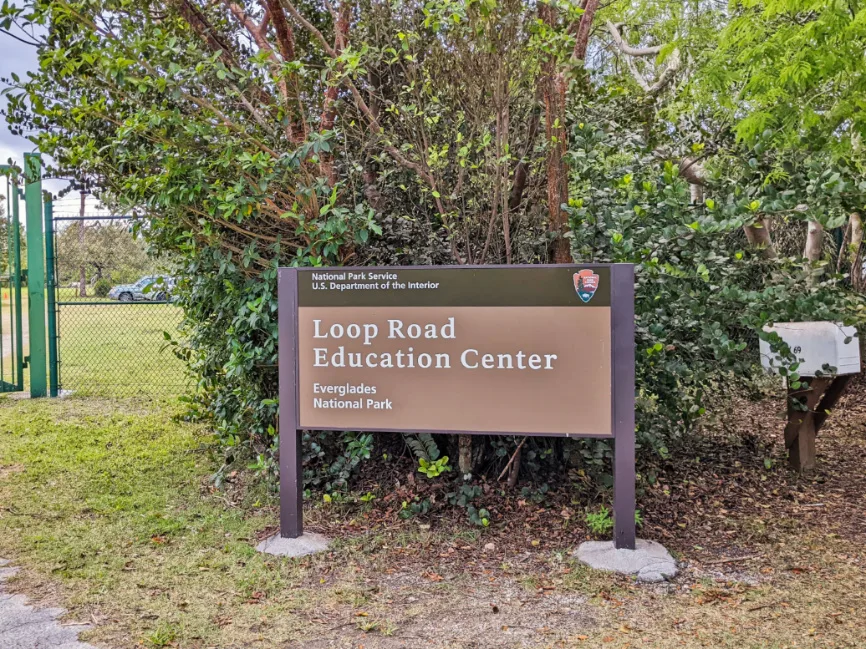 Hiking Trails in Big Cypress National Preserve
We're using the term "hiking" loosely. Exploring Big Cypress National Preserve on foot is all on trails and boardwalks, but it's an adventure nonetheless. You can do short walks on boardwalks or really long hikes through rough, swampy areas. There's a solid mix. If you're planning on doing the more remote trails, you need to stop into the Visitor Center and get a backcountry pass.
Largest Cypress Trees Hikes
Cypress trees are really interesting. They're fascinating machines in that they work to suck water and nutrients up from the swamp, cleaning the slow flowing waterways before they hit the ocean. Some of the largest cypress trees in Big Cypress NP can be found on the Deep Lake trail located just off Highway 29, by the fire station. Plan for about 1.5 hours on the trail as it winds through the deepest part of the cypress swamp. **this was a recommendation from one of the Park Rangers, but we haven't yet been able to do the boardwalk.
Tip: arriving mid to late morning to start your exploring is ideal to minimize mosquitoes and get the best light for photographing the Big Cypress Preserve. The Kirby Storter boardwalk is one of the more popular photography sites.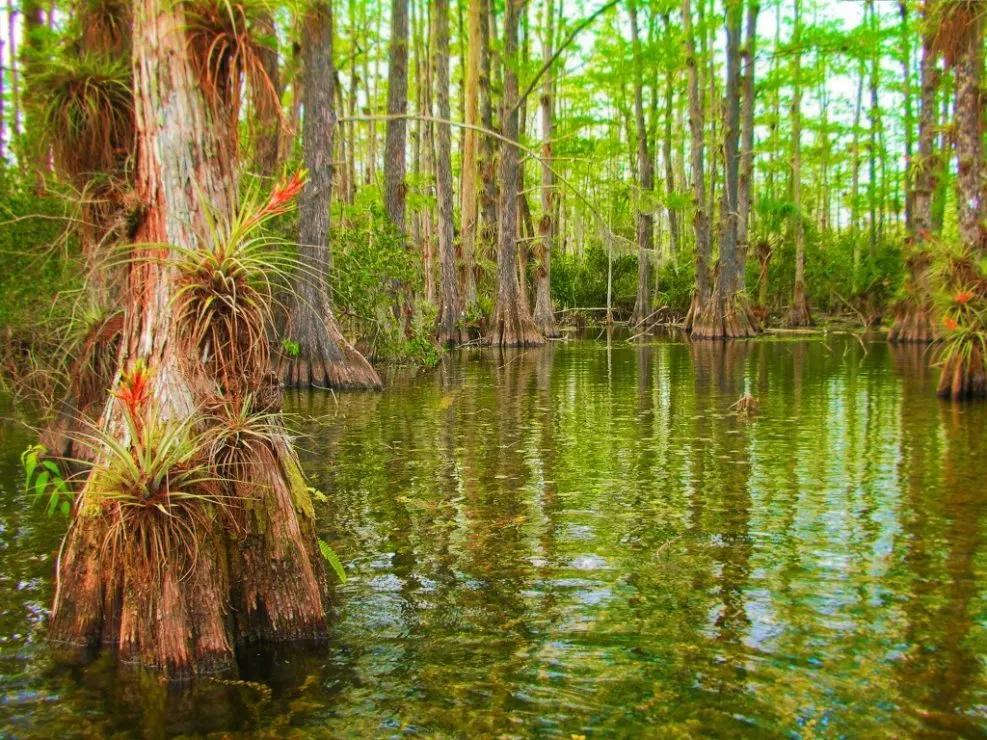 Big Cypress Bend and Crocodiles
An easy stop as you're approaching Naples, Florida on the Tamiami Trail, Big Bend is in the grasslands portion of Big Cypress National Preserve as it stretches into Fakahatchee Strand Preserve State Park. With waterways winding through the grasslands, there are ample spots for spying alligators and also crocodiles. The Everglades is one of the only places on earth where both gators and crocs live side by side. At the Big Cypress Bend trail you're pretty far west within Big Cypress National Preserve so the brackish waterways are perfect for both of these huge reptiles.
There's a boardwalk (of course) as well as some trails that will take you partially into the Preserve away from the road. Be on alert, like you should be on any hike anywhere, as wildlife in Big Cypress National Preserve is EVERYWHERE. Keep an eye out for shorebird of all sorts on this trail in addition to the gators and crocs.
Tip: Sun protection is important here. Wear a hat or carry an umbrella when you're exploring at Big Bend. It's largely without shade and the Florida sun is hot. I know, we just suggested using an umbrella in the sun which loos ridiculous, but it's worth it.
Kirby Storter Boardwalk Trail
Our family really enjoys the boardwalk trail at Kirby Storter Roadside Park. Wholly a boardwalk trail, it goes through the grassy part of Big Cypress and then into a cypress strand. With a shady picnic shelter and benches throughout the trail, it's a great short hike to do with kids.
The highlights of Kirby Storter boardwalk trail include being up close to the thousands of huge airplants blooming along the trail, watching for native orchids, and of course alligators and large birds. This is a wonderful trail for seeing baby gators from above, as the boardwalk end in a vegetation covered pond area. Love it!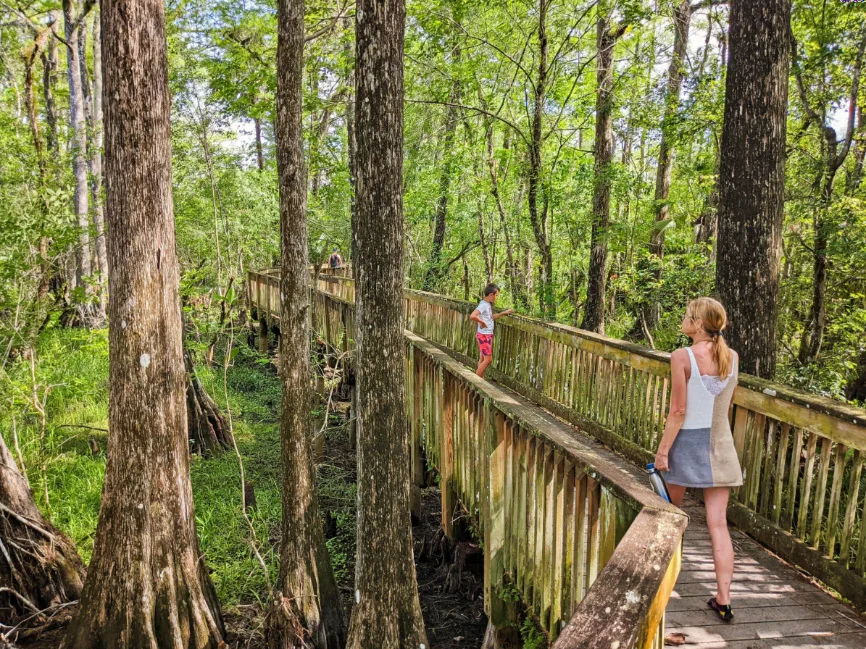 Gator Hook Trail: the Most Unique Trail in Florida
Hiking the Gator Hook Trail in Big Cypress National Preserve is best in the winter when it's not the muddiest trail east of the Mississippi. Gator Hook goes through the cypress strand and grassland, so it's beautiful and you'll get a variety of scenery and wildlife. This trail also floods in the rainy season (June through October) but you can still access it, only you need to have tall rubber boots.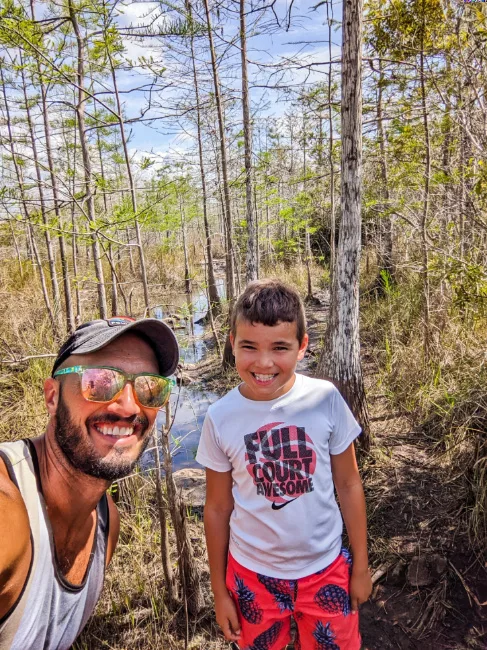 Why I think this is the most unique trail in Florida is actually because of the pathway itself. Yes, it can be floody and wet as you go through the cypress strand, but it also is one of the few places in Florida where you hike on rocks. There is a limestone deposit that the trail covers and I've never seen anything like it here in Florida. You also have to be careful hiking through cypress knees, as parts of the trail wind through knees and roots, making it tricky to get through. A really beautiful trail, allot two hours during the dry season to explore this part of Big Cypress National Preserve.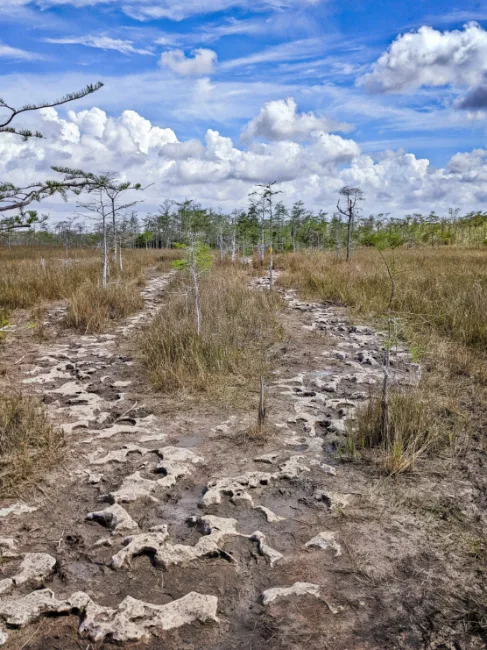 More Big Cypress National Preserve Trails
While not every hike in Big Cypress National Preserve is meant for every person to conquer, there are more wonderful jaunts and trails you can plan. In any case, you need to be prepared for mosquitoes (in summer) and lots of sun (in every season). Always stick to the trails and take SO MANY photos! Don't forget to get your backcountry permit if you're doing anything more than a simple day hike.
Oasis Trail (north and south of Tamiami Trail), from visitor center
Burns Lake Trail from Burns Road
Fire Prairie Trail
Florida National Scenic Trail, from north and south of I-75
Hinston Marsh Trails, from Bear Island camp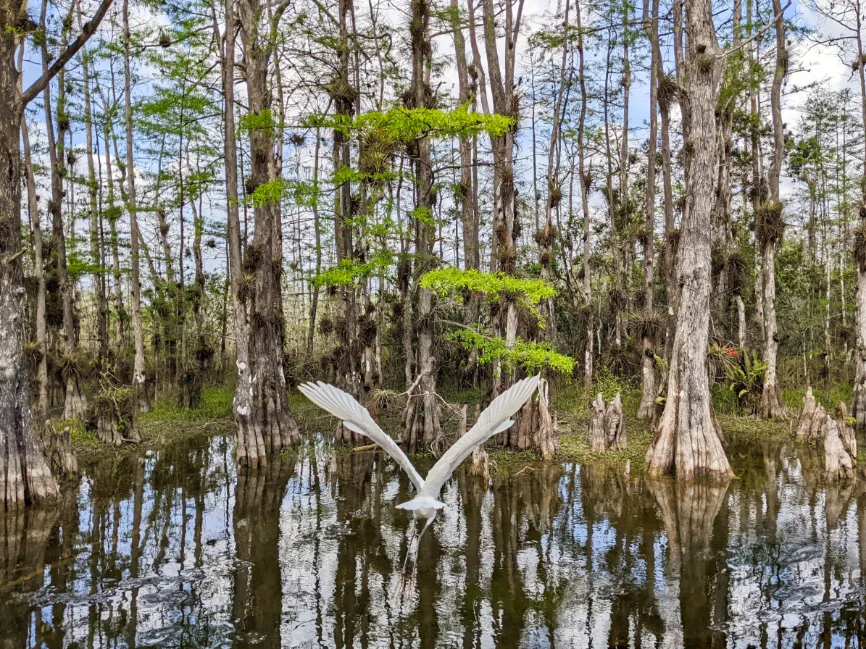 Big Cypress tips for Kids
Our two sons are just the sweetest guys… or at least the mosquitoes think so. We learned a lot about bug protection when visiting Big Cypress and Everglades National Park. Here are our primary tips to keep your kids safe from mosquitoes in Florida's swamps.
Wear pants or shorts, up to you; Short sleeve shirts are fine

Apply a hearty amount of bug repellant to skin AND clothes *we prefer Repel Natural or Repel Plant Based.

Wear a hat

Keep moving
There is no 100% bug-proof method, but we have great success with our clothing/bug repellent combo. Also, applying sunblock BEFORE bug spray is preferred, that way you're protected from the sun and then the active ingredients of the bug spray can still have an impact.
Another thing to remember in Big Cypress National Preserve is that it's hot and a bit stagnant. Be sure to bring lots of water if you're hiking because you'll need it. It's really such a cool member of the National Parks Service!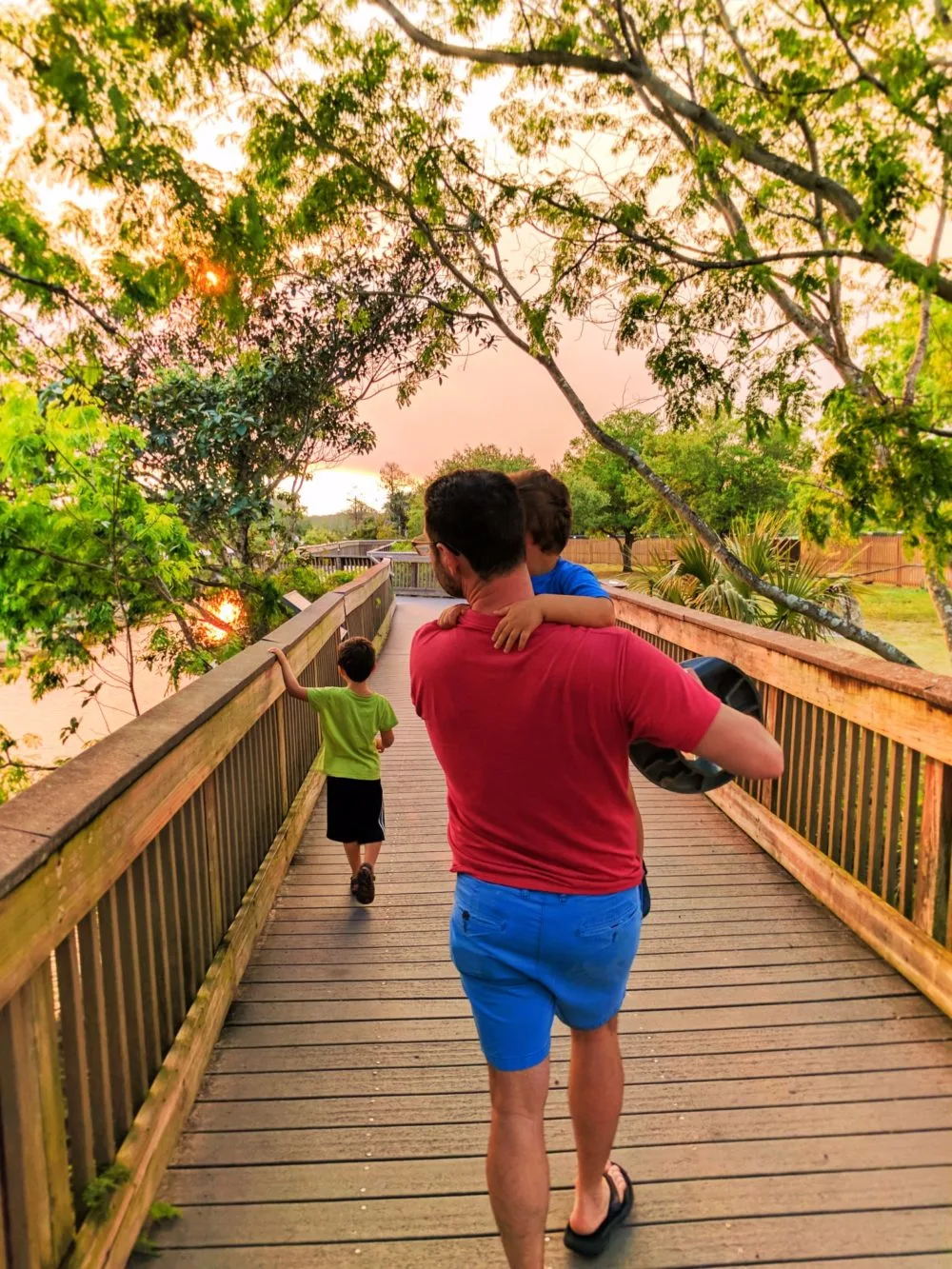 We are looking forward returning to Big Cypress National Preserve and exploring it more deeply… without forest fires sweeping through. It's such a cool pocket of wildlife and snapshot of the nature of a swamp. Like we said, add Big Cypress National Preserve to your Everglades vacation or hit it up as a day trip out of Miami or Naples. You'll love it and no doubt will learn a lot!
Have you been to Big Cypress? What was your favorite site to visit? Any tips to share for newbies? Comment below! And pin it for later so that you don't forget to visit Big Cypress Preserve on your next Florida road trip!