On the northern border of Everglades National Park there's a pretty cool Florida landmark.  No, we're not talking about the Tamiami Trail, even though Highway 41 is fun to drive, but we're talking about Big Cypress National Preserve.  Big Cypress is a part of the National Parks Service and it's pretty cool with its swamps and tree and gators.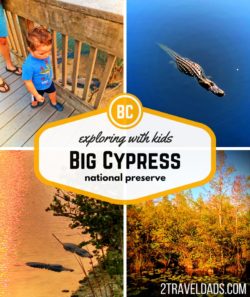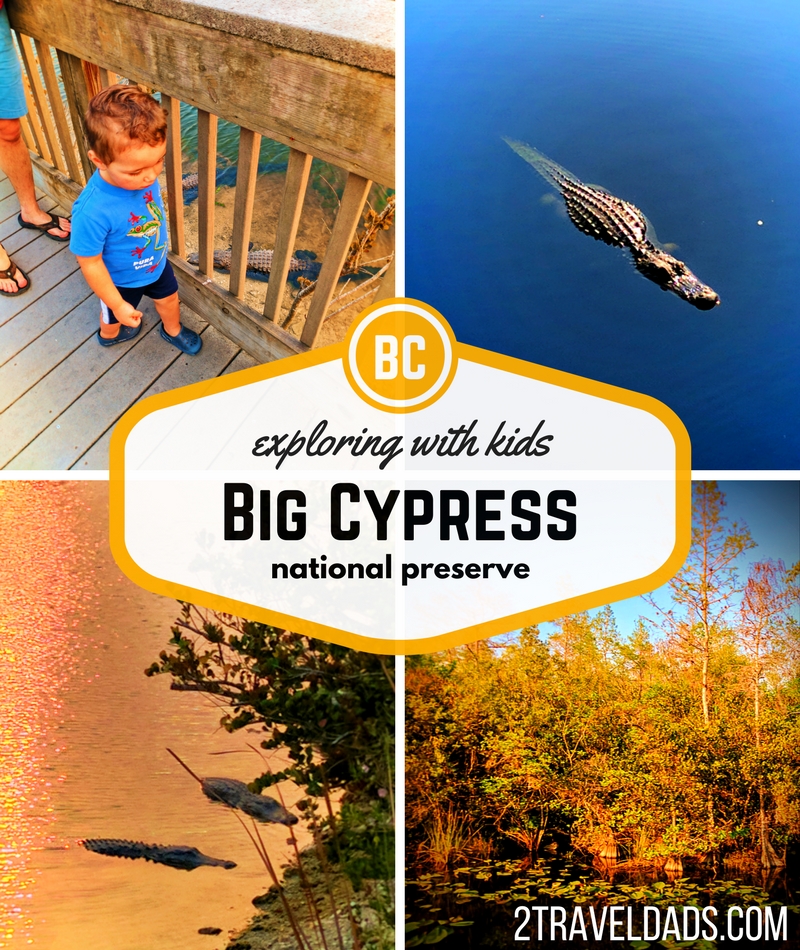 Being a part of the larger Everglade swamp system, is it worth planning time in Big Cyrpess National Preserve?  Absolutely!  It's very different from what you'll experience in Everglades National Park and you'll love it.
Locale of Big Cypress National Preserve
Located smack dab in the middle of Miami and Naples, Florida, you'll have to drive through Big Cypress National Preserve if you're going between the two.  On the north end Big Cypress is bordered by I-75, aka Alligator Alley, and to the south Florida Highway 41, the Tamiami Trail.  
There are several campgrounds along the 41 if that's your style (we stayed at Collier-Seminole State Park) or you can find lodging in Everglades City or Naples.  
Tip:  if you're camping, we recommend a campervan or some sort of structured camp setup.  You're in alligator territory, and while they're pretty chill most of the time, we loved the additional safety of the Escape Campervan we rented.
Easy trips you can add a visit to Big Cypress NP to are an Everglades National Park vacation, Miami and Biscayne National Park, a Florida beach vacay, or a whole Florida Gulf Coast itinerary.  So many options!
Visiting Big Cypress National Preserve
So, how do you visit Big Cypress National Preserve?  There are a few ways with a few locations offering different sights and activities.  
The Drive-thru Method
It's funny, you actually can experience the Preserve and its abundance of nature just by driving through the area.  Watch for alligators and cypress swamps from your car.  The protected area is so sparsely populated by humans and the waterways so plentiful that the gators are visible in the canals, the ditches and just on the side of the road.
Note:  if you're getting out of your car for a closer look, BE ALERT.  The Everglades and Big Cypress are home to both gators and crocodiles.  Crocs are more aggressive than gators, but both are dangerous.
Visitors Centers
Big Cypress National Preserve has a few Visitors Centers to get acquainted with the Park.  The Oasis Visitors Center is on the north side of the Tamiami Trail not too far from the Shark Valley entrance to Everglades National Park.  This Center focuses on the Florida Panther population in the Preserve, including the specially designated Florida Panther National Wildlife Refuge.
The Big Cypress Swamp Welcome Center is another great stop.  Located on the south side of the Tamiami Trail, it's a bit deeper into the Everglades and closer to the coast.  When we visited one of the Park Rangers shared that they'd actually had a manatee in their waterway that week, which is impressive because it's so far still from the coast.  This Visitors Center was great for helping the kids understand how the swamps work and their purpose withing the greater Florida ecosystem.
Another stop that we didn't make but wish we would have was the Big Cypress National Preserve Education Center.  This is located on Highway 29 between Alligator Alley and the Tamiami Trail.  The Education Center focuses on field trips for kids and they even provide lesson plans for larger groups.  This Park is awesome!
Note:  the big highlight of each Visitors Center was the boardwalk. Being in a swamp, boardwalks are the best way to gain access to the waterways on foot.  Be sure to at least stop at the Visitors Centers to see the alligators and get an impressing of Big Cypress National Preserve.
Hiking Big Cypress
We're using the term "hiking" loosely.  Exploring Big Cypress National Preserve on foot is all on trails and boardwalks, but it's an adventure nonetheless.
The largest Cypress Trees
Cypress trees are really interesting.  They're fascinating machines in that they work to suck water and nutrients up from the swamp, cleaning the slow flowing waterways before they hit the ocean.  Some of the largest Cypress trees in Big Cypress NP can be found on the Deep Lake trail located just off Highway 29, by the Education Center.  Plan for about 1.5 hours on the trail as it winds through the deepest part of the cypress swamp.  **this was a recommendation from one of the Park Rangers, but we weren't able to do the boardwalk due to the fire sweeping through Big Cypress National Preserve.
Tip:  arriving mid to late morning to start your exploring is ideal to minimize mosquitoes and get the best light for photographing the Big Cypress Preserve.  The Kirby Storter boardwalk is one of the more popular photography sites.
Big Bend and Crocodiles
An easy stop as you're approaching Naples, Florida on the Tamiami Trail, Big Bend is in the grasslands portion of Big Cypress National Preserve.  With waterways winding through the grasslands, there are ample spots for spying alligators and also crocodiles.  The Everglades is one of the only places on earth where both gators and crocs live side by side.  At the Big Bend trail you're pretty far west within Big Cypress National Preserve so the brackish waterways are perfect for both of these huge reptiles.
There's a boardwalk (of course) as well as some trails that will take you partially into the Preserve away from the road.  Be on alert, like you should be on any hike anywhere, as wildlife in Big Cypress National Preserve is EVERYWHERE.  Keep an eye out for shorebird of all sorts on this trail in addition to the gators and crocs.  
Tip:  wear a hat or carry an umbrella when you're exploring at Big Bend.  It's largely without shade and the Florida sun is hot.  I know, we just suggested using an umbrella in the sun which loos ridiculous, but it's worth it.
Big Cypress tips for Kids
Our two sons are just the sweetest guys… or at least the mosquitoes think so.  We learned a lot about bug protection when visiting Big Cypress and Everglades National Park.  Here are our primary tips to keep your kids safe from mosquitoes in Florida's swamps.
To quote ourselves…
Wear pants or shorts, up to you;  Short sleeve shirts are fine
Apply a hearty amount of bug repellant to skin AND clothes  *we prefer Repel Natural or Repel Plant Based.
Wear a hat
Keep moving
There is no 100% bug-proof method, but we have great success with our clothing/bug repellent combo.  Also, applying sunblock BEFORE bug spray  is preferred, that way you're protected from the sun and then the active ingredients of the bug spray can still have an impact.
Another thing to remember in Big Cypress National Preserve is that it's hot and a bit stagnant.  Be sure to bring lots of water if you're hiking because you'll need it.  It's really such a cool member of the National Parks Service!
We are looking forward returning to Big Cypress National Preserve and exploring it more deeply… without forest fires sweeping through.  It's such a cool pocket of wildlife and snapshot of the nature of a swamp.  Like we said, add Big Cypress National Preserve to your Everglades vacation or hit it up as a day trip out of Miami or Naples.  You'll love it and no doubt will learn a lot!
Have you been to Big Cypress?  What was your favorite site to visit?  Any tips to share for newbies?  Comment below!  And pin it for later so that you don't forget to visit Big Cypress Preserve on your next Florida road trip!