We were fortunate to get to take the kids to Glacier National Park during summer 2015.  Due to forest fires, most of the Park was closed, but we still had a great time in Eastern Glacier National Park.  So, due to the restrictions we faced, here's our abridged guide, or actually just a guide to the eastern portion of Glacier NPS.
It's amazing how different Glacier National Park is from Yellowstone National Park. The sights are, of course, different, but so are the people it attracts, the mood of the Park and the experiences the Park offers. We were limited in what we could access during the 2015 visit, but our 2017 visit allowed us to explore some new areas which we'll add soon to our Eastern Glacier National Park Guide. Hopefully Two Medicine and St Mary's will be amazing on our next trip, bu in the meantime, we did make the most of our last adventure and walked away with some great stories.
Eastern Glacier National Park
Eastern Glacier is a really beautiful area.  The Rocky Mountains rise up from the edge of the Great Plains and it's super dramatic.  With three different access point to Glacier National Park on the eastern side, there are all kinds of great sights and hikes to enjoy.
Exploring the Many Glacier area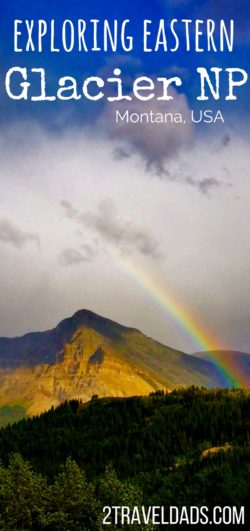 The sights and wildlife of the Many Glacier area, including how best to observe wildlife, can be found here.  From some of our favorite hikes with kids to the tough ones that will leave you sore and amazed, lodge time to enjoying the woods as a family.
Adjusting plans due to forest fires and storms
This is the story of how we started our 2015 Glacier National Park vacation and not losing hope when it seems like you're going to have to go home. It was family travel at it's finest.  And what about storms when you're on vacation?  We've faced those too…
Boat Tours in Glacier National Park
Boating in the mountains is a surprise and delight, particularly when you find it in Glacier National Park.  Check out what to expect, where to do your boat tour and just how cool of an option it is with kids.
Here are a few video clips to whet your whistle.
The drive to Glacier National Park:
Time lapse of changing weather in Glacier: