Visiting Glacier National Park means hiking and wildlife, but it also means crowds in the peak of summer. Here are a bunch of easy things to do near Glacier National Park, some that go into the park and some that are in the general vicinity, that are fun and beautiful. Also, these Glacier country activities are good in spring, summer or fall!
Montana is one of the largest states in the USA and it's crazy diverse. It's Big Sky Country, for sure, but it's also big mountain country and ridiculously still lake country and ride-a-horse-through-the-woods country. Basically, Montana is everything you could hope for except the beach. Flathead and Glacier Counties of Montana have all of this and more, and they encompass the entire area around Glacier National Park, so you know you're set to experience so much.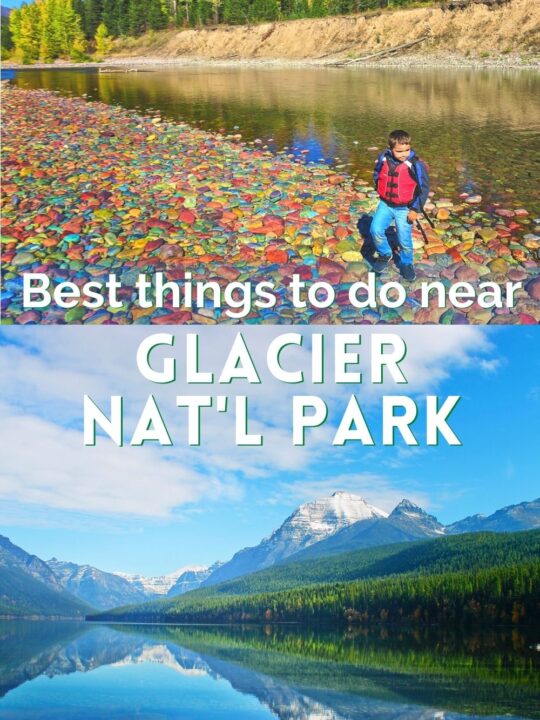 We've always felt like Glacier National Park is a bit overlooked within the National Park Service. Not that it doesn't get tons of visitors already, but just that Yellowstone and Yosemite really get the spotlight.  Glacier NPS and the surrounding area are really beautiful and incredible, particularly when visiting with kids.  When was the last time you immersed yourself or your family in… beauty and relaxation? Okay, the Glacier National Park area is for you.  Go now.
Where is Glacier National Park?
If you're a west coaster, it's pretty easy to get to the area around Glacier National Park.  There are daily flights into Kalispell or Missoula, Montana.  You can take Amtrak from Seattle or Portland via its Empire Builder line (train travel with kids is fun) into either Whitefish or West Glacier, or from the east take the same route on the reverse trip from Chicago or the Twin Cities. Easy-peasy.  
And then there is the epic road trip, which you know we love.  Depending on what you want to see or do along the way, you can either bust it out in a really long day's drive from Seattle on I-90 or you can take Highway 2 from the Puget Sound area and make stops in Leavenworth, Grand Coulee Dam, Lake Pend Oreille and Kalispell.  Seriously, you can make the most awesome road trip by driving to the Glacier National Park area.
Check out our Western Montana Road Trip Itinerary!
Where to Stay Near Glacier National Park
Vacation rentals by Glacier National Park are few and far between. They exist, but you need to get closer to Columbia Falls, MT or Kalispell for the best choices. Glacier Country hasn't been swept up by the vacation rental market the way Florida beaches or the towns around Olympic National Park have been.
If you want to stay on the east side of Glacier National Park, there are a few fun lodges and teepee campgrounds, but again, not a ton of vacation rentals. You'll find small, rustic cabins and rentals in Babb or near East Glacier, but they are few and far between. (zoom out on the map below to see options)
Where to Stay in West Glacier, MT
Having been to Glacier National Park several times, we've done the mix of accommodations, from camping to cabins to houses. Our favorite was actually staying with Glacier Guides Lodge.
We arrived in West Glacier, Montana around 8:20 am, and when we stepped off the Amtrak Empire Builder our rental car was DIRECTLY  IN FRONT OF US.  It couldn't have been more perfect.  Once our luggage was loaded into our rental we looked up and saw the sign for Glacier Guides Lodge.  Right there.  Perfect!
We checked in and got the lowdown on our home away from home for the week at Glacier Guides Guest House.  It was exactly what we needed both for a home base and for having space for the kids to unwind (and us dads to get some work done too).  A full kitchen, several bedrooms, three bathrooms, a rec room, a yard… the Glacier Guides Guest House couldn't have suited us better.
Tip:  Glacier Guides also has a lodge if you're not a family of four (or if you are).  It's even more centrally located in the tiny town of West Glacier than the Guest House is.
Where to stay IN Glacier National Park
There are actually several National Park lodges within Glacier National Park. If you are only planning on hiking and relaxing within the boundaries of the park, these may be good places to stay, but the NPS lodges in Glacier are expensive and book FAR into the future.
At Apgar Village on Lake McDonald, just inside the West Glacier entrance, you'll find the Village Inn. A sixties style lodge (looks like a motel), it's got shops and restaurants directly adjacent, making for an easy place to stay in Glacier National Park.
The Lake McDonald Lodge is beautiful and very near the Avalanche Lake hiking trail and near the seasonal gate for the Going to the Sun Road. It's one of our favorite National Park Lodges to visit and just sit in.
The Many Glacier Hotel and Swiftcurrent Motor Inn are within the Many Glacier area of Glacier National Park on the east side. We love this area for its amazing views, ample wildlife and the full run of hikes, both easy with kids and genuinely challenging.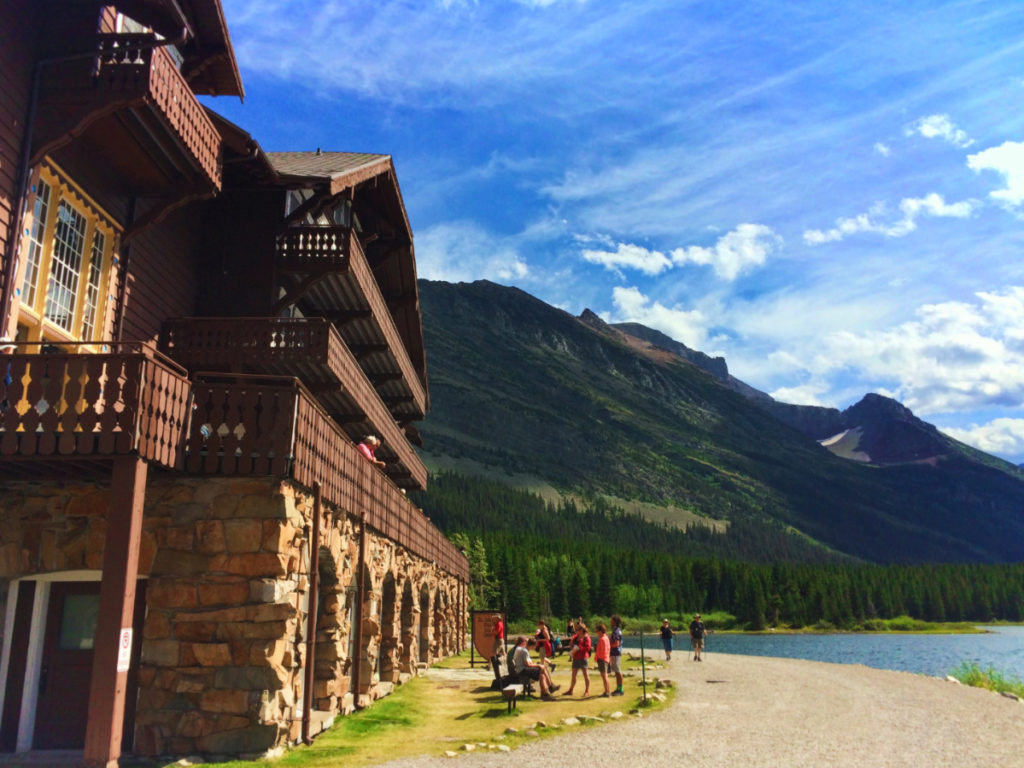 Camping in Glacier National Park needs to be reserved far in advance as it's very rare to actually score a same day walk up campsite. Fish Creek is our least favorite campground, but nearby Avalanche is awesome! On the east side of the park, the St Mary and Many Glacier campgrounds are both great, with good sized sites and awesome things to do just beyond the campground.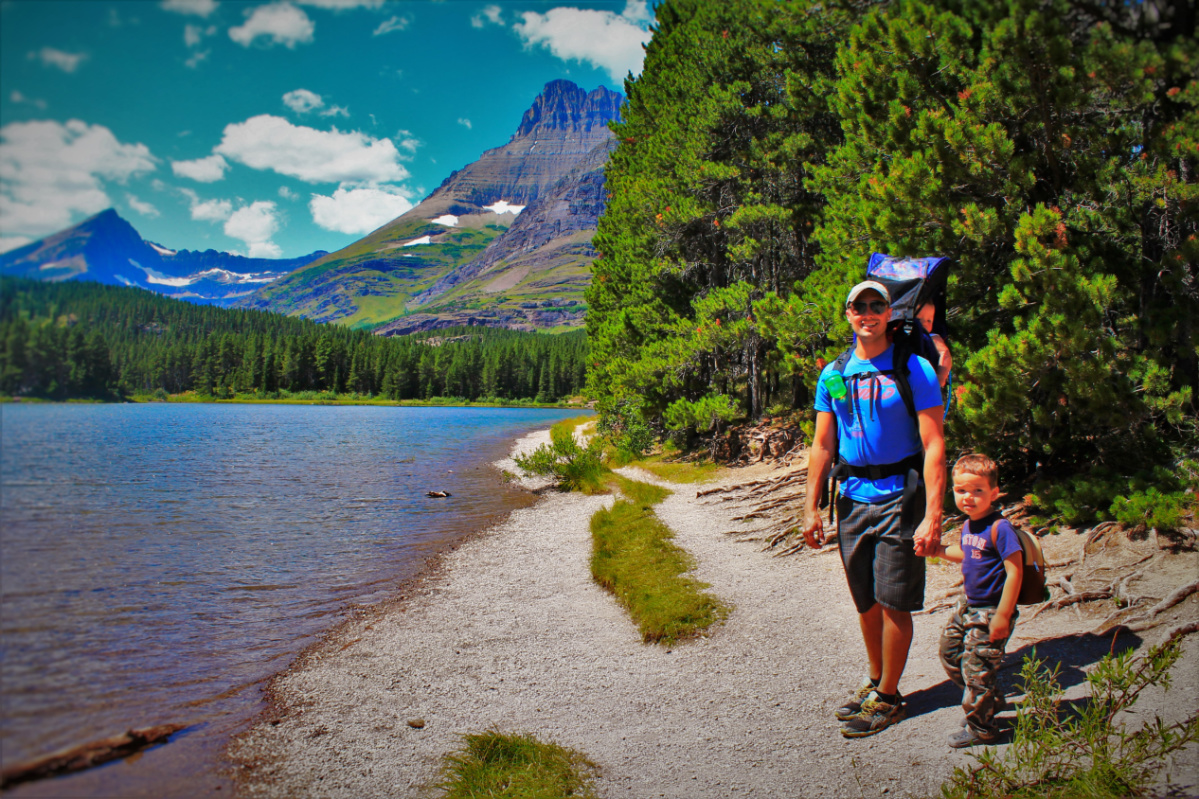 Best Easy Things to do Around Glacier National Park
Just like any prime destination, Glacier National Park has its surroundings to add to the experience or to be the supporting players for visitors to the Park.  We took full advantage of the outlying towns to ensure a great week in West Glacier and found some great ways to enjoy the area around Glacier National Park.
Explore Lake McDonald and Apgar Village in Glacier NP
Yes, this is totally within Glacier National Park, but if you're in the area, it's a good stop if it wasn't really in your plans.  In keeping with the autumn ghost-townish feel, Apgar Village, set on the banks of Lake McDonald, is a great spot to wander… in the summer.
In fall everything closes late September, but it is still picturesque.  There's also a wonderful Visitors Center in the Apgar area, so if you need to get the lowdown on what's happening in the Park or Lake McDonald area, stop in to chat with the rangers.
Note:  this is also where you can get your Glacier National Park passport stamp and complete your Junior Ranger program. We also found out all about road conditions around the park.  The rangers were awesome and helped up reshape a bit of our itinerary to access the open areas.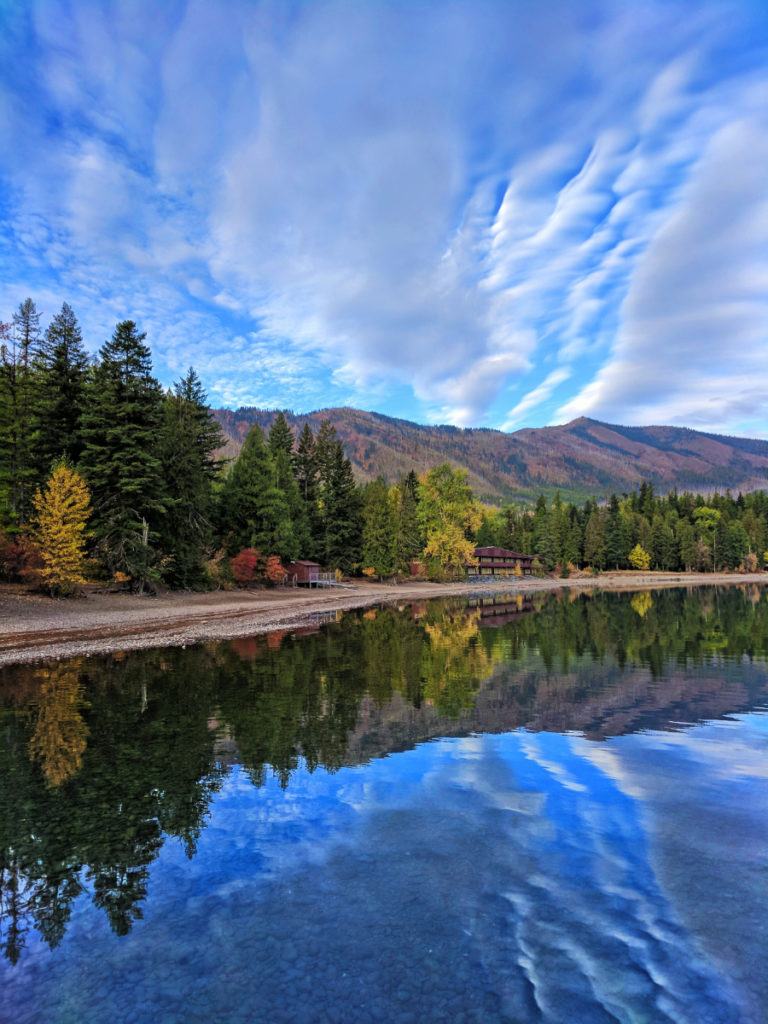 Drive the Going to the Sun Road – may be closed Sep – June
An epic road if ever there were one, the Going to the Sun Road in Glacier National Park is one of the most beautiful drives in the USA. I does close when the snows start to accumulate, but if you are able to visit at the start of fall, you may get to experience some of the best sights on Going to the Sun Road. It's amazing!
Visit Glacier Distilling Company
And then there was a stop for the dads that was actually awesome for everybody.  Glacier Distilling Co is located just outside of West Glacier (technically in Coram, MT) and it was a great addition to our itinerary.  We always look for family friendly wine tasting and such, so this was a new and unusual experience.
The kids loved watching the guys working with barrels, bubbling brew and pressure washing who knows what.  For the kids they had mocktails and bottomless pretzels to round out their experience.  We dads did whiskey and spirit flights and they were delicious.  It was great to try a variety of high quality spirits that were also truly unusual.  Boutique distilleries may be our new fav thing.  We left with a bottle of Bad Rock Rye and Huckleberry Gin.
Check Out Hungry Horse – the Town and Dam
Growing up and driving through Hungry Horse, I've always known this as the spot to stop and get all things huckleberry at any number of berry themed shops.  It still is that, but there are also some cool/beautiful sights to see in the area. The Hungry Horse Dam and Lion Lake are just outside of town and offer a nifty side-trip either on a drive through town or as an afternoon activity..  Both were beautiful with the moodiest weather.  We had snow, rain, fog, sun…  Lion Lake was perfectly still with lots of picnic spots around it.  We were hoping to spot some wildlife but didn't.  Pretty Anyways.
The Hungry Horse Dam is also quite the structure.  If you haven't been to any dams it's a good one to be able to see just how grand of an operation it is, but then also to put into perspective how it impacts and changes the land.  Behind the Hungry Horse Dam is a large reservoir that filled an enormous, winding valley.  Imagine that valley without the Hungry Horse Dam…
Tip:  if you in Washington State and find yourself on the Olympic Peninsula, check out the Elwha area of Olympic National Park. It's the largest successful dam removal project in the USA and it's really a sight to behold, particularly its recovery.
Craft Beer at Backslope Brewing and Columbia Falls, Montana
Upon settling into our Guest House, we had to make a run to Columbia Falls (20 minutes away) for groceries.  The town is small but cute. And FYI:  Columbia Falls is apparently the land of playgrounds, and if you drive through with kids, be prepared to stop at one of them.  It was 37 degrees and sleeting so we couldn't, and that was complete torture for the dudes.
Later on our trip we drove back into Columbia Falls, not for a playground day, but to check out Backslope Brewing. We happened into Backslope Brewing on Highway 2 in Columbia Falls after a long day of hiking in Glacier National Park.  From the get-go we were totally happy since they had a kids play area with some pretty awesome magnetic building toys.  The beers were great too.  What really made this brewery stand out against the many we've visited this summer was that they offered their own interesting menu options.  For kids it wasn't just mac and cheese, but healthy bowls with chicken and veggies. OMG.  Us dads both got the fried chicken sandwich (maybe not so healthy) because it sounded too good, with their own slaw and everything.  It was totally awesome after a day up in the mountains.
Tip:  with the way that brewing culture has taken off all around the USA, you're almost always guaranteed great local options when you see a brewery you don't recognize. Venture into the random ones that aren't huge tourist draws and you'll most likely have a great brewsperience.
If you're in Columbia Falls in the summer, there is more to do than grocery shopping and breweries, including horses, rafting and even a waterpark.  Who knew you could have so many types of fun just outside a national park?
Rafting or Floating the Flathead River with Glacier Guides Montana Raft
How could we possible drive along and admire the Flathead River, both the north and middle forks, without getting onto the river itself?  We were sure to carve out a day for it and an afternoon on the Middle Fork Flathead River with Glacier Guides was perfect.  We did a float trip vs rafting since the river was low (fall is at the end of dry dry weather). We weren't totally sure what to expect since it was similar to kayaking, which we do a lot, but also totally different.  Having rafted the Flathead, I know that there are rapids… but not in fall!
The kids both loved being on the river in a raft. They had endless questions for our awesome guide, KT, and the fall colors were beautiful. The geology of the route we went was also really cool, winding through some braided areas, a rugged canyon and eventually the confluence of the North and Middle Forks of the Flathead River.  We'll share more, but know that getting onto the river in the fall is an absolute MUST, with or without kids.
Tip: if you want an exciting rafting trip with Glacier Guides, visit the Glacier National Park area in June or July when there is a lot of snow melt and the river is much higher.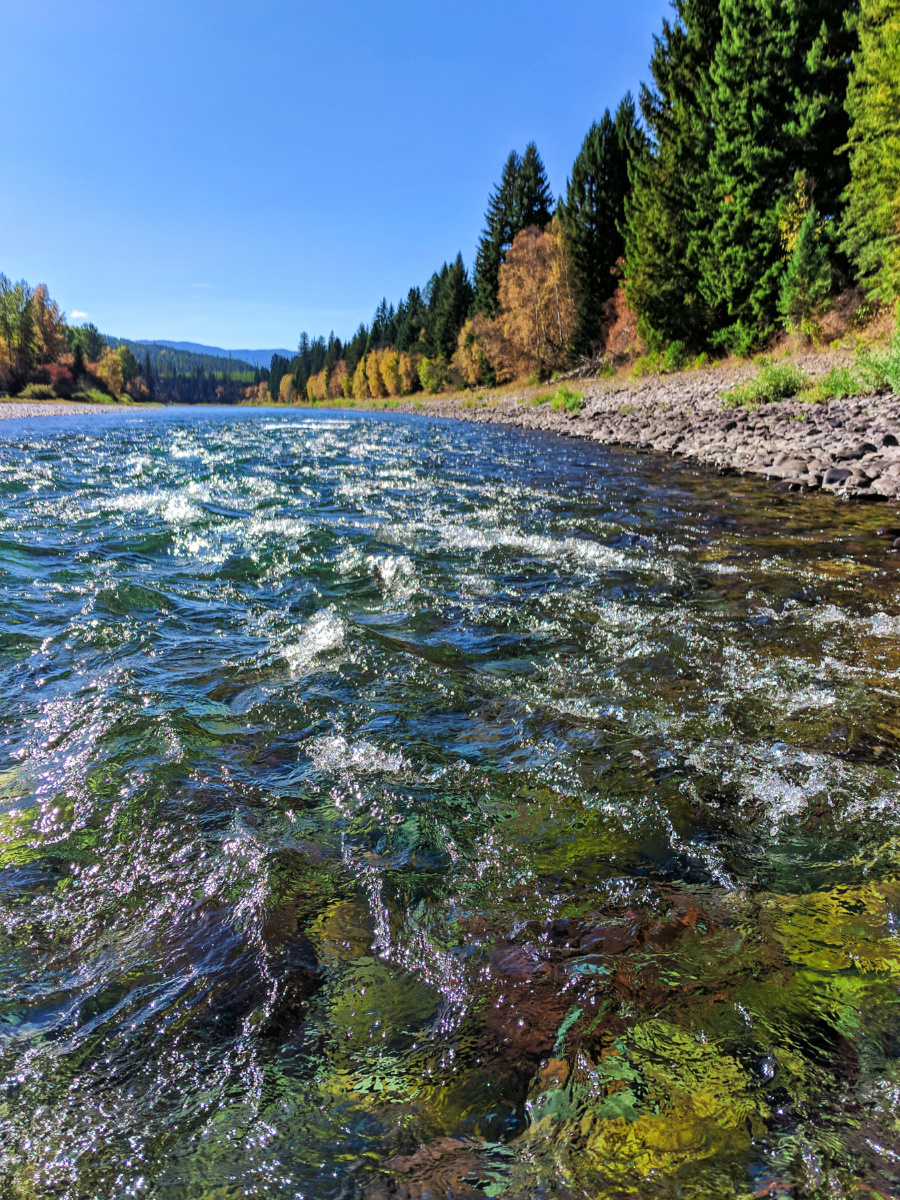 Drive the Scenic Route through Flathead and Lewis & Clark National Forests
OMG.  You know that we're addicted to road trips, well, we found a way to add that to our Glacier MT experience despite arriving via train.  Even though we were based in West Glacier after getting off our Amtrak train, we decided to explore more of the Glacier National Park area to the east.  
We drove through the Flathead and Lewis and Clark National Forests and they were stunning!  A seemingly untouched paradise in the Rocky Mountains, these two conjoined National Forests cross the Continental Divide. The changing colors paired with a fresh, light dusting of snow made this mini road trip the actual most beautiful drive we've EVER done.  
Highway 2 winds along the Middle Fork Flathead River creating a good deal of the border between the Flathead National Forest and Glacier National Park. After the Continental Divide, the road hugs Summit Creek into the town of East Glacier. Absolutely gorgeous… and the Empire Builder train route we were on goes this way too!
We tried to stop at every picnic area and pull off available through both the Flathead and Lewis and Clark National Forest and we were so glad we did.  Our two favorite stops were Cascadilla Flat River Access on the north side of Highway 2 and where Bear Creek meets the Middle Fork of the Flathead River.  You cannot imagine up a prettier spot than these two access points. 
Our next trip to the Glacier National Park area will for sure include some days dedicated to hiking in the National Forests.
Enjoy the Town of West Glacier, Montana
West Glacier, Montana was where we initially got off the Amtrak Empire Builder.  In the summer it's a bustling hub of tourists, hikers, rafters and locals.  Fall travel to Glacier National Park sees the town as a silent snapshot of 1950s road trip tourism. Vintage storefronts all shut down from early fall until spring.
What was open though was the Crown of the Continent Discovery Center.  We've visited in the summer when they're serving huckleberry ice cream and sandwiches in their cafe, but since it was fall, it was only the educational areas we got to do (which is always cool with us). We learned about the formation of the Rocky Mountains, the watershed of the Glacier National Park area, and snapped a selfie with a mountain goat.  We always love our educational stops so this was good.
Epic Views and Fall Colors in East Glacier
Since you've done the scenic route through the National Forests now you can explore some of the most colorful spots around Glacier National Park.  Being on the east side of the Rocky Mountains the trees are very different from what you'll find in West Glacier. Primarily deciduous trees, when the color starts to turn it's crazy!
In addition to the amazing colors you'll see as you go through the Flathead and Lewis & Clark National Forests, the Two Medicine and St Mary areas of Glacier National Park are beyond striking.  You don't even have to go hiking to get the full wonder of the changing fall colors (or brilliant spring greens if that's your time-frame).  Driving into the Two Medicine entrance you can easily check out Running Eagle Falls or Two Medicine Lake with limited time and minimal effort.  At the St Mary entrance to Glacier National Park you've got views around every bend, particularly showcasing the jagged mountains and wonderfully still lakes.
Tip:  if you're visiting the Glacier area in fall, be sure to have plenty of snacks/lunch stuff in your vehicle as most services near the Park are closed.
Go Horseback Riding at Bar W Guest Ranch
Our day started at the Bar W Guest Ranch outside of town and this was a huge thing for us. This was the first time either of the kids got to ride horses. They. Were. Pros. We were actually kind of nervous that they would be scared to ride horses but they were incredibly brave and had so much fun when they went out on their own ride… without us. Whatever.
While the boys did their thing us dad's got to go on a ride up the mountain which was perfect since we are experienced horsemen, and it was also really nice to get a break from all four of us being together all of the time. Not that we don't love it, but being on horseback without having to worry about how the kids are doing is amazing.
hen we got back down to the ranch the kids ran out to greet us and we're so excited tell us about their horse ride. They had also been doing arts and crafts with some of the ranch hands while we were still up on the mountain. Such big kids.
Tip:  If your kids haven't been on horses before a cow-poke experience like our little guys did may be ideal. It's very mellow and doesn't go through any complex trails. Also the kids are led closely and are wearing appropriate helmets just in case. Check out our horseback experiences in Big Sky, Montana too!
If we get to go back to the Bar W Guest Ranch we would like to actually stay for a couple of days. They do special things like cattle drives or themed weeks and we would love to be a part of that. It's a really cool and beautiful ranch.
Hang Out in Downtown Whitefish with kids
If the cool old west style downtown of Whitefish, Montana didn't sell us on this cool city, the parks definitely did.  We visited Baker Park, Riverside Park, River Trail Park, and Depot Park (because kids love to run free) and found our happy while the fall leaves fell all around us.See one of our strongest travel tips for any family make time to let kids run free. It really does save everybody especially during a longer trip.
Beyond the parks though, downtown Whitefish is kind of awesome when you get hungry. It's not short on breweries or restaurants that want to make interesting food. There's even a bar, the Great Northern Bar and Grill, that has an area where you can bring kids. Seriously, the restaurants of Whitefish are more awesome and hip than we expected.
And we're not big shoppers, but the downtown core is loaded with cute places to get anything from Montana-appropriate clothing to huckleberry goods and nicknacks. There was a cool DIY art shop on Central Ave, Stumptown Art Studio, that created some really incredible public art mosaics that hang on 2nd (a thoroughfare) that we couldn't help but stop and admire. Downtown rocked with so many things to do in Whitefish!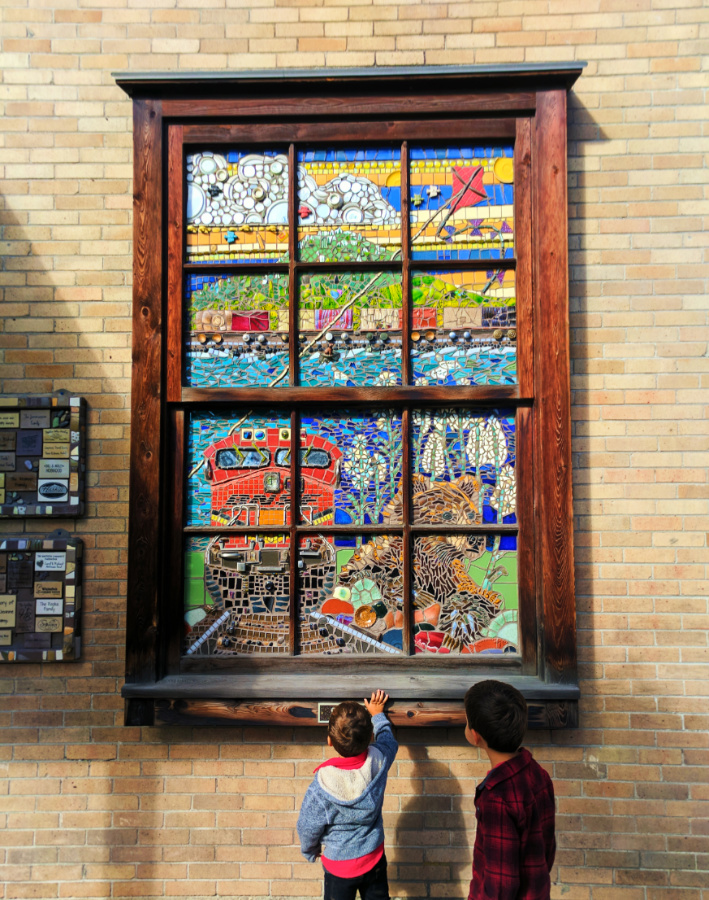 Fall Bonus: Oktoberfest in Whitefish near Glacier NP
Being from the Pacific Northwest, when we hear Oktoberfest we automatically think about Leavenworth, WA and all of the amazing beer and brats they serve up. Oktoberfest in Whitefish was also awesome. The brats and Kraut were absolutely delicious Beyond delicious.
The beer was hosted by Great Northern Brewing Company who actually has a pretty awesome Brewery building right on Central Ave in downtown Whitefish, and then there was the standard / traditional polka music that no Oktoberfest is complete without.
The town plans well for lots of people to show up and has ample seating inside in the beer hall as well as outside where there was kids space end games set up. It really seems like everybody in the town turned out for the Oktoberfest celebration. we were lucky to be there on just the right day.
Tip:  If you happen to be in Whitefish for their Oktoberfest it's much more than just an evening Beer Garden. They have lots of family-friendly activities over the weekend that we were not able to participate in.
The Glacier National Park area is so much more than just what you find within the park boundaries. In no way are we discrediting the breathtaking wonder that is Glacier National Park but the whole area deserves its own time to do everything from a day to explore Whitefish and go horseback riding, to just enjoying all of the beauty and nature that makes up Glacier MT.
We've been back several times with the kids and I'm sure that before they graduate and go off to live their own lives will be back several more times, as with each visit we discover new and fun things to do as a family and we make a list of what we're going to do next time that we're there just us dads.
Amazing destination, especially for fall travel!
Want to pin this for your own travel planning to Western Montana?  Go for it!!!