I nearly moved to Missoula, Montana 20+ years ago and have gone through many times since, finding fun things to do and enjoying the gateway to much of Montana. Driving to Glacier National Park? You'll go through Missoula. Heading to Yellowstone National Park? Again, you'll find yourself in Missoula on the way to Wyoming. Missoula has lots of attractions, outdoor activities and a great culture/vibe.
As you're planning your visit to Missoula, pick a few fun things to do to make a two or three day visit a great experience. If you have any questions or have your own recommendations for activities and unique sights in Missoula, Montana please leave a comment or send us a note. We're always happy to share more.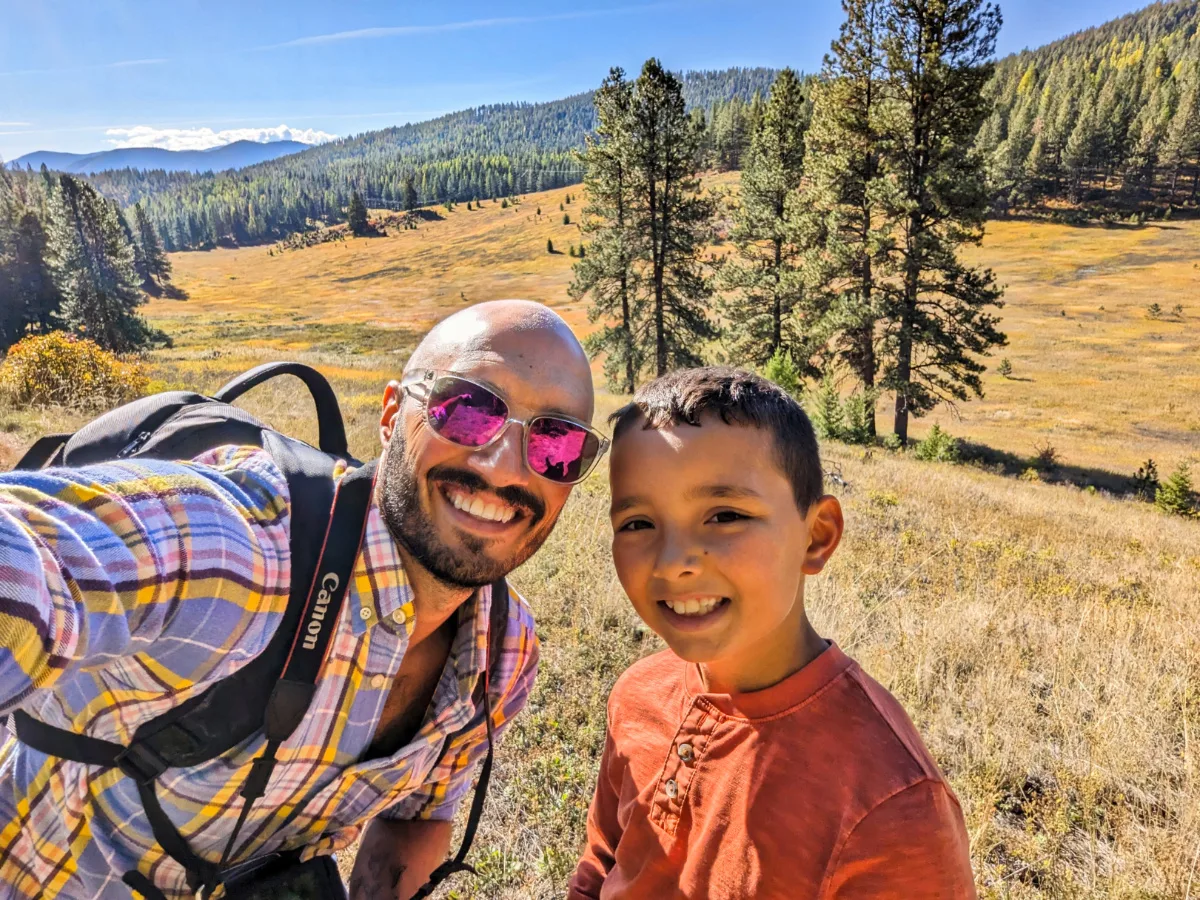 Where is Missoula, MT?
The city of Missoula is located in Western Montana about three hours from Bozeman, a little over three and a half hours from Spokane, WA and 8 hours from Boise, ID. It's just west of the Rocky Mountains, but it is NOT in the flat plains area. Missoula is set among the hills and rivers flowing from the Rockies and is the perfect place to enjoy outdoor things to do, or to dip your toe into cowboy fun.
We call Missoula and the surrounding area Glacier Country. Erosion and Ice Age glaciers formed so much of Montana's landscape, and that includes Missoula. It's also called Glacier Country because it's the gateway to Glacier National Park (more on that below).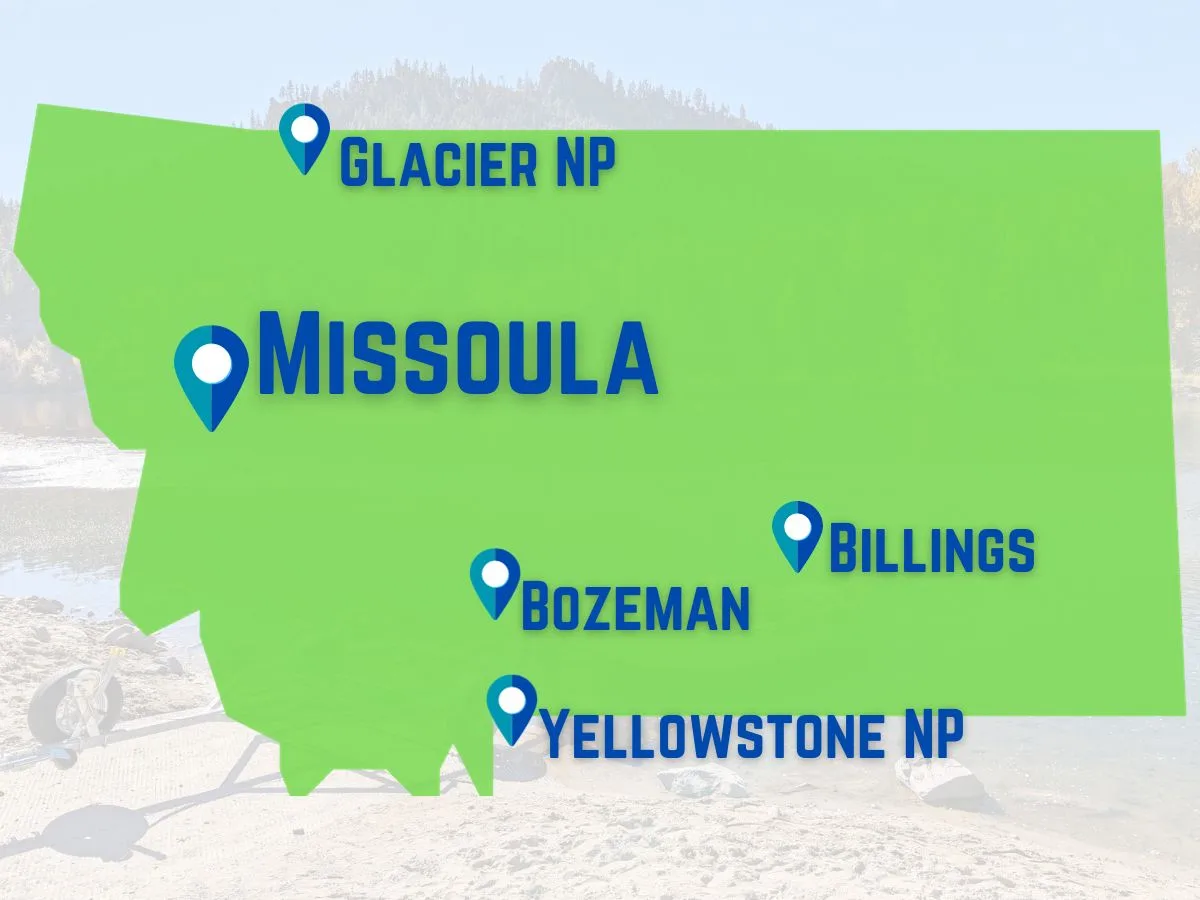 Getting to Missoula
Missoula does have its own airport (airport code MSO) or you can drive here. Driving is the most common way people visit Missoula for the first time. I-90 runs right past the city so if you're on any number of routes, you'll drive through and it's so easy to stop.
You can also get to the Missoula area via Amtrak. Yes, the railway line is quite a bit to the north, but if you want to take the train to Glacier Country, you can disembark the Empire Builder line in Whitefish, rent a car and explore from there. Whitefish itself is three hours north of Missoula, so if you're planning on getting here starting with a train trip, be sure you're planning your drive time into your itinerary.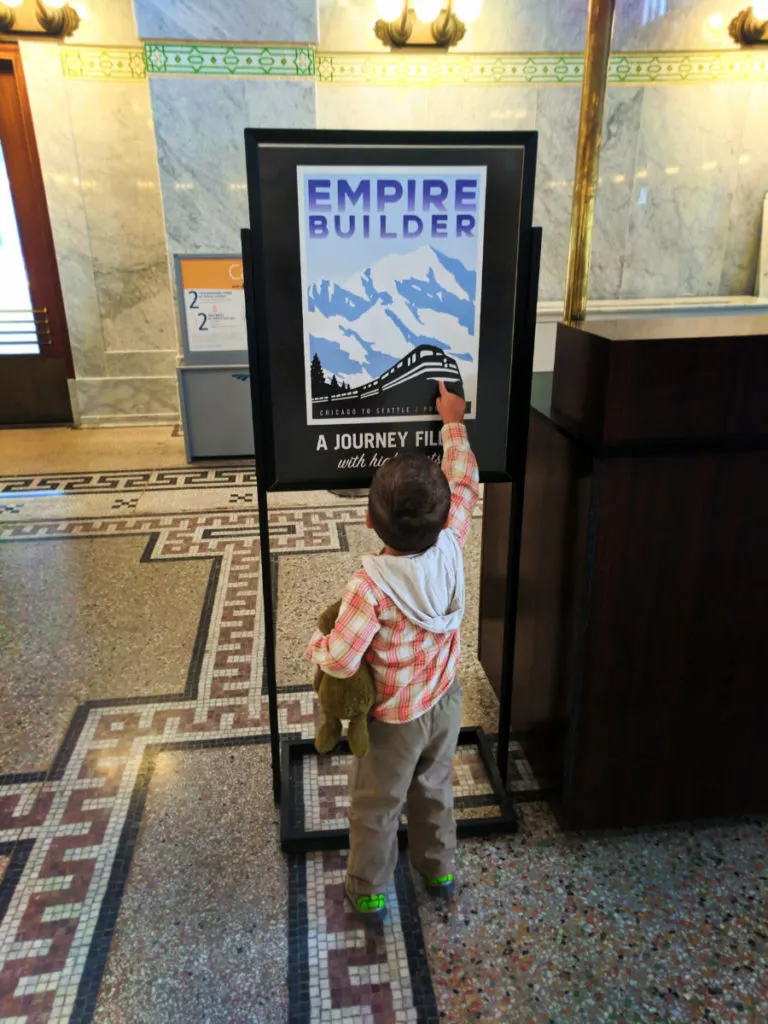 Adding Missoula to a Cross-Country or National Park Road Trip
One of the most epic, and probably my favorite road trip in the USA, is the West Coast National Parks route, starting in Joshua Tree and ending in either North Cascades National Park in Washington or Glacier National Park in Montana. If you're doing the road trip from the south, after you visit Crater Lake National Park, head east a bit stopping at John Day Fossil Beds National Monument (the Painted Hills!) and Craters of the Moon, before arriving in Montana.
You can either visit Yellowstone National Park or go up through SW Montana's Gold Country before coming to Missoula and then Glacier National Park. There are so many options!
If you're doing a cross-country road trip from Washington or Oregon to Chicago, New York or Washington DC, Missoula is an easy stop to add to your route. Plan a day to explore downtown or do some hiking, then take a nice walk in the morning to get local coffee and treats for the road, and then continue on your journey.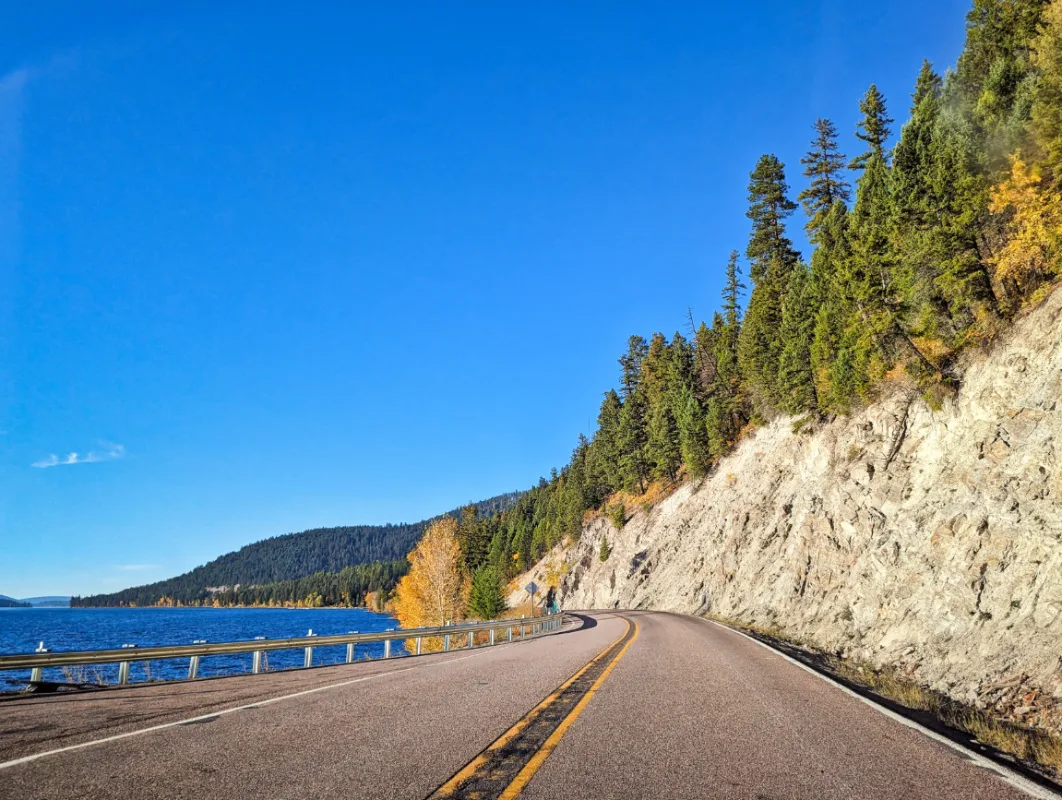 How Close are Glacier NP and Yellowstone NP
Visiting Missoula may be a second thought to a trip that's actually focused on visiting Glacier National Park or Yellowstone Country, and that's okay. From Missoula, Glacier NP is about two hours away to the West Glacier entrance. From the St Mary Entrance on the east side of the park, it's about a three hour drive from Missoula.
When you're visiting Yellowstone National Park, it's about five hours from Missoula to either the West Yellowstone or Gardiner MT entrances. On the way, be sure to stop at Lewis and Clark Caverns State Park. It's one of the coolest cave systems we've ever explored. Also, before you get to West Yellowstone, the town of Big Sky, Montana is a great place to visit as well.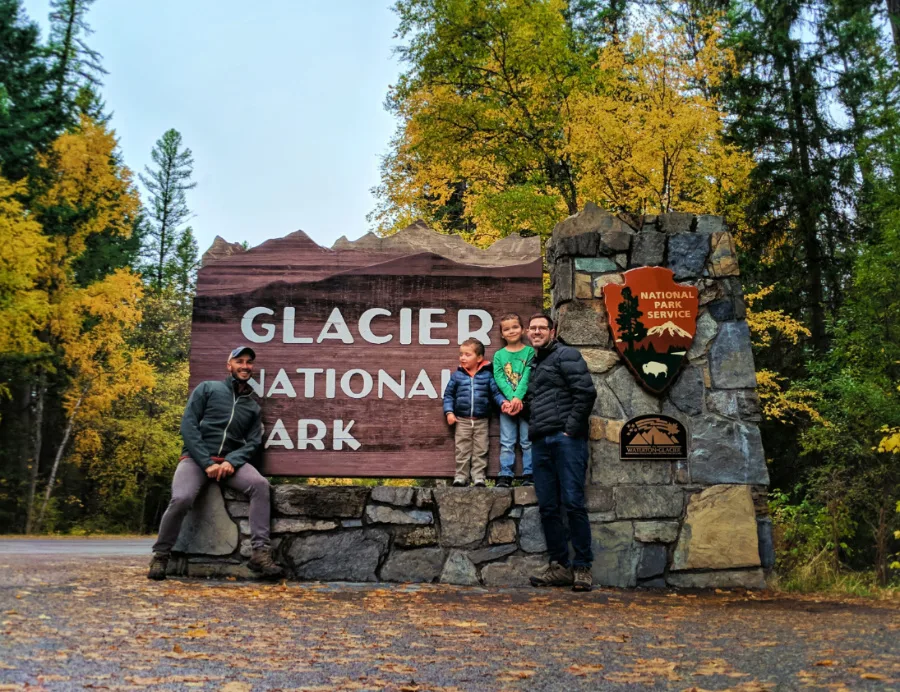 Where to Stay in Missoula, Montana
Being a bigger town / small city, Missoula has lots of great places to stay. You'll find most major travel brands, like Best Western or Holiday Inn Express, but there are some wonderful local hotels too. Hotels in Missoula range from near the airport to the west to directly downtown and next to the University of Montana. You can't go wrong with the latter due to the number of things to do and restaurants downtown. Find a Missoula hotel here!
Missoula Hotel Recommendation: the Wren Downtown
We really enjoyed our stay at The Wren in downtown Missoula. It's modern and very Montana-esque. The Wren is great for families, especially with their bunk bed rooms, and cafe on-site. We liked being walking distance to much of downtown Missoula and the riverfront. Another great element to the Wren is the public space, including a living room type area and working space. It's an ideal home base for visiting Missoula.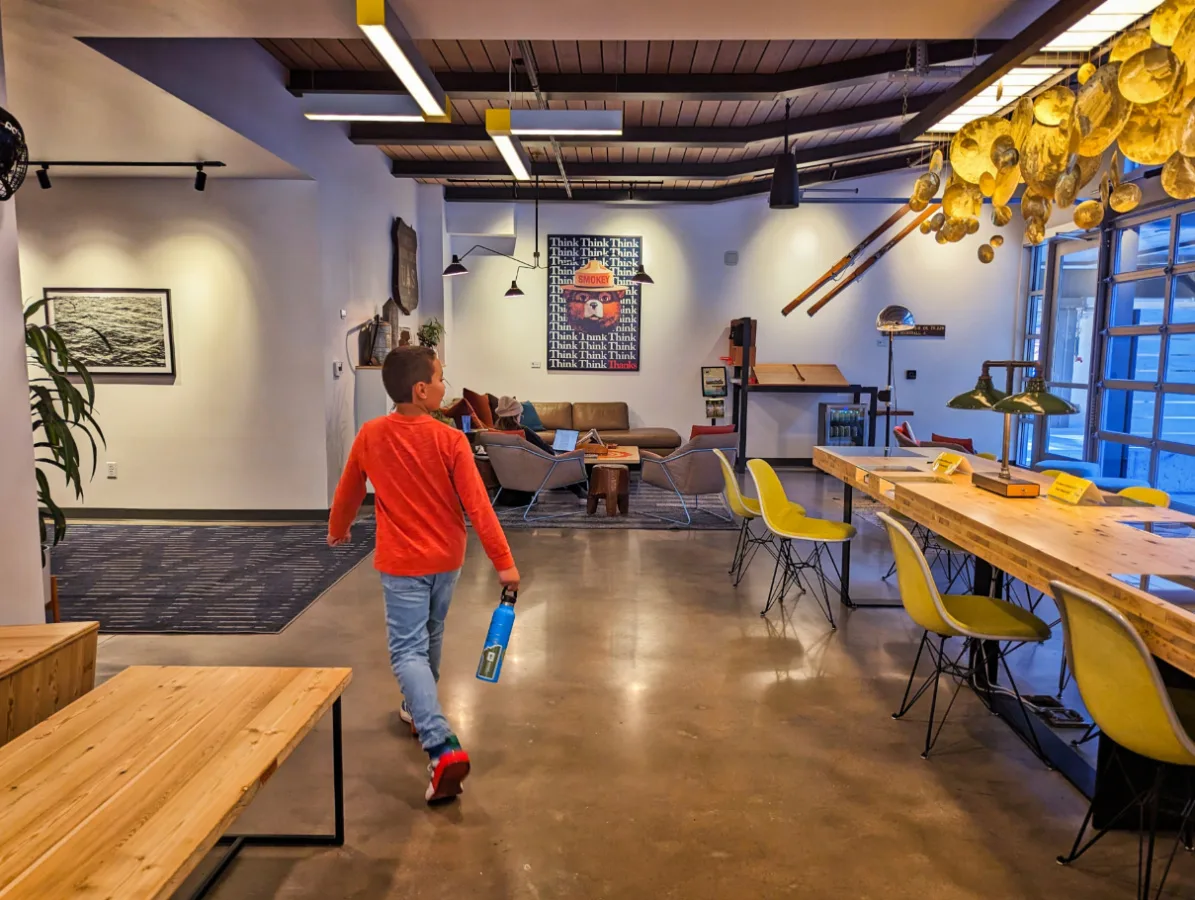 Outdoor Activities in Missoula MT
Being surrounded by national forest land and beautiful hills, there are lots of great free things to do in Missoula. Some of the outdoor activities require some gear, like a bike or kayak, but you can always rent the gear if you're not traveling with it already, so don't rule out these fun outdoor things to do in Missoula!
Hike the "M" Trail
Take a hike up to the large "M" on Mount Sentinel for awesome views of the city and surrounding mountains. In comparison to other city hill beacons, like the big "A" in Tempe, Arizona, the hike up the the big M in Missoula is pretty easy. We love easy things to do, both in terms of getting to the activity and actually doing it, and hiking to the M is one of them. This is a great FREE thing to do in Missoula.
Access the M Mountain trailhead, aka Sentinel Mountain, from the parking lot on the north side of
Phyllis Washington Park. Trail parking map here.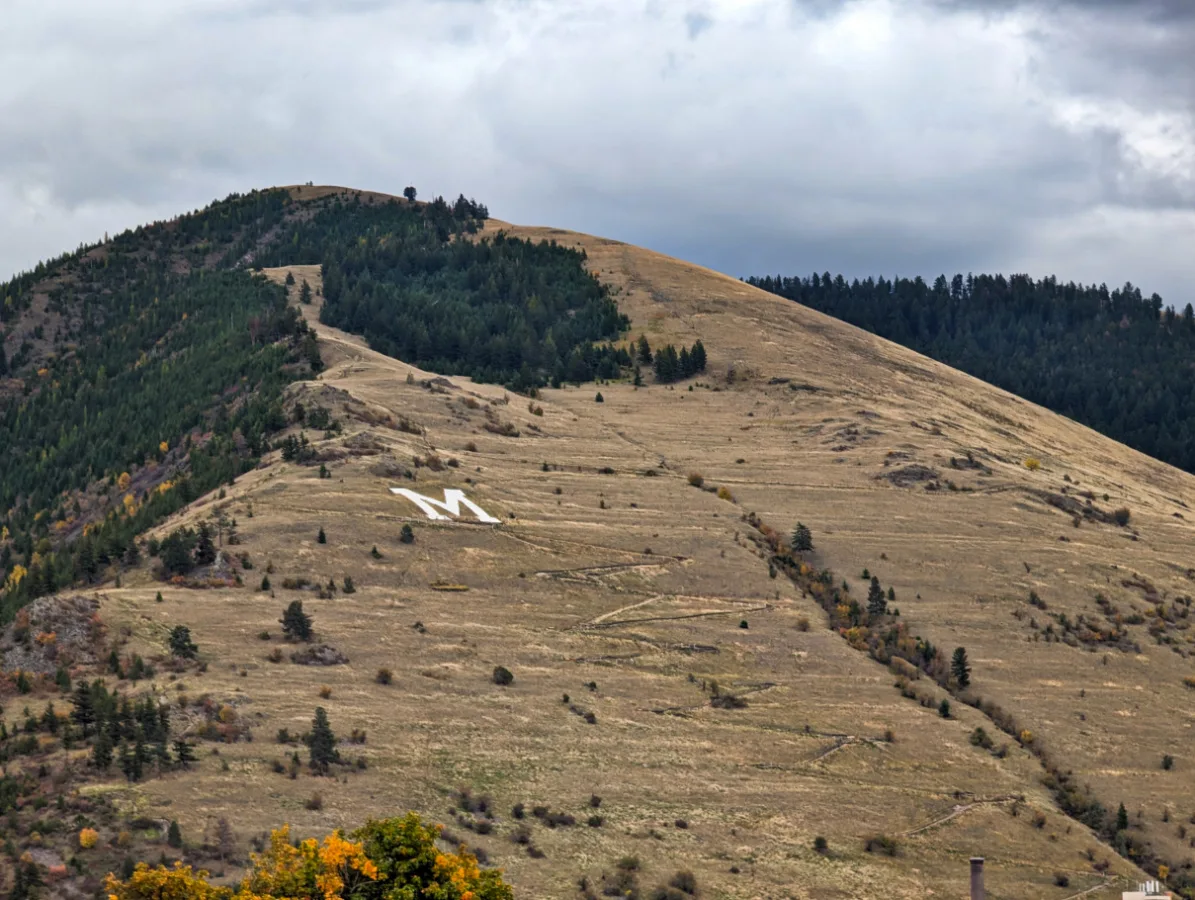 Wildlife Watching at Maclay Flats
One of the things about wildlife is that it's just that: WILD. There are ways to try to see wildlife though, and a big part of it is know where to be and when. Maclay Flats Nature Trail just west of downtown Missoula is a great place for wildlife watching. While it would be amazing to say that this is where the local moose hang out every morning, that's not the case, but you have great chances of seeing rabbits, deer, owls and hawks along this beautiful trail.
Maclay Flats is beside the Bitterroot River, which is a great wildlife viewing river in general, so with any luck a visit and walk in the woods will help you experience some of the beautiful wildlife in the Missoula area. Trailhead here.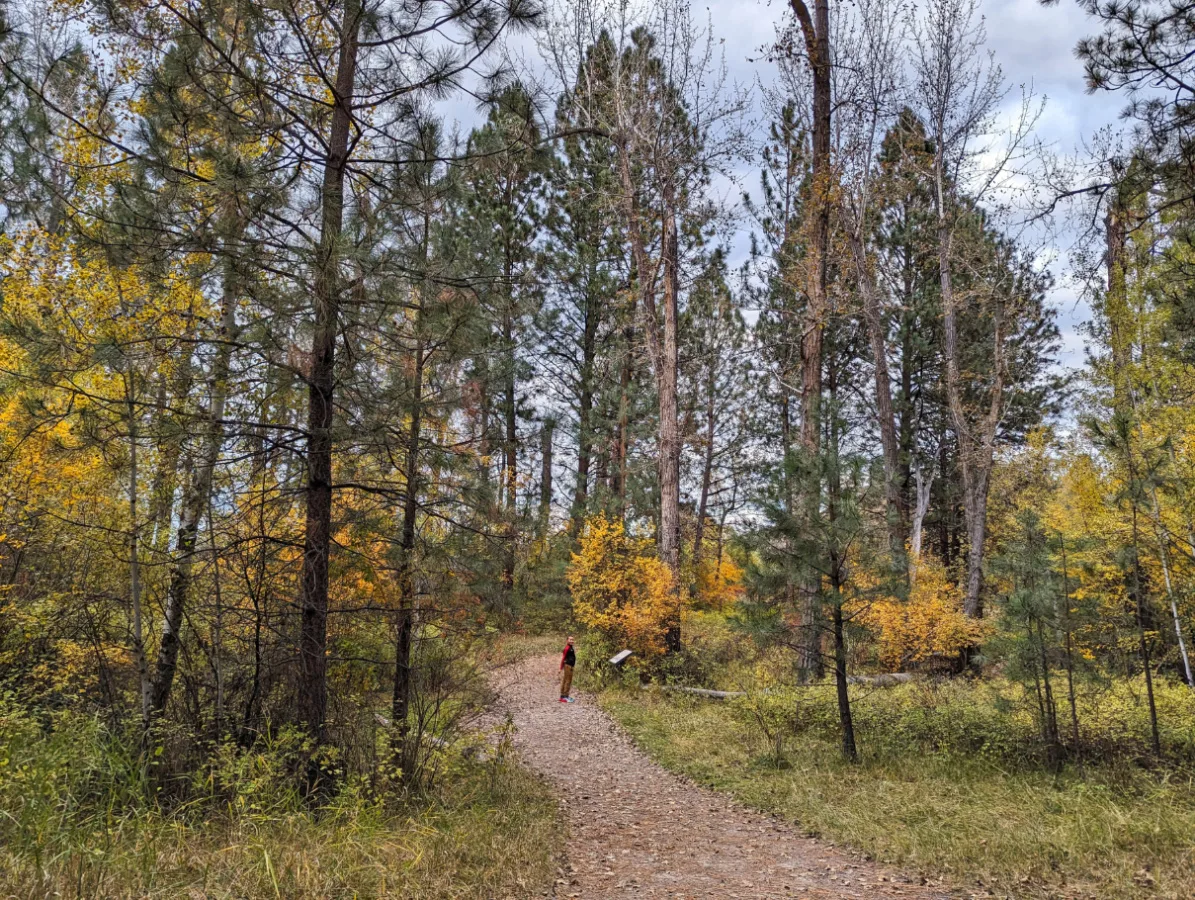 Visit the Moon-Randolph Homestead
Just a few minutes outside of downtown Missoula is the Moon-Randolph Homestead. Visiting this small, active farm is a wonderfully unique thing to do and a great activity with kids or adults. Heritage orchards, historic structures, pigs, collecting eggs from the chicken coop… It's a great introduction to both farm life of yesteryear AND modern homesteading today.
Tip: the Moon-Randolph Homestead is only open to the general public on Saturdays, but you can arrange a visit with advanced notice. We visited on a Friday and got to enjoy a personalized tour of the homestead, including picking apples and feeding pigs. It was awesome!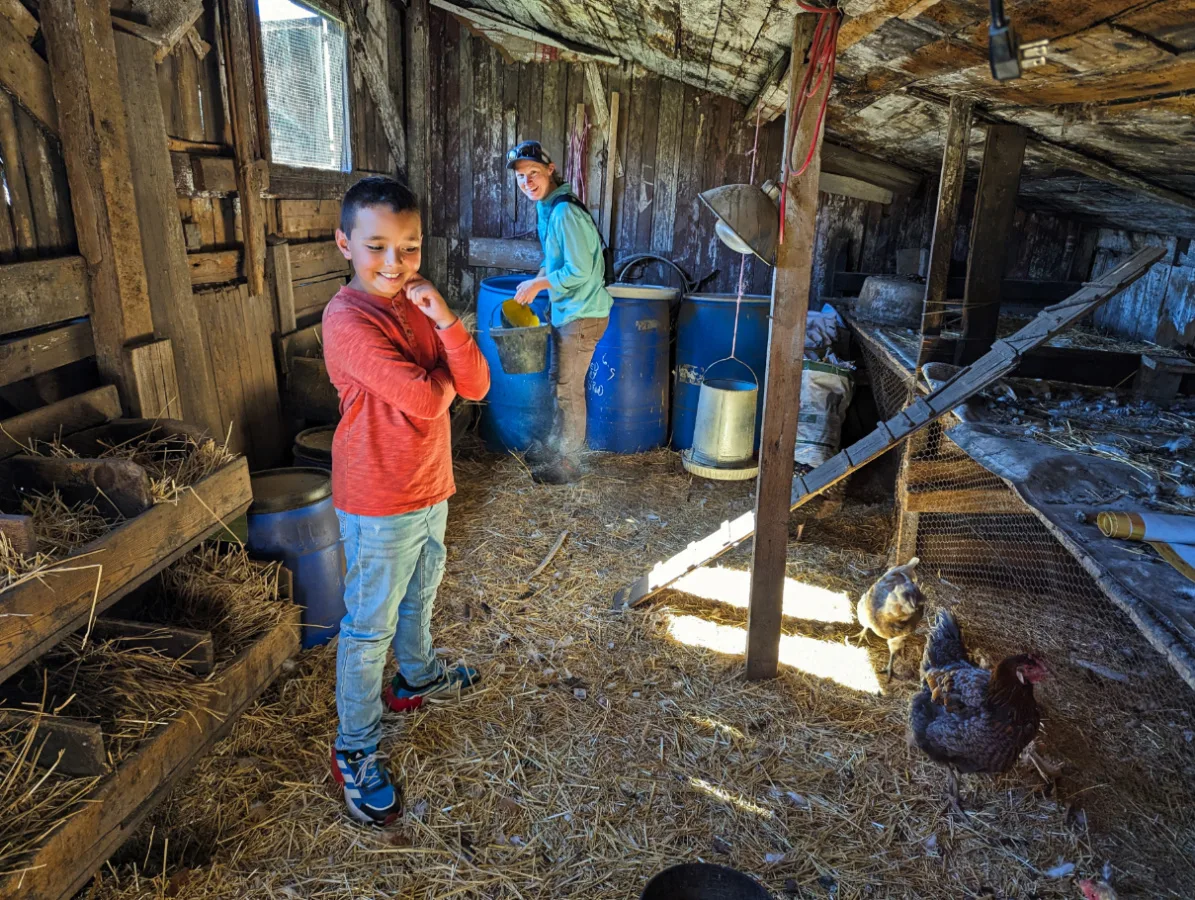 Float the Clark Fork River
The Clark Fork River is a running joke in our family, because whenever we drive through Missoula or on I-90 through Montana we cross it 17 times or so. But in Missoula it's the main waterway and is beautiful. During the summer, tubing and floating on the river are popular things to do in Missoula. If you don't have your own tubes or kayaks, you can rent them.
For an elevated, relaxing experience, you can also float the Clark Fork River with a guide. Drift boats are common for fishing trips on the Clark Fork, Bitterroot and Flathead Rivers, but you don't have to fish to get on the water. One of the best things to do purely for the beautiful scenery is to enjoy a drift boat float on the river. If you can visit Missoula during October for the fall colors changing, that's the best time for it!
We had a gorgeous morning doing a luxe drift boat on the Clark Fork River with Montana Woodboat Tours. They tailor your on-the-water experience to your requests. We started in the fog and had two hours of some of the best birdwatching we've had in Montana, including bald eagles, herons and all sorts of waterfowl. The highlight for the kiddo was having a large charcuterie board of local meats and cheeses all to himself. Top notch Missoula experience!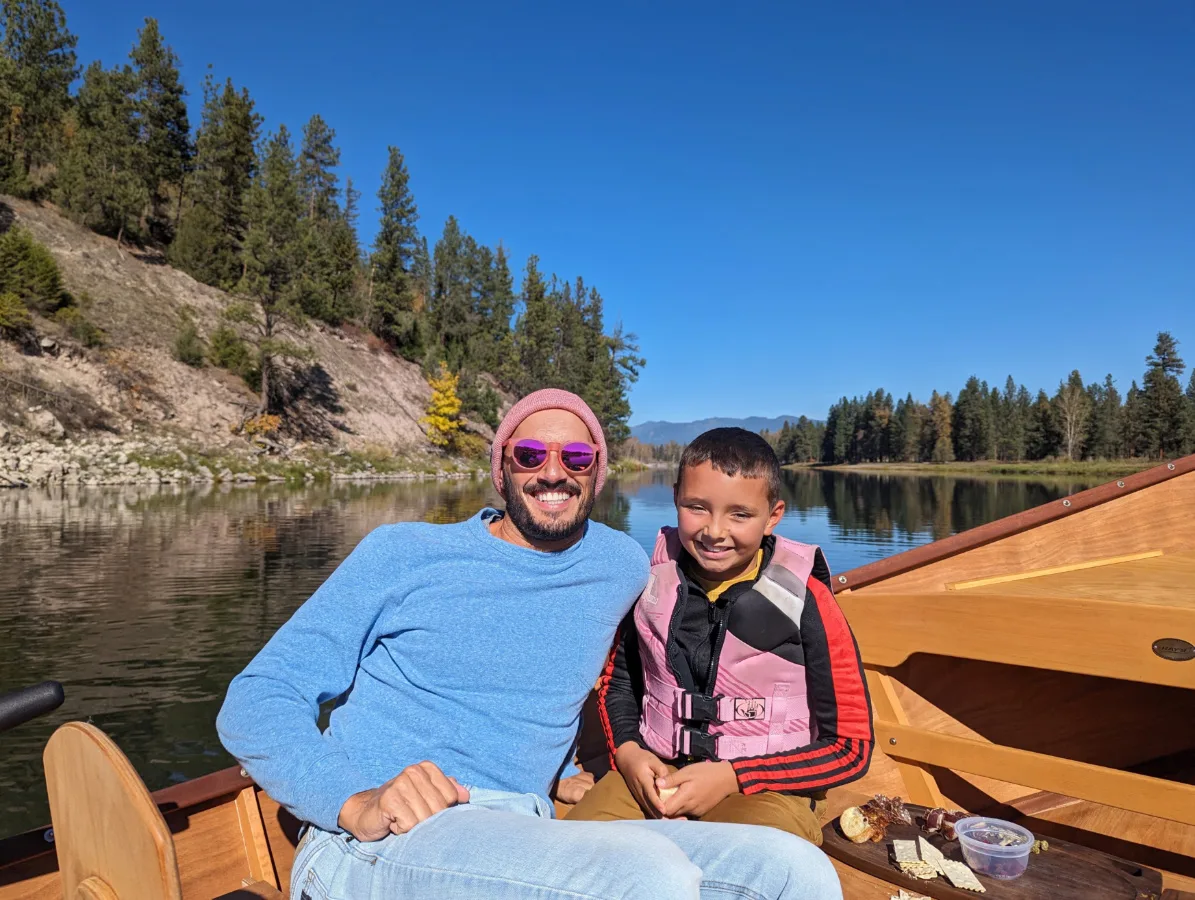 Visit the Rattlesnake Wilderness for Epic Hiking
Don't worry, there aren't rattlesnakes everywhere, but the Rattlesnake Wilderness is perfect for hiking. Cheap things to do like hiking always end up being highlights for us. The Rattlesnake Wilderness has quite a few epic trails that go deep into the mountains. You don't have to plan for backpacking, but can do just a few miles of the longer trails.
For a relatively short, easy hike that's great with kids, the Sawmill Gulch trail winds along meadows and up a mountain, leveling out a bit and offering some nice views. This trail is wonderful in the morning and between bird watching and smelling the fresh forest smells, it's an energizing and beautiful things to do on a Missoula day. If you do the whole thing, it is more challenging, especially if you live at sea-level, but keeping it short will keep it easy.
Tip: if you are visiting the Rocky Mountains and Missoula and normally live at sea-level, the elevation, even if it doesn't seem that high, will get to you when you're hiking. You may feel winded or tired faster than expected. Listen to your body and drink lots of water and you should be fine. Check out our guide to preventing altitude sickness here!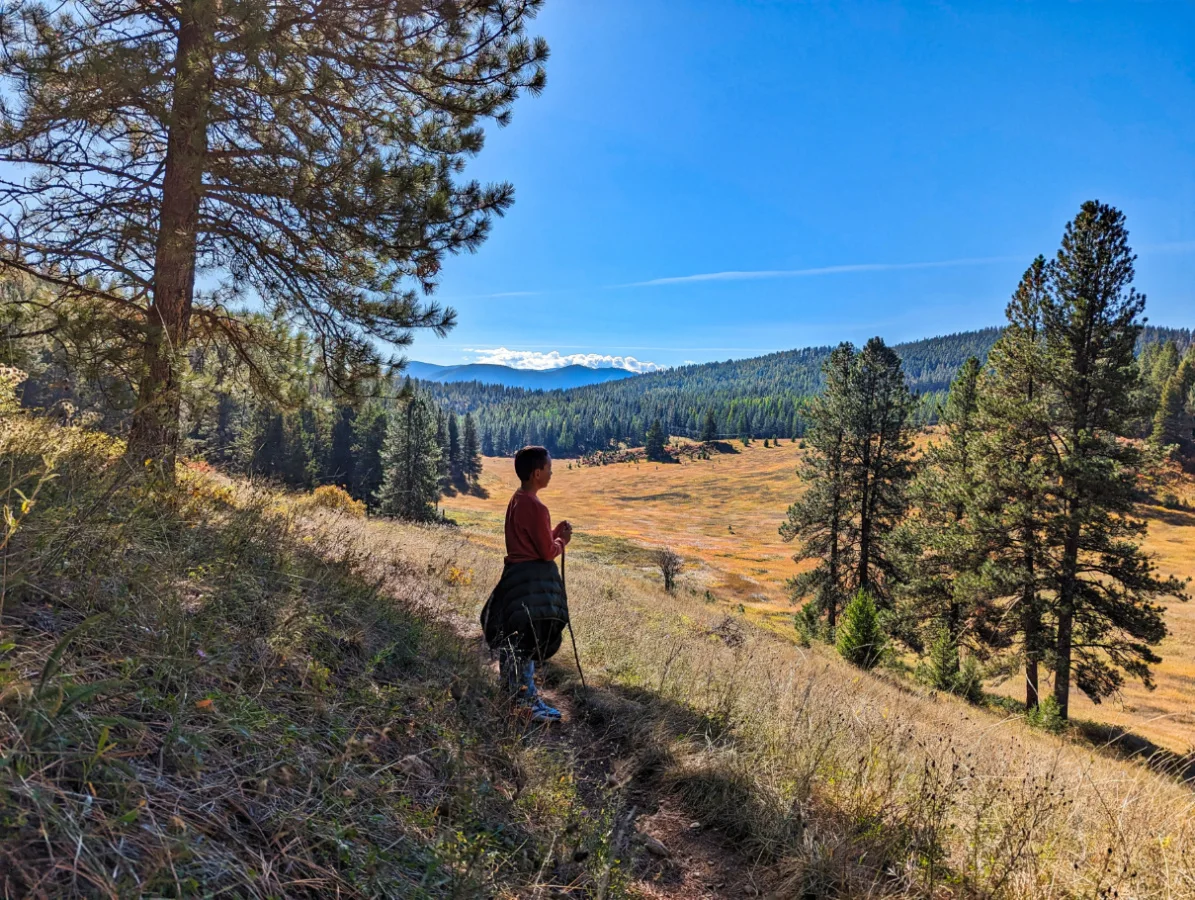 WINTER: Montana Snowbowl for Skiing and Snow Fun
Some people LOVE visiting snowy places, and Missoula is an easy place to get to the snow in winter. Just like there are wonderful hiking spots in the summer, when the snow falls there are lots of places for downhill and cross-country skiing. In the winter, go skiing or snowboarding at Montana Snowbowl. At less than a half hour from Missoula, you've got all the snow options you could want.
Check out the Montana Snowbowl's event schedule for opening day information, as well as other Snowbowl events. Since it's easy to get to, if you're heading to or through Missoula in the winter, this is a great thing to do when you're in the area.
Downtown Things to do in Missoula
Downtown Missoula is great on a weekend or just an afternoon. There are lots of things to do and Montana attractions in the downtown core on both sides of the Clark Fork River. For adults, you have several breweries, distilleries and fun restaurants. If you're visiting Missoula with kids, there are lots of parks, the carousel, and the coolest library we've ever visited. Downtown Missoula is a great destination!
What is the Hip Strip in Missoula?
On the south side of the river, the Hip Strip is a really cool neighborhood that I could happily live in (yes, I used Zillow to look at Missoula houses while in this neighborhood). From vintage shops and bookstores, to restaurants and bars that you simply wouldn't think you'd find in Montana, the Hip Strip is aptly named. Our favorite spot on the Hip Strip is Gild Brewing. Here you can have a dinner of delicious Mexican street foods and locally brewed beer, and then head to the basement for an evening of vintage pinball and arcade games. Visiting Gild and the Hip Strip needs to be on your plan for a Missoula trip.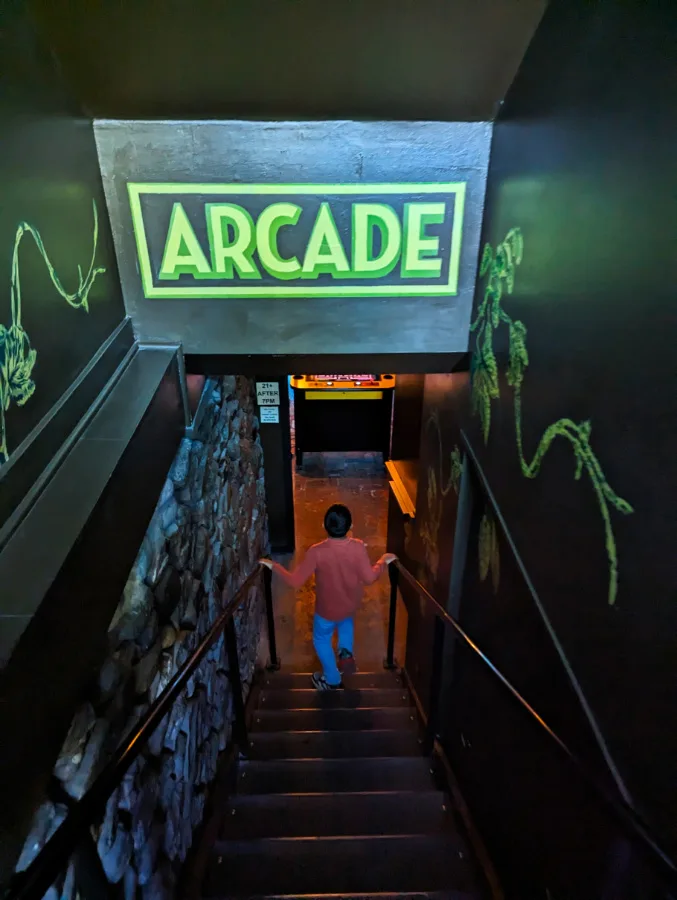 Explore the Downtown Area and Riverfront
Missoula is a wonderfully walkable city. If you're staying right around downtown, you can walk almost anywhere on either side of the river. Front Street, Main Street and Broadways all have cool Montana shops, galleries and restaurants, and the blocks between them have great spots to check out too. After strolling through the downtown core head to the Missoula Public Library or walk along the riverfront trail.
Don't miss the Missoula Farmers' Market on Saturdays. It's held at Caras Park on the river from 8:00 am to 2:00 pm. The booths are really ready for business by 8:30 or so, but once open there is a ton of great produce, local meats, lots of flowers (or other decor), and several food trucks. Visiting the Missoula farmers market is free and it's one of the most fun things to do!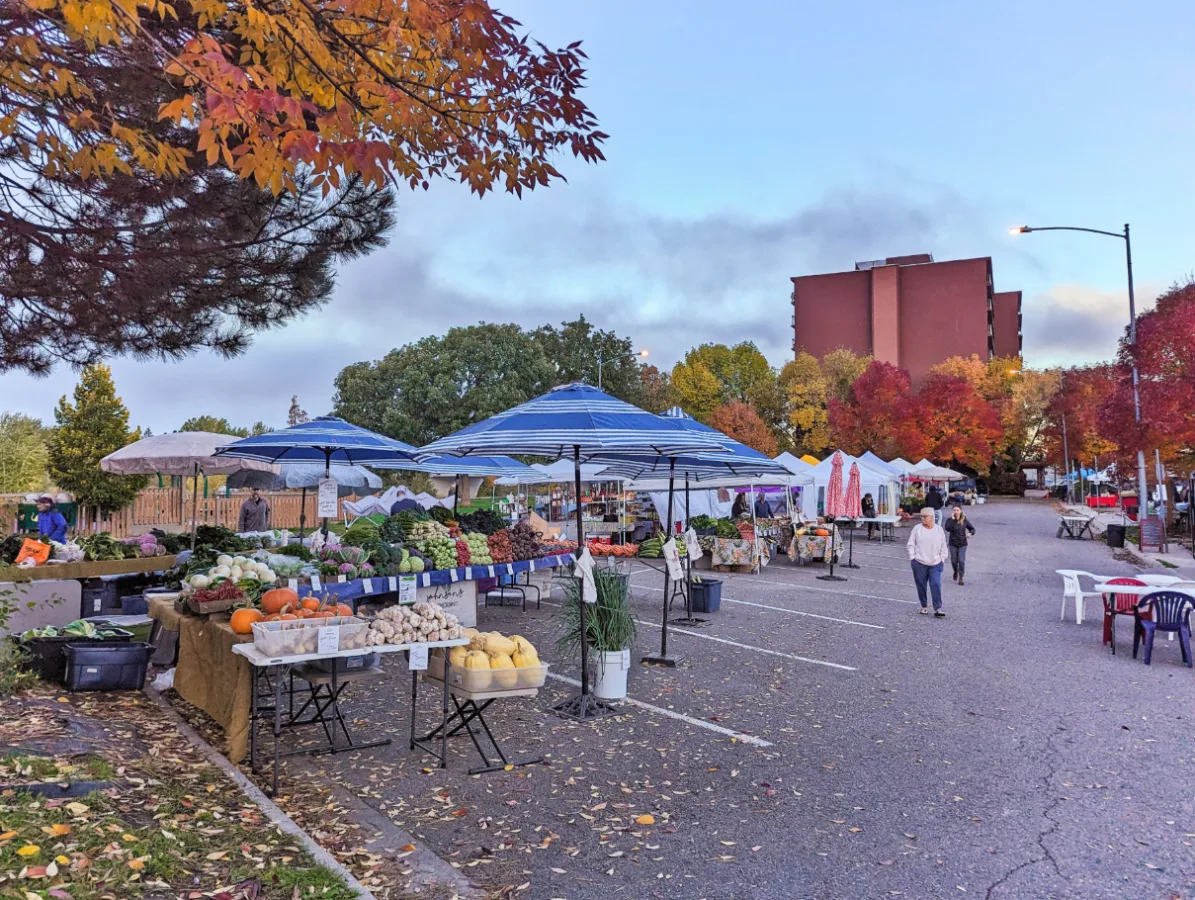 Visit the University of Montana
The University of Montana is just a few blocks off downtown Missoula. Explore the campus, check out the art galleries, or catch a Grizzlies sporting event if there's one happening. The school is located just below the big M on Sentinel Mountain, so you may already be in the neighborhood.
Tip: speaking as a parent, college prep and visiting schools is happening earlier and earlier. If you're visiting with teens or pre-teens and have a few minutes, do a simple campus visit just for fun. It's a great way to show kids what a college campus is like and it may also plant the seed of going to school in this awesome city. Get campus visit info here!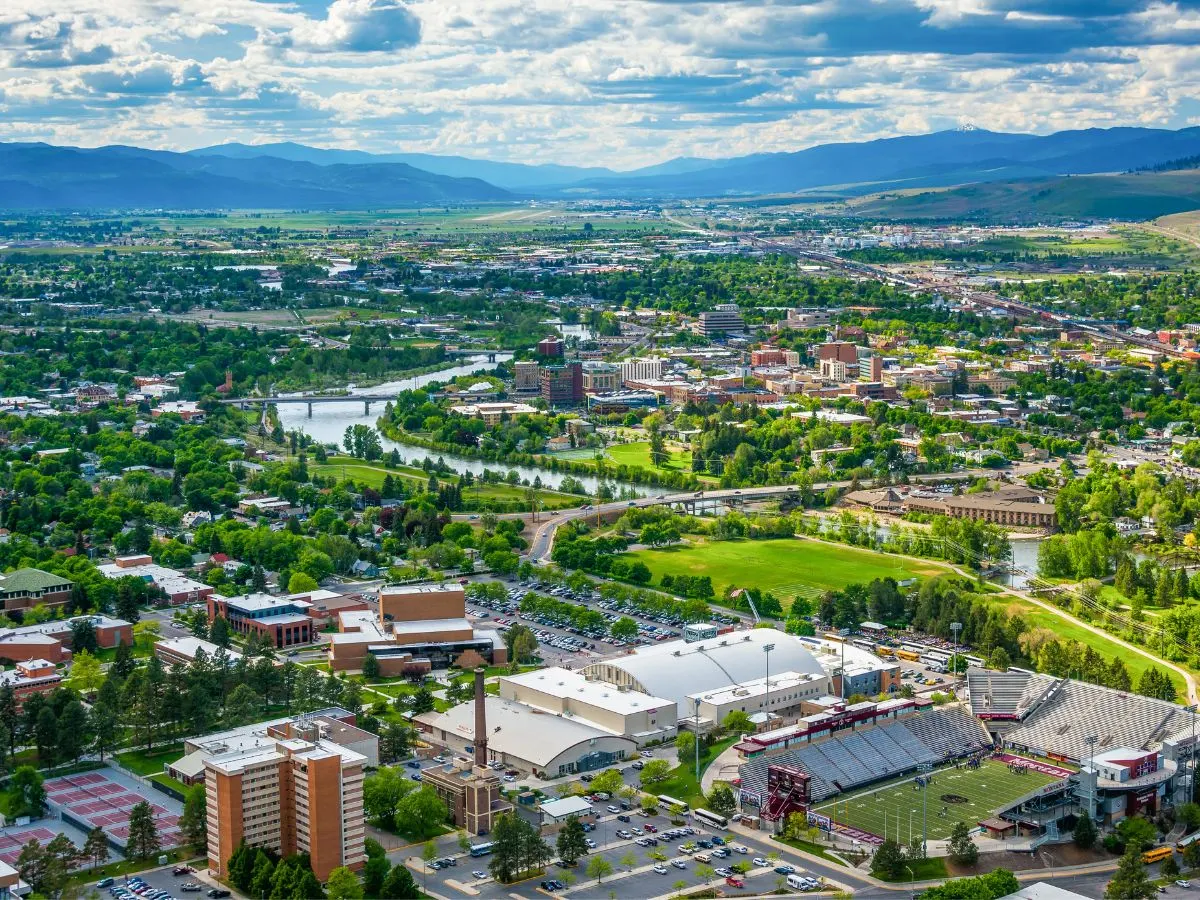 Montana Natural History Center
While it may no be enormous like the Denver Museum of Nature and Science or the Museum of the Rockies in Bozeman, the Montana Natural History Center is a fun, easy thing to do in Missoula with kids. The Montana Natural History Center takes about an hour, maybe a bit more, to go through. It focuses on the wildlife of Western Montana and a bit about the geology of the area. One of the most captivating things we found was the microscope station with all sorts of local Montana specimens to look at. This is a great stop with elementary school aged kids.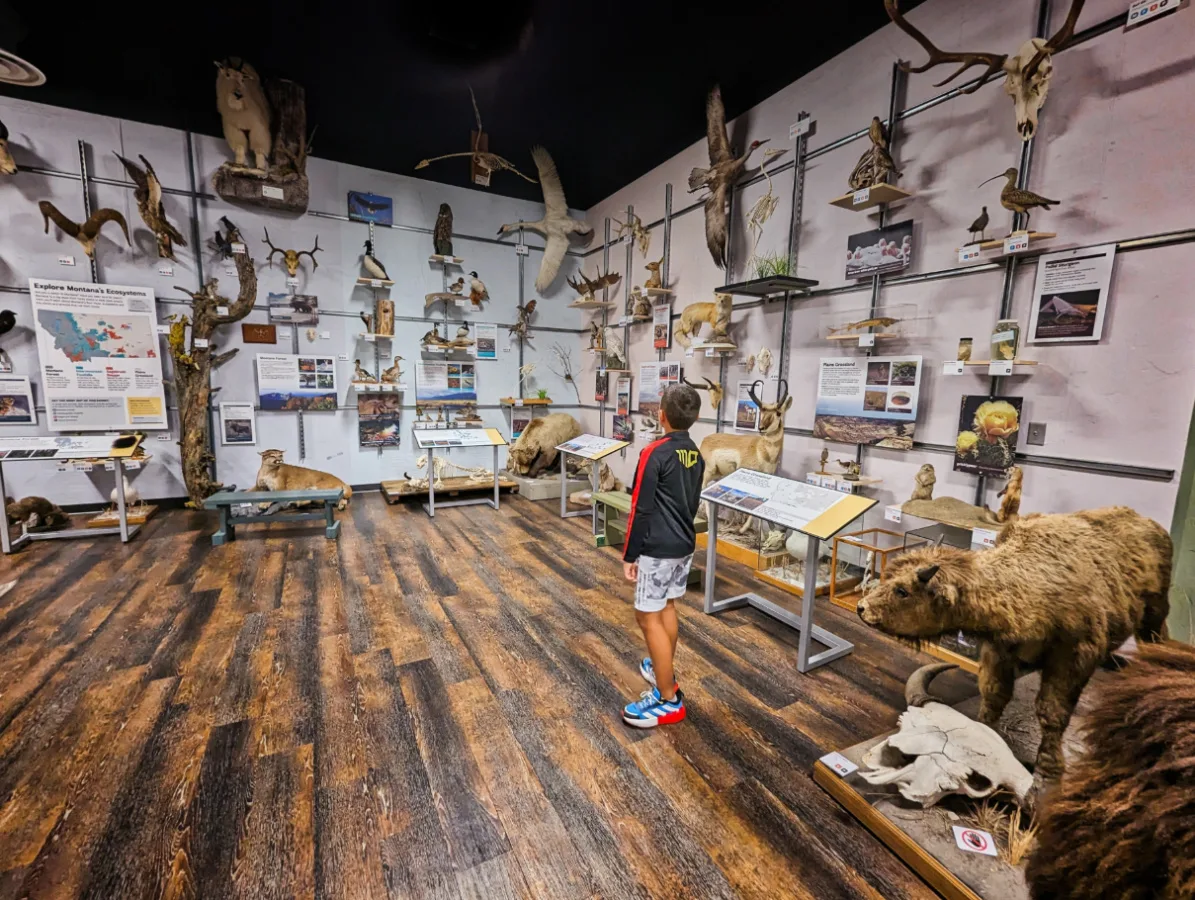 Missoula Art Museum and Art Walk
Check out contemporary and modern art at the Missoula Art Museum, which often features rotating exhibitions, but has a very Montana-centric permanent collection. Missoula also does a community art walk every month. On the first Friday of each month, local galleries open their doors for a community-wide art walk. This is really popular from late spring to early fall with 8+ art galleries participating and lots of other local businesses too.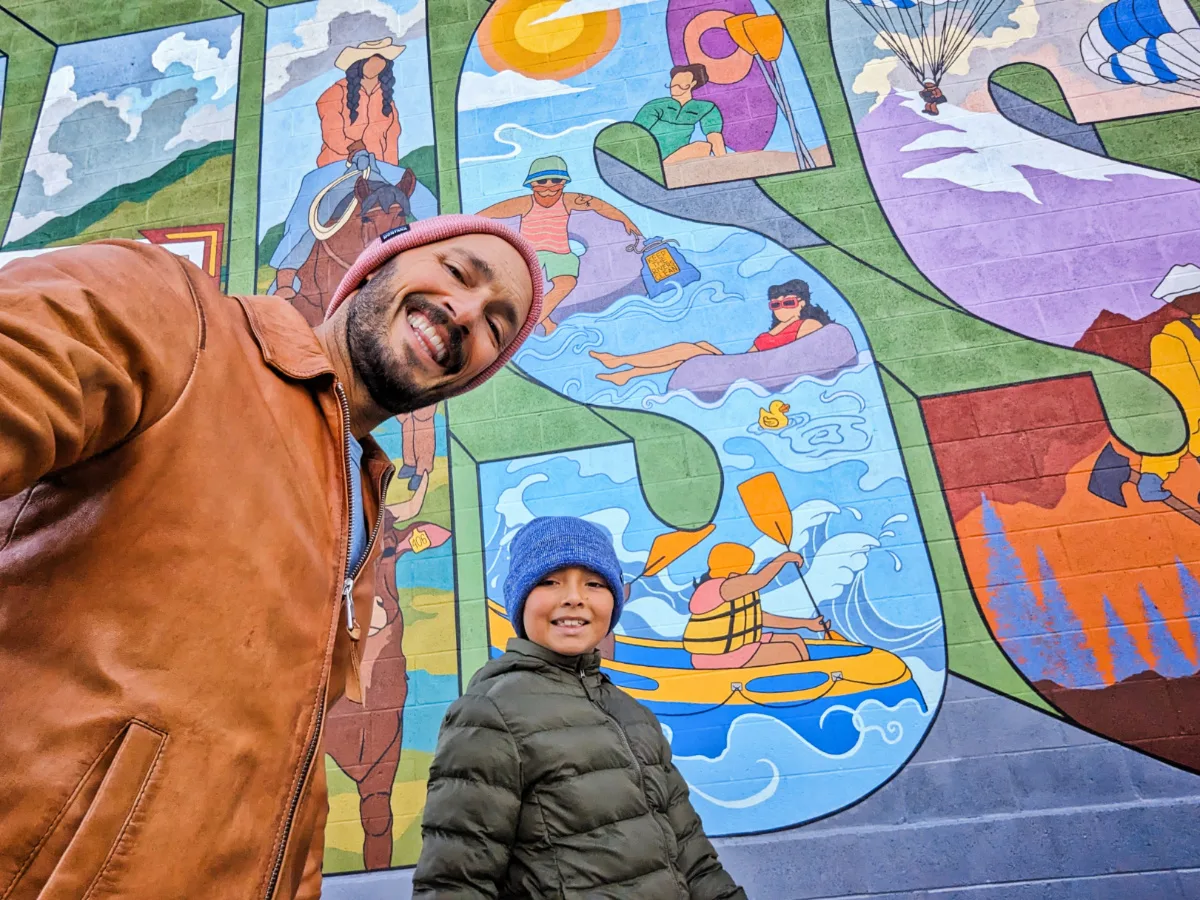 Caras Park Afternoon
One of the keys to traveling with kids is making sure that you plan things to do that let them just unwind. We try to stop at public parks whenever we can to let the kids let it out. In Missoula, Caras Park is a great spot for that. Enjoy a picnic or attend an event at Caras Park, located along the Clark Fork River.
The two highlights for us at Caras Park are the carousel and the playground. Both of these features were community funded and really showcase Missoula's craftsmen. The carousel horses and characters all are Montana themed and produced locally by wood carvers and artists. The playground is also very unique, being built by the locals and suited to all sorts of kid-visitors. Caras Park is a great example of what a community park can be, and it's one of the best things to do in Missoula.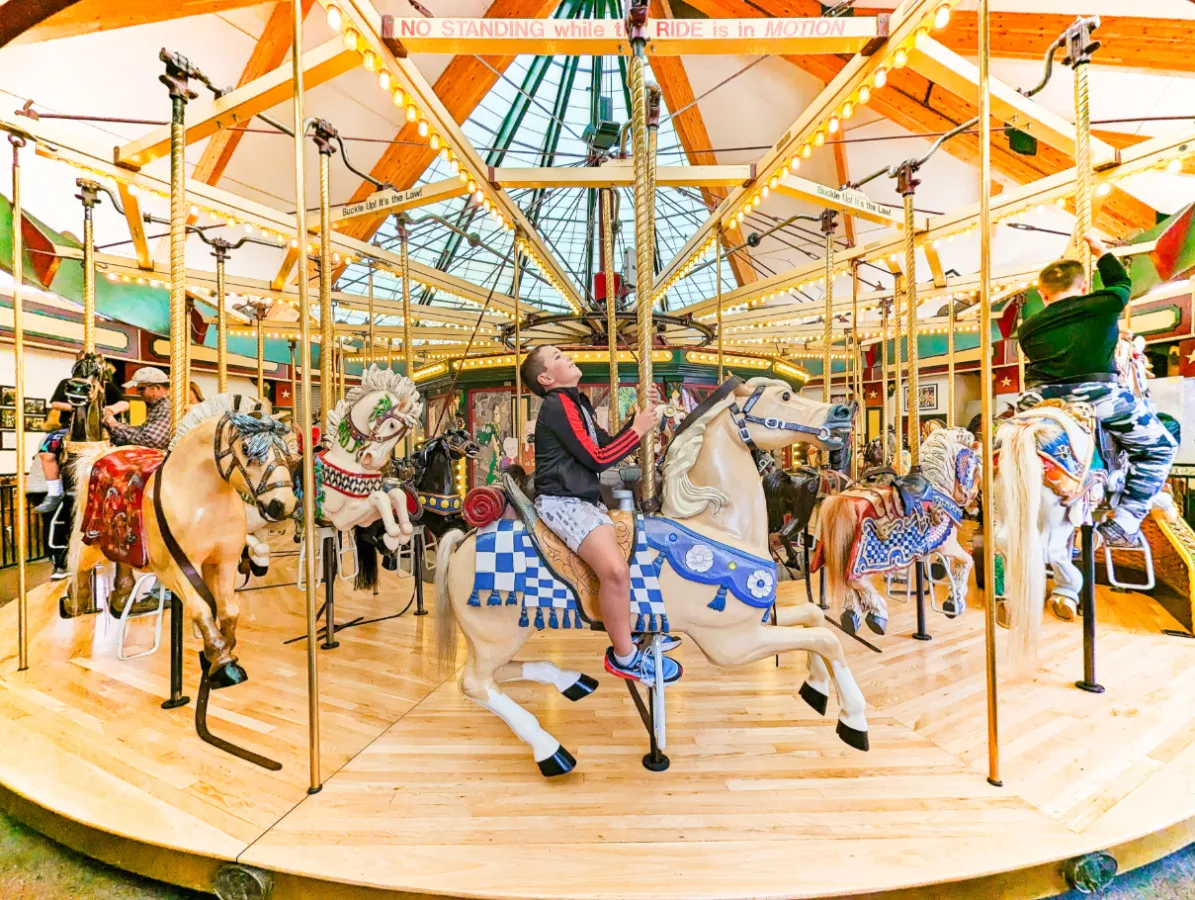 Visit the Historical Museum at Fort Missoula (and playground!)
Before getting to Fort Missoula, I was expecting a western expansion era fort, like what you see on Tom Sawyer Island in Disneyland, but that's not what this is. Fort Missoula is actually a large complex like Fort Worden or Fort Casey in Washington State. There are officers houses, training fields to play in, sport fields, an amazing playground, and historical museum.
Learn about the history of the area and explore historic buildings and even a train. Something that fascinated us was actually one of the old logging chimneys at the fort. It's easy to check out all the displays and then go into the chimney, hit up the museum and end at the playground. Fort Missoula is great for jamming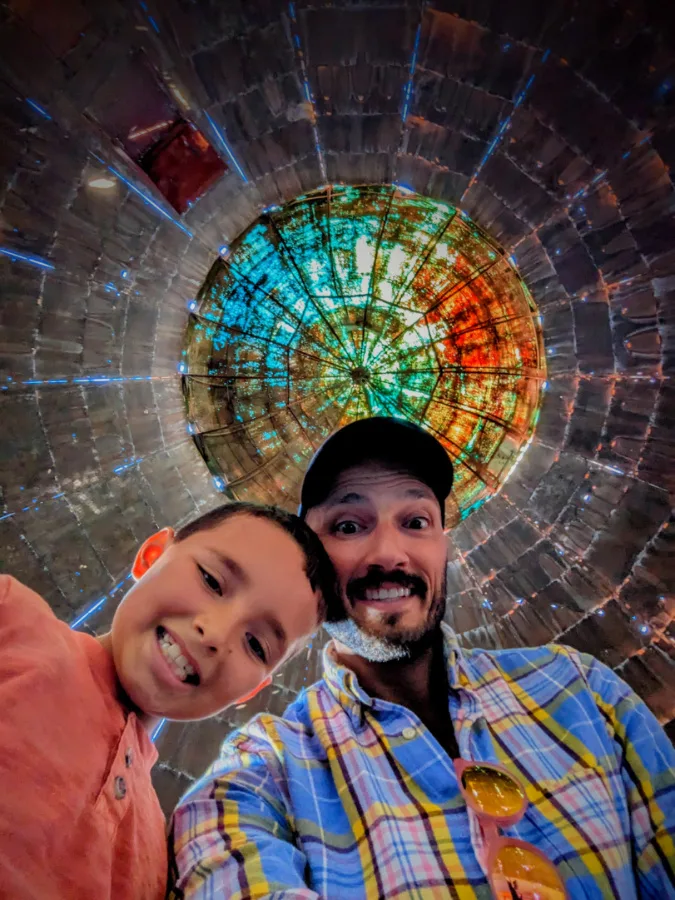 Missoula Area Sights not to Miss
We always explore beyond the bounds of the cities we visit, and coming to Missoula you'll want to check out the many things to do nearby. Little day trips, or even just afternoon visits, are great ways to experience these unique places to visit, most of which are free or activities that just have a small day use fee.
Garnet Ghost Town
An easy, unique day trip from Missoula is a visit to the well-preserved Garnet Ghost Town. A snapshot of Montana's mining history in the Missoula area, it's a great thing to do with kids. There are old buildings to go through, exhibits, and lots of trails to explore. A unique highlight to our visit was finding all the old outhouses (toilet buildings). Nothing quite makes a kid get into something historical like bringing potty humor into it.
If you're into ghost towns, after your visit to Missoula, continue your Montana road trip down to Southwest Montana where you'll find Virginia City and Nevada City. These ghost towns have been rehabilitated and now are just cool western towns connected by a train. And this is where the very first old time photo studio was set up. Western Montana is so cool and fun!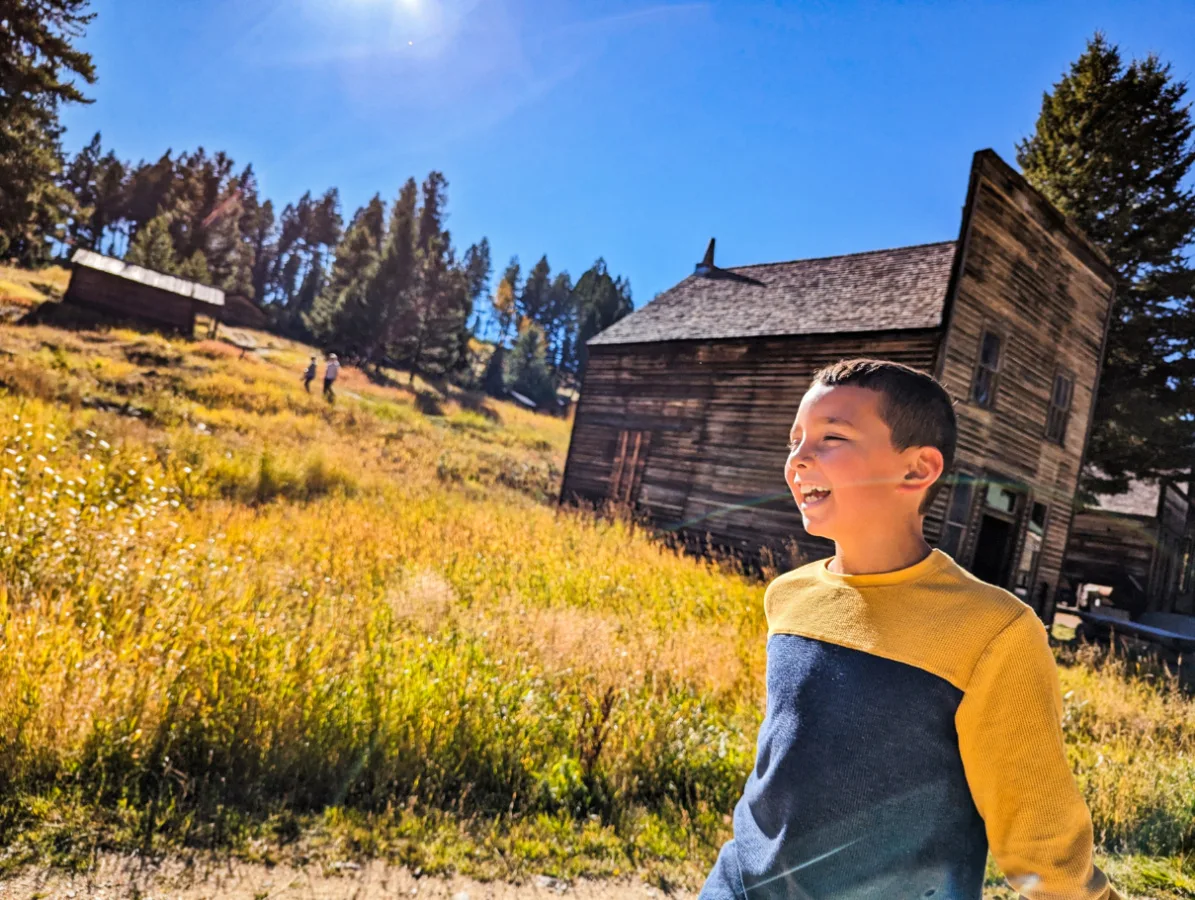 Afternoon in Stevensville MT
Just a half hour south of Missoula is Stevensville, Montana. It's a small town but it's cute and has a few cool highlights. Between Missoula and Stevensville you'll drive past the Lee Metcalf National Wildlife Refuge. There are several access points, including the Kenai Nature Trail and Wildfowl Lane. This is a great spot for bird watching and maybe you'll even spot a bear.
Once in Stevensville, walk through downtown, grab a bite to eat or a beverage, and then check out the historic St Mary's Mission just a block over from Main Street. For a wonderful Western Montana souvenir, visit the Hat Edit on Main Street. Here you'll be able to pick out a cowboy hat and then make your way through the cowboy accessory bar to pick out embellishments for your hat. The final product is pretty awesome and they make the process very easy.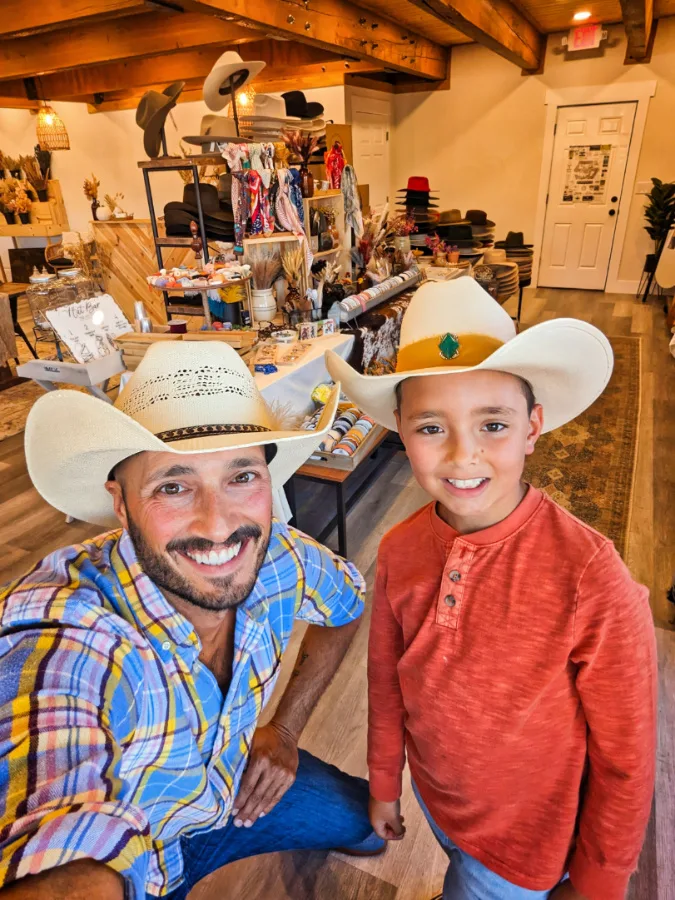 Outdoor Recreation at Flathead Lake
Even though the rivers of Missoula are beautiful and easy to get onto and enjoy, if you're thinking some lake time is a good idea, Flathead Lake is just over an hour north of the city. Flathead Lake is huge (the largest natural lake west of the Mississippi) and there are all sorts of things to do at and on the lake. Probably the most popular thing to do at Flathead Lake is fish as there are more than 25 species in the lake, but kayaking in Glacier Country starts here too!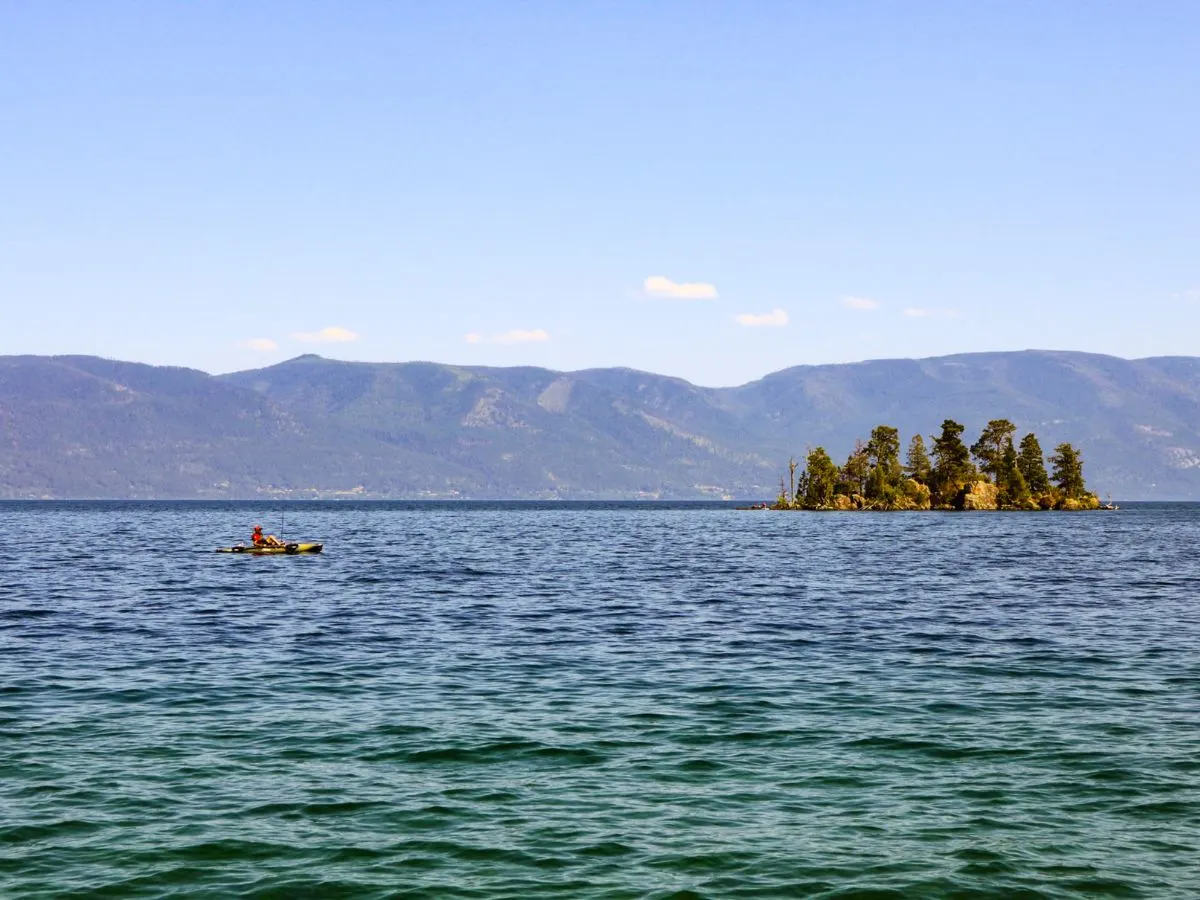 Visit the Bison Range
Between Flathead Lake and Missoula is the CSKT Bison Range. Owned and managed by the Confederated Salish and Kootenai Tribes, the Bison Range is a fun thing to do for some nearly guaranteed wildlife viewing. Stop into the visitor center for some background and education (and to pay your entrance fee), and then head off into the range. There are several routes you can take around the designation bison range area, so depending on your available time, choose the driving route that's best for you.
The Red Sleep Mountain route takes a little over two hours to drive, but this will take you around the whole bison range. There are bathrooms along the route. If you're short on time, the Prairie Drive route goes along the northwest side of the Bison Range and still gives you plenty of opportunity to see wildlife, but if the herds aren't on this side of the hills, you may not see many too close to the road.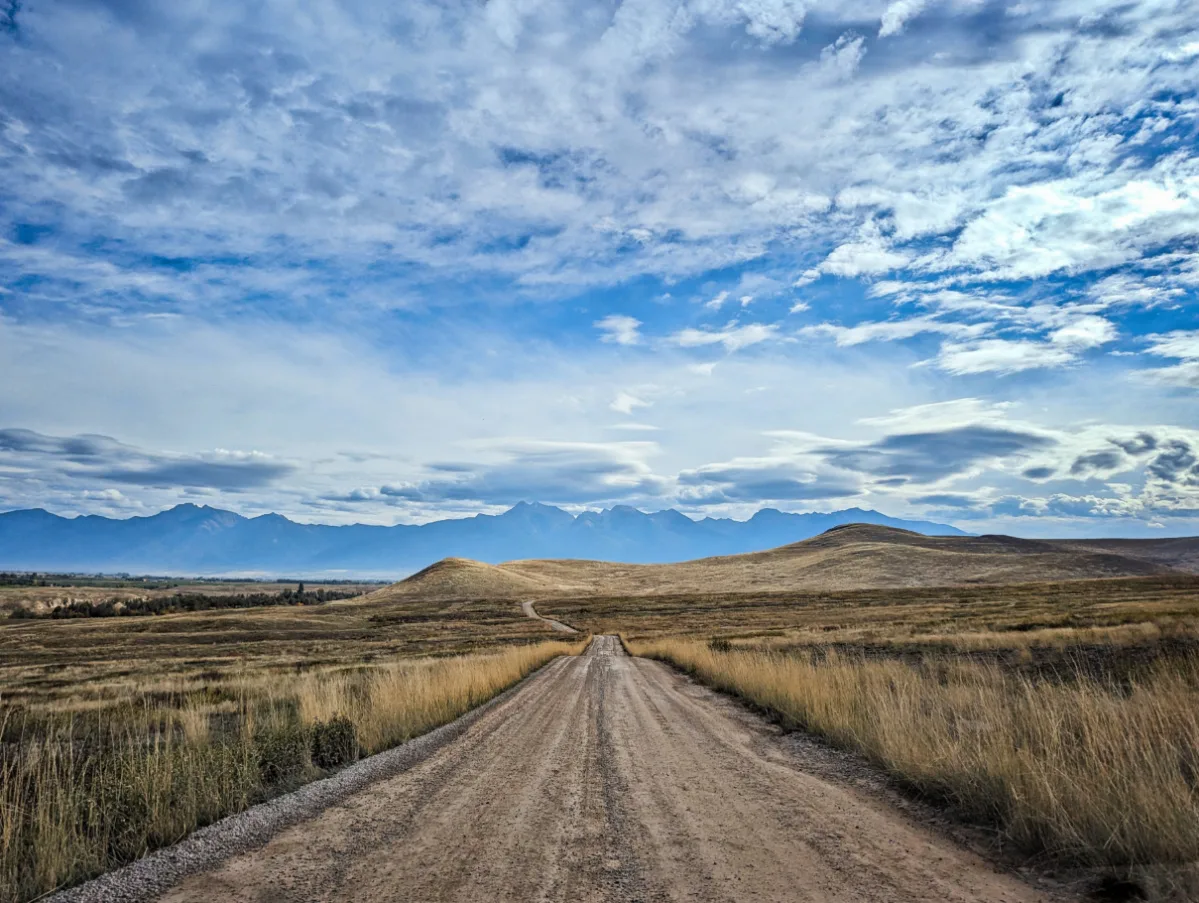 Need to Know for Visiting Missoula
As you can see, an easy visit to Missoula, Montana can be added to nearly any sort of cross country or National Parks road trip. I think what's most important to keep in mind when planning things to do in Missoula is that downtown is good for just a few days and then you really do need to explore the surrounding area. Being a college town, Missoula is fun in general and has a great, young vibe, but it's not as diverse and busy as a metropolitan city. It's very welcoming though.
Is Missoula Montana worth visiting?
Yes! Missoula is worth visiting for at least a day, if not three days. As much as I talk about Missoula being a wonderful stopover on a road trip, it's also just a fun place to visit with lots of things to do. Home of the University of Montana, Missoula has the feel of a college town paired with the history of the West and Rocky Mountains. There are plenty of unique activities from spring to fall, and even some winter sports if you're interested in that too.
Why I think Missoula is worth visiting is because it's an ideal blend of city life and outdoorsy culture. This is reflected all through downtown, events happening in Missoula, and even in the decor of the restaurants and hotels.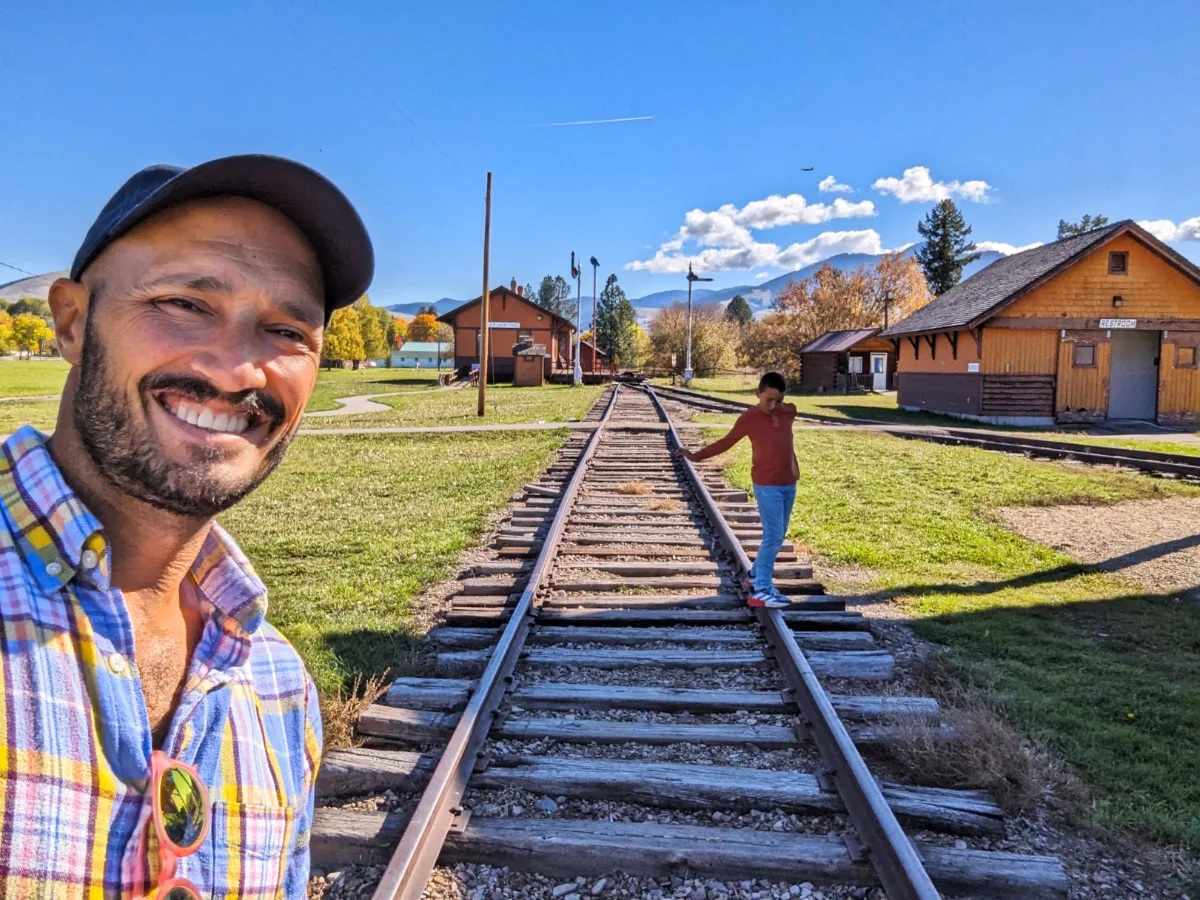 How do I spend a day in Missoula, Montana?
If you have only one day in Missoula, an easy plan for checking out the best things to do in the downtown area starts along the river. Here are five things to do if you've only got one day and the weather is cooperating with your timeline:
Start with a walk along the Clark Fork River. If the farmers market is going (Saturday) stop in and get some snacks for the day.
Pop over to the Montana Natural History Center to learn a little about the area and the wildlife. While there, get a trail recommendation based on the weather and what sort of outdoor experience you want.
Grab lunch downtown, or if you're heading up to go hiking in the Rattlesnake Wilderness from the Rattlesnake Market, then enjoy an afternoon hike.
Visit the Hip Strip in the early evening for some window shopping and dinner, including some vintage arcade time at Gild Brewing.
End your day like you started, with a walk along the river for sunset and a quiet stroll through downtown. There are lots of places to grab dessert or a cocktail, so enjoy the vibes of Missoula after dark.
Should you be planning a visit to Missoula for the purpose of doing a campus visit to the University of Montana, swap out the Natural History Center and hike outside of town for a campus tour and hiking to the M on Sentinel Mountain. That's the perfect U of M day!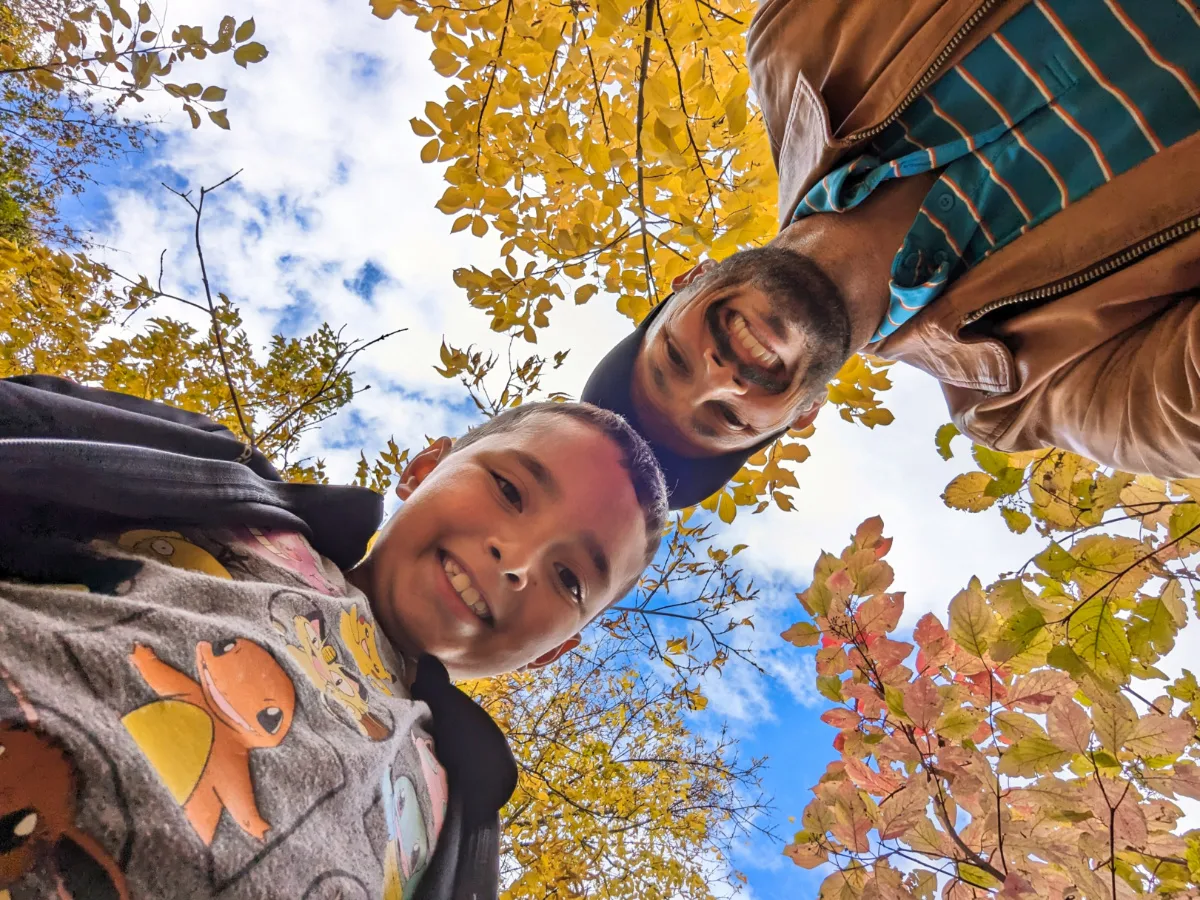 What is Missoula Montana known for?
Missoula is known for its outdoorsy culture, whether it's fishing in spring and summer, or just the scenery as the Rockies rise up to the east. Missoula is also the iconic early 20th century setting of the movie A River Runs Through It. Every time we visit and spend time on the river, even if we're not flyfishing I always feel like I'm on the set of the movie.
The other element Missoula is known for is the University of Montana, the Grizzlies. From the big M on the hill to the clock tower looking out across campus, it's what gives Missoula its young, progressive feel today.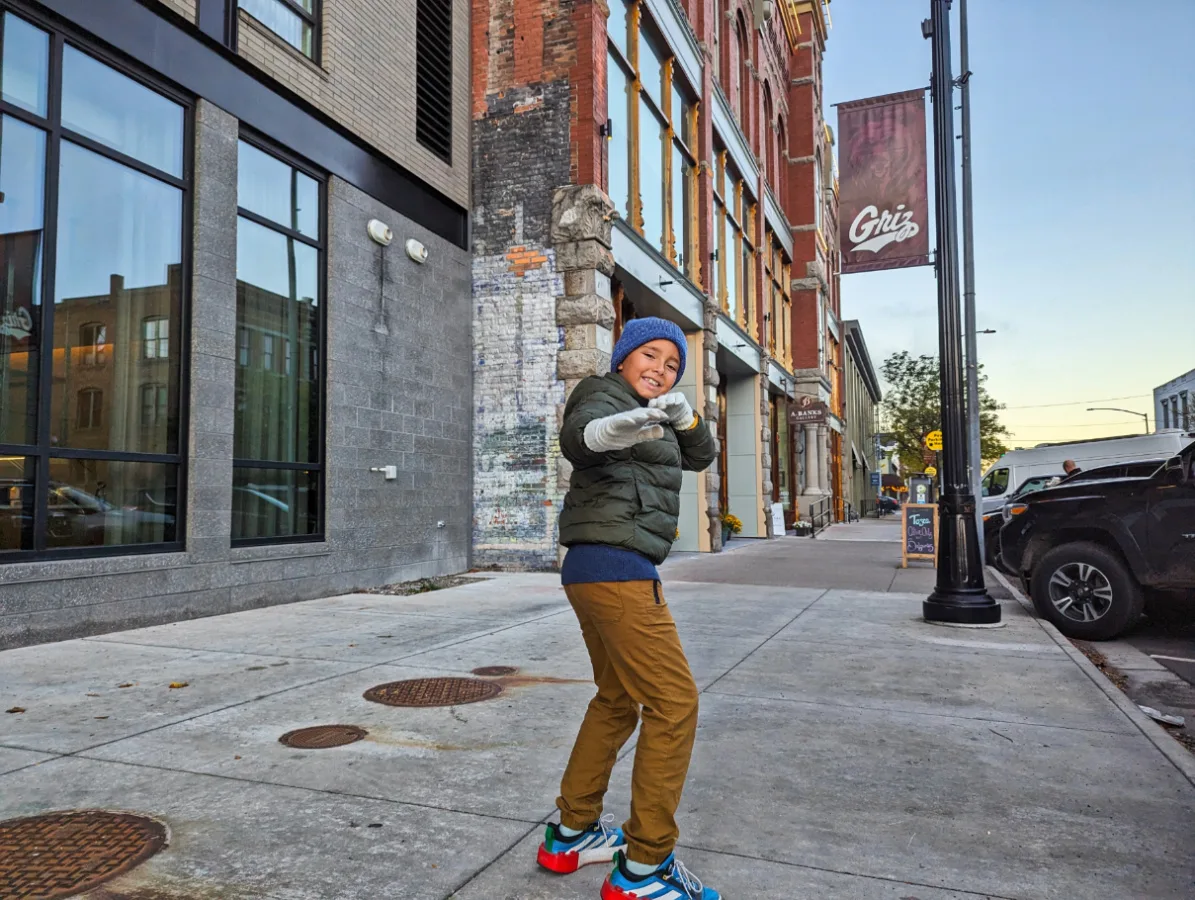 Western Montana Weather
We have incredible luck every time we visit Missoula. We never have to reschedule any of our things to do because we get sunshine and clear skies. Having said that, Missoula is just west of the Rockies which means that you should always expect a little rain, even in the summer, as the clouds need to drop their moisture before going over the mountains. In summer you'll get temperatures from the 60s F up into the 80s. Spring and fall are those seasons that bring surprisingly warm days mixed with cold snaps.
Winter in Missoula is cold! While the city isn't always covered in feet of snow, you can expect consistent snowfall all winter and sometimes into spring. We always pack for being able to dress in layers when we visit Montana, and this is very much the case in Missoula. Be ready for the worst and hope for the best!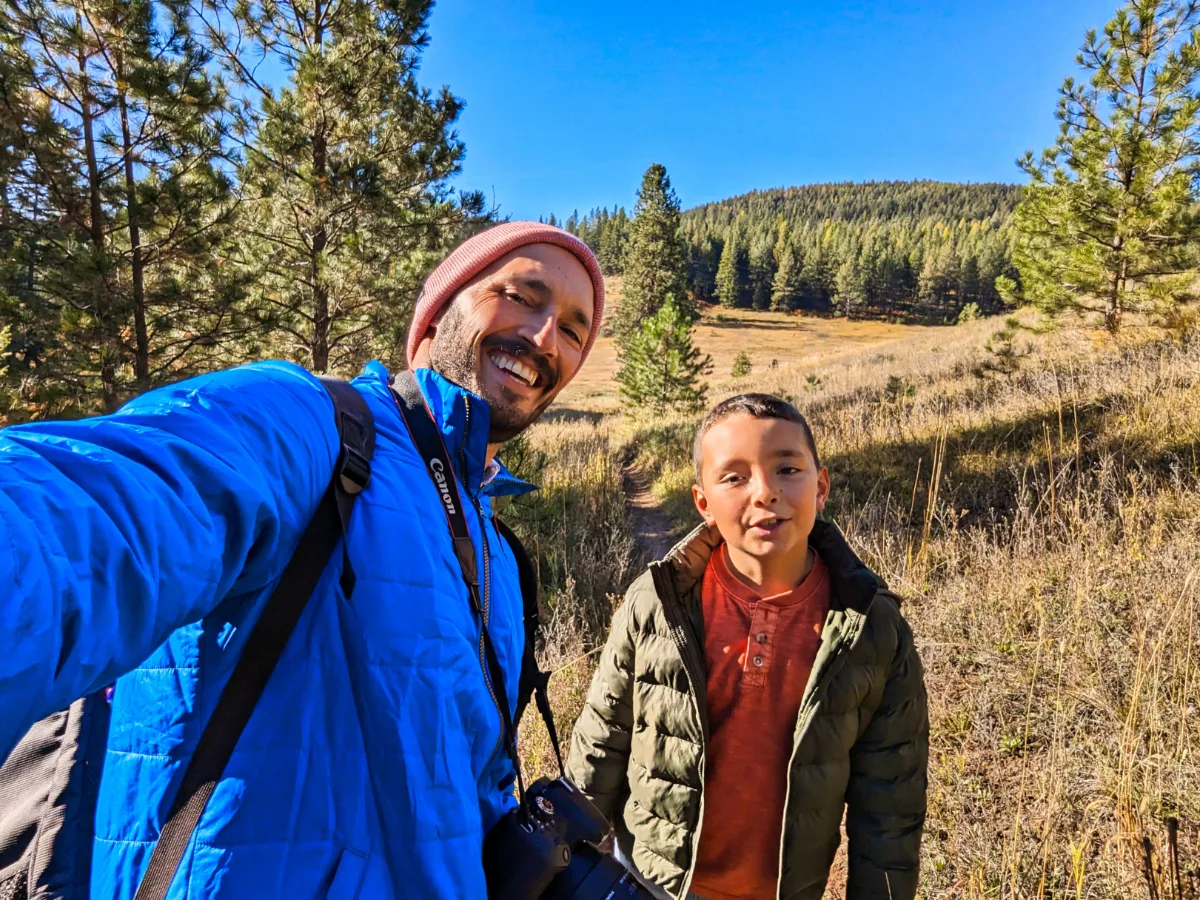 Are you excited to visit Missoula for a few days? I hope so. It's an easy city to enjoy and is a wonderful gateway to so many Montana adventures. If you have any questions about things to do in Missoula, planning a Montana road trip or anything else Rocky Mountains related, please leave a comment or send us a note. We're always happy to help and share more!