One of the most fun activities we've done as a family was getting an old time photo done. I know, it sounds silly and not like something we'd actually write about, but I have to say, it was a wonderful experience and the perfect way to bring home the best Montana souvenir possible, or anywhere really. Antique pictures, no matter how cheesy they may seem at first are something that you'll cherish for years to come.
This is a short article, but I think the experience of doing and old time photo shoot with kids is a really special activity, so be sure to watch the video at the end and carve out some time for a fun family photo souvenir on your next Montana trip or Leavenworth or Nevada Silver Country…
Tip:  check out our complete Western Montana road trip to visit some great towns that have old time photo studios, including Virginia City, MT!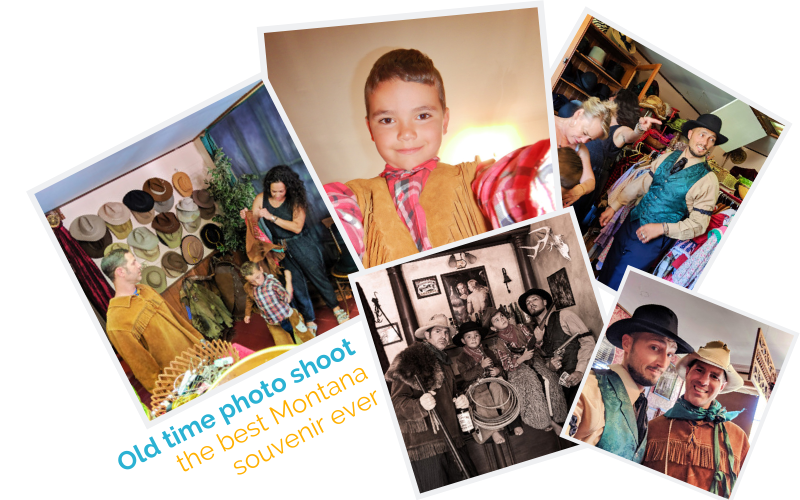 What do we mean by "old time photo"?
I'm sure that you have seen people dressed like cowboys or saloon girls or even civil war soldiers or pirates. Those people sometimes look familiar… because you are at a friend's house and they happen to have an old time photo on their wall! There are all kinds of photo studios around the USA and Canada where you can show up and choose your costumes and then do a photo-shoot on a set to create a cool and fun portrait straight out of yesteryear. 
If you didn't know this was a thing then 1.) what rock have you been hiding under and 2.) you need to do this!! By the end you'll be figuring out when and where you'll get a group together for old west photos
Origin of old time photos
Whenever you go to an old west town or are browsing through and second hand store, no doubt you've come across antique photos, usually in a sepia (brown) tone or a washed black and white. Many of these, particularly old west photos, were taken by traveling photographers. The photos they'd produce were typically a sort of daguerreotype. They were sometimes a bit blurry because the subject had to stay super still for a very long exposure, but as technology improved, so did the quality and experience.
Posing for old west style and antique photos today is much easier and faster. Good old west studios and photographers can still create the original feel and really can produce a sense of nostalgia in their art. And the experience is really fun, thus making old time photos a great souvenir!
The ORIGINAL old west photo studio
We were so fortunate to get to visit and do a family cowboy photo shoot at the VERY FIRST old time photo studio in the world. Located in Virginia City, Montana, the Montana Picture Gallery opened nearly 100 years ago and has been creating portraits and old west memories for visitors to Montana's gold country ever since. They have an incredible collection of costumes and they're super efficient and professional. You need to watch our video below!
Top tips for an old west photo-shoot
For many travelers/tourists, walking into a costume shop/photo studio is nothing but fun. I mean it's playing dress-up and leaving with a really cool photo souvenir. This can be stressful for some people though, between sensory overload issues and people being uncomfortable fitting into costumes, there are some surprising obstacles you might need to manage. Don't worry though! We have tips to make it easy and fun for everybody!
If you're visiting Bavarian Leavenworth, you can do an old time photo shoot OR a Bavarian themed shoot, complete with lederhosen and everything! It's a totally different way to enjoy this unique souvenir opportunity!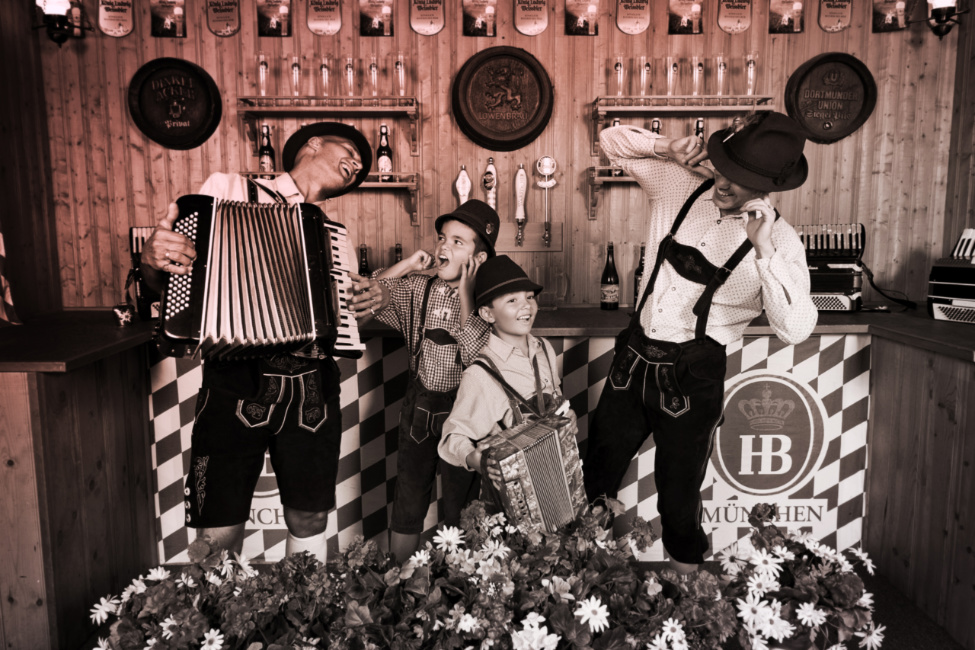 Managing sensory overload
Every kid (and adult) is different, for sure, and every child responds to their environment differently. To say that being in an old west photo studio is not overwhelming would be a lie. There are racks of costumes, there are props, you'll see a variety of sets/backdrops depending on the photo studio. Add to the general presence of fun and unique things the part about choosing a costume and dressing up and it's a full-on experience. Even as an adult too many things happening at once brings on my own anxiety.
We recommend having somebody from your old west photo group scout out the studio first so things can be easily explained and confusion can be minimal. This is really helpful if you've got kids with you because the staff of the studio can put together costumes before anybody is even there. Planning a little ahead can be a big win!
Tip:  if you have a child that is easily overwhelmed but you all would like to do an antique photo shoot, it may be best to take the guessing out of the game and select a costume and any props before hand so you can closely manage expectations and give full attention to the one who needs it.
Selecting Costumes for an old time photo-shoot
When it comes to choosing costumes for an old west photo shoot there is great potential to have tons of fun. Guests with either personal space or body concerns may not be looking forward to this part, even though they may just go along with it. Here's the thing though, and what makes dressing up for an old west photo great for everyone, is that the costumes are all slip on so they can easily cover our modern clothes and there's no fuss fitting into anything.
What I mean by slip on costumes is that a shirt, for example, is already buttoned up and you just slide your arms through the sleeves and then tie the back closed (or not). Super easy and most costumes are one-size-fits-all. Old time photo studios are GENIUS!
Note: the photographers and stylists (if there are multiple staff at once) are very experienced putting together costumes that people enjoy and are comfortable in. If you're up for trusting them, they will make you look awesome and with great ease. They know how to help you and make you look and feel special, making it a great experience.
Props and fun from the old west
We are all about the props and love getting to choose what our old time photo characters get to use. When you're doing a group photo shoot, people may all have different ideas, so work together to make a great scene. A few props that the antique photo studio may have available are lassos, booze bottles, playing cards, tools, guns… Guns. Let's have some #RealTalk:
We are completely an anti-gun household and it's no secret. Our kids, however, have this built-in fascination with guns. We don't get it. Before doing our old time photo shoot, the kids both picked guns for props. We allowed them to because of the context: 1.) old west  2.) photo prop – not real and 3.) they know that real guns are no joke but an old west photo shoot is acting. They were very excited to get to have gun props and used them only as such, mimicking what they've seen in movies for the sake of the photo shoot.
I know, that was more information than you were expecting about our household views, but a lot of parents feel the same way and those who have seen our pictures have directly asked about the guns in the photo shoot. As a liberal, vocal, anti-gun parent I was fine with the use of gun props and knew the kids understood. The end.
If you do other types of studio shoots like this, you'll see that they all tend to have a wide variety of props appropriate to the subject matter. In Leavenworth doing our Bavarian shoot they had cocoa mugs instead of beer steins for the kids. Studios are smart about making the experience family friendly.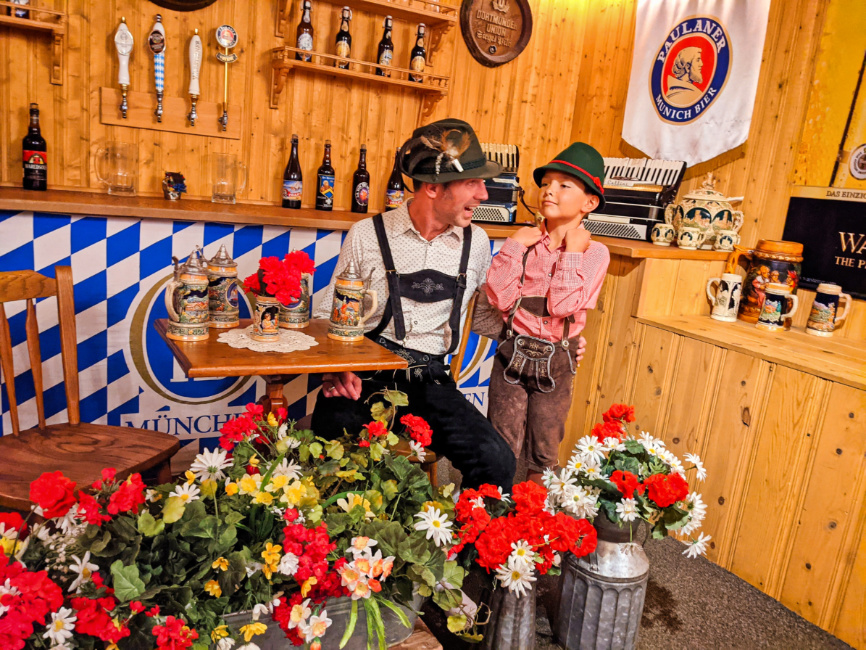 Where to find old time photo studios
Now that we've told you all about the process and experience, you totally want to get an old west or old time photo done, right?! They really are a wonderful souvenir when traveling. So how do you find an old time photo studio?  Swing a dead cat in a tourist town; you'll find one. Actually, knowing the history of an area will help. If you're in the following places, you can probably find and old time photo studio:
mining country – think Montana, Yosemite country or North Georgia
old west country – are there ghost towns or ranches around? Reno/Carson City, NV is great!
historic districts – St Augustine, FL is a great example of an historic area with old time and pirate costumes available
tourist towns – even tourist towns that aren't "old west" often have old time photo studios. Leavenworth, WA has a great one!
fairs and festivals – that's right! There are traveling old west photo studios that set up almost anywhere (but not using daguerreotype)
Really, now that you've read this you're going to see antique photo studios and costume shops everywhere. All over Montana, California's Gold Country, Tennessee's Pigeon Forge area, and up in New York's Adirondacks you can find studios. Just keep your eyes peeled.
Our family old west photo shoot
And now, enjoy watching our family be silly and have fun. We were lucky enough to do our old west photo shoot at the Montana Picture Gallery in Virginia City, Montana. As I said, this is the original, very first old time photo studio and their collection of costumes and professionalism showed it.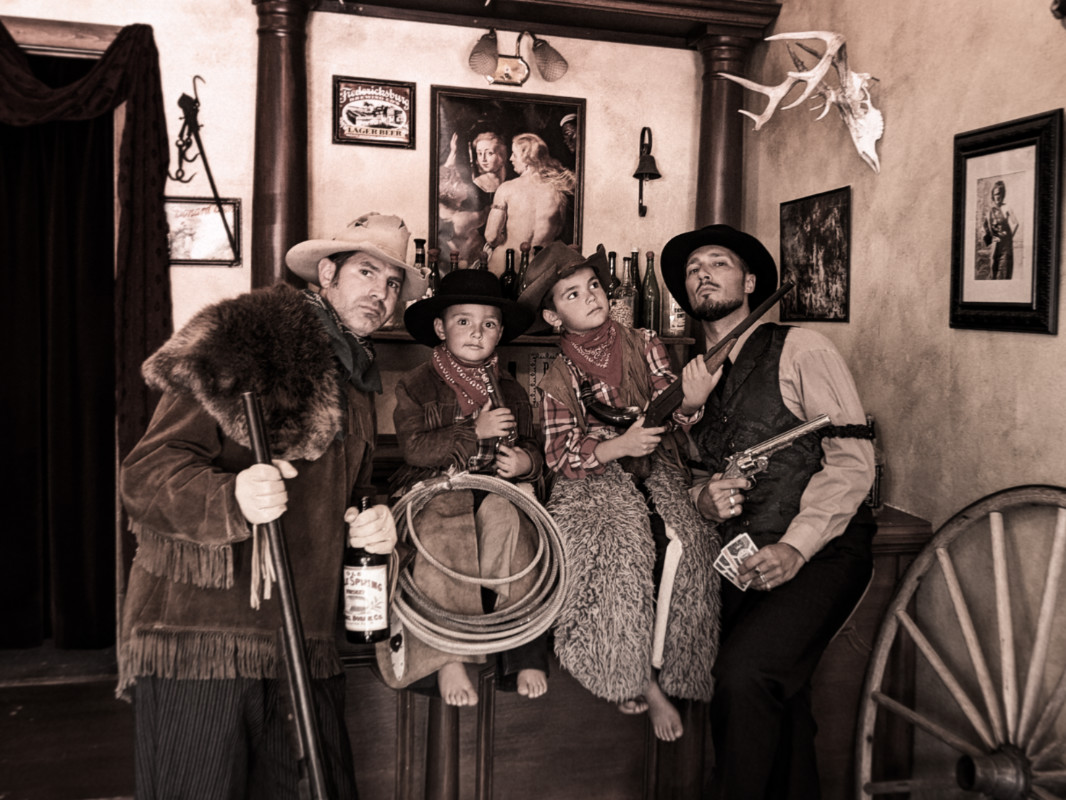 Enjoy the fun and cute kids.
If you have any questions about our experience doing a photo shoot with kids, our time in Virginia City, MT, or anything else, leave a comment or send us a note. We're happy to help you have an awesome experience when you're traveling… and we're great at picking out old west costumes.
Want to pin this for planning your own road trip activities in Montana or elsewhere? Go for it!