When we first heard about the King and Prince Beach and Golf Resort, we'd never heard of St Simons Island, Georgia.  Since that first trip years ago, we've been back to the island many times. The King and Prince is a fantastic place to stay on St Simons Island and is the perfect mix of Coastal Georgia and resort luxury.
This is our review of staying in one of the condo units at the King and Prince Resort and the fun we enjoyed on and off property. This is a great place to stay at the start or end of a Georgia Coast road trip.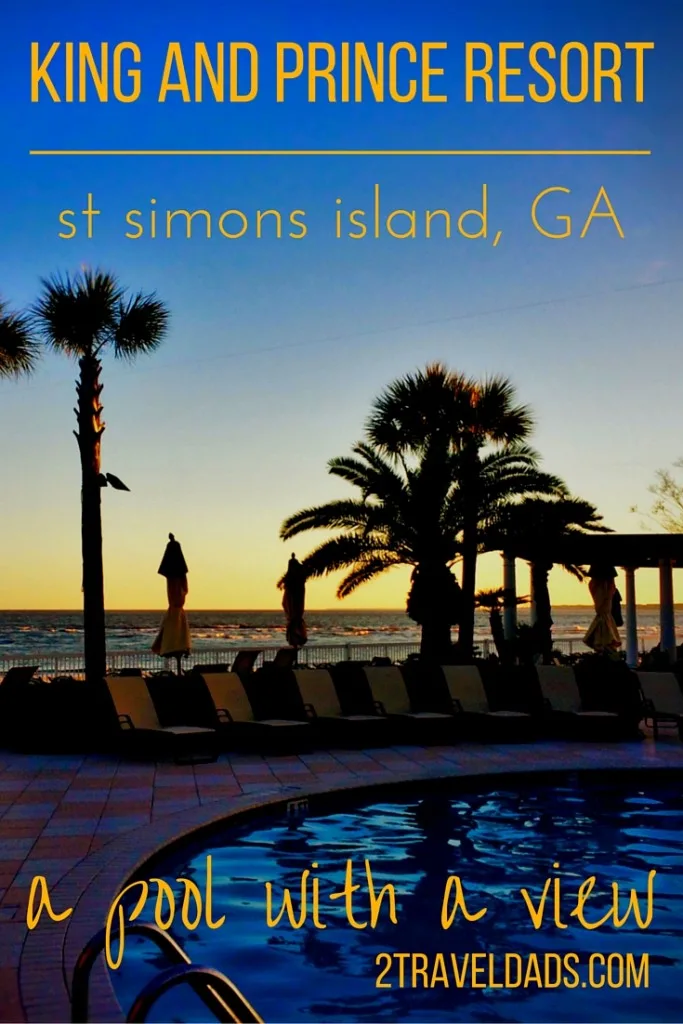 The King and Prince Resort welcomed us in and we loved our time there.  We wanted to move in…but we couldn't.  Now we do have a favorite destination in Georgia and a place that feels like home to go back to at the King and Prince Resort.  It's so nice and as close to perfect as you're gonna get.  
The setting of the King and Prince
At the southeastern most end of the State of Georgia are the Golden Isles, a group of barrier islands separating the mainland from the Atlantic Ocean.  St Simons Island is one of them and it's quite a gem.  Filled with old homes, a few plantation houses, a towering lighthouse, an old British fort and miles of pristine beaches, St Simons Island is really a magical place to spend a week.  Take a look at all of the awesomeness we took part in while out and about on St Simons Island.
With its own beach access, the King and Prince Resort is directly off the water and offers either a visit of just relaxing on your balcony or the beach OR exploring the rest of the island.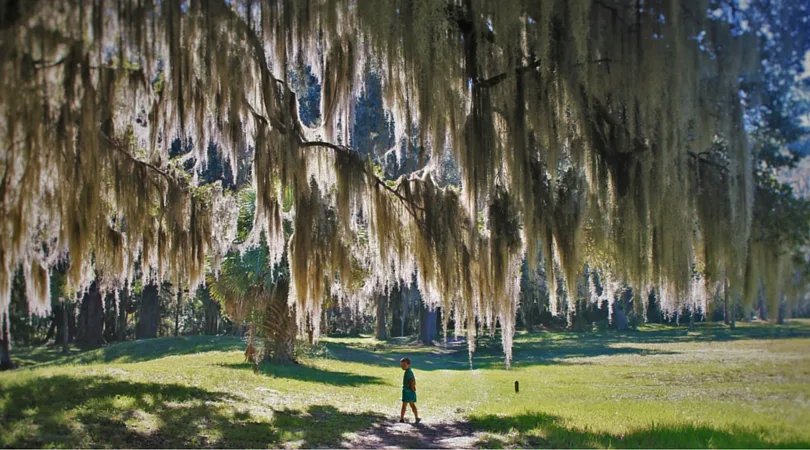 History of the King and Prince
Picture it, 1935, Sicily… or St Simons Island, Georgia.  The Great Depression was on the upswing and the world was recovering.  So what do you do?  Go dancing!  The King and Prince opened as a dance club and became a hot spot for fun and frolic… And then WWII hit and it housed military watch and training operations.  But then the war ended and it was turned into great getaway spot again.  Over the next 60+ years it went through several layers of expansion and renovation until it became the really cool, really beautiful destination on the beach that it is today.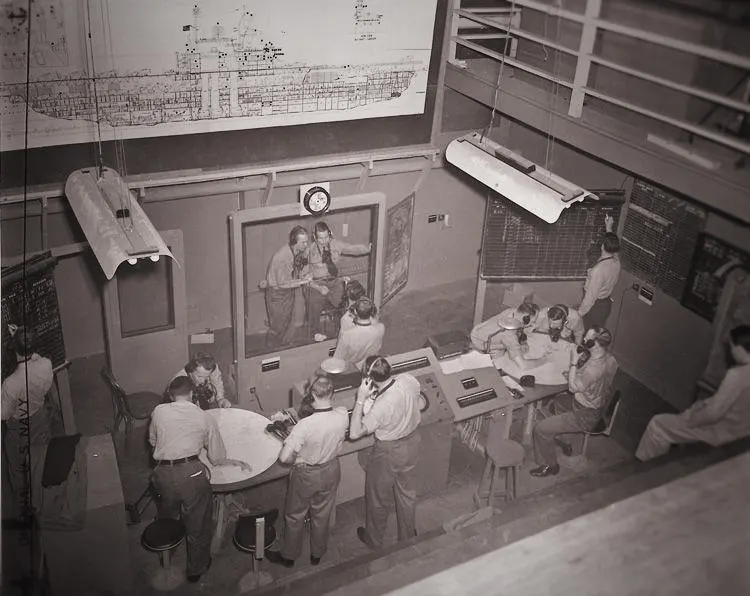 There is a nifty historical book available from the Images of America series if you want to see the progression of the island over the years. It's gone from a remote night spot to a community and vacation destination.
Other interesting changes on St Simons Island over the years include the original lighthouse being torn down in the Civil War and then rebuilt, Fort Frederica being built and destroyed, battlegrounds and plantations disappearing into the live oak forests and more. St Simons Island and the area around the King and Prince Resort is fascinating.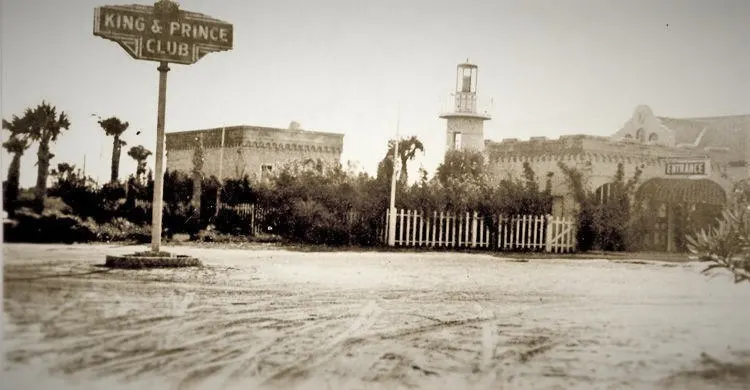 Staying at the King and Prince
Check in was smooth sailing and overall everybody we bumped into was ready to chat 'til the cows came home.  It was pure Southern Hospitality around every corner. Arriving in off-peak hours always helps when it comes to staffing.
The best service was in Echo Restaurant where there was no shortage of staff and everybody was ready and willing to help a couple of dads at the drop of a hat.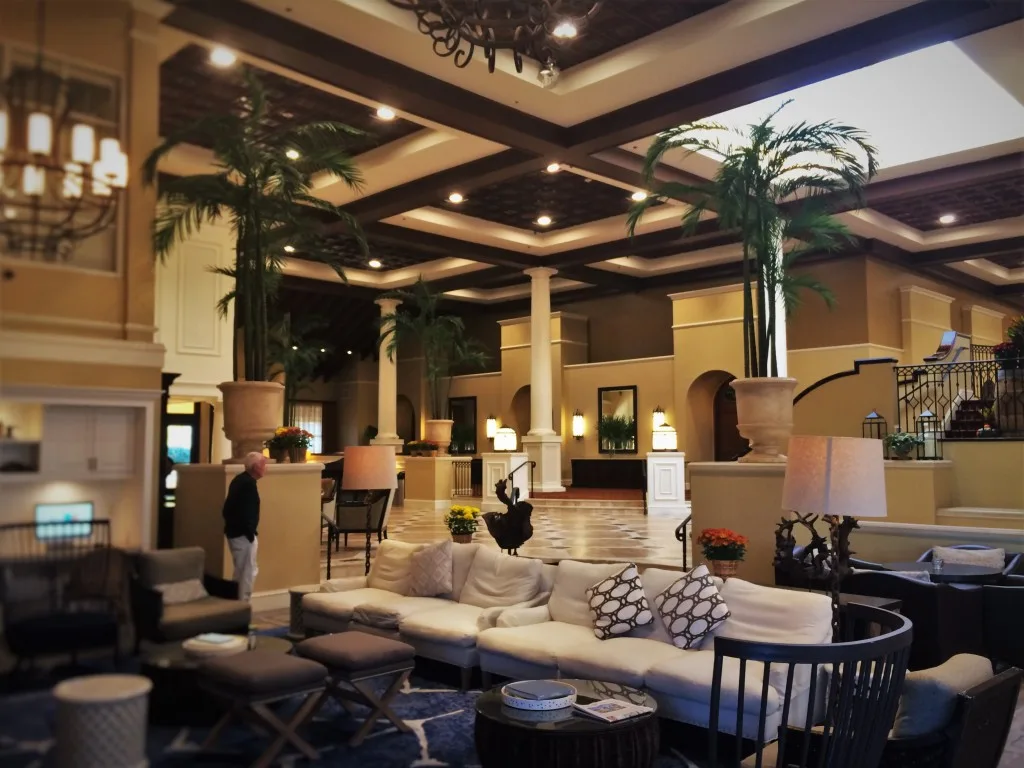 The concierge was helpful too.  We're big travelers who go everywhere prepared and with a plan…except here.  When we arrived in our room, our hosts had left notes and such for us to ensure we had a great time (including pool toys for the kids), and there was something for bike rentals. 
We often do bikes on vacation, but not all the time with kids.  We called the concierge though and left a message and within minutes she'd returned our call and got us set up on riding around the island with the kids in bike trailers. 
Tip:  in any hotel, don't be afraid to ask the concierge for help or a recommendation.  That's their function.  True, there may be activities or dining that they get a commission from, but every hotel and concierge knows that sending you someplace that's not what you're looking for or that's a waste of time will only reflect badly on them.  Ask for help with the confidence that they'll support your enjoyment.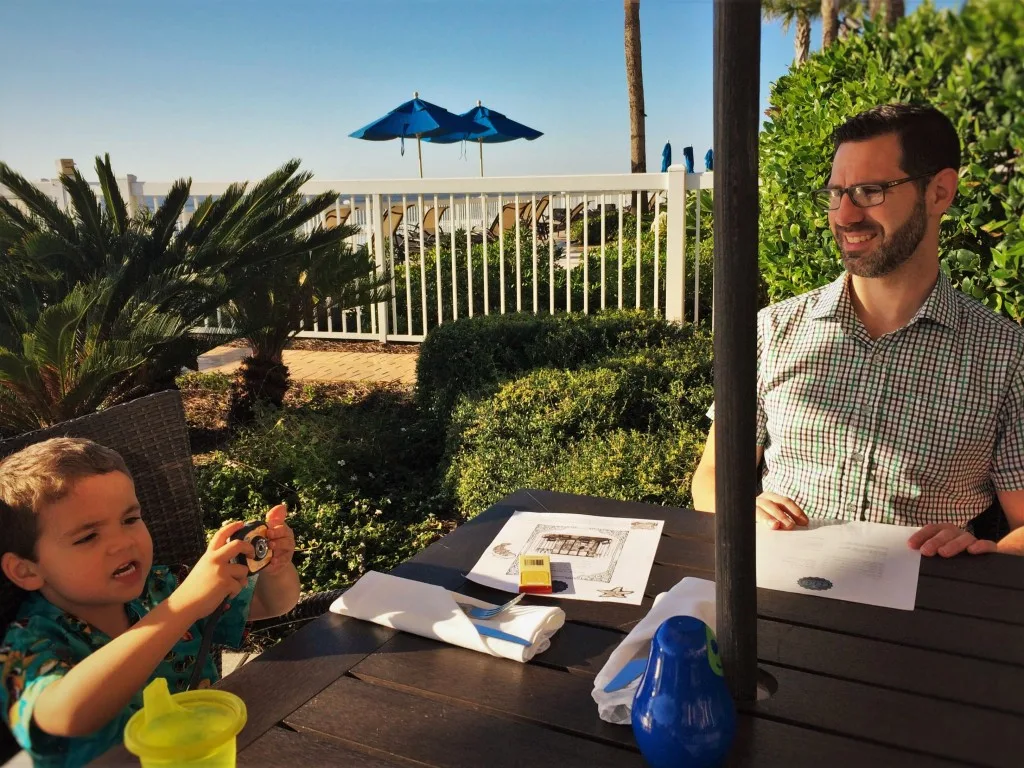 The beach at the King and Prince Resort
It seems like every beach we step foot on is our favorite.  The beach here at the King and Prince wasn't, which was odd.  Granted, this is no reflection on the resort at all, but the beach just wasn't awesome like Driftwood Beach on Jekyll Island or Crescent Beach (our home-beach in FL).  The water was warm, but due to the exceptionally fine sand, the water was murky and you squished down as you walked in the waves.
There are waves at high tide, but due to the enormous sand bar that you can walk out to, the waves are really small from low to mid tide.  There also were very few shells on the beach, and for beach combers like us, that was a bit of a bummer.  We still had tons of fun playing, but it just wasn't the greatest beach on earth.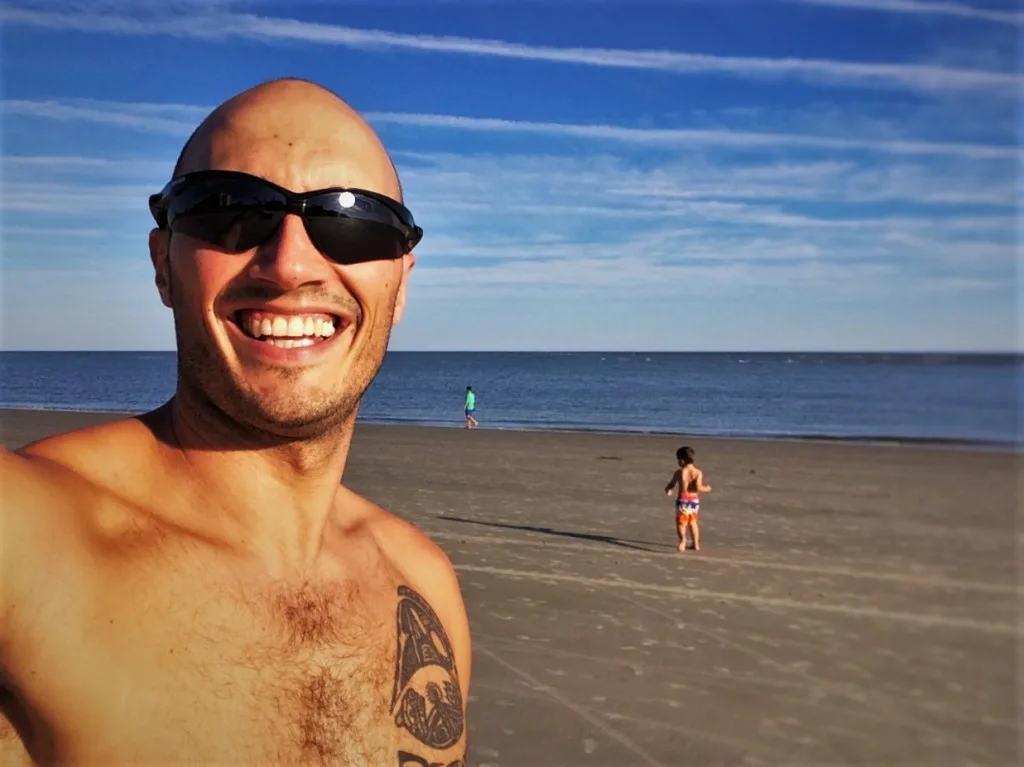 Tip:  if you've got kids that nap or you think you'll be splitting up the group at any time, ask if you can be in a room/suite that has a view of the pool or beach.  This is helpful so you can see what's happening with the rest of the fam and can join them later…or capture candid shots of them playing in the waves.
On our last morning at the King and Prince resort, we were able to watch dolphins playing in the surf from our balcony.  It was one of those magical vacation moments and made us even more sad to check out in a few hours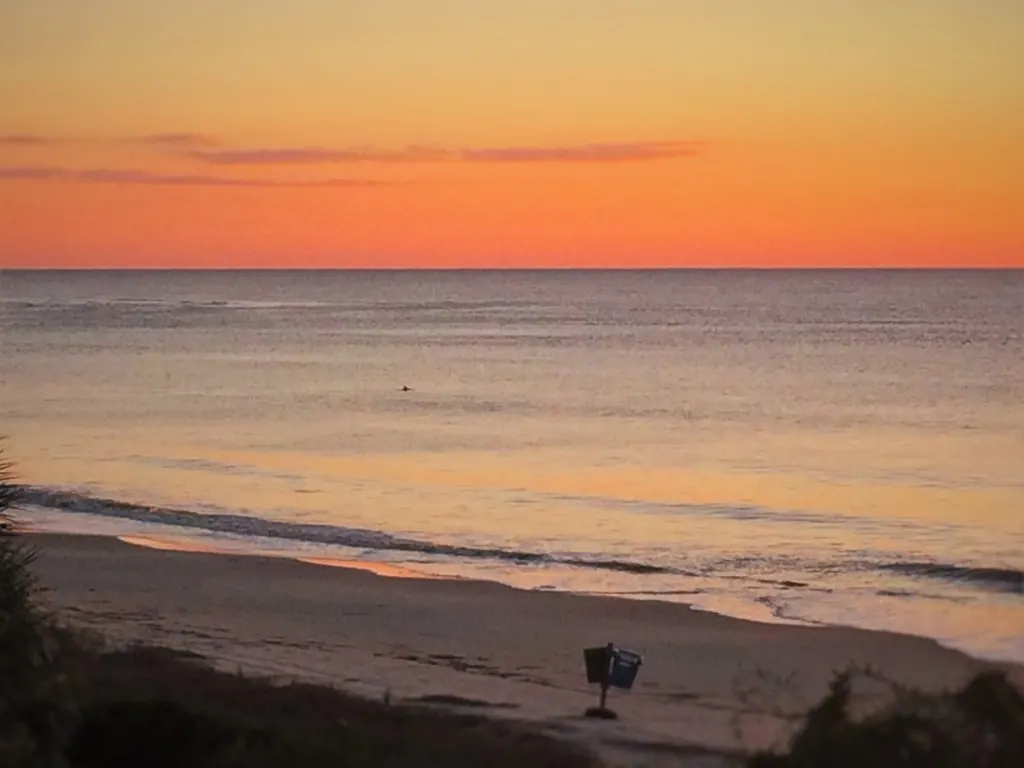 The Pools at the King and Prince
There's a bunch of pools at the King and Prince Resort.  The pools are all well equipped with lounge chairs and there is towel service until a certain point in the day.  Only one of the pools is heated (the one closest to the lobby), but if it's warm enough outside to want to jump in, then the water is warm enough to go swimming.  At least that's our motto.  
There is a nice, shallow kiddy pool that's adjacent to a larger adult one, and the set up allows for great involvement and easy supervision.  There are also a few hot tubs, which are strategically placed to keep them out of the wind, making tub time even better!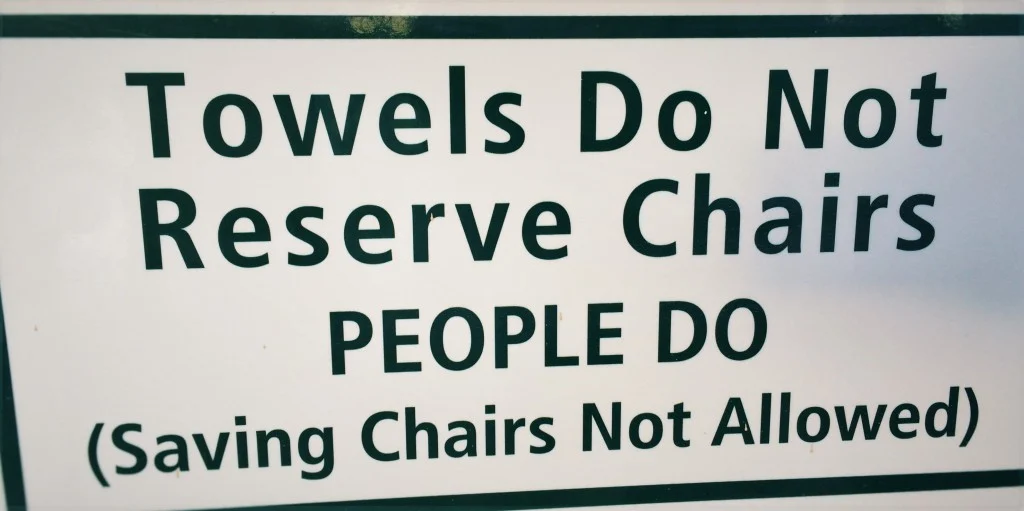 Note:  the King and Prince is smart and understands human behavior.  They've placed courteous but strongly worded signs around the pool area stating "Towels do not reserve chairs, people do."  If only all resorts were so bold… (cough cough, any place in Mexico…)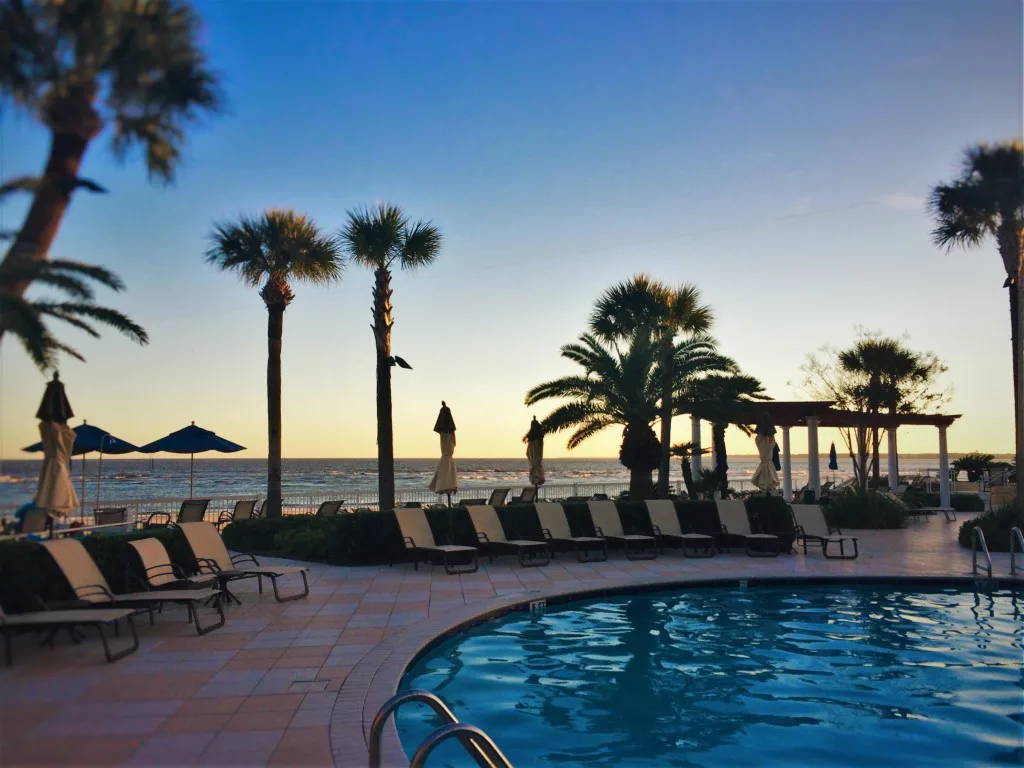 Accommodations at the King and Prince
We were fortunate to walk into a full on apartment.  That's right, after being on a long road trip in cramped quarters we burst into our suite and everybody just chilled.  We could've just moved in.  For realz.  Two large king bedrooms, each with their own bathroom, a walk-in closet, full kitchen with pantry, wet bar, laundry machines, full balcony, dining area, large living room…  Seriously, this sort of room was meant for us… to stay forever.
The couch and chairs in the living room were wonderfully comfortable.  We felt at home enough that when the kids went to bed, we moved into ultimate vege-out mode, laid on the couch and watched Scandal.  You know you're comfy when you fall asleep mid-show on a hotel couch.
And the beds were wonderful too.  The sheets were adequately soft and LOTS of pillow.  We use a ton of pillows.  No shame in admitting that.  And it's not every day that your four year old son gets a king bed all to himself.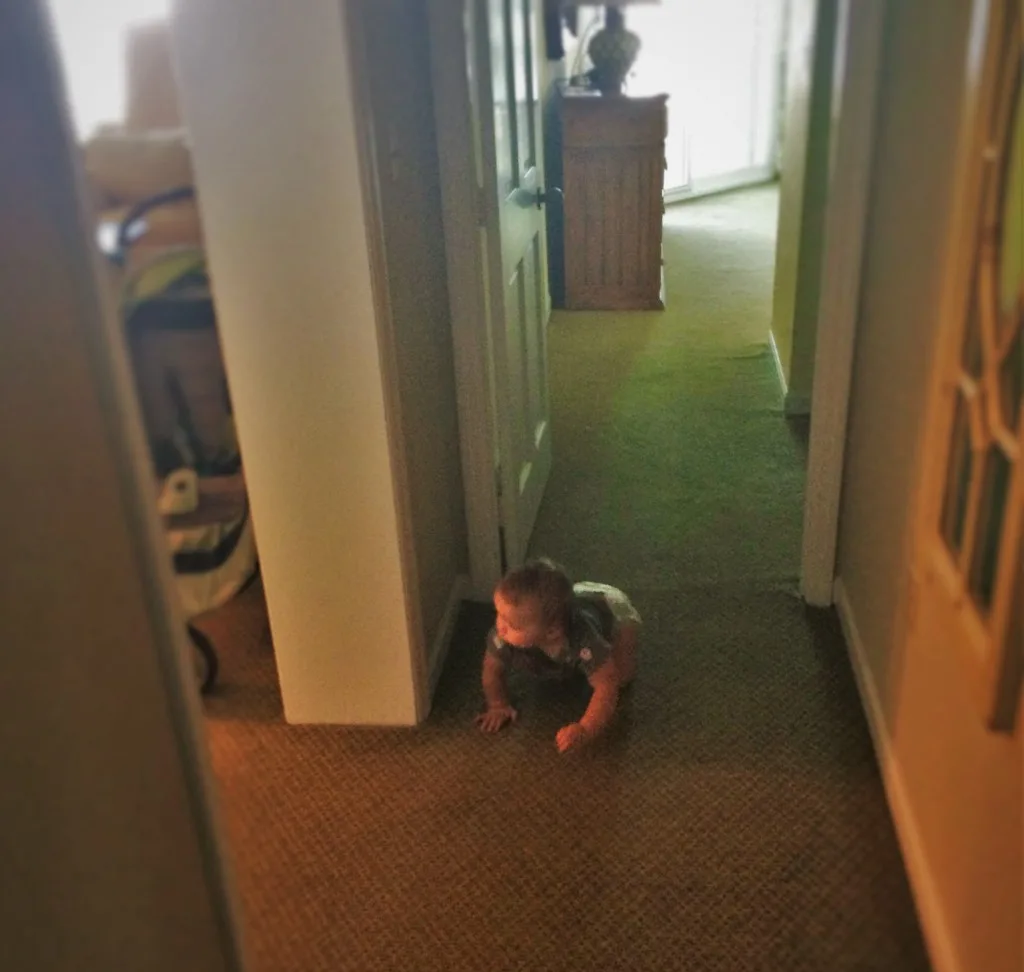 So, this might sound weird, but having a large walk-in closet and packing very lightly, we were thankful for all of the space.  Why, you ask:  because a pack-and-play fits just perfectly in there and it was ideal for granting our youngest a nice quiet space that was pleasantly dark.  And if you think this is weird or dangerous, it totally wasn't, as it was in our room and the doors were slatted and didn't lock or anything.
Tip:  if you're traveling with kids, it's okay to rearrange furniture or use space however you see fit when in a hotel.  It's courteous to move things back to how they should be and tidy up after yourself though.  Check out all of our tips for hotels with kids.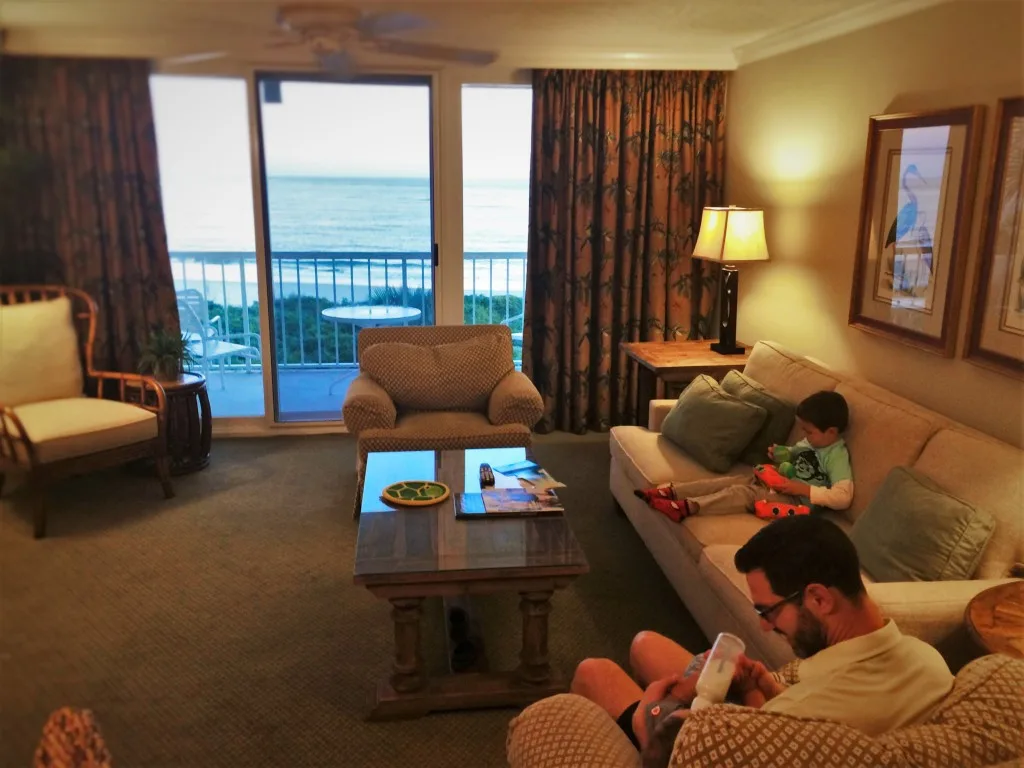 Dining on Property at the King and Prince
We shared our full dining experience in another article, but let's just say that for four meals, there was only one dish that didn't blow us out of the water, but still was pretty good.  Echo Restaurant has such a great setting with indoor, veranda or patio seating. 
The menus are diverse, the drinks are really smart, and the kid menu options will really surprise you.  And since we mentioned it, Echo knows that families are there together and the restaurant has created kid menus that truly support family dining:  good, non-standard food choices and prices that directly reflect that the resort is glad to welcome everyone to the table. 
And in case you don't read our article about Echo Restaurant, know that the Seared Tuna and the Crispy Egg were the two most amazing foods we've gotten in any restaurant ever.
Tip:  get the fried scallops and the seared tuna at every possible chance you have.  The seared tuna haunts us and we can't find any place in the Seattle area that makes a comparable dish.  It seriously got into our heads and we can't escape its haunting.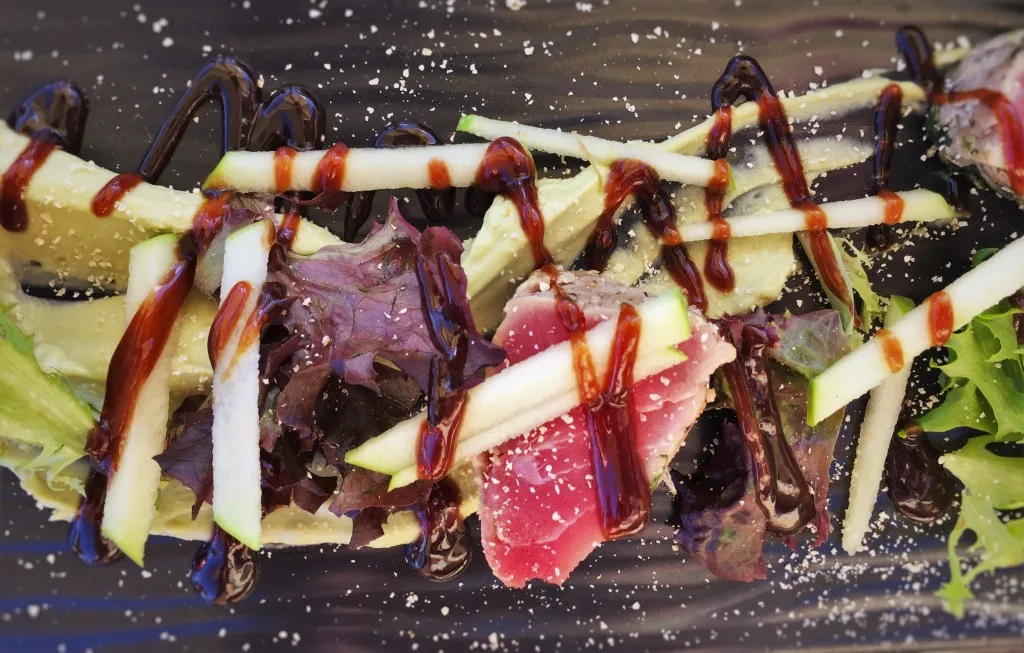 Golfing with the King and Prince
It exists and the course is beautiful.  We aren't golfers so can't rightly give our opinion of the course, but in talking to a few locals, they all said wonderful things and that we should try it out.  Maybe next time… if we learn to golf.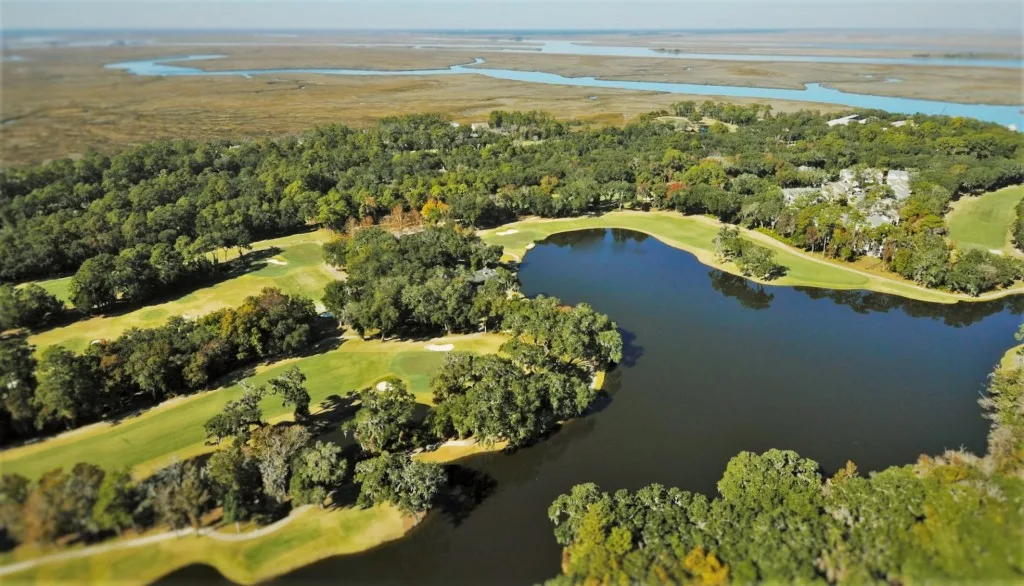 Nearby Day Trips from St Simons Island, GA
You don't have to check into the King and Prince Resort and then stay there for your whole time in the Golden Isles. There are plenty of great day trips to do away from the resort. On St Simons Island, you'll find fun places to explore like Fort Frederica National Monument or the St Simons Island Lighthouse and Maritime Museum.
Just off St Simons is Jekyll Island with lots of things to do too! There you'll find the Georgia Sea Turtle Center, the Horton House ruins and trails, more awesome bike paths, and some wonderful riverfront dining.
If you head south just a bit further to St Marys, you'll come to the visitor center and passenger ferry for Cumberland Island National Seashore. This is a MUST DO trip, but it's also a must-plan trip. You can't just show up, but need boat reservations and you'll need to be equipped to have a full day on the island without many services. It's worth it though for the pristine beaches and WILD HORSES!
---
Will we be back? – Yes.  We are in Georgia every few months and the hour and a half drive from St Augustine is well worth it.  If you're heading north out of Florida, it's not crazy-out-of-the-way and is easy to invest a few days in relaxing and rejuvenating the family.  The King and Prince Resort is a totally kid-friendly AND adult appropriate place.  We actually wouldn't mind going back and spending some time just relaxing…without the kids, maybe?  Nah, they enjoyed it too much and would have choice words for us if we did that.  We'll be back though, for sure.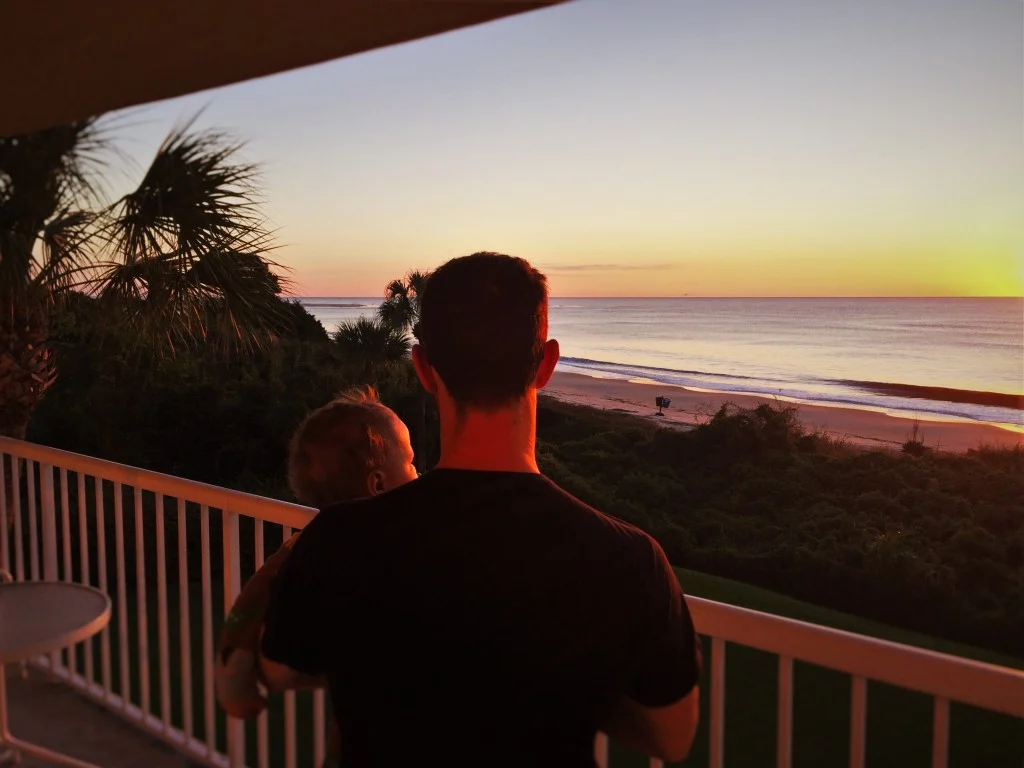 Thank you, King and Prince Resort, for welcoming us in and making our family feel completely warm and at home.  Your Southern hospitality was genuine and made these dads sad to leave.  Our opinions of you are quite high and we'd strongly recommend the King and Prince to families of any sort heading out to the Golden Isles.