Have you ever done a Georgia Coast road trip? No?! Well now's your chance and you will love it! A road trip along the Georgia coast is rather surprising, as it's not a big long beach like doing a California Coast road trip or a Florida Gulf Coast trip. But it's awesome!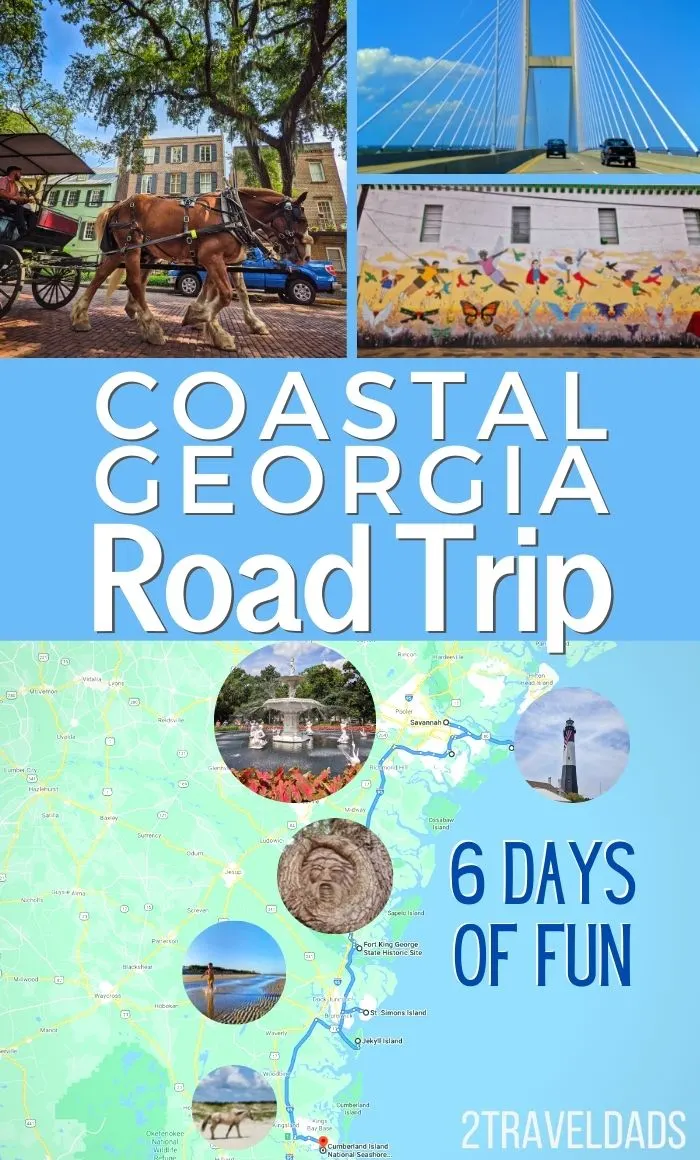 A lot of people ask us about living in the South and how to get the best of both beaches and history. Doing a road trip from Florida to Georgia is the perfect way to get the full experience. A road trip from Atlanta is an option too, but that's a bit more complicated. Here's the scoop though for having an incredible coastal Georgia road trip including Tybee Island, Savannah and the Golden Isles.
Get my book, The Road Trip Survival Guide, to help create a memorable vacation!
Getting to the Georgia Coast
If you're not familiar with the map of the East Coast, you may think that Atlanta is super close to the beach, but it's not. Savannah actually isn't even a beachfront city, but it's pretty close. So, how do you get to the beaches of Georgia? While heading to the coast is one of the best road trips from Atlanta, it's not the best way to get to Savannah.
This Georgia Coast road trip map shows the route, drive time from Atlanta to Savannah, and road trip stops from Jacksonville northward.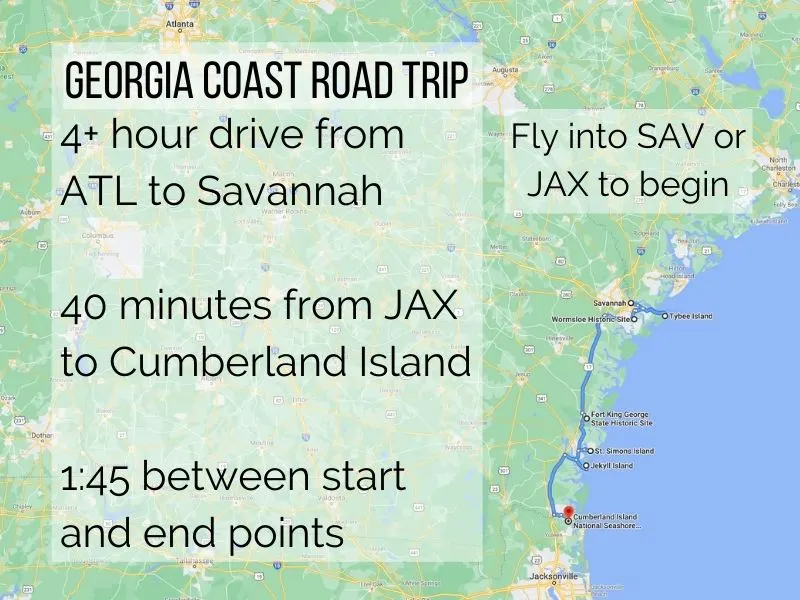 Flying to Savannah, Georgia
This is the easiest way to get to the Georgia Coast. Fly into Savannah-Hilton Head International Airport (SAV) direct from more than 20 airports in the USA. If you're coming from Denver, Dallas, Chicago or New York, you'll have lots of options. Also, there are direct flights from Minneapolis (MSP) which means that you can get to Savannah from nearly anywhere.
Flying to Jacksonville, Florida for a Georgia Coast Road Trip
Flying into Jacksonville, FL (JAX) is also an option. Located less than a half hour from the Florida-Georgia border, flying into JAX is another great way to start your Georgia Coast road trip. Add a few days to explore Jacksonville, Jacksonville Beach, Saint Augustine or the Florida springs and you have a truly winning vacation plan.
Scenic Route to Savannah, Georgia
The Atlanta to Savannah drive is a fun one. The distance between ATL and Savannah is about 270 miles, so it's not just a quick jaunt. You can go two different ways: the scenic route through North Georgia or the main freeway. 
I love doing the Georgia waterfalls road trip and doing the many hikes in gold country, but if your goal is having a Georgia beach vacation, you may want to skip it.
After you land, drive from Atlanta to Savannah along I-16, making a stop in Macon, GA. It's about a four hour drive. You could also go via I-20 through Augusta, GA, which would give you lots of interesting Civil War sites to visit.
Ultimately though, the fastest way to start your Georgia Coast road trip is by flying into Savannah or Jacksonville, FL. Unless you have ridiculous stopovers to those airports, you'll nearly always save time and money by flying into SAV or JAX. You can also start this road trip after driving the coast from the north stopping at beaches in North Carolina and into South Carolina before coming to Savannah.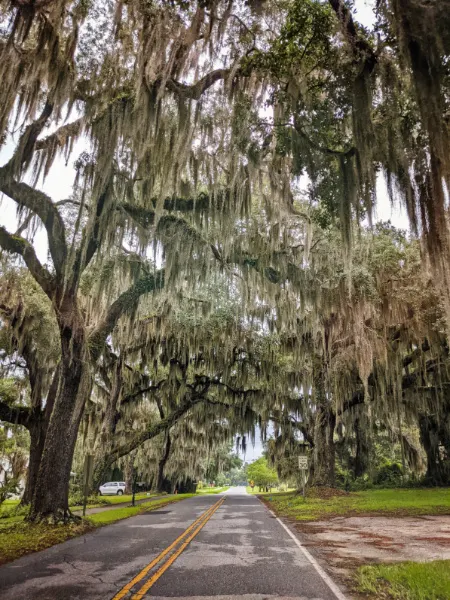 When is the best time to do a Georgia Coast Road Trip?
Of course summer is the best time to do a road trip on the Georgia Coast, but fall is really perfect. Due to the warm climate, visiting Coastal Georgia in fall means that you'll have pretty nice weather still with pleasantly warm beaches.
Mid to late spring is also really great for any Georgia road trip. For driving down the coast, you'll be getting the start of the sunshiny weather and still will be missing the summer crowds. The water doesn't warm up much until around May, so doing a spring trip might be a bit chilly if swimming in the ocean is one of your goals.
Note: Coastal Georgia is subject to the Atlantic hurricane season, but it's rare that a named storm actually makes landfall. Summers do bring tropical rains though, but it's usually short lived.
Winter on the Georgia coast is wet. It's not even slightly crowded, except for people visiting Savannah over the holidays. Expect rain and wind December through March. We've been in February, April, July, October and November and April – October have definitely been the best weather-wise.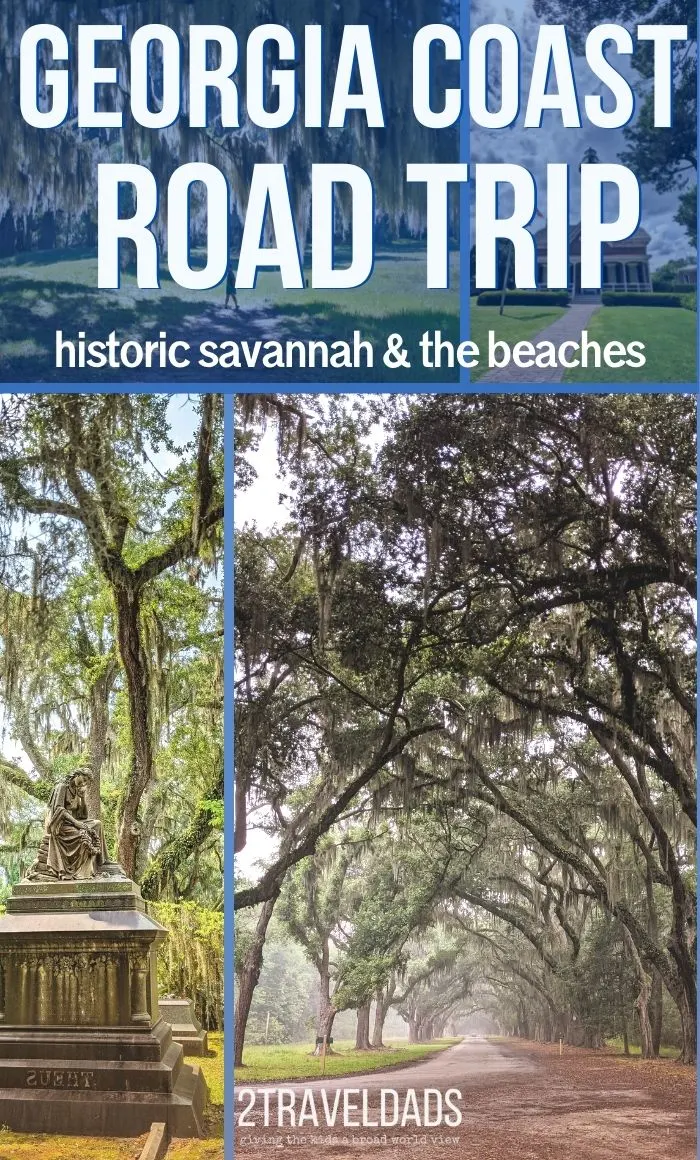 Georgia Coast Road Trip Stops and Sights
Unlike driving Florida A1A all along the coast, doing a Georgia Coast road trip is NOT along the beach. Because Georgia's barrier islands are so undeveloped and protected, there isn't a coastal road.
The route to Savannah (or from) is mainly along I-95 which leads all the way to Miami. You can drive on state highway 17 for a portion of the road trip, but even then it crosses 95 or joins it. If you drive the 17 you'll be able to easily make stops at road side points of interest, and you'll have a chance for easy wildlife watching.
Jump to our 6 Day Georgia Coast Itinerary
Fun Things to Do in Savannah
Savannah really is a highlight, if not THE highlight of a Georgia Coast road trip. Between the history and the live oaks dripping with moss in the parks and squares, it's magical. There is great food around every corner and since downtown is considered an entertainment district, you can stroll the streets with a cocktail in hand.
Savannah has several museums including the Telfair Museums and SCAD's museum. And of course several historic homes are available for touring too. Something fun that's popular, and we have them in our hometown of Saint Augustine, is ghost tours. Being a historic city, of course it's got stories…
Book a historic walking/food tour or ghost tour here!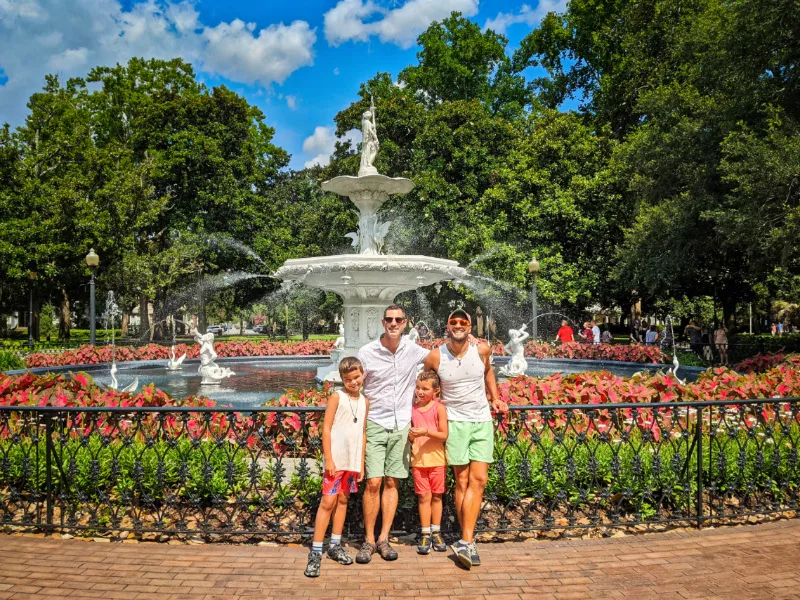 Explore the Historic Districts and Parks
If you're spending a few days exploring Savannah, the city itself, it's best to get familiar by walking on foot. The Historic District, Historic District South, and the Plant-Riverside District are each beautiful and fascinating. You'll find that there are so many great places to eat in Savannah; you'll want to eat your way around the city.
Spend a day wandering aimlessly through the historic district and enjoy taking photos and relaxing in any of the 24 public squares and parks. Being the first strategically planned city in the USA, the grid of the historic streets is easy to explore and every block offers a unique and beautiful view of Savannah life.
Some of our favorite Savannah squares to visit include:
Telfair Square
Orleans Square
Oglethorpe Square
Columbia Square
Whitefield Square
Troup Square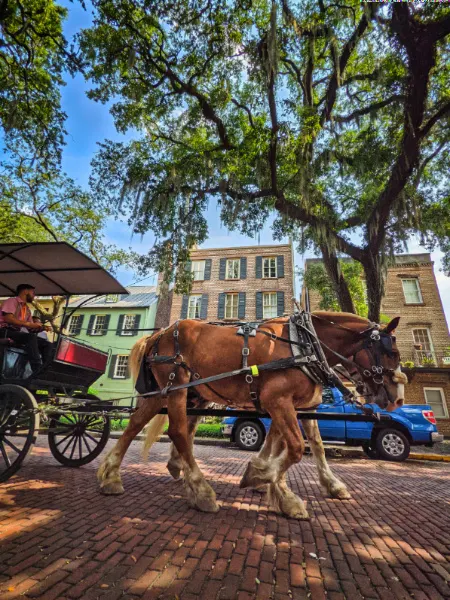 As you wander, respect the privacy of the residents of Savannah and do not trespass or impact their day-to-day. Sitting on a step here and there is okay, but posing on people's porches or knocking on their doors IS NOT.
Also make time to visit Forsyth Park, one of the most wonderful places to see in Savannah. Much larger than any of the other 24 squares in the city, Forsyth Park is the heart of neighborhood life in Savannah. We actually have an apartment just off Forsyth Park and love spending weekends there!
Enjoy the live oaks, flowers, and artist tables and performers in Forsyth Park and you've got a winning afternoon plan. Check the city's website for current events at Forsyth Park.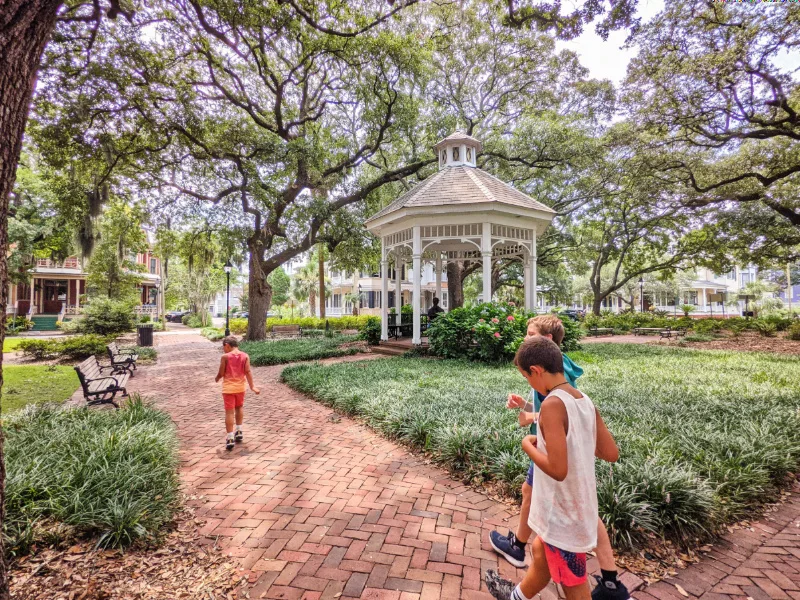 Enjoy Factors Walk and Plant Riverside District
The historic area along the Savannah River is really fun and beautiful. Of course it's a bit touristy with the riverboat cruises going out from River Street, but it's still fun and historic.
Be sure to read the historic plaques on buildings and the captions on statues. The Riverside District was the center of the cotton trade in the 1800s, so there is a lot of history, including both the slave trade AND the Underground Railroad.
Tip: try to get on a tour with Savannah Underground Tours to learn about abolition and the Underground Railroad in Savannah.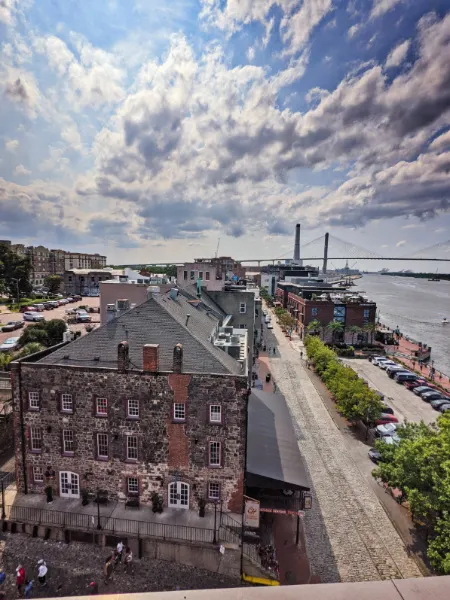 Also on the river is the JW Marriott Plant Riverside, and it's incredible. Found in the renovated old riverside powerplant, the JW Marriott is full of art, gems and fossils on display for the public. Amazing, large amethyst geodes and dinosaur fossils are all around. And the JW Marriott lobby collection includes an enormous replica of an Amphicoelias fragillimus, the largest dinosaur ever found.
Finish out the day on the riverfront with rooftop dinner or drinks at any of the many bars and restaurants along River Street or Factors Walk. The Topdeck is great for a 270 degree view of Savannah.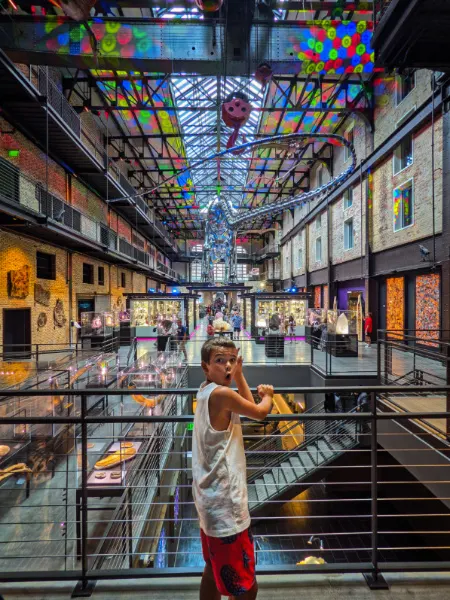 Savannah Historic Sites Not to Miss
Just outside of downtown Savannah is Wormsloe Historic Site. It's a part of the Georgia State Parks and Historic Sites (get the annual pass). Wormsloe is a beautiful place to visit. What it's most famous for is the mile and a half live oak tree tunnel.
Besides the live oaks, there is a small museum about the original structures built around the property, several trails through the forest and into the marsh, and also living history demonstrations. Other historic sites have more to offer in terms of sights and activities, but the incredible live oak tree tunnel all by itself is worth the visit.
Check the Wormsloe Historic Site website for up to date information and happenings at the park.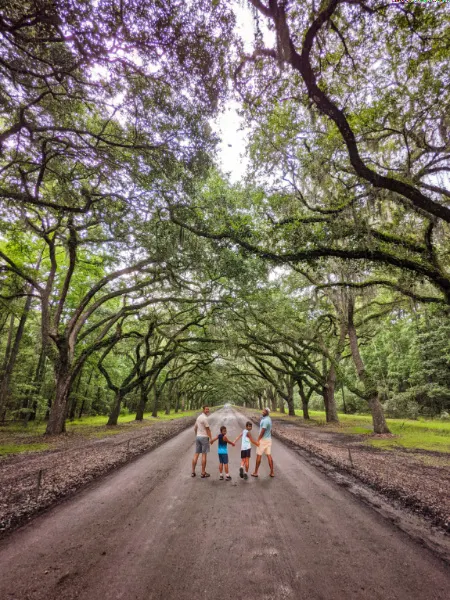 If you've seen Midnight in the Garden of Good and Evil the Bonaventure Cemetery will look very familiar. The bending trees and Spanish moss paired with the centuries old ornate tombs are really dramatic to see. Don't go looking for the Bird Girl sculpture from Midnight in the Garden of Good and Evil though, because it's not there. It's in the Jepson Center (Telfair Museums) in Savannah.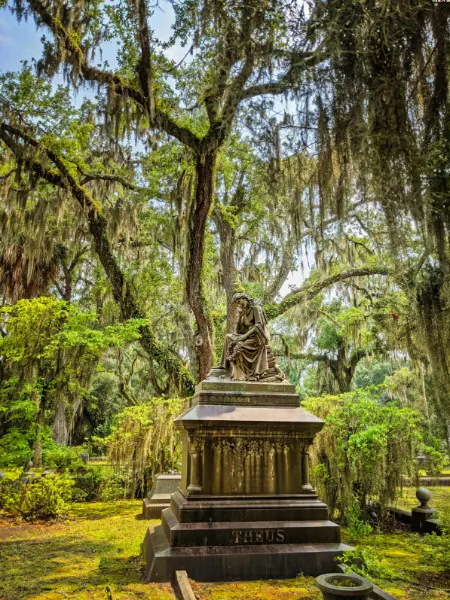 Best Beaches on the Georgia Coast
As I said, Georgia isn't like Florida when it comes to beaches. The Georgia Coast road trip route crosses marshes and rivers to get to the beaches. The drive from Atlanta to Savannah will have you aching for a day at the ocean, so continue just a half hour past the city for the first beach stop on the Georgia coast.
Tybee Island Beaches
Tybee Island is considered "Savannah's beach" and rightly so. As you continue on your Georgia Coast road trip, hit up Tybee Island for it's unique lighthouse (it's not round, but its shape is an octagon), relaxed vacation vibe and beautiful beaches.
What I love about the beaches of Tybee Island is how active the surf is. Living in Florida, we have a pretty far walk out to the bigger waves for body surfing and boogie boarding. At Tybee Island, the waves crash pretty close to shore, but still with enough shallows that families can have swimming time together.
Tip: watch for sea turtles when you're visiting Georgia beaches in the summertime. Swimming at Tybee Island in July we saw a loggerhead sea turtle swimming right by us, so know that you're sharing the water with wildlife.
Beaches on Tybee Island:
North Beach / Tybee Beach Point
Mid Beach / Memorial Park
Tybee Beach at the Pier
South Beach / Chatham Ave Beach
BE AWARE OF PARKING RULES. Because Tybee Island is also a residential place, there are parking restrictions. Also, there are paid parking lots and street-side parking, so check the posted signs before leaving your vehicle. You can't do a Georgia Coast road trip if your car gets towed away…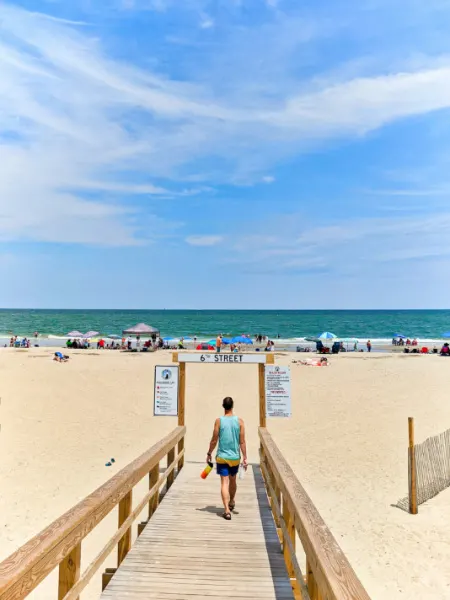 Sapelo Island Reserve Beach
Visiting the Sapelo Island Wildlife Management Area and Blackbeard National Wildlife Refuge isn't just something you happen into. You need to plan it. If you want to visit and explore Sapelo Island, including the pristine Georgia beaches, you need to arrive early in the day and take a boat from the visitor center onto the island.
The ferry to Sapelo Island is a tour, and you'll need to bring your own snacks, drinks and bug repellent. But once on the island it's amazing. You'll find beaches, the red and white striped Sapelo Lighthouse (much like the West Quoddy Lighthouse in Maine) and wildlife.
TOUR DETAILS: because Sapelo Island is protected, visiting means taking the ferry (25 minute crossing) and then doing a guided bus tour of the island and its sights. You do get to get on and off the bus but it's limited to approved areas. Confirm on the website that it's a tour day and CALL FOR RESERVATIONS.
St Simons Island Beaches
I love St Simons Island for lots of reasons, but its chill beaches are really key to a fun visit. At the south end of the St Simons is the shipping area, so you won't want to access the water there, but as you head north, from the beach at the King and Prince Resort to the Beach at Gould's Inlet, you'll find calm waves and at low tide, flat, fine sand stretching into the surf.
Beachfront hotels aren't very common on the Georgia Coast, so if your road trip need a few nights ON the beach, St Simons is a good place to do that. Jekyll Island has beachfront hotel options too.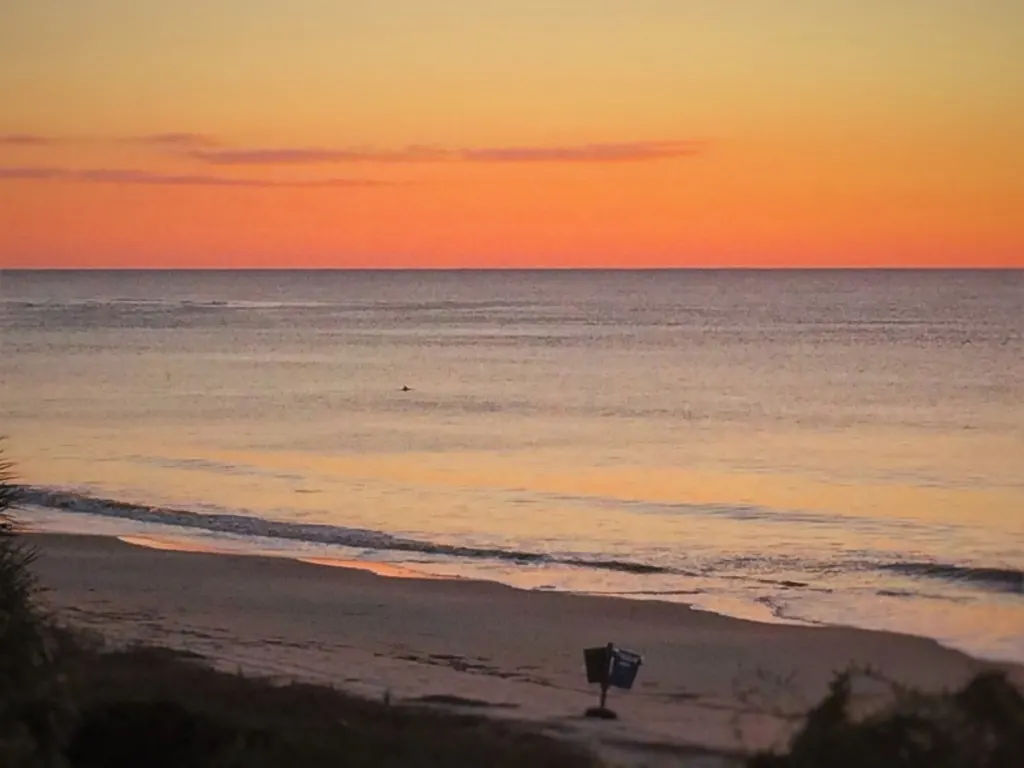 Jekyll Island Beaches
Georgia beaches are so unique to each other. Your Georgia Coast road trip takes you to Jekyll Island next. Here you'll find several nice beach parks, from the south end at St Andrews Beach to the super cool Driftwood Beach. There is a bike path that goes along a good portion of the beach, so ride and take frequent breaks to enjoy the waves.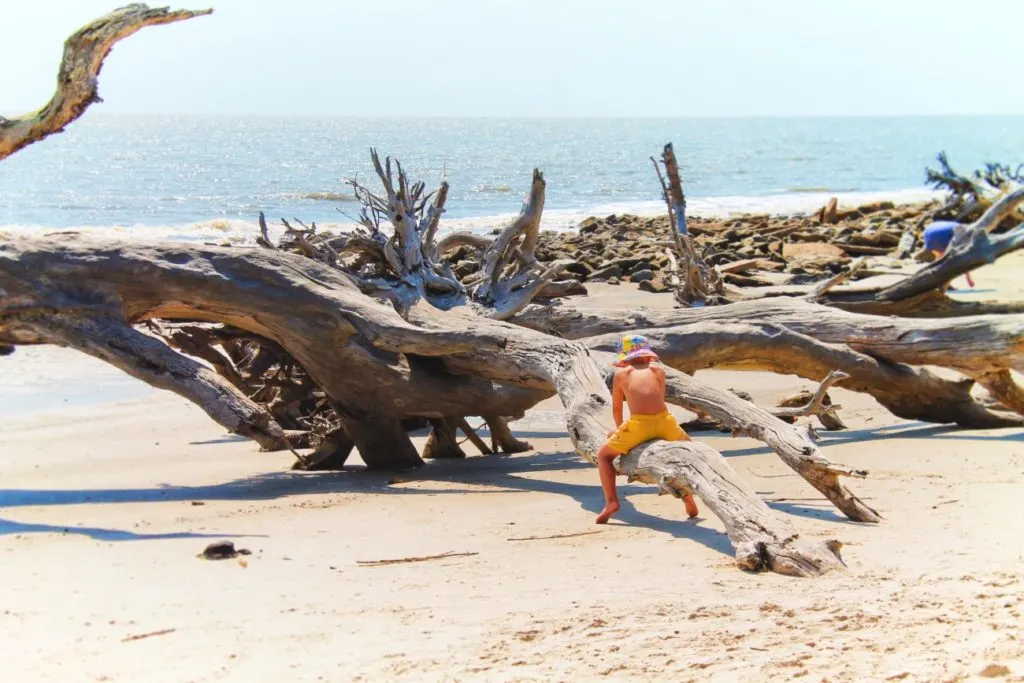 Cumberland Island National Seashore
Part of the National Parks system, Cumberland Island National Seashore is another place that's tricky to get to. Like Sapelo Island, you have to take a ferry to get to it and then you're limited with your transportation options. Once on the island though, it's beautiful.
Read our full guide to visiting Cumberland Island National Seashore!
To make sure you have enough time and get your money's worth, be sure to catch the FIRST ferry to the island and that you can catch the LAST ferry back (or the 2:45pm boat if you're okay with shortened beach time). The facilities on Cumberland Island are minimal, so don't arrive expecting the glamor of Everglades National Park or the services of Glacier National Park. This is a rustic park.
Note: there are water filling stations several spots on the south end of the island, which is where you'll be for 90% of your visit. And there are a few bathrooms besides at the dock.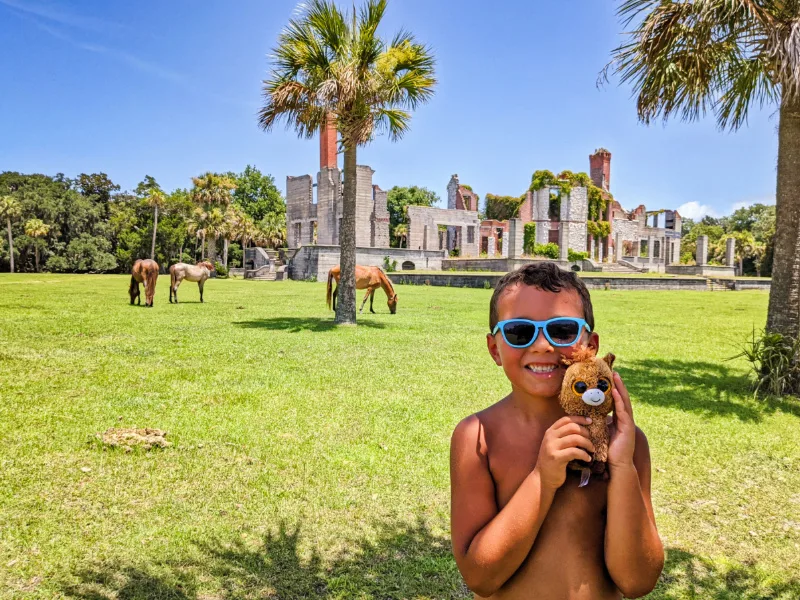 Highlights are the pristine Georgia beaches you can swim and beachcomb at, the ruins of the Dungeness Mansion and the wild horses. Yes, wild horses!
Like up in Assateague or Chincoteague, Virginia there are feral horses roaming Cumberland Island. They clearly are often fed by visitors, but cool just the same. They do come very close and YOU are the one responsible for maintaining a safe distance.
Plan to bring bikes onto the island if you can, or you can rent them. To see all of the sites it's a lot of ground to cover. Ideally camping for a night or two would be perfect to explore on foot, but that's not an option for many, so bringing bikes to Cumberland Island is the best bet. There is also the Lands and Legacies Tour, which can be booked in advance.
Get up-to-date sailing and fare information for the Cumberland Island Ferry here!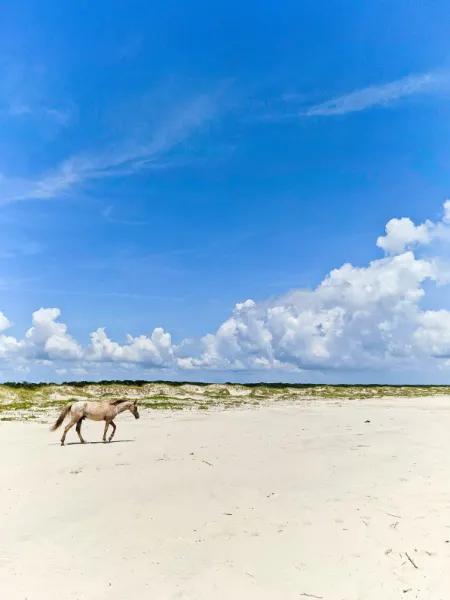 Georgia History Road Trip Stops
You can't swing a dead cat on a Georgia road trip without it landing someplace historic. And that's why we love doing the road trip on the Georgia Coast. From Tybee Island to the Florida-Georgia border you'll find British colonial history, Civil War history, the Underground Railroad, prohibition and more.
One of the best road trip ideas from Florida to Georgia is to stop at each historic fort along the way. Or plan a road trip to Jekyll Island visiting plantation and military ruins. So many great road trip themes you can choose from!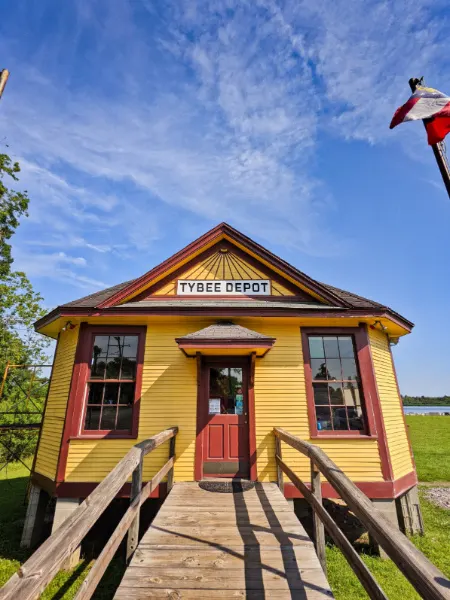 Old Fort Jackson in Savannah
Just outside of downtown Savannah on the way to Tybee Island is Old Fort Jackson. We loved this place so much. We've been to lots of forts and done lots of living history demonstrations and Old Fort Jackson is a winner!
Yes, Dry Tortugas National Park is amazing and beautiful and Fort Zachary Taylor State Park is fun with kids, and the living history at Colonial Williamsburg is awesome, but Old Fort Jackson is subtle and wonderful. We really enjoyed how unique this pre-Civil War era fort is and the musket and cannon demonstrations were great.
Entrance to Old Fort Jackson is included if you have the Georgia State Historic Sites pass, otherwise it has an entrance fee per person ($9/adult and $5/child). Check the Old Fort Jackson website for any current events and schedule.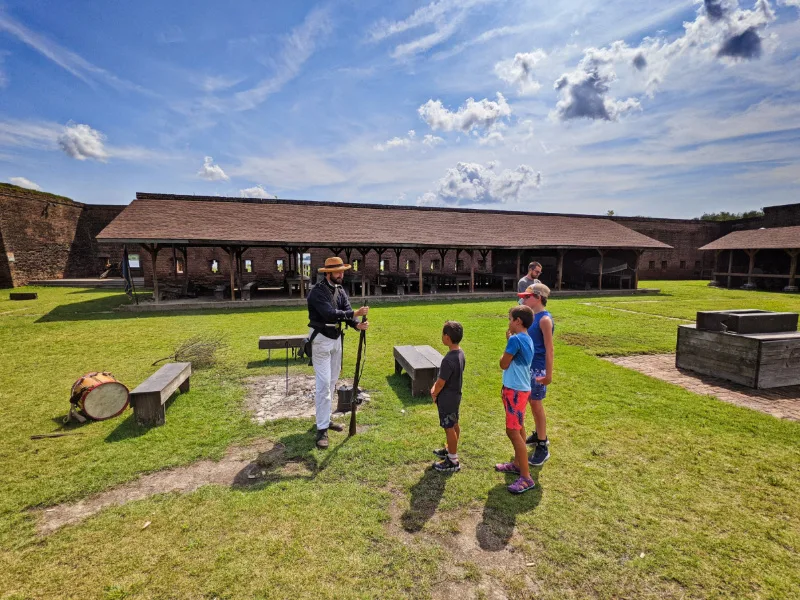 Visiting Fort Pulaski National Monument on Tybee Island
If you haven't been to Dry Tortugas and won't be able to visit the Florida Keys anytime soon, Fort Pulaski National Monument is a great option to add to your Georgia Coast road trip. A HUGE brick fortress with a lighthouse and a moat, Fort Pulaski is pretty cool.
Located on Cockspur Island (basically Tybee Island still), Fort Pulaski isn't far off your Georgia road trip route. Visiting with kids is fun and one of the most educational fort sites we've visited. The Junior Ranger packet is pretty complex, but as long as you're interested in history and love attention to details, it's a breeze to complete.
Wander the fortress walls and tunnels, watch for wildlife in the marsh and do the nature trails to the edge of the island to get the full experience. The small Cockspur Island Lighthouse has been under renovation in 2021, but when it's finished is an easy walk from the visitor center.
Tip: use your America the Beautiful National Park Pass here!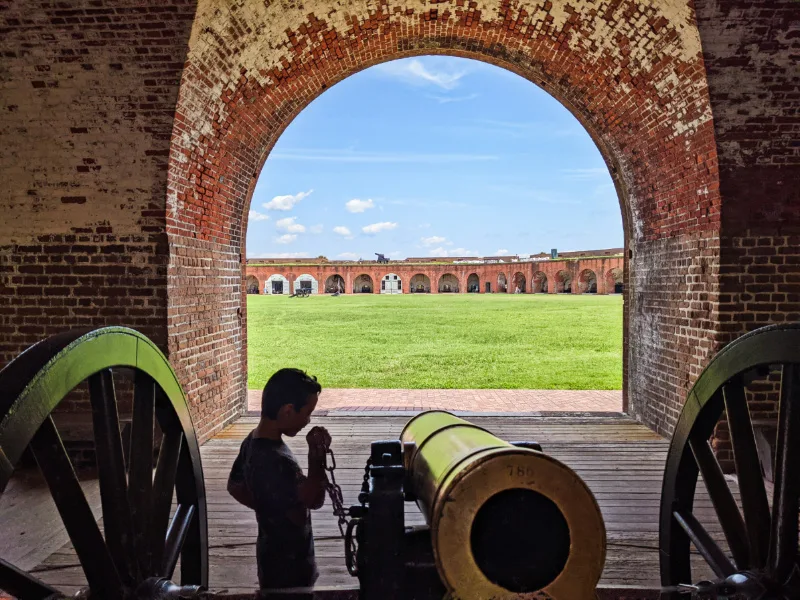 Georgia History at Fort Morris and Fort McAllister State Historic Sites
I know, another fort to visit. There are just so many of them! One of the great things about planning your stops on a Georgia Coast road trip is that you DON'T have to do every single one. For example, both Fort Morris and Fort McAllister are along the route but you can skip one or both of them.
Both of these forts are Georgia State Historic Sites so are covered by the pass. They are very similar in that they are ruins of forts with earthen coverage. The live oaks and historic exhibits are cool and interesting, but they aren't as intriguing as Old Fort Jackson or Fort King George.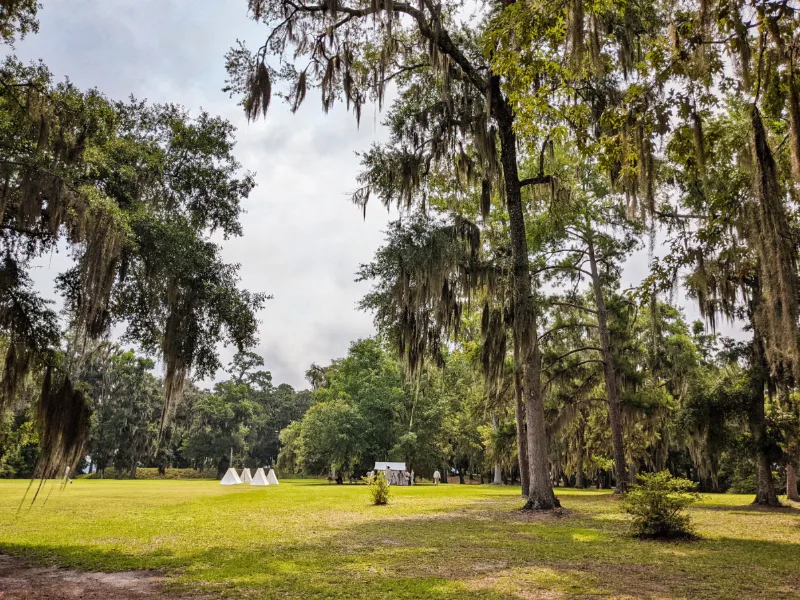 Top Pick: Fort King George Historic Site
We LOVE Fort King George Historic Site. And it too is included with the Georgia State Historic Sites pass. Seriously, that pass pays for itself in a few days.
Fort King Georgia is very different from any of the other forts we've included in our Georgia Coast road trip plan. Fort King George is mostly reconstructed with a few historic ruins, like there are some mill ruins and a cool old cottage. Dating to the 1700s when England and Spain fought all the time, Fort King George is a great example showing how construction and technology changed over time.
There are nature trails, cool fortress buildings, a museum and even a dock to watch for alligators from. Be prepared with bug spray. Fort King George is located directly in the Georgia marsh and there are lots of flies and mosquitoes depending on the weather. The visitor center even posts a warning about the bug activity level for the day.
Note: the mosquitoes really are no joke. We encounter intense mosquito activity when we do bioluminescent kayaking in Florida, and the bugs in the Georgia marsh sites are very comparable.
There are also seasonal kayak and canoe rentals available at Fort King George. If you choose to go paddling, be sure you're prepared to prevent bug bites.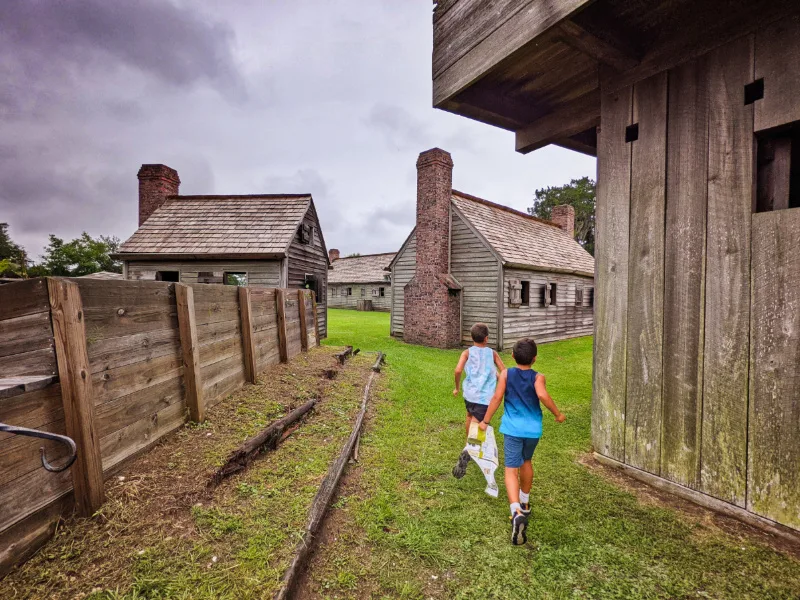 Exploring Beautiful Brunswick, Georgia
Despite many Georgia Coast road trips, somehow we kept on skipping Brunswick. Never again! Brunswick, Georgia is a beautiful town complete with public squares, parks and fountain. Beautiful 19th century architecture can be seen all over the historic downtown and surrounding neighborhoods.
Walk down Newcastle Street to find local galleries, the really beautiful old city hall, small squares and lots of restaurants. Visit Hanover Park and Square to enjoy live oaks, flower gardens and a beautiful fountain. Pop over a few blocks to check out the Lovers Oak. Wow! What an enormous tree!
Outside of the historic downtown is our favorite stop in Brunswick, and one we've made several times now: the Pinball Palace. An awesome collection of vintage pinball machines and other 80s video games (I swear they're straight from an old Pizza Hut) the Pinball Palace is perfect for the inevitable rainy afternoon. Pay by the hour for unlimited play.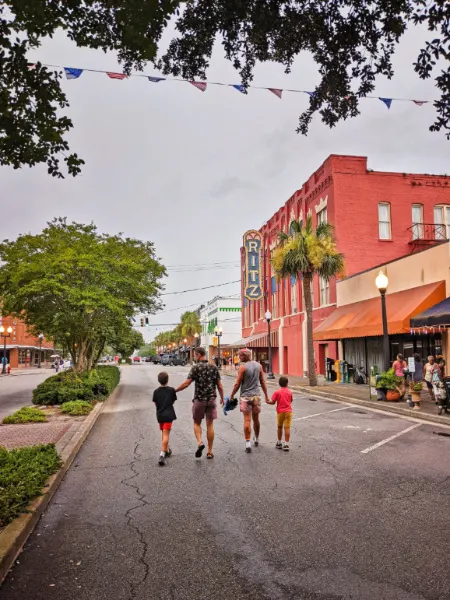 Best Road Trip Stops in Georgia's Golden Isles
We've done several vacations JUST to the Golden Isles of Georgia. There is so much to do and relaxing around the islands is so easy. The Golden Isles are comprised of Jekyll Island, St Simons Island, Little St Simons Island and Sea Island. Brunswick connects them all, but it's not an island (so cool though!).
FYI, if you are up for a really fun idea, bring your bikes or rent them on the island to get around everywhere. Biking on St Simons Island is really fun and with great bike paths, it's easy to do. Also, the island is super flat which is perfect for biking.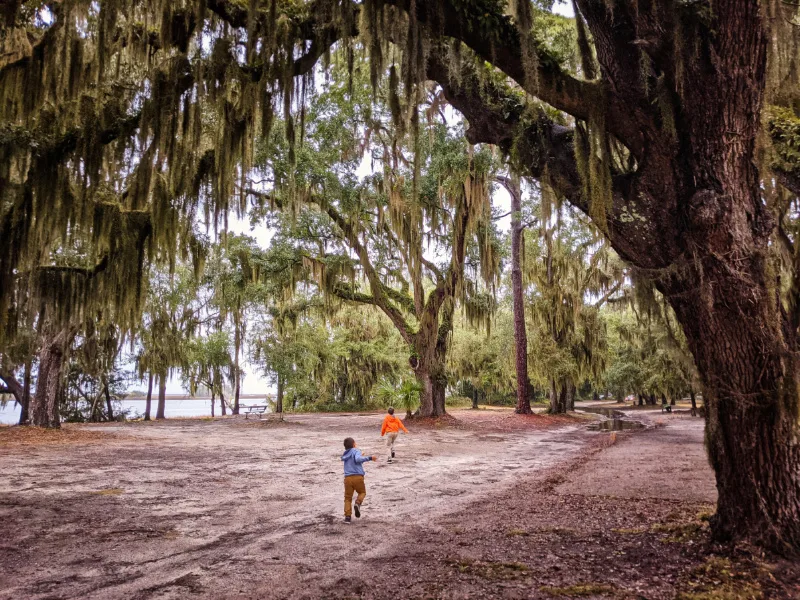 Fort Frederica National Monument on St Simons Island
The first stop, since we've been talking about so many forts is Fort Frederica National Monument. It's interesting because it's mostly ruins and is just pretty to wander through. As you explore Fort Frederica, you'll walk down used-to-be streets ogling huge live oaks and checking to see if the oranges are ripe yet.
There are some cannons, fortress ruins, the ruins of an 18th century two story barracks building and more. Our kids enjoy doing the scavenger hunt around the Fort Frederica grounds. It's a great way to keep them interested is engaged.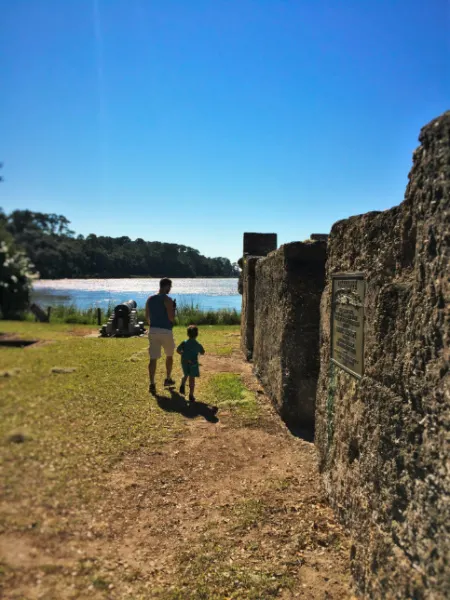 Climbing the St Simons Island Lighthouse
We visit as many lighthouses as we can. We love lighthouses! The St Simons Island Lighthouse is a great one for getting a slice of history and a beautiful view. It's not too tall, at just 104 feet (129 steps). The St Augustine Lighthouse has 219 steps, so this one is pretty easy in comparison.
Plan around a hour or more to do the maritime museum and lighthouse, and then if the weather is nice do the walk along the waterfront path. The village of St Simons is right near the lighthouse too, so it's easy to walk to any number of dinner places when you're done.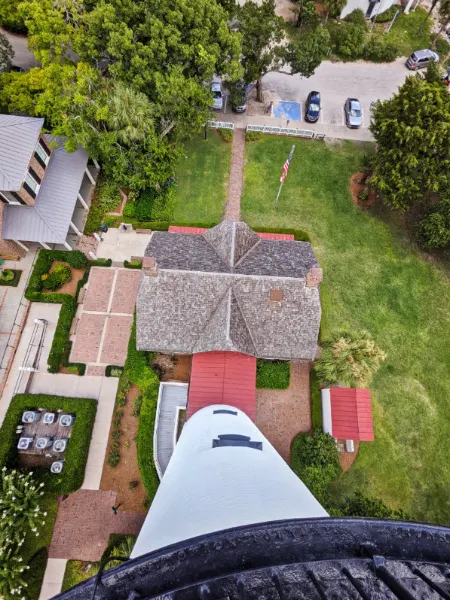 Hunting for Spirit Trees Around St Simons Island
Another wonderful feature of St Simons Island is its spirit trees. All around the island there are live oaks with faces carved into them. Over the years, the tree bark has grown around the faces of many of the St Simons Island tree spirits, but searching for them is still a fun Georgia Coast road trip activity.
The biggest and most well maintained spirit tree is the large mermaid named Cora by the visitor center. If you're not down for a cross-island scavenger hunt, visit Cora and call it good.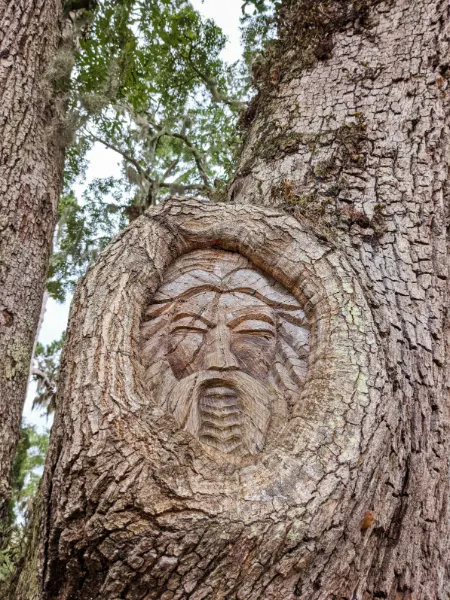 Visit the Georgia Sea Turtle Center on Jekyll Island 
Wildlife education, and in particular sea turtles, needs to be a part of visiting the Georgia beaches. Loggerhead, green, hawksbill, Kemp's ridley and leatherback sea turtles all make their egg laying nests on east coast beaches, with coastal Georgia having hundreds of sea turtle nests each year.
Visiting the Georgia Sea Turtle Center on Jekyll Island is a must for both learning and seeing turtles up close. In addition to the exhibits, there is also an observation window where you can watch the doctors at the facility do check-ups and sometimes operate on sea turtles.
Pay a visit to the holding tanks and listen to the caretakers talk about turtle health and safety. This is the perfect place to inspire kids to develop a love of nature and an understanding of human impact.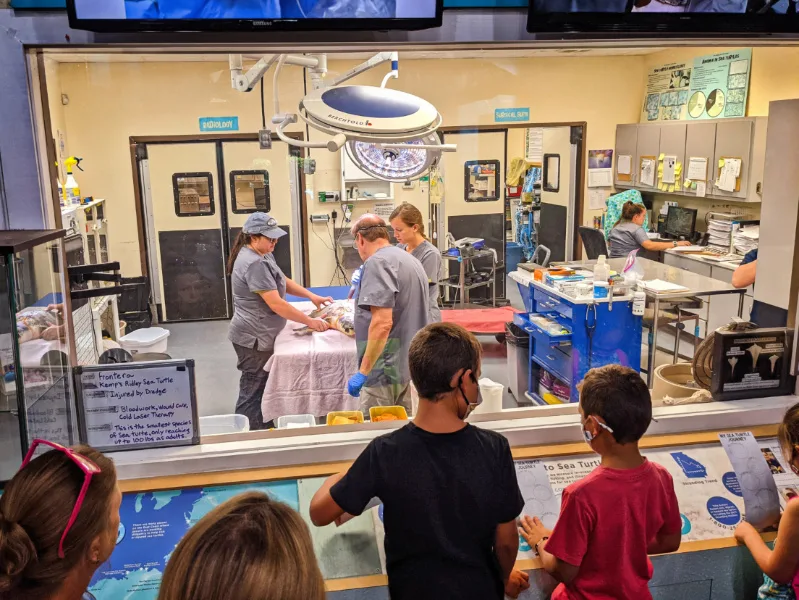 Explore the Ruins and Trails at Horton House and Pond
The Georgia Coast road trip includes a lot of ruins of houses and forts. While other parts of the South have many well preserved structures and historic sites, Georgia's have often been hit hard by war or weather. The Horton House on Jekyll Island is an example of that.
Built in 1743 the remains of the Horton House make for a beautiful backdrop as you head into the woods on the nearby trail, but there's not much left to it. Across the street is a small historic cemetery and then through the woods you'll find Horton Pond.
It's a nice stop, and the live oak forest is beautiful to walk through.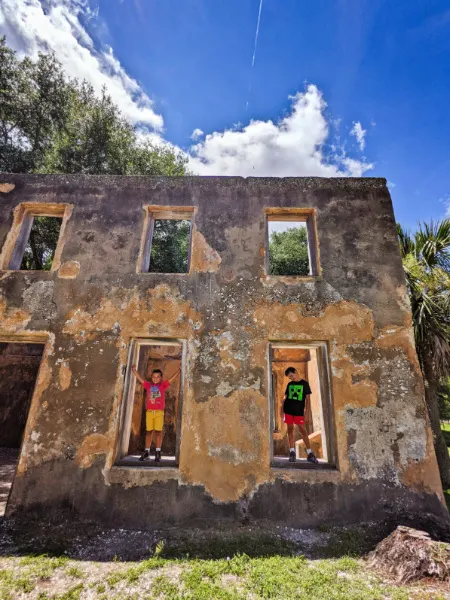 Favorite Eats on the Georgia Coast
I don't love writing about food, but it really is an integral part of travel, particularly in a place like Coastal Georgia. So here's what Imma do: tell you some great things to watch for and then give you my picks for places we've enjoyed on the Georgia coast across our many road trips.
Georgia Coastal Dishes to Try
Peaches. Actually, there's a lot more to enjoy than Georgia peaches.
You can't talk about Coastal Georgia cooking without talking about the low country boil. When you're doing a Georgia Coast road trip, you're driving through the "low country." A low country boil is a combination of local seafoods and corn, served as a basket or platter. It's ALWAYS too much food for one person, but it's delicious.
Another dish to watch for is blackened fish. This is popular in Florida too, but in Georgia for some reason it tends to run spicier. Commonly served on a hoagie in the style of a po'boy, blackened fish tends to be whatever the local catch is, rubbed with lots of herbs and seasonings and then grilled or sautéed up.
Grits and gravy is good too. Mmmm. My favorite grits and gravy is at the St Augustine Fish Camp in our town, but I've had it several places in Georgia too and it's always good. Expect the gravy to have some sort of ham in it, and to be thick, just a bit more thin than the grits it's served on.
Hushpuppies. Yum. Do you like cornbread? Do you like biscuits? Then hushpuppies are for. Basically cornbread balls that are fried, hushpuppies are a southern staple. If you can get them with jalapeños in them and served with honey butter then you've really hit to Georgia eats jackpot!
The last delicious Georgia food to watch for is roasted pecans, candied or as pralines. Pecans are BIG in the South and it's easy to find candied pecans almost anywhere, whether it's a gas station or a roadside stand.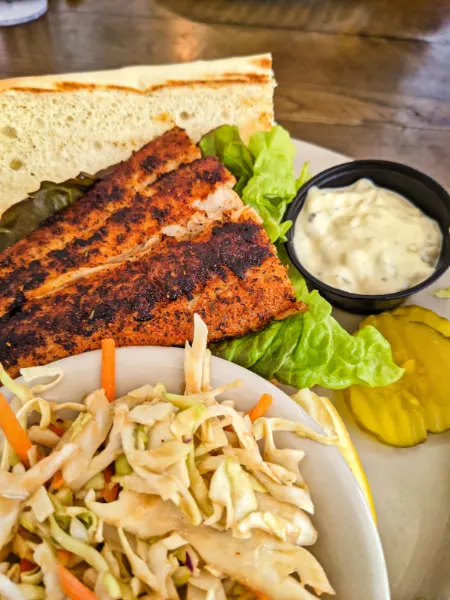 Restaurant Recommendations on the Georgia Coast
When we're looking for restaurants, we look for local options that have fresh cooking and characterize the area. Our picks for restaurant recommendations on the Georgia Coast exemplify that. We've included some favorite spots from Savannah too, as Savannah is a primary destination for a Georgia Coast road trip.
Starting in Savannah and heading south on the Coastal Georgia route:
And moving onto Tybee Island restaurants:
Favorite restaurants in the Golden Isles:
Of course there are more great restaurants, but after several visits to the Georgia Coast, these are our top picks. If you find some places you love, share them with us and we'll give them a try!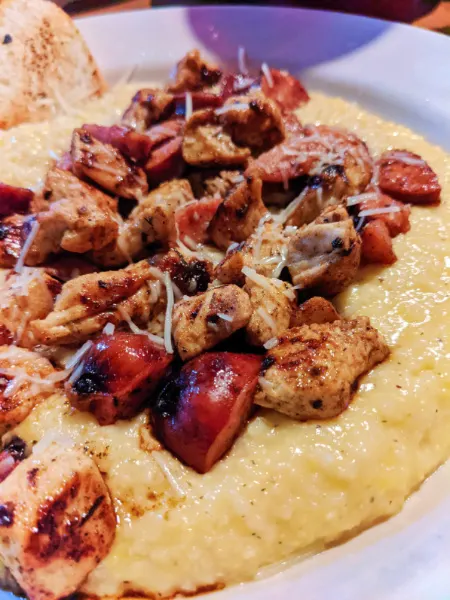 6 Day Georgia Coast Road Trip Plan
Here is a plan for 6 days of Georgia beaches and historic sites. Have fun, drive safely, and make this plan fit with whatever YOUR travel style is!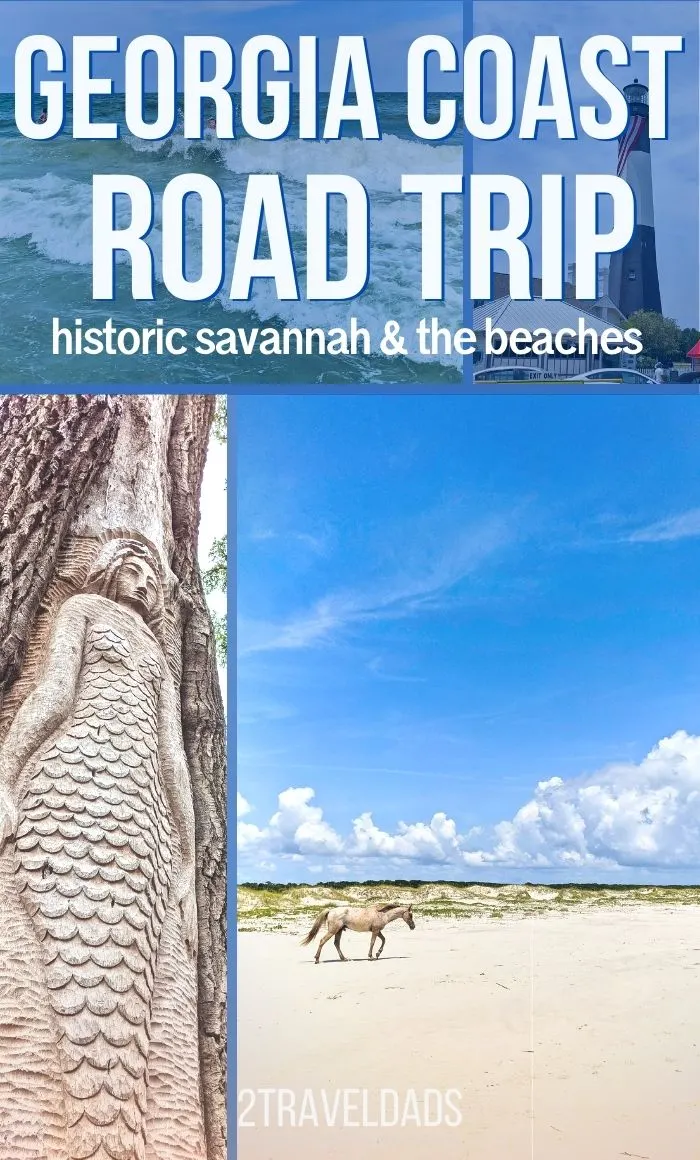 Day 1: Arrive in Savannah
Drive from Atlanta to Savannah or fly directly into Savannah-Hilton Head International Airport (SAV) to begin your road trip. Enjoy strolling River Street and Factors Walk. Enjoy a riverboat cruise on the Savannah River or have dinner at the historic Pirate House. If you like, get an adult beverage for your evening and walk through the historic district or find a beautiful public square to relax in.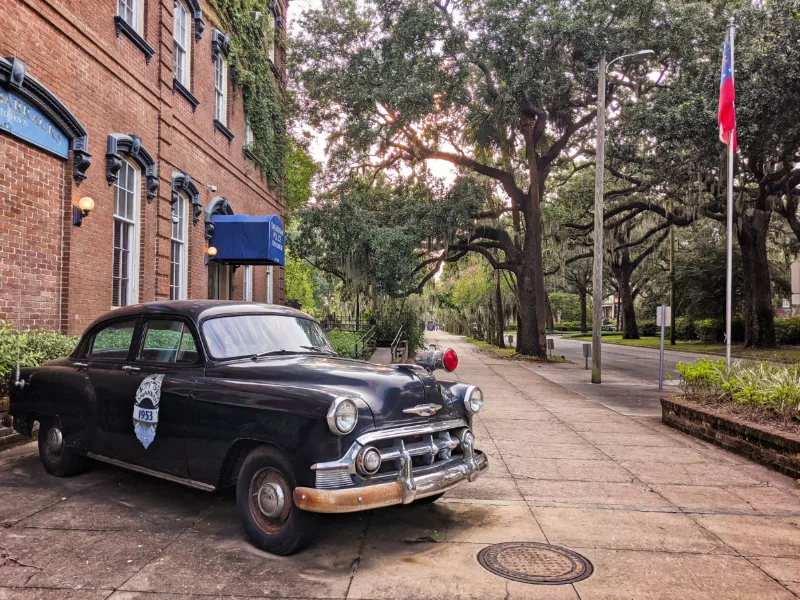 Day 2: Explore Savannah Historic Districts
Today's the day to pick a museum and enjoy. The Telfair or Savannah History Museums are both worth a visit. Walk either Liberty or Bull Streets visiting the many squares, eventually making your way to Forsyth Park for ice cream and appreciating the city.
Drive or bike to Bonaventure Cemetery for a walk through the historic burial ground. If you drove, nearby Wormsloe Historic Site is an easy add-on. End the day back in town visiting the galleries of the JW Marriott Plant Riverside and then a rooftop dinner or drinks. Book a ghost tour for the complete Savannah experience.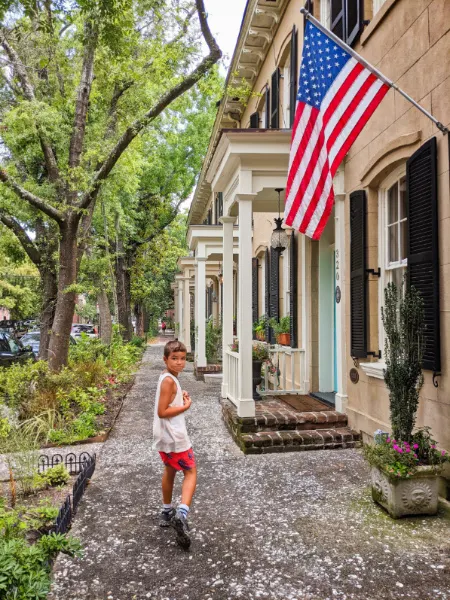 Day 3: Tybee Island and Coastal Georgia Forts
Rise and shine and head to Old Fort Jackson before it's too hot out. Enjoy some living history or wander the fort on your own. Next stop is Fort Pulaski National Monument for even more Georgia Coast tales and education. Move onto Tybee Island for lunch and then climb the Tybee Island Lighthouse.
Wrap up the day with sunset on the beach and a nice walk to dinner. Tybee Island is very chill, so expect the southern "relaxed" approach to dinner time.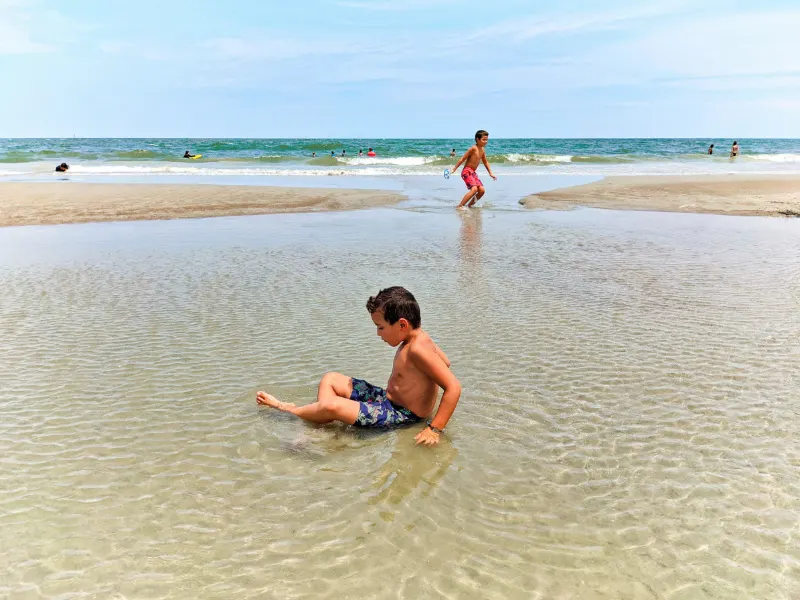 Day 4: Georgia Low Country
From Tybee Island take your Georgia Coast road trip southward, making stops at Fort McAllister or Fort Morris (I'd pick Morris) unless you've booked a trip out to Sapelo Island to enjoy one of the most pristine Georgia beaches. When you're ready to move on, visit Fort King George Historic Site to tour the reconstruction or go paddling at high tide.
End the day with an arrival at your Golden Isles hotel or vacation rental. Staying on St Simons or Jekyll Island will give you the option of being beach front, but staying in Brunswick is more central for the next few days' activities.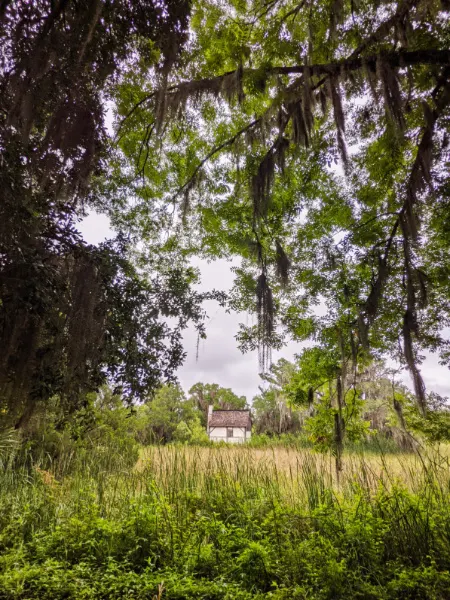 Day 5: Enjoy St Simons Island
Begin your day with renting bikes on St Simons Island. This will make it both fun and easy to get around. Ride out to Fort Frederica and then make your way to the beach. Bring lunch with you or head back into the Village for food. In the afternoon, climb the lighthouse and then do the scavenger hunt around the island to find the many spirit trees.
End your day on St Simons with a nice dinner at Echo or a mellow low country dinner at Gnat's Landing. It's been a long day, so get some good rest tonight.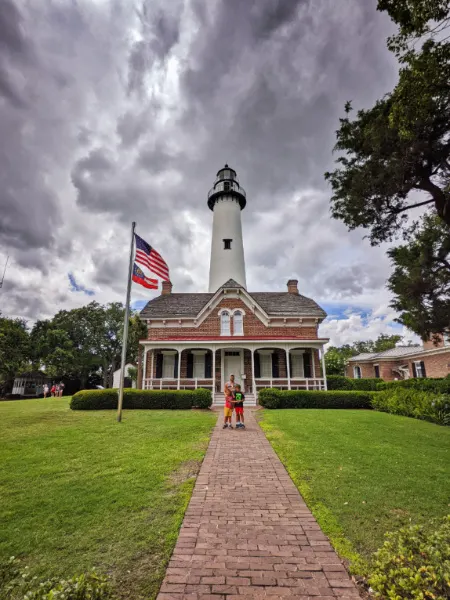 Day 6: Brunswick and Jekyll Island
Jekyll Island has an entry gate, so the earlier you head to the Island the better. Start with a visit to Horton House and do the nature trail to Horton's Pond (watch for gators!). From here, visit Driftwood Beach for some of the largest, most beautiful washed up logs in the southeast. Grab some lunch and then make your way to the Georgia Sea Turtle Center.
Head to Brunswick for your last evening in the Golden Isles. Plan to get your pinball on at the Pinball Palace (it really is a must) and then head to historic Brunswick for dinner. Enjoy walking around the old neighborhood and Hanover Park at sunset.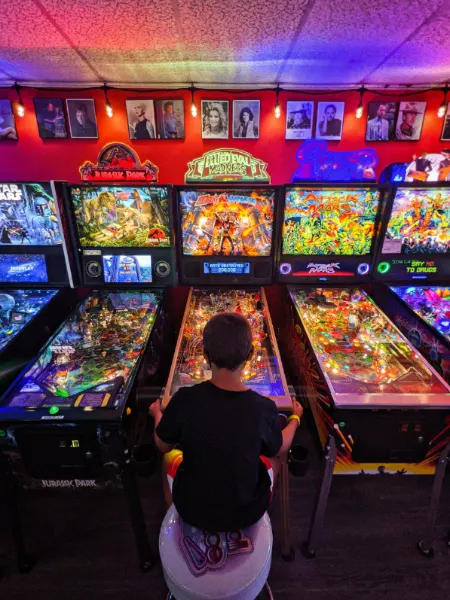 BONUS: Cumberland Island National Seashore
Book your ferry tickets in advance for this adventure. You need to book tickets TO Cumberland Island and then separate tickets FROM the island. If you're not bring bikes or camping on Cumberland Island, plan to visit the Dungeness Ruins and the beach, watching for deer and wild horses. This is plenty to do in a day and will make for a beautiful, memorable trip!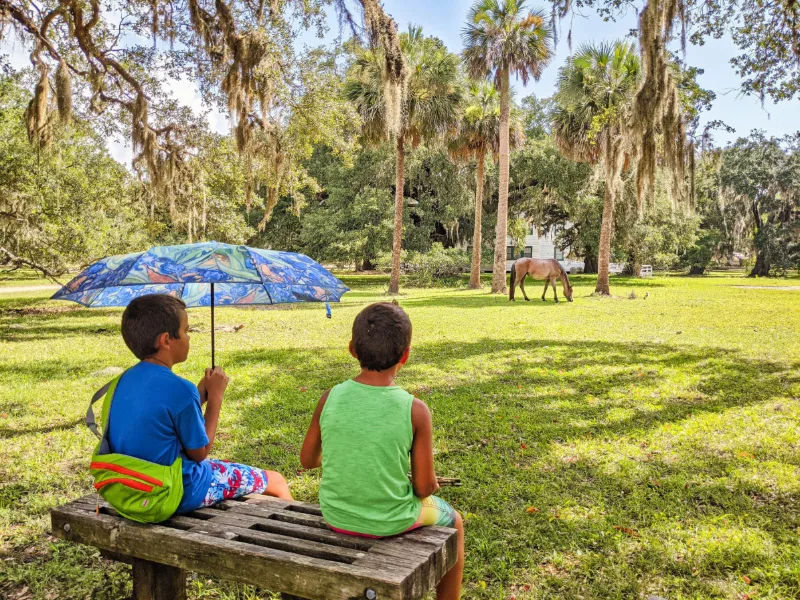 I hope you have a great time on your Georgia Coast road trip. Whether you're driving from Atlanta to Savannah and then doing it or if you're driving up from Florida, you'll enjoy the history and beauty with every turn.