Old Fort Jackson in Savannah is one of the best living history experiences in the South. While it was a US Army fort initially, it became a Confederate fort during the Civil War, changing hands a few times and ultimately being held by the Union Army. That means that today you get a full history and snapshot of how the Civil War played out in and around Savannah. It's very different from Fort Pulaski National Monument or Dry Tortugas National Park, and the living history element is great!
f you have any questions or additional thoughts, please feel free to leave a comment or send us a note. We're always happy to share more and help you plan travel!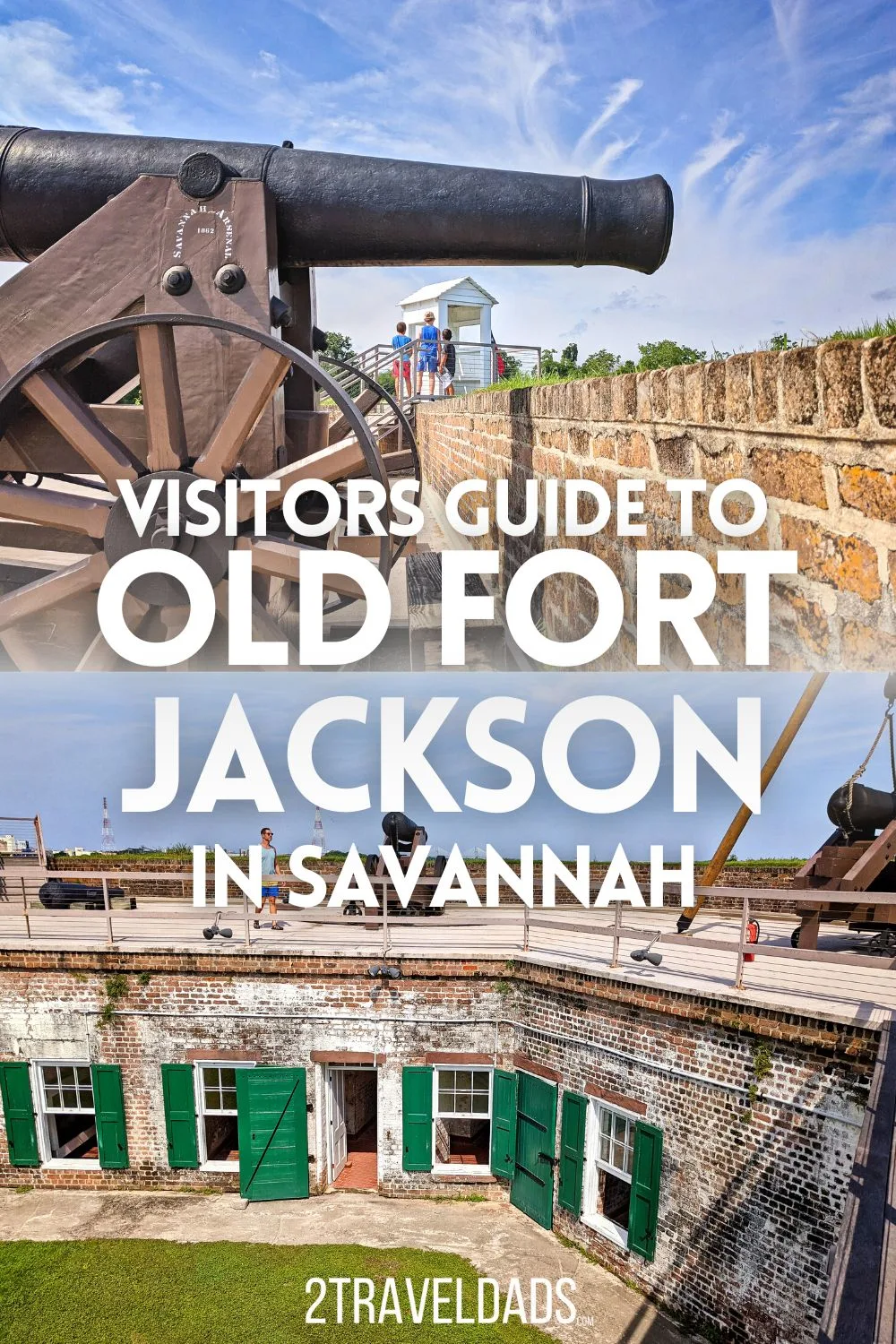 Where is Old Fort Jackson
When you're visiting Savannah, Old Fort Jackson isn't too far from the historic district. At just a ten minute drive or a 25 minute bike ride, it's an easy addition to your trip. Unfortunately there isn't a good public transit option to get to Fort Jackson, but if you are in Savannah without a car you can easily get an Uber or Lyft out there. It's just at the edge of town.
Once you're done at Old Fort Jackson, Bonaventure Cemetery is just ten minutes away by car or 20 minutes by bike. And then Fort Pulaski is another 20 minute drive or hour long bike ride. You can start your day early and have a whole tour of historic sites outside the city and you'll love it!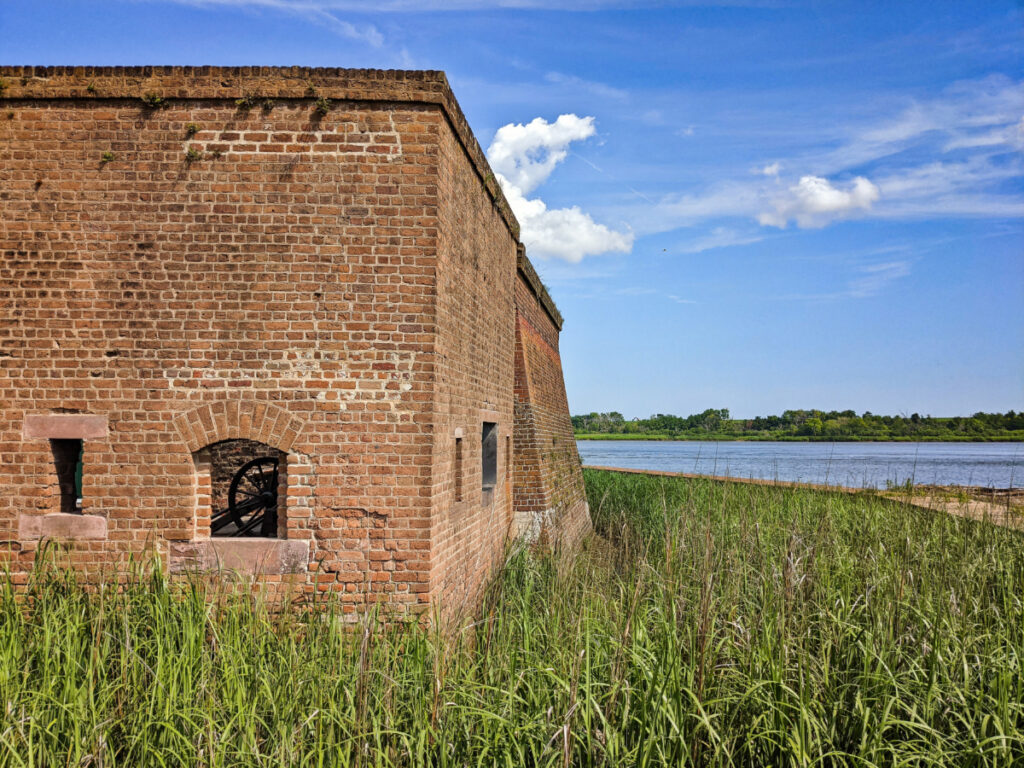 Admission and Hours of Old Fort Jackson
Old Fort Jackson is open every day from 9:00 am to 4:00 pm. except some holidays. Check with the Coastal Heritage Society in advance to confirm the fort is open before planning your visit. While the fort is open, there's always a living history person on the grounds.
Admission to Old Fort Jackson is $10 for adults and $7 for kids 4-12 years old. For a great deal, purchase a "See 3" ticket to get entry to other cool historic sites in Savannah. In addition to Fort Jackson, the Coastal Heritage Society also operates the Savannah History Museum, Georgia State Railroad Museum, Savannah Children's Museum, Pin Point Heritage Museum, and Harper Fowlkes House and your See 3 ticket is good for admission to and combo of three of these other sites. *Confirm at time of purchase if any Coastal Heritage Society sites are NOT participating in the ticket share currently.
Note: the entrance to the fort is actually through the old Tybee Depot building, which is super cute and also has a small gift shop.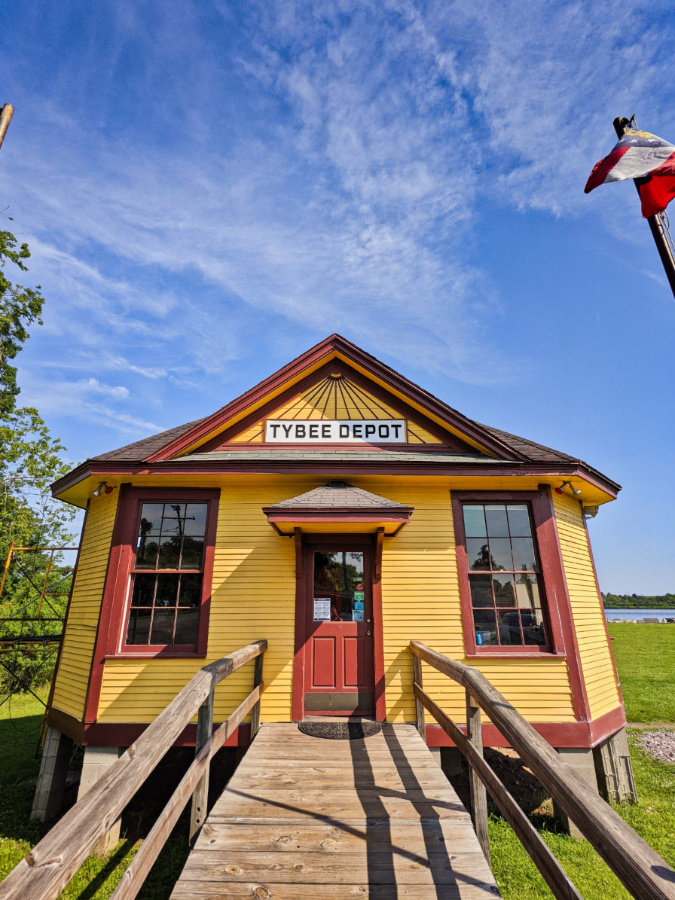 Things to Do at Old Fort Jackson Historic Site
So what are the things to do at Old Fort Jackson? You can just show up and see what's happening at the fort or you can be intentional in your activities and what you learn. Since we're usually visiting with kids, we like to arrive at the top of the hour so we can see any programming as it begins, including cannon fire, but arriving any time is fine and you'll have plenty to do.
Tour the Fort
I really enjoy visiting Old Fort Jackson as it's very different from either Fort Pulaski or Fort King George down the coast. At Fort Jackson you can explore the old barracks and military areas, see historic exhibits about defending Savannah and the shipping lane, as well as see all sorts of Civil War displays.
Old Fort Jackson is very good about telling its story and not whitewashing history. Here you'll actually read and hear about what happened with soldiers in the Civil War and how the fort fell. You'll see gross old toilets, medical supplies and everything else that was a part of being stationed at Fort James Jackson (the original name).
A highlight of touring Fort Jackson is the tunnels within the walls. Much like the Castillo de San Marcos in St Augustine, Fort Jackson was a stronghold where people could take cover for long periods of time, and going through the tunnels and reading the exhibits is pretty fascinating.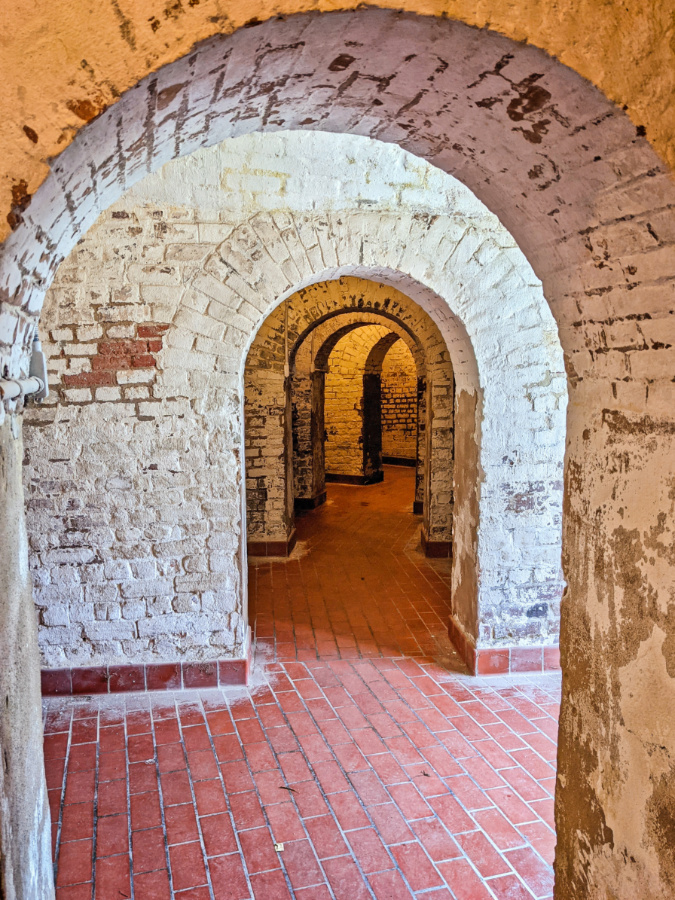 Civil War Living History at Old Fort Jackson
Boom! Yes, there are cannon demonstrations daily at Old Fort Jackson, but it's not just blasting off the big guns, but a whole living history presentation, which changes throughout the day and throughout the week. We've seen everything from daily life demonstrations to cannon maintenance and military drills.
I think the living history element at Fort Jackson is one of the highlights of visiting. Not only are the actors very knowledgeable and into their characters, but they are all about making sure that visitors understand what's happening in their demonstrations and they LOVE answering questions. Our kids are never short on questions for the soldiers.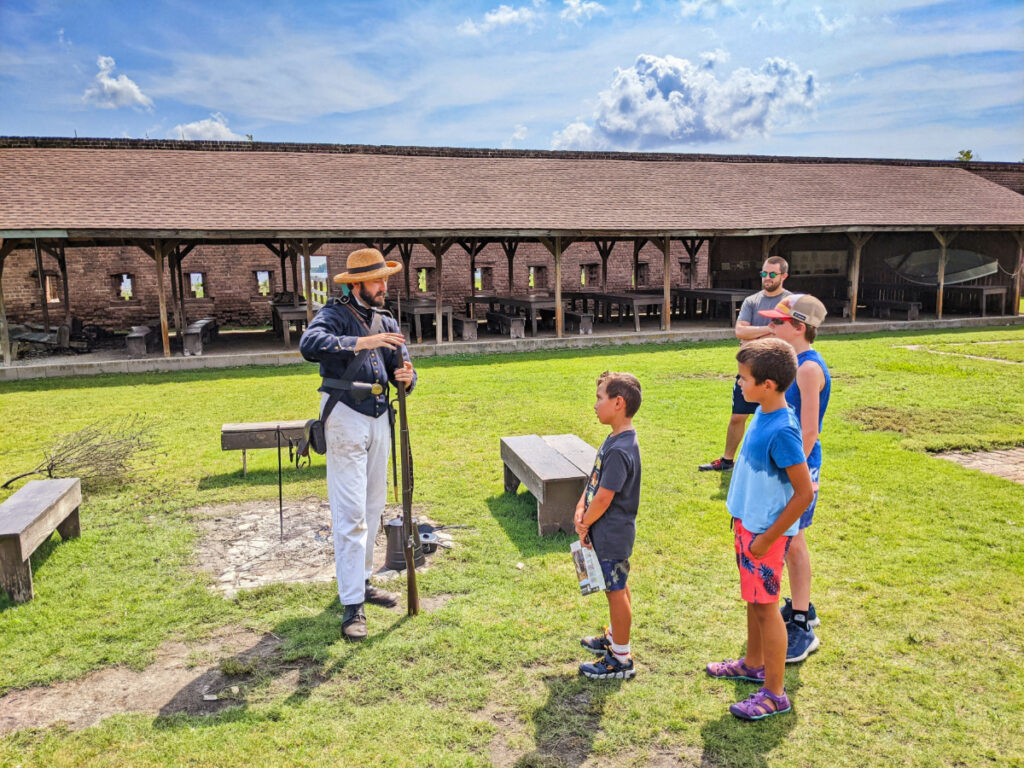 Bird Watching at the Fort
Being located directly on the Savannah River, Old Fort Jackson and the surrounding marsh area (because it's a bit brackish here) are great spots for bird watching. Climb to the top of the fortress wall or hang out at ground level outside of the structure to watch for pelicans, kingfishers, egrets, osprey and eagles. We always travel with a pair of binoculars or two, and I recommend you do the same.
Bird watching in the Southeastern USA is always fun and interesting, but here on the Savannah River and in the surround marshes it's a extra treat!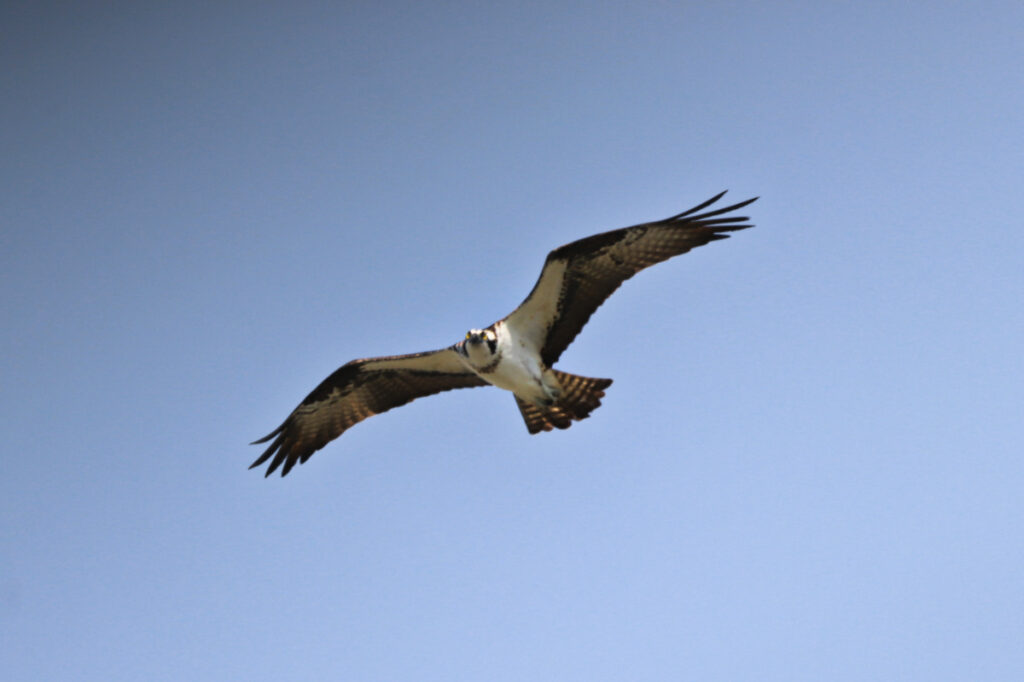 Visiting Fort Jackson as a Photographer
Sometimes my photographer eyes take over and I lose track of the history elements of a place and just see the interesting colors and textures. Old Fort Jackson is a wonderful place to play armature or professional photographer. From the rough stone pathways to the aged brick, there are unique colors and textures to capture. Maybe setup to catch the living history demonstrations in a way that hides any elements of tourism or modern life. There are so many possibilities, especially since there are so many things to do at Old Fort Jackson.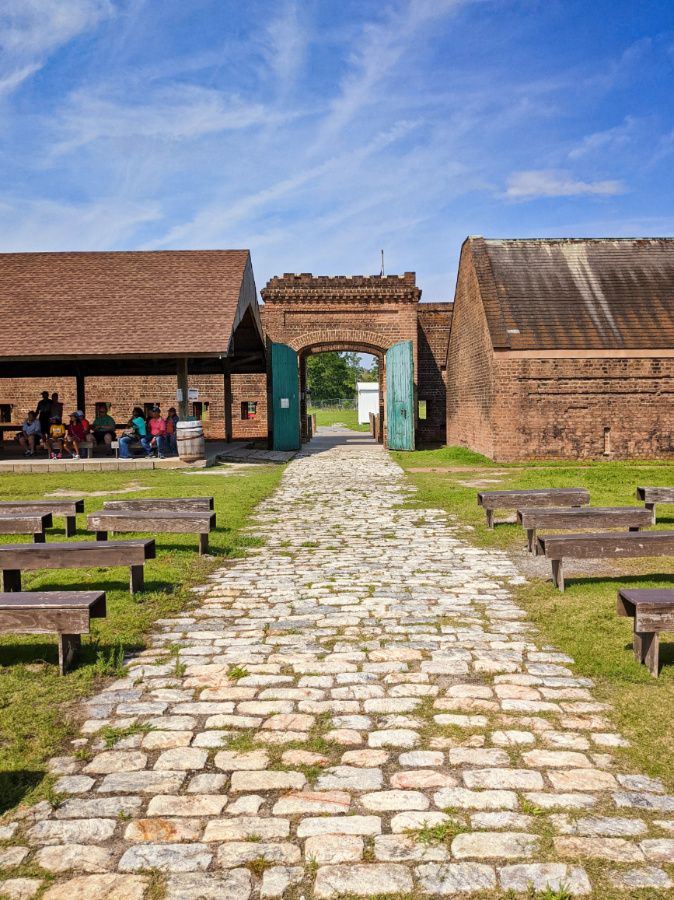 Attend Special Events by the Coastal Heritage Society
I've never seen a tourism or historical society with so many events! From daily cannon firing to living history, battle reenactments and educational talks, the Coastal Heritage Society has thoughtfully set up a wide variety of programming for visitors. While not everything on their calendar happens at Old Fort Jackson, a significant number of events do. Check out their schedule before you plan your visit!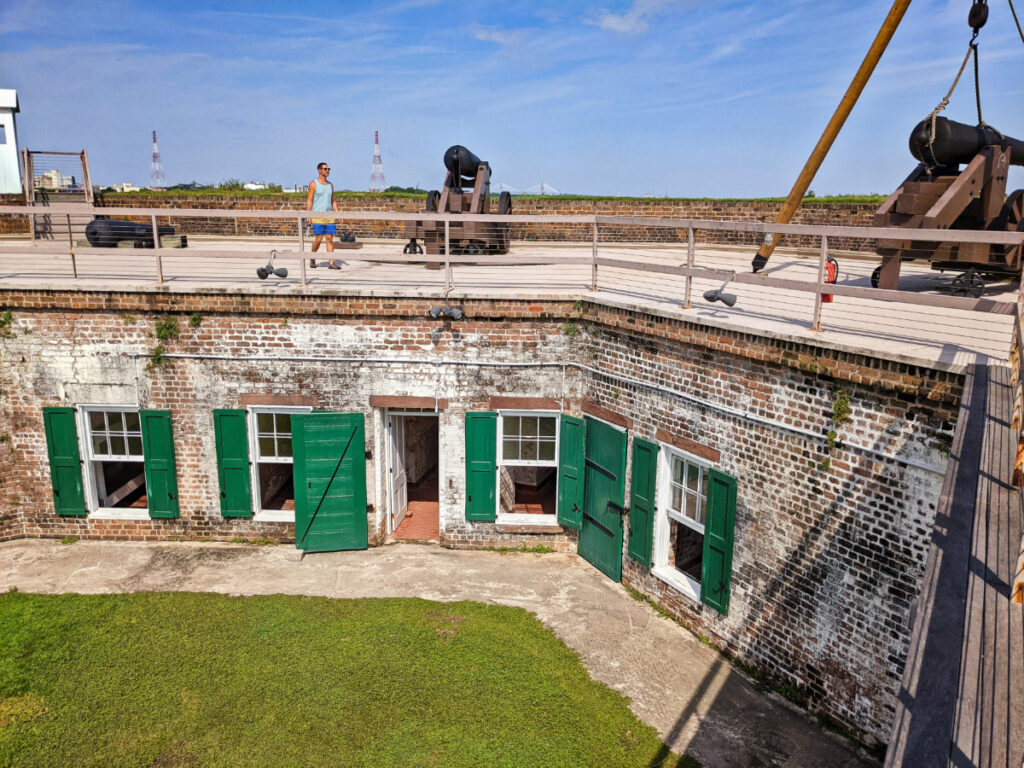 Explore Nearby Bonaventure Cemetery
I think Bonaventure Cemetery is both one of the most beautiful places in Savannah and one of the most fascinating to visit. It's not too far from Fort Jackson, so for an interesting and history filled day, add a visit to Bonaventure Cemetery to your plan when you're in Savannah. I think pairing a historic fort with Bonaventure is a great way to get a broad picture and understanding of Savannah life. Also, Bonaventure is free to visit.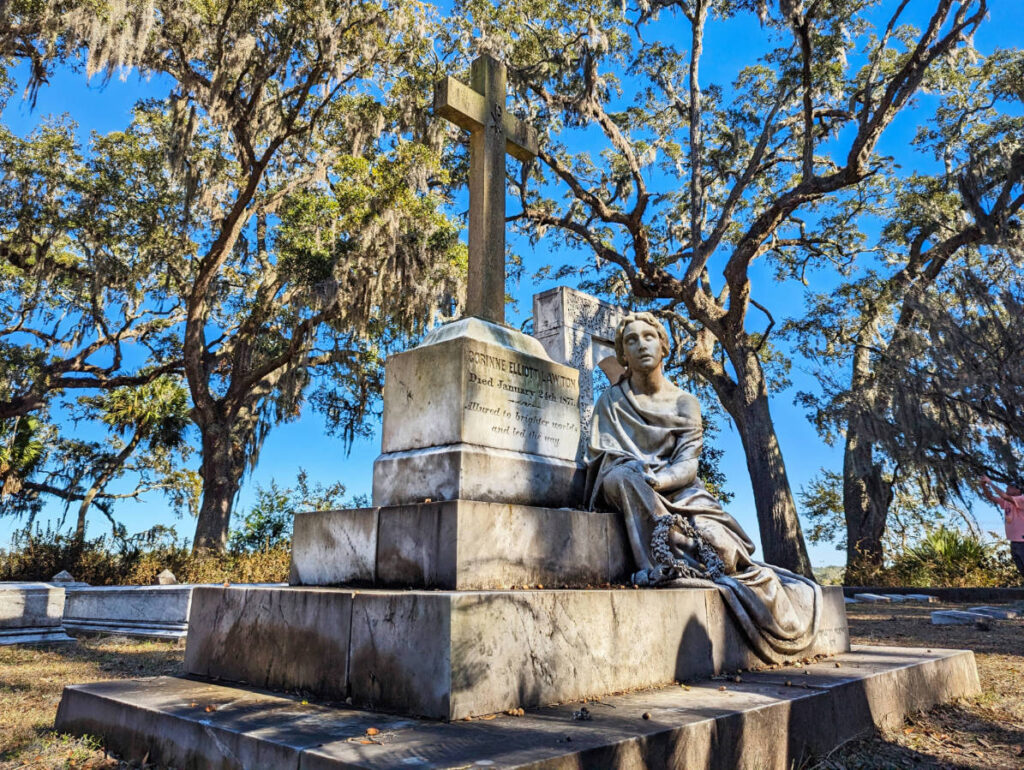 Side Trip over to Fort Pulaski National Monument
Another great activity to add to your history day around Savannah is a trip over to Fort Pulaski National Monument. Very different from Old Fort Jackson, Fort Pulaski is HUGE and is much more than a Civil War era fort. Here you'll find the large fortress with its tunnel and spiral staircases, as well as trails and even a lighthouse. I think this is a great pairing with Fort Jackson because it's so different, but if you're traveling with kids, this may be too much history in one day.
Frequently Asked Questions about Old Fort Jackson
You might have more questions, but I'm pretty sure these are the most frequently asked questions about Old Fort Jackson. It's kind of an obscure site since it's not a part of Georgia State Parks or the National Parks System, but I think this'll cover everything.
What is Old Fort Jackson? And why is it called that?
Old Fort Jackson is a Civil War era fort just east of downtown Savannah, Georgia. It's called "Old" because its original name was Fort James Jackson, but its name was changed to Fort Oglethorpe and then was decommissioned and preserved, so it's now called old.
When was Old Fort Jackson built?
It took four years to build Fort James Jackson, now know as Old Fort Jackson. It was under construction from 1808 to 1812.
Who built Old Fort Jackson?
The US Army built Fort James Jackson with the purpose of defending Savannah, but then the Confederate Army held the fort until General Sherman took it in 1864 during his March to the Sea.
What was the purpose of Old Fort Jackson?
Fort James Jackson was intended to prevent ships from sailing up the Savannah River to attack the city. It was equipped with plenty of cannons to do the job, but during the Civil War it fell pretty quickly, even though it took days to conquer nearby Fort Pulaski.
Was Old Fort Jackson ever used in a battle?
Yes, it was. It was manned during the War or 1812 and other conflicts, but ultimately it's know for being a Confederate fort during the Civil War and then falling to the Union Army during General William T. Sherman's march to the sea.
How has Old Fort Jackson been preserved over the years?
In 1920 Fort Jackson was sold to the City of Savannah and then by 1970 it had been restored for public education and historic preservation. In 2000 Fort Jackson it became a part of CHS.
What kind of artifacts can visitors see at Old Fort Jackson?
There are a lot of Civil War era artifacts in the exhibits at Old Fort Jackson. You'll see weapons, medical supplies and more.
How much does it cost to visit Old Fort Jackson?
It's $10 for adults and $7 for kids to visit Fort Jackson. You can also buy a Coastal Heritage Society See 3 ticket for $21 and gain admission to other area attractions. (2023 prices)
What are the hours of operation for Old Fort Jackson?
Old Fort Jackson is open from 9:00 am to 4:00 pm everyday except certain holidays.
Is Old Fort Jackson accessible for visitors with disabilities?
Yes! Old Fort Jackson is wheelchair accessible on the main level, with entry assistance through a side gate vs through the Tybee Depot building.
Can visitors take guided tours of Old Fort Jackson?
There are not guided tours of Old Fort Jackson, but there are continual living history demonstrations and docents to provide information on a personal basis.
Is there parking at Old Fort Jackson?
There is plenty of parking at Old Fort Jackson, and there is a place to lock up bikes if you choose to ride to the fort from downtown Savannah.
How long should visitors plan to spend at Old Fort Jackson to fully experience it?
I think 90 minutes is ideal for getting the full Old Fort Jackson experience. If you want to see the many different demonstrations and cannons throughout the day, you'll need longer.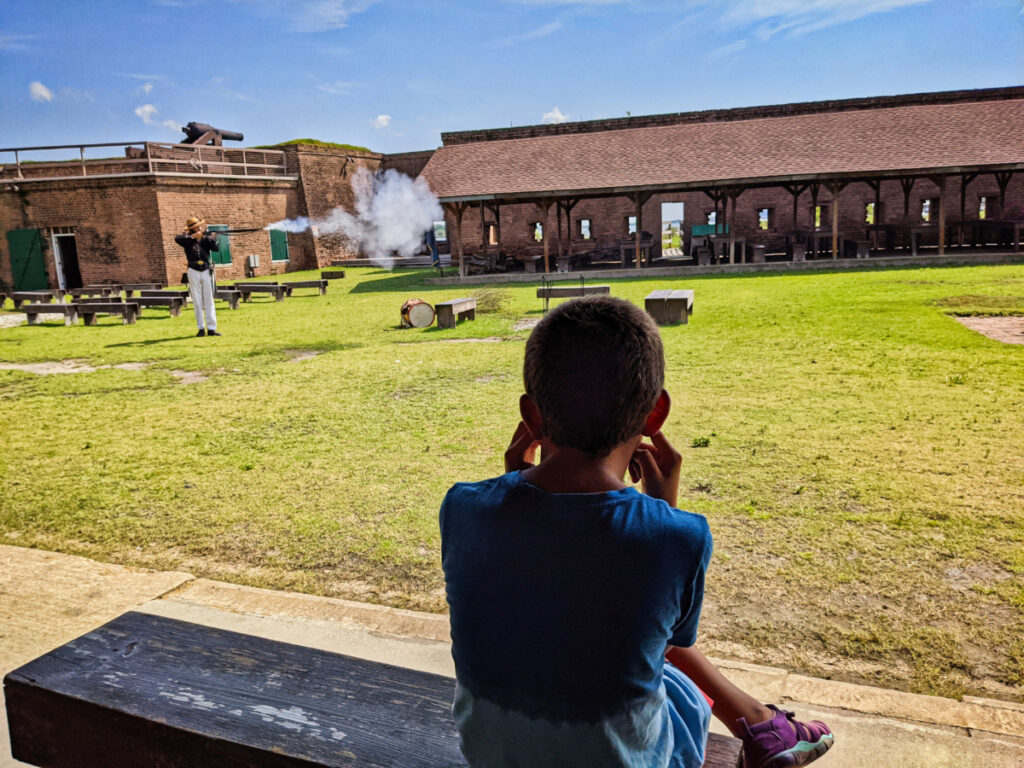 So what do you think? Are you ready to add a visit to Old Fort Jackson to your Savannah itinerary? I would allot 90 minutes of your day for this activity, and if you're really getting into the living history side of things, you could be there for a few hours.
If you have any questions or suggestions, please leave a comment or send us a note. We're always happy to share more and to help others plan awesome travel experiences!