Savannah is full of museums and historic sites, but if you're looking for art, there is a cluster in the Historic District that you cannot miss: the Telfair Museums. Consisting of the Telfair Academy, the Jepson Center and the Owens-Thomas House & Slave Quarters these museums showcase both beautiful art and insight into Savannah's past.
If you're explored Savannah's historic sites or its many beautiful squares, you'll no doubt come to Telfair Square where you'll find both the Telfair Academy and the Jepson Center for the Arts. And you MUST stop in! We're sharing our favorite things about the Telfair Museums and details about visiting when you're in Savannah.
If you have additional favorites or questions, please leave a comment or send us a note. We're always happy to share more!
The Telfair Academy Museum
We really enjoy the Telfair Academy and love the actual building it's in. This museum is housed in the historic Telfair family mansion and features a collection of American and European art from the 18th and 19th centuries, including paintings, sculptures, and decorative arts. If you start in the basement and work your way up, you'll get a full experience, including the amazing plaster casts of famous marble sculptures.
The Telfair Academy is home to a diverse collection of American and European art, mostly from the 18th and 19th centuries, as well as a section dedicated to the natural world. While it might not seem like it really fits with the rest of the art collection, the science and nature exhibits, though small, are pretty cool. Add to them a decorative arts collection and it's a pretty well-rounded collection
The museum's main attraction is its permanent collection, which includes famous and MASSIVE works such as:
the Rotunda Gallery – this is where you'll find the really big paintings that are just astounding. They're beautiful and well preserved. The Rotunda itself is an attraction and is the perfect setting for experiencing the Telfair Academy.
European and American paintings: The museum's collection includes works by well-known artists as well as lesser-known and local Georgia artists whose works are equally interesting.
the Sculpture Gallery – this is the basement area I mentioned. Here you'll see world famous sculptures… but not the originals. This gallery at the Telfair Academy is full of plaster casts made from the original pieces in Europe and then brought here by the original curator. There are also quite a few paintings here too.
and of course, Bird Girl: This statue, made famous by its appearance on the cover of the novel "Midnight in the Garden of Good and Evil," is a highlight of the museum's collection. Created by artist Sylvia Shaw Judson in 1936, the statue depicts a young girl holding two bowls that were originally meant to hold birdseed. It used to be in Bonaventure Cemetery, but now resides in the Telfair Academy. Read all about Bird Girl here!
In addition to its permanent collection, the Telfair Academy also hosts a variety of temporary exhibitions throughout the year, which provide visitors with the opportunity to see new and exciting works of art. The Telfair Academy is directly affiliated with the neighboring museum, the Jepson Center for the Arts.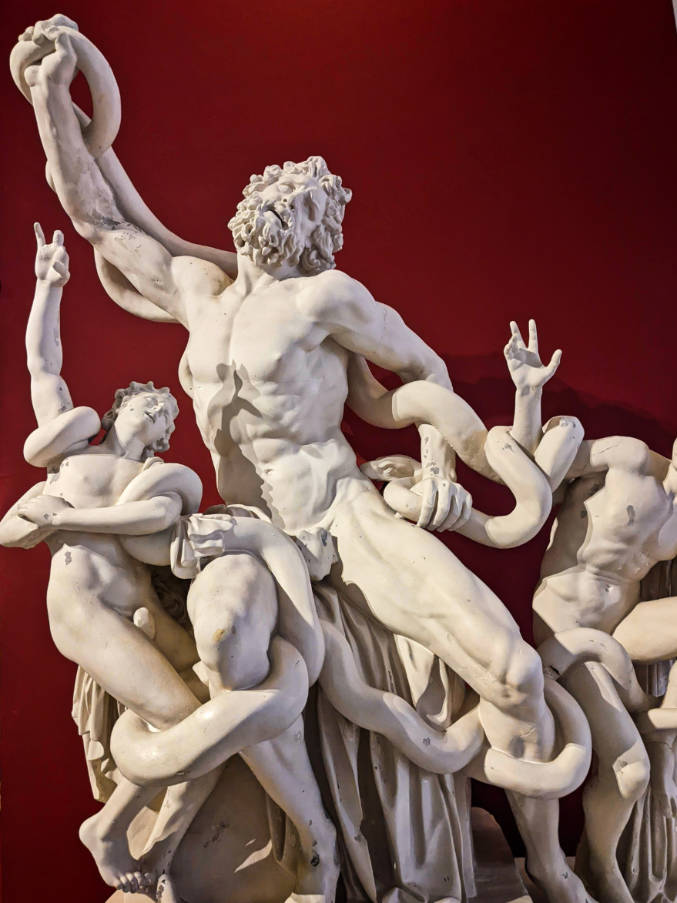 The Jepson Center for the Arts
The Jepson Center for the Arts is primarily focused on contemporary art and offers a variety of exhibits and installations throughout the year, and when you walk by you can sometimes spy a bit of what to expect with current exhibits. The main feature of the Jepson Center is its collection of contemporary art, which includes works by both emerging and established artists. And kids!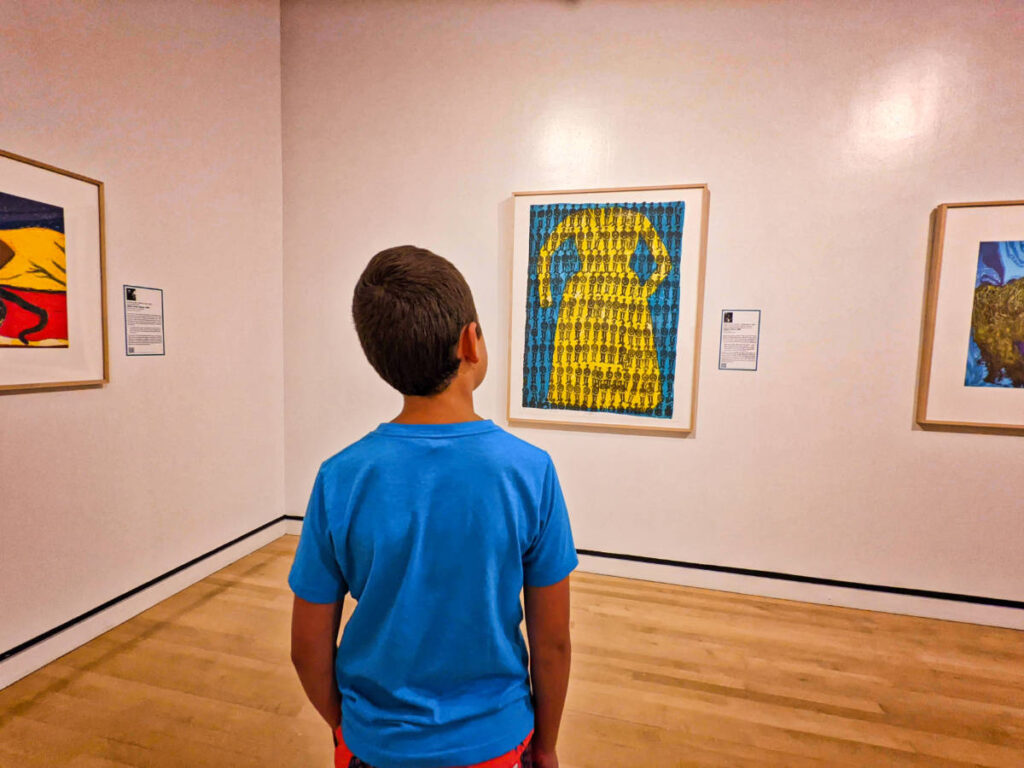 Some of the key things we love about visiting the Jepson Center are:
Rotating Exhibits: The museum is all about rotating exhibits, which showcase a variety of contemporary art styles and mediums. From painting and sculpture to video and performance art, visitors can expect to see a wide range of works on display. There are a lot of digital artists that get featured here too, which is really cool to experience with kids because they really seem to connect with it as art, not just as technology.
Interactive Children's Gallery: The museum's ArtZeum is an interactive children's gallery that features hands-on activities and exhibits designed to engage young visitors and inspire their creativity. The art studio is our favorite element and we really enjoy getting to create different pieces depending on what medium they're focusing on when we visit. NOTE: this is turning into the Telfair Children's Art Museum this year! (2023)
Modern Architecture: The Jepson Center's modern architectural design is a feature in itself. Designed by architect Moshe Safdie, the building features a beautiful glass and steel façade, a dramatic central atrium with a café, and an open floor plan that provides ample space for large-scale installations and exhibitions. The museum galleries are each very different with a variety of shapes and moods.
Overall, the Jepson Center is a unique and exciting place to experience with kids. We enjoy walking there from our apartment at Forsyth Park and then heading to lunch downtown. It's the perfect weekend afternoon plan!
The Owens-Thomas House & Slave Quarters
The Owens-Thomas House & Slave Quarters is a historic home that is operated as a historic house museum by Telfair Museums. The Owens-Thomas House was designated a National Historic Landmark in 1976, as one of the nation's finest examples of English Regency architecture. The House is a good place to visit for its architecture and its history.
The house was built between 1816 and 1819 for George Owens, an Irish immigrant who made his fortune in the slave trade. The house is an magnificent example of English Regency architecture, and the slave quarters are some of the best-preserved in the country. The house is welcomes the public for tours, and visitors can learn about the history of slavery in Savannah and the Owens family.
Note: if you're visiting the Telfair Museums, save your admission ticket for entry to the Owens-Thomas House as well. And if you're doing one of the Savannah ghost tours, they usually stop by here too, but don't go inside.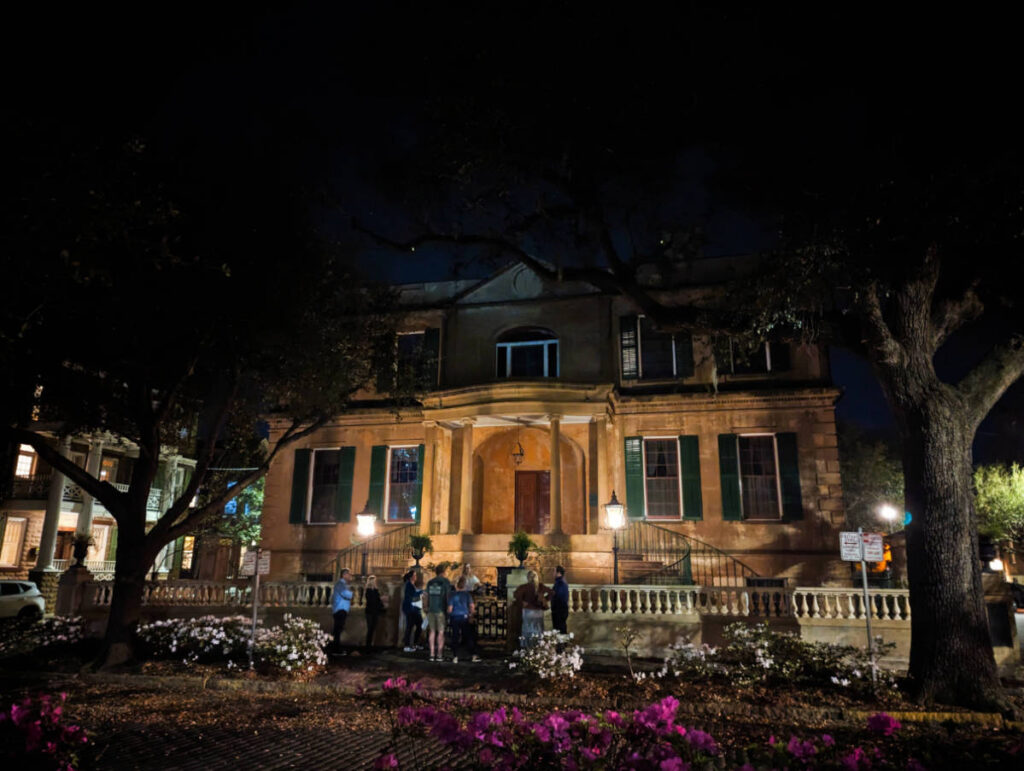 Where are the Telfair Art Museums?
The Telfair Academy and Jepson Center are both located on Telfair Square in the Historic District, just two blocks up from Broughton Street. They are walking distance from nearly anywhere in the Historic or Victorian Districts. Telfair Square is at the intersection of Barnard Street and either State (Telfair Academy) or York (Jepson Center) Streets. You can easily explore one and then head to the other.
There is one other location that is a part of the Telfair Museums, and that's the Owens-Thomas House & Slave Quarters. This museum is located at State Street and Abercorn on the east side of the Historic District. It's about a fifteen minute walk from the main Telfair Museums.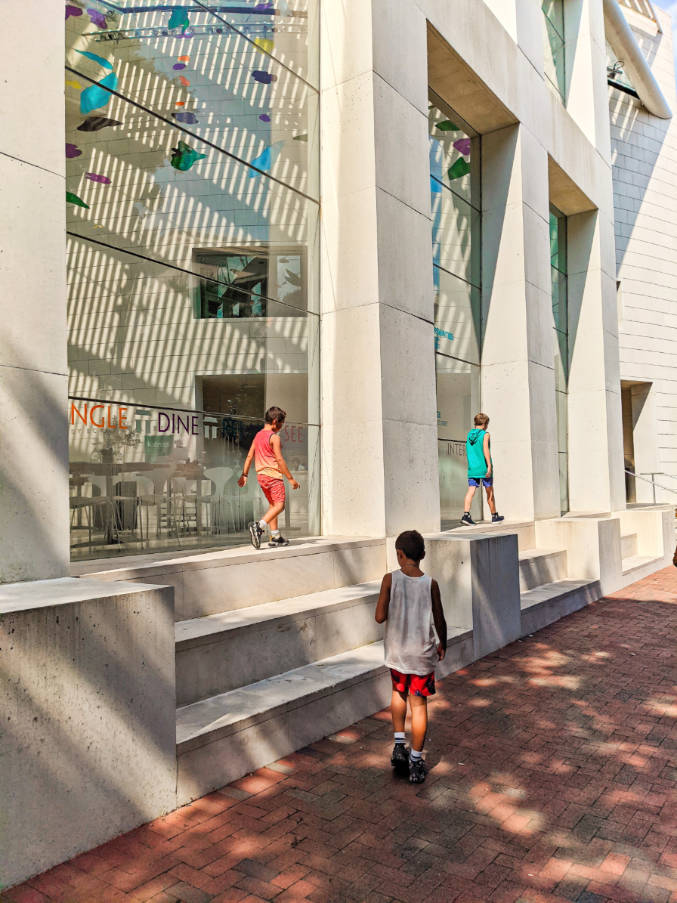 Admission and Hours for the Telfair Museums
So here's something cool: your admission to one museum actually gets you into all three Telfair Museums! Save your ticket! You have one week to use it. Here are the 2023 costs for tickets:
| | |
| --- | --- |
| Adult: | $25 |
| Senior (65+): | $23 |
| Active Military (with military ID): | $23 |
| Student (ages 13–25 with student ID): | $17.50 |
| Child (Ages 6–12): | $10 |
| Child (Ages 5 & under): | FREE |
The Telfair Museums keep it easy for hours with all of them being open from 10:00 am to 5:00 pm. Inside the Jepson Center, you'll also find the Wildflower Café. This restaurant serves lunch and delightful snacks from 11:00 am to 4:00 pm. You can have lunch at the Jepson's café without purchasing a museum ticket.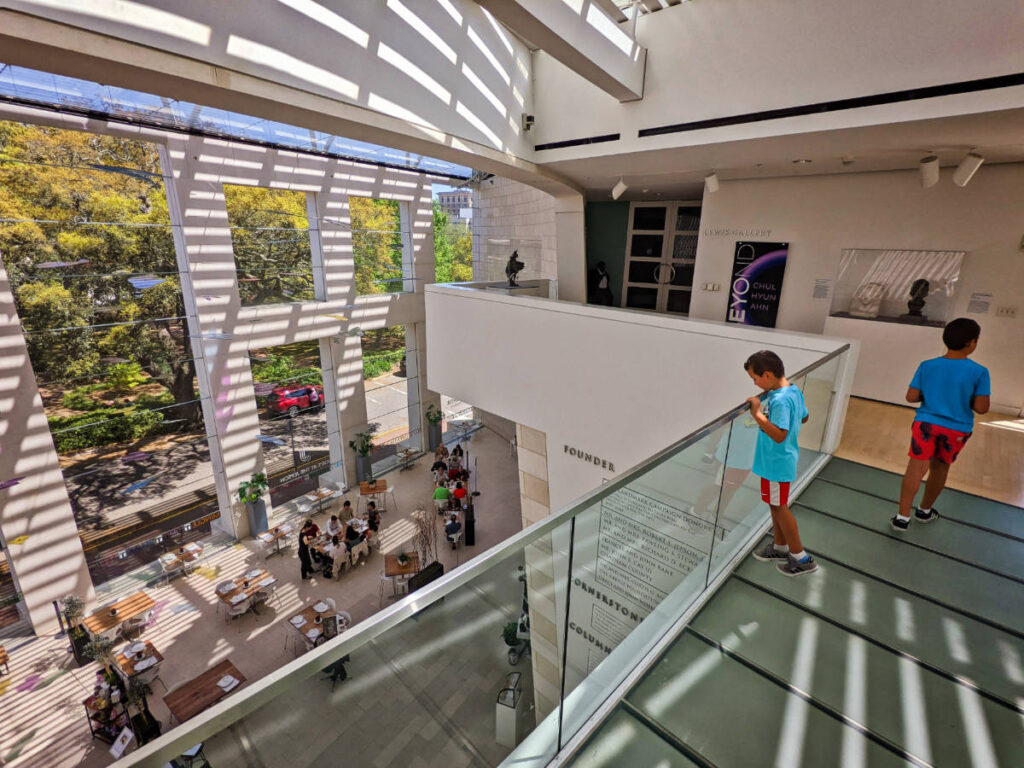 Tours at the Owens-Thomas House
Since your Telfair Museums ticket includes admission to the Owens-Thomas House & Slave Quarters, don't miss getting to tour it. It's a fascinating place. Tours are given at 15-minute intervals. The last tour begins at 4:15 pm. Guided tours are available from 10am-3:00pm, with self-guided audio tours available from 3:30-4:15pm every day. Tours typically last around 45 minutes to an hour (depending on how many questions kids have). Tour groups can consist of up to 12 people, but ideally they'll run with just a household/visitor group.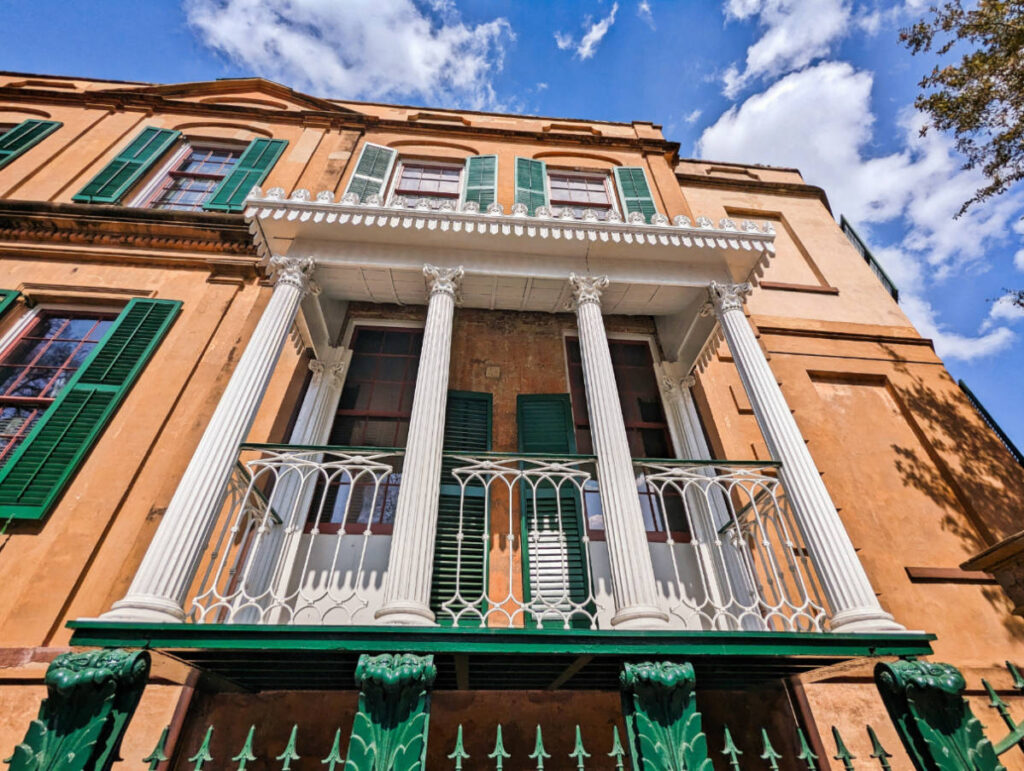 Are you excited to add the Telfair Museums to your Savannah itinerary? It's one of the best things to do in town and ensures you get a healthy dose of both history and culture.
If you have any questions or additional suggestions for visiting, please leave a comment or send us a note. We're always happy to share more!