Spending so much time up there, we for sure have our favorite squares in Savannah. These small parks, the Squares, are WHY Savannah is famous and what give the city both its charm and fantastic walkability. You'll love exploring them, or you'll quickly find your own favorite and just go there each day during your visit to ready a book and have a glass of wine.
Savannah is one of the most beautiful and architecturally rich cities in the United States. From its intricate cobblestone streets to its historic city squares, there are plenty of sights to see and places to explore. Whether you're looking for a place to eat, relax, or enjoy some live music, Savannah Downtown has something for everyone, and the best squares in Savannah NEED to be on your list of things to do when you visit.
When it comes to city squares, Savannah knows how to do it well. The city is filled with majestic architecture and stunning squares dating back to the 1730s. The Historic District is home to some of the most beautiful and iconic squares in the country, each with its own unique history and personality. If you're looking for a relaxing place to wander around and take in the sights and sounds of Savannah, these squares are definitely worth exploring. If you have any questions, please leave a comment or send us a note!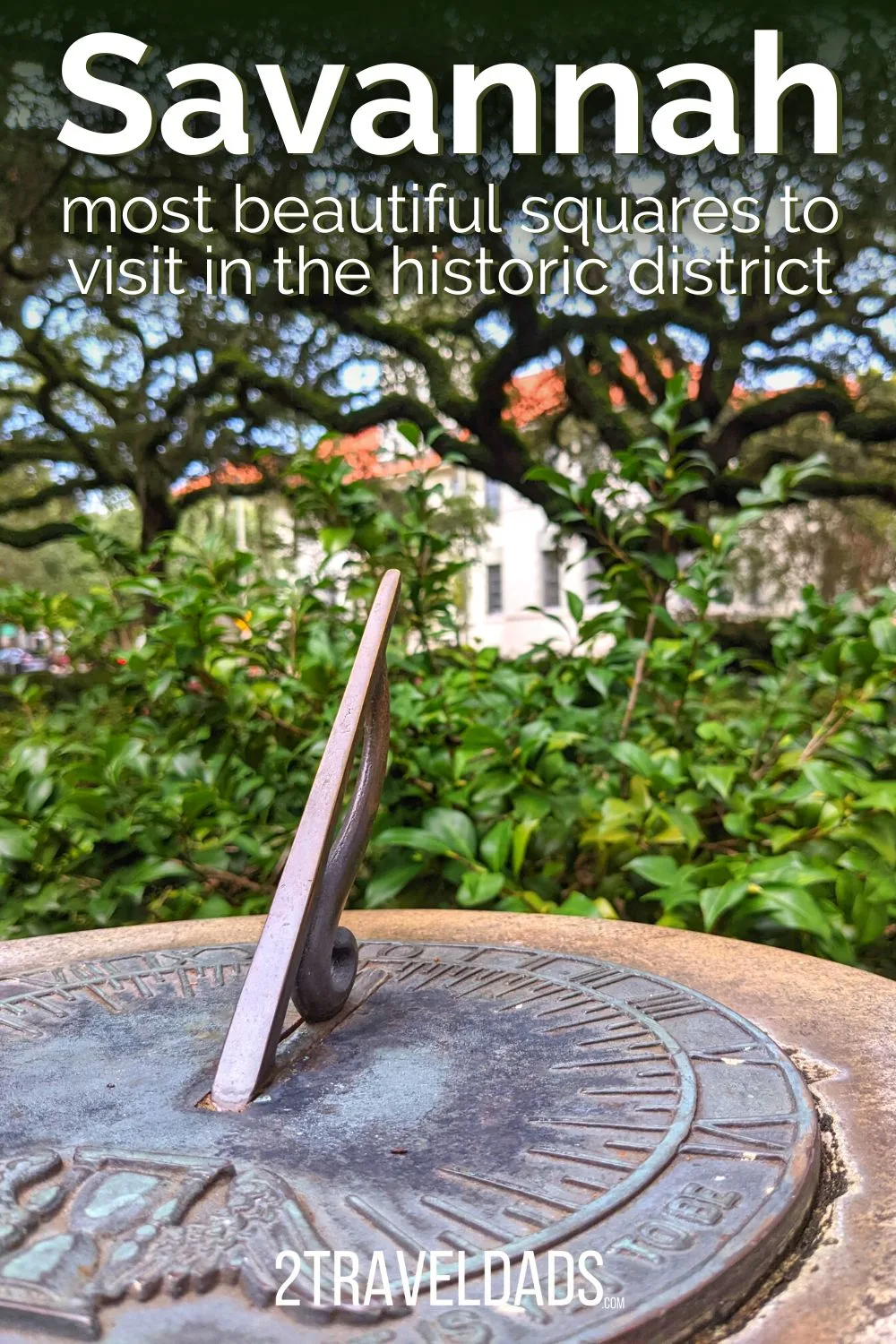 Why Does Savannah Have So Many Squares?
While I'd like to think that Savannah was designed to have so many beautiful squares just because it made the city so pretty, it actually had a practical purpose. When the city was first planned in the 1700s, the goal was to create a place for settlers to communities within the city, and for the city to be easy to defend against attack. Early Colonial Georgia history is ALL about battles between the English and Spanish, so military consideration was a part of the design.
The squares originally were a super smart community framework. Each square had homes around it, and each home had a yard behind it. With each of the homes on the squares came a garden plot at the edge of town and then a farm plot beyond the town gardens. Over time, the plots of land stopped being doled out with the home sites on Savannah's squares.
As the city grew, they went off the original plan and continued to build squares expanding away from the Savannah River. Today, Savannah's squares stretch from Bryan Street (between Bay and Broughton) to Gordon Street (between Taylor and Gaston). Then there is Forsyth Park, which is the biggest of any of squares in Savannah.
Fun Fact: the same concept was used down the Georgia Coast in a few other cities as they were built. Both Darien and Brunswick, Georgia were initially laid out like Savannah using the community square model.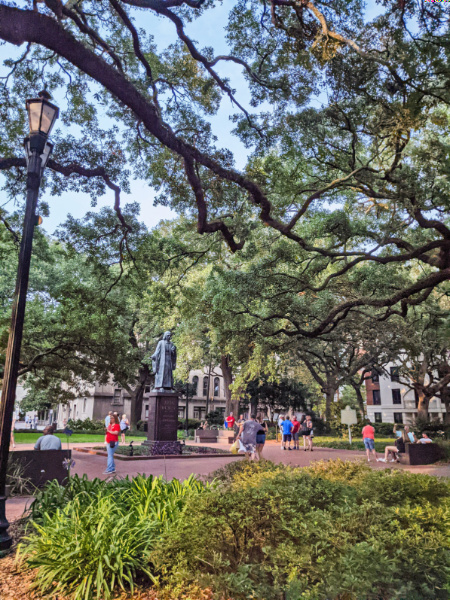 How Many Squares Does Savannah Have?
When Savannah was first planned out in the 1700s by James Edward Oglethorpe and William Bull, there were just six squares, but as their plan grew, 24 squares and a few parks made up the city. The original squares were planned and designed as early as the 1730s with the last, Lafayette Square, being designed in 1851 (built in 1873).
The original 6 squares of Savannah include:
Ellis Square
Johnson Square
Telfair Square (originally called St James Square)
Reynolds Square (originally called Lower New Square)
Wright Square
Oglethorpe Square (originally called Upper New Square)
Something unique about the squares in Savannah is that they are still actively updated and maintained. As recently as summer of 2023 the City of Savannah has renamed a square and is updating its park features. Susie King Taylor Square was formerly known as Calhoun Square. Exhibits honoring Susie King Taylor, the first Black nurse during the Civil War, and explaining the history of John C Calhoun are both found in the park. To quote the mayor: "It's one thing to make history. It's something else to make sense. And in this case, we're making both," Savannah Mayor Van Johnson said. He noted that five Black women sit on the nine-member city council, something people of Taylor's era "never would have fathomed."
Which Squares are Haunted?
OMG, everyone always wants to know about haunted Savannah and which squares are the most haunted. I like to just enjoy visiting the most beautiful squares in Savannah without thinking about the terrible past of some of them, but the past does indeed exist. Haunting stories in Savannah aren't just about vengeful lovers stalking the streets at night, but there are actually a lot of tragic historic periods when slavery was a part of Savannah's growth.
Ellis Square actually was the site of a slave market and just a few blocks from there, Factors Walk, is where the Underground Railroad to hide people trying to escape slavery. With a history like this, some ghost tours in Savannah will include stories of enslaved people in their tales of haunting.
For the less serious stories of haunted squares in Savannah, Monterey and Madison Squares are known for their ghosts. The historic homes around them are included in many ghost tours and you can even specifically visit certain buildings, like the Sorrel Weed House or the Mercer Williams house, for a haunted tour.
Book a Savannah Ghost Tour here! (top pick: Genteel and Bard's Ghost Tour)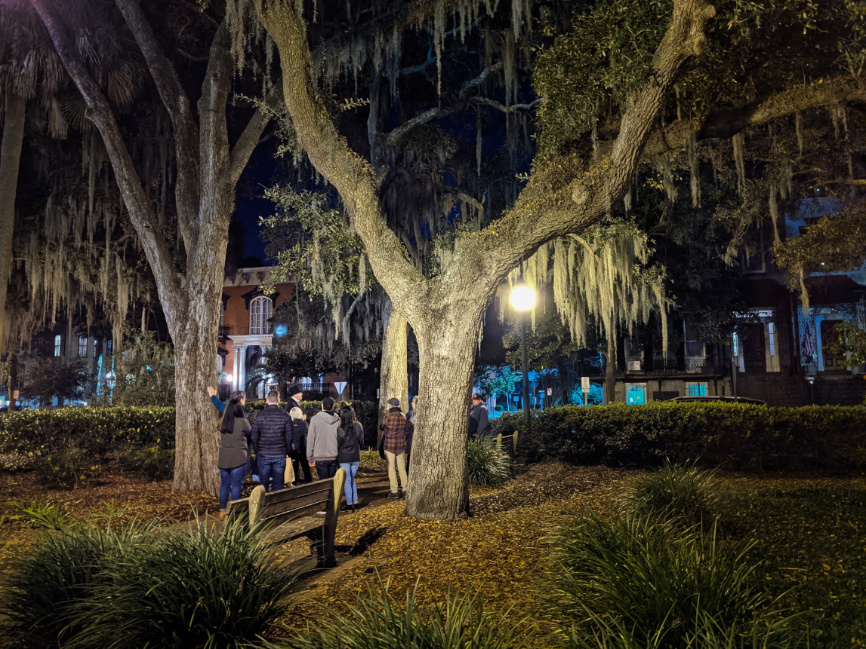 Best Squares in Savannah to Visit
And now for our favorites, the best squares in Savannah to visit. These are all within walking distance, as they're all located in the Historic District. You'll find that there are typically two blocks between each square with smaller streets mixed in. It's easy to wander the city along the grid and see almost all of them without doubling back. Be sure to stop into the Historic District restaurants for great food and cocktails as you stroll.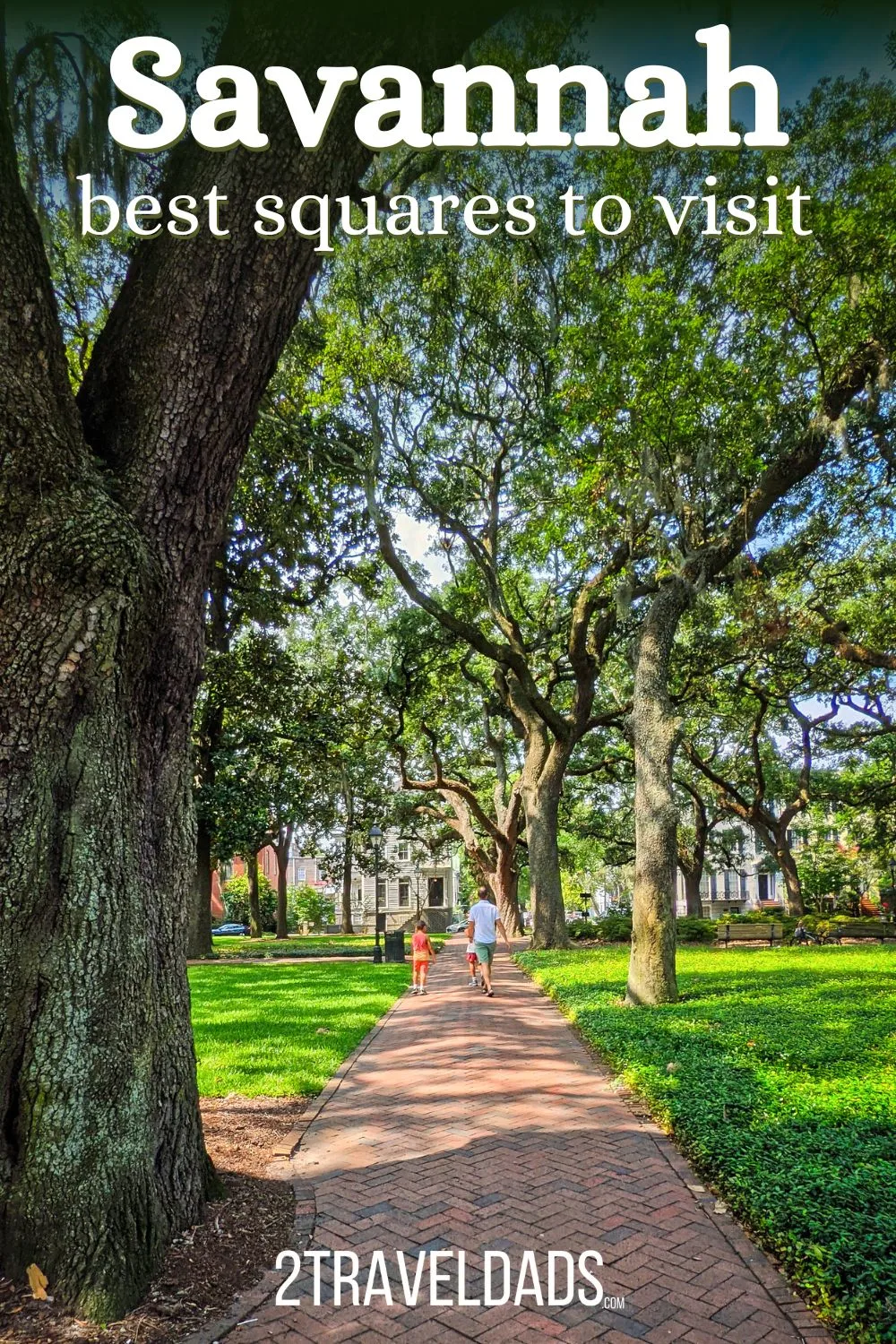 Madison Square
Madison Square is an awesome place to visit in downtown Savannah. Designed in 1837, it is at the center of many excellent restaurants and shops, as SCAD holds several of the properties around the square. Madison Square is a great place to stroll around, grab a bite to eat, and shop for unique gifts. There are also often events and performances taking place in the square, so there is always something to do.
In Madison Square you'll find the History of Emancipation marker, historic cannons (not used anymore) and the statue of William Jasper (a Revolutionary War solider).
Notable stops at Madison Square at Bull and Harris Streets: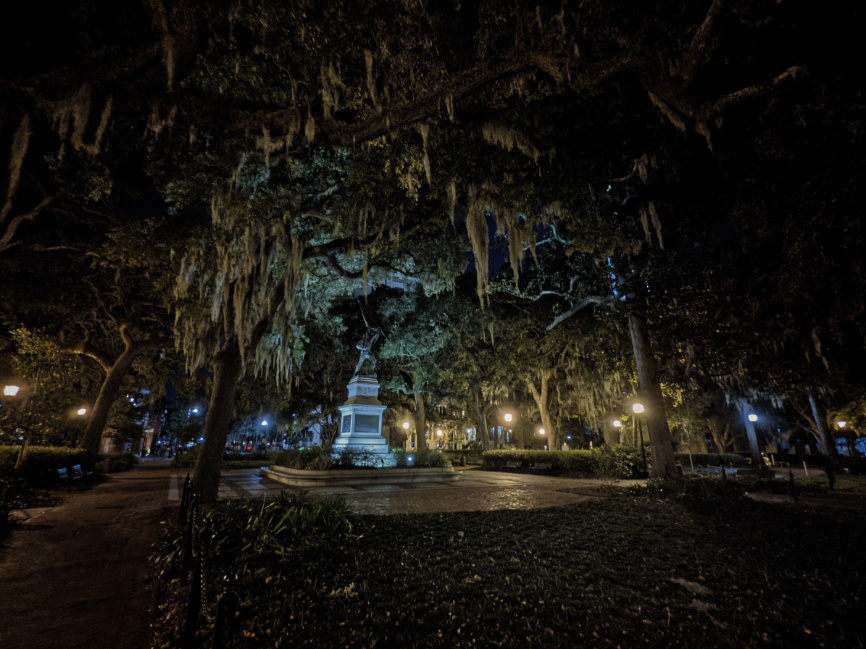 Chippewa Square
Chippewa Square is a historic square located in downtown Savannah, Georgia. The square is named for the Battle of Chippewa, which was fought during the War of 1812. At the center of the square is a statue of James Oglethorpe, the founder of the colony of Georgia and the namesake of basically everything in Coastal Georgia, all the way to Fort Frederica in the Golden Isles. There are a lot of activities and attractions nearby, including the Georgia State Railroad Museum and the Owens-Thomas House.
The most famous happening at Chippewa Square was actually the filming of Forrest Gump's park bench scenes. This is where he sat, waiting for the bus to get to Jenny in the movie. The bench itself is no longer there, but in the Savannah History Museum.
Stops around Chippewa Square at Bull and Hull Streets:
the Savannah Theater (oldest operating theater in the USA)
Owens-Thomas House and Slave Quarters
Gallery Espresso (the best cakes!)
Sixpence British Pub
the Philbrick Eastman House (owned by Parker's) with the PRETTIEST Christmas tree in Savannah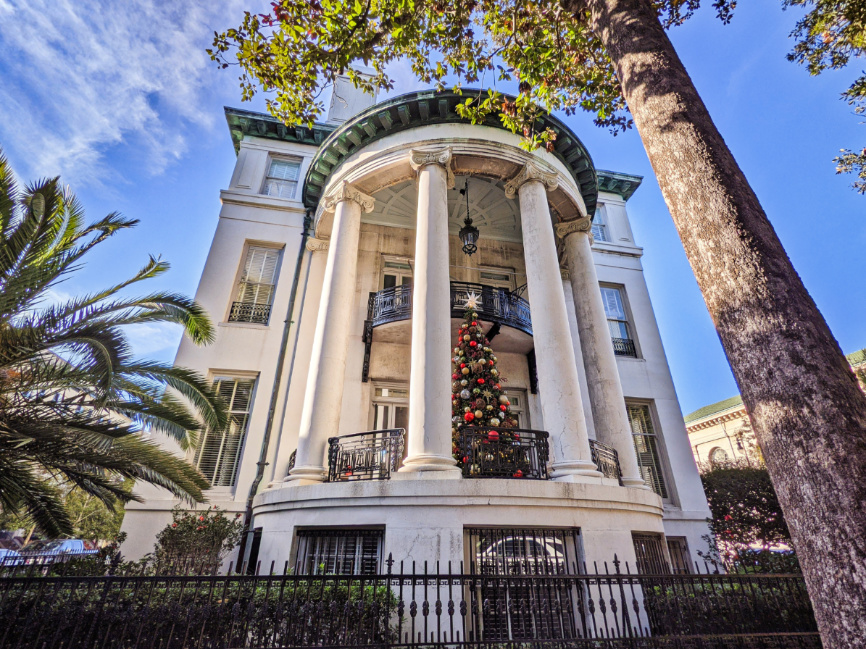 Troup Square
I think that Troup Square is one of the best squares in Savannah for a few reasons: 1.) it's beautiful, 2.) it's got the coolest metal sculpture of any square, and 3.) it's one of the less visited squares because it's a bit off the beaten tourist path. Located just east of the most popular areas in Savannah, but still directly in the Historic District, Troup Square is just five minutes from Bull Street. You can visit the square on your way to the Pirate's House for some of the most unique dining in Savannah.
The highlight of Troup Square is the sculpture, titled the Armillary Sphere. This globe is amazing with the zodiac signs, a sundial, a compass and it's just an all around work of art.
Stops around Troup Square at Habersham and Harris Streets: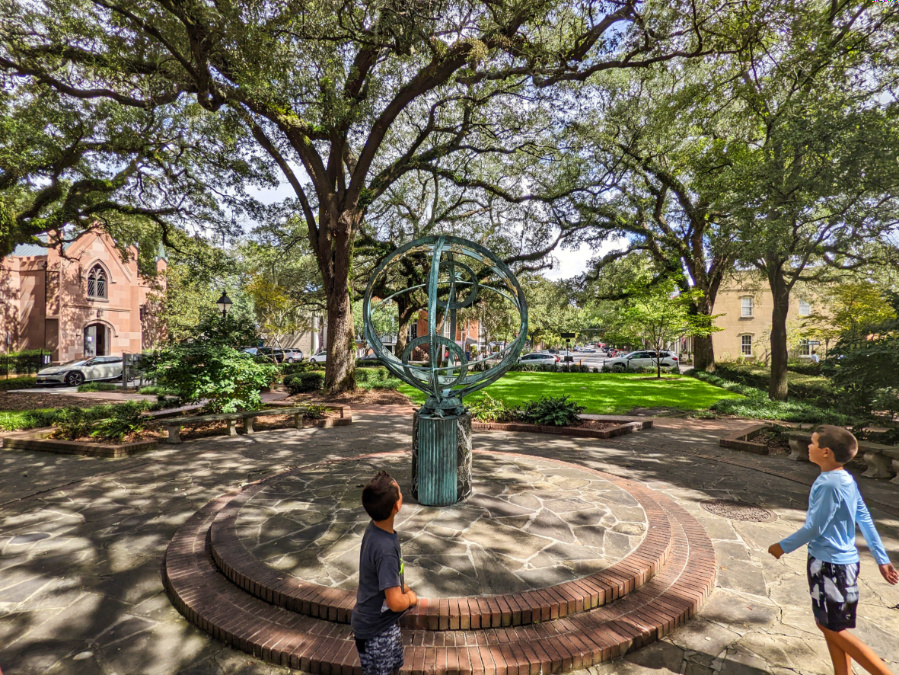 Johnson Square
Johnson Square is the perfect place to experience everything Savannah offers. Surrounded by City Hall, the Christ Episcopal Church, and several banks, the square is full of historical significance. One of the best squares in Savannah, Johnson Square is the FIRST square. You'll no doubt walk through it on your way between busy Broughton Street and the riverfront.
In the square you'll see several fountains, the Nathanael Greene Monument, and a small sundial. It's also an ideal place to people-watch, as it is always bustling with activity all times of day. There are plenty of benches to relax on, and the nearby restaurants make it a perfect place to grab a bite to eat.
Stops around Johnson Square at Bull and Bryan Streets:
Savannah City Hall (open to the public to see the rotunda)
Flying Monk Noodle Bar (one of the best Asian restaurants in Savannah)
Historic Factor's Walk
Grand Hyatt Savannah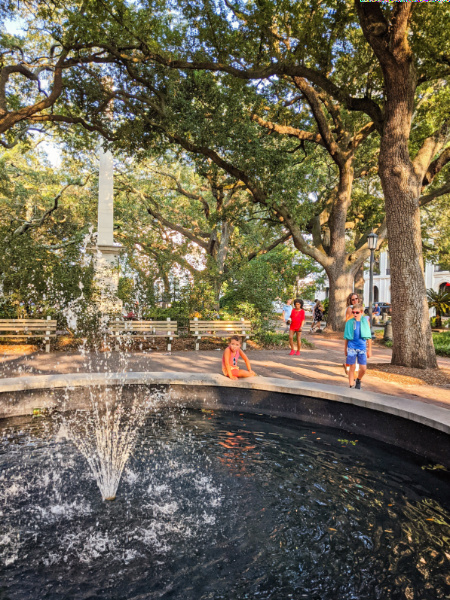 Columbia Square
Columbia Square is a small square is located in the middle of the neighborhood portion of the Historic District. Its serene fountain and live oak trees create an ambient atmosphere that is perfect for relaxing on one of the park benches. The square is a popular lunch spot for downtown workers, as it's just a few blocks from the offices and shopping areas, and a gathering place for tourists.
During the great Cold Snap of 2022, the Columbia Square fountain actually froze over, making for a very unusual sight for Savannah. The fountain survived the freeze and is back to bubbling and adding the sound of water to the city.
Stops around Columbia Square at Habersham and State Streets:
Whitefield Square
Whitefield Square is an ideal place to appreciate and enjoy the beauty in Savannah's eastside of the Historic District. Established in 1851, the park features a beautiful gazebo, benches, and flowers. Several shops and restaurants are nearby on the way to Forsyth Park, making it a great place to explore. The neighborhood around Whitefield Square is one of the best examples of a continually residential Savannah community. While there are quite a few historic inns nearby, the immediate square area remains very quiet and keeps the local vibe.
Stops near Whitefield Square near Taylor and Habersham Streets:
Amethyst Garden Inn
The Gastonian Inn
Godley Manor… Basically lots of historic inns near Whitefield Square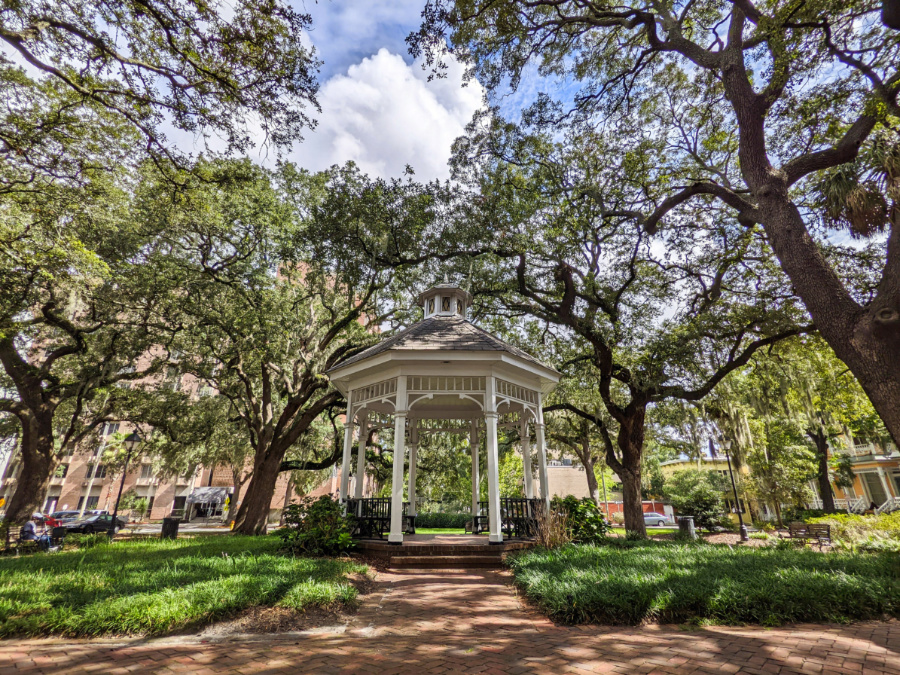 Pulaski Square
The ideal location to unwind or go for a stroll is Pulaski Square. The square was designed in 1837 and named after Count Casimir Pulaski, a Polish general who fought in the American Revolutionary War. While the statue of Count Pulaski himself is located a few blocks over in Monterey Square, Pulaski Square is a great place to sit and reflect. It's located on our street, so we walk through it often when we're heading downtown.
What makes Pulaski one of the best squares in Savannah is actually its lack of interesting features. Because it's simply gardens and benches, it's an easy place to stroll through without many people lingering. If you're planning a grassy picnic in the city or want to do yoga in the park, Pulaski Square is a great spot for it!
Stops near Pulaski Square at Barnard and Harris Streets:
Green-Meldrim House (General Sherman's Civil War headquarters with tours)
Liberty Street Parking Garage – TAKE NOTE OF THIS for easy parking on busy weekends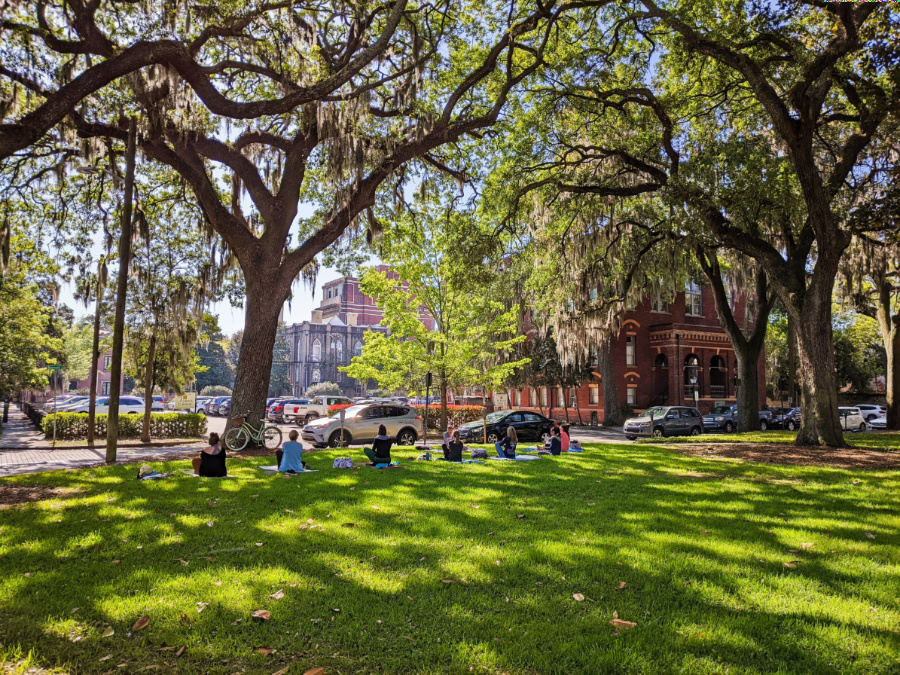 Chatham Square
Chatham Square is a beautiful, historic neighborhood green space just off downtown Savannah, Georgia. The area is shaded by enormous oak trees and features benches and popular spots for photos and weddings. Chatham Square has another sundial and lots of benches. Also on Barnard Street, it's very near Pulaski Square.
What I think makes Chatham Square one of the best in Savannah are its colorful houses surrounding it. Blue shutters, red doors, green buildings… The row houses around Chatham Square are perfectly Savannah.
Stops near Chatham Square at Barnard and Taylor:
Crystal Beer Parlor (really great in summer time!)
Mrs Wilkes Dining Room (southern family-style lunch)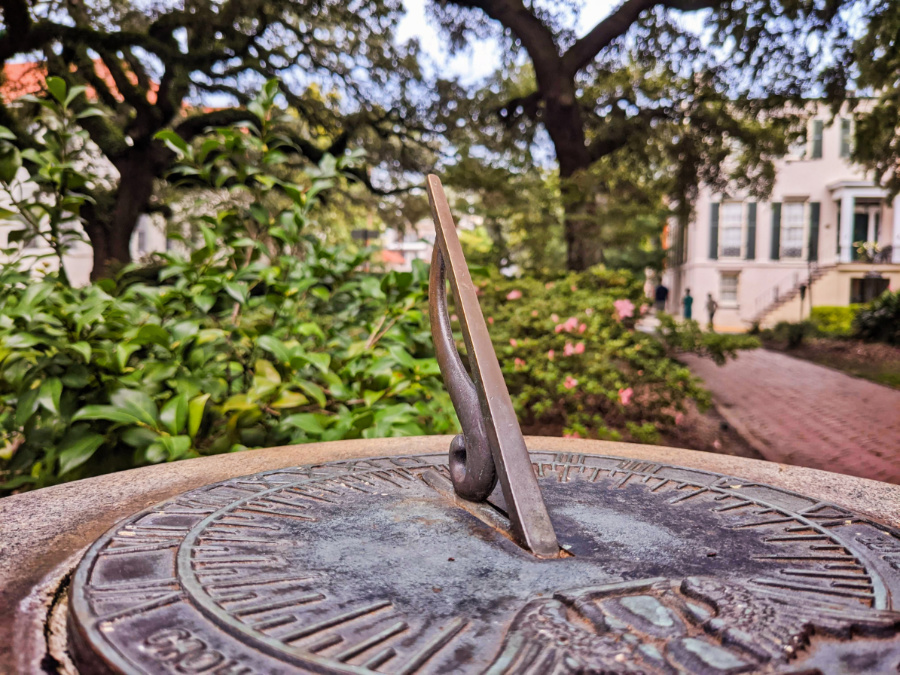 Monterey Square
Moving just a few blocks east of Chatham Square is Monterey Square. Home to several historic homes and buildings, as well as a variety of shops and restaurants, Monterey Square is the quintessential Savannah park. You can also find many gardens and green spaces in the square, making it a great place to take a break from sightseeing. The crowning sight at the center of the square is the Casimir Pulaski Monument.
Stops near Monterey Square at Bull and Taylor:
Mercer-Williams House
Armstrong Mansion
Congregation Mickve Israel (third oldest Jewish congregation in the USA)
Forsyth Park
Folklorico (the coolest eclectic arts shop)
Telfair Square
Telfair Square was laid out in 1733 as St. James Square but renamed a century later to honor one of the city's most influential families. Today, the square is home to vital institutions, including the Telfair Museum of Art, the Owens-Thomas House, the Jepson Center and the Flannery O'Connor Childhood Home. Visitors can enjoy various activities in the square, from exploring the museums to taking a leisurely stroll through the beautiful gardens.
Tip: everyone always talks about the Bird Girl statue from Midnight in the Garden of Good and Evil. This sculpture is houses in the Telfair Museum, which is a must visit. Also, you can get a ticket that's good for the Telfair, Jepson and Owens-Thompson House.
Stops near Telfair Square at Barnard and State Streets:
Telfair Academy (museum)
Jepson Center and Joe's at the Jepson
Alligator Soul (awesome restaurant!)
Broughton Street Shops
Ellis Square
We end our list of the best squares in Savannah with Ellis Square, not because it's beautiful and dripping with Spanish moss (cuz it's not), but because it's where so many Savannah events happen, and where the visitor center is. Ellis Square is the perfect place for a fun and activity-filled day. The square offers a water fountain for kids to play in, shaded tables, a life-size chess set, and CAT bikes available for rent.
Ellis Square is also conveniently located at the entrance to City Market on the park's west side and just one block east of Paula Deen's The Lady and Sons restaurant. This is also the place to start if you want to do a pub crawl in downtown Savannah.
Stops near Telfair Square at Barnard and Bryan Streets:
Goosefeathers Bakery Cafe (best breakfast sandwiches in town)
Byrd's Cookies
Savannah Visitors Center
the Andaz Savannah Hotel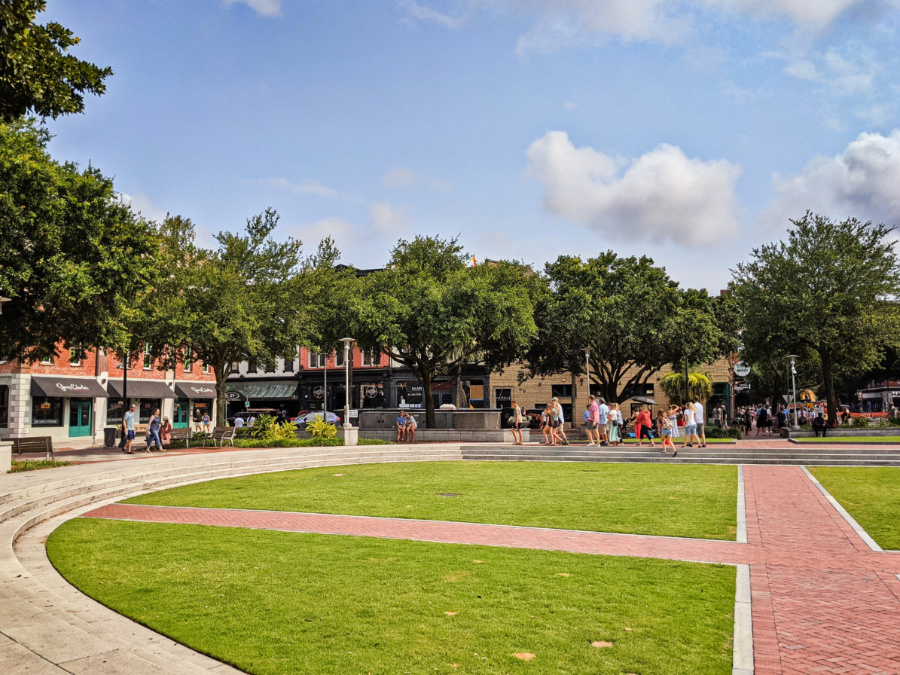 If you're looking for a fun-filled day in downtown Savannah, check out as many city squares as you can. Each one offers its own unique experiences and activities so that you can tailor your visit to your interests. Whether you want to people-watch or enjoy some retail therapy, there's something for everyone in Savannah's city squares.
If we didn't include what you think is one of the best squares in Savannah, please let us know! Leave a comment or send us a note sharing your favorites. We're happy to include them in updates!