Forsyth Park is the heartbeat of Savannah, Georgia and is full of fun things to do and great events. We spend a lot of time at Forsyth Park since we have a vacation rental in Savannah at the park, so I can confidently say that our tips and favorite places to eat near Forsyth Park are spot on. If you're planning a trip to the Georgia Coast, no doubt you'll spend time here in the Hostess City of the South, and you WILL end up at Forsyth Park.
Like with most major cities in the USA, Savannah is full of small squares and parks filled with benches, fountains, lawns and more. Forsyth Park is that and a bag of chips. Enjoy our guide to the best things to do at Forsyth Park in Savannah, and if you have any questions, please leave a comment or send us a note. We're always happy to help people plan vacations and visiting Savannah is a special one we love to be a part of!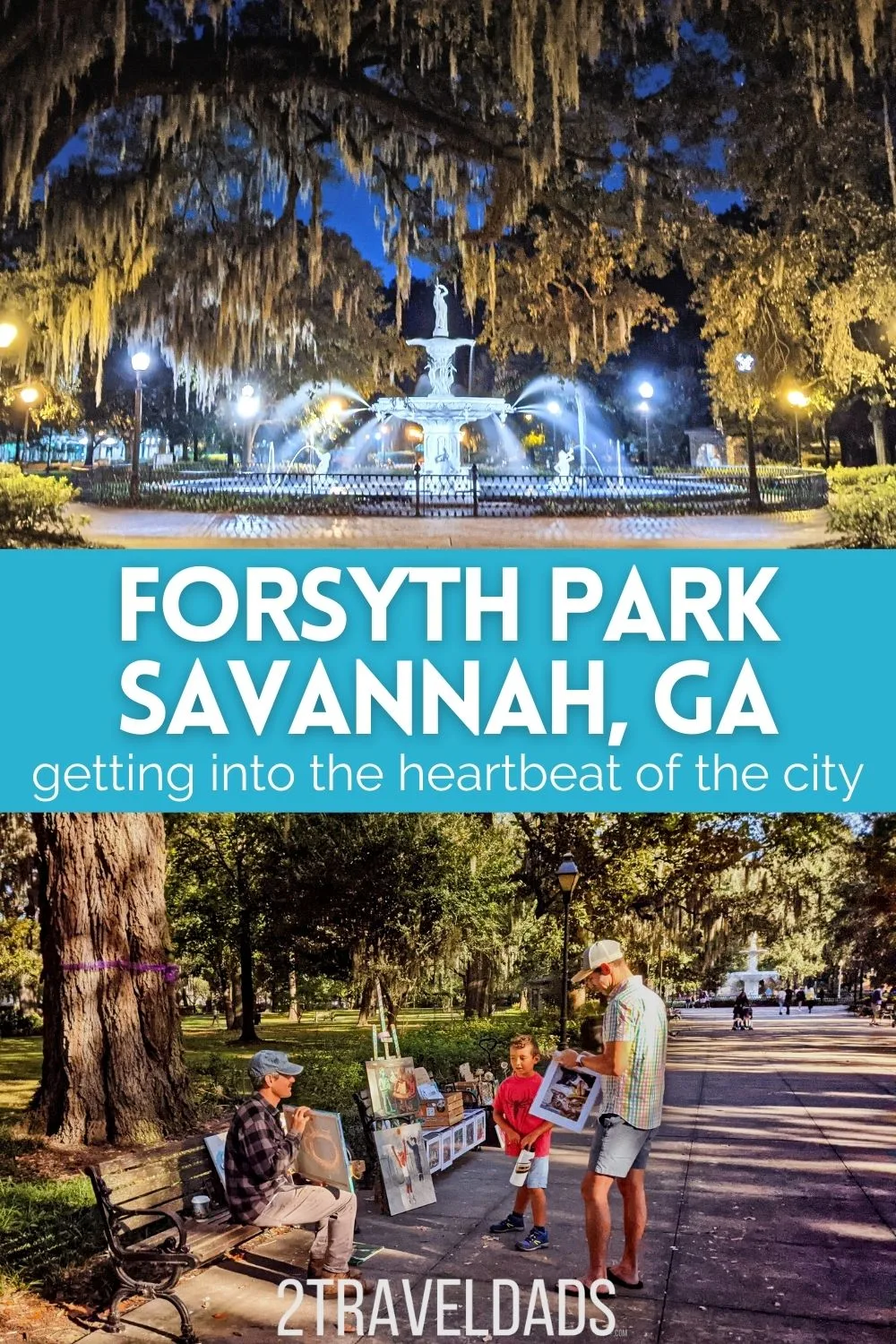 Things to do at Forsyth Park, Savannah
We love spending time at Forsyth Park, and when we're in Savannah and don't want to be fully touristy, we just hang out at the park. We bring our tennis racquets and field hockey gear when we go to Savannah, and we're never bored. It's just the best place to be in Savannah.
Explore the Gardens of Forsyth Park
When Savannah's Forsyth Park was created in the 1840s, it was only ten acres. By 1859 it was expanded to the full park we know today, 30 acres. The original ten acres at the north end of the park is where you'll find the beautiful Victorian gardens and walking paths, including many of the shaded picnic areas.
Some of the most Instagrammable places in Savannah are in the gardens at or around Forsyth Park. Visit the park in the late afternoon for the best lighting and to catch the sunlight streaming through the Spanish moss covering the live oaks and magnolia trees.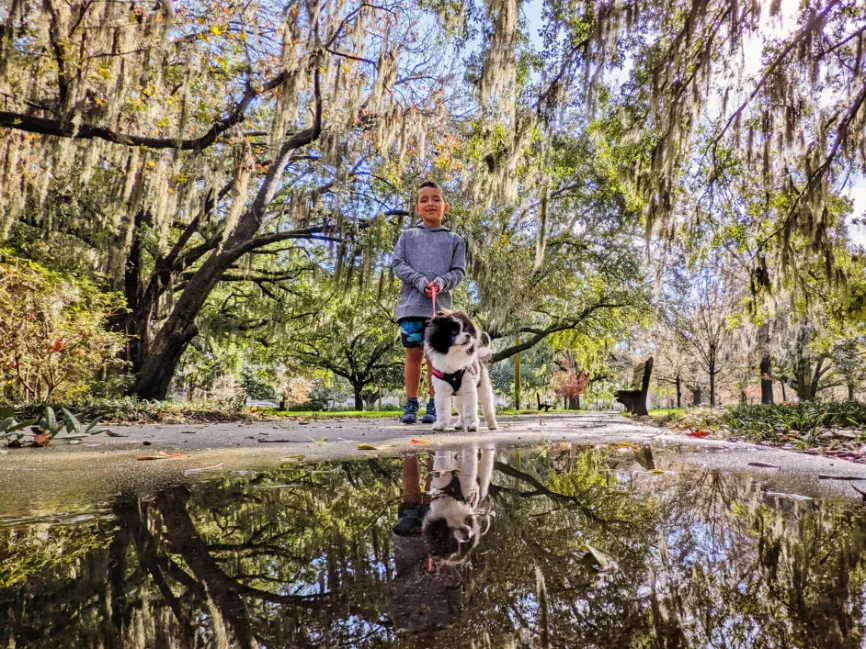 Visiting the Forsyth Park Fragrance Garden
There is also a fragrant garden in an enclosed space that is designated as a garden for the blind. You'll find it at the midway point of the park near the playground. It's enclosed in a white structure with wrought iron fencing. If you're visiting Forsyth Park on a weekend, you won't be able to access the Fragrance Garden. It is only open Monday through Friday, 9:00 am – 2:00 pm.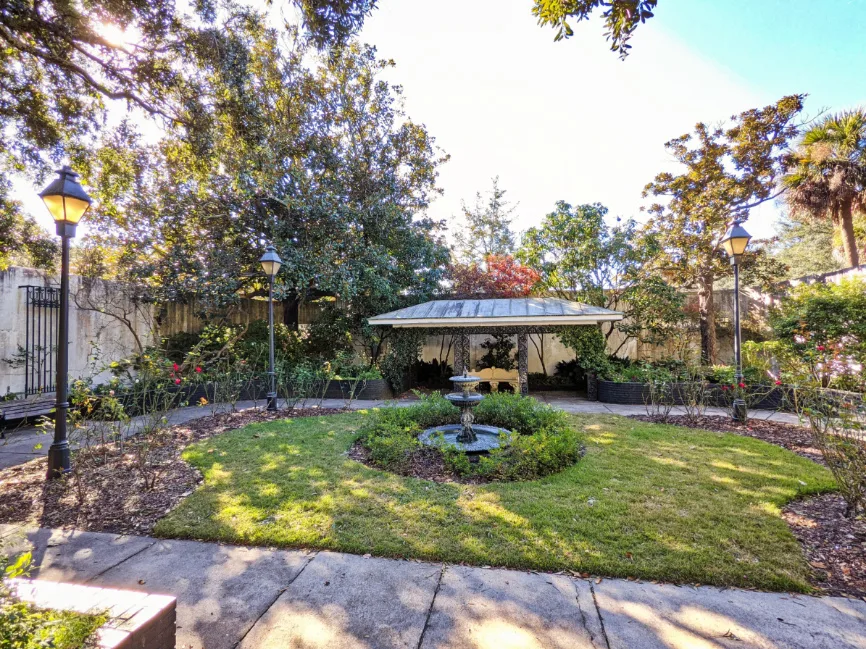 History of the Forsyth Park Fountain
No doubt the most photographed sight in all of Savannah, the Forsyth Park fountain is beautiful and has a hilarious story. It was installed in 1858, ordered from an iron foundry catalog… so there are three other fountains just like it. Poughkeepsie, NY has the same white version, and then Madison, IN has a green patina version, while Cuzco, Peru has one that's painted green and white with a different figure on top.
The flowers around the Forsyth Park fountain are routinely changed out, so no matter if you've seen it before, no doubt it'll be a fresh sight for you the next time you visit.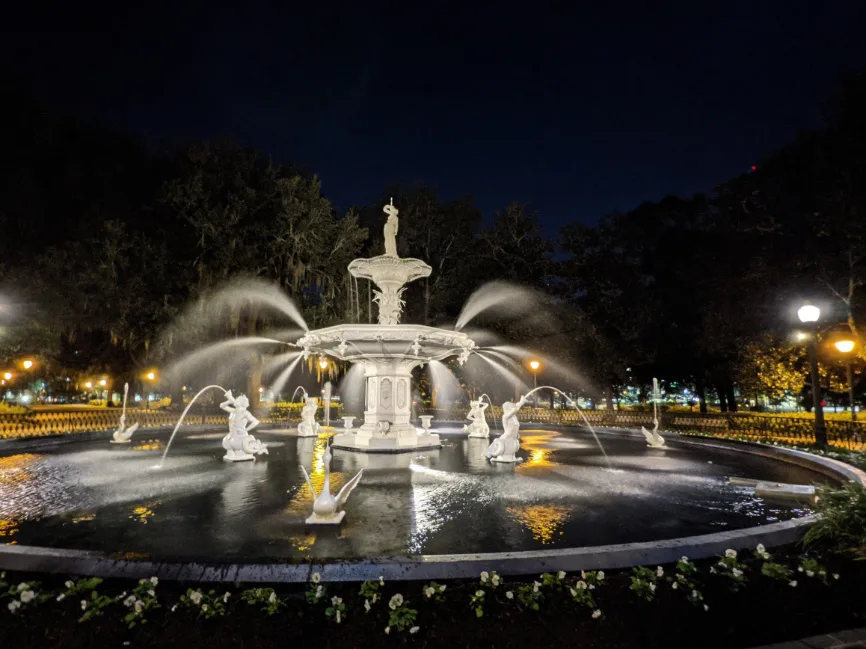 Have a Picnic at Forsyth Park
With so much open space in the 30 acres of Forsyth Park, this is Savannah's place to picnic. Now, here's what's so great about having a picnic at Forsyth Park: you can preorder one and have it all set up for you. Yes, you can bring your own picnic supplies or grab and go from Brighter Day Natural Foods on Park Ave, but you can also book a fancy picnic.
There are a few small businesses that create Forsyth Park picnic experiences, and they've thought of everything, from a comfy setup to bug repellant and music. Each picnic company offers different menus and different levels of fanciness and complexity. You can even enlist their help for planning a marriage proposal! Both the Savannah Picnic Company and Scenic Siesta have quite a few picnic in the park options.
Brunch at the Park on Weekends
Yes, we cover our favorite restaurants around Forsyth Park below, but I have to say now that enjoying brunch at the park on the weekend and then relaxing in the park is one of the best things to do in Savannah. Whether you choose Collins Quarter, the restaurant directly in Forsyth Park, for sit down dining or you order from the to-go window, or if you want to grab a vegetarian breakfast from the Sentient Bean across the street and enjoy people watching from a sidewalk table, you'll love having brunch at Forsyth Park.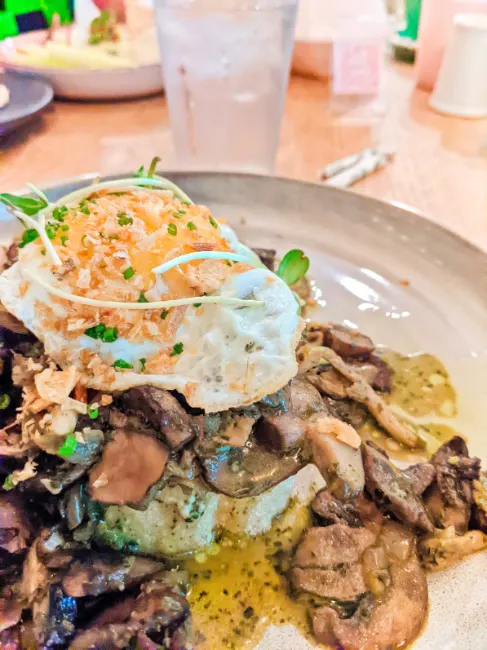 Playgrounds at Forsyth Park
There are two playgrounds at Forsyth Park, one for small kids and one for every age. Located midway through the park by the Fragrance Garden, both playgrounds are surrounded by seating and shade areas for parents, with a public restroom nearby (on the east side of the white municipal building). We spend a lot of time here. A. Lot.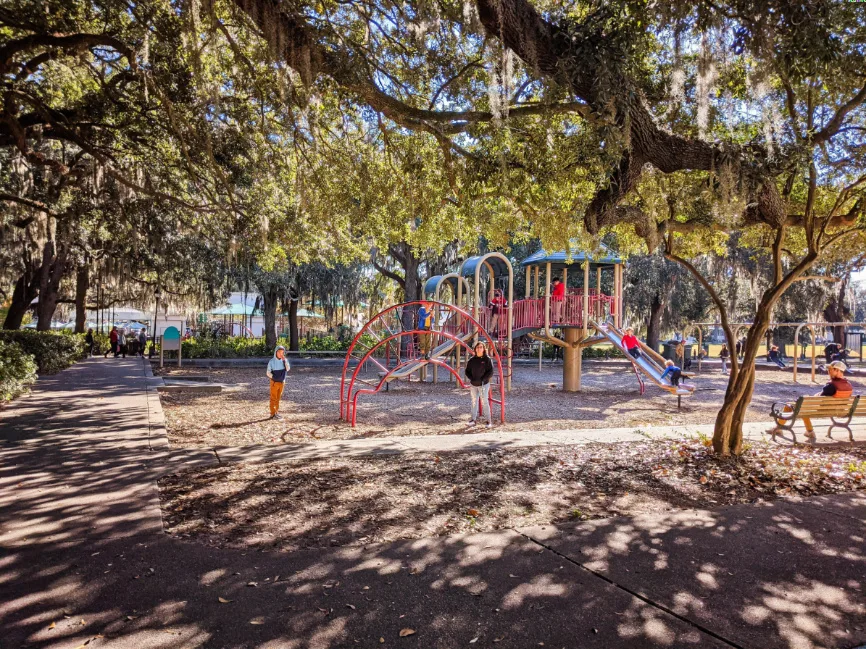 Public Sport Courts – Tennis and Basketball
Thank goodness for public sport courts, cuz heaven knows we're never going to join a tennis club. And I'm not repaving our driveway to make a bigger basketball court. Forsyth Park has two sports court areas: Tennis (4 segments) and basketball (2 segments). The sports courts stay pretty busy, even at night as they are well lit.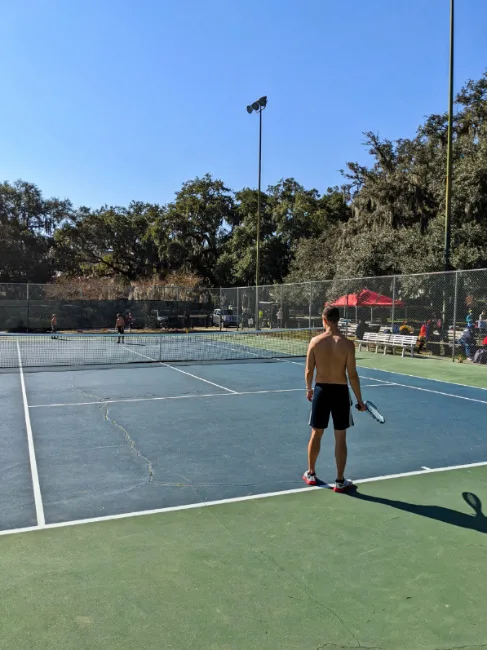 If you're planning on playing either tennis or basketball at Forsyth Park, the community rule is that if people are waiting for court space, you need to surrender your playing area after 1 hour. It's tricky, because a lot of people don't follow this rule, at least on the tennis side, but it's nice to do.
There is also lots of open field space at Forsyth Park. Here you can play Frisbee, soccer or whatever other sport you like. There is a backstop in each open field space right by the tennis and basketball courts, so if you're planning some baseball or kickball, know that these areas are usually your best bets and are often the least crowded.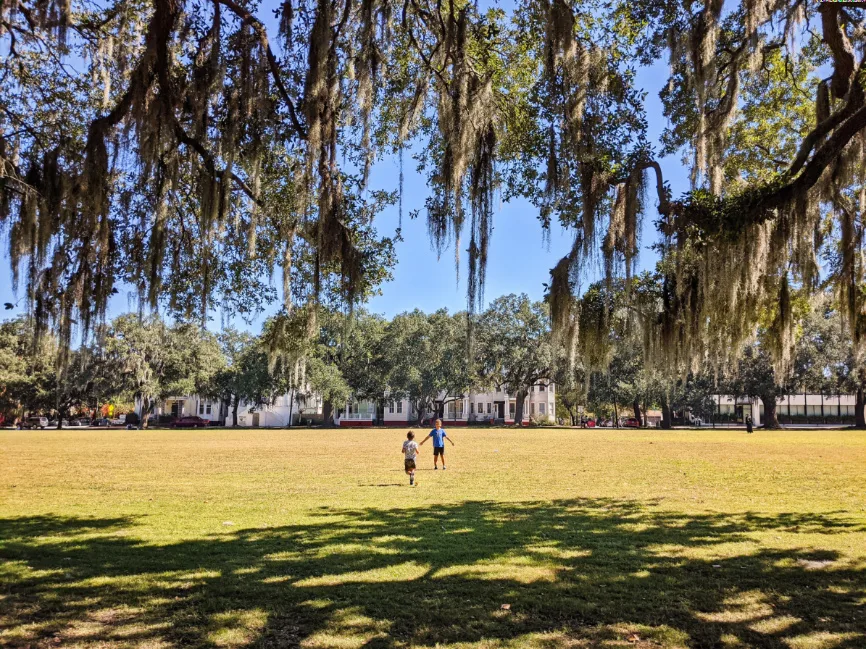 Events at Forsyth Park
As I said, Savannah's Forsyth Park is the heartbeat of the city. This is where fun public events take place, and they happen in every season. While the Covid pandemic has really scaled back public events all over the country, there are still some that haven't stopped or have restarted. Forsyth Park is THE place for them here in Savannah.
Savannah Farmers Market at Forsyth Park
We are big fans of farmers markets and hit them wherever we go, whether it's in Port Townsend, WA with local family or looking for the best of Wisconsin cheese from Lake Geneva to Milwaukee, we hit them all! Heck, our favorite free thing to do in Los Angeles is going to the Fairfax Farmers market. And Savannah's farmers market gives some of these great spots a run for their money.
While nearly any farmers market is going to have higher prices than the grocery store, there's a good reason for it. Farmers markets are just that: run by the farmers selling their hard work directly to you vs a mega farm with tons of automation and margin selling non-organic and GMO products at way cheaper prices to a grocery chain. Yes, prices at the farmers market are a bit higher, but the money goes right back to the small businesses and families who are participating.
The Savannah Farmers Market at Forsyth Park has some awesome stands and we love supporting them. Some of our favorites have been:
The vendors at the Forsyth Farmers Market can vary, but most are pretty consistent, even in the winter. Besides the ones we've listed, you can also find gluten free bakers, lots of farm fresh produce, tea suppliers and more.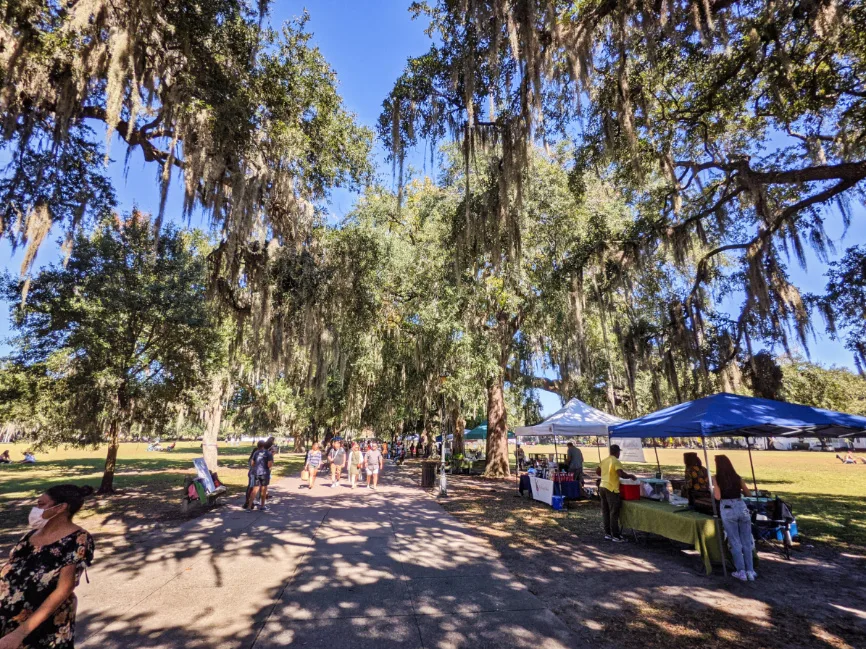 Gay Kickball at the Park
We used to play Gay Dodgeball when we lived in Seattle and loved having such a wonderful community of sporting, fun friends. Forsyth Park is where the Savannah Gay Kickball league meets each Sunday afternoon at 3:00 pm. They take off the bulk of winter, but start back up in March.
Note: there are lots of other fun groups that do public sports at the park. Check out the Savannah Ultimate Frisbee group for a schedule of pickup games!
Events and Concerts at the Forsyth Park Band Shell
You can't miss the huge white Forsyth Park Bandshell when you walk through or past the park. A stage, grassy lawn and even a splash pad make this a great spot for local Savannah events to happen. From open air concerts to Savannah Veg Fest (annually in March), tons of things happen here.
From the city's ongoing and living and ever-changing calendar, you can find events at Forsyth Park and everywhere else in the city. The annual events that focus on the park and Bandshell are Sidewalk Arts Festival (April), the Savannah Jazz Festival (September), the Picnic in the Park with the Savannah Philharmonic Orchestra (October), and the Rock 'n' Roll Marathon (November). Most events that happen at the Bandshell are open to the public, but there may be ticketed events from time to time.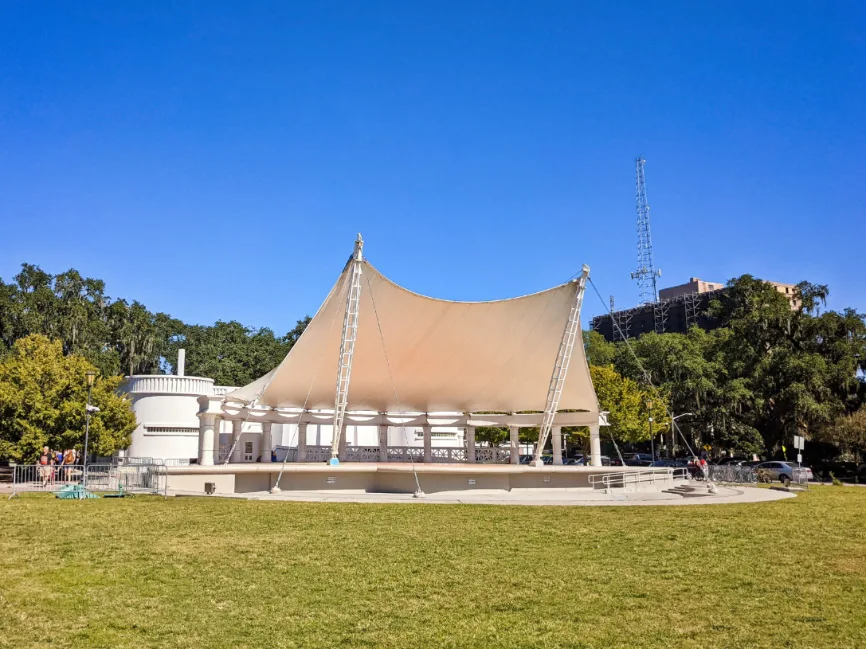 Favorite Spots to Eat Near Forsyth Park
Our favorite aspect of Savannah, of course besides relaxing at Forsyth Park, is dining around the city. Savannah really does an awesome job of both showcasing Southern cuisine and celebrating the many cultures that call Savannah home. And yes, I am considering veganism and being vegetarian as cultures, as they are huge factors in peoples' lives.
Our picks here are the closest places to eat near Forsyth Park, all of which we do frequent and enjoy. Going beyond the Park and into the Historic and Victorian Districts, you'll find even more. It's no more than a twenty minute walk all of the way down to the Riverfront, so know that it's easy to go beyond this simple list.
Brunch at Collins Quarter Forsyth
I know I've already mentioned Collins Quarter, but I'm going to talk about it again. We love this restaurant for breakfast and lunch (basically for a nice Savannah brunch). Located in the park, Collins Quarter Forsyth has a large partially covered patio dining area, indoor table seating, bar seating, and a walkup window. They have a great cocktail menu and we've never had bad service. OPEN: 9:00 am (8:00 am Sat/Sun) – 3:00 pm
Note: if you're visiting Collins Quarter or any other Savannah restaurant on a Sunday, they cannot serve alcohol before 11:00 am. That's right – no bloody Mary or mimosas before 11:00 am on Sundays.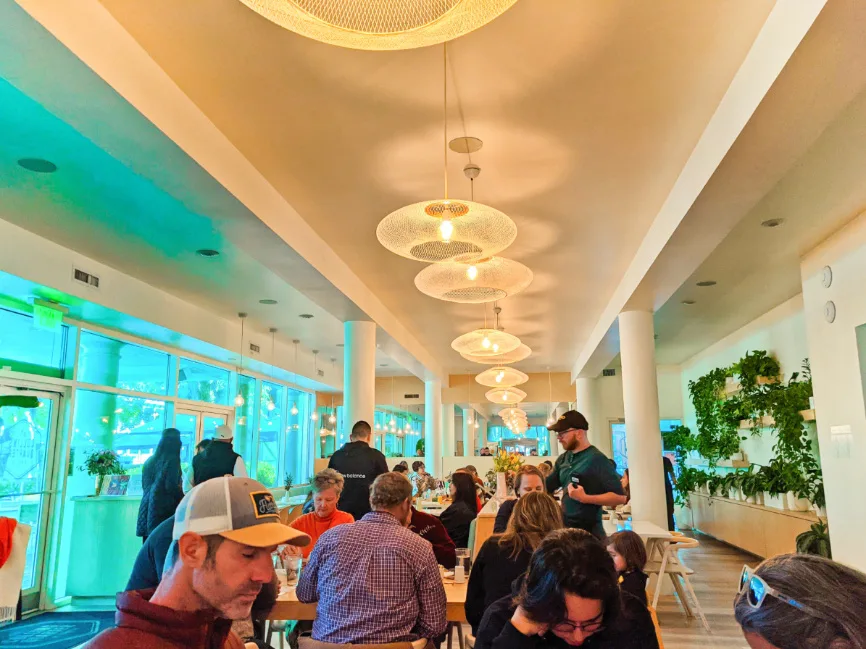 Coffee at the Sentient Bean on Park Ave
This is our local coffee shop, so I feel like the Sentient Bean needs a shoutout. I love it. The Sentient Bean offers a great variety of baked goods and breakfast/lunch sandwiches. They are all vegetarian and there are plenty of vegan options too, so if you were worried that visiting Savannah or the rest of the South would be tough to find good veg options, don't worry; we've got you covered.
The Sentient Bean does great espresso and brewed coffee beverages, including what I think is the best cold brew I've had. If you like what you're drinking, you can also buy whole bean coffee at the Sentient Bean. Take a little of Savannah home to brew each morning. OPEN: 7:00 am – 7:00 pm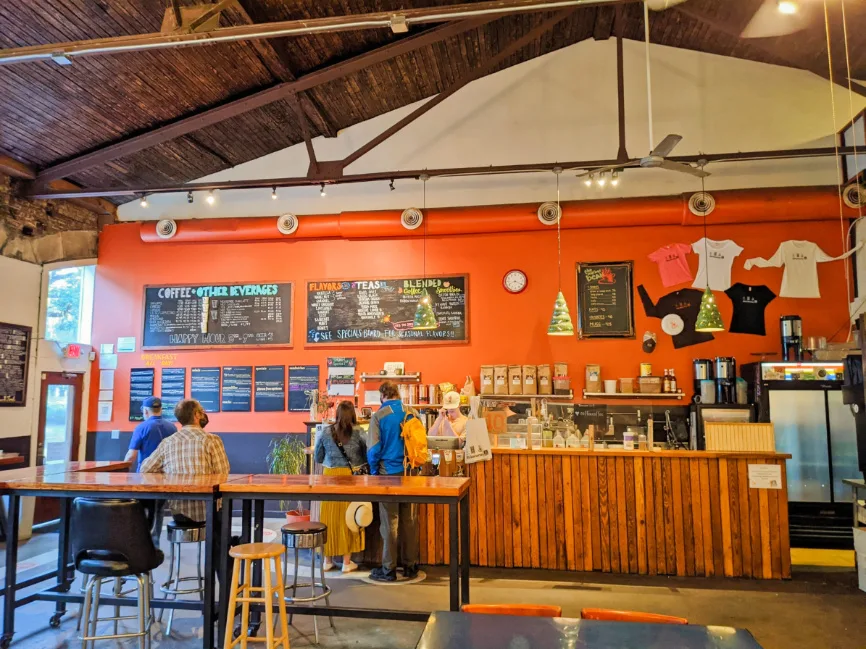 Sandwiches and Cocktails at the Black Rabbit
Another awesome spot to eat near Forsyth Park, the Black Rabbit is super close to our place, so we enjoy the two minute walk for really delicious sandwiches and cocktails. The Black Rabbit is a pretty small restaurant, very cozy, with a small dining space, a bar to sit at, sidewalk tables and a small back patio area. Our kids LOVE the Cubano sandwich, but my favorite is the Van Gogh (a colorful chicken sandwich).
When it comes to cocktails at the Black Rabbit, we've got a few favorites: the Last Flight Out and the Golden Hour are both unique and delicious. And then of course you can always order standard drinks as well. OPEN: Mon – Sat 11:00 am – 1:00 am, Sunday 11:30 am – 5:00 pm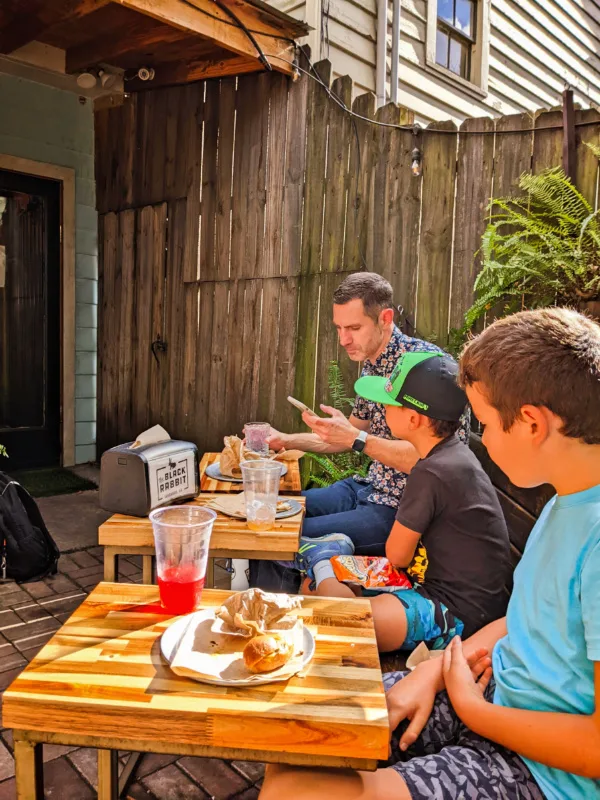 Breakfast or Lunch at Betty Bombers
Betty Bombers is just a half block off Forsyth Park in the old American Legion building. It full of WWII memorabilia, from pinups to propaganda posters. The menu is more vintage American diner than southern, but it's a wonderful Savannah staple. Their hot dogs are epic. OPEN: Tues – Sat 11:00 am – 9:00 pm.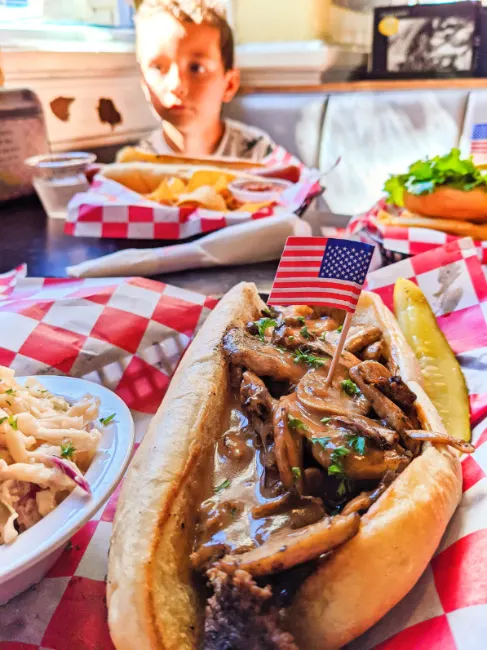 Vegan Breakfast and Snacks from Brighter Day Natural Foods
Located at the corner of Park Ave and Bull Street, Brighter Day Natural Foods is both a grocery store and a walk-up window for breakfast and lunch. They have a deli and also an awesome selection of healthy and sustainable groceries. If you're staying at Forsyth Park, pop into Brighter Day Natural Foods to stock your fridge or grab lunch for your picnic in the park.
Where is Forsyth Park in Savannah?
Forsyth Park is in the Historic District of Savannah, cutting into the Victorian District. If you're in the downtown neighborhoods or on the riverfront, head south along Drayton, Bull or Whitaker Streets and you'll come to Forsyth Park. Bull Street is a prominent road in Savannah, with many gorgeous historic homes and some of our favorite squares on it, but it's not a thoroughfare. Drayton and Whitaker are both uninterrupted thoroughfares running from Bay Street (by city hall) all the way to Victory Drive.
If you're traveling east / west, you'll hit Forsyth Park via Gaston, Huntingdon, Hall, Gwinnet (major street), Bolton, Waldburg, and Park Ave. Our apartment is actually on Park Ave and I love that I get to say it whenever I give our address.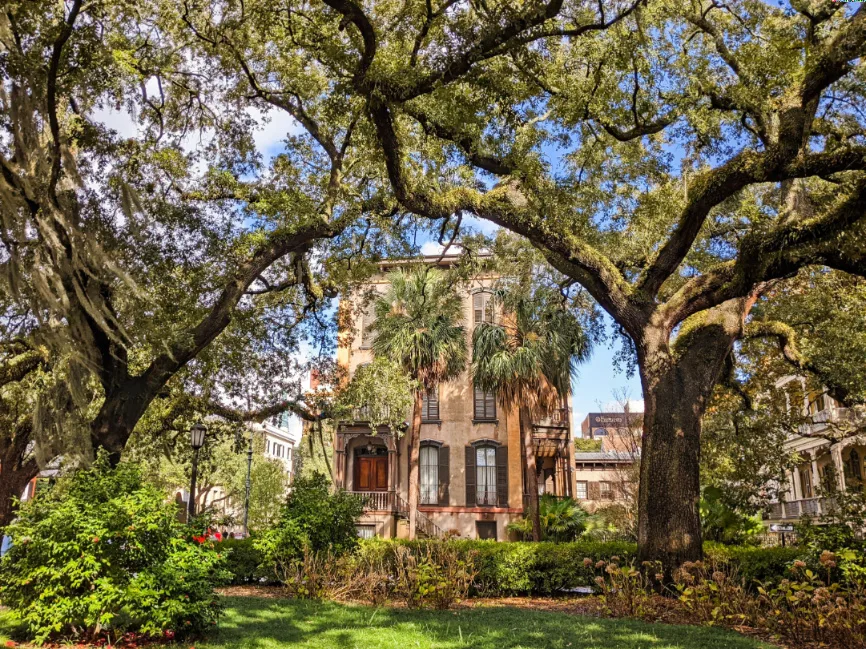 Getting Around Forsyth Park and the Victorian District
Something wonderful about living in or visiting the Victorian District and Forsyth Park is how pedestrian friendly it is. Savannah is a city of sidewalks, but there are also lots of crosswalk signals to make navigating the neighborhood safely. And then once you're actually in Forsyth Park, there are pathways for walking, a beautiful tree tunnel following the would-be path of Bull Street, and a pedestrians-only zone.
While you can bike all around the Historic and Victorian Districts, once you're in Forsyth Park, you do need to dismount and walk your bike. From Gaston to Gwinnett Streets the park is pedestrians only. True, you'll see some sweet roller-skaters jamming out and doing roller skate tricks on the paths, but no bikes, scooters or skateboards.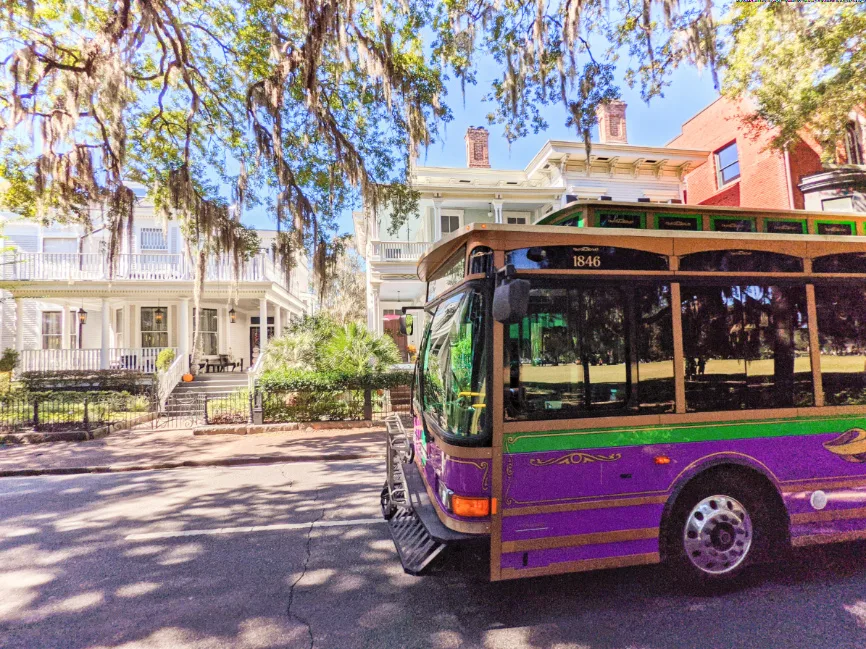 Riding the Savannah DOT
Yes! Free and easy transportation! The DOT runs on two loops in Savannah. The first free trolley loop, Downtown, goes from Franklin Square on the west side to Trustees Garden / Pirate House on the east side. The second Savannah free trolley loop is the Forsyth Park route. It starts at Johnson Square on Bryan Street in the main downtown section and runs up Whitaker Street to Park Ave, and then back down Drayton Street.
The Savannah free trolley system is all any visitor needs for exploring the historic districts and having an easy, fun visit. Since the free bus runs every ten minutes, there is minimal waiting, and with nearly 20 stops on the two routes, you can hop on and off as much as you like.
Parking at Forsyth Park
There is actually parking at Forsyth Park. Directly next to the Bandshell and Collins Quarter you'll find a small parking lot, primarily for loading/unloading and handicap accessible parking, but there are a few standard parking spots too. The other place to park at Forsyth Park is by the tennis courts. There is actually a medium sized parking lot by the courts and then plenty of angle-in parking along Park Ave.
If you can't find parking right here, just go a block in any direction and you'll find a spot. If you're planning to park overnight in the Victorian or Historic Districts, pay close attention to the signage, as there is street sweeping that occurs on certain nights. For example, in front of our apartment we can't park there on Monday nights from 10:00 pm to 2:00 am. Just be careful where you park overnight and you'll be fine.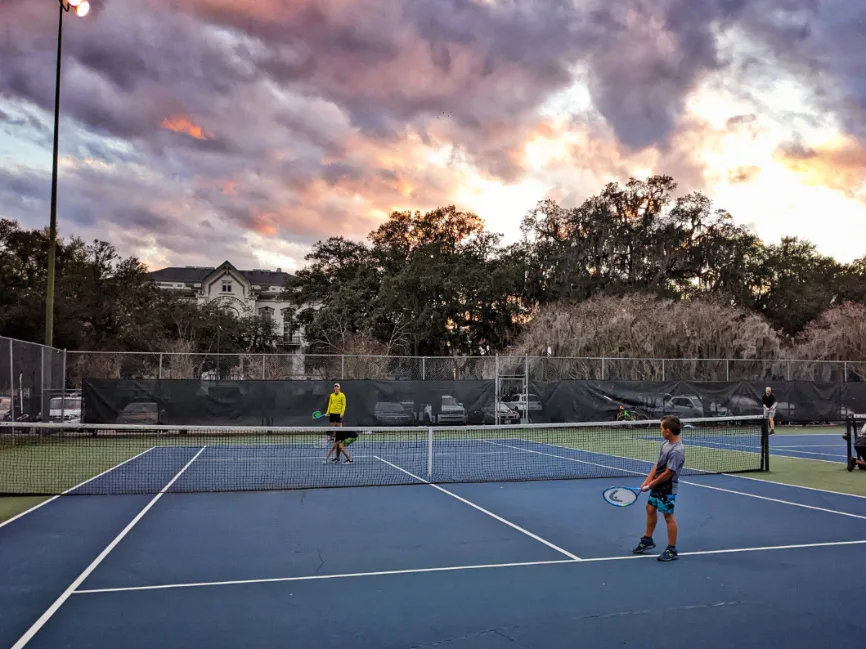 Where to Stay Near Forsyth Park
I love talking about hotels and inns, and Savannah is just a dream when it comes to cool and unique places to stay. All around Forsyth Park there are wonderful small inns full of history and comfortable accommodations. And then there are some modern choices too.
Forsyth Flat Savannah Vacation Rental
Of course my top pick for where to stay near Forsyth Park is our apartment. We have it all set up to allow guests to book it (not yet permitted, but soon!) and we can't wait to help people plan and have wonderful visits to Savannah.
About the Forsyth Flat: 1 bedroom with high ceilings, tall windows, fully stocked kitchen, rooftop deck, laundry in unit, and full of charm.
We've had such a fun time restoring our year 1900 apartment, including fixing plaster and antique windows. It's our home away from home and we love it.
Check out our Savannah vacation rental at Forsyth Park here!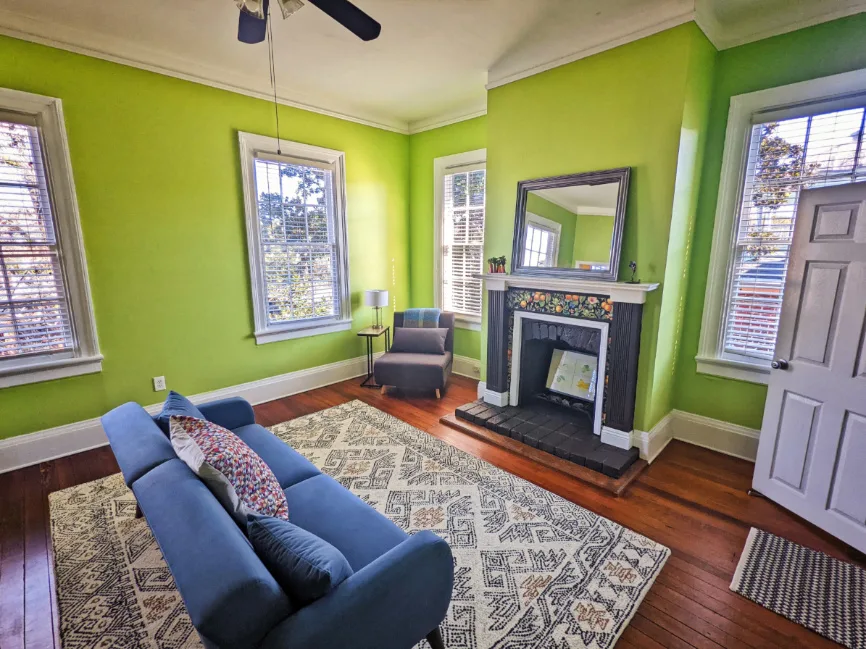 Charming Inns Near Forsyth Park
Like I said, so many charming places to stay in Savannah and there are some wonderful ones right next to Forsyth Park. Here are our picks for inns and B&Bs close to Forsyth Park, and you can always use the search box above if you want to search beyond the Victorian District.
There are way more than we have listed here, but these are our top picks for their location, what they offer and their ratings. The competition for charming inns and bed and breakfasts in Savannah is fierce, so innkeepers are very good about ensuring the best experience possible for their guests.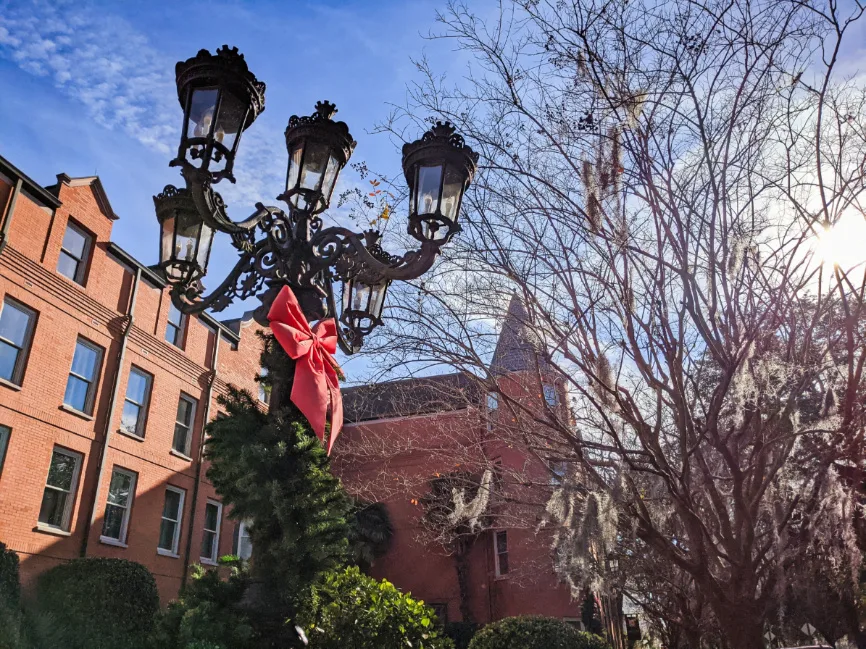 Hotels Near Forsyth Park
There are no major hotels near Forsyth Park. If you head toward the Riverfront and Downtown you'll start to come across them, but in the Historic and Victorian Districts, there are none. We DO have recommendations though if you want to stay at a larger property or with a major travel brand. Honestly, Savannah is so walkable and with easy transportation, you can stay anywhere in town and still get to Forsyth Park or wherever else quickly.
The following options are in the downtown shopping area or right by the Riverfront.
Marshall Hotel – a Historic Inn of Savannah, it's right in the main shopping area AND it's gorgeous
Cotton Sail Hotel – on the Riverfront in a historic cotton silo, part of Hilton's Tapestry Collection
There are also three Hyatt family hotels in Savannah. In Downtown is the Andaz Savannah, and then on the Riverfront is the Hyatt Recency AND the Thompson Hotel Savannah. We've stayed at the Thompson and loved its location and rooftop pool.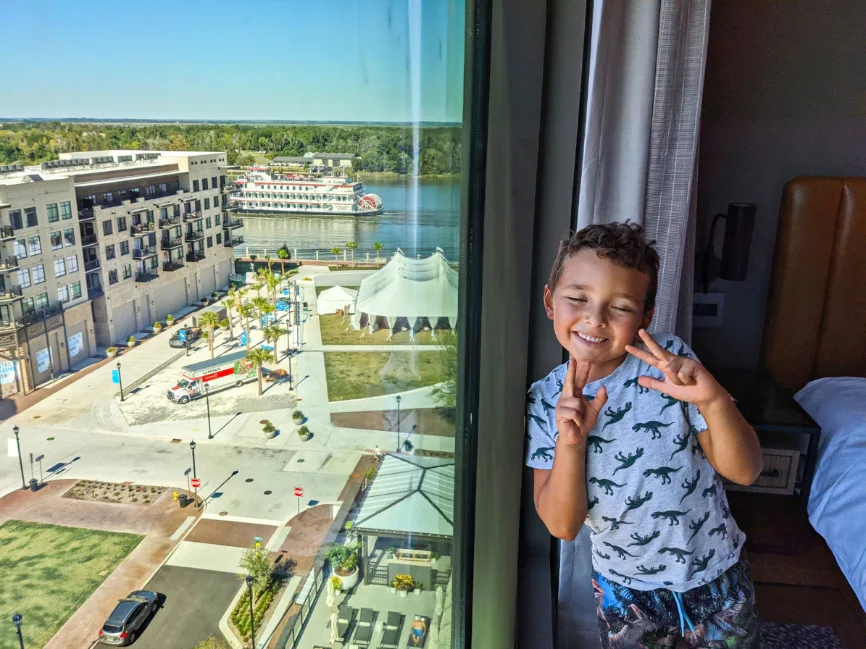 Well, I think that's everything. Clearly Forsyth Park is THE place to be in Savannah and is a must when you visit. Feel free to see what else we suggest for your trip, including the best things to do in Savannah, favorite restaurant around town, and of course a great Georgia Coast road trip plan.
As always, if you have any questions, feel free to leave a comment or send us a note. We're happy to help you plan an amazing trip to Savannah or anywhere else!