Did you know that we have a few different vacation rental properties? It's true! We've been very fortunate to be able to invest in two properties that are PERFECT for people looking to visit the Southeast! We have the Buccaneer Bungalow in Saint Augustine, FL and the Forsyth Flat up in Savannah, Georgia. We love getting to host people and help them have memorable vacations with family and friends.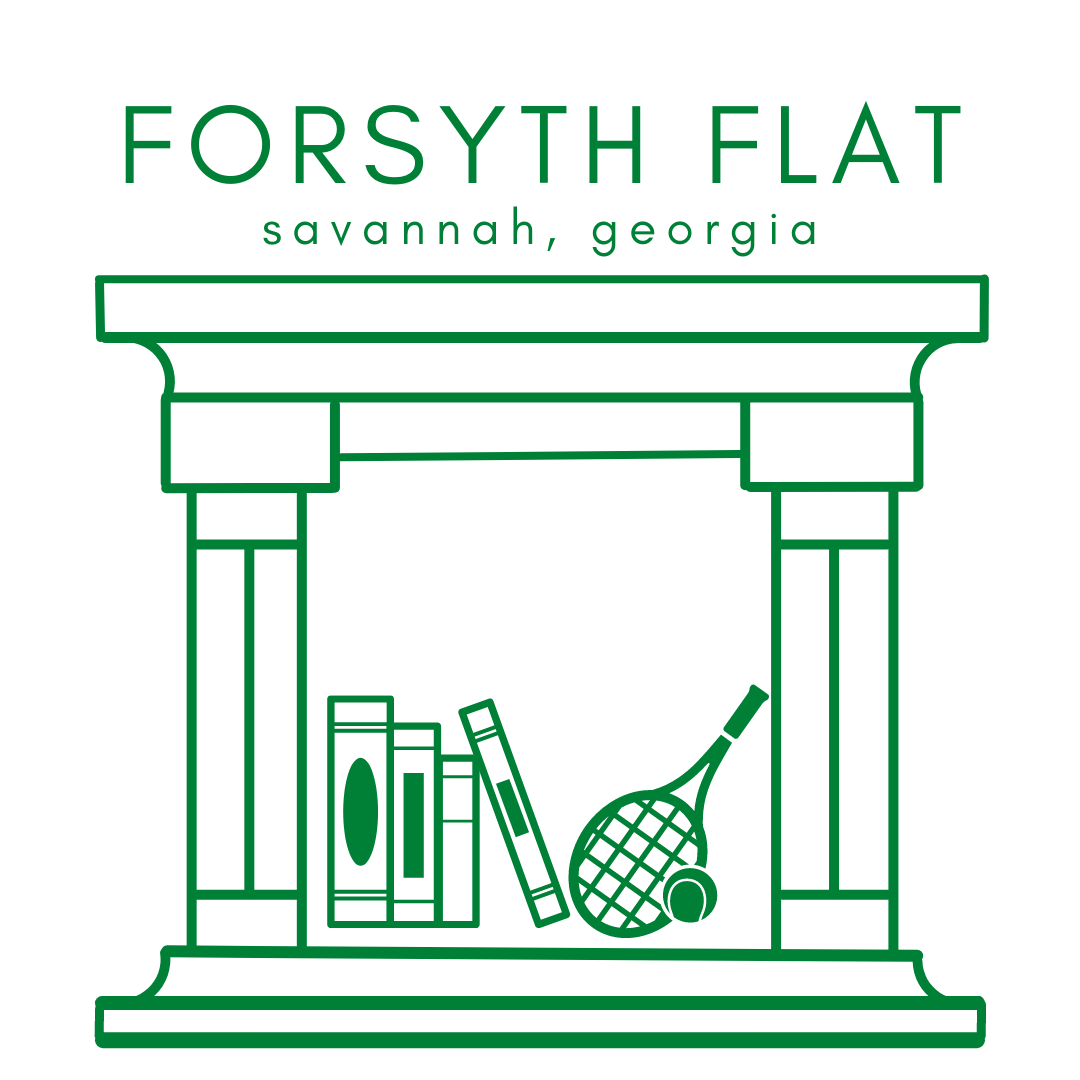 Our Savannah Vacation Rental at Forsyth Park
The Forsyth Flat is located in the Victorian District West neighborhood of Savannah, Georgia: the hostess city of the South. Just a block off Forsyth Park, the Forsyth Flat vacation rental is ideal for a couple or a family of four, or anyone looking to book a remote working vacation rental. Savannah is an awesome city with wonderful food, great historic sites and wonderful squares and sidewalks shrouded in dripping Spanish moss.
For the outdoor lover, kayaking and the beach are not too far away at Skidaway Island State Park and Tybee Island. If you're into history, Old Fort Jackson, Fort Pulaski National Monument and Wormsloe Historic Site are all fifteen minutes away. And then Bonaventure Cemetery is close too.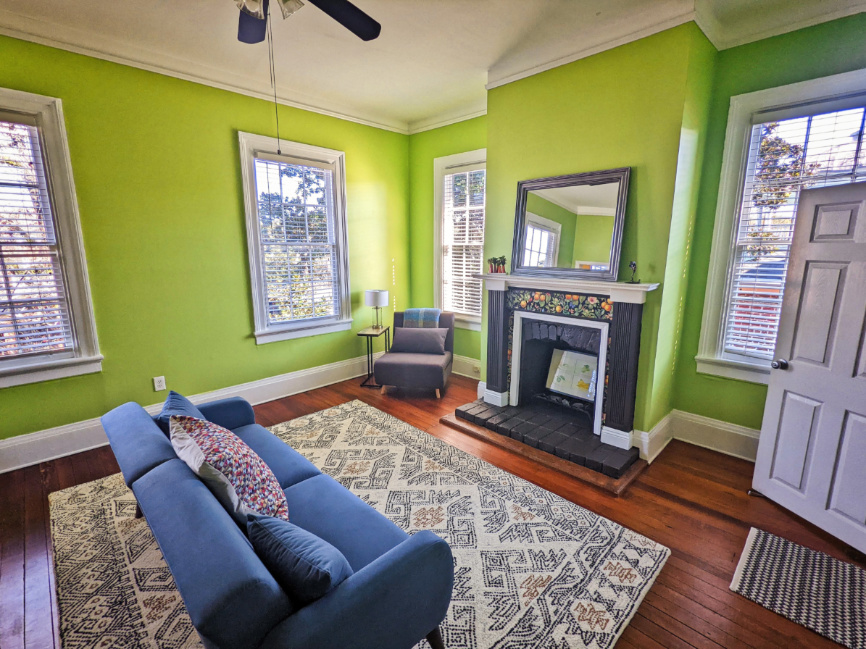 Booking our Vacation Rental at Forsyth Park
Please either complete the form below (or here) or book the Forsyth Park apartment through AirBNB (when it's ready and listed). We prefer to book directly with our guests so that we can provide the best experience, but are happy to run everything through AirBNB as well.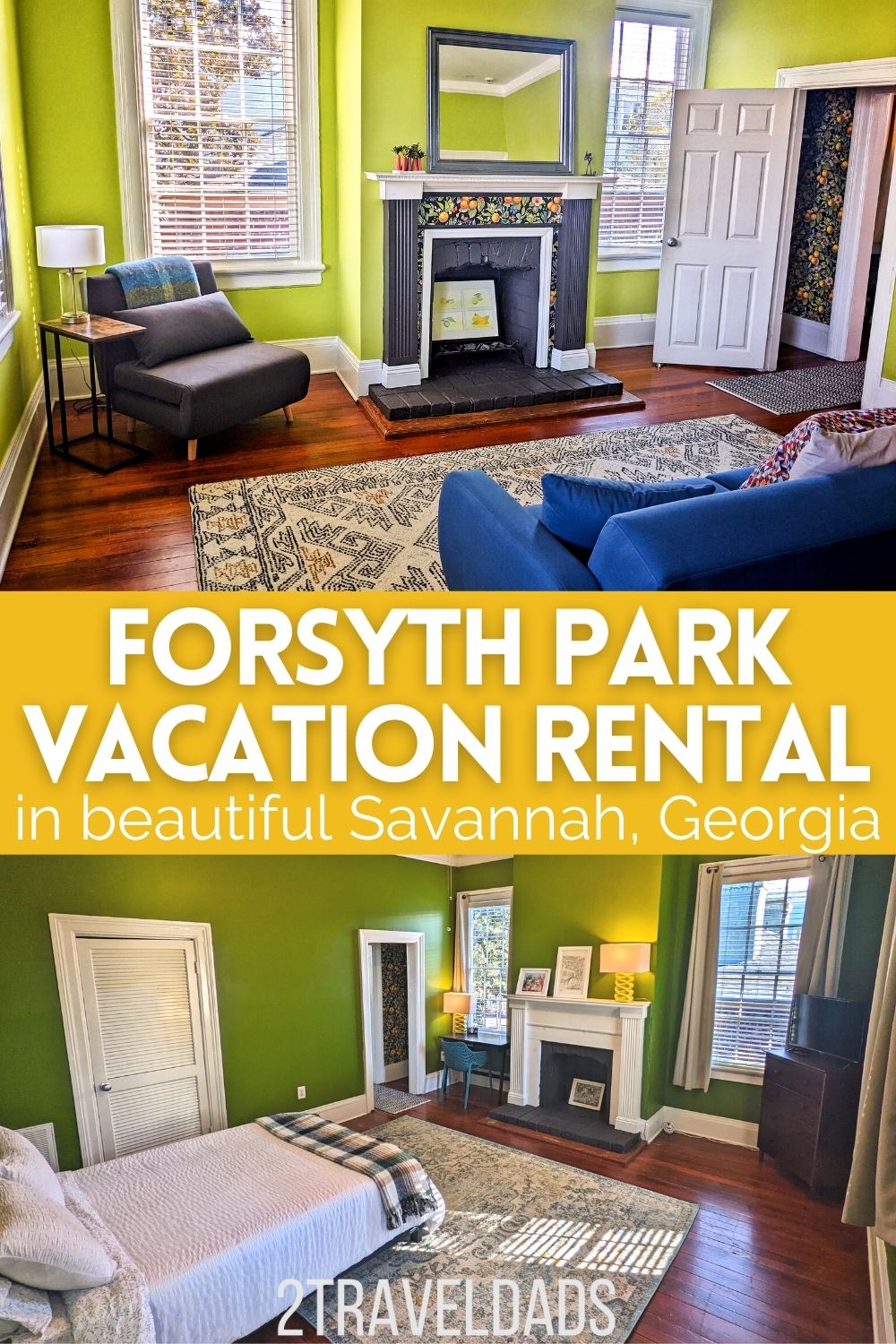 Forsyth Park Vacation Rental Rates
Ahh, the big question: "How much is your Forsyth Park vacation rental?" Once it's available, we are glad to offer it up for booking at, what we think is a great deal with an average of $170 USD per night. Rates vary for longer stays or on the busiest weeks of the year. Our tax rate is 6% for city taxes and 7% for Georgia State taxes. This will be applied to the rental rate.
The cleaning fee per stay is $85. If guests bring an unauthorized pet (no pets allowed) a fee of $300 will be applied no matter how long the pet is present.
Payment for the Forsyth Park flat vacation rental reservations can be done through Zelle or via electronic invoice.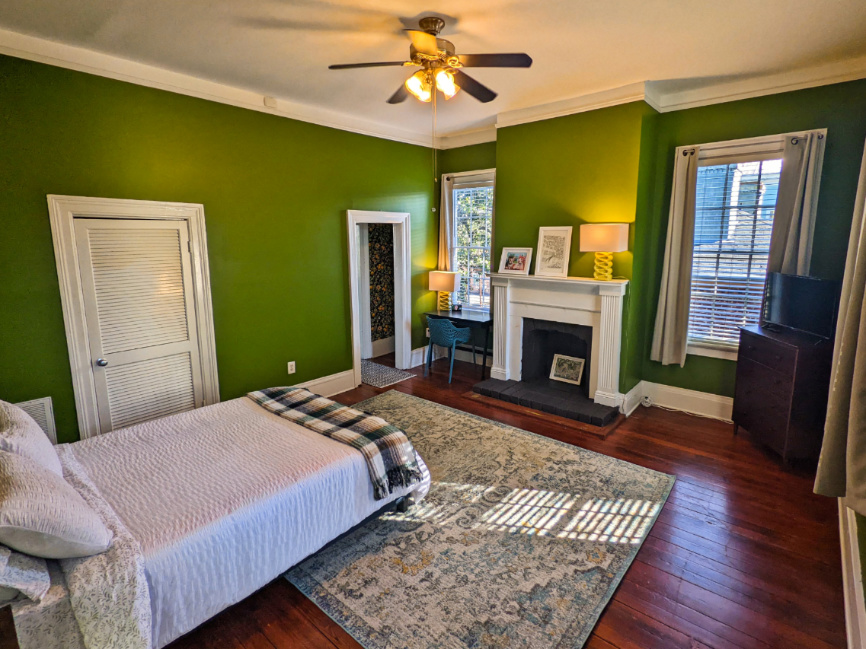 Details About the Forsyth Park Vacation Rental
Here's the full scoop on our Forsyth Park vacation rental. We love it and are excited to share it with people. Please read through the neighborhood information and apartment rules before making a booking request (once available).
NOTE: the Forsyth Flat is only appropriate for 1 to 3 adults or a family of no more than 4. The bed setup is:
1 Queen Bed
1 Full sleeper sofa
1 twin sleeper chair
Because the Flat is a small apartment (760 sq ft) with one bathroom, any more than 3 adults or a small family isn't allowed, both for City of Savannah regulations and because we're realistic about space limitations.
Vacation Rental Location – Beautiful Forsyth Park, Victorian District West
The Forsyth Flay is ideally located just a block from Forsyth Park, the hub of Savannah relaxation. Situated in a quiet neighborhood with lots of restaurants and cafes nearby, the Forsyth Flat is perfect for having a quiet escape to our beautiful city. Rooms full of light and a rooftop deck allow you to relax and enjoy your time in Savannah.
The flat is all ready to go for you. It's quite self-explanatory. Check in, put on some soft music, and relax! Whenever you leave the flat, please lock up…. and don't lose your keys in the grass at the park!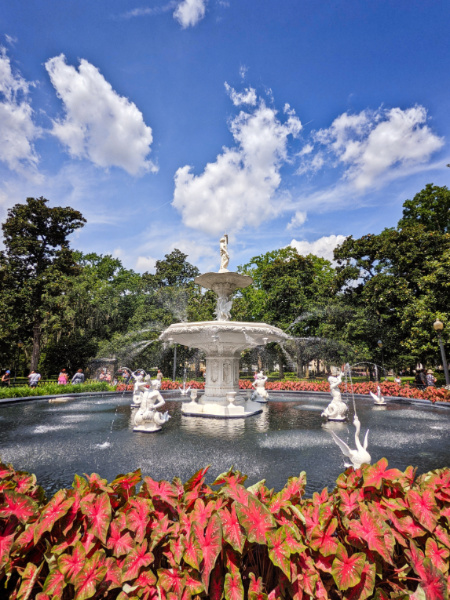 House Rules for Staying at the Forsyth Flat
We want you to have a relaxing and enjoyable time staying with us. That's why we've downloaded our years of hosting experience and area knowledge into this handy guide. Take a look and let us know if we can do anything to make your stay more comfortable, and thank you for choosing the Forsyth Flat for your visit to Savannah, the hostess city of the South.
Our Vacation Rental Cancellation Policy
Full refund for cancellations made within 48 hours of booking, if the check-in date is at least 14 days away. 50% refund for cancellations made at least 7 days before check-in. No refunds for cancellations made within 7 days of check-in. This is strict.
"What if there's a hurricane or storm on the horizon?" Hurricane season in the Southeast does run from June to November, and while it's highly unlikely that a named storm will make landfall in Savannah, it could happen. We tell all guests booking during hurricane season that they should be familiar with their credit cards' travel policies or that they specifically look into travel insurance. Because hurricanes are tracked and come with plenty of warning, booking a Southeast vacation during hurricane season is a known risk.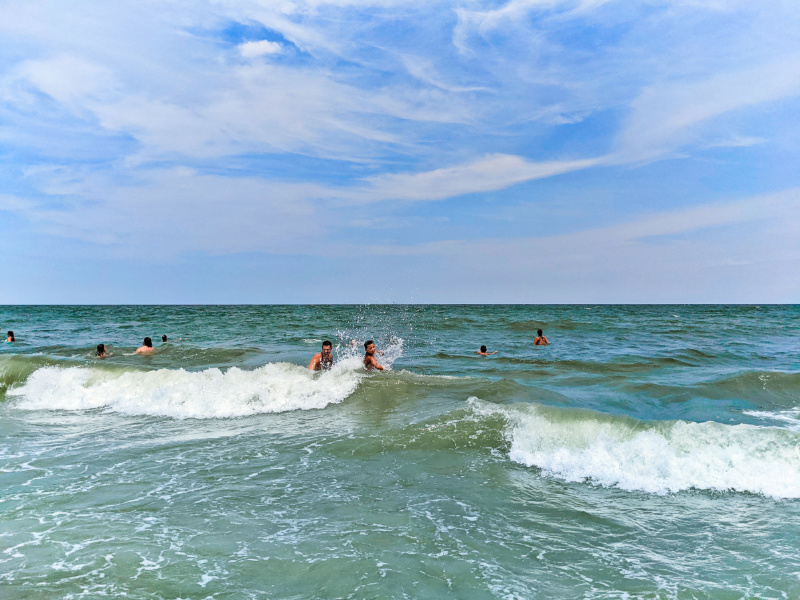 Forsyth Park Apartment Vacation Rental Pet Policy
IF YOU BRING AN UNAUTHORIZED PET: at no time may the pet be left alone at the property. Should the pet cause damage inside, the full security deposit will be withheld.
**Unauthorized pets will be charged the full security deposit ($300, no exceptions.**
Guests acknowledge this agreement and authorize owners to invoice them for any damages sustained, and the deposit will not be returned.
Vacation Rental CHECK IN AND CHECK OUT.
Check in is 4 p.m. or later. Let us know if you're getting in late and we'll be sure to leave the light on for you.
The flat has a key box entry system to make it simple for your arrival. You will be given a code before you arrive – just message us to let us know you've read and accepted these instructions, and we'll send you a unique lockbox code – and you may let yourself into the flat at the designated arrival time. If you would like to arrive early we can be flexible as long as there are no back-to-back tenants.
When you first arrive, enter via the front door at street level and proceed to the top floor (two flights of stairs). Please be sure the door closes completely behind you, both from the street and when exiting the flat. Check out is at 10 a.m. On your way out, please lock the doors and turn off ALL lights as you depart.
If you need a later check out, please let us know at least 24 hours in advance and if we can accommodate it, we will. Please follow the Checkout Checklist to ensure things are tidy and you have all your belongings.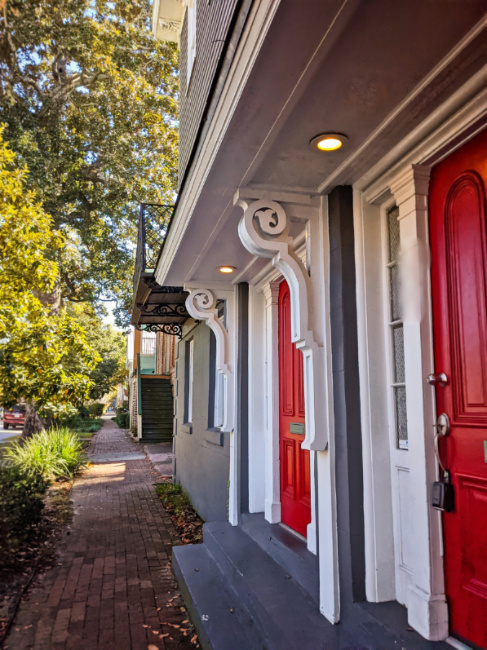 HOUSE GUEST Policy
We have very strict local short term rental laws, thus only registered guests are allowed on property overnight. Also, as a courtesy to others in the building, quiet hours are from 9:00 pm until 7:00 am. Should we receive reports of excess noise or after-hours noise, you'll be asked to leave without a refund. 
If you intend to have any day visitors, you must limit the total number of people at the Forsyth Flat to 6 people (that includes registered guests and day visitors). No more than 6 people on property. 6. No more. Should a neighbor complain about noise or excess people, you'll be asked to leave without a refund. Overnight, no more than 4 people may stay.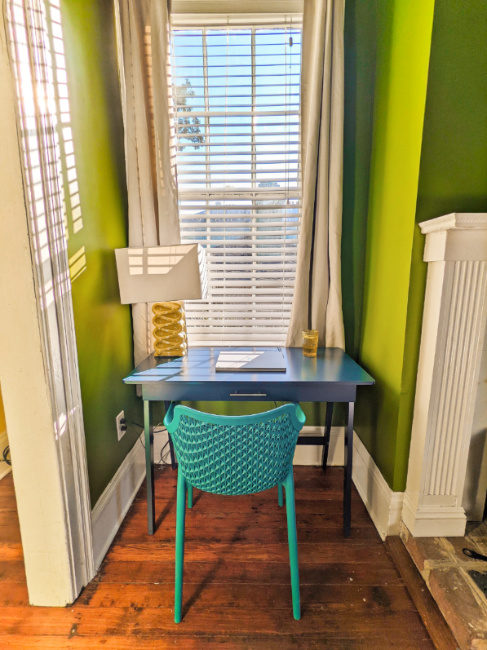 Other Important Vacation Rental Policies
DECORATIONS / SIGNAGE: if you feel the need to decorate anything while you're at the Bungalow, be sure to fully remove the decorations and clean up anything associated with the decorations. NO POLITICAL CANDIDATE SIGNS MAY BE VISIBLE FROM THE STREET AT ANY TIME.
QUIET HOURS This is a quiet, residential neighborhood and we have great relationships with our neighbors. We value your safety and ours, so parties and events of any kind are not allowed and ONLY THE GUESTS noted in the booking are allowed on premises after dusk. For real. **Any violation of this rule will result in the immediate removal of all guests (and any visitors) from property without refund.**
We want all of our guests to be respectful of neighbors, and keep noise to a minimum while in back or front yards. Quiet time is 9pm to 8am. Any disturbance triggering a visit by police will require guests to forfeit the remainder of their stay and immediately vacate property without any refund. NO SMOKING Vacation Rental
SMOKING Smoking is not allowed in the flat or on the rooftop deck, or while sitting/standing on the front stoop. However there's a whole city you can walk around should you like to take a smoke break. A $200.00 penalty will be incurred if any sign of smoking or smell of smoke is encountered after departure.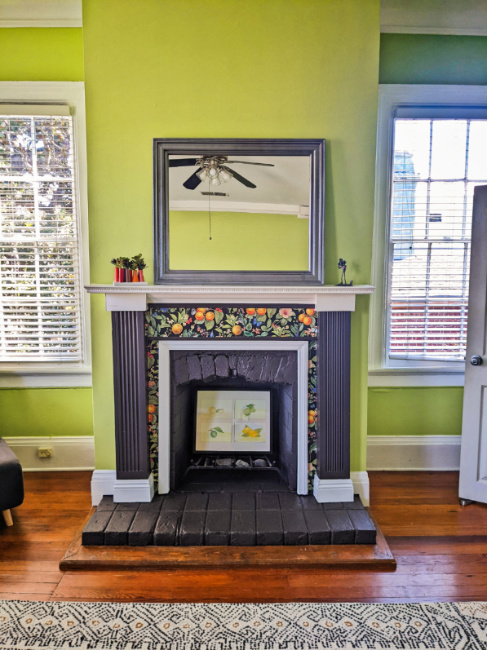 ---
Buccaneer Bungalow in Saint Augustine, FL
We've taken great care in creating a fun, comfortable beach bungalow vacation rental in Saint Augustine, FL. Doing the Georgia Coast road trip and then exploring North Florida is such a fun and unique travel plan, and ending in St Augustine is a great way to do it! Butler Beach, which is where our bungalow is located, has some of the most beautiful sand and warm water in Florida, and there is history all around!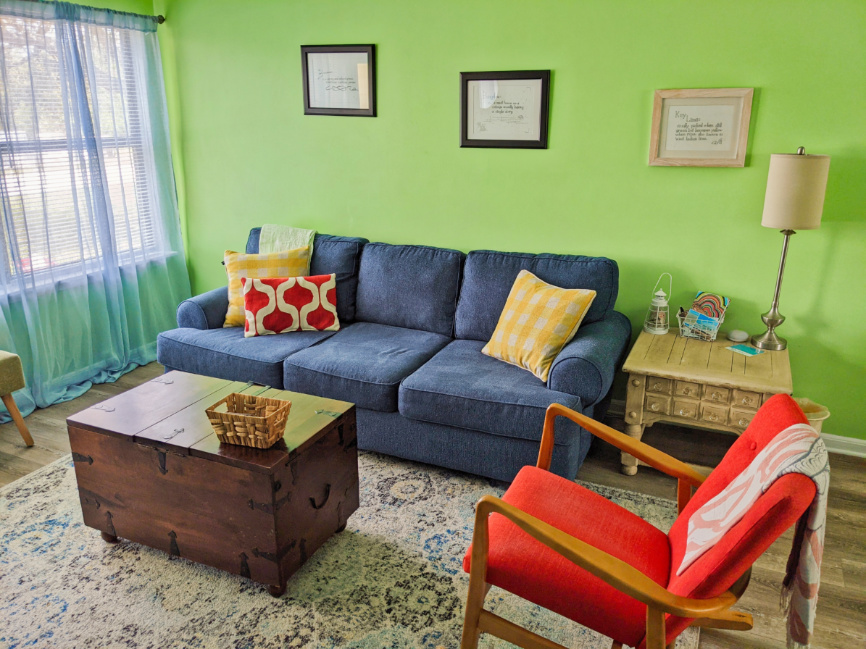 Can I rent the Buccaneer Bungalow in St Augustine?
We are excited to welcome visitors to St Augustine to the Buccaneer Bungalow, and it is currently listed as a vacation rental. If you'd like more information about the Buccaneer Bungalow, from booking it to tips for visiting St Augustine, please complete the form below (or here). We'll reach out for booking details and confirmation.

If you have any questions about either of our properties or things to do in either Savannah or Saint Augustine, please send us a note. We're always happy to help people plan memorable trips.