Are you planning a family vacation to Key West? If so, you're in for a treat! With its history, diverse culture, easy-access beaches (limited as they may be), and unique attractions, Key West with kids is the perfect destination for an unforgettable getaway. But where do you start? Don't worry, we've got you covered. Planning Florida Keys vacations is something we do every year.
Since we've been to Key West so many times, we're sharing out expert tips and tricks to ensure a smooth and enjoyable vacation for the whole family. From choosing the right accommodations to exploring family-friendly attractions, dining at delicious kid-friendly restaurants, and making the most of outdoor activities, we've got everything covered. So, get ready to plan an adventure that both you AND your kids will not forget.
If you have any other questions about visiting Key West with kids or doing the Florida Keys road trip, send them our way. We're happy to help plan and have lots of experience here. Leave a comment or send us a note and we'll get back to you ASAP!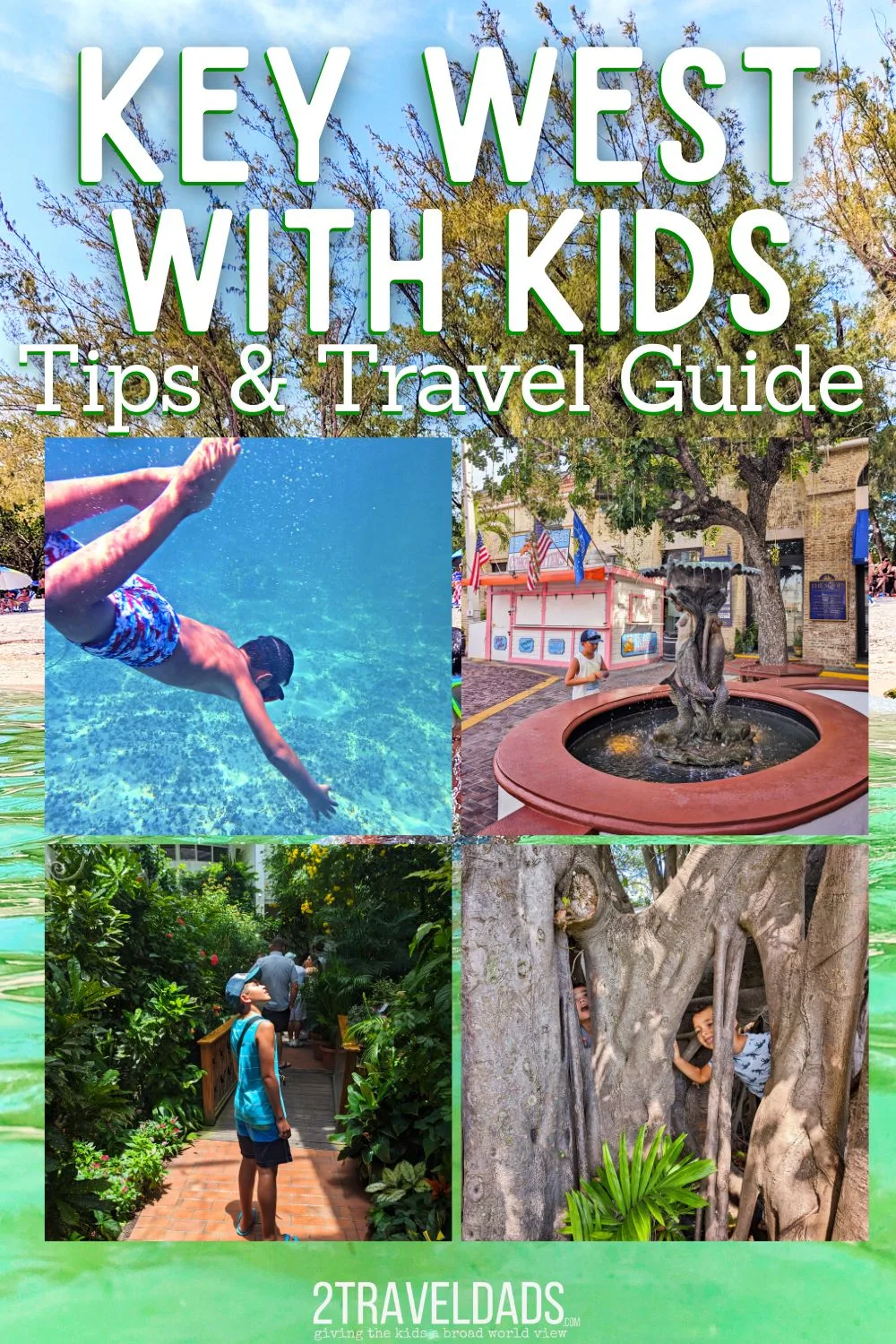 Choosing the Right Accommodations
One of the first things you'll need to consider when planning your family vacation to Key West is choosing the right accommodations. Luckily, Key West offers a wide range of options that cater to families with kids of all ages, as well as adults only trips, or even hotels with adults only pools and then family zones in other spots. From beachfront resorts to cozy vacation rentals, there's something for every taste and nearly every budget in the Conch Republic.
Note: before we get too far into picking where to stay in Key West, remember that it is one of the most expensive destinations in Florida. When we talk about "budget options" they are for sure the least expensive picks, but probably still more than you might generally consider to be a great deal in general. Check out our ideas for doing the Florida Keys on a budget!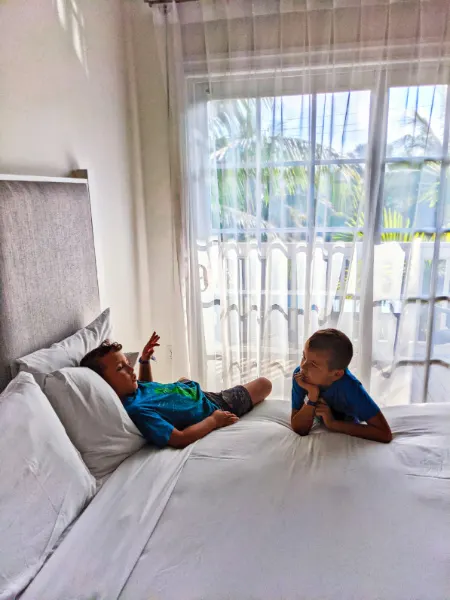 Hotel, Resort or Vacation Rental in Key West?
If you're looking for a hassle-free experience, staying at a family-friendly resort might be the ideal choice. These resorts often provide a host of amenities and activities designed to keep both parents and kids entertained, and often you can . Think pools with water slides, kids clubs, and even on-site babysitting services. Some resorts even offer special packages that include discounted rates for nearby family-friendly attractions. Ideas: Margaritaville Resort (awesome location), Oceans Edge Resort (quiet and upscale), Ibis Bay Resort (vintage and mid-level)
For families looking for a more quiet and personal setting, consider renting a vacation home or condo. With the flexibility of having your own space, you can easily accommodate larger families or enjoy a quiet evening in after a day of exploring. Many of these rentals come equipped with full kitchens, allowing you to prepare meals for picky eaters or save money by dining in. We look for vacation rentals that also have a barbeque, because cooking out it always fun when we're traveling. VRBO has the most diverse options for vacation rentals in Key West.
Something to consider about Key West if you're thinking about the Bed and Breakfast option, because when you start researching you'll see that there are a ton of them in KW, is that most B&Bs are NOT family friendly. You'll see so many cute, historic B&Bs in Key West, but very few of them allow children. Save the ones you're most interested in for an adults-only trip. Sorry.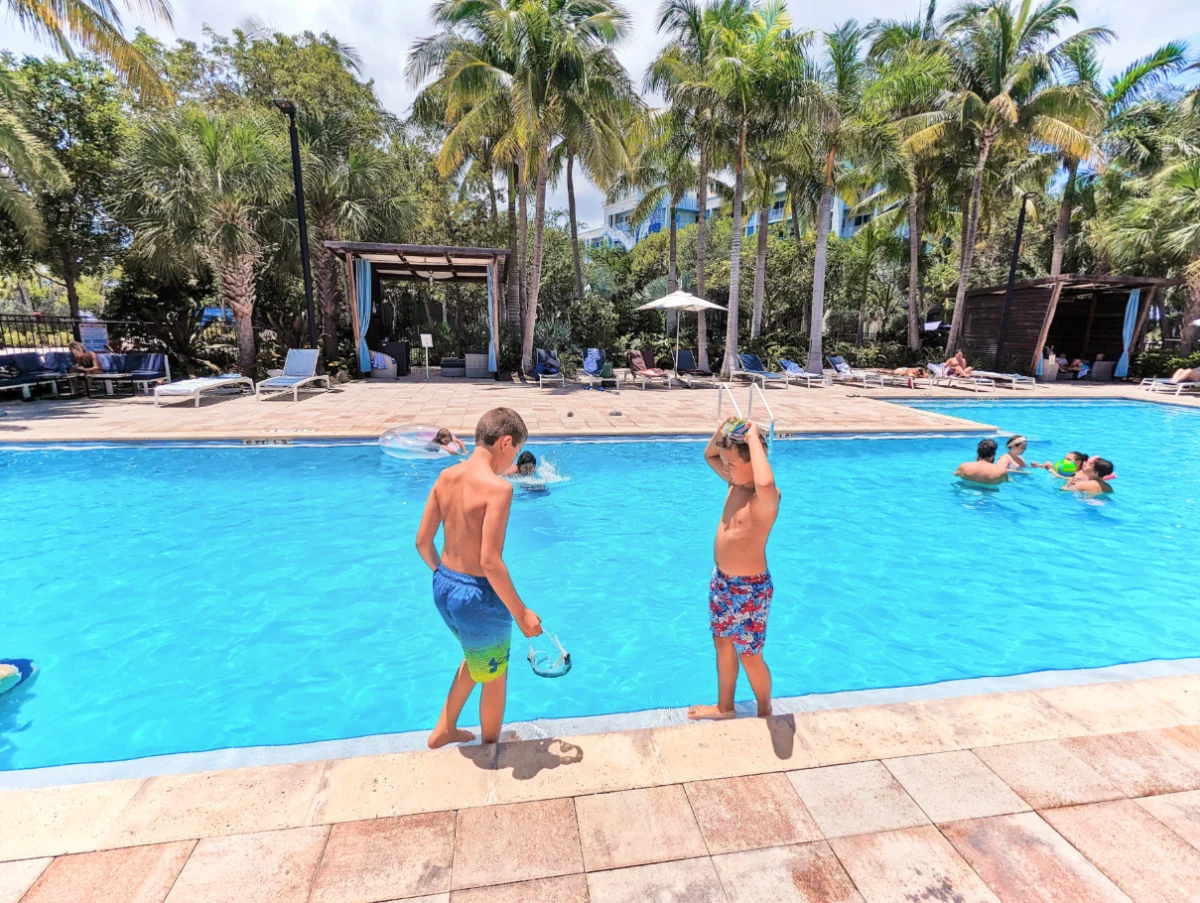 Which Neighborhood to Choose in Key West
Location is another important factor to consider when choosing accommodations in Key West. If you want to be close to the action, look for places near popular attractions like Mallory Square or Duval Street. On the other hand, if you prefer a quieter atmosphere, consider accommodations further away from the hustle and bustle. We like to stay over on Roosevelt Blvd or by Higgs Beach, but also you'll find that Stock Island is super mellow.
Regardless of where you decide to stay, be sure to check for family-friendly amenities such as cribs, high chairs, and laundry facilities. These small details can make a big difference in ensuring a comfortable stay for your family. Even though we usually pack for seven days when we do a week long Keys vacation, we spend a lot of time doing wildlife adventures and sweating, so we always end up needing to rewear clothes or do wash, and that's why location is important (sweating and walking, laundry needs…).
Now that you have the inside scoop on choosing the right accommodations, you're one step closer to planning a super fun vacation in Key West with kids. Whether you opt for a family-friendly resort or a cozy vacation rental, make sure it aligns with your family's needs, preferences and budget. With the perfect accommodations in place, you'll be well-equipped to embark on a fantastic adventure with your little ones on this awesome island.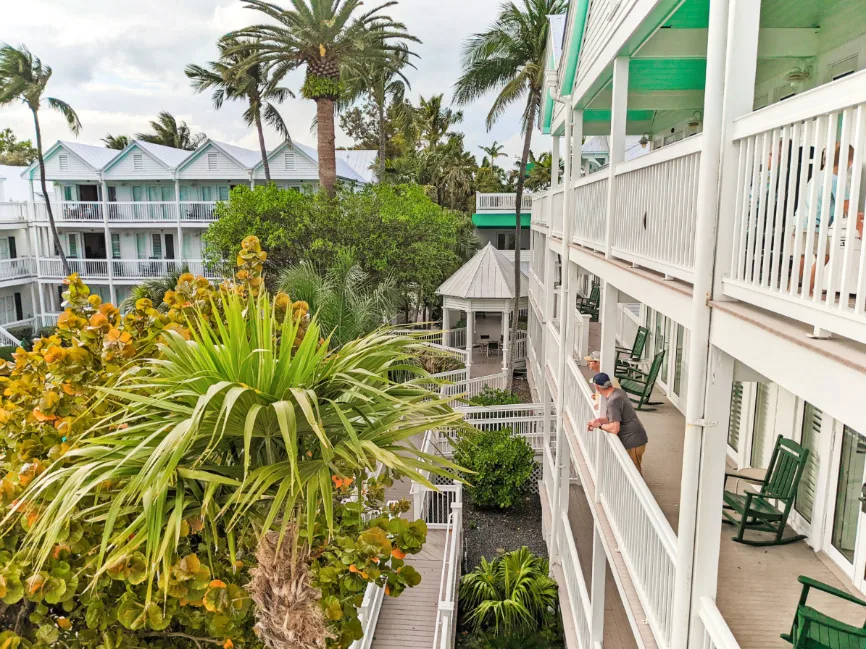 Our Key West Hotel Reviews
We've stayed lots of places in Key West with kids. From budget stays to high end hotels in the heart of the seaport, we've done them. We prefer to have more space over awesome when we're in Key West for more than three days. With that, you'll see that we like to be outside of town a bit. Here are our top recommendations (and full articles about each):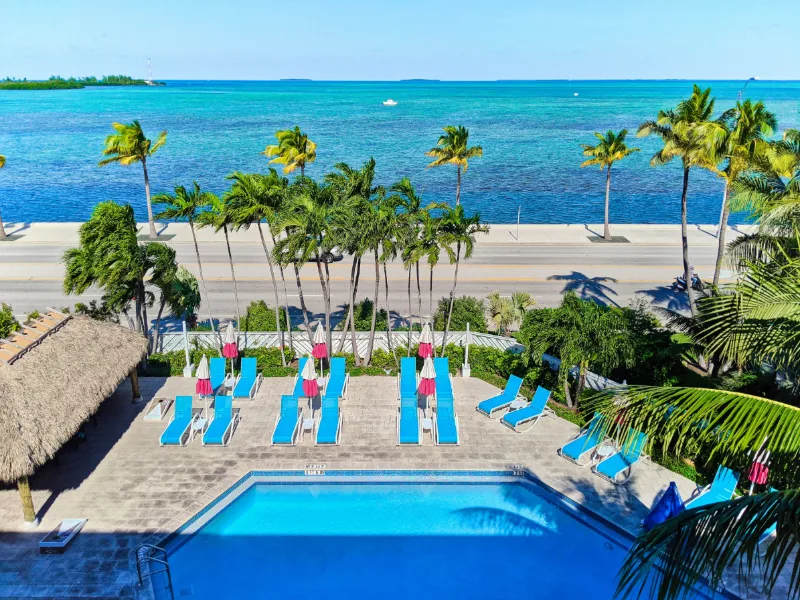 Best Family-Friendly Things to do in Key West
In addition to finding the right place to stay, Key West offers an endless list of family-friendly things to do that are sure to keep both kids and adults entertained throughout your vacation. From outdoor adventures to educational experiences, there is something for everyone in this vibrant island destination. Key West with kids is really fun, even when you're visiting the Florida Keys in summer and it's extra hot outside.
Key West Butterfly and Nature Conservatory
One must-visit attraction for families is the Key West Butterfly and Nature Conservatory. Step into a tropical paradise and be surrounded by hundreds of colorful butterflies as they flutter around you. This immersive experience is not only visually stunning but also educational, providing an opportunity for kids to learn about the life cycle and behaviors of these fascinating creatures.
There are also lots of cool, tropical birds in the conservatory, including flamingos. Even though we've been several times, we always come back to the Butterfly and Nature Conservatory. In any weather, it's one of the best things to do in Key West with kids.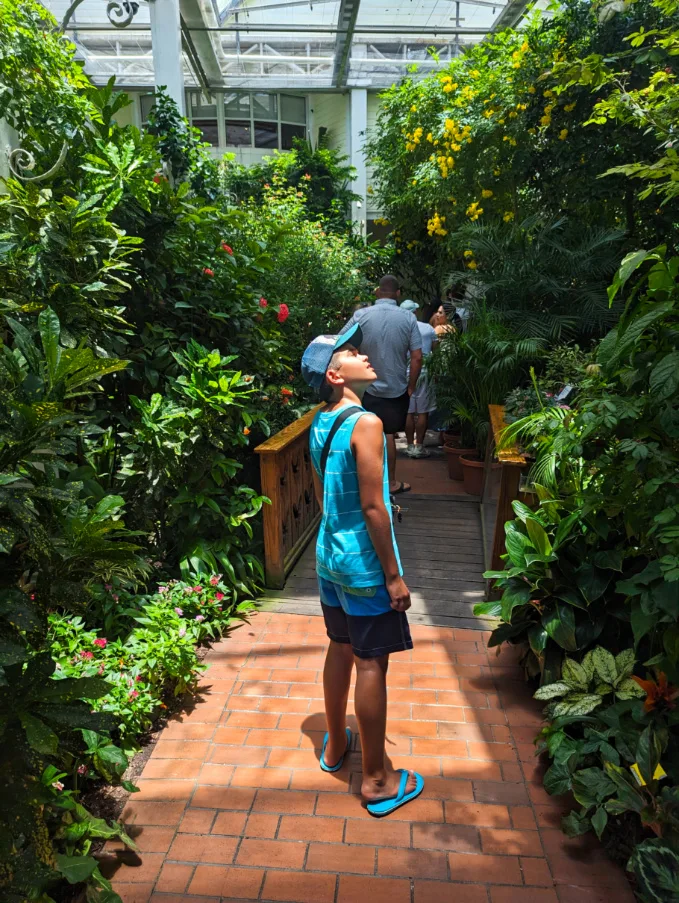 A Day at Fort Zachary Taylor State Park
For some fun in the sun, head to Fort Zachary Taylor Historic State Park. This beautiful beach offers crystal-clear waters and soft sand, perfect for building sandcastles or simply lounging under an umbrella. The park also has several nature trails and a historic fort that is great to explore with kids. Pack a picnic and spend the day swimming and enjoying the natural beauty of Key West.
Note: the Florida Keys do NOT have a ton of beach space when you actually visit one of the few beaches. Fort Zachary Taylor State Park has one of the largest beach areas in the Keys, so anyone visiting Key West with kids needs to add this to their time there, if for nothing else but to get out extra energy on hot days.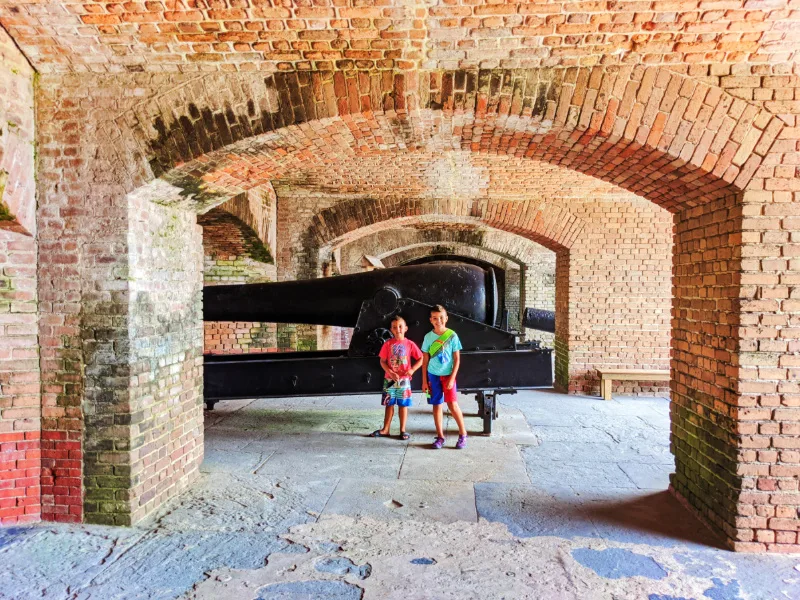 The Key West Aquarium – Very Vintage
Another cool family-friendly attraction is the Key West Aquarium. I think it may actually be the most vintage tourist attraction in the whole of the Florida Keys, and it's a must for doing Key West with kids. The Key West Aquarium has a variety of marine life, including sharks, stingrays, and turtles. Kids will be thrilled to touch a live shark or hold a hermit crab during the interactive exhibits.
There are two very unique outdoor exhibit areas that include sharks and other larger fish. Oh! And there's a moray eel in the most surprising exhibit! I'm not gonna tell you where; you have to look for it. The knowledgeable staff is always on hand to provide interesting facts and answer any questions your little ones may have, making it a fun and educational experience for the whole family.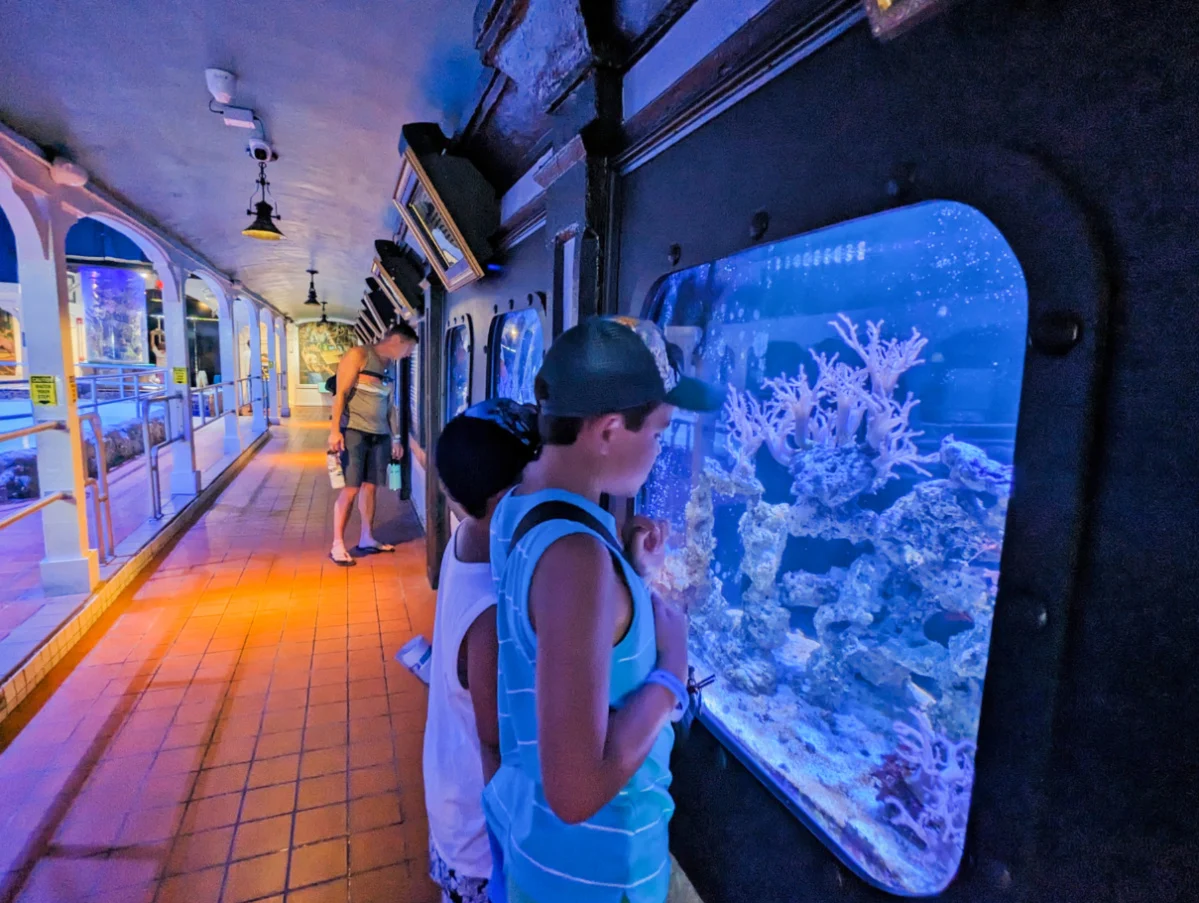 Key West Shipwreck Museum
You can't visit Key West with kids and not go to the shipwreck museum. It's actually great for any age and is not what you'd expect. You see, Key West was the richest city in America at one point and you'll learn all about why here at the Key West Shipwreck Museum. There are all kinds of exhibits and artifacts here, so even if you go into it thinking you're not interested, you'll get sucked into it.
A bonus of visiting the Key West Shipwreck Museum is the lookout tower you can climb (weather permitting). As you'll learn, it was from the town that the wreckers would spot ships that ran aground and hence the fortunes would roll into town. I love this museum, and even if it seems like it's going to be a bit cliched, it's not and it's totally worth the visit.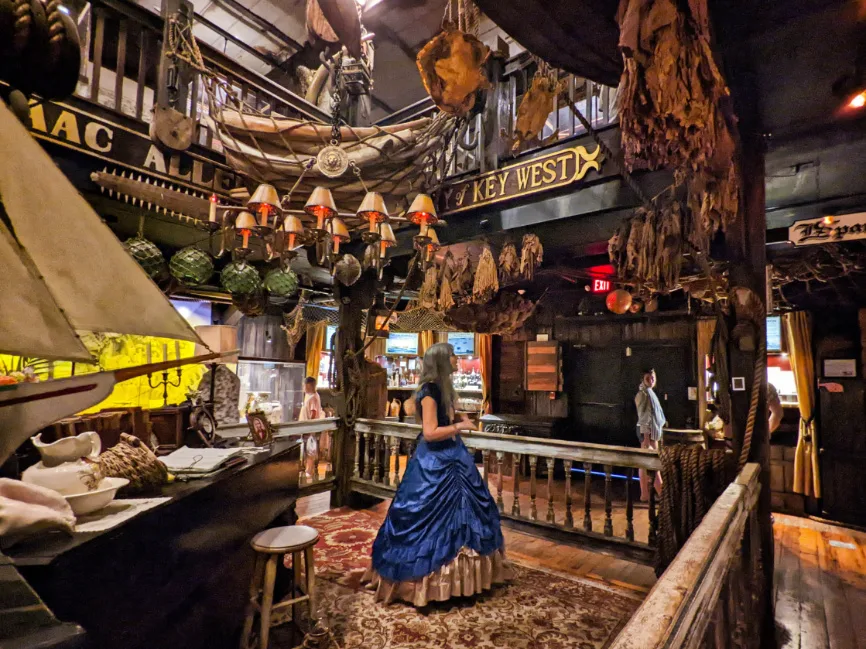 As you explore these family-friendly attractions, keep in mind that Key West also offers a range of other activities specifically catered to kids. From pirate-themed cruises to glass-bottom boat tours, there are endless opportunities for adventure and discovery. So, keep your curiosity alive and prepare to be amazed as you embark on a memorable journey through Key West with your family.
Key West Outdoor Activities – Favorite Things to do On the Water
I always think that the way to have the best time on vacation in Key West is to be out on the water or exploring on foot. You might be surprised by the number of outdoor activities that Key West has to offer, especially considering that most people think of it as a historic or party destination. This tropical paradise is not only known for the town's colorful streets, but also for the thrilling water activities that can be enjoyed by the whole family. Part of doing Key West with kids is getting them excited about the water!
Key West Beaches
Y'all, Key West is NOT a beach destination. For the people who are dreaming of a Florida beach vacation, the Keys are not the destination for you. There are lots of islands in Florida that AREN'T the Keys with amazing beaches. BUT, if you're in the mood for some relaxation, head to one of Key West's beaches for a swim. With its turquoise waters and white sand, Smathers Beach is a popular choice for families, and it's one of the best in Key West. You can also venture to Fort Zachary Taylor State Park's beach (mentioned above) for more space and additional things to do besides swimming.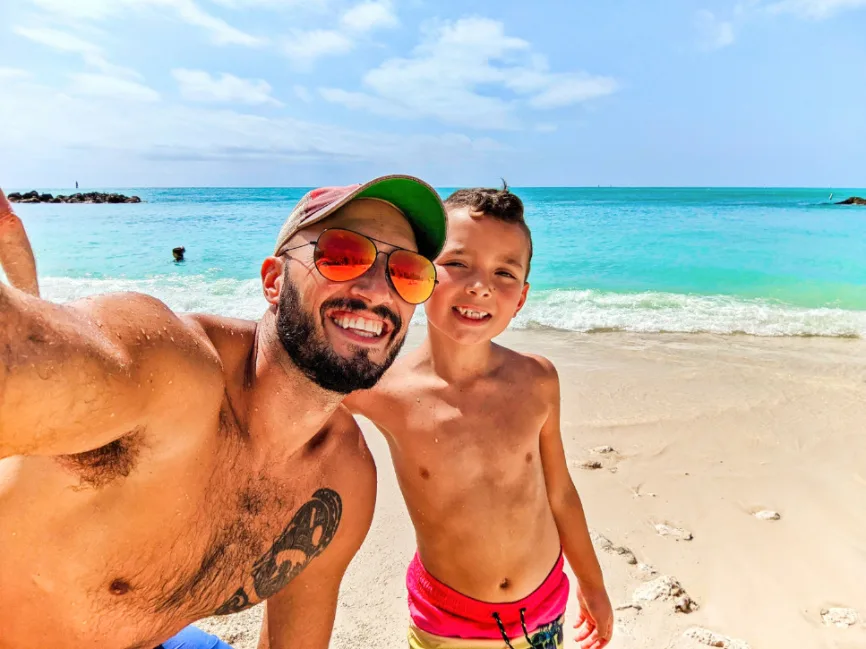 Snorkeling and Nature Tours in Key West
For those seeking more action-packed adventures, Key West offers a range of kid-friendly water activities, both above and bellow the water. There are some awesome wildlife tours in the Florida Keys, with a fair number of them going our of Key West.
Embark on a snorkeling excursion and discover the underwater wonders of the different reefs or the Key sponge gardens of the Key West National Wildlife Refuge. Kids will be amazed by the colorful fish and vibrant coral reefs that can be found just beneath the surface. If you're into it, booking a kayaking or paddleboarding tour is another great way to get on the water in Key West. Glide through the mangrove forests and observe the diverse wildlife that calls this ecosystem home.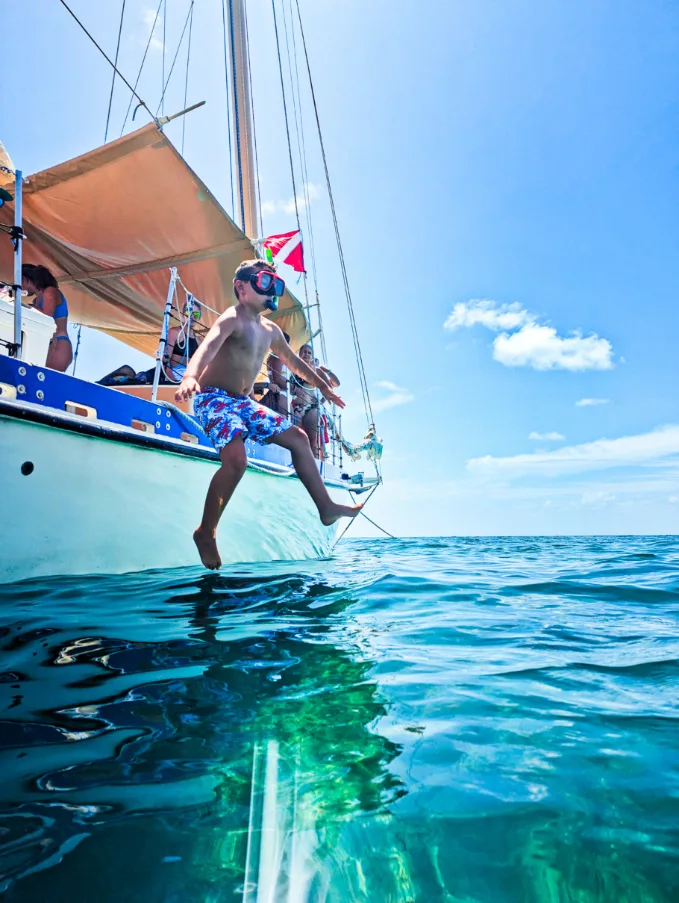 Our top picks for kid-friendly wildlife tours out of Key West include:
Clearly this is our favorite part about visiting Key West with kids. We take every opportunity we can to get on the water with them. And no, not all of these tours were done in one trip. That would be so expensive.
Tip: book your wildlife tours as far in advance as you're comfortable. This way it can be budgeted in advance, will cut back on paying more day-of, and if you need to stagger your spending, not having a large expense like tours hit at the same time as a hotel is a good way to make a trip affordable.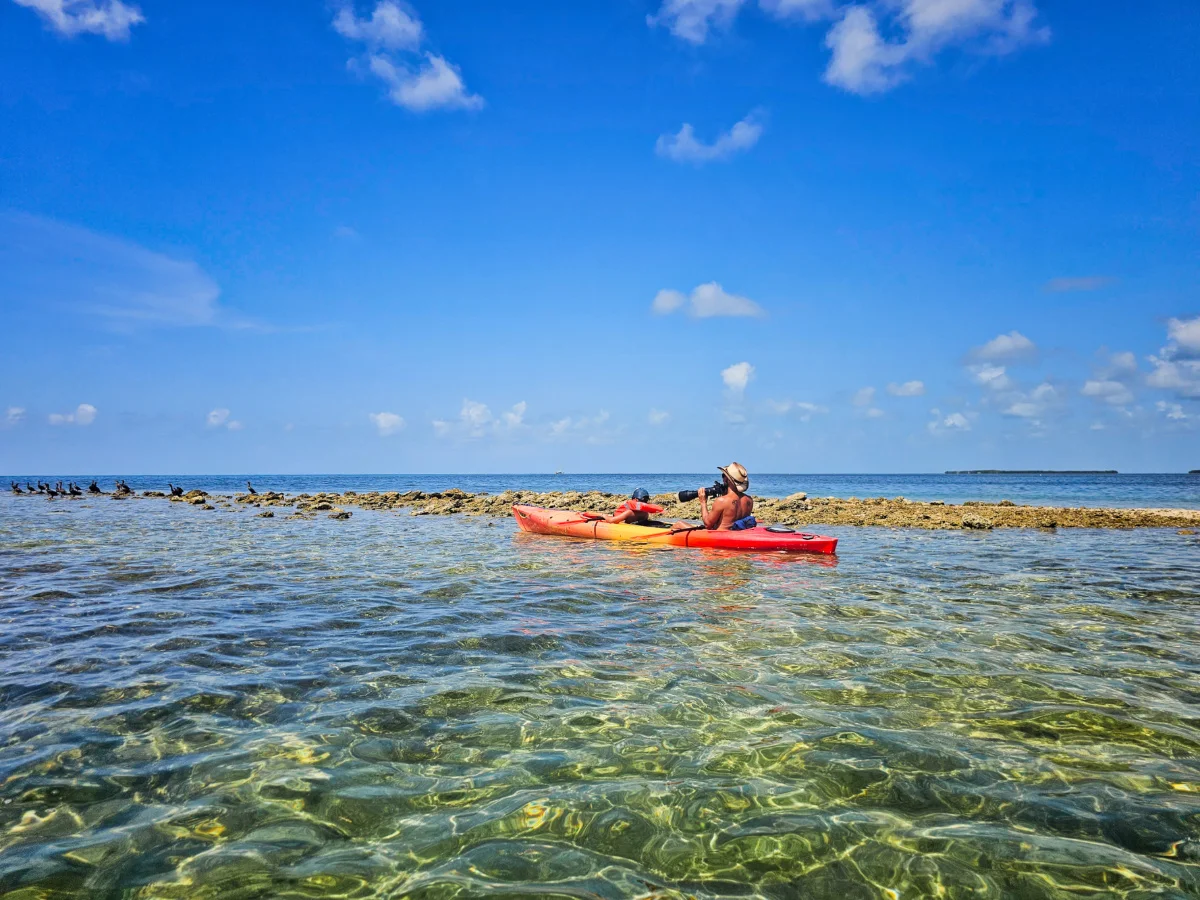 Parasailing with Kids in Key West
You're never going to get me to jump out of an airplane, so parasailing is the closest I will ever come. If you want to try parasailing above the sparkling waters of the Atlantic Ocean, the breathtaking views of the Key West coastline and sandbars below is awesome. We've parasailed in Key West with kids with Sebago Watersports and it was great. I've also gone out with them with adult friends and loved it.
The thing about parasailing is that the rise is so gentle and fairly slow, so even if you have a fear of heights, it's a soft build up to the maximum height. The first time we did parasailing with the kids they weren't sure about it, but each one ended up loving it and wanted to do it again. It's a gentle but fun way to enjoy the outdoors in Key West from a completely different perspective.
Book parasailing with Sebago Key West here!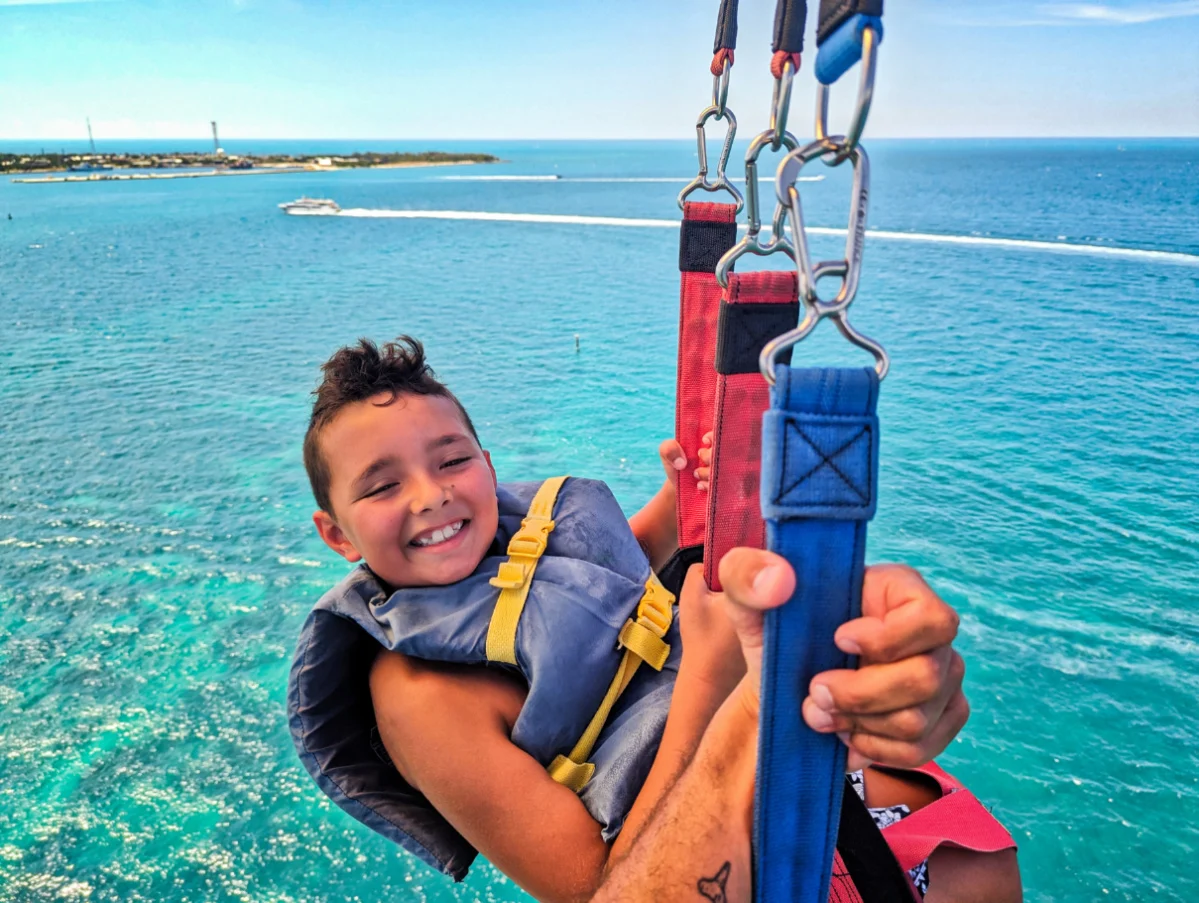 Our Favorite Kid-Friendly Restaurants in Key West
Now that you've see all the fun there is to have with kids in Key West, it's time to dig into some delicious cuisine that both kids and adults will love. Key West offers a diverse culinary scene that caters to all taste buds, making it a perfect destination for food-loving families… and it's not just chicken tenders and mac'n'cheese. From fresh seafood to satisfying comfort foods, there are plenty of kid-friendly restaurants that ensure a memorable dining experience for everyone.
Historic Seaport Restaurants with Kids
When it comes to sampling local flavors, a visit to the Conch Republic Seafood Company is a must. Situated right on the waterfront, this restaurant offers a vibrant atmosphere and a menu filled with mouthwatering seafood dishes. From crispy fish and chips to crab cakes, there's something for every little seafood lover here. Don't miss out on their famous conch fritters (other people love them… not me).
For those thinking Italian on a hot day is a good idea, a trip to Dante's Poolside Bar & Restaurant is in order. Located at the famous Dante's Key West Resort, this family-friendly eatery combines Italian cuisine with ocean views. Everyone can enjoy wood-fired pizzas topped with fresh ingredients, while more picky kiddos can munch on cheesy pasta or sliders. Note: on weekend and during events this place becomes rather partisome.
I really like the Boat House Bar & Grill in the Historic Seaport, and it's great with kids (and for happy hour). We tend to head directly here after morning water activities. Our FAVORITE budget eat in all of Key West is Harpoon Harry's just outside of the Seaport. It's a cash only restaurant, but it's great with kids, they have awesome Key Lime Pie, and the staff is the most kind you'll meet.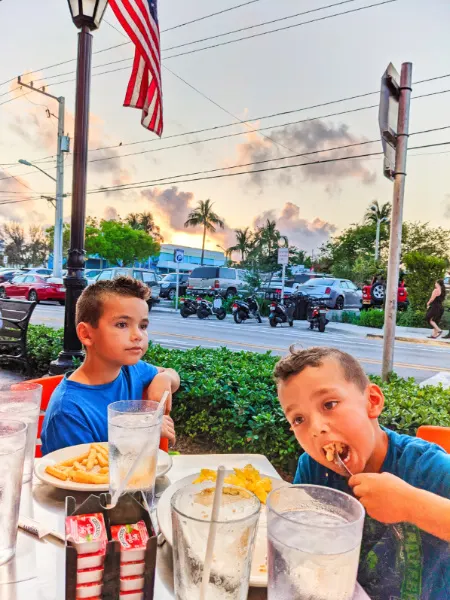 Duval Street Family-friendly Dining
Duval Street is interesting because it's where you'll find the shopping, the wild side of Key West (think bars and loud people), the LGBT community hub, and so much more. It's a big mishmash of everything that makes the town fun. Key West with kids can absolutely include time on Duval Street, and just a block over is Whitehead Street, which has all sorts of history and tourist attractions, so you'll be in the area anyways, no doubt.
If you're in the mood for some classic Key West fare, head over to DJ's Clam Shack. This casual restaurant specializes in serving up seafood and comfort food favorites. Kids can enjoy a plate of crispy fish and French fries, while adults might opt for lobster rolls. The laid-back atmosphere and generous portion sizes make DJ's Clam Shack a popular spot on Duval Street.
We've got more spots that we like over here on Duval street, but we'll keep it simple. Here are a few more easy and delicious picks for when you're on this side of Key West with kids who need food ASAP: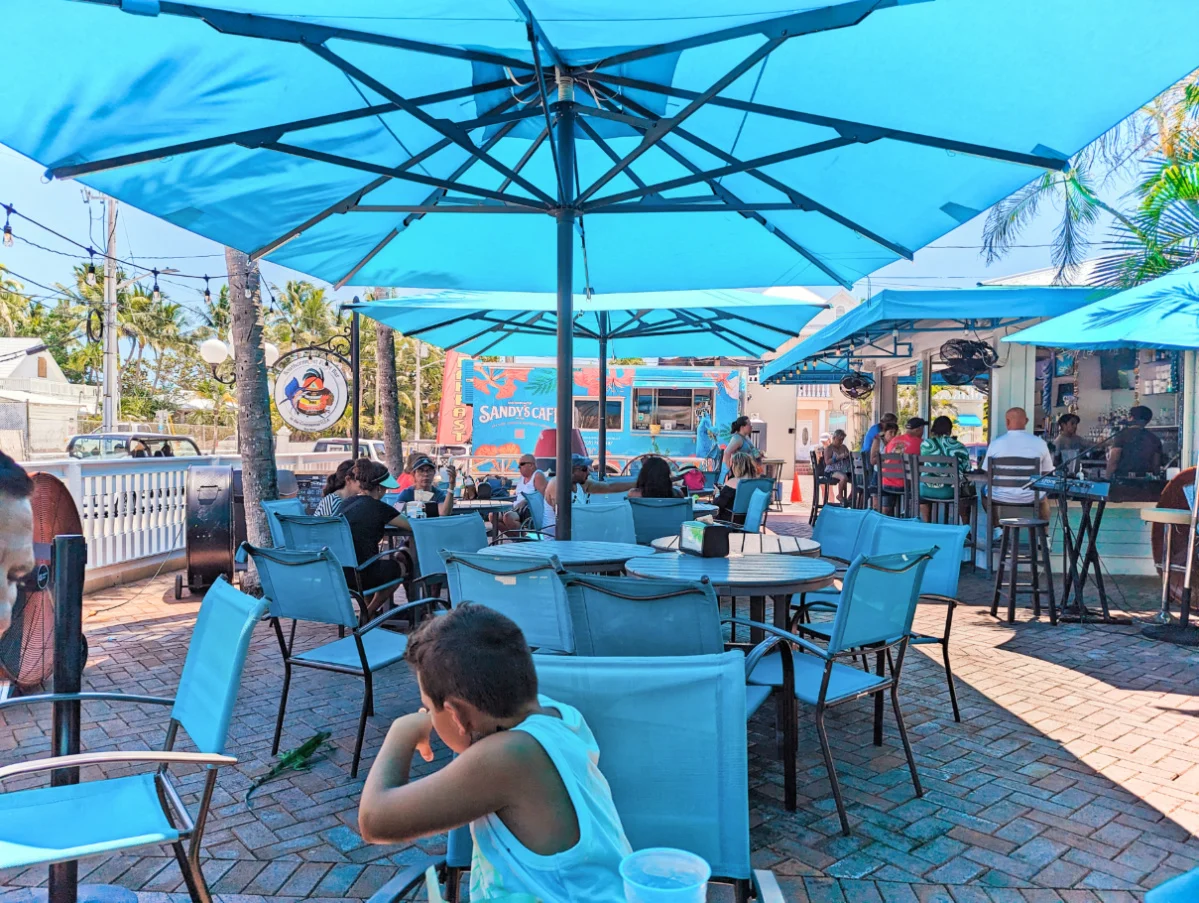 More Great Dining in Key West with Kids
Yes, there are lots more restaurants all around Key West and many that are wonderful with kids. Here are a few more picks, scattered around the island in different neighborhoods.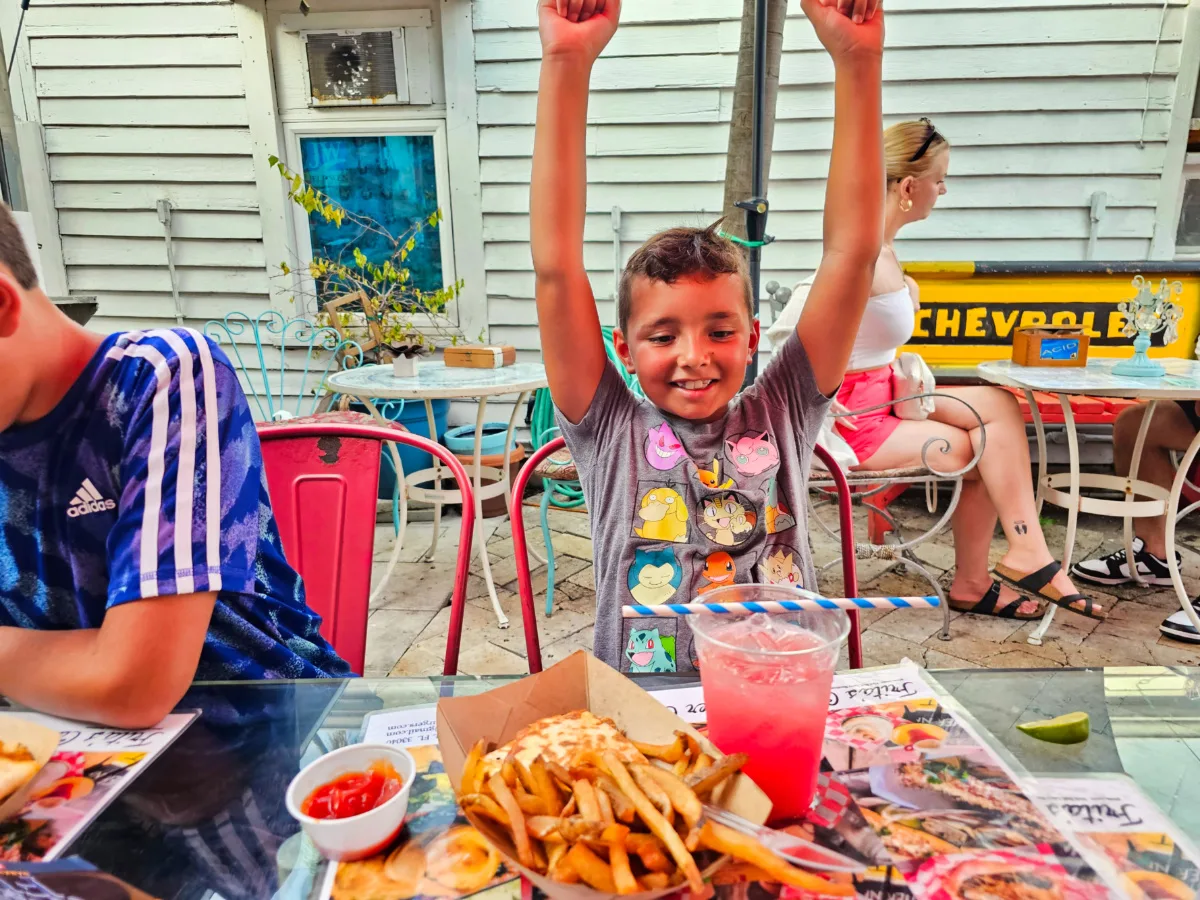 Can you tell we love getting to do family vacations to Key West? It's our favorite annual trip. Key West offers countless opportunities for a great Florida family vacation. Be sure to check out our other site all about the Florida Keys: TheKeysExplored.com.
If you have any other questions or want to add your own suggestions for planning a great visit to Key West with kids, please leave a comment or send us a note. We're always happy to share more!