The Gates Hotel in Key West is a great budget option for staying in the city. Key West hotels tend to be a lot pricier than people expect, so finding an option that is good for a family vacation is key. The gates hotel is in a quiet location a bit away from the action, but it's everything you need for a wonderful trip to Key West.
We've got the whole scoop on the gates hotel in Key West and why we like it when we are doing the Florida Keys on a budget. In addition to our review of the property, we've also got some great ideas for things to do in Key West with kids.
If you have any questions or want to make your own suggestions, please leave a comment or send us a note. We are always happy to share more! And be sure to check out our other recommendations for where to stay in the Florida Keys.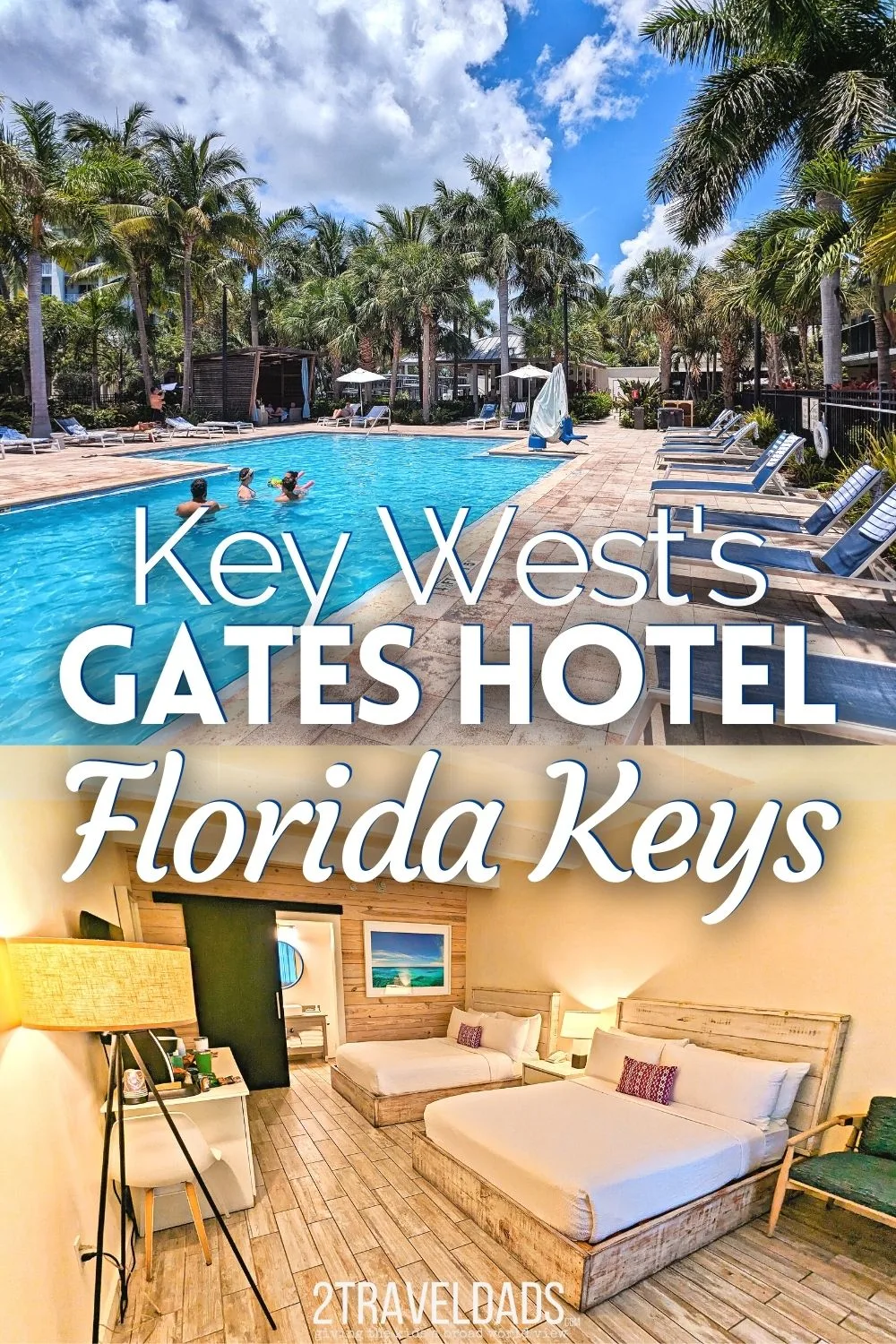 What Are the Accommodation Options at the Gates Hotel?
There are a few room types at the Gates Hotel in Key West, but it's mostly varying by bed type and location. The room sizes are great, but not hugely sprawling. Everything is nicely updated and crisp, which I appreciate, especially when we're someplace as humid as the Keys. There are no suites at the Gates Hotel Key West, but there are poolside rooms that also have patios. If you're looking for a long-term or suite hotel, the Laureate Hotel is perfect for that sort of stay.
I like the decor and setup in the hotel rooms here, which is very modern-tropical-port. The large bathrooms are great for getting a family ready for a day out on the water. If you're planning on spending a lot of time at the hotel in the room, I don't think the Gates Hotel Key West is the place for you, as there isn't a lot of desk space and multiple people just hanging out for long periods of time in this size hotel room isn't ideal. If you're looking for a great spot with nice rooms and a wonderful pool in a quiet location, the Gates Hotel is for you!
Already know you want to stay? Book the Gates Hotel Key West here!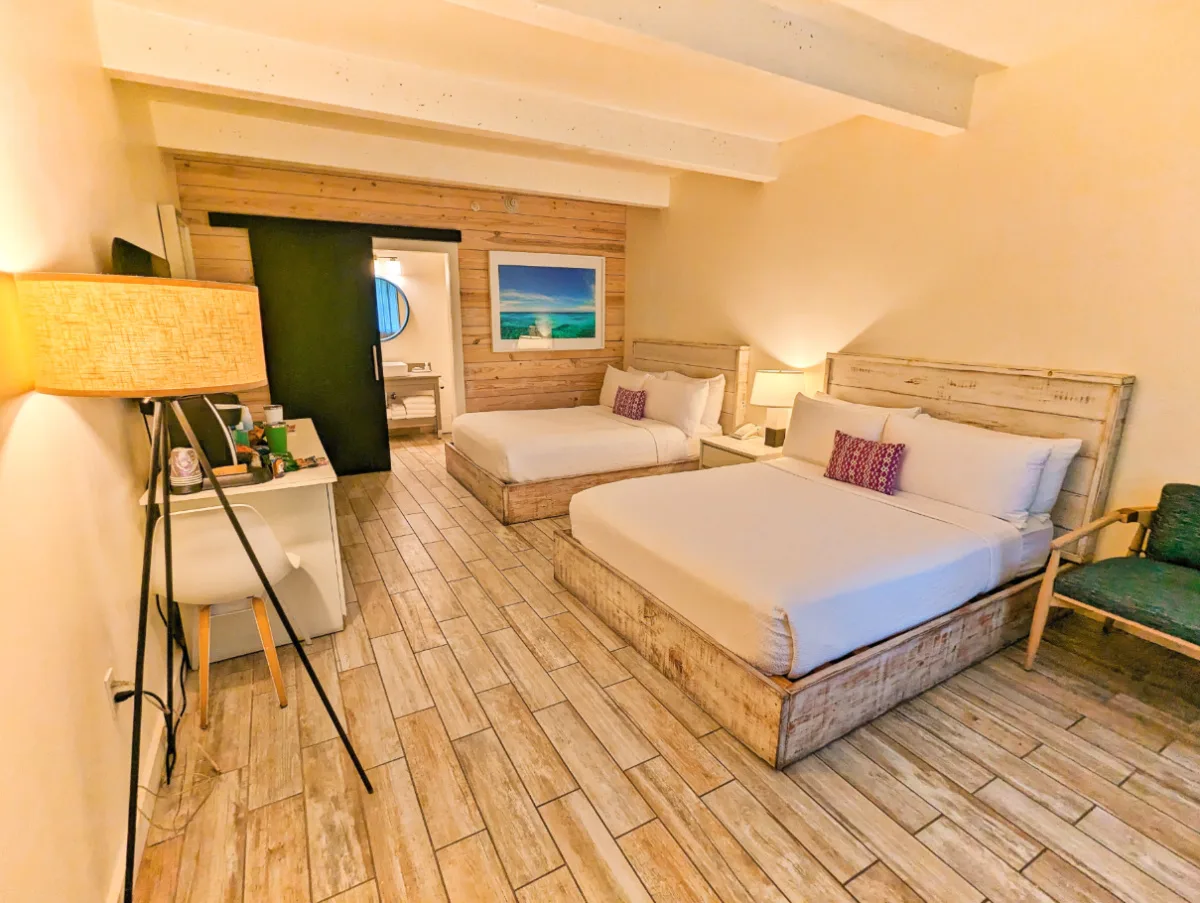 When it comes to hotel rates, the Gates Hotel is at the lower end of Key West hotels, which is amazing for how nice it is and how great the pool area is. You can expect to pay anywhere from $135 per night on a deal to $289 when it's super busy or on a weekend. While that might not seem like a "budget option" it very much is for being in Key West.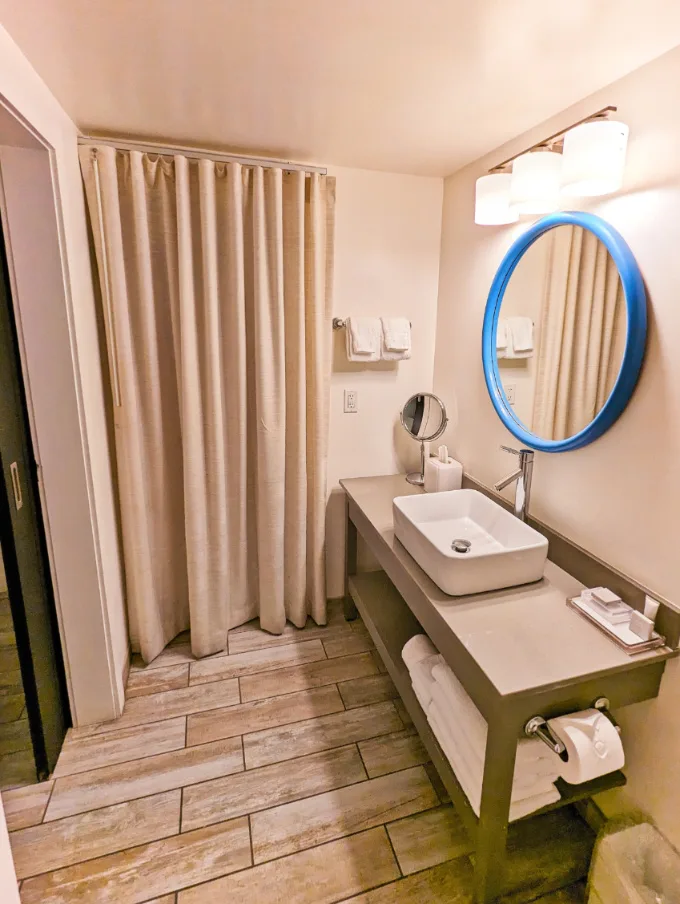 Check in / Check Out at the Gates Hotel Key West
The lobby space of the Gates Hotel Key West is really pleasant. Lots of seating and great AC make it a wonderful hangout for either afternoon drinks or if you need a quiet space to work (if you really must). The staff is friendly and the process is smooth. There IS a resort fee per night, so be sure to ask about this upon check in and to make sure you use the services it covers.
The Gates Hotel is directly affiliated with the 24 North Hotel next door, so if you're arriving late and the lobby is closed for the day, the 24 North is ready to help and has a small store, staff to check you in, and they can help with anything you need.
When it comes to room keys, the Gates Hotel Key West uses wristbands, much like the Hawks Cay Resort in the Middle Keys. This is great if you want to have the kids have keys, because they can't really lose them.
One other thing that's nice about how the Gates Hotel runs is that they use text communication to help you through your stay. After a simple welcome text, if you have any questions or need anything, just texting the team is super easy and makes the stay nice and smooth.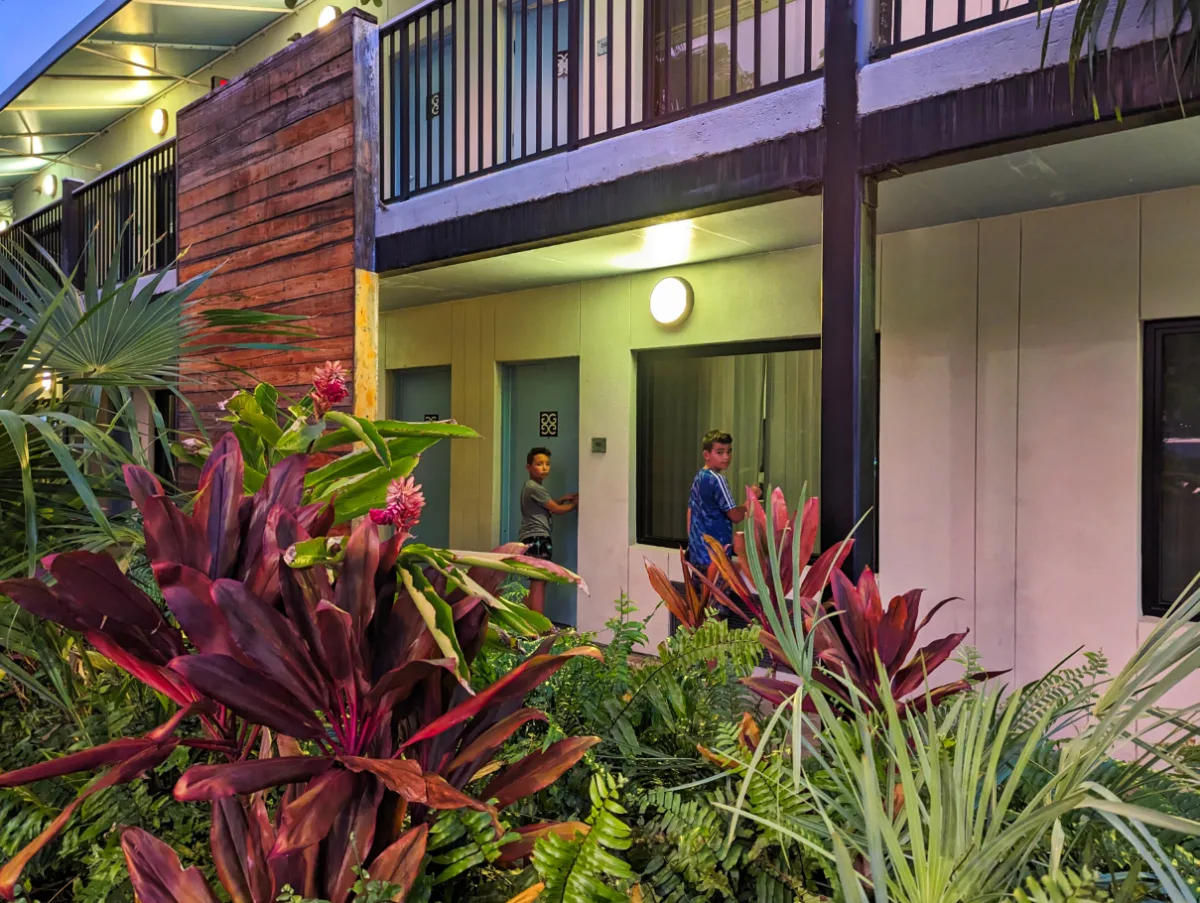 Gates Hotel Key West Amenities
One of the things that makes the Gates Hotel Key West fall into a budget category is that it's not an all encompassing resort. It's ideal for somebody who wants to have a nice place that's mellow and is great to hang out at, but it's not a full-service resort.
The pool is huge and awesome with lots of lounge chairs and umbrellas. There is towel service and you can reserve cabanas if you like (extra fee for the cabana). There's also a pool bar, but I'll share more about that below. For more outdoor space for guests, there's a large activity lawn with chairs, cornhole, lights and relaxation spaces. It could even be a picnic lawn if you wanted it to be!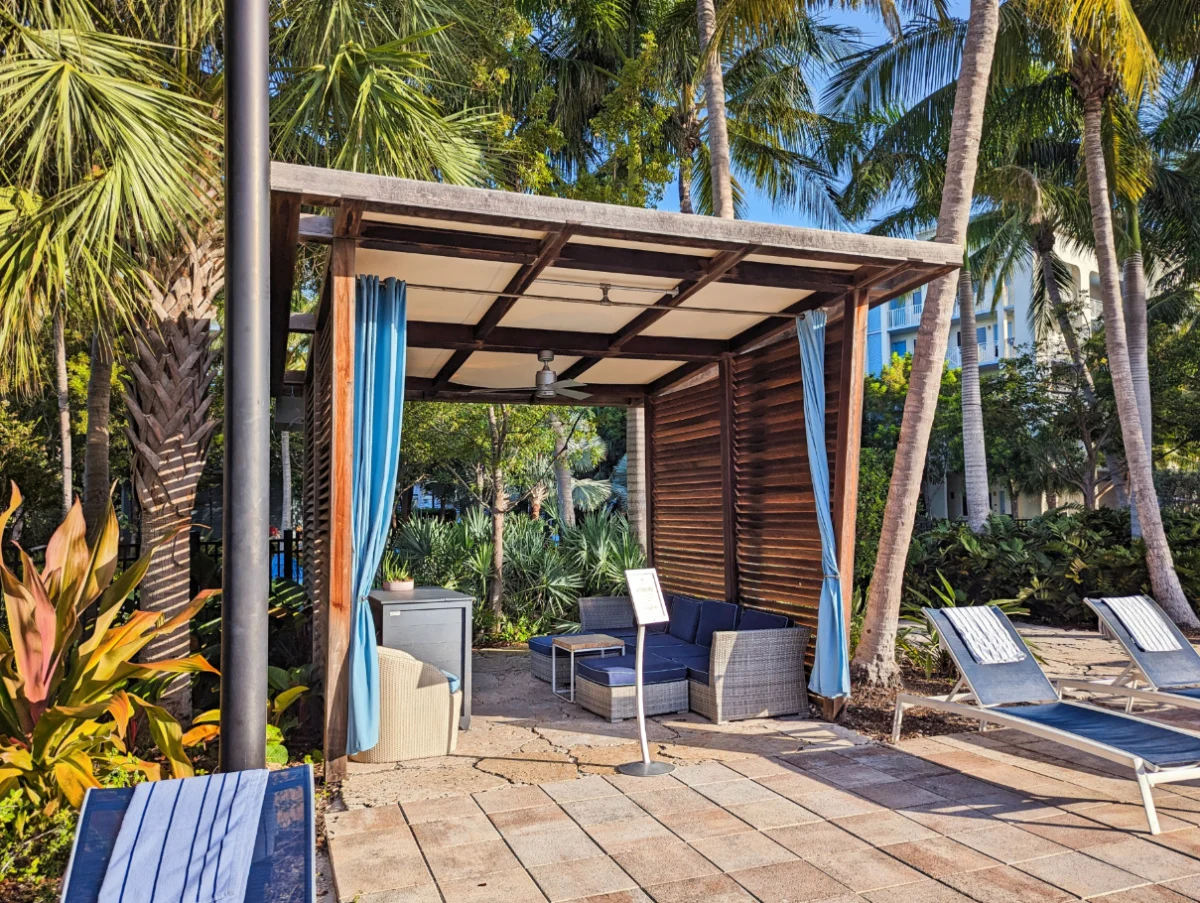 Already know you want to stay? Book the Gates Hotel Key West here!
Fitness Center Access
The Gates Hotel Key West shares a fitness center with the neighboring 24 North Hotel, adjacent to the big blob pool at the 24 North. It's a well appointed gym space with keyed access (get a key from the desk upon check in). There are free weights, a universal machine, cardio equipment and there's plenty of floor exercise gear. It's not 24 hour access, so plan your workout time appropriately.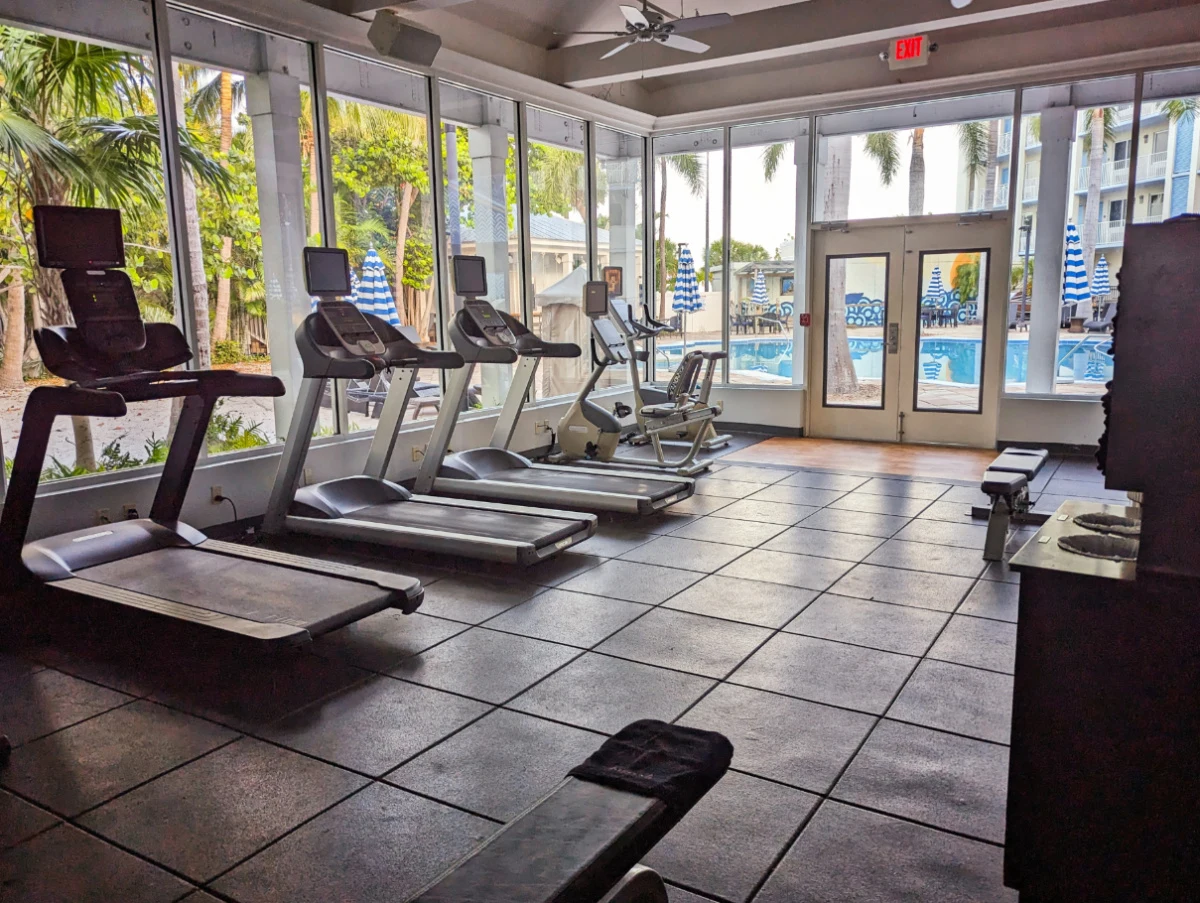 Dining at the Gates Hotel
Again, since it's not a full service resort, the Gates Hotel Key West doesn't have a full service restaurant. It does have a great pool bar, Rum Row, and a local gourmet food truck parked right next to the patio. The Blind Pig offers a variety of tacos, sandwiches and other Florida-style foods. Grab a meal and head a few feet away to the patio.
Also next door at the 24 North Hotel there is the Toasted Coconut by the pool. We enjoyed several lunches here, especially the fish tacos. And then there is also a Starbucks at the 24 North, so you have all your bases covered.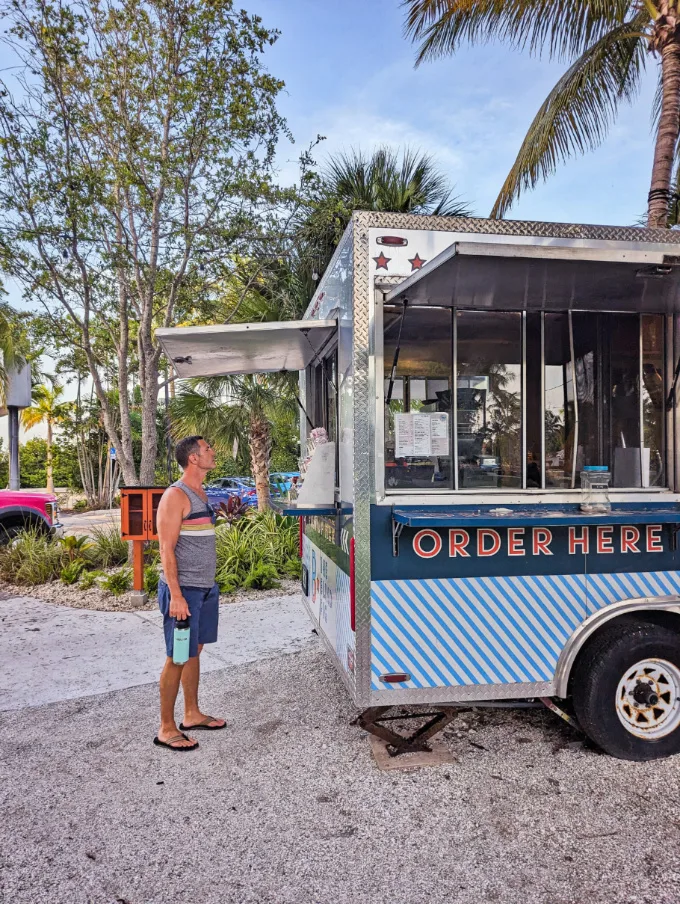 Where is the Gates Hotel Key West?
When you look at the location of the Gates Hotel Key West it seems like it's in an inconvenient spot because it's so far from the historic area of the island. Here's the thing: it's only just a few minutes away and the location is actually ideal for both arrival and departure into Key West AND it's away from the foot traffic and noise of Duval Street and the tourist hot spots, which is really wonderful if you're looking for quiet. It's closer than the Perry Hotel Key West, but still not in the heart of town. And don't worry, there are still chickens running around.
There are actually quite a few good restaurants and even tourist activities right along Roosevelt Blvd (the street the Gates is on). It's a five minute drive to the Key West Botanical Garden, the Hurricane Hole (kayaking) and just blocks from the backroad entrance to the historic district (the backside of Key West being around the Coconut Beach Resort or Southernmost Point).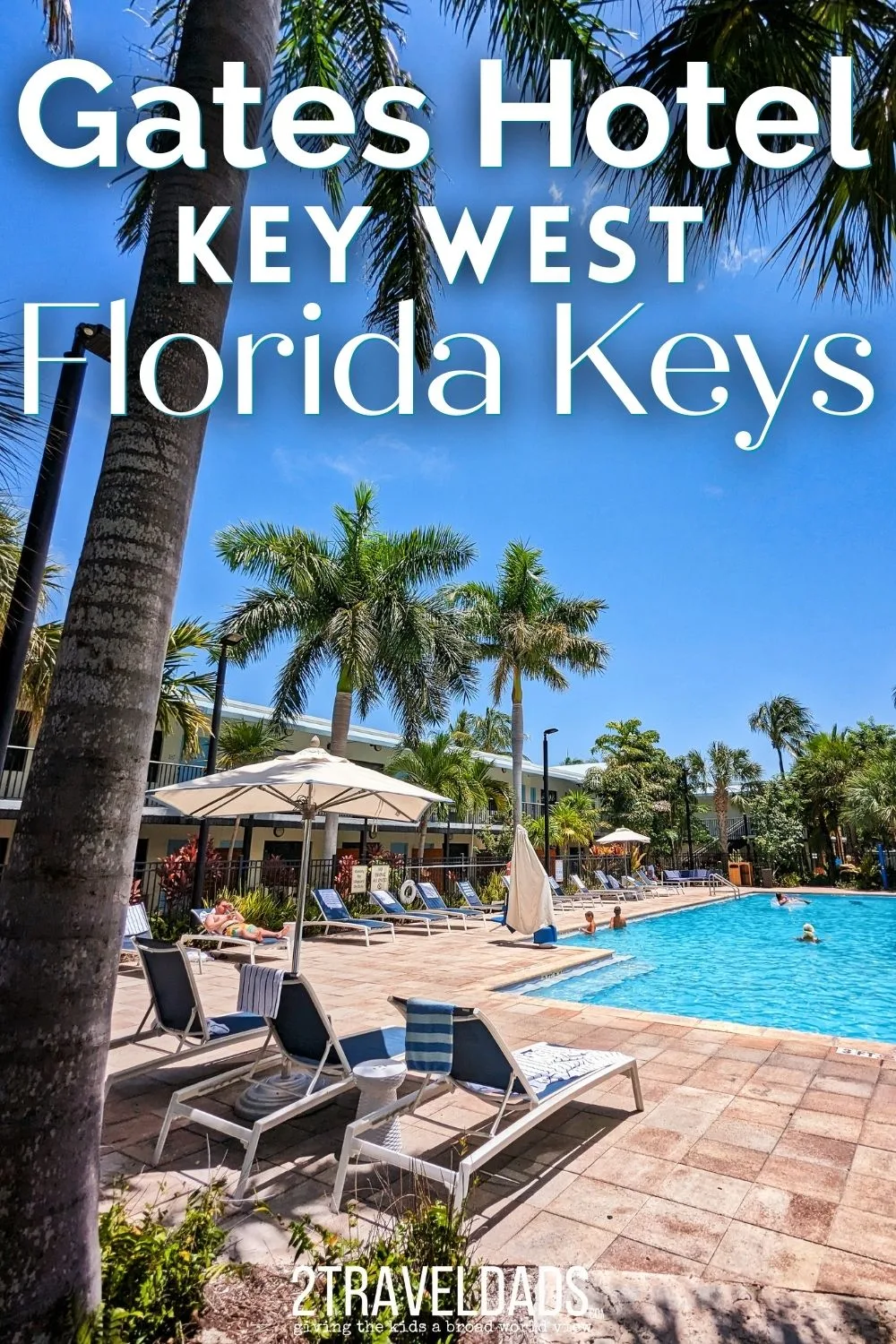 Shuttle Service into Downtown Key West
We took full advantage of the free shuttle from the Gates Hotel Key West to the historic seaport right next to the Marker Resort Key West. The hotel is a part of the Keys Collection, which include the Gates, 24 North, Hilton Garden Inn and Fairfield Inn and Suites Key West, so the shuttle makes a loop to pick up from each. There are multiple shuttles, so if it's busy, give it ten minutes and another one will come by.
Tip: you do need to reserve your spot on the shuttle from the hotels to the seaport to be sure you can be on the one you want, but you can also try just showing up… There's no reservation required to ride back to the hotel from downtown.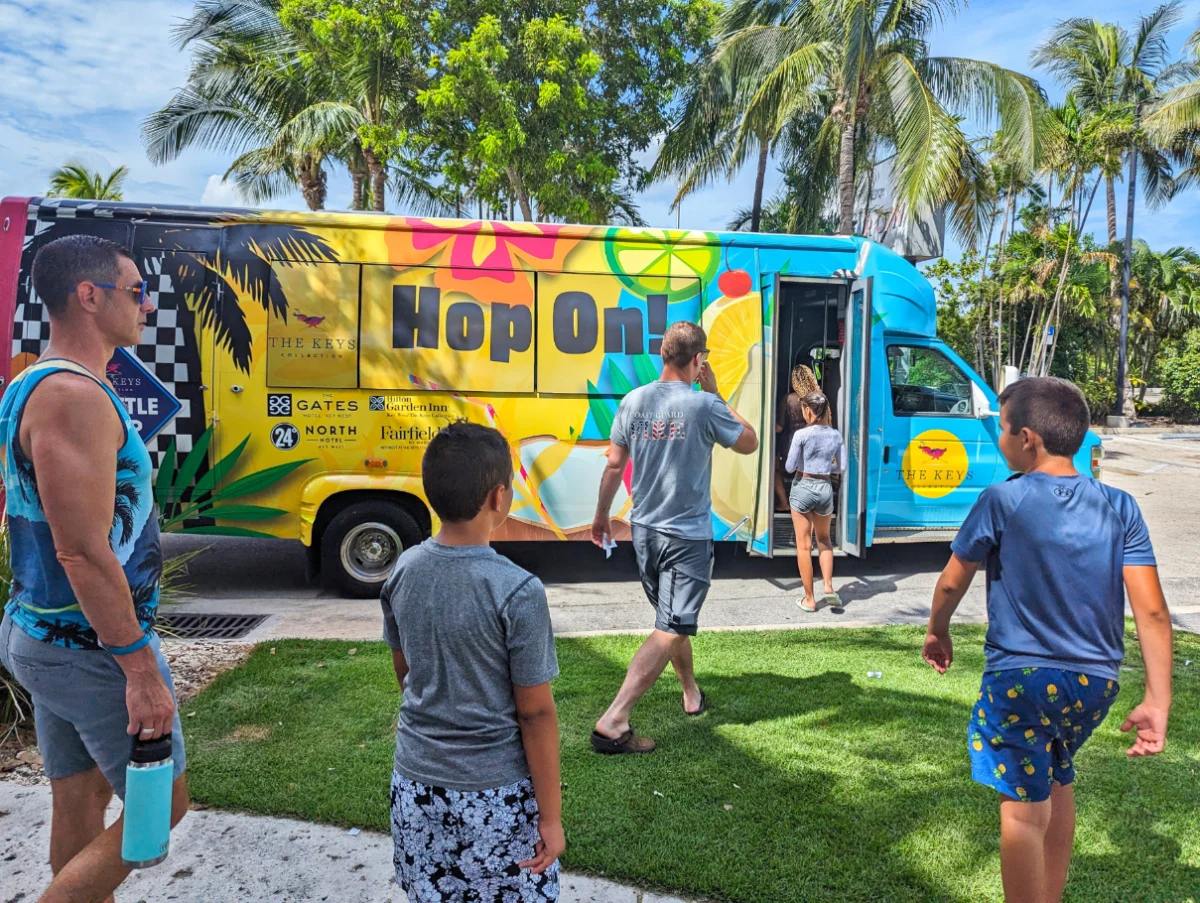 Parking Details at the Gates Hotel
Parking at the Gates Hotel Key West is not included in the resort fee ($15/night as of Aug 2023). You do need to put a parking pass in your front window (get it at the front desk). When you check in and get your room assignment, get instructions for where to park to be closest to your room, as the property is actually quite large with parking all around it.
Already know you want to stay? Book the Gates Hotel Key West here!
Ten Fun Things to do near the Gates Hotel Key West
Like I've already said, don't let the relative location of the Gates Hotel deter you from booking it. With the quiet location and the easy shuttle service to downtown, it's very simple to plan fun activities without the stress of finding parking or sitting in busy Friday / Sunday Key West traffic.
Night Kayak Key West – across the street a little bit, amazing glowing kayak tour through the mangroves
Sandbar day trip with Island to Island Charters (our favorite!) – goes out of Garrison Bight
Paddling tour with Lazy Dog from Hurricane Hole
Explore the Key West Tropical Forest & Botanical Garden (a great place for bird watching in the Keys!)
Have a snorkeling adventure in the morning or sunset with Sunset Watersports (we've done several trips with them)
Go on a wildlife expedition into the Key West National Wildlife Refuge with Key West Eco Tours (I love the catamaran / kayak combo trip) or Danger Charters (awesome sailing/snorkeling)
Take the shuttle to downtown to explore the historic district and Mallory Square
Spend the day at Fort Zachary Taylor State Park on the beach, exploring the fort, and renting paddling gear if you like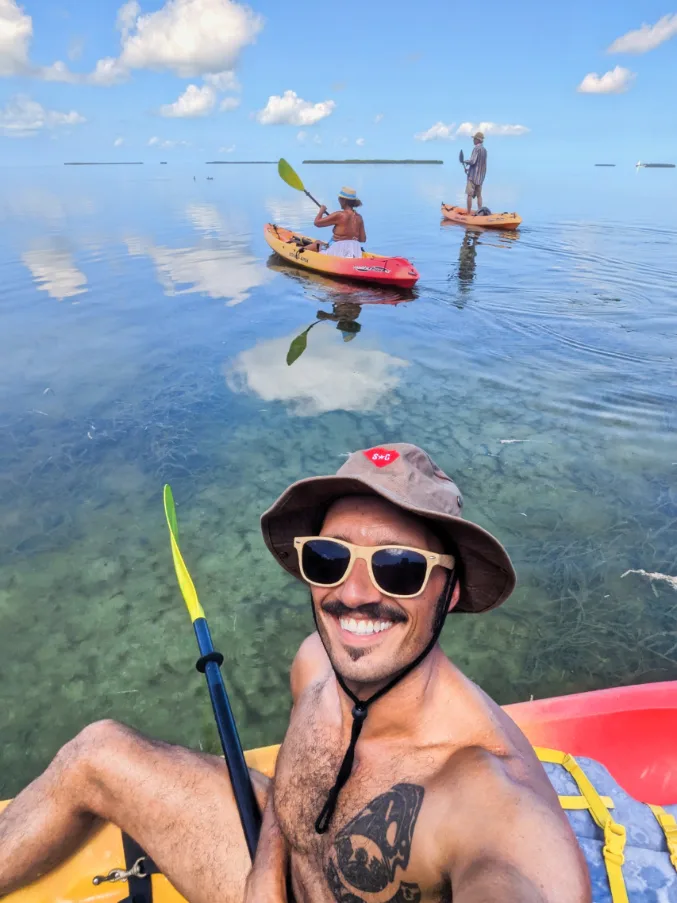 We visit Key West and do a Florida Keys road trip several times a year so love getting to stay in new places with each visit. I liked the ease and comfort of staying at the Gates Hotel Key West and being able to book it on a budget is always nice.
If you have any questions about the hotel, about other great options for staying in Key West or any of the Keys, or if you just have questions about planning a Florida Keys vacation in general, please leave a comment or send us a note. We're always happy to help!