After several trips to the Florida Keys the biggest question we get is how to visit the Florida Keys for cheap. "What's an affordable hotel in Key West?" or "What key should we stay on for cheap?" Here's a plan for an affordable Florida Keys vacation that is budget friendly and also tons of fun.
If we're missing a topic or don't answer your question in this post about doing an inexpensive Florida Keys trip, send me a note and I'll get you set up with the best budget information possible.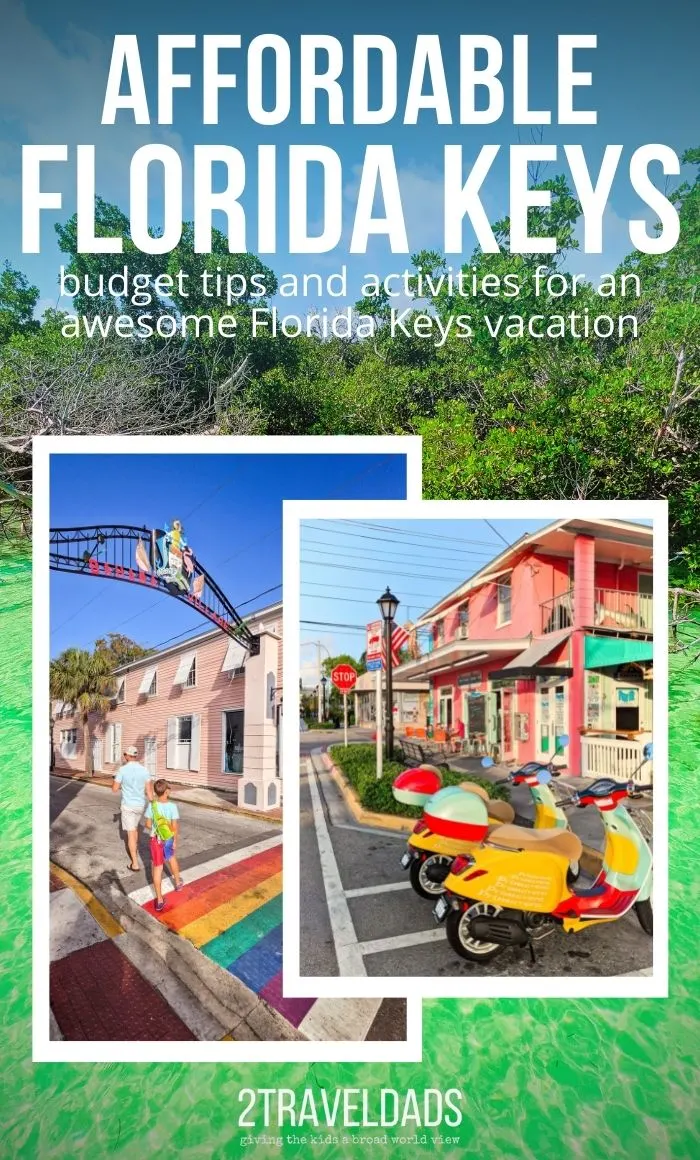 How to Budget for the Florida Keys
Whenever you budget for any vacation, you have to keep four things in mind:
Transportation – flights / rental car / gas
Hotels – lodging / vacation rental / resort
Food – 3 meals a day and snacks
Activities – cheap things to do are great, but big ticket fun is also nice
We tend to set a lump sum budget before we dedicate to our destination, and then if we can make our ideal vacation destination work we will fit it to our budget. The Florida Keys budget is an example of setting a total amount and then tailoring your plan to fit it.
Unless you're flying into Key West and just staying there, a trip to the islands is for sure going to be a Florida Keys road trip.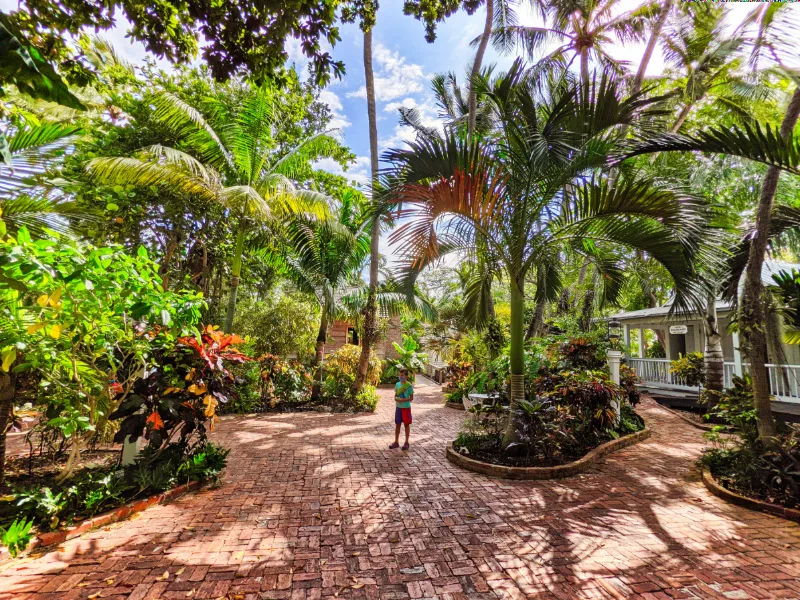 Actual Florida Keys Costs per Day
To estimate daily costs, I've taken our last two trips to the Florida Keys and broken it down. This doesn't account for flight or rental car costs, but just gas, lodging, food and fun. Consider our expenses as you make an affordable Florida Keys budget.
Gas: 1 tank of gas gets you from Homestead, Florida to Key West and back to Homestead. Gas in the Florida Keys is the same price as on mainland Florida if you fill up on Key Largo, Marathon or Key West.
Hotels in the Florida Keys: this is the biggest cost at $150+ night assuming you go in off-season (July – October). For nicer Florida Keys resorts, you'll be looking at $300+ per night in the off season. If you visit during peak season (November – June) you could be looking at $250+ per night for the budget hotel options. Vacation rentals match these rates.
Dining – there are wonderful cheap places to eat in the Florida Keys (see below) so if you plan your dining to have great food on a budget, you will probably spend around $150 or less per day for a family of four. This doesn't include fine dining, but just three quality, casual meals per day.
Activities – there are lots of free and cheap things to do in the Florida Keys, so you'll not have to worry too much here. To average our spending, it is about $50 per day for activities for four people. That doesn't account for big ticket excursions like visiting Dry Tortugas National Park or doing a fishing trip, but includes things like state park activities or museums.
Here's the Florida Keys budget breakdown, both doing the very cheap, most affordable style and then keeping things less expensive, but enjoying a few more nice meals and big ticket activities.
For the latter, we made the budget based on getting a nice hotel at a great deal, enjoying two mid-grade meals and one nice dinner each day, and then doing activities on the cheap but doing two big excursions (fishing, private charter, or Dry Tortugas). The big ticket excursions tend to run between $600 and $900 for a family of four.
| | | | | | |
| --- | --- | --- | --- | --- | --- |
| Family of 4 Budget | Gas | Hotels | Dining | Activities | Total Daily |
| Tight budget / day | 50 | 120 | 120 | 20 | 310 |
| Medium budget /day | 50 | 150 | 150 | 50 | 400 |
| Budget w/ luxe /day | 50 | 220 | 200 | 225 | 675 |
Of course, you can always set a lower budget and book your Florida Keys resort or lodging in advance on a great deal, but if you're planning 2-3 months out, these costs are pretty accurate (2021 prices). And our tight budget Florida Keys amount is doable, but you must stay strict with your spending and book in advance.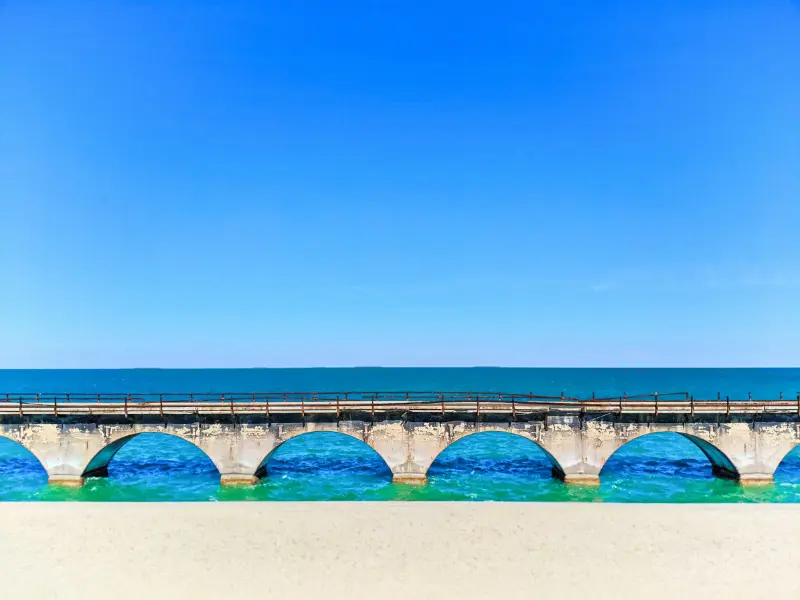 Affordable Florida Keys Hotels
Something we're always a fan of is using points for travel, and since there are Florida Keys resorts and hotels that are a part of major travel brands, such as IHG (Holiday Inn or Kimpton), Marriott, or Preferred Hotels (love the Hawks Cay Resort) you'll actually be able to find accommodations that you can use points for. There are also lots of independent hotels, such as the Laureate Hotel or Marker Resort in Key West.
When it comes to Florida Keys budget hotels, there aren't too many in the Middle Keys, but you'll find some small inns and roadside motels that could work well. We HAVEN'T stayed in any roadside motels in the Florida Keys, so we cannot recommend any one in particular, but there are quite a few, including these cute ones we peeked at and/or researched:
As a reminder, MOTEL is different than HOTEL. If you are choosing to book an inexpensive motel in the Florida Keys, know that it's NOT going to be fancy. You may have amenities like a pool, kayaks or beach access, but you should not expect a property that is 100% 5 star across the board. Always expect cleanliness, but do not expect luxe.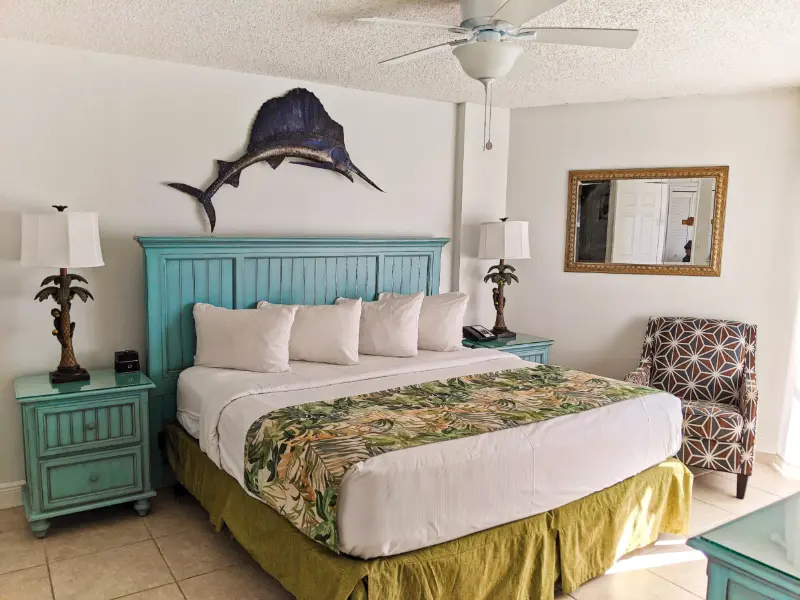 Where to Stay in Key West
Key West is wonderful for finding unique places to stay for any range of budget. We've enjoyed staying in some beautiful hotels (loved both the Laureate Hotel and Marker Resorts) but there are budget friendly options too, including vintage bed and breakfasts. An option like staying at the Laureate Hotel can be budget friendly because it's so spacious and can be shared accommodations (it's an all-suites hotel). Staying at the Marker Resort or similar is lovely, but not what we'd consider budget friendly.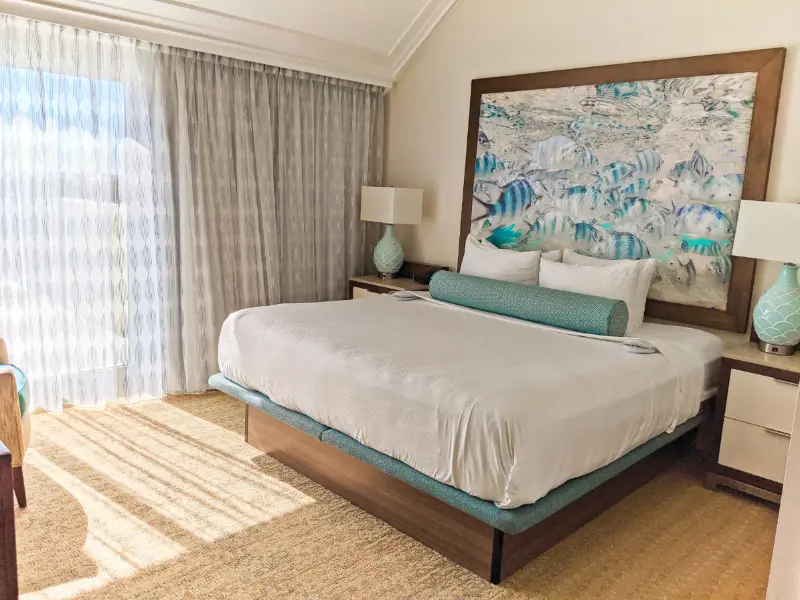 The best way to find budget accommodations in Key West, or any of the Florida Keys, is to plan in advance. The trend of getting great last minute deals has passed, especially in a destination like the Florida Keys, so proper planning is much more important now.
Plan to spend more than $180 per night for a hotel or B&B in Key West. More nights in one place usually gets you a better rate, but not usually by too much. We've found both the Gates Hotel Key West and the 24 North Hotels to be wonderful budget Key West options.
Florida Keys Vacation Rentals and AirBNBs
Because the Florida Keys is such a fun, desirable destination, booking a vacation rental or AirBNB in the Keys may be more complicated. Minimum night stays are very common and accommodations for just a couple vs a family are more difficult to find.
As you search for vacation rentals in the Florida Keys you'll typically find multiple rooms for multiple nights, making any booking several hundred dollars. Unless you're a large family that would normally get two or more hotel rooms, you'll be spending significantly more each night for a vacation rental in the Keys.
Planning a group trip is really smart though and perfect to turn a trip into an affordable Florida Keys vacation on a budget friendly trip. Between being able to split the cost of a Florida Keys vacation rental AND being able to split the cost of tour charters (see below) you'll be able to lower the total cost per family significantly!
Cheap or Free Activities in the Florida Keys
Adding activities to a trip makes the total cost of a vacation go up significantly and quickly. We love to find free or really cheap things to do when the destination is an expensive one. Thankfully there are tons of cheap or free things to do in the Florida Keys. And beaches aren't just inexpensive, they're free things to do!
If you come with your own kayaking or snorkeling gear, your world of cheap options opens up significantly, as there are lots of places to kayak in the Florida Keys.
Florida Keys Beaches for Free
You'll find that there actually aren't a ton of beaches in the Florida Keys. The way the islands are formed, beaches just aren't a naturally occurring thing. There are SOME though. Parking is limited at many of the beach access points, so be smart about where you park along the highway.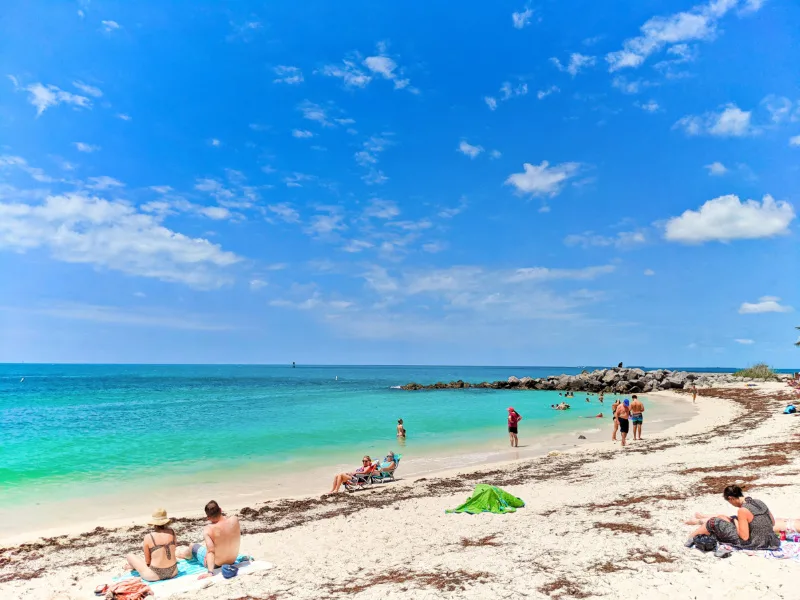 The beaches in the Florida Keys that are easily accessible are few and far between, and often they aren't broad, sprawling beaches. Hands down the best beach in the Florida Keys is Sombrero Beach, and it has a playground too. As you look at the map of the Florida Keys beaches below, think about how many islands there are and these are basically the ONLY options, so you may find crowds depending on the day and weather.
Planning beach time helps make an affordable Florida Keys vacation doable. Here's the link to our complete Google Map of the Beaches in the Florida Keys
If you want a Florida beach vacation, you need to consider the Florida Gulf Coast beaches or north Florida because the Florida Keys ARE NOT a beach destination.
Cheap Things to do in Key West
Although tours like snorkeling or other boating adventures in the Florida Keys are expensive, a wonderfully inexpensive option, particularly in Key West, is doing a guided walking tour. Whether it's a nighttime ghost tour or a historic walk through the beautiful overgrown neighborhoods, guided walking tours provide a great value for the cost.
Tip: the Conch Train is a really great sightseeing tour in Key West, but for a family of four, it'll run you around $120. It gives you a fairly complete history of the town and you're allowed on and off, but it's still rather pricey.
Another fun thing to do in Key West that's only as expensive as you make it is hunting for key lime pies and window shopping. Since you can go at your own pace, walking along Duval Street or in the Historic Seaport neighborhood you'll find lots of fun shops and places to get key lime everything. We love doing this simply because it lets us mingle with people and we get to try local treats, such as EVERYTHING key lime pie.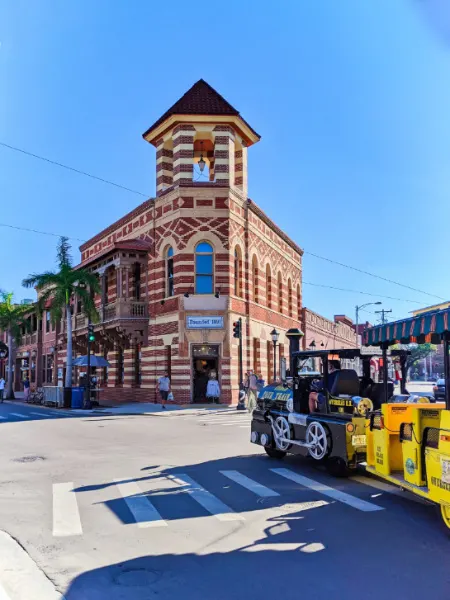 Visiting Fort Zachary Taylor State Park
At the edge of old town Key West is a really cool old fort from the Civil War era: Fort Zachary Taylor. With bunkers, tunnels, picnic areas, walking trails, historic displays and beach space, it's the one stop shop for an interesting day. One of the cheapest things to do in Key West, a day at Fort Zachary Taylor will bring you everything you could want of a Flori-day.
Because it can get busy, arrive early if you'd like to secure a great beach spot or a prime picnic table in the shade. There is lots of parking, but lounge space is limiited.
Note: as you approach the entrance gate it may look really busy and like you'll never get in, but it's just a slow process. Be patient.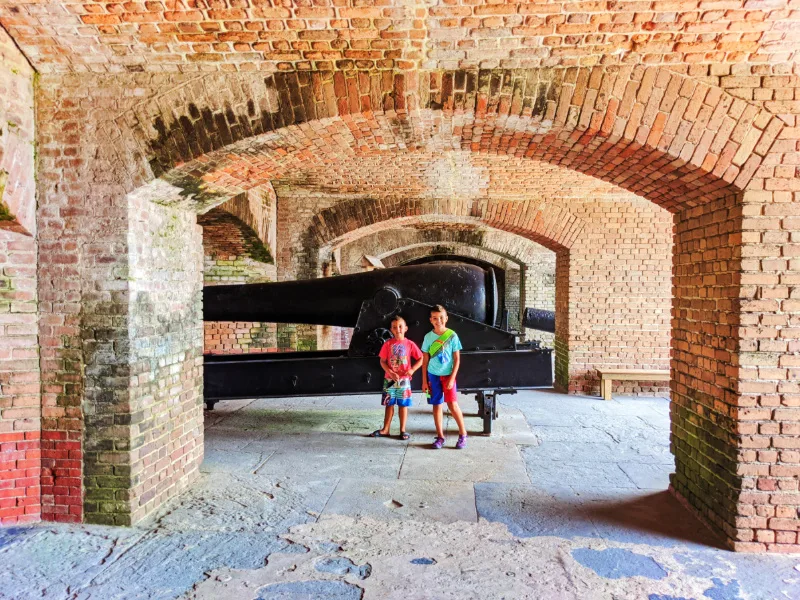 Kayaking in the Florida Keys (cheap or free!)
The cheapest way to get on the water in the Florida Keys is to arrive with your own kayaking gear. There are lots of wonderful spots to put in and beautiful, unique paddling trails.
Be careful when you launch that you stay out of the strong currents going between certain channels. You can tell where the current is strong because the water really does flow past quickly. For the safest experience, paddle out from your launch point and then turn to where you want to go versus just paddling along the shore until you're near a channel.
Here's a map of the best places to kayak in the Florida Keys:
Kayak launch site map link here.
If you don't have your own gear, renting kayaks can be pretty inexpensive and totally worth it. You can expect hourly kayak rentals in the Florida Keys to range from $12 per hour within the state parks to $28 per hour for kayaks delivered to a variety of launch points. Some of the best kayaking in South Florida is found in the Keys, and it's a great budget friendly activity.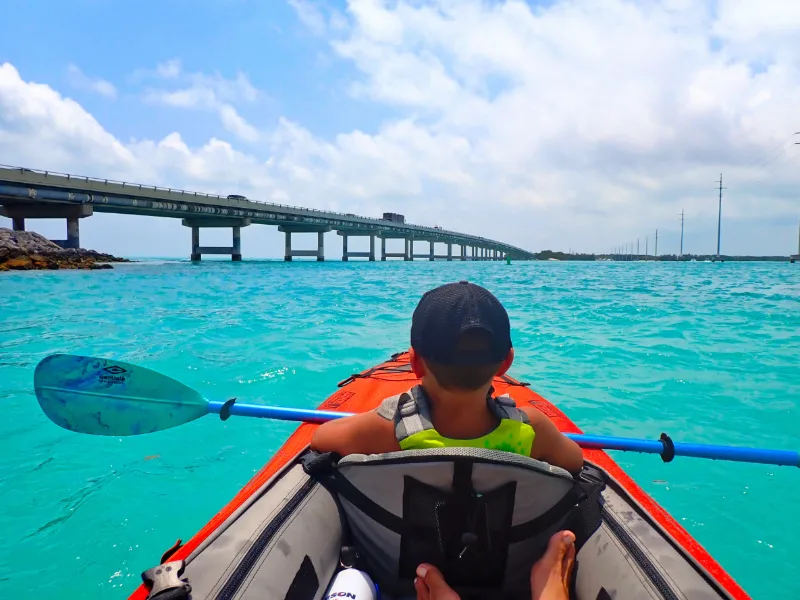 Kayak Tours in the Florida Keys
If you would like to go on a kayaking tour in the Florida Keys, that'll both give you a great experience with lots of information and tried and true routes as well as added safety thanks to a knowledgeable guide.
Guided tours are typically available within the state parks or busier marinas (like in Marathon). Key West has the most options for guided kayaking, and there are some good deals that fit with most budgets.
We LOVED doing the night kayaking in Key West. Although it's one of the more expensive kayak tours, it's the most worthwhile. If you're trying to stick with inexpensive Florida Keys activities, this is one that's worth allocating some of your budget for.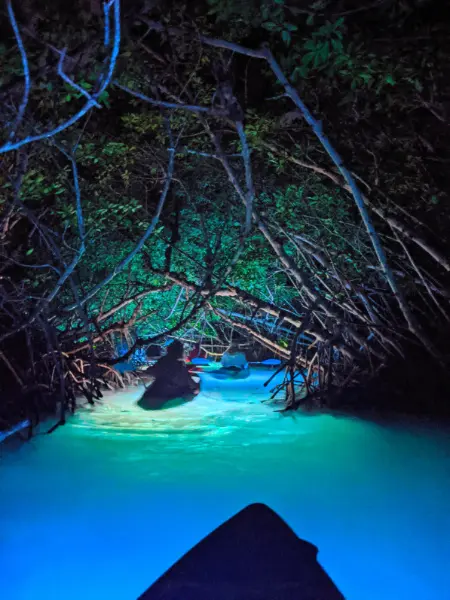 Best Inexpensive Tours in the Florida Keys
I wish I could honestly say that comprehensive tours of the Florida Keys were budget friendly, but I can't. What you can do though is download an audio tour and enjoy it as you drive or walk. I know that sounds weird, but it's not.
Here's why an audio tour of the Florida Keys is a great idea:
it's like a podcast
you can pause it and enjoy what distracts you at your own pace
it's way cheaper than buying four walking tour tickets
uninterested family members don't have to listen and YOU still get to enjoy it!
Pretty awesome, huh? Here are some downloads for audio tours in the Florida Keys that will make your road trip or time in Key West into an interesting, educational experience:
You can also check on the MeetUp app of local business Facebook pages for free guided tours, including yoga on the beach or kayaking meet-ups.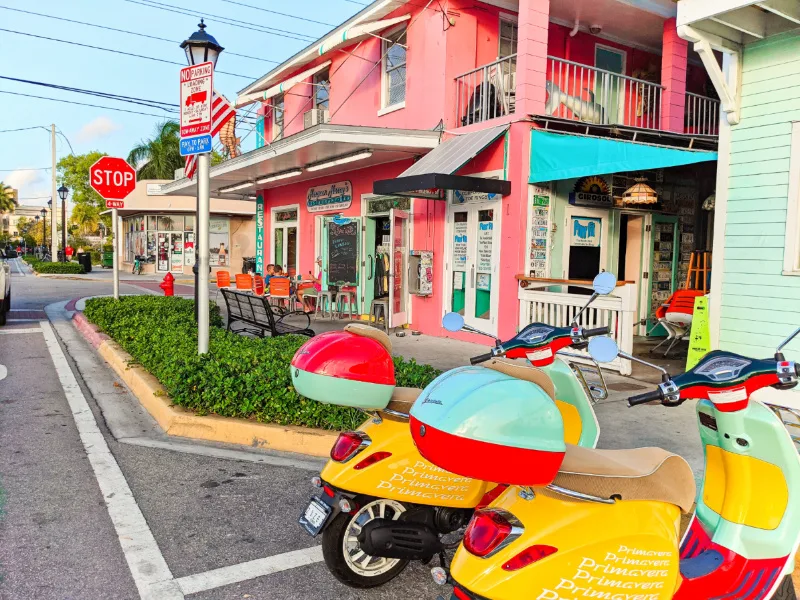 Budget Boat Tours in the Florida Keys
Getting out on the water in the Florida Keys is amazing, but it's difficult to do it on a budget. There are not a lot of inexpensive options for boating in the Keys, but there are ways to make it fit into your affordable travel plan.
As you enjoy your road trip through the Florida Keys from Miami to Key West, you'll pass by countless marinas where you'll find a variety of charters, commonly for fishing. There are some great small operators that don't do a lot of advertising that you can find simply by happening into a marina or one of the visitor centers. If a company isn't booked up, you might find a great deal for an outing for your family.
One of the best values for a boat tour in the Florida Keys is actually doing one of the tours out of John Pennekamp State Park on Key Largo. There are snorkeling and glass bottom boat tours that go to the reef and are some of the most affordable Florida Keys tours.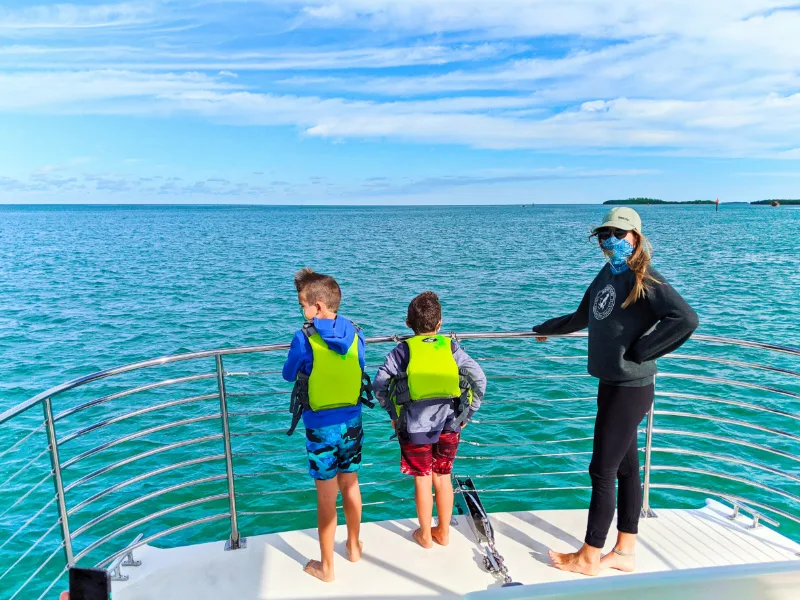 Top Pick: Private Boat Charter in Key West
One of the great things about focusing on making a Florida Keys trip affordable is that by saving on accommodations, dining and daily activities you can set aside some budget for doing one or two INCREDIBLE adventures. To date, the best tour/experience/adventure we've done in all of our travel as a family was a private charter boat into the backwaters of the Florida Keys with Island to Island Charters.
Why was our day with Captain Allie and Island to Island Charters so amazing? We got to go out of Key West exploring sand bars, mangrove islands and perfect bays with NOBODY ELSE around. It was just us on the boat, and just us in the bays where we stopped.
Being on a private charter made it possible to enjoy the experience with no other people impacting our family time, our access to the water, or influencing the sort of activities we did. "Want to jump in the water here?" Yes! "Want to see some sharks today?" Yes! "Want to see my favorite secluded spot in the Florida Keys?" YES!!!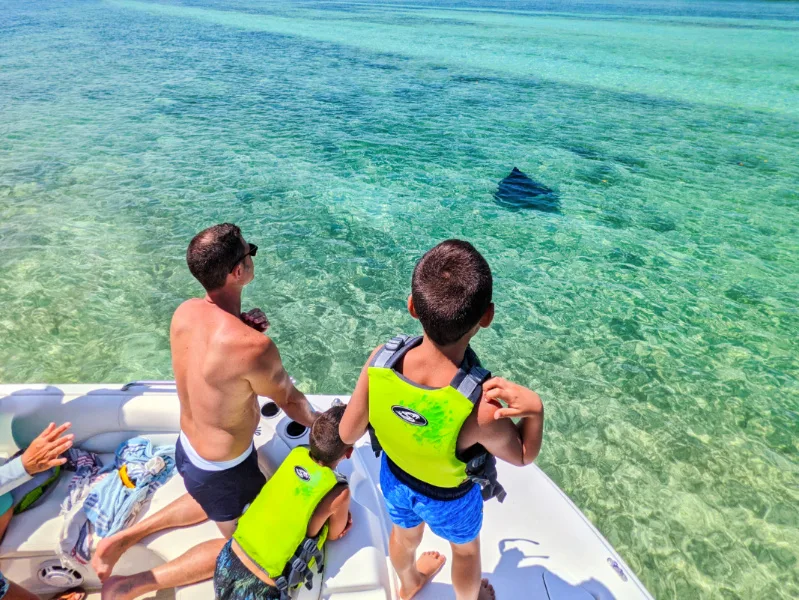 So what does a private charter like we did cost? While it can vary, you should expect to spend no less than $475 for a backwaters boat charter. The value of doing a private charter is REAL and very much worth it, in my solid honest opinion. Island to Island Charters that we went out with has the following options:
4 HOUR CRUISE $550
6 HOUR CRUISE $750
2 HOUR SUNSET CRUISE $350
To make an experience like this budget friendly split the cost with friends or family who want to go as well. While you can't just load up a boat with everyone you know, typically at least 6 passengers are allowed. Inquire with the boat captain if you have more than that.
I know that initially the cost of booking a private charter might seem like it isn't affordable in general, but when you compare it to booking individual passage on another type of tour that's shared and what you get out of it, you'll see that the charter is an exceptional value with a truly remarkable experience.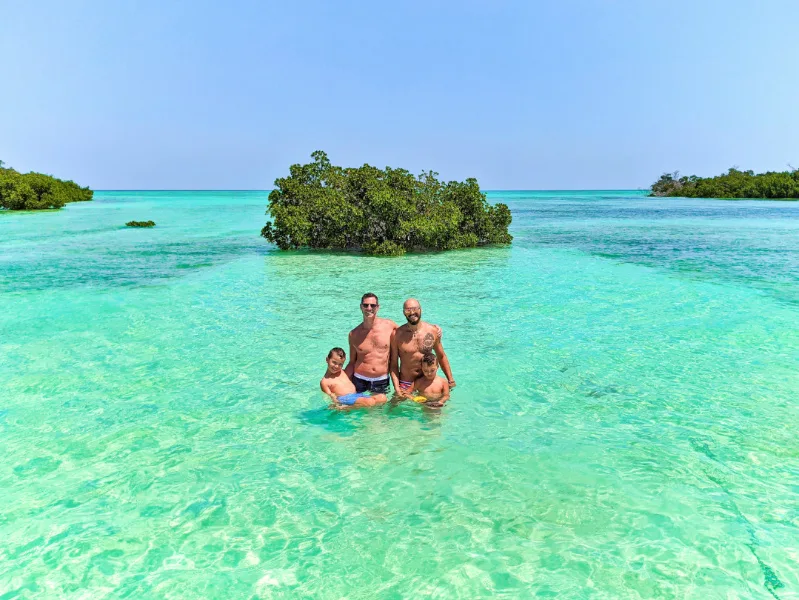 Fishing Tours in the Florida Keys – NOT budget friendly
If fishing is your goal, that's a different story than just getting out on the water. Because fishing charters include different sorts of licensing and a different set of knowledge and skills than general outings, finding a good deal on fishing for a family is difficult. You can expect to pay $400 and up for fishing charters ($400 is a deal), usually a half day will cost $600 or more.
Fishing charters tend to price themselves per person for shorter trips or for the full boat for longer fishing charters. Our family really enjoyed going out of Marathon on a fishing trip, but it was hosted because it was for work so we didn't have to worry about fitting it into our budget for our Florida Keys trip.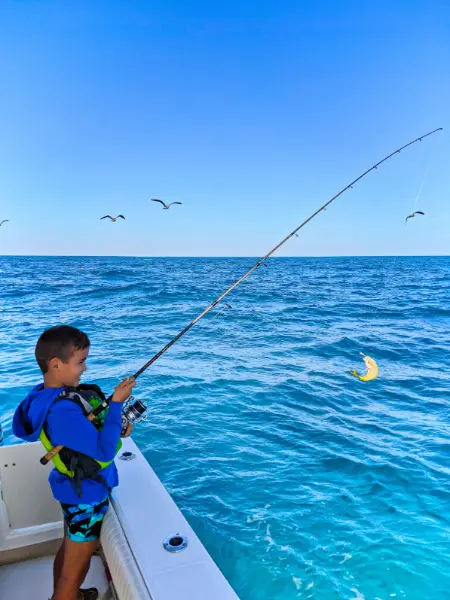 One way to make a fishing day an affordable Florida Keys option is to not have everyone participate, but just those that would really be into it. For example, paying $60/person to be a part of a group boat is much more budget friendly than dropping $700+ to have a few people having a blast and the others just along for the ride.
Expect to pay $60-95 per person for spots on a daily fishing excursion with mixed company. How long the tour is and how far out the boat goes both play into the cost of a fishing trip in the Florida Keys, so consider what you really want out of it when you start to budget for it.
Book single passage on a group fishing trip out of Key West here!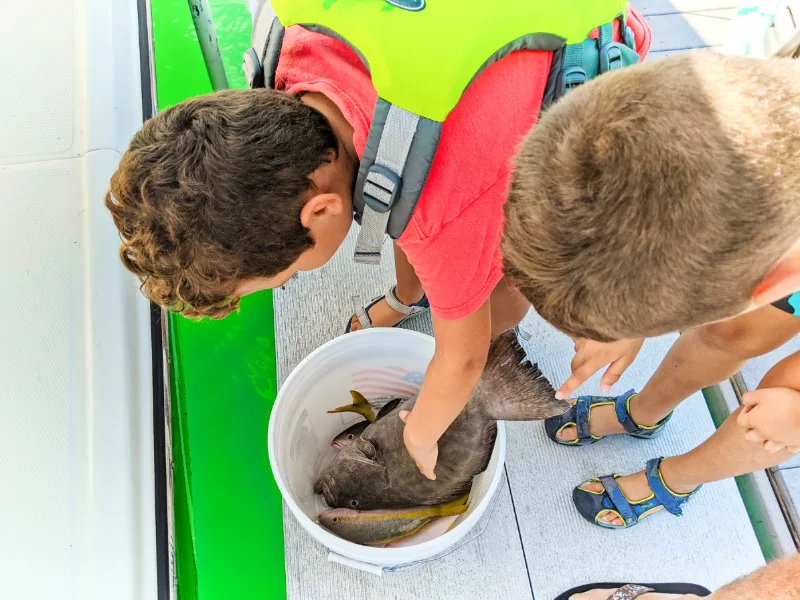 Historic Tours in Key West
You'll find the Key West is one of the most historic towns in Florida, and as such there are lots of types of historic tours. I talked above about audio tours being the more affordable Florida Keys tour option, but if that's not your style, you can always book something more personal.
Expect to pay $20-$50 per person for different types of walking or tram tours in Key West. We live in Saint Augustine, the oldest city in the USA, and have lots of our visitors do guided tours in town, and the MOST POPULAR is always the ghost tour. And yes, Key West has ghost tours too. You can book a private walking tour of Key West for your group too, and that saves quite a bit versus paying for individual tickets.
Hop-on-Hop-off tours are a great way to explore towns without your own car (or if you don't want to drive around). Key West has both the Conch Train and the Old Town Trolley for this. The Conch Train only has a few stops that you can get on and off, but the history and stories are great. The Old Town Trolley covers the whole town and has lots more boarding options. They also do the Ghosts and Gravestones tour.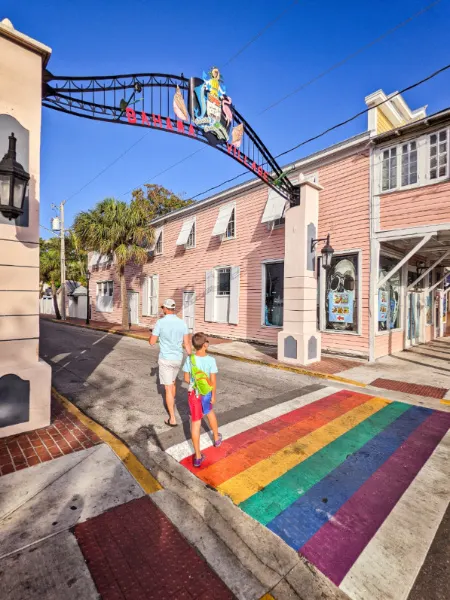 Delicious Affordable Dining in the Florida Keys
Something that makes a Florida Keys vacation so much fun is the food. When we build out a travel budget we try to set it up to do two cheap / mid-line meals and one nicer one each day. Because the Keys are both a vacation destination and a place real people live, you can find the whole run of dining options for any budget.
Upper Keys Affordable Dining
In the Upper Keys, Mrs Mac's Kitchen (I & II) are really delicious and affordable. They even do breakfast beverage specials in case some champagne with breakfast sounds nice. Hobo's Cafe is another good option up on Key Largo.
We've enjoyed several meals at Skipper's Dockside and find the kids options and dinner entrees to be a good value and they're delicious. Also, in our pursuit of the best key lime pie in the Florida Keys, we awarded the title to Skipper's Dockside for having a perfect slice that's not too sweet, awesome molasses crumb crust and perfect meringue topping.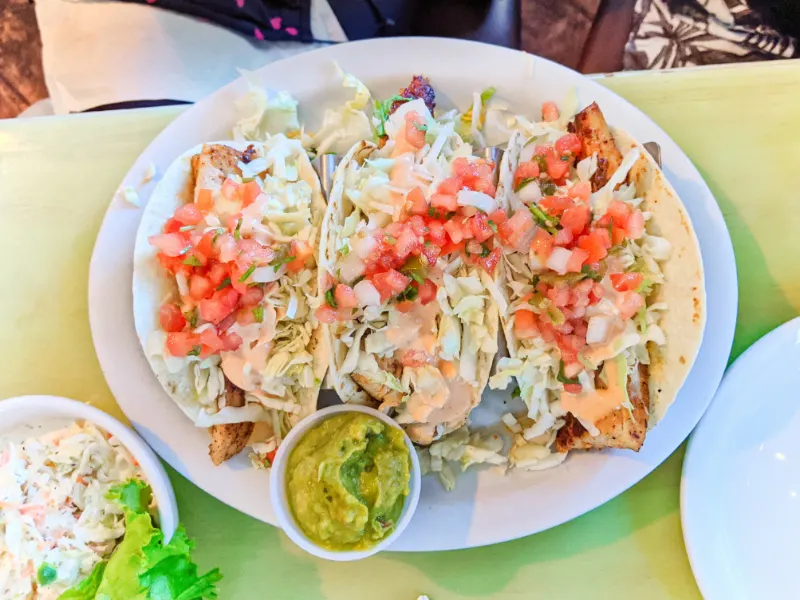 Inexpensive Middle Keys Restaurants
Apparently we eat a lot of Cuban food when we're in the Florida Keys, because as I went through our top picks we've got several. Habano's Oceanfront Restaurant is our first pick. It's not fancy but it's delicious and also one of the least expensive meals we've had anywhere in the Keys. Get the Midnight Cuban sandwich because it's the best.
Like how there are two Mrs Mac's Kitchen locations, another good affordable dining option in the Florida Keys is the Square Grouper. They have a location in Islamorada and one in the Lower Keys on Cudjoe Key. For lunch you'll find a good selection of apps and paninis that are budget friendly, but when it's dinner the menu elevates and moves into the more fine-dining zone.
How can you drive past a place called "What the Fish?!" You can't. For being fresh caught fish (or pork or chicken), they've got pretty good prices for all kinds of sandwich rolls. Heading south along the Overseas Highway, the next affordable dining we like is the Midway Cafe. It's really wonderful with great key lime pie and nice outdoor seating.
As you get to Marathon you'll find lots of options, including a super yummy Cuban cafe with awesome deli counter style dishes: Paradise Cuban Restaurant. They've got great Cuban pastries and lunch dishes and are a top pick of ours for inexpensive breakfast or lunch.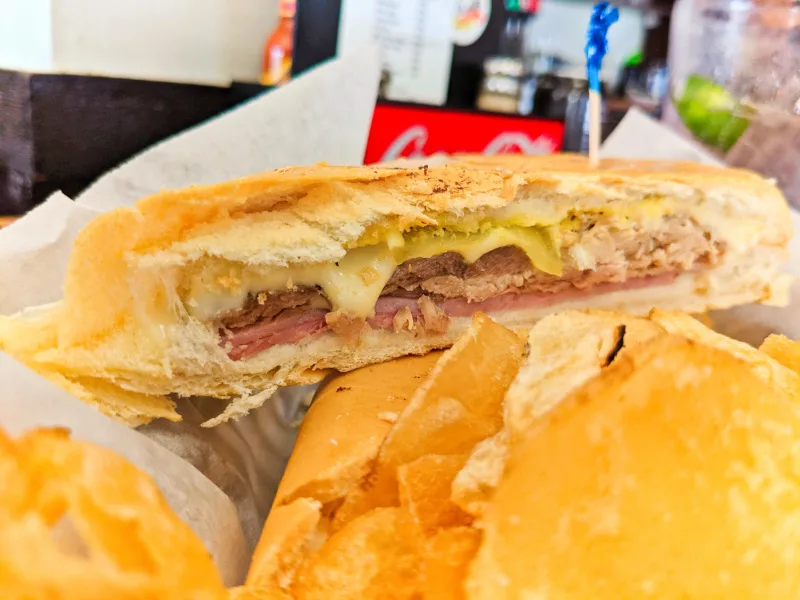 Top Key West Dining Picks
One of our favorite restaurants in the Florida Keys is in Key West. El Siboney Cuban Restaurant is absolutely awesome, and they have two locations, one in the neighborhood on Catherine Street and one on Stock Island at the east edge of Key West. I'm just going to list off the things you need to order: ham croquetas, roasted pork, Cuban sandwich, anything that comes with maduros (fried plantains), and you MUST have the guava cake.
No matter your dining style, El Siboney is our top dinner pick in Key West, and it's just a bonus that it's wonderfully budget friendly. The service is great and the food is top notch.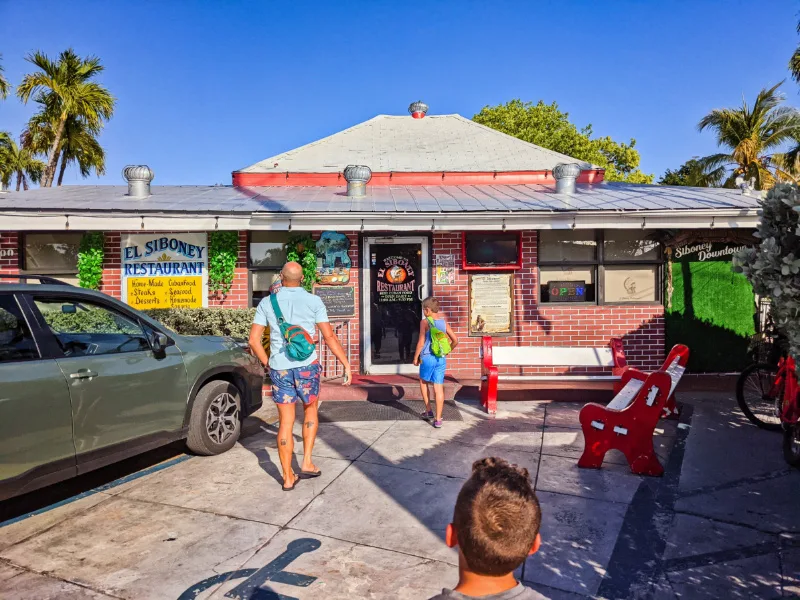 Moving on though, we also really enjoy Harpoon Harry's. It's located across from the Marker Key West and the Historic Seaport. They make incredible fried chicken and their fish tacos are some of the best in the Keys.
Another favorite for grab and go, but a bit pricier (still a good budget) is the Fisherman's Cafe. It's also in the Historic Seaport area and is walk up window only. They have some stand-up seating, but you should plan on taking your awesome fish sandwich with yucca fries to-go.
Our last pick, and it's a stereotypical tourist pick (but for good reason) is Blue Heaven. It really is great, and I felt absolutely justified in getting Bananas Foster for breakfast there. Good value for the quality and portions, and to make it better, there are chickens running around in the outdoor dining space. Love it!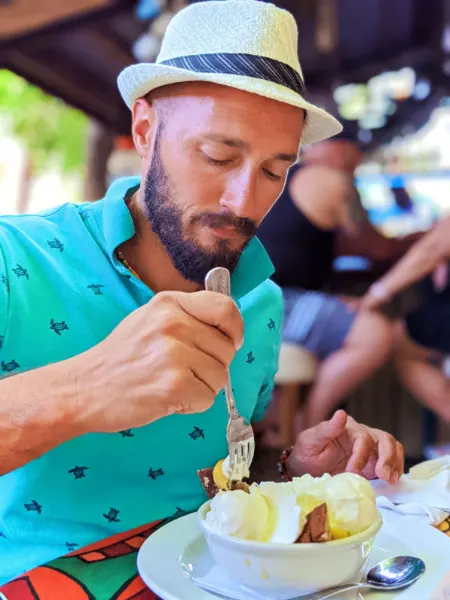 10 Free or Cheap Stops in the Florida Keys
Want to have a good list of fun, cheap or free things to do in your back pocket for your Florida Keys road trip? Well, here you go. These are all fun, unique and worth the stop on your drive from Miami to Key West:
Wyland's Whaling Walls: Key Largo (center of highway) or Marathon (K-Mart wall)
Beaches and Snorkeling at John Pennekamp State Park
Anne's Beach, Islamorada
Nature Trails at Long Key State Park
Sombrero Beach, Marathon
Veteran's Memorial Park, Little Duck Key
Old Bahia Honda Viewpoint and Tide Pools, West Summerland Key
Watch Sunset in Mallory Square, Key West
Wander old Key West neighborhoods, Key West
Fort Zachary Taylor State Park, Key West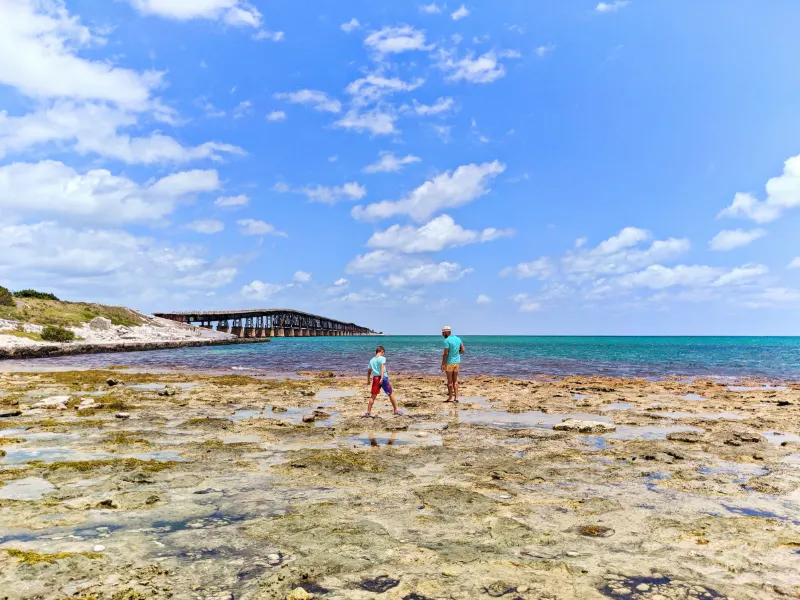 You'll have a great trip to the Florida Keys, I'm sure, but to make it more affordable and budget friendly, be sure to plan it and book it in advance. In addition to getting better hotel rates, booking in advance allows you to prepay for activities, so if that helps you stick to your budget or increase your budget, book things when you know you want to.
If you have any questions, or need specific recommendations for an affordable Florida Keys trip, please send us a note or leave a comment. We're happy to help plan an incredible trip!