We've been down to the Florida Keys several times, and with each visit we find another gem to share. The Laureate Hotel Key West is one of those gems, and although it's in an unlikely spot, it's quite remarkable and ideal for a family road trip in the Florida Keys. From the spacious layouts to the sweeping views, this is our complete review of the Laureate resort.
If you have any questions about staying at the Laureate Hotel, about planning a Florida Keys vacation or anything else Keys-related, you can always leave a comment or send us a note. We're happy to help plan awesome trips and give advice for travel booking.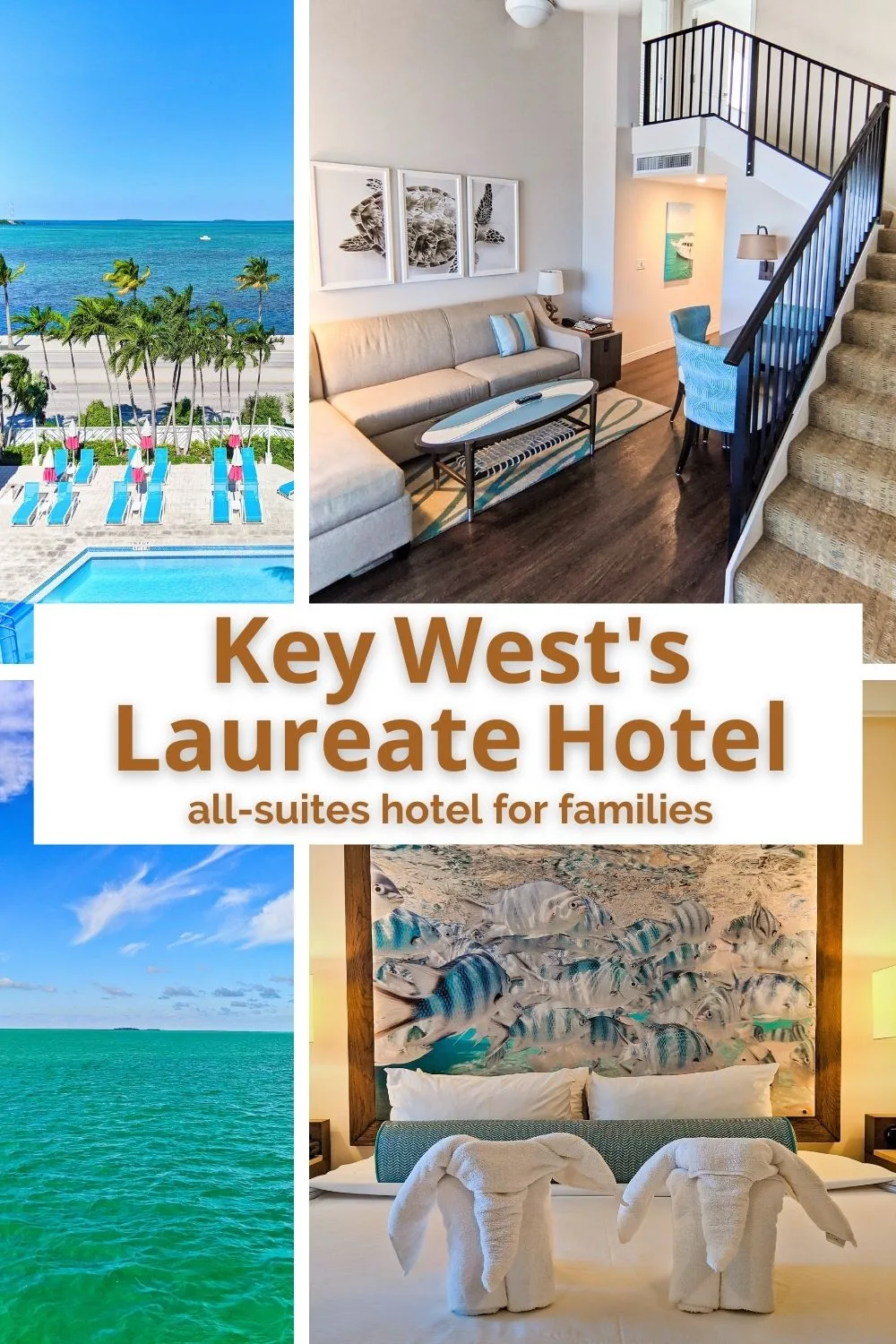 Staying at the Laureate Key West
Even though luxury isn't something we necessarily look for in a hotel, it's always nice when we stay someplace that is well appointed and, I'll say it, fancy. The Laureate Key West is just that. Visit hotel website here.
What Are the Accommodation Options at the Laureate Hotel Key West
As you may or may not know, we're a family of four, so having a fair amount of space in a hotel room is very important to us, especially when we plan to spend time relaxing at our hotel too. That's one of the main reasons staying at the Laureate Key West is so great and why our family loves it: it's ALL SUITES. That's right, every room.
The rooms at the Laureate Key West include a One Bedroom King (sleeps 4), One Bedroom Two Queen (sleeps 6), One Bedroom Deluxe King with full dining room (sleeps 4), and then the three bedroom loft suite (sleeps 10). They all are equipped with kitchens and at minimum a breakfast bar. Every room type has a sofa bed in addition to its declared bed type. They also all have at minimum a good sized balcony, with some having a deck also, and ALL rooms have a view of the ocean.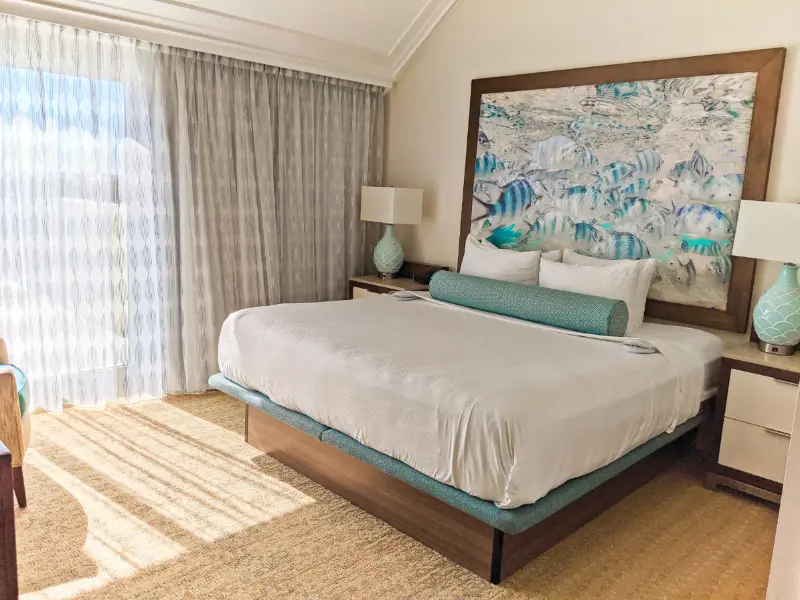 Top Pick: Family Loft Suite
Give me outdoor space attached to my hotel room and I'm golden. Make it extra spacious with separate room for kids and another traveling party (like an auntie or grandparents) and we're super thrilled. The Three Bedroom Loft suite at the Laureate are marvelous. The layout was ideal for us to be able to function separately, having our own schedules, including enough distance between us all that kids could go to bed and adults could stay up late enjoying ourselves.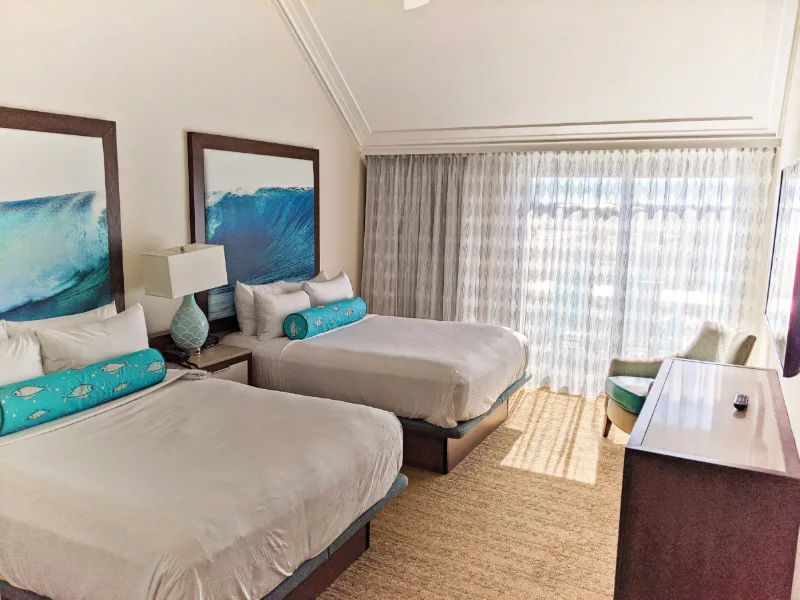 Our 3 bedroom family suite had two king rooms and a 2 queen room, three bathrooms, full kitchen, dining area, living room, large ocean view balcony, and a rooftop deck with a dining space and lounge chairs. At more than 1100 square feet, there is more than enough space for up to ten people. What amazing accommodations for a family trip to Key West!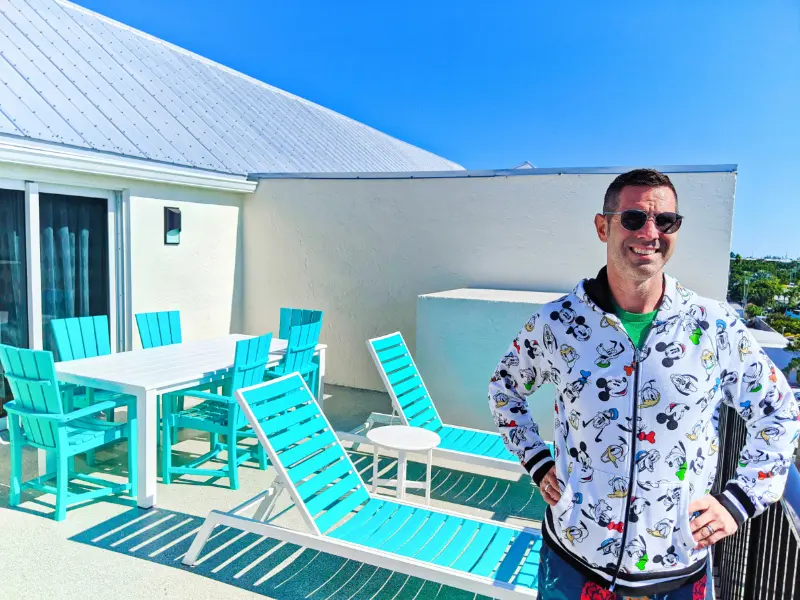 Already know you want to stay at the Laureate Key West? Book it here!
Check in / Check Out at the Laureate
Something really wonderful about technology these days is how simple communication has become. The Laureate Hotel really takes advantage of that for easy check in and check out. Before arriving, the Laureate Key West was already in communication with us about our arrival time and any needs we might have. We were able to let them know when we'd be there, and then very swiftly popped into the lobby for parking instructions and to sign in, and then we were ready!
The customer service with each interaction was very good and the Laureate staff was great about anticipating needs. The service was exceptional and really a model of Florida Keys hospitality.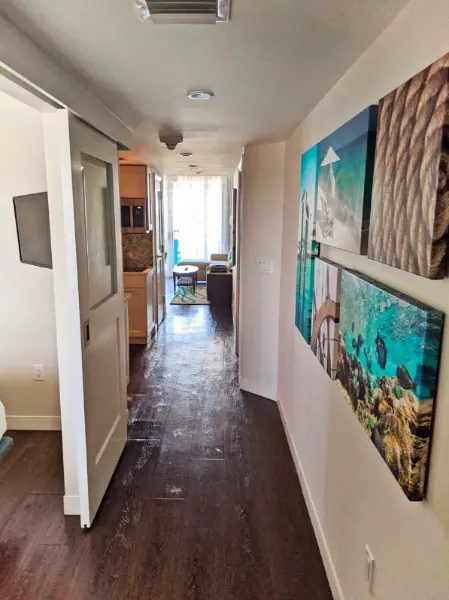 Key West Laureate Resort Amenities
Part of being a resort hotel means that the Laureate Key West has certain amenities to make staying there both easier and more enjoyable. The main amenities we took advantage of were the pool area and grocery delivery, but there's more to it.
A bonus for a lot of travelers, although not for us, is that the Laureate Key West is a dog friendly hotel. They do charge a nightly pet fee, but provide dog amenities and are ready with all the info you need for exploring Key West with a pup. It's touches like that that make the Laureate such a welcoming place.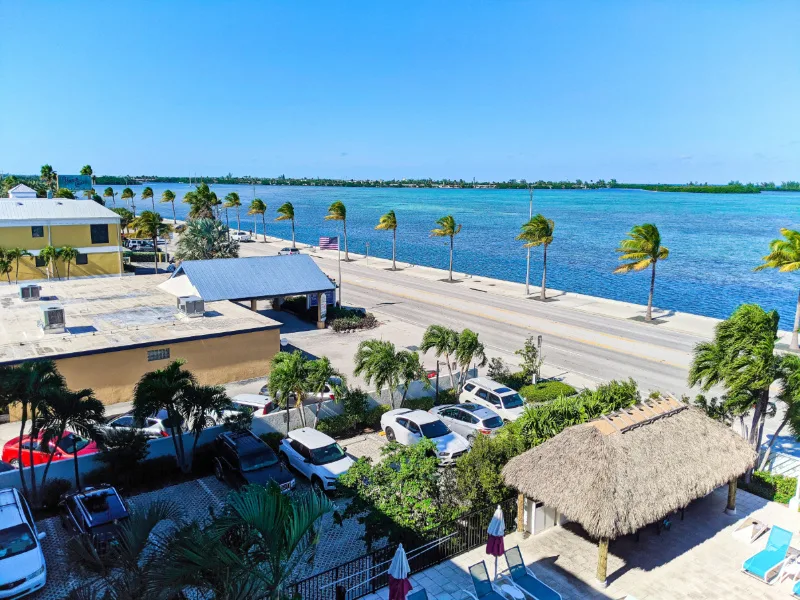 Pool and Recreation at Laureate Hotel Key West
The pool and recreation area at the Laureate Hotel Key West is quite nice and perfect for relaxing or playing. It's spacious enough that you can feel comfortable bringing wild kids to the pool area without disturbing other guests (some people don't like having kids around). There are plenty of lounge chairs and shady areas for the hot Key West afternoons. Poolside games, such as cornhole, are available and towels are provided so guests don't need to bring theirs from the room.
Note: there is no hot tub, but the weather year round in Key West is pretty wonderful, and even when we were there in December and it was cold on the water, the pool is heated so we were plenty comfortable.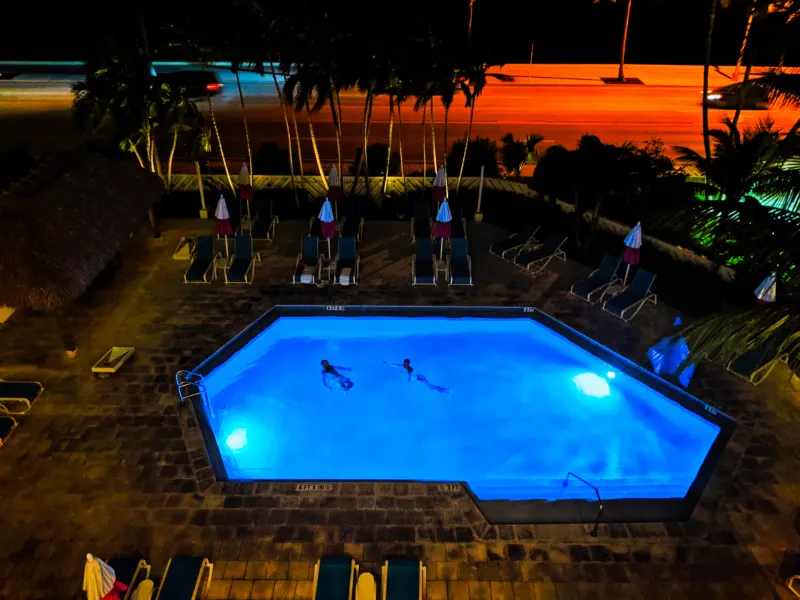 Key West Grocery Delivery at the Laureate
While I don't love asking somebody else to grocery shop for us, this is a service the Laureate Hotel provides and after a long day of driving through the Florida Keys, it's a welcome blessing. For an additional fee, the Laureate Key West will have your suite kitchen stocked and ready for your stay. Because they do a lot of longer term stays and understand guest needs/requests, they do a great job with the shopping and it makes staying at the Laureate even more relaxing.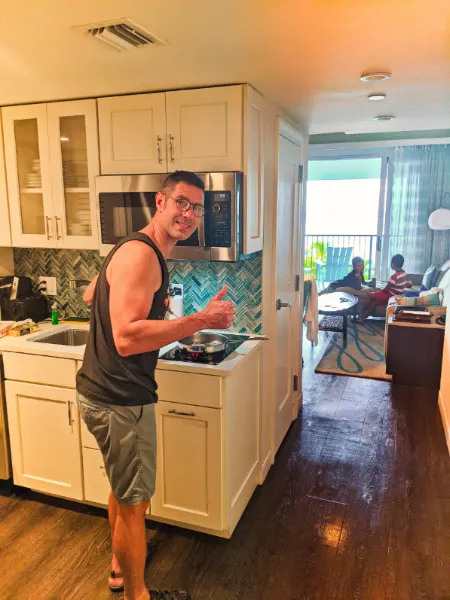 Dining at the Laureate Resort…
Unfortunately there are no dining options on property at the Laureate Key West. Because every room is a suite with a kitchen, there isn't a big need for on-property dining. There are lots of options close by though, and since downtown Key West isn't far, it's easy to find dining options within a ten minute drive or less.
Here are our top picks for dining near the Laureate Key West:
Key West has so many wonderful places to eat that you'll have no trouble finding great food, but these are our top picks for restaurants closest to the Laureate Hotel.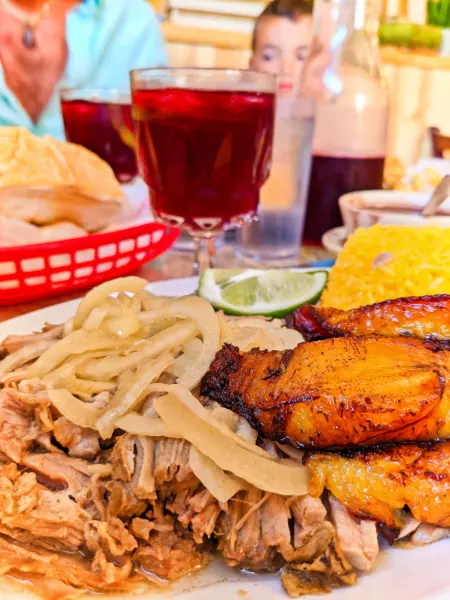 Where is the Laureate Hotel?
Located on Roosevelt Blvd, the Laureate Key West is in a great place for accessing both the town of Key West and heading up to the Lower Keys. All suites at the Laureate have views of the ocean since it's located across the street from the water. From here, it's 8-10 minutes to downtown Key West, just a few minutes to some of the best kayaking in the Florida Keys in the mangroves of Key West, and access to the Overseas Highway is very simple and direct.
Another great thing about the Laureate Key West's location is how easy it is to cut through the center of the island to get to Fort Zachary Taylor State Park and Smather's Beach on the south side of the island. With little to no traffic from your starting point, it makes getting nearly anywhere in Key West a breeze.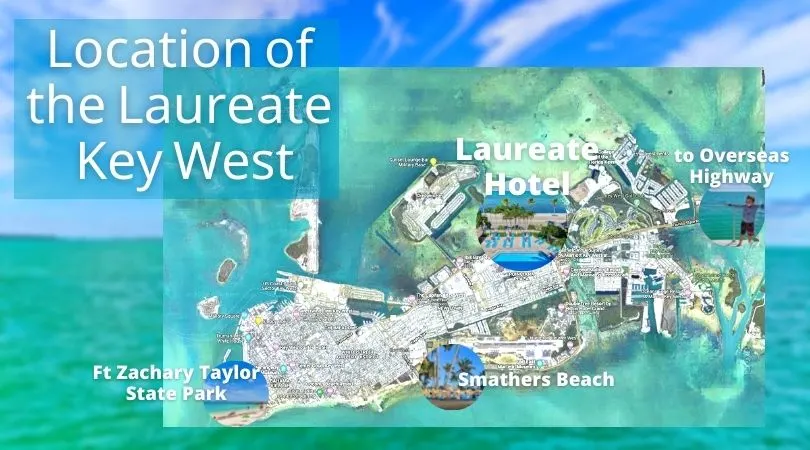 Transportation To and From Key West Airport
If you aren't doing the road trip through the Florida Keys and instead are flying directly into Key West (EYW), you will need to arrange your own transportation. There is no shuttle service provided by the Laureate, but there are Uber and Lyft, as well as taxis. If you are flying into Key West and want to explore more than just this one island, for sure having your own vehicle is the best move.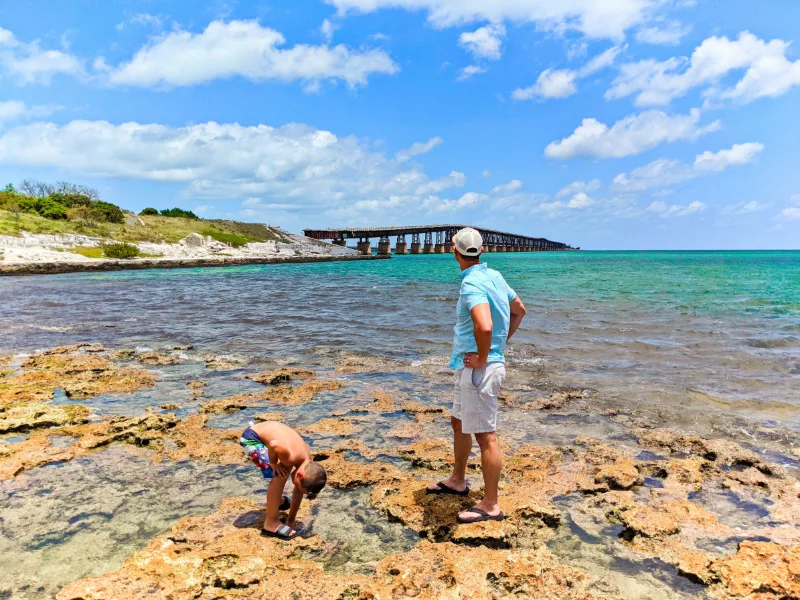 Can I Walk from the Laureate to Downtown Key West?
You certainly can walk to downtown Key West from the Laureate, but it will take you a little bit. Driving from the hotel to downtown takes less than 10 minutes, but a walking may take you 45 minutes or longer. It's all very level, with is nice, and there are sidewalks, so it's rather safe. If you are bringing your own bikes or want to rent bikes, that will significantly cut down on travel time if you're not driving.
If you choose to bike in Key West, know that there are lots of cars in the downtown core and very narrow biking paths. Biking is a wonderful way to enjoy the Florida Keys on a budget, but it can be tricky is some areas. The outer roads and through the middle of the island are easy for biking with lots of riding space, but once you're in the historic area it's pretty congested with minimal space.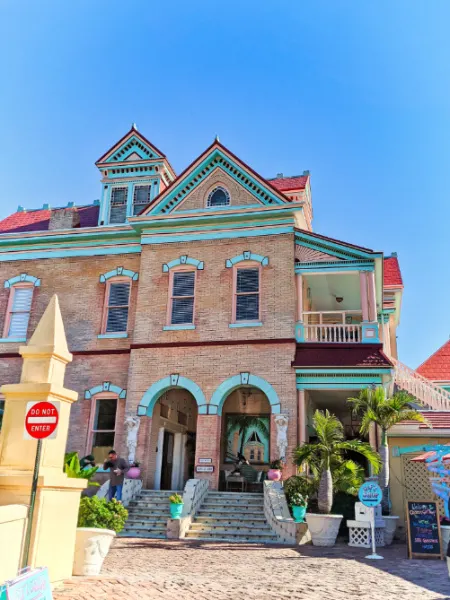 Parking Details at the Laureate Hotel
There is both covered and exposed parking at the Laureate Hotel. If you're driving, you'll just need to let the front desk know that you have a vehicle and they'll give you parking instructions. There are elevators from the parking area below the hotel, so accessing your suite is very easy.
Should I choose the Laureate Key West, the Marker or another property?
Booking a hotel for a costly vacation is a big decision. Traveling in the Florida Keys you'll find a wide variety of accommodations, but they are most often similarly priced, whether you're booking a small bed and breakfast or a hotel room. So how do you choose, and is the Laureate Key West the right pick?
Since hotels in Key West are nearly all within a certain price range ($300+ or $500+ night), I would recommend booking your hotel based on the amount of space you'll use and location. If you know you'll be at the hotel a lot and need the room, booking the Laureate is great because of the spacious suites and outdoor areas. If you want to be closer to the action, walking everything, booking the Marker Hotel or something similar in the Historic Seaport or Mallory Square areas is a good idea.
When prices are so similar, we always weigh out the amount of space and location in relation to our actual vacation plan to make our decision. I think that in this price range, the Laureate Key West offers the best value, especially if you are sharing the space.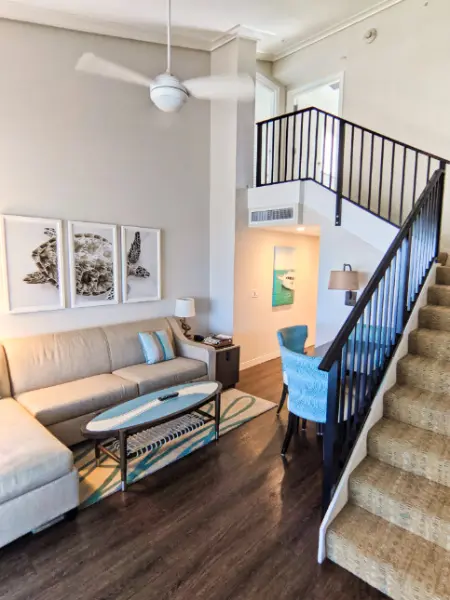 Best Key West Activities Near the Laureate Hotel
Since the Laureate Key West isn't located directly downtown, you might think that this would limit the Key West things to do near the hotel, but nope! Being on the main artery into Key West, this set you up for easy access all over the island and also to the rest of the Lower Keys.
Here are our top picks for awesome Florida Keys activities near the Laureate Key and in the Lower Keys:
There are so many wonderful tours and activities to enjoy in Key West and the Lower Keys, you'll have a great trip no matter what you choose. If you have any specific tour questions, send us a note, because we've done a ton and are always researching.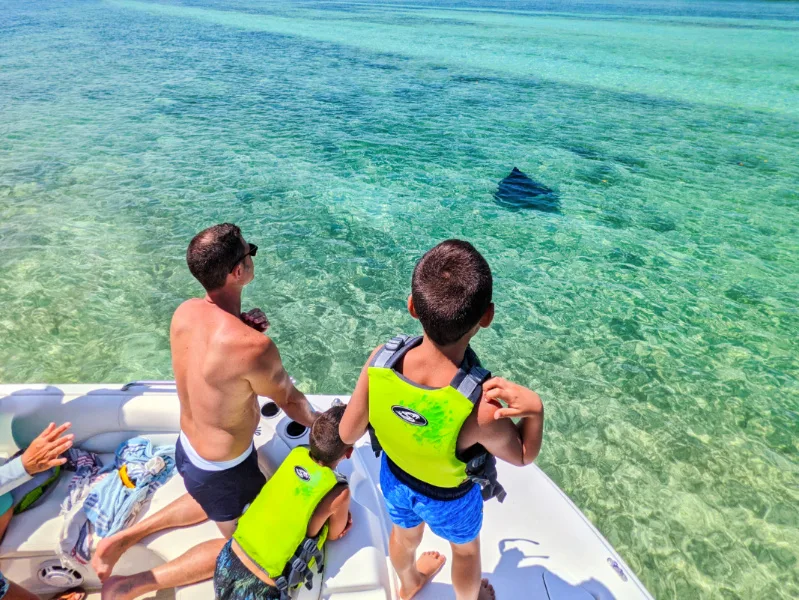 I hope this is everything you need to know for booking a stay at the Laureate Hotel. It's a fantastic option for a Key West trip, and the spaciousness makes it wonderful for families that want to relax. If you have any questions, please leave a comment or send us a note. We're always happy to help plan a Florida Keys vacation!