The very first question we were asked upon getting home was "What are the best things to do in the Florida Keys with kids?" Apparently the Florida Keys have a reputation of being a destination for adults that just want to part and go fishing. I had no clue. And the Florida Keys are way more than that. We spent a week exploring and digging into the many towns and islands and have plenty of amazing ideas, truly the best things to do with kids on your Florida Keys vacation.
As we go through, you'll see that we've got a good mix of nature and cultural activities. The Florida Keys are actually pretty historic, especially Key West, and their history is even tied in with Saint Augustine (our hometown). And when it comes to nature, there are countless ways to experience the beautiful sights and wildlife.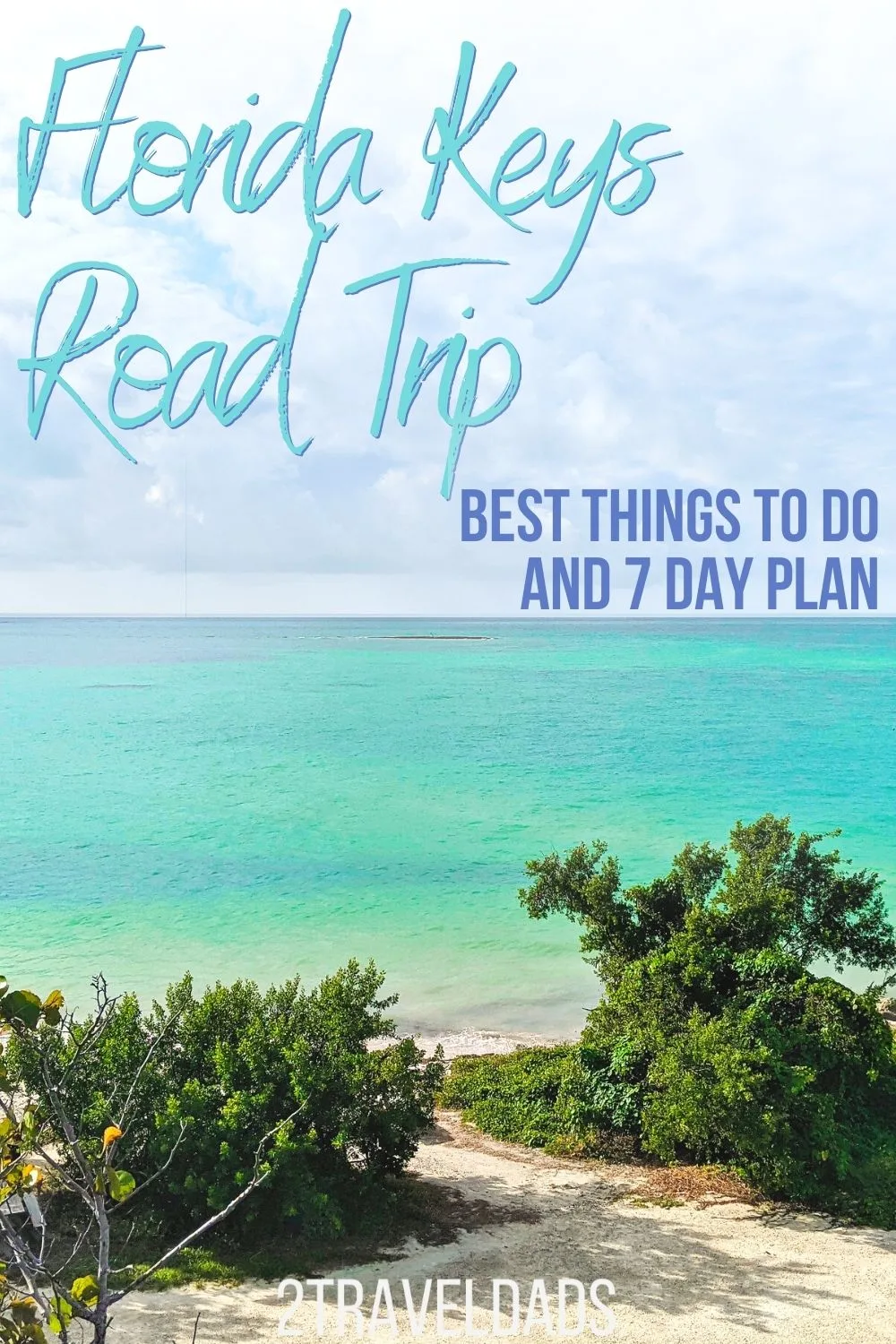 After much consideration and questions from people, I've decided that I need to publish our 7 day itinerary for a Florida Keys road trip, both just how we did it and suggestions to make it your own. I've shared about HOW to plan a Florida Keys vacation and our favorite places to kayak in the Florida Keys, but these are our picks for the best things to do for a week in the Florida Keys.
Of course spending time on or in the water is one of our top picks for things to do in the Keys, but how you go about it will have a huge impact on your experience. And there are lots of wonderful, unique cultural activities to enjoy in Key West and all the way up to Key Largo along your Florida Keys road trip.
Before you hit the road, get a copy of my book: The Road Trip Survival Guide!
How Many Days to Spend in the Florida Keys
I'm going to start here because we've gotten a lot of questions about how long a Florida Keys road trip should take. While there's no straightforward answer, the drive to Key West and back up to Miami should be given at least a minimum of four days. The Key West drive is awesome and you'll enjoy it from start to finish!
We recommend six to eight days for a comprehensive road trip through the Florida Keys. This will give you time to drive Key West and really explore, time to enjoy the fun in the Middle Keys, and plenty of time for experiencing nature in the Upper Keys and Key Largo.
If a Florida Keys road trip is a must and you don't have a lot of time, you can easily drive from Miami down as far as Islamorada and enjoy the fishing village culture and some of the best key lime pie in the Florida Keys.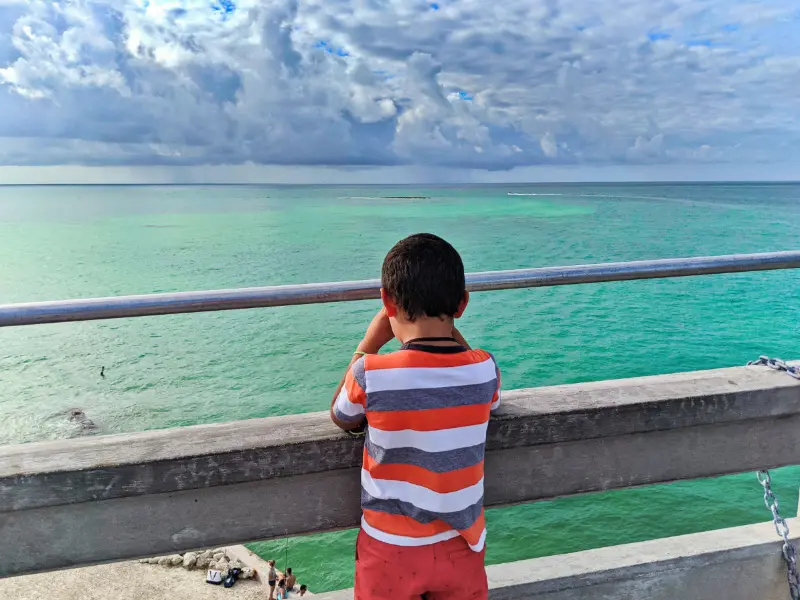 "Are there beaches in the Florida Keys?"
We've gotten this question a lot too. In short, yes, there are beaches in the Florida Keys that you can easily add to your road trip plan, but they aren't like the Gulf Coast beaches or Daytona Beach.
Many of the beaches in the Florida Keys, and in particular Key West's beaches, are man-made or supplemented by additional sand-fill. This doesn't make them icky, but they just aren't as long and picturesque as what you'll find in mainland Florida.
Florida Keys beaches are still great stops for relaxing or getting your feet wet, and some, like the beach at Pennekamp State Park or at Sombrero Beach on Marathon, are wonderful for swimming. Beach time will always be one of the best things to do in the Florida Keys, whether it's for ten minute or a few hours.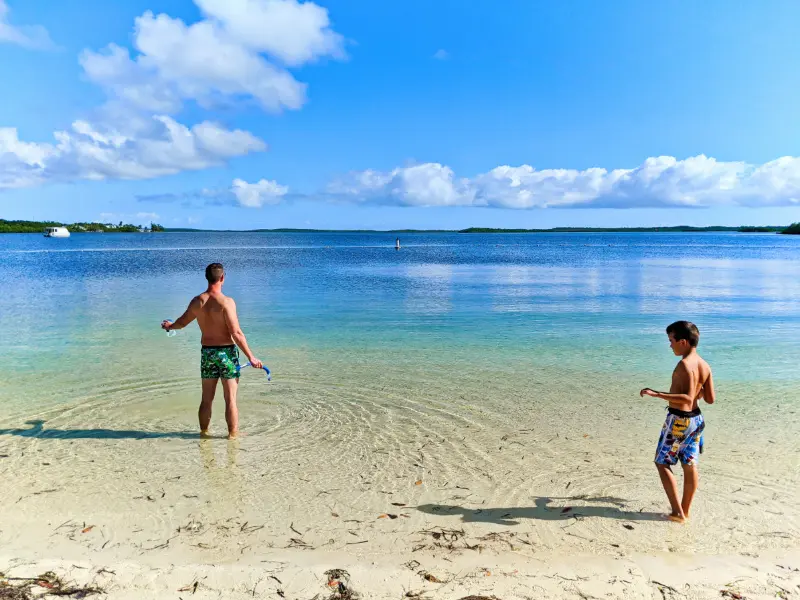 ---
Best Things to do in the Florida Keys
When it comes to unique things to do, the Florida Keys takes the cake… or the pie. Whether you're a foodie, a nature buff or really into history, the Florida Keys will keep you engaged and entertained.
Our family is very much into wildlife and outdoor experiences, so that's what we focused on. Don't think for a moment though that we didn't make ALL THE STOPS on the Miami to Key West drive, because we did! And yes, we've got as many street art and mural stops as we could do, including artist Wyland's Whaling Walls (my favorite!)
Here are our top picks for things to do in the Florida Keys, and then our complete road trip plan and itinerary follows directly after.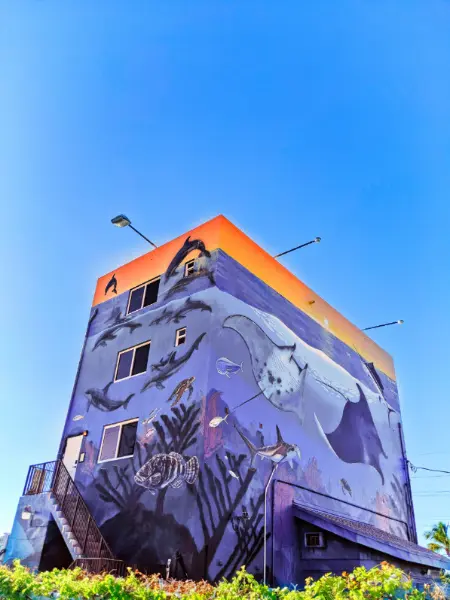 Key Largo Things to Do
Key Largo is the first island you hit when you start your Florida Keys road trip and the drive to Key West. It's the largest of the Keys and has a ton of green space. I love Key Largo because it feels like the most chill and quiet of the island chain.
The wonderful thing about Key Largo is that despite all the green space and State Parks, there are also lots of restaurants hidden among the marinas and neighborhoods. Good food and relaxing fun are everywhere. You'll never be at a loss for things to do on Key Largo.
Key Largo Hammock Botanical State Park
What a beautiful walk in the woods! Key Largo Hammock Botanical State Park is very different from other Florida State Parks in that it's a trail system with exhibit placards talking about the many plant types throughout the hammock (coastal forest). The 2.4 mile trail is shady and full of birds and butterflies.
Note: pay for admission in advance through the website or bring cash. This is one of the only places in the Florida Keys with poor cell service, so if you don't have cash and didn't pay the State Park fee in advance, you could get into trouble (even if it's unlikely).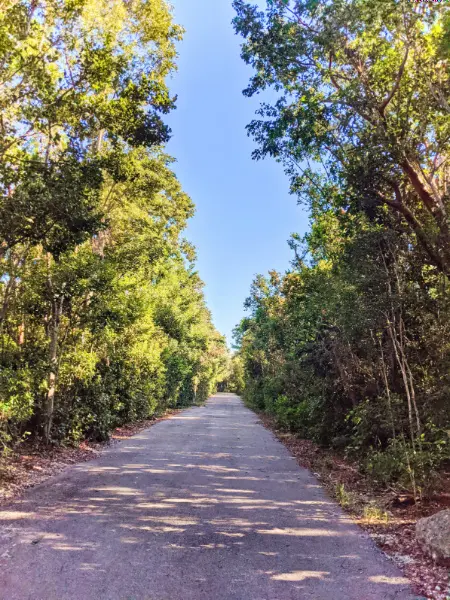 Visit Whaling Wall #95: Keys to the Seas
We love murals and Wyland is my favorite mural artist. His works can be found all around the world, including Victoria BC and Seattle. Stopping at the Wyland Whaling Walls in the Florida Keys is one of the best things to do, both for photos and to appreciate amazing art.
This first set of murals is in the center of the Overseas Highway on Key Largo. The HUGE piece of art surrounds all four sides of the building (a dive shop and yoga studio) and showcases manatees, rays, sharks, sea birds, fish and divers. It's my favorite of the murals in the Florida Keys.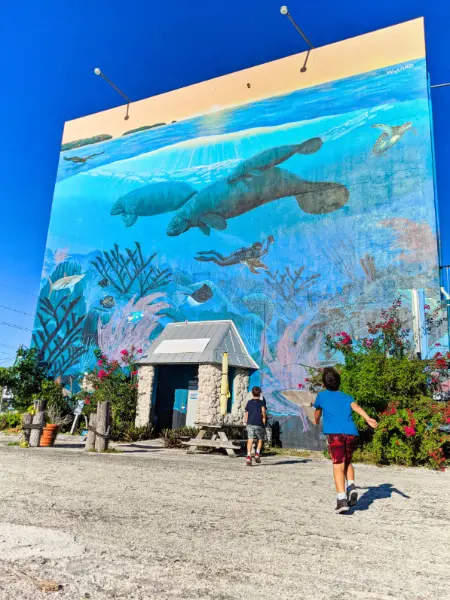 Explore John Pennekamp Coral Reef State Park
John Pennekamp Coral Reef State Park is famous for its Chris of the Abyss feature, a sunken sculpture which can be visited by divers and snorkelers, but there's much more! Pennekamp is one of our favorite places to kayak in the Florida Keys, with a wonderful paddling trail and crystal clear water. This is one of the best places for kayaking in South Florida.
When it comes to snorkeling, you can either snorkel just off the main beach (great with kids) or you can do one of the tours out to the reef. The tour is several hours and should be booked in advance to ensure a spot.
Note: tours can be booked within the State Park or through external vendors. Depending on the tour type you want, you can book private or group expeditions to the reef. THIS TOUR is our top pick for snorkeling out on the reef at Pennekamp.
There are lots of picnic areas and shady places to relax at John Pennekamp State Park, so bring a lunch and enjoy yourself. An afternoon here is one of the best things to do in the Florida Keys and a must-stop along your Florida Keys road trip.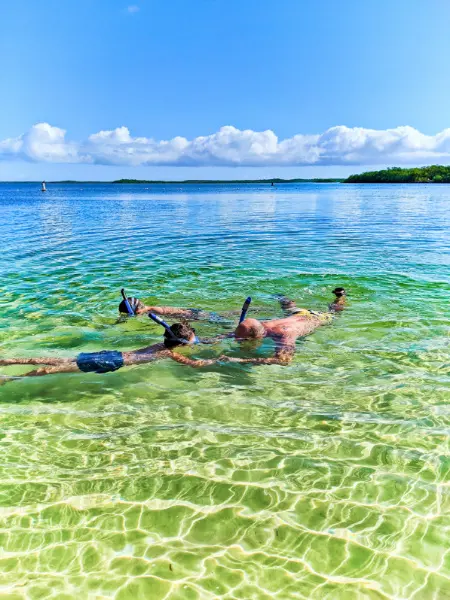 Visit the Florida Keys Wild Bird Center
We discovered the Florida Keys Wild Bird Center randomly. We had to pull over really quick for something and BOOM! There it was! I'm so glad we did. We visited the Florida Keys Wild Bird Center and Sanctuary on our first afternoon in the Keys.
We were able to learn about the many birds we'd be seeing on our Florida Keys road trip, including the masked boobie, which became a favorite to spot out on the water.
Note: the Wild Bird Center on Key Largo operates off donations, so feel free to donate and share your stop on social media to support their efforts!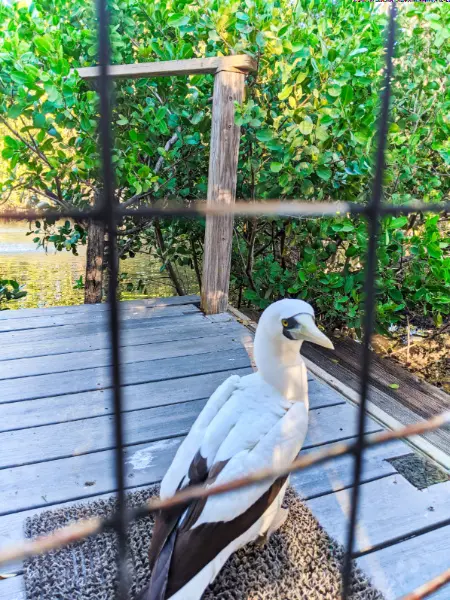 Activities in Islamorada and the Middle Keys
Continuing the Florida Keys road trip southward on the drive to Key West, Islamorada comes up next. It's a town / collection of keys that stretches from Plantation Key to Lower Matecumbe Key. Islamorada is where you'll find the world famous Robbie's of Islamorada, some gorgeous paddling spots, and delicious key lime pie. So many things to do in Islamorada and the Middle Keys!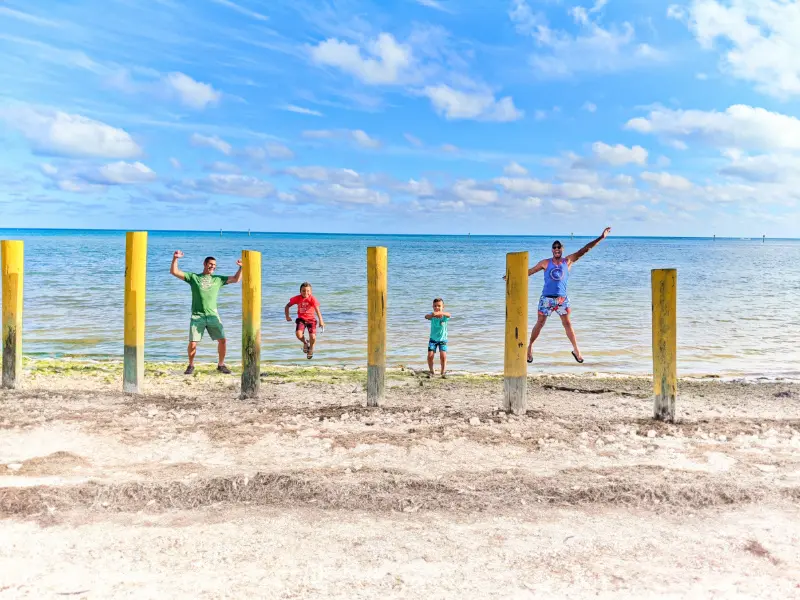 Windley Key Fossil Reef Geological State Park
So many of the best things to do in the Florida Keys are found in unique state parks. While Windley Key Fossil Reef State Park may not strike you as the most thrilling activity, if you're a geology geek like me you'll enjoy it.
The exposed fossilized reef is fascinating, and the exhibits do a good job explaining how the Florida Keys were formed. Another highlight at Windley Key Fossil Reef Geological State Park is bird watching. Again, our family geeks out about bird watching, and the habit here is perfect for smaller birds found in the Keys.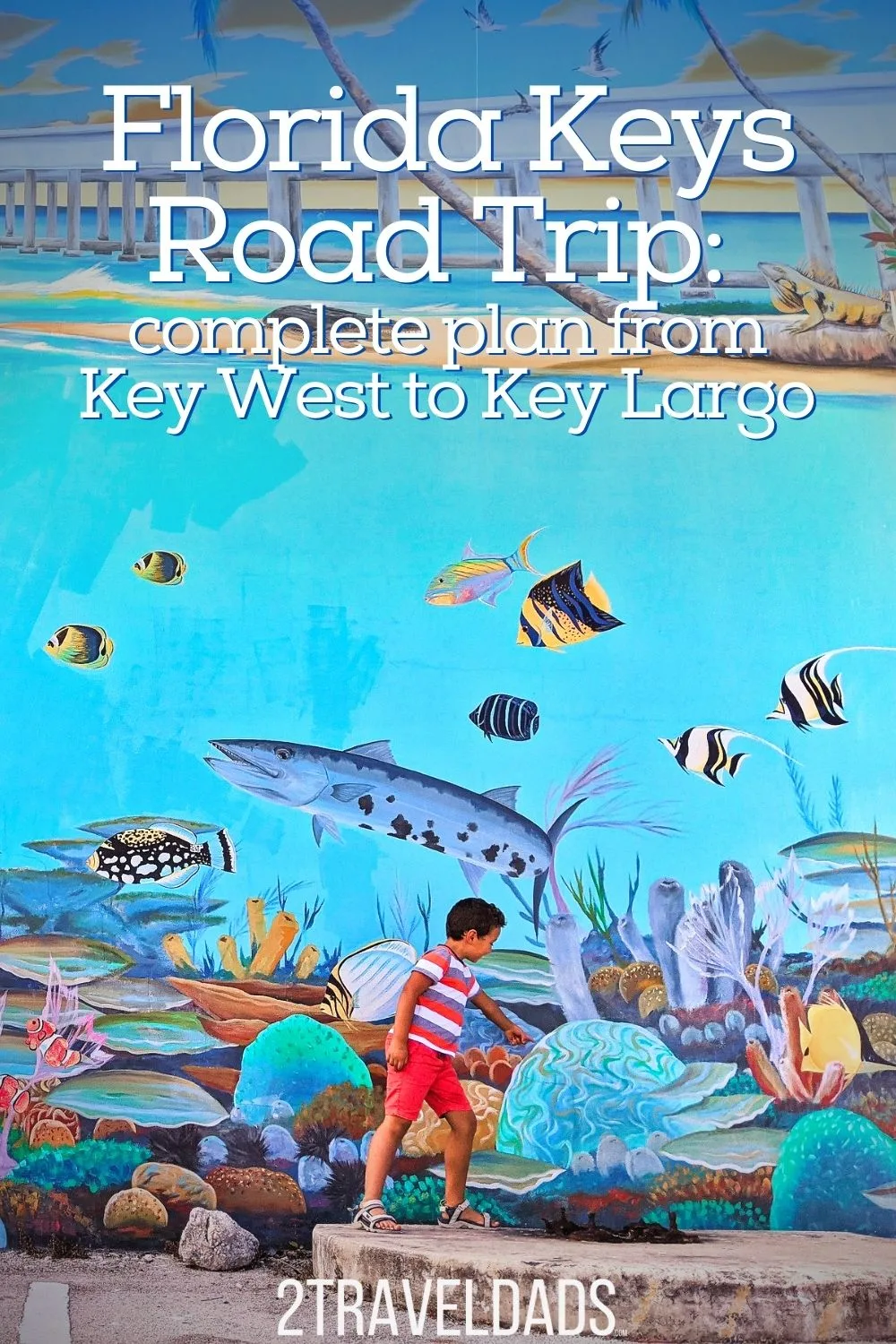 History of Diving Museum and Murals
Again, you can't go wrong with cool murals when they're easy stops on your Florida Keys road trip. The History of Diving Museum is a neat spot to visit with kids interested in the undersea world. Collections of gear and stories make for a good afternoon stop if the weather isn't cooperating with your plans, or if you just want to enjoy this slice of Florida Keys history.
Nearby you'll also find the Keys History and Discovery Center. Again, a great place to learn about the Florida Keys' past, but we'll always choose being in nature over being inside. Great exhibits though!
Kayak to Lignumvitae Key State Park
Kayaking in the Florida Keys is so easy to add to your road trip plan, especially if you have your own kayaking gear with you. If you don't though, there are lots of places to rent along the way, including near Lignumvitae Key State Park. Launching your kayak for a 2.5 mile round trip paddle is a great way to break up the drive from Key Largo to Key West, and as a bonus you can paddle under the Overseas Highway a bit.
Once on the small key, there is a visitors center, nature trails through the tiny forest, and a few nice spots to relax. Keep an eye on the weather if you plan on kayaking out to Lignumvitae Key as you do have to cross a little over a mile of open water between your launch site on Indian Key Fill and the state park.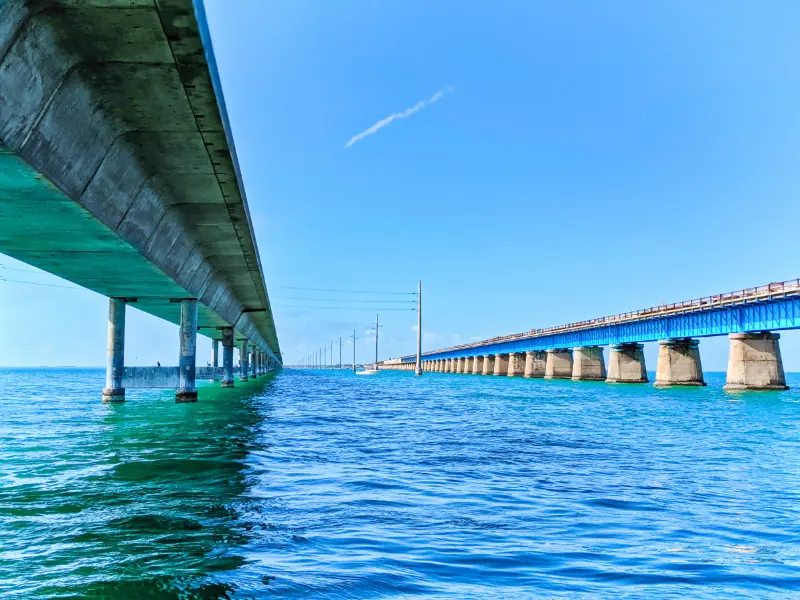 Relax at Anne's Beach
What a wonderful beach stop! With parking areas at both ends, Anne's Beach is a collection of tiny beaches surrounded by low mangrove forests. There are a number of picnic platforms and shelters along the quarter mile boardwalk, or you can set up your relaxation spot in one of the many beach coves. Google Maps link here
Note: these beach areas are NOT your standard Florida beaches, but are small, shallows with very calm, still waters. The area is great for relaxing and wading, but it's not a place for swimming and body surfing.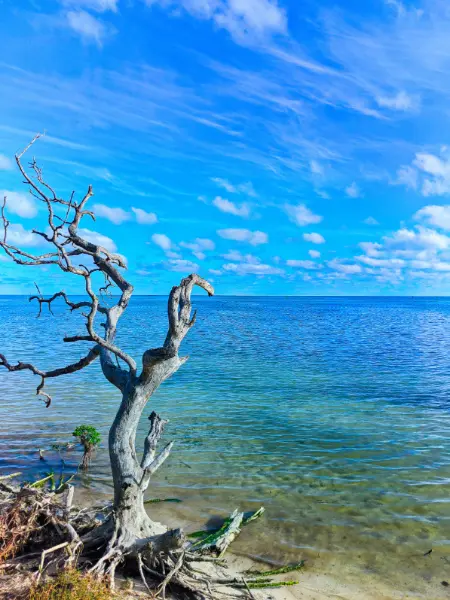 Florida Keys Overseas Heritage Trail
The Overseas Highway is a feat of engineering, to be sure. One of the best things to do in the Florida Keys as you proceed along your road trip route is to stop at the many historic markers. In the Middle Keys, there are large, iconic portions of the old Overseas Highway that you can either walk on, paddle under, or just appreciate from the shore. Following the route is the Overseas Highway Heritage Trail.
The Channel 5 Bridge is one of those great places to stop along your drive to Key West. At the southwest end of the bridge is a parking area and a long stretch of the old bridge you can walk. It's beautiful and gives a great view of the turquoise waters of the Keys.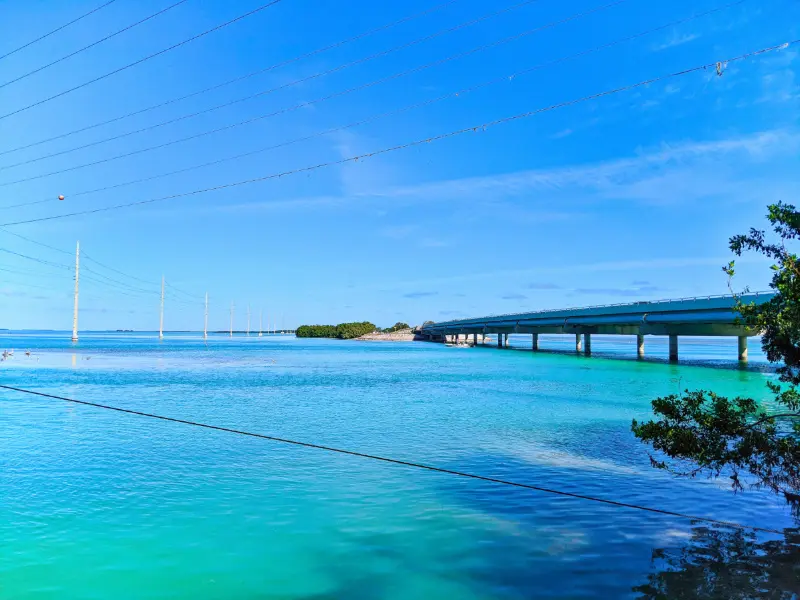 Nature Trails and Kayaking at Long Key State Park
Hurricane Irma several damaged a lot of the Florida Keys, including Long Key State Park. Rangers and crew have worked hard and gotten most of the park open again, including the unique nature trails that wind through Long Key State Park.
This is also a great place for paddling as the water around Long Key State Park is very calm and shallow. The habitat is ideal for spotting sea turtles and all sorts of fish. Snorkeling isn't great here because of all the seagrass, but that's what makes wildlife viewing great for paddlers.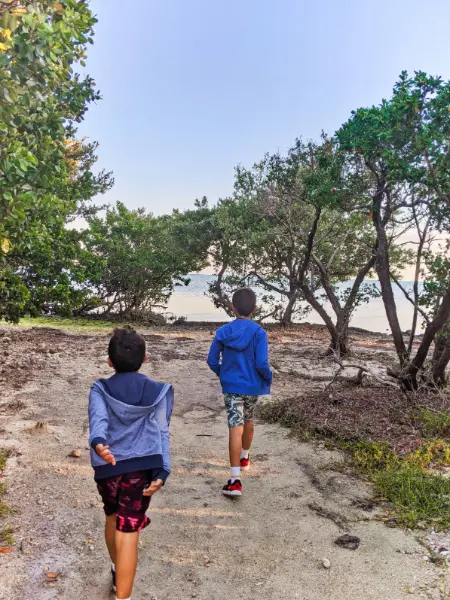 SUP at Duck Key around Hawks Cay
In one of the longest stretches of bridge and narrow islands you'll find Duck Key. Mostly occupied by the Hawks Cay Resort, Duck Key is beautiful and quiet. Here you'll find paddling trails and calm waters perfect for enjoying standup paddleboarding (SUP). And if you can be on Duck Key at sunset, it's gorgeous.
Rent one from Sole Watersports on Duck Key or bring your own and head into the shallows along the bridge or east along the island. Watch for nurse sharks and barracuda as you paddle along.
When you're done, visit Angler & Ale for one of the best meals in the Florida Keys. Whether you're going for fish tacos or burrata, you'll love this wonderful restaurant. Also, their key lime pie is awesome, topped with toasted meringue.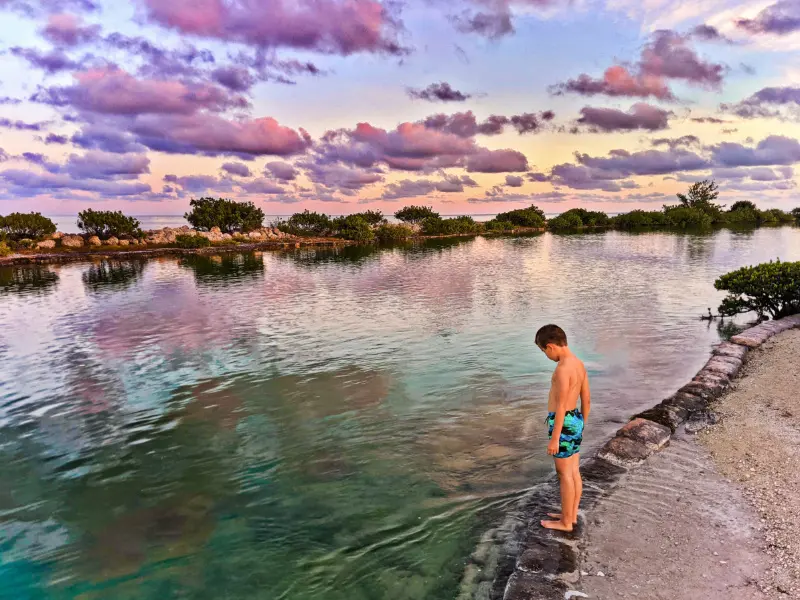 Kayaking at Curry Hammock State Park
We've noted Curry Hammock State Park as one of the best places to kayak in the Florida Keys because of its mangrove tunnels and wildlife. Kayak rentals are limited within the park, so either bring your own or rent some (delivery available from Curly's Coffee & Marina).
The paddling trail is clearly marked and has options for both easy kayaking as you watch iguanas in the trees, or you can go through the mangrove tunnels and onto the open water. Watch for horseshoe crabs, spotted eagle rays, manatees, dolphins and more all around Curry Hammock State Park. We love it here and it's a must-stop on your Florida Keys road trip.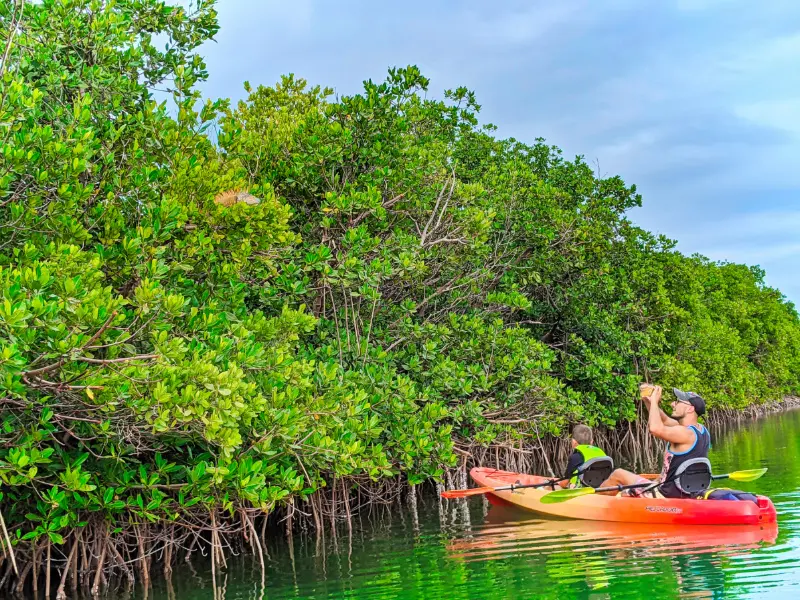 Things to do on Marathon and the Lower Keys
Marathon is actually quite the Island (and connected keys) for regular life. If we were ever to move to the Florida Keys, we'd choose Marathon to live out our days. There are wonderful things to do on Marathon and lots of restaurants too.
Sombrero Beach: the best beach in the Florida Keys
There aren't a lot of beaches in the Florida Keys that are great for waves and swimming, but Sombrero Beach on Marathon is perfect for it. The beach park has a great playground and the sandy area has lots of space to spread out.
Sombrero Beach faces the open ocean, so there are actual waves here. The swimming is pleasant, but it's not a snorkeling beach due to the clarity of the water. If you're looking to add a nice beach day to your Florida Keys road trip, this is THE spot for it.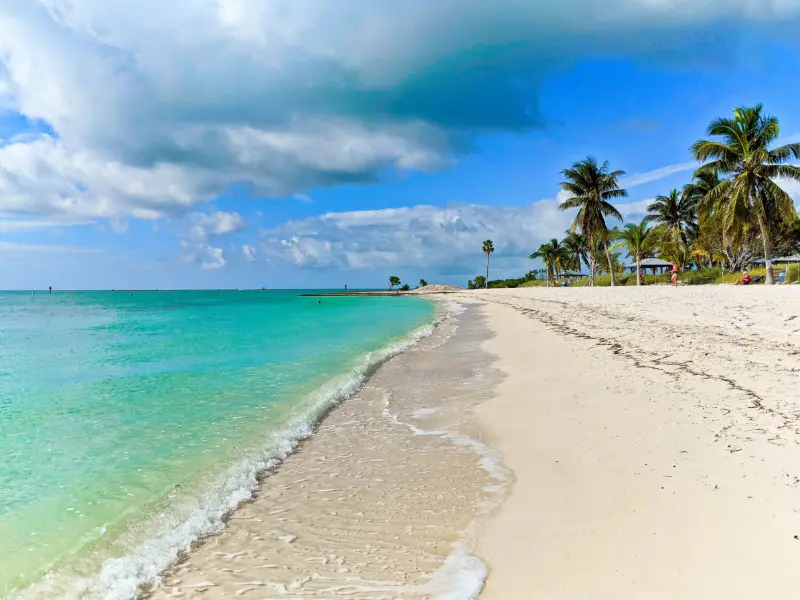 Marathon Turtle Hospital
A meaningful place to stop, the Marathon Turtle Hospital is one of the best things to do in the Florida Keys with kids. Touring the Turtle Hospital, you'll learn all about the different species of sea turtles that call the Keys home. More importantly, you'll see first hand how things like pollution and human behavior have impacted the sea turtle population.
Between the hospital area where surgery is performed and the many turtle tanks, it's quite the experience. We saw hawksbill turtles, loggerhead, green sea turtles, Kemp's Ridley and even a few leatherback sea turtles. Our kids learned a lot and were so happy to support the efforts of the Marathon Turtle Hospital operation. This is a very different experience than the Georgia Sea Turtle Center on Jekyll Island or any other we've visited. Very unique thing to do!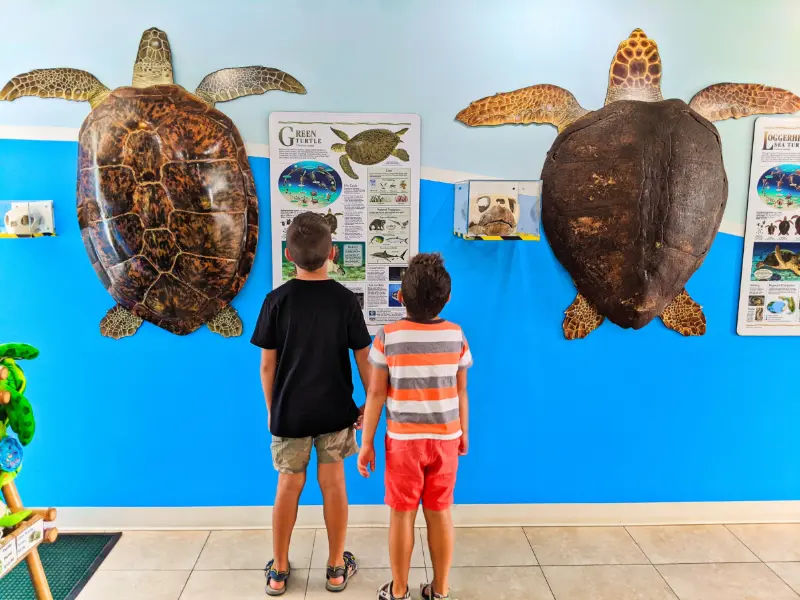 Fishing Charters out of Marathon
We've always been very hesitant to go fishing with the kids because we don't need to catch fish to live. We did go out fishing in Marathon so the kids could learn about where our food comes from. It was a great experience.
Heading out to the southeast towards the Sombrero Key Lighthouse, we fished for yellowtail snapper and grouper. We had success and afterwards took our fish to Robbie's up in Islamorada for a Hook and Cook lunch.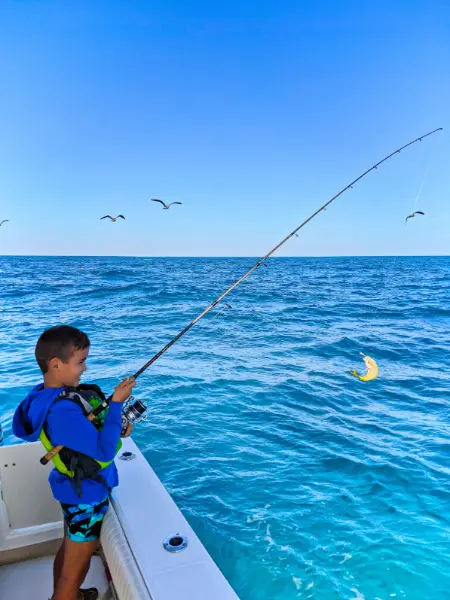 READ THIS – "How Much Does a Fishing Charter Cost?"
Fishing in the Florida Keys is quite the costly activity, so be sure that you or your family really wants to experience fishing in the Florida Keys. In addition to the base fee for a fishing charter, there may be additional fees. Gratuity is not just appreciated, but may be mandatory on top of the cost of the charter. While you should always plan to tip your guide for any tour, some fishing charters in the Florida Keys have a policy of charging guests who book if they do not tip 20% on the total cost of their trip. This is a fine print policy with some companies.
Depending on the type of Florida Keys fishing charter you book, shallow or deep see / half or full day, you may be spending from $400 to $1600. A shallow water (20-40 feet depths or so), half day fishing charter in the Florida Keys will run a minimum of $350 plus gratuity. To go further out and have more time and more services included will start around $700 plus gratuity.
Note: you may be able to find some Florida Keys fishing charter deals online or even just visiting the marinas, but you should still expect a few hundred dollars price tag for the experience.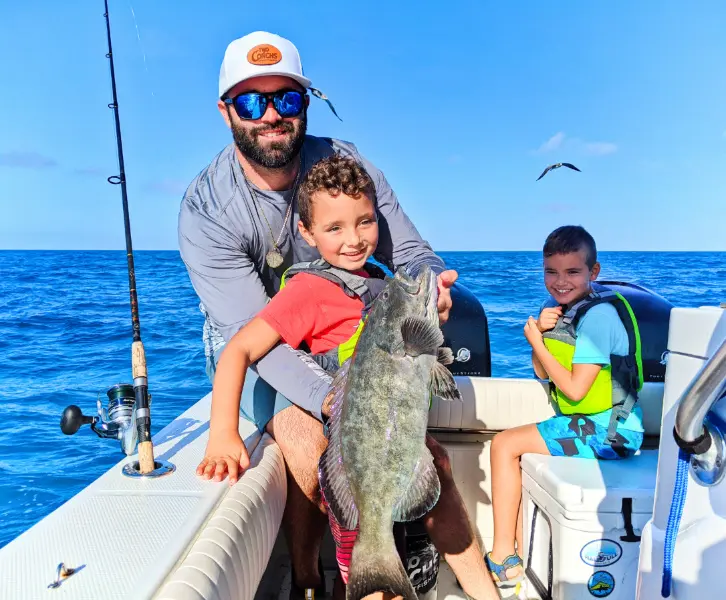 Visit Whaling Wall #87: Florida's Radiant Reef
Once upon a time, this same wall had a different Wyland mural titled Sperm Whales and Florida Keys Reef, but it's since been painted over with the current feature. Florida's Radiant Reef is a gorgeous mural, a Whaling Wall, showing humpback whales, sharks, fish and more.
This beautiful mural is in the parking lot of a K-Mart (not so glamorous) so there is plenty of space to pull over and admire it. Google Maps link here
Tip: another beautiful mural to admire on Marathon is at the Marathon Veterinary Hospital. This awesome undersea mural by Yoslan O'farrill is also easily accessible with parking. Google Maps link here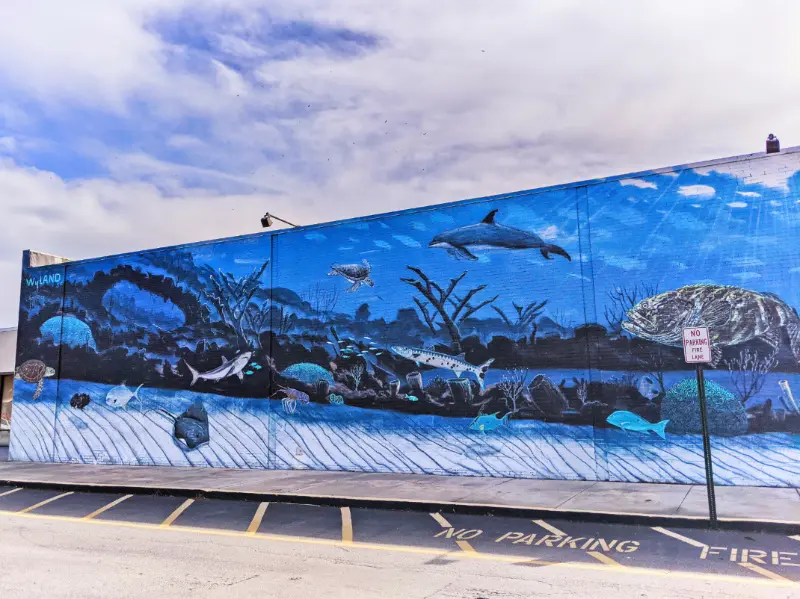 Crane Point Hammock Museum and Whaling Wall #27: Minke Whales
Yes, there's yet another Wyland mural on Marathon to check out. Located on the Crane Point Hammock Museum, Minke Whales is a small mural but beautiful. While you're there, check out the actual museum and nature trails too!
Adjacent to the Crane Point Hammock Museum is the Marathon Wild Bird Center. The goal of the Marathon Wild Bird Center is rescue, rehabilitation and release. Those that cannot be released often find homes in the sanctuaries of the Keys.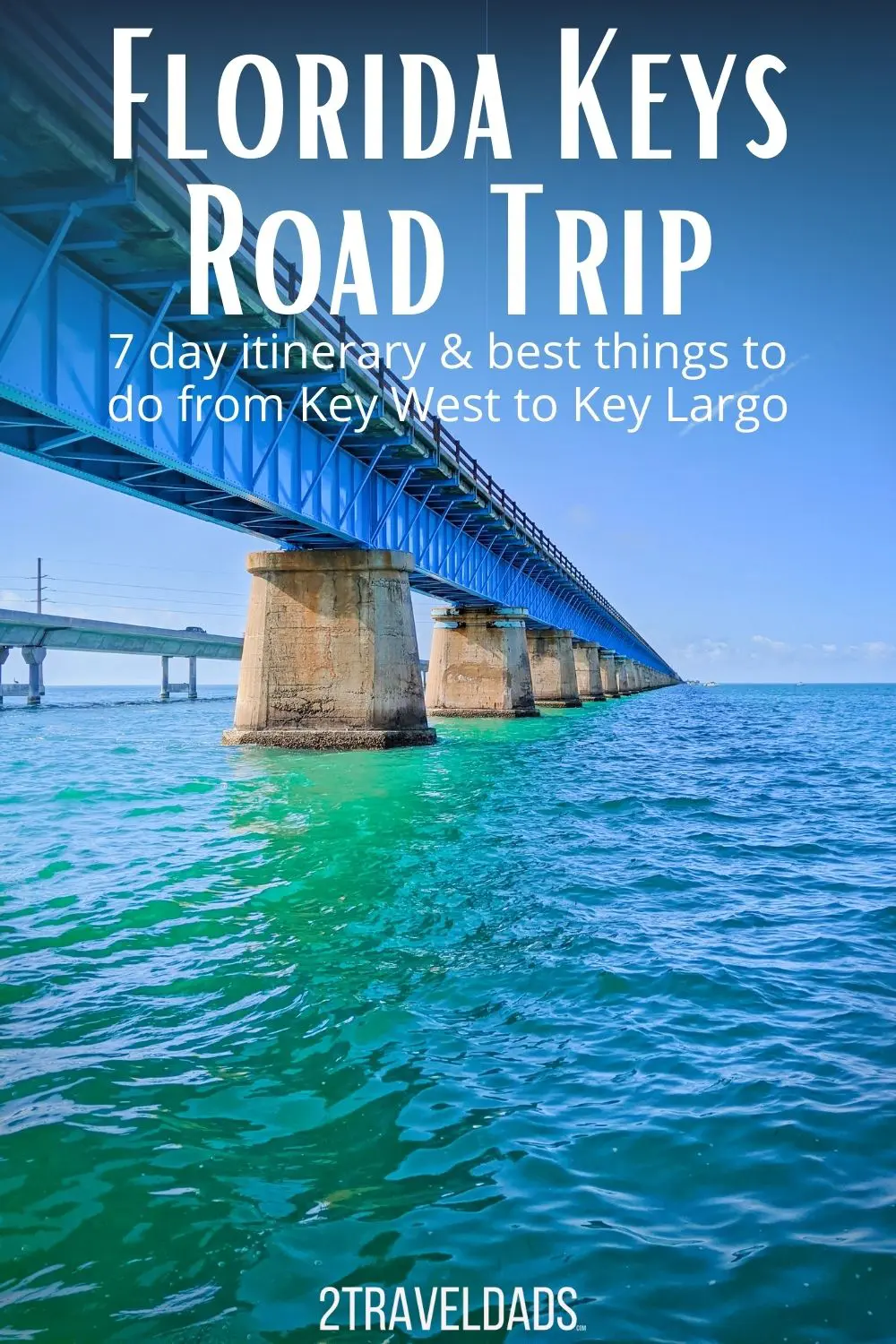 Hammerhead Sharks at Bahia Honda State Park
One more stop to make before you get to Key West (or on the drive as you head north again) is at Bahia Honda State Park. Bahia Honda is beautiful and one of the most unique views in the Florida Keys. Have some beach time or walk along the old, broken bridge to nowhere. Visit April/May and watch in the channel below as hammerhead sharks migrate past Bahia Honda. Who knew that the shark migration would be one of the coolest things to do in the Florida Keys?!
Note: seeing hammerhead sharks is never a guarantee, but this is the best way to see them (and the safest) besides diving with professionals. Sharks are always in the waters around the Lower Keys, but April/May is the best time to see them here at Bahia Honda.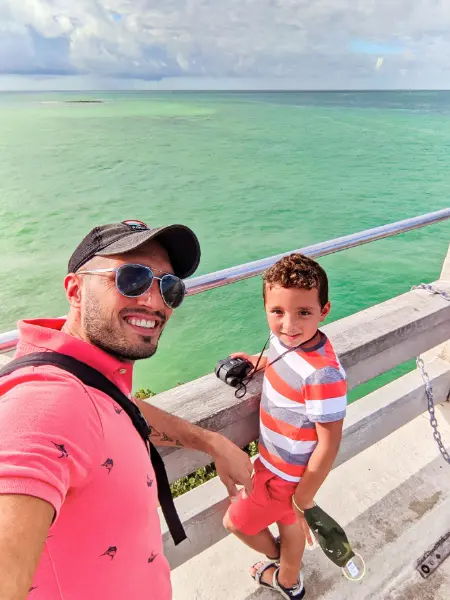 You can also visit the south side of the old Bahia Honda Railroad Bridge for some amazing views and great wildlife experiences. Kayaking here is doable from the state park if you paddle out aways to ensure you don't get caught in the channel's current. Kayaking in Florida's state and National Parks is a wonderful way to experience a different side of the area, and that includes here in the Keys.
Visit the National Key Deer Refuge on Big Pine Key
Did you know that there is a tiny, adorable deer that is endemic to the Florida Keys? It's true! The key deer is a very unique creature in that it only grows to about three feet tall and less than 100 pounds!
The National Key Deer Refuge has a visitor center for learning about this endangered species, and it's surrounded by a protected refuge area. Since key deer are so small, you may not see them right away, but as the Forest Service rangers for recommendations for spotting them and you may see one of the most special residents of the Florida Keys.
Best things to do in Key West
Key West is such a cool city. Yes, it's a city, it's a small town, it's its own republic. When you complete the Miami to Key West drive you are rewarded with one of the most beautiful communities in Florida. Yes, we love our hometown of Saint Augustine, but Key West is equally beautiful in a different way.
While Key West was used by shippers and smugglers for a long time and shifted control over the years, the city wasn't plotted or built up until the 1820s. Much of the iconic Key West architecture was built in the 1880s and after. It's a beautiful city to tour on foot.
You'll find that there are countless things to do in Key West. We've picked our favorite, for both their cultural and enjoyment factors. Add a few of these unique Key West activities to your Florida Keys road trip and you'll have great memories for years to come.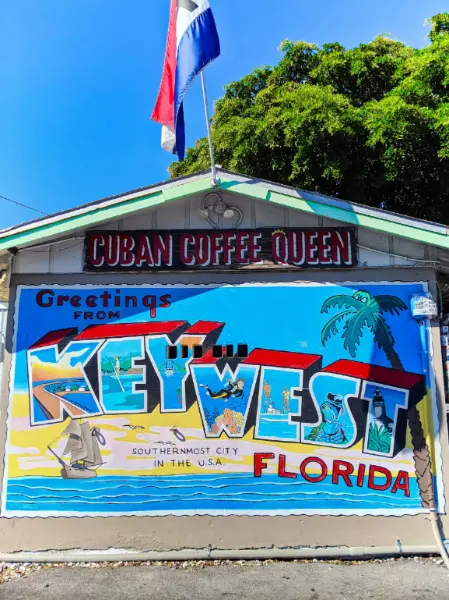 Bucket List: Dry Tortugas National Park
This was our absolute favorite thing to do in Key West. We took the ferry out to Dry Tortugas National Park (a whole day adventure) and spent hours exploring old Fort Jefferson, snorkeling around the moat wall and walking the beaches. You need to read all about it to understand what a unique thing to do this trip is.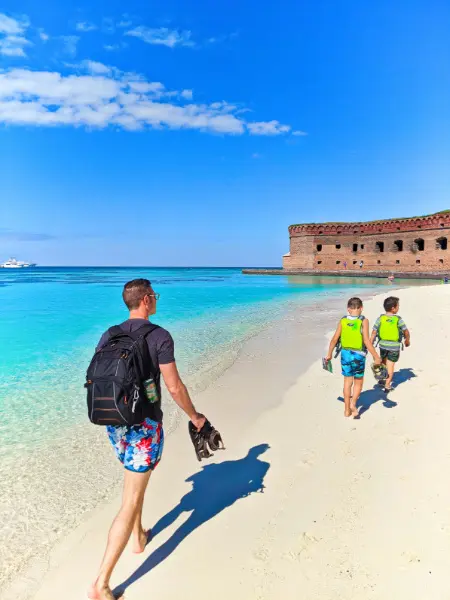 Sand Bar Adventure with Island to Island Charters
Of all the tours we've done in all the places we've been, going out through the sandbars and mangrove islands with Island to Island Charters has been our favorite. Spending the day exploring the waters of Key West with Captain Ally was remarkable. We got to swim and snorkel, saw sharks and spotted eagle rays, and then we hung out with dolphins. It was all amazing and all based on what sort of activities our family was interested in.
Hands down, this is the BEST experience for any family in the Florida Keys (and no, we get no commission from saying so.)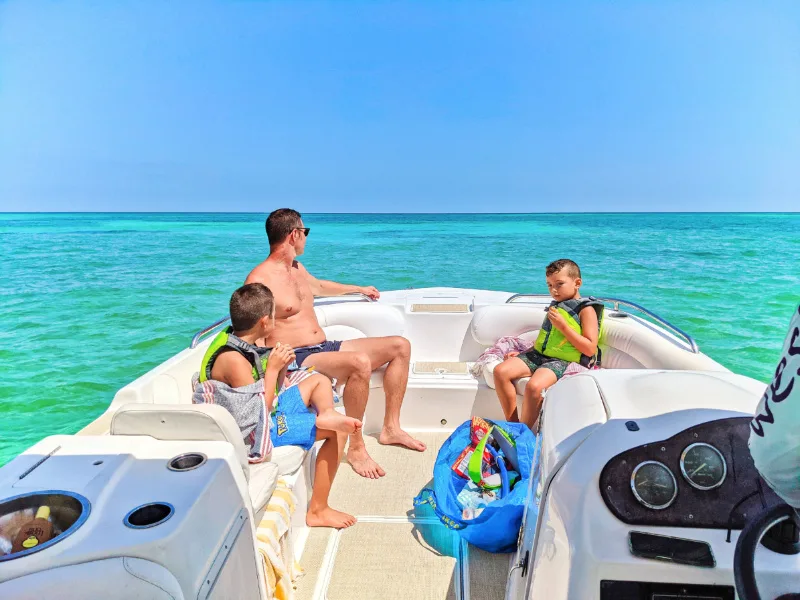 Visit Whaling Wall #52: Florida's Living Reef
Located on the Waterfront Brewery Building at the Key West Bight (marina), this is one of the most vivid Wyland (and Guy Harvey) undersea murals I've seen. It's jaw-dropping! The mural Florida's Living Reef can be seen from the street, the roundabout, the parking lot, and the Marker Key West Hotel across the street. Google Maps link here
The giant manta ray in the mural is awesome. The many Wyland murals to see on a Florida Keys road trip are inspiring. Our kids love the art and have recreated their own versions, us adults are just in awe with each mural. Such amazing public art.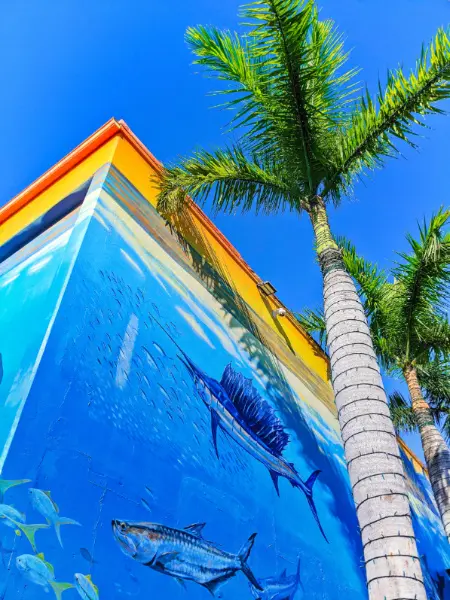 Ride the Conch Trail (tour)
One of the best things to do in Key West is to ride the Conch Train. Operated by Historic Tours of America (the do one in Saint Augustine too!) it's a comprehensive tour of the historic old town and neighborhoods of Key West. You get to hear stories of the city, see some of the most famous sights in Key West (like the Southernmost Point), and you can get on and off in several places around town.
The Conch Train tour lasts about 75 minutes and covers a lot of ground. The best place to catch it is near Mallory Square and the Key West Aquarium. For the many tours we've done in many cities across the USA, the Conch Train is my favorite.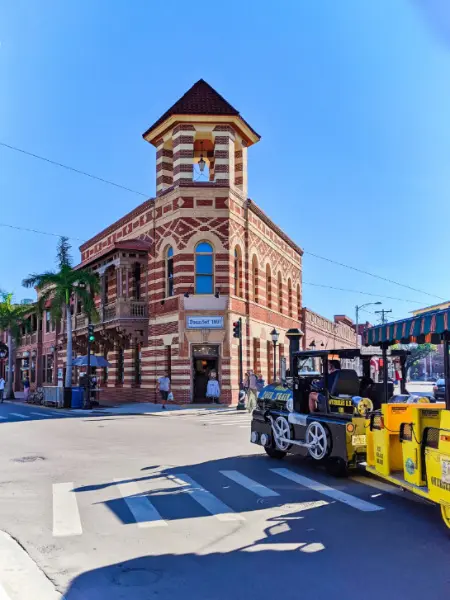 Eco-tour to Key West National Wildlife Refuge
Eco-tourism is becoming increasingly important as more and more people travel to new places. Add an eco-tour with Honest Ecotours to your Florida Keys road trip. We really like Honest Ecotours for a few reasons:
The naturalists are well educated and deeply care
The boat, the Squid, is fully eco-friendly (including solar power)
The tour route and snorkeling is awesome
Dolphins guaranteed
Honest Ecotours really does a wonderful job with kids and adults alike. They provide healthy, fresh snacks and are well prepared for even inclement weather days. They also do sunset cruises (which we haven't done) and private voyages.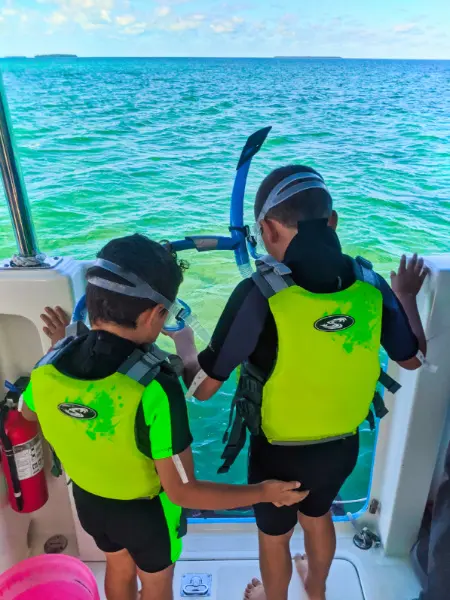 Explore the Historic Key West Town
The cheapest thing to do in Key West is to wander the historic town area. It's beautiful and there are chickens everywhere. Parking downtown is a little expensive, but it's worth it for the time you save and the ease of finding a spot. Once parked, enjoy the Mallory Square area, then walk through the Truman White House complex towards the Key West Lighthouse.
Stop into Ernest Hemmingway's House (and museum) and then enjoy a stroll past banyan trees and historic homes as you make your way to First Flight (brewery and restaurant) where the first PanAm Airways office was. Visit the Audubon House and Tropical Gardens, hit up a few museums in the historic quarter and you're done.
There are tons of wonderful stops to make along the way, and lots of key lime pie and martinis to enjoy as well. Walking Key West on foot is a great all day or afternoon activity and it's the best way to see the city at your own pace.
Book a Private Guided Walking Tour or Key West Literary Tour here!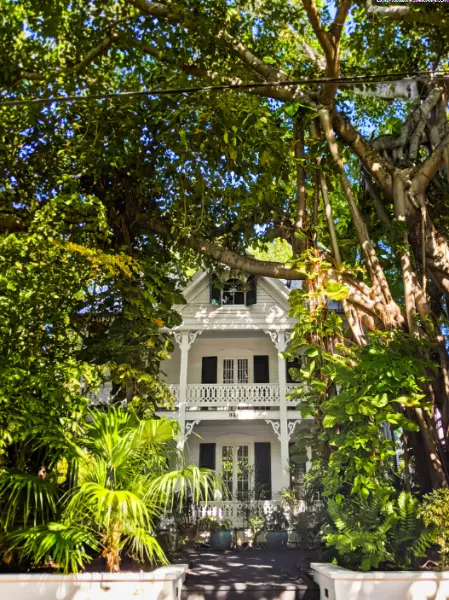 The Vintage Key West Aquarium
I'll admit that the admission to the very small Key West Aquarium might not seem worth it initially, but it's such a cool place. The interior feels like you've stepped onto Captain Nemo's Nautilus, and the sharks in the middle of the aquarium are really cool.
Being a very old attraction, some of the features and design look like they're from another time… which they are. It's all very vintage. Pop outside for a wonderful living mangrove exhibit and enjoy the view from above.
Night Kayaking in Key West
We do a lot of kayaking tours and paddling on our own, but Night Kayaking Key West is a must-do, experienced kayaker or not. Heading through the mangrove tunnels and shallow coves around Key West, Night Kayaking gives you a totally new view of nature.
The kayaks have a plexiglass bottom and are outfitted with LED lights to see underwater. We saw sharks, lobsters, tarpon, sea hares and more. It was really a memorable experience and one of the most unique things to do in Key West.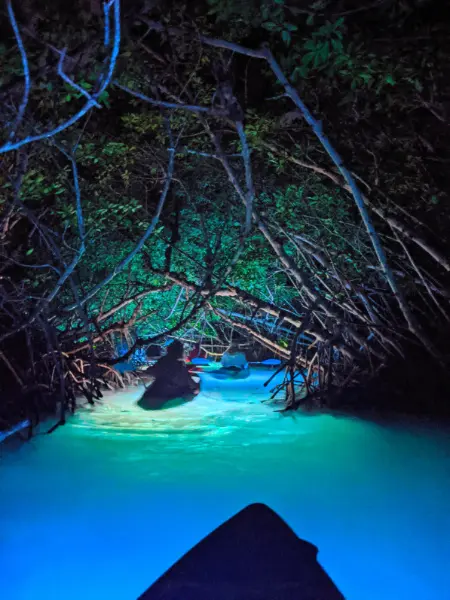 Visit the Key West Lighthouse
I am such a sucker for lighthouses and the Key West Lighthouse is one of the prettiest. It's one of the best things to do in Key West both as a sight and as a unique activity.
There is a museum on sight about Key West's nautical history, and then you can climb the lighthouse tower as well. I love it!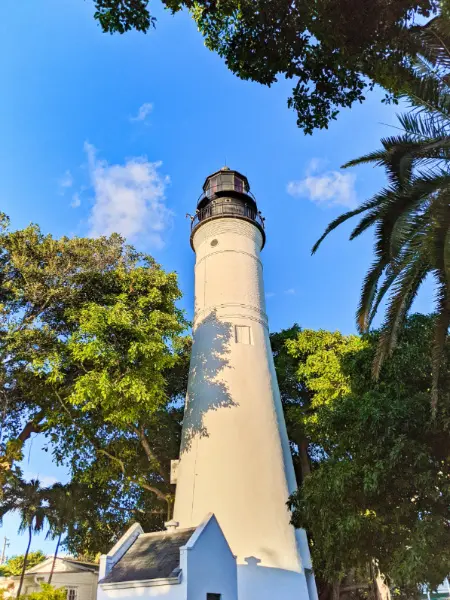 Beaches in Key West
As I mentioned before, there aren't a ton of beaches in the Florida Keys to visit on your road trip, but Key West has a few beach spots. The following are the easiest beaches to access with the best surroundings. They aren't all natural, so it's a mixed bag when it comes to sand and obstacles, but they serve the purpose of cooling off and relaxing when you visit Key West.
These are the best beaches IN Key West for relaxing or swimming:
If you spend time at Rest Beach, there is a really cool pier that goes pretty far out into the water. The views are beautiful and there's a fair amount of wildlife living along the pier structure. Check it out!
Doing a Florida Keys road trip isn't typically a beach trip, but it's all about the culture and other natural sights. Enjoy what you like, but we don't recommend the Keys if you truly want a beach destination.
Roadside Stops Along the Miami to Key West Drive
In addition to Wyland's Whaling Walls, there is a lot of wonderful art, both in the form of murals and sculpture. And yes, there are huge fake sharks and fish to stop and get photos with.
Tip: stop at the giant lobster in Islamorada for a great picture and shop for local crafts at Rain Barrel Village.
The best stops to make on the Miami to Key West drive though are at the small shops and cafes. Yes, you do need another coffee and another slice of key lime pie. Easy, great coffee and snack stops along the Overseas Highway include:
Midway Cafe, Islamorada
Curly's Coffee and Marina, Marathon (kayak rentals too!)
Juice Paradise Cuban Cafe, Marathon (amazing pastries)
In addition to coffee stops, you'll see lots of historic markers along the Overseas Highway. Stopping at a few of these gives great insights into everything from the old railroad to Key West and the Labor Day Hurricane of 1935, to the changing landforms and environment. Unless you have something scheduled somewhere, take your time enjoying your Florida Keys road trip!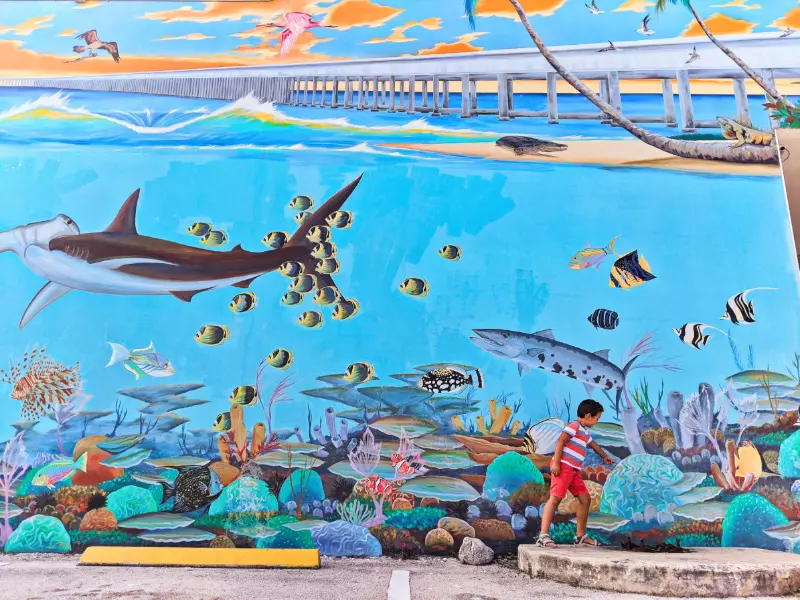 ---
7 Day Florida Keys Road Trip Plan
For our Florida Keys road trip plan we work our way from Key West to Key Largo finding many unique things to do along the way. When we visit the Keys we try to leave time in our itinerary for extra beach visits or relaxing by the pool (required!), but we do have some pretty busy days.
Note: as you travel or build your own plan, leave yourself at least two hours each day for delays or longer dining experiences. Sometimes time passes faster than you like in the Keys.
A great road trip theme to do on the Miami to Key West drive is to seek out famous movie sights or food trucks/stands. As you use our road trip plan, add in elements you have heard about or discover in your own research to make the trip a truly unique vacation.
If you want to download our exact Florida Keys road trip itinerary, it's at the end of this post.
Read our complete article "Best Key Lime Pies in the Florida Keys" for the top pie and cocktail picks along the Miami to Key West drive.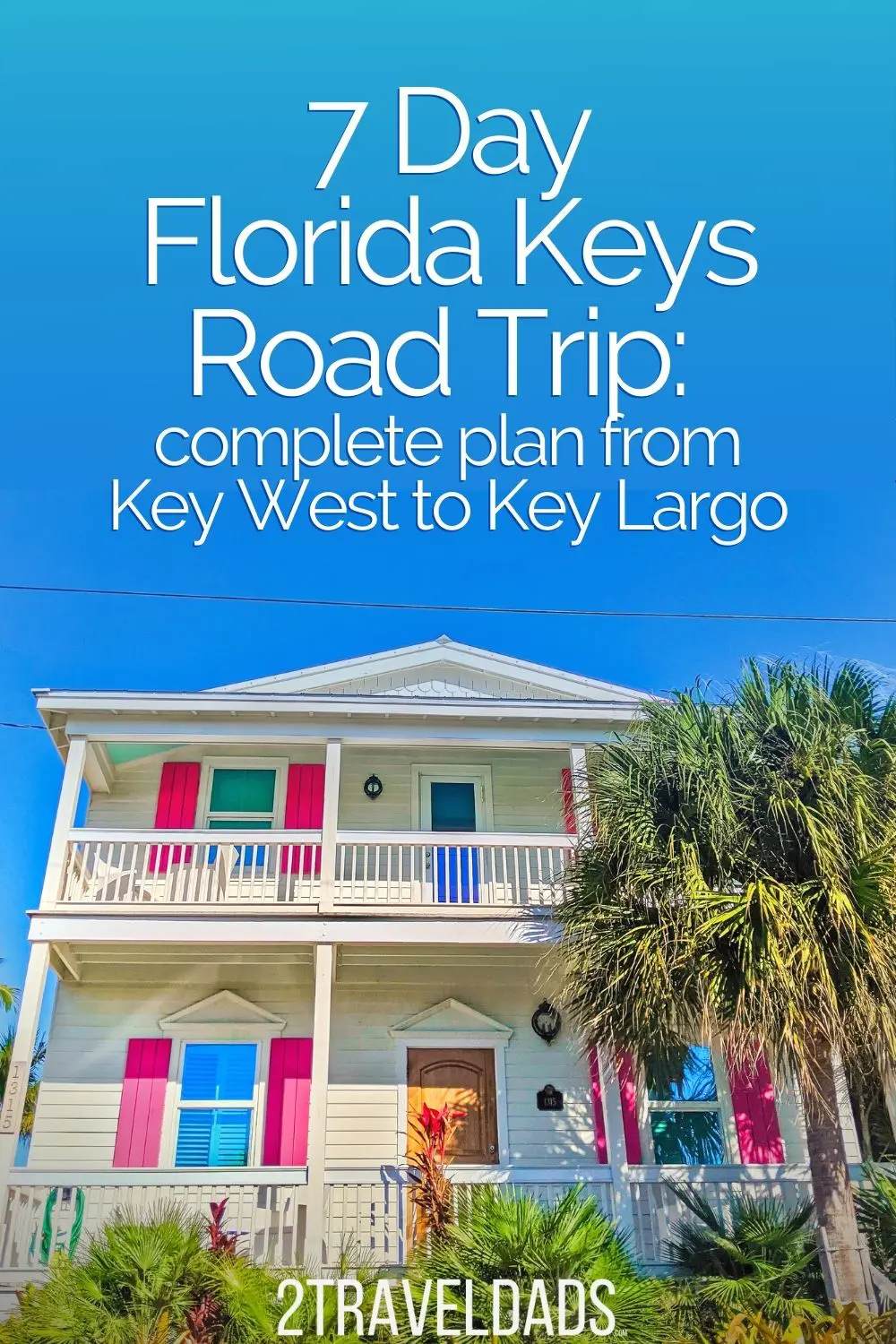 Day 1: Drive to Key Largo
Since it's likely that you've already had a long day of traveling by the time you reach the Florida Keys and are ready to start your road trip to Key West, we recommend spending your first day/night on Key Largo. Whether you're driving from Orlando or just flew across the country, not over-extending yourself on day one is key to an enjoyable trip.
While on Key Largo, stroll through the subtropical forest at Key Largo Hammock State Park and then pay a visit to the Wild Bird Sanctuary (donations gladly accepted!). Spend some time relaxing at your hotel enjoying the pool or beach, and then have a great meal. Don't miss the amazing Wyland mural in the middle of the Overseas Highway.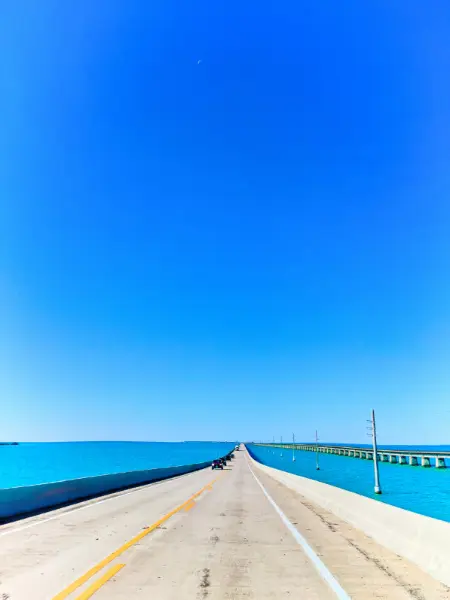 Where to Eat on Key Largo
We had several great meals on Key Largo. Thankfully, since there are so many wonderful places to eat, they all have to keep on top of offering unique dishes that are well prepared, so no bad meals. Mrs Mac's Kitchen II was perfect for lunch with a wonderful blackened fish sandwich, and the Buzzard's Favorite Catch of the Day sandwich at Buzzard's Roost was equally good. For dinner, Skipper's Dockside was excellent with our absolute favorite Key Lime Pie in the Florida Keys.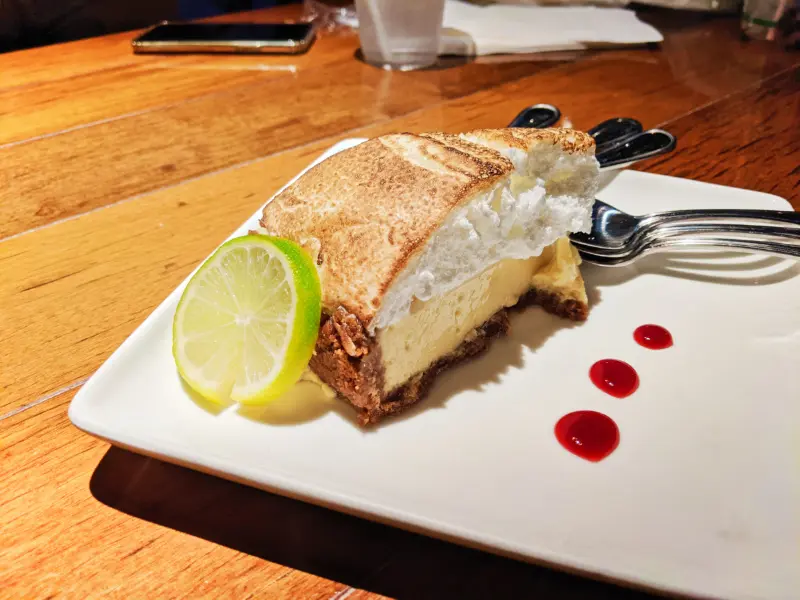 Day 2: Key Largo to Key West Drive
Enjoy breakfast on Key Largo or head southwest to Midway Cafe in Islamorada. Make stops at Anne's Beach for a short relax or Crane Point Hammock to check out the low-growing hammock forest and birdwatch. Continue your Florida Keys road trip onto Key West and check into your hotel.
Enjoy the Key West Aquarium before hopping on the Conch Train tour. Hop off the tour if you like, but be sure you know where to catch it next. If you have time, spent some time at the Key West Lighthouse or Ernest Hemmingway's house (depending on your interest and closing times). If you miss the Key West Lighthouse during daylight hours, visit at night for a beautiful sight.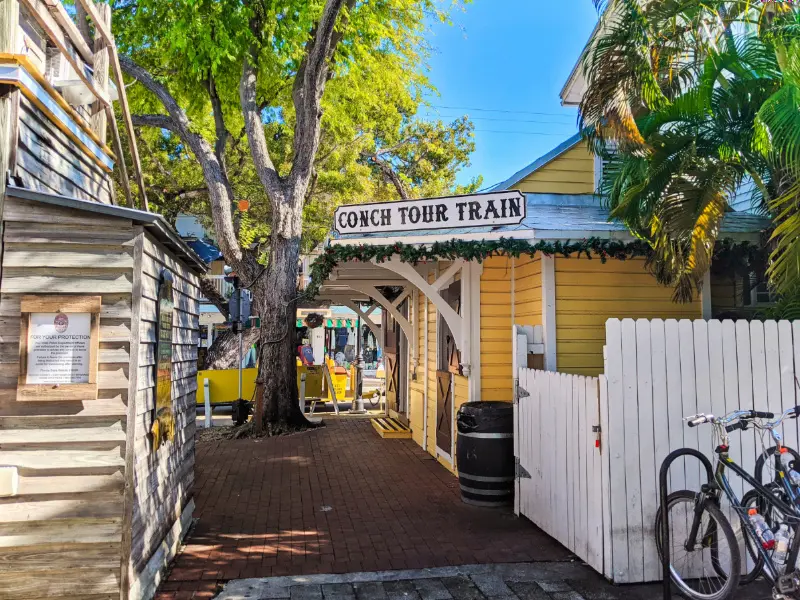 Where to eat in Key West
We have had so many great meals in Key West that it's actually very difficult to choose just a few. Our picks for where to eat in Key West are a combination of the best food and best dining experience (and always a fun location). For lunch, Fisherman's Cafe in the Historic Seaport area has awesome seafood handhelds from a walk up window (then go sit in the square). Blue Heaven is another winner for lunch/dinner.
For dinner in Key West, our collective favorite is the Half Shell Raw Bar. It's not all a raw bar, but that is an option if you're into oysters. Their crab cakes and blackened fish were wonderful, and their key lime martinis took the cake. If you're looking for a more quiet, unique atmosphere with wonderful chef-original dishes check out LL's Test Kitchen at the Stock Island Yacht Club. And you can't go wrong with the Conch Republic Seafood Company either, although it's the most touristy of our picks.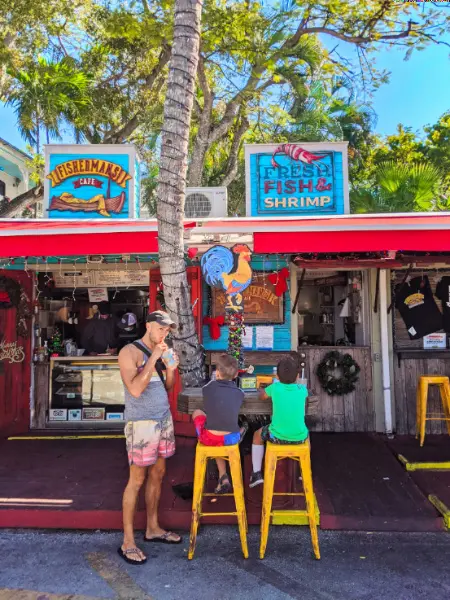 Day 3: Explore Key West Nature and History
Get on the water early for an ecotour out to the Key West National Wildlife Refuge with Honest Ecotours. Snorkeling above the sponge beds is really cool and the fish are beautiful. After you return, grab lunch and then head to Audubon House or Martello Tower and Rest Beach for the afternoon.
Grab a quick snack or beverage at Tavern N Town (at the Marriott Beachside Key West) before setting out on a Night Kayaking adventure. The tour lasts about 90 minutes, so you'll have a late dinner, but it's very worth the late night.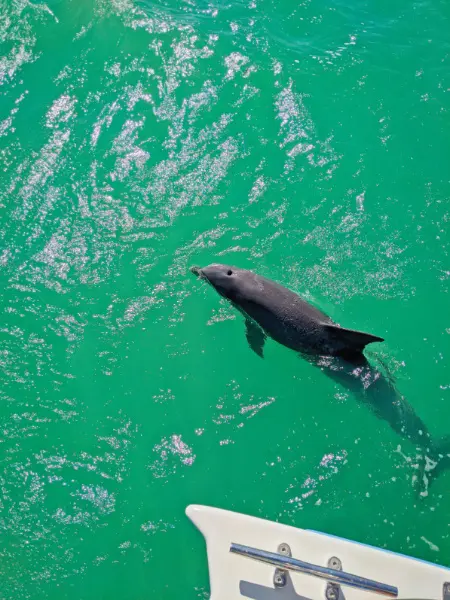 Day 4: the Amazing Dry Tortugas National Park
Dry Tortugas National Park is an all day trip and it's a bucket list experience for many. Located 70 miles west of Key West, Dry Tortugas is only accessible by ferry, seaplane or private sailing vessel. You'll have breakfast on the boat and will be provided with a picnic lunch for your time at the National Park.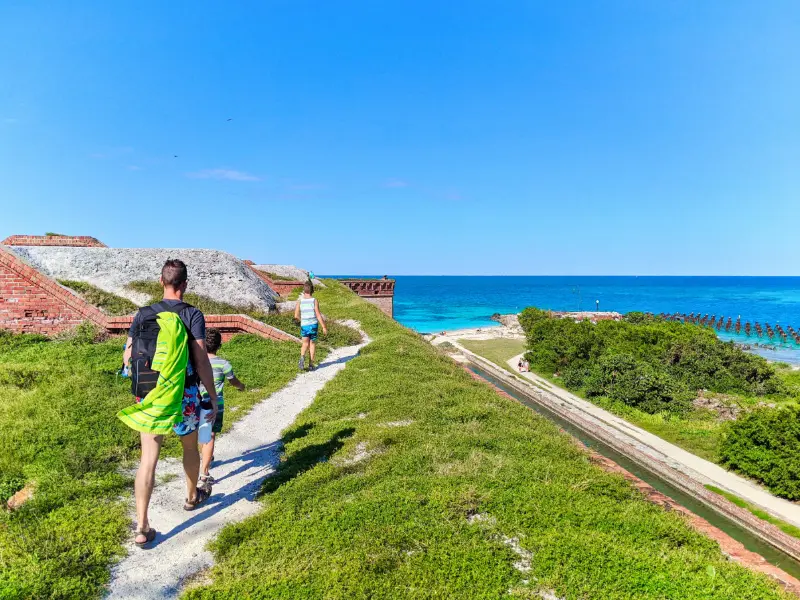 Dry Tortugas National Park includes Fort Jefferson, a crumbling island fortress, pristine beaches for snorkeling, and protected island full of conch shells and magnificent frigate birds. It's a once in a lifetime, unique Florida Keys experience.
You'll return to Key West around 5:30 pm, so either head to dinner or make your way to Mallory Square to the nightly Sunset Celebration with live music and everyone toasting to the setting sun.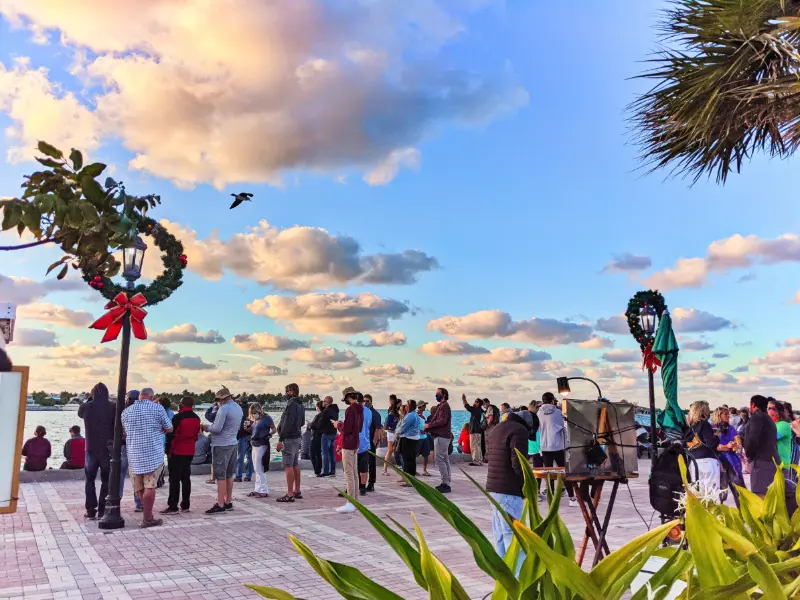 Day 5: Discover the Middle Keys
Start your drive from Key West early, after breakfast and head to Bahia Honda State Park for some kayaking or to walk the old, broken Bahia Honda bridge. Continue your Florida Keys road trip up to Marathon where you can do the Turtle Hospital tour and then relax at Sombrero Beach.
After lunch, visit Curry Hammock State Park for kayaking through the mangrove tunnels and around Deer Key. For an easier paddle or SUP, head to Duck Key to paddle around the mangroves and Overseas Highway bridge. Check into your hotel and relax for a bit before heading to dinner.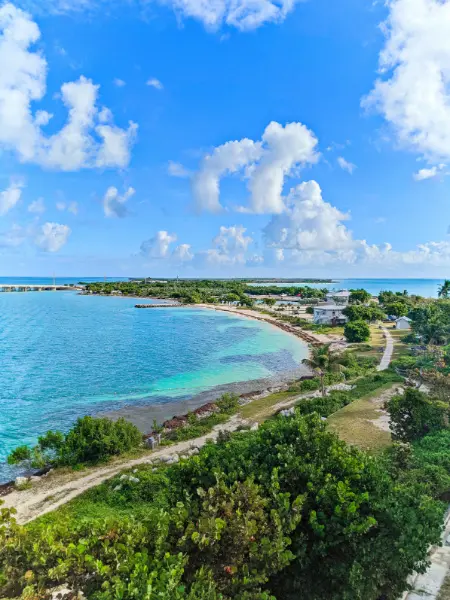 Where to eat in the Middle Keys
Marathon and Islamorada are full of little cafes and waterfront dining. Breakfast and lunch spots are everywhere, with our favorites being Midway Cafe (Islamorada) and Juice Paradise Cuban Cafe (Marathon). Lunch at Robbie's is THE THING to do (Thai style fish!) but nearly any waterfront dining will be good (they have to be because it's such a competitive restaurant area). Keys Fisheries or Island Fish Company are also great choices in fun spots.
For dinner in the Middle Keys, Sunset Grille & Raw Bar (fun!) or the Lighthouse Grill at Faro Blanco are both good (love the hibiscus cocktail at Lighthouse Grill!), but our top pick is Angler & Ale on Duck Key. It's Florida Keys dining at its finest in a fun, outdoor or indoor environment. While it may seem odd or not fancy, the tuna nachos were one of the best dishes we ate in all the Keys. And the jumbo lump crab cakes were delectable.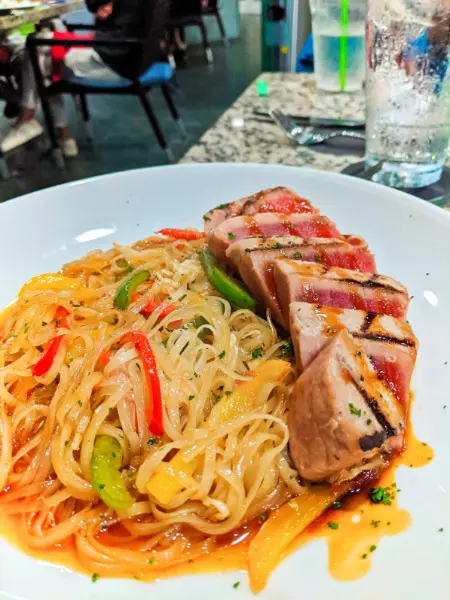 Day 6: Florida Keys Fishing and Fun
Get up early to hit the water for a day of fishing. We recommend a half day trip, particularly if you have kids with you on your Florida Keys road trip. You'll be back by noon or so, a little time to clean your catch and you'll be ready to enjoy a hook & cook lunch in the Middle Keys.
After time on the water and a big lunch, you may need to just relax, so either hit up one of the beaches (Sombrero or Anne's Beach) or enjoy pool time at your hotel. If you do still have energy, walk the nature trails or grab a kayak and explore around Long Key State Park until sunset.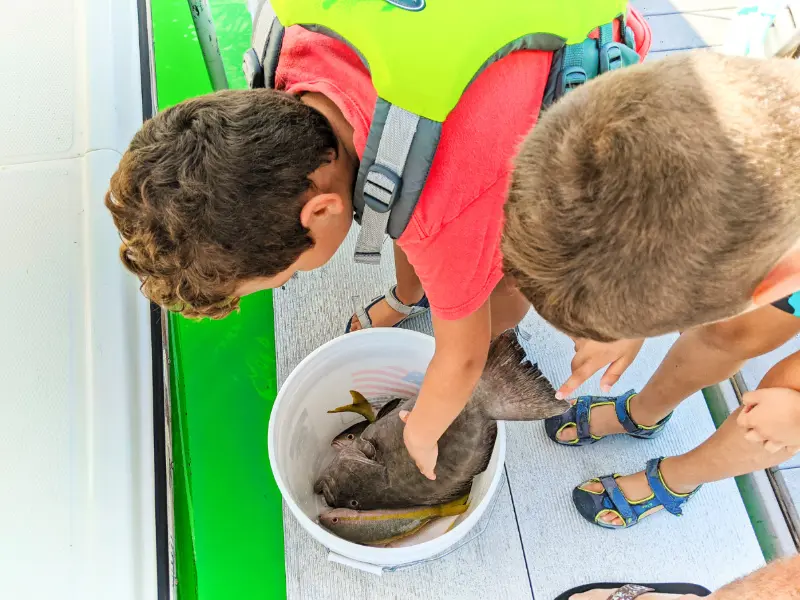 Day 7: Snorkeling and Beach Time
Seven days in the Florida Keys has been incredible with so many wonderful, unique things to do! Finishing off the Keys road trip with a bang, visit John Pennekamp Coral Reef State Park for a day full of nature and adventure. Whether you head out on a snorkeling or diving tour to visit the coral reef or Christ of the Abyss dive site, or if you want to wade and snorkel at the beach, it'll be a great day.
Bring your own or rent a kayak at the park office to get in one last paddling adventure. John Pennekamp State Park has a wonderful paddling trail through mangroves, crystal clear shallows and even the open water. Enjoy this last bit of time in the Florida Keys.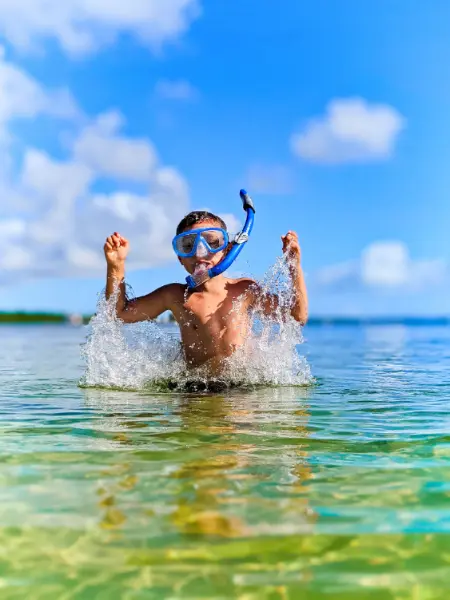 ---
WOW! What an incredible time! A Florida Keys road trip is a must-do for every nature lover and sun worshiper. Whether you're an active family or a relaxed single person, you'll find endless unique things to do in the Florida Keys, and you'll fall in love with Key West.
If you have any questions about any of the recommendations for activities in the Keys, always feel free to leave a comment or send us a note.
Be sure to check out our other articles about the Florida Keys, including How to Plan a Florida Keys Vacation, the Best Key Lime Pie in the Florida Keys, Best Places to Kayak in the Florida Keys and our guide to Dry Tortugas National Park. Enjoy!