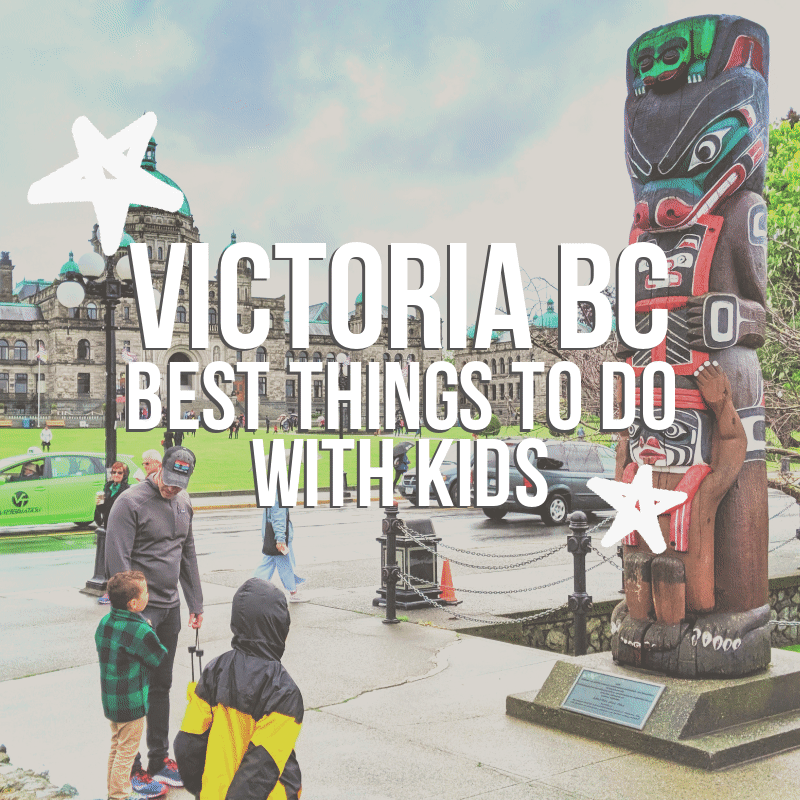 Victoria BC is our go-to destination for fun and easy weekend trips around the holidays and in spring when the weather is getting nice. Yes, we go to Victoria often, but it's because we love it so much! We've figured out our top favorite activities and tips for visiting Victoria with kids and get ready, because we've got 18+ things for you to do to have an unforgettable trip.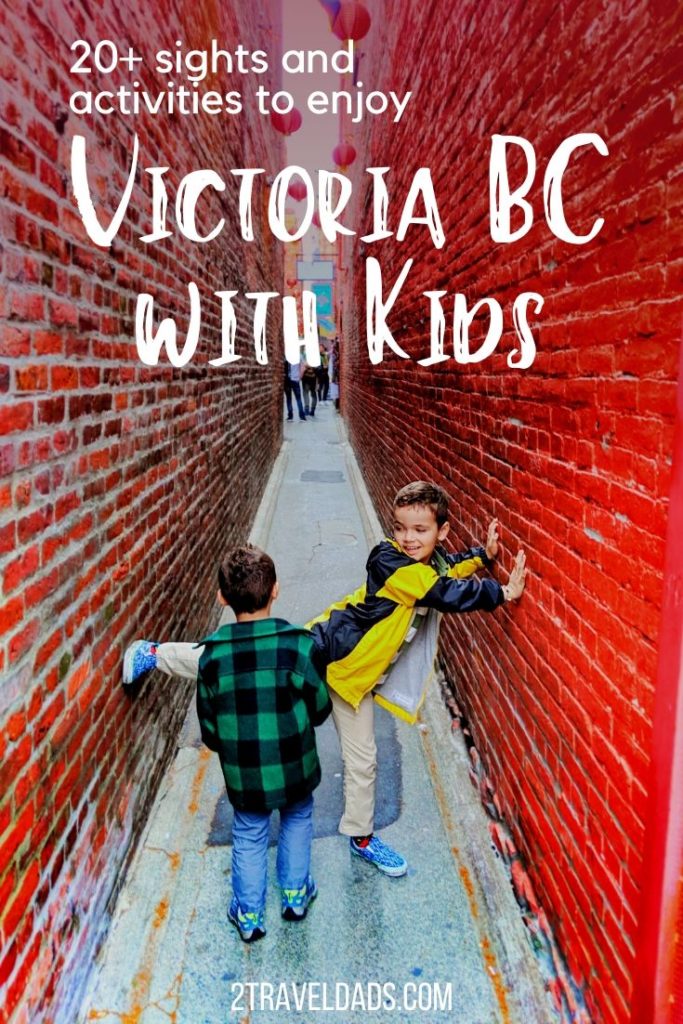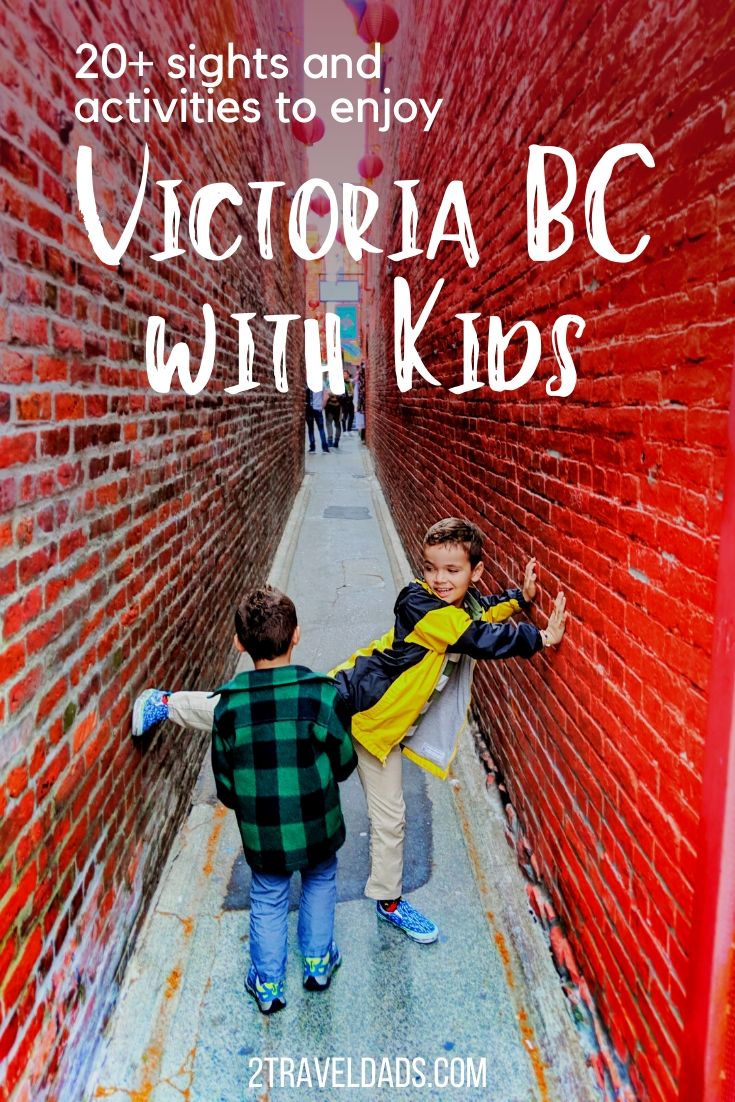 Locale of Victoria BC
Victoria BC is on the southern tip of Vancouver Island, just north of Washington's Olympic Peninsula and just west of Vancouver, BC. It's a fairly large city and is situated on a harbor, the Inner Harbour, and then stretches out to its suburbs of Saanich, Sidney, and Sooke. Getting there is fairly easy and doable on nearly any budget.
Transportation to Victoria
We have written about Victoria before and have a lot of details around transportation to the city here, in our article highlighting a great 3 Day Victoria itinerary. Here's a recap though and top tips for getting to Victoria with kids.
By ferry, you can depart for Vancouver Island from either Vancouver (Tsawwassen terminal) or Port Angeles. Both sailings are approximately 1.5 hours so which you choose depends on your starting point, travel schedule and budget. Check out the map to see which makes sense for you. You can also take the passenger-only Victoria Clipper from Seattle, which is a great option for those adding Victoria with kids to their family trip to Washington.
Note: you can also do the auto ferry from Anacortes, WA but it takes a bit longer since it goes through the San Juan Islands and makes several stops along the way.
You can also fly to Victoria from both Seattle and Vancouver via seaplane or regular aircraft. This is for sure not the budget option for a family to get to Vancouver Island, particularly if you want also have a car on the island, but it's an option. Flying in via Seaplane is really cool.
Remember, Victoria is in Canada so a passport is required. DO NOT FORGET PASSPORTS.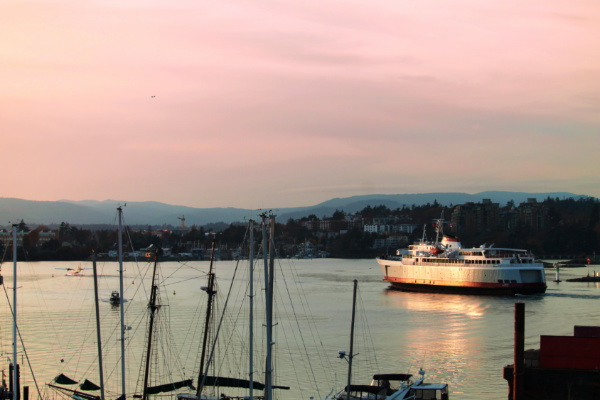 Top Activities in Victoria with Kids
Since we aren't digging into all of the hiking and kayaking destinations around Victoria, we're going to keep our top activities in Victoria with kids to things in Victoria proper, Saanich, Brentwood Bay and Sidney. Since this part of the island is rather condensed, getting between each spot is fairly easy by bus, super easy by car, and totally doable (with time) by bicycle if weather is permitting.
Note: please confirm hours of operation with each activity before adding to your plan. We've included posted hours, but they are subject to change without notice or in conjunction with events.
Victoria Bug Zoo
I'm starting here because if you need to keep one thing in mind to leverage when you do Victoria with kids, it's the Victoria Bug Zoo. I know, this is not what you'd expect at the top of a list for such a beautiful, amazing city, but it's a winner with kids (and adults). The Bug Zoo has a very impressive collection of tarantulas, stick bugs, exotic insects and butterfly specimens. This was an awesome stop for us and made Victoria with kids an easy addition to our world-schooling plans.  Tip:  take part in the "tour" and actually hold the bugs. So cool.
Location:  near the Fairmont Empress  Google Maps link here.
Hours:  11am – 4pm M-F, 11am – 5pm Sa/Su
Cost:  kids/seniors (5-17) $8   adults $12   4 and under are free;
Website:  Victoria Bug Zoo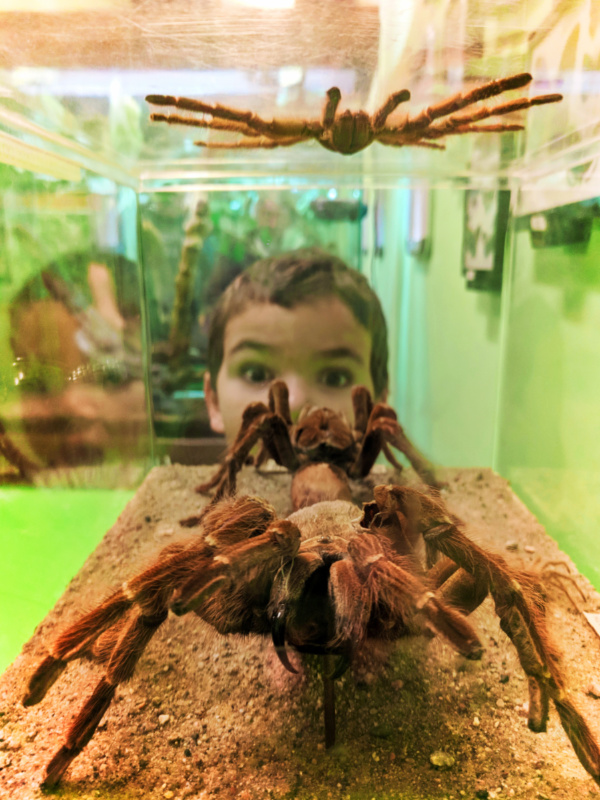 Royal BC Museum
We're very selective about which museums we take our boys to. We want to be sure they're interesting, educational, and that they'll genuinely feel a connection to something there. The Royal BC Museum checked all those boxes. We went for the totem poles and incredible First Nations exhibits, and left excited about Egyptology and prehistoric creatures. As adults we could've stayed for at least three hours, but with two kids we only explored the Royal BC Museum for just under two hours.
Tip: in the First Nations area, take time to explain to kids about western expansion and the obliteration of native tribes. It'll make the whole exhibit must more understandable.
Location:  near the Fairmont Empress  Google Maps link here.
Hours:  10am – 5pm daily
Cost:  kids (6-18) $16.95   adults $26.95   seniors (65+) $18.95   5 and under are free
Website:  Royal BC Museum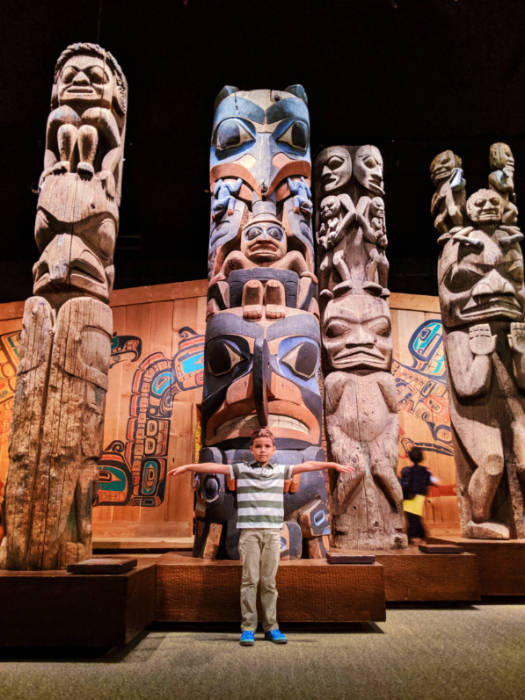 Victoria Butterfly Gardens
If you followed our Victoria Travel Journal you know that the Victoria Butterfly Gardens really impressed us. We've visited many butterfly pavilions in our travels but the Victoria Butterfly Gardens impressed us for a few reasons:
number of butterflies
diversity of other exhibits and inclusion of birds (flamingos and parrots particularly)
availability of staff to answer questions
coat check – seriously, this is exceptionally important when you're spending an hour in an 80 degree humid space.
When doing Victoria with kids, spending time at the Butterfly Gardens is a great addition to a day at Butchart Gardens or an afternoon lazing around Brentwood Bay. Allow 1.5 hours or more, depending on how much your kids enjoy insects and how much you need to escape to a tropical paradise. 🙂
Location:  near the Butchart Gardens, Brentwood Bay area  Google Maps link here.

Hours:  10am – 4pm Sep-Mar, 10am – 5pm Apr-Jun, 9:30am – 6pm Jul-Aug

Cost:  kids (5-12) $6   student (13-17) $12   adults $16.50   seniors (65+) $12   4 and under are free

Website:  Victoria Butterfly Gardens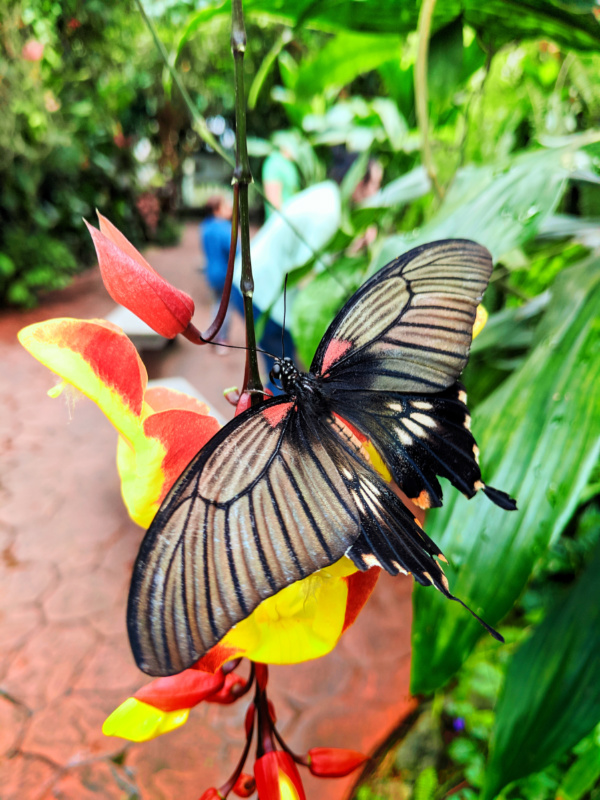 Craigdarroch Castle
Can you really explain the cool buildings and Victorian era lifestyle to kids without including a little history? Or a castle? You could, but why would you want to?  Craigdarroch Castle is a nice walk or short ride just outside of the downtown area. Victoria with kids is very doable on foot, including walking to the Castle, so plan to visit on a nicer day and enjoy the neighborhood along the way. Once there, do a guided tour (not too long) of the really impressive rooms and grounds. Watch for ghosts, ask questions of the docents, and take lots of cool pictures!  Note: if you live on Vancouver Island and have a Greater Victoria Public Library card, you can use the ePass system for free admission to Craigdarroch Castle.
Location:  east of downtown, Rockland neighborhood  Google Maps link here.
Hours:  10am – 4:30pm Sep-Jun, 9am-7pm Jun-Sep
Cost:  kids (6-12) $5   student (13-17) $9.25   adults $14.25   seniors (65+) $13.25   5 and under are free
Website:  Craigdarroch Castle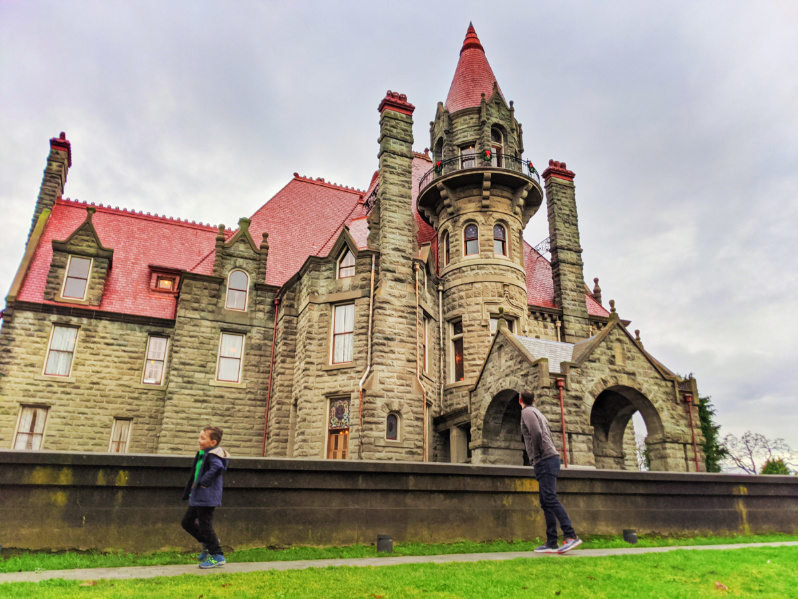 Miniature World
Our kids' favorite thing in any museum are always the dioramas; you know, the scenes that are setup like a snapshot in time of a town full of people or an event. Miniature World is nothing but dioramas and they are impressive! From castles and villages to space exploration, Miniature World is full of the most impressively intricate models. If only the kids could play with them unsupervised… Tip:  this is a great activity to add to a Victoria Bug Zoo visit, as it's very close and will keeps the momentum of fun going.
Location:  near the Fairmont Empress  Google Maps link here.
Hours:  9am – 5pm Sep-May, 9am – 9pm May-Sep
Cost:  kids (5-12) $8   student (13-17) $10   adults $16   4 and under are free
Website:  Miniature World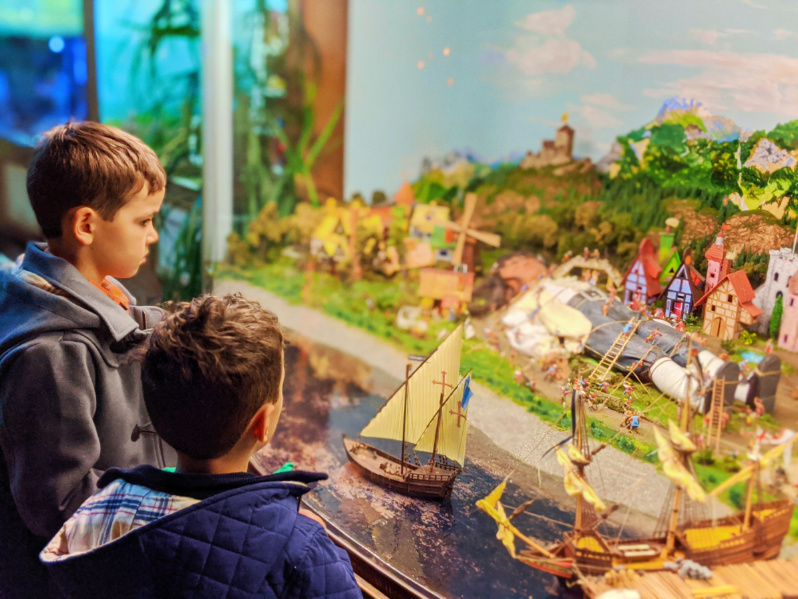 Explore Chinatown
When doing Victoria with kids, you HAVE TO VISIT CHINATOWN. It's such an easy walk from the downtown area that you don't even realize you're nearly there almost all the time. We actually spend a lot of time in Chinatown during each visit to Victoria due to the great restaurants (Chinese and not), the interesting stores (for more than standard Chinatown souvenirs) and the great photo ops. The red Chinese lanterns are always hung and the vibe is always buzzing. Must see: Fan Tan Alley is the narrowest street in North America. There are many businesses off the alley and if you're there early or late enough, it feel like you've stepped back in time to 1800s Chinatown.
Location:  just north of downtown  Google Maps link here.
Hours:  always open!
Cost:  free to explore
Available tour: we haven't done this one, but it came highly recommended by the locals – Chinatown Walking Tour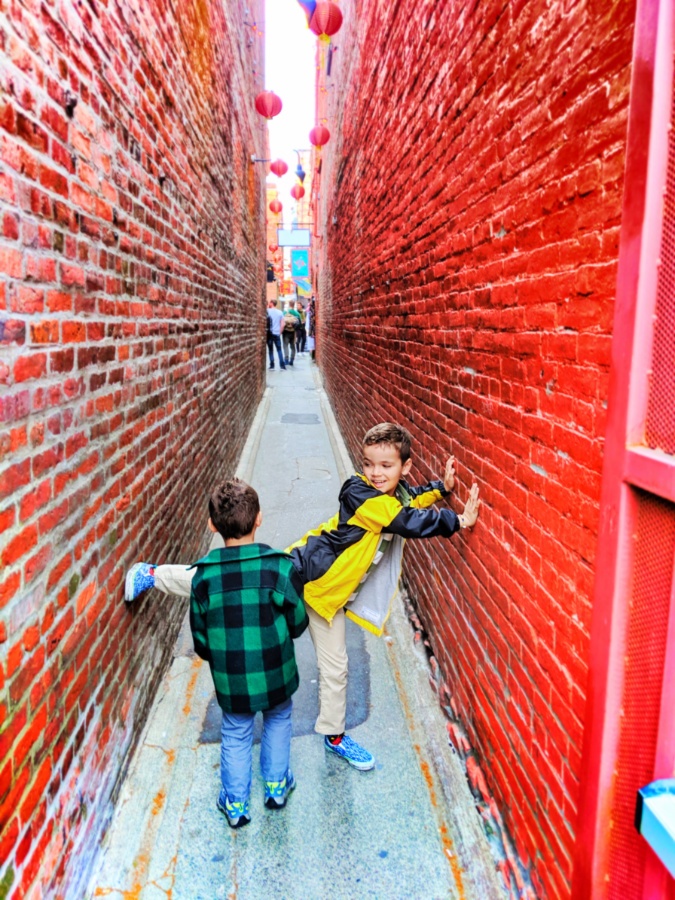 Victoria Harbour Ferry rides
While the main part of Victoria proper is situated directly around the Inner Harbour, going from Chinatown to the Wharf area will be quite the long walk. Getting a sea lion's eye view of the city from the water is a fun, unexpected activity to add to your trip to Victoria with kids. The Victoria Harbour Ferry  offers 45 minute tours of the Inner Harbour, tours us the Gorge Waterway, and private tours. It's a unique experience unlike any other boat tour in any city we've visited.  Note: the Victoria Harbour Ferry stops running in the Winter, returning in Spring
Location:  first stop is the Empress Dock, map link has all stops to catch boat  Google Maps link here.
Hours:  11am – 4pm M-F, 11am – 5pm Sa/Su
Tour Cost:  kids  $20   adults  $30   seniors  $28 – water taxi fares range from $6 – $24 depending on stops
Website:  Victoria Harbour Ferry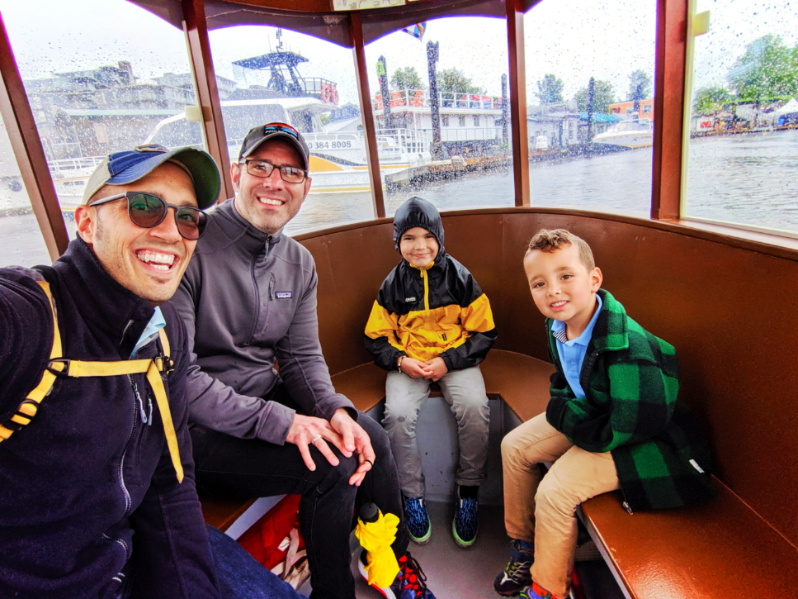 Go Wildlife and Whale Watching
Depending on the season and what you want to sea, you'll have several great options for wildlife and whale watching out of Victoria. You could do the crazy open speed boat out into the Strait of Juan de Fuca leaving from the Inner Harbour, or you could do a more tame, longer tour (kid friendly whale watching). We've done these and enjoyed them, but really fell in love with the Salish Sea when doing an ecotour out of Sidney, BC.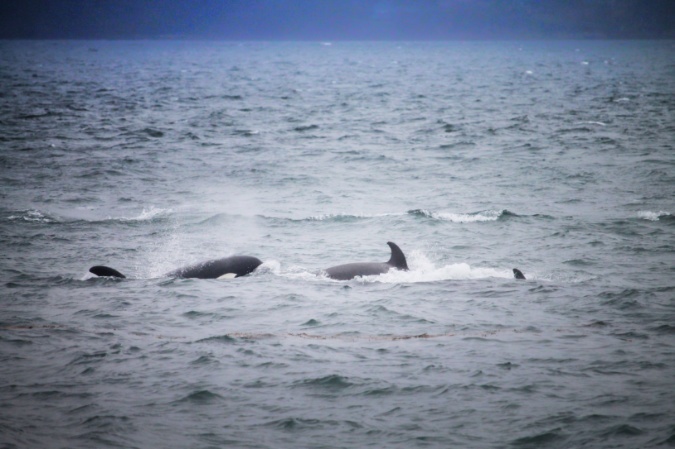 Recommended Ecotour – Ecocruising
Ecocruising is a small operator running out of Brentwood Bay and Sidney, both about a half hour from downtown Victoria. Meandering through small islands and rookeries, Ecocruising provides up close, respectful wildlife viewing ranging from orcas and porpoises to harbor seals and bald eagles. This was the highlight of our most recent trip to Victoria with kids. We love ecotourism and this company is passionate about sharing and protecting the environment of the Salish Sea.
Victoria Location:  Inner Harbour near tourist office  Google Maps link here.
Sidney Location:  Canoe Cove Marina  Google Maps link here.
Hours:  throughout the day, typically spring and summer – charters available
Cost:  prices range from $40 per person to over $100, depending on tour operator and length of trip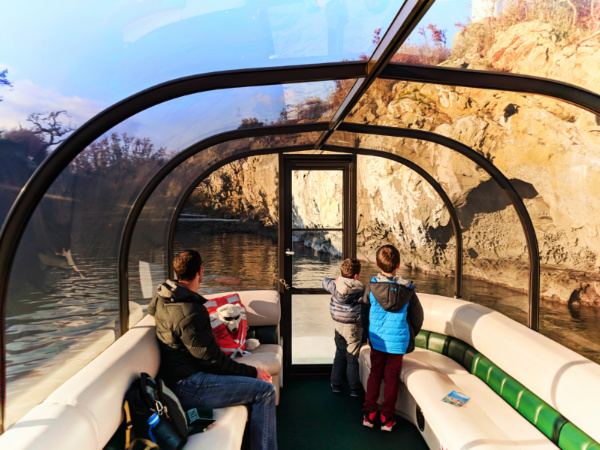 Recommended Whale Watching tour – ORCA SPIRIT ADVENTURES
Whale watching is one of the most special activities anywhere on the Salish Sea and Puget Sound. Grey and humpback whales frequently visit the waters around Victoria, but the resident and transient orca whales are what most guests are here to see. Focusing on eco-tourism, animal awareness and preservation, we cannot recommend Orca Spirit Adventures enough for a Victoria whale watching experience, especially with kids.  Book THIS EXACT TOUR here!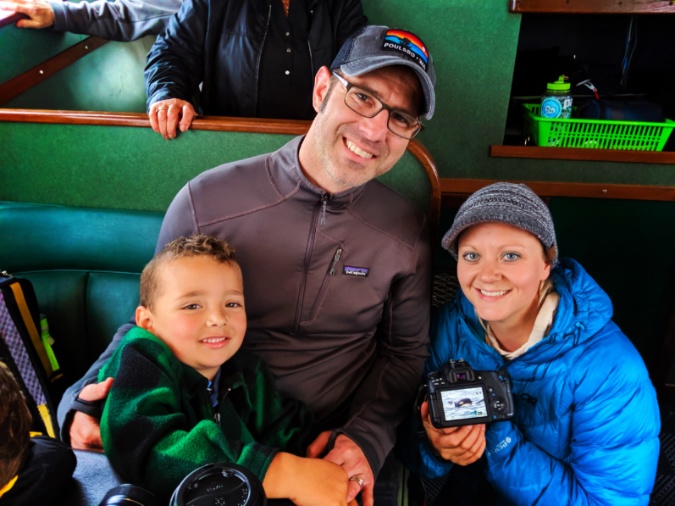 Thunderbird Park
Part of the Royal BC Museum, this collection of totem poles and a replica longhouse is worth visiting. You can pair a visit to Thunderbid Park with your trip to the museum or work it in wherever you have the time. The totem poles are best viewed/photographed early in the day when the sun is on them, but if you're doing Victoria with kids, you're probably not going to be up super early and out and about.
Location:  between Royal BC Museum and Beacon Hill Park  Google Maps link here.
Hours:  8am officially, but it's outdoors so always on display
Cost:  free
Website:  Thunderbird Park Victoria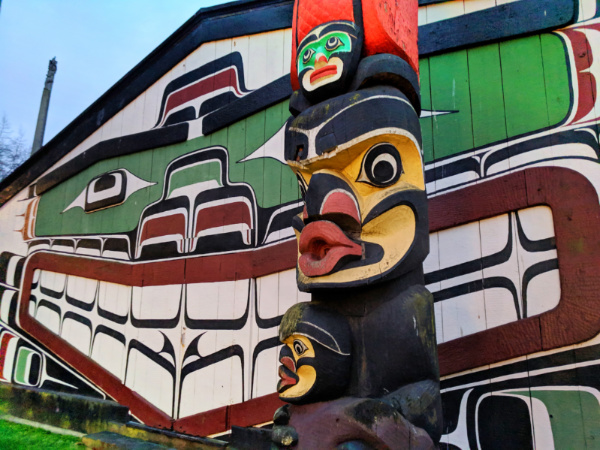 Butchart Gardens and Carousel
We have been to the Butchart Gardens four or five times and still love it. An ideal representation of Victorian gardens, it's much more kid-friendly than you might expect. True, you can't let the kids run free and pick flowers, but they'll enjoy the Butchart Gardens just the same. There are fountains, sculptures, a Japanese garden, totem poles, and in the winter there's even an ice rink. Tip: be sure to pick up a scavenger hunt sheet from the visitors desk to give the kids a little something extra to keep them interested.
And for those who love getting dizzy, the carousel at the Butchart Gardens is one of the most beautiful ones we've seen. The cost to ride is an extra $2 per person (parents ride free for safety).
Location:  north of Victoria in Brentwood Bay  Google Maps link here.
Hours:  9am daily, closing time varies greatly by season and events check hours here
Cost:  kids (5-12) $2   adults $21.50   youth (13-17) $10.75   4 and under are free – book tour from downtown here
Website:  the Butchart Gardens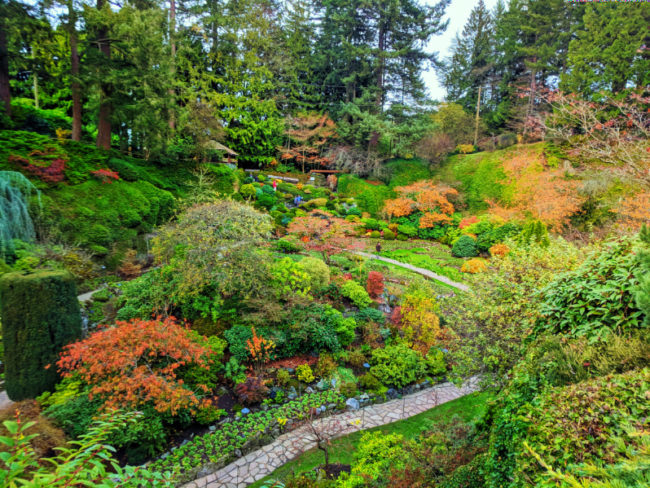 Christmas at the Butchart Gardens
We can't describe it well enough to do it justice, but the Butchart Gardens at Christmas are amazing. From the glowing forest to the Twelve Days of Christmas theme, it's remarkable. Add to the ornate gardens an ice rink and live musical performers and you'll have the most wonderful holiday experience in Victoria.  Check out our complete article about Christmas in Victoria for more ideas.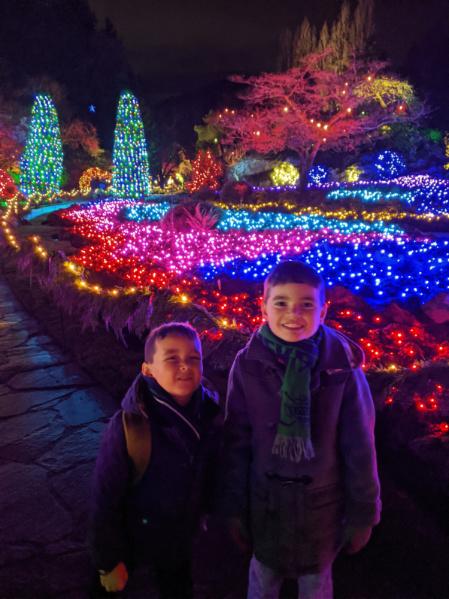 Shaw Centre for the Salish Sea
Since we recommend getting a taste of what's just beyond downtown Victoria, a day trip to Sidney is a great idea. The Shaw Centre for the Salish Sea is a small aquarium located just off the marina in quint little Sidney. The Centre has touch tanks and exhibits showcasing the native marine life (except for mammals) of the surrounding bodies of water. With lots of hands-on activities, it's a great morning activity in Sidney before walking around the waterfront and downtown.
Location:  Sidney marina area  Google Maps link here.
Hours:  11am – 4pm M-F, 11am – 5pm Sa/Su
Cost:  kids (4-12) $8   youth (13-18) $12   adults $17.50   seniors (65+) $14   3 and under are free
Website:  Shaw Centre for the Salish Sea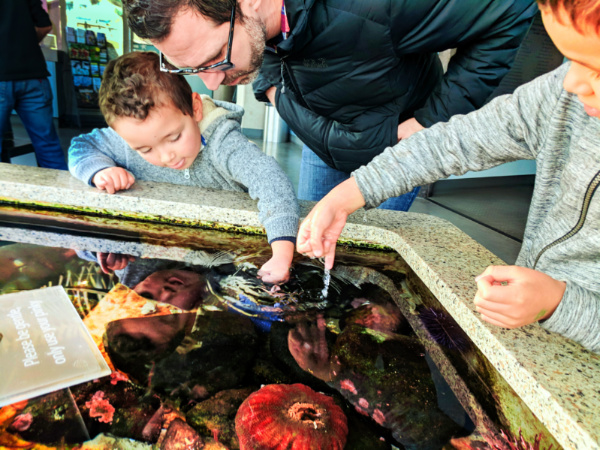 Totem pole Scavenger Hunt
One of the things we love about living in the Pacific Northwest are all of the totem poles and native art everywhere. Victoria with kids is one big ongoing scavenger hunt to find totem poles! They are all over the place, but there are many that you have to know where to look. We've created a map to guide you around Victoria and beyond to find a wide variety of totem poles. Tip:  If you're looking to book a great hotel that's full of art, the Inn at Laurel Point has a very impressive collection of First Nations art and artifacts, but it's for guests to enjoy while staying there only.
Location:  all around Victoria's downtown and beyond  Google Maps link here.
Hours:  all day and night, but be respectful of local businesses and posted hours
Cost:  free except for admission to the Royal BC Museum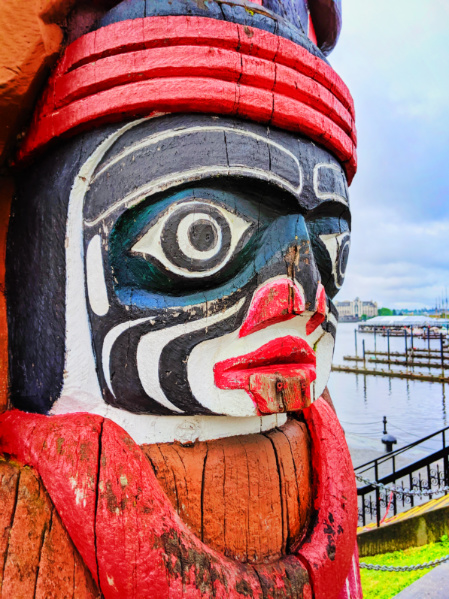 Tour Parliament
We're always fascinated by grand buildings and the parliament building in Victoria is no exception. You can actually add a tour of parliament to your Victoria with kids itinerary very easily, as they run tours daily. You can do short "express" tours of about 20 minutes or you can do the full architecture tour which lasts 90 minutes.  Photography may be limited and tour schedules may be changed depending on when parliament is in session, but it should've be too difficult to get onto a tour during one of your days in Victoria. Tip: if you have small kids, the express tour is recommended as the building is a functioning government space and longer tours may make for antsy children.
Location:  near the Fairmont Empress  Google Maps link here.
Hours:  tours begin at 9am, check website for times and cancellations
Cost:  free
Tour website:  Victoria Parliament tours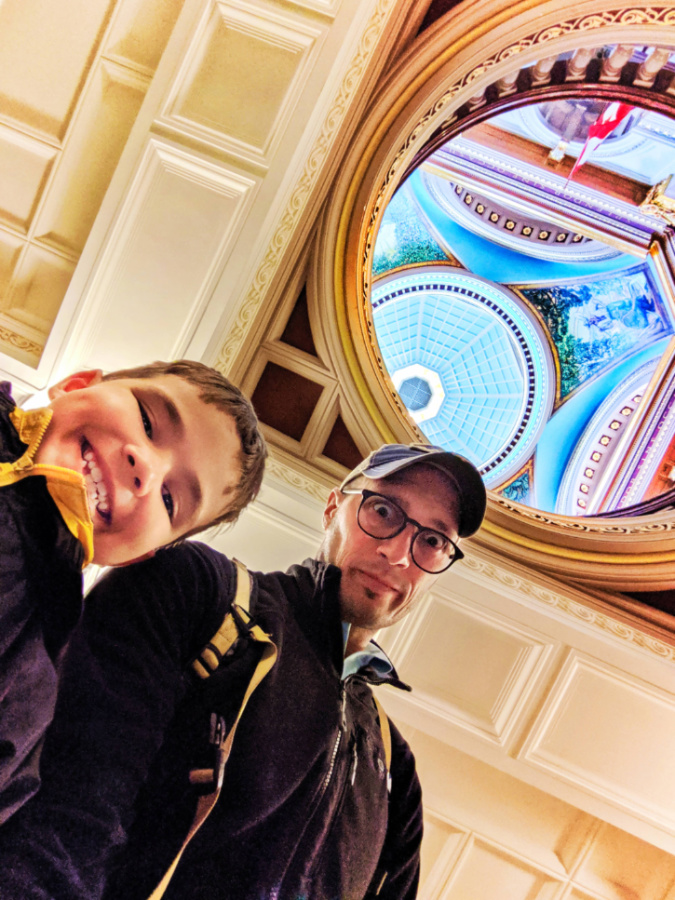 Relax in a Square
This sounds odd, but the city of Victoria is full of small and large courtyards surrounded by shops and cafes. You'll find the Public Market, Market Square, Bastion Square are all very easy to get to and each is full of good food and interesting shops and galleries. Perfect to add to a day in Victoria with kids. Our favorite is Market Square. On our most recent trip to Victoria we spent a morning at Beadworld in Market Square working with some veteran bead artisans, making souvenir bracelets. It was the perfect morning for a craft project and a great way to bring home a zero-waste souvenir. And then we got coffee and hot chocolate right after, so that was a win too.
Public square locations (with map links):  Market Square   Bastion Square   Public Market   Trounce Alley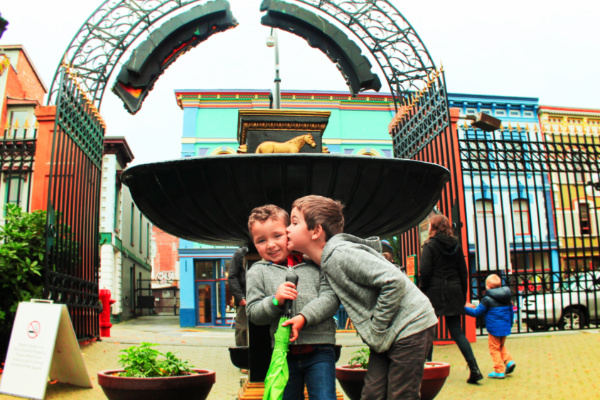 Beacon Hill Park
Beacon Hill Park in Victoria has long been our favorite city park in North America. Spending an afternoon at Beacon Hill Park is a must for doing Victoria with kids. Between the peacocks running around, the Children's Farm, the playgrounds, walking trails, views from the bluff, the tallest free-standing totem pole in the world, and ornate Victorian gardens, it's an incredible place. Confession: it's cooler than Seattle's Volunteer Park or SF's Golden Gate Park (IMHO). Tip: another great park is Irving Park. You'll find peacocks there too, as well as a labrynth.
Location:  south of downtown to the bluffs  Google Maps link here.
Hours:  dawn to dusk
Cost:  kids/seniors (5-17) $8   adults $12   4 and under are free
Website:  Beacon Hill Park – City of Victoria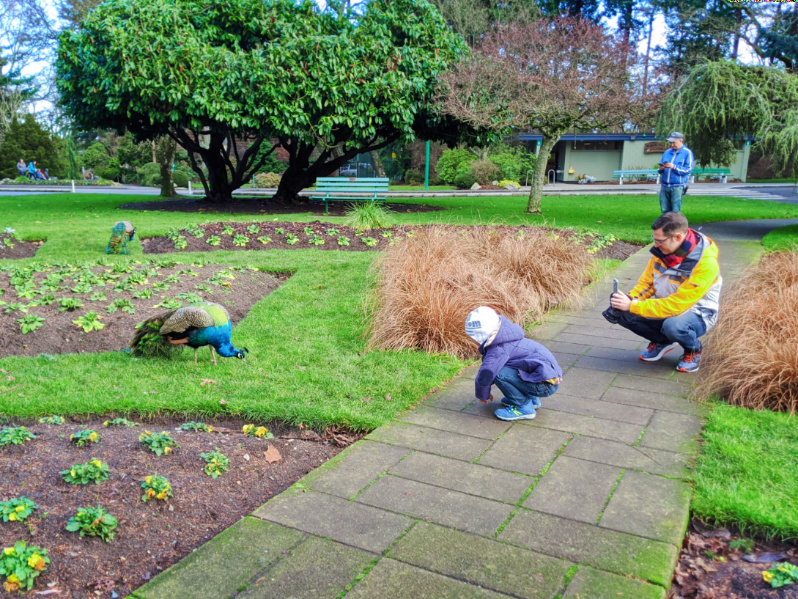 Biking the Galloping Goose
Biking the Galloping Goose Trail out of Victoria is so much fun and great exercise! This is a great summer activity for Victoria with kids, especially if you have older children. Starting downtown or anywhere really, you head north out of the main core of Victoria to connect to the Galloping Goose trail, which will take you up to the Butchart Gardens and Brentwood Bay. It's a great way to experience the southern end of Vancouver Island. Heading east into the farming valleys of Saanichton and then south along the Lochside Trail, you'll ride through neighborhoods, sunflower fields, marshes and more. It's incredible.
If you're enjoying yourself biking out of Victoria, you can also head west towards the town of Sooke. There are endless hiking trails around Sooke and it'll give you a very different Vancouver Island experience.
Location:  Biking Route via Google Maps link here.
Hours:  daylight, not all bike paths are well lit
Cost:  bike rentals vary, from free through your hotel to $40/day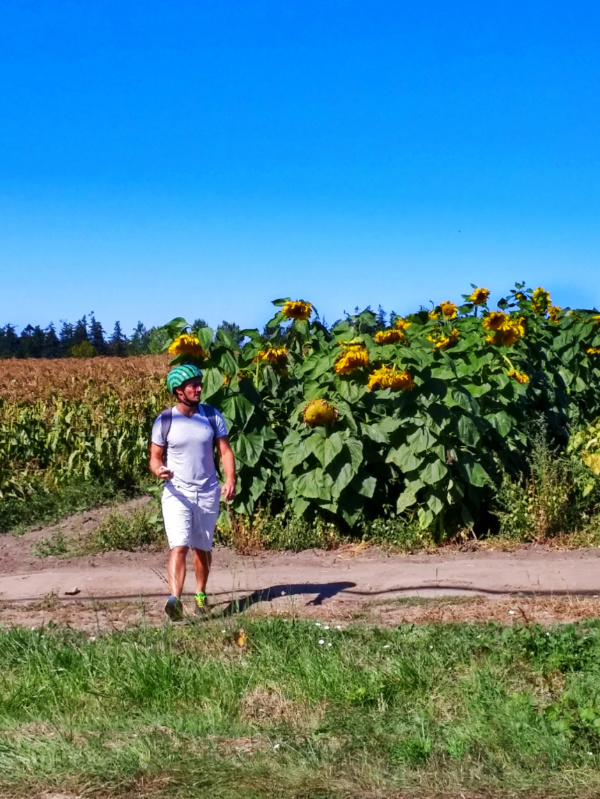 Eat a BeaverTail
A Canadian delicacy, beaver tails are the great northern equivalent of an elephant ear. Usually dusted with cinnamon and sugar or topped with maple and whipped cream, or Nutella or apples or everything. One BeaverTail will suffice to share, but you know, when in Rome… There is a BeaverTail stand directly downtown, across from the Bug Zoo and then during festivals, like the street hockey festival in February or summer concerts. Tip: napkins and wet wipes.
Location:  downtown and at festivals  Google Maps link here.
Hours:  12 pm – 9pm – for the BeaverTails stand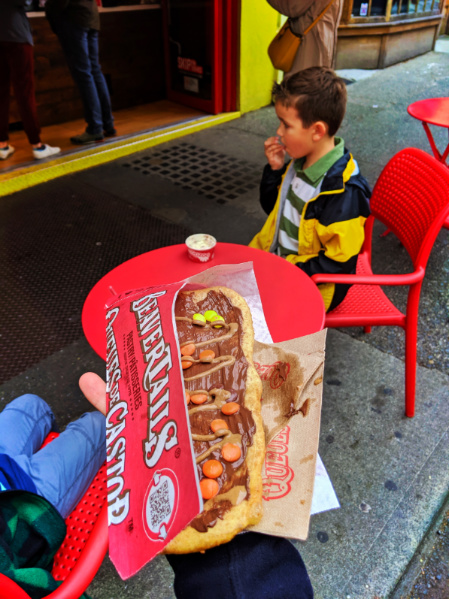 Have Afternoon Tea
I'll confess, we haven't done this with the kids yet, but we've done it as adults. It's fun and delicious. Afternoon tea in Victoria can be as costly or as budget-friendly as you want it to be.  There are several shops and restaurants that will do a tea service but our two recommendation are the Empress Hotel (high end) or Murchie's (budget). The Empress' tea service is very comprehensive with trays of finger sandwiches, scones and deserts, including tea. Tip: the Empress does a children's tea service also. It's very nice and quite the touristy thing to do.
Murchie's is much more relaxed and a better option for doing tea in Victoria with kids. Either doing a pre-set menu or going a la carte, you can do Murchie's without reservations and you can linger as long as you like. This is our favorite place for tea. Tip: leave with a box of Orange Pekoe tea; it's my favorite!
Location:  Fairmont Empress  Google Maps link here.  Murchie's Tea downtown  Google Maps link here.
Hours:  late morning to mid-afternoon daily
Cost:  tea service can be as little as $15 for doing a la carte in smaller shops or up to $78 + tax & tip / person at the Empress
NOTE:  if you're booking Tea at the Empress, know that there is a strict dress code and reservations require a credit card. Failure to show up will result in a 50% charge for the reserved tea services.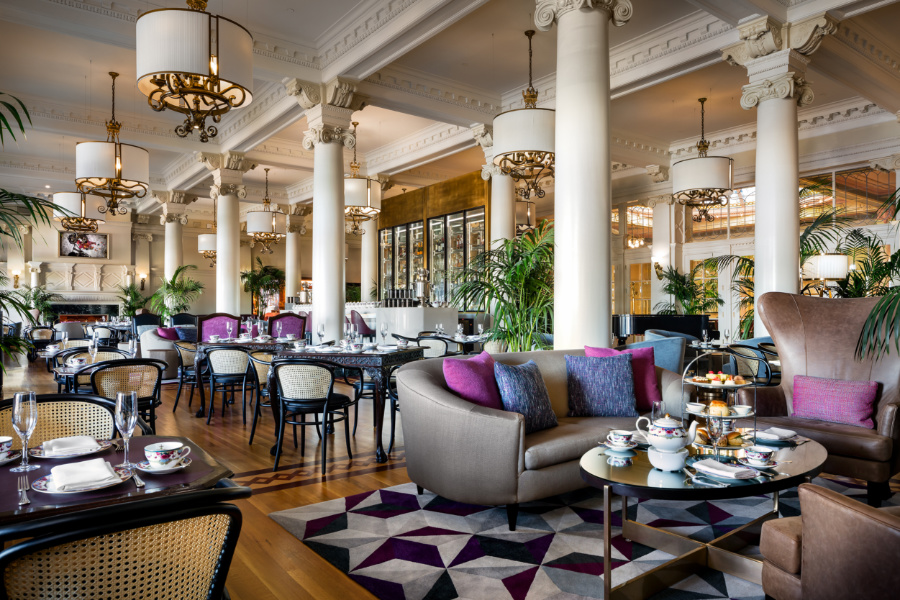 Find a great Canadian Souvenir
Souvenirs are a big part of travel for many families. When you do Victoria with kids, you'll see a thousand things that you'll want to buy. Here are our recommendations for bringing home a thoughtful souvenir from Victoria:
seek out something useful that won't be thrown out when you get home
support tribal and local artisans by shopping for art and First Nations goods
shirts and hats showing the destination are great for striking up conversation with others when you get home
be zero-waste and avoid cheap toys and items made of plastic wrapped in plastic.
Keeping these points in mind you'll for sure be able to find a thoughtful, memorable souvenir that you and your kids will enjoy long after your trip to Victoria is over.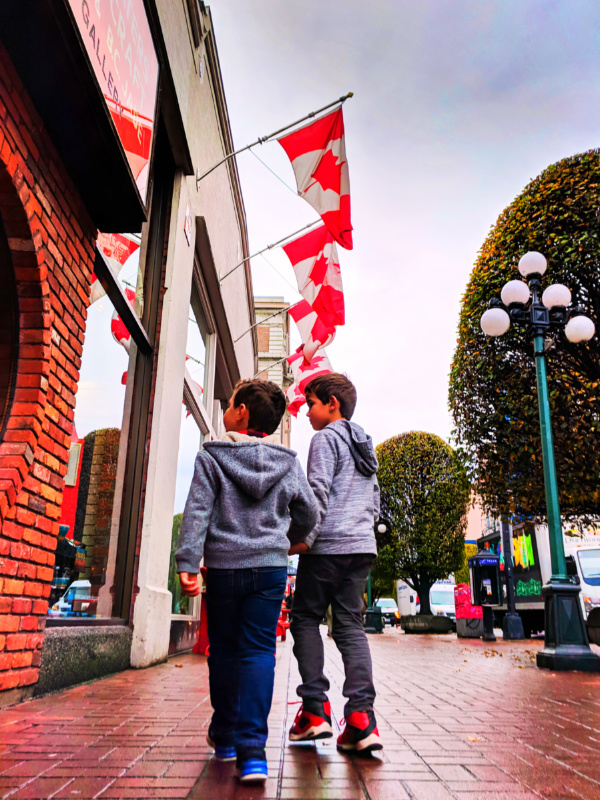 Wow! I know that was a lot of information, but aren't you excited to plan a trip to Victoria with kids?! We're so ready to go back and hopefully will do so in late spring, as that's our favorite time to visit.  Please let us know if you have any questions or need any help planning your trip!
Also check out our 3 Day Victoria Itinerary for couples and our Family Travel Journal for more ideas.  And if you're ready to book passage to Victoria from Seattle via the Victoria Clipper, check out Victoria Clipper tickets and packages here!
Want to pin this article for planning your own trip to Victoria with kids? Go for it!!!