When you've lived in Seattle for a long time, you stop trying to find new things to do or you forget the fun things you used to do.  When we were much younger, Chris and I lived very close to Volunteer Park in the Capitol Hill neighborhood.  The Hill is one of Seattle's oldest neighborhoods and is also the "gayborhood".  Volunteer Park is the gem of Capitol Hill and whether you're a Seattlite or just visiting it's worth spending a day hanging out there.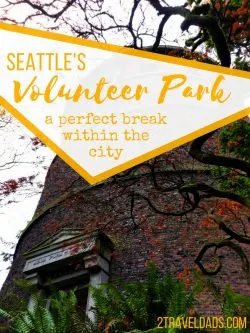 I'll be honest, visiting Volunteer Park is best in the summer on a beautiful, sunny day, but even in the winter, it's pretty awesome for never even having to leave the city.  If you're looking for culture, views, gardens or just walking trails, you're all set.  It's the Golden Gate or Central Park of Seattle.
Locale of Volunteer Park
Seattle is a city of neighborhoods.  It's a stellar place to live and even though we've moved out of the city, we still love it.  Volunteer Park is located on Capitol Hill so it's easily accessible from Downtown Seattle as well as from the University District, Rainier Valley or even the Eastside (across Lake Washington).
Capitol Hill is home to amazing restaurants, bars, coffee shops, bakeries… and a Greek restaurant that is awesome AND has its own kids play area (check out Vios Cafe).  You'll find that any trip to Seattle needs to include a few hours on Capitol Hill, so you might as well head to Volunteer Park to walk off you lunch or beverages.
Note:  there is loads of parking within Volunteer Park so don't fret… unless you're there for an event, in which case you better plan on taking the Metro bus to get there or even walking from downtown (20+ minute walk).
Capitol Hill is a very welcoming neighborhood and you'll see that the main drags of Broadway or 15th collect all sorts of people, from immigrant shop keepers to wine gurus to LGBT activists.  It's the place to learn about the world without ever leaving the city.  A fair portion of Seattle's homeless population also heads to Capitol Hill, so know that you're going to get a legit snapshot of the Puget Sound area's population and that the struggles that face our region will be clear when you're on the Hill.  It's a genuine place to be.
Walking the Park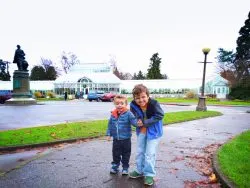 Volunteer Park is found within a neighborhood and is a huge park, but there are big beautiful homes all around it.  Within the park though, there are some great walking paths that wind around the random buildings, including a reservoir, and some field spaces.  The northeastern part of the park is also close to the Interlaken trails, which lead down to the Arboretum and Lake Washington Boulevard.  Basically, a stroll through Volunteer Park can last for hours and take you far beyond the bounds of the original park.  It's a lovely adventure and will show you the serene, kind of forgotten side of the City of Seattle.  
While Volunteer Park and its trails are awesome and really nice for taking a break within the city, know that they're also a bit secluded and there are all kinds of characters within any city.  What I'm saying is that you should always be wary when walking in the woods.  Enjoy the stroll and it'll be wonderful, no doubt, but the country-boy in me wants to remind everyone to be cautious when you're in the city.  
Tip:  visit Volunteer Park with a friend so that you can enjoy it together and also be some added safety for each other.
Summer Activities
Like I said, Volunteer Park is the heart of Capitol Hill.  In the summer you'll love visiting for the lawns to lay on, the playground that's awesome for kids, the trails for walking and the countless festivals that find their way to the stage and open areas of the Park.  Seattle's Pride celebration uses Volunteer Park for a lot of activities, including a family friendly annual picnic.
The Park often has Shakespeare in the Park, concerts, intramural sports and so much more happening.  It's exactly what a city park should be like.
Tip:  for an up-to-date calendar of Volunteer Park activities, check out their website here!
Volunteer Park Conservatory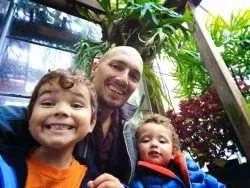 This is our favorite aspect of a day at Volunteer Park:  the conservatory.  We go into conservatories whenever we can, and among our favorites are the Golden Gate Park and Balboa Park conservatories, which are both much larger than ours, but something about this one is just perfect.  For not being as big as its counterparts in San Francisco or San Diego, our conservatory has a remarkable collection of plants.  
It's split into appropriate houses from the arid desert climate to the drippy, temperate PNW ponds.  The orchids and bromeliads are always in bloom and the cactus collection is truly stunning.
We just visited this holiday season and got to experience the Volunteer Park Conservatory fully decked out for Christmas.  There was an impressive electric train set and even a nice spot for when Santa stops in… because the Conservatory has its own schedule and has its own events (loads during the holidays).
Tip:  if you've not taken kids to a conservatory or garden center before, it's worth setting some behavior expectations as well as sharing what they'll be seeing, as you don't want to release kids into a room full of cactus and then deal with the consequences two minutes later.
Seattle Asian Art Museum
Affiliated with the Seattle Art Museum and the Olympic Sculpture Park, the collection at the SAAM, Seattle Asian Art Museum, is really impressive.  Seattle's Asian population is enormous and so active and vibrant, so it's only fitting that we have an awesome museum to pay tribute to the many cultures you'll encounter on a trip around the Puget Sound area.
I was recently in China and while touring the Cultural History Museum in Xi'an I kept thinking about how much more impressive the collection of art and artifacts we have in Seattle is than this museum in central China.  You could easily spend hours in the SAAM, so maybe that's a day trip in itself.
Tip:  you can become a member of the Seattle Art Museum if you think you'll want to visit the various museums multiple times throughout the year or a longer visit.  To visit all museums within a shorter Seattle visit you'll need to inquire within the SAM or SAAM regarding admissions being transferable vs separate tickets.
The Water Tower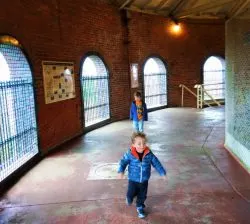 This is the best free view and best non-gym exercise you'll find in Seattle.  The water tower of Volunteer Park is a fantastic old building that you just can't miss.  When you enter the Park from the south entrance you literally must circumnavigate the water tower to get to anything else.  
Park wherever you can (legally) and then pick one of the two entrances to start your climb. You'll wind your way up the tower to a 360 degree view of the Seattle area.  You get views of the Space Needle, the city of Bellevue, Downtown Seattle and North Seattle.  It's pretty cool and it's totally free.  
Also in the top of the water tower are some great informational placards about Volunteer Park and its creation.  Designed by the same guys who created Seattle's Greenlake Park, the University of Washington campus and countless other park systems and universities around the United States, the Olmsted Brothers' work is showcased in the tower hall.  It's pretty cool to see the history of the area and get clued into why Seattle has all of the wonderful greenspace that makes it so awesome.
Note:  unfortunately people don't always show respect for public places and Volunteer Park is no exception.  Don't be surprised if you find the that water tower needs some attention, and if it's messy or in need of help, tell one of the Seattle Parks groundskeepers (you'll see them, trust me) so they can help make the experience better for the next guest.
And here's our awesome Snapchat story from a cold winter's day at Volunteer Park with the kids. It was a blast, particularly since we got to enjoy Christmas goodness in the conservatory.  Add us on Snapchat here!
Volunteer Park is kind of the heart of Seattle, or at least the heart and charm of Capitol Hill.  Take an afternoon to enjoy the Park and to be a for realz Seattlite for the day.  It's worth the time and will grant you amazing views and a great break from the buzz of the city.