I feel so fortunate that I've gotten to spend so much time on Vancouver Island. Its communities, nature, and combination of cultures make it a wonderful destination to explore. It's very easy to get to the island from Seattle or Vancouver, and whether you want an outdoors experience or to just relax and take in the people, a Vancouver Island road trip won't disappoint.
Because Vancouver Island is a popular destination with many Pacific Northwest residents and beyond, consider this a very strong suggestion to be sure you have your hotel reservations in advance and that your travel plan is not too ambitious. You'll want to stick with your initial plan as best as possible.
If you have more suggestions or questions, please feel free to leave a comment or send us a note. We're always happy to share more and help other plan unforgettable travel experiences, for a Vancouver Island road trip or beyond!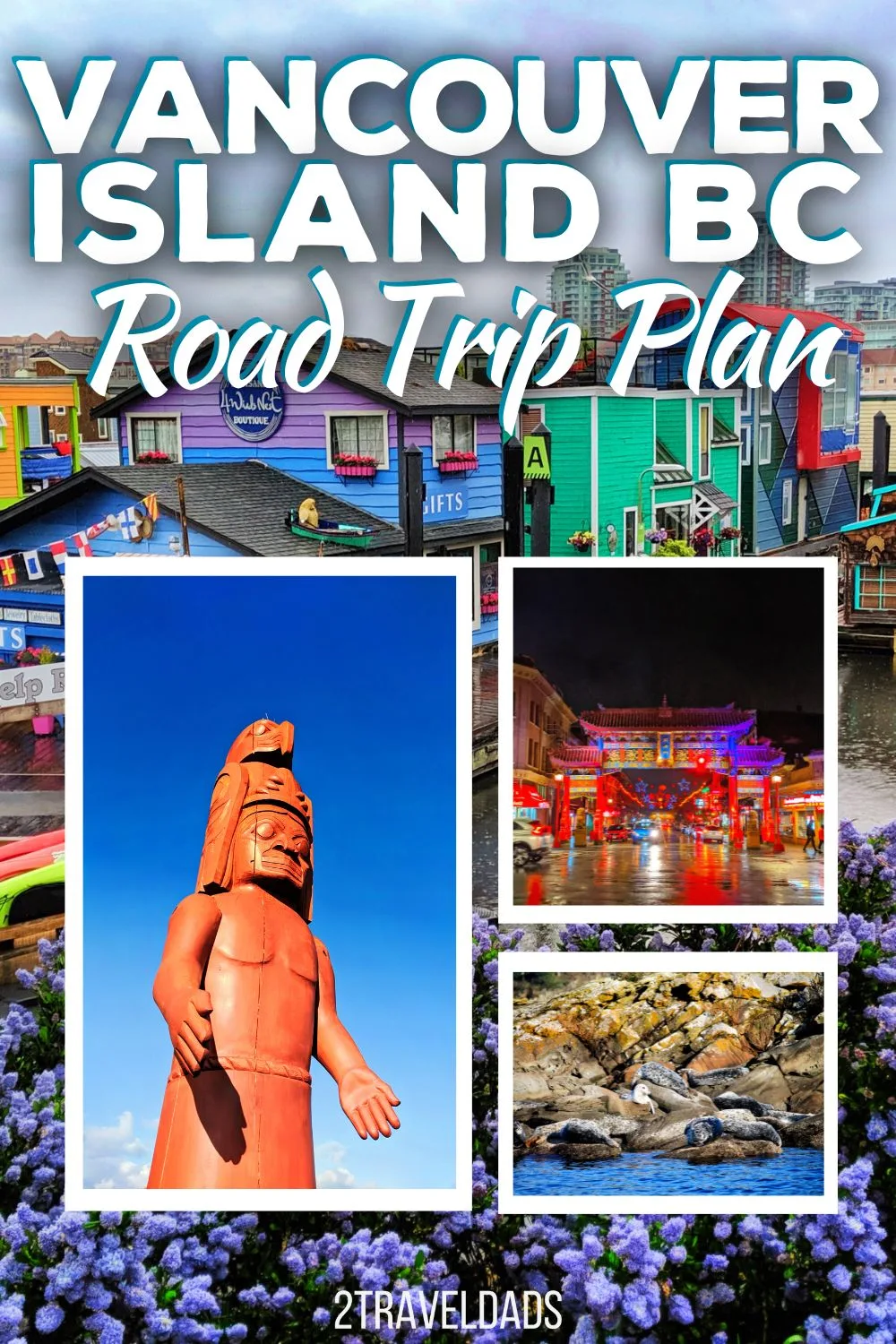 Starting a Vancouver Island Road Trip 
Fly into Vancouver (YVR) or Seattle (SEA) and then catch the boat to Vancouver Island. From the USA you can drive onto the MV Coho Blackball Ferry in Port Angeles, or the Washington State Ferry from Anacortes. Both of these will deliver you to the Greater Victoria area of Vancouver Island. From Vancouver, you can take BC Ferries from either Tsawwassen or Horseshoe Bay to either Nanaimo or the Greater Victoria area. Ultimately, they all get you to a good starting point. 
Tip: for a unique start if you're coming from the Seattle area, take the Victoria Clipper and then rent a car once you're read to start the Vancouver Island road trip. Victoria is great for walking and easy with kids, so you don't need a car for your first day or two.
Check out our Guide to Getting to Vancouver Island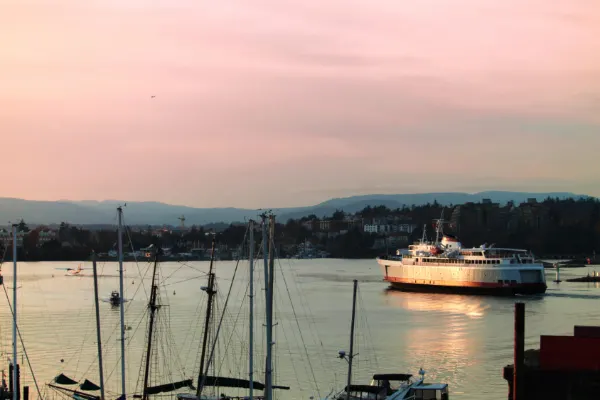 Sleep in: Victoria – we have been to Victoria BC so many times, we actually have a whole article about where to stay and our favorite picks for hotels over the years. Find a Victoria BC hotel here!
Day 1:  Exploring Victoria BC
Wake up and get ready for a city made for breakfast. Breakfast is the most popular meal in Victoria, so pick a spot early or plan to wait outside. The Victorian neighborhood surrounding Chinatown (Canada's oldest) is a hub of good food and unique shopping. As you stroll through the city, watch for more than 20 totem poles throughout. Visit the Royal BC Museum for an incredible permanent exhibit of First Nations art and artifacts then cross the street for a tour of the iconic Parliament building. If weather permits, have dinner outside looking out across the Inner Harbour.  
Sleep in:  Victoria BC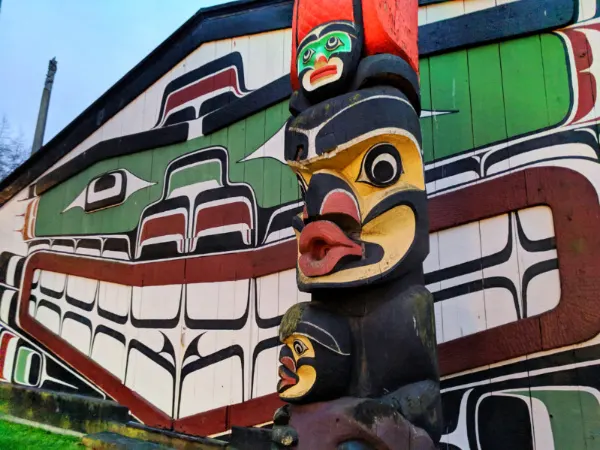 Day 2:  Saanich, Sidney and the Butchart Gardens
Today we're visiting farm country and enjoying some beautiful gardens. That's right, head east to the Sidney area of Vancouver Island for a relaxing day, touring at your leisure.  On the way to Sidney, watch for fields of sunflowers and farm stands. Once in town, stroll along the waterfront grabbing a bite in the marina before you head out on the water for either a whale watching or eco-cruise experience. When you're back on land, head to Brentwood Bay to visit the famous Butchart Gardens.
Tip: our favorite time of year to visit the Butchart Gardens is actually during their holiday time. They do the best Christmas lights and they have ice skating! If you happen to be doing the Vancouver Island road trip during the holidays, don't miss this!
Sleep in:  Victoria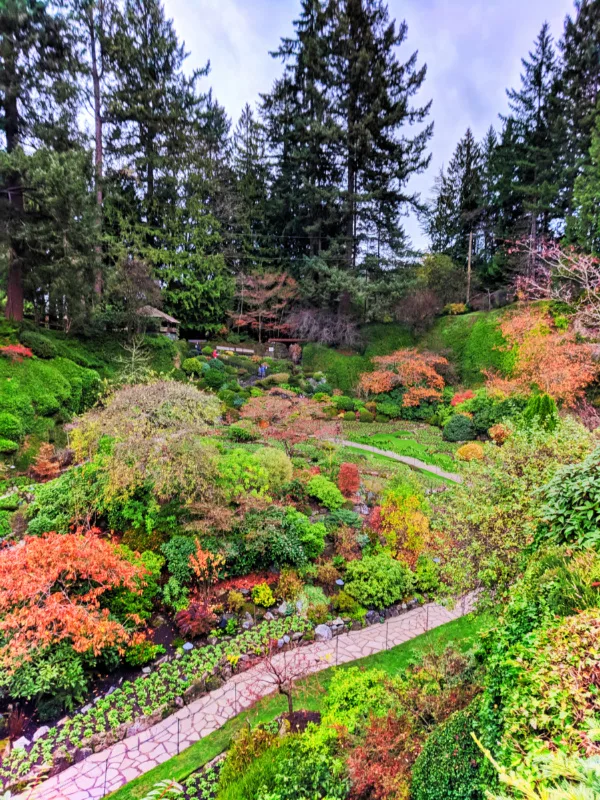 Day 3:  Cowichan Valley and Nanaimo
Making way up the eastern coast of Vancouver Island, keep your eyes peeled for the many wineries and vineyards. Have a day to focus on culture, heading inland to the Cowichan Valley, starting at the Kinsol Trestle for a short hike and then visiting Duncan and Maple Bay where you'll find galleries, indigenous art, and kayaking, and ending at Lake Cowichan for a late lunch. On your way to Nanaimo, you'll find more quiet towns and Cowichan River Provincial Park. Plenty of wineries between there and Nanaimo will give you the chance to take your time and travel slow up the island.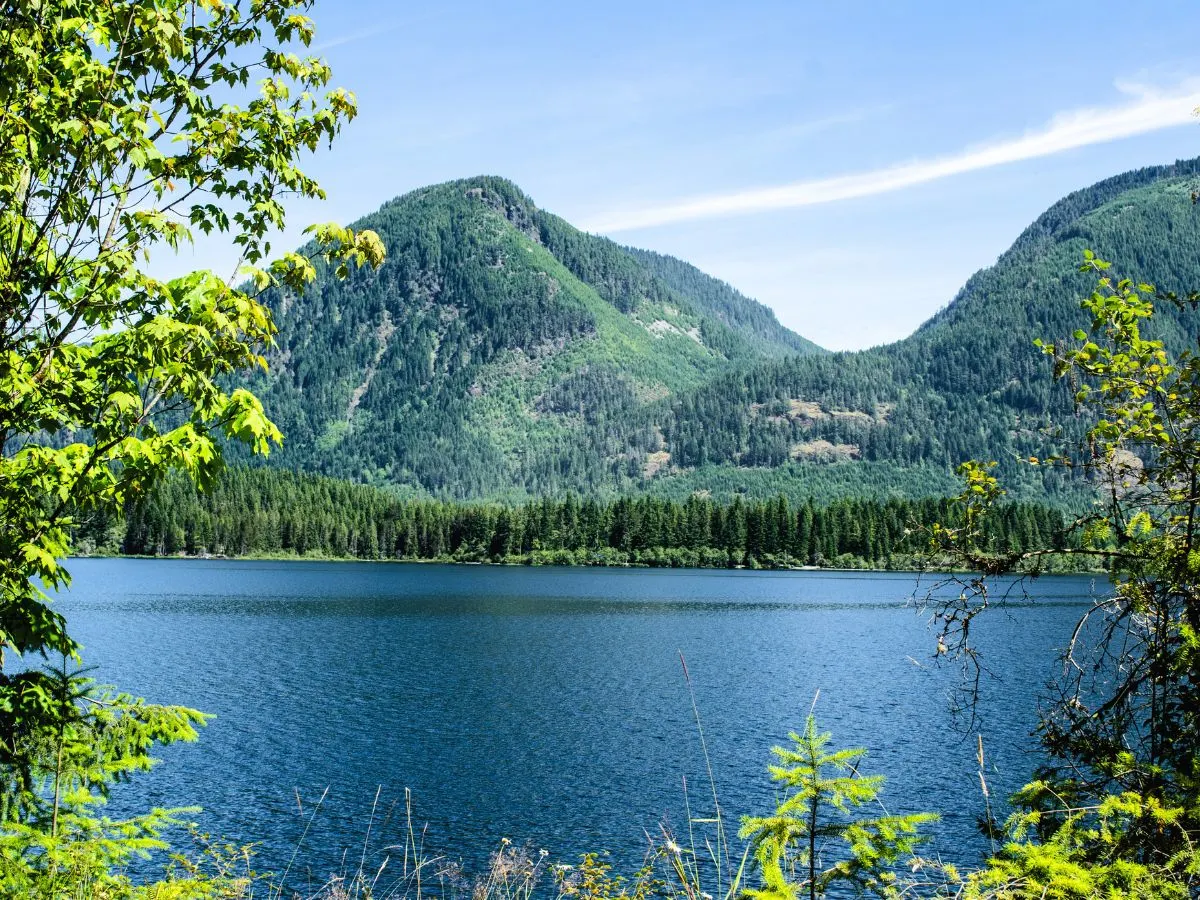 Sleep in: Nanaimo – this is a fairly large city and you'll find both major travel brand hotels as well as some unique, locally owned inns. Also, there are some cool vacation rentals just outside of town if you're looking to extend your time on this part of Vancouver Island.
Day 4:  Hiking BC Parks and Campbell River
After some breakfast in Nanaimo, begin the drive north stopping first at Rosewall Creek Provincial Park and Nymph Falls Nature Park before you arrive in Campbell River. Have some lunch on the river or harbor before you head to Elk Falls Provincial Park for some light hiking. The Elk Falls Viewing Platform is just a few minutes walk and includes a pretty long suspension bridge.
The Campbell River Canyon View Trail is an awesome loop that includes lots of opportunities for wildlife viewing and even some totem poles. When you're done, if you want one more park, it's about a half hour drive to Strathcona Provincial Park where you'll have some more beautiful waterfalls and wildlife.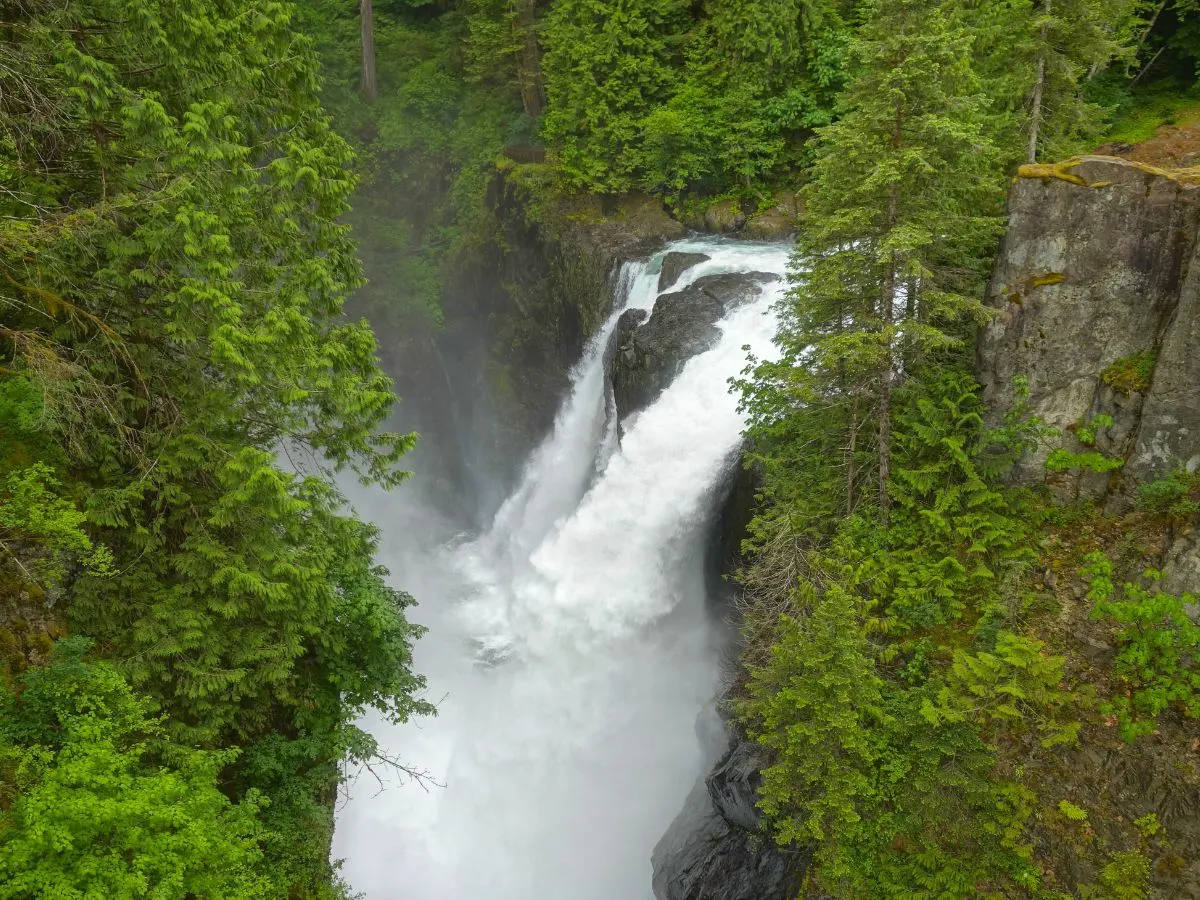 Sleep in: Campbell River – this area is famous for fishing. If you're looking for trout and salmon fishing, DO IT HERE. Be sure that you've secured the correct sort of fishing license and if you can, go with an actual guide.
Day 5: 
Get up early to do the short ferry ride across the inlet to Quadra Island. Here you can visit the Cape Mudge Lighthouse and spend some time up at the Nuyumbalees Cultural Center learning about the indiginous peoples of the island. Take the ferry back across to Campbell River and then grab a picnic lunch for the road.
Set your sights for Tofino on the west coast of the island, stopping at Roswell Creek (waterfalls) or MacMillan (old growth forest) Provincial Parks along the way. Watch the sunset on the Pacific Ocean and have a beautiful meal in either Ucluelet or Tofino.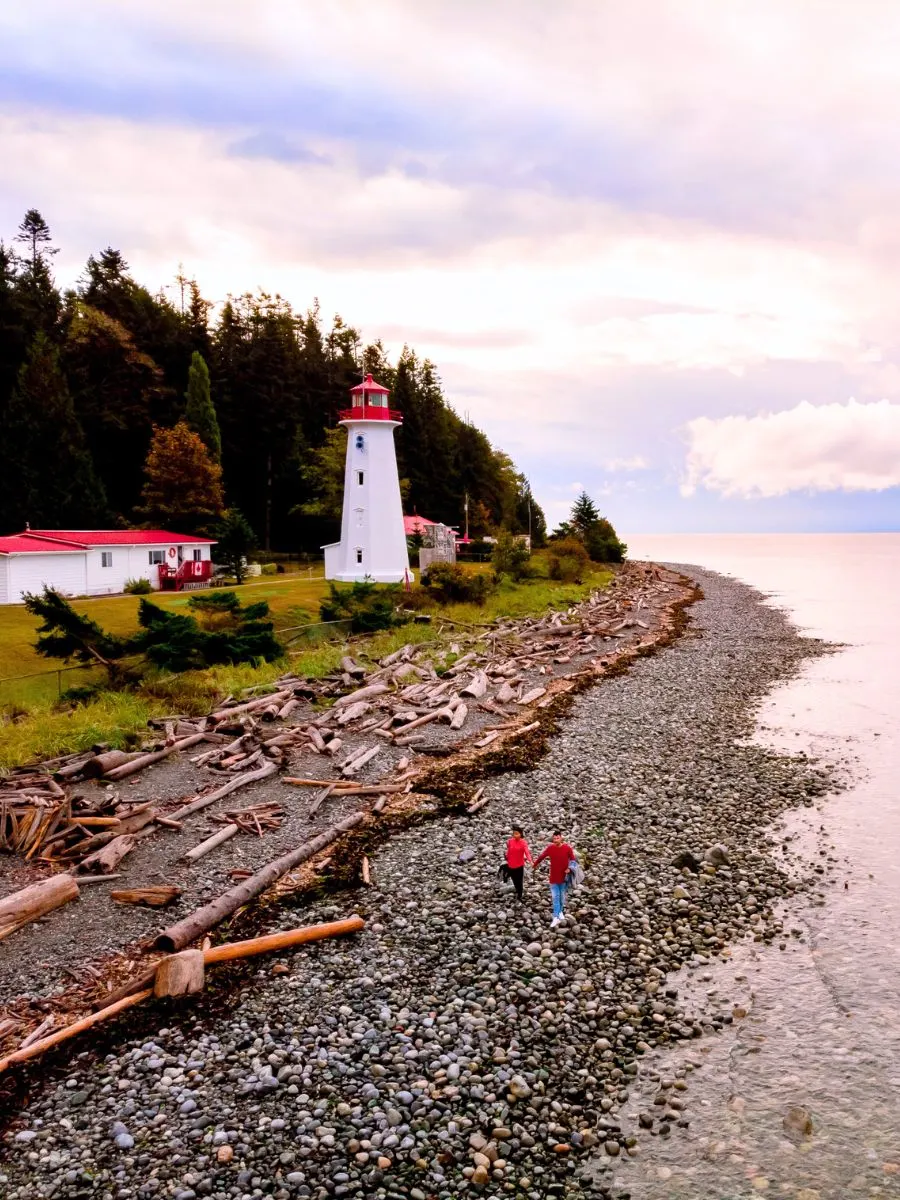 Sleep in:  Ucluelet or Tofino – this is where your budget needs to be a bit larger than you've needed for other nights during your Vancouver Island road trip. There aren't a ton of accommodations options in either Ucluelet or Tofino, so the nicer resorts may be your best options.
Day 6:  Pacific Rim National Park and Tofino
This part of Vancouver Island, Ucluelet / Tofino, is rarely visited but it is gorgeous with beautiful lodges and beaches. Known for whales frequenting the surrounding waters, keep an eye out for all types of marine life. Totem poles are a common sight both in Tofino and Ucluelet, and watch for indigenous art in galleries as well.
In Ucluelet, visit Pacific Rim National Park via the beaches or the Rainforest Trail. Also, the Wild Pacific Trail is a great way to take in the nature of the area including the Amphitrite Point Lighthouse. Even this far out, you'll find breweries and distilleries, so support the locals and enjoy the evening on the coast. 
Sleep in: Ucluelet or Tofino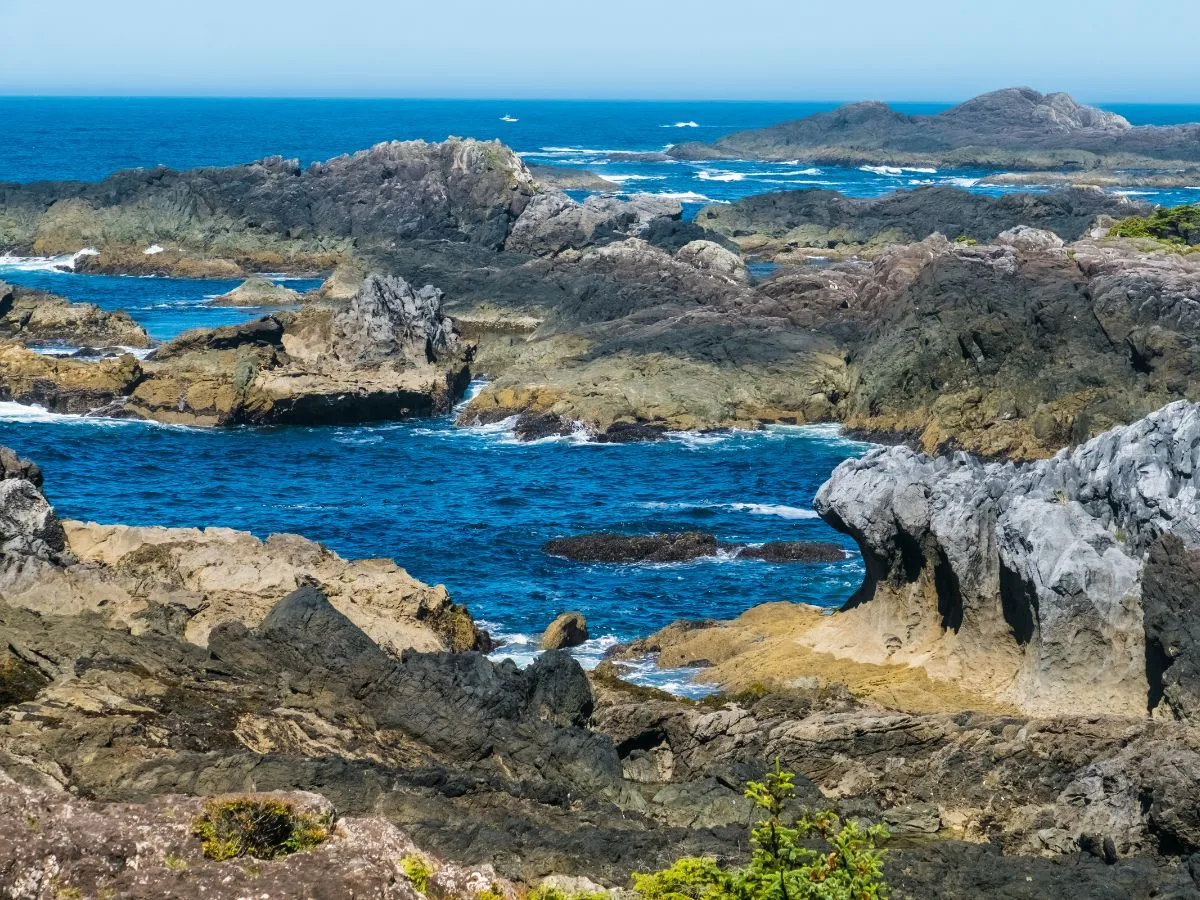 Day 7 (optional):  Port Renfrew and the Famous Botanical Beach
Enjoy the long but beautiful drive to Port Renfrew. The dense rainforest has minimal services after you get through Port Alberni, so be sure you have a full tank of gas and some good snacks. You can also go via Nanaimo and the Cowichan Valley to save a bit of time and make some more wine country stops. Once at Port Renfrew, enjoy the town, hike through the Avatar Grove of old growth trees, and visit Botanical Beach Provincial Park. Known for its one-of-a-kind tidepools, Botanical Beach is a treat! 
Tip: if you don't think you need to end your Vancouver Island road trip on schedule, spend an extra day or two here on this part of the island. It's not terribly far from Victoria BC and it's really beautiful. A great way to extend your time exploring this amazing island!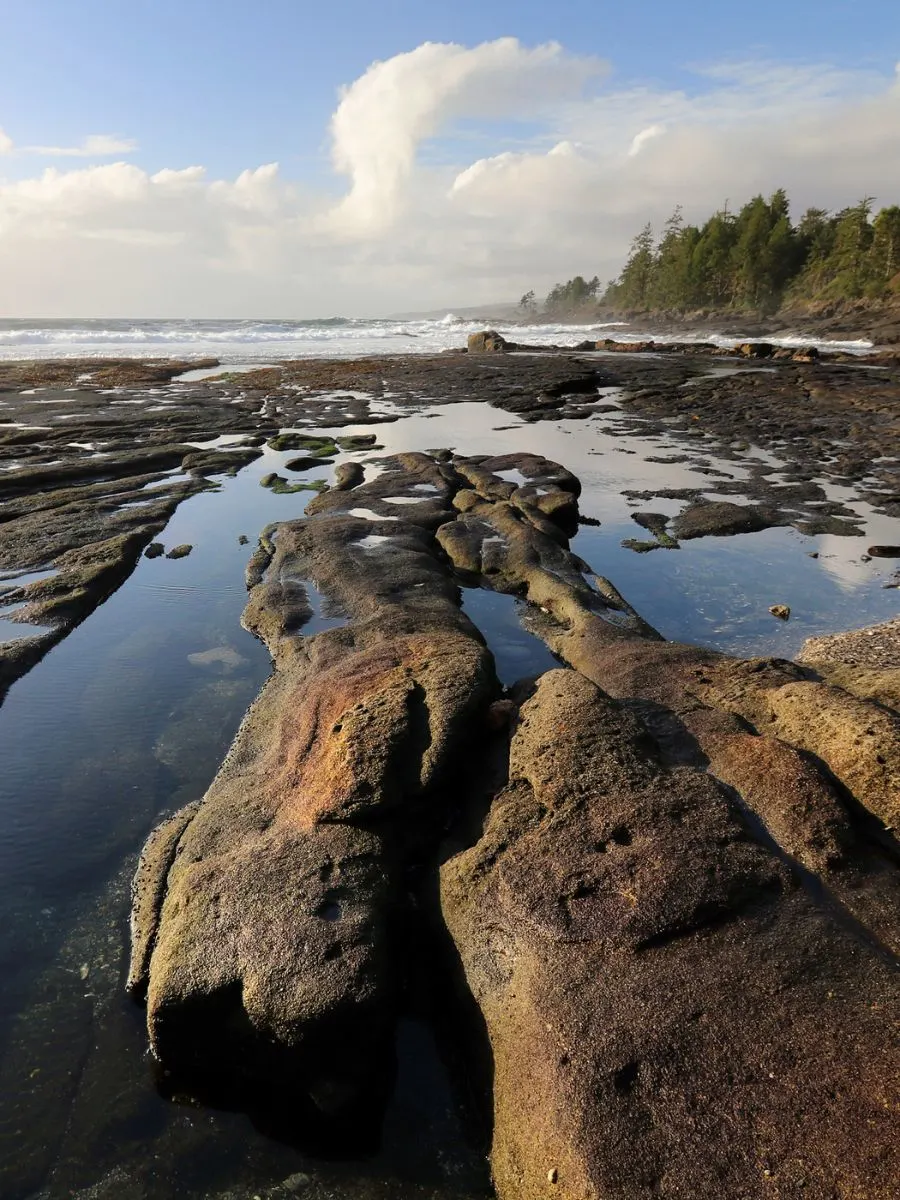 Sleep in:  Port Renfrew – this is a small town, but with some really cute inns. Even in winter months it stays pretty active with visitors from both Victoria and Vancouver visiting for the day or weekends.
Ending the Vancouver Island Road Trip
Drive back to Victoria or Nanaimo, depending on which boat off Vancouver Island you're taking. You can also fly out of Victoria (YYJ) if you prefer, but direct flights to most cities are very few and very expensive. If you want to keep on road tripping, enjoy the Olympic Peninsula of Washington or head over to Vancouver and explore up the Sunshine Coast or to Whistler.
British Columbia is beautiful from every angle, so take your time and enjoy exploring! Make this Vancouver Island road trip a part of a bigger road trip across Canada by add the Canadian Rockies road trip plan to this. You'll really see the best of Western Canada!
Tip: if you want to do this road trip around the island and then have a mellow, luxury portion of your adventure, plan to ride the Rocky Mountaineer train on the First Passage to the West route to Banff. Luxury stays at the Fairmont Hotel Vancouver, Chateau Lake Louise and Fairmont Palliser will end your trip in style!
If you have more suggestions or questions, please feel free to leave a comment or send us a note. We're always happy to share more and help other plan unforgettable travel experiences, for a Vancouver Island road trip or beyond!