We love getting to stay in luxury hotels, but we also like when a hotel is just nice, clean and spacious. The Coast Coal Harbour Hotel in Vancouver is a great option for families or mid-budget travelers looking to spend a weekend in Vancouver. It's in a great location, has some solid amenities, and it's actually quite a bit nicer than its price point suggests.
We always aim to provide travel options that fit family travel budgets and flexibility, and I think the Coast Coal Harbour Hotel in Vancouver is a great one for that. We've got the details about the accommodations, the amenities at the hotel, and some great suggestions for things to do very near the hotel.
If you have any questions or have your own tips for exploring Vancouver, please leave a comment or send us a note. We're always happy to share more.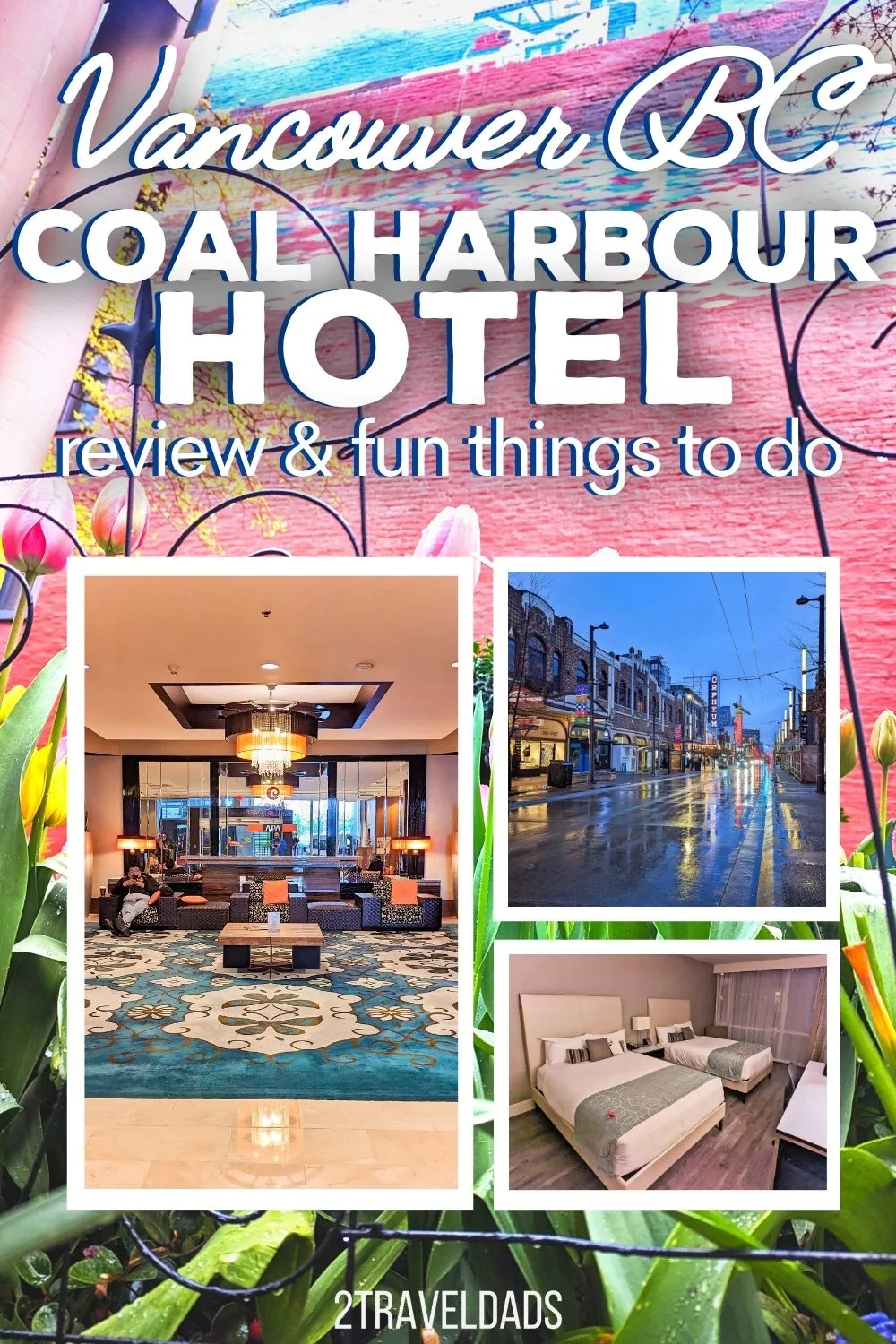 Room Options at the Coast Coal Harbour Hotel
You can book two main types of rooms at the Coast Coal Harbour Hotel: two doubles or a king bed, and then from there you can upgrade your room based on the location within the hotel. The biggest room is the Coast Premium King with a View, which has almost 200 square feet more than the standard rooms, but these do NOT accommodate more than two people.
The double rooms, which sleep up to four, have plenty of space for a family that's not spending all their waking time in the room, and the king rooms have even more floor space. Overall, this is a good hotel for a Vancouver trip or to launch an epic Canada trip from. 
Already know you want to book it? Do it here!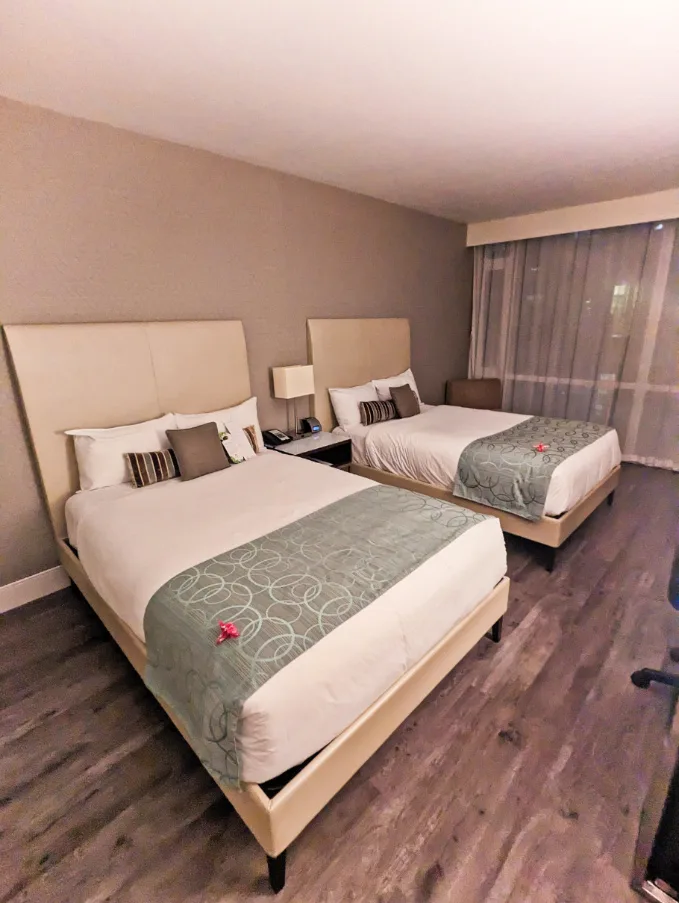 Top Pick: Coast Two Doubles Corner Room
If you're booking the Coast Coal Harbour Hotel and it's available, the Coast Two Doubles Corner Room is my top pick. We didn't have this room type for our stay, but our friend that was with us did and his room was significantly more spacious than our room. Also, the floor to ceiling windows that wrap around the corner make the view and openness feel amazing. I love this room type!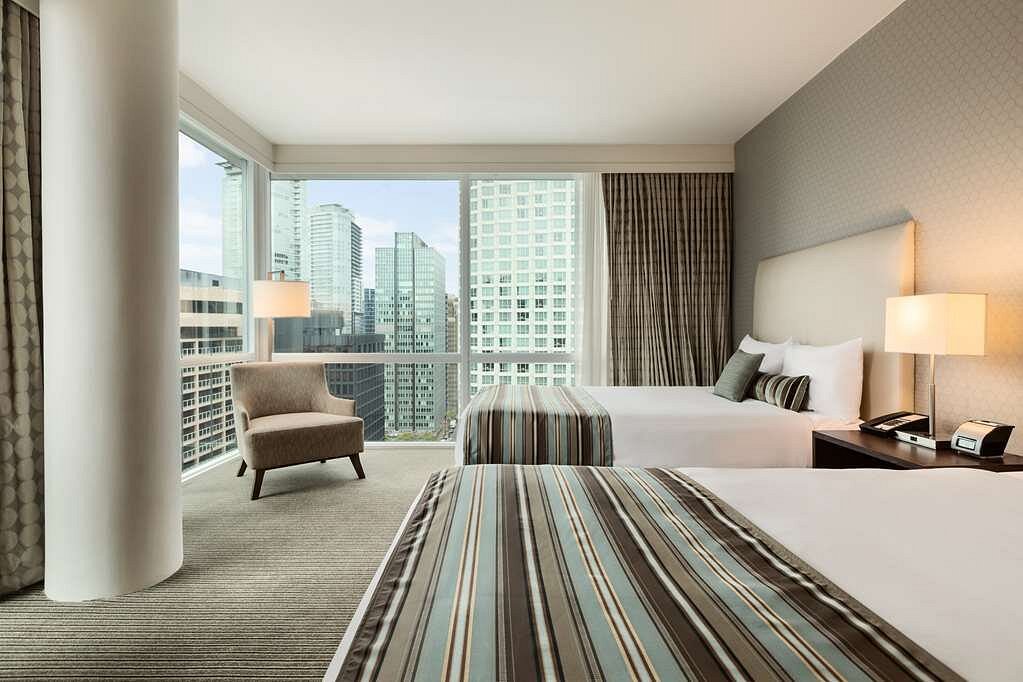 Check in / Check Out at the Coast Coal Harbour Hotel
Technological advancements aren't always great when they're integrated into hotel stays. I stayed at a hotel in Chicago that had a weird robot guy roaming around and it was dumb. But here at the Coast Coal Harbour Hotel, they actually try to keep as much of the communication in text message and email. From pre-checking in to after we were gone, the communication was great. 
Yes, we still had to stop by the front desk to pick up keys (not a keyless property yet), but updates about our arrival and being able to ask for help remotely was great. Well done!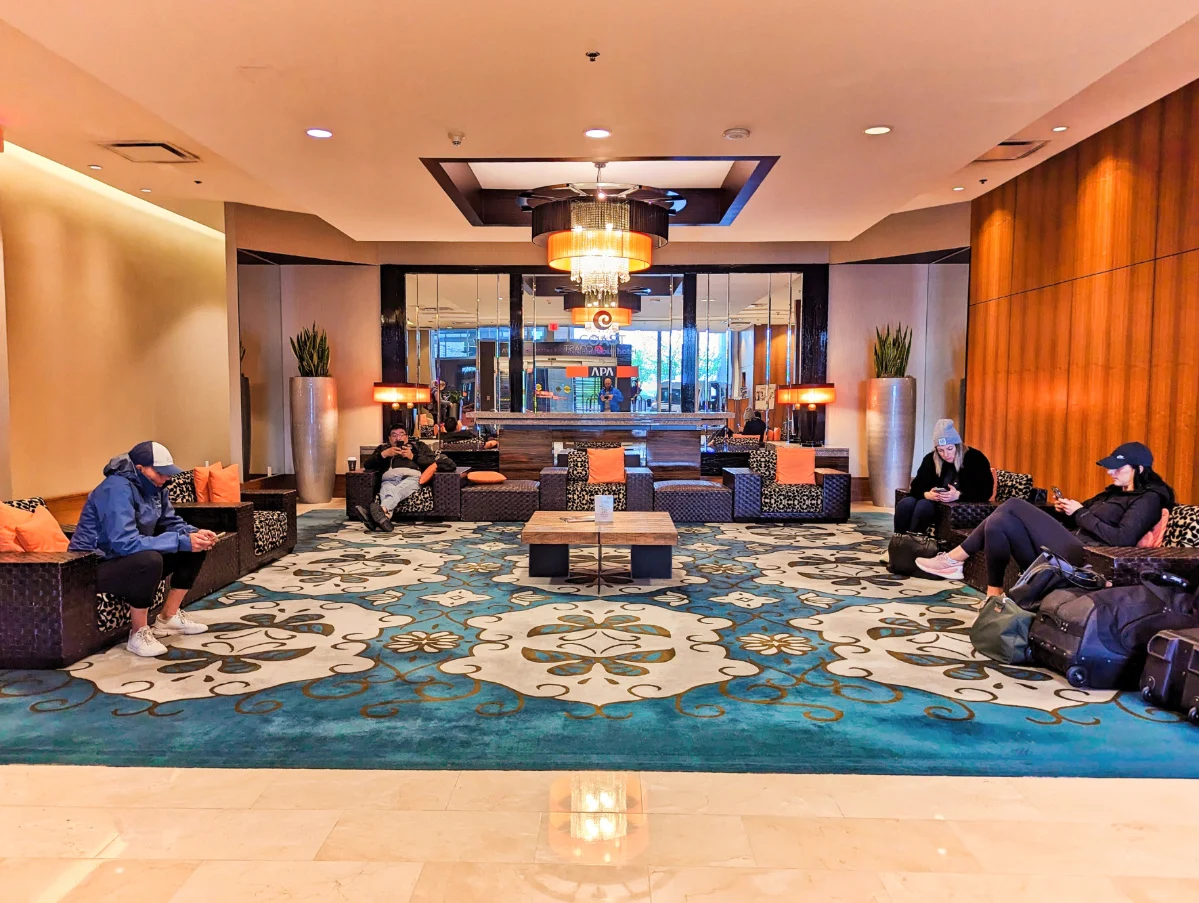 Coast Coal Harbour Hotel Amenities
The most unusual amenity here at the Coast Coal Habour Hotel is actually in the bathroom, aka washroom. What's so special? Every room has a fancy electronic bidet on the toilet. Personally, I don't like them and find they cause me anxiety, but other people love them. I think this hotel has them specifically to cater to international travelers. Other nice touches include bathrobes and origami welcome animals.
Pools at Coast Coal Harbour Hotel
While they may not be the rooftop hot tubs of the Mount Royal Hotel in Banff, the rooftop pool and hot tub at the Coast Coal Harbour Hotel make for a nice place to take a break during a busy weekend in Vancouver. The pool is heated enough that you can actually enjoy it for a refreshing splash or short laps. There are towels provided at the pool area, so don't worry about bringing them from your room.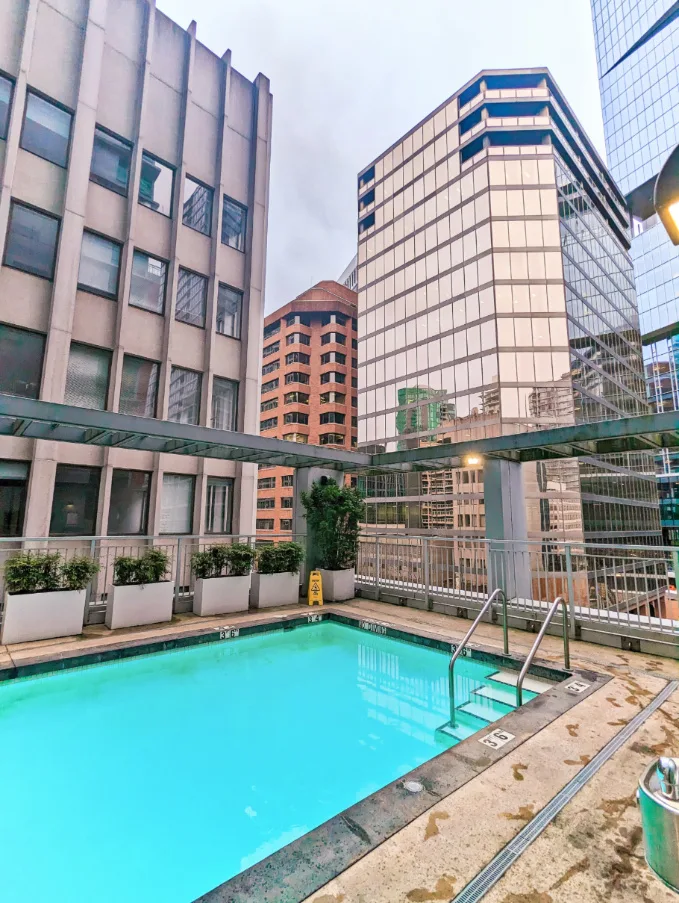 Fitness Center
Adjacent to the pool and hot tub is the fitness center, separated by the changing rooms. The fitness center is actually pretty great, with lots of free weights, machines, cardio equipment and the space to use it all. For a mid-grade hotel fitness center, it's one of the better ones I've seen. It's well maintained and very clean. How good of a workout you get is up to you.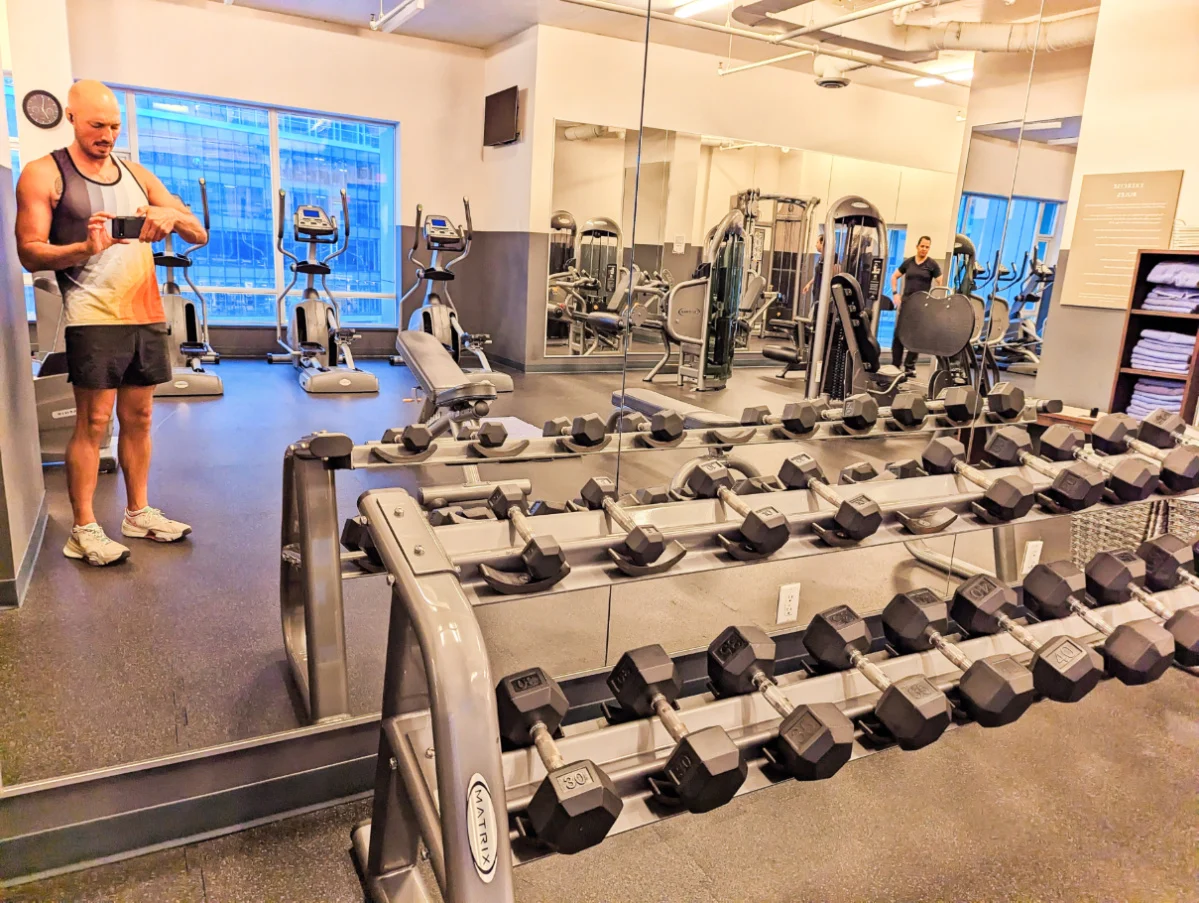 Dining at Preston's at the Coast Coal Harbour
Unless we're staying in a really nice resort or top shelf hotel, we usually don't dine at the hotel, but Preston's at the Coast Coal Harbour Hotel is pretty nice. It's not within the lobby area, but attached with its entrance on Pender Street, not Hastings (the main entrance to the hotel).
The menu is very eclectic, including Asian fusion dishes and standard Canadian / American fare (burgers and local fish dishes, etc…) I really loved the pulled pork pancake with pickled vegetables. Totally random and surprising meal.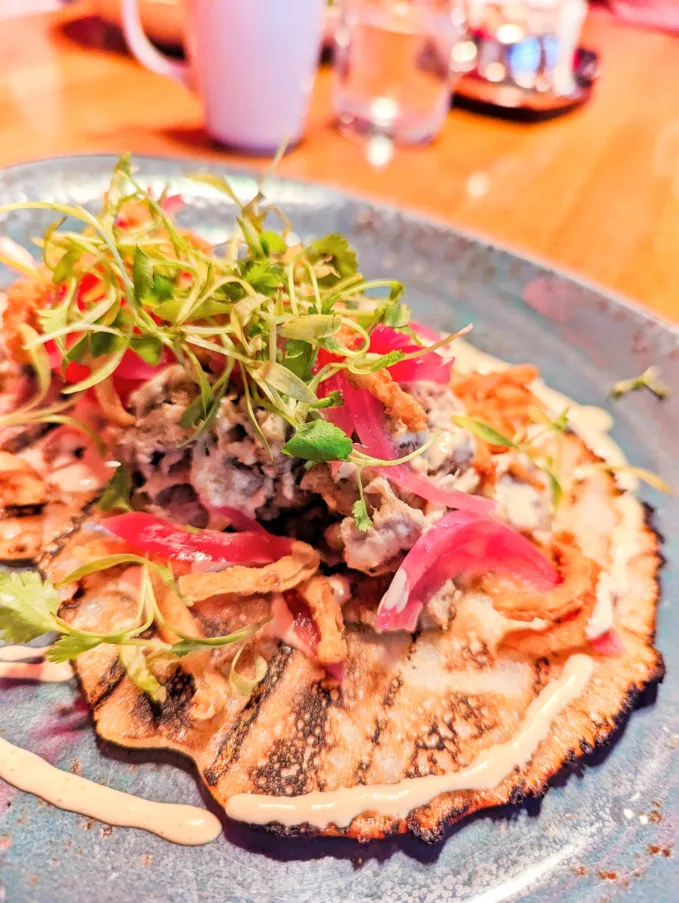 Where is the Coast Coal Harbour Hotel?
I think the location of the Coast Coal Harbour Hotel is ideal for a variety of weekend plans. You're really close to Stanley Park and Robson Street (shopping district), but then you're also just a ten minute walk from the center of downtown Vancouver where you'll find more shopping, lots of art, and a plethora of restaurants. This is the neighborhood with the Fairmont Hotel Vancouver and Vancouver Art Gallery.
The Coast Coal Harbor Hotel is just a few blocks from the northside waterfront, including the Seawall Path, Canada Place and the seaplane terminal. There are several bike rental shops and stations within a five minute walk, so if you're doing Vancouver without a car, it's really easy to get started on your way for whatever you have planned.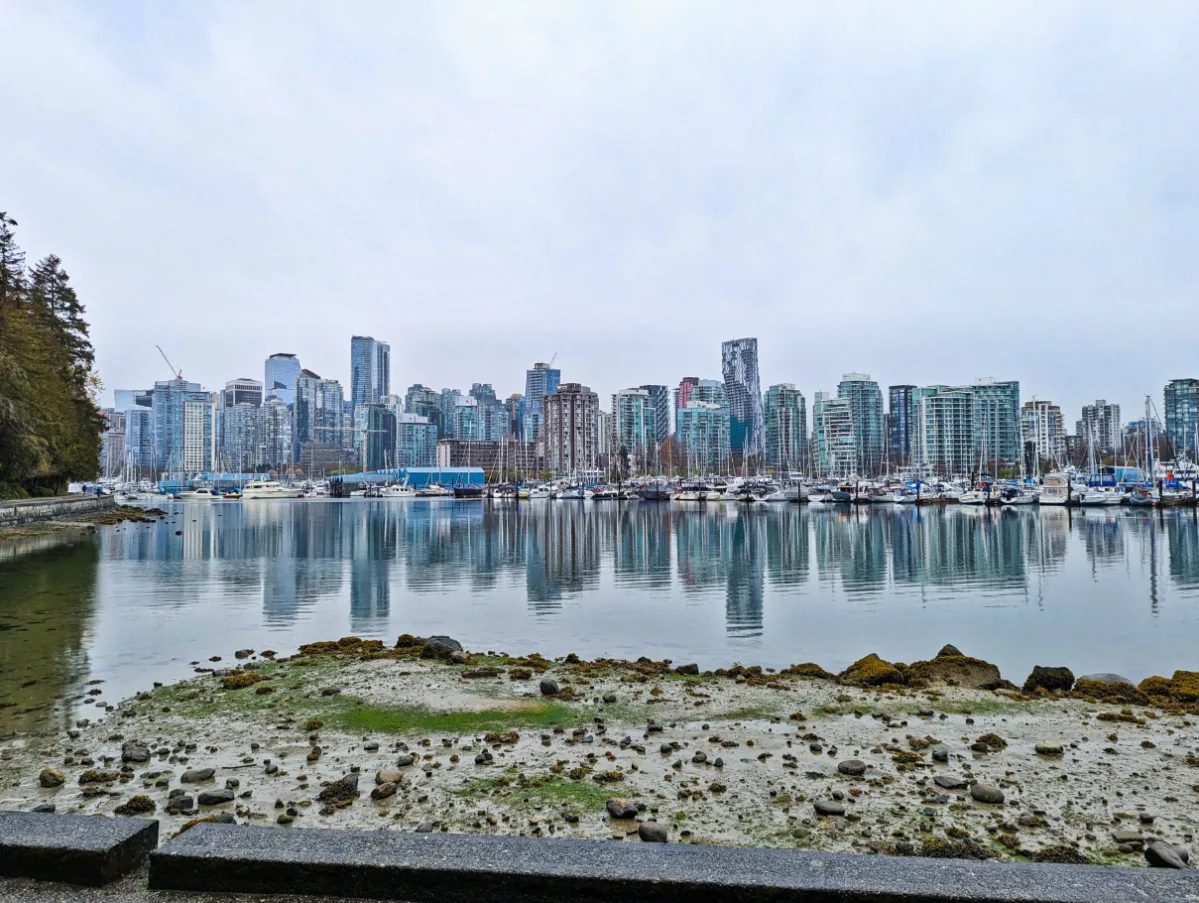 Transportation To and From YVR to Downtown Vancouver
If you're just visiting Vancouver as a prelude to a larger trip, or when you first arrive in general, it's about a half hour from the airport (YVR) and around 50 minutes driving from the US/Canada border at the Peace Arch entrance from Washington State. For guests staying at the Coast Coal Harbour Hotel in connection with an Alaska cruise, it's about a 5-8 minute Uber ride or a 10 minute (or less) walk to the Canada Place Cruise Terminal.
Tip: pre-arrange your airport transfer to downtown if you're arriving during peak hours or on a Friday night. YVR can be crazy!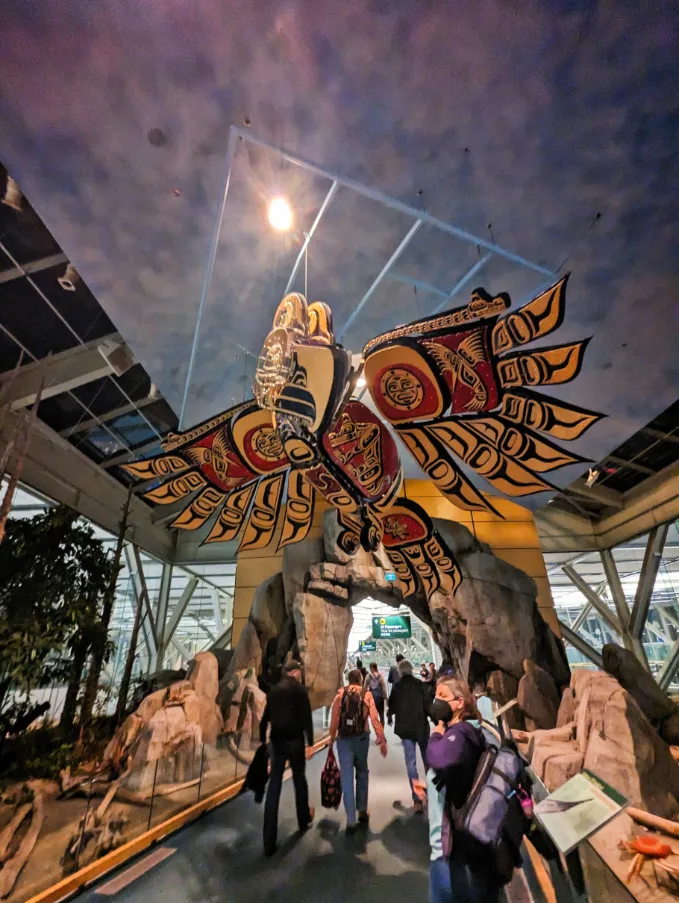 Parking Details at the Coast Coal Harbour Hotel
Located just off Hastings Street, the pull-through for the Coast Coal Harbour Hotel is manned by a valet. You can either do overnight valet parking with in and out privileges for $44 CAD per night or you can self-park in a paid lot/garage within a block or two of the hotel. The Coal Harbour Hotel doesn't specifically offer a self-parking option for guests since they have limited space.
Tip: if you're planning on doing street parking, it's very limited and there are lots of restrictions, so think about what's more important: the cost of valet or getting a more expensive ticket/tow.
Can I Walk from the Coast Coal Harbour to Stanley Park?
I really love the location of the Coast Coal Harbour Hotel specifically for how close it is to Stanley Park. Just a ten minute walk to the start of the peninsula. If you want to walk the whole park loop, you can begin from the hotel, or if you want to do the horse drawn trolley around the main areas, that's close too. It's less than a half hour walk to the Vancouver Aquarium!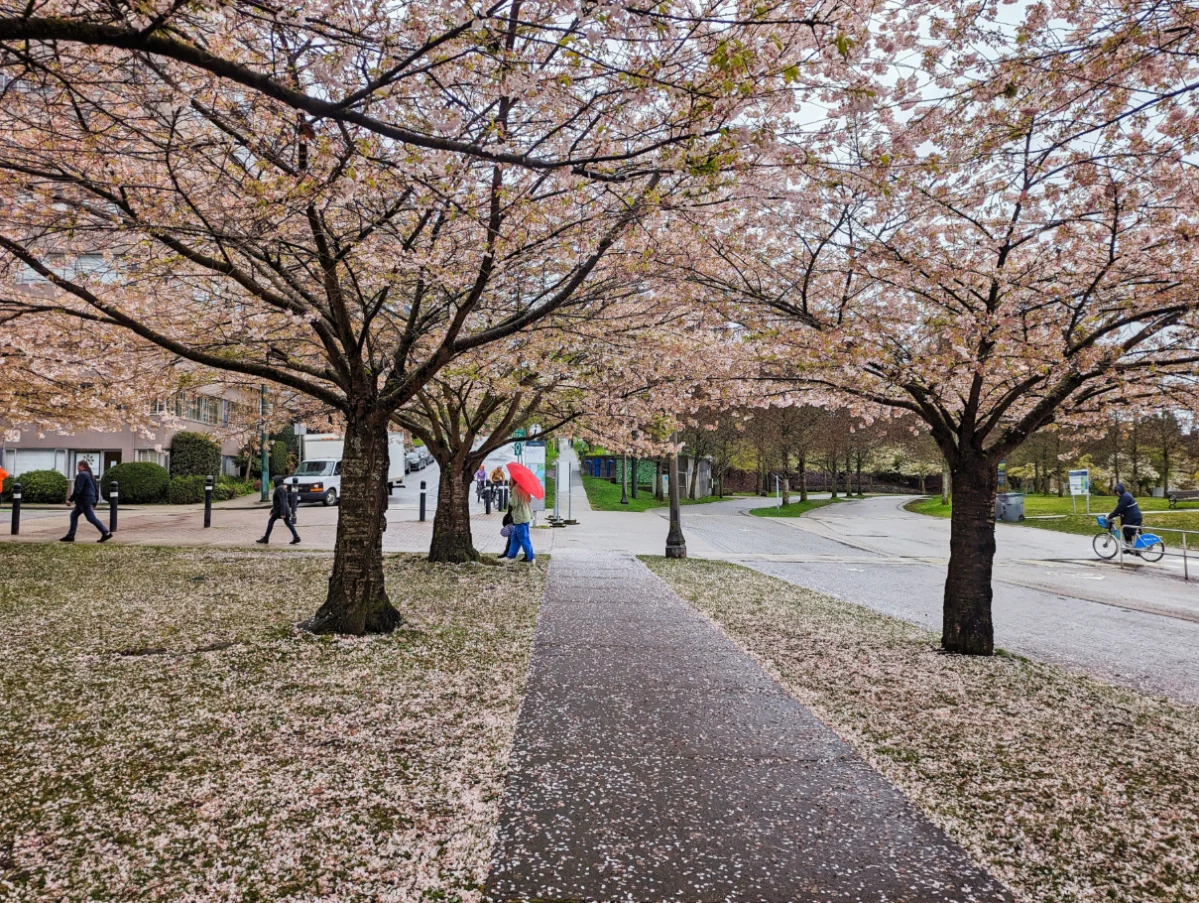 Ten Fun Things to do near the Coast Coal Habour Hotel
Vancouver is one of my favorite cities to play tourist in. It's up there with Calgary, Alberta and Halifax, Nova Scotia. Vancouver is very urban and full of both art and the outdoors. We've picked out favorite things to do in Vancouver for a weekend visit, and yes, one of them is my favorite restaurant!
Find some fun Vancouver activities here!
Enjoy the USD -> CAD exchange rate and go shopping on Robson, Burrard, or Hornby Streets
Have dim sum in Vancouver's Chinatown
Go whale watching with the Prince of Whales (their catamaran tour is wonderful, and they guarantee whales)
Rent bikes and ride around Stanley Park
Visit the Bill Reid Gallery of Haida art in downtown
Spend an evening dining and popping between the LGBTQ hot spots on Davie Street
Go on a zodiac safari out of Horseshoe Bay with Sewell Marina (totally an adventure with waterfalls on the water)
Have dinner at my favorite restaurant: Forage – amazing, sustainable, local, delicious
Visit the Granville Island Public Market for snacks, people watching and artisan studios
Ride the False Creek Water Taxi for a view of downtown Vancouver from the water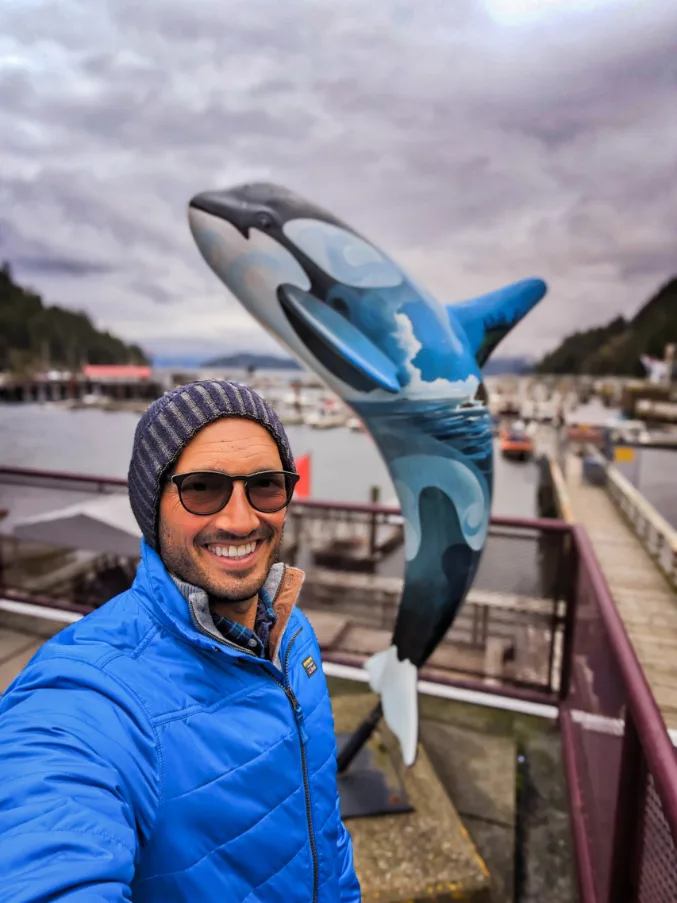 Well you should be all set now for a fun weekend in Vancouver at a great hotel. The Coast Coal Harbour Hotel really is a good home base for a relaxing weekend, business travel, a Vancouver trip with kids or to launch an epic trip through Canada.
Need some Canada travel inspiration? Here are some great ideas!:
If you have additional suggestions or questions, please leave a comment or send us a note. We're always happy to share more and help YOU plan awesome travels!