In this podcast episode we share our favorite restaurants in Victoria BC. I love to explore neighborhoods and Chris loves to find the best food spots, so put that together and you get us sharing our finds after more than eight trips to Victoria. From delicious brew pubs to farm-to-table vegetarian options, these are the best restaurants in Victoria.
Be sure to check out our complete article all about the best things to do in Victoria and our favorite hotels!
We have a few other great podcast episodes about Victoria, so be sure to give them a listen too!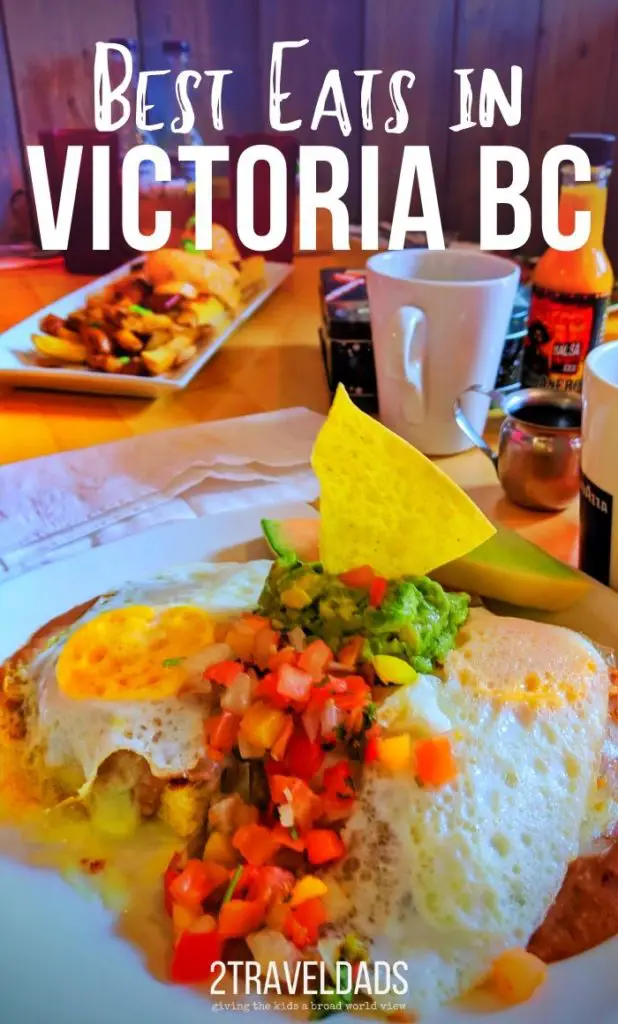 Listen to Our Best Restaurants in Victoria BC Podcast Episode
Travel to Canada During COVID-19
If you are visiting Canada during the COVID-19 pandemic, there are more requirements than just the normal passport/travel documents. During this heightened state of health precautions, in addition to your passport or travel documents, due to COVID-19 travel restrictions, the following are REQUIRED to enter Canada:
ArriveCAN approved receipt of accepted submission within 72 hours of arrival into Canada.
Proof of negative PCR COVID-19 test (not rapid antigen test) within 72 hours of arrival into Canada.
Hard copy proof of full vaccination.
For the most up-to-date travel requirements to enter Canada via any transportation method, visit the Canadian government travel site for all details and restrictions. There is a new system for submitting travel plans before entering Canada, so be sure to complete that process PRIOR to your departure day.
Additionally, if you're flying back to the USA from anywhere during the COVID-19 pandemic, the CDC requires the following:
All air passengers coming to the United States, including U.S. citizens and fully vaccinated people, are required to have a negative COVID-19 test result no more than 3 days before travel or documentation of recovery from COVID-19 in the past 3 months before they board a flight to the United States.
Our favorite restaurants in Victoria BC
In this episode… [time in playback of episode noted on the left]
1:00 – Our favorite restaurants in Victoria – we have chosen our favorites based on being fresh, not chain restaurants, good for kids and great for adults.
2:30 – First breakfast restaurant pick: The Ruby – on Douglass OR on Johnson Streets. We love their fresh and interesting breakfast items and inventive breakfast cocktails. Favorite breakfast find: breakfast poutine!!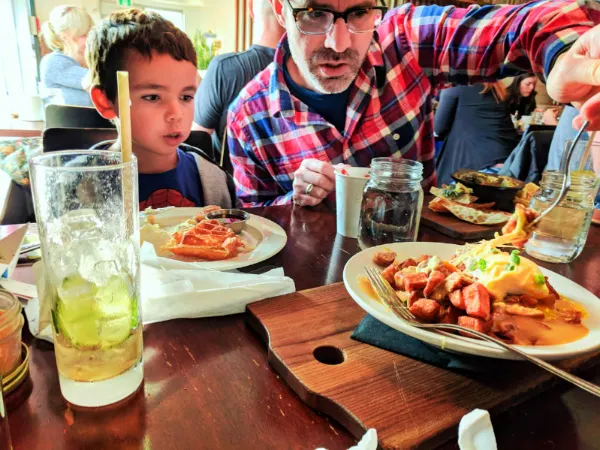 6:00 – Another of the awesome breakfast restaurants in Victoria: the Jam Cafe. There is one in Vancouver as well. The Barbecue Caesar (Bloody Mary) is amazing with a seed and salt rim. Great kid breakfast options too! Chris's top pick: the Gravy Coup with fried chicken and biscuits and gravy.
9:00 – Great breakfast spot in Market Square: Fuego Old Town EateryFuego Old Town Eatery. Breakfast Tacos and a menu with Latin American flare. Also, they have really great options for kids that are interesting. Awesome house hot sauce!! Chris's pick: the Fuego Benny on Cornbread.
11:30 – Biscuit breakfast restaurant in Victoria: Shanzee's Biscuit Cafe! What a fun menu and everything is served on or with a really wonderful house biscuit (not cookie).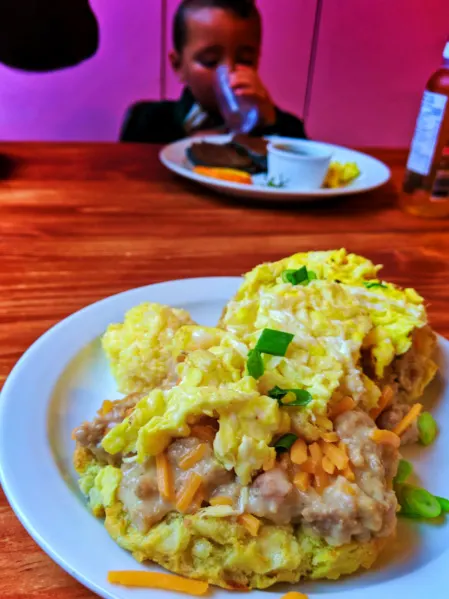 12:30 – John's Place is another great downtown breakfast eatery. Their spicy maple syrup is delicious with chicken and waffles
13:40 – Breakfast by the Butchart Gardens: Sassy's Family Restaurant for barbecue pulled pork breakfast scrambles. OMG. And this is one of the only restaurants in Victoria that allows kids to mix and match to build a meal. They loved it! **Sadness: Sassy's permanently closed in 2022. We'll find a good alternative in the Brentwood Bay area next time we visit!
15:15 – Our top picks for lunch restaurants in Victoria, starting with Nourish Kitchen & Cafe. What a wonderful vegetarian restaurant! The ultimate example of inventive farm to table food. They also make interesting herbal tonics and cocktails. Rob's lunch cocktail pick: a rose tincture cocktail.
Really close to the Inn at Laural Point – one of our favorite Victoria hotels!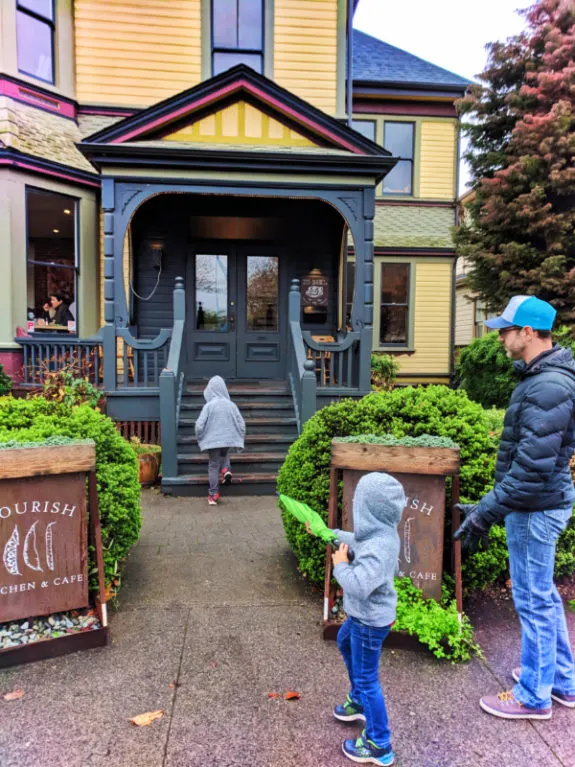 17:45 – Farm to Table restaurant in Saanich: Roost Winery & Bistro. Can you get more farm to table than eating in the middle of farm fields at the farm centre of Vancouver Island? Great wines and fresh menus near Sidney BC. If you've taken BC Ferries or Washington State Ferries to the island, this is on the way into Victoria!
19:00 – Bin 4 Burger Lounge taught me what I should expect from restaurants: grilled tofu as a substitute for ANY BURGER! Bin 4 Burger Lounge also has wonderful house-made sauces.
20:45 – Easy and delicious option by the MV Coho Ferry or Victoria Clipper: Floyd's Diner. Chris's pick: Brie and Onion Jam Chicken Burger paired with carrot curry soup.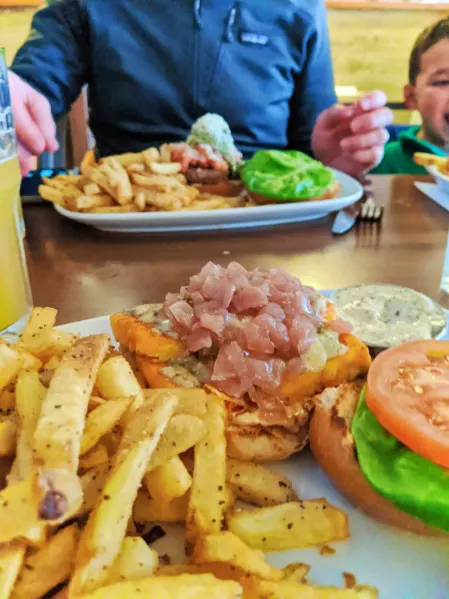 22:30 – Super cool surprise: Royal BC Food Truck Festival behind one of the best things to do in Victoria, the Royal BC Museum! Wonderful and diverse food truck options, including Deadbeetz Burgers (my favorite!)
23:20 – Our final lunch restaurant in Victoria BC to recommend: the Swan's Brewpub. Wonderful burgers (including a duck confit burger), woodfire pizza and craft beers made on site. We love Swan's and eat there nearly every trip to Victoria.
24:45 – afternoon tea on a budget: Murchie's on Government street. Easy on the go lunch and pastries. Rob's pick for tea: Orange Pekoe.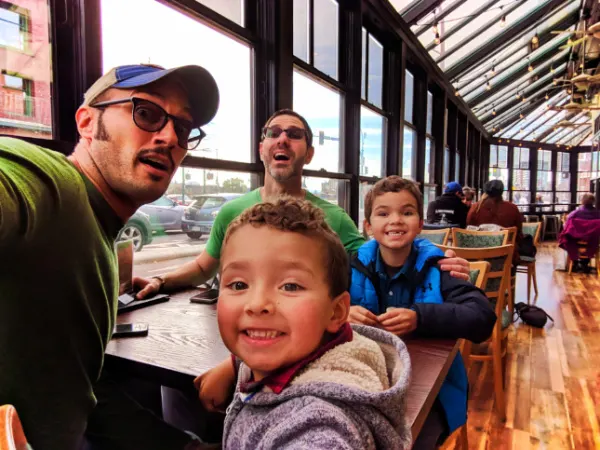 25:45 – Our favorite dinner restaurants in Victoria, and this time we have listed them from total favorite to still amazing, but not our #1 pick. Not being #1 on the list isn't bad, it's just not our first choice overall.
26:00 – Chris's favorite dinner pick is Bao for ramen noodles and bao. This became a family favorite very quickly! Seating is extremely limited but it's worth getting there early or waiting for a table. Chris's pick for dinner: white truffle and pork belly ramen.
28:15 – Awesome service and food at Nubo Japanese Tapas. Between the sushi and interesting appetizers, we loved it. Rob's pick: Kung Pao Agadashi Tofu. So delicious!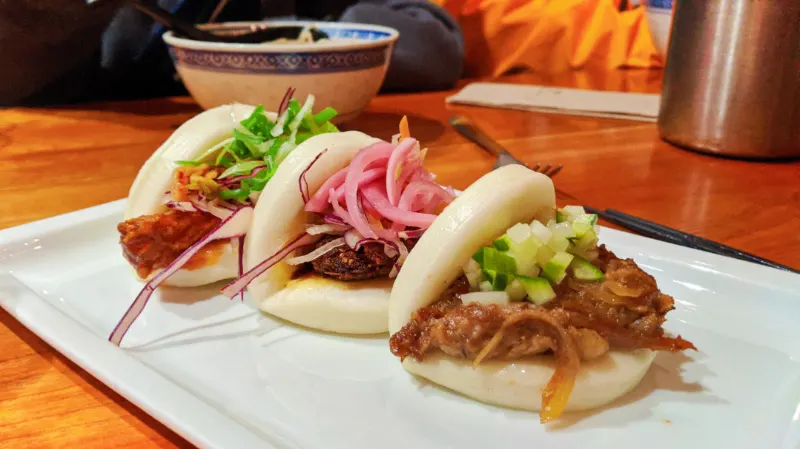 30:50 – Rob's pick for the best fish and chips in Victoria: Canoe Brew Pub. The beers are wonderful and used in the batter, and then their menu is just wonderful.
32:00 – Mutually agreed upon for interesting seafood: Fishhook at Mermaid Wharf. It's a fusion of Indian food and Canadian seafood culture. So good and unique.
33:00 – Flying Pig is a good spot with a nice menu and service, but the outdoor seating is really prime and why we love eating there in the summer.
33:20 – 10 Acres Kitchen is a nice, pricier option right downtown. Really wonderful farm-to-table meets sustainable seafood restaurant in Victoria. They also have the Commons, which is less formal than the Kitchen, and we have enjoyed happy hour there in addition to dinner at the Kitchen.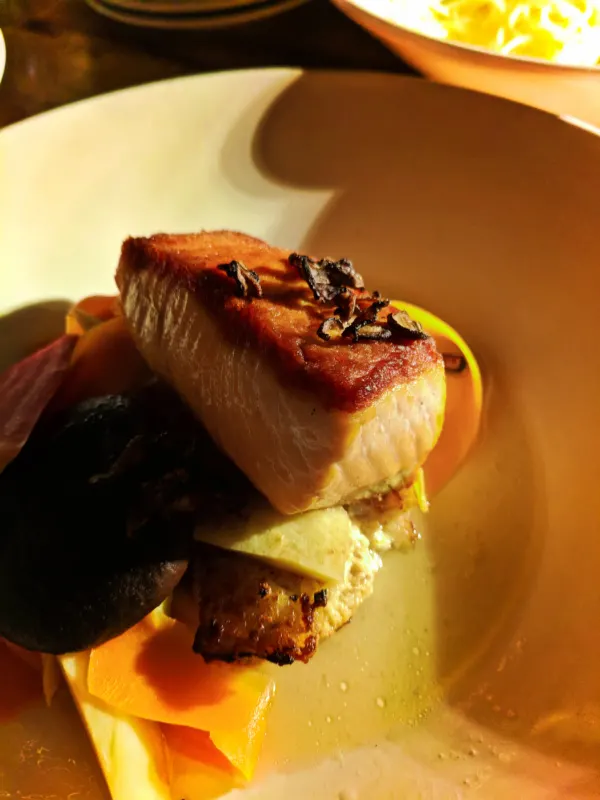 34:30 – BIG TIP: if you are interested in bringing wine back to your hotel, you need to find a wine shop. It's not just sold at the corner store. 🙂
Thanks for hanging out with us. Hopefully you've got some great ideas for restaurants in Victoria for your visit. Every time we return we find at least one more place we love. I can't wait to return and find our next favorite place to eat in Victoria. Please let us know if you have any questions!
What do you want to hear about from us on our podcast? Please leave us a comment below or send us a note with your questions and what you'd like to hear. We are excited to share!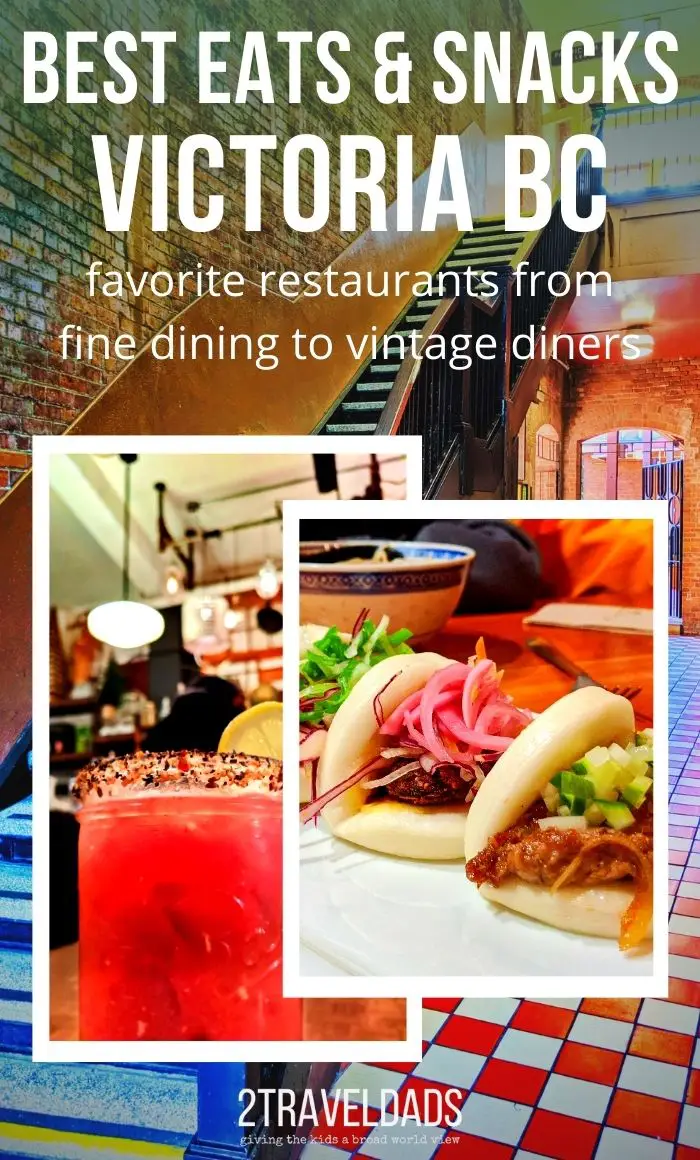 If you'd like to visit our specific podcast host page, feel free! There are lots of options to subscribe to the 2TravelDads Podcast.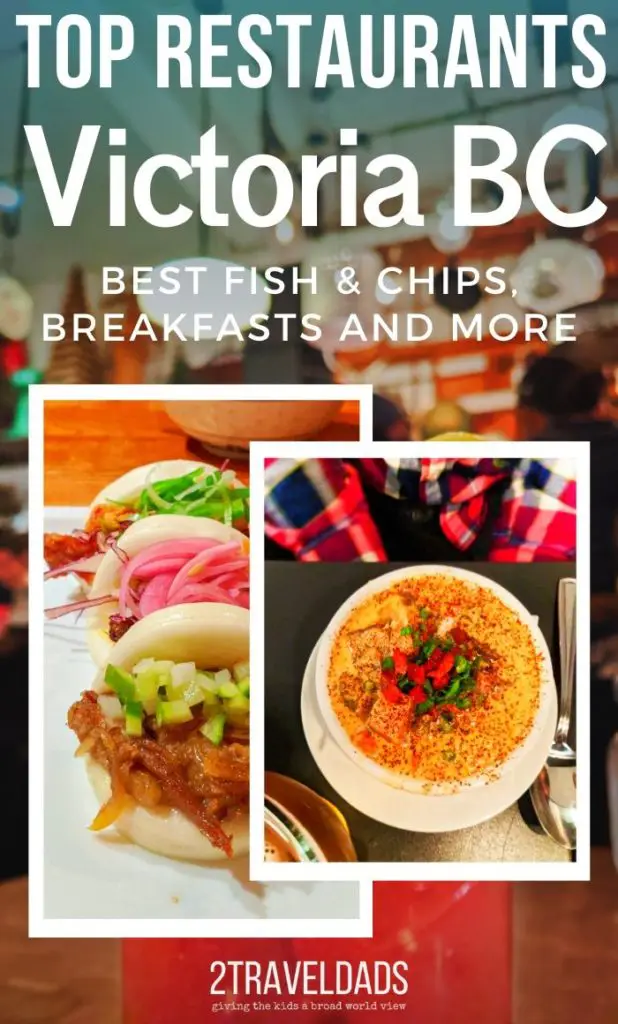 Complete transcript of the Best Restaurants in Victoria BC podcast episode
Speaker 1 00:03 Welcome to 2TravelDads podcast. Here we share our favorite destinations, travel tips, ideas for saving money and stories from our adventures. Be sure to check out our show notes at 2traveldads.com/podcast-episodes. Hey there, welcome to another episode of 2 travel dads podcast. I'm Rob, I'm Chris. And today we are talking some more about Victoria BC. So we've, gosh, we've recorded how many, um, I want to say three or four other podcast episodes about Victoria. We, we talked a lot. I know there's a lot to about, we talked about favorite things to do. Uh, our, how to get there, how to get there. That actually was entire episode, our favorite hotels, um, kid friendly stuff. And now we're talking about our favorite places to eat in Victoria. This is my favorite topic. I know. And we, so we've been to Victoria at least eight times, several times.
Speaker 1 01:00 There are so many times. Yeah. So we, we know what we like, so let's dig into it like a pile of biscuits and gravy. Mm. So, um, as we, as we go through our restaurant picks, we are starting with breakfast and then digging into lunch and then finishing off with dinner and um, yeah, you know, know that when we are thinking about the restaurants we like we are going for stuff that's fresh, that is not going to be a chain restaurant. A couple of the things that we call out in our favorite pics, there are several locations, but they're still, you know, tightly managed. Um, and then also things that are going to be kid friendly and um, still great for adults. So that is what we considered when we made up our list of favorite places to eat in Victoria. Um, in total, gosh, what do we have?
Speaker 1 01:56 We've got one, two, three, four, five, six, seven, eight, nine, 10, 11, 12, 13, 14, 15. We've got about 20 different places that we are gonna talk about. We're going to dig too deeply into some of them and then others, we're going to start just like gushing. So good times. Um, we're going to start with our favorite breakfast place in Victoria or we're going to start with the favorite, well that's how I put them in order. Okay. Oh, got it. So, or we can work from the bottom of the list app. I'm fine either way. Okay. We're going with that. Yes. Okay. So our favorite, so actually, you know, we'll just call this no particular order, but these are the order that I think. Um, our favorite place in Victoria for breakfast is The Ruby. Um, they've got two different locations and the first one that we ever went to was up at The Hotel Zed, which is pretty cool. It's outside of downtown, um, really cool hotel. And then the other location is actually located, it's attached to the Best Western Plus Carlton Plaza, which is where we just stayed and I'm
Speaker 2 03:00 delicious. My favorite thing about The Ruby in both locations is they're interesting and inventive breakfast cocktails. Yeah. They've got great cocktails and I love, um, just the other, I mean, I'm a huge fan of breakfast, so I'm excited when I see really great, interesting creative, um, options for breakfast. And the Ruby's got it. Um, in addition to having like their staple menu items, they always have some really good, uh, specials going on and things that also relate to separate in season or whatever the holiday is. Yeah. And gosh, so we were just up there, you know, during Christmas time. And, um, they're special like breakfast because breakfast cocktails is my thing. Um, they're a special breakfast cocktail that we had was a like holiday mimosa sort of thing. It was like an Apple cider and champagne mimosa with spices and a cinnamon, ginger, nutmeg rim.
Speaker 2 03:57 And it was delicious. So that made me happy. Yeah. And you know, they've got things that are, you know, your standard omelets. They have something that's called like a hash board, which, um, you know, is, is a different food that's, that's all got a, you know, a really good hash with it too. Right? So like a skinny hash as an example. So you've got like gimme kale with poached eggs and mushrooms, onions, yams, a balsamic reduction. It's like delicious. And they do, um, they've got lots of options for benedict. Um, everything from your standard Canadian Benny, it's like a chorizo bene, Canadian Benedict. Well, is that just a standard eggs Benedict? A little bit, except for the add avocado. So it has bacon, you know, red barn bacon, bacon, that's Canadian bacon. Uh, you know, with your tomatoes. Cause when you're in Canadian health Canada, they don't call it Canadian bacon.
Speaker 2 04:48 They just call it bacon. Yeah, yeah. And you know, but um, but then they also do like breakfast tacos. They've got the waffles, they have this one that's like, uh, maybe next time I'll try this duck confit in waffle. Um, you know, and they've got their house syrup and it's just like, all of these things are super delicious. And they also have stuff, they have this category called Hippies and Gym Rats. So think about what that might be. Um, it's, but it's all granola and egg whites, uh, quinoa porridge. There you go. Yep. And, uh, and of course, yeah, oatmeal in, in granola. Yeah. No. So I mean, clearly we're starting off with one of our favorite places and we've already talked a bunch about it. And it's just breakfast. So, but I will say, just so you know, we haven't been there for lunch, but they also do lunch next time we're going there for lunch because why not? It's awesome. This place, just so the Ruby, so you know, there's, they've got this icon that's a chickin and they wanted to have a, a restaurant that kind of span from breakfast and lunch and to celebrate the chicken. Um, so in addition to eggs and everything in the morning, they've got lots of stuff in the afternoon, um, that are celebrating the chicken. Good times.
Speaker 2 06:02 Moving on. Um, our next favorite breakfast pick again with the breakfast cocktails is The Jam Cafe. There's one in Victoria, there's also one in Vancouver. Um, but Jam Cafe is a great spot. It's located right next to Chinatown. So we spend a lot of time in Chinatown in this particular neighborhood. That's, it's kind of our main hangout when we're in Victoria. Um, jam cafe is awesome. It's really fun how it's decorated inside. Um, it pulls everything that's rustic about Vancouver Island. Um, and I will talk about my favorite breakfast cocktail, which is in Canada, they call it a Caesar. In America it's a bloody Mary. Um, but with the Caesar they tend to use Clamato so you can just ask to it with tomato juice if you are a vegetarian and then they can hold the worcestershire is well if you want. Um, but at The Jam Cafe, they have a barbecue Bloody Mary that is delicious. It is the most delicious thing ever. And the rim of the bloody Mary is a meal in itself because it's like seeds and salt and peppers and yeah. Anyways, good stuff. And the kids loved their breakfast as well. They, they had what they have. They had, I think it was pancakes and just fresh fruit. They just did the silver dollar pancakes. Yeah. Um, you know, and that comes with, uh, their fruit salad. Right. So they always enjoy pancakes. Yeah. So you can't go wrong in Victoria with kids because there is pancakes everywhere. Yeah. I mean, I do want to say what was super delicious also about that, um, that Caesar was, it comes, I'm sorry. Yeah, well Caesar/bloody Mary, whichever you want to have that. Um, I had it because I still eat meat, um, with, uh, the bacon and they have their own sugar cured bacon in house and like, it's all crystally.
Speaker 2 07:51 It's so delicious. Just think sweet, salty, smoky. Hmm. It sounds good. It's delicious. Um, yeah. Do you remember what did you have that morning for breakfast if you don't, that's OK. Uh, Oh gosh, it was this, uh, took a picture of it. It was beautiful. Yeah. It was called the gravy coop. That's right. Yeah. And it was their homemade buttermilk biscuits that they have or, I mean, it was huge. I didn't eat all the biscuit. Um, but it was topped with fried chicken as the first time I've had fried chicken for breakfast, but I just couldn't say no. Um, cause I had fried chicken. Um, you could also get with pork belly if you want it. Um, but then you've got, um, eggs. So I had my eggs poach. You can have them, whichever way you want. Um, and then it's got, um, sausage or mushroom gravy, whichever you want. All right. Sausage gravy. I'm on top of hash browns and so, but the gravy was delicious. That biscuits were delicious. That fried chicken was amazing. Um, and all together just created a really great breakfast. And then I felt, uh, I felt good for the rest of the day. Did it stick to your ribs? Uh, yeah, it definitely stuck to my bones. That's the grossest phrase. Um, next spot is just
Speaker 1 08:56 about a block and a half away. Um, market square is another place that we like to hang out. A market square is another place that we'd like to hang out and right feeding into it from the, um, inner Harbor side of the structure is Fuego Old Town Eatery. Um, it is delicious and wonderful again with great bloody Marys. Um, it opens up to the inside of market square, so it's got some great outdoor seating. I think that, gosh, I, I, every time that I think back to what I get in all these places, I tend to get breakfast tacos. Is that what you got there? Yes. Huh. Breakfast tacos. It's like, it's my go-to. Yeah, it's a thing. I guess I'm up there in Victoria. Yeah. But it's another great spot. Um, it's also, um, really ideal for kids because they've got, you know, kid-friendly options. And when we say kid friendly, we think about picky kids. Our kids will eat basically whatever's put in front of them cause they don't really have a choice. But they've got great, um, fun kid options, which it's, you know, if you want to help your child have a more advanced palate, encourage them to order things that aren't just white bread. And yeah, it's a great going to interesting breakfast places where I'm going with that. Is it going to interesting breakfast places is a great way to expose your kids to new foods. It is,
Speaker 2 10:28 but I think you also need to expose them at home. Otherwise it's a tough change to be like, we're going to eat like this at home and then you're going to try new things when we go out. Yeah. I'm just always, you know, don't limit what your kids can have. Yeah. Um, and, you know, try to inspire them to try new things. Maybe that's another podcast episode that we should record. Yeah.
Speaker 1 10:48 Um, but yeah, so <inaudible> good for that. Great with kids,
Speaker 2 10:52 super great with kids. But I mean they've got, I think it's, you know, when you think about Fuego t's that, um, you know, Mexican is you know, Spanish influence, so you're going to get, um, some things. There was some good spice too, like Chipotle lay and Tereso think they had a really wonderful how sauce. Uh, they did. Yeah. They make their actually lots of places in Victoria and make their own hot sauces, you know, come to find out, which, you know, Bob really likes and we found out that a lot of people make their own. Um, they won't have your standard, uh, you know, Frank's or Cholula or, or anything like that. Um, sometimes theres just tabasco. Yeah. But I will say what was great is I had this like delicious. Um, it was the Fuego Bene, um, the had, you know, um, Chorizo sausage was on top of their homemade baked cornbread. So, not like using, you know, um, you know, a crumpet or an English muffin or a biscuit there was on top of cornbread and it was amazing. That's awesome. Especially with that smokey holidays. Well speaking of things that are that wonderful
Speaker 1 11:54 texture of like cornbread and biscuit. Um, our next breakfast recommendation is Shanzee's Biscuit Cafe, which is actually um, also right off Market Square. So it, um, it is next door to Victoria Bead World, which is always one of our go to places cause we love to make stuff with beads. Um, but <inaudible> is great for having really interesting and creative breakfast sandwiches, um, biscuits and gravy too. And um, yeah, fun with kids. What made it so fun with kids, the high top tables and that they got to kind of have messy breakfast because biscuits are crumbly, those goods are crumbly, but they'll make some such delicious breakfast sandwiches for their biscuits. Yeah. Oh my gosh. But that's a great um, another spot that's just right there. Especially like if you were going for a Fuego and it's, I'm busy cause it's a really small restaurant there. <inaudible>
Speaker 1 12:49 is, you know, 50 steps away is just as delicious and um, it's a great alternative. So, um, one more downtown Victoria spot that we got a call out and we're not going to get too deep into it. Um, is John's Place. So John's Place, um, is delicious and kitschy, meaning that the walls are covered with all kinds of memorabilia and I really want to organize it all and straightened pictures, but, um, it's really, it's another really fun spot for kids again with the pancakes. Awesome pancakes. And what I really enjoyed was their spicy maple syrup. So I got chicken and waffles there. Um, and they're spicy. Maple syrup was amazing and turns out it is literally just Frank's red hot, which is kind of something I eat a lot of and maple syrup. Hmm. Yeah. And since it's Canada, they use real maple syrup. They didn't use that crap that we tend to try and bolster up table syrup.
Speaker 1 13:47 I don't know why that is a standard in America in the United States. It's ridiculous that we use table syrup. Maple syrup is the real stuff. It's delicious. There you go. Anyways. Um, so that's John's Place. Check it out. It's right downtown. Easy walking from anywhere that you're staying downtown basically. Um, and then the last breakfast place is for the day that you go to visit The Butchart Gardens are the big, I can't speak Victoria butterfly gardens. Um, it is out in the Brentwood Bay area and it is called Sassy's. Sassy's. Um, the Sassy's was really fun. So in addition to it being called Sassy's, um, I really enjoyed having basically barbecue breakfast. So like this is, you know, I only recently have become vegetarian, so I've eaten lots and lots of meat in my day. And with that, a, um, pulled pork scramble with barbecue sauce is kind of the best and most delicious thing ever.
Speaker 1 14:49 Yeah. I don't remember what I had there, but I remember what was great about it is it's like your traditional family restaurant, right? So you're going to get some of the good old fashioned breakfast, um, hearty portions, decent coffee and right. And, and it can be a location, but it was, it was a really good spot. And when the thing that the kids also liked about that, cause you know, you got to think about them was um, they had like this fun mix and match menu where it was just here's all the different meats, here's all the different bread type products. You can have some fruit salad or yogurt, whatever. And you mix and match to make your kid breakfast instead of having something set that your kid may or may not love. So I think that's just a great way to do something like that.
Speaker 1 15:31 So moving on to lunch, um, we've got a whole list of things here for lunch, but I think we'll trim a couple of them off and just hit the absolute best ones. Um, and with that we're going to start with my favorite, which is Nourish in the Harbour. It's amazeballs. Um, it's located on the, um, South Western edge of the Inner Harbour, um, over by the Laurel Point in or in it lower point. Um, nourish cafe is in a house, um, like an old Victorian. And when you walk in there, there's literally, it's just like there's tables in the living room and tables in kind of like a dining area where you can go upstairs where they've got kind of open seating for if you want to take your coffee upstairs and stuff. So it's, it's really fun and flowy that way. But it's, I'm vegan and vegetarian, so the options are very unique and creative.
Speaker 1 16:31 That was the first place that I ever had, um, cashew cheese and it sold me on it. Man. It's delicious. And Oh, the other thing that I really loved about it was the, um, tonics and cocktails. So they make their own tonics. And I remember having a Rose cocktail that was delicious. So do you have any thoughts on that? Um, yeah. What was really good. I mean, when you're looking for a place that has, you know, vegan and vegetarian options, which there's actually a lot in, in Victoria. Uh, it's so easy to be vegetarian and eat anywhere in Victoria. It's amazing. But no Nourish is very creative, just beautiful. Um, you know, options and stuff that they have there. I think I had the sweet potato and turnip noodle bowl like when I was there. Um, and uh, you could add a poached eight to <inaudible>, but Oh my gosh, it was the sweet potato noodles, right.
Speaker 1 17:26 Um, turnips and all kinds of good stuff in there. Um, but a unique location, um, beautiful food options and that was Bob mentioned, their tonics plus you've got lots of hot teas and other juices and things like that. You heard Chris just mentioned egg. It's not straight up vegan. They've got tons of vegan options and I'm pretty sure almost everything could be vegan. Um, but it is vegetarian. Yeah. So they'll, I think they have dairy. Yep. There's some dairy options. Um, another really awesome. So if you, if you notice we're talking about places that are unique and something great about Vancouver Island is, um, all the farms there. So BC is a big farming province and so you get a lot of amazing farm to table restaurants, um, Nourish, one of them, the next one that we're talking about is outside of Victoria.
Speaker 1 18:14 It's over in Saanich, which, um, that's where Harry and Megan currently are since they've left England. They're over in Saanich, so good times. Um, but the Roost Vineyard Bistro, it's in Saanich and it's awesome. It's a winery, but then it's also this beautiful farm to table restaurant with lots of creative, um, interesting wines for one. Um, I remember we brought back a bottle of this Siegerrebe. We did. Yeah, it was delicious. And then, um, yeah, just fun lunch spot. It's easy to, um, if you're going in between Sidney and Victoria, it's an easy stop. Um, at the end of summer it's right by all of the sunflower fields, so it's pretty as well. Um, yeah, I don't really have too much else to say except that in itself is kind of a cool destination to hang out. It's got lots of great outdoor space. Um, so if you're there in summertime, take advantage.
Speaker 1 19:09 Yeah. Yeah. I mean, and they've got everything from like, you know, pasta, pizza, seafood, burgers, like all kinds of good stuff. Got on the menu and great things for kids to, yeah. So, but you can leave with a bottle of wine, which that's a benefit. Um, next up though, this was, I learned something about what I should be hoping for when we go to a restaurant. Um, we went to Bin 4 Burger Lounge, which is in kind of this random part of Victoria just outside of downtown. Um, I think they actually have a couple locations, don't they? Oh, they've got V uh, yeah, quite a few locations throughout. Uh, British Columbia, Victoria Linkford, Vancouver Kelowna. Yeah. Yeah. So I think it's like Red Robin or the North. I don't feel that at all. Hmm. Hmm. I think more upscale red Robin, but I think it's, it's like local and gourmet burgers.
Speaker 1 20:01 Yeah. Good French fries. Either way. Great sauces. It's definitely more elevated than Red Robin. But, um, yeah. Um, and the thing that I loved and learned about, um, been for burger lounge is that I want to have every restaurant I go to that is a burger place, give me the option of having tofu steaks on my burger instead of meat. So a lot of places will have like a garden patty of some sort or a house made an Impossible burger or an Impossible burger. But Oh my gosh. Marinated grilled tofu on a burger just in place of a patty is absolutely delicious. So I got to enjoy the most messy and delicious mushroom and blue cheese with tofu that I didn't think I'd ever get to have good times. So good. And the kids loved it too and Oh my God, they're French fries.
Speaker 1 20:52 They had their standard cheeseburger. They had some, they did enjoy it and they, the fries were delicious. And I think I really enjoyed that truffle aioli with my fries. Yeah, they've got great beer on draft. That's true. Yeah. It's just a great, great lunch spot. Um, the next spot that we went or that we want to recommend is Floyd's diner. Um, Floyd's is right over by the ferry terminal. So if you're getting ready to leave for the day, it is an easy place to go as long as you, a lot yourself some time because you can have a little weight there. Um, it is like your walkup and sit inside a house, dining room diner, um, with, I don't know, kind of a rough and tumble atmosphere.
Speaker 1 21:41 Your face says no, I didn't, I didn't say this. It's not like I was in Beth's cafe, you know. Oh my gosh. No, it's totally reminds me of something like baths or clothes. It didn't, not to me at all. It felt really good. Like, uh, yeah, not, not at all. Like best cafe. Okay. Yeah, that's fine. We have varying opinions anyways. Easy recommendation that is right by, um, the black ball ferry. So if you need a good spot, pop in there. Um, you know, gosh, it was very standard, like options I feel like. No, I, I I, I disagree. I had this delicious, um, carrot, was it a carrot ginger soup? I mean, the soup, the soup was delicious. I had this wonderful chicken Curry and then I had this delicious chicken sandwich that had Brie and like this bacon jam on it. Um, that was really good.
Speaker 1 22:29 Now that I'm thinking back, so this was like two weeks ago. Um, I remember me being like, Oh, this is fine. And you being really excited. Yeah. I don't, that explains why I'm ready to move on. But, um, but yeah, no, it was, it was delicious food, good times and a fun atmosphere. Yeah. Um, so we're gonna move a little faster now, um, because we've got some dinner stuff that we just, we have to talk about. Um, so something that's really cool goes year round. It's behind the Royal BC museum is the food truck festival. So it is, um, yeah. So even if you're up there in the winter, if you go behind the Royal BC, they've got this large courtyard with food trucks. So, um, we went to, gosh, we went to their Rolling Reef and love pierogi. Um, and that was Oliver's first time having pierogis, which he thought they were cool.
Speaker 1 23:22 Um, but then also dead beats burgers. That was delicious. Everything has beets and it was awesome. Really fun lunch option when you're walking around downtown. So it's right by the Royal BC, which is right next to parliament, which is next to Beacon Hill park. Kind of looks a little, it's down the hill from you and just walk from one to the other. But you could, we've done it could. Yeah. Yeah. Anyways, so it's basically, it's in a great location. Great options. Fun. There you go. Um, next up. And we actually, our last trip a couple of weeks ago was the first time we haven't gone there or to Swan to Swan Brewpub. We go there. It's also, it's also a hotel, so it has some really cool hotel rooms too. Um, we go there every single time and they've got a really beautiful atrium area, so you can do that kind of indoor, outdoor dining and they make their own delicious and wonderful beers.
Speaker 1 24:16 Um, their sandwiches are amazeballs and um, also their pizzas. So they do wood fire pizza. The pizza before. Yeah. Well that's it. Elliot and I got last time. Oh, that's right. Yeah. When he fell asleep. When we were at dinner. That's right. He was very tired and literally fell asleep, sitting upright in the booth and we ate dinner while he sat there asleep. It was a long day. But yeah. Um, so yeah, we love Swan. We always go there. Um, there are a couple other small breweries on in the Victoria area. Um, Vancouver Island Brewing, Driftwood, Brewpub, ours, two of them. Um, craft brewing has not really taken hold of Southern Vancouver Island the way it has everywhere else in the Pacific Northwest. So I don't know why, but that is just an observation. Um, another great lunch idea, um, is Murchee's. So Murchee's is actually a tea shop that is right there on government street.
Speaker 1 25:14 It's about two, three blocks up from the Empress. Um, you can go and you can get your tea service, but then also they have, um, lots of premade lunches and pastry or, uh, sandwiches and pastries that you can, um, just enjoy. So yeah, it's an easy on the go sort of thing. And then you can also go tea shopping, which is awesome. My favorite is the orange pekoe. There you go. That's my tip for Murchee's. Um, this is a little bit longer episode because there's just so much good food and that's okay. You can pause it and come back to it and take notes later or just check out the show notes for all of these recommendations or just listen to all the way through or just listen all the way through if you're driving or if you were like sitting there on the Black Ball Ferry heading up to Victoria and you're thinking about all the places to eat.
Speaker 1 25:57 You can be listening to this and making notes. <inaudible> perfect. Um, so dinner, these are ordered for sure in order of our favorite to good, but least favorite of our list. So least favorite. It's like when we play that one game with the kids, um, who knew, who knew, right. And you have to, this is totally who new restaurant addition. So what's your favorite, what we just went there this for the first time, this last trap, but it's called Boa. So B A O, um, for bao and noodles. Um, and they have ramen there. That was so delicious. Um, and then they've got a cute little bow sandwiches. Uh, yeah, that we got to enjoy for the first time. Um, all of our oldest,
Speaker 2 26:44 you know, he always for some reason wants to have buttered noodles when we go out to eat sometimes, which we never let him have. And he's, and we don't eat that as he ever had buttered noodles. I don't know. I don't think he's ever gotten to order buttered buttered noodles. I don't know. But he tries and then he laughs about it, but he saw that they had noodles in broth and he's like, Oh, can I have the noodles in broth? And we're like, sure. Oh my gosh, that noodles and broth. I could have just had that and been satisfied cause the broth was so delicious. I like my bin ben bop was delicious and amazing and filling and spicy and wonderful. And I still kept on snacking off of Oliver's noodles and sipping the broth because it was this wonderful garlic. Goodness. Yeah, it was amazing.
Speaker 2 27:30 And then, uh, and then boa, like if you, if you don't know what that is, it's um, like a, it's a filled bun or like a bread like dump dumpling that you can use. They actually do it. They're like a kind of like taco style, not like a, like a sandwich or like a filled dumpling, but more like taco style and they've got really delicious filling. Uh, I think I had a kimchi fried chicken. Like I said, I love fried chicken. I had one with bean paste. It was delicious. And Elliot had a barbecue pork, pork pulled pork that he had in his pulled pork. That's his favorite food. He loved it. Um, and then, uh, and so I had one of those little boa tacos, um, as a, as an appetizer. And then I had, um, one of the ramen bowls that they had in mind was this white truffle broth with a pork belly and a marinated egg.
Speaker 2 28:18 And it was just heaven. Yeah, super good place. And it's right there at the edge of Chinatown. Again in that same neighborhood that we seriously, we spend 90% of our time in Victoria in this one, like three block radius. We should just move there. Um, next up. Um, another awesome Asian restaurant, New Boat Japanese tapas. So it was right by our hotel. Um, but also it was a topic, Yelp recommendation was like, okay, sure. So yeah, I really liked the service because um, you know, it was really busy there and we got in and were like, there's four of us. And um, not only did, like, she, uh, um, you know, accommodate us. She had to ask like two people to move down two chairs at the bar so we could fit in there. Yeah. They let us sit at the chef counter with the kids, which was really fun.
Speaker 2 29:07 So Oliver's favorite food, so Elliot likes his pulled pork. Oliver lives for sushi. Yeah. He loves the California, but so we were like, where do you guys want to go? And Oliver immediately yells at sushi. Okay, let me figure that out. Um, but it was so much more than sushi. There was some wonderful appetizers. They were making, of course, beautiful sushi for everybody. And I was snapping pictures of other people's food as it was coming over the bar. Cause that's where we were sitting. But, um, my new favorite thing that I didn't know I needed in my life was that Kung Pao, agedashi tofu. Oh yeah. And the, so agedashi tofu, you know, it's going to have that kind of what cornstarch batter type to it. Kind of like tempera. Maybe not. I actually don't know what it is. I don't know what it is, but it's amazing. Figure out how to make it and it's a little bit crunchy, but then also super duper tender and served with the most brilliant red and delicious, sweet, spicy sauce. It made me so happy. Yeah. Yeah, I remember that was delicious. And Elliot just had the standard Akiyoshi tofu, um, which he enjoyed. He loves tofu. Um, plus he had those delicious prawns, shrimpies. Oh, he loves the shrimpies. Yeah. That kid loves everything. Yeah. And I had delicious sushi, sushi, amazing saki, um, and their vegetables tempura was delicious and you know, great variety of items in there. I ordered veggie vegetarian rolls cause you know, that's right.
Speaker 1 30:29 You did. Yeah. And it's always kind of weird because when you love sushi and then you go vegetarian, it's kind of difficult to um, find something that like a type of role that gives you that same sort of like texture and satisfaction satisfaction. But you know what, they did a really good vegetarian roll with so many different types of vegetables in it that my mouth was confused and I was happy. So good times. So yeah, that's Nubo Japanese tapas, super delicious. I'm also pretty darn affordable for the quality of foods we were getting, which is great. Um, next one. Chris hasn't been to this one, but I've been there with the boys and I really enjoyed it. It's Canoe Brewpub. It's right off the water. Um, and the reason that it's number three on the list is because I think it has the best fish and chips of many different orders that I've had around Victoria.
Speaker 1 31:22 I think Canoe Brewpub has the best fish and chips around. So I want you to go there. I know you need to go there. Um, I'm sure that other people are going to fight me on that and pick something else. I know there's another spot that's right, right off of the water and it's just a little walkup window. Um, Red Fish, Blue Fish. But um, we haven't got to go there yet. We have not gotten to go there. I also want to go to the fisherman's Wharf. There's lots of places down there too. But yeah, each time we go there we can't do it. Fisherman's Wharf and us is not meant to be. It will happen. We've been there and the summer when it's been dumping rain and there's no place for us eat cause it's all outdoors. And I've had to evacuate because the rain was crazy.
Speaker 1 32:04 We've been there in the winter when absolute beautiful and nothing's open. And so, you know, it is what it is. But there are some places that everybody recommends over in fisherman's Wharf for fish and chips. So, um, next recommendation and we're almost done. We're wrapping it up. Next recommendation is Fishhook at Mermaid Wharf, which was really, it's a fascinating place. It's a really big open restaurant, which is cool. Um, but it was Indian fusion with seafood. So yeah, the kids I think were confused by their meals. Um, but they have, I don't remember. Um, I didn't write it down because we just had fish and chips maybe. Yeah, I know. Like I had this, uh, vindaloo um, uh, seafood hotpot, uh, which was super delicious. It had like, it had fish and mussels and prawns and it came with like this. He got me lemon chebada bread.
Speaker 1 33:01 Um, it was amazing. Yeah. So I mean it's, it's interesting because I think Indian food is delicious. Ooh, maybe we should get that tonight. Anyways. Um, Indian food is delicious, but I never really think of it mixing with seafood. So Bravo to the fish hook for like mixing it and making it delicious. So it's an interesting choice. Um, couple other quick hits before we wrap it up. Um, the Flying Pig is another really, it's a great restaurant. It's right there in the downtown area. They've got a couple locations around British Columbia. So again, it's, it's not necessarily a chain, but it is, um, one with multiple locations. They have a great outdoor seating space at the Victoria location. So, um, check that out for summertime dining. And then, um, the last one is the 10 Acres Kitchen. So 10 Acres is kind of split into a couple of different sections.
Speaker 1 34:01 Um, 10 Acres Kitchen is nicer. It's very nice. Um, and it's that same farm to table focused, um, seafood restaurant. Like, you know, we were talking about with, you know, with Nourish and with Roost in that farm to table is basically their theory and method and everything about how they make their meals. Um, and it's, it's delicious, but again, it's not the top of our pics, but you know, it's not bad at all. Yeah. Give it a try. So what you feel about it, I know it's, it's funny to like make a list and then have something planned at the end when it totally, I mean it could go anywhere on the list of we're not downplaying it at all. Just, yeah. There's other things we love more. Um, so that is our addition all about, um, restaurants in Victoria. Um, one other quick thing that I wanted to note in this episode is, um, when it comes to getting wine to take back to your hotel, I know this is kind of random and not necessarily a restaurant thing.
Speaker 1 35:06 Um, but if you want to get a bottle of wine to bring back to your hotel and you're staying downtown, you do need to find a wine shop. So it's not like you can get it at a corner store or anything like that. You do need to specifically find a wine merchant and there are a couple of wine shops. So, um, yeah, if you enjoyed your dinner and are ready to go to bed, but you want wine, just remember to stop by someplace on the way back. Yeah, let's use Google. It's your friend. I know, I know. That was totally random and unrelated to anything else, but I felt the need to call it out. There you have it. Do you have anything else you want to finish with? No, just enjoy it when you grow up to Victoria and have fun. Look, you know, if you try the recommendations that we shared and find your own and you know, share back anything else that you want to share with us so we can try it next time we're there.
Speaker 1 35:51 And something that's interesting about the restaurant industry is restaurants will change, they will change their menus, they will close, they will get new chefs, all kinds of different things. So if you're listening to this and something that we've recommended, um, is totally different now leave us a comment and let us know. Um, we'll also, you know, keep tabs on stuff and update when we need to, but um, if you go and have an experience that was contrary to anything that we've recommended, let us know. Always good to keep tabs. Cool. All right, well thanks for hanging out with us. Um, we're hungry. So we're going to go find our own dinner and have a great night. We'll talk to you later. All right, so you guys 2TravelDad's podcast is written by Rob and Chris Taylor and produced by Rob Taylor is Squamish Washington. If you would like to be on 2traveldads podcasts, or sponsor, please visit 2traveldads.com/work.