The San Juan Islands are famous for being beautiful, remote and untouched. Kayaking is one of the best ways to experience and fall in love with the quiet coves frequented by orca whales. This is our guide to the best places to kayak in the San Juans, from Orcas Island to Friday Harbor on San Juan Island. The San Juans are unquestionable one of the best kayaking destinations in the Pacific Northwest.
We teamed up with Visit San Juans to get the most up-to-date information for kayaking in the San Juan Islands, including current tour operators (in case you don't have your own kayaking gear). The San Juans are some of the prettiest places in Washington, and perfect to explore on the water. If you have any questions, please be sure to leave us a comment or send us a note. We're happy to help your San Juans kayaking dreams come true!
Note: The protected coves and bays are peaceful spots to paddle. If you choose to go beyond and into a channel or strait, they are also known for sometimes strong and challenging tidal currents, which can present serious risks to inexperienced kayakers and paddle boarders. Protected bays can be easily enjoyed. Other areas should be approached with caution.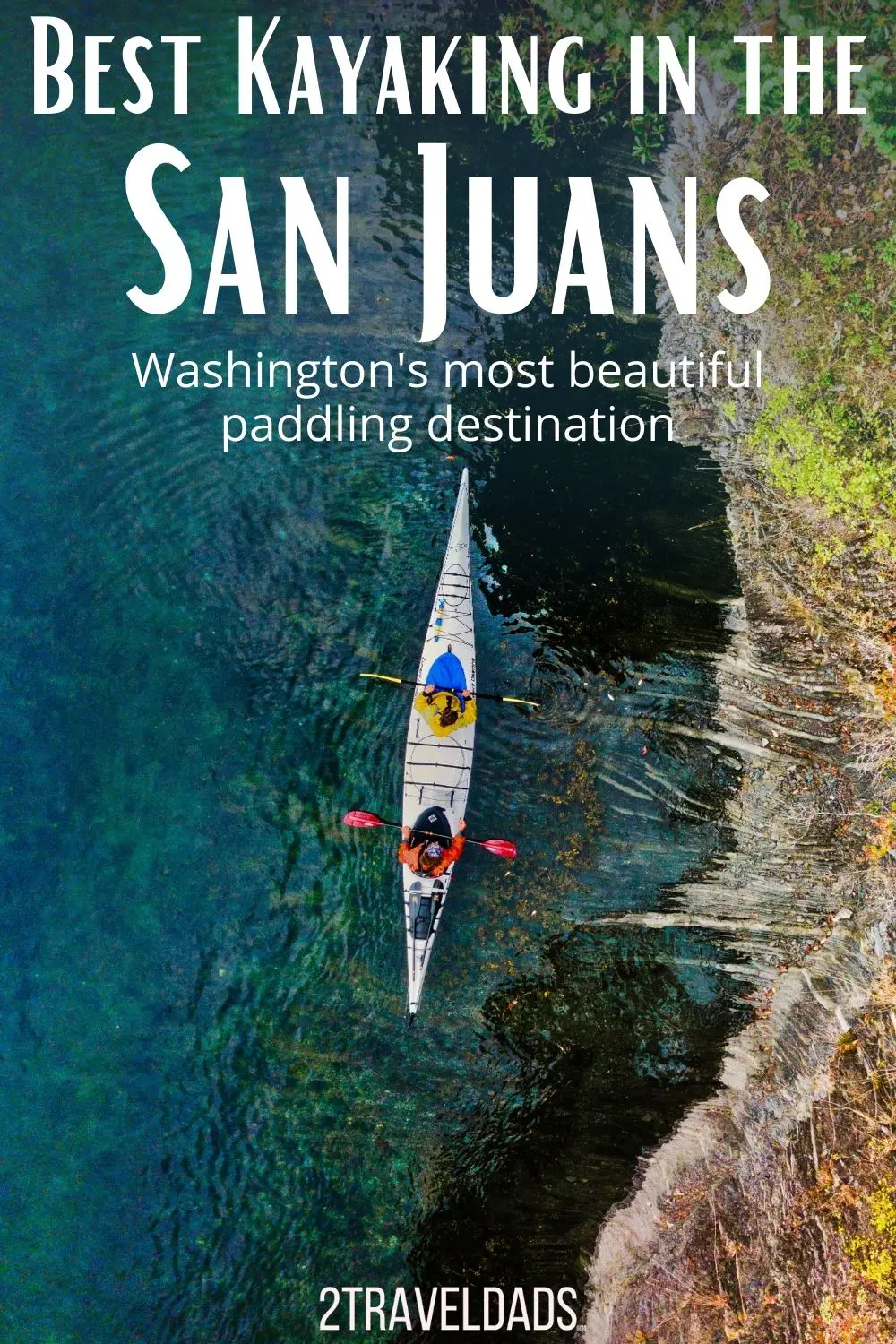 Why Kayaking in the San Juan Islands?
The calm is so complete, even the dip of the paddle barely makes a ripple in some of the best kayaking coves. The light breeze is scented with fir and cedar coming from the San Juan Islands' dense forests. As you paddle on the Salish Sea, a dark head pops up in the kelp, bright brown eyes watching your every move before ducking under again—a curious harbor seal.
Peering down to follow its path, you get a glimpse of orange and purple ochre sea stars latched onto the rocks. In the distance, a plume of spray rises with an audible 'whoosh.' A dark shape, glistening in the sun, seems to keep rising before a fluke appears – a humpback whale in search of its next meal. All of this while kayaking in the San Juans, an ideal destination for Pacific Northwest boating.
Scenes like these are what await when you set out kayaking from the San Juan Islands. Whether you're paddling your own craft or going out with one of the many knowledgeable kayaking outfitters on San Juan, Orcas, or Lopez Island for three-hour to three-day (or longer) tours, there's adventure waiting in the Salish Sea.
Note: if you are heading out for kayaking through the San Juans or just popping from cove to cove, a sea kayak is nearly always the recommended equipment for paddling. Most standard recreational kayaks for lakes and broad rivers are not stable and safe enough for the potential rollers and tides of the San Juan Islands.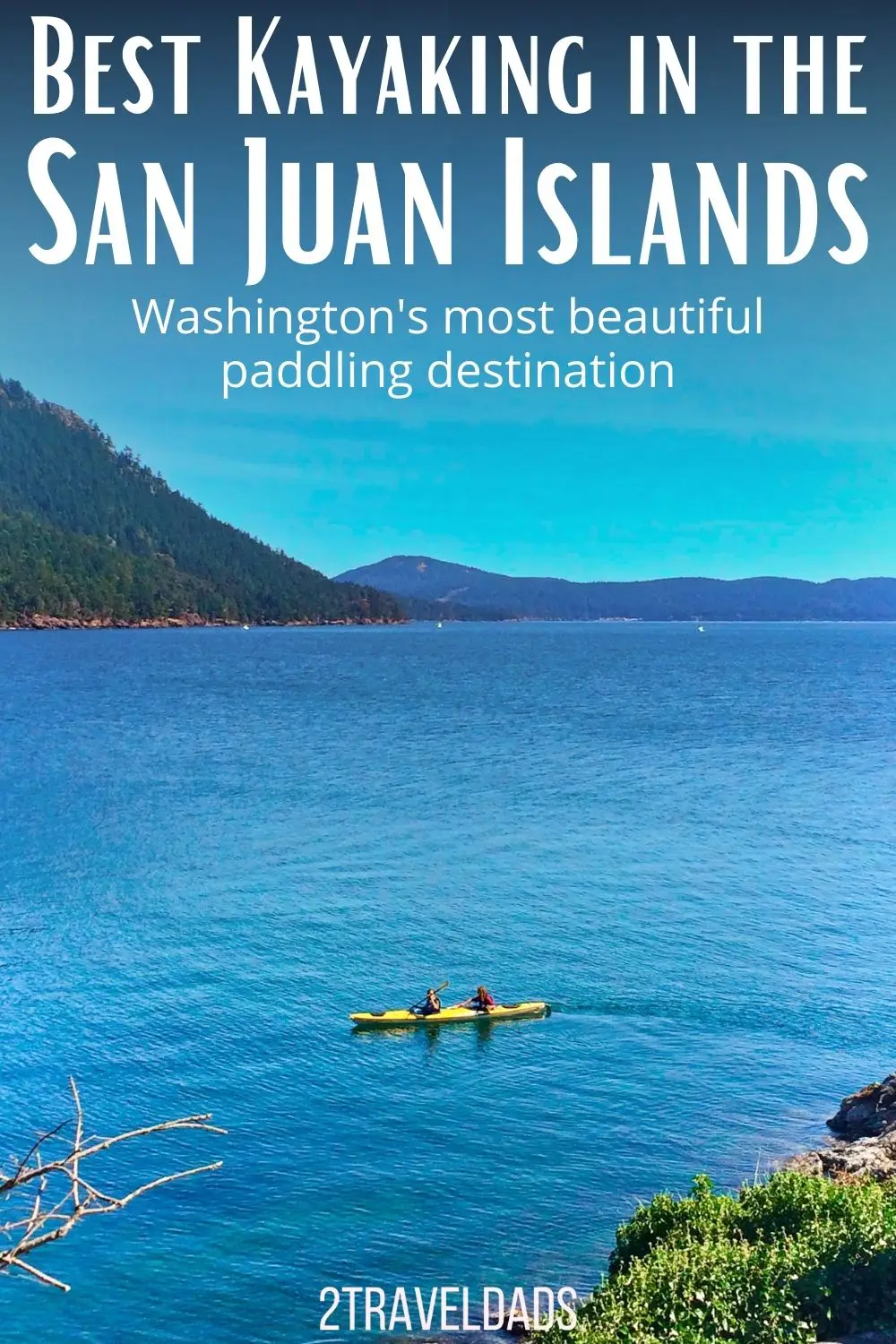 Wildlife to Watch for in the San Juans
The marine wildlife of the San Juan archipelago has something for every nature lover's bucket list. Orcas whales, humpback whales, sea lions, seals, Dall's porpoises, river otters, sea stars, anemones, sea urchins, sea cucumbers, and even octopus can be found in the waters around the San Juans. Depending on the season, you may even encounter ALL OF THEM in one kayaking trip in the Islands.
The south side of Lopez Island is dotted with national wildlife refuge islands, set aside for animals and fervently protected, no people allowed. You can visit dozens of islands and their coves, such as Fortress Island, Skull Island, and Crab Island when you're paddling. The quiet of a kayak lets you closely observe shoreline habitat without disturbing it, which is exactly how you can visit the protected islands of the San Juan Islands National Wildlife Refuge.
And if paddlers encounter whales, they should follow the Be Whale Wise guidelines and raft up, staying as motionless as possible until the whales have passed. We've gone whale watching from the nearby Olympic Peninsula and Victoria BC to these waters and the wildlife, particularly whales, is phenomenal.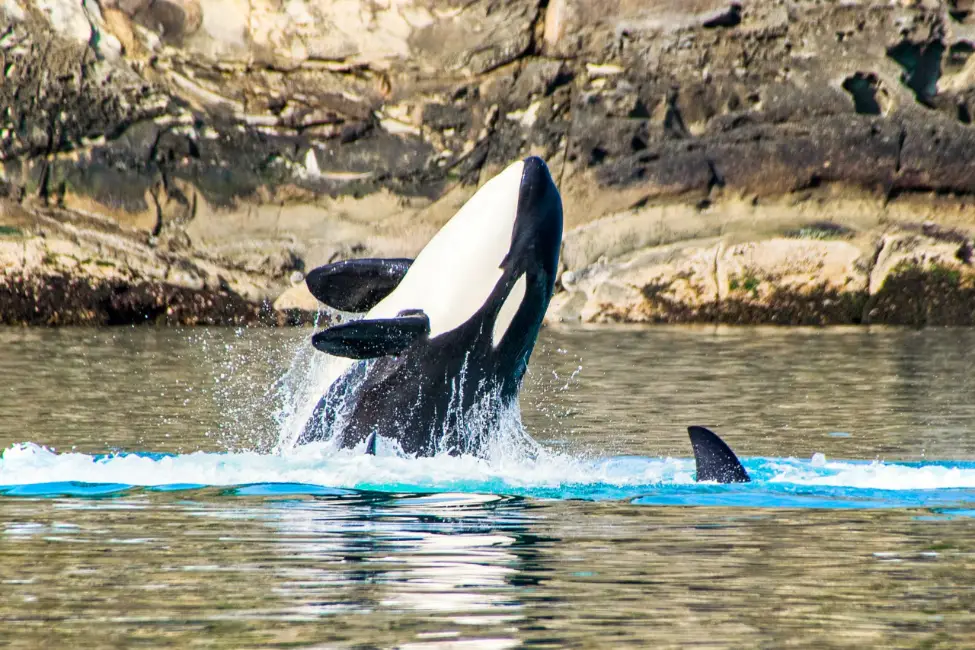 San Juan Islands Kayak Tours
Like any adventure spot, kayaking in the San Juans is not without risks. The currents of the Salish Sea can be swift and treacherous in places. When strong wind and current oppose each other, it can turn into a washing machine of standing waves, difficult to navigate and at times unsafe. If you're new to kayaking or unfamiliar with the paddling routes in the San Juan Islands, sign up for a guided tour the first time to safely acquaint yourself with the elemental quirks. (recommendations below)
Some outfitters offer specialty guided multi-day trips, like "women on the water" and "yoga and kayaking." These trips have a gourmet element—offering meals made from ultra-local ingredients like fresh shellfish and salmon and seasonal vegetables from the farm stand down the road. Feast on grilled fish, salad, and fresh fruit after paddling the straits to Jones Island, an uninhabited marine state park. Stretch out into a warrior pose observed only by an inquisitive otter or seal.  
And there's always the option of locally brewed beer or wine to toast the lingering summer sunset. It won't be a protein bar that starts your next day of paddling, but an herbed goat cheese frittata straight from the Dutch oven. Guided kayaking in the San Juans is an elevated experience, for sure.
Check out San Juan Islands tour (biking, kayaking, brews…) here!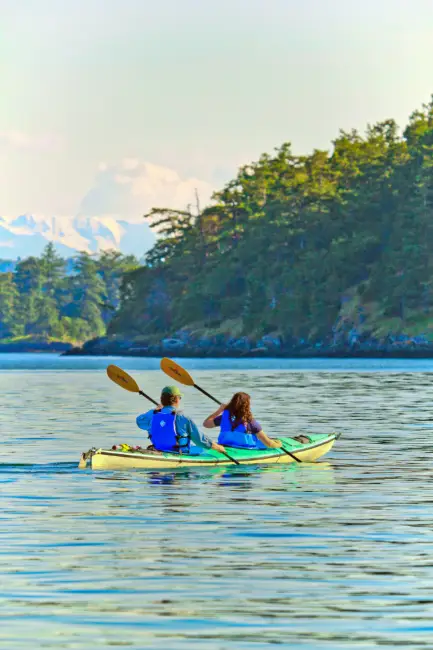 Gear and Renting Kayaks in the San Juans
Renting kayaks in the San Juan Islands is also an option. With many public launch areas, from county to state parks, renting kayaks in the San Juans is an easy way to add outdoor recreation to your Pacific Northwest dream vacation. Rental options are limited on some islands, so be sure to plan ahead and be on the right island for your planned paddling journey. (rental information below)
In any of the open water areas of the San Juan Islands, it's recommended that a sea kayak be used. This is a longer kayak, not a sit-on-top, and it typically has a spray skirt on it. You'll need to be sure you have the appropriate equipment for safety as well, including but not limited to:
paddle floats
life jacket and/or life belt
whistle or horn
waterproof storage
appropriate clothing – it's cold on the water YEAR-ROUND
If you have a nautical or marine radio, that's a good tool too. While we recommend staying close to the shore whenever possible, if you're out in the open water watching orca whales migrate or something, you will find that you have ZERO CELL SERVICE. If you have an emergency, you'll need to be able to radio for help.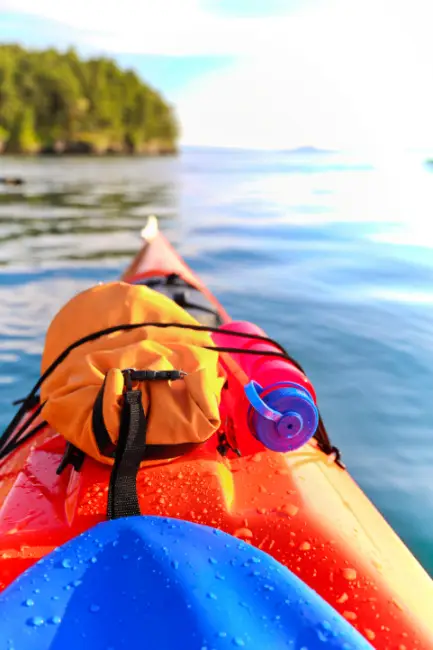 Best Places to Kayak in the San Juan Islands
If you see a public boat launch, you could put your kayak in and start exploring the waterways of the San Juan Islands. No doubt you'd see some beautiful sights, but it's always good to get recommendations for the best places to kayak and top sights to see on the water. Self-guided kayaking in the San Juan Islands is easy if you've taken the time to familiarize yourself with the waterways and pullouts.
Be sure to look at our kayaking maps of the San Juans for each of the islands you want to do a paddling expedition at. You'll find that kayaking on the open water is a combo of calm kayaking, whale watching and seafaring, so be well prepared with a "safety first" mentality before doing a sel-guided kayak trip in the San Juan Islands.
Kayaking at Orcas Island
One of the best places for kayaking in the San Juan Islands is Orcas Island. It's shaped like two smashed pieces of pizza connected by melted cheese. This odd shape gives Orcas Island some beautiful coves and harbors for kayaking.
Orcas Island is famous for its historic Rosario Resort and its vibrant collection of artists all around the island. Orcas is also home to one of the most popular State Parks in the San Juans, Moran State Park, which has wonderful camping, hiking and the beautiful Cascade Falls. And of course there are two lakes in Moran Sate Park that are perfect for calm, lake kayaking.
When it comes to the best places for kayaking around Orcas Island, we've split it into two groups of kayak launch sites: Interior and Exterior.
Interior Orcas Island Kayaking Spots
The interior places for kayaking on Orcas Island include both Moran State Park up in the hills, as well as the coves and shores along West and East Sounds (the interior bodies of salt water). You'll find the combination of mountain lakes with the calm, emerald coves of Deer Harbor and Ships Bay to be the perfect San Juan Islands kayaking combo. Also a calm area, the village of Orcas is a good place to launch a kayak, but beware of Washington State Ferry traffic.
At Moran State Park, there are two lakes large enough for kayaking: Mountain Lake and Cascade Lake. You can launch your own kayaks or rent them within the state park. Hike up the Mount Constitution trail afterwards to have an incredible day of kayaking and hiking in one of Washington's best state parks.
On East Sound, there are launch sites from the opening of the bay at Olga all the way to the town of Eastsound. For a gorgeous, untouched kayaking route, just paddle from Crescent Beach in Eastsound to the Griffin Rocks just beyond Ships Bay. PS: if you can do a meal at the Inn at Ships Bay… OMG.
From Westsound, paddle out of the marina and head north into Massacre Bay. Stop on the beach or paddle around Skull Rock, doing a little kayak orcas whale watching as you go.
Out of Deer Harbor, explore the Deer Harbor Preserve and paddle south towards Fawn and Reef Islands. Always watch for submerged rocks in these small harbors, especially if you're using a fiberglass sea kayak, as you don't want to damage your watercraft while you're in the middle of the harbor.
Here's a list of places to kayak or launch on East Sound and West Sound at Orcas Island:
Double Cove
Bay Head Marina
Orcas Village
Deer Harbor Preserve
Cayou Quay Marina
Deer Harbor Marina
Massacre Bay, Deer Harbor
West Sound Marina
Eastsound Dock
Crescent Beach Kayak RENTALS
Crescent Beach
Rosario Beach
Orcas Adventures Kayak RENTAL
Olga Road, Cascade Lake
Mountain Lake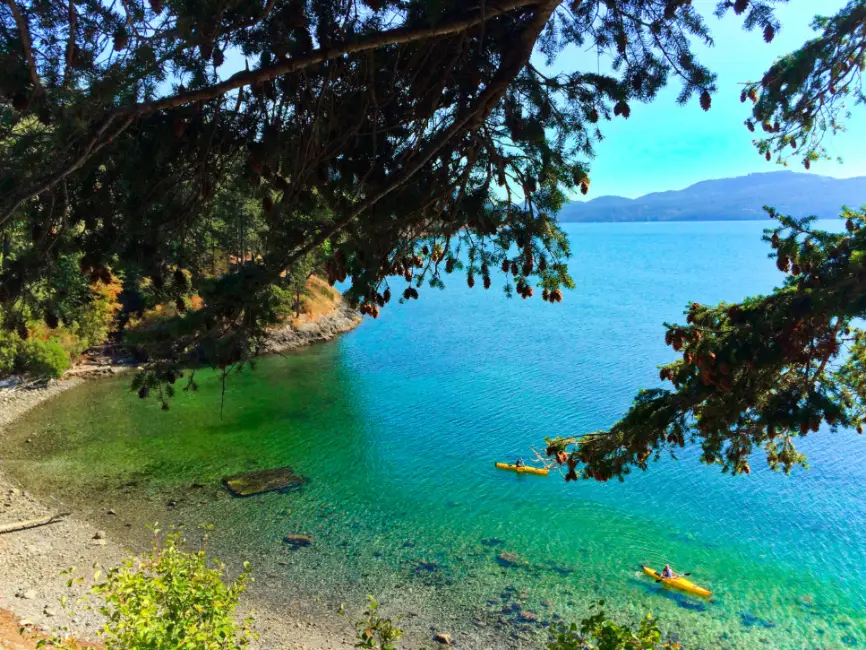 Exterior Sea Kayaking at Orcas Island
Since Orcas Island is so large and strangely shaped, there are ample opportunities all around for kayaking. The best places to kayak on the outer shores of Orcas Island start in the southeastern end with Obstructions Pass State Park through several coves to Deer Point. Moving up the east coast of Orcas Island you come to Doe Bay.
There are lots of beaches to pull up onto, but the real highlight is kayaking with orcas. The Rosario Strait is known for whale watching, so doing sea kayaks in the San Juan Islands is a great idea, particularly here on the east shore of Orcas Island. Should you encounter orcas, the law is to stay 300 yards away from them, so do NOT approach them, but stay where you are and enjoy the amazing wildlife sighting.
If you're interested in exploring Rosario Strait and departing Anacortes, WA, this guided tour circumnavigates Burrows Island and several other small parts of the San Juan Islands National Monument area. Book it here!
On the north side or Orcas Island, there are several public beach access points that are great for kayaking from. Some of the best places to kayak in the San Juans start at the beach… and go to another beach. It's all beautiful.
There are a variety of vacation rentals and small hotels, like the West Beach Resort, where you can do tours or launch your own kayaks. When you're looking for where to stay on Orcas Island, take the time to find a property that either has its own launch area or is nearby a public launch site. Orcas Island has plenty of options like this!
Here are some great spots to launch watercraft for sea kayaking around Orcas Island:
Olga County Park
Orcas Island Kayaks
Doe Bay Resort & Retreat – TOURS
North Beach Public Access
Brandt's Landing Marina LLC
Outer Island Excursions Kayaking tours and rentals
North Beach
West Beach Resort
The more protected waters of Orcas Island provide smoother kayaking, a boon for beginners. With more than 125 miles of shoreline, Orcas offers kayakers a wealth of opportunity. From the North Shore, you can access a number of uninhabited state park islands, such as Sucia, Matia , and Patos. Paddle around them and enjoy the shoreline or jump ashore and explore their beautiful trails.
Sucia Island is well known for its baroque sandstone formations and the discovery of a dinosaur fossil back in 2012 – a relative of Tyrannosaurus rex affectionately known as Suciasaurus rex that's may become the Washington State Dinosaur.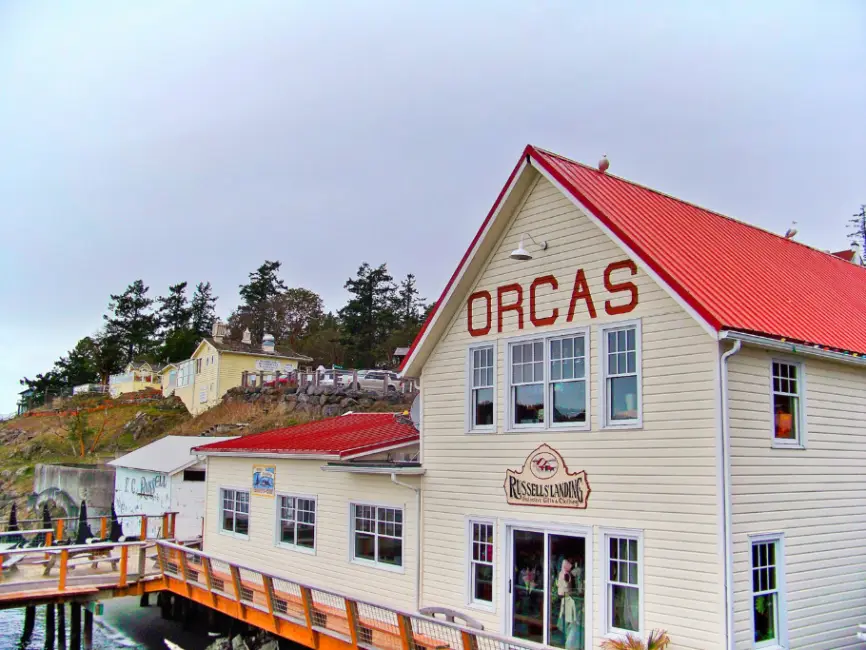 Orcas Island Kayaking Guides and Rentals
One of the fantastic things about kayaking in the San Juans is that there are lots of great San Juan Islands kayak tours available. Whether you want a tour or to do self-guided kayaking in the San Juans, Orcas is a great island to go from. The following operators do kayaking tours or rentals from Orcas Island:
Orcas Island Eclipse Charters – website information here – (360) 376-6566 — Eastsound; Whale Watching primarily w/ kayaking through partner company
Outer Island Excursions Kayaking – https://outerislandx.com/kayaking – (360) 376-3711 — Orcas, Lopes and San Juan Islands; kayaking tours and rentals, also do whale watching
Shearwater Adventures – https://shearwaterkayaks.com/ – (360) 376-4699 — Eastsound; guided tours only, NO rentals
Orcas Adventures – www.orcasadventures.com – (360) 376-4665 — Moran State Park; RENTALS AVAILABLE at Cascade and Mountain Lakes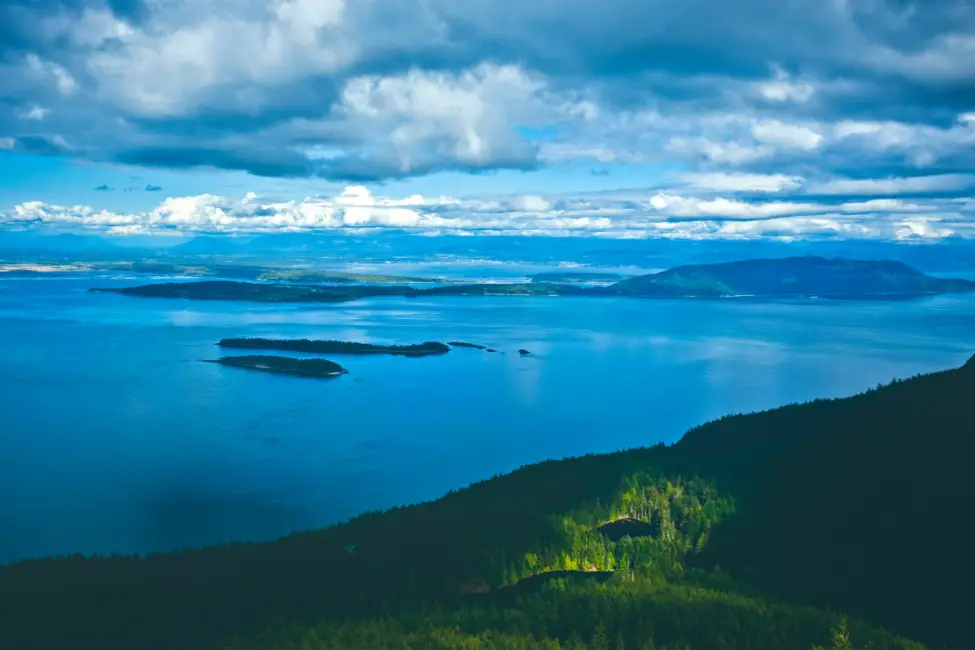 Best Kayaking Spots at Shaw Island
Shaw Island is the most quiet of the primary San Juan Islands. There are no kayak tours or rentals on Shaw Island, so you'll need to bring your own kayaking gear. The coves and beaches around the island are beautiful and there's even a State Park you can paddle to.
The best places to launch a kayak on Shaw Island are below. The scenery is quite similar at each cove or beach, so decide where you want to go kayaking based on the wind and tide.
Shaw County Park at Indian Cove
Squaw Bay Road
Harbor Way at Neck Point
Hoffman Road, beach launch for Shaw Island State Marine Preserve
Cameron Road, north side cove, paddle out and south for Tift Rocks
Broken Point Road, east side beach
Smugglers Cove Road or Blind Bay Road, paddle to Blind Island Marine State Park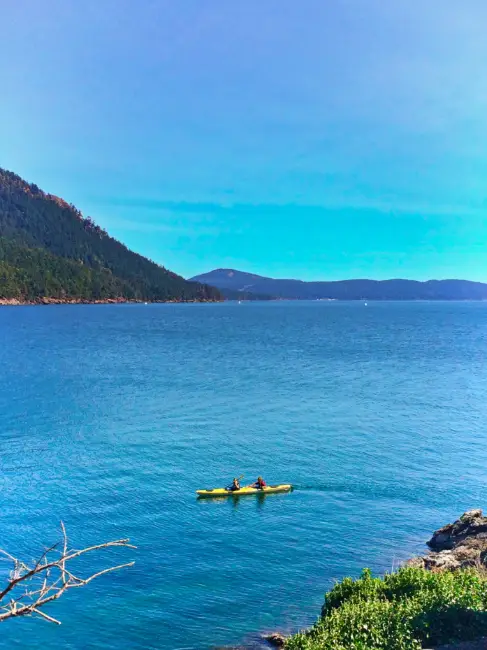 Like with anyplace, be aware of private property and trespassing. Launching a kayak on Shaw Island should only be happening at the beaches, as there isn't a public dock on Shaw Island.
If you paddle to some of the smaller islands on the north side of Shaw Island, such as Crane Island, there are are beaches to rest on, but on some islands, such as Cliff Island, there are only private residences. While Washington State technically has no private beaches (personal property ends at the shore or last built structure) you don't want to surprise the few residents you may encounter.
Kayaking at Lopez Island
Lopez Island is wonderfully wild with some great outlying islands nearby to kayak to. Kayaking in the San Juans, particularly around Lopez Island is like kayaking in the Florida Keys: lots of small pieces of land with gorgeous water all around. Something great about kayaking at Lopez Island is that there are actually quite a few public parks and boat launches. The other islands in the San Juans tend to have a lot of beach launch spots, but Lopez has a good number of ACTUAL launches.
On the northern side of Lopez Island, launch kayaks from Odlin County Park or Fishermans Bay Spit Preserve for direct routes to nearby Canoe Island or Picnic Cove on Shaw Island. On the east side, kayaking at Swifts Bay or Spencer Spit State Park will put you just off the ferry lanes, so it'll be pretty and there's a great chance for seeing orca whales, but sea kayaking in this part of the San Juans means more boat traffic than other, more quiet bays.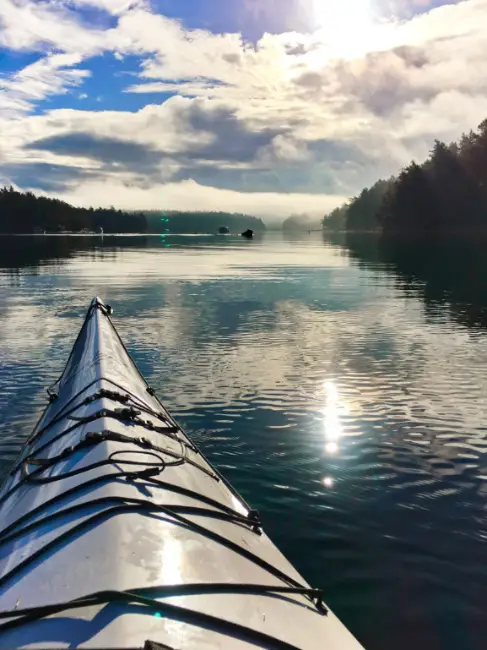 The Hunter Bay Dock area is great for kayaking on a protected harbor full of small islands and beaches. Heads up though, as you head south towards Mud Bay, at low tide you may find yourself high and dry in certain spots. Kayaking around Lopez Island requires paying attention to tides a little more than other spots in the San Juans.
For a fun paddle to a beautiful beach, head out from Mackaye Harbor to Jones Bay or just past to Richardson Rock. At around 4 miles round trip, this is a great, protected paddle good for beginner sea kayaking visitors.
Bayview Day Park
Lopez Islander Marina
Point 3Otis Perkins Day Park
Fishermans Bay Preserve
Flat Point Beach
Odlin County Park
Spencer's Landing
Swifts Bay Beach
Spencer Spit State Park
Hunter Bay County Dock
Shoal Bight Beach
Agate Beach County Park
Barlow Bay
Mackaye Harbor Boat Launch
Richardson Rock
Kayaking Guides and Rentals on Lopez Island
Being one of the less visited islands in the San Juans, there aren't a lot of outfitters to help people out on kayaking expeditions. Lopez Island Sea Kayaks does multi day rentals and they have some great suggested sea kayaking routes.
Lopez Island Sea Kayaks – www.lopezkayaks.com – (360) 468-2847 — kayak rentals only, by hour / day / week, they also do bikes
Outdoor Adventures – www.outdooradventurecenter.com (425) 883-9039 — kayak tours AND rentals, they also do bikes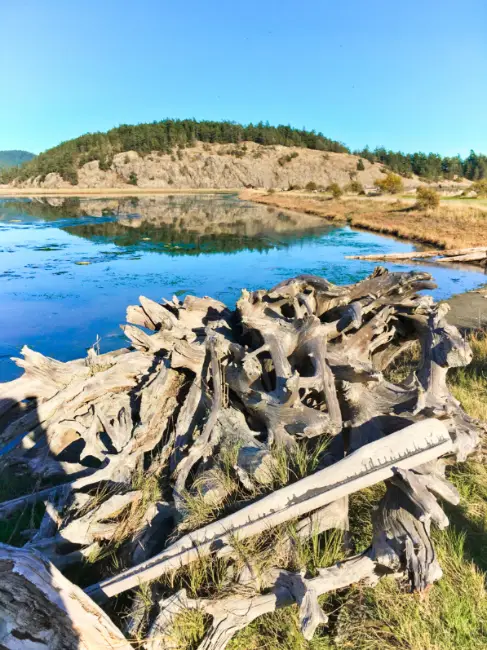 Best Kayaking in Friday Harbor and San Juan Island
When it comes to sea kayak expeditions around San Juan Island, this is where we recommend kayaking tours. San Juan Island is quite large, and while there are calm waters around both Friday Harbor and Roche Harbor, you're near the shipping lanes and the international border, so going with a guide is best.
If you want to do a self-guided day trip, you absolutely can, and it'll be amazing, no doubt. For the best kayaking at San Juan Island, go out of Friday Harbor or Shipyard Cove Marina. Stay close to the shore or explore the south side of Brown Island, but be aware of boat traffic, large and small.
On the north end of San Juan Island, park on the Isthmus and paddle on either side. The west side is the open water, with a harbor on the east side. Paddle around the peninsula for a simple route that brings you back to your launch site, but across the road. Note: be sure you do this at high tide to avoid going high center. If you want to really go big or go home, paddle out to Stuart Island Marine State Park for a beautiful untouched piece of earth… and a light station (not lighthouse).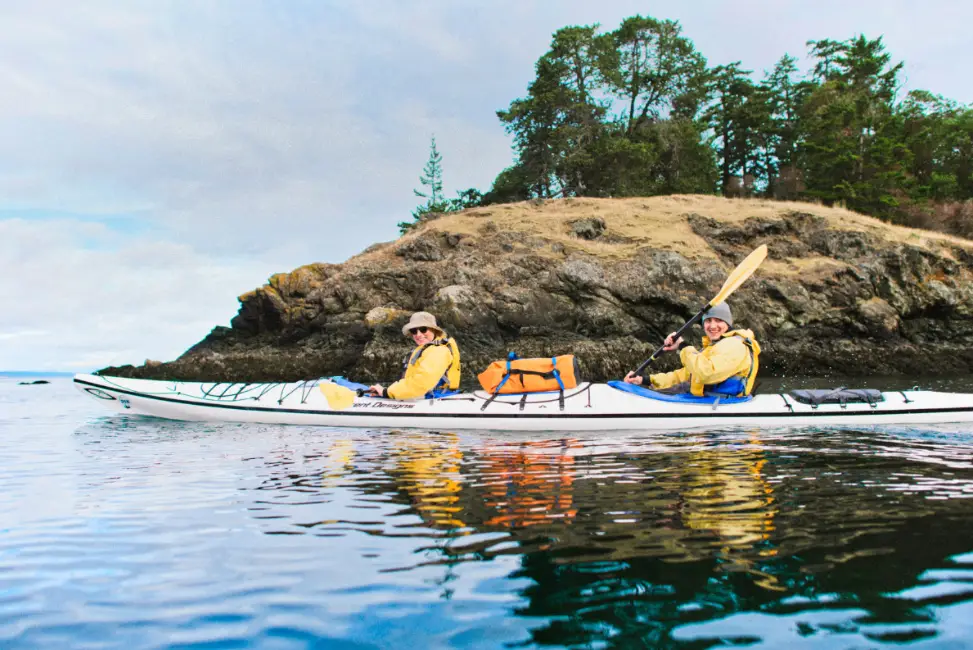 In Roche Harbor launch your kayak from the boat ramp and head out and to the west, making your way to Nelson Bay at Henry Island, or go for a longer self-guided sea kayak expedition to Westcott Bay on the south side of the Roche Harbor peninsula. Remember though, you'll have to kayak back also so plan your route accordingly.
On the western shore of San Juan Island, launch from Snug Harbor and paddle into the quiet Mitchell Bay (easy) or head west to Mosquito Bay to explore some coves.
A little farther south at San Juan County Park you'll find a great beach to launch from. Head out sea kayaking and do a little whale watching as you get closer to Lime Kiln State Park. Paddling to Lime Kiln State Park is about three miles on the water, so plan for this to take some time. Be sure to check the tide charts and head north with the incoming tide, south with the outgoing. Note: you must paddle SOUTH of the Lime Kiln Lighthouse to get to the beach for a break. There is a wonderful spot to rest before your paddle back (or arrange to get picked up here!).
Friday Harbor Marina
Shipyard Cove Marina
Reuben Tarte County Park
The Isthmus
Roche Harbor Boat Ramp
Snug Harbor
San Juan County Park
Lime Kiln Beach
South Beach – NATIONAL PARK
Fourth of July Beach – NATIONAL PARK
Jackson Beach Park
Kayaking at San Juan Island National Historical Park
Yes! You can kayak at San Juan Island National Historical Park! As it is a National Park, they have their own rules and regulations that must be followed. Like with Dry Tortugas National Park or Cabrillo National Monument, you cannot collect anything from the beaches. If you either launch from Fourth of July Beach or South Beach, or if you land here from another launch site, remember that you are within National Park boundaries and are subject to different laws, including the use of drones.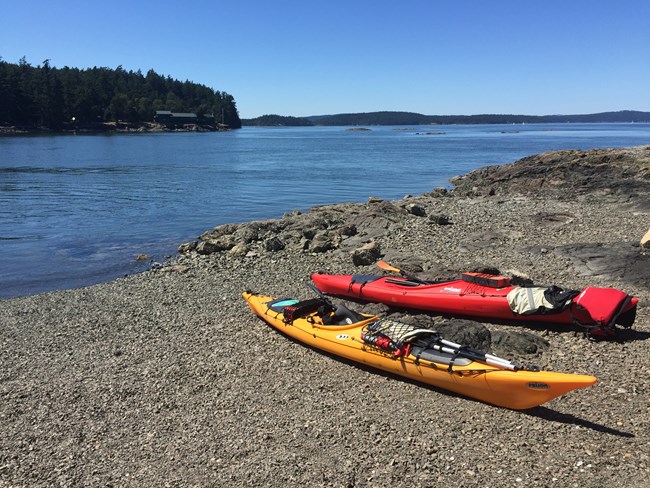 Kayaking Guides on San Juan Island
Sea kayak from Friday Harbor with any number of San Juan Islands kayak tours. Or if you want to go out of the north end of the island, several operators will also do kayak tours out of Snug Harbor or Roche Harbor. Because Friday Harbor is such a popular tourist destination, call ahead before trying to rent a kayak or pop onto a same-day tour. If you can make a reservation, do it!
Here are outfitters and tour in Friday Harbor, San Juan Island:
Crystal Seas Kayaking – www.crystalseas.com – (877) 732-7877 – half day and multi-day kayaking tours, Friday Harbor or Snug Harbor
Discovery Sea Kayaks – https://discoveryseakayak.com/ – (360) 378-2559 – half day and multi-day kayaking tours, Friday Harbor
Outdoor Odysseys – www.outdoorodysseys.com – (360) 378-3533 — kayak tours out of Friday Harbor and Roche Harbor
San Juan Kayak Expeditions – www.sanjuankayak.com – (360) 378-4436 — tours AND rentals available out of Friday Harbor
San Juan Outfitters – www.sanjuanislandoutfitters.com/sea-kayak-tours – (866) 810-1483 — kayaking tours only, Friday Harbor and Roche Harbor
San Juan Safaris – www.sanjuansafaris.com/boat-tours/kayak-tours – (800) 450-6858 — kayaking tours only, Friday Harbor and Roche Harbor
Sea Quest Kayak Tours – www.sea-quest-kayak.com/kayaking-san-juan-islands/ – (888) 589-4253 — variety of kayak tours including women-only, rentals available, Friday Harbor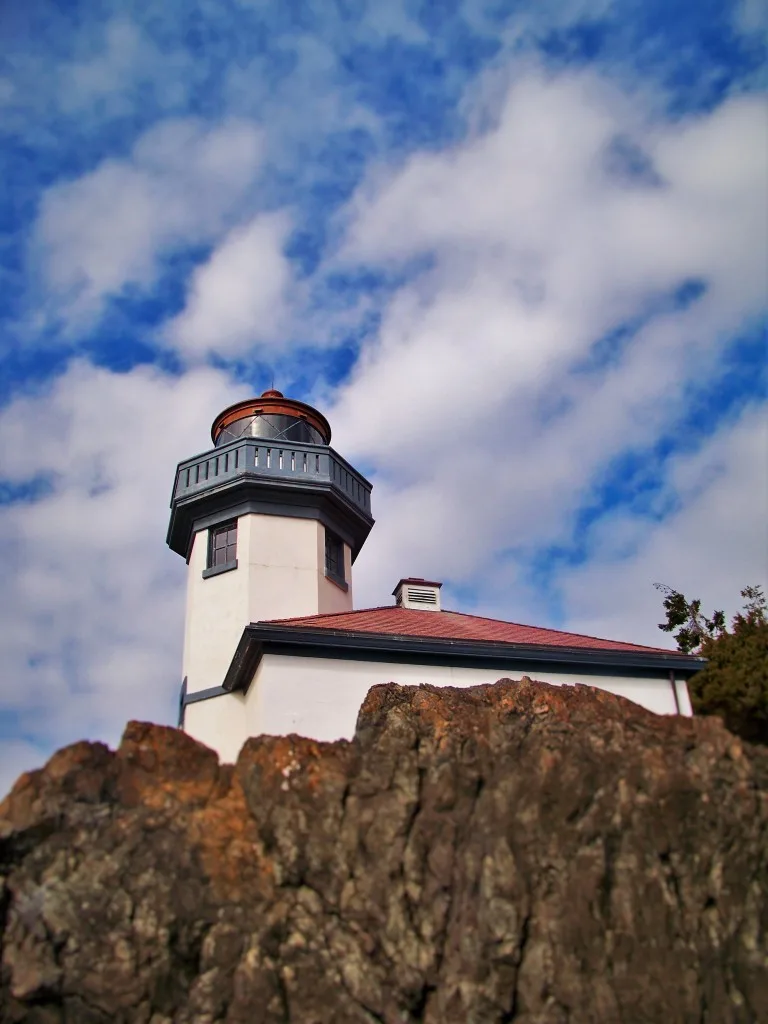 Kayaking with Bioluminescence in the San Juans
For those who prefer the night shift, there's a light show after dark you won't want to miss. Much like the famous bioluminescent kayaking in Florida, the San Juan Islands offer their own version of bioluminescence.
Take a tour after sunset and watch one of Mother Nature's best glow-in-the-dark tricks. The sea has its own galaxy in the summer, often best seen on moonless nights. Scientifically called bioluminescence, thousands upon millions of phytoplankton (microscopic organisms usually invisible to the naked eye), cause the sudden glow. It's an unforgettable experience and once that's rarely visible in Pacific Northwest waters.
The best place to for kayaking in the San Juans and experiencing bioluminescence is out of Jackson Park, just south of the main town area of Friday Harbor. Calm, warmer waters make for active bioluminescent plankton rising to the surface.
Tip: for the best bioluminescent kayaking in the San Juan Islands, plan your visit for the peak of summer heat and go out on the most calm night possible, a new moon being best.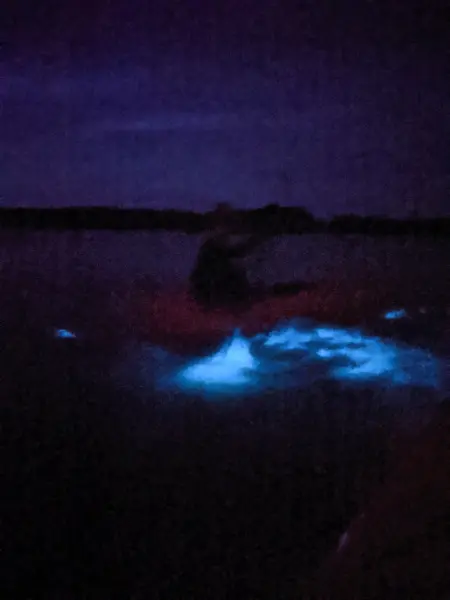 Preservation in the San Juans: Leave No Trace
The San Juan Islands were the first in the country to adopt the Leave No Trace Principles, known as the San Juans Seven. Kayakers should be prepared, especially when visiting outer islands that have limited facilities, to pack out everything they bring in, including waste. 
This principle should be practiced anywhere you choose to kayak, but the San Juans have been at the forefront of promoting clean, green outdoor experiences. Easy ways to leave no trace include:
pack out what you pack in
collect up any trash or jetsam you encounter while paddling
remind your fellow kayakers to pack out or collect floating trash
leave every place better than you found it
Even though the San Juan Islands are not a part of the National Parks System, treat kayaking in the San Juans like you would as you visit National Park sites. When you're ashore, do not create your own trails or damage the land. When you're on the water, respect the wildlife and waterfront landscapes/geology.
Kayaking in the San Juan Islands is an opportunity to experience unspoiled nature. Leave no trace and make the experience for the next paddlers just as good or even better than your own.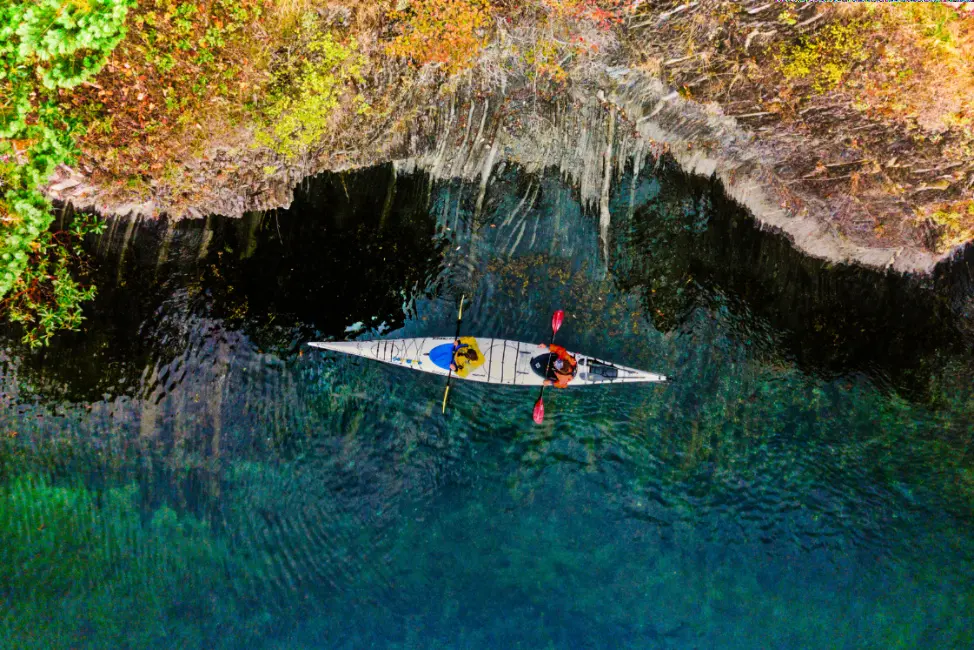 Best Resources for Kayaking in the San Juans
You can never be too prepared. If you're going out kayaking in the San Juan Islands on your own or would like to arrive at your guided kayaking with a little extra knowledge of the Salish Sea, check out these resources for more information. In addition to gaining some knowledge, understanding currents and the conditions for kayaking in the San Juans adds to the safety element, particularly in changing weather.
NOAA Marine Forecast
If you're an experienced paddler, no doubt you've had at least one moment where you've gotten onto the water and realized that the weather was not cooperating or even dangerous. It's best to avoid situations where it's kayak vs the sea. NOAA Marine Forecast is easy to understand weather information. You can receive alerts for the Salish Sea throughout the San Juan Islands, keeping you updated about the water and your paddling routes in the San Juans before even putting your kayak in the water.
Accurate updates on wind speeds within the region as well as the corresponding heights of waves can help you determine your kayaking plans each day. 2 foot waves are the typical limit for inexperienced paddlers, and those do occur in the San Juans, so watch for alerts such as those.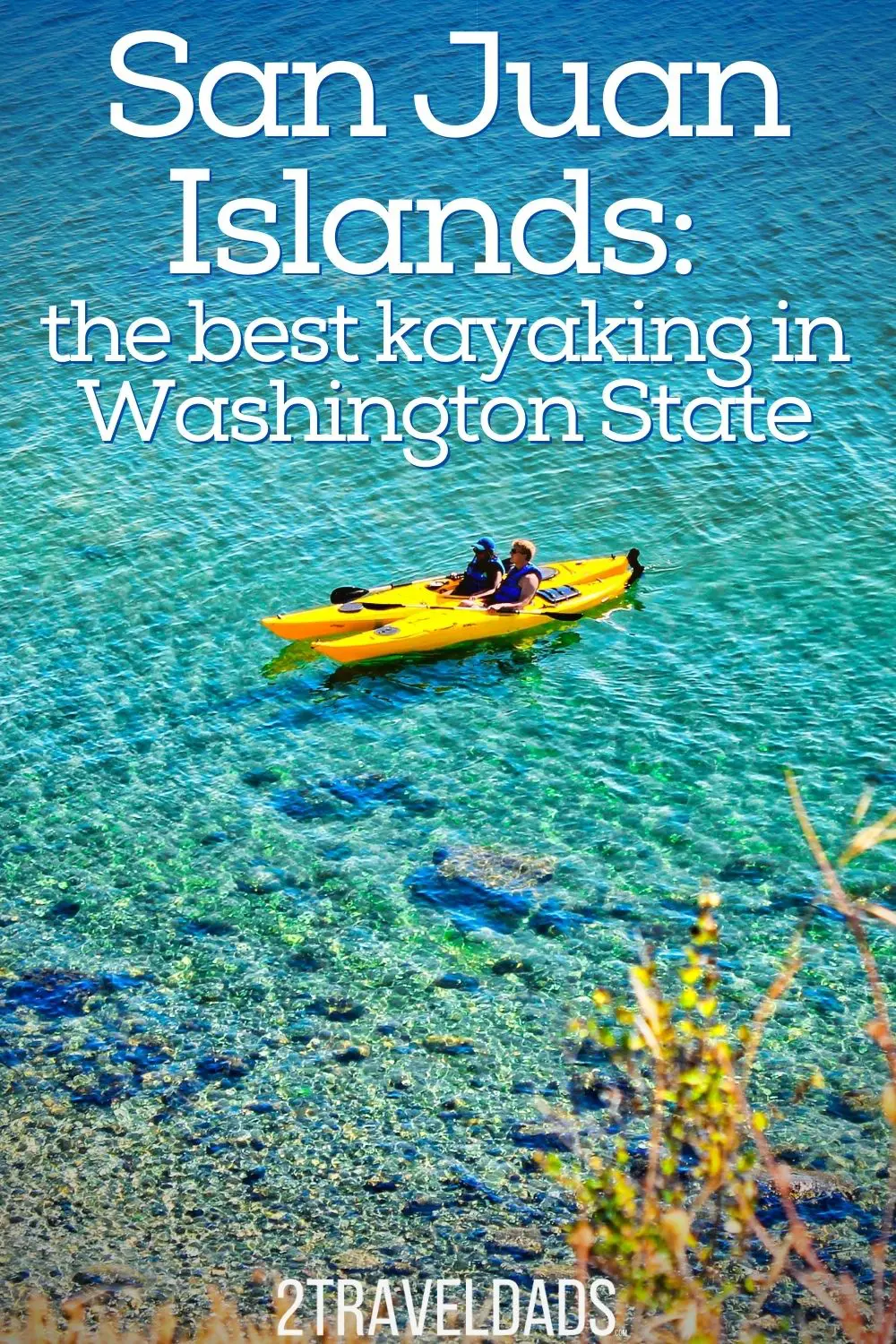 Canadian Current Atlas and Waggoner Tables
For those planning on spending a lot of time on the water or who really find nautical operations fascinating, we recommend the following tide table resource guides.
The Canadian Current Atlas provides the most detailed estimates of typical tidal cycles and currents in the San Juans and surrounding area. If someone wants to plan a kayaking trip through the San Juan Islands, they could look up their specific trip date in the Waggoner Tables which would then point them to a corresponding page/map in the Current Atlas, showing them the specific tidal events on that day.
Note: practice using the Current Atlas and Waggoner Tables before you schedule your San Juan kayaking. It's better to be familiar and have accurate information in advance than to make a plan and have to change it up when you're at your kayak launch site.
Deep Zoom of San Juan Islands Channels
DeepZoom is real time information about currents and water speed so you can be sure to paddle in the safest conditions. Always: SAFETY FIRST.
Using sensors places on site, Deep Zoom provides real time online measurements of current speed in most major San Juan channels, as well as tidal heights on most beaches. It's similar to the Current Atlas, but in a more relaxed and easy-to-use form.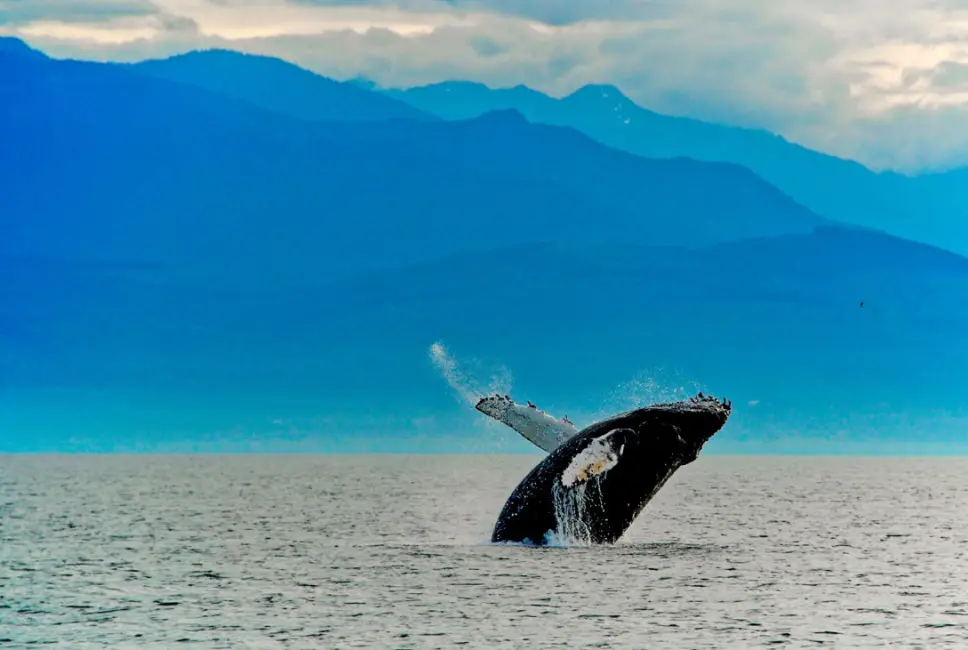 Picnicking and Camping in the San Juans
As you explore the San Juan Islands, either by kayak or land, no doubt you'll be inspired to picnic or even camp. Washington State Parks in the San Juans have many day use and overnight camping areas throughout the San Juan Islands. If you see the notation of "Day Use" on a sign or brochure/map, that means you can picnic there. In some cases that may also mean that you can launch kayaks for day use only, not for moorage or overnight camping.
The WA State Parks webpage provides a list of all state parks in the San Juan region. The majority are islands available for camping. Yes, islands that you must either paddle to or get to via small motorcraft. Sucia Island Marine State Park and Jones Island Marine State Park are two of the most popular park islands you can kayak to and go camping on. Both have potable fresh water, campsites, and ample moorage to safely stay overnight.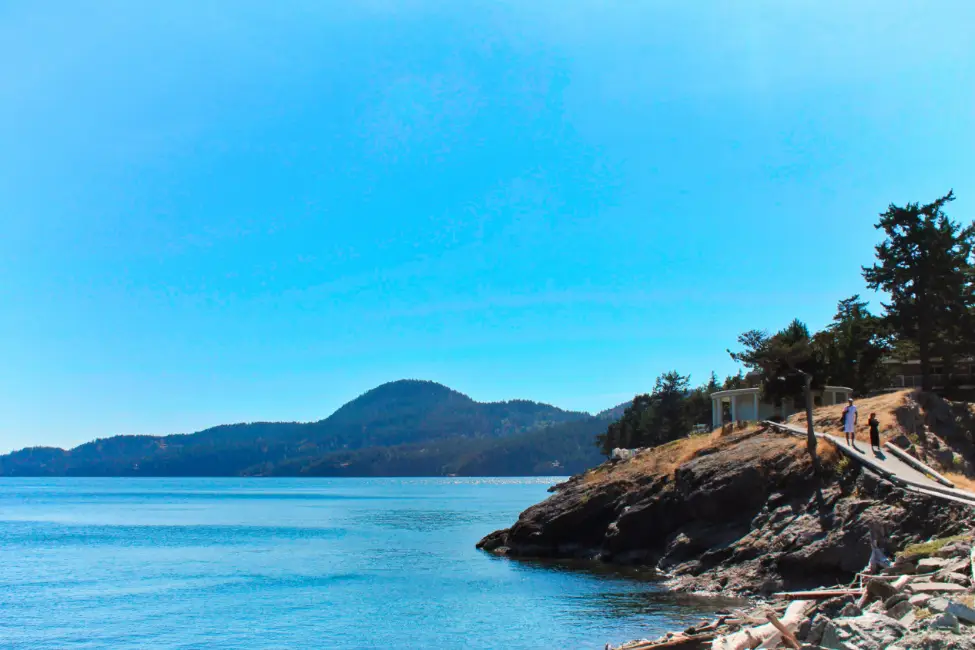 Kayaking in the San Juans is a special experience many only dream of. If you'd like more information or to get in touch with local guides, please visit our San Juan Island Paddling Guides page, or for more information about kayaking in the San Juan Islands, check out www.visitsanjuans.com/kayaking.