Kayaking in the Pacific Northwest, and more specifically Washington State, is a fun and sustainable summer activity. Yeah, you could plan paddling in the Puget Sound area in the fall or spring too, but summer is the best time to experience the beautiful waters of Washington. We've picked our favorite places in Washington for kayaking, and we know you'll love them.
The Seattle area is best seen from the water: sailing, on a ferry, or on a kayak. Just short drives from the city are countless islands and bays to explore. Across the Puget Sound are the Kitsap and Olympic Peninsulas, which are dotted with lakes and waterways, ready to be paddled. Kayaking in the Pacific Northwest is amazing.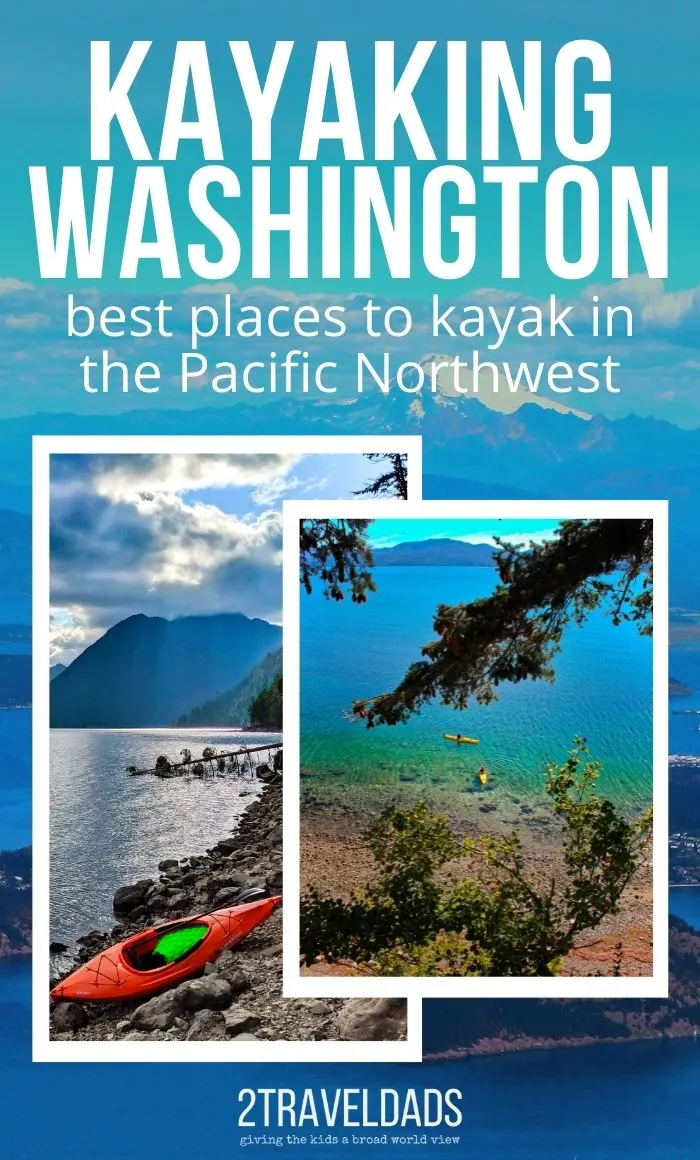 When you visit the Seattle area, or even better, when you do a road trip around the Puget Sound region or to the south, you'll be tempted to explore beyond the basic tourist sites and you should do it. Getting into a kayak is really the best way to experience the nature and views we've got. Kayaking in the Pacific Northwest will have you plotting to return again and again.
Do I need my own kayak when I visit Washington?
The short answer to if you need your own kayak when you travel around Washington State is no. While having your own kayaking gear is recommended and makes impromptu stops easier, there are lots of kayak rental spots all around the Pacific Northwest.
In most cases, if there is a place that has great kayaking for beginners, there will be a kayak rental place nearby. If you plan on doing more adventurous kayaking, like kayaking in the San Juan Islands, it's best to go with a guide, but if you're EXPERIENCED renting is a great option.
Tip: DON'T FORGET LIFE JACKETS – vendors will always be sure to outfit you, but if you're going on your own, be sure to have proper fitting, quality life jackets for everyone.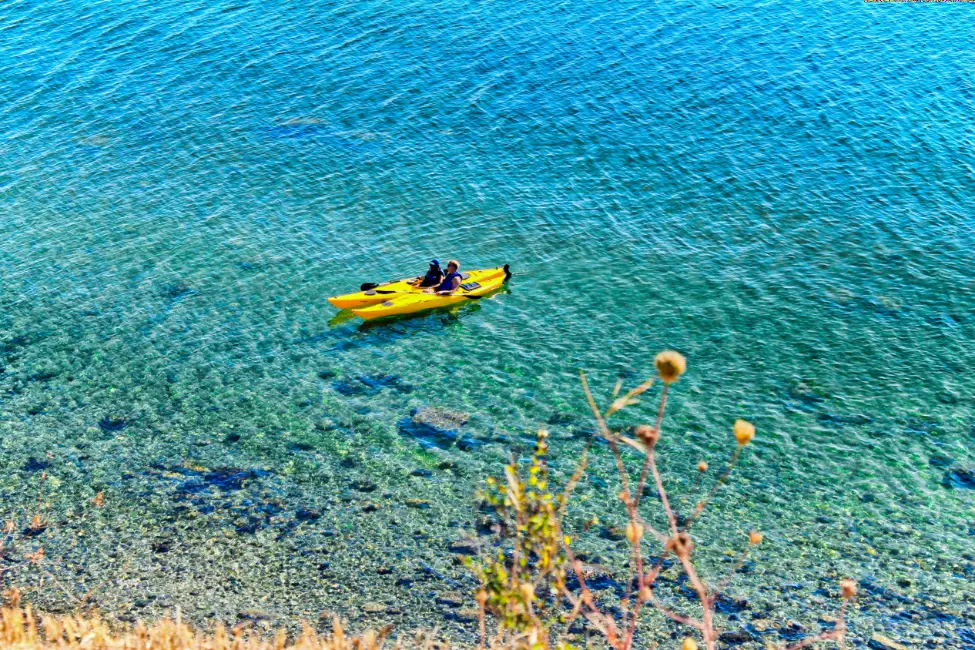 Easy Kayaking Gear Recommendations
A lot of people get to the Seattle area or San Juan Islands via road trip up the west coast. If you can bring your own gear, that's awesome! A lot of people don't have roof racks though, so transporting kayaking gear is tricky. Our solution for this, and what we do for camping trips usually, is to bring our inflatable kayaks.
I know, inflatable kayaks don't spark a thrill, but ours are awesome and we use them more frequently than our hard sided tandems. We LOVE our Advanced Elements Tandem Inflatable Kayaks. They are solid, cut through the water like it's nobody's business, they're comfortable and they ALWAYS fit back into their bag. We have two of them and easily throw them into the back of our Subaru. PS: whether you get the Advanced Elements kayaks or not, you HAVE TO GET this two-way manual pump. It's faster than a plug in pump and is compatible with every inflatable item we have (SUPs, floaties, kayaks…)
Order our FAVORITE inflatable kayaks here: TANDEM or SINGLE

Two-way AE Manual Pump here
For sit-on-top, aka sea and lake kayaks… the SunDolphin Bali is ideal. If you want a closed kayak for calm, non-rapid kayaking…SunDolphin Aruba. Both of these kayaks are good for beginners and are very budget friendly.
Our main single hard kayak that we use, both in calm salt water and fresh water, is the Emotion Glide. These are a PVC kayak that are wonderfully stable. They have adjustable foot pegs which helps a lot. Our oldest even uses these with us on his own.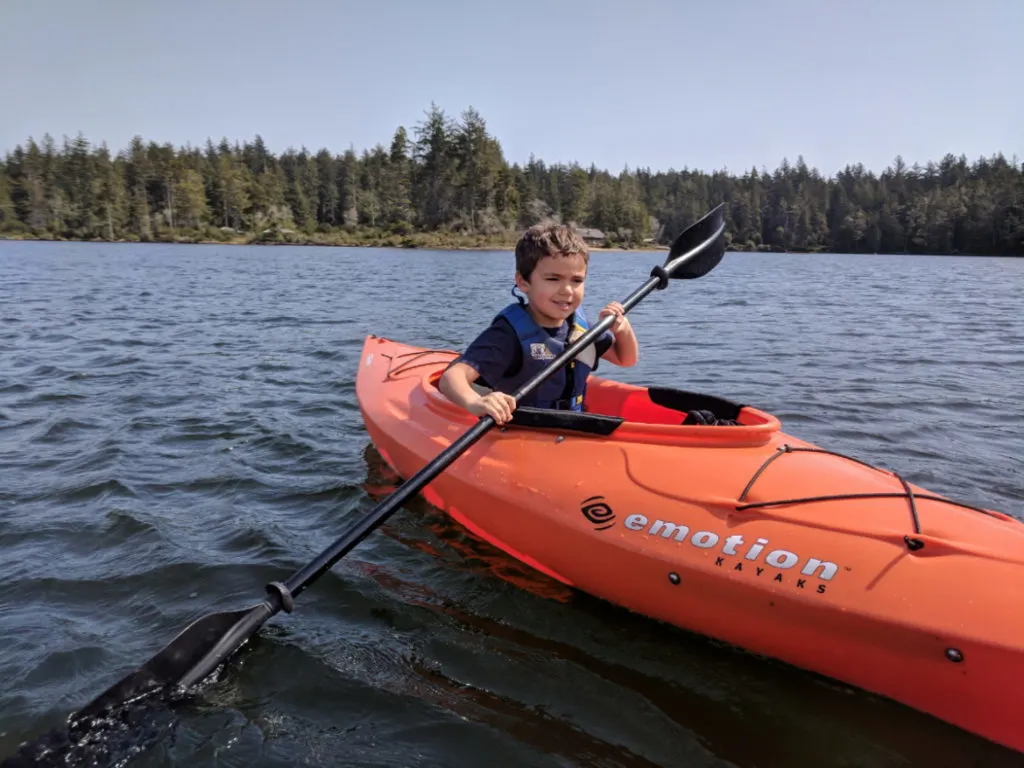 Kayaking Places Around Seattle
Seattle is an outdoorsy city if ever there were one. It's right up there with Portland and Denver. And there is actually quite a few kayaking places directly in Seattle. In addition to being located on Puget Sound, Lake Washington and Lake Union are both easily accessible from many places around the Seattle area.
Looking for a place to stay in the Seattle area? We loved the location of the Interurban Hotel. Easy access to South Seattle and lots of fun things to do nearby.
South Seattle Kayaking Spots
Just south of Seattle you'll find the towns of Des Moines and Redondo Beach. These quiet communities on the Puget Sound are great for fun weekends and local getaways. The Puget Sound stays pretty calm and perfect for kayaking, and this part of the Sound is really great. Besides the occasional container ship wake (watch out) it's an easy paddling spot.
Rent kayaks at Saltwater State Park or Redondo Beach, or bring your own to launch by the Des Moines or Redondo marinas. Easy kayaking really close to Seattle make this small region a great paddling destination.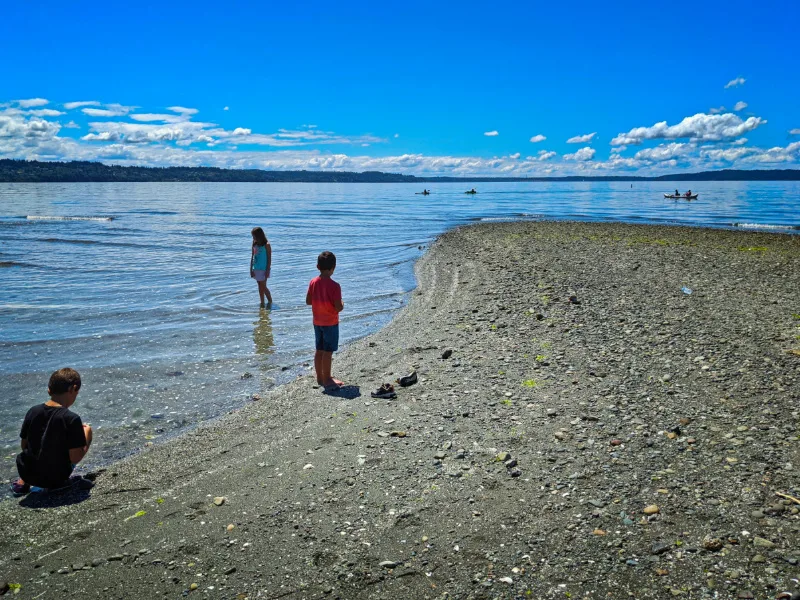 Kayaking the Olympic Peninsula
The Olympic Peninsula is our favorite vacation, weekend, or kayaking destination in Washington State. It's beautiful, quiet, and there are outdoor adventures everywhere. You'll find some of the best places to kayak in Washington on the Olympic Peninsula.
Where to Kayak on the Coast
One of our favorite places to kayak during an Olympic Peninsula road trip is the Quileute River in La Push. The mouth has a marina to put in at and then the river itself is shockingly calm. Due to the shallow nature, there are no other boats of any sort, so the river is all yours; your bow is the only thing making ripples. And since the mouth is brackish, watch for flounder, salmon and the occasional otter.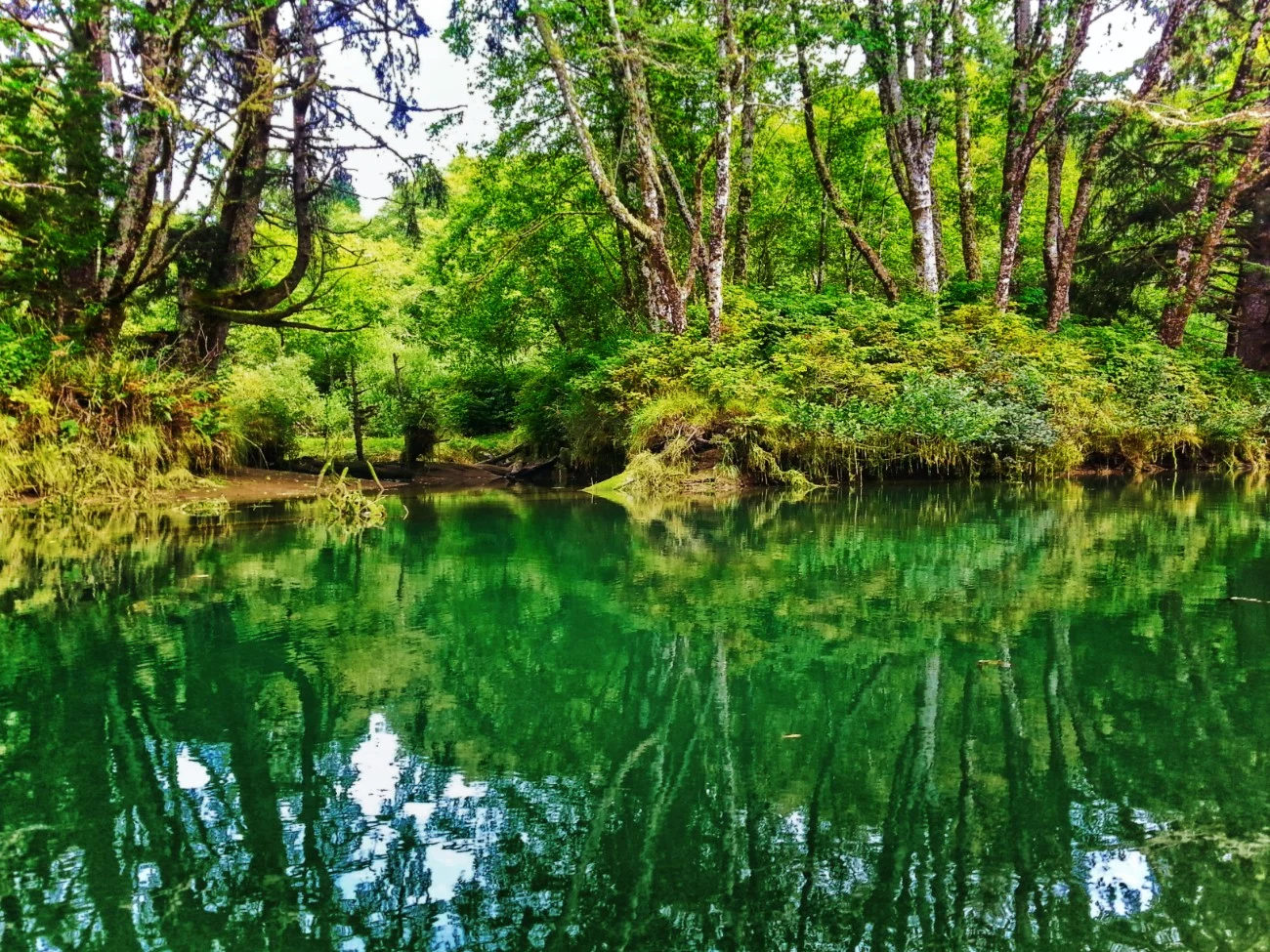 Kayaking at Olympic National Park
Lakes Crescent in Olympic National Park and Lake Cushman are two other places to paddle: stumps, elk and mountains around every bend. Beautiful. Access to Lake Cushman for kayaking is limited to the Skokomish Park and near the Staircase entrance of Olympic National Park. There are a few pull outs along the road, but if you're looking for water access, you'll need to be careful getting down to water level with your kayak.
It's the same with Lake Crescent to the north. The road around Lake Crescent is long and winding, but it's gorgeous and if you're watching you'll find several great places to put in. Near the Storm King ranger station, part of Olympic National Park, there is a boat launch that's ideal. This will put you midway into the lake and give plenty of options for views. Views are what kayaking in the Pacific Northwest is all about.
Tip: never go kayaking without a life jacket or PFD. Not only is it smart, but it's the law for kids everywhere in Washington and is just a good practice no matter what.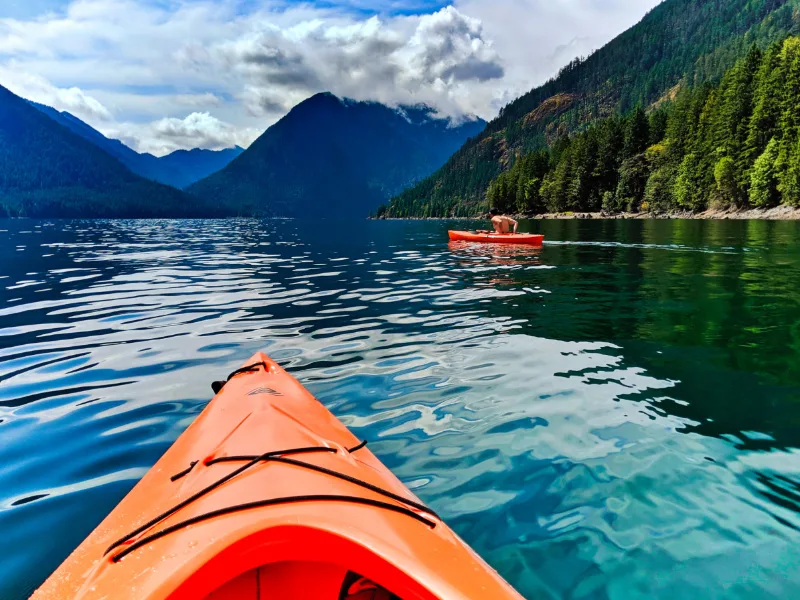 Where to Kayak in Port Townsend
We love Port Townsend, and it's where Chris was born. There are some beautiful places to kayak in Port Townsend, particularly along the waterfront. Port Townsend is an old Victorian Era town with brick buildings, colorful trim and waterfront walks.
If you want to put in a kayak directly in downtown PT, launch from Pope Marine Park (Northwest Wooden Boat Center), Rotary Park or Port Townsend Boat Haven. All of these launch points are easy to access and except for the occasional ferry wake, are rather calm.
Launch from Point Hudson, either the marina or beach to kayak to Fort Worden (or the reverse). This is more open water than the waterfront, but you can play it safe by sticking close to shore. Once at Fort Worden, there are beaches, the Point Wilson Lighthouse and the Port Townsend Marine Science Center. It's all fun and beautiful.
After a fun day of Washington kayaking, stop into the Pourhouse on the way out of town for the best local craft brews, live music and hanging out in the sunshine.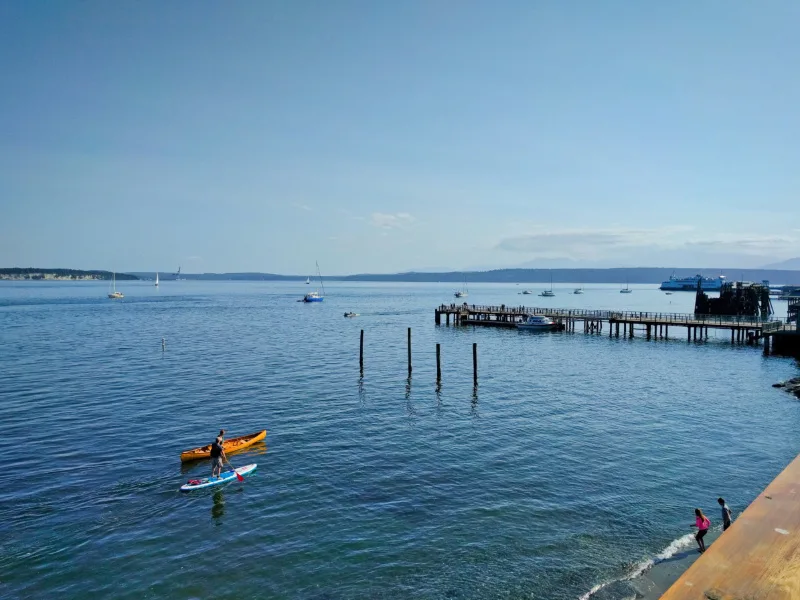 Quiet Kayaking at Port Ludlow
The last easy pick for great Pacific Northwest kayaking on the Olympic Peninsula is paddling at Port Ludlow. There are kayak rentals year round, making it easy to show up and get on the water without your own gear. You don't need to do a guided tour here because the bay of Ludlow Harbor is so quiet.
Enjoy the seals and eagles as you paddle to the end of the harbor and then out to the mouth. Since it's mostly sailboats visiting Port Ludlow, it's a very safe place to kayak and is great for any skill level. For the best experience, get out on the water just before sunset and enjoy the views from your kayak before having a delicious meal at the Fireside Restaurant.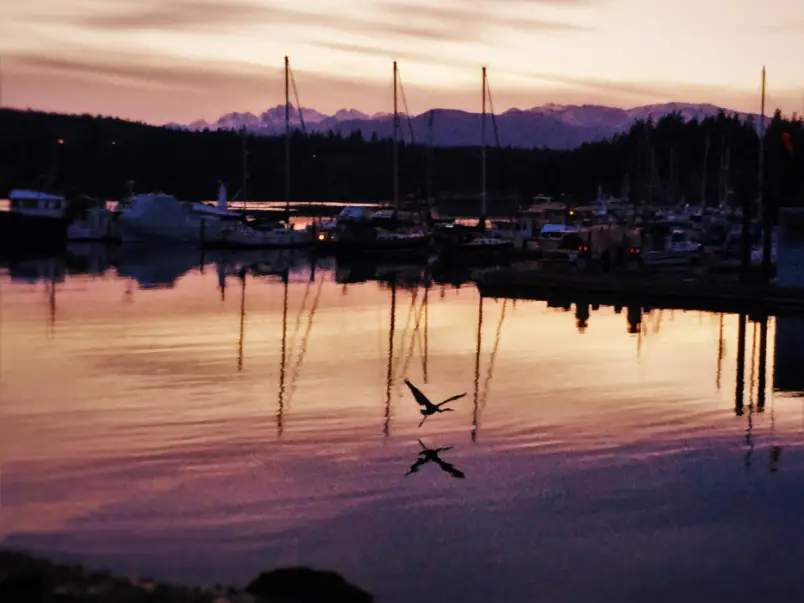 Kitsap Peninsula: picturesque kayaking in the Pacific Northwest
The Kitsap Peninsula is just across the water from Seattle. This includes Bainbridge Island, Poulsbo, Silverdale and Hansville. There are some beautiful Washington kayaking spots here. There aren't too many kayak rentals on the Kitsap Peninsula, so it's best to bring your own gear, but there are a few options.
Kayaking Bainbridge Island
A common weekend day trip from Seattle is to take the ferry over to Bainbridge Island. A lot of people walk onto the ferry and then just stroll up to Winslow, the cute small town near the ferry terminal. If that's your plan, you can actually walk along Eagle Harbor (in Winslow) and rent kayaks.
Kayaking along Eagle Harbor on Bainbridge Island is beautiful and really easy. Because there is a fair amount of boat traffic, mostly small watercraft, you do need to pay attention to other boats around, but it's fairly easy to navigate and doesn't take a long time.
For more experienced paddlers who are visiting Bainbridge Island with their own kayaks, head to Lynwood or White Pier for some more exposed kayaking. Going along from Lynwood (Google Maps link here) to the southeast, you'll come into Rich Passage and Fort Ward Park (not a state park, but a city park). There's a boat ramp at Fort Ward, so launching is easy. Be mindful of ferry wake!
Head to White Dock / Pier for another fun launch spot (Google Maps link here). If you're in the mood to do a drop-off and pick-up, paddle from White Dock to Liberty Bay or Suquamish. Watch for otters, porpoises and even orcas along your route.
For a mellow and fun paddle, put in kayaks in Port Madison at Hidden Cove Park. Paddle around the protected harbor and around Treasure Island, watching for seals and otters everywhere.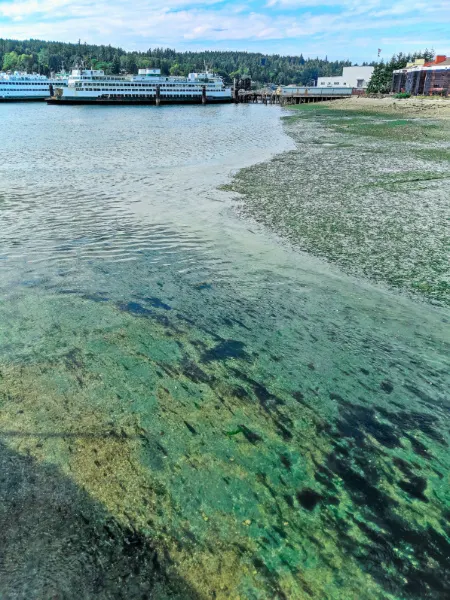 Agate Passage and Suquamish Kayaking
Another favorite paddling haunt is the Agate Passage, separating Bainbridge Island from the Kitsap Peninsula. The gradual shorelines of both sides make for easy pullouts and fantastic wildlife viewing. Without trying, We've seen otters swimming, heron and eagles swooping down and we've been stalked by harbor seals.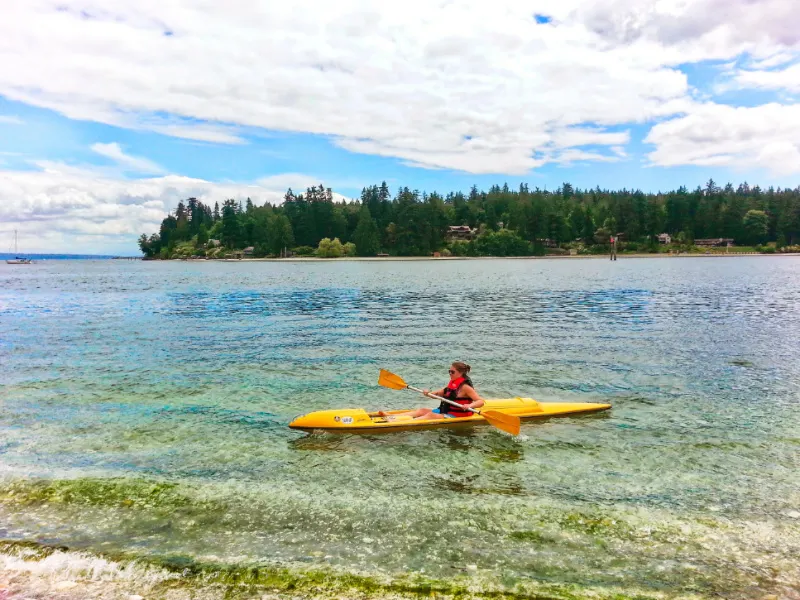 Even from the beach we've observed porpoises and dolphins, so kayaking on Agate Passage needs to be on your Pacific Northwest kayaking bucket list! Launch from Old Man Beach or the Suquamish Dock and enjoy gorgeous kayaking through the Agate Passage to Liberty Bay. You'll pass the Suquamish Clearwater Casino and Kiana Lodge, as well as rocky beaches you can haul out on for a break.
Having lived right off the Agate Passage for years, we know the flow of larger boat traffic, so we're careful to paddle at the right time. Example: Fridays there is a small cruise ship that takes visitors to the Scandinavian village of Poulsbo, so we know to stay off the water so the wake doesn't send us swimming. We also know that kayaking on a salt water passage means fighting a tide, so planning trips to flow with the tide is important.
Tip: keep an eye on the tide tables to be able to plan your trips with maximum ease and safety. Kayaking in the Pacific Northwest is beautiful, but can be complicated based on the weather and tides.
Here's a quick video from our YouTube channel, capturing just a bit of the fun on the Agate Passage.
Where to Kayak in Poulsbo
Poulsbo is the cutest town. Set on Liberty Bay very near Silverdale and the Hood Canal Bridge, Poulsbo is easy to get to and offers beautiful views from the water. Something of a bonus with visiting Poulsbo is that they actually have kayak rentals and tours directly downtown.
If you're bringing your own kayak, it's easy to launch either from the ramp by the aquarium (SEA Discovery Center), American Legion Park (at high tide) or Oyster Plant Park off Fjord Drive. Every now and then orcas come into Liberty Bay, so if you're one of the lucky ones to be on the water then, that's the Pacific Northwest kayaking experience EVERYONE dreams of.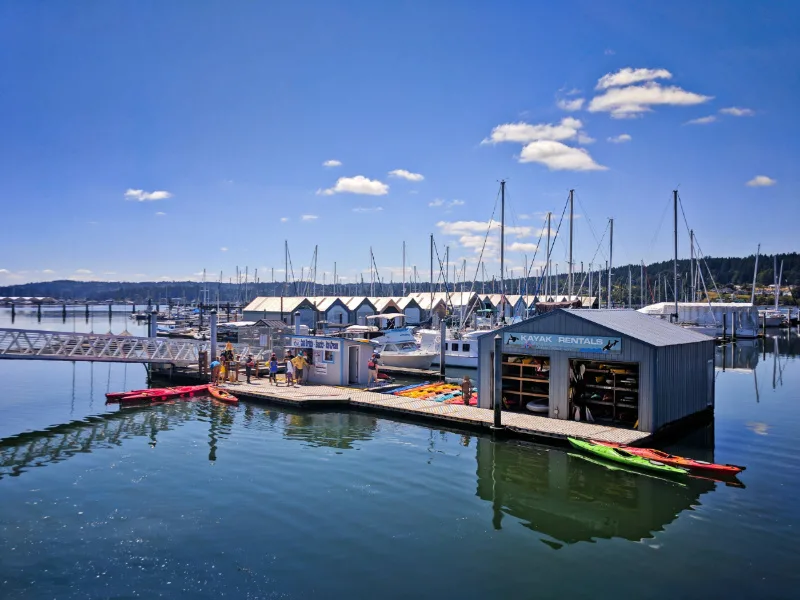 Port Gamble for Lunch and Kayaking
Port Gamble is the smallest little nook of a town, but it's beautiful and a great place to kayak. Washington doesn't have too many places that we recommend visiting for fall colors, but Port Gamble is one of them.
Rent a kayak or take out your own and paddle past the old Victorian mansion and along the quiet shores. The water is very calm and the views are some of the best you can find in Washington.
Check with Olympic Outdoor Center for kayak rentals and tours. They are THE spot for getting on the water in Port Gamble.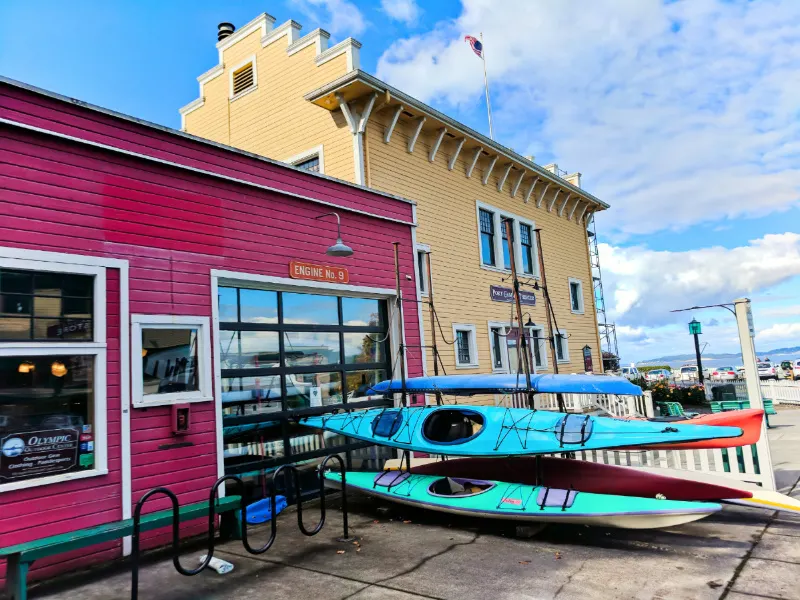 Kayaking the San Juan Islands
Whenever we're in the San Juan Islands we've seen countless people kayaking in the quiet coves and around the points, and we love the experience too! From the marina at Rosario Resort to Ships Bay on Orcas Island, there are some beautiful coves and beaches to explore. On the big island of San Juan from Friday Harbor to the Lime Kiln lighthouse, and then on the north side up in Roche Harbor, there are totally different sights… and orca whales to watch for.
Check out our full article on the best places to kayak in the San Juan Islands!
If you're kayaking in the San Juans, our top recommendation is to go with a professional guide. Changing currents and underwater obstacles make for a challenging paddling experience.
Going kayaking in the San Juans on your own, you'll need to be in sea kayaks, not open top kayaks. Swells and wakes can make for dangerous paddling situations, and you do not want to get into trouble out on the water. It's all very beautiful though, and there are a few great Pacific Northwest kayaking experiences you can do on your own.
Top picks for kayaking in the San Juans include Friday Harbor on San Juan Island, Fisherman Bay Spit Preserve on Lopez Island, and Ships Bay / Eastsound on Orcas Island. So much awesome kayaking in Washington!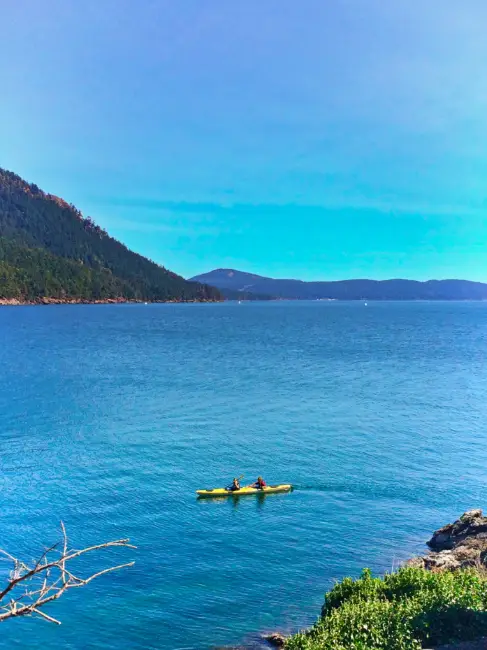 Southern Washington: Columbia River Gorge kayaking
Heading south from Seattle or east from Portland, there are some exciting places to explore along the Columbia River Gorge. The Drano Lake, Dead Horse Lake and countless smaller lakes coming off the Columbia River provide a wide variety of paddling challenges. If you cross the Columbia over to Hood River, you'll find the Event Space, aka the place on the Columbia to put in your kayaks, wind surfboards, kite boards and all means of water sports.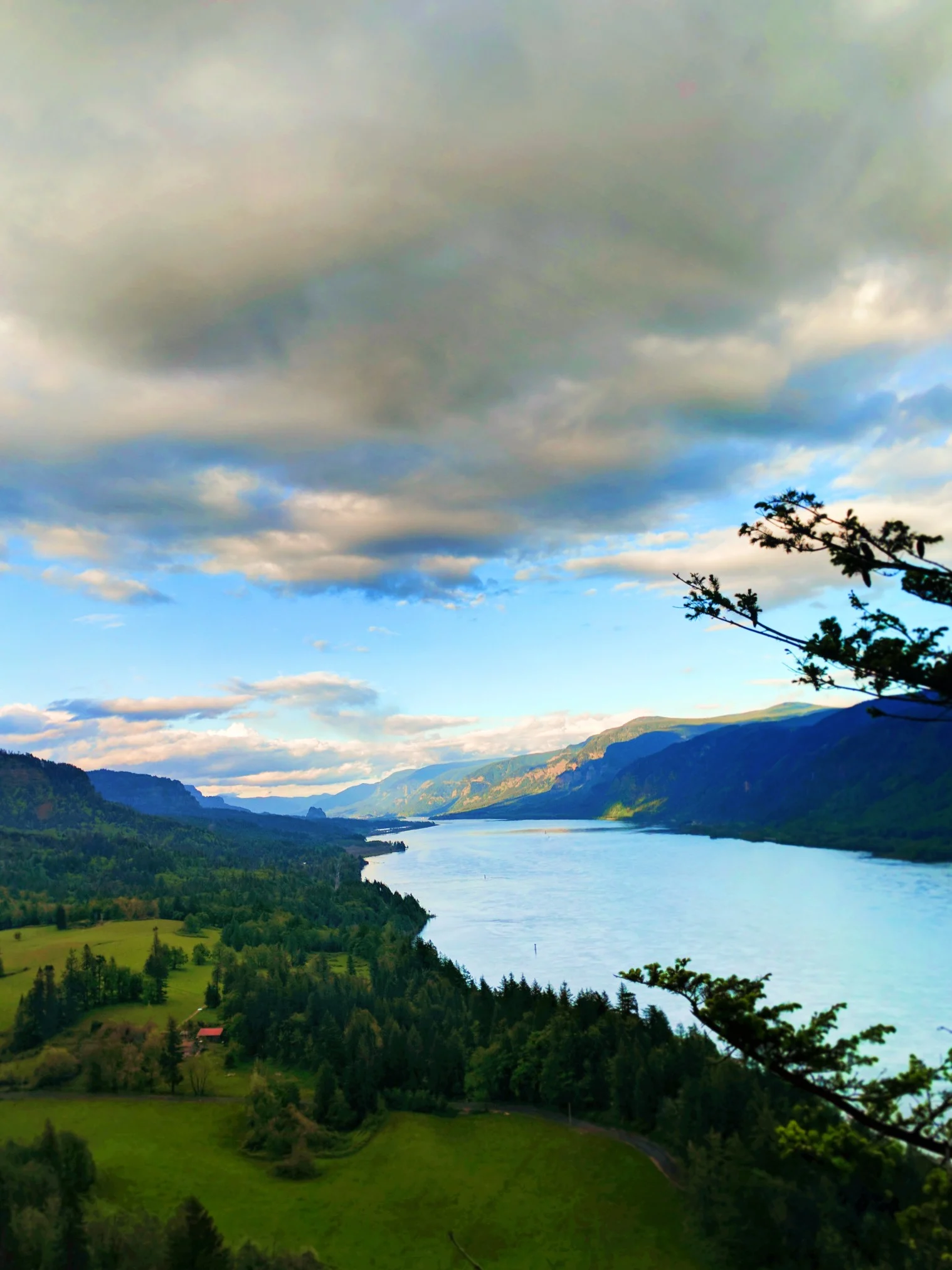 Kayaking in the Columbia River Gorge is pretty adventurous if you go beyond the calm barrier lakes. The most challenging paddle destinations for kayaking in the Pacific Northwest (in the south) include the Klickitat River, Wind River, Little White Salmon River and more.
We like to do the mellow kayaking at the river mouths and then finish the day with hiking and breweries or winery stops. It's an awesome Pacific Northwest kayaking destination however you plan it.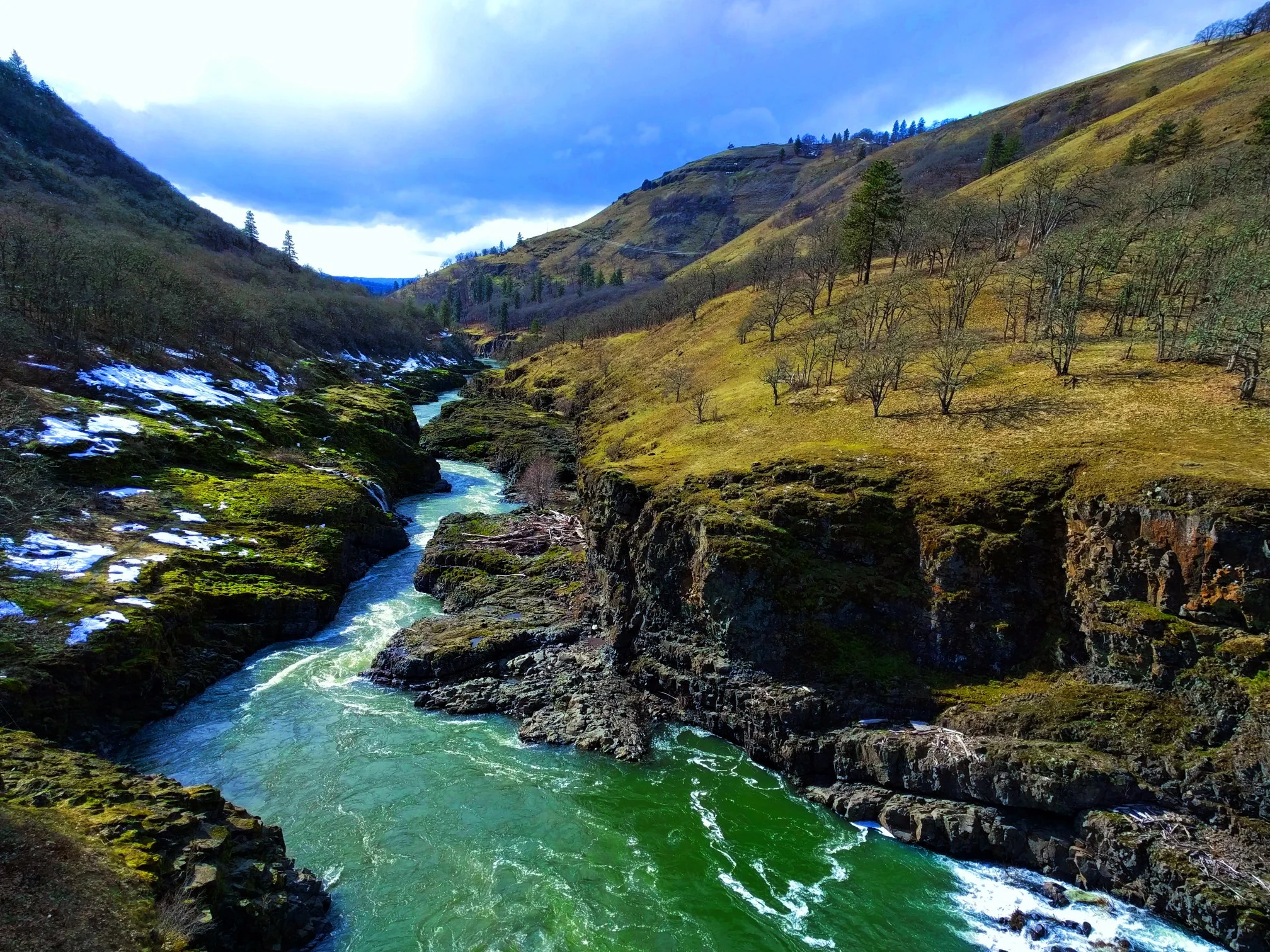 Easy Eastern Washington Kayaking
If you're heading through Eastern Washington or the Columbia River Gorge, there's a chance you'll be going through Richland, Kennewick and Pasco, also known as the Tri-Cities. This is Washington Wine Country and it's just as beautiful as the Columbia Gorge. Here you'll be able to paddle at the confluence of the Columbia and Snake Rivers, through two different EPIC paddling trails, and even check out a lighthouse in Eastern Washington. Kayaking in the Tri-Cities is fairly easy to add to any drive through the area, and the calm water is worth carving out time for!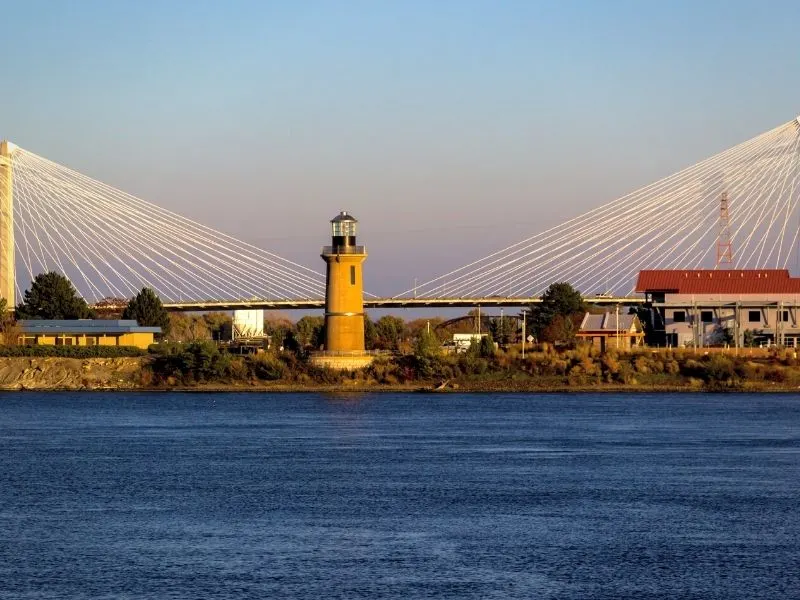 Kayaking in the Pacific Northwest with kids
We take the kids kayaking nearly everywhere, from the lakes of Wisconsin to the marshes and waterways of Florida. Heck, we even kayaked in search of sea otters in Morro Bay and instead happened into an experience with a pelican breeding ground… So kayaking in the Pacific Northwest is just a must.
Note: if you're into tropical paddling, kayaking in the Florida Keys or doing the Merritt Island bioluminescence is amazing! Other coast, but awesome.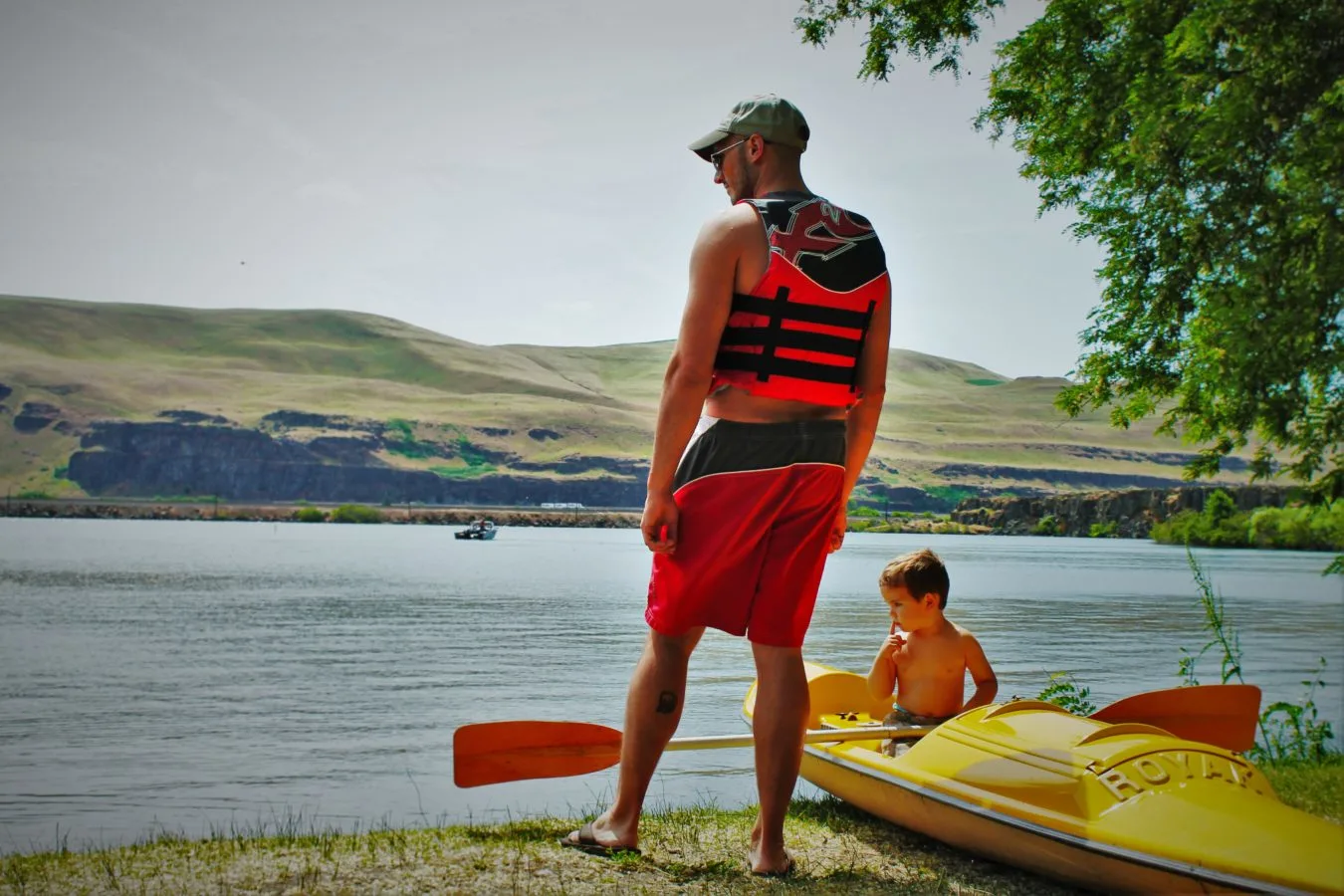 Kayaking is actually a very safe experience to include in family travel as long as everyone is suited in the appropriate life jackets. Most of the kayaking destinations around the Pacific Northwest are great for going on the water with kids, but you always want to keep safety at the forefront of your mind. These are our best tips for getting on the water and keeping kids safe out there:
Don't be afraid to take kids on kayaks; wise confidence is imperative to water safety and making kids feel safe.
Double kayaks can be rented anywhere and to be licensed to rent, a vendor must have PFDs/life jackets. Kayaking together is both fun and safe. Get the kids out on the water. It's a new view and they'll love it!
Remember that it's kayaking. You're going to get wet. Be prepared and dress appropriately. And have fun with it.
Tip: never under-estimate the value of a good dry bag. Dry bags are important for rough waters or longer trips. They're ideal for protecting cameras, snacks and dry clothes. The Osprey is our TOP PICK FOR DRY BAGS.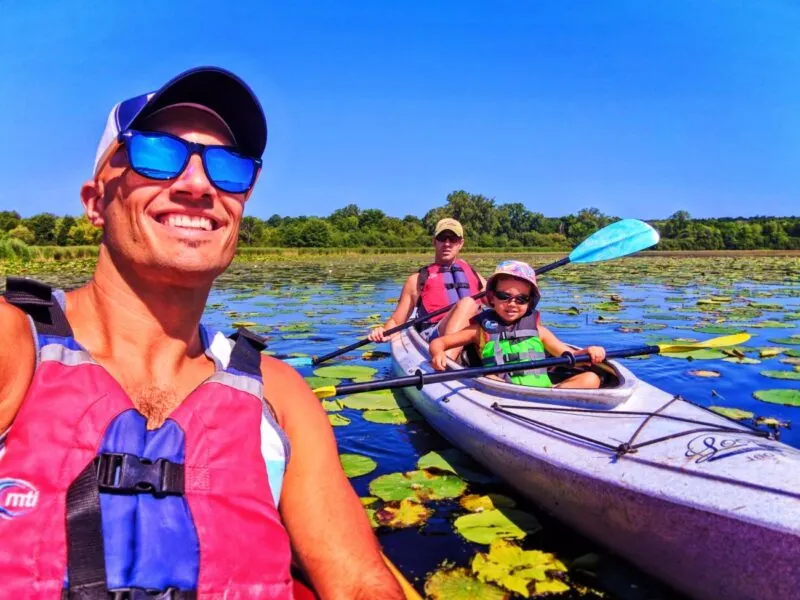 Visiting the Pacific Northwest without your own kayak is an easy problem to fix as they can be rented almost anywhere, and truthfully, you're not going to have a bad view wherever you paddle. If you're visiting the Kitsap Peninsula, Olympic Outdoor Center in Poulsbo can help. Up on the Olympic Peninsula, Adventures Through Kayaking is your go-to crew out of Sequim.
On the southern tip of Orcas Island in the San Juans Orcas Island Kayaks has great rental rates if you're visiting Rosario or the eastern part of the island. In the Columbia River Gorge, Gorge Paddling Center out of Hood River has some great options including a sunset kayaking tour if you don't want to explore on your own, which is perfect for an experience in the Pacific Northwest.
So, are you ready to paddle any one of our countless waterways here in the PNW? Yeah, it's pretty amazing. This article will serve as a launch point for more kayaking articles at we explore the waterways of the Puget Sound area more. It's going to be awesome!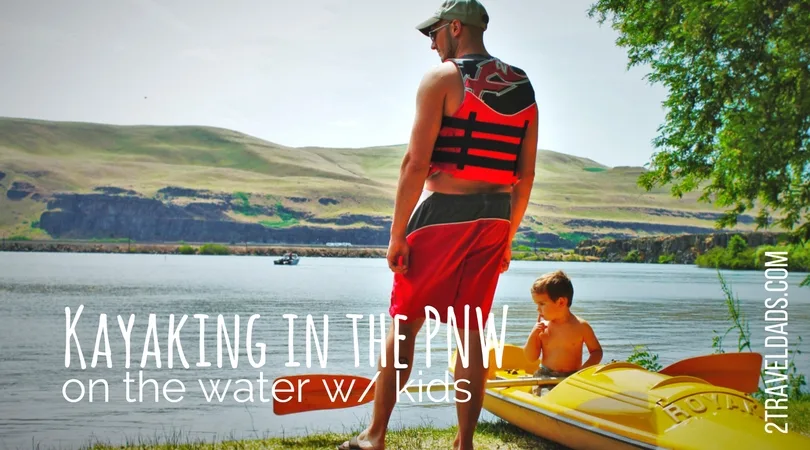 Want to pin this so you remember to set aside some time in for kayaking in the Pacific Northwest? Go for it! You'll be glad you did!