Kayaking in the Pacific Northwest: Puget Sound paddling destinations
The Seattle area is best seen from the water: sailing, on a ferry, or on a kayak. Just short drives from the city are countless islands and bays to explore. Across the Puget Sound are the Kitsap and Olympic Peninsulas, which are dotted with lakes and waterways, ready to be paddled. Kayaking in the Pacific Northwest is amazing.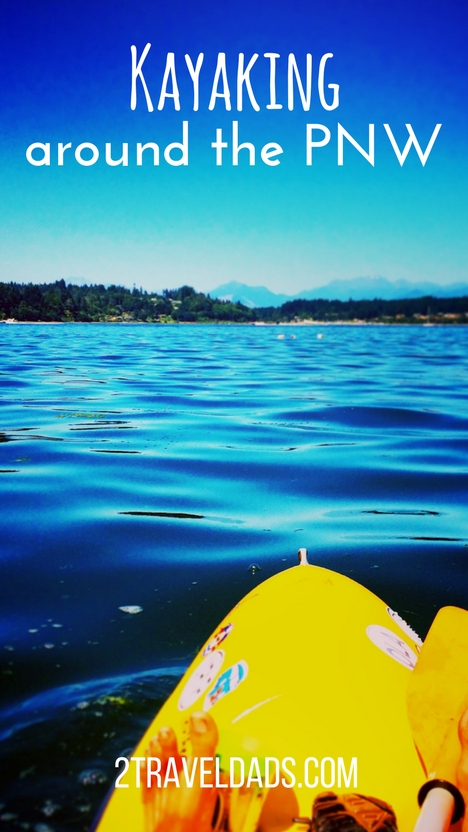 When you visit the Seattle area, or even better, when you do a road trip around the Puget Sound region or to the south, you'll be tempted to explore beyond the basic tourist sites and you should do it. Getting into a kayak is really the best way to experience the nature and views we've got. Kayaking in the Pacific Northwest will have you plotting to return again and again.
Tip: DON'T FORGET LIFE JACKETS – vendors will always be sure to outfit you, but if you're going on your own, be sure to have proper fitting, quality life jackets for everyone.
One thing to consider as you pay us a visit here in Washington, is that you don't need to have your own equipment for most adventures, and especially kayaking. At the end of this article we have several recommendations for kayak rental vendors to help making your dreams of kayaking in the Pacific Northwest come true.
Personal kayak recommendations if you're buying your own: for sit-on-top, aka sea and lake kayaks… the SunDolphin Bali is ideal. If you want a closed kayak for calm, non-rapid kayaking…SunDolphin Aruba. We have no whitewater kayak recommendations at this time. (affiliate links in post)
Kayaking the Olympic Peninsula
One of our favorite places to kayak is the Quileute River in La Push. The mouth has a marina to put in at and then the river itself is shockingly calm. Due to the shallow nature, there are no other boats of any sort, so the river is all yours; your bow is the only thing making ripples. And since the mouth is brackish, watch for flounder, salmon and the occasional otter.
Lakes Crescent and Lake Cushman are two other places to paddle: stumps, elk and mountains around every bend. Beautiful. Access to Lake Cushman for kayaking is limited to the Lake Cushman Resort, Skokomish Park and near the Staircase entrance of Olympic National Park. There are a few pull outs along the road, but if you're looking for water access, you'll need to be careful getting down to water level with your kayak.
It's the same with Lake Crescent to the north. The road around Lake Crescent is long and winding, but it's gorgeous and if you're watching you'll find several great places to put in. Near the Storm King ranger station, part of Olympic National Park, there is a boat launch that's ideal. This will put you midway into the lake and give plenty of options for views. Views are what kayaking in the Pacific Northwest is all about.
Tip: never go kayaking without a life jacket or PFD. Not only is it smart, but it's the law for kids everywhere in Washington and is just a good practice no matter what.
Kitsap Peninsula: picturesque kayaking in the Pacific Northwest
Another favorite paddling haunt is the Agate Passage and Liberty Bay, separating Bainbridge Island from the Kitsap Peninsula. The gradual shorelines of both sides make for easy pullouts and fantastic wildlife viewing. Without trying, We've seen otters swimming, heron and eagles swooping down and we've been stalked by harbor seals. Not kayaking, but from the beach we've also observed porpoises and even dolphins, so just imagine what a treat that would be if you're on the water!
Living right off the Agate Passage, we know the flow of larger boat traffic, so we're careful to paddle at the right time. Example: Fridays there is a small cruise ship that takes visitors to the Scandinavian village of Poulsbo, so we know to stay off the water so the wake doesn't send us swimming. We also know that kayaking on a salt water passage means fighting a tide, so planning trips to flow with the tide is important.
Tip: keep an eye on the tide tables to be able to plan your trips with maximum ease and safety. Kayaking in the Pacific Northwest is beautiful, but can be complicated based on the weather and tides.
Here's a quick video from our YouTube channel, capturing just a bit of the fun on the Agate Passage.
Kayaking to yet experience: the San Juan Islands
Each time we've been up to the San Juan Islands we've seen people kayaking in the quiet coves and around the points… and yet we've NEVER kayaked in the San Juans. From the marina at Rosario Resort to Ships Bay on Orcas Island, there are some beautiful coves and beaches to explore. On the big island of San Juan from Friday Harbor to the Lime Kiln lighthouse, and then on the north side up in Roche Harbor, there are totally different sights… and orca whales to watch for.
Southern Washington: Columbia River Gorge kayaking
Heading south from Seattle or east from Portland, there are some exciting places to explore along the Columbia River Gorge. The Little White Salmon River, Dead Horse Lake and countless smaller lakes coming off the Columbia River provide a wide variety of paddling challenges. If you cross the Columbia over to Hood River, you'll find the Event Space, aka the place on the Columbia to put in your kayaks, wind surfboards, kite boards and all means of water sports.
We've done minimal kayaking in the Columbia River Gorge, but that'll change this spring and summer! Our upcoming destinations for kayaking in the Pacific Northwest (in the south) include the Klickitat River, Wind River, Drano Lake and more. It's going to be awesome!
Kayaking in the Pacific Northwest with kids
We take the kids kayaking nearly everywhere, from the lakes of Wisconsin to the marshes and waterways of Florida. Heck, we even kayaked in search of sea otters in Morro Bay and instead happened into an experience with a pelican breeding ground… So kayaking in the Pacific Northwest is just a must.
Kayaking is actually a very safe experience to include in family travel as long as everyone is suited in the appropriate life jackets. Most of the kayaking destinations around the Pacific Northwest are great for going on the water with kids, but you always want to keep safety at the forefront of your mind. These are our best tips for getting on the water and keeping kids safe out there:
Don't be afraid to take kids on kayaks; wise confidence is imperative to water safety and making kids feel safe.
Double kayaks can be rented anywhere and to be licensed to rent, a vendor must have PFDs/life jackets. Kayaking together is both fun and safe. Get the kids out on the water. It's a new view and they'll love it!
Remember that it's kayaking. You're going to get wet. Be prepared and dress appropriately. And have fun with it.
Tip: never under-estimate the value of a good dry bag. Dry bags are important for rough waters or longer trips. They're ideal for protecting cameras, snacks and dry clothes.
Visiting the Pacific Northwest without your own kayak is an easy problem to fix as they can be rented almost anywhere, and truthfully, you're not going to have a bad view wherever you paddle. If you're visiting the Kitsap Peninsula, Olympic Outdoor Center in Poulsbo can help. Up on the Olympic Peninsula, Adventures Through Kayaking is your go-to crew out of Sequim. On the southern tip of Orcas Island in the San Juans Orcas Island Kayaks has great rental rates if you're visiting Rosario or the eastern part of the island. In the Columbia River Gorge, Gorge Paddling Center out of Hood River has some great options including a sunset kayaking tour if you don't want to explore on your own, which is perfect for an experience in the Pacific Northwest.
So, are you ready to paddle any one of our countless waterways here in the PNW? Yeah, it's pretty amazing. This article will serve as a launch point for more kayaking articles at we explore the waterways of the Puget Sound area more. It's going to be awesome!
Want to pin this so you remember to set aside some time in for kayaking in the Pacific Northwest? Go for it! You'll be glad you did!