Utah's National Parks get all the attention, but there are some remarkable Utah state parks and national monuments that give the National Parks a run for their money. We have some great Utah state parks and protected areas that are breathtaking and totally worth your time on a Utah road trip.
The goal with visiting Utah state parks and protected land is to get the same unique experiences as you find in Utah National Parks but with a fraction of the crowds. True, there aren't as many facilities or park staff to provide information, and chances are you'll be on dirt roads for at least a part of the drive, but you'll be wowed by the experience and ready to return on a future trip.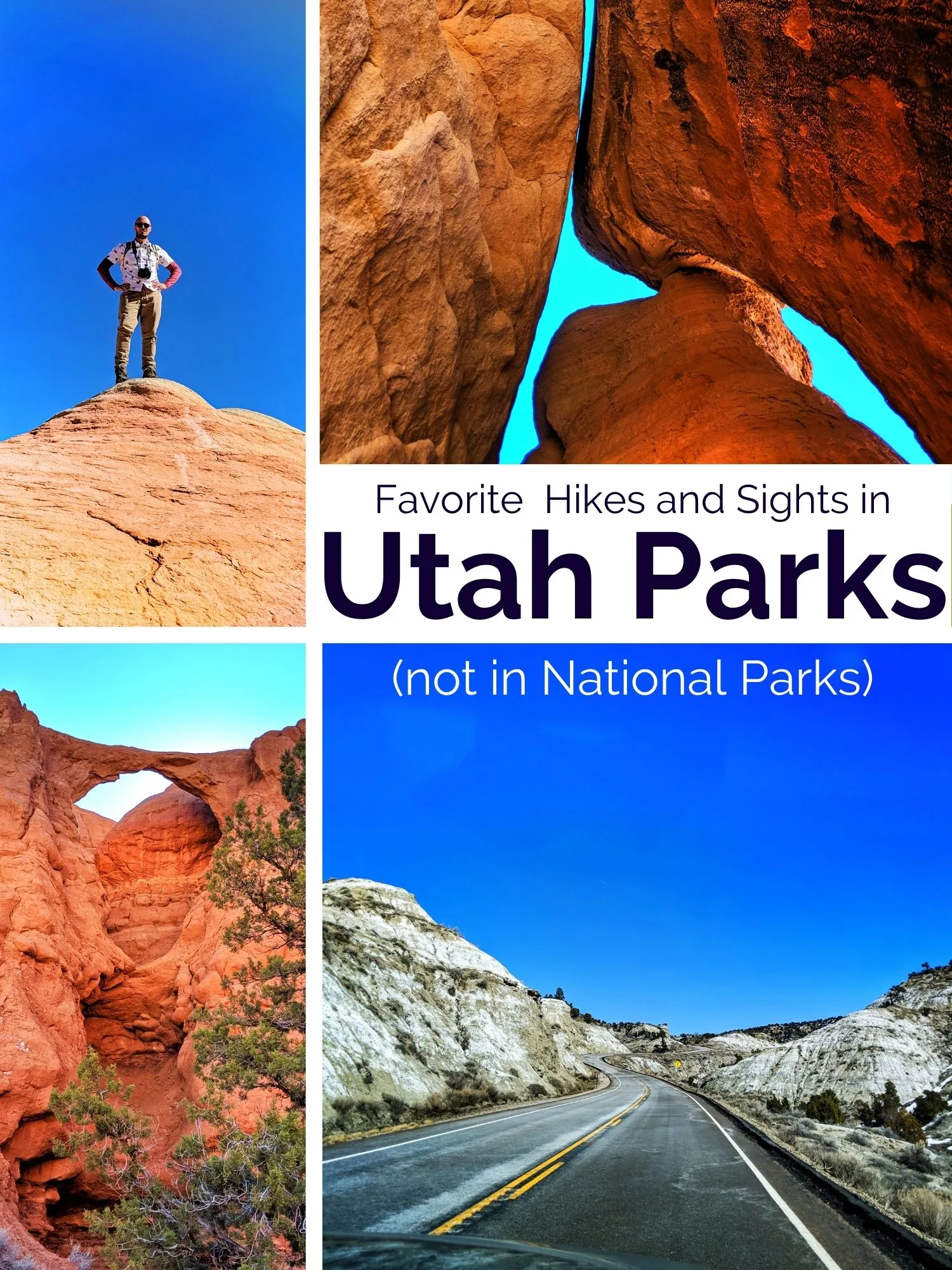 When to visit southern Utah State Parks
Something that's wonderful about southern Utah state parks and protected lands is that year round, they are less crowded than the National Parks, and they are full of kid friendly hikes. Consider this our recommendation to plan a summer vacation to Utah. Yes, it'll be hot and you'll need to plan appropriately with sun protection and lots of water, but it'll be awesome. And if you want to add all five Utah National Parks to your trip, go for it!
If you choose to visit in the off season, you'll find that some southern Utah state parks are actually at pretty high elevations so you may have some snow surprises. You may be pleasantly surprised though. For example, we visited Bryce Canyon National Park in March and while it was covered in several feet of snow still, the towns of Tropic and Escalante we perfectly dry and warm. Having said that, weather at high elevations can change rapidly and you should be prepared.
Grand Staircase-Escalante National Monument
Because it has been in the new so much in recent years, we really wanted to check out Bears Ears and Grand Staircase-Escalante National Monuments. Wow! I didn't know that the earth could be so desolate one moment and then gorgeous and colorful the next. And this area is just beyond Bryce and Zion.
Driving east on Utah Highway 12, you'll have to cross through a good portion of Grand Staircase-Escalante NM. There are many turnouts and scenic views to take it all it. From layer cliffs to steep cone-shaped canyons with peaks along the rim, every turn is something new. You'll love visiting Grand Staircase-Escalante as a prelude to visiting Moab (if you're heading that way).
Tip: the town of Escalante isn't huge, but there is a wonderful stop, Escalante Outfitters, and that have everything you need for a great visit, from maps and advice to beer and pizza. And t-shirts. And even cabins to rent!
Best spot in Grand Staircase-Escalante: Devil's Garden
It's easy to choose four or five spots to stop and keep yourself busy, driving from place to place, BUT DON'T DO THAT! If you have one day in Grand Staircase Escalante, plan to spend it hiking around the Devil's Garden. It's our top recommendation out of the southern Utah state parks and protected areas. Google maps link here!!!
What makes the Devil's Garden so incredible is the access to so many trails and formations. Upon arrival there are restroom and picnicking facilities, and really, it's one of the prettiest places you'll ever have a picnic. Once you head into the formations, it's one amazing feature after the other. Hoodoos, arches, bridges, caves and more stretch across the sandstone valley. 
There are several designated trails for hiking at Devil's Garden, but there are also a lot of bouldering off-trail sights as well. 
Note: just because you can go off the trail at Devil's Garden doesn't mean that you should be a meadow-stomper. The desert ecosystem is fragile and the plants and flowers need to be respected, so watch your step and move with minimal impact.
Also, even though there are lots of kid-friendly formations and areas to explore, there are also a lot of drop-offs and steep slopes. If you're visiting Devil's Garden with kids, have fun, but be safe and aware. Safety is an important part of any Utah road trip.
Escalante Petrified Forest State Park
You hear petrified forest and the image of a haunted forest made of stone comes to mind. Not so though. Escalante Petrified Forest is a really interesting place, and if you're a science geek like we are, you'll love it! We consider it a must for southern Utah state parks. (Utah State Parks website here)
There is a trail system that leads you up to the desert plateau, dotted with a nature guide signs along the way. As you ascend to the top, you'll see some sweeping views and lots of unique plants and animals, so that makes it worth the hike in itself. The coolest parts though lie ahead: the petrified forest.
What is a petrified tree?
Great question! Not a lot of people understand time and geologic process, so visiting a petrified forest is a great way to learn about natural history and really get some perspective on time. Trees become petrified in the same way that bones fossilize: the organic mater of an object is covered/surrounded by rock, often due to a geologic event, and over time, the preserved object's organic matter is replaced by hard minerals it leaches from the surrounding rock.
Totally fascinating. This process makes for intricate, colorful trees that have been fossilized into rocks. It's clear that they were once trees, and if you're following with the provided guide you can see what types of trees were in the petrified forest. 
Hikes in Escalante Petrified Forest State Park
There are two primary hikes in Petrified Forest State Park. The first is the Nature Trail Loop. This 1.5 mile trail starts in the parking area and continues up to the plateau. Winding through the short desert forest of junipers and cactus, it's peppered with large and small fallen petrified trees. This trail is a loop and ends where it began.
The other big hike to do in Petrified Forest State Park is the Trail of Sleeping Rainbows. This hike branches off of the Nature Trail Loop, continuing farther across the plateau and down into a valley. At 1.75 miles, it's best done in the early morning or early evening to beat the heat of the day.
Wheelchair accessible areas in Petrified Forest State Park
Just beyond the ranger station there are two sites for checking out some petrified logs and learning about the natural history of this unique part of Utah. One enormous petrified tree is just off the parking area and is an excellent specimen to view from all sides. There is also a short, wheelchair accessible loop that takes you past a large collection of stumps and desert vegetation.
When you get into some of the more remote areas the southern Utah state parks and protected areas do not have a lot of paved paths or noted accessible sites, so Petrified Forest State Park is great for this!
Kodachrome Basin State Park
This was the best surprise to come across on our Southern Utah road trip. Located only about twenty minutes from Bryce Canyon National Park, it's a world away. The variety of colors and rock formations make Kodachrome Basin a must as you explore southern Utah state parks. And bonus if you're doing southern Utah state parks in the off season, it's warmer here in the Tropic Valley than the surrounding plateaus!
Find a cool vacation rental in Tropic for your Bryce / Southern Utah trip!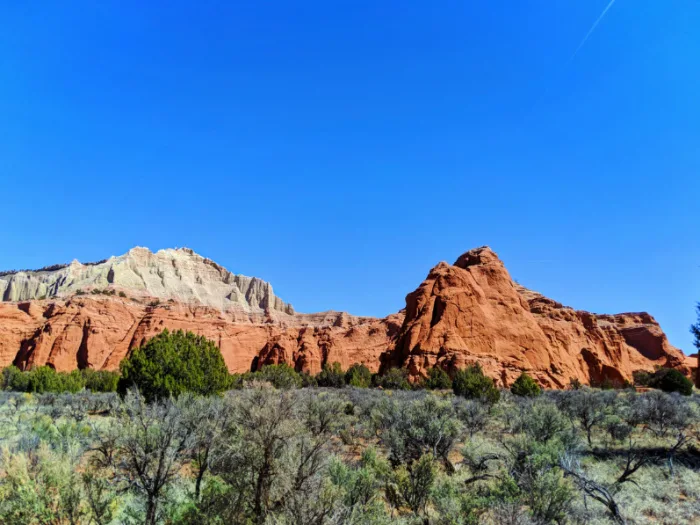 Hiking in Kodachrome Basin State Park
You'll want to start any hiking early in the day to beat the heat, but on a breezy day, you'll find the funnel of the valley to keep it at a functional temperature. Our top recommendation for a family friendly hike in Kodachrome Basin is the Shakespeare Arch. The terrain isn't too crazy, but it's windy enough that every turn has a new view. The arch itself is pretty cool, but it's not epic in the way that Arches NP is epic. Fun for kids, totally doable in less than two hours.
Other great options include the Panorama Trail, short version or the long 5.8 mile loop. Also, the Angel's Palace trail is pretty cool. This is a great spot to get up close with the canyon walls and see some cool hoodoos. At 1.5 miles it's totally doable with kids.
Snow Canyon State Park
For this Utah State Park, we asked our friends at Y Travel Blog to share their thoughts, as they were just there and had nothing but amazing things to say about it. 
Snow Canyon State Park in St George, Utah. It's a nature lover's dream and is just as spectacular as nearby Zion National Park. PS, there are some cool waterfalls near St George too!
You can take your pick from 38 miles of trails, but we recommend combining the Hidden Pinyon, Petrified Sand Dunes, and the Lava Flow Trail for a 5-mile loop walk. This will take you from red rock landscapes to huge sand dunes frozen in time and through the black basalt lava fields with a couple of small lava tubes you can scramble into. 
The most jaw dropping moment for me was standing on the Petrified Dunes Trail and taking in the panoramic views of the twisted layers of orange, red and white sandstone cliffs. It's one of the best views I experienced in Southwest USA.
Dixie National Forest
Do you love Thunder Mountain in Disneyland or the Magic Kingdom? Did you know that it's designed after the Thunder Mountain area of Dixie National Forest. Even though this isn't one of the Utah state parks, the National Forest is super cool and worth a visit.  You'll find plenty of picnic areas just off the highway, but to get up into the spires and off the beaten path spots of the National Forest, take a hike!
Easily accessible hiking trails, meaning easy to get to, not wheelchair accessible, include the following:
Thunder Mountain Trail – it's a 15 mile loop or as short of a hike as you like – it looks like Disneyland
Red Canyon Tunnel Trail – at just under a mile (one way) it's super cool to get up close to the sandstone formations and to look for bighorn sheep
The Cassidy Trail – 4.5 miles of fun in the forest with clearings and hoodoos
Utah National Parks to visit
Okay, we need to point you to some National Parks too, because the unique nature and landscapes in each is truly phenomenal. While the weather is nicer in late spring and early fall, due to the popularity of Utah National Parks, we recommend visiting them in early spring and late fall. This will give you much better crowds to very few other people on the trails. True, there may be some snow, but you should be able to still navigate the parks quite easily.
Zion National Park in the off-season
It's one of America's most popular National Parks and these days everybody wants to visit but complains about the number of visitors. Hello, if you're visiting you're a part of the population problem. You can visit and be low impact though. Zion National Park is gorgeous year round, and fall through spring you can even drive into the main Zion Canyon area. Here are our blog posts about Zion National Park, and there is a lot here, because it's one of the coolest protected areas in Utah.
Bryce Canyon National Park without crowds
If your goal is hiking in Bryce Canyon National Park, go in the late spring through early fall and you'll be good to go and have a great time. You can do lots of hikes, take advantage of the shuttle system and catch some epic sunrises. BUT if you want to have quiet visit with snow covered hoodoos and minimal people visit during winter or early spring. It's nice to not have to deal with the heat and the colorful contrast of snow and red sandstone is amazing.
Take a look at our complete article re: visiting Bryce Canyon National Park off season for our complete recommendations, including where to stay near Bryce Canyon.
Other Utah National Parks to visit
There are four other National Parks and a National Monument we want to recommend, again in the off season:  Arches NP, Capitol Reef NP, Canyonlands NP and Cedar Breaks NM. Each of these is full of hiking opportunities and fascinating geology. Below is a chart showing the distance/drive time between the parks, so when adding them to your Utah road trip plan, consider travel time before cementing your itinerary.
| | | | | | |
| --- | --- | --- | --- | --- | --- |
|   | Bryce Canyon NP | Capitol Reef NP | Canyonlands NP | Arches NP | Cedar Breaks NP |
| Zion NP | 1:21 | 3:10 | 5:15 | 5:00 | 1:15 |
| Bryce Canyon NP | X | 2:10 | 4:30 | 4:15 | 1:10 |
| Capitol Reef NP | 2:10 | X | 2:20 | 2:00 | 2:40 |
| Canyonlands NP | 4:30 | 2:20 | X | 0:30 | 4:30 |
| Arches NP |   | 2:00 | 0:30 | X | 4:20 |
| Cedar Breaks NM | 1:10 | 2:40 | 4:30 | 4:20 | X |
 We're so excited for your trip! Please be sure to come back and leave us a comment or send us a note telling how your Utah State Parks vacation was. Also, if you found some more must-see sights or hikes, let us know and we can add them!
And feel free to pin this post for your own Southern Utah travel planning. Pinterest is a great place to store great ideas.