Doing a road trip around Croatia is pretty incredible. Where else can you walk across waterfall boardwalks one day and then wind through dark medieval alleyways the next? This Croatia road trip is perfect to do with kids or without. From Plitvice National Park to the quiet coves of the Dalmatian Isles, you'll love this epic European road trip.
If you're done your own Croatia road trip and have additional stops you recommend or have questions about logistics and planning, please leave a comment or send us a note. We're always happy to help others have incredible travel experiences, in Croatia and beyond!
Check out our vlog of sailing through Croatia and see if that's an option for you!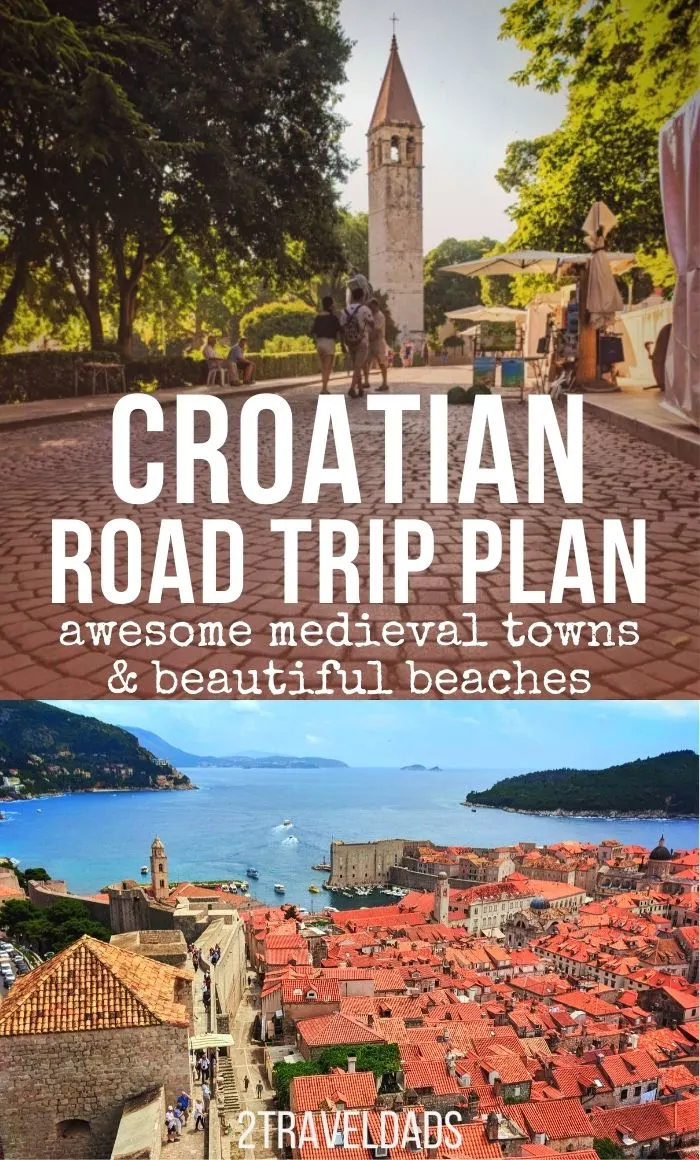 Croatia Road Trip Plan
If you can add this to a bigger European road trip, that would be amazing, but you also can plan just to do this road trip around Croatia. The nation has quite a storied history, from being a part of the Kingdom of Ragusa to being under Venetian rule and being held by the Roman Empire. So much of this history is visible in the small towns and historic areas of Croatia.
Arrival Airport: Zagreb – ZAG
Departure Aiport: Dubrovnik – DBV
Suggested Days: 5+
Day 1: Zagreb, the Capital City
Croatia is a fascinating country with both gorgeous nature and beautiful historic towns. Begin your road trip by flying into Zagreb (ZAG). Explore the capital city on foot, enjoying local wines and burek (meat pastries). Zagreb is old and wonderful. Very different from Dubrovnik, it's a beautiful city to explore with wonderful art and museums.
Also, Zagreb is known for being a food haven. If you can spare a day, spend extra time in Zagreb, doing a food tour and discovering your favorite local eats.
Depart Zagreb for the Dalmatian Coast, stopping at Plitvice Lakes National Park to walk among waterfalls that are straight out of a fairytale. When you're done, drive to Zadar where you'll spend the night.
Day 2: Zadar and the Dalmatian Coast
Wake up in Zadar, a small coastal city where you can enjoy medieval architecture of the old town or sit on the waterfront listening to the music of the famous Sea Organ. This is the first town that's really going to make you fall in love with the cuisine of Croatia.
You'll find there are plenty of types of accommodations in Zadar, as it's both a tourist destination and a living, working city. It's a fun stop on your Croatia road trip.
Check out this cool video of the Zadar Sea Organ!
Day 3: Exploring Split, Croatia
Continue onto Split, where I loved hiking up out of the old town, beyond the city walls to enjoy espresso looking out over the town. When you're actually in Old Town, you won't easily get lost, but you can certainly wander for hours.
Climbing the bell tower in Split is a great activity, and really it'll get you an amazing view and help you understand the layout of the area.
We spent two days in Split and could've had one more easily. There are so many things to do in Split! Adding beach time or boat tours to your visit to Split is a great idea. Just north of the town are several wonderful, easily accessible beaches.
Bonus: you can take a ferry from Split to the Island of Vis, which is another wonderful destination. Allow an extra day or two for this add-on. You can also book a day trip out to Vis and the Blue Cave.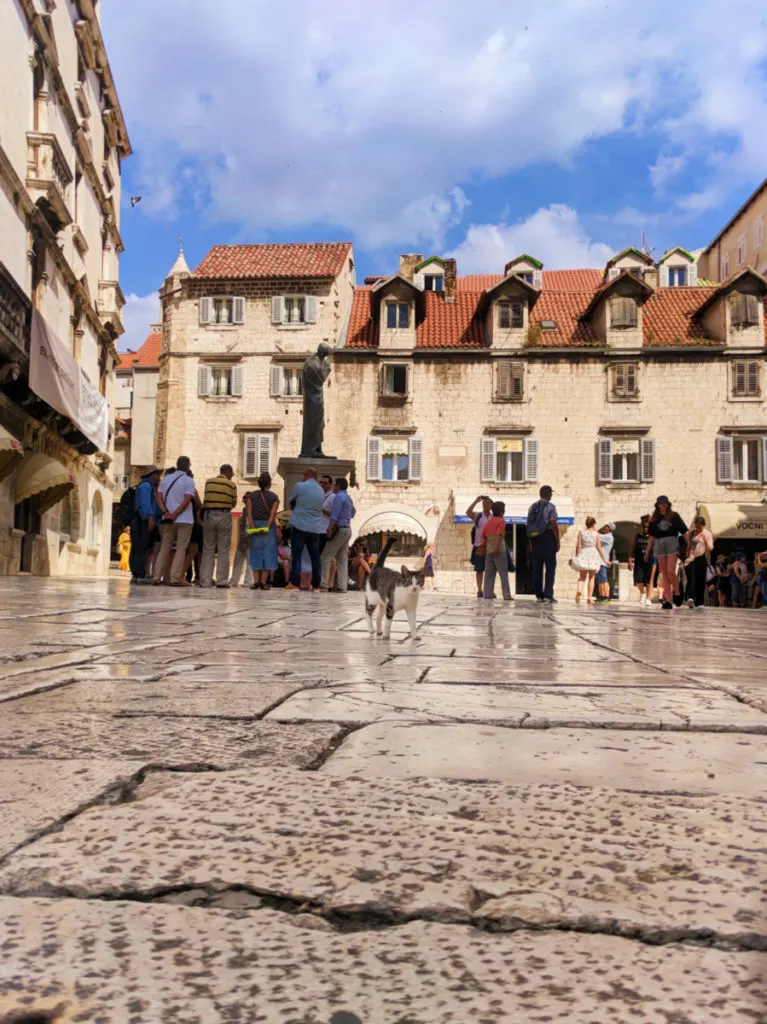 Day 4: Ferry to Mljet
Drive to Ploče where you'll get onto the ferry to the town of Trpanj, with beautiful beaches and historic buildings dating back a thousand years. Take time to stop into the small, rustic cafes and stalls to support the local economy, particularly as this isn't a common destination for many American and UK visitors.
Trestenik, on the other side of the island, is another great stop for relaxing and enjoying a very small town with a beach. Head south to Prapratno where you'll get on another ferry to Sobra on Mljet, my favorite of the Dalmatian Isles.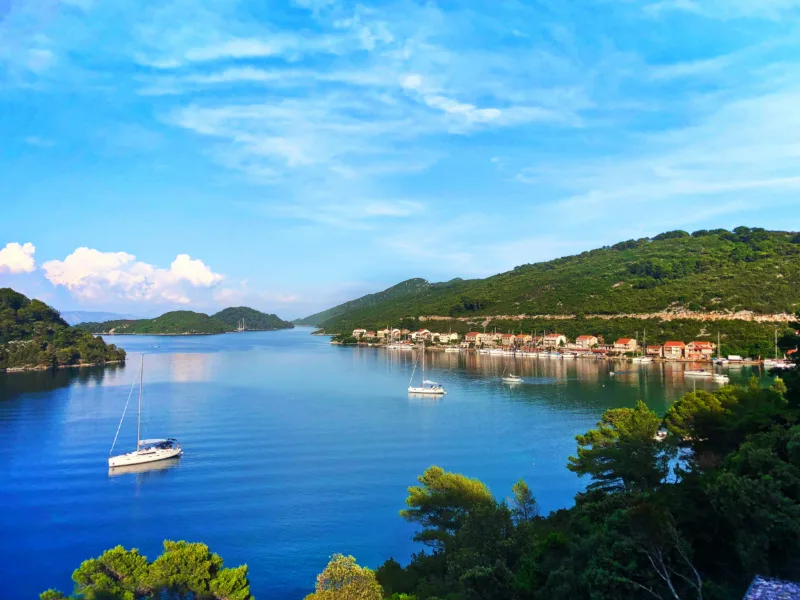 Day 5: Exploring Mljet
Head to the town of Polače, rent bikes and ride into Mljet National Park where you'll find beautiful tidal lakes and a convent, once occupied by pirates, on a tiny island in the middle of Lake Veliko. This place is one of the most gorgeous spots to include on your Croatia road trip.
Return to your vehicle for a beautiful drive across the island, passing vineyards and stone houses. Watch for goats!
Before getting on the next boat, stop in the town of Okuklje for a swim and some local olive oil to take home. This is one of my favorite places in the whole of the Dalmatian Isles. Okuklje is one of the most quiet villages I've ever visited and its serene cove is unlike any other.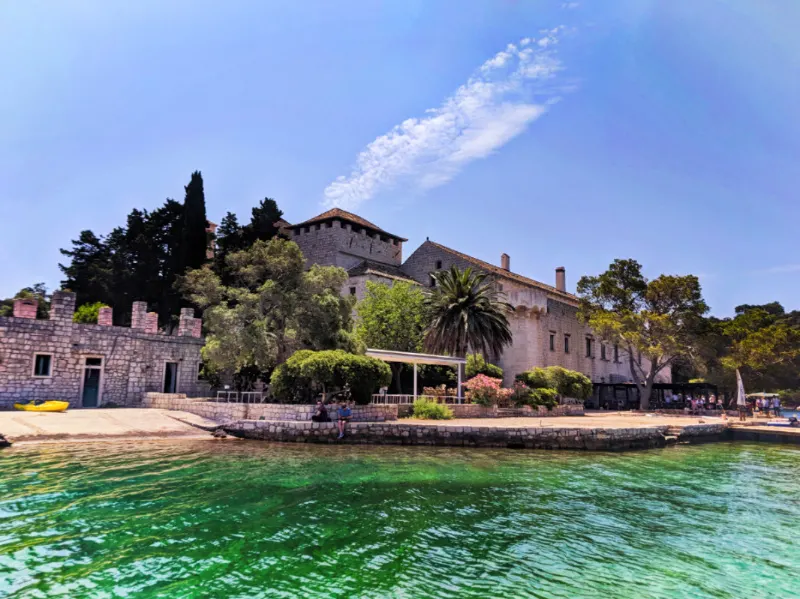 Day 6: Head to Dubrovnik
From Sobra, you'll ferry back to the mainland to finish your Croatia road trip as you head south to Dubrovnik. This beautiful walled city is the perfect end of your Croatian adventure, as you enjoy a sunset from the fortressed town.
We spent three days wandering Dubrovnik, visiting churches and museums, and just having the best time. A great day trip from Dubrovnik is to the Island of Lokrum, where you'll find ruins, old military bunkers, peacocks and beaches. It's awesome.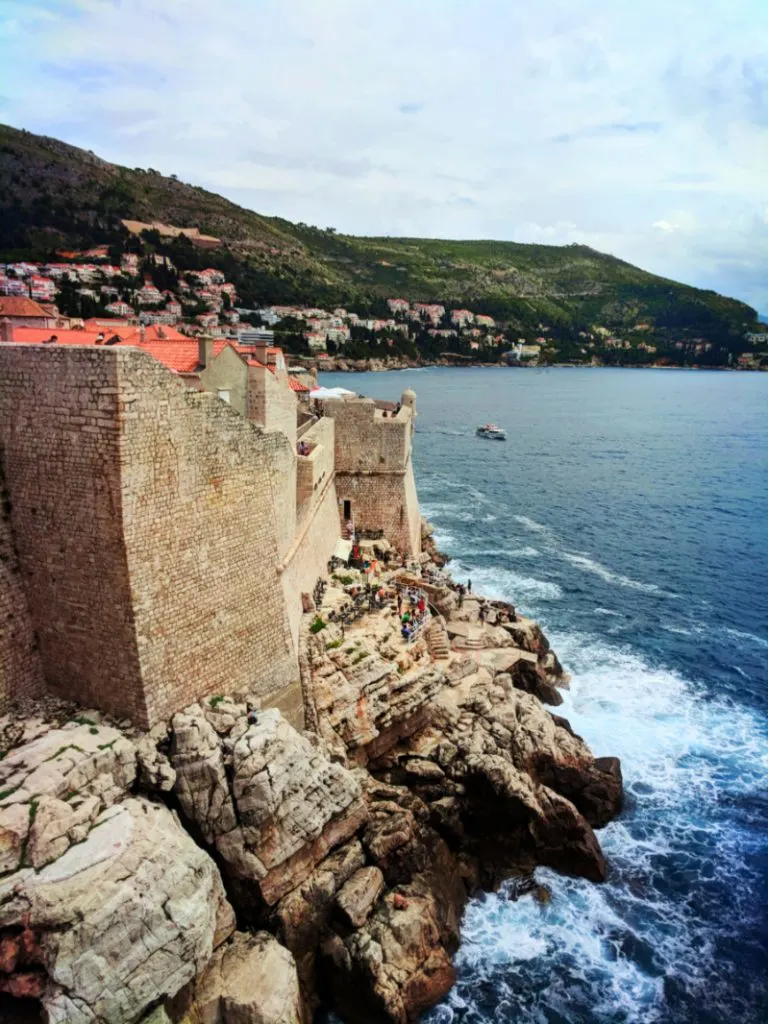 Need To Know for a Croatia Road Trip
Unlike doing a road trip in Florida or California, most of a Croatia road trip happens on winding, hilly roads. Families that are sensitive with motion sickness will be glad for the many easy stops along the way.
Remember, gas (petro) is sold in litres and it's always good to fill up when you can, just in case you go off the beaten path too much. Also, always be well stocked with cash because most places you go either don't take credit cards or prefer to deal in cash.
Planning on doing Greece instead? Here's a great 10 day Greece itinerary!
Have so much fun! A road trip around Croatia is really remarkable. If you're inspired, add a jaunt down to Montenegro or Bosnia for even more beauty and medieval fun!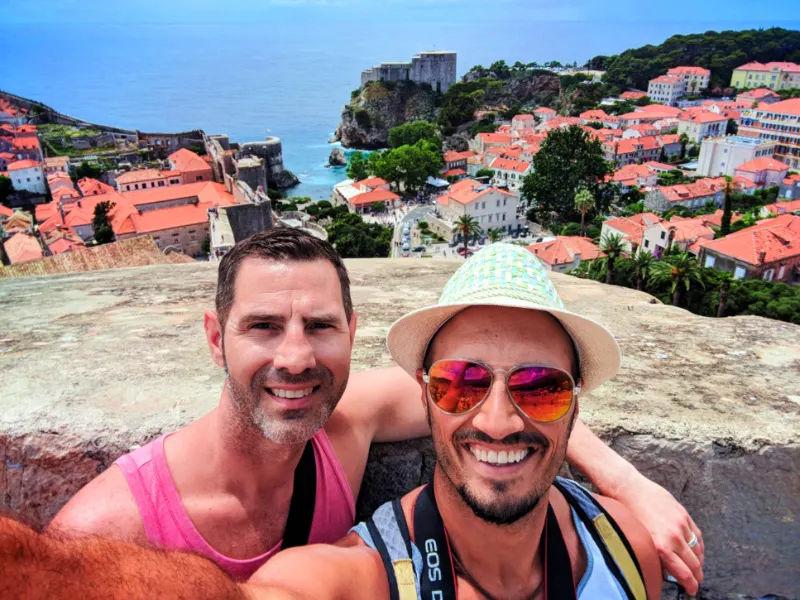 More Croatia Travel Ideas
We've actually written a lot about Croatia over the years. Be sure to check out more of our ideas and travel tips for having an awesome Croatia road trip: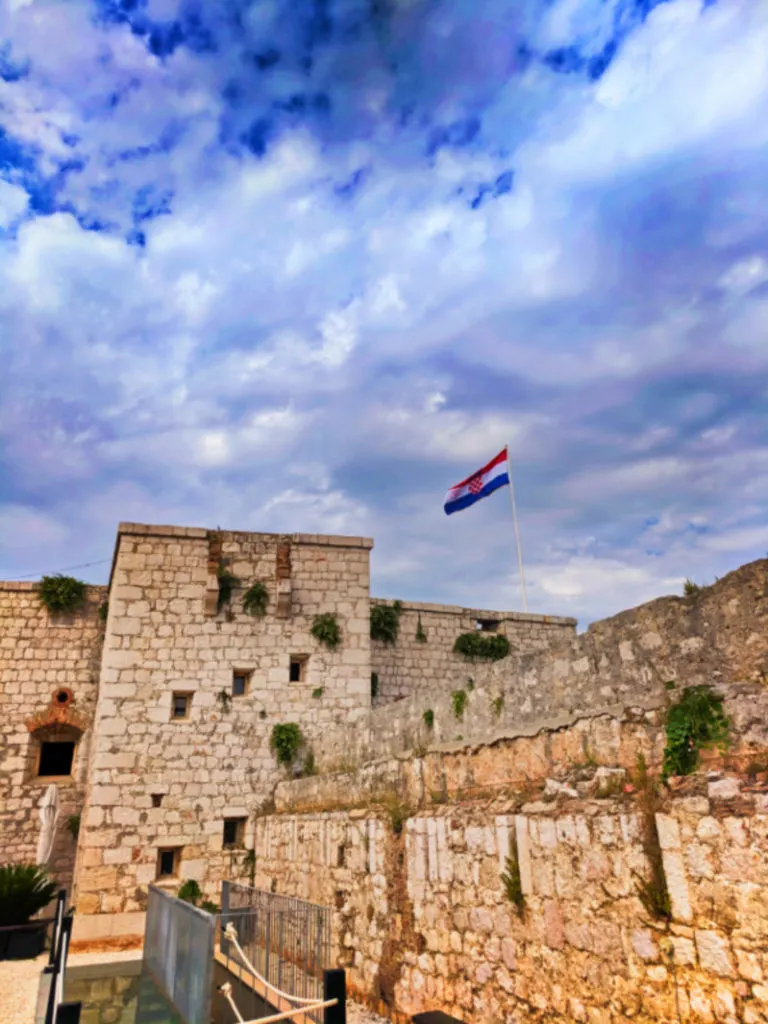 Have fun and, as always, let us know if you have any questions!