Wouldn't it be great if all travel all the time went exactly as planned and the weather was always perfect? Yeah, but that doesn't always happen. We just did Dubrovnik in the rain and it was actually really cool and gave us a very different perspective on the city. But what do you do when it's raining in Dubrovnik and you don't want to miss out on one of the coolest cities in Europe?
Note: even if it's not raining, everything we cover here is totally worthy of spending time checking it out, but when it's sunny, you should take advantage of the water and outdoor activities.
We arrived in Dubrovnik via sailboat following a week going from port to port in the Dalmatian Isles with Med Sailing Holidays. Wow. We had an incredible time exploring some beautiful nature and historic islands, but ending in Dubrovnik really took the cake… even if we did have to scramble to do Dubrovnik in the rain. Good times!
Should I buy the Dubrovnik Card?
Yes. Yes, you should buy the Dubrovnik Card, especially if you'll be in town for more than a day. The Dubrovnik Card is available for purchase nearly everywhere in Old Town Dubrovnik, including landmarks, tourist offices and even art galleries.  What makes the Dubrovnik Card completely worth the cost?
Gets you into the major sites of Old Town
Grants you access to the City Wall and Fort Lovrijenac (the cost is recovered with these sites alone)
Gives you discounts for extra activities, including access to Locrum Island
Includes bus fare to access more sites within the Old Town
Many restaurants, big and small, are affiliated with the Dubrovnik Card and provide a dining discount
While Croatia is one of the less expensive countries to visit in Europe, Dubrovnik is so loaded with historic sites and attractions that you'll spend a fortune touring every fort, wall and museum available unless you have bought the Dubrovnik Card.
Note:  the Dubrovnik Card comes in 1, 3, or 7 day passes. The 3 and 7 day passes offer more attractions and discounts than the basic 1 day card. Even if you can't do everything, the 3 day Dubrovnik Card is the best purchase option.
Cost: 180 HRK (Croatian Kuna) to 350 HRK – the price can vary based off purchasing online in advance or in-person, or 1 day vs 7 day.
Best activities for Dubrovnik in the rain
We love to be able to go hiking and enjoy everything that station has to offer, but it's really important also to have a backup plan for those rainy days. And on hot days don't forget about escaping the heat into air-conditioned museums… (some foreshadowing for you).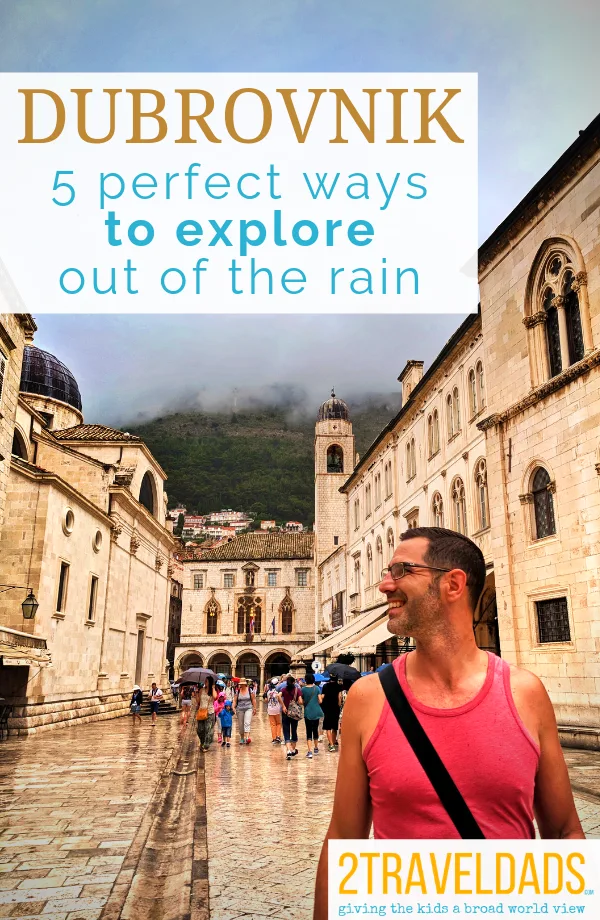 Rector's Palace
This was our first stop when we weren't sure what to do in Dubrovnik in the rain. Such a great way to begin! The Rector's Palace was the seat of the Rector (monthly official appointed by the Grand Counsel under the oversight of the Empire of Venice) and the chambers of most of the Kingdom of Ragusa's government. Since the area was its own country from the 1200s until the 1800s… and then conquered and then conquered and then conquered until it became a part of Yugoslavia… until its independence in 1991.
Anyways, within the Rector's Palace there are many finely decorated rooms, lots of artifacts, classic art collections, a medieval jail and of photographic exhibit hall documenting the most recent war for independence. There's a lot to see and it's a perfect activity for a rainy day in Dubrovnik.
Highlights of the Rector's Palace:  the jail houses a collection of actual treasure chests, like, straight up piratey chests with complex locks and iron work. Also, the photography from the war of '91 and '92 was really interesting, particularly because it was so recent and we could remember it.
Included with Dubrovnik Card:  yes
Dominican Monastery and Museum of Dubrovnik
Being a medieval city in Europe, Dubrovnik has MANY religious sites. The Dominican Monastery near the east gate into Old Town is one of them, and is very much worth visiting. From the outside you'll recognize the many steps up to the chapel from Game of Thrones (think marketplace scenes, any scene wandering through Kings Landing). From the inside, you'll step back into a quiet, working monastery full of history and art.
The museum areas of the Dominican Monastery include a lot of paintings and religious pieces dating into the 12th century (even some go back further). There are a lot of pieces that were saved from other buildings during the War for Independence that are still housed here, but most exhibits are primarily religious art.
Highlights of the Dominican Monastery:  the jewelry and ceremonial wear of the Catholic Church dating to medieval times is really cool, but the most unusual piece is the hand of St. Thomas… Doubting Thomas. This relic is housed at the base of a larger reliquary display and unless you know to look for it, you'll miss it.
Included with Dubrovnik Card:  no
Franciscan Monastery
Located near the west gate, which is the primary entrance to Old Town Dubrovnik, the Franciscan Monastery is a great stop on a rainy day in Dubrovnik. Located all in covered areas and 90% air-conditioned, it's a beautiful spot. Like with the Dominican Monastery there is a museum with an impressive collection of art and artifacts from the centuries of Croatia/Ragusa's history.
This is an active monastery, so there are friars and nuns about, but everybody we met was very welcoming and ready to talk about the building and Dubrovnik's history. Being in an active monastery/cloister is pretty cool because you can see how it currently functions.
Tip: be respectful of those working within the monasteries and churches. They're there with a function, not as a tourist attraction themselves.
Highlights from the Franciscan Monastery:  the museum area was really cool with some unique pieces, specific to the Church in Dubrovnik, so if you know Church history you'll dig it, but the highlight for us was the courtyard full of frescoes and fascinating architecture.
Included with Dubrovnik Card:  yes
Exploring Churches
There are several churches in Old Town that you can visit on a rainy day in Dubrovnik. Starting at the western gate, aka the Pile Gate, and working towards the eastern gate, the Ploce Gate, there are three great and easy cathedrals to check out, which is a particularly good activity for Dubrovnik in the rain.
From the Pile Gate, just a few yards onto the Stradun you'll find the church at the Franciscan Monastery. It's a fully active church but it's beautiful and guests are welcome to respectfully enter and explore. Like with any visit to a religious house, be courteous when it comes to photographing individuals, particularly those those who are praying to spending time doing their own practices.
The next stop further down the Stradun is the plaza next to the Rector's Palace. Here you'll find the Church of St. Blaise, the patron saint of Dubrovnik. You can always tell if a painting or sculpture is of St. Blaise because he's always pictured holding a very small version of the City of Dubrovnik in his hands. This church is pretty amazing with its gorgeous ceiling and really cool facades.
Doing a little backtrack (like two blocks) you'll find the Jesuit Steps, aka the Shame Steps from Game of Thrones. Shame! Shame! Sit at the base of the steps under the cafe umbrellas, rain or shine, and count the number of GOT tours that pass you by. Then climb the Jesuit Steps and visit the Jesuit cathedral at the top. Also a beautiful church, it's the most quiet and prettiest of the churches we visited.
Included with Dubrovnik Card:  not needed, most have free entry to the main chapels but may charge for entering the cloisters, crypt or treasuries.
Shopping for souvenirs
We are not big on souvenirs, but sometimes you have an experience that leaves you wanting to bring something back to remember. Dubrovnik is hilarious for souvenir shopping. Seriously, you can find some really wonderful things, such as local art or prints, or you can find everything Game of Thrones you ever wished for. I mean, if you wanted a Jon Snow shirt or a Tyrion magnet, you're good to go. Oh and goblets; you can bring home goblets.
Our souvenir shopping was limited to postcards to send home to the kids and a ring. If you travel much around the Dalmatian Coast you'll see a lot of coral and carnelian jewelry. I wanted to come home with a ring with a piece set in silver. It was a task, but after a few days looks for men's rings or plain rings, we were able to locate a shop with lots of wonderful antique pieces. Score!
Tip:  when you're shopping for jewelry in Croatia, feel free to offer what you think you should for a piece, but know that the culture of Croatia is to provide value for the price, and most shops are priced appropriately or even below value knowing that tourists are typically seeking out the unusual jewelry of Croatia.
Dining in Dubrovnik in the rain
We are such chill travelers that we never look for fancy dining when we're visiting other countries, and a rainy day in Dubrovnik is perfect for experiencing great food and still enjoying the atmosphere of the Old Town. Nearly every restaurant and cafe has covered outdoor seating, so the following recommendations are good for any day, Dubrovnik in the rain or sun.
Here are our top recommendations for fun dining in Dubrovnik and they can all be found on Google maps, which works great in Croatia:
Locrum Island – take the passenger ferry for the fifteen minute boat ride to Locrum, wander the island (including GOT filming spots – head to the fort), nice lunch/dinner at Lacroma Restaurant or easy drinks and small plates at Snack Bar Lacroma (sounds ghetto, but it's really nice and right by the dock)

Buza Bar – EAST – this spot is easy to miss and there are actually TWO of them. You want to visit the one to the south. It's located through the city wall and is above the crashing waves. It's only beer and wine, but it's amazing. The other Buza Bar has a clear sign that you'll see as you walk around the city wall. It's also cool, but crazy crowded all the time.

Mea Culpa – they have lots of advertising so it would seem like you'd want to avoid it, but it's great outdoor seating, really good Croatian pizza and tasty sandwiches (very Croatian)

Pizzeria Renesansa – we stayed right next to this spot, it's in a cavernous throughway and is one of the nicer spots

Pizzeria Castro – this is at the base of the Jesuit Steps (Shame! Shame!) The pizza is very good with great vegetarian options and they have ACTUAL iced coffee *order it as a "double espresso with a cup FULL of ice". It was one of the only places in Dubrovnik that would do that for us.
90% of dining in Dubrovnik is about the location and being able to sit outside under cover. For seafood, I cannot recall the name and somehow I didn't take any pictures of the menu, but just to the north (uphill) of the Stradun there is a great fish place with a blue sign. There are lots of other restaurants on the passageways just off the Stradun as well, and most are nicer than what you find at the main plaza level of Old Town, so go explore and eat some amazing food!
Now, are you totally ready to explore and experience Dubrovnik in the rain? I hope so! After our experience both in the scorching heat and a rainy day in Dubrovnik, we'd quite happily return any time of year to relax and enjoy.
Let us know if you have any questions or need additional recommendations. It's an incredible city!  And want to pin this for your own travel planning, or just in case you end up in Dubrovnik in the rain? Go for it!!!